It wasn't long ago when I still thought, "Who even uses stamp mockups these days?
Rubber stamps in general? Isn't that too old-school?"
My web design friend, Jack, SOON proved me wrong.
He amazed me by showing me his specialization: custom rubber stamps. Agencies, businesses, corporations, freelancers – yes, many still use them!
Luckily, he was willing to sit down with me to review what's available on the market.
We went through 50+ stamp mockups.
He was kind enough to share with me (and now, YOU) his FAVORITE.
Table of contents:
No matter which you pick, it's a guarantee that your client's logo and company detail presentation will stand out.
High. Quality. Ultra. Realistic. Presentation.
Voila!
Best Stamp Mockup Generators
All these generators are from Placeit (our recommendation!).
Each costs $7.95 but you can also treat yourself to a monthly ($14.95/month) or a yearly ($89.69/year) subscription to save money.
1. Mockup of a rectangular stamp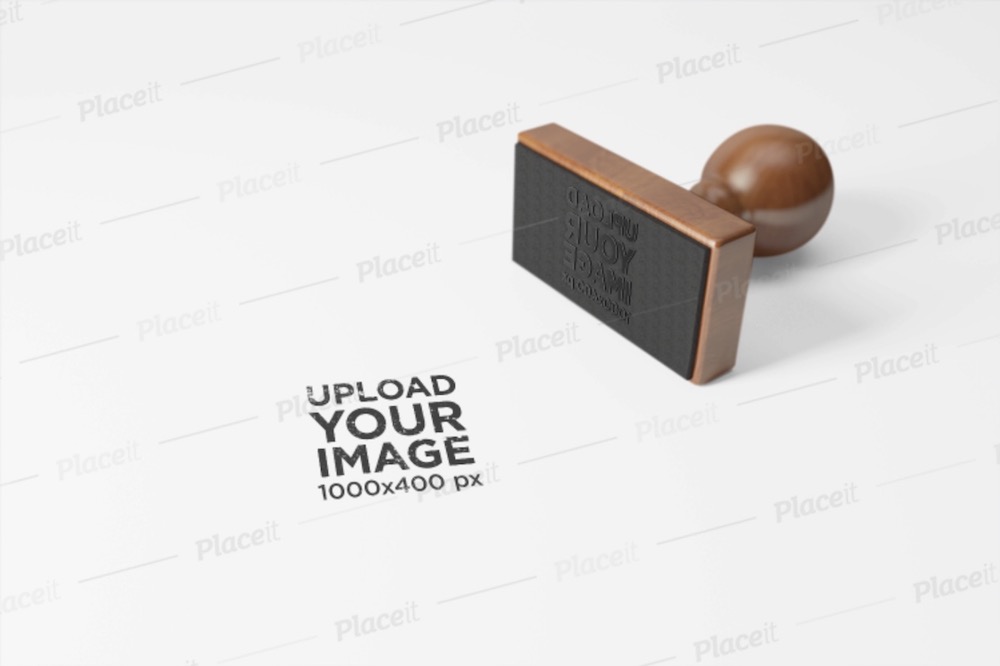 If you would like to present a company logo neatly, or you are creating stamps for brands and businesses, make a life-like presentation with this simple mockup of a rectangular wooden stamp on paper.
While you can leave the color of the paper as is, you can also change it at free will. (The handy color picker works wonders.)
Moreover, you can upload any image/design/logo that you want and see it appear on the mockup in the snap of a finger.
That's how EASY creating a mockup with a custom design is. All thanks to the super convenient Placeit platform.
MORE INFO / DOWNLOAD
2. Mockup of a stamp on a paper corner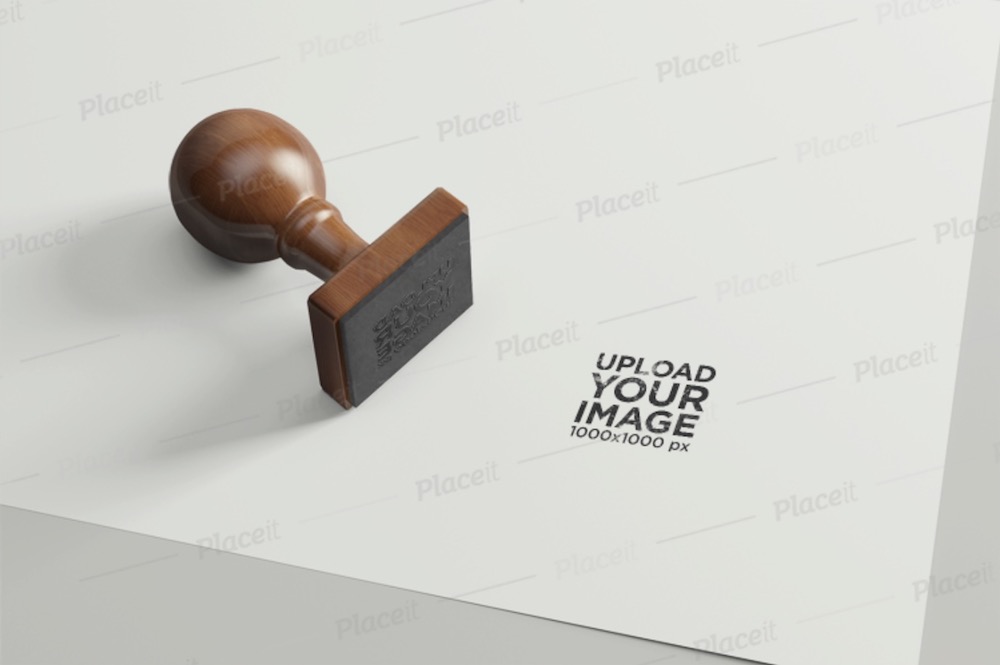 We made sure you get all sorts of different varieties of rubber and other types of stamps in this collection.
We guarantee that you will find the one that resonates with your project best easily.
After all, every mockup is easy to edit and adjust to your regulations.
This particular one offers you to customize both the top and the lower paper colors.
That said, make it minimalistic or go as colorful as you want.
That's entirely up to you.
As for the stamp, upload your artwork directly from your computer and YOU ARE DONE.
MORE INFO / DOWNLOAD
3. Mockup of a (circular) stamp over a flat surface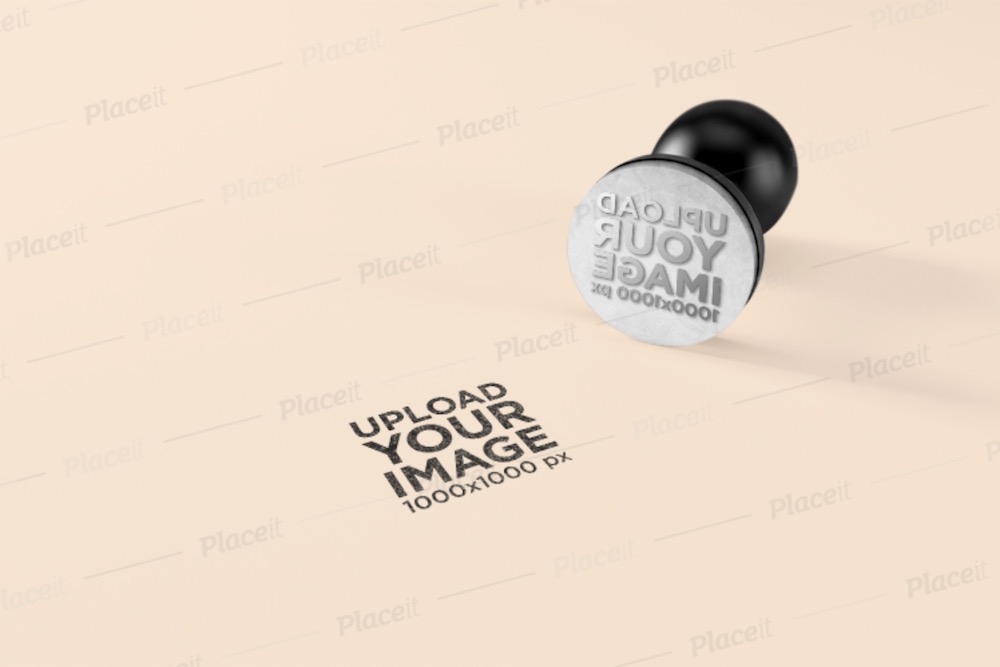 Here you go if you are looking for a stamp with a circular shape.
A beautiful and photo-realistic mockup that requires very little work to improve it accordingly.
It's Placeit that does all the heavy lifting for you; you only really focus on the finishing touches.
These are changing the color of the background/paper, uploading the logo, even attaching additional graphics and text.
It is all possible from within your favorite web browser, without using Photoshop.
The outcome will still be very professional even if the task takes no effort.
MORE INFO / DOWNLOAD
4. Circular rubber stamp mockup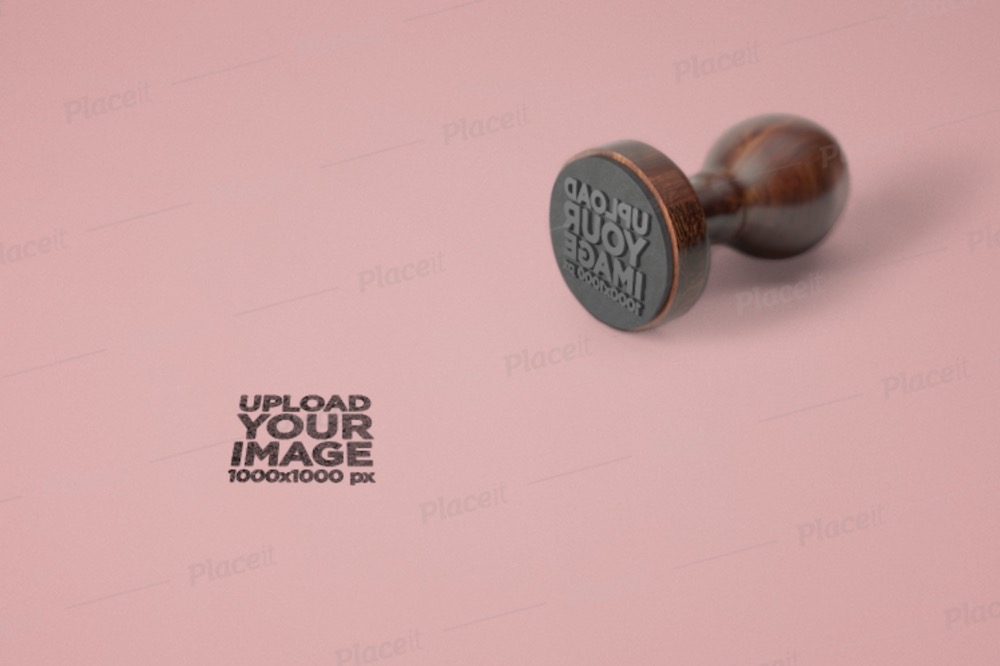 Creating a mockup with your design on it is EFFORTLESS nowadays whether you are a designer or not.
There is no need to use Photoshop or other photo editing software either.
You can do it all online, using Placeit and your FAV web browser.
Still, you do need to have the logo or any other artwork that you would like to include predefined for a smooth workflow.
From then on, it is mere uploading your design and changing the background color. That's it.
Of course, you can spice things up with graphics and text, but that is optional.
MORE INFO / DOWNLOAD
5. Mockup of a stamp on paper's corner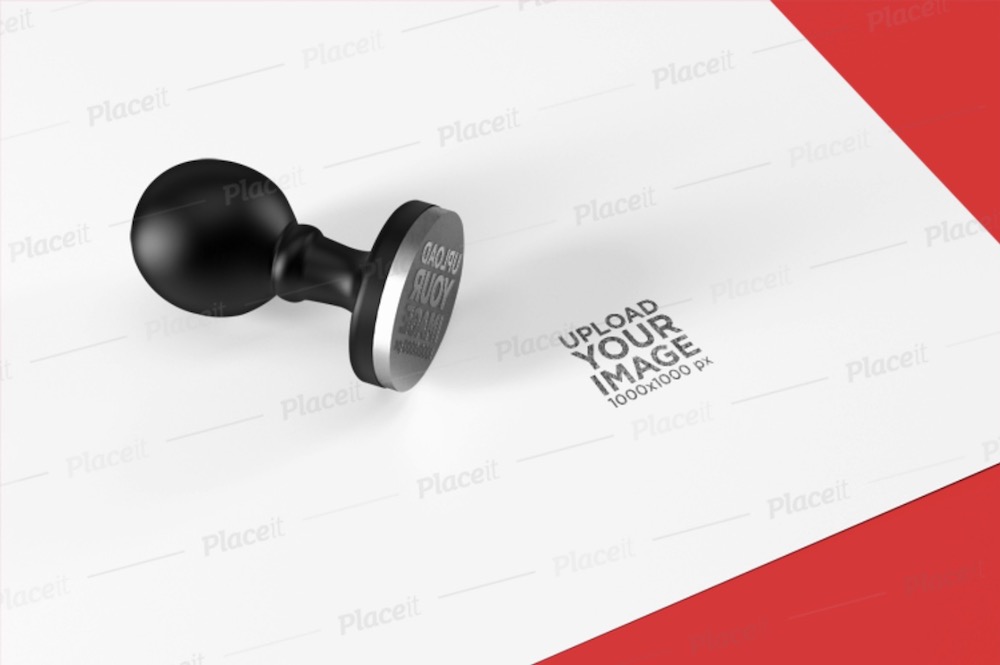 If a presentation of a stamp on the corner of a sheet of paper is what you are after, this mockup will surely capture your attention.
It is an easy-to-use solution that will create a stunning outcome.
Remember, only a few seconds are necessary to have a draft or even a possible final product ready.
Working with a Placeit mockup is INSANELY swift and straightforward.
The intuitive editor is very user-friendly, making sure that everyone gets the most out of it without a sweat.
MORE INFO / DOWNLOAD
6. Squared rubber stamp mockup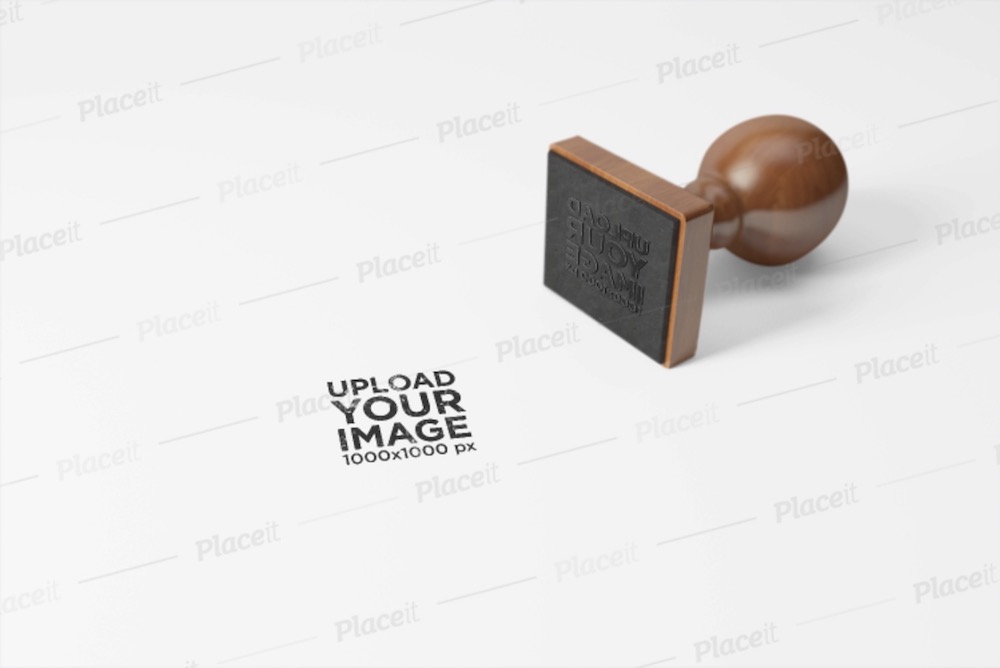 You can employ a rubber stamp for all sorts of intentions, for paper, for boxes, you can even use it in all sorts of different creative ways.
However, instead of going straight to producing a stamp, use a mockup first and see how the end product can and will look. In this case, the mockup features a square rubber stamp with a 100% customizable background.
You can change the backdrop/paper to any color you want, using the convenient color picker.
For the stamp, upload an image from your computer or even use one from your Placeit archive.
Impress everyone with a lovely life-like stamp design display.
MORE INFO / DOWNLOAD
7. Mockup of a rubber stamp on a flat surface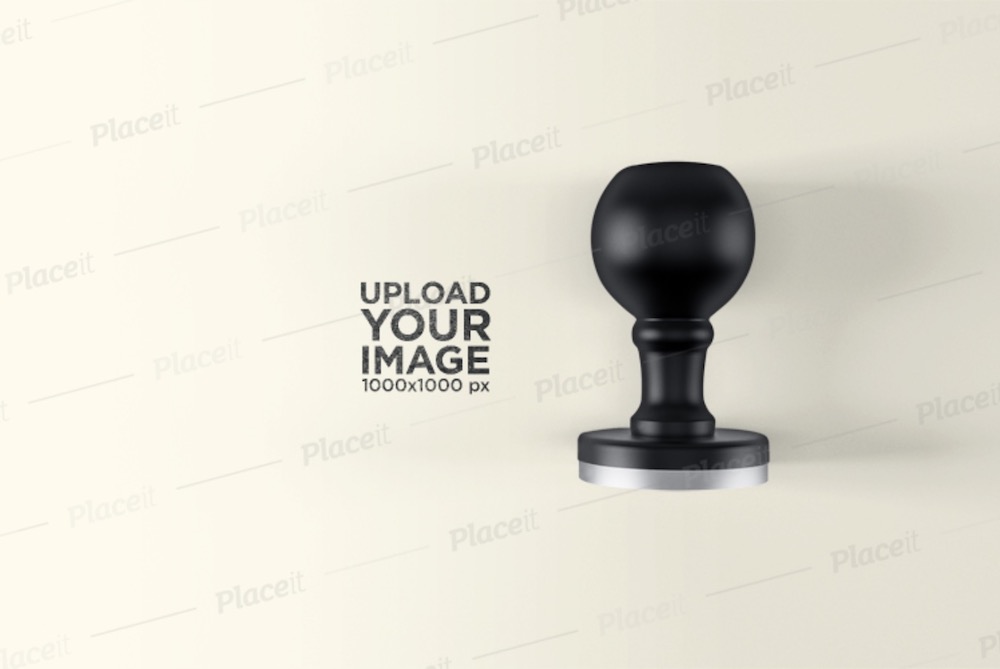 This stamp mockup is a great solution to make things happen if you like to keep things simple and minimal.
It will never ask you for design knowledge and experience because you can EASILY learn on the fly.
Hurray for Placeit!
You get to play with different features and have the outcome available almost in the blink of an eye with the handy online editor.
I just try to emphasize the fact of how FAST you can end up with the finished product.
MORE INFO / DOWNLOAD
8. Mockup of a round rubber stamp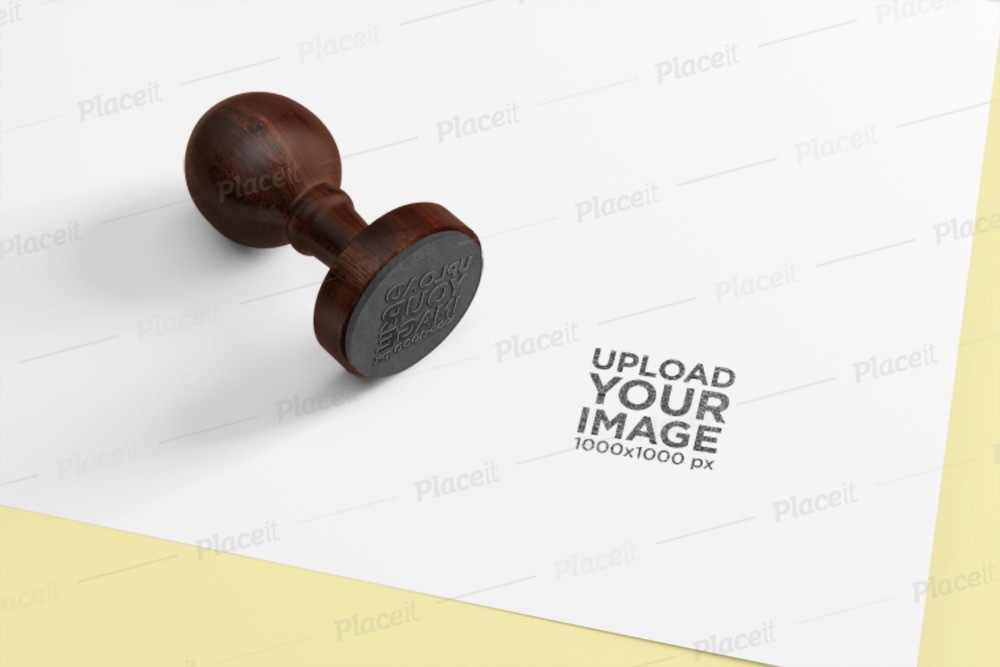 Another stamp mockup at the edge of a paper sheet with editable background and paper.
Also, the mockup features a round stamp, so if that's what you are after, go ahead, put it to action now.
Over on Placeit, you do not even need to create a free account right away.
First, you can quickly test things out and see how fantastically well it operates.
However, if you would like to download the end product, that's when the account is necessary. But do create one right away as it will boost your workflow.
You will have a FIRST-CLASS stamp design presentation ready in no time.
MORE INFO / DOWNLOAD
9. Stamp on a paper mockup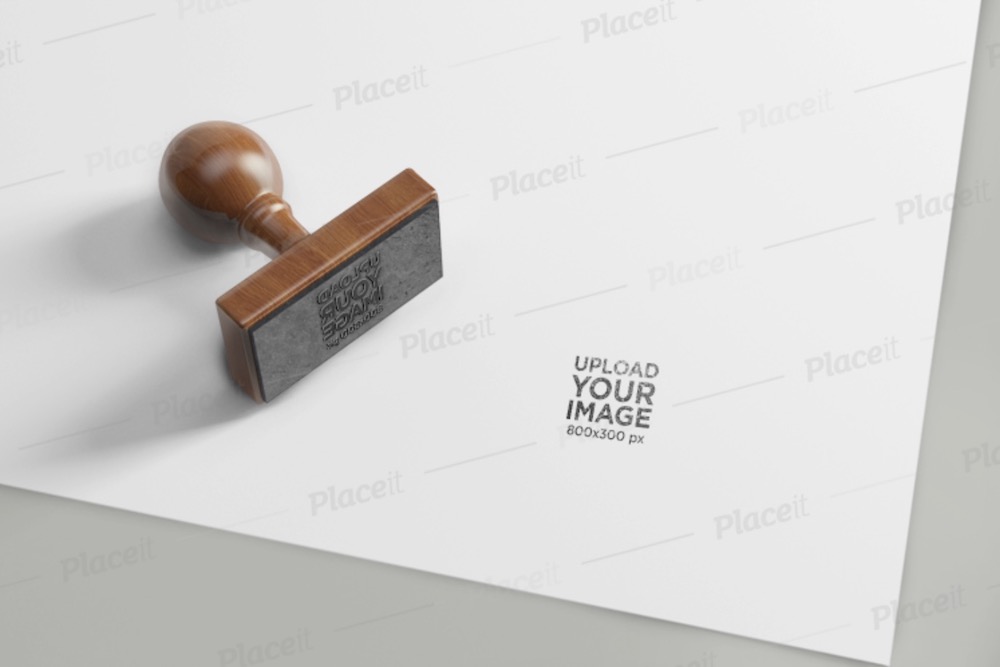 For a larger, rectangular stamp, here is the alternative to consider. A photo-realistic mockup that will impress your client and your audience.
You can even use it in your online portfolio, to showcase to the world that you can make designs for anything.
You and your client can also use a mockup for a better end product visualization.
Note: You can create as many different improvements and variations before you make the actual stamp.
Do not forget to alter the paper and the background with ANY COLOR scheme you fancy.
MORE INFO / DOWNLOAD
Best Stamp PSD Mockups
10. Noissue wooden stamps mockup set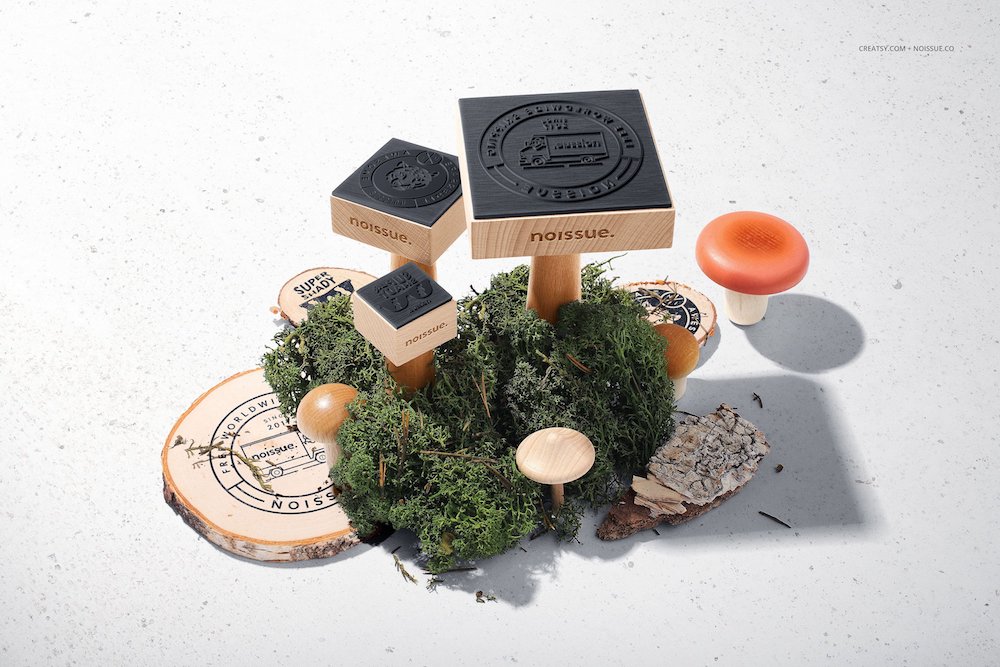 If this one does not inspire you, chances are, you still haven't seen all the different variations of a stamp mockup that the set has available.
There are a total of nineteen PSD files that you can put into practice and style according to your liking.
There is also a hand holding a stamp PSD mockup included. (My favorite!)
Every file is 6000 x 4000px (300 dpi), ensuring extreme QUALITY.
You also have quite some customization options to style each predefined mockup with your creativity.
Pretty much, all the white elements of each template are 100% adjustable.
In short, this set of mockups promises you a stupendous outcome.
Price: $19
MORE INFO / DOWNLOAD
11. Mockp of a stamp and cards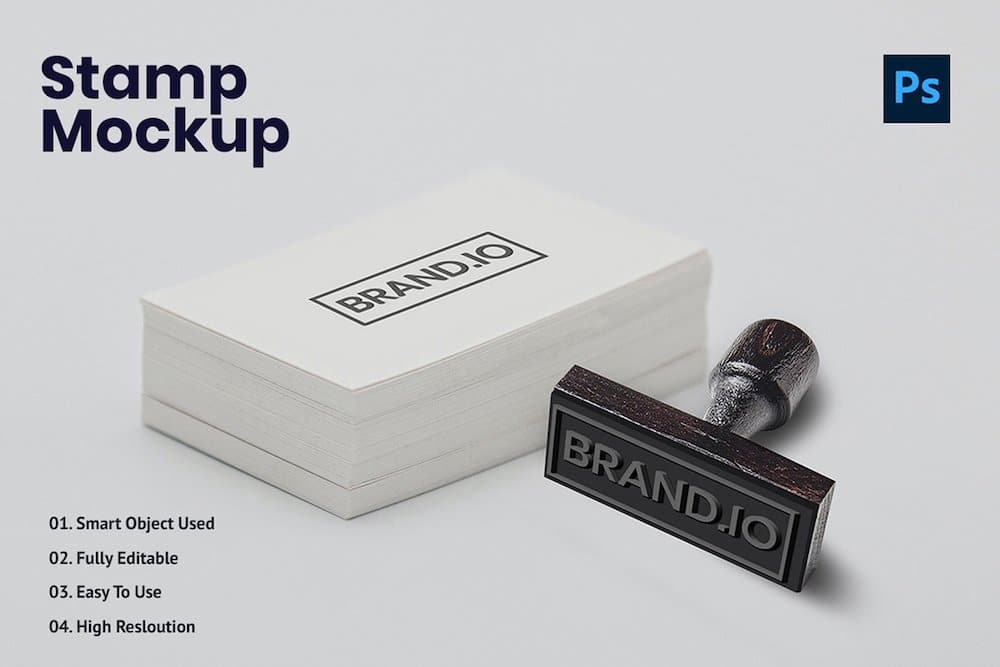 Here is a neat, simple to use and fully customizable mockup of a stamp and a stack of cards.
With the convenient smart objects, you can fine-tune and tailor the life-like presentation to your needs and regulations precisely.
Additionally, you can also customize effects and even remove the background.
A lot of options to ensure you get an outcome that will wow and impress everyone.
The resolution is high. Even if your design is SUPER detailed, it will still appear with crystal clarity.
You can alter the mockup to many brands and companies because how versatile it is.
Price: $14
MORE INFO / DOWNLOAD
Best Free Stamp PSD Mockups
New let's move things forward with a few free variations for your convenience.
Even though you do not need to pay for these, you can still experience a great final presentation that will turn heads.
12. Wax seal stamp PSD mockup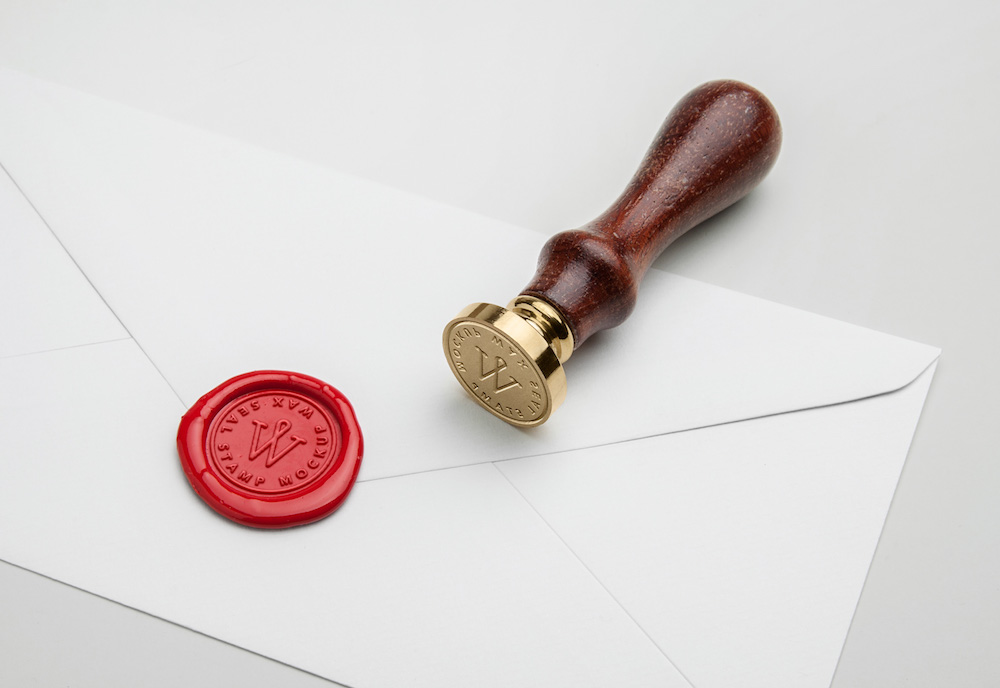 If you are particularly searching for a wax seal stamp, it is my pleasure to deliver it to you.
The mockup features a wax seal on an envelope, as well as a wooden/brass stamp.
You can change the color of the wax, as well as append your logo, monogram, whatever, to the stamp and the wax seal via smart objects.
MORE INFO / DOWNLOAD
13. Self-inking rectangular rubber stamp mockup PSD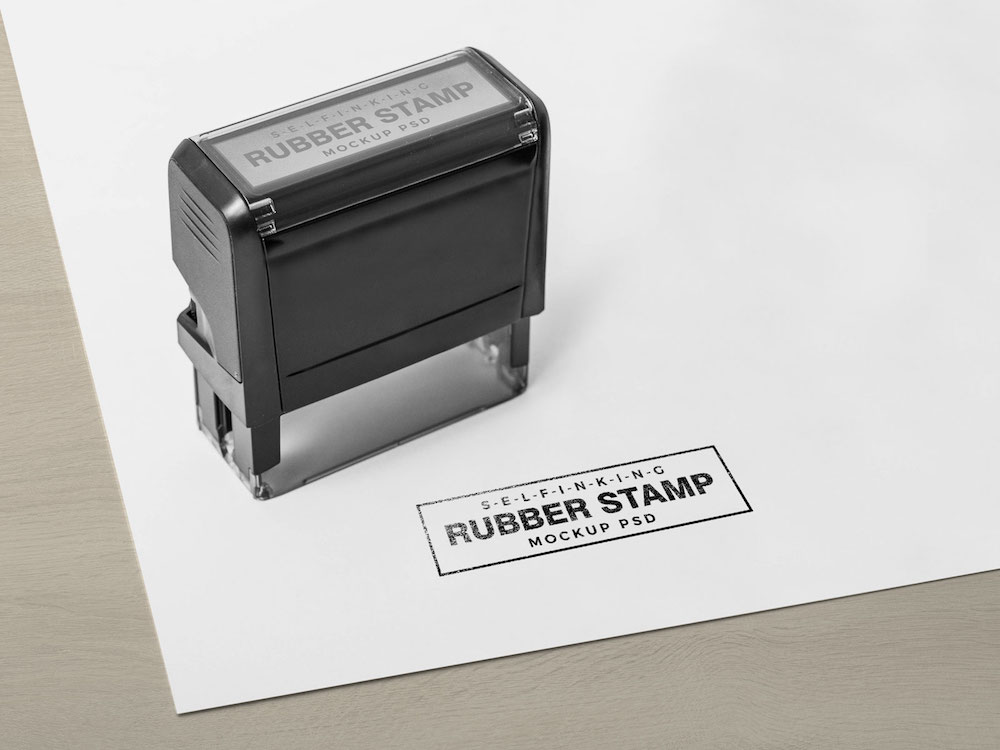 There are many rubber stamps in this collection, so I feel it is more than appropriate to include a self-inking one, too.
You can use a self-inking stamp for anything, like documents, "signing," wrapping paper and decoration, to name a few.
But first, use this mockup and design one that looks how you want.
The 4000 x 3000px resolution ensures all the details will appear crystal clear.
Import the design, the logo or some other text to the stamp IN A CLICK and even alter the background.
A free mockup that will leave a lasting first impression on everyone.
MORE INFO / DOWNLOAD
14. Wooden stamp mockup

Create a realistic showcase for your stamp project with this free mockup and enjoy the positive feedback from everyone.
This simple-to-use alternative will get you going in little to no time.
Download and import the PSD file to Photoshop and you are nearly done with the work.
After all, you only need to search for the smart object, append your design and that's it.
After you save it, you can see your art appear on the mockup right away.
There's more.
You can also spice things up with a dynamic color background that will trigger everyone's attention.
It's free, so it will have you rock and rolling without spending a dime.
MORE INFO / DOWNLOAD
15. Modern stamped logo mockup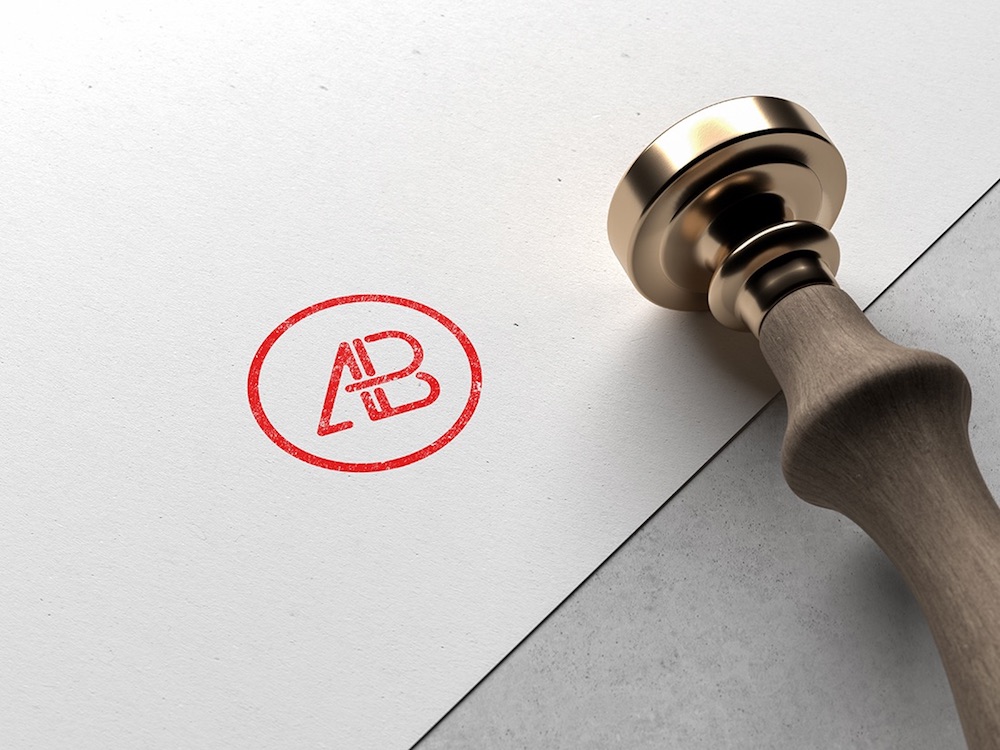 Needless to say, Anthony Boyd always comes out with a terrific mockup, even when it comes to stamps.
First, this stamped logo mockup's dimension is 5000 x 3750px, so you know the quality of the end result will be high.
It is organized and comes with smart objects, ensuring including any design will be a piece of cake.
Note: Anthony created this entire setup using Cinema 4D and Rendershift Render.
But you can now take it to YOUR TOTAL ADVANTAGE and make a presentation of a stamped logo on a paper that appears very realistic.
MORE INFO / DOWNLOAD
How To Create A Stamp Mockup?
You may think creating a life-like version of a custom stamp is hard – WELL, it's not!
And you don't even need any software to make it happen.
That's why I'll show you the quickest way to do it – using an online mockup generator.
And because I already tested it on 100s of projects, this step-by-step guide is all about using Placeit.
It's my favorite!
5 Steps To Make A Stamp Mockup:
Step 1: After clicking on this link, you will see all Placeit's templates for creating a realistic stamp showcase. Pick any you like, or even better, choose one from the collection above. (Okay, they're kinda the same 🙂 )
Step 2: When you land on the mockup page, upload your design via the "insert image" button. You can use your laptop, tablet, or smartphone device – anything works.
Step 3: A popup window will open with a live preview to adjust your design's position and size. Click the "crop" button when done.
Step 4: With your design on the mockup, perform any last customization tweaks you want. This could be changing the background, adding some text, or even a graphic or a logo – it's up to you.
Step 5: That's all the "hard" work – DONE! Click "download" and start using and sharing your stamp mockup creation with the world.
Moreover, if you use a PSD template, the process is just as simple, but it all happens within Photoshop.
Open PS and import the mockup you like.
You'll then see a smart object layer, which allows you to drag and drop your design – as simple as that.
And because all the PSDs I added have a great, layered structure, you'll also find it effortless to modify the mockup further.
Change the colors and the background, adjust lights and shadows; well, you get the gist of it.
Save. Download. Done.
::
Note: This article was originally published on October 2, 2020. But our team regularly reviews it and updates it with necessary improvements for accuracy.