Are you searching for the best free and premium crewneck sweatshirt mockups?
As a fashion head myself, I knew what to look for. But I also tested mockups on live client projects and social media to see reactions.
I added many excellent mockup generators and some premium-like free PSDs to simplify the work process.
What's great is that all generators allow you to test them for free. (But I recommend creating the free account to smoothen your workflow.)
This post covers:
How I Tested Crewneck Sweatshirt Mockups
I tested all these mockups with simple and more advanced designs. I also used logos and text-only/quote designs to guarantee each template handles any creative idea.
Plus, I used solid color backgrounds and custom images and tried them in combination with various sweatshirt colors.
Best Crewneck Sweatshirt Mockups Generators
You can get a mockup generator for only $7.95 per template (and start for FREE).
Or use a monthly ($14.95/month) or yearly ($89.69/year) subscription to save money if you'll work on multiple projects.
Note: You can make a mockup without Photoshop when using a generator.
1. Mockup of a customizable hanging crewneck sweatshirt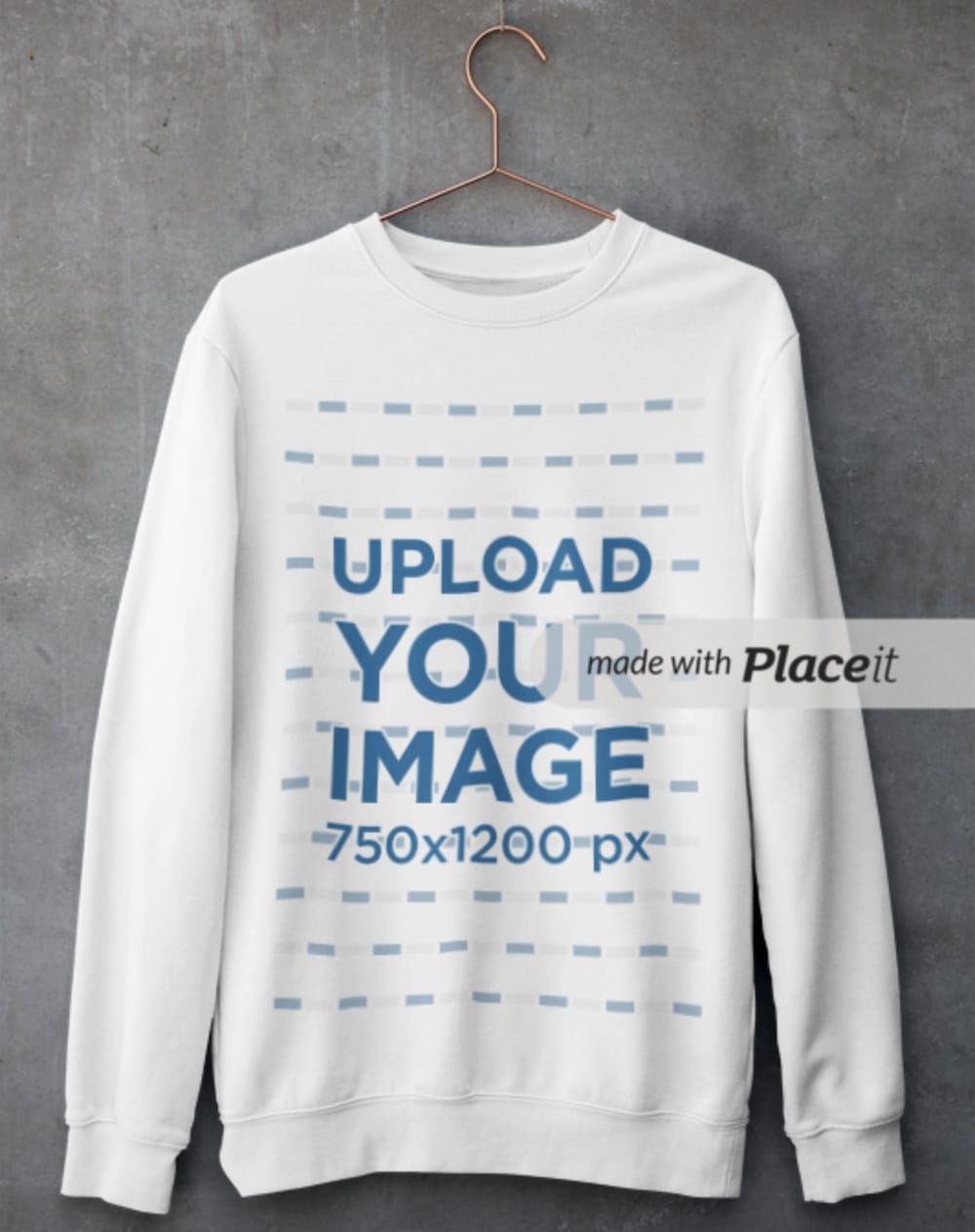 This is one of the MOST popular amongst mockup generators because of its versatility.
I used it for various projects, using simple logos and detailed designs – and it always worked so well.
You can change the sweater color and stick any image on it. The background and the hanger aren't editable. Luckily, I found the cement wall working with any branding.
MORE INFO / DOWNLOAD
2. Mockup of a ghosted crewneck sweatshirt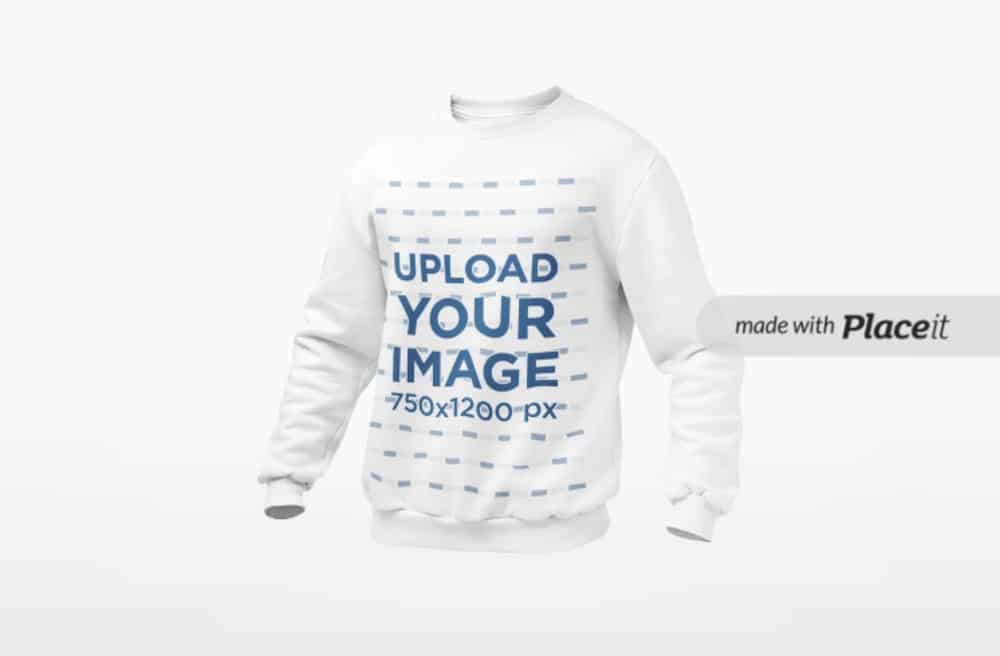 This is the second most used crewneck sweatshirt mockup that I found. The ghosted sweater can sport ANY color you want and you can even apply the heather effect to it.
Besides adding your design, you can also add text and a graphic, even adjust the background with a solid color or upload a custom one.
(Placeit also has multiple background options that you can pick from the archive.)
MORE INFO / DOWNLOAD
3. Man wearing a crewneck sweatshirt in the park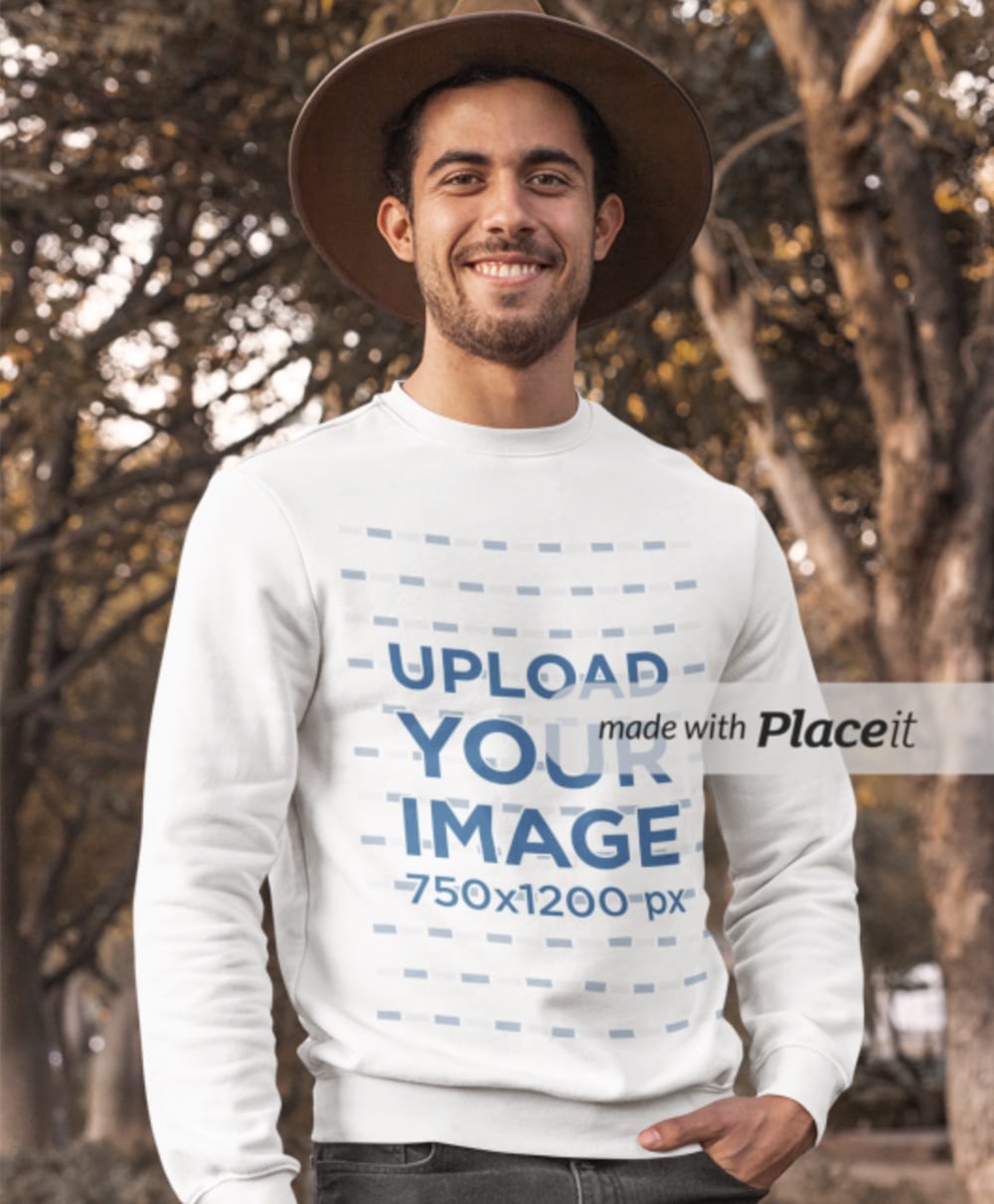 This is a great way to create a STRONG presentation if you need something more photorealistic.
The smiling model and the natural environment will enhance your design, but it won't feel like you used a mockup.
It's that quality!
I also used a text overlay because my client used it for a marketing campaign. You can also add a graphic or even upload a custom one or a company logo.
MORE INFO / DOWNLOAD
4. Mockup of a folded sweatshirt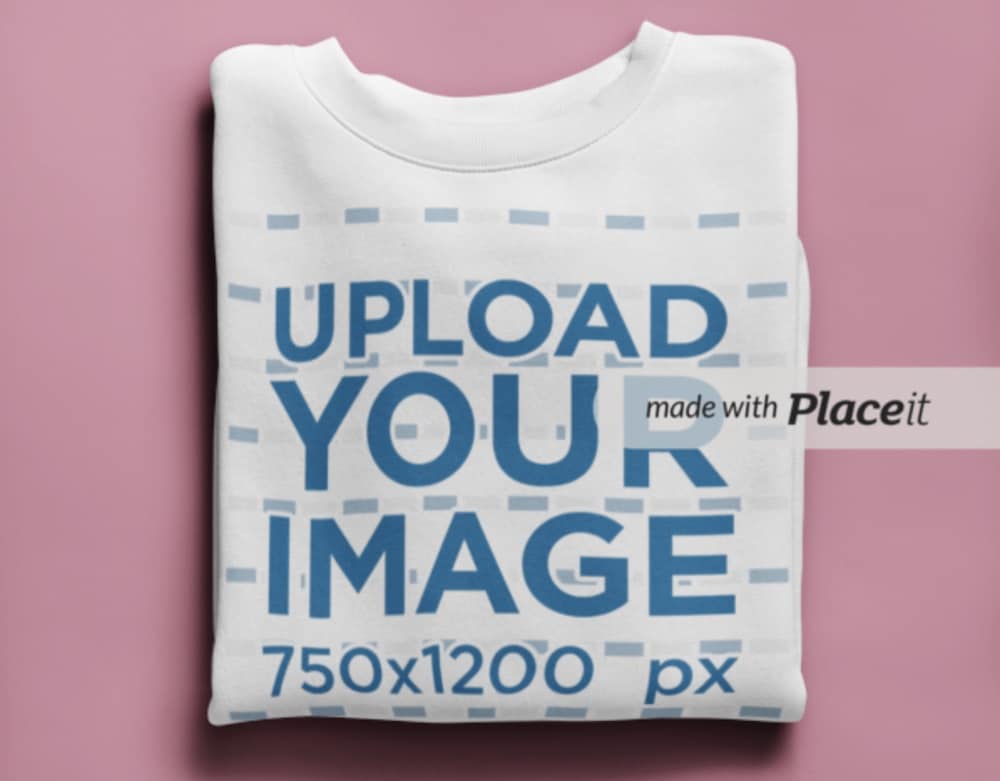 This folded sweatshirt mockup is GREAT if you need a simple, minimalist template to showcase the front design.
You can quickly and effortlessly create your version with all the handy customization features.
The background is also fully adjustable to make it fit the branding and the color of the sweatshirt. (I used a gradient background to spice things up for a Facebook post.)
MORE INFO / DOWNLOAD
5. Sweatshirt mockup of a woman with sunglasses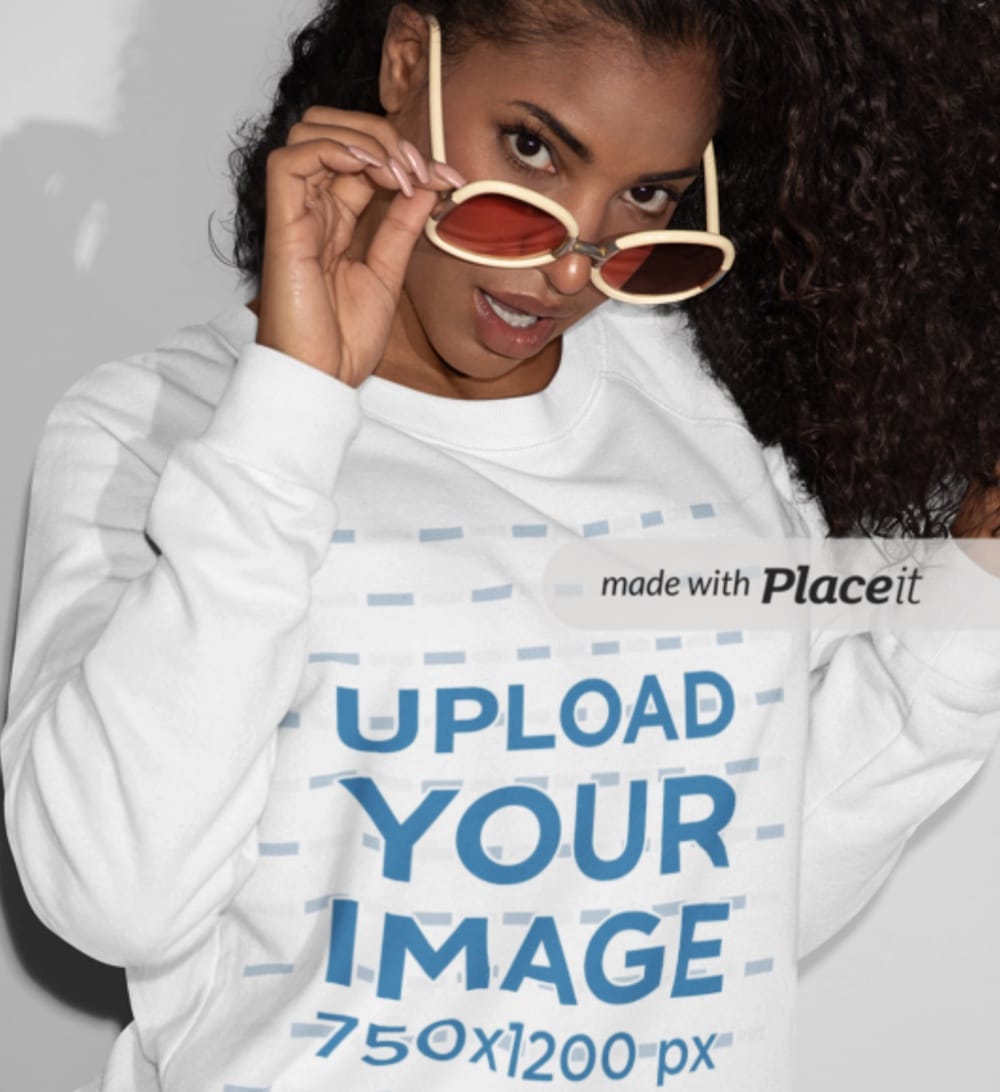 Get more eyeballs on your design idea with this FANTASTIC mockup generator featuring a sunglasses-wearing model.
What I like about this one is that it allows you to modify the background with any solid color you want.
The choice of background color can make the presentation more minimalist or more engaging.
So simple.
Moreover, a full frontal design worked a lot better for me than a simple chest logo.
MORE INFO / DOWNLOAD
6. Mockup of a crewneck sweatshirt on a tri-toned background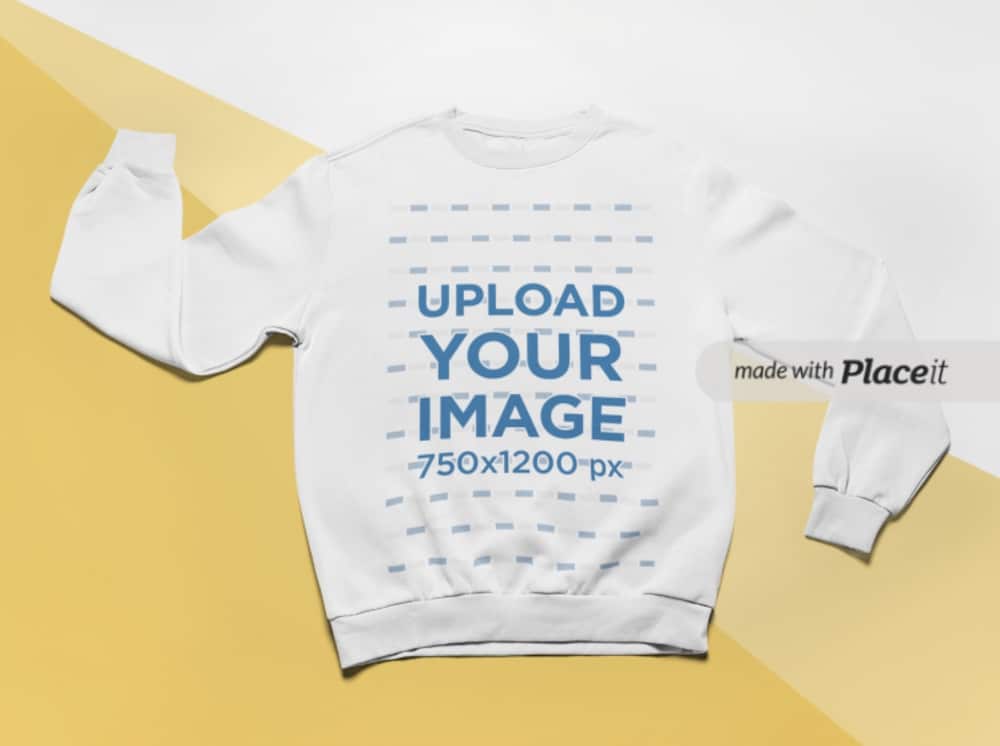 If a simple, one-colored background is TOO simple for you, here's a mockup generator I highly recommend you try.
The three-toned background can enhance the overall sweatshirt design presentation by a whole bunch.
The only thing is that you need to choose the colors very strategically to make it work. But when the combination goes hand-in-hand with your design, it'll work so well.
Try it, and you'll see what I mean.
MORE INFO / DOWNLOAD
7. Crewneck sweatshirt mockup over a wooden table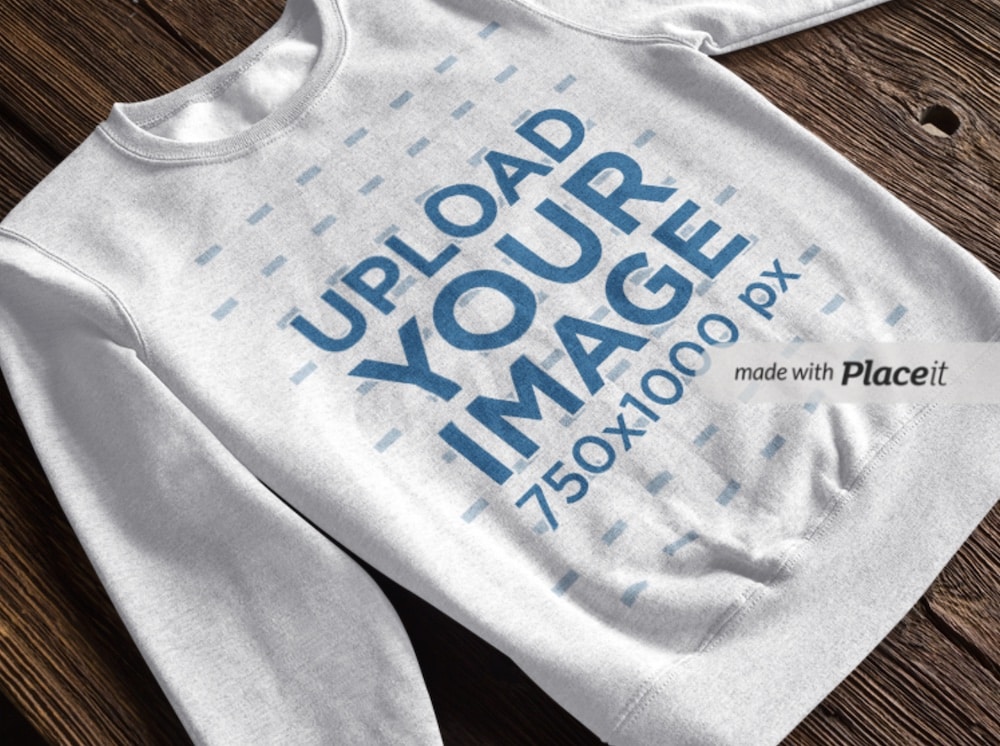 This minimalistic but realistic crewneck mockup is an EXCELLENT option for any clothing brand out there.
You can create a top-notch life-like outcome that takes you seconds but feels as if you'd taken a professional item photo.
The sweater allows any color, and you can also upload any design you want. What's great about Placeit is that you can use your smartphone to create a mockup.
I regularly play with it on the go.
MORE INFO / DOWNLOAD
8. Mockup of a woman with her arms inside a sweatshirt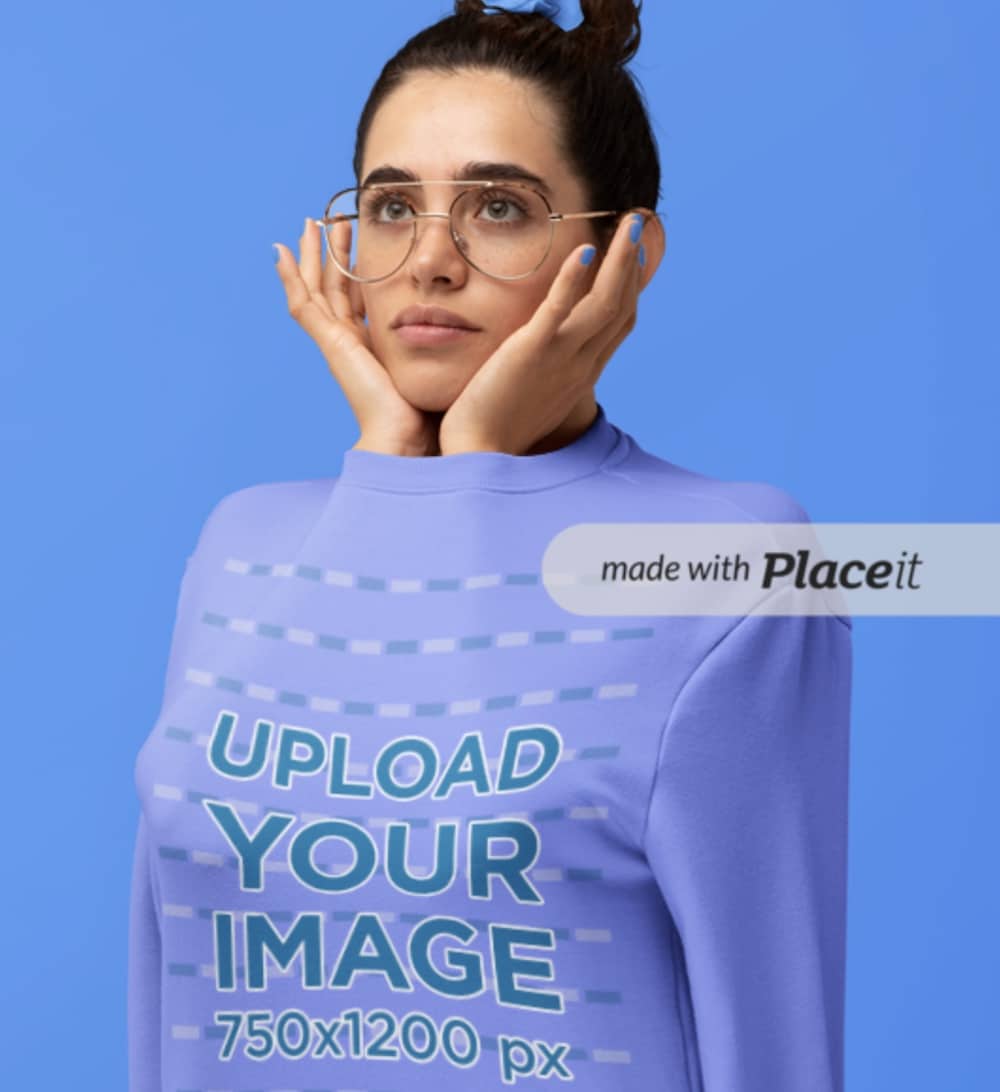 Dare to try something different? Then I have a cool and catchy crewneck sweatshirt mockup for you to grab the viewers' attention and curiosity.
Instead of modeling the boring, traditional way, this lady decided to put her hands inside the sweater.
The design wrapping is done carefully to make the outcome appear VERY natural.
You can also work on changing the background color to make it stand out even more.
MORE INFO / DOWNLOAD
9. Crewneck sweatshirt mockup of a man posing by a wooden counter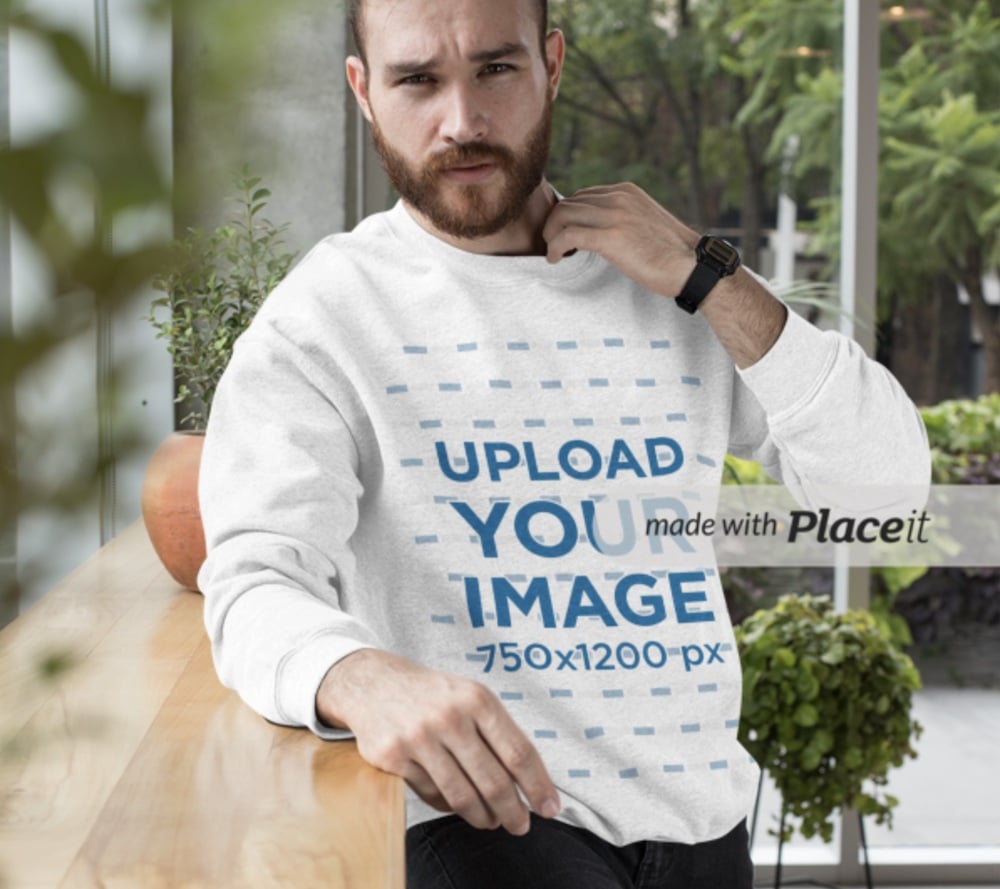 Do you plan on hiring a model and a photographer to take product images? Don't need to!
This fantastic mockup generator creates a pro-level result that you can use anywhere to promote a new sweatshirt design drop.
And it COSTS pennies compared to hiring a model and a photographer and having a product printed.
Plus, you can try as many variations as you want to find the winner.
MORE INFO / DOWNLOAD
10. Mockup of a red hair girl wearing a crewneck sweater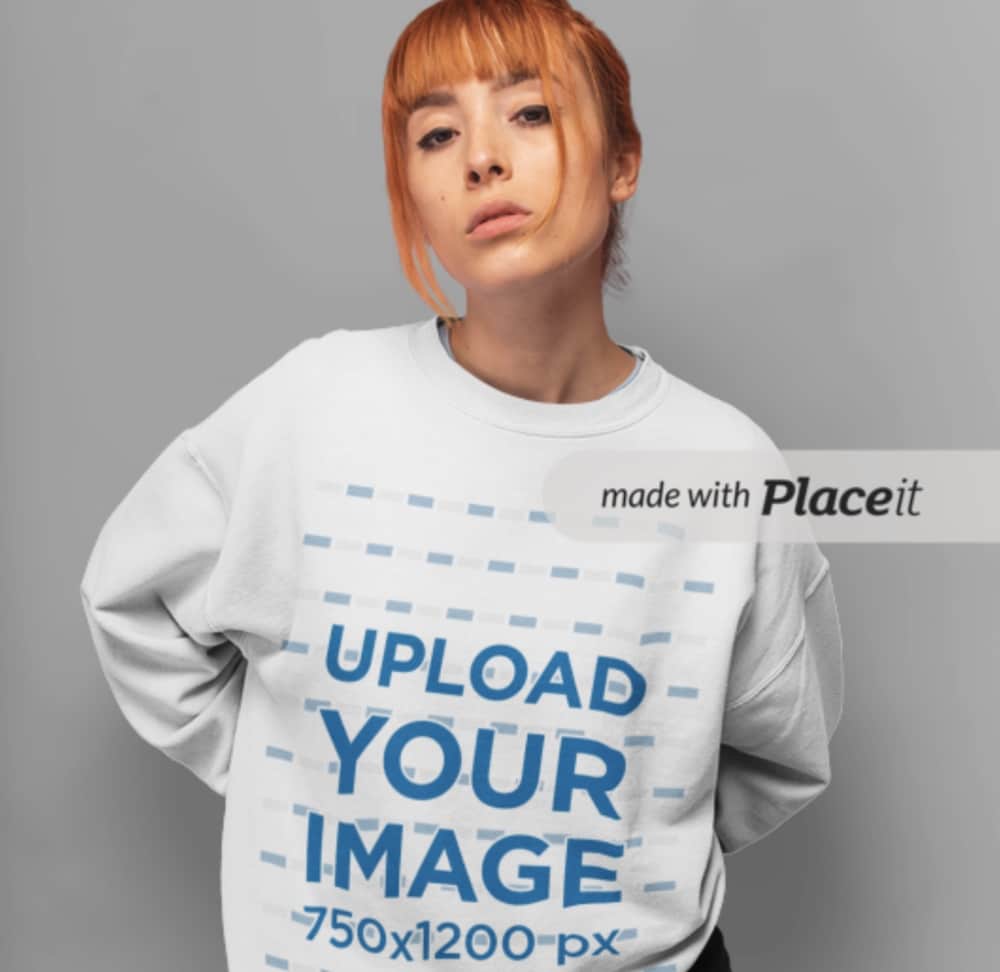 Here's a more TRADITIONAL studio-like shot of a female model wearing a crewneck sweatshirt.
I used this one for two clients' eCommerce websites, but social media promotion had a great reach, too.
Instead of a solid-color background, you can use a gradient or upload a custom image from your device.
MORE INFO / DOWNLOAD
11. Sweatshirt mockup featuring a fisherman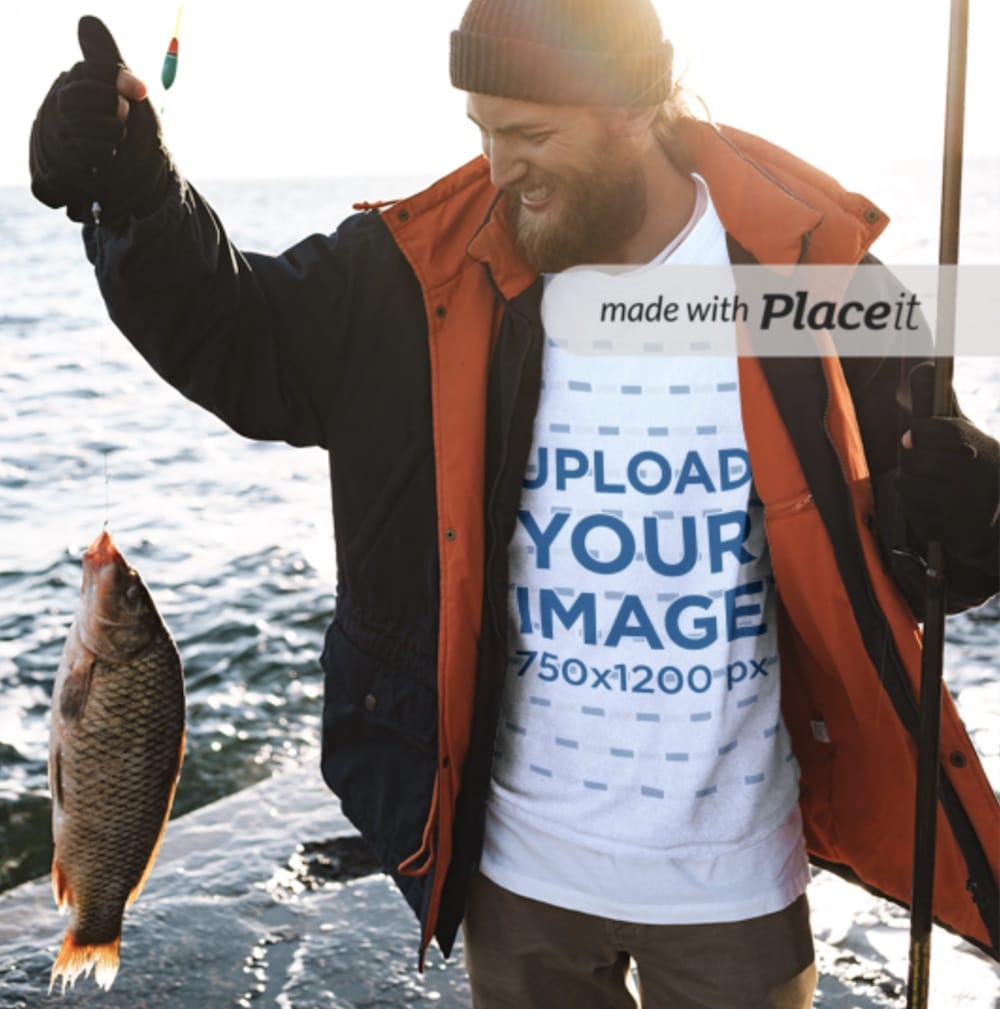 Whether you're working with a more niche or even an outdoors brand, this is a terrific mockup to create a REALISTIC showcase of a sweater design.
With a fresh catch, the happy fisherman can now sport any design and sweater color you want.
It only takes a few clicks to make it happen, which is one of my favorite features of mockup generators – quickness!
MORE INFO / DOWNLOAD
12. Crewneck sweatshirt template of a bearded dude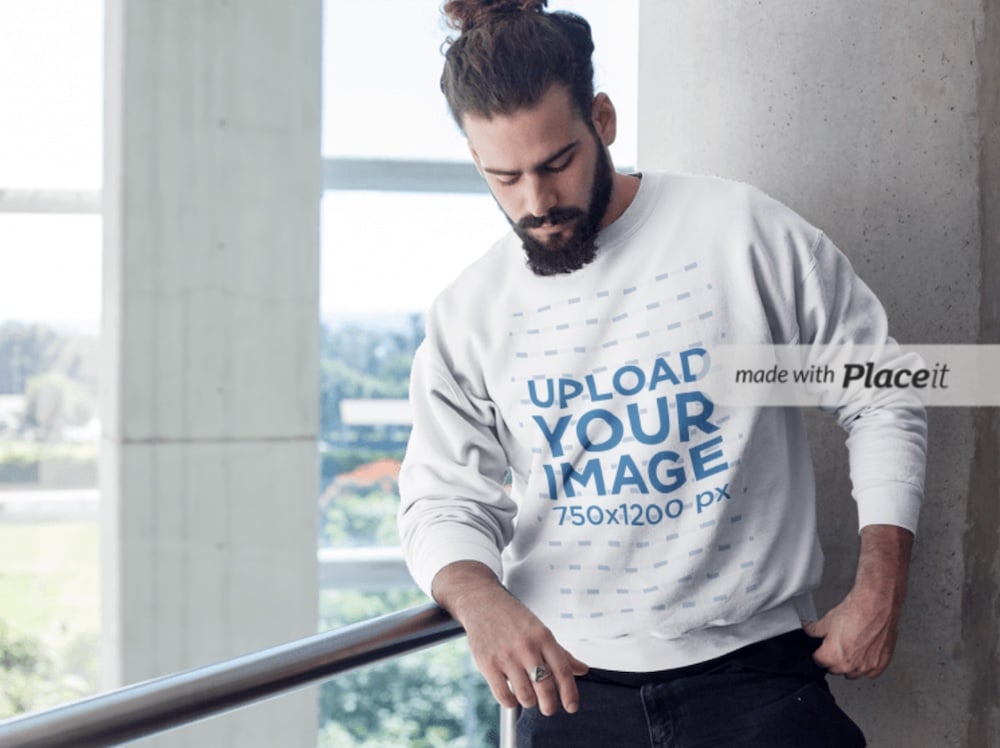 Another one of the great-performing sweatshirt templates you can take full control of right now.
You don't need any pro design skills to make it work for a superb demonstration of a sweatshirt.
And if you're particularly searching for a male model with long hair and a beard – this is the BEST one I could find.
MORE INFO / DOWNLOAD
13. Crewneck mockup featuring a young man at a parking lot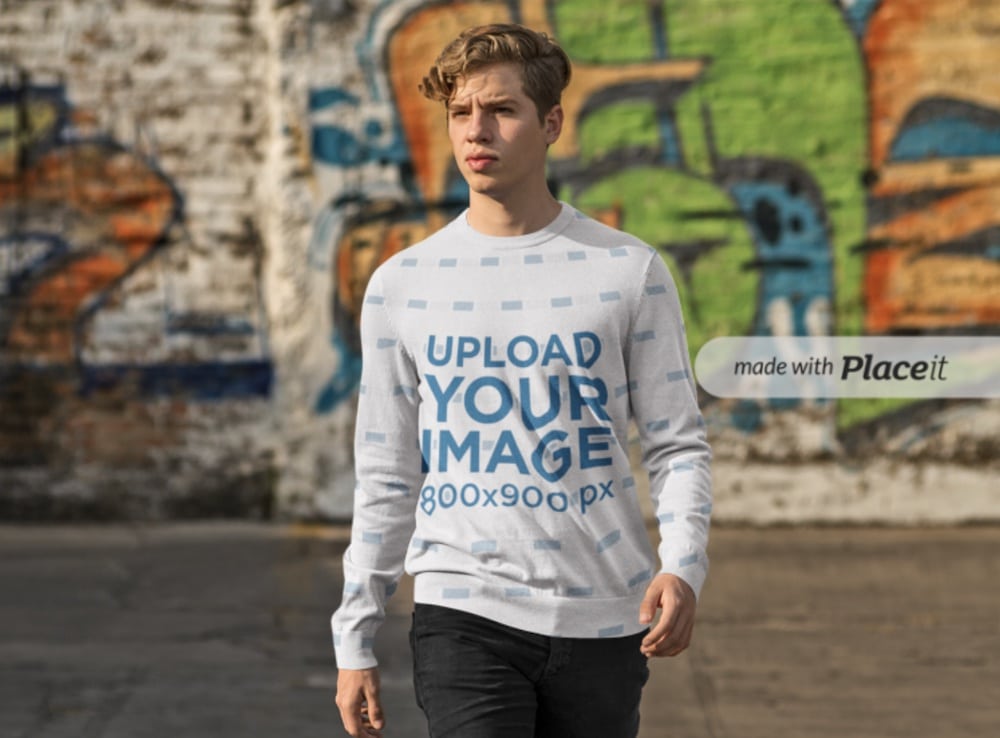 This one worked so well for me when working with a street and a sports lifestyle brand, but I know it can WORK for others too.
Remember, you can always test any of Placeit's mockups for free.
But I recommend creating the free account first because it'll make your workflow much simpler and smoother.
MORE INFO / DOWNLOAD
Best Free Crewneck Sweatshirt PSD Mockups
Freebies, yes?
14. Free crewneck PSD template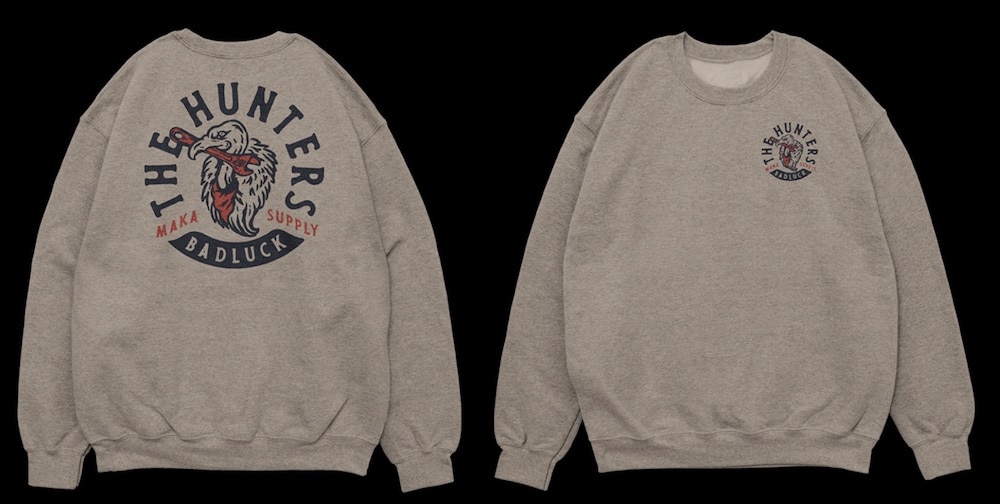 This effortless-to-use free layered PSD file allows you to create the EXACT crewneck sweatshirt you want.
This one stands out from the rest because you can customize every element of the sweatshirt (including the front and back).
Moreover, the template features a 4000 x 4000px resolution, guaranteeing the best quality.
And the smart object layer makes inserting designs and logos as easy as drag and drop.
The. Best.
MORE INFO / DOWNLOAD
15. Free front & back crewneck sweatshirt PSD mockup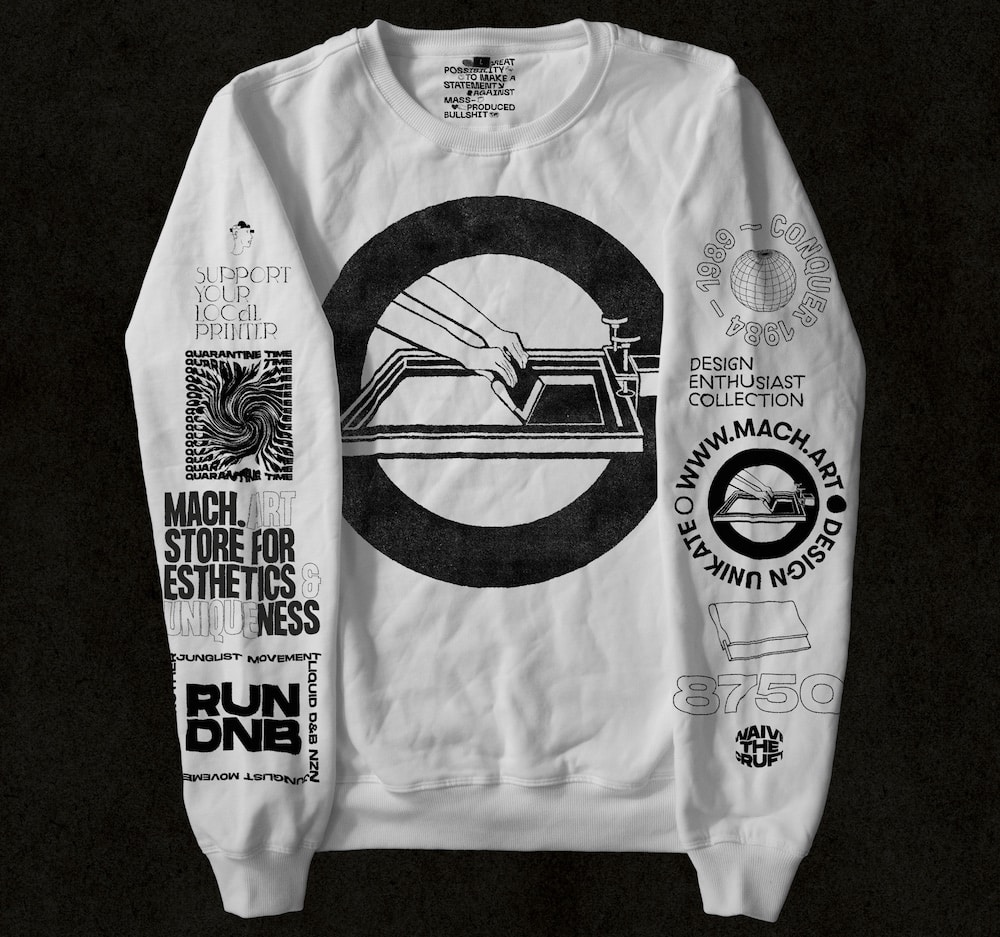 Another excellent solution for creating the desired presentation of a sweatshirt's front and back design, with a MINIMALIST feel to it.
You only need basic Photoshop skills to make a professional product for personal or commercial projects.
The crisp showcase comes from great resolution and high detailing that took Wendelin Jacober a lot of time to realize.
And it's free!
MORE INFO / DOWNLOAD
16. Free crewneck mockup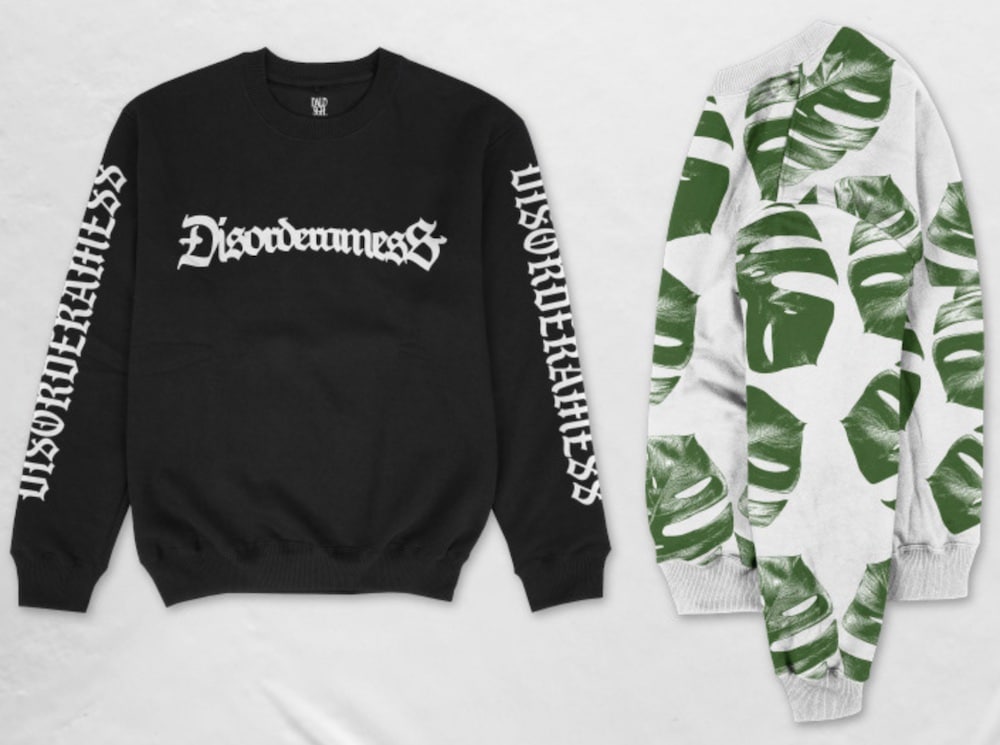 What's UNIQUE about this bundle is that you can create a presentation of the front, the back and the side of a sweatshirt.
Do you want to add a custom design on the sleeves? Now you can test it with this free template.
There's also a removable pocket to apply to the sweatshirt or leave it without for a cleaner look.
Enjoy the easy design insertion and color adjustment for a product presentation that'll create a WOW effect.
You can also use the full version and go commercial.
MORE INFO / DOWNLOAD
17. Free crewneck mockup PSD template

A top view of a sweatshirt with folded sleeves is ready to present any design, color or background you choose.
You can QUICKLY improve the default look thanks to the smart object layers that make modifying it a piece of cake.
And the 4000 x 3000px dimension ensures a refined look even if you zoom it in. GO.
MORE INFO / DOWNLOAD
How To Easily Create A Crewneck Sweatshirt Mockup
One of the best and fastest ways of creating a realistic crewneck sweatshirt presentation is with a mockup generator.
I use Placeit because it's the easiest of the ones I tested, thus ended up already creating 100s of projects with it.
You do all the work online – without any design experience!
5 Steps to create a crewneck sweatshirt mockup:
Step 1: Visit Placeit and search for the template you like the most. While I do recommend the ones I feature in this collection, you're welcome to use any other alternative.
Step 2: Once you find the perfect template, click it and start by uploading your image. Note: You can create it with a desktop or a mobile device.
Step 3: A popup window opens that allows you to crop and reposition your design for the perfect fit.
Step 4: The next step would be to adjust the background, change the sweatshirt's color and even stick some text or a graphic on it.
Step 5: And that's pretty much all the work you need to do. Download the mockup and spread the word about the new sweatshirt drop.
How simple was that?
But even if you use a PSD mockup, you'll find modifying and enriching it with your creative ideas effortless.
Open the template in Photoshop, search for the smart object and drag-n-drop your design.
From here, you can modify the colors and the background, play with other functions, and you're done.
Sweatshirts are EPIC.
Especially with your design on it!
My other clothing and accessory mockups you may be interested in:
::
Note: This article was originally published on December 20, 2022. But our team regularly reviews it and updates it with necessary improvements for accuracy.