Welcome, ball fans, to my collection of the best free and premium basketball jersey mockups.
From full basketball uniforms and kits to just the jersey, I covered everything.
Plus, I mixed between mockup generators and PSDs for ease of use and total creative freedom.
THIS IS IT!
You have everything to create a photorealistic presentation of a brand new team design or company's branding and logo.
This post covers:
Take the shot! (Just replace the ball with the mockup 🙂 )
Note: Since shirts and jerseys are kinda similar, don't miss our guide on how to make a T-shirt mockup without Photoshop.
Best Basketball Jersey Mockup Generators
All online jersey makers go for $7.95.
But you can also unlock the true potential of mockup and other design creation with monthly ($14.95/month) or yearly ($89.69/year) subscriptions.
I like the idea of making a mockup without Photoshop!
And that's what these are all about.
1. Ghosted basketball uniform mockup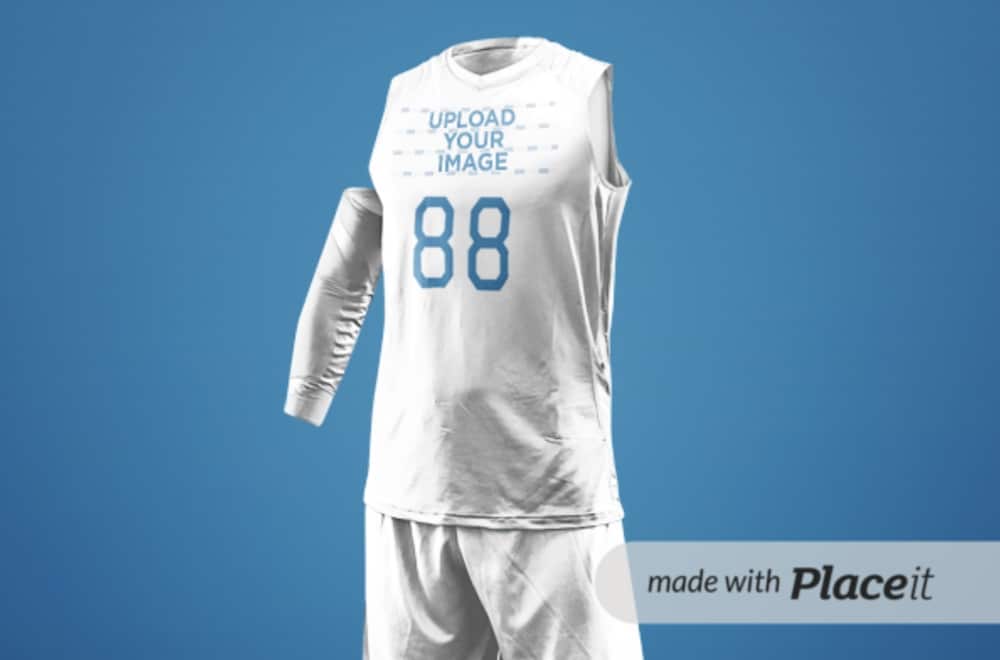 I want to start with this one because it's the one requested by the most. A full basketball uniform mockup that you'll edit and improve accordingly in a matter of a few clicks.
And yes, everything is editable – ONLINE!
Jersey, armband, shorts, compression shorts, socks, sneakers and background – make it your way.
For your team, your brand – whatever – you're in total control even when it comes to inserting graphics and logos.
MORE INFO / DOWNLOAD
2. Girl playing basketball mockup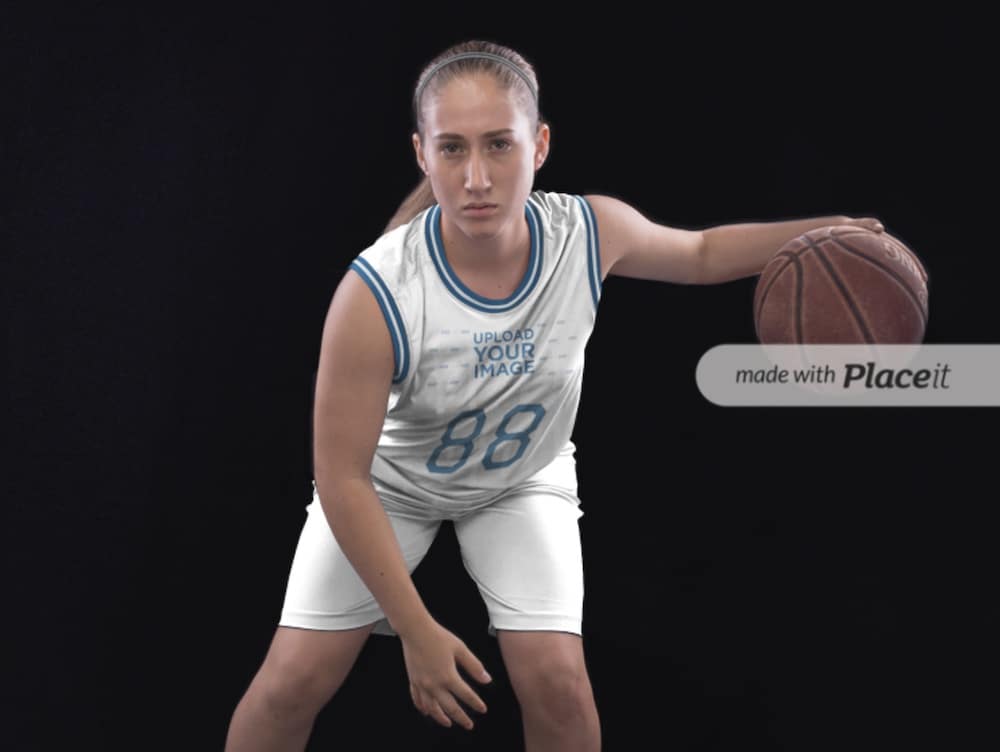 However, I still like basketball jersey mockups in action the most.
Why? Because they performed the best during my tests (especially on social!).
Here's a young girl playing basketball with a black background, which creates a superb, attention-grabbing effect.
What's also great about these types of templates are the eyes.
EVERY time I use a mockup of a person "starring at you" receives a great result.
Go. For. It. (Because the editing is so quick, and you can even do it for free.)
MORE INFO / DOWNLOAD
3. Basketball jersey maker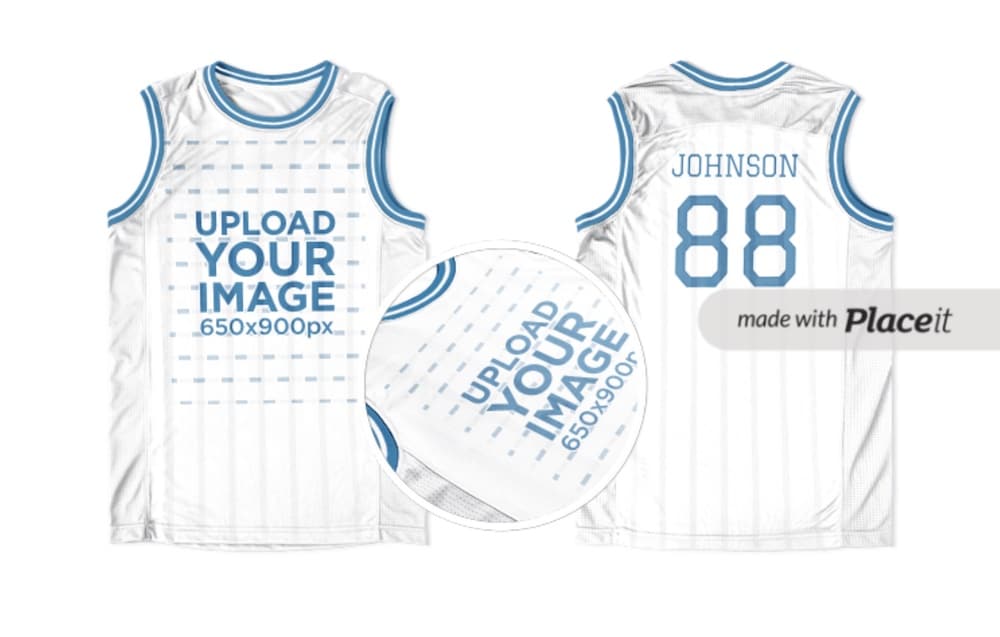 Bring the front and the back design to the world with this realistic basketball jersey mockup that is quick to create.
I really dig that you can change the color of the name, number and stripes. Of course, the overall jersey color is also editable.
Additional add text, graphics and image functions are handy to make the final showcase that you can use anywhere.
Whether for online campaigns, team websites or online stores – this one SIMPLY works!
MORE INFO / DOWNLOAD
4. Screaming basketball player mockup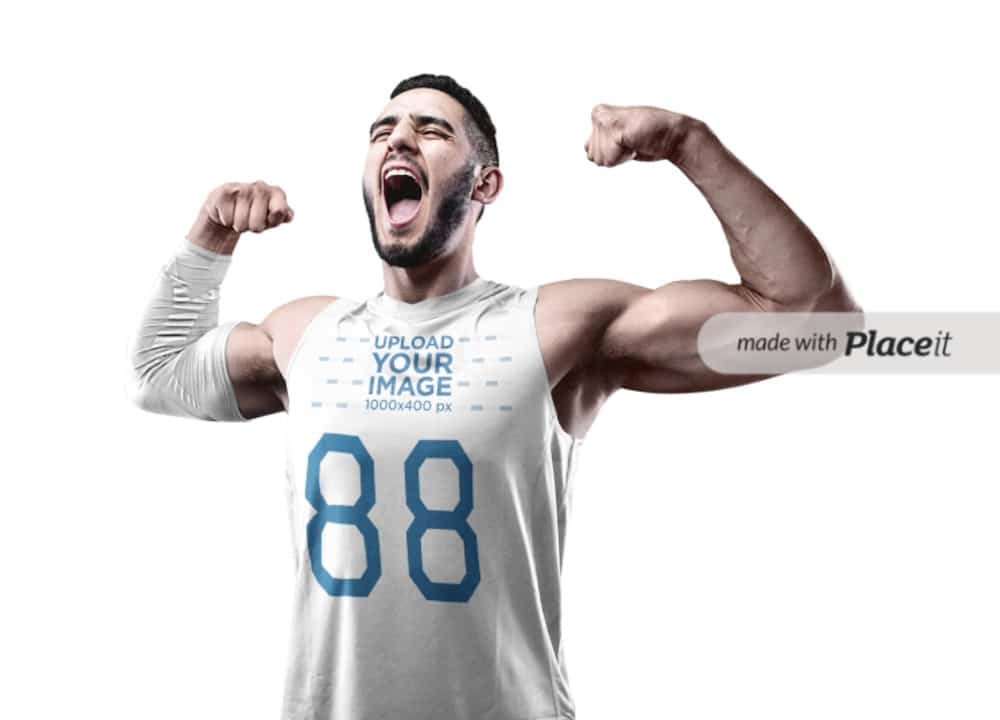 I tested this one on three of my clients' Instagram profiles, comparing it with a jersey-only template to see the effect they have on the followers.
I was blown away by how many likes and comments it received. (Plus, I chose different backgrounds for each of the tests.)
The instant online configuration allows you to create as many variations as you want. Upload your design, alter colors and you're ready to rock-n-roll.
EFFORTLESS.
MORE INFO / DOWNLOAD
5. Little girl holding basketball mockup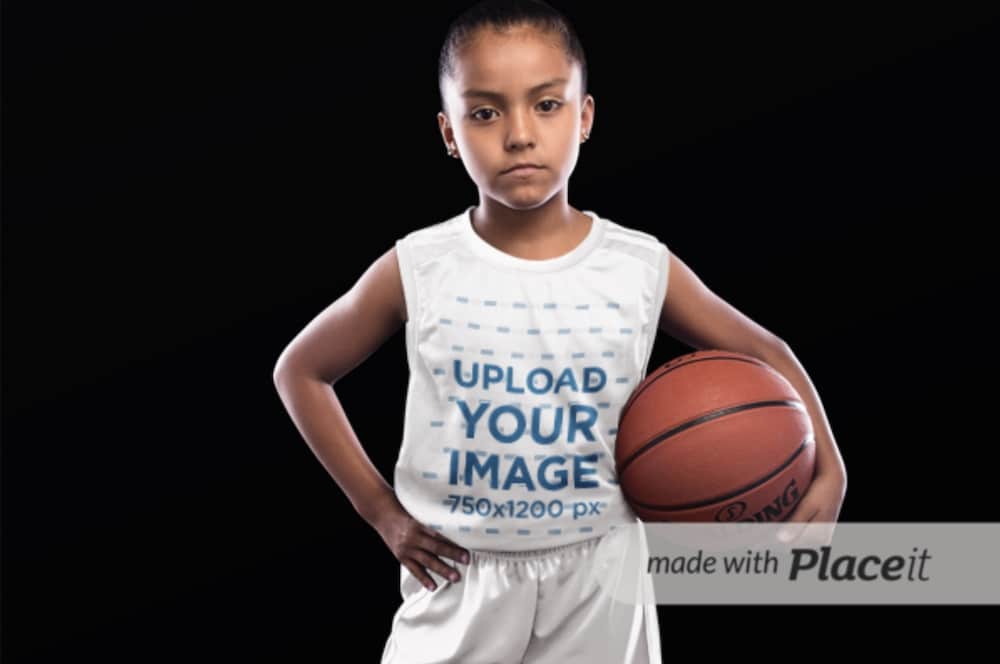 A young basketball player can now represent your team's design in all its GLORY. (Note: The background isn't editable, it's black, but that's good.)
You'll edit the color of the jersey and the shorts by picking the shades you like from the convenient color picker.
Moreover, a crop tool opens once you insert your image, allowing you to perform any final adjustments.
I usually stop customizing it here, but you can also add text and graphics to spice things up.
MORE INFO / DOWNLOAD
6. Female basketball jersey mockup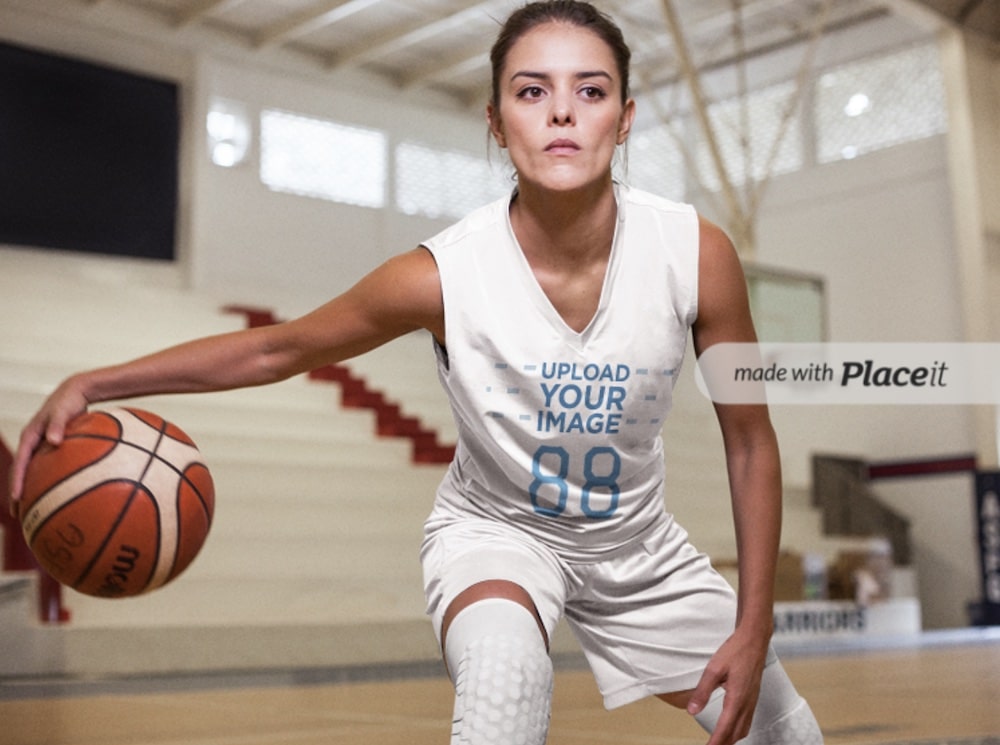 I tell you one thing: This female jersey mockup generator ROCKS.
It features a girl playing at an empty court, proudly representing your team (or just any design)!
The method to add your graphics is easier than you think. (Remember, you can even create a mockup using your smartphone when using Placeit!)
How cool does that sound?
Anyway, insert the image you'd like to add to the jersey from your device, quickly improve the apparel color and that's it!
MORE INFO / DOWNLOAD
7. Young basketball player mockup generator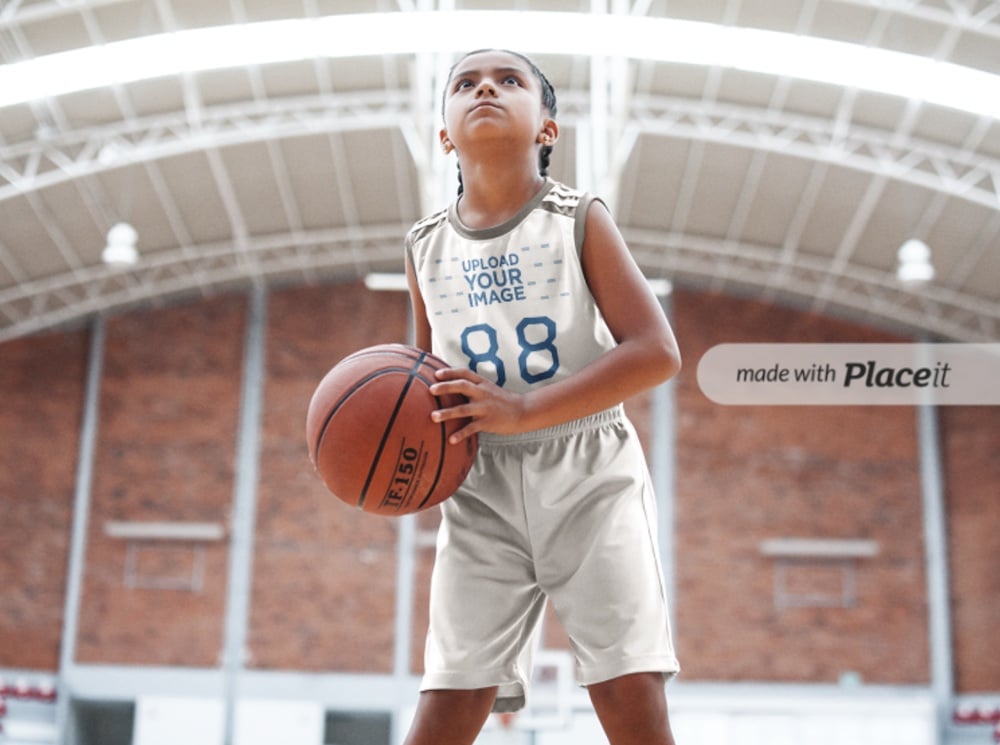 Similar to the one above, just that this jersey maker features a young basketball player focusing on her perfect throw.
Again, create a custom-made jersey and shorts kit, including custom text color in less than a minute.
You may want to add some text as a call-to-action, too, but that's completely optional.
Leave it as-is, just your branding because that's most impactful. (But feel free to play around with all kinds of possibilities – you're in CHARGE after all.)
MORE INFO / DOWNLOAD
8. Basketball kid mockup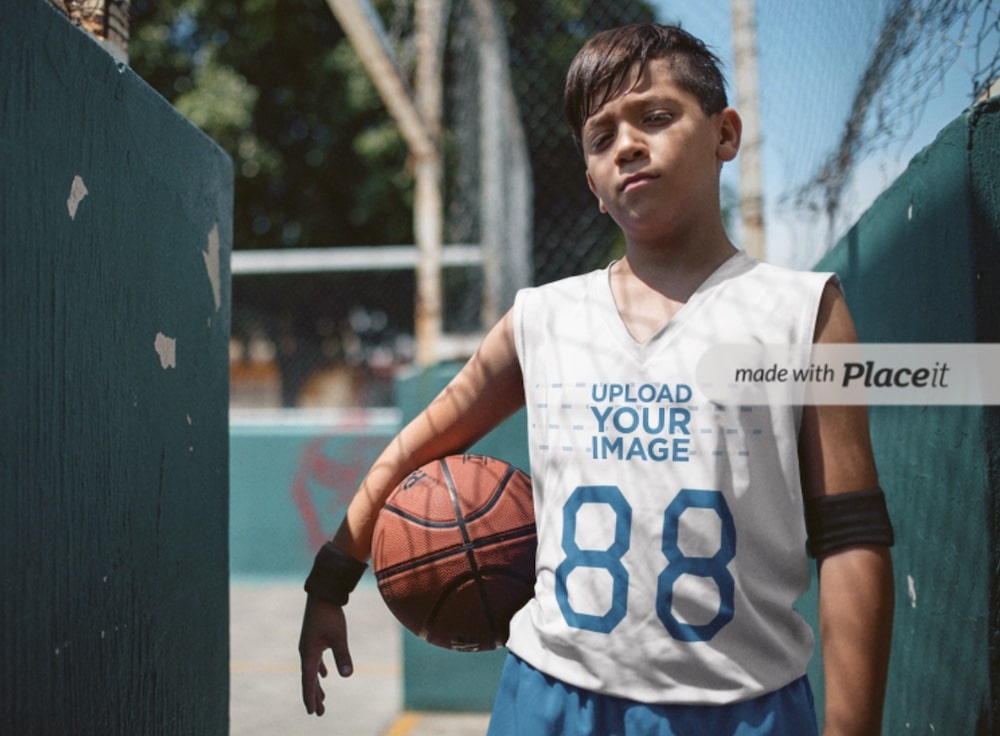 This street basketball kid is ready for a new match with everyone. But first, dress him up with a team basketball kit or an exclusive brand, it doesn't matter.
Note: While the default armbands are black and barely visible, you can make them of any color you want. (Can be a great detail for a more eye-catching effect.)
Test it. Try it. ENJOY it.
MORE INFO / DOWNLOAD
9. Basketball player spinning the ball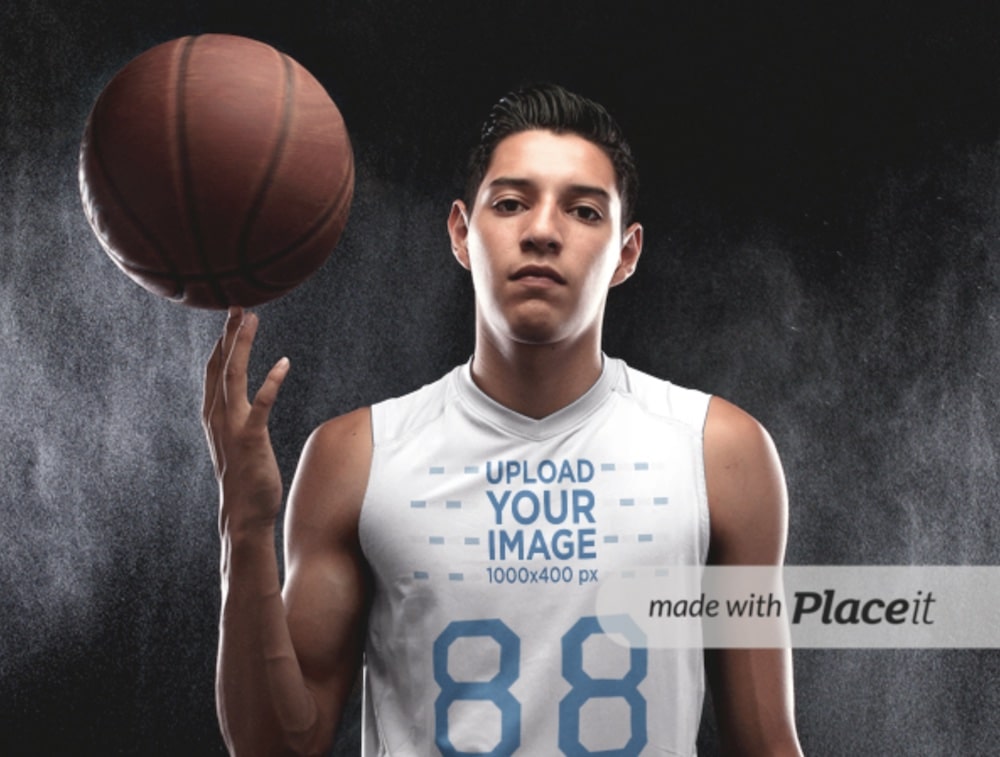 Whether he's a pro or amateur basketball player doesn't matter, what matters is how well he'll ROCK your team jersey design.
The number 88 is default and you cannot change it, but you can add your artwork and change the color of the jersey and shorts.
Placeit also offers you to add graphics and text, but that's something I rarely use because the mockups are so well-performing without. (But you can!)
MORE INFO / DOWNLOAD
10. Realistic basketball jersey maker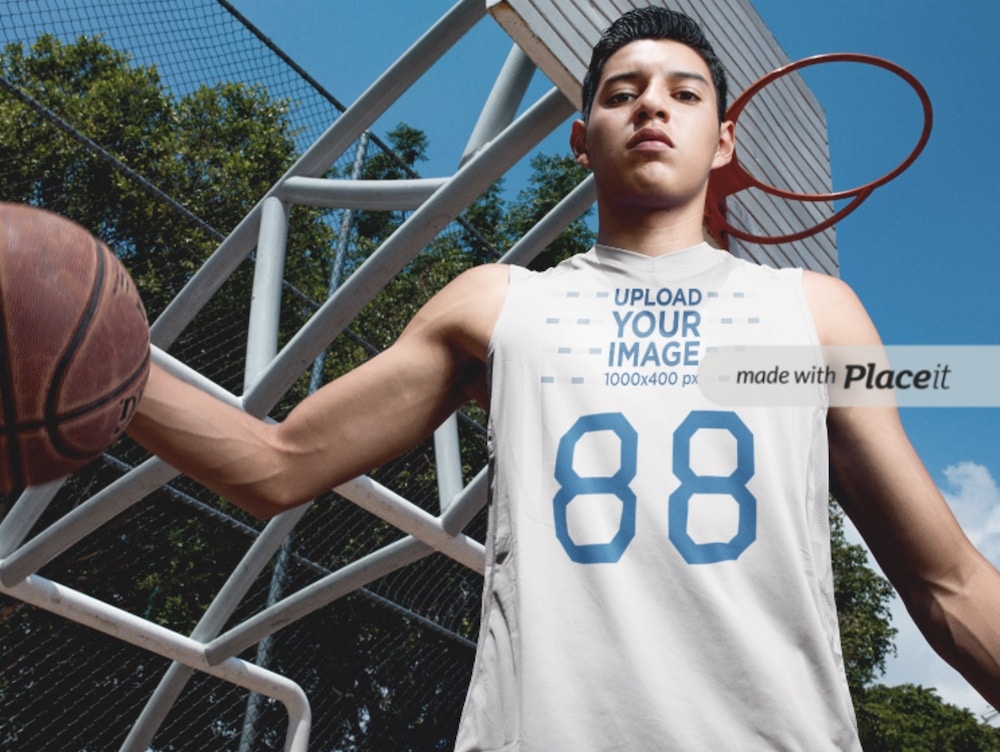 If a dark background doesn't fit you and you'd like to try something different then I highly suggest this realistic outdoor mockup of a basketball jersey.
This is a more close-up version, which focuses on the jersey (no need to edit shorts, because there aren't any 🙂 ) exclusively.
The final creation will be so REALISTIC you'll easily trick everyone (making them think it's already printed) – including the client you work with.
MORE INFO / DOWNLOAD
11. Basketball player dribbling ball jersey mockup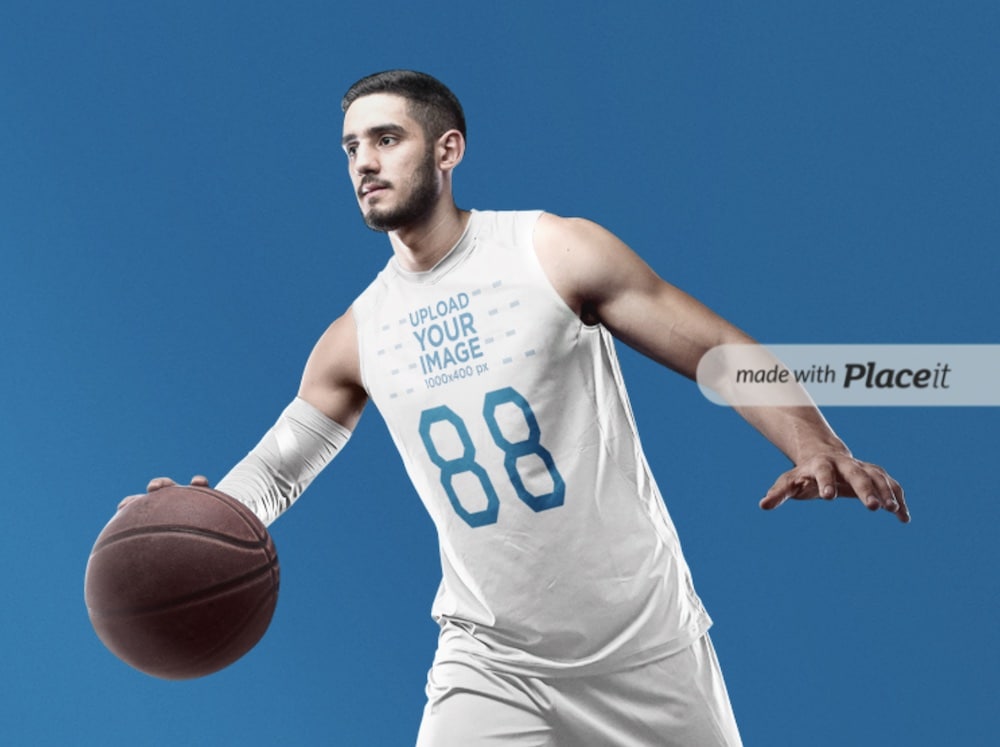 Make your jersey mockup showcase with the many editable elements that this generator sports.
I kept the armband white but adjusted all the rest, including the background (which I picked from the ready-to-use swatches).
Practice your creativity with a few clicks and without any advanced work or software. (But you'll still achieve the ULTIMATE quality!)
MORE INFO / DOWNLOAD
Best Basketball Jersey PSD Mockups
12. Basketball kit mockup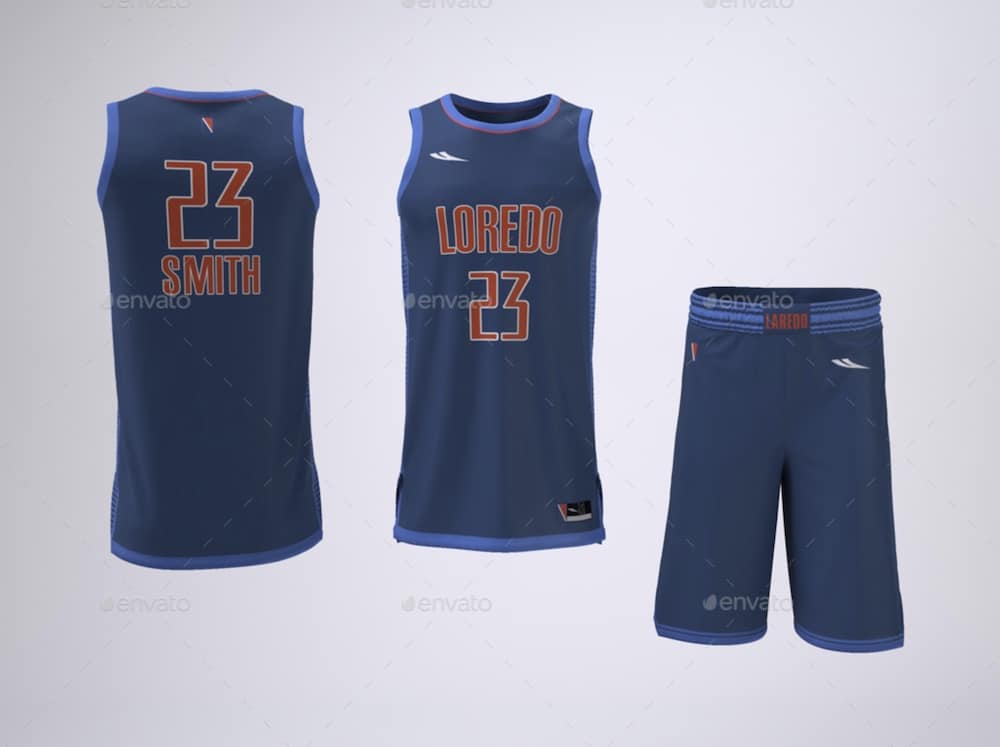 While you have the simplified version of a basketball kit mockup above, here's a PSD version if you'd like some more creative freedom.
The set includes five layered PSD files with excellent customization capabilities (except sneakers).
Each template is 2500 x 2500px, which isn't the largest but big ENOUGH to handle even your most detailed team branding designs and patterns.
I used it to create both a minimalist and a more dynamic showcase and both worked like a charm.
Price: $9
MORE INFO / DOWNLOAD
13. Men's v-neck basketball jersey mockup

The following three basketball jersey mockups are from the same author, appearing very similar except the collar is different.
You cover everything with the eight available views that take ONLY four steps to improve with your design.
Open the file
Change the colors
Import your design
Save
And that's it, my friends! Now turn your creativity and imagination on full whack and create the best jerseys!
Price: $20
MORE INFO / DOWNLOAD
14. Men's round collar basketball jersey mockup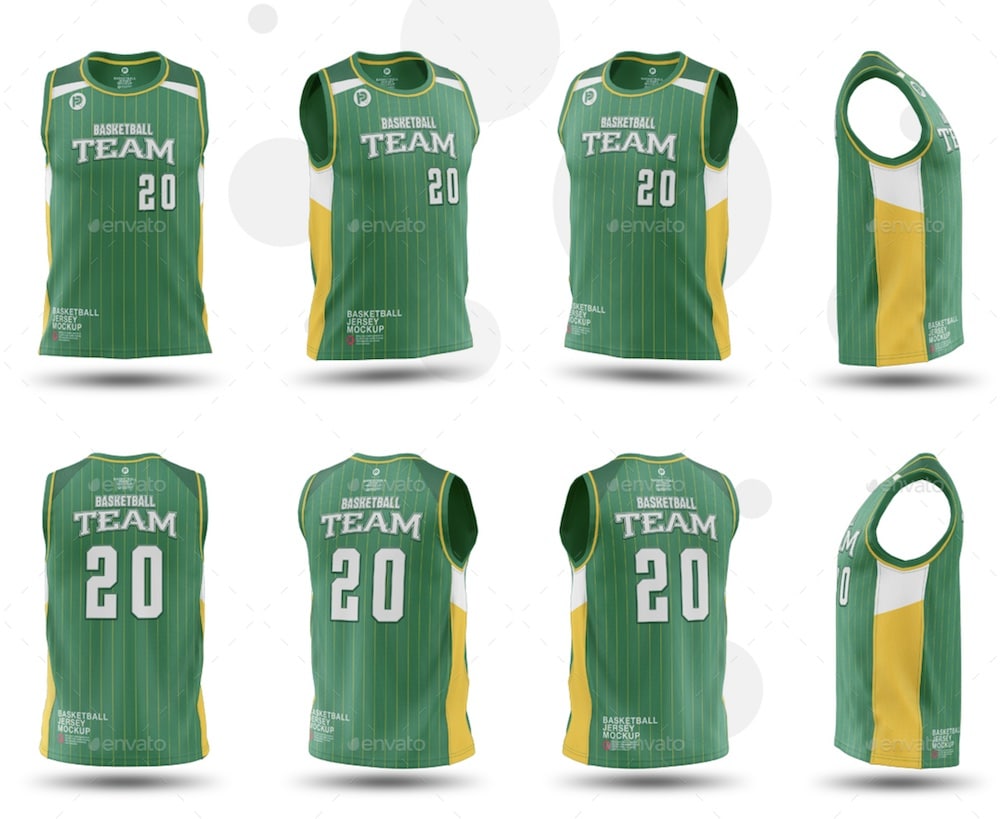 All the eight PSDs that this set includes have a basketball jersey with a round collar.
This one is MORE traditional and definitely the most affordable to create.
Moreover, it includes four styles of collar stripes, four for edges and two for side panels.
Just the default features alone offer many modification capabilities but each mockup is fully editable to make a 100% custom version.
Price: $20
MORE INFO / DOWNLOAD
15. Men's wishbone basketball jersey mockup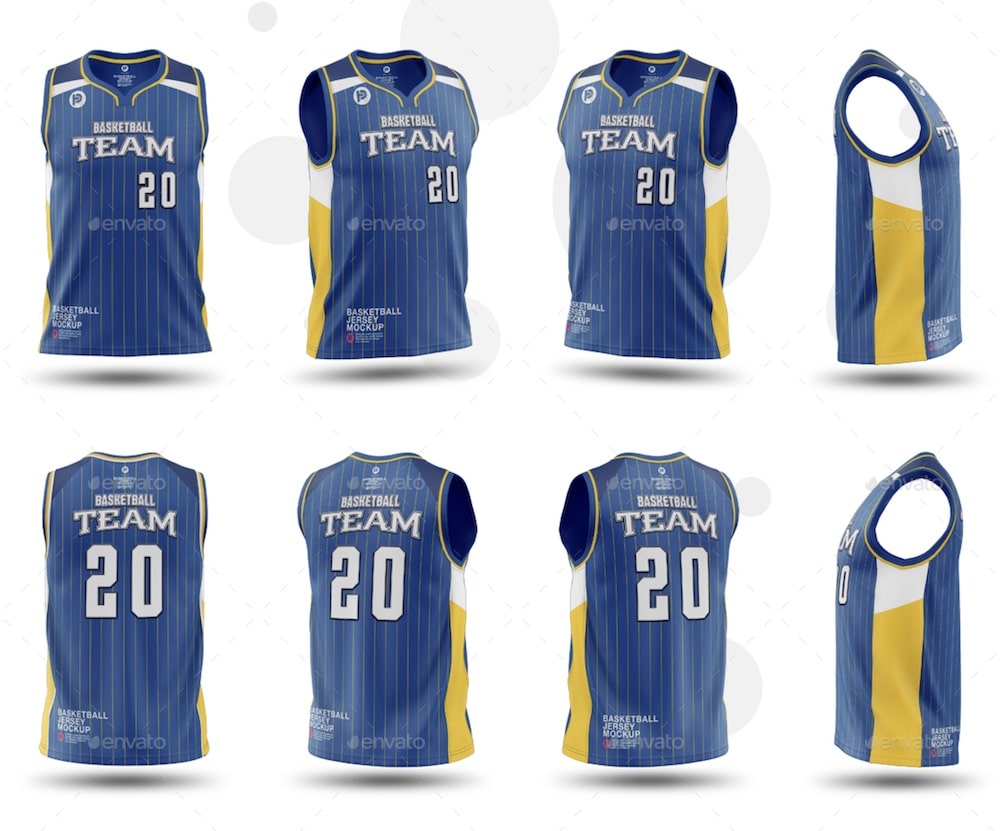 These basketball jersey mockups stand out because of the wishbone collar.
Multiple angles, various preset stripe colors and a smart object layer for quick design inclusion – you get it all!
Moreover, you can all modify the background with any solid color or even image or keep it transparent as I did.
ENDLESS possibilities just for you!
Including a nicely layered structure that simplifies and quickens the process.
Price: $20
MORE INFO / DOWNLOAD
Best Free Basketball Jersey PSD Mockups
16. Free realistic basketball jersey PSD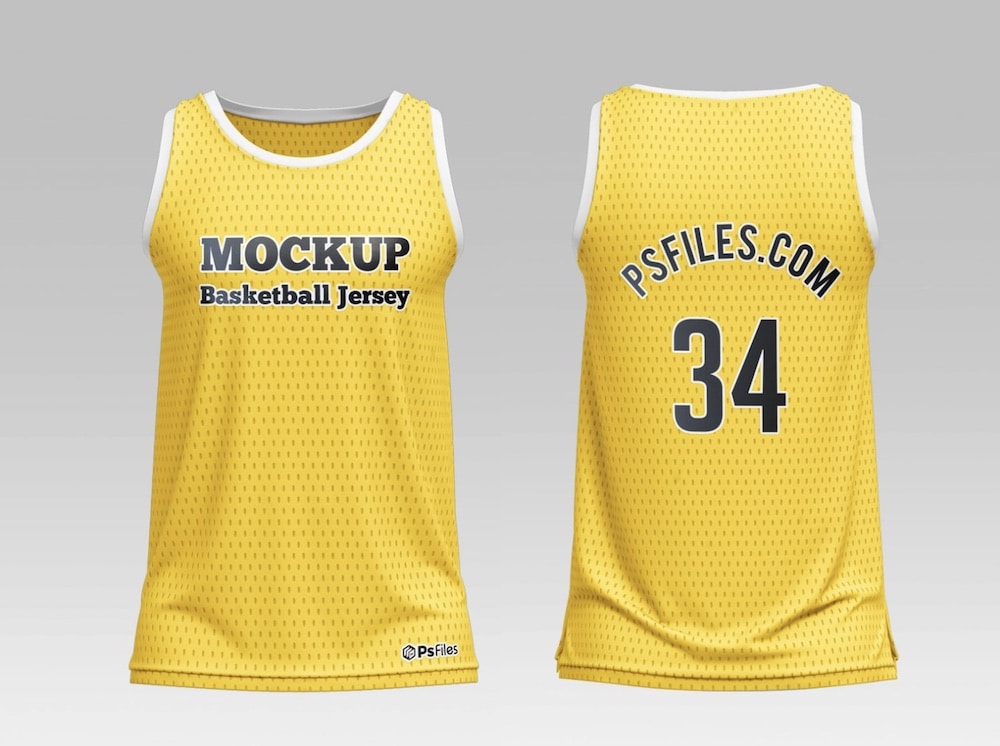 When searching around the web for the ultimate free basketball jersey mockups I noticed how little there are. And those that are available are very poor quality.
Luckily, I found this one, which, at 4500 x 4500px, is very high quality. Not just that, but even though a free template set, it includes three compositions!
YUP, better than some premium ones.
And like that wouldn't be enough, it's available for commercial and personal projects.
EPIC.
MORE INFO / DOWNLOAD
How To Create A Realistic Basketball Jersey Mockup?
One of the fastest ways of creating a life-like basketball jersey presentation is with an online generator.
You do all the work without needing software, and it's extremely beginner-friendly.
I prefer Placeit over any other platform, so that's what we'll use for this step-by-step tutorial.
Hint: You don't need any experience to create your perfect mockup.
5 Steps To Make A Basketball Jersey Mockup:
Step 1: Visit Placeit and pick your favorite template. Remember, you can test as many as you want before you go with the clear winner (it's something I usually do).
Step 2: Once you're on the template page, hit the "insert image" button and upload your design directly from your device.
Step 3: A popup will open with options and reposition and resize your image. You can review your changes by checking the live preview function, which is so handy. Then click "crop" to get your design on the mockup. See? SOOO simple!
Step 4: You can now enjoy playing with other customizations, like changing the colors, adjusting the background (where it's possible), adding a graphic/logo, etc.
Step 5: Seal the deal by clicking the "download" button, and you're ready to use your creation.
For all my Photoshop fans, the process is almost equally effortless, except for the PS part.
Open Photoshop and import any PSD template from the collection above. Hey, you can start with a free version, test the waters, and go from there. We all do that.
I made sure to include only the mockups with the best layered structure, so you can easily find the smart object. This little feature allows you to drag and drop your design without needing to do any advanced work.
Easy.
You can then activate other layers that give you the freedom you deserve to alter the default settings however you want.
From changing the colors and the background to adjusting the shadows and more – it's entirely up to you!
::
Note: This article was originally published on June 4, 2022. But our team regularly reviews it and updates it with necessary improvements for accuracy.