Are you searching for the best free and premium square stamp mockups?
We still use stamps sometimes (even though it rarely happens nowadays).
Some clients like to stand out or appear "old-fashioned." (But their businesses are not.)
If you are designing a square stamp, we gathered ten of the best mockups (free and premium) out of reviewing 63.
So plug and play, and enjoy the photorealistic stamp mockup.
BUT.
VERSATILITY separates this collection of square stamp mockups from all the rest.
This post covers:
You get templates that you customize entirely online, layered PSD files, and free versions.
Something For Everyone.
(Note: You don't always need Photoshop to make a mockup.)
Over to you!
Note: You may also be interested in my collection of the best round stamp mockups.
Best Square Stamp Mockups For Logos
1. Mockup of a stamp on a paper corner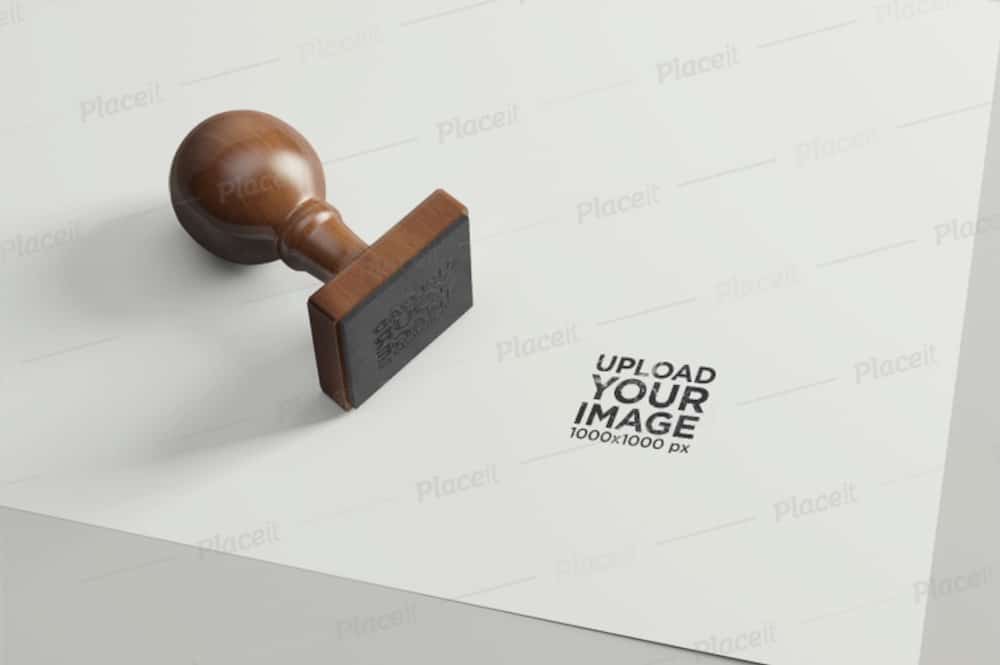 A beautiful and simple mockup generator that creates a striking showcase of your logo idea.
Heck, this is the template that will help you create a life-like demonstration even if you would like to use a stamp for something else.
You can then share it with your audience or your client and see their reaction.
At this time, you can still perform as many improvements as you would like before creating the physical version.
Placeit allows you to style the mockup in just a FEW CLICKS, without any experience.
Price: $7.95
MORE INFO / DOWNLOAD
2. Squared rubber stamp mockup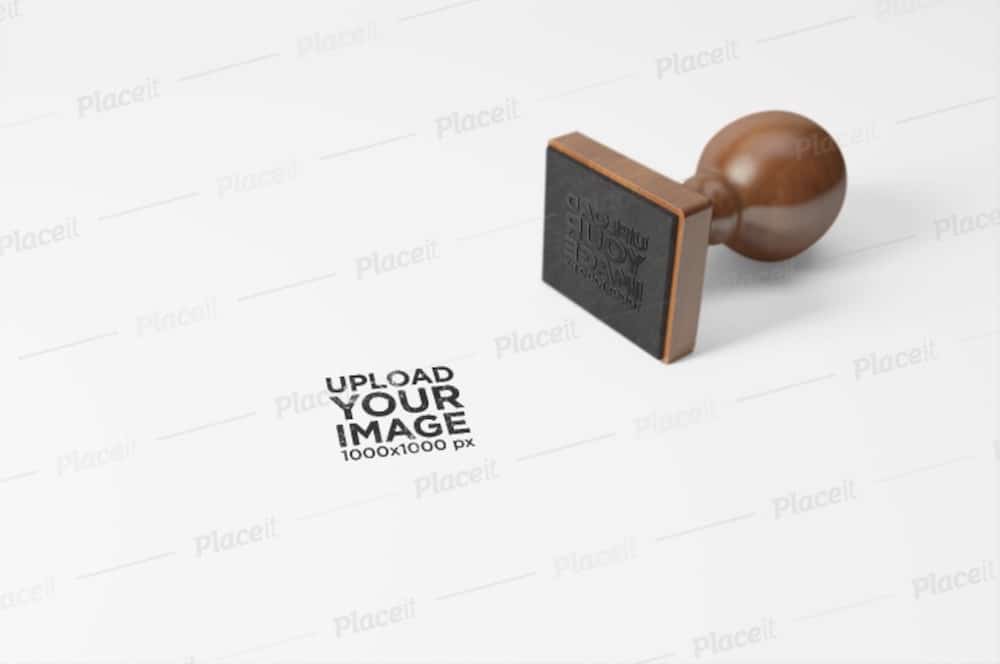 If you need something even more minimalistic than the one above, this is it.
The mockup features a rubber stamp on a white surface (paper), which you can also adjust with any color you want.
As for the latter, just choose the shade that fits your needs from the convenient color picker.
Moreover, upload the design directly from your computer and see it appear on the mockup with a click.
You DO all the WORK ONLINE, using your favorite web browser.
Along with importing your image and changing the paper color, you can also attach a logo, text and graphics.
Price: $7.95
MORE INFO / DOWNLOAD
3. Square stamp mockup PSD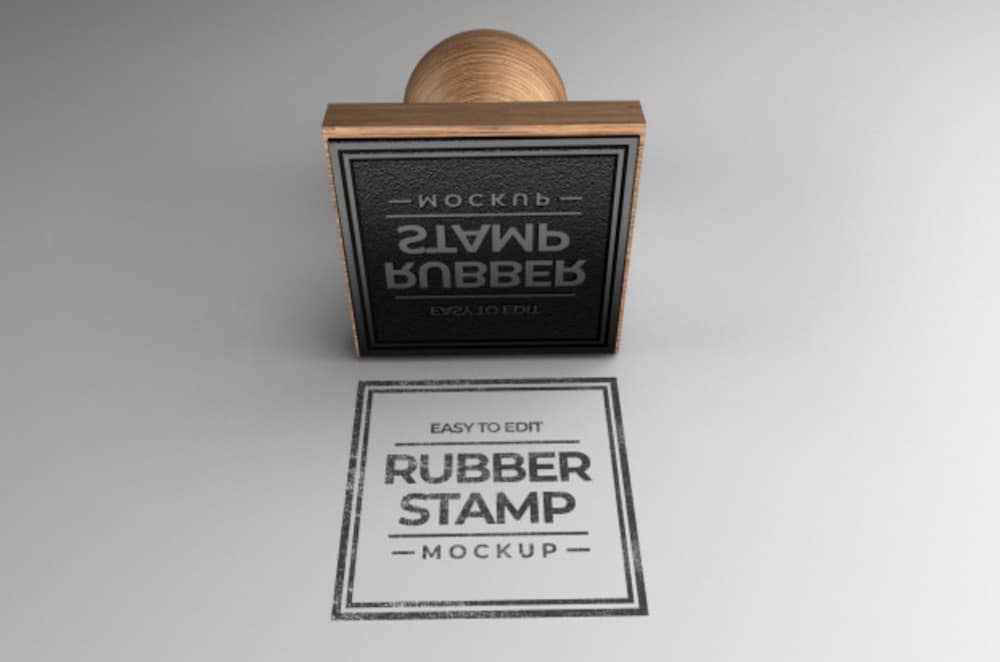 With a predefined mockup, very little work is required to end up with a top-notch final product.
Create a presentation of a company logo compellingly with a stamp mockup.
This impressive solution ensures a great display of your idea that will inspire everyone.
You can have it all sorted out in a little breeze with the excellent resolution and great layering.
The mockup features a stamped logo on a sheet of paper, but you can also showcase it on the stamp itself.
Get CREATIVE and make a finishing product that will help take things to the next level.
Price: $7.99 (subscription)
MORE INFO / DOWNLOAD
4. PSD stamp mockup design

With the wide variety of square stamp mockups that you can find on this list, there is pretty much something for everyone.
For the most part, they all come pretty clean and minimalist, so they cater to a vast audience without a shadow of a doubt.
And this next PSD mockup is no different.
It features a wooden rubber stamp with a stamped logo on a sheet of white paper.
You can now have a full-blown life-like showcase available to present to your client within a few (quick) clicks.
Heck, you can use this one on SOCIAL MEDIA, even your ONLINE PORTFOLIO.
Price: $7.99 (subscription)
MORE INFO / DOWNLOAD
5. Square stamp mockup design PSD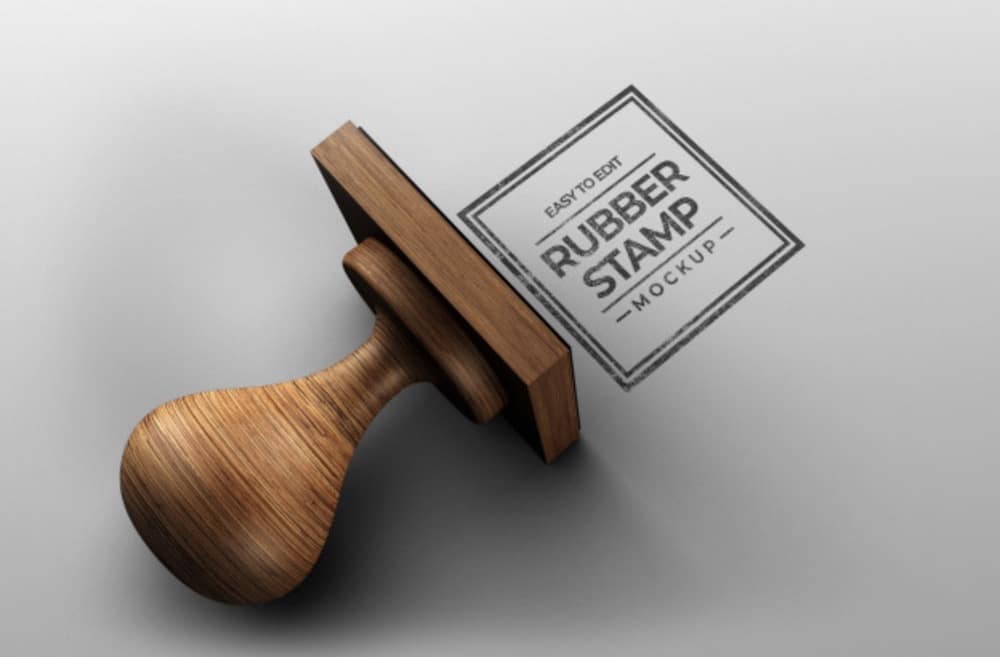 This is a somewhat similar PSD mockup compared to the one above, just that it features a different positioning.
If you want to go just slightly creative, this is definitely a fantastic choice that will do you well.
There is no need to produce the complete presentation of your logo idea for a stamp from the ground up.
Instead, utilize a ready-to-use template and make an immediate difference.
Great quality and simple process of improving the mockup guarantee you a potential-raising end solution.
You'll also BOOST your workflow while keeping professionalism intact.
Price: $7.99 (subscription)
MORE INFO / DOWNLOAD
6. Square postage stamps mockup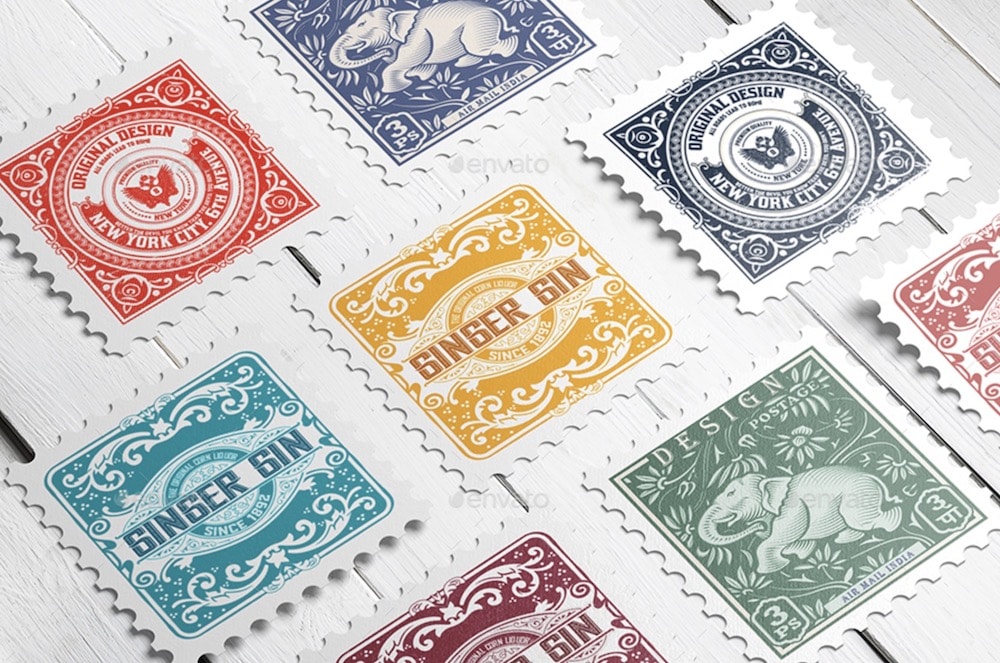 If this entire list of square stamp mockups focuses on rubber stamps primarily, here is a postage version for you.
You will discover a whopping collection of fifteen views, which will allow you to create the most photorealistic presentation of a square postage stamp design idea.
The resolution is 3000 x 2000px, featuring a 1.3 × 1.3 inches stamp with four additional filters.
A ton of material to make sure you get all and EVERYTHING for a stunning stamp design presentation that will boost your professionalism and creativity.
You can also customize shadows and highlights, giving you creative freedom you deserve.
Price: $7
MORE INFO / DOWNLOAD
7. Wooden stamps mockup set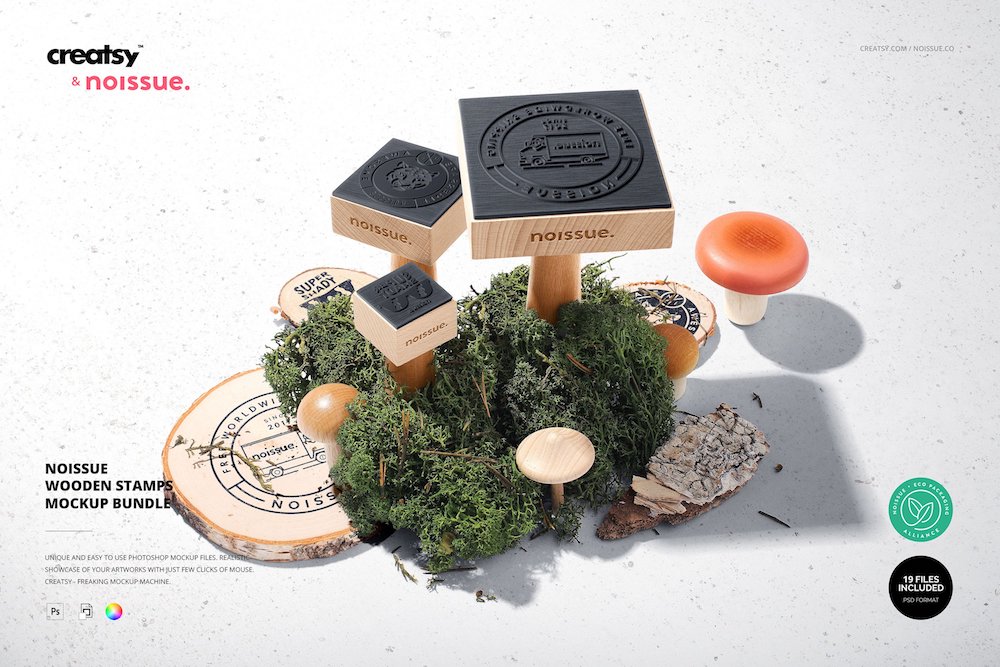 While the major part of the mockups on this list are very minimal-looking, this one goes completely against the pattern.
It features a beautiful set of wooden stamps in a forest-inspired atmosphere.
In short, if you would like to create a presentation that will trigger everyone's interest, now you know where to start.
In this set of mockups, there are nineteen PSD files, all coming at a super high resolution of 6000 x 4000px (300dpi).
You know already that the life-like square stamp design presentation will be MIND-BENDING.
You will never get bored with so many variations to choose from, whether you work with one or 100 clients.
Price: $19
MORE INFO / DOWNLOAD
8. Square rubber stamp PSD mockup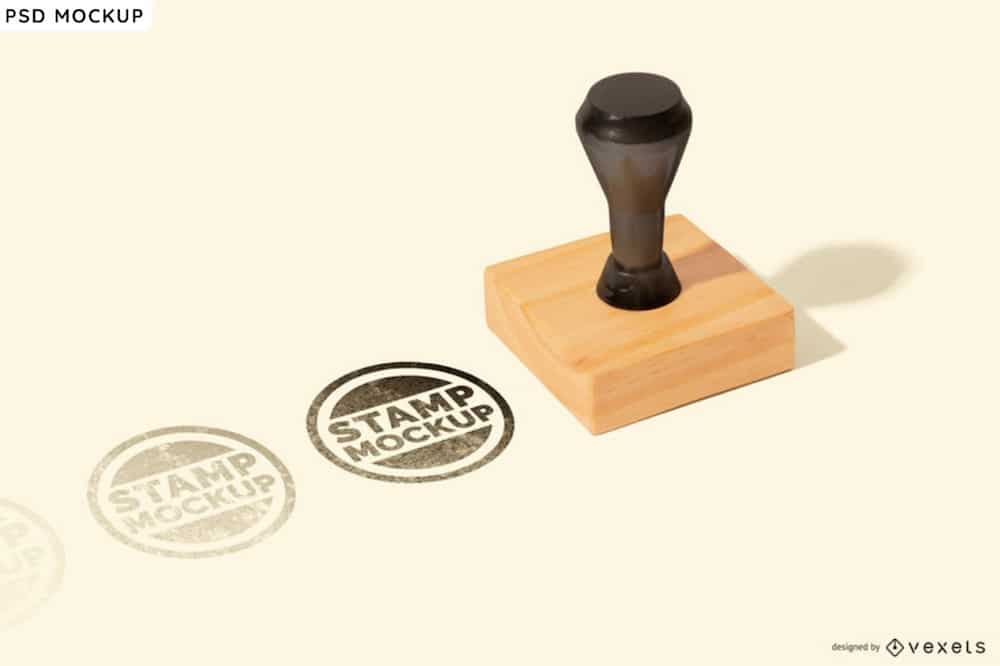 This is a PSD mockup of a square rubber stamp that you can use for any brand logo presentation.
It features a wooden stamp and a stamped logo on a sheet of paper at an angle.
The template comes at a high quality, making sure even the most detailed designs appear with crystal clarity.
On top of that, EDITING and IMPROVING this mockup will be a little breeze with Adobe Photoshop.
Indeed, the file comes with smart objects, so sliding in design will be instant.
Price: $7.50
MORE INFO / DOWNLOAD
Best Free Square Stamp PSD Mockups
9. Rubber stamp mockup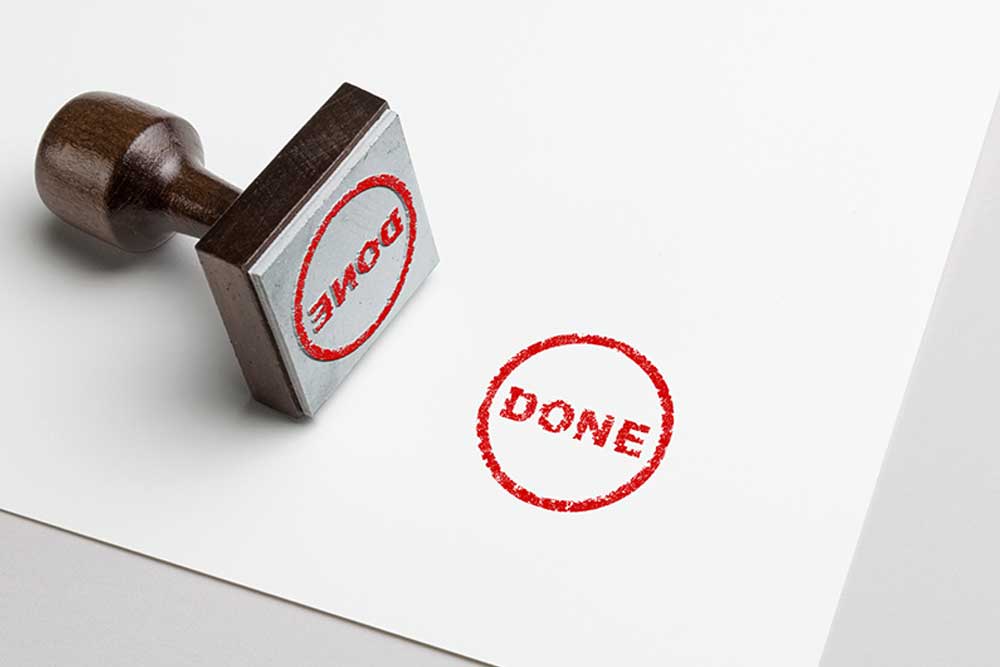 To your luck, here is a free square stamp mockup that you can put to use right away.
The final product will be far from half-baked even though you do not have to spend a penny on this one.
The dimension of the mockup is 4000 x 3000px, which tells you more than enough.
Creating an impactful demonstration will be quick and straightforward.
After you import the PSD file to Adobe Photoshop, search for the smart object layer and drag and drop your artwork.
That's it!
Test things out, see how well the logo fits the stamp and go from there.
MORE INFO / DOWNLOAD
10. Square stamp logo mockup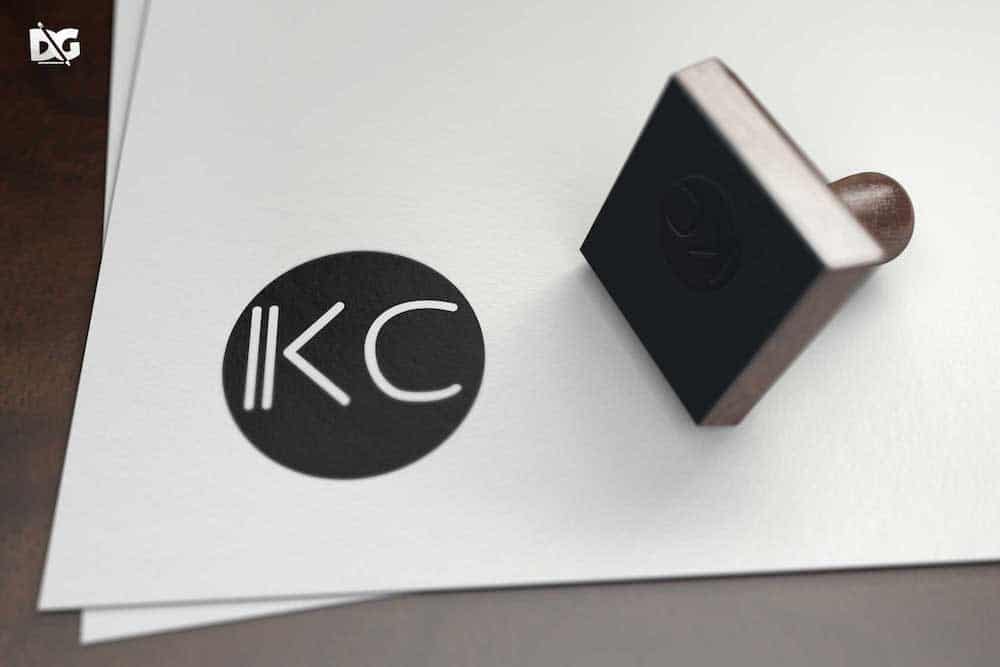 Instead of only offer you premium alternatives, here is another free mockup that will do the trick.
It comes as a fully layered PSD file, which you can style and beautify via the convenient smart object.
At this point, you are done doing the work, as you have the photorealistic exhibition of a logo ready to go.
Present your idea to your client, and you two can then together investigate it further, discussing any last corrections and improvements if necessary.
You know the outcome will be high-quality, thanks to mockup's 3000 x 2250px resolution, and that is a fact.
MORE INFO / DOWNLOAD
How To Make A Square Stamp Mockup?
Are you ready to take action and create your (first) mockup?
It's super simple because I'll show you a method where you don't need Photoshop to make it happen.
All that's necessary is an online mockup generator, and the rest becomes history.
We'll use my favorite, Placeit.
Design A Square Stamp Mockup In 5 Steps:
Step 1: Go to Placeit, and use their search bar to find the template you want. (The live results make finding the right mockup much faster.)
Step 2: You'll see a bunch of options after you open the template page, but I recommend inserting your "image" first. (This allows you to test the template quickly and find whether it's a yes or an "I need to test another one." Remember, you can try all Placeit templates for free.)
Step 3: After your design uploads, you can first resize and repositions it (if necessary).
Step 4: Then, navigate to other customization functions to modify the template however you want. (This could be changing the colors and the background, adding text, etc.)
Step 5: Click download, and you're done. (How easy was that?)
Moreover, the process is also pretty straightforward for everyone who wants to work with Photoshop.
Open PS and import your PSD mockup. Then click the smart object layer to drag and drop your design.
And by accessing other mockup layers, you can adjust and improve the default configurations further.
I made sure to include only PSD templates with an organized layered structure so that everyone gets the most out of them.
Good luck.
::
Note: This article was originally published on November 1, 2020. But our team regularly reviews it and updates it with necessary improvements for accuracy.