I'm excited to welcome you to our review of the best free and premium pin button mockups.
Why? Because I'm a fan of wearing them!
You can think of pin buttons as pocket-sized advertising wonders! Do not underestimate their impact.
For this reason, we have researched and selected the 15 best premium and free pin button mockups. (We included both mockup generators & PSD files.)
Jump straight to:
If you want to showcase your pins on social media, (eCommerce) websites, or even real billboards, you have come to the right place!
JUST. PIN. IT.
Best Premium Pin Button Badge Mockups
Would you like to make a mockup without Photoshop?
Here are the best online mockup generators. They are great if you're in a hurry, for beginners but also fantastic for pros who'd like to boost their workflow.
1. Woman Wearing a Pin Button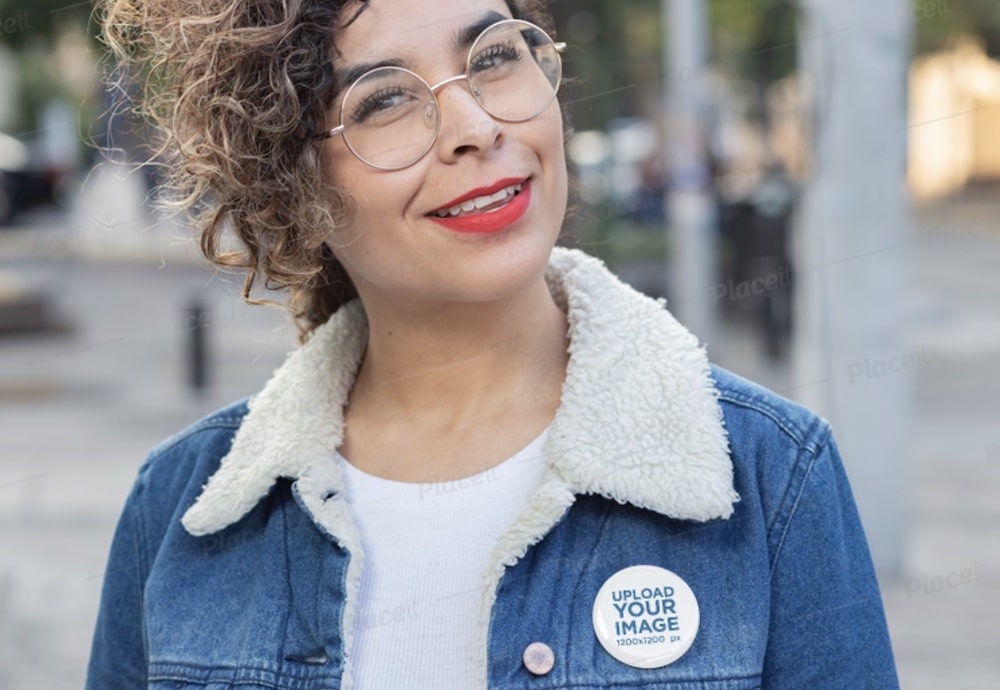 Are you looking for a realistic mockup that will captivate your audience? Then this is the right choice for you.
The mockup shows a real scene with a woman wearing a jacket. The fully customizable pin button sits comfortably on the jacket. You can not only change the color and design of the pin, but also add text and branding elements (colors, logo).
This is a smart solution to showcase your pin design through a life-like scene.
For this reason, it is trendy for political campaign pins. (But you can use it for anything else – like we did, for a school event.)
MORE INFO / DOWNLOAD
2. Rectangular Pin Button Mockup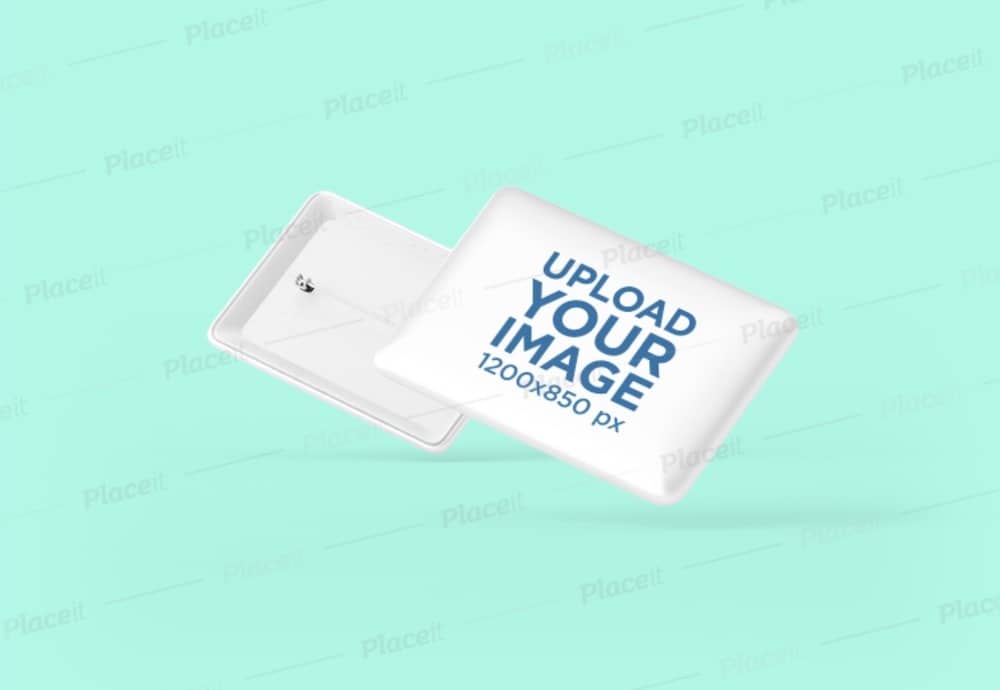 While pin buttons are a powerful promotional tool, they can be pretty boring, right? After all, they all have the same round shape.
Well, not necessarily!
This pin button mockup features a unique rectangular form against a solid background.
We had no trouble changing the pin color and adding our design when reviewing this mockup. (It takes just a few clicks!)
You can also change the background color. You can even choose one of the default colors or add your color using HTML color codes.
MORE INFO / DOWNLOAD
3. Pin Button Featuring a Woman Mockup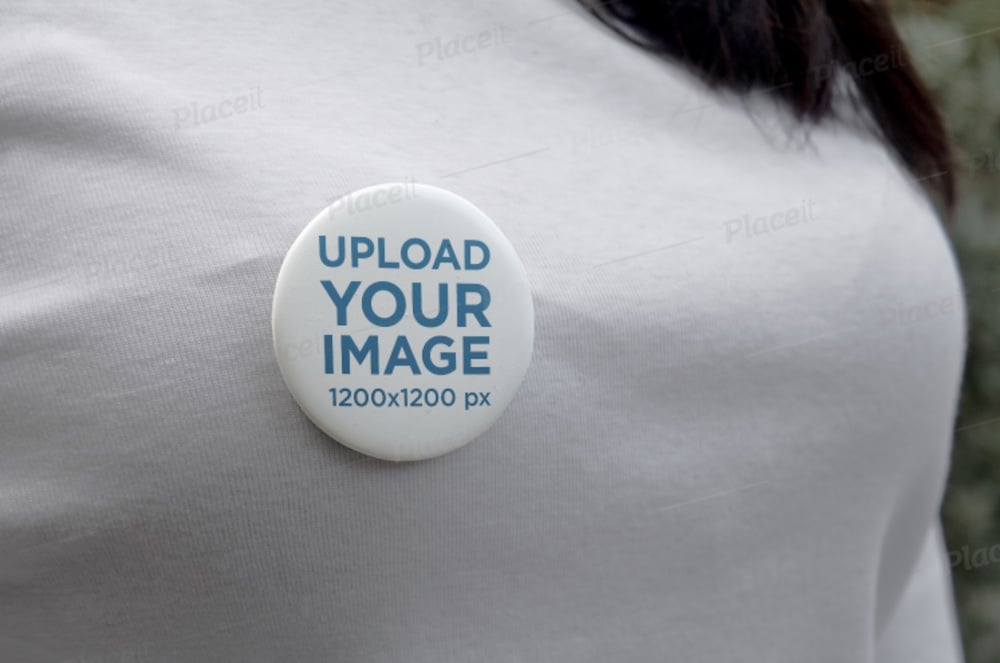 As with our first selection, this pin button mockup shows a woman in a real-life scenario. The difference in this scene is that the pin button is the absolute main character.
So if you want to promote your pin design in a natural scene and keep it in the spotlight, this mockup is for you.
You can easily insert your pin design, logo and text. Finally, the mockup gives you the option to change the color of the pin button.
(It would be so cool to be able to change the T-shirt color, too.)
MORE INFO / DOWNLOAD
4. Single Pin Button on a Solid Surface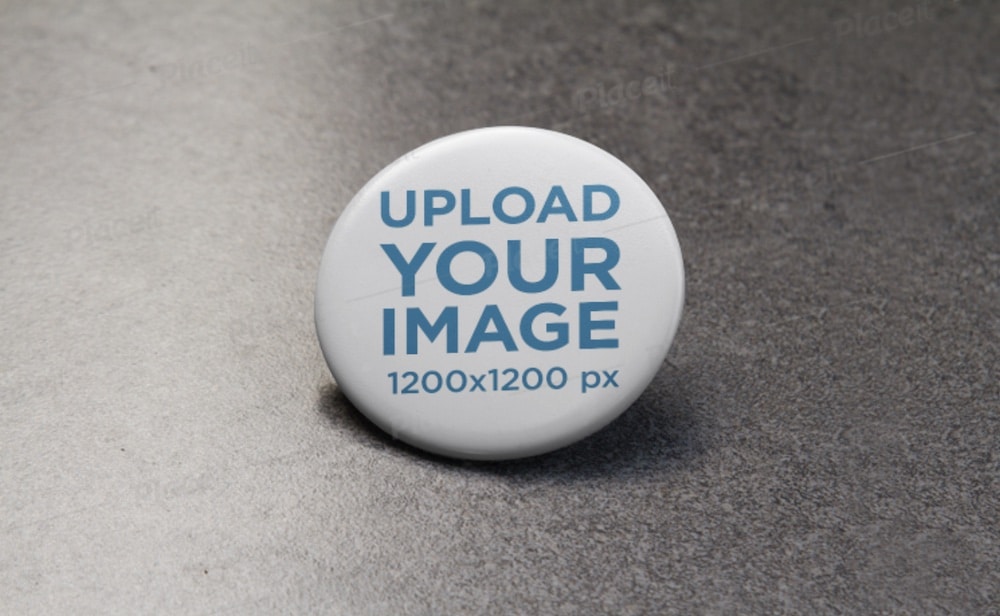 Whether you own a small business or a large one, you will benefit from promotional pin buttons. And this mockup is the best way to showcase them.
The scene shows a pin button against a real 3D background. As with our previous suggestions, you can change the pin color. You can also insert your logo and upload your pin design.
So, this is a smart solution for those looking for a realistic yet minimalistic pin mockup.
MORE INFO / DOWNLOAD
5. Mockup of Two Pin Buttons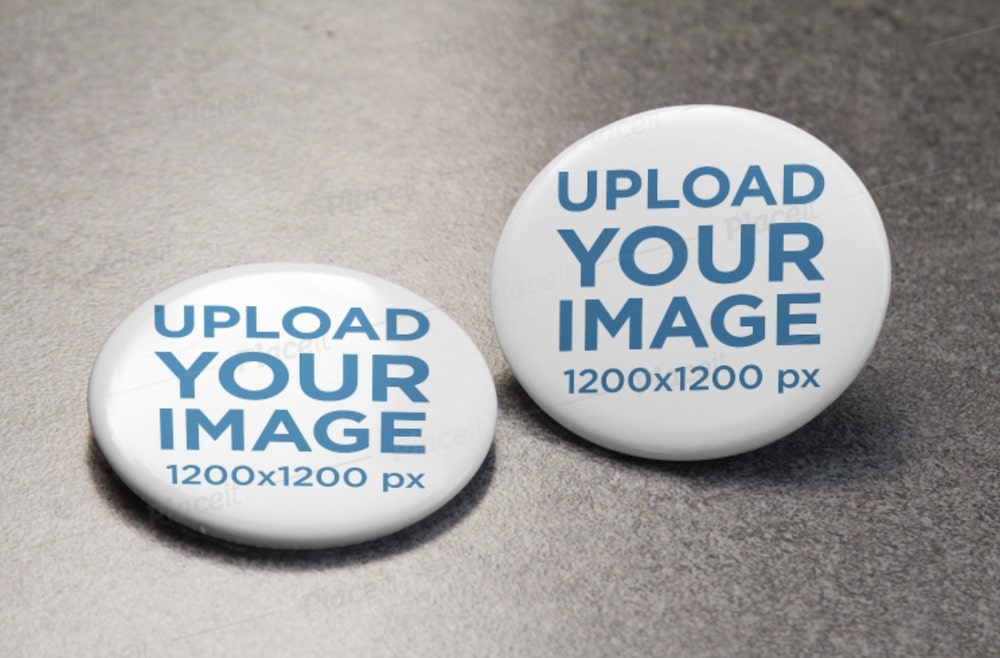 All the pin button mockups we have examined so far feature a single pin. But what if you need to present two pin designs in the same scene? Well, you shouldn't worry, because this mockup has the answer.
This scene is pretty similar by keeping the same solid grey background as the mockup tested above. However, this mockup includes two pins.
You can easily change the color and design of each pin, add your logo, and include a paragraph of text.
MORE INFO / DOWNLOAD
6. Two People Wearing Political Pin Buttons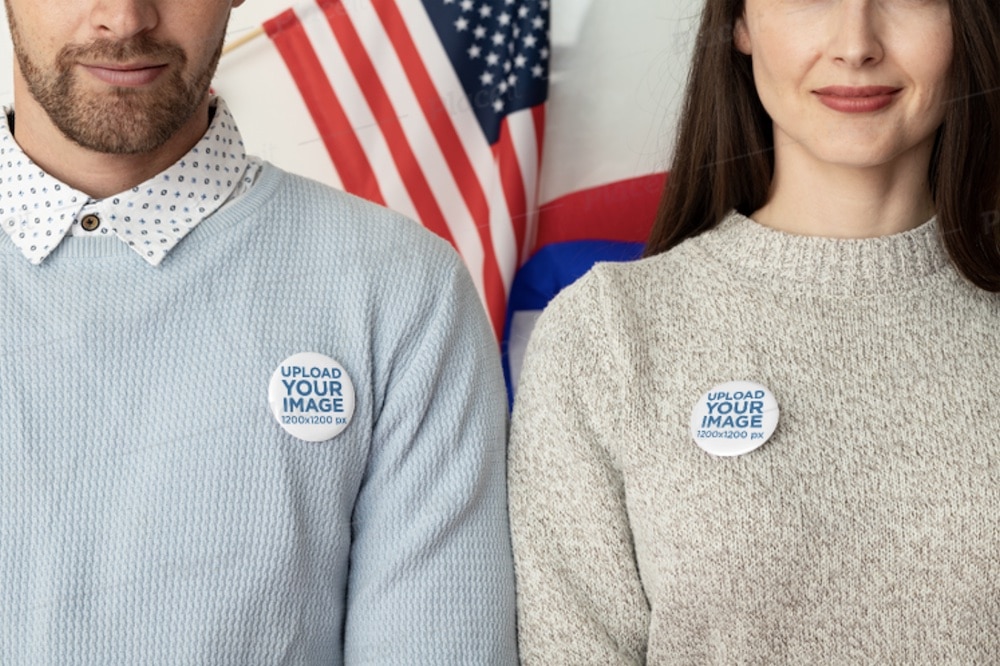 Suppose you just designed a unique pin button for political campaigns. Or maybe you are running your own campaign and want to showcase your pin buttons on social media.
Whatever the occasion, this is a brilliant pin button mockup for you.
The mockup features two people (a man and a woman) against a political, realistic background. We really liked the color balance of the scene.
The mockup allows you to edit the pin colors and add designs, text and branding elements.
MORE INFO / DOWNLOAD
7. Mockup of a Round Pin Button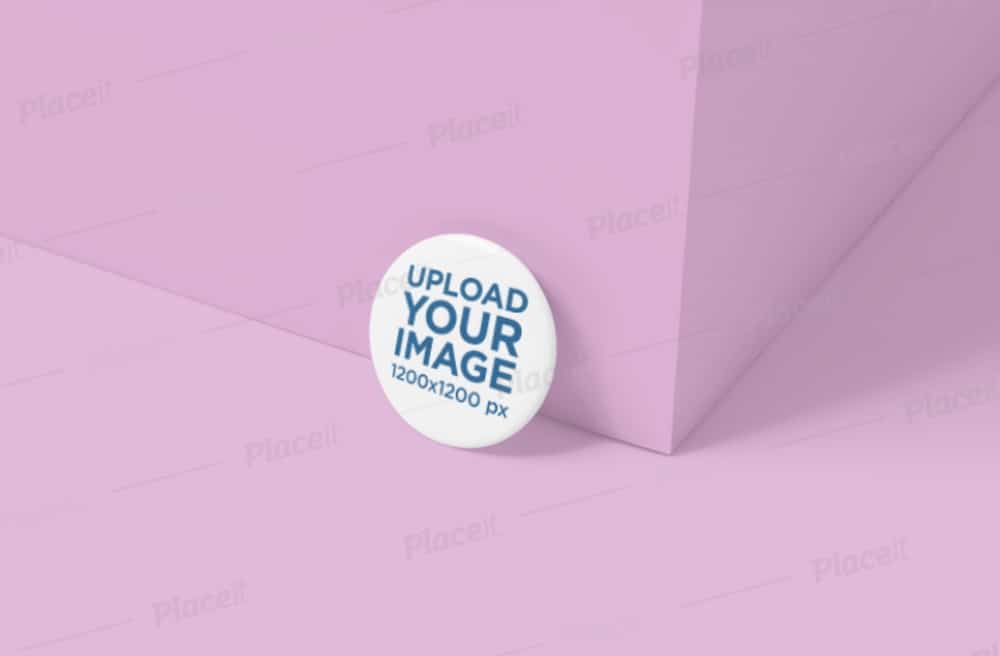 If you are a fan of minimalism, you'll definitely like this pin button mockup. This simple scene features a pin button against a beautiful geometric background.
You can configure the colors of the pin and the background with two clicks. Once you find the colors that suit your needs, all you have to do is upload your logo (optional) and add the pin design.
We consider this mockup to be an excellent choice for both personal and commercial projects.
MORE INFO / DOWNLOAD
8. Mockup of Two Pin Buttons on a Custom Surface

As the definition of elegance, this pin button mockup is extremely popular among graphic designers. We loved using it, too!
The scene shows two sides of a pin on a solid background.
If you are looking for a clean, discreet mockup to promote on social media or website, this is a fantastic choice. You can quickly change the shades of the pin button and background. Adding your logo and pin design is as easy as can be.
All in all, this is a top-notch mockup for those who need everything done in a few seconds/clicks. (Hurray!)
MORE INFO / DOWNLOAD
9. Mockup of Three Pin Buttons on a Jacket

Pin buttons have been around for many decades. That's why they are a great little canvas for retro designs. That's what this pin button mockup is all about. (Great for bands, brands, and more!)
If you want to show off your vintage pins in a realistic, nostalgic scene, this is simply the best solution.
The scene shows a man wearing a denim jacket. There are three fully editable pins on the jacket that you can add your designs to.
If you add that the image has a beautiful, nostalgic effect, what more could we ask for?
MORE INFO / DOWNLOAD
10. Round Pin Button Close-up Mockup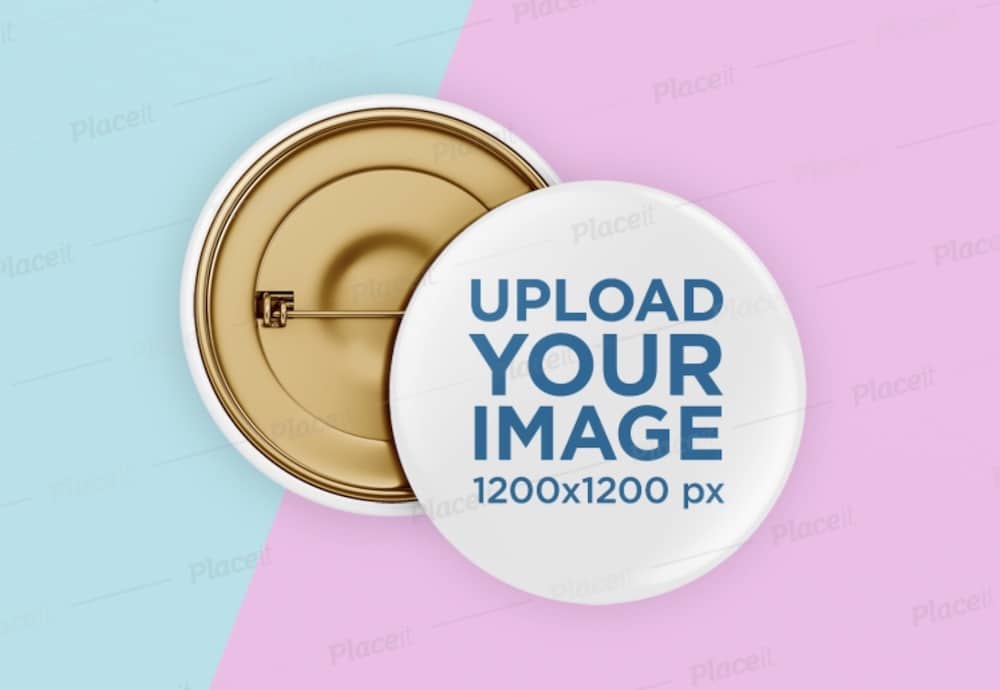 There are many reasons why mockups with two-color backgrounds have become so popular. Such backgrounds make the mockup look more playful. (We tested it, and it works!)
If that's what you are looking for, then this pin button mockup is just what you need.
The scene features a stunning metallic pin button against a two-tone background. Of course, you can change both colors and the pin is fully editable, too. When you are satisfied with the result, do not forget to add your logo (but it's unnecessary).
MORE INFO / DOWNLOAD
11. Set of Pins on a Two Color Background Mockup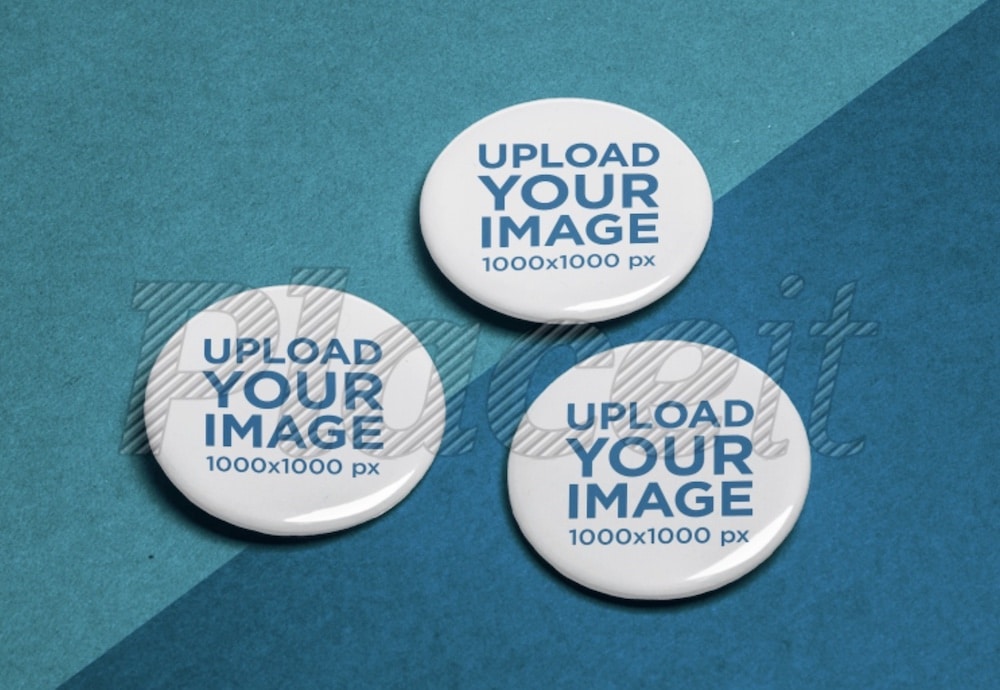 Have you just created a set of button designs and are now looking for the best way to promote them? If yes, then this is by far the best pin button mockup for you.
The scene shows a set of three pin buttons in front of a two-toned backdrop. Modifying this generator is a breeze with its user-friendly editing.
In a few words, this is the ultimate solution for graphic designers who want to showcase more than one pin design. (Or slight design variation to compare with your client.)
MORE INFO / DOWNLOAD
Best Free Pin Button PSD Mockups
12. Free Glossy Pin Button Mockup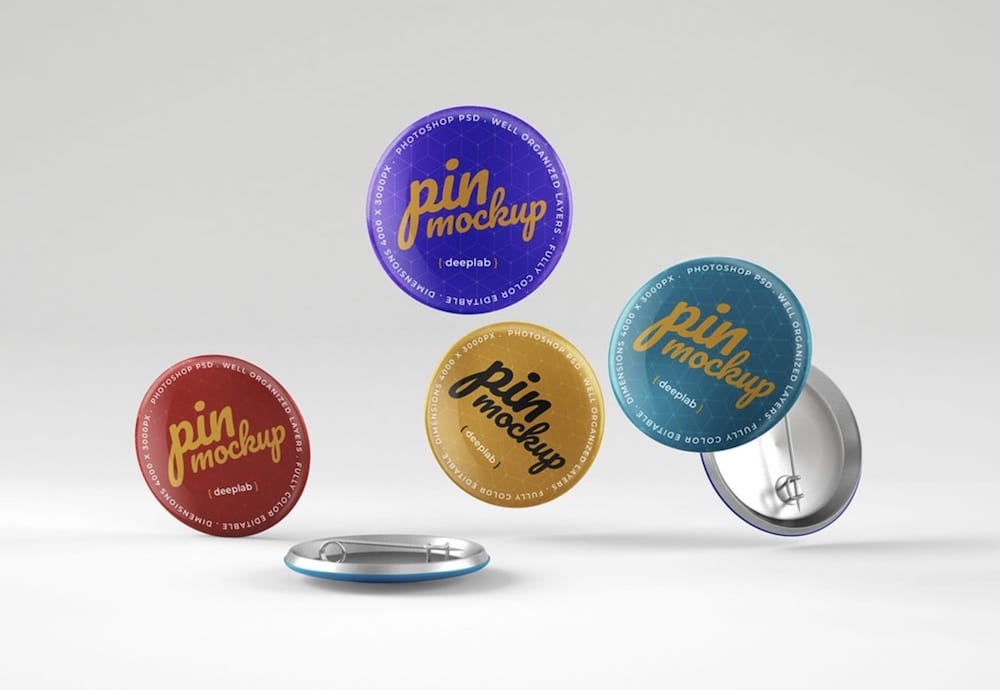 Who says you need to pay for advertising? When we first discovered this amazing pin button mockup, we could not believe our eyes.
The package includes three PSD files that you can use for branding, badge designs, logo designs, and much more.
Each scene is completely realistic and includes multiple editable pins on a solid background. We also really like the natural shading.
Best of all, this PSD mockup package is very easy to use with Photoshop and smart objects.
MORE INFO / DOWNLOAD
13. Free Pin Button Badge Mockups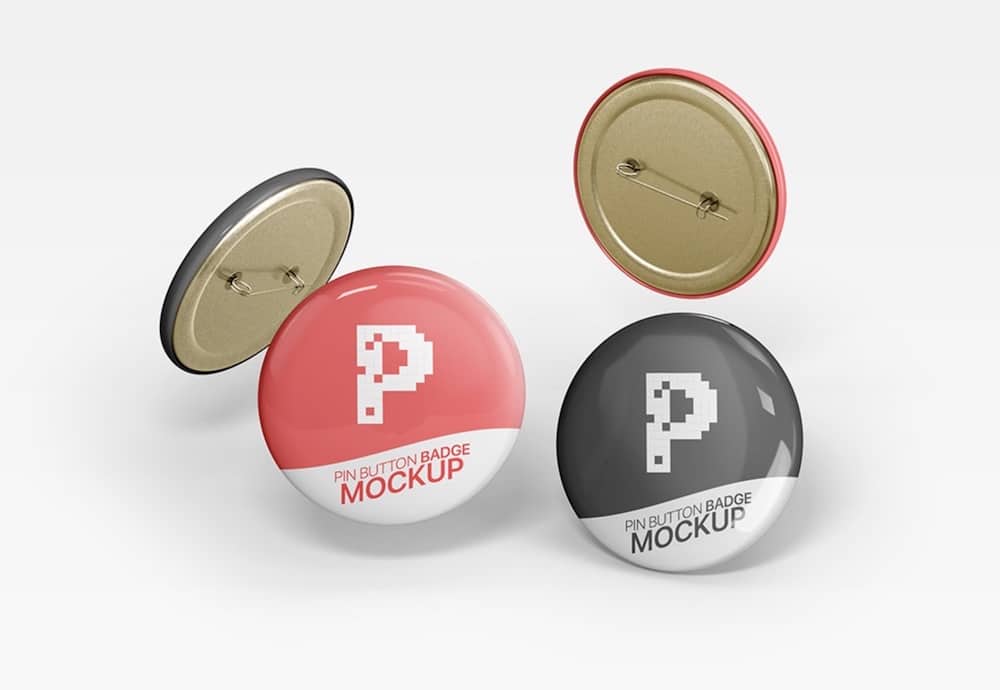 As with our previous free suggestion, this is a perfect choice for designers familiar (basics are enough) with Photoshop and smart objects. The scene is ultimately elegant, showing both sides of the two buttons.
The PSD file is very well organized into layers, so you will not have any problems editing the pin designs and colors.
Another feature of this pin button mockup is that you can change the color of the metallic backside of the pins. (Make a fully customized version!)
MORE INFO / DOWNLOAD
14. Free Square Pin Button Badge Mockup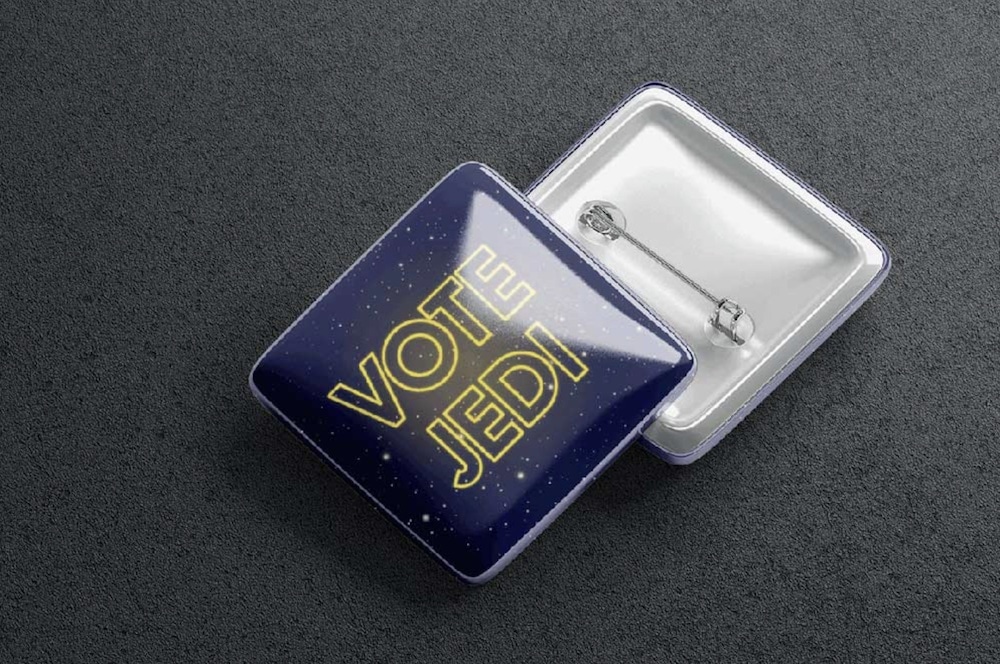 We have selected numerous mockups showing round badges and one that features a rectangular pin. Well, what about square pin buttons? Square pins have become very popular, so we had to include a mockup that depicts them!
This is one of our most popular free pin button mockups for many reasons. The bundle includes two fully editable PSD scenes.
If you are looking for a powerful mockup to help you promote your square badge or logo designs, this is the one for you.
MORE INFO / DOWNLOAD
15. Free Enamel Pin Mockup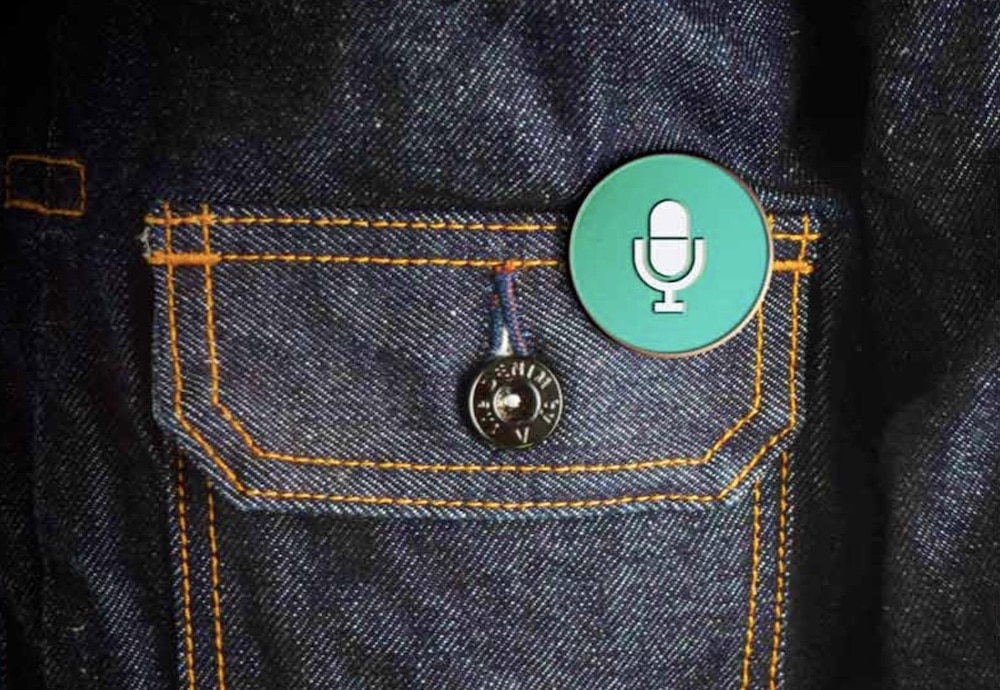 It would be a shortcoming if we did not include a free real-life mockup in our selection. And that's what our final suggestion is all about. This stunning enamel button mockup features a round pin sitting atop a modern denim jacket.
The mockup is free to use and comes as a PSD file. We particularly liked that you can easily add the pin design using smart object layers.
This beginner-friendly process makes the mockup an excellent choice for Photoshop newbies and pros alike.
MORE INFO / DOWNLOAD