My review sorts you with the best free and premium pen mockups, so you don't have to do the tedious research yourself.
Who even does that? I know, ME!
Fun fact: Did you know that the pen industry is a multi-billion industry? (I didn't.)
I included mockup generators (the easiest) and PSD templates (more creative freedom).
This post covers:
This gives you everything you need for CUSTOM-MADE classic pens, ball pens, fountain pens, etc.
Of course, while achieving the most realistic presentation with little time and effort.
Everything flows simply, just like writing. Enjoy!
Note: You may also be interested in my collection of the best pencil case mockups.
Best Pen Mockup Generators
All generators go for $7.95 with an option to save money by picking monthly ($14.95/month) or yearly ($89.69/year) subscription.
Stop the challenging work and make a mockup without Photoshop!
1. Pen lying horizontally mockup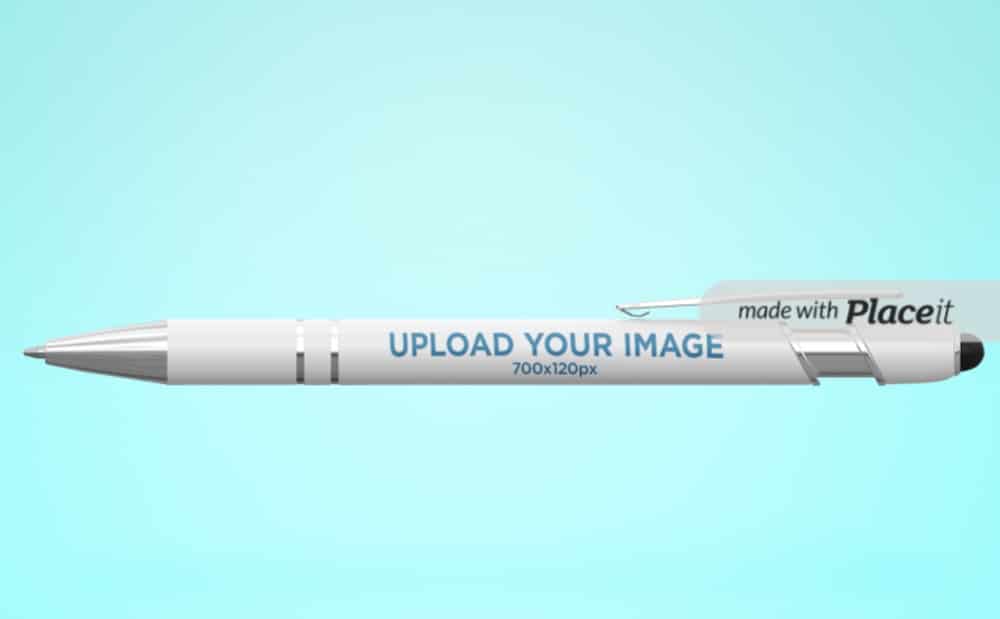 Simplicity first. At least that's what I begin with before transitioning to any other fancier stuff.
This mockup of a horizontal pen gives you everything necessary to create a design presentation of promotional material.
I used a basic version to test the design and one with a custom background for social media.
Yes, you can create any background you want, even upload your own!
You control changing colors, adding graphics, text, etc. Boom.
MORE INFO / DOWNLOAD
2. Mockup featuring multiple pens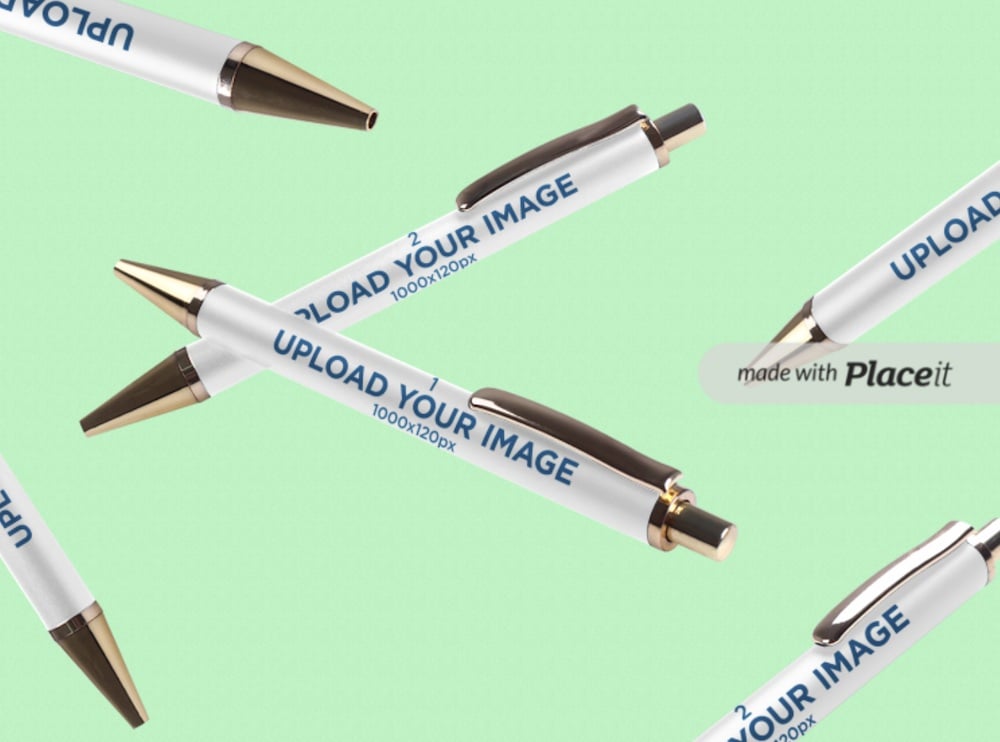 This one proved to be one of the most attention-grabbing pen mockups from this collection after testing it.
Note: You can add two designs that'll appear on the pens with the click of a button. The changing of colors also happens in a few clicks.
And then a couple more clicks for background, text and graphics. You can complete the project within seconds (if you're prepared).
Placeit's archive of backgrounds is big, but you can search for the one you want, so you don't scroll endlessly.
Spice. Things. Up.
MORE INFO / DOWNLOAD
3. Mockup of an eco-friendly pen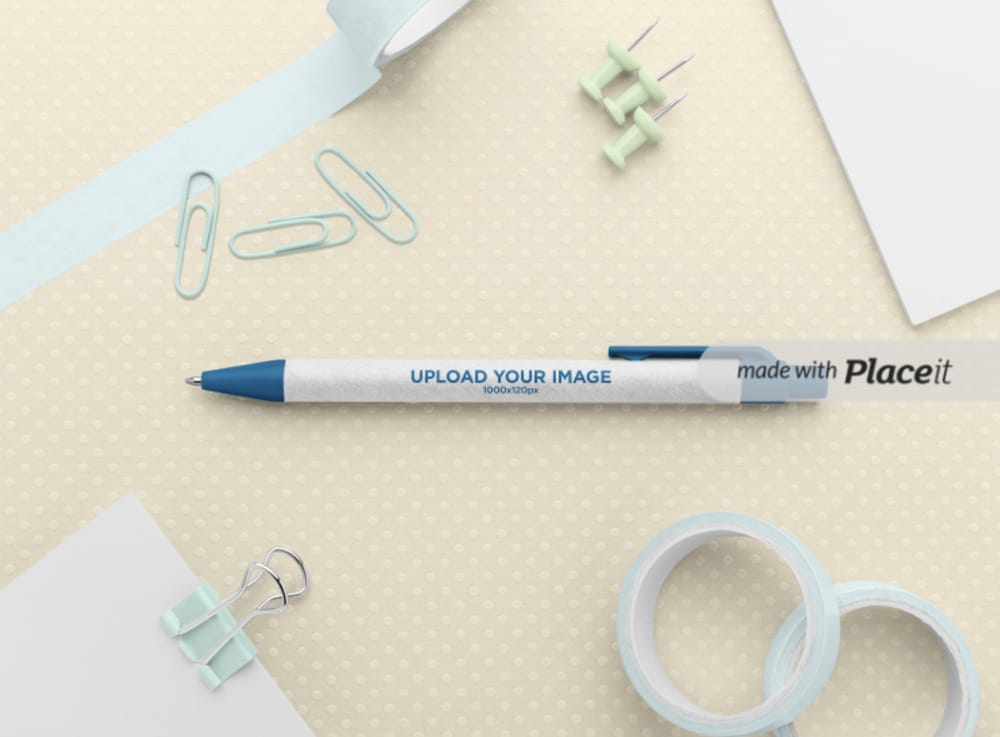 This was the mockup generator I used when recently working on an eco-friendly pen design for a client.
I particularly like this template because you can change the color of every visible element.
That's right!
Make it as colorful as you want, minimalist, whatever! (I used a lot of black that went really well with the company's branding.)
MORE INFO / DOWNLOAD
4. Ball pen mockup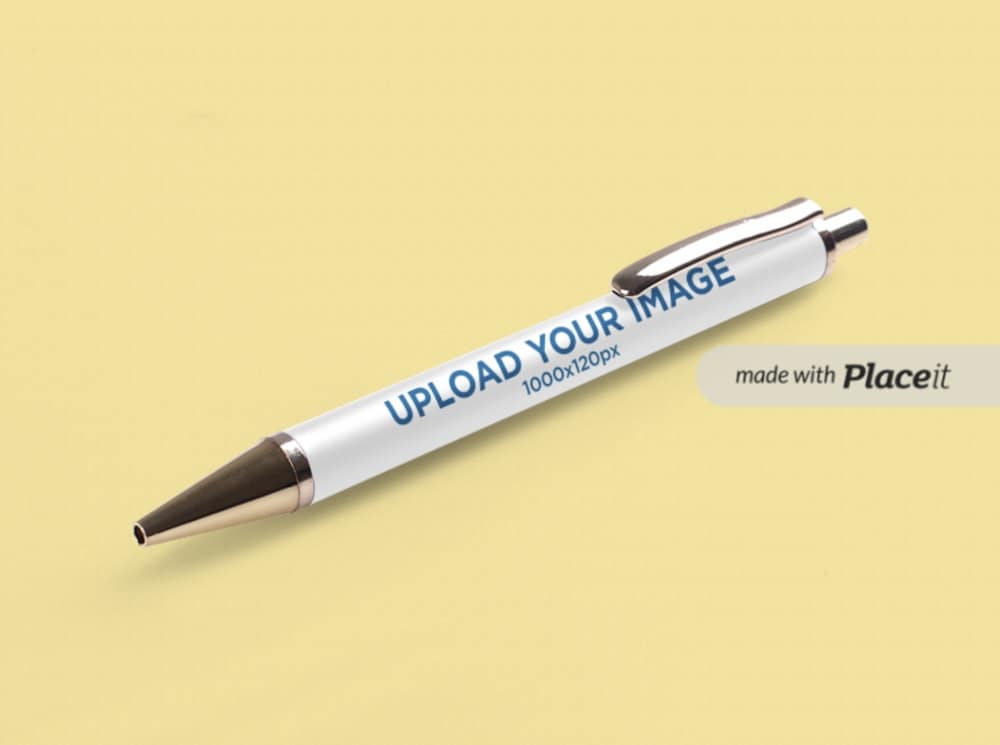 Take the design presentation of a ball pen to the next level with a mockup. Because you deserve the best!
And this generator takes care of quick work while maintaining your professional workflow.
Precisely what you need.
And the customization options are also pretty advanced, considering you do all the work online.
No software is necessary!
You can even play with endless backdrops or keep it in solid color. The choice is yours!
MORE INFO / DOWNLOAD
5. Eco pen and notepad mockup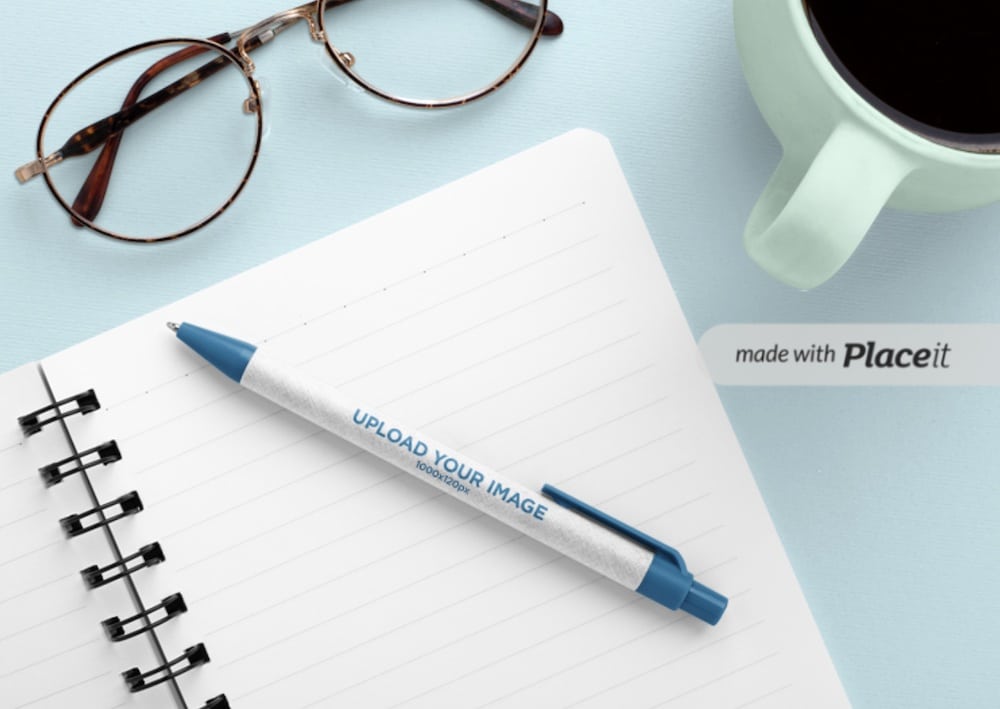 Another eco pen template that I just couldn't skip adding after receiving such positive feedback.
I changed the color of the top, bottom, and base of the pen and improved the mug and background.
Sorry, the paper isn't editable.
A crop tool appears once you insert your artwork, so you can easily position it how you want.
Lastly, you can upload any graphic or select it from Placeit's archive.
Add a fantastic detail!
MORE INFO / DOWNLOAD
6. Pen logo mockup

If you're particularly searching for a pen mockup generator to present a company logo I can't recommend this one more.
It's already in close-up, showcasing the top and bottom half of the pen.
You can even split them in half after downloading from Placeit. (Yes, it works!)
You can modify each part of the pen with a custom color and any logo or graphic you'd like to add.
It's so simple and quick to make an epic presentation happen – perfect for a beginner.
(Hint: You can play with it for free!)
MORE INFO / DOWNLOAD
Best Pen PSD Mockups
7. 3 Pens styles X 3 mockups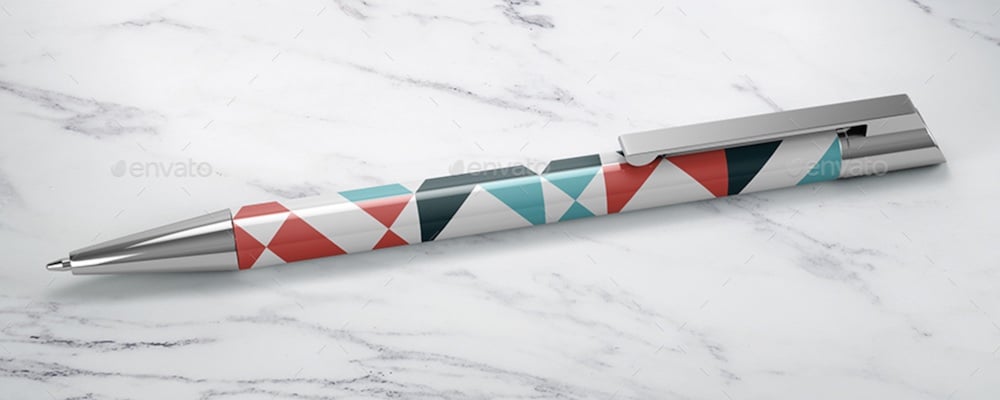 This one is kinda next level and a must. Why? Because you get three pen mockups of three different styles of pens.
How awesome is that?
They are pretty traditional styles, so there's a good chance you'll find the right one. (Or at least a very similar one.)
Each layered PSD template has 3000 x 1000px dimension (72dpi) with editable background, shadows and light.
And adding a pattern, logo or any other design happens via the smart object layer.
Price: $6
MORE INFO / DOWNLOAD
8. Ball pen logo PSD mockup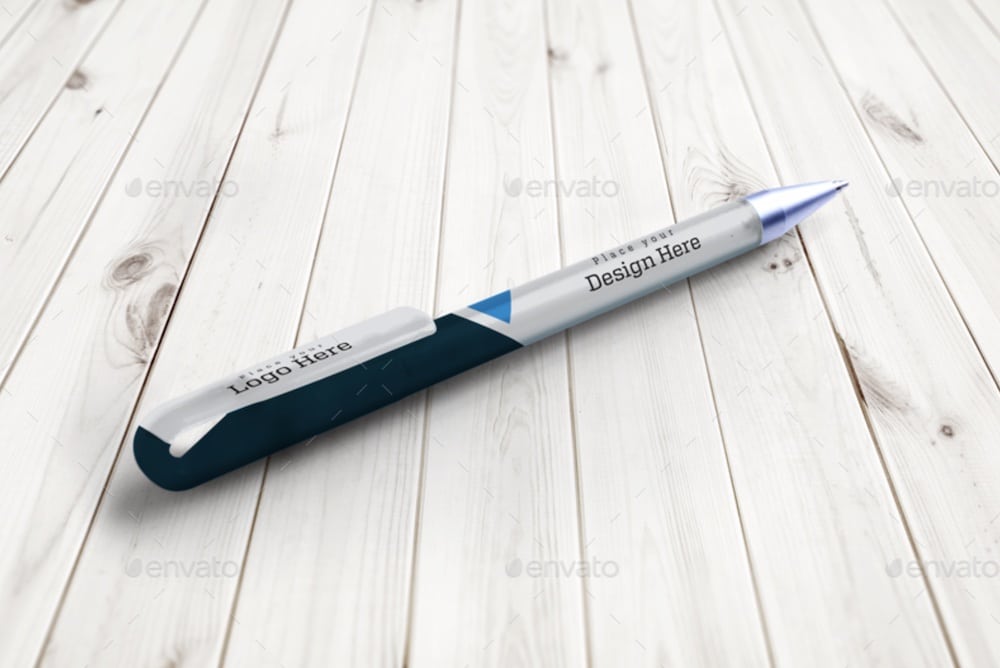 Creating a photorealistic presentation of a ball pen with a custom logo is effortless because of these three PSD templates.
All three are high-res with 4500 x 3000px, so you can use them for large projects or even zoom in for close-ups.
There's also a help file included and a quick video presentation to get the gist of it before starting working on your project.
You need Photoshop and your logo and graphic – all the rest is mockup's work!
Price: $4
MORE INFO / DOWNLOAD
9. Fountain pen packaging mockup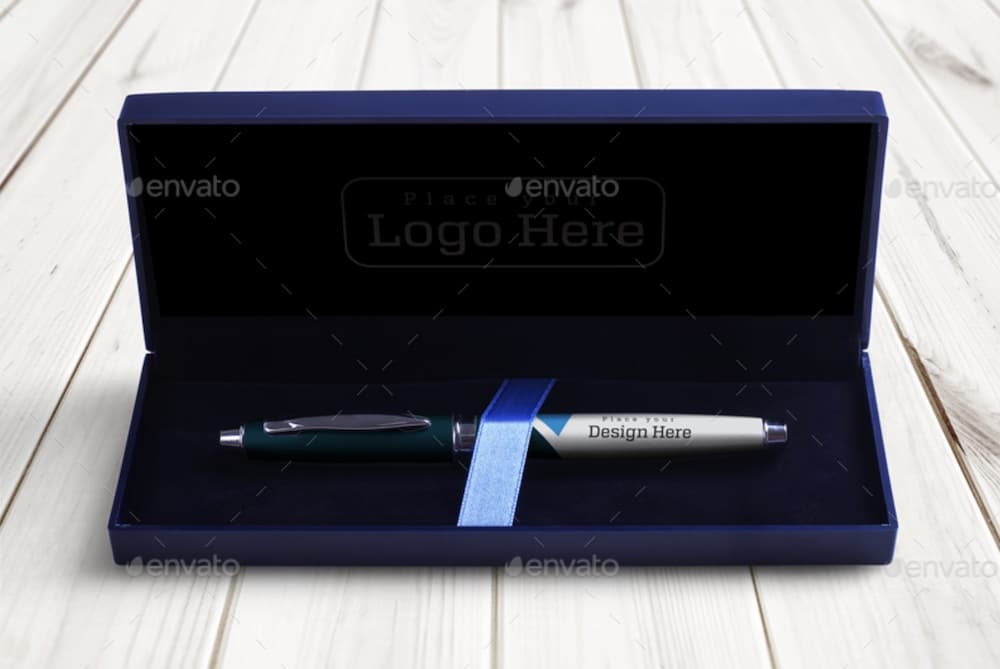 Whether it's promotional material for a company or for an eCommerce store, create the best packaging and pen showcase with this set of PSDs.
Note: You get eight views, three with a box and five without, just the pen.
What's also cool is that this is a fountain pen mockup, which was so hard to find a quality one. You're safe with this one.
The branding showcase was so simple for me, so I know the kit will benefit you greatly.
Price: $6
MORE INFO / DOWNLOAD
10. Double pen box mockup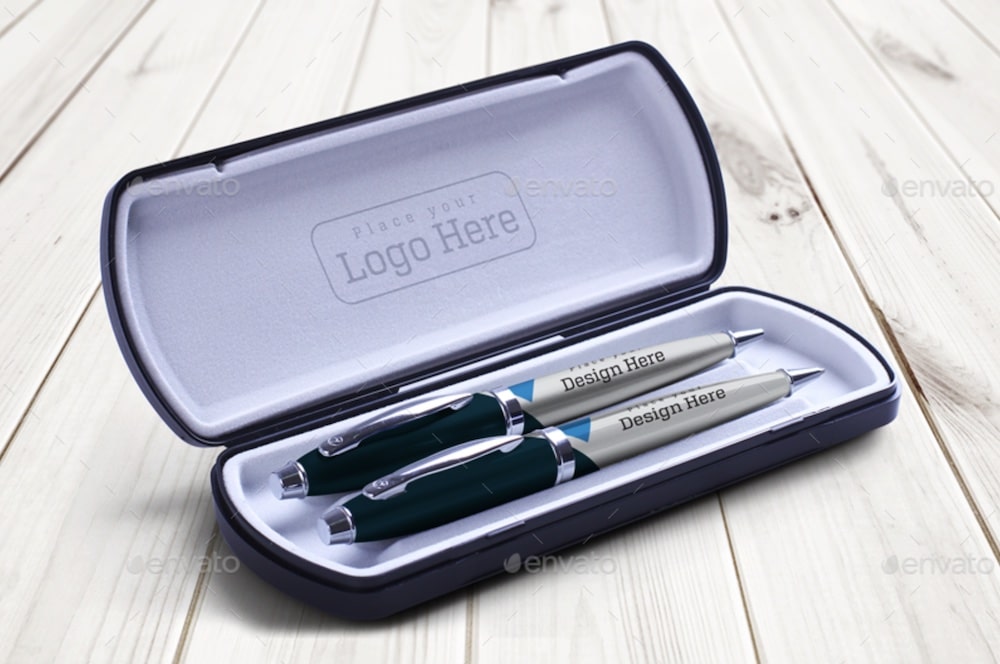 Another bundle of eight mockups, featuring two pens and packaging.
Make as luxurious an outcome as you want in a few clicks. And it won't take you any effort, even if you plan to create a bunch of variations.
You can also turn shadows on or off and include a background that'll make the design pop more.
That's why I like mockups so much, skipping doing the work from scratch, while still reaching the ultimate quality.
Price: $6
MORE INFO / DOWNLOAD
11. Realistic floating pens PSD template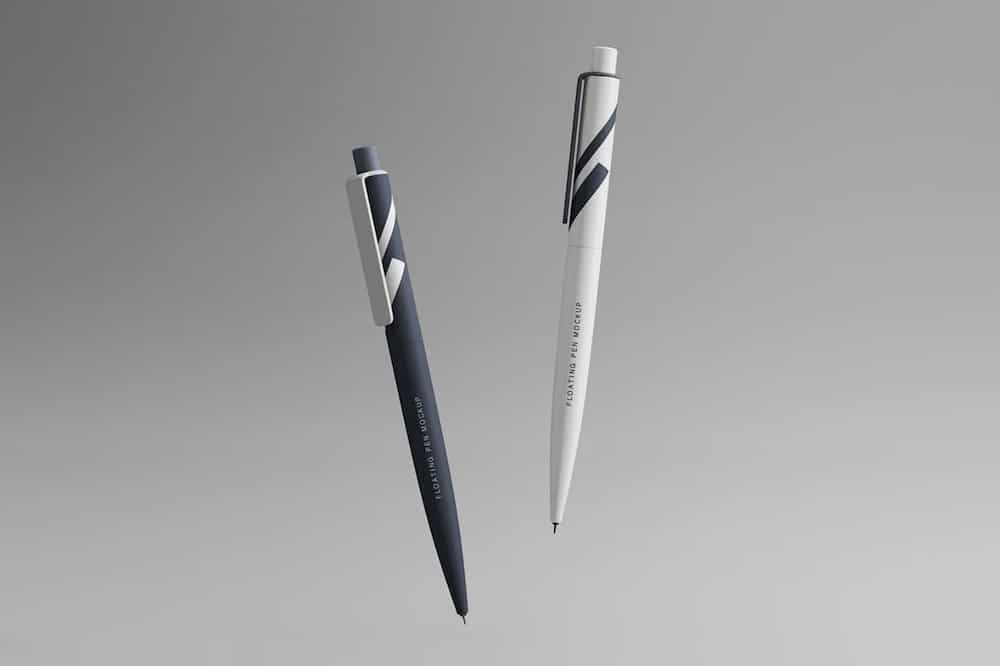 I told you many times already and I'll do it again: floating objects work for whatever reason.
And if you're searching for a floating pen mockup, this is one of the best ones that does the trick so well.
You can showcase different designs with two pens or even different sides of the same one.
It's entirely up to you; the freedom of creating your version is yours, so don't miss it.
Price: $14
MORE INFO / DOWNLOAD
12. Paragon pen mockup set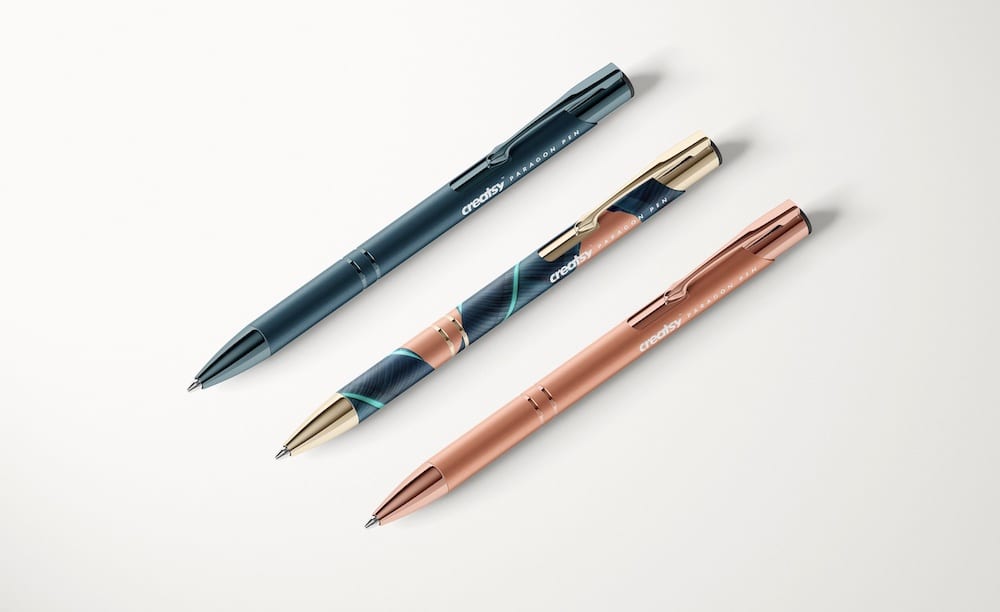 This review was in the works for many weeks but I just recently stumbled across this one, which is one of the best I currently found on the market.
But I'm adding it here because I haven't properly tested it, but I also didn't want not to include it.
It so deserves the inclusion.
You get six PSD templates at 6000 x 4000px (300dpi), which call for an extreme quality final product.
What's also cool is that you can select between three finishes: glossy, matte and metallic.
Just WOW.
Price: $16
MORE INFO / DOWNLOAD
Best Free Pen PSD Mockups
It's now time for the hot stuff.
Which is, quality freebies!
13. Free multi-pen PSD template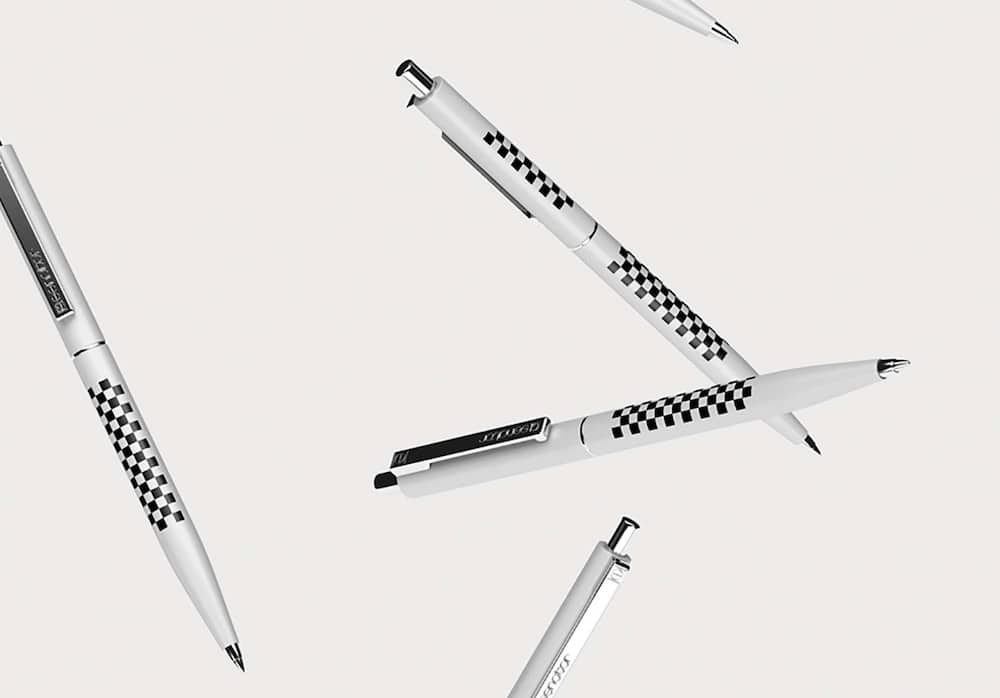 Even though this one costs nothing it's actually pretty premium with its six ready-to-go views.
It offers you to showcase single and multiple pens, beautifying them however you want.
The life-like feel is at the highest level, even if you go with a close-up.
Thanks, Denis Ulianov, for making this epic bundle of free PSDs a reality.
Remember, this is a Senator pen!
MORE INFO / DOWNLOAD
14. Front pen view mockup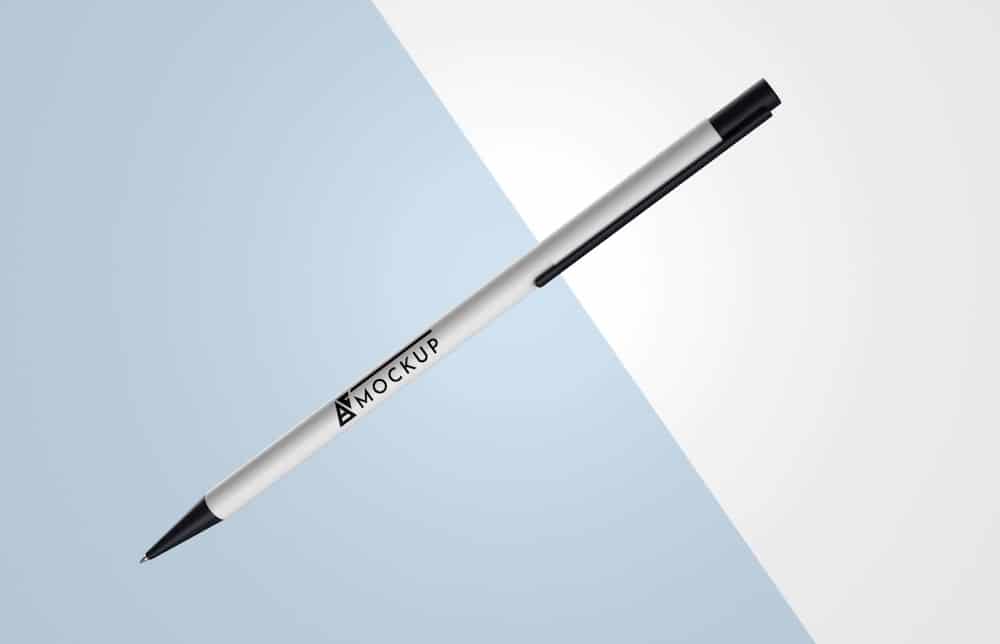 A simple but impactful presentation of a pen that is waiting for any logo showcase you're working on.
Moreover, the attention-grabbing effect increases with the two-toned background, which you can modify to meet the final idea.
Minimalist with a touch of creativity is what I like best!
Now create your version fast and confidently.
Easy. Work. Only.
MORE INFO / DOWNLOAD
15. Wooden pens mockup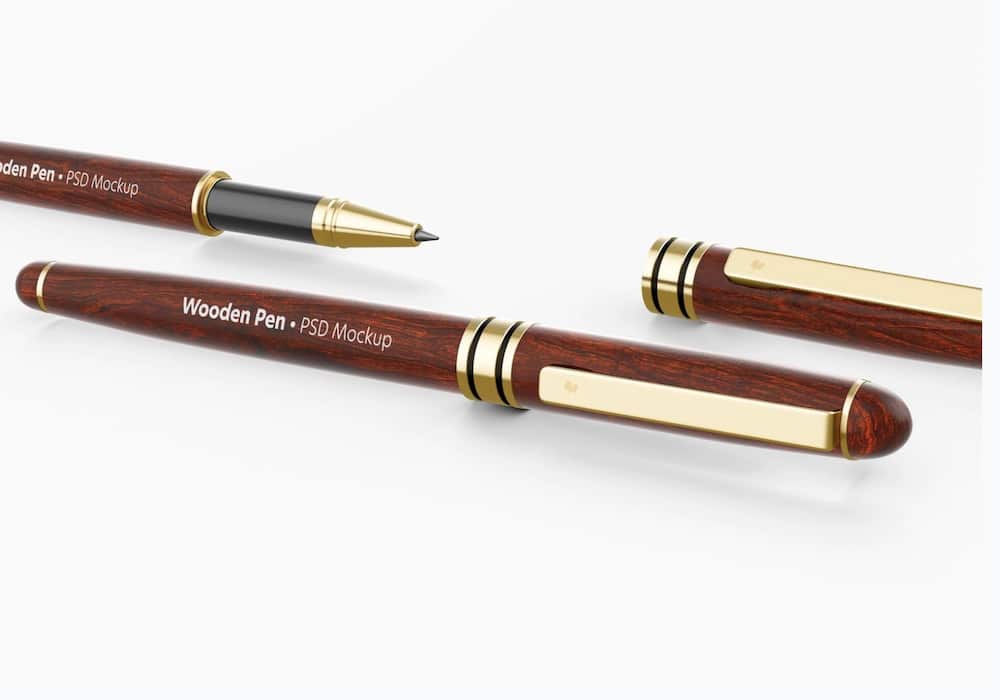 Whether you or your client will be using real wood or fake, it doesn't matter, make a presentation that will take everyone's breath away with this free mockup.
Closed and open luxury pen is at your fingertips for an epic logo showcase (but you can add designs and graphics, too, although I don't recommend it – simple works best in this case).
MORE INFO / DOWNLOAD
16. Pen in gift box mockup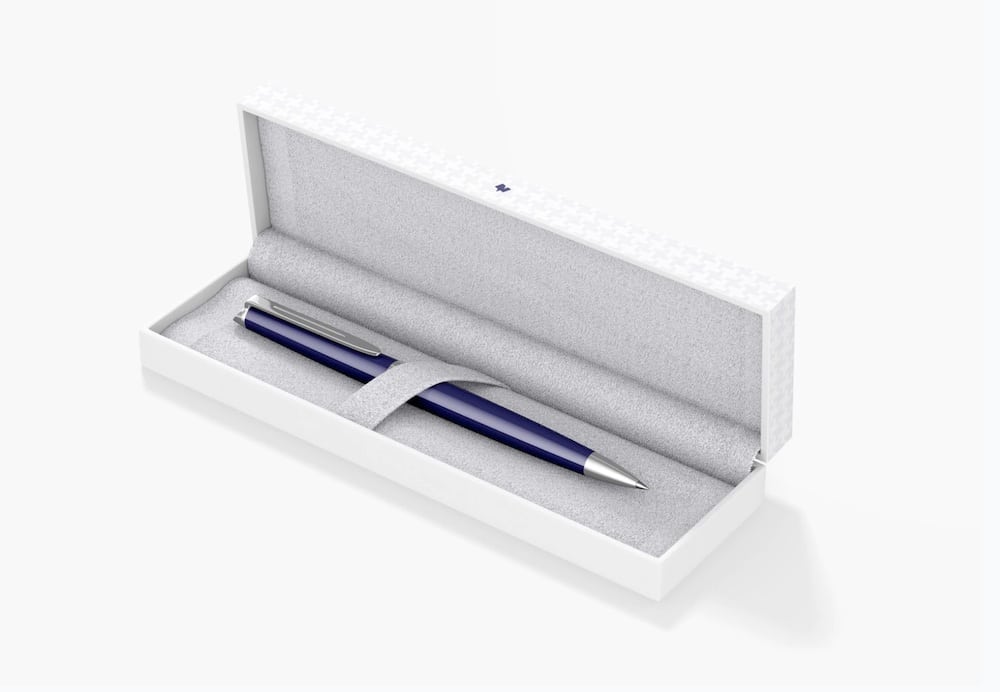 Because so many are seeking pen packaging mockups I also wanted to include a free version.
This wasn't the easiest task due to the lack of availability, but this one will sort you out!
Easy to configure with outstanding quality and smart object layer for fast artwork inclusion.
There you have it – get creative and practice your imagination to its full potential.
MORE INFO / DOWNLOAD
How To Create A Realistic Pen Mockup?
You only need to take a few quick steps to create a life-like pen presentation for your project.
But we're going to do something different.
Instead of the traditional, Photoshop mockup creation, let's do it with an online generator, shall we?
It's so simple; ANYONE can make it happen.
And we'll use Placeit as the platform because it's fully tested and proven.
5 Steps To Make A Pen Mockup:
Step 1: Visit Placeit where you can find many awesome pen templates. But you can also use their search bar if you need something more exclusively (the live search results help a lot).
Step 2: Once you open the template, I recommend you first insert your design. Click the "insert image" button and pick a logo, a pattern – anything – directly from your device. Note that you can even use a smartphone.
Step 3: You have the freedom to resize and reposition your design however you want. Use the live preview as a guide. Hit "crop" when done.
Step 4: The next and final step is customizing other parts of the template, like changing the colors, the background, adding text, etc.
Step 5: When you're satisfied with your work, click "download," and the rest is history.
And that's how effortless creating a pen mockup is.
There's no need to start from scratch because these mockups do the trick so well.
They just need your creative twist!
::
Note: This article was originally published on June 2, 2022. But our team regularly reviews it and updates it with necessary improvements for accuracy.