Are you searching for the best free and premium donut box mockups to create realistic presentations?
You can start immediately with my handpicked selection of PSD templates and have the outcome ready in less than a minute.
All the mockups are very simple to use regardless of your skill level, ensuring everyone gets the most out of them.
You can envision your donut packaging much easier, thanks to the variety of designs, sizes and customizable features.
From elegant window displays that tease the senses to charming designs that capture the essence of your brand, these mockups do a phenomenal job.
You can be a bakery owner or a designer – here's a solution(s) for EVERYONE.
This collection will have you craving more than just the donuts themselves.
This post covers:
Best Donut Box & Packaging Mockups
1. Single Donut Box Mockup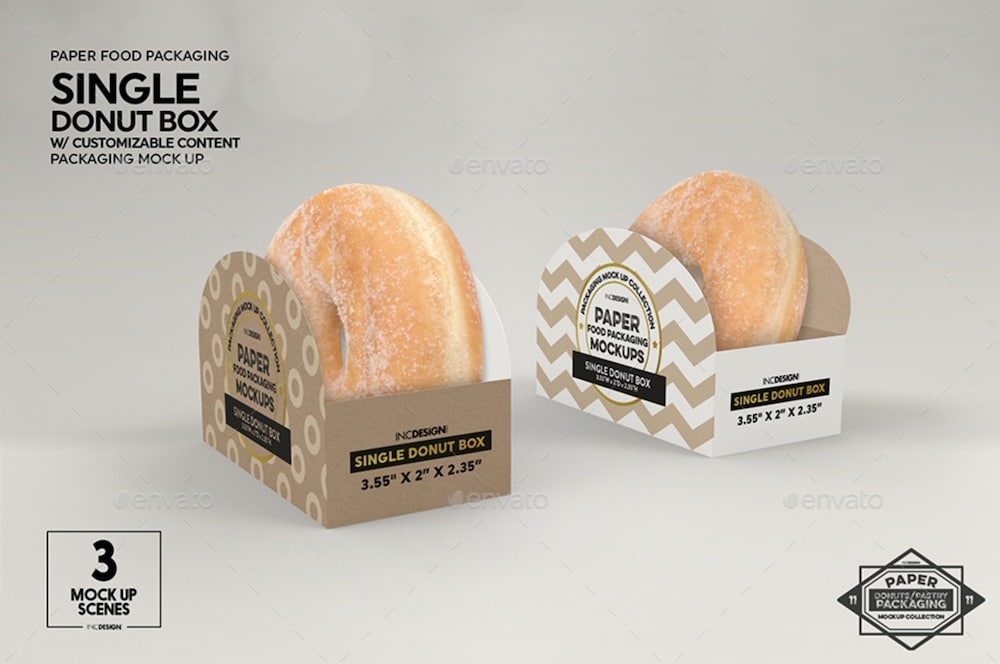 This is my FAVORITE mockup from the list and one I used the most.
It's a three-in-one mockup for displaying the packaging of a single donut to display both front and back designs, including the side.
Each layered PSD file comes at a high resolution of 5400 x 3600px to guarantee the ultimate outcome.
You can design the box's outside and inside, taking branding to the next level.
Extra: Included box die-cut.
Price: $15
MORE INFO / DOWNLOAD
2. Donut Gift Box Mockup

If the first mockup emphasizes donut packaging for individuals buying donuts for themselves, this is an excellent gift box to surprise someone else.
The bundle includes four simple-to-use but highly realistic mockups. (But I like the floating one the most!)
You can display a beautiful wrap for the hexagonal box, including an inside design.
The taste level of this one is EXTREMELY high, making my mouth water every time I see it. And I saw it multiple times when working on a couple of client projects.
The resolution is also very decent at 3000 x 4500px.
At this stage, you may also be interested in my collection of the best gift box mockups.
Price: $16
MORE INFO / DOWNLOAD
3. Box Of 4 Donuts Mockup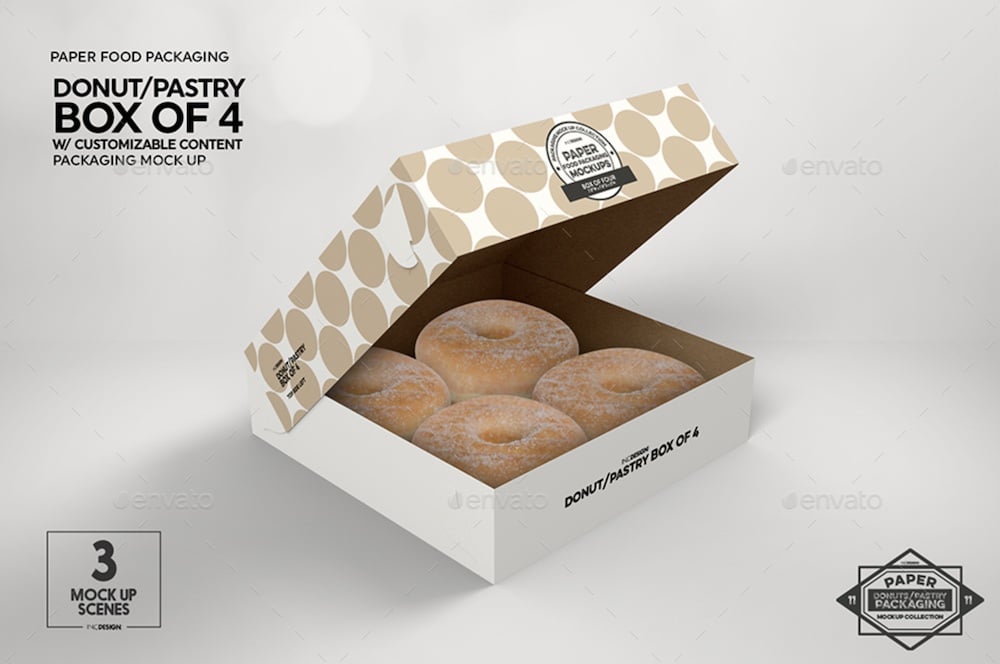 Okay, I wanted to start with single-donut box mockups because they are the CUTEST.
Let's now move forward with multi-packs, starting with this life-like box of four donuts.
You can display all sides of the box with four templates and include custom coloring for the inside.
What's also really awesome is that you can use the included content (the donuts) or remove it, even replace it with yours.
This way, you can freely use the bundle as a pastry box mockup or something else.
And the 5400 x 3600px resolution ensures a crisp clean outcome.
Price: $15
MORE INFO / DOWNLOAD
4. Box Of 2 Donuts Mockup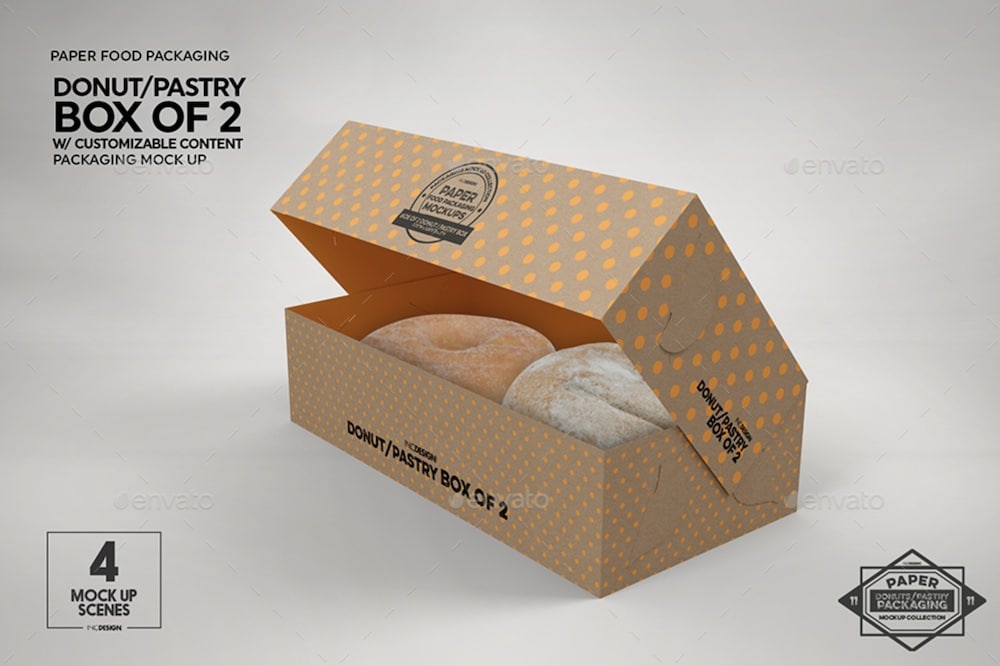 If you like the above set but need to display packaging for only two donuts, this one will do the trick.
Similarly, you get four mockups with an option to include the donuts, leave the boxes empty or add anything else your heart desires (or should I say, taste buds).
Moreover, you can even create beautiful CLOSE-UPS, thanks to each file's 5400 x 3600 (300dpi) resolution.
Finally, to make the box design stand out more, I recommend you go with a minimalist background (this goes for all the mockups on this list).
Price: $15
MORE INFO / DOWNLOAD
5. Donut Packaging With A Handle Mockup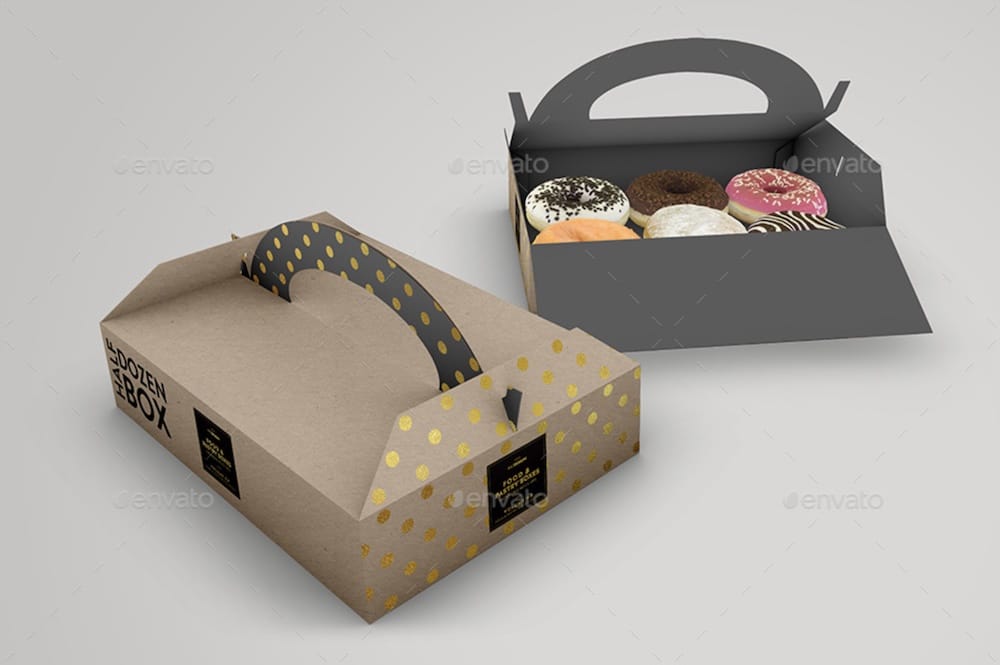 Do you need to design a donut carrier?
This is the best packaging with a handle mockup set I could find that works excellent for nine small or six large donuts.
You can enjoy the freedom of creating the final display you want with open and closed variations.
All the files come with a USER-FRIENDLY layered structure, so even if you're working with mockups for the first time, you'll figure out everything easily on the fly.
Remember, items are scaled to actual size.
The resolution of each mockup is 5400 x 3600px.
Price: $15
MORE INFO / DOWNLOAD
6. Donut Branding & Packaging Mockup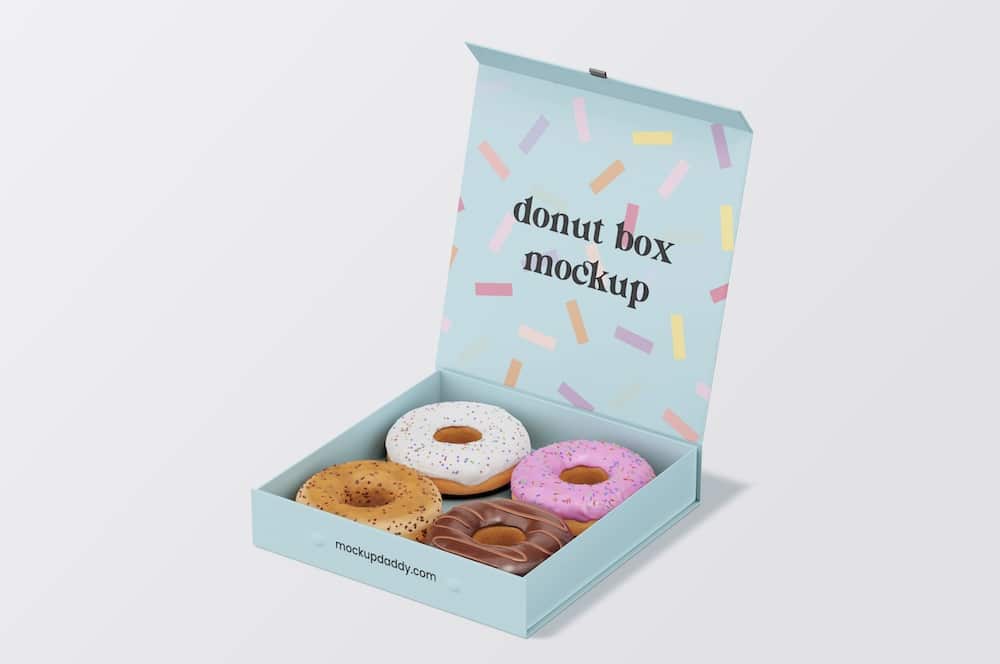 Whether you need a food packaging mockup for two or four donuts – heck, both! – here's a gorgeous set that will take care of your needs.
When coming up with branding, this is an EXCELLENT solution to display it beautifully for your client to go WOW.
You can create super minimalist or super creative variations by using the different templates included in the bundle to your total advantage.
And even if your design includes some really fine details, the 5000 x 3333px resolution will help you with that.
Price: $12
MORE INFO / DOWNLOAD
7. FlipTop Window Donut Box Mockup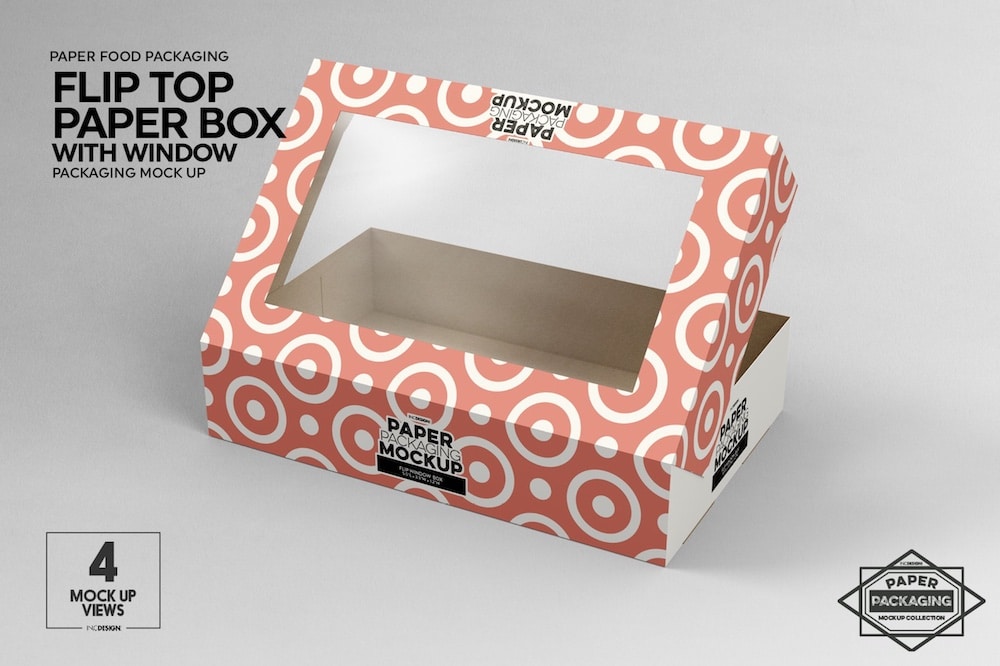 Even though I know the request is pretty high, I couldn't find too many top-notch donut boxes with window mockups.
In fact, this is the ONLY one I vouch for.
It offers your four views, covering all the sides except for the bottom one (but that one's usually black anyway).
Design a custom flip top and base or use the same colorway or pattern throughout. And yes, you can modify the inside, too!
The high resolution is at 5400 x 3600px, and the box is scaled to size 5.5″ x 3.5″ x 1.2″.
Price: $14
MORE INFO / DOWNLOAD
8. Donut Packaging PSD Mockup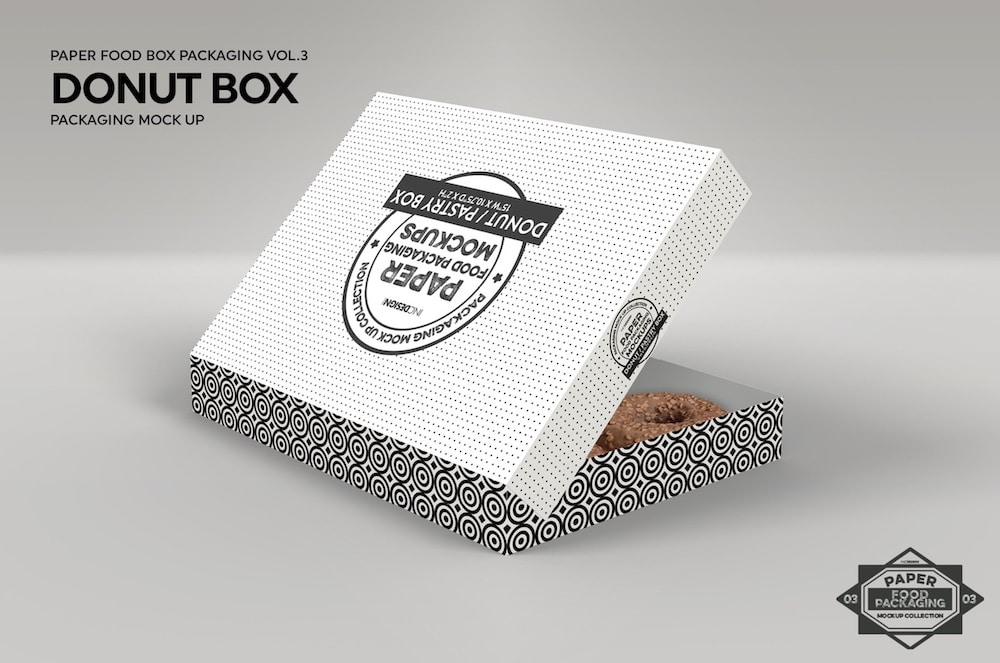 This high-quality (5400 x 3600px) donut box mockup emphasizes the top view of the box.
But because it's half-open, it also offers a quick sneak peek into the box's content – the delicious donuts!
However, you don't have to include the donuts if you don't want them; you have total control to show/hide them.
Furthermore, the mockup allows you to customize the inner and the outer of the packaging, with an option to add a custom background or change its color.
The only DOWNSIDE of this one is that you only get one layered PSD mockup (it would be awesome if there were at least two views).
Price: $10
MORE INFO / DOWNLOAD
9. Half Dozen Donut Box Mockup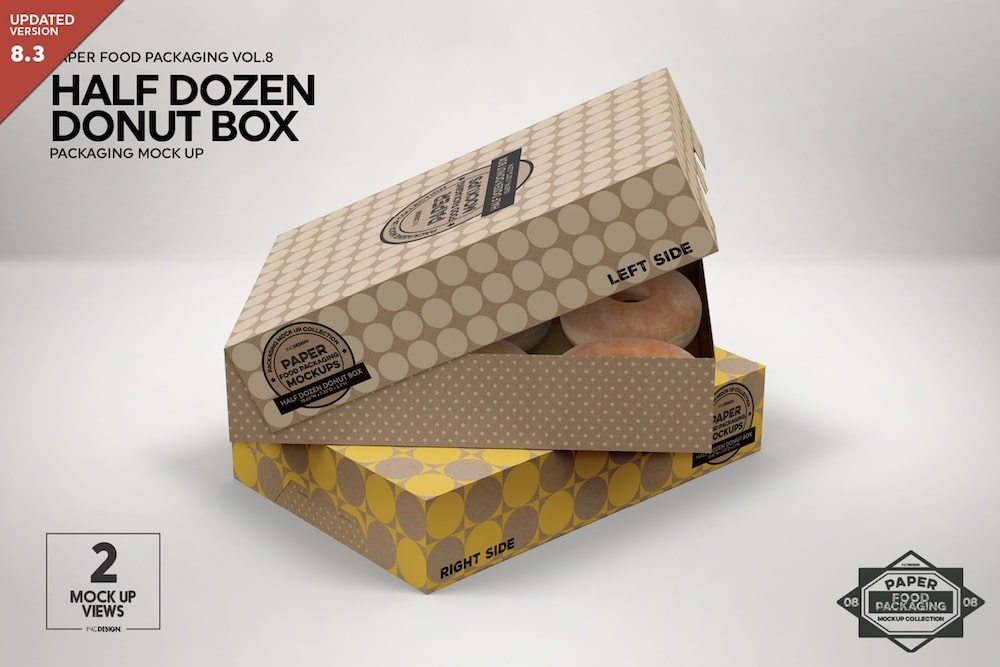 The two scenes this set includes feature a view of a single closed box and a half-open box on top of a closed one.
Because all the elements are on separate layers, it's easy to customize each box with different designs.
Of course, you can also hide or show the donuts – but I recommend showing them because it MAKES the final display a lot more life-like.
Finally, the 5400 x 3600px dimension of the template ensures a superb showcase of highly detailed or minimalist designs.
Price: $12
MORE INFO / DOWNLOAD
10. Box Of Donuts PSD Mockups

This is one of the more UNIQUE donut box mockups I've stumbled across (I haven't seen this one in real life yet).
If you want to go against the grain and pack donuts differently than the majority, this is it!
The terrific display of side and top views is possible with the three available mockups that are effortless to use.
You can include your design simply by dragging and dropping it into the smart object layer – so convenient.
But you can also modify shadows, customize colors and change the background; do it your way.
What about the resolution? It comes at 4500 x 3000px.
Price: $9
MORE INFO / DOWNLOAD
Best Free Donut Box Mockups
11. Free paper lock box packaging PSD mockup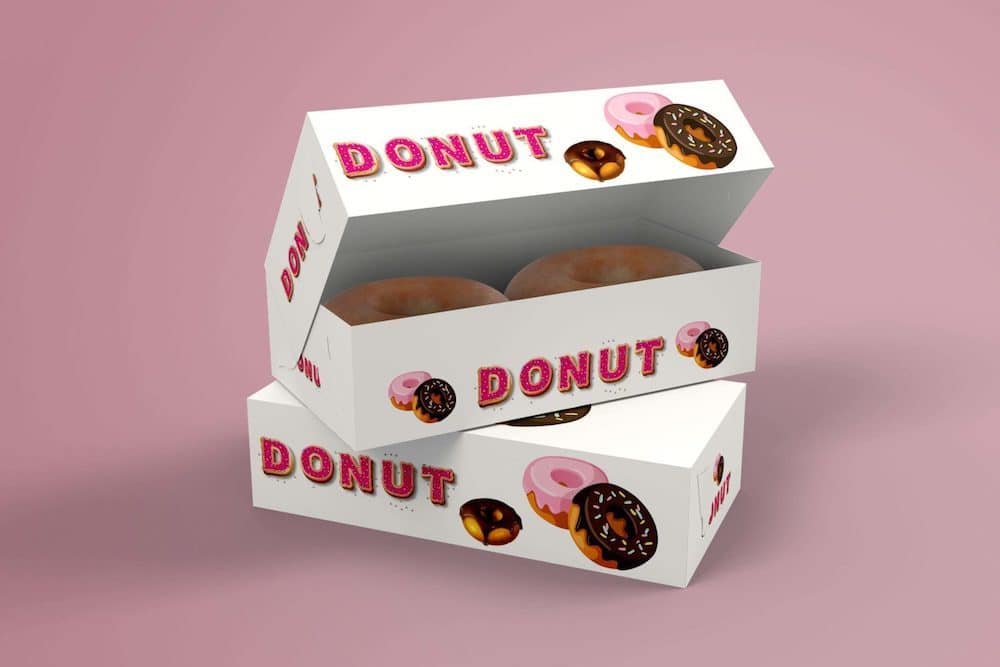 Unfortunately, this is the only reliable free donut packaging mockup I could find for you.
While the mockup's license only allows you to use it free for personal projects, all the features are like those of premium mockups.
It has an easy-to-understand layered structure with smart object design insertion.
And the 2000 x 2250px resolution isn't bad at all for a free template.
If you need to QUICKLY test out the packaging for two donuts, what are you waiting for – download this one and enjoy it.
MORE INFO / DOWNLOAD
How To Create A Donut Box Mockup?
The best part of using a predefined mockup is that creating a realistic presentation takes very little time and effort.
Yes, really.
And even if you are working with a mockup for the FIRST time, I tell you one thing: You'll master everything on your first go.
But to build confidence, here's my quickest guide on how to make it happen.
5 Steps To Make A Donut Box Mockup:
Step 1: Choose a mockup from the collection above.
Step 2: Open Photoshop and import the mockup.
Step 3: The first thing I always do is search for the smart object and drag and drop my design.
Step 4: Then comes the other customizations to tailor the look to the exact branding needs. (Chance colors and background, adjust shadows and lights, etc.)
Step 5: Save and download your creation. That's it!
You see, that was easy, RIGHT?
::
Note: This article was originally published on July 19, 2023. But our team regularly reviews it and updates it with necessary improvements for accuracy.