I've been working with a client recently on their branding and needed to review dozens of woven blanket mockups.
One thing I found out: There are MANY great ones out there!
But doing the research yourself takes oh so much time.
Hours of experimentation and testing left me with a condensed spreadsheet of banging mockups.
I thought: "Why not share it publicly?" And that's what I did here.
This post covers:
This is just the beginning.
What if you don't even need Photoshop and design skills to make photorealistic blanket presentations?
I'm in!
Focusing on mockup generators makes SO MUCH SENSE. It all happens online in just a few clicks.
Imagine hiring a professional photographer and designer at the same time. (For a VERY low cost.)
Your blankie designs will love these.
Best Woven Blanket Mockup Generators
You pick all the mockups below for $7.95.
But you can save a ton of money by opting for either a monthly ($14.95/month) or yearly ($89.69/year) subscription.
1. Woman with her favorite blanket on bed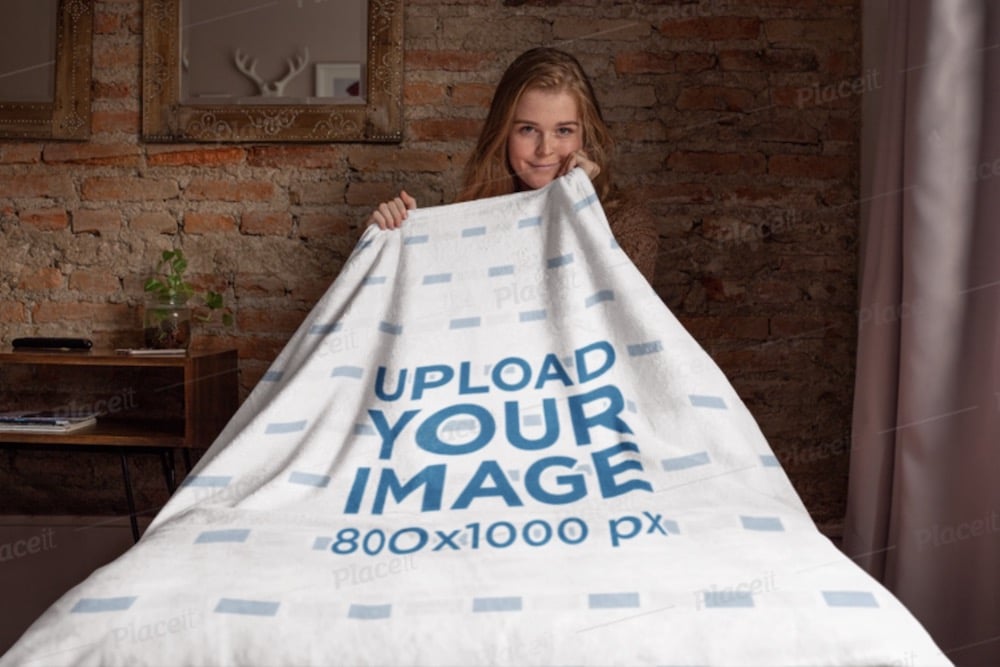 A lovely and super cozy mockup of a woven blanket featuring a female model in her room.
The rustic background and decor make the overall appearance even more appealing to the eye.
As for the template itself, you are welcome to modify the color of the fleece blanket, as well as upload just about any image, logo or design that you want.
Additionally, Placeit allows you to SPICE THINGS UP with additional text and graphics.
Little to no work is necessary to make a top-notch outcome that will wow everyone.
But you can even test things out first before you fully commit.
MORE INFO / DOWNLOAD
2. Mockup of a woven blanket over a bed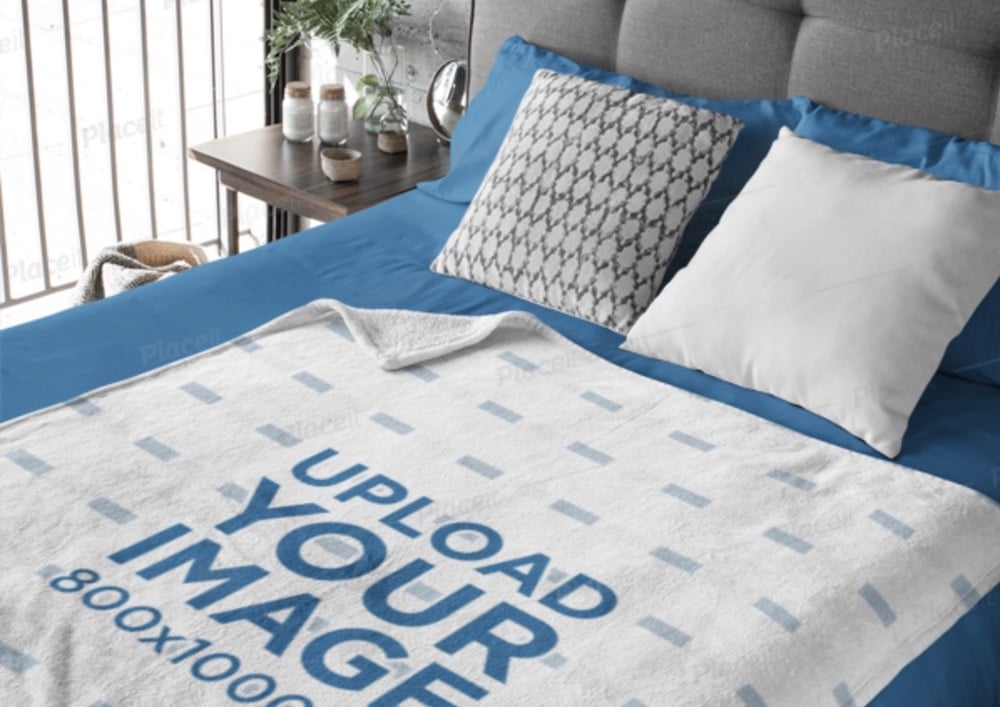 This blanket mockup offers quite some customization options for your convenience. Even though you do not need a professional photo editing software, like Photoshop, you can still create a stunning end product.
With the POWERFUL web platform, which Placeit is, you can make things happen using nothing but the website itself.
Yes, you do it all from within your favorite web browser.
As for customizing, you can alter the colors of duvet, pillow and blanket for starters. Of course, do not forget to stick your design to it with just a click.
The working area is 800 x 1000 px dimension, but other sizes work, too, as you can crop and reposition your image first.
MORE INFO / DOWNLOAD
3. Baby in onesie sitting on a blanket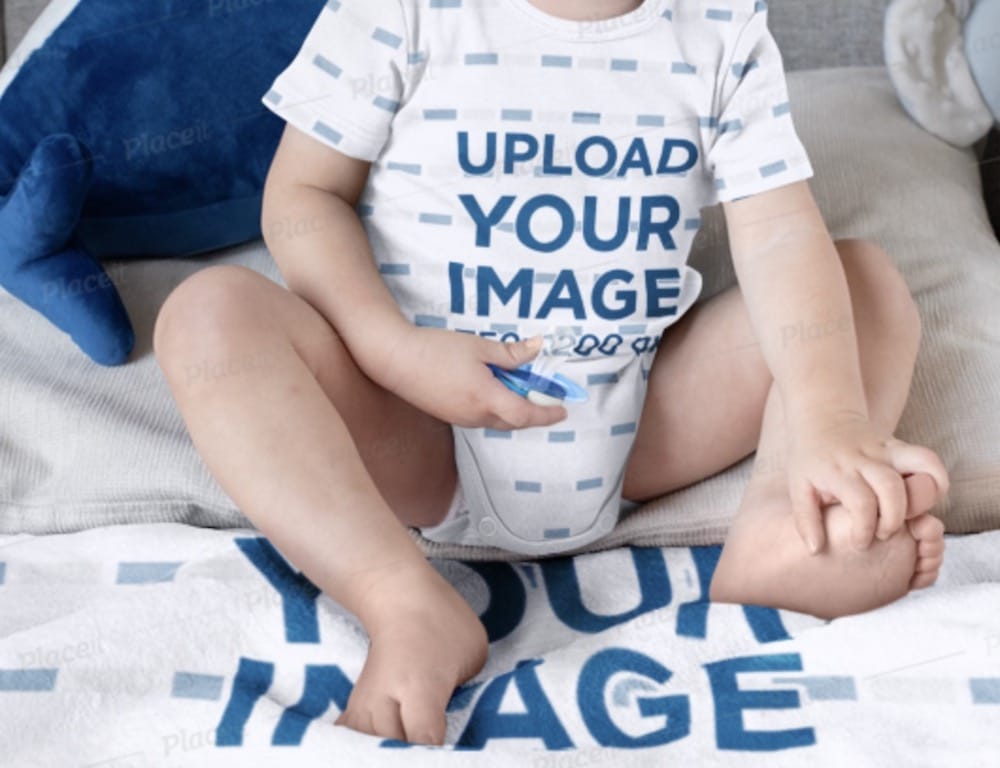 Blankets, babies and onesies, all these three go very well together. If you are designing products for babies, this mockup will come in exceptionally handy.
After all, you can create a beautiful and life-like presentation of both the baby blanket and the onesie.
With quick editing, you can have the final presentation ready to roll in little to no time.
Sure, you need to have the designs ready, but NO SKILLS are necessary to work with a Placeit template.
Anyone can create a presentation, as it only takes some clicking, and that's it. Visit the website, and you can play with the functions right away (for free).
MORE INFO / DOWNLOAD
4. Close-up of a realistic folded blanket mockup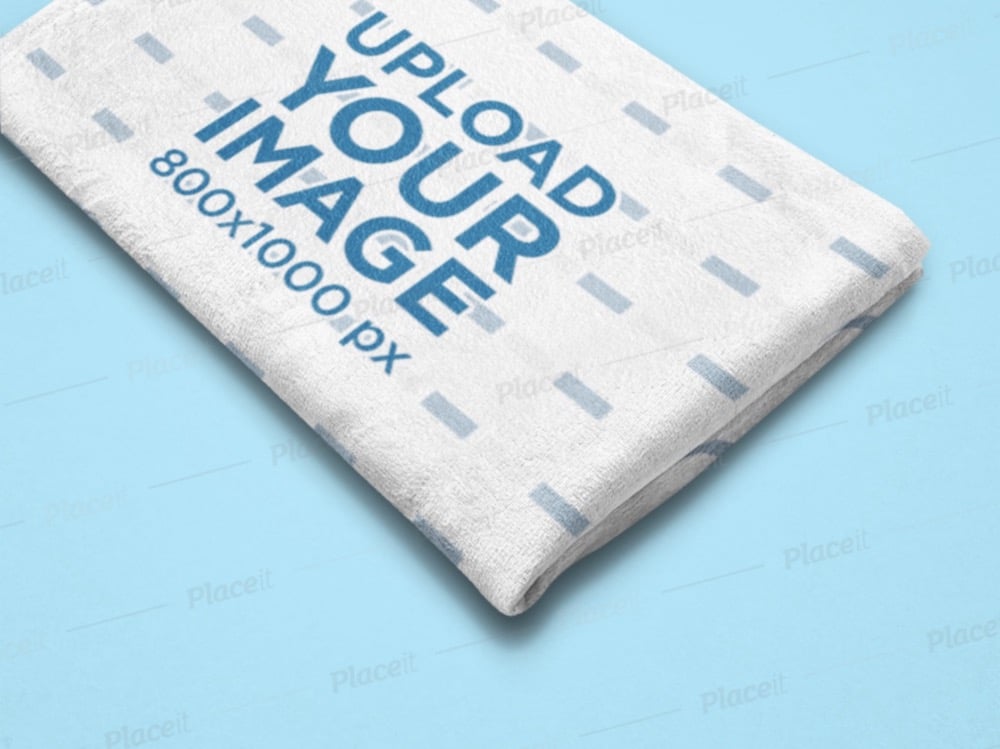 In this nifty collection of woven blanket mockups, you will find all the necessary solutions and then some.
Here you go if you are searching for a CLOSE-UP shot of a folded blanket.
Also, if you are looking for something clean and minimal, again, this template will do the trick.
Alter the shades of the background and the blanket by using the handy color picket.
From then on, it's only a matter of adding your design to the blanket and you can call it a day. Still, that's not all that's possible.
You can ALSO add text (a CTA, for instance), a graphic and even upload a company logo.
MORE INFO / DOWNLOAD
5. Mockup of a soft throw blanket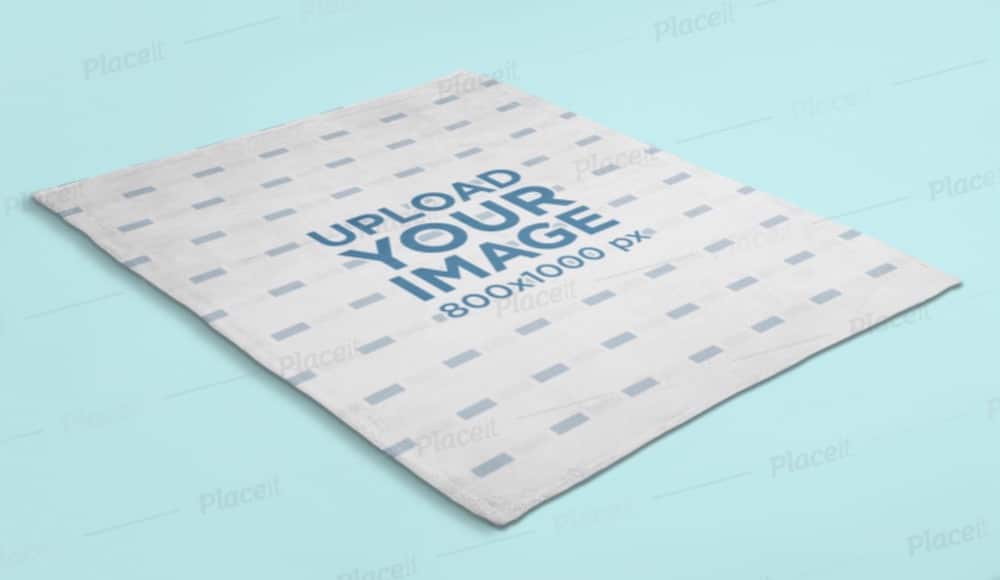 If you are looking for a mockup of a soft throw woven blanket, this one will do you well.
The template KEEPS things clean and minimal.
It offers you to display the full design on the blanket's front (or back).
In true Placeit fashion, you need to have no experience using mockups.
Head over to the platform, import the image or design, perform additional tweaks and that's it.
For instance, you can change the colors of the background and the blanket (and add text).
You are all set and ready to move forward with a fresh and life-like presentation of a blanket.
MORE INFO / DOWNLOAD
6. Baby boy in his favorite onesie on a customizable blanket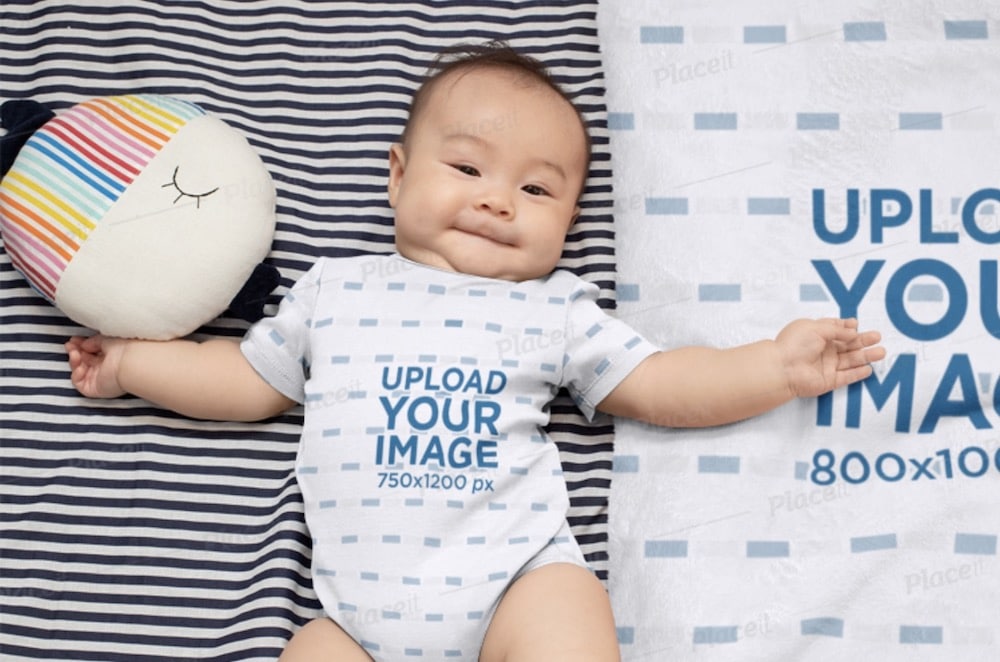 More babies and blankets are coming your way. This is an exceptionally CUTE MOCKUP of a baby boy in his onesie, lying on his favorite blanket.
Both the onesie and the woven blanket are customizable with colors and designs.
While I create matching items, you can also go as creative as you want.
The customizations are easily accessible over on Placeit for everyone to get the most out of it. No need to be a professional to create a life-like presentation.
Note: you can use this one for social media promotions, as well as in your online store.
MORE INFO / DOWNLOAD
7. Soft woven blanket mockup

Another eye-catchy mockup that presents a zoomed-in shot of a soft blanket. It can now be yours within JUST A CLICK of the button.
After all, once you land on the Placeit platform, you can already start playing with the available features.
However, I do advise you to create a free account, as this will smoothen your workflow.
You can create numerous variations first before you stick with the winner and make it your own.
Change the color combinations, upload any design you want and activate other functions to make the outcome EXACTLY to your liking.
MORE INFO / DOWNLOAD
8. Rolled woven picnic mockup with editable background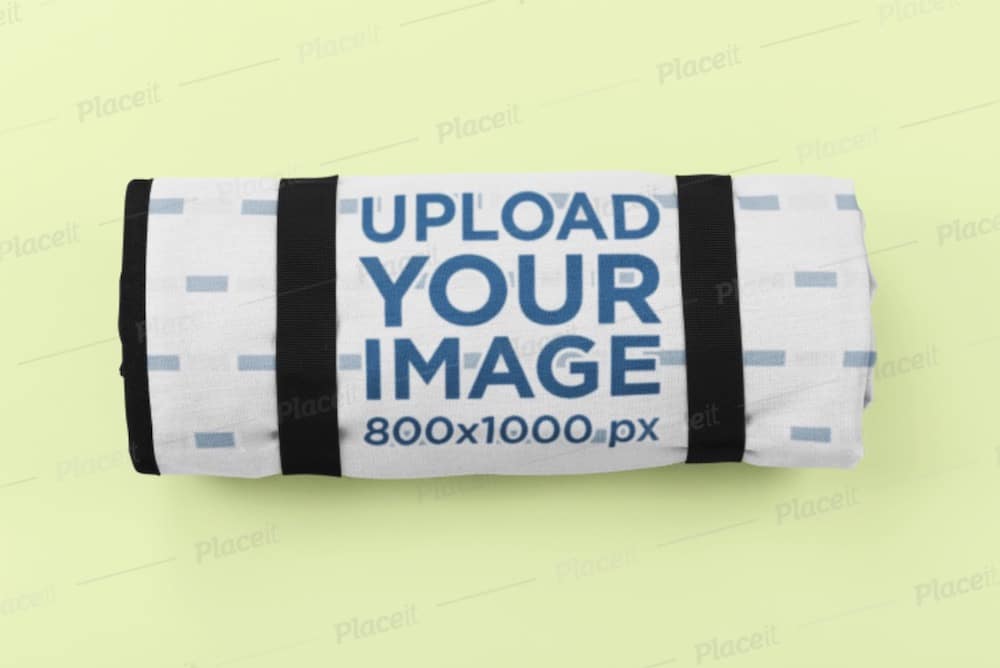 A woven blanket can also work great to take with you to a (romantic or family) picnic.
TEST things out first with a mockup when designing the product and go from there.
This allows you to see how your design and color combination work together, as well as to visualize the physical product better.
Share it with your client, on your social media, just wherever, as the life-like presentation can work great for promotional material.
Put it into play now; it will take you a mere few clicks to complete the task.
Anyone can make it happen as long as you have the design (or the logo) predefined and ready to go.
MORE INFO / DOWNLOAD
9. Mockup of a woman covered with a blanket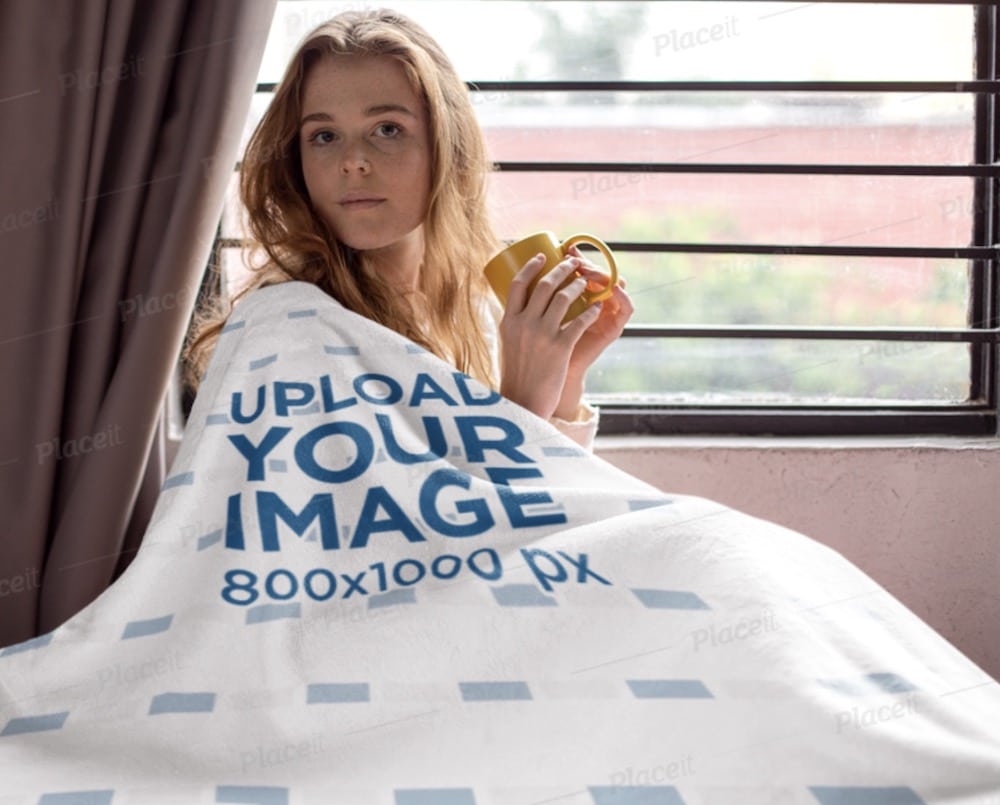 For everyone who is particularly after woven blanket mockups that include the human element, there are plenty here for you.
A woman enjoys a hot cup of her favorite beverage in the morning while covered with her favorite blanket.
You can alter the default settings quickly, using nothing but Placeit and your favorite web browser.
How cool does that sound?
BARELY any work and effort are needed to create a photo-realistic presentation that will wow everyone.
Not just that, but you can also see how the physical product will look first before you send it out for production. NEVER be wrong, thanks to a mockup.
MORE INFO / DOWNLOAD
10. Mockup of a woman lying on a soft picnic blanket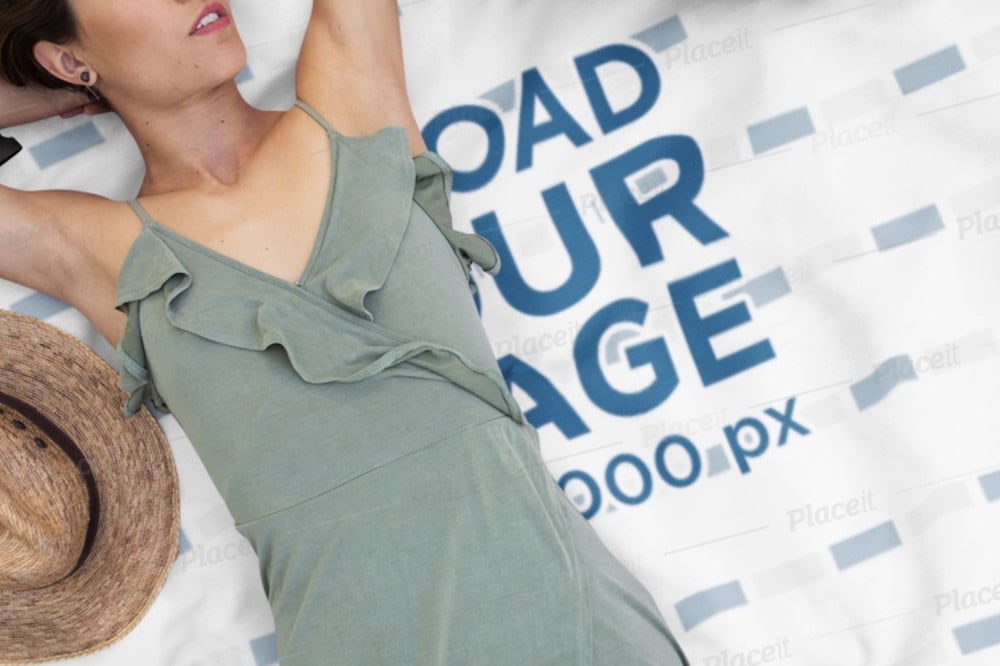 Enjoying yourself some nature vibes is good for your body and soul.
But to make it as comfortable as possible, a woven blanket will ALWAYS do the trick.
When designing a custom blanket, utilize a mockup and see how the outcome will appear.
Not just that, but this particular one will WORK WONDERS when it comes to promotion on social media, in an email newsletter, heck, even your website.
The usage possibilities are limitless for you to go over and beyond, making an extraordinary appearance and positive impact.
The mockup features a woman lying on the blanket that is placed on the soft grass, enjoying the sounds, the smells and everything around her that nature delivers.
MORE INFO / DOWNLOAD
11. Duvet and blanket mockup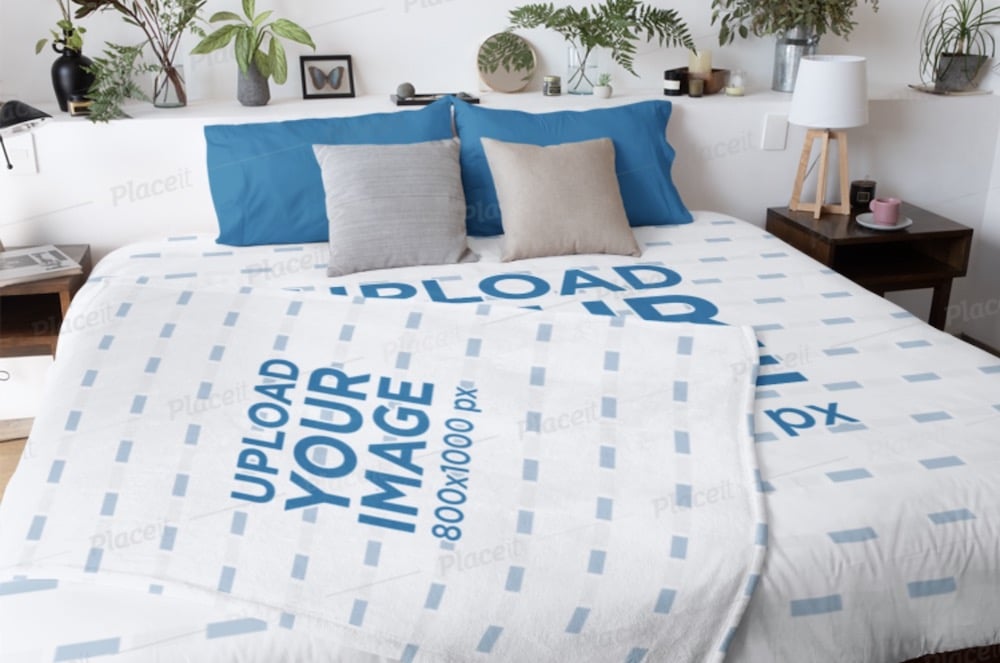 A cool combination of the duvet and woven blanket mockup for you to put into play.
When working with a client or on your projects, use a template to create a life-like presentation.
This way, you save yourself plenty of time, energy, and money.
After all, with a mockup, you can see if your design fits the blanket as it should or if it needs any additional customization tweaks.
You are FREE to perform them and upload the image to both the duvet and the blanket as many times as you want.
Also, the mockup allows you to change the colors of the pillows, as well as both the duvet and the blanket.
MORE INFO / DOWNLOAD
12. Cute baby in onesie on a woven blanket mockup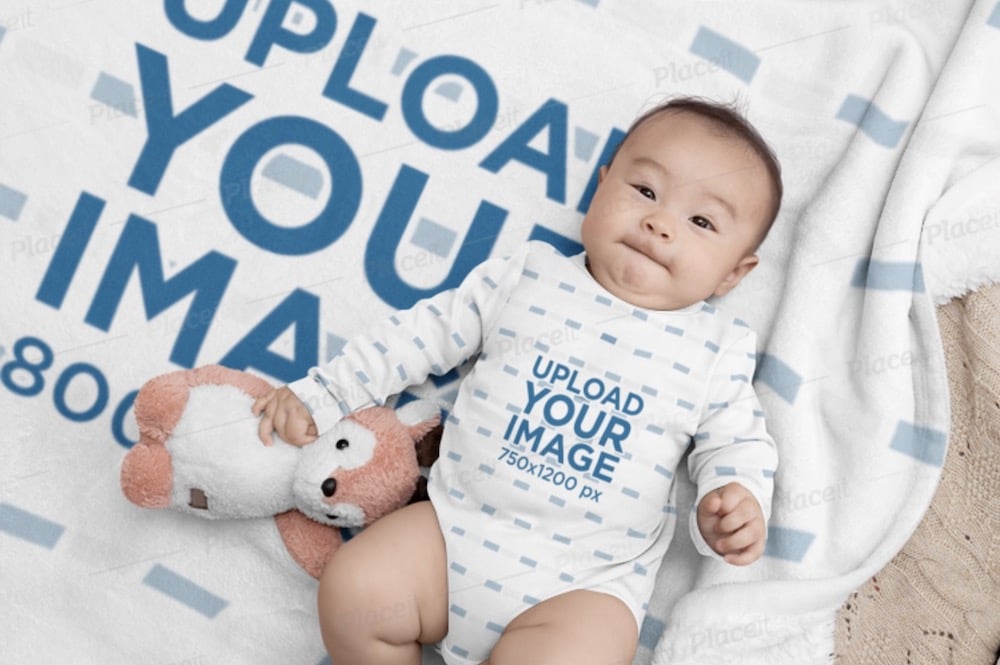 A kid with his toy lying on a woven blanket, that's what's up when it comes to this mockup. Easy to use for everyone, regardless of your experience with mockups.
Placeit allows you to have fun with its features again and again, whether on mobile or desktop.
This POWERFUL PLATFORM will change the way you create photo-realistic presentations for good.
Let's face it, no software and no skill are necessary to make professional things happen.
You can adjust the color and the designs of both the blanket and the onesie, creating an outcome that will trigger every parent's attention.
MORE INFO / DOWNLOAD
13. Young girl wrapped in her cozy blanket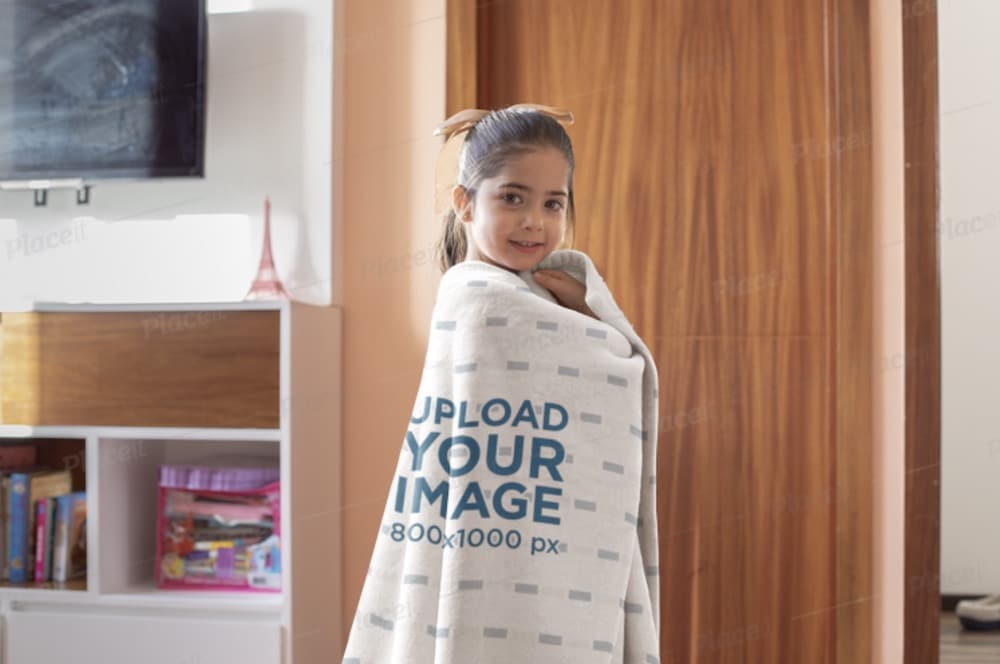 Let's face it, everyone enjoys a woven blanket, especially in the colder days. However, kids probably adore them the most.
With that in mind, if you are designing a new blanket drop for your or your client's brand, this mockup will do the trick.
On the other hand, even if you are making promotional material, a blanket is always a good choice due to its practicality.
Furthermore, by changing the color (one click) and uploading your image (one click), you can have an outcome READY TO ROLL already.
Yes!
It is just as simple as it sounds. But there's more. Placeit allows you to add logo, text and graphics, too.
MORE INFO / DOWNLOAD
14. Cheerful young girl with her blanket mockup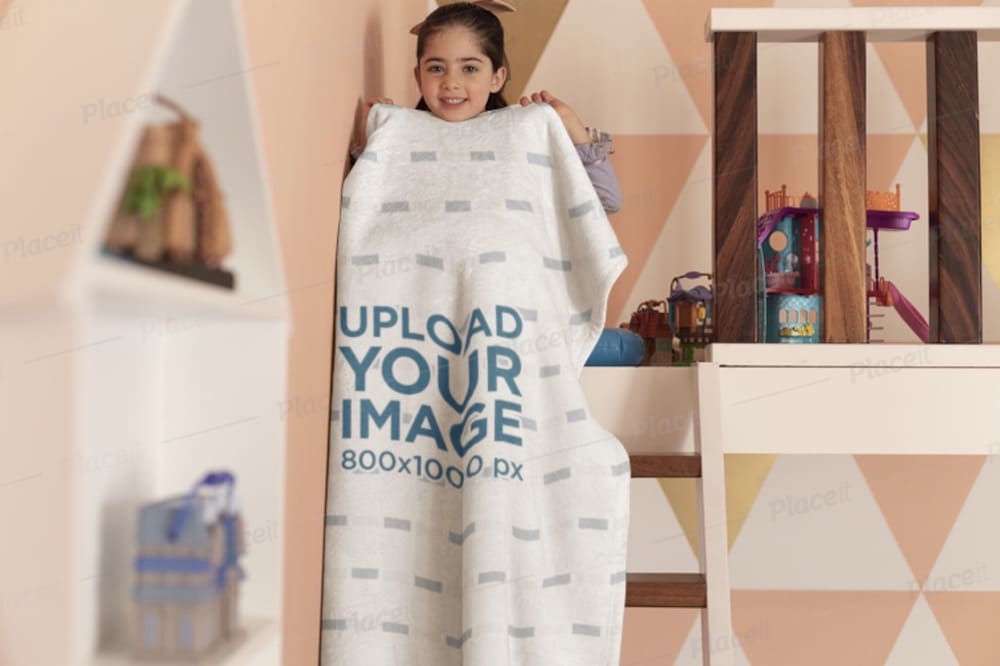 Children and their favorite blankets, some even keep it forever.
With that in mind, you need to make sure that the QUALITY is top-notch and the design is such that it will last forever.
Thanks to any of our woven blanket mockups, you can ensure that the final product will be exactly how you want it to be.
With the flexible customizations that Placeit unlocks for you, the outcome will appear before you sooner rather than later.
No special tools are necessary. All you need is an internet connection, your favorite browser and Placeit – that's it.
On top of that, you can employ the features even before creating an account or opening your wallet.
This is just the best.
MORE INFO / DOWNLOAD
15. Woman warming herself with a woven blanket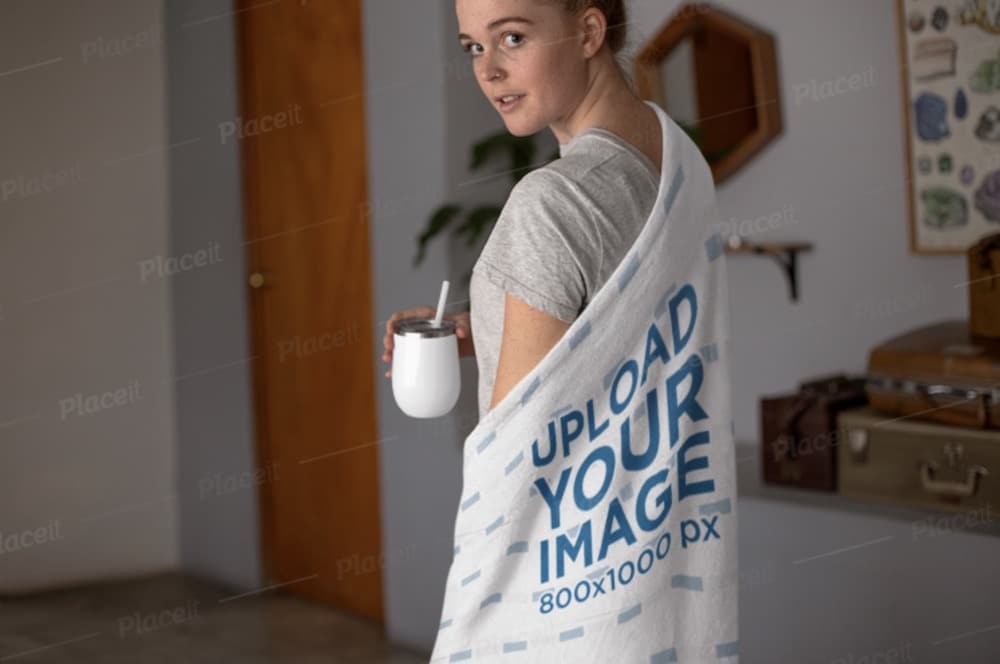 Mornings or evenings, it does not matter, a woven blanket comes useful any time.
With that in mind and a cup of warm beverage, this mockup is a GREAT ALTERNATIVE to create a life-like presentation that will turn heads.
Instead of doing all the work from the ground up, you only need a predefined template, and you are ready to make a positive impact on all the possible users/buyers.
Along with changing the color of the blanket, you can also change it on the cup/tumbler.
Additionally, upload any image you want and stick it to the blanket directly. You can also crop and reposition your image so it fits accordingly.
MORE INFO / DOWNLOAD
16. Cute girl covered with a woven blanket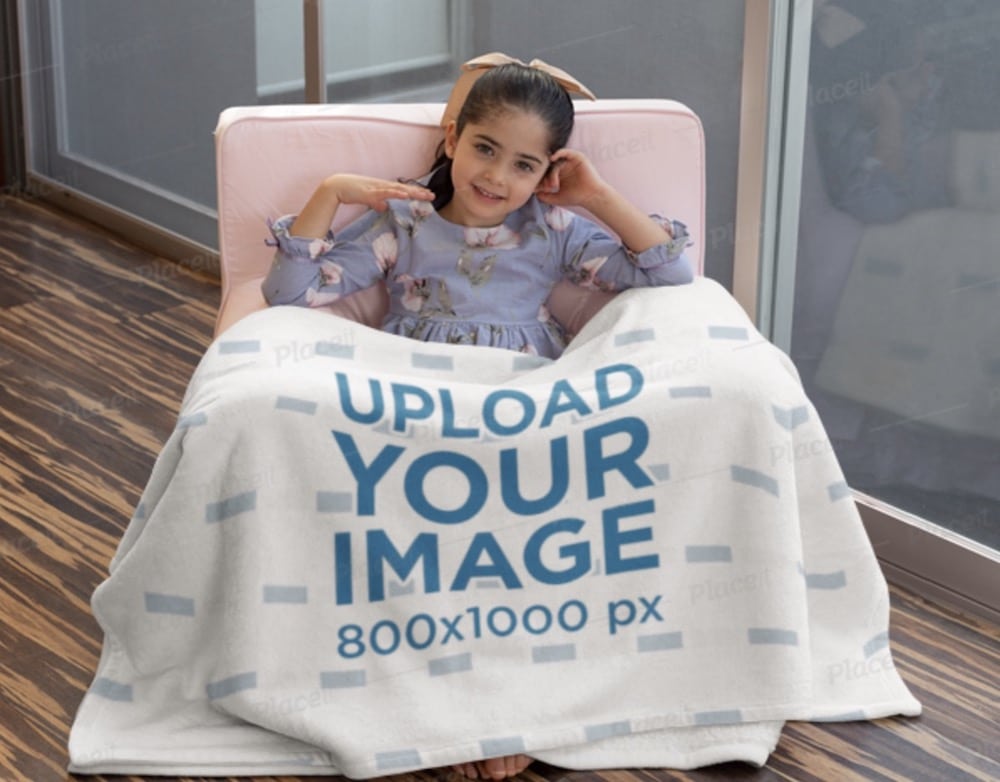 A charming setting of a young girl in her pink sofa with a blanket over her legs.
She must feel very comfortable. Anyhow, if you would like to use this mockup, you can do it online.
How fantastic is that? Once you visit Placeit, a whole new world will open up for you.
And this goes especially for those who are not design-savvy and never worked with a mockup before.
Bring into fruition a STUNNING presentation that will help promote your blanket design, whether it's for kids exclusively or for the entire family.
This also allows you to A-test your design before production.
MORE INFO / DOWNLOAD
17. Pink bed setting with a woven blanket mockup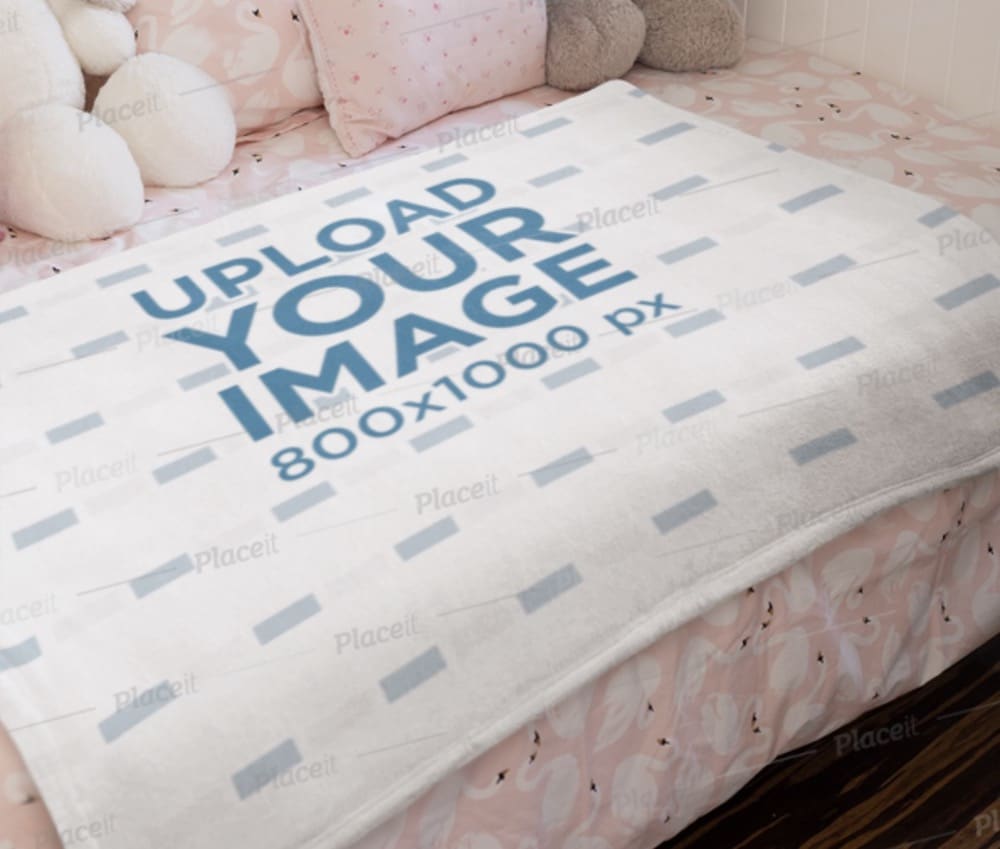 While many of the woven blanket mockups on this list work for multiple intentions, this one will be best for kids and babies.
Even though the duvet, the pillow, the mattress and the toys already do the trick, every little one also loves the addition of a blanket.
Design the SOFTEST one now with the help of a mockup.
Only a few quick tweaks and you can entirely improve the default setting, making it follow your regulations to a tee.
Since you only need to invest your budget once you are delighted with your creation, feel free to design as many variations as you want.
This allows you to find a CLEAR WINNER much more comfortable.
MORE INFO / DOWNLOAD
18. A mockup of a blanket at the edge of a sofa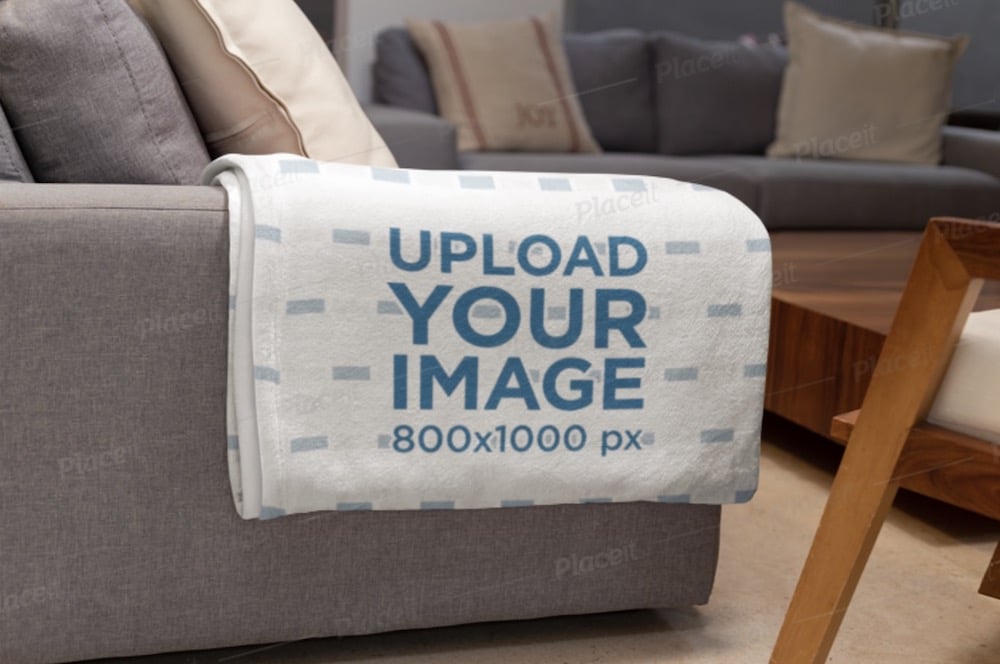 For a product promotion specifically, let this woven blanket mockup do the trick for you.
Instead of hiring a photographer and building the entire set, save time and money with a ready-to-use template instead.
Pick the color and upload the design – at this point, you can already end with the work.
Indeed, it is that easy. Still, you can make a few additional ENHANCEMENTS, like uploading a company logo or attaching a special message – on Placeit.
You can also add a graphic to spice things up even further.
Make it yours now and impress your client and your fans with something remarkable.
MORE INFO / DOWNLOAD
How To Create A Woven Blanket Mockup? (Quickly!)
One of the fastest and my favorite ways of creating a realistic woven blanket presentation is with a mockup generator.
Why?
First, you don't need software. Second, you do all the work online. Third, you don't need experience. Fourth, it's cheap.
Here we go!
5 Steps To Make A Woven Blanket Mockup:
Step 1: Go to Placeit where you can find 60+ great templates, but I recommend using any of the above examples because they are tested and proven. (Hint: You can also use Placeit's convenient search bar if you need something specific.)
Step 2: Open your preferred template and click on the "insert image" button. This allows you to test the generator immediately, which I always do. It saves time when picking the ideal image (I sometimes go through multiple).
Step 3: A popup window will open with options to change your design's position and size. Click "crop" when done.
Step 4: With your design on the mockup, you now have the freedom to perform other modifications, like changing the color, the background (where it's possible), adding a text overlay, and more.
Step 5: Click "download" and save your life-like creation to use anywhere you want.
How fun and quick was that?
I know, right?
I sometimes binge on Placeit instead of YouTube because creating stuff myself is much more pleasurable.
::
Note: This article was originally published on September 22, 2020. But our team regularly reviews it and updates it with necessary improvements for accuracy.