Yo sweets lovers, welcome to my collection of the best free and premium candy packaging mockups.
I know finding high-quality PSD templates is a tedious process.
NOT ANYMORE!
I did the necessary testing and trying (on live projects) to bring you the greatest of them all.
All these guarantee fast and simple work, which you can complete in a few clicks.
(Basic skills necessary for layered PSDs & 0 skillS for mockup generators.)
Yup, achieving a photorealistic presentation with your ideal packaging mockup is EASY.
So much eye candy in one place!
GOOO.
TABLE OF CONTENTS:
Best Candy Packaging Mockup Generators
1. Chocolate bar mockup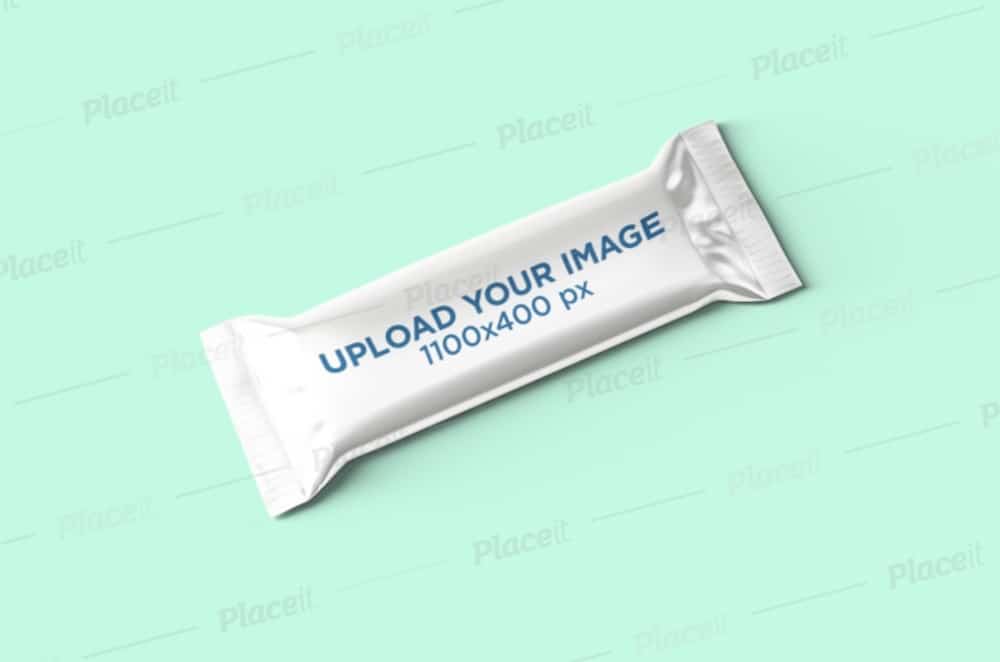 Okay, first this: There'll be a bunch of chocolate bars in this list. Why? Because they are one of the favorites amongst candy mockups.
And I want to start with this simple but powerful mockup generator.
Why? (Again?!) Because I find it so easy to edit, which comes perfect for beginners and pros.
Change the packaging color, slide in any design you want, add text and customize the background. You can upload your background and add graphics, too!
Epic.
Note #1: You don't need Photoshop to create a mockup with this one.
Note #2: Don't miss my complete collection of the best chocolate mockups!
Price: $7.95
MORE INFO / DOWNLOAD
Best Candy Packaging PSD Mockups
2. Candy bar wrapper mockup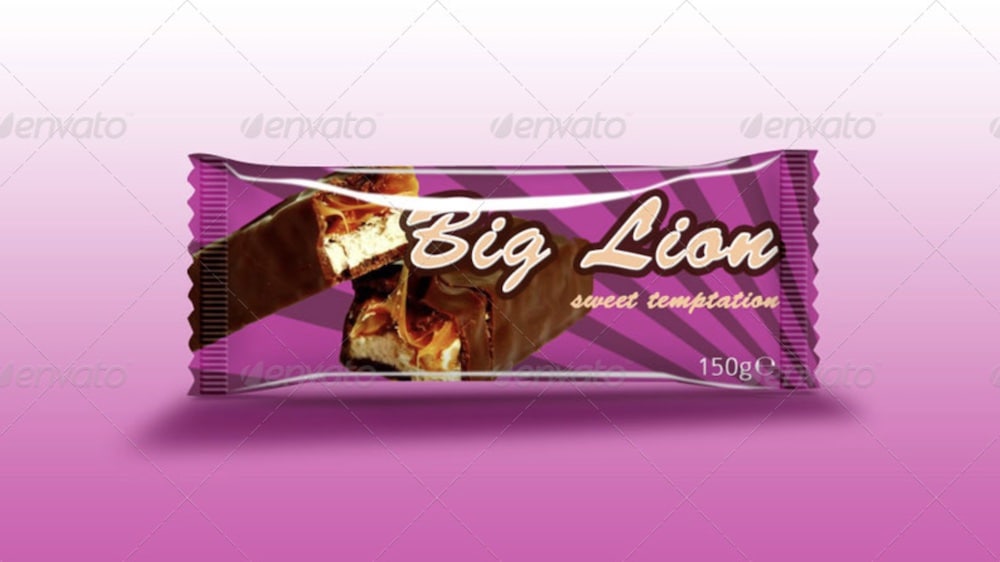 This chocolate bar wrapper mockup came in handy for four of the clients that I worked with in the past few months.
Even though it consists of only one layered PSD file, it still offers endless possibilities. I particularly like the four different knit lines that come out of the box.
You insert your artwork via the smart object, which rapidly speeds up the process.
Note: You can make a see-through version or solid.
Good. STUFF.
Price: $5
MORE INFO / DOWNLOAD
3. Foil packaging mockup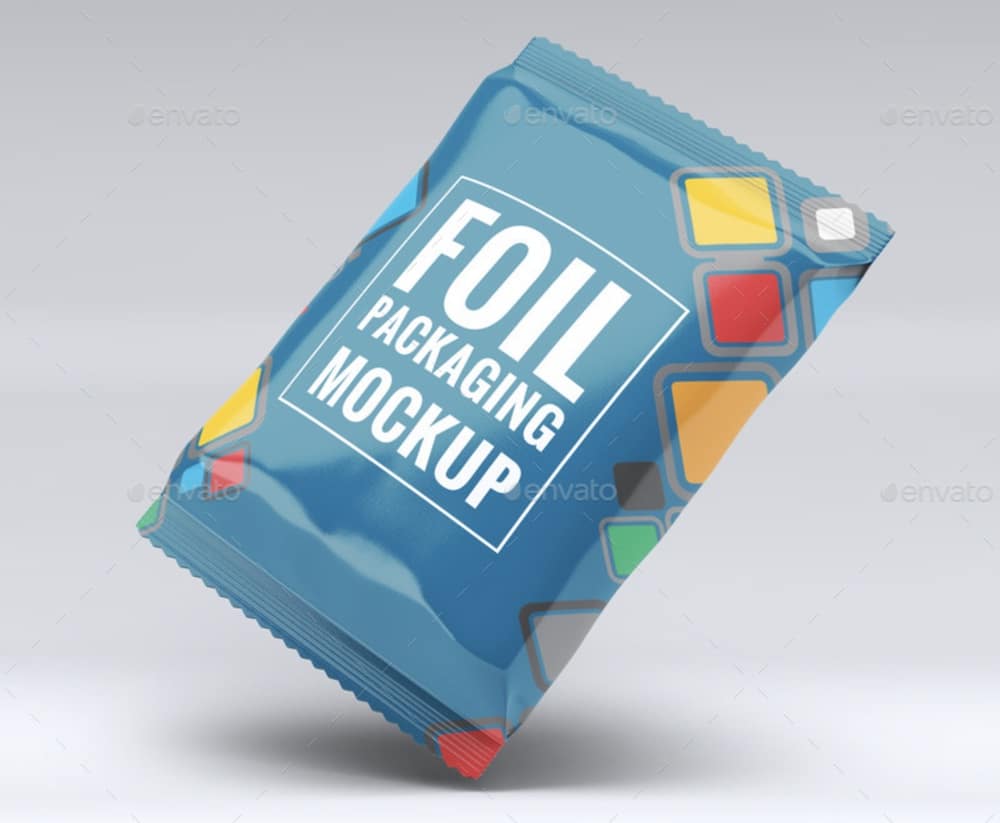 Here's a LITTLE secret: I used this foil packaging mockup for a bunch of projects, candy and non-candy-related.
The seven views sort out every side of the bag to easily showcase any design or logo idea you have.
Also, every element is on a separate layer (lights, shadows, etc.) for quick editing and effortless configuration. But you can always flip through the help document (just in case!).
Fine candy bag presentation awaits!
Price: $6
MORE INFO / DOWNLOAD
4. Candy bag packaging mockup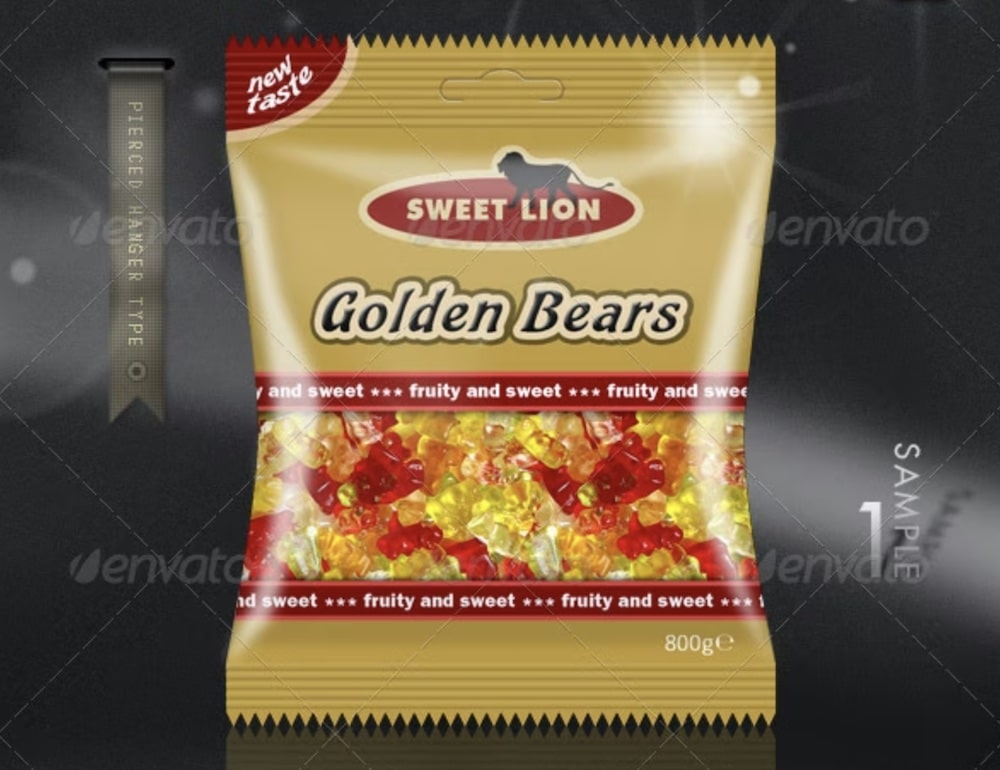 Mmm, gummy bears! Those were one of my favorites.
Are you ready for the one-click mockup showcase creation? You only need to locate the smart object layer after inserting the file into Photoshop.
From there, you drag and drop your design, and THAT'S IT.
A cool thing about this one is that it comes with three types of hangers, plus the non-hanger version.
Also, make the candy visible or not, both options are possible.
Price: $5
MORE INFO / DOWNLOAD
5. Chocolate candy bar mockup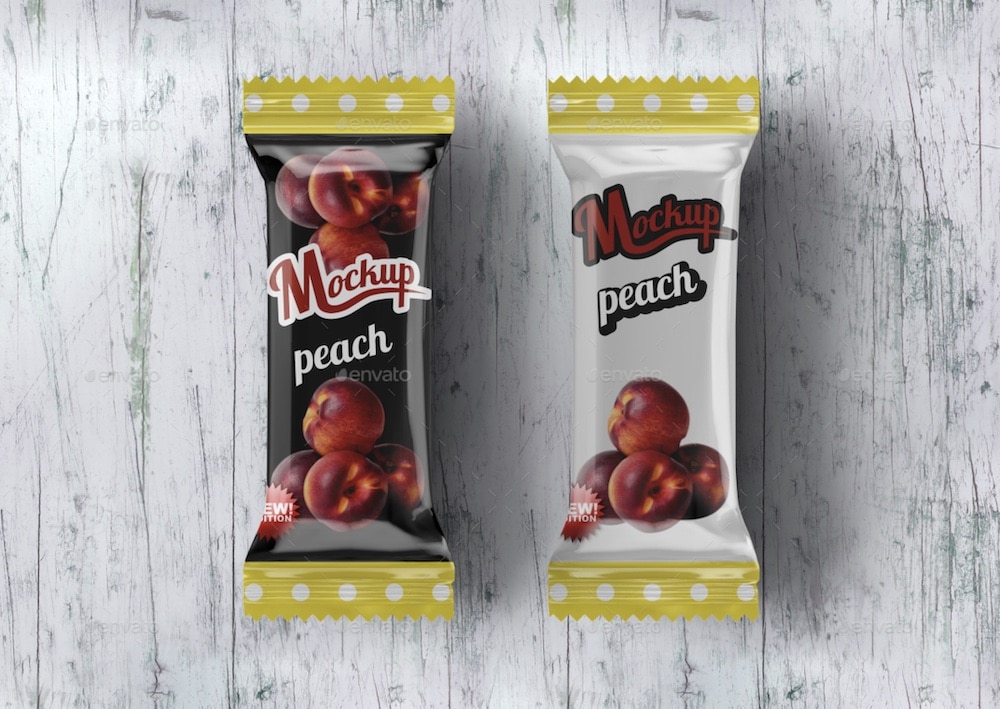 Boost your client's realistic chocolate candy bar design through the roof with all five PSDs that you get in this kit.
Remember, each is 4200 x 3000px (300dpi) in size, ensuring the ultimate quality even in a close-up.
To be 100% candid with you, I didn't even have to use all five mockups for my projects. But I'll definitely use the angled ones on my next one.
Your excellent candy design deserves the best presentation. GO!
Price: $7
MORE INFO / DOWNLOAD
6. Lollipop ball mockup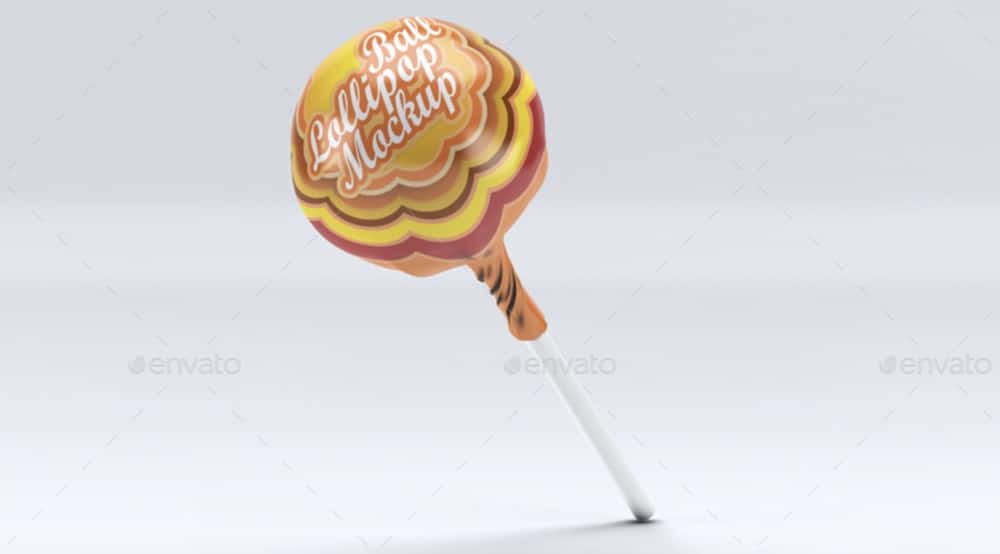 Fun fact (about me): I never was a fan of lollipops. Are you?
This extensive set of eight PSD mockups is ready to create the most realistic presentation of your cool lollipop design to WOW your client. (And if you're using it for yourself, it'll wow you!)
Quick editing guarantees you have the final version ready within seconds. Actually, I set a timer and had it done in 39 sec.
That's fast, right?
But the fast work only applies if you have the design ready. Drag and drop, change the color, adjust shadows, light and reflection and that's it!
Price: $7
MORE INFO / DOWNLOAD
7. Foil cookies packaging mockup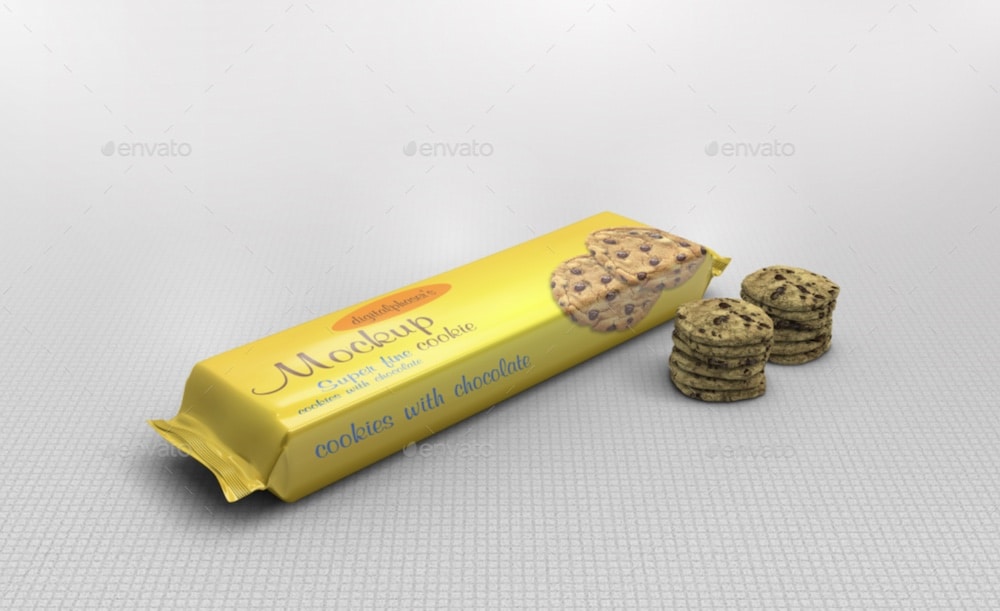 Even though this one isn't necessarily candy, I'm still adding it because so many users wanted me to add it.
Create a life-like presentation like never before with this neat bundle of cookie packaging mockups (you get six).
And they are all 7000 x 4000px!
Note: The real-life packaging size is 335 x 80 x 40mm.
Additionally, you also get three cookie types and three floor textures to play with.
Test your creativity to the maximum!
Price: $6
MORE INFO / DOWNLOAD
8. Twist wrap candy mockup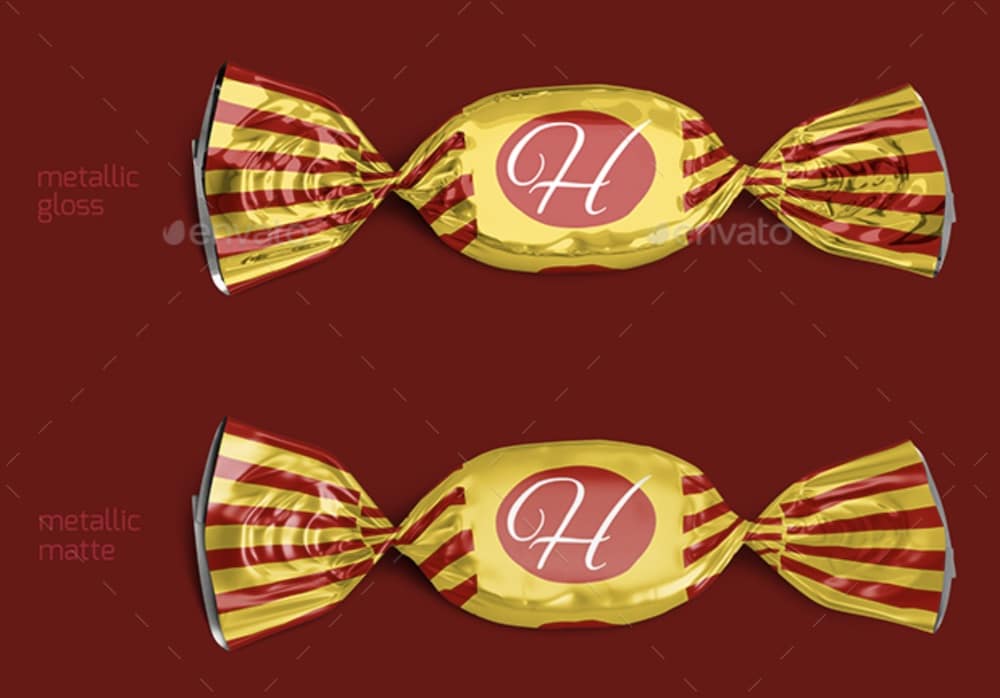 Now, this is the candy mockup I was looking for for my latest project.
It contains two wrap styles (single & double wrap) with four finishes (metallic gloss, metallic matte, gloss & matte).
That's MORE than enough to create the necessary final product you're after.
The only downside is that the file dimension isn't the biggest (2000 x 850px & 900 x 1500px).
You have nothing to worry about if you don't plan on zooms and close-ups.
Price: $8
MORE INFO / DOWNLOAD
9. Chewing gum packaging mockup

Yo, is chewing gum candy? I dunno!
Anyway, I'm still adding these ten chewing gum mockups because they rock, and I know it'll help many of you.
These are the best I could find, so don't waste time searching elsewhere.
The inside and the outside of this chewing gum cardboard template are 100% customizable.
And you need very few skills to make your version. BEST!
Save time but achieve the best result – I'm in.
Price: $7
MORE INFO / DOWNLOAD
10. Chocolate bar packaging mockup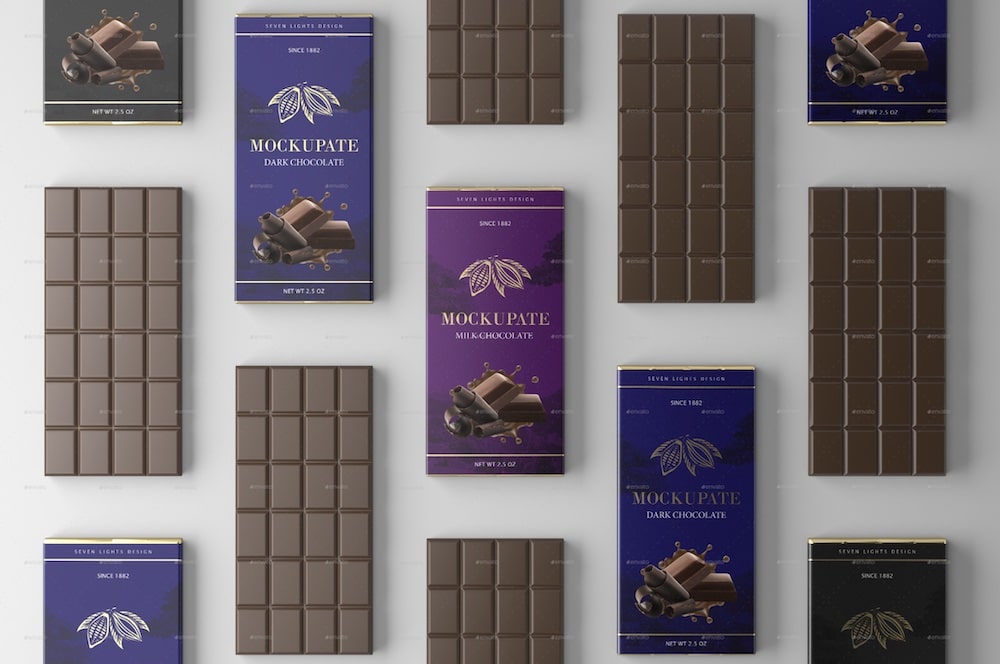 Okay, please don't be mad at me for adding more chocolate bar packaging mockups. I'm just obsessed with chocolate!
But I've also been obsessed with using these PSDs on multiple occasions because of the excellent quality and seven photorealistic views.
I particularly enjoyed working with the multi-bar mockups. They make a solid impact, especially when using it on social media.
My GUARANTEE: You'll have a blast!
Price: $11
MORE INFO / DOWNLOAD
11. Hard candy packaging PSD template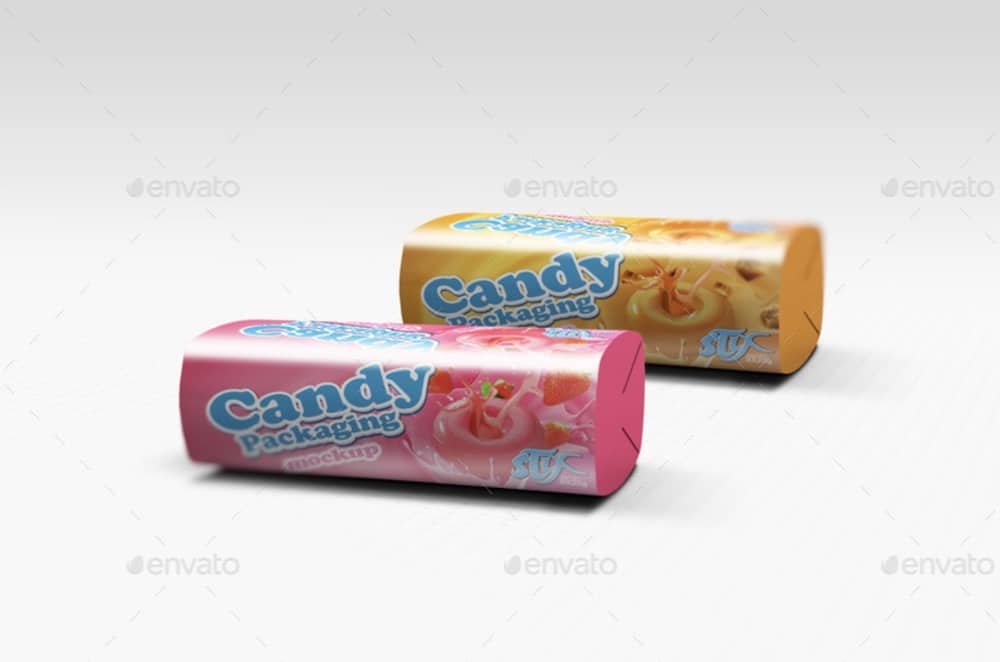 Are you in the process of creating a design for hard candy packaging? Then I'm even more stoked about sharing this one with you.
Test things out to the ultimate (so everything fits as it should) and showcase your work to your client – all this with any of these five PSDs.
You have the right to perform as many adjustments as you want effort-free.
SO quick. SO easy.
Changeable color, adjustable shadows, movable objects, yup, all the good stuff. Plus smart object layer for instant graphics inclusion.
Price: $5
MORE INFO / DOWNLOAD
12. Retail shelf candy box mockop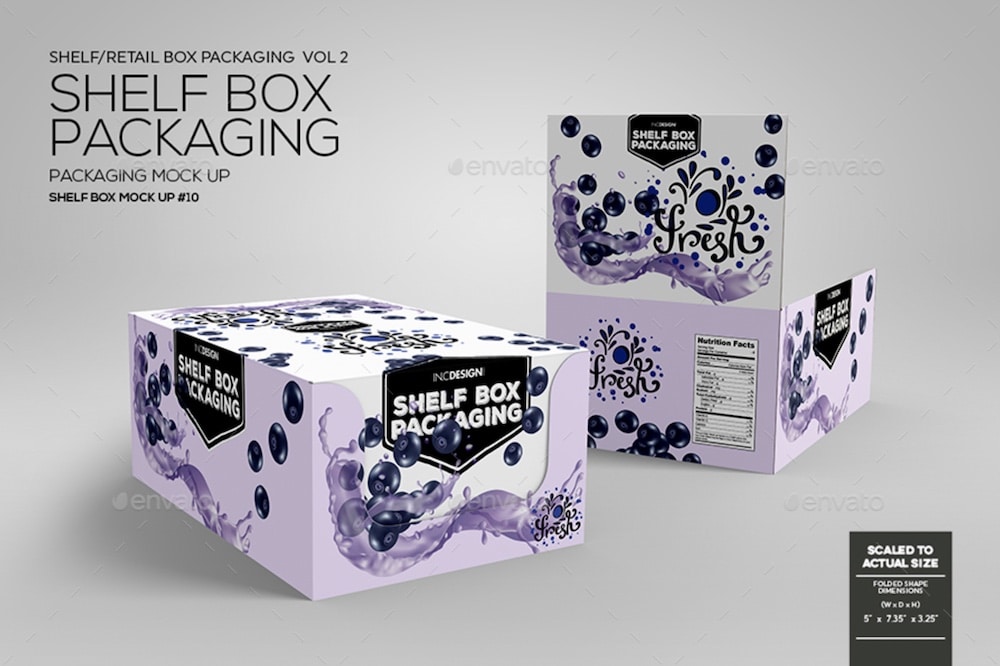 Having brandable retail shelf box packaging for your candy is a must.
This gives you a chance to get creative and strategic in making your or your client's candy stand out and scream, "Pick me!"
The three different views allowed me to create a full-blown design (even the box's backside!), so I was sure the physical version will be CRISP.
And you can now enjoy the same process! (Minus searching for the right mockup because you just found it.)
Price: $15
MORE INFO / DOWNLOAD
13. Realistic candy PSD mockup

The sound of unwrapping candy, MMM, I still remember that. (But I stopped eating candy overall! You know, getting healthy and whatnot.)
But I still had a lot of fun creating a custom candy wrapper using the three PSDs this bundle delivers.
And my zoom-ins were out of this world, thanks to 5000 x 5000px resolution.
Change everything. Adjust everything. Whatever. Do you. That's what's important! (Or follow your client's requirements 🙂 )
Price: $3
MORE INFO / DOWNLOAD
14. Lollipop mockups set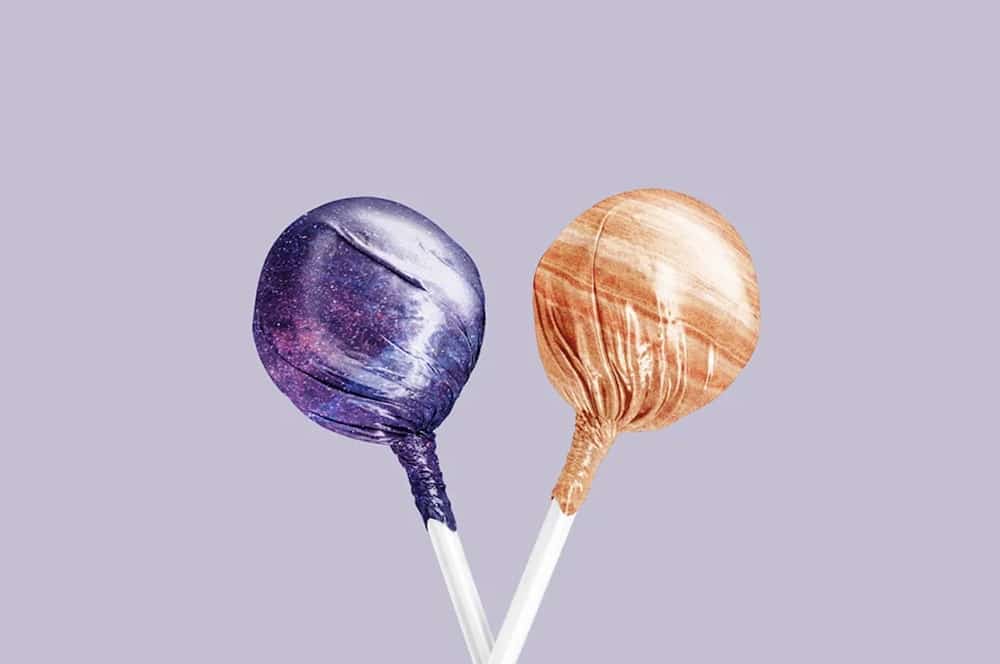 This is my friend Steve's recommendation because it's a high-quality pack of EVERYTHING you need to design a custom lollipop.
And he couldn't be more right. The moment I started reviewing it, I knew why he shared it with me.
I'm now sharing it with you.
The six mockups feature 6500 x 4500px dimensions, which is pretty insane. But precisely what you need for your creative presentation.
Crop it, zoom it, doesn't matter; it all worked so well for me. Enjoy!
Price: $11
MORE INFO / DOWNLOAD
15. Resealable candy sachet mockup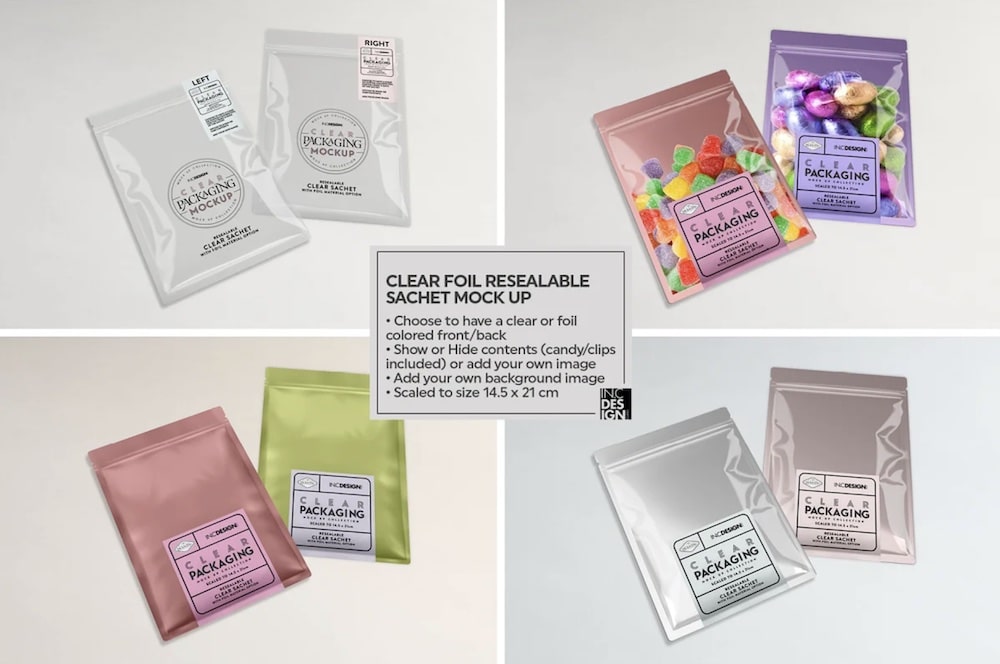 Even though I usually ate all the candy in one go, not all are like me. That's when a resealable candy sachet does the trick, so it doesn't get messy.
Design the perfect transparent foil sachet for any candy before printing with a mockup.
Hint: You can even turn the candy you see in previews on or off. (The author did such a good job!)
Great resolution, changeable background, editable packaging material – all to give you everything necessary to boost your workflow with QUICK WORK.
Price: $14
MORE INFO / DOWNLOAD
16. Loot bag topper packaging mockup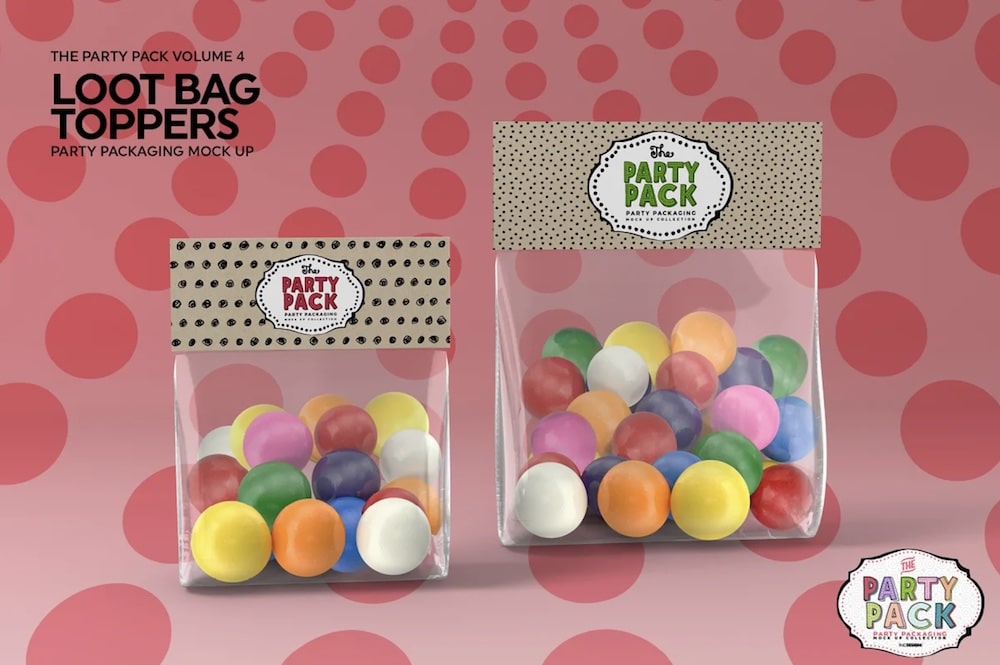 My mouth is starting to salivate. I think I shouldn't really do this collection of best candy packaging mockups.
Or at least not such a long one!
But I'm doing it for YOU.
Take your bag topper candy packaging design to the next level with a tasty presentation.
This PSD template is everything you need to start immediately and finish the project shortly after.
Small and big bags are available to individually modify, along with removable content and pattern background.
I only used my custom design but all the rest was perfect out of the box, so didn't bother adding my creative twist.
Price: $10
MORE INFO / DOWNLOAD
17. Luxury chocolate gift box mockup

I wanted to add another variation of these LUXURY chocolate gift box mockups because of their beauty and user requests.
Creating a special project was a piece of cake for me with all the seven ready-to-go mockups. And the default chocolate candies are pretty versatile and excellent for the example demonstration.
Each file also features great layer organization for effortless editing.
But you even get a video tutorial, making everything even easier if you're a beginner.
Price: $11
MORE INFO / DOWNLOAD
18. Candy mason jar gift mockup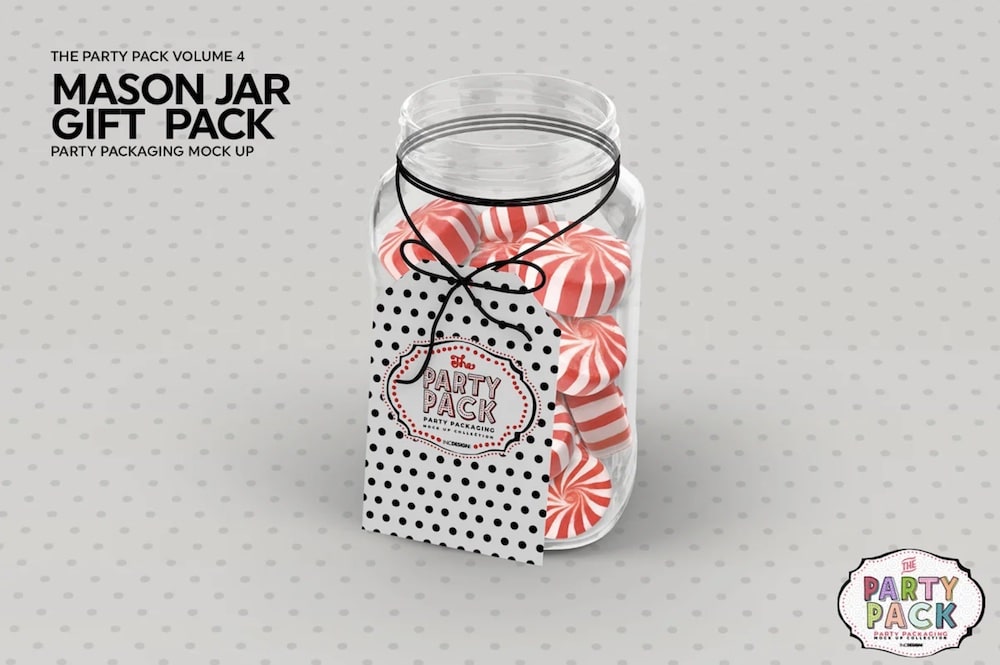 A brandable mason jar full of candy? You can now make it happen like a BOSS in a few clicks.
Plus, all the features give you a chance to make an attention-grabbing candy packaging mockup showcase that everyone will want to grab.
You can show or hide mints, add a unique pattern as a background and attach any artwork to the tag and lid.
It's so easy to do that you'll manage it while snacking on candy.
Price: $10
MORE INFO / DOWNLOAD
19. Candy tin box mockup

Your original design for a candy tin box deserves a LIFE-LIKE version, which you can now quickly realize with this mockup.
The amazing quality ensures easy cropping, adding text or spicing things up with other graphics to make it more engaging.
This one proved to work very well on Instagram, but you can use it elsewhere, too.
Or simply as a showcase to your client. (But trust me, they'll want to share it!)
Price: $9
MORE INFO / DOWNLOAD
20. Round tin can candy template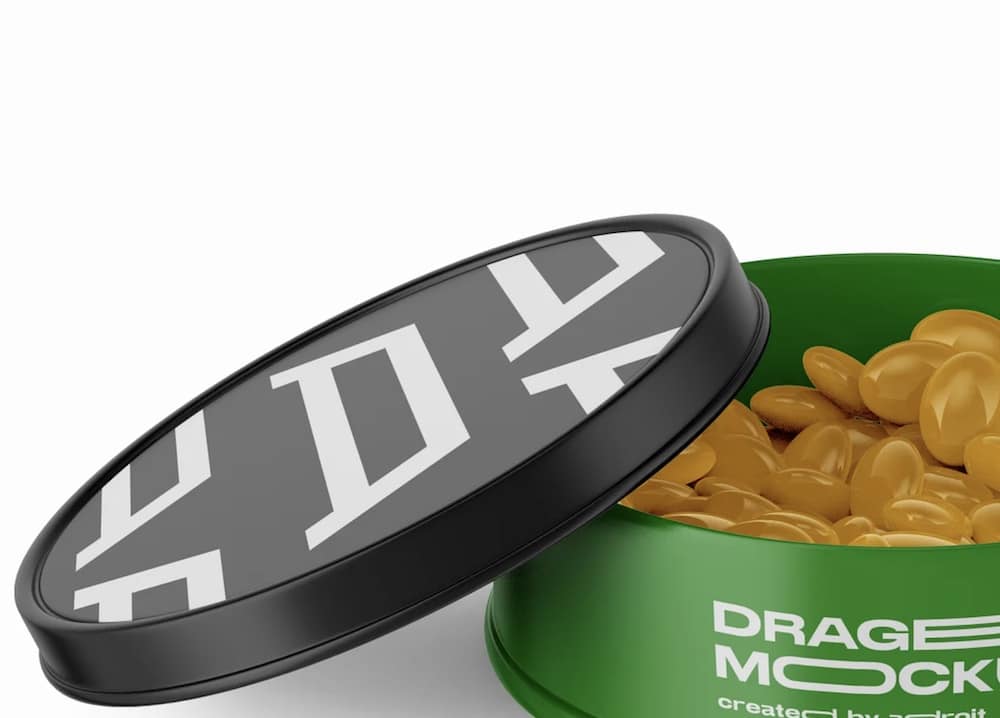 If the above version wasn't your thing, then this round tin can candy mockup should be it.
One PSD template, but so many options to create different styles of presentations. All this thanks to the 4000 x 4000px dimension.
A highly detailed design and logo presentation you'd like to test will happen within seconds. (Maybe a minute if you go really into detail.)
By the way, the candy color is also editable. YUM!
Price: $9
MORE INFO / DOWNLOAD
Best Free Candy Packaging Mockups
Are you ready for free goodies? (What kind of question is that? Of course, you are!)
Note: All the free ones are available for commercial and personal projects. (Don't forget about attribution.)
21. Marshmallow bag mockup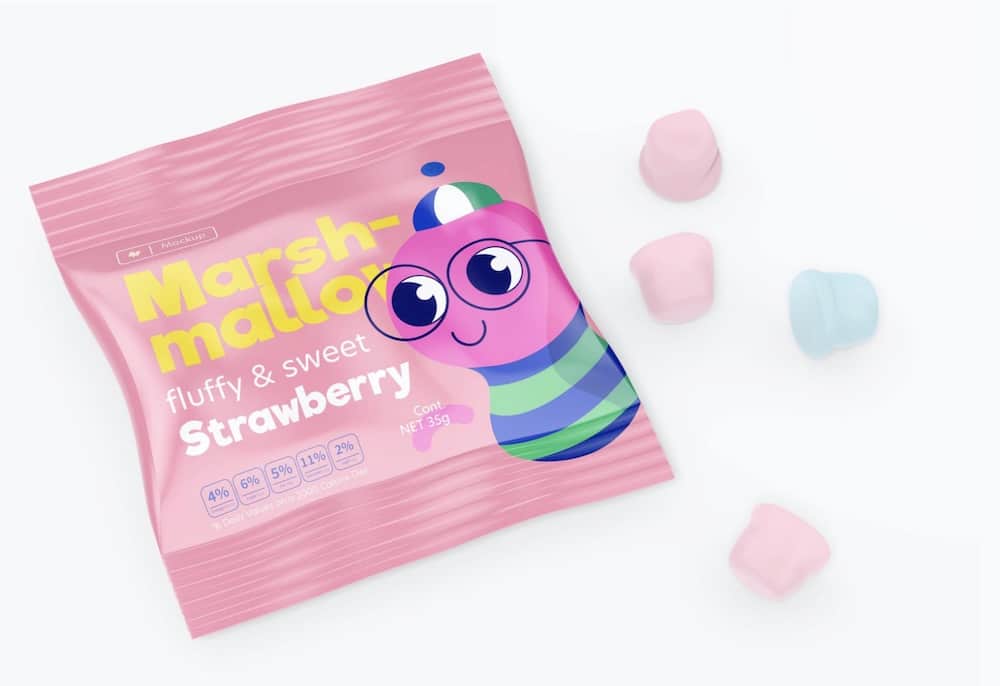 Tiny marshmallows in a bag with your design on the packaging? That's precisely what you can do with this free mockup.
It's an easily editable template that creates a photorealistic feel, especially due to the four random marshmallows lying beside it.
(It's because of these WHY I decided to test it and now am including it here.)
Your turn now.
MORE INFO / DOWNLOAD
22. Candy bar aluminum packaging mockup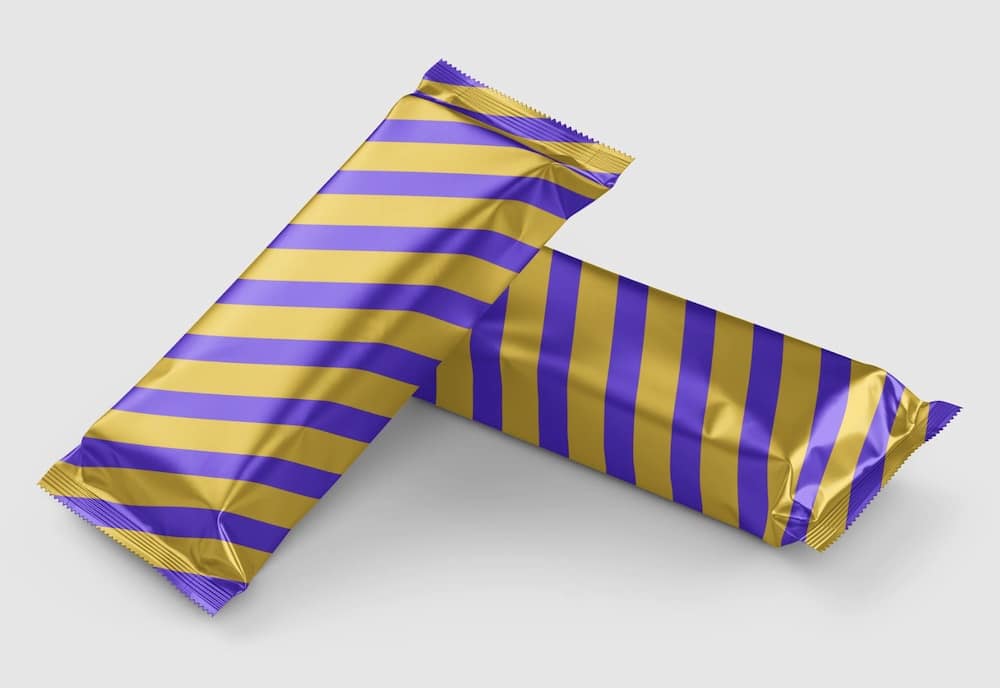 Since I've already included a bunch of premium candy and chocolate bar mockups, I definitely need to add a free version as well.
Here it is.
This one is from a bundle of six, but it's my favorite because it performed the best after my testing.
Each bar can have its design so that you can create a presentation for two candy bar tastes. But that's JUST one of the ways of using it.
MORE INFO / DOWNLOAD
23. Oval candy tin box mockup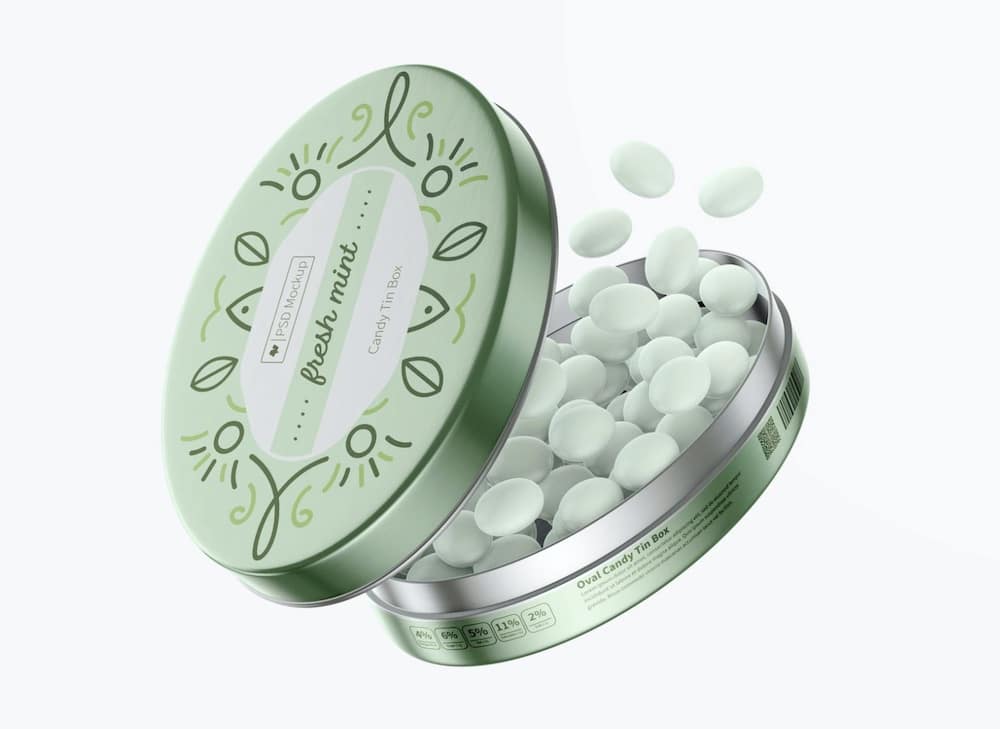 Fresh mints out of a tin box anyone? This free candy packaging mockup is a real attention-grabber, flying in the air with mints soon dropping all over the place. (That's called imagination.)
The template's great quality guarantees beautiful presentation even of the most detailed designs. Small text, graphics, bar code, yes, everything fits it.
HEY, there's no need for this oval candy tin box mockup to present mint taste. Make it something else easily!
MORE INFO / DOWNLOAD
24. Lollipop wrapping mockup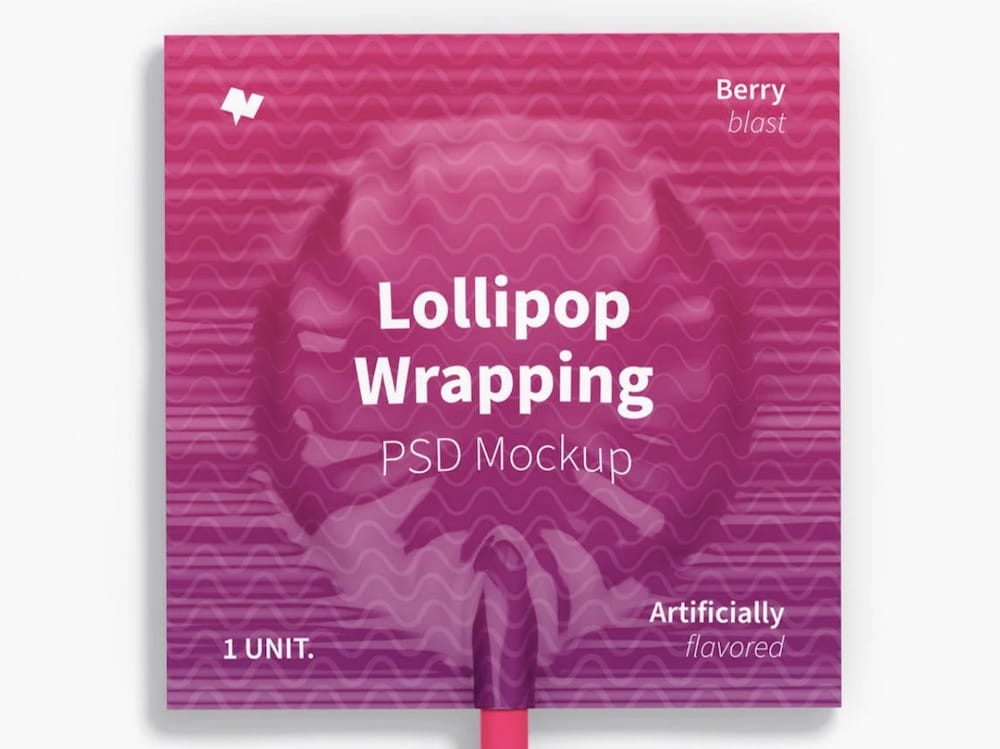 I was happy to find this square lollipop wrapping PSD mockup in the free department. Not all prefer the traditional, ball-style lollipop, so here you go.
Change the coloring, add your design and adapt it to the flavor of choice. It's so SIMPLE and QUICK to do, so don't miss it!
MORE INFO / DOWNLOAD
25. Candy tubes with flip cap mockup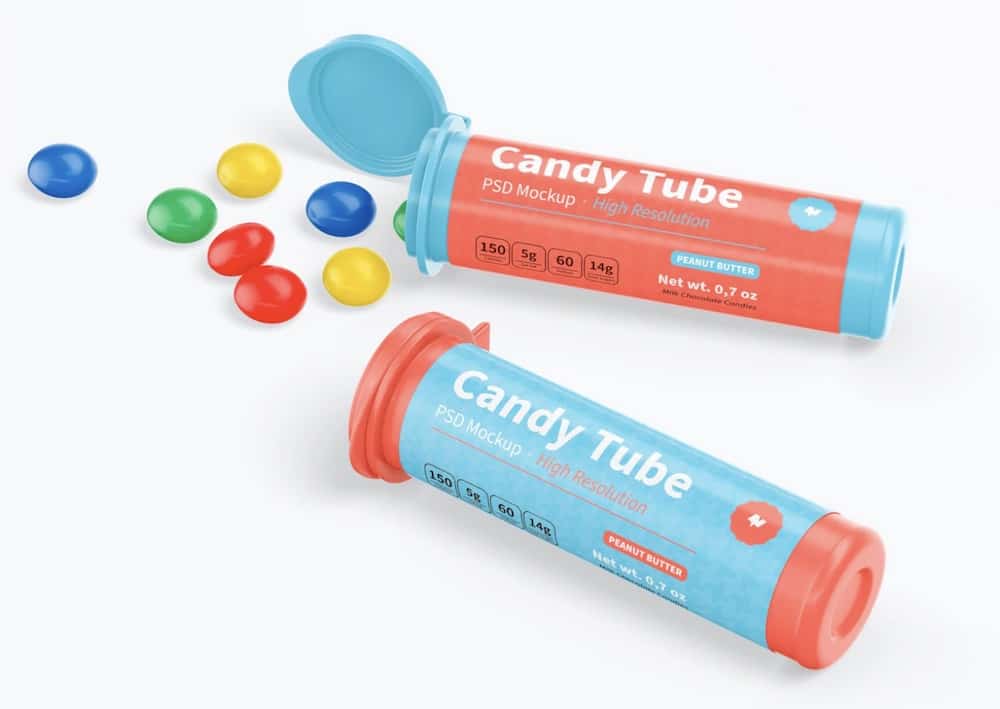 So practical, so tasty and so cool, that's what's up when it comes to designing a presentation for a candy tube with a flip cap. With this cylinder packaging mockup!
It sorts you out with two tubes, which you can use HOWEVER you want.
The editing is in your hands, so don't hold back and comfortably create your variation (or twenty!). I did five.
MORE INFO / DOWNLOAD
How To Create A Candy Packaging Mockup?
Do you need a quick step-by-step guide on creating a realistic candy packaging showcase?
It takes only a few steps, which are 100% beginner-friendly.
But you do need Photoshop to make it happen easily and fast.
4 Easy Steps To Make A Candy Packaging Mockup:
Step 1: Open Photoshop and import your favorite PSD template.
Step 2: Find and locate the smart object layer. Double-click on it. You can then drag and drop your design directly from your device.
Step 3: You now have the freedom to perform as many customizations as you want until you create the ideal mockup for your project. You can change colors and background, adjust shadows, add text, etc.
Step 4: Click save and download you amazing creation.
I told you it'd be effortless.
I usually create a few variations before presenting them to the client, so we can together pick the winner (or they end up using all of them).
::
Note: This article was originally published on May 28, 2022. But our team regularly reviews it and updates it with necessary improvements for accuracy.