It took us 4+ months to test and use 50+ free and premium tin box mockups to curate the ultimate metal packaging PSD templates collection.
Today, we kept it metal – from tuna tins and metal tea boxes to canned food and confectionery tins.
Along with making the list as versatile as possible, we also based mockups on:
100% layered structure (easy customization)
Smart objects (quick design inclusion)
Multiple views/angles (except for free mockups)
Editable background (custom/transparent)
High-quality (large dimension)
You can now make a tin packaging design that SHINES. (Make it more "grabbable" – for the shelves.)
Don't miss the goodies.
This post covers:
Best Tin Box Packaging PSD Mockups
1. Tin container mockup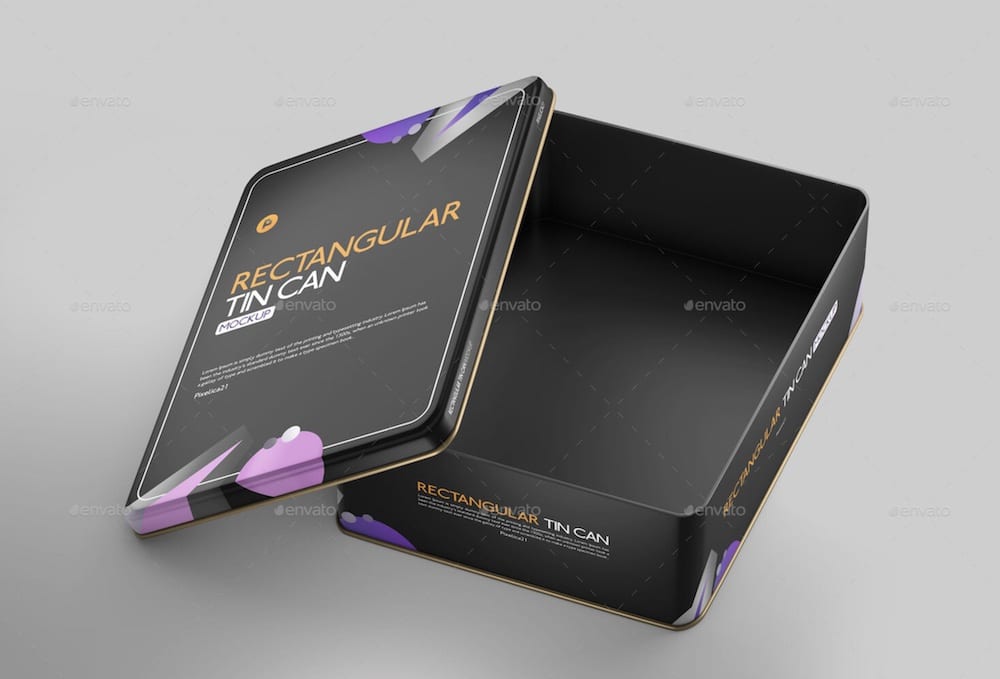 An extremely realistic bundle of nine PSD mockups to create an IMPRESSIVE rectangular tin can.
What we like about this one is that all nine views are 100% editable.
We ended up using the half-open, angled and side view the most often.
The quality is also very high, at 5000 x 3400px. Go as detailed as you want.
You can also change and improve the background.
And it's possible to modify shadows and highlights.
Price: $6
MORE INFO / DOWNLOAD
2. Tin packaging mockup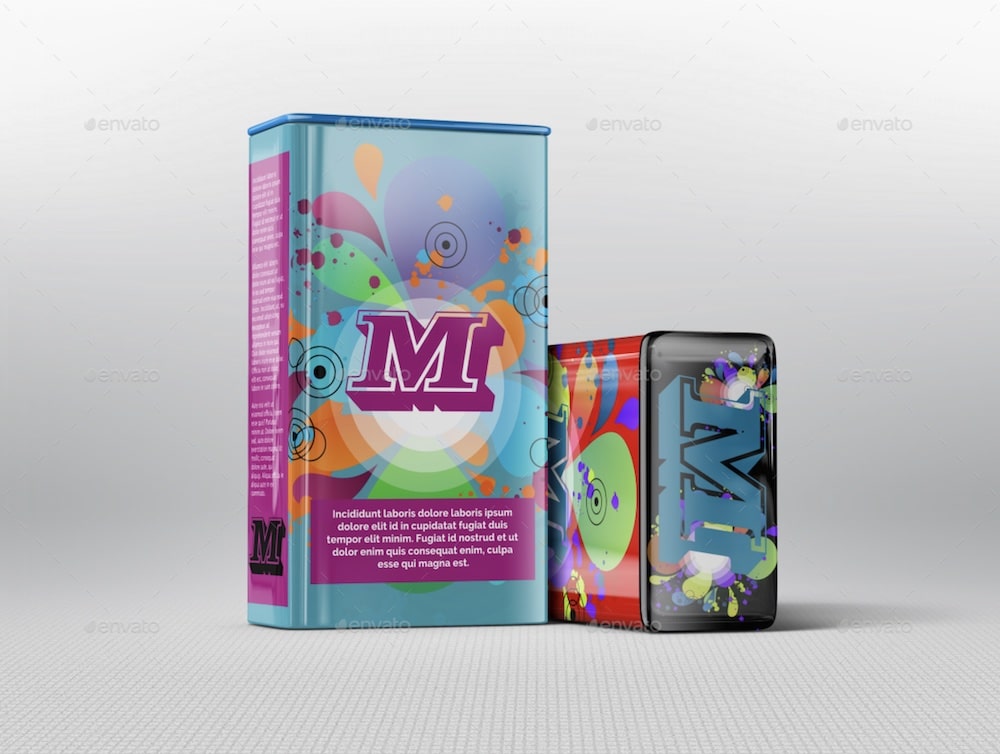 If you are on the search for a vertical tin box mockup, this one is the best available on the market.
It features four templates that you can customize however you want.
Each mockup is a layered PSD file that makes adding your designs and colors a piece of cake.
EVEN for a beginner!
The size of templates is 5000 x 3500px and the box is 80 x 140 x 40mm.
Price: $6
MORE INFO / DOWNLOAD
3. Sliding tin box PSD mockup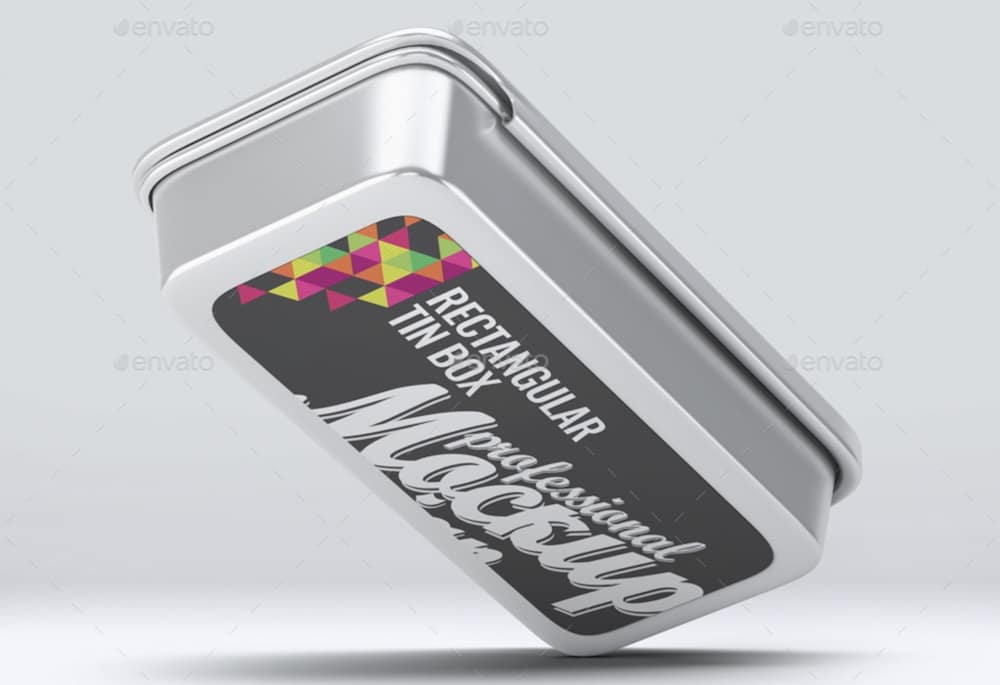 You can use a sliding ton box for all sorts of stuff, food, sweets, cosmetics, you name it.
Thus, you can use this particular mockup for different clients (just like we did).
Reusable, so you don't pay twice.
You get a whopping TEN PSD mockups with smart object layers for quick design inclusions.
It also works great for a zoomed presentation of your special design idea.
Price: $8
MORE INFO / DOWNLOAD
4. Round tin can box mockup set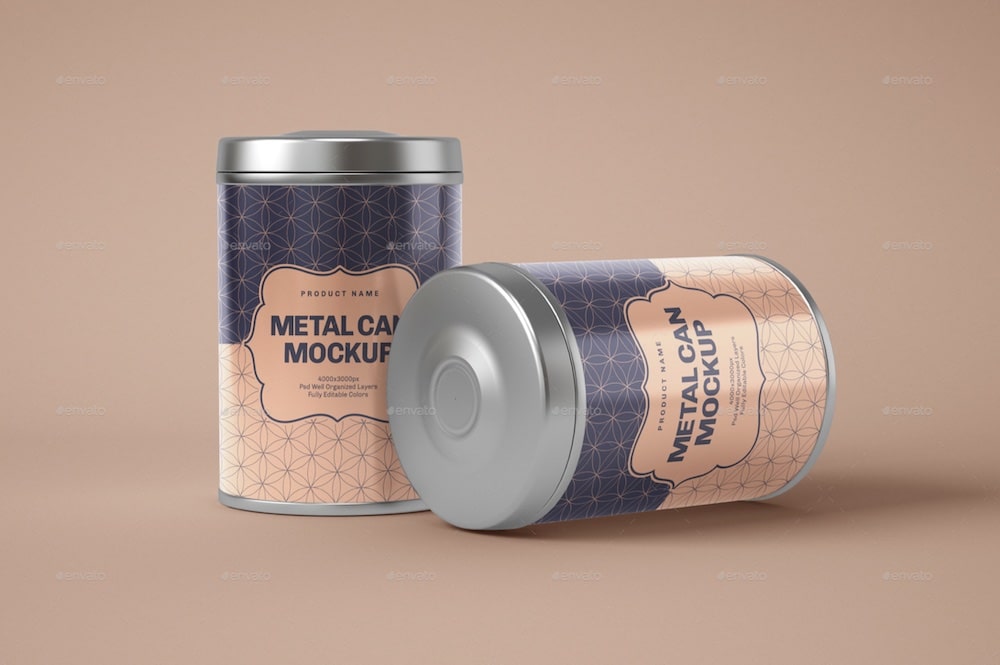 Whether it's square or round that you need, we've got you covered.
Great for tea (that's what we used it for) and coffee but you can use this round tin can box mockup bundle for loads more.
This one truly takes things to the next level with an extreme collection of 20 PSDs.
You can create single-can presentations or bundles.
Everything you do will be easy, taking you just a few clicks. Even bringing forth a stunning close-up view.
WOW.
Price: $12
MORE INFO / DOWNLOAD
5. Canned/tinned food mockups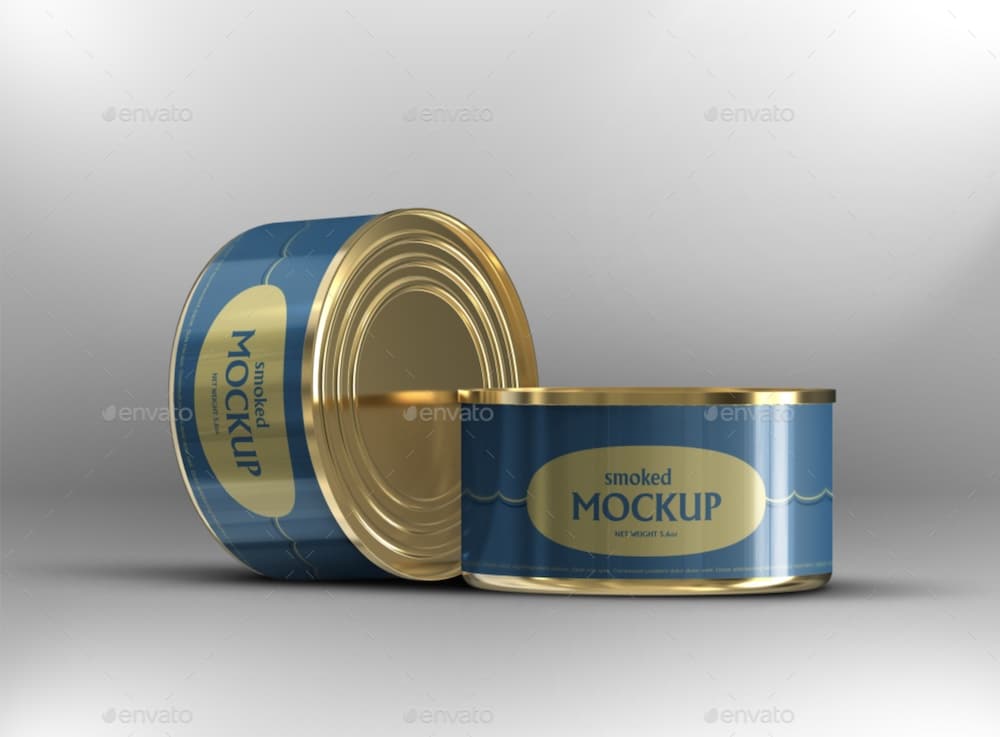 Do you need a tuna tin can PSD mockup? Or simply create packaging with custom branding for canned and tinned food?
That's EXACTLY what you can do with this set of five templates.
You can change the color of the tin, add any design you want, alter the background and more.
Keep in mind, you even get one background and three textures that save you extra time.
Note: You can also choose whether to use a can with an opener or not. (My fav!)
Price: $6
MORE INFO / DOWNLOAD
6. Round tin can mockup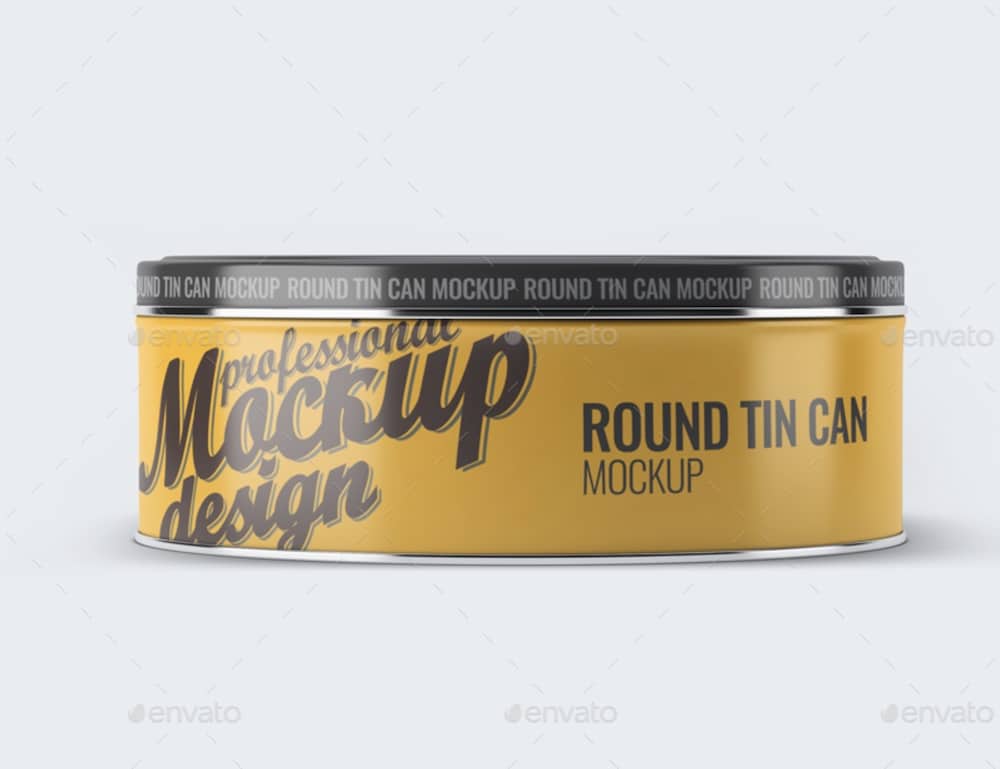 Create a realistic presentation of a custom-made round tin box with any of these eight mockups. Top, front, bottom and side views, you get them all.
We also used it to make two versions: a more minimal and a more creative/detailed one.
IT WORKED out really well.
(We also strategically imported a quote on the bottom side – details matter.)
I am mentioning this because you don't need to limit yourself with the design ideas you have. Just go for it!
Price: $7
MORE INFO / DOWNLOAD
7. Metal box stack packaging mockup

This tin box mockup keeps things simple, which IMMEDIATELY grabbed our attention.
Even though it comes as a single PSD file, you have tons of options to use is to your total advantage.
It features a stack of two packages, but you don't need to use both. (Items are removable.)
Dimensions:
Large box: 6.5″ x 6.5″ x 2.75″
Small box: 10.5″ x 7″ x 3″
Mockup dimension: 5400 x 3600px
Can, lid and background are fully configurable to your needs.
Price: $14
MORE INFO / DOWNLOAD
8. Square can mockup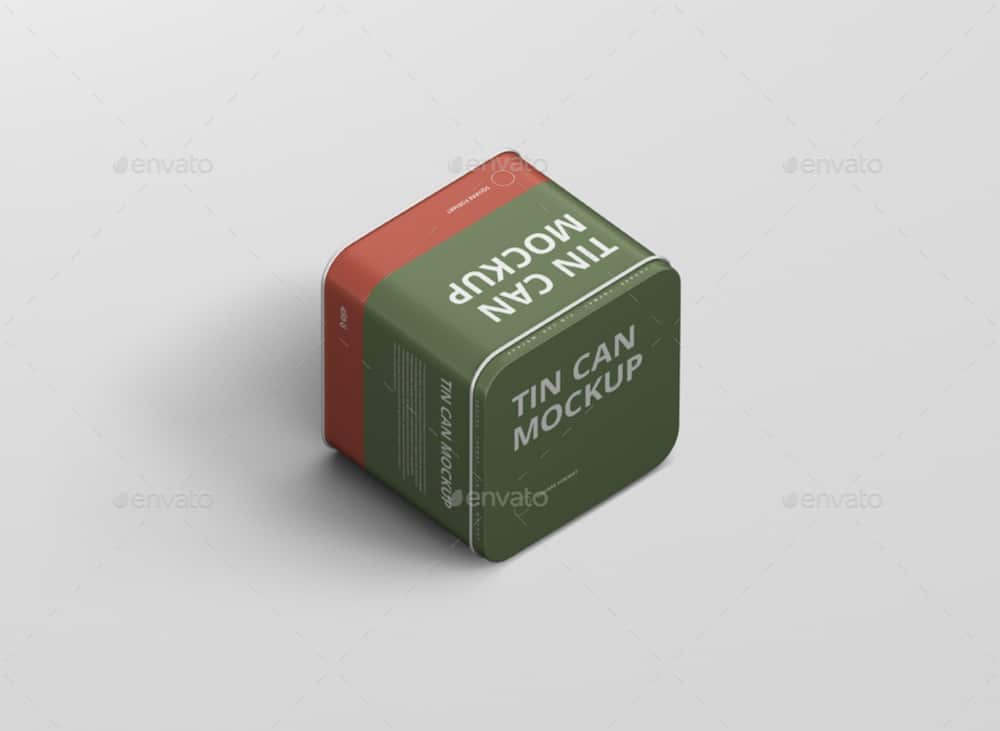 We were actually searching for a square tin box mockup ourselves since we were working on a tea packaging project for one of our clients.
Luckily, we stumbled across this one. Since it did us very well, we're sure it'll do you good, too.
The set unlocks eight PSD files with changeable EVERYTHING. (You can even alter the brim!)
The template works fantastic for dark presentations, too.
To spice it up even more: You can employ the cool foil stamp, letterpress and embossed effects.
Price: $6
MORE INFO / DOWNLOAD
Best Free Tin & Can Box Mockups
You've asked, we listened!
9. Metallic tin box mockup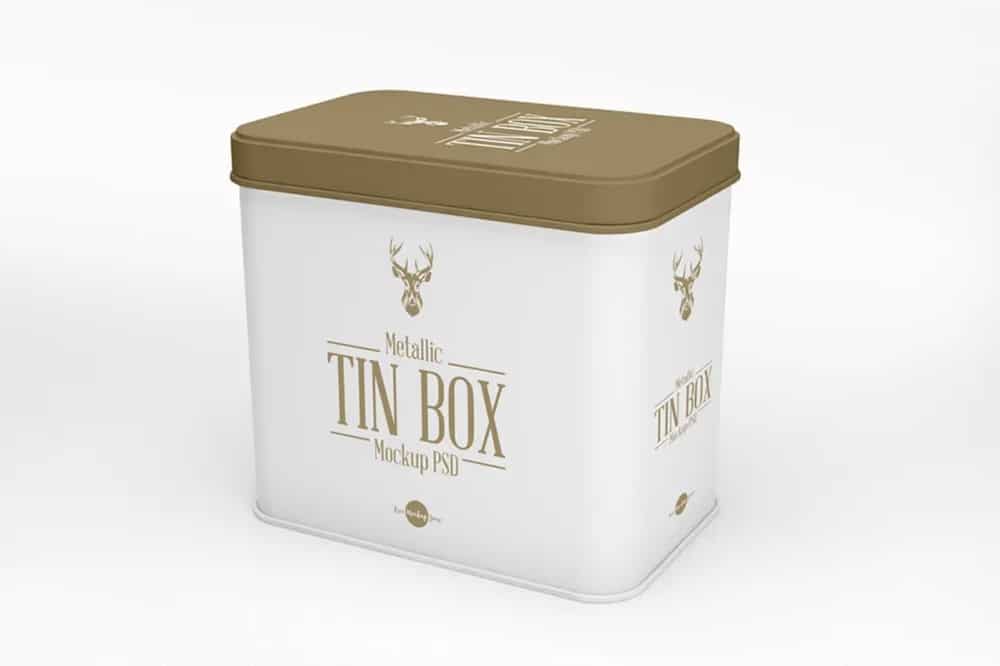 Even though this one is free, it's actually pretty premium due to its awesome quality (4000 x 3000px).
You're welcome to use this 0-fee template for light, dark and colored tin box presentations.
You can quickly create your version with its GREAT customization capabilities.
No need to be an expert Photoshopper either! Smart objects, layered structure, it's all there.
MORE INFO / DOWNLOAD
10. Tin box tea packaging mockup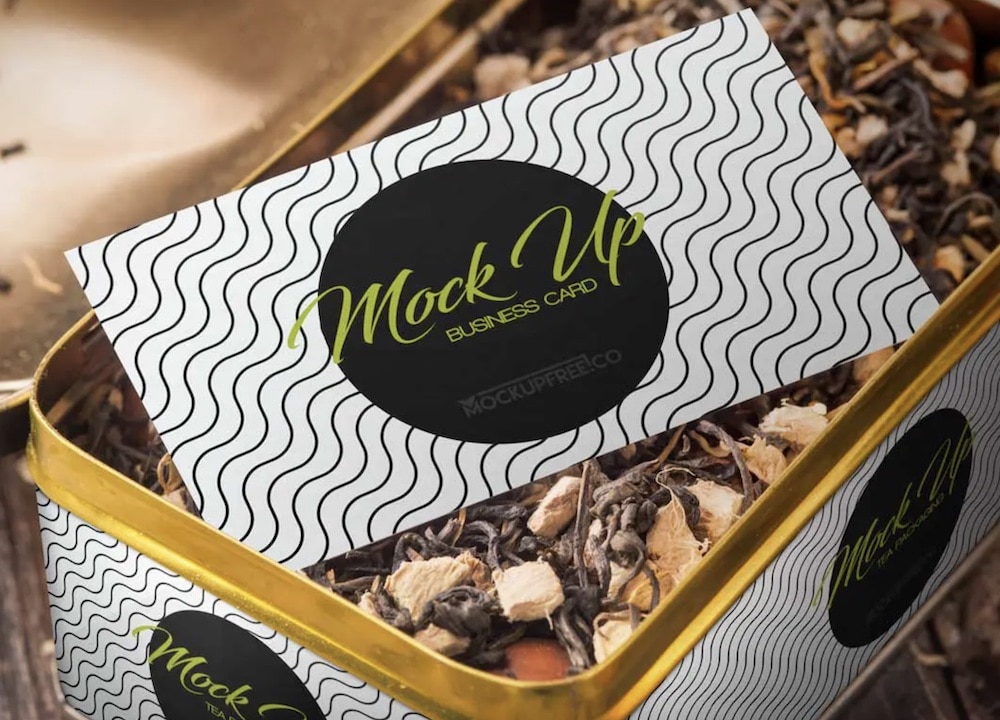 We did use the premium square tin packaging (see above) more frequently. But we didn't limit ourselves from not using this one.
It's an excellent example of creating a powerful tea brand presentation. It even comes with a business card, which you can, of course, modify accordingly.
The option to print it makes the mockup even more practical.
Nothing to lose, everything to gain – IT'S FREE.
MORE INFO / DOWNLOAD
11. Tin box packaging mockup freebie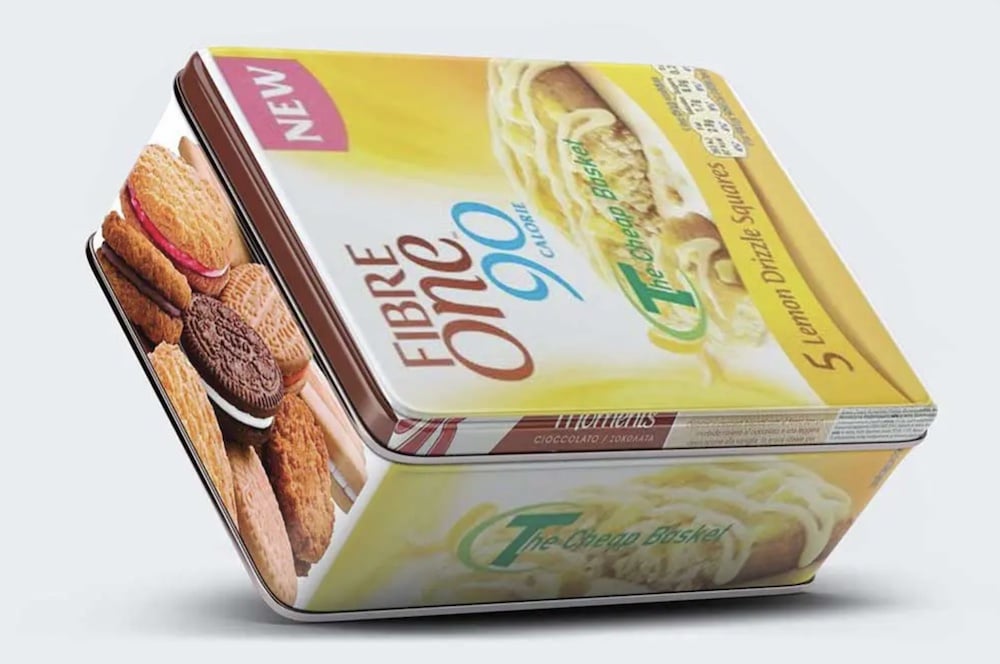 Cookies, sweets and other food delicacies fit this tin container fantastically well.
On the other hand, feel free to go against the grain and use it for anything you want, not just food packaging.
Easy and quick work doesn't always mean poor results.
No free tin box mockup from this list will produce half-baked outcomes. This one is a great example of that.
Don't miss it if this is the box shape you're after.
Trust us, you'll make magic, and that's a GUARANTEE!
MORE INFO / DOWNLOAD
12. Tin box mockup in PSD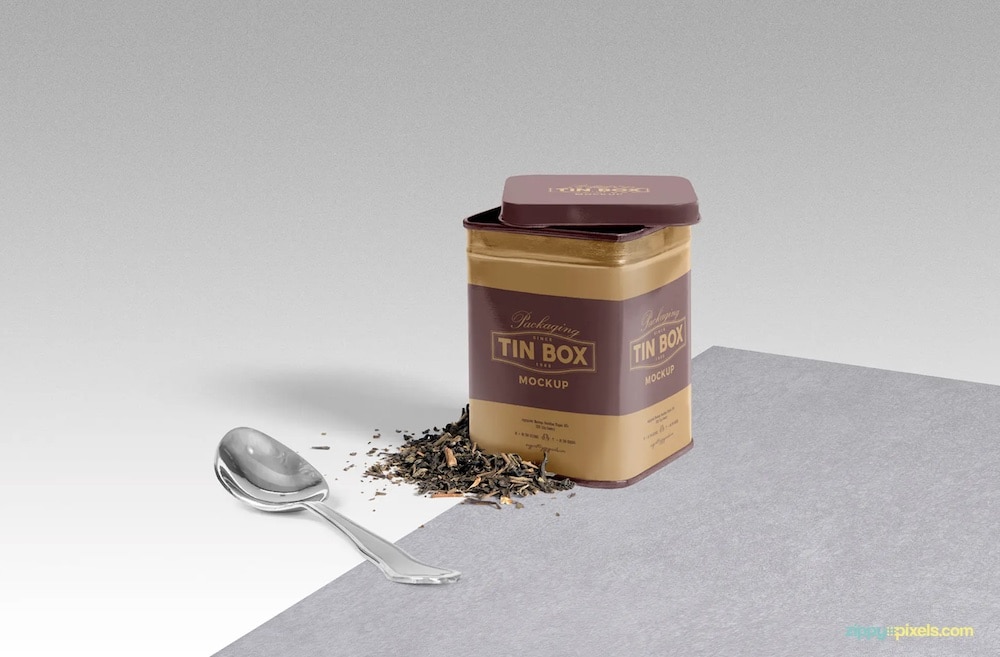 This free tin packaging mockup is pretty exclusive, as it aims at tea brands by default.
The amazing detail and 3500 x 2300px dimension ensure you create a LIFE-LIKE showcase that will turn heads.
You can quickly locate and edit the mockup since all the details are on separate layers.
Note: You can use it for personal and commercial tasks. Great for prototyping and fantastic for final projects.
You'll definitely make some noise with this one.
MORE INFO / DOWNLOAD
13. Free metal boxes mockup

Sweets in small, tin packs seem so old-school, but so awesome. Create a beautiful tin packaging presentation with this two-in-one mockup.
Since the template features two metal boxes, you can use one for the front and the other for the back design. Or two completely different ones.
Actually, we used them to present two different flavors in one template.
Just thinking OUTSIDE the box: You can even use this one for cigarette packaging.
Never restrict yourself.
MORE INFO / DOWNLOAD
14. Free metal box mockup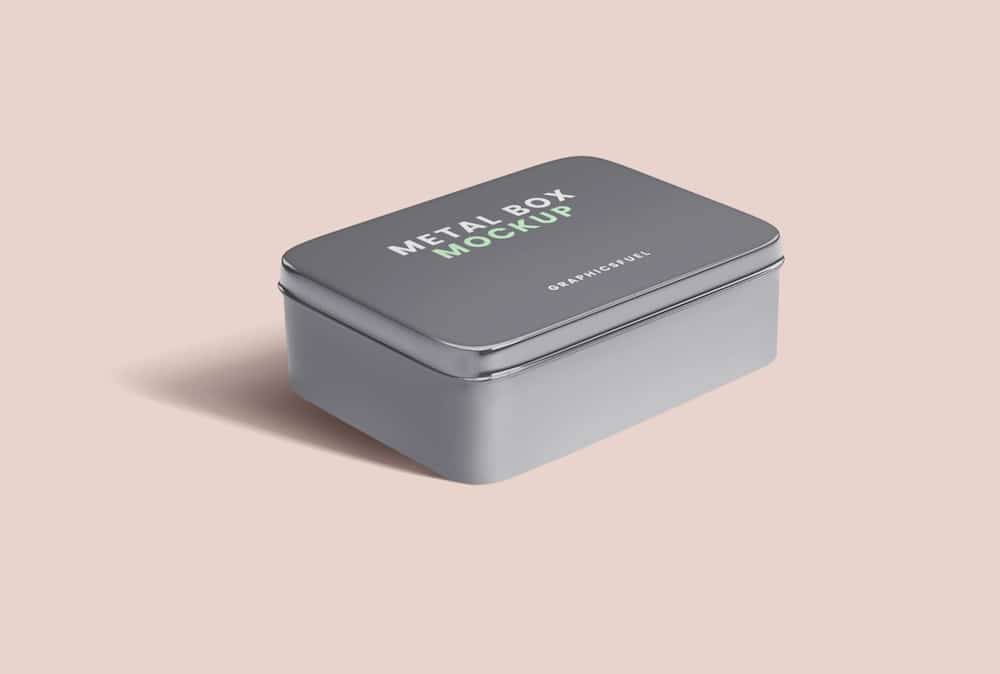 This particular free tin box mockup is similar to the one above, just that the case is thicker. Hurray, more sweets! (Or more cigarettes?)
The 5000 x 4000px dimension is pretty supreme for a free PSD template.
That's what we want to bring you with this ultimate collection – ONLY HIGH QUALITY.
Plus, this tin box freebie comes in three styles (how wonderful!).
Enjoy the process of designing your outstanding packaging that will stand out on the shelve.
MORE INFO / DOWNLOAD
How To Make A Tin Box Mockup?
You have all the necessary templates to create a realistic presentation of your custom tin box design.
But because we have many beginner users here, I want to share with you a quick step-by-step tutorial on how to create a mockup.
It's way easier than you think, and you only need basic design skills to make it happen.
Yes, REALLY!
Design A Tin Box Mockup In 5 Steps :
Step 1: Pick a free or premium PSD template from the collection above.
Step 2: Open Photoshop and import the template.
Step 3: Access the layers and find the smart object one to drag and drop your design. It's that simple.
Step 4: Then navigate other layers and customer the mockup so it meets your heart's desires.
Step 5: Save and download your project.
You can repeat the process as many times as you want, and create as many variations as you want.
Enjoy.
::
Note: This article was originally published on August 6, 2021. But our team regularly reviews it and updates it with necessary improvements for accuracy.