We reviewed 55+ of the best cannabis and CBD mockups due to the continuous rise of the widespread use of cannabidiol.
With this came many projects, creating PHOTOREALISTIC presentations of droppers (oil bottles), creams, lotions, etc.
BUT.
We focused on the extremely quality online mockup generators.
EXCLUSIVELY.
Why? These are cool because you do not need Photoshop to create a mockup.
This post covers:
The benefits of our CBD mockups:
No design skill necessary (easy use)
Life-like effect
For online stores
For social promotions & marketing campaigns
Save you time & money
Join the CBD industry with your new and innovative products the right way.
Create realistic CBD products!
LIKE. A. CHAMP.
Best Cannabis & CBD Mockups (Generators)
Placeit pricing:
1 piece: $7.95
Monthly subscription: $14.95/mo
Yearly subscription: $89.69/yr
If you plan to work with the platform regularly, I highly advise yearly subscription (15k+ templates, and more!).
1. Mockup of an open glass dropper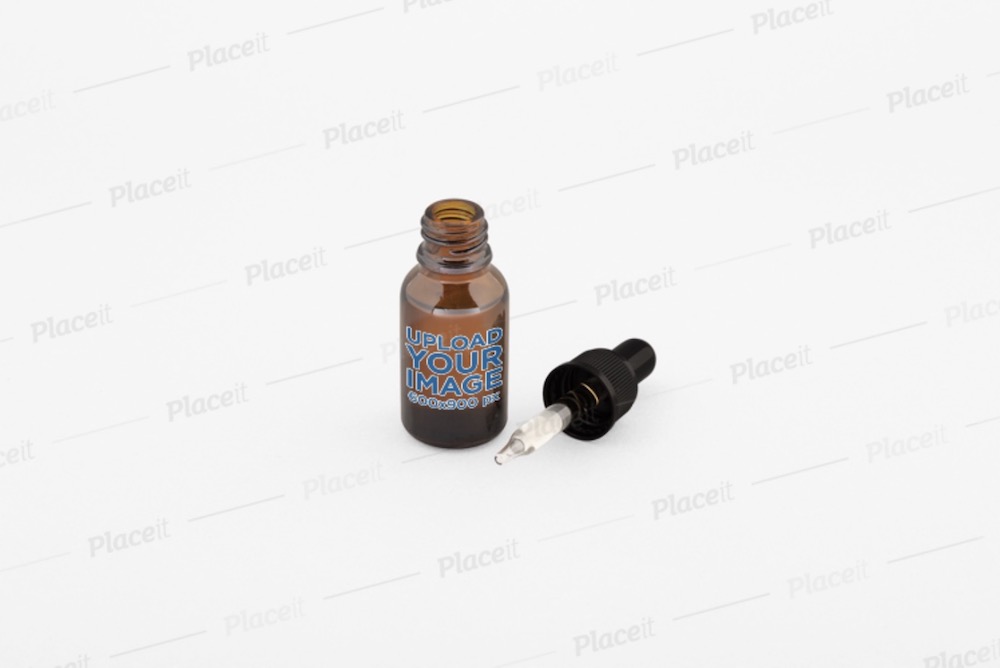 A super simple and clean mockup featuring an open glass dropper.
If you offer CBD oil or your client does, create a life-like version of the branding design that you plan to stick to the bottle.
The entire process of updating the template is a little breeze, ensuring everyone gets the most out of it without a sweat.
With one click, you upload the image and with the second click, you change the background color.
How quick was that?
You can also insert any text message you want and call it a day.
You can quickly create multiple variations for your client to pick their favorite due to the SPEEDY workflow.
MORE INFO / DOWNLOAD
2. CBD mockup of a glass dropper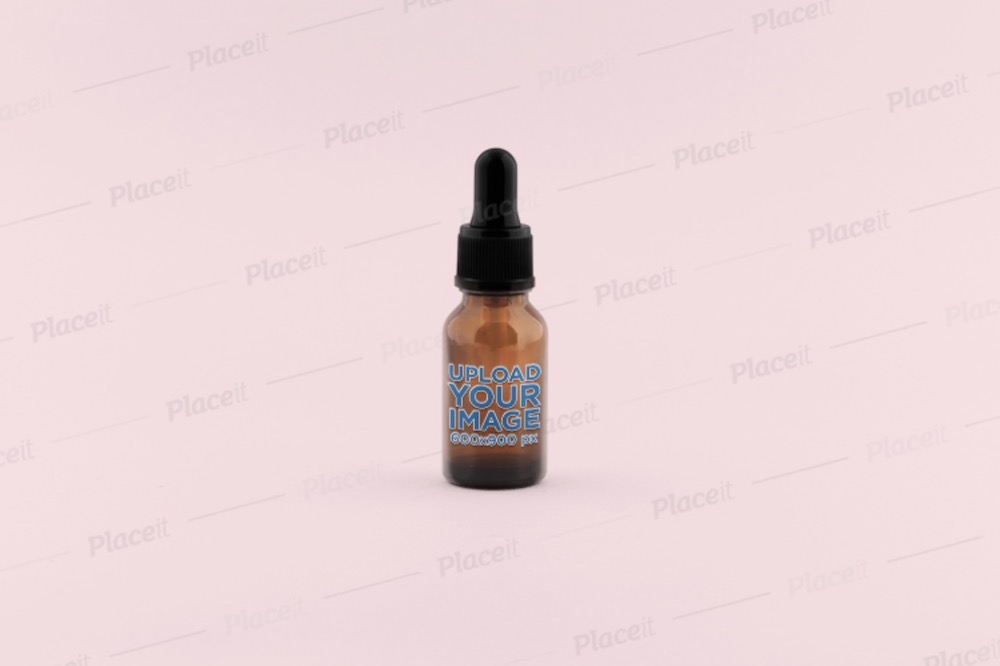 This next mockup is pretty similar to the one above, just that it features an unopen dropper bottle.
The method of ADJUSTING the default settings is identical.
It takes little to no time to make a photorealistic end product.
You can use it for social media promotion, on your eCommerce website; well, the options are endless. (We even tested using it in a newsletter.)
Even if you are working on the design and you would like to test things out, this is when a mockup comes in exceptionally handy.
And you do not even need to create a free account on Placeit to kick things off immediately.
MORE INFO / DOWNLOAD
3. Mockup of a woman holding a CBD dropper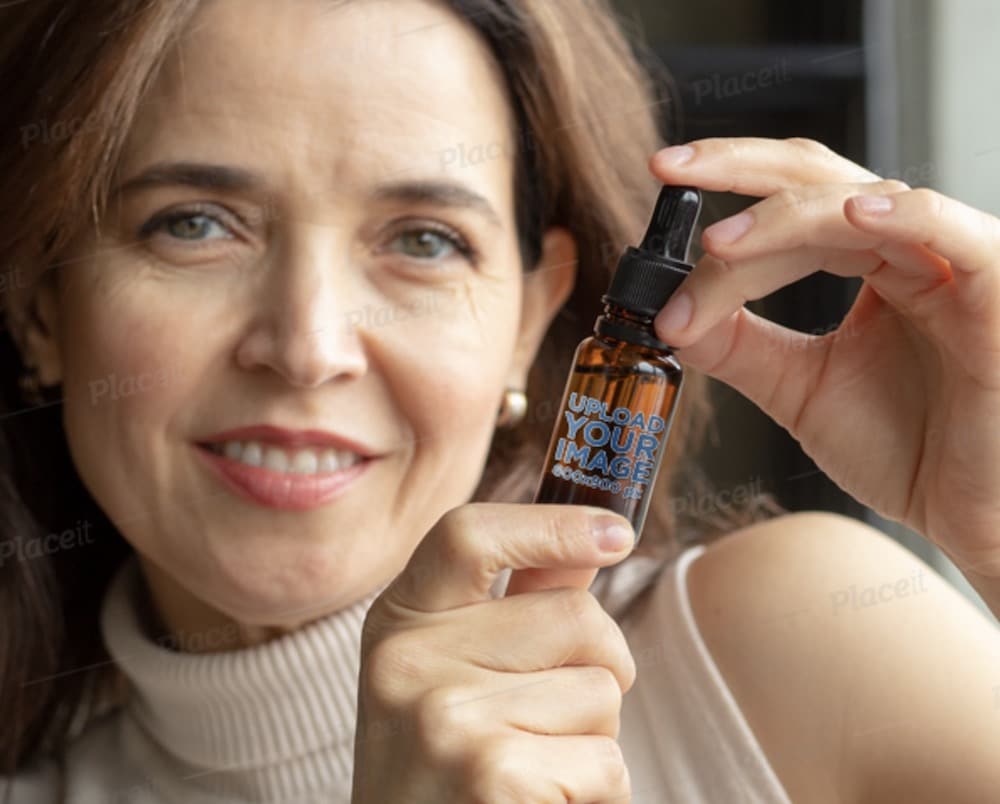 This is a highly life-like mockup of a woman holding a CBD dropper near her face.
You can tailor the template to your liking effortlessly with quick editing and customization options.
There is no need to be a professional designer, as this mockup will never ask you to use Adobe Photoshop.
You are welcome to complete the task online, using your fav web browser.
Once you land on Placeit, all it takes is to slide in your design, add text, and THAT'S IT.
How simple does that sound? Enjoy the process and have fun.
MORE INFO / DOWNLOAD
4. 2 oz. cannabis jar mockup in man's hands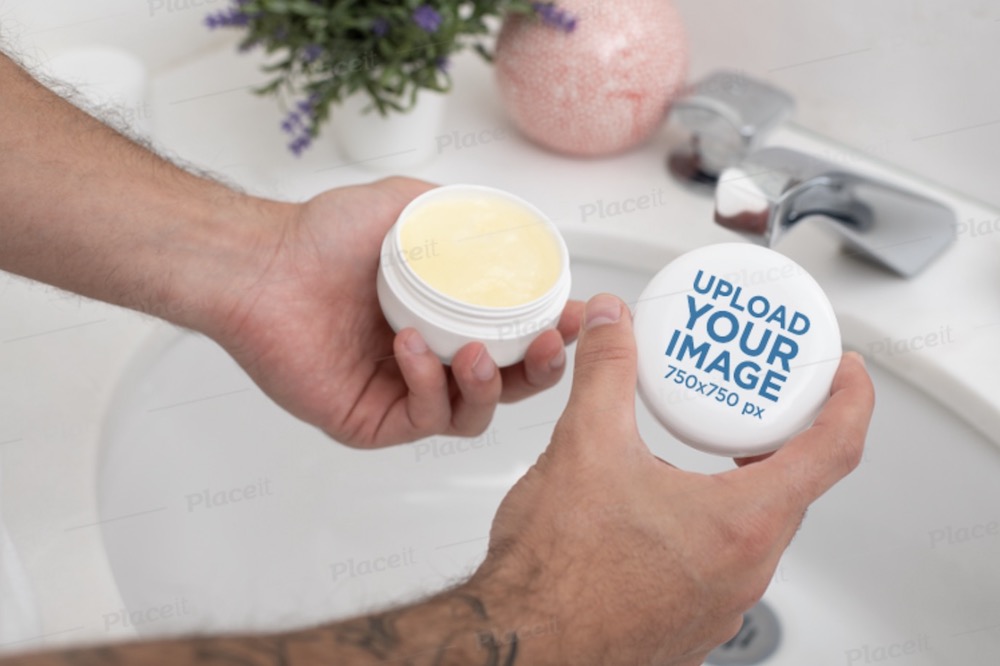 There are numerous cannabis products available on the market to treat ourselves right. Along with the droppers, a creme is also pretty widespread.
This highly life-like template will do you well if you are working on a brand design.
It features a man holding an opened jar, emphasizing the jar's lid. Changing the jar's color is quick by accessing the color picker.
What you will notice is that even the reflection in the faucet changes.
How neat is that?
Moreover, insert any design or even a simple logo with the same principle as described above.
Yes, using any of Placeit's mockups is that INSANELY simple.
Note: You may also be interested in my collection of the best cosmetic mockups.
MORE INFO / DOWNLOAD
5. Mockup of a man opening a CBD jar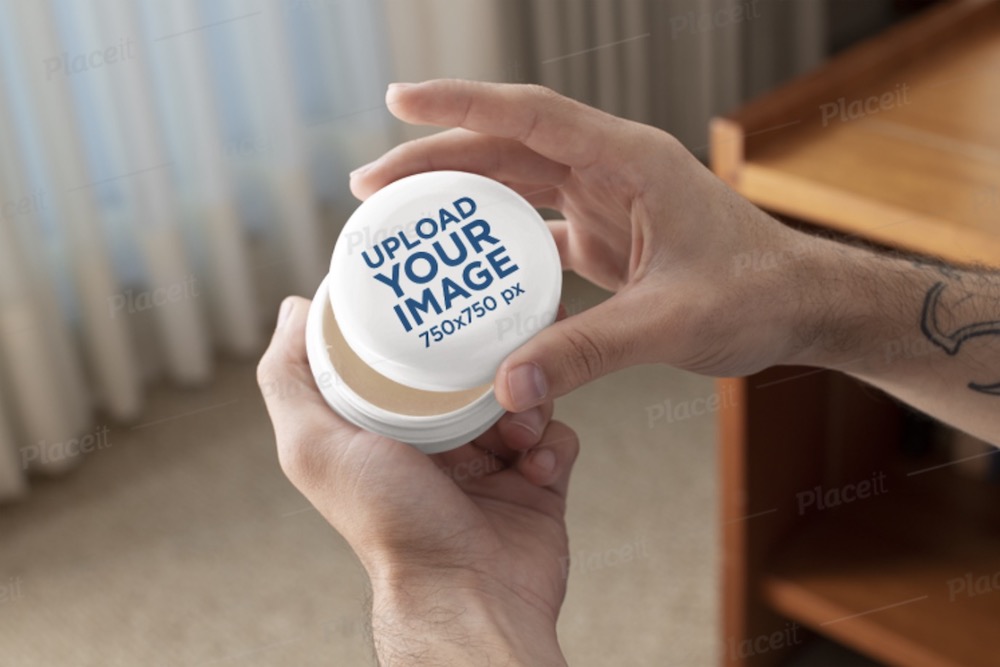 Whether a CBD cream or lotion, this jar can rock it both with ease.
But it's the magnificent presentation that you will establish with barely any work necessary.
Nowadays, making photorealistic demonstrations of products is child's play.
If you need more convincing, just head over to the Placeit platform, and you will IMMEDIATELY understand what I am talking about.
Even though I highly suggest you create a free account for easier work, you can test the waters without.
Do your thing and enjoy the impressive outcome.
MORE INFO / DOWNLOAD
6. Mockup of a dropper bottle next to a cup of tea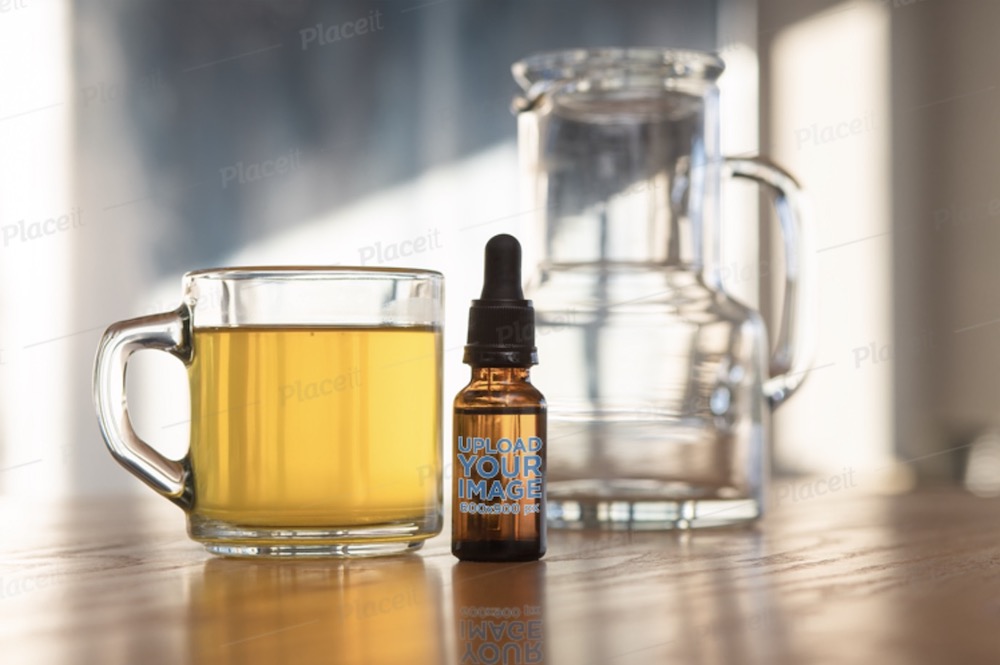 A few drops of CBD oil in a tea to kick off a new day in style, that's what this mockup tries to resonate with.
Since all is set and ready to go, all it requires is your branding design, and you are done.
Once you upload any artwork, you can also crop and reposition it from the Placeit platform itself.
Indeed, you execute all the work online, using your web browser and not software.
MORE INFO / DOWNLOAD
7. CBD dropper bottle on a table mockup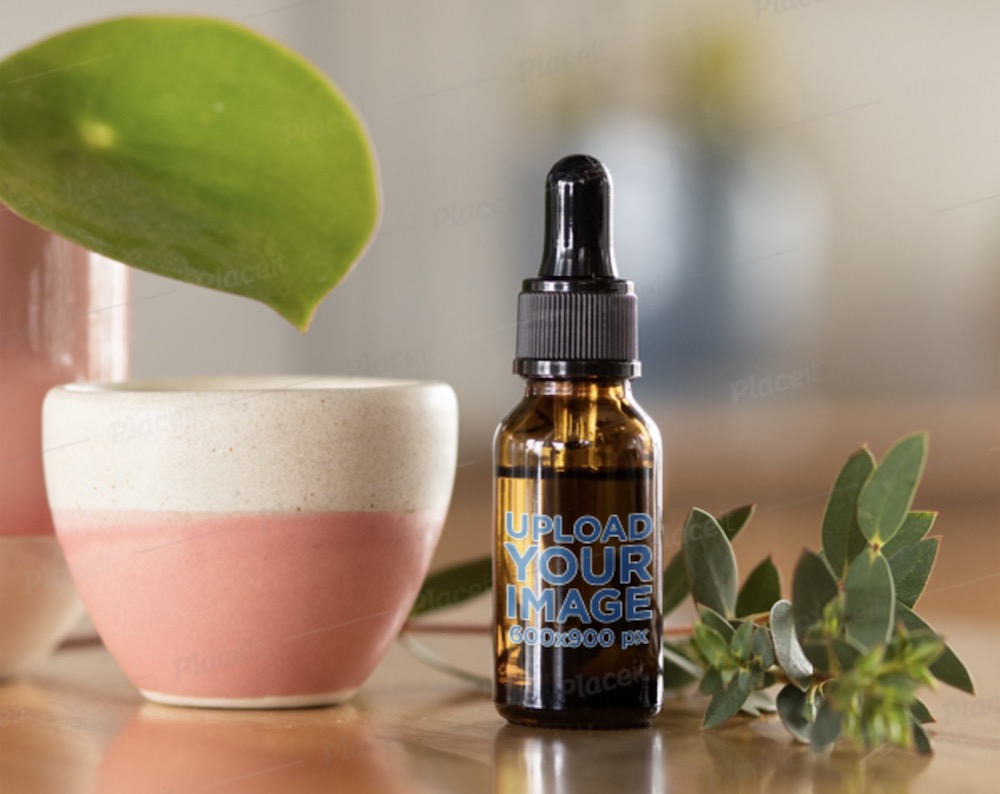 A lovely atmosphere presents a dropper bottle to showcase a new product to the masses in style.
Whether you are working with a client or on your own brand, use a mockup as it will help with the portrayal part.
In some instances, you will not even need to take product shots; mockup takes care of that.
Even though this particular template may not work best for an online shop, it will do you well on social media, in newsletters, heck, even a blog post.
The image will immediately appear on the bottle once you import it and hit the "crop" button.
MORE INFO / DOWNLOAD
Hey! We also put together the best CBD and cannabis packaging mockups that go very well hand in hand with these. Enjoy.
8. Mockup of a woman holding a CBD dropper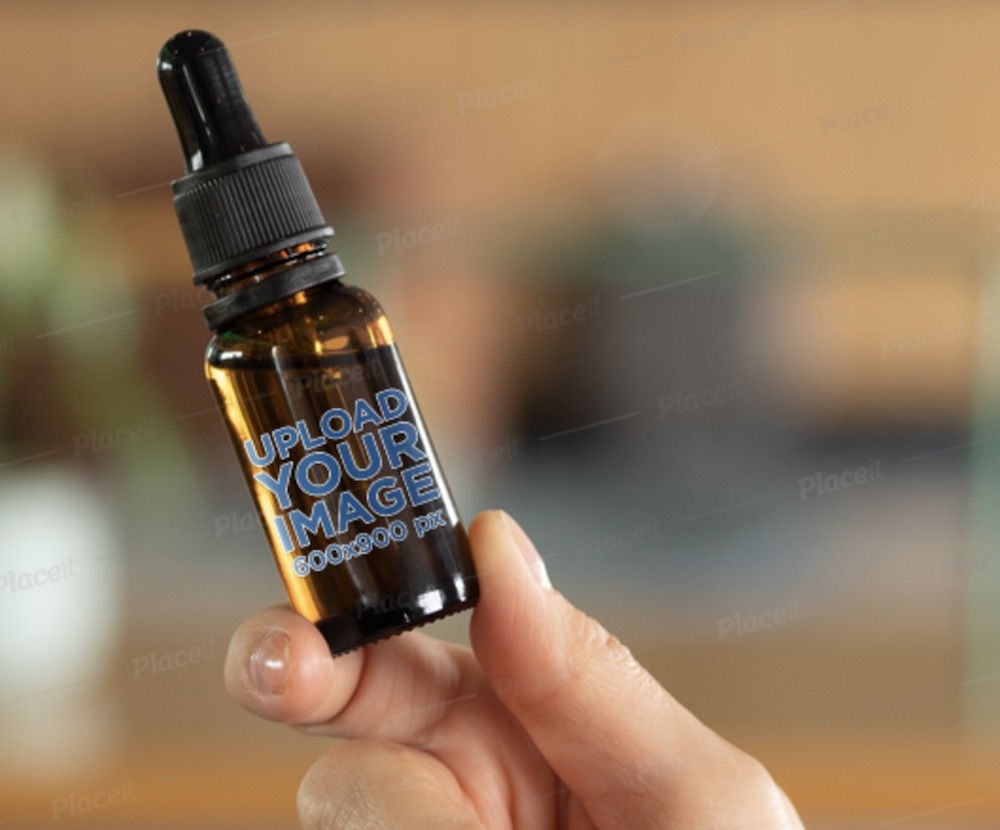 If you are particularly searching for a woman hand holding a CBD dropper mockup, you came to the right place.
This photorealistic template can be yours without doing any difficult tasks.
After all, there is no need for Photoshop, and you also do not have to download any files and whatnot beforehand.
Thanks to the amazing Placeit website, you can ENJOY THE COMFORT of the online world, using a desktop or mobile device.
That's right; you can do all the work from your smartphone, so no excuses. Well then, what are you waiting for?
Take action and make a difference.
MORE INFO / DOWNLOAD
9. Mockup of a man taking CBD oil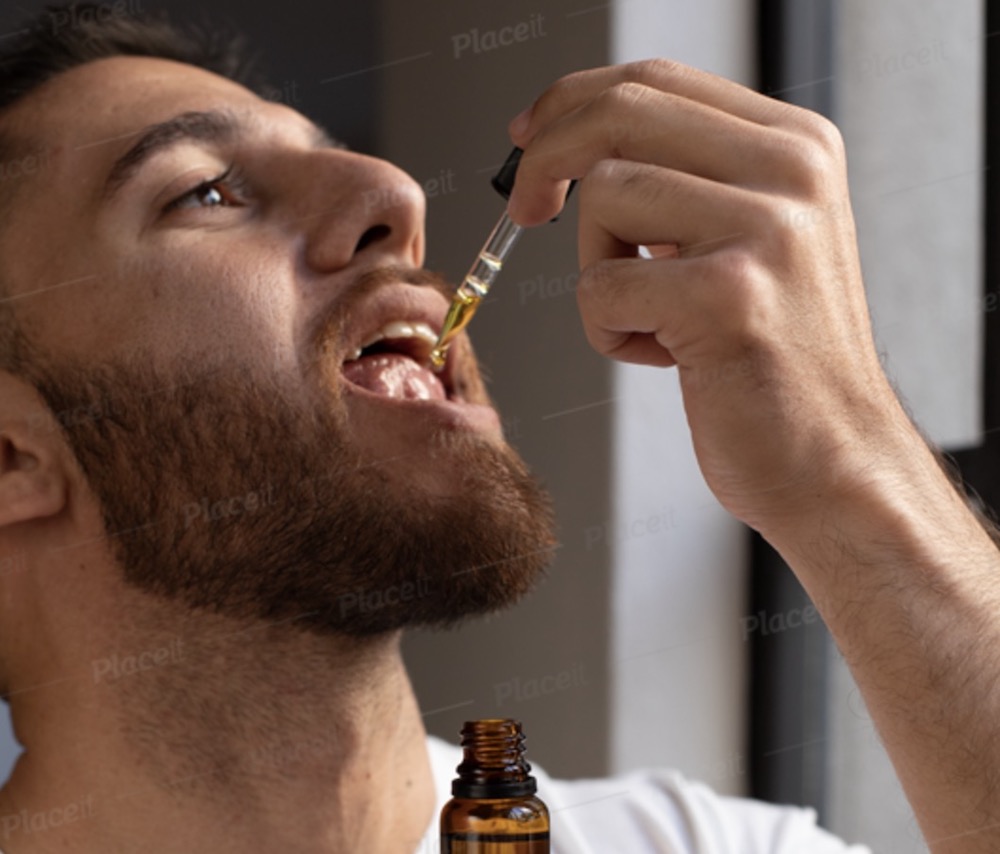 When you decide to take the showcase of your CBD products to the next level, there is no need to hire a model and a photographer to make it happen.
You can achieve very similar results with the use of a mockup.
Just take this one for example. It features a male model taking CBD oil.
Can it get even more real?
And you can now decorate the bottle with any branding you want.
Insert the image directly from your device or even use those you already uploaded to Placeit. (You can create a handy archive.)
MORE INFO / DOWNLOAD
10. Woman taking CBD oil mockup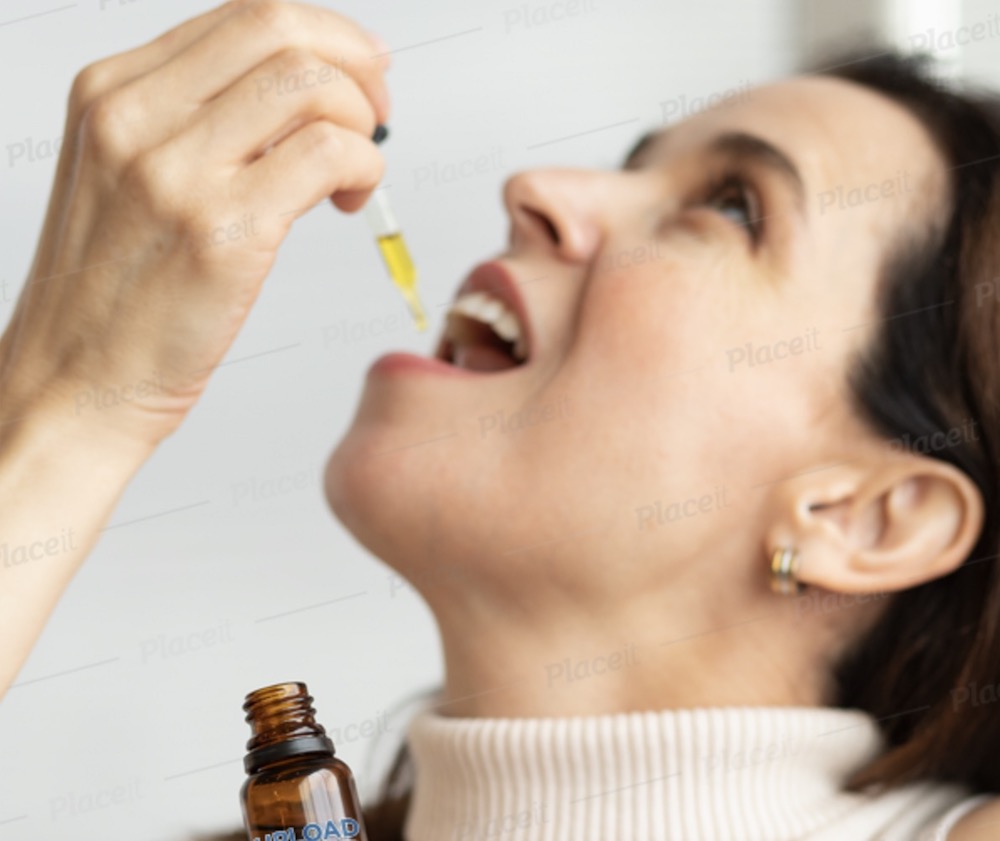 More mockups of models taking CBD oil, this time in the female fashion. Another remarkable alternative that will get you rolling right away.
How awesome is it to think you can create a life-like demonstration of a product in use?
I know, right, it's hard to comprehend, but with the right mockups, you can achieve magnificent outcomes.
Go ahead, and test things out.
Placeit will not ask you for a fee, not even a credit card, only once you decide to go with the creation that meets your expectations.
Even if you are working with a client, you can create AS MANY VARIATIONS as you want before finding the winner.
MORE INFO / DOWNLOAD
11. Mockup of a woman with a CBD oil dropper bottle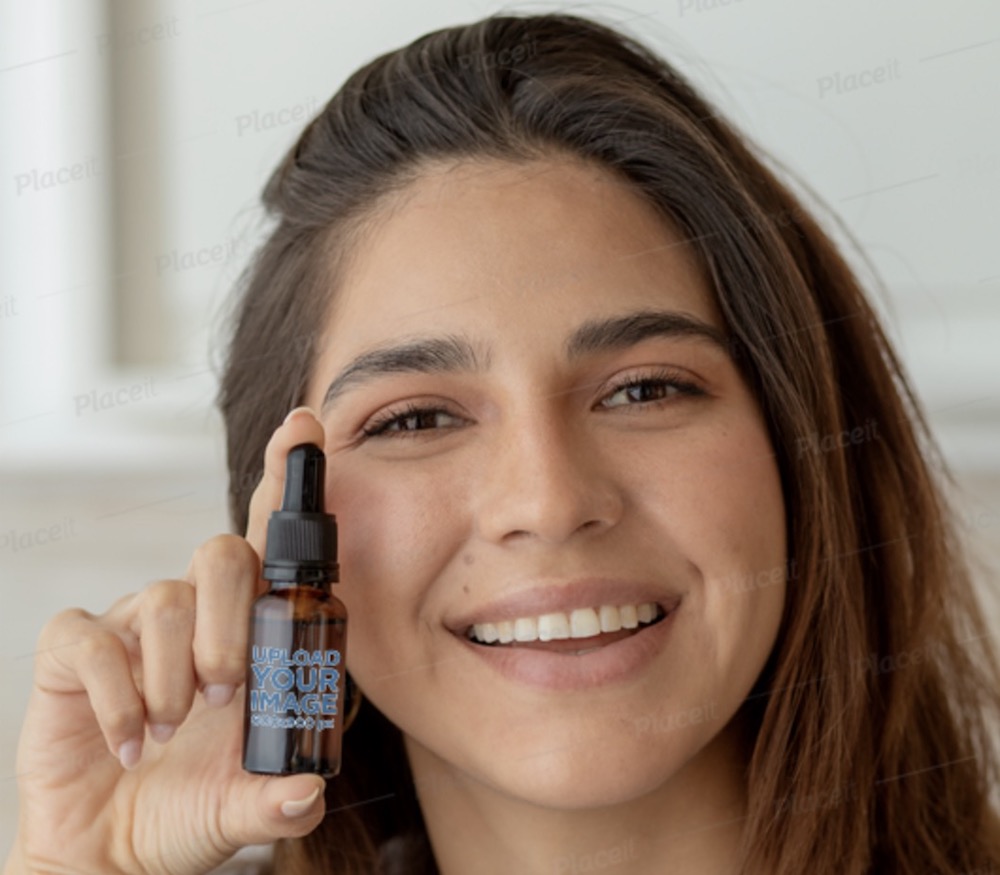 This one appears as it would be an influencer who is promoting your product.
A terrific CBD mockup featuring a woman model holding a dropper bottle near her face.
You already know how amazing the end product will be.
The template only requires your image and that's it.
Still, if you would like to spice things up, do not forget to include some text/call-to-action.
Once done, you are ready to download the mockup and use it anywhere you want.
With a mockup, you can also TEST YOUR design IDEA and whether or not it fits the packaging as it should. You can then perform edits if necessary and test it again (and again).
MORE INFO / DOWNLOAD
12. Mockup of a bearded man using a CBD dropper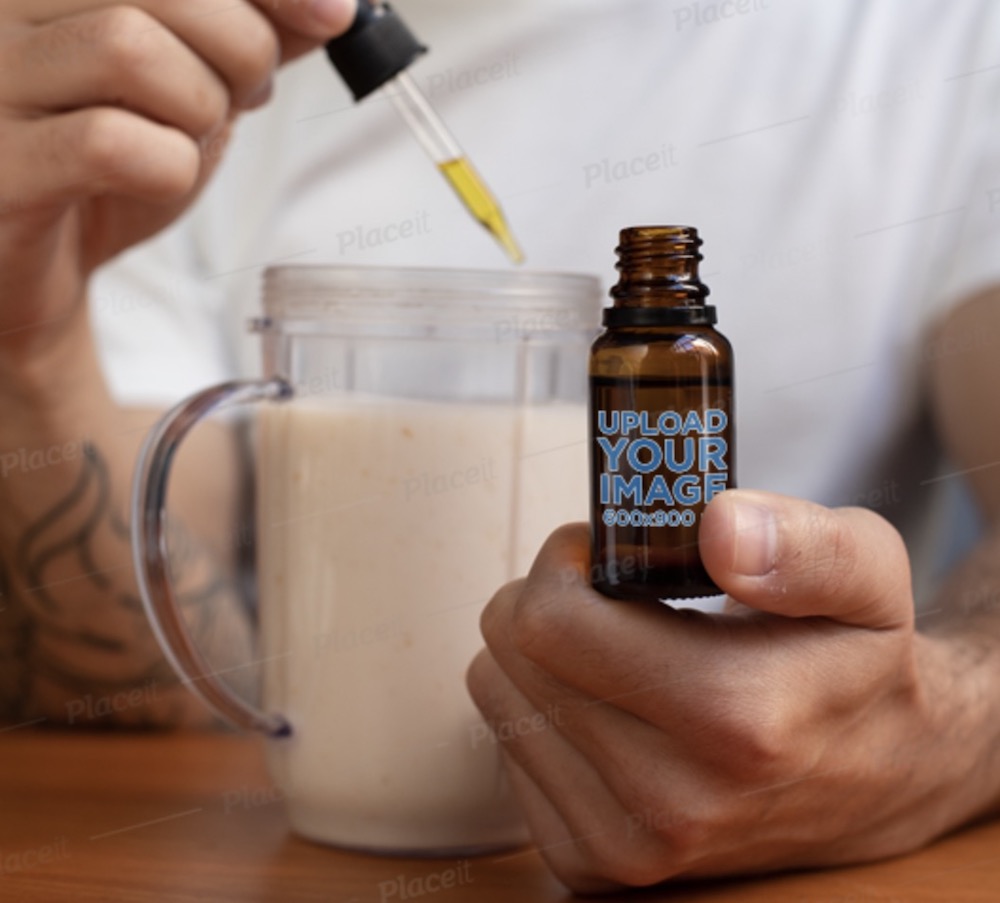 For a great recovery after a hard workout or race, a proper shake with a few drops of CBD oil comes ideal.
If this is something you would like to resemble with a mockup, here you go, a CBD mockup that will do magic.
It features a bearded man adding a few drops of oil to his nutritious shake.
Use it for whatever you fancy; it's your imagination that controls the possibilities. (You can always go entirely against the norm if you want.)
It shows that a mockup of this nature can work for many different objectives.
MORE INFO / DOWNLOAD
13. Photorealistic mockup featuring a woman taking CBD oil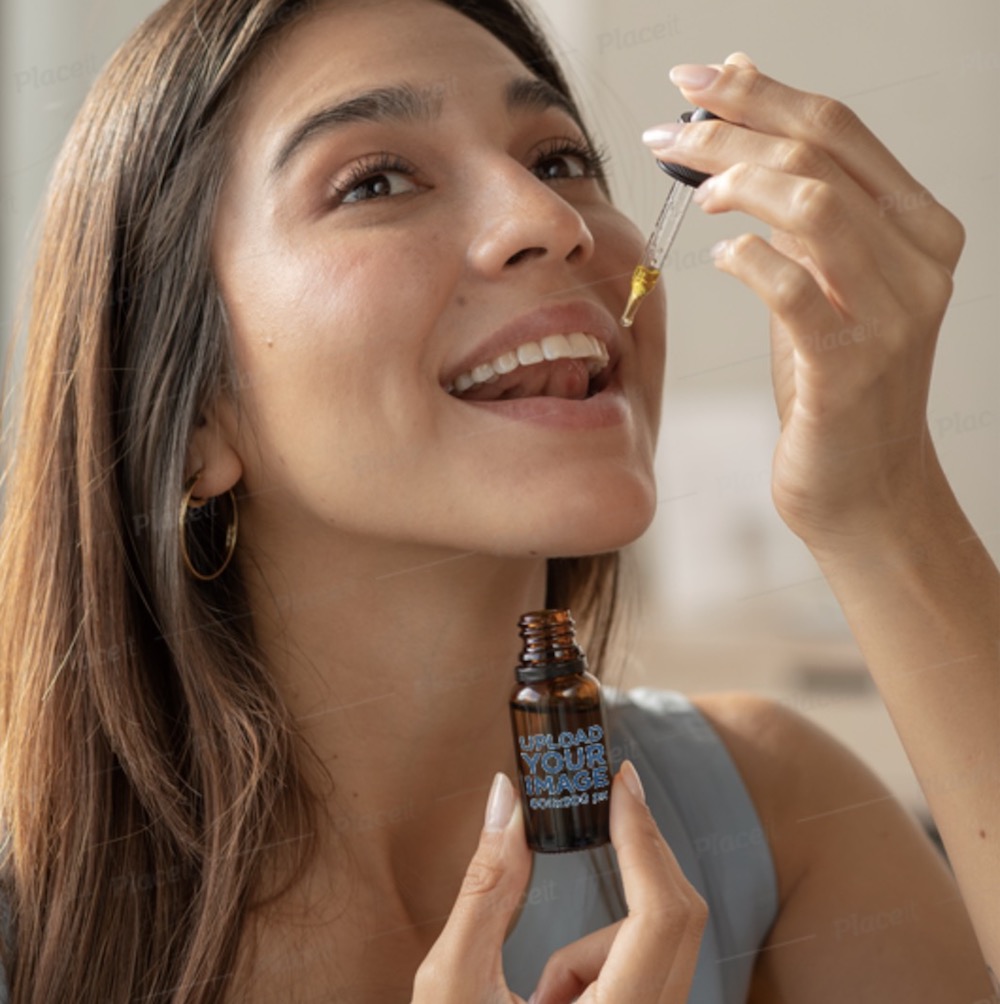 For everyone who is looking for even more CBD mockups of people using the oil with a dropper, here is another impressive alternative.
Why complicate and do all the work from the ground up if you do not have to?
Pick the mockup, invest a tiny portion of your budget and make a presentation that will turn heads.
This mockup will quickly GRAB the ATTENTION of potential customers, even when scrolling their crowded newsfeeds.
You can always make the presentation even more engaging by inserting additional text.
Note: The text can be of any color you want.
MORE INFO / DOWNLOAD
14. Dropper mockup for cannabis-related products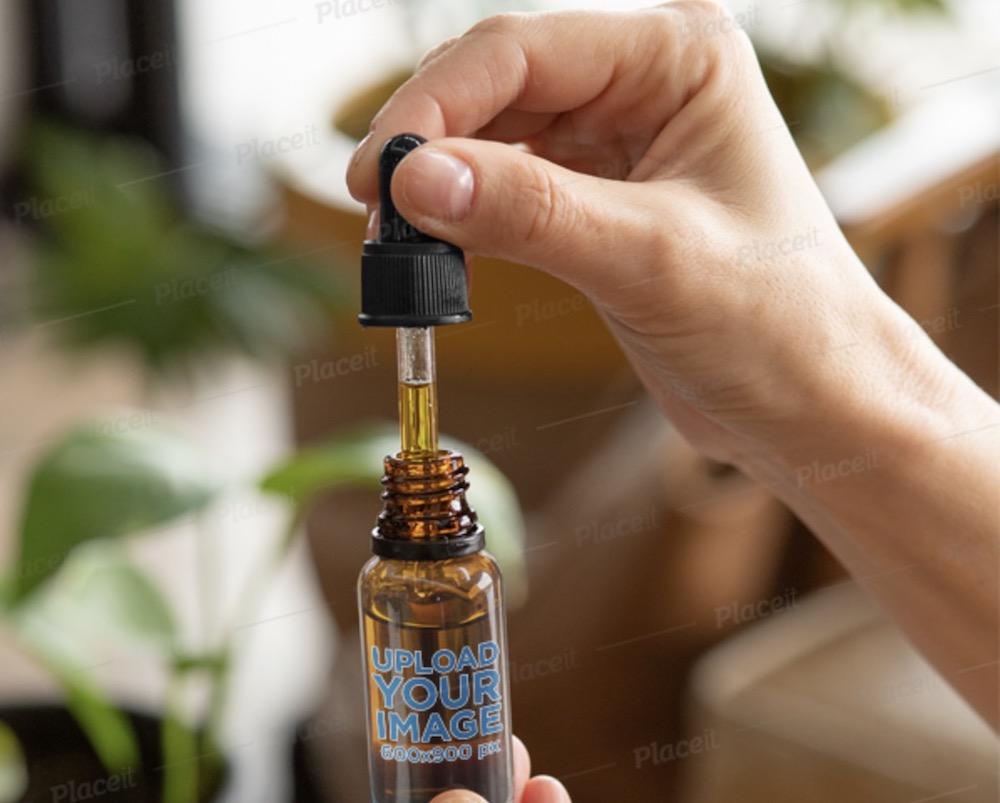 Whether a new or an established brand offering cannabis products, make an exhibition of your CBD oil with this template.
The mockup lets you insert a 600 x 900px image, but even if you work with a different size, it will work out perfectly fine.
A pop-up opens on Placeit when you upload the design with an option to crop and reposition your artwork.
But if it fits the working area as it should, just hit the button, and you are done. No need to do ANYTHING else if you are satisfied.
Still, you can introduce text, but that's optional.
MORE INFO / DOWNLOAD
15. Mockup of a woman showing a dropper bottle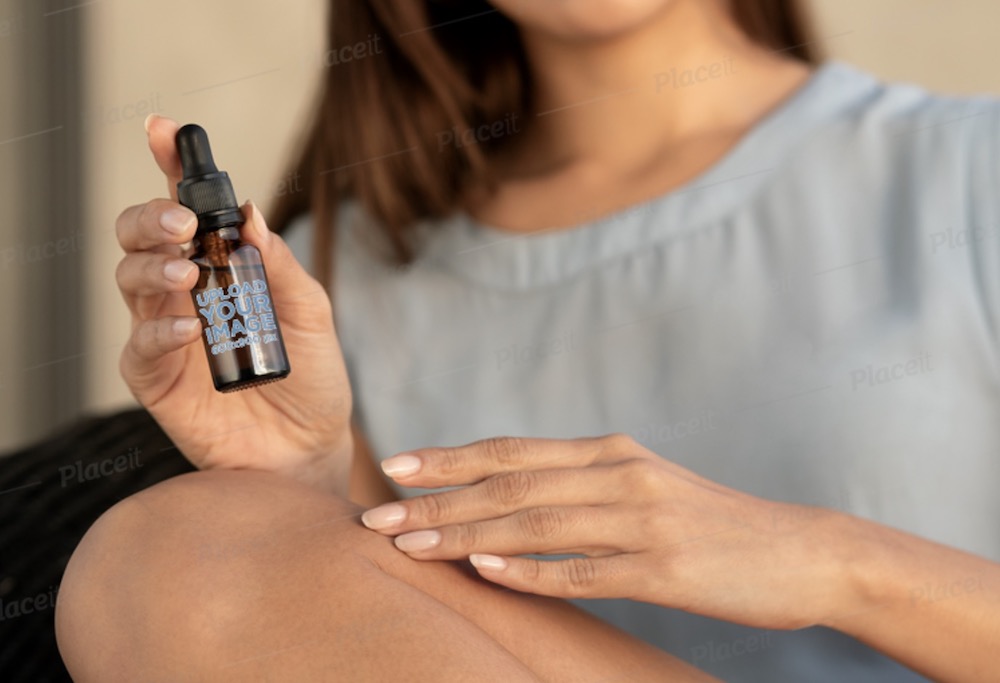 A lovely CBD mockup of a woman marketing your product to the masses.
No need to perform any advanced tasks when setting up a photorealistic presentation of your cannabis oil.
Use a mockup and enjoy the insanely quick execution.
You can see your design appear on the template in just three clicks. First, you click on the link below to head over to Placeit.
Second, you upload your design. And third, you hit the "crop" button and voila, it is all set and ready to rock and roll.
Start now.
MORE INFO / DOWNLOAD
How To Make A CBD Packaging Mockup?
You can create a realistic presentation of CBD packaging fast and easily with an online mockup generator.
No. Experience. Needed.
But I'll still demonstrate how it's done to simplify your workflow and enjoy even faster results.
I tested Placeit extensively (on 100s of projects), and it's currently the only platform I use, so I highly recommend it.
Create A CBD Packaging Mockup In 4 Steps:
Step 1: Head over to this link to find a collection of 30+ mockup generators for your project. (You can also use the search bar if you need something specific.)
Step 2: Click and open the template. Then insert your design and resize and reposition it if necessary (the live preview is VERY handy!). Hit the "crop" button to stick it to the template.
Step 3: You can then play with other functions to perform additional creative tweaks. You can alter the label's color, add a graphic, change the background (where possible), and more.
Step 4: Are you satisfied with the outcome? "Download" it!
That's all the work necessary to create a mockup for your project.
You can repeat the process endlessly, make as many variations as you want and even use and test other templates – until you find the WINNER!
::
Note: Our tested CBD WordPress themes will do the trick if you are looking to build a full-blown website.
Website creation has never been this easy!
::
Note: This article was originally published on November 10, 2020. But our team regularly reviews it and updates it with necessary improvements for accuracy.