Do you want to learn how to make a logo without Photoshop? Yes, it really is doable!
How often have we wondered if creating a logo without the professional intricacy of Photoshop is even possible?
Well, guess what?
It's not only possible, but it's also EASIER than you might think.
Welcome to this delightful journey where I'm thrilled to guide you through a straightforward, user-friendly method of creating a professional logo, using an amazing online logo generator, Placeit.
Placeit is a wonderful online tool that makes graphic designing an accessible adventure for everyone.
And if you feel a bit overwhelmed by the COMPLEXITIES of programs like Photoshop, this step-by-step guide is tailored just for you.
I'm super excited to share this simple yet effective process, empowering you to bring your vision to life. Make your branding journey joyous and fulfilling.
Let's create a cool logo together.
This post covers:
How To Make Logo Mockup Without Photoshop
Embarking on a logo-creating journey doesn't have to be daunting.
Luckily, you don't need to be a Photoshop pro to make a stunning and pro-level logo.
My EASY, BREEZY guide will teach you how to create a splendid logo with Placeit, in a few easy steps.
For the example purpose, I'll use ULTIDA to create a logo around it.
Step 1: Start Your Journey At Placeit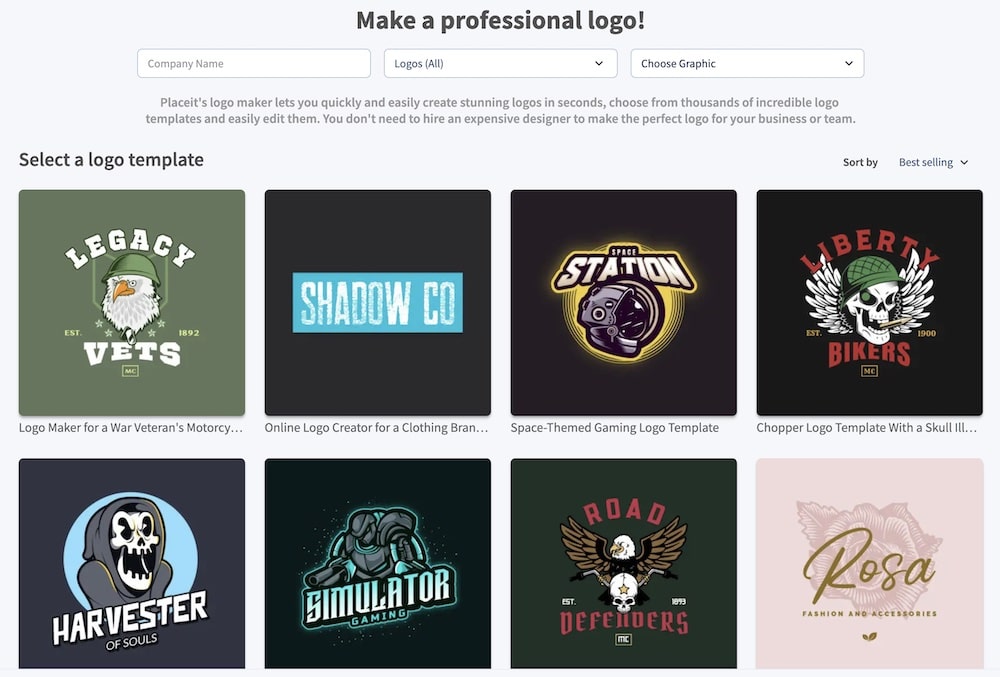 Hop over to Placeit and select "Logo" from the top menu to begin your creative expedition.
Want something more specific? Use the drop-down menu to tailor your search. There are endless topics to choose from, like architecture, design, finance, food, gaming and healthcare, to name a few.
Step 2: Pick Your Logo Template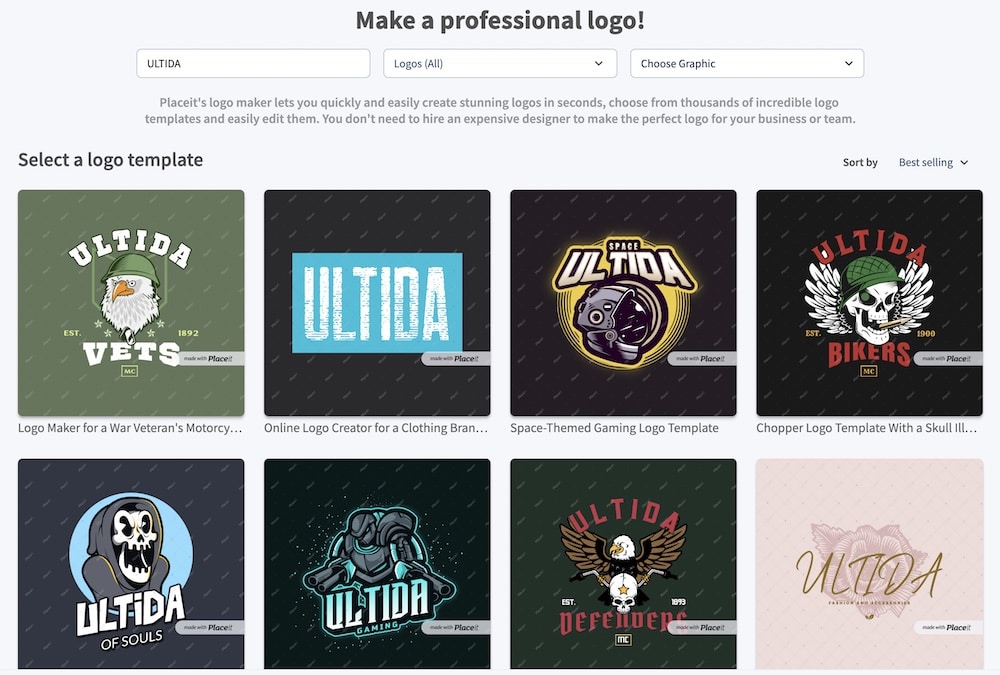 Browse through the lovely recommendations and select a logo template that tickles your fancy, or…
Utilize the advanced search form to personalize your quest. Input your company name, select a logo theme, and pick a graphic that speaks to you.
Here's a cool feature – Placeit showcases merch previews in the right sidebar, so you can see how your logo will shine on different clothing items. (It's one of my favorite features!)
Note: If you like the logo template, you can also click on the "This Logo Is Perfect" button at the bottom and it'll take you straight to Step 5 of this tutorial.
Step 3: Select Your Ideal Font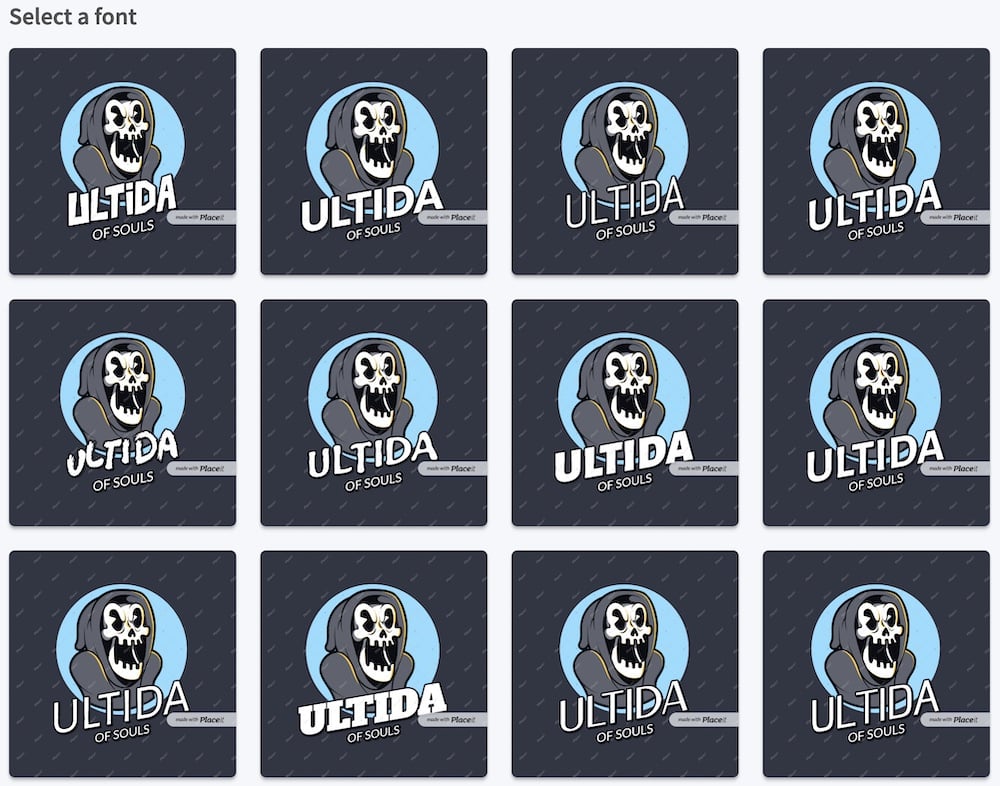 Explore the plethora of predefined font templates available and choose the one that best narrates your brand's story.
Remember, your font is your brand's voice, so pick one that truly resonates with you.
Step 4: Select Your Ideal Color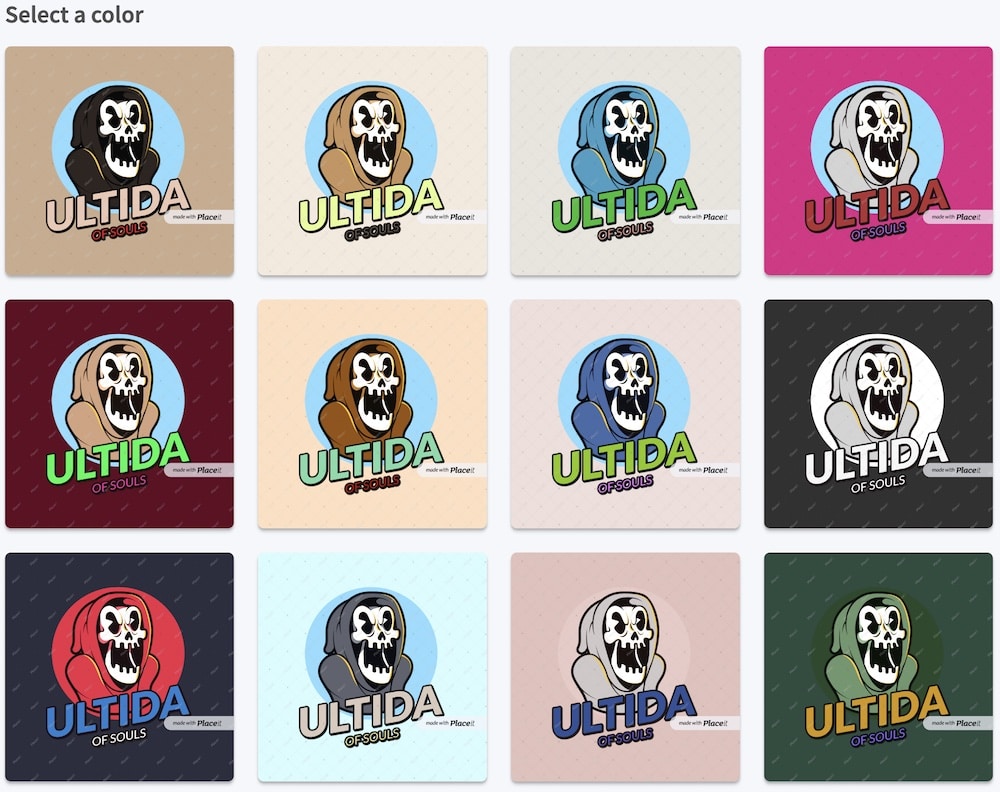 Dive into the rainbow of predefined color schemes available and select one that breathes life into your logo.
Your colors are the soul of your brand; choose ones that reflect your essence!
Step 5: Customize Your Logo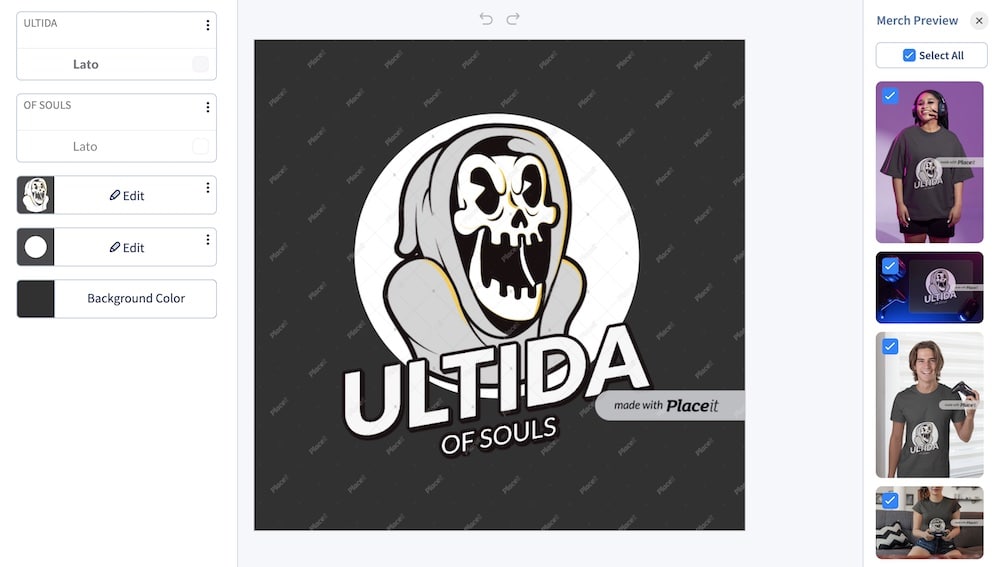 Let your creativity flow and mold your logo using the handy logo generator tool.
You have the freedom to adjust fonts and their colors.
If you don't like the backgound – change it!
Do you want a different graphics? Pick it.
Refine, reshape, and revamp the default logo until it perfectly embodies your vision.
It takes more or less just some clicking – you don't need any advanced skills to make it happen.
The only necessary thing is that your mind DOESN'T limit you.
Voila! You're Done!
Look at you, making your unique logo without Photoshop. Isn't it freeing to see your creative thoughts materialize so easily and quickly?
Your journey doesn't end here, though; use this logo to narrate your brand's story and let the world see your unique spirit.
Placeit pricing:
You can choose between two pricing options:
Enjoy the unlimited subscription for only $9.99 per month.
Or buy five templates for $41.75.
Benefits Of Using Online Logo Generator Over Photoshop
Both Photoshop and online logo generators like Placeit have their unique advantages, but here's why you might prefer Placeit for your logo creation endeavors:
1. User-Friendly Interface
Placeit's interface is incredibly intuitive, making it accessible to users of all skill levels.
Even if you have no graphic design experience, it'll immediately feel second nature. Unlike Photoshop, which has a steeper learning curve.
2. Cost-Effective
Placeit offers affordable subscription plans and one-time-payment options, whereas Photoshop requires a more expensive, ongoing subscription.
This makes Placeit a more economical choice for individuals and small businesses.
What I particularly like about Placeit is that you have free access to its online logo generator. You don't even need to have a free account to use it.
However, you won't be able to download your creation in the "free mode."
3. Speed & Efficiency
With Placeit, you can create a professional-looking logo in minutes (well, more like seconds!) thanks to pre-made templates.
Meanwhile, creating a logo from scratch in Photoshop can be time-consuming.
4. Convenience
Placeit is a web-based tool, meaning you can access it from any device with an internet connection without downloading heavy software like Photoshop.
Yes, you can also create a top-notch logo using your mobile device.
5. Variety Of Templates
Placeit offers many templates that catter to different industries and preferences.
This enables users to find something that suits their needs quickly.
6. Customization
While Photoshop offers advanced customization, Placeit provides ample customization options like changing fonts, colors, and graphics to create a unique logo, sufficient for most users' needs.
7. Real-Time Preview
Placeit allows you to see changes in real-time and offers previews of how your logo will look on different merchandise, business cards, etc., a feature not inherently available in Photoshop.
The preview feature is what I PARTICULARLY like.
8. No Technical Skills Required
Placeit eliminates the need for advanced graphic design knowledge or technical skills, which are ESSENTIAL for creating professional-looking logos in Photoshop.
9. Commercial Use
Placeit typically offers rights for commercial use of the created logos, providing a sense of security for business purposes.
10. Faster Updates & Upgrades
Being an online tool, Placeit can offer faster and more regular updates and feature additions.
In other words, you can always access the latest design trends and elements.
Conclusion: Master Logo Creation Like A Pro!
For those who seek simplicity, speed, and convenience without compromising on quality, online logo generator like Placeit is a fantastic alternative to more advanced and complex software like Photoshop.
It's especially beneficial for beginners, small business owners, and anyone looking to create a beautiful logo without the fuss.
I'm sure this guide has made your creative process joyful and exciting.
Always remember, your creativity is boundless, so keep exploring, keep creating, and most importantly, have tons of fun doing it.
You are just a few clicks away from the perfect logo that will propel your brand to new heights.
Further reading: