I want to guide you through the easiest tutorial on how to make a T-shirt mockup without Photoshop.
Making a T-shirt mockup used to require expert Photoshop knowledge.
A professional designer would need to integrate your design image onto a photo and make it look as realistic as possible.
NOT. ANYMORE.
This post covers:
You can EASILY CREATE a T-shirt mockup without Photoshop, thanks to tools like Placeit.
Note: You can make any type of mockup using the platform.
T-shirt mockups are crucial if you want your store to succeed.
After all, your customers want to see how the T-shirt looks before handing over their cash. (It'll definitely increase sales.)
A realistic T-shirt mockup is a great way to show how it looks when worn by real people and in real-life scenarios.
With Placeit, you can make as many T-shirt mockups as you need.
This online mockup generator has 1,000s of T-shirt, apparel, and clothing mockups that you can use to showcase your entire clothing line.
I'll show you all the steps that are necessary to create a T-shirt mockup without Photoshop. Plus, include a few of the best-selling mockups.
How To Make A T-shirt Mockup Without Photoshop
Step 1: Visit Placeit
Visit Placeit to get started.
If you know what kind of mockup you want, you can use the search bar to look for it.
Otherwise, click on Mockups > T-Shirts (or just follow the former link).
You can then use the dropdown menu to find the exact type of T-shirt or use the filters on the left to narrow your search and find what you need.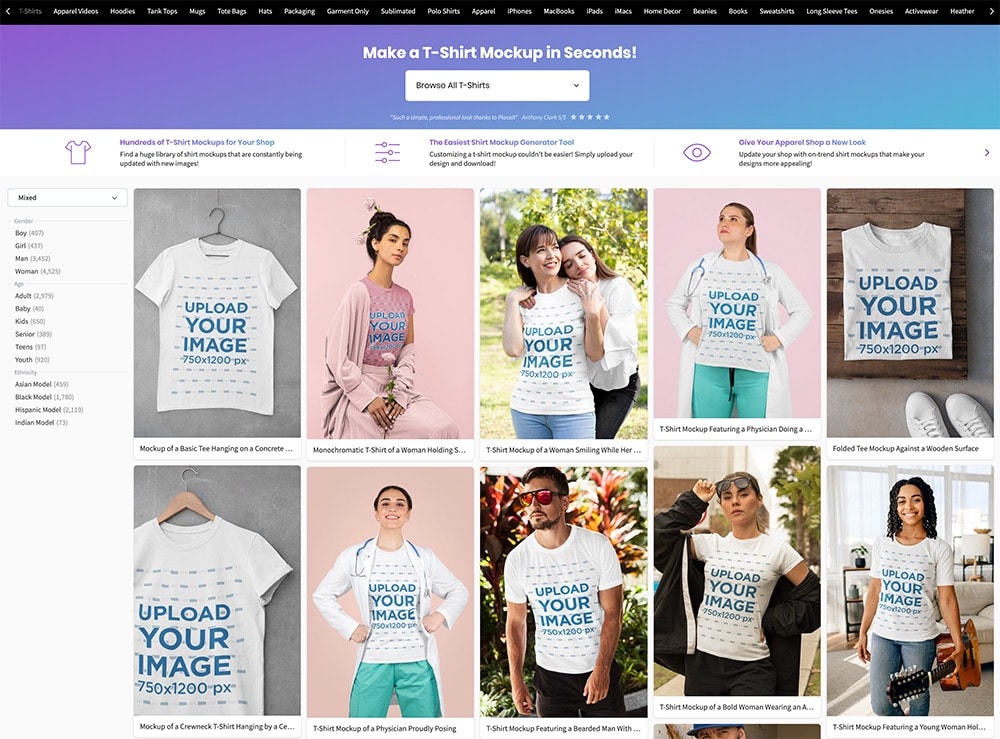 You can filter by gender, age, occasion, environment, etc.
Another cool feature is that you can sort mockups by "mixed," "newest" or "best selling."
Once you've found a mockup you like, you're ready for the next step.
Step 2: Upload Your Design
Click your chosen template to open the editor and then the button that says Upload Your Design (Insert Image).
Select your design image from the computer and click Upload. (You can even do it using a smartphone or tablet.)
I RECOMMENDED using an image in the PNG file, but you can also go with JPG format.
Image by OpenClipart-Vectors from Pixabay.
Step 3: Adjust The Crop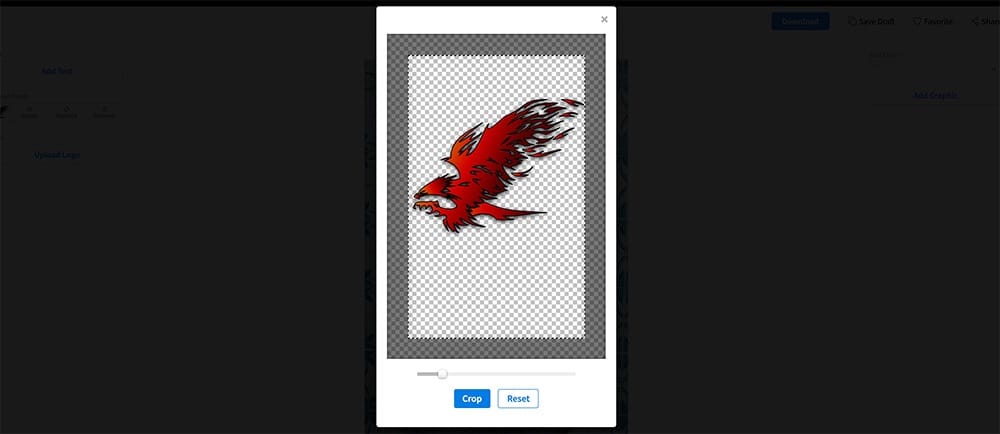 Once it uploads the design image, you can adjust the size of the image and crop it if needed.
All you do is drag the slider left or right to adjust the image size.
You can also modify the position of the image by dragging it up or down. Click Crop when you're done.
Step 4: Customize The Design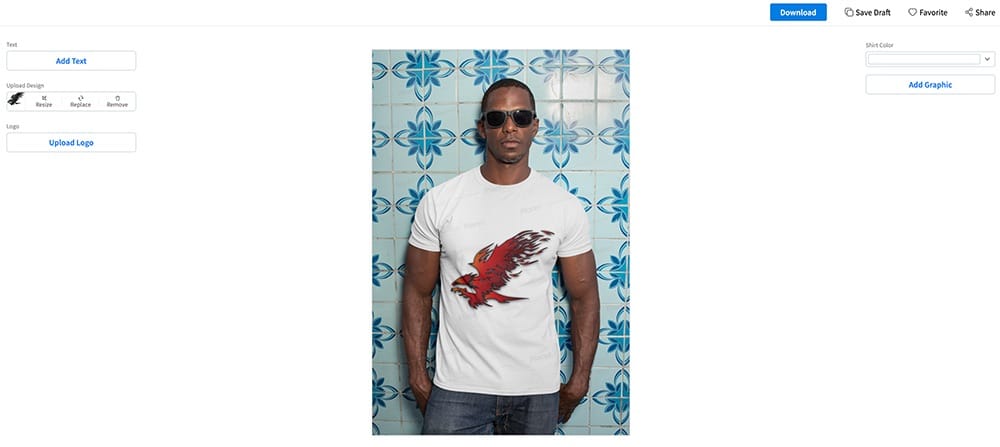 You can now further customize the design of your T-shirt. For example, you can add text or upload your own logo.
You can also modify the color of the T-shirt to see how the design will look on different colored garments.
Step 5: Download The Finished Mockup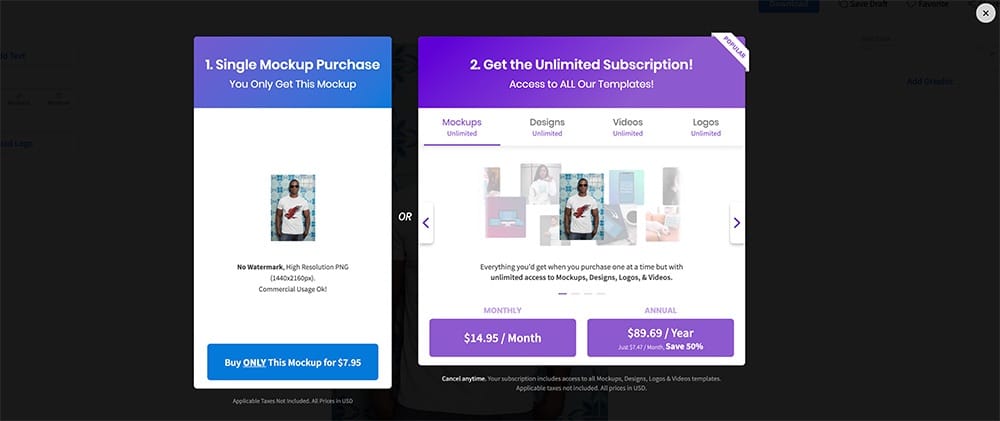 When you're done with your mockup and happy with how it looks, you can download it so you can present it to your client.
Placeit offers two choices for downloading your mockups.
1. The first option is to download the single mockup for a one-time fee of $7.95.
2. The other option is to sign up for a monthly or yearly subscription. The monthly subscription costs $14.95 while the yearly subscription costs $89.69.
The benefit of a subscription is that you can create and download unlimited mockups and other designs.
If you're launching your own clothing line, a monthly (even better, yearly) subscription will give you the best bang for your buck.
Where To Use T-Shirt Mockups
As mentioned earlier, mockups are perfect for showcasing your designs.
Here are a few ideas for using your T-shirt mockups:
Use mockups in your own online store to show potential customers what the T-shirt will look like when worn by them.
Upload your mockups to a print on demand site like Spreadshirt, Spring (ex Teespring), Printful, and others.
Create social media posts on Instagram, Facebook, and other platforms to spread the word about your clothing line.
Create printed or digital product catalogs with your mockups, etc.
5 Best Placeit T-Shirt Mockup Examples
1. Frontal T-shirt View Mockup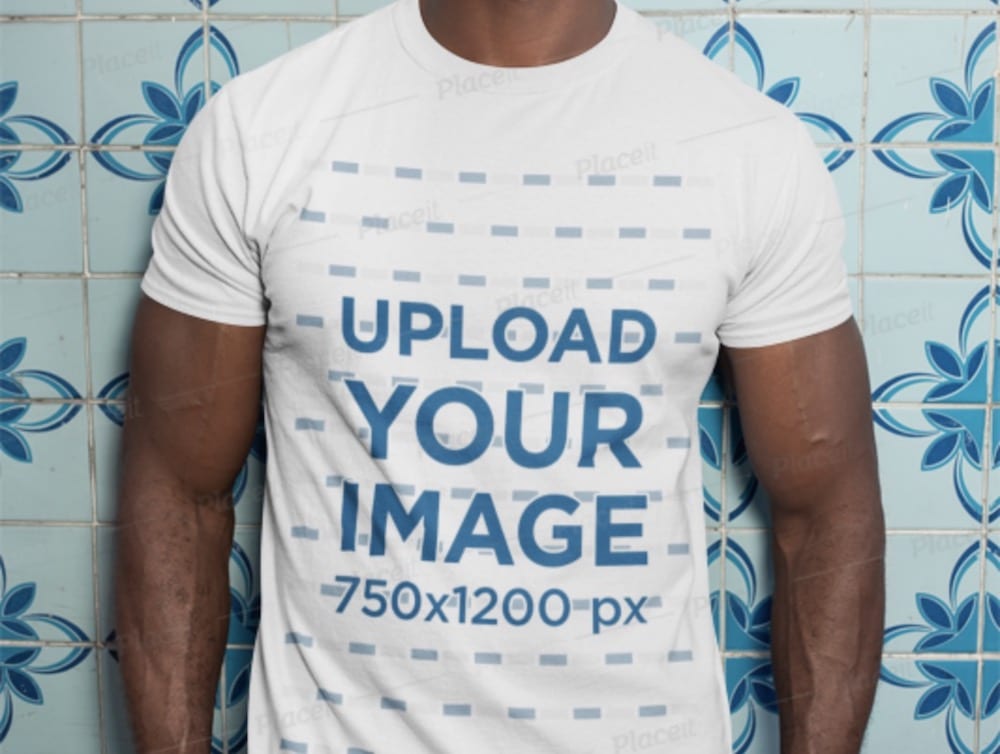 Here's a full frontal view mockup of a T-shirt.
You can use this template to give your customers a good idea of how the T-shirt looks when worn.
MORE INFO / DOWNLOAD
2. T-Shirt Mockup On A Solid Background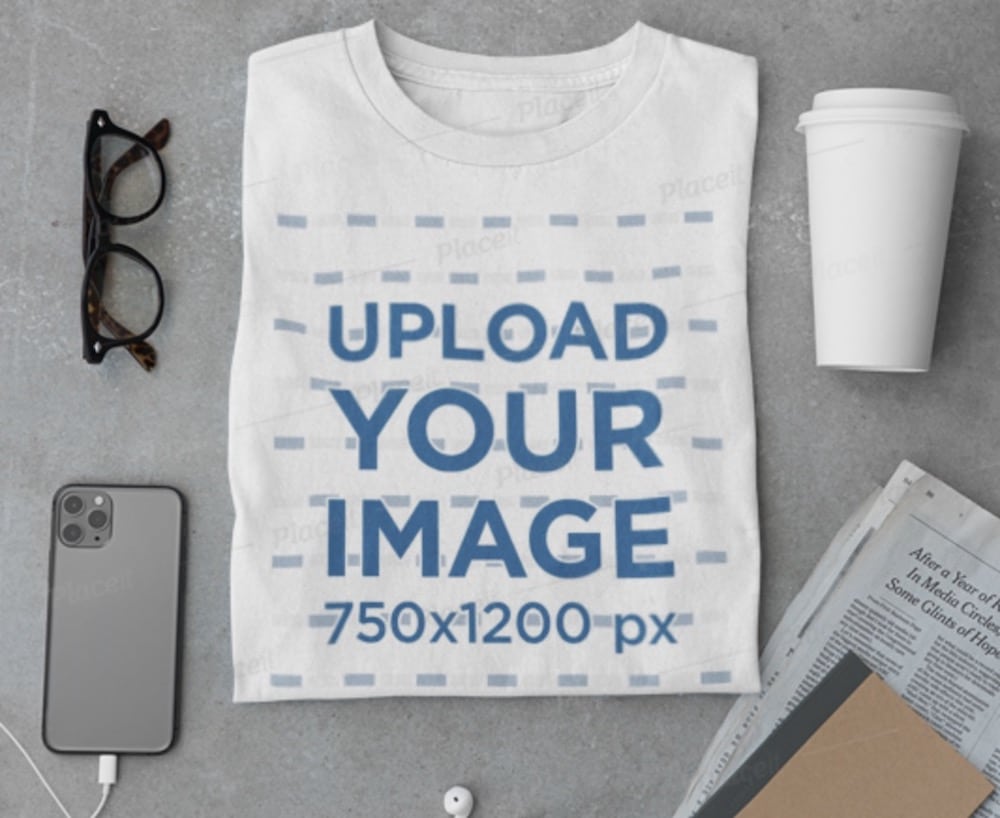 This T-shirt mockup is a great choice if you want to present your design against a solid background.
This mockup works well for a social media post.
MORE INFO / DOWNLOAD
3. Crewneck T-Shirt Mockup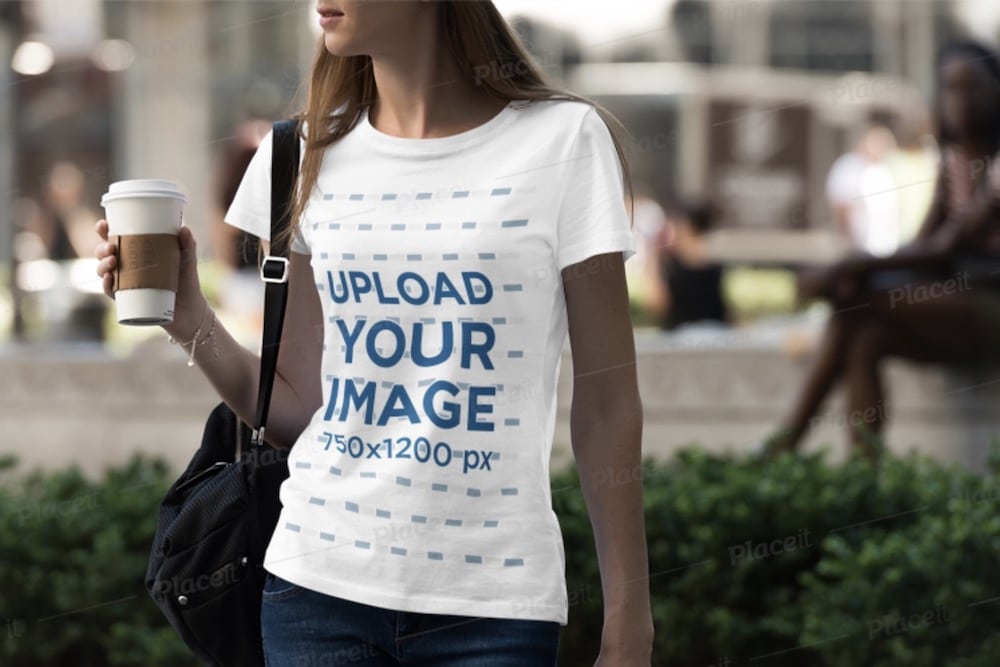 This template is a good choice if you want to create a crewneck mockup.
Your customers will easily picture how the T-shirt looks in different everyday situations.
MORE INFO / DOWNLOAD
4. T-Shirt On A Plain Solid Color Background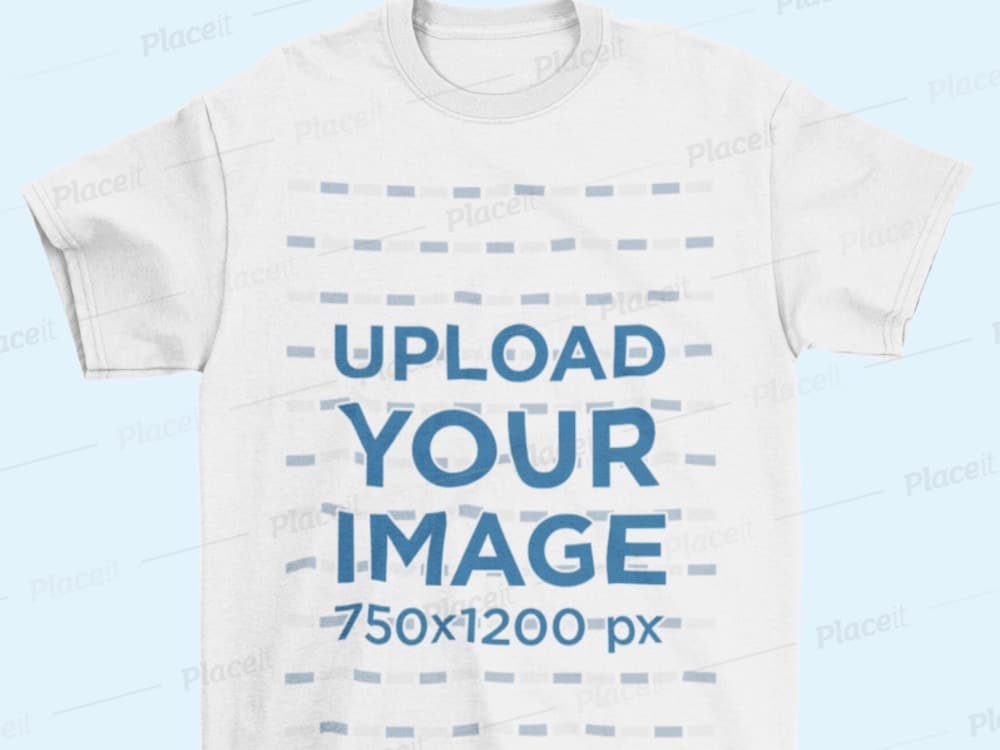 This mockup would work well for a featured image in your online store.
The design shows a T-shirt against a solid color background and you can customize both the shirt color and the background.
MORE INFO / DOWNLOAD
5. Multiple Product Mockup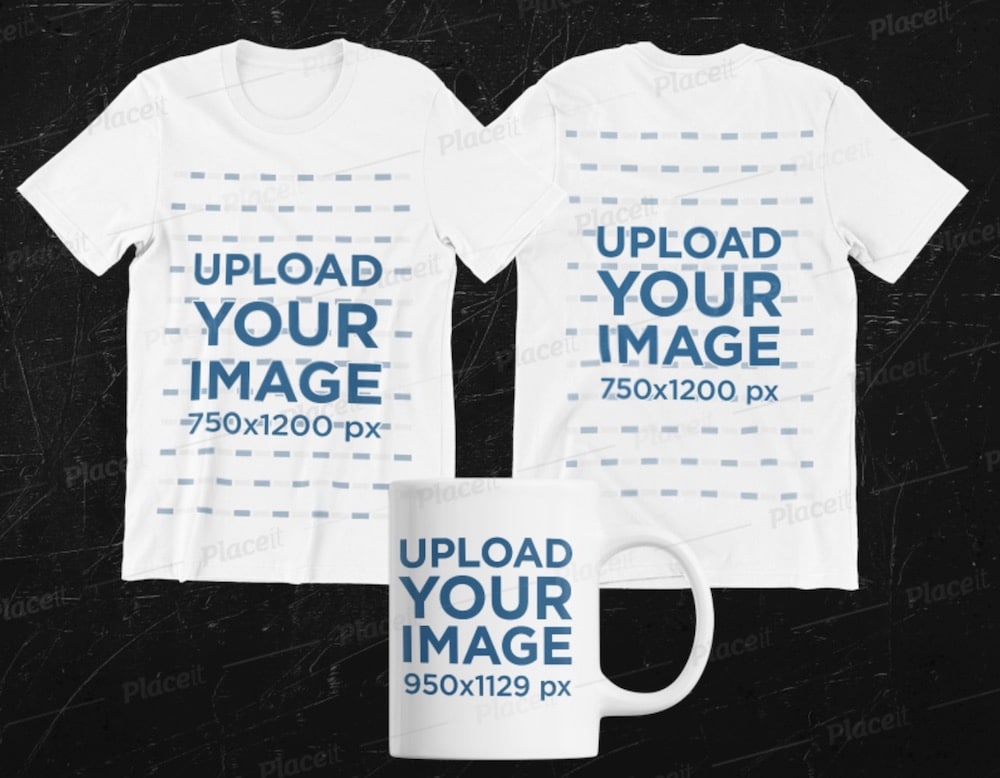 This design is a perfect solution if you want to showcase your design on multiple products or the front and the back of the T-shirt.
In this case, you can also create a matching mug.
MORE INFO / DOWNLOAD
Final Thoughts
You can create realistic T-shirt mockups without hiring an expensive designer or spending hours learning Photoshop with Placeit.
We use it regularly, and I'm sure you'll love it!
Use Placeit to quickly create tons of shirt and other apparel mockups for your clothing line (or your client).
FAQs About Making A T-Shirt Mockup
What is a T-shirt mockup generator?
A T-shirt mockup generator is an online tool that allows you to create realistic mockups of T-shirts with your designs. It's user-friendly and doesn't require graphic design skills or software like Photoshop.
How do I upload my design in a mockup generator?
Simply select the T-shirt mockup you want to use, then upload your design onto the template from your device. The generator will automatically adjust your design to fit the T-shirt's dimensions and contours.
Can I customize the background of the mockup?
Yes, most mockup generators allow you to customize the background. You can choose different colors or upload an image to create the desired setting for your T-shirt design.
Can the color of the T-shirt be changed in the mockup?
Yes, you can usually change the T-shirt color in the mockup to match your design or to show how it looks on different colored garments.
Do I need any design skills to use a mockup generator?
No, mockup generators are designed to be user-friendly and do not require any previous design skills. They provide a simple interface to upload and adjust your designs.
How realistic are the mockups from a generator like Placeit?
Mockup generators like Placeit are known for their high-quality and realistic mockups. They provide a professional look that closely resembles a real photograph.
Can I use the generated mockups for commercial purposes?
Generally, yes. Most mockup generators provide mockups that can be used for commercial purposes, but it's always good to check the specific terms of use for any restrictions.