Are you ready to learn how to make a mug mockup with and without Photoshop?
I want to share with you the easiest and quickest process that turns you into a pro designer (even if you're not).
A personalized mug is always a GREAT GIFT.
And do you know what the best part is?
You can create it with or without Photoshop!
This post covers:
Fun fact: Mug market will reach 27+ billion by 2028. (A growing industry.)
WOW.
Yup, you have a decent market if you want to sell personalized mugs.
But you must present them visually appealingly if you want to make sure your mugs sell.
And there's no better way of doing it than with a mockup.
Create personalized mugs and cups fast.
How to Create a Mug Mockup Without Photoshop
All you need to use is an online mockup generator to make a mug mockup without using Photoshop.
For this instance, I use my favorite, Placeit.
All it takes is a simple five-step process.
Step 1. Explore Placeit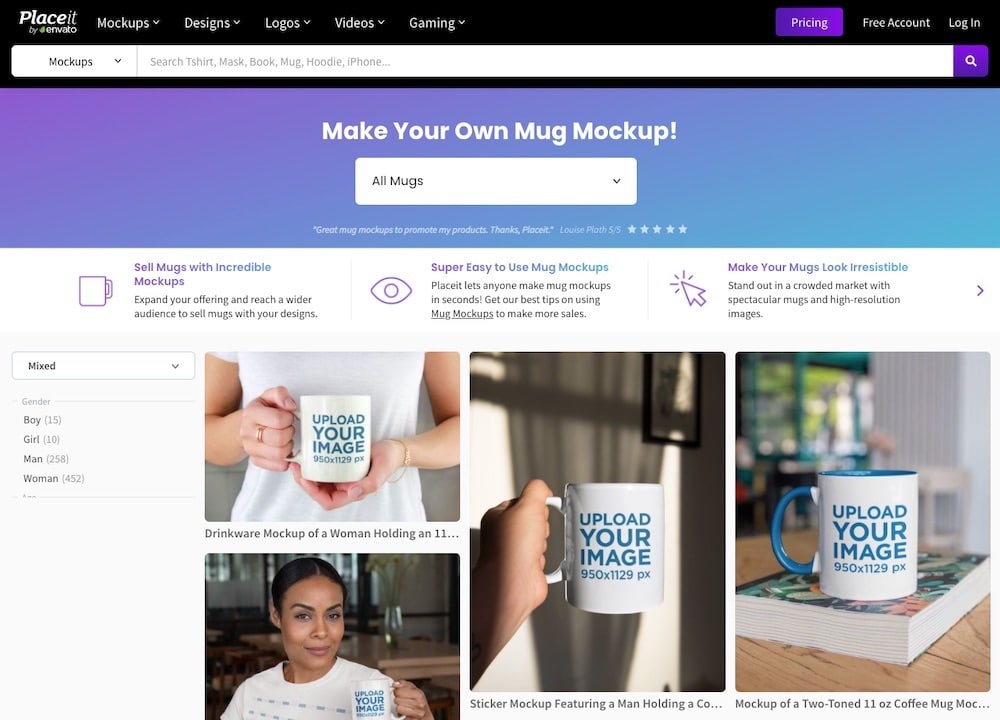 The first step is to visit Placeit and explore all the different mug mockups they have available.
You can click on Mockups > Mugs to see all the options. (The link above will take you there directly.)
Alternatively, you can search for a mug template with the search bar. When you've found a design you like, CLICK on it to open the editor.
Hint: To refine your search even further, you can use sidebar tags/categories.
Step 2. Upload Your Mug Design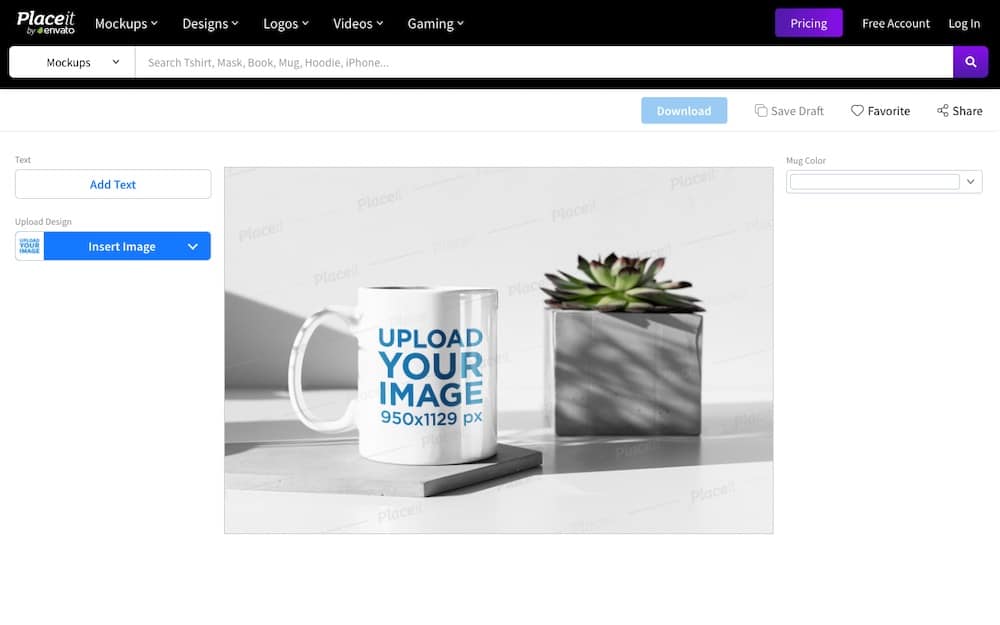 Simply select it from your computer and press the button to upload it to Placeit.
The mockup generator works fantastically well on mobile devices, too.
Yes, you actually don't need a desktop to create a mug mockup (without Photoshop).
Step 3. Crop The Design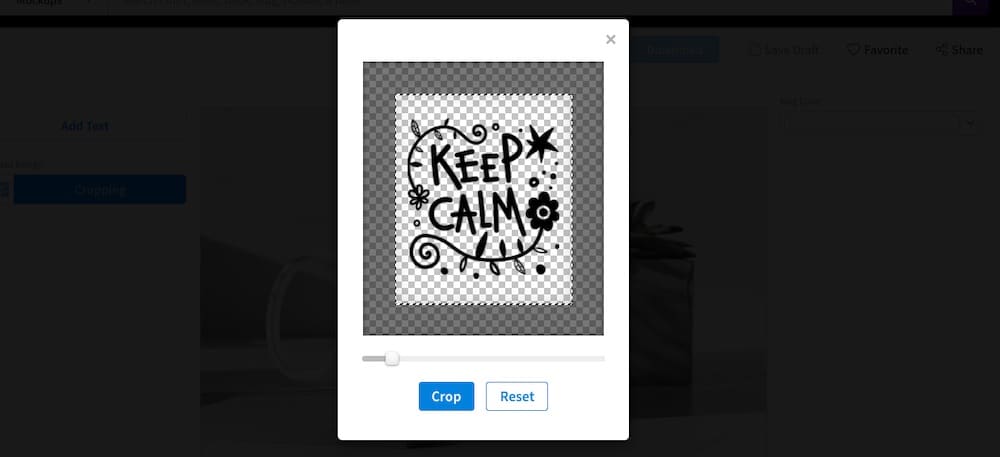 As soon as your design is uploaded, you are able to adjust the crop to ensure your design fits perfectly onto the mockup.
You can also move it up or down to place it EXACTLY the way you want.
Step 4. Customize The Design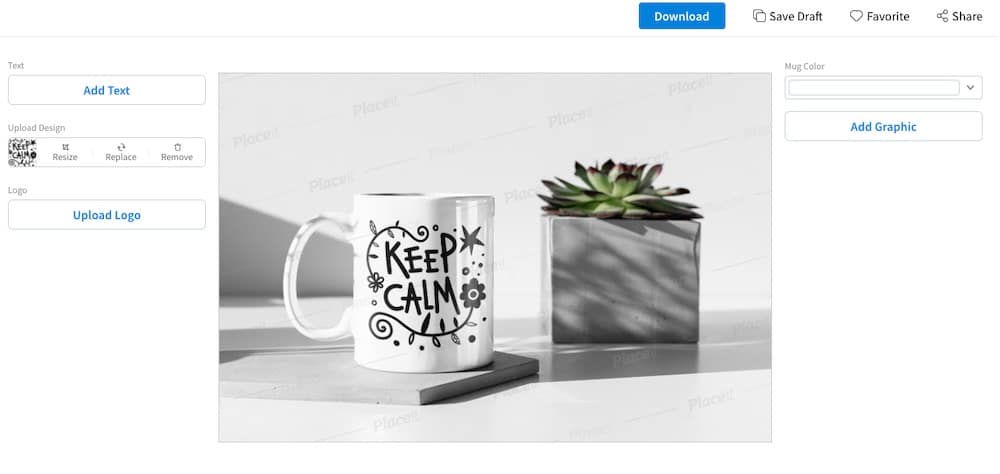 The next step is to customize mockup's design with Placeit's tool.
It allows you to adjust the mug's color, add text (and graphic), and upload your logo.
(But that depends on the mockup you chose. Some offer more options than others.)
Step 5. Download The Mug Mockup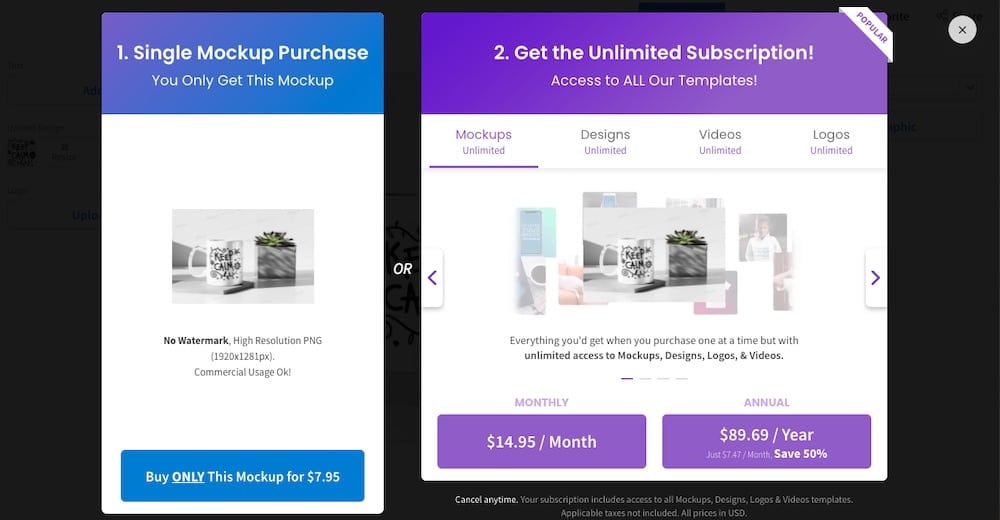 The last step is to download your finished mug mockup. Simply press the Download button to begin the download process.
As you can see, you have a couple of options:
1. The first option is to pay a one-time fee of $7.95 for the single design.
2. The second option is to opt for a monthly ($14.95/mo) or yearly subscription ($89.69/year).
If you need to create a lot of mockups, the subscription gives you the best bang for your buck.
(Read: Unlimited downloads on 30k+ mockups!)
5 Great Placeit Mug Mockups
So far, I've shown you how to create a mug mockup with Placeit. Now, let's look at 5 top-notch mug mockups that you can find on the platform.
1. Mockup of a woman holding a mug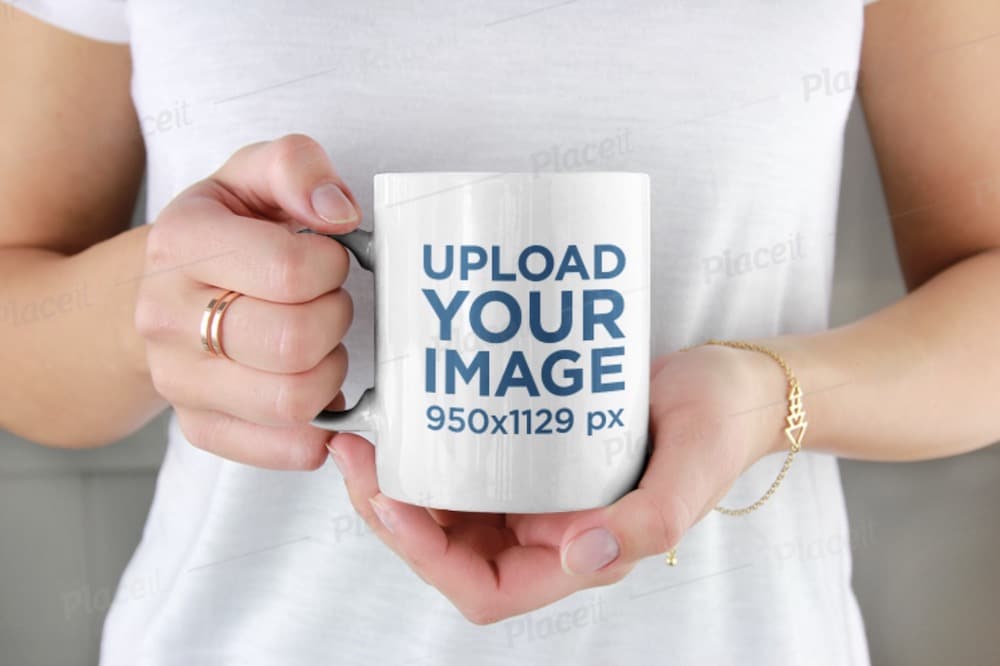 First up, I have a mockup of a woman holding a mug.
The mug is placed front and center, so it's PERFECT if you've got a motivating saying or any other type of text that you want to showcase.
You can add text or insert an image and customize the color of the mug.
MORE INFO / DOWNLOAD
2. Coffee mug surrounded by fall leaves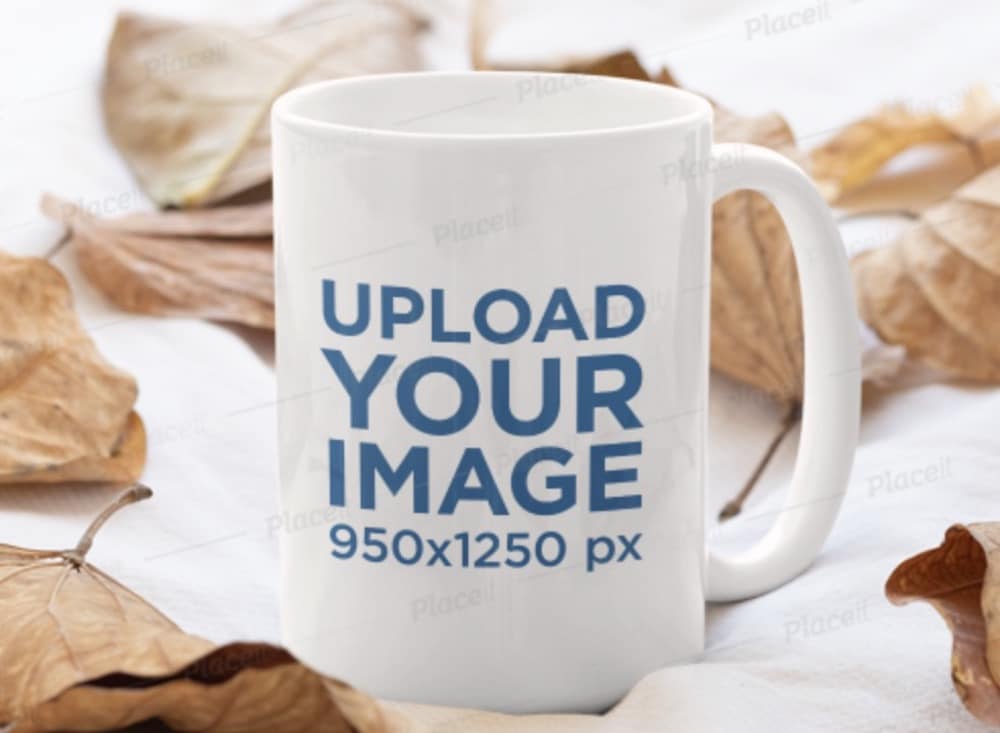 With this mockup, you have your customers drooling for that warm cup of Pumpkin Spice coffee.
The mockup features a white coffee mug surrounded by fall leaves. You can EASILY change the mug color and upload your design.
MORE INFO / DOWNLOAD
3. Mug mockup on a transparent background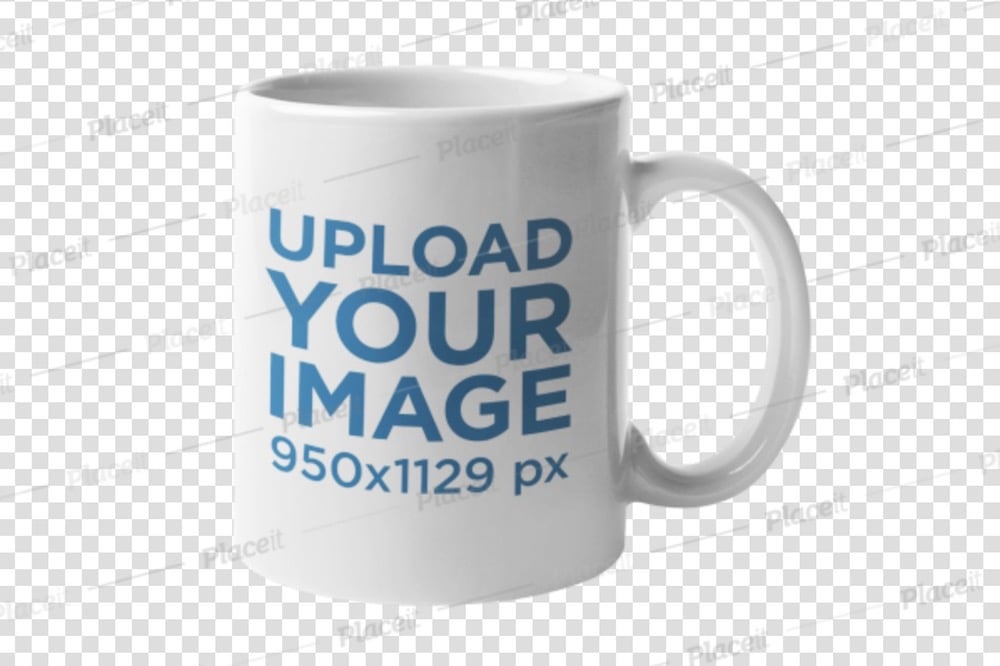 This mockup is a great choice if you want more control over the design of your mockup.
The background is completely transparent, so you can download the mockup and OVERLAY it onto an image of your choosing.
MORE INFO / DOWNLOAD
4. Mockup of a woman holding a coffee cup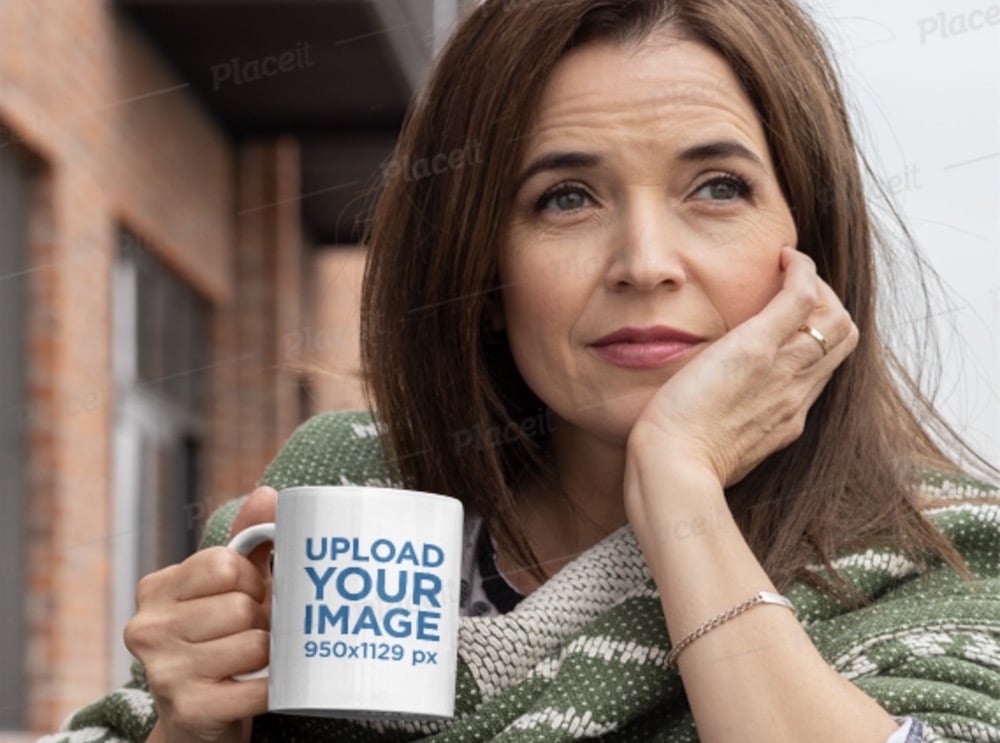 This mockup features an urban setting with a woman holding a coffee cup and overlooking a balcony.
Use this mockup to promote your mug designs on social media.
Give potential customers an ACCURATE IDEA of how the mug looks in a real-life setting.
MORE INFO / DOWNLOAD
5. Floating coffee mug mockup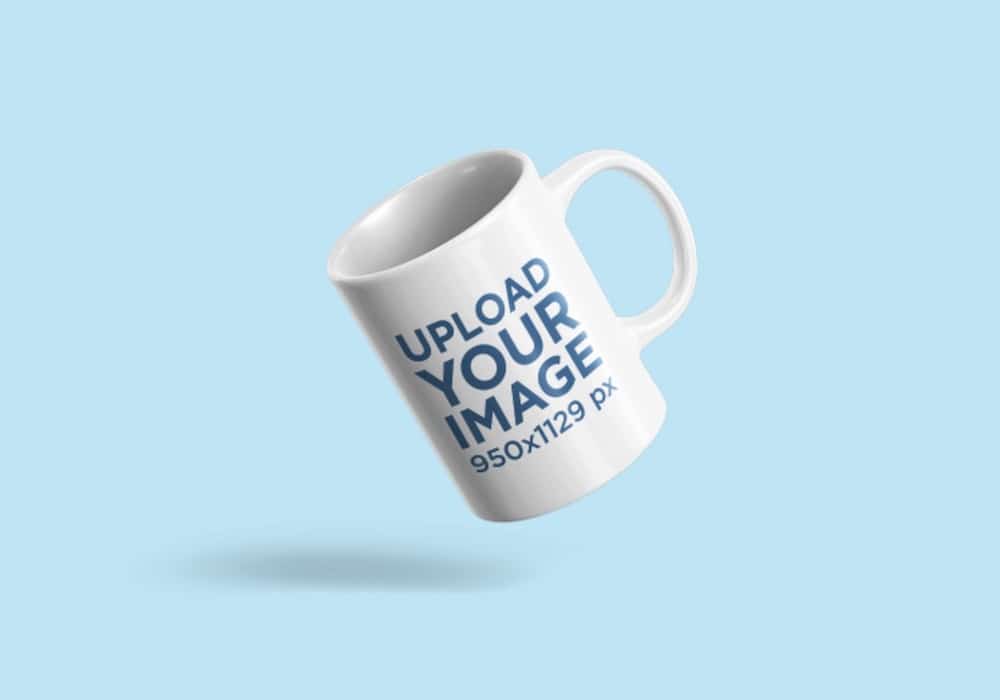 This mockup features a white mug against a light blue background.
You can change the color of the background as well as the color of the mug in this mockup.
Choose this one for more control over the final mockup design.
MORE INFO / DOWNLOAD
How to Make A Mug Mockup With Photoshop
If Placeit is not your cup of tea, there's always the option to create a mug mockup with Photoshop.
Start from scratch
You can create everything from scratch, including the cup and the scene used to showcase your design.
This gives you the ultimate control over the design.
Use PSD mockups
But if you don't want to start from scratch, there are dozens of premade layered PSD files you can download online.
You can then import the mug mockup design into Photoshop, use the smart object to place your design, and export the finished mockup.
Final Thoughts
Use a mug mockup to showcase your designs if you want to sell personalized mugs.
The easiest way to create a mug mockup is with the online generator, Placeit.
Use the steps in this tutorial and start selling engaging mugs and cups in your online store.
You now know how easy it is!
Do you need more cup and mug mockups for quick start?
We conducted list of the best:
FAQs About Making A Mug Mockup
How do I choose the right image for a mug mockup?
Select a high-resolution image or design that reflects the theme or purpose of the mug. Ensure the image is scalable and clear when printed.
What software can I use to create a mug mockup?
You can use graphic design software like Adobe Photoshop or Illustrator. Free alternatives like GIMP or Canva also offer mockup capabilities. But you can also create it with online mockup generator, Placeit.
How do I apply a design onto a mug in the mockup?
Use the software's tools to wrap your design around the mug's template (via smart objects), ensuring it fits the curves and shape of the mug realistically. Or upload it from your device if using an online mockup generator.
Can I add text to my mug mockup?
Yes, you can add text using your chosen software or online generator. Make sure the text is legible and well-placed on the mug.
How do I ensure the colors in my mockup match the final product?
Use CMYK color mode for accuracy in printing, and consider doing a test print to check color fidelity.
What file format should I save my mug mockup in?
Save your mockup in a high-quality format like PNG or JPEG for digital viewing, or in PSD or AI formats if further editing is needed.