After researching tea mockups for weeks, I couldn't find the ultimate list, so I decided to create one, gathering the best of the best.
Here, you will find everything, from tea boxes and bags to cups, packaging, and – of course – free tea mockups.
I also added different styles of mockups – layered PSD files (Adobe Photoshop) and online mockups generators.
YES, there is a way to create a mockup without Photoshop! (I like this option the most.)
Price, life-like look, and ease-of-use are unbeatable – and that's what makes this the ULTIMATE LIST.
POST NAVIGATION:
You will do yourself a big favor when opting for a mockup, as it will save you plenty of time yet remain your professional workflow intact.
BOOST it to the next level.
Best Tea Mockup Generators
1. 24 oz mug mockup of a woman drinking tea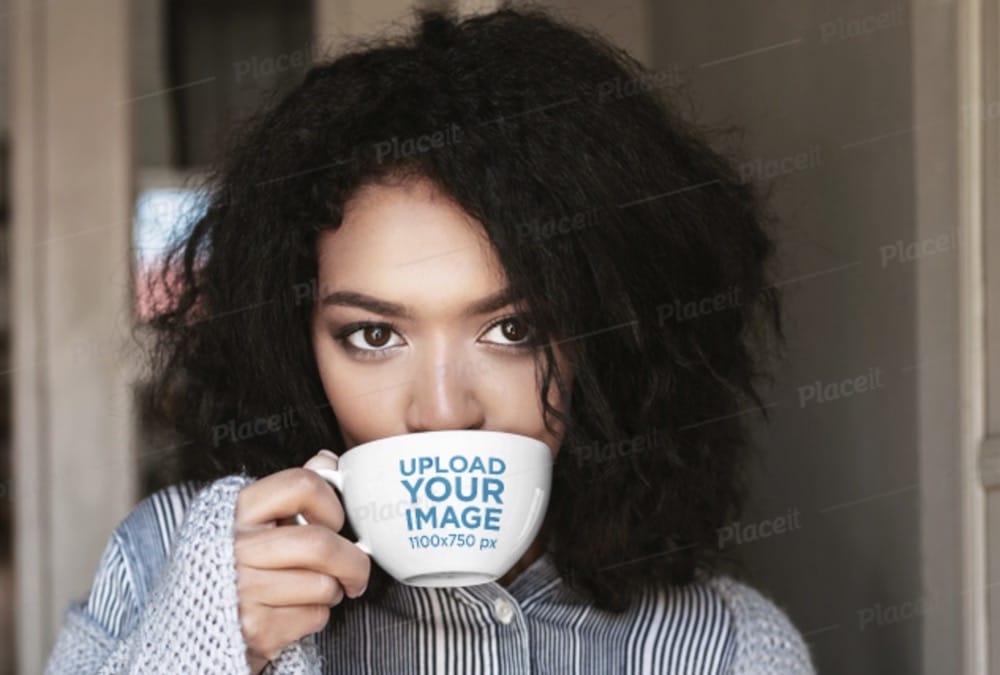 Let's kick things off with a few more random mockups for the tea enthusiasts.
Still, they are NOT random, they are, in fact, highly photorealistic, delivering an impressive experience.
Create a LIFE-LIKE cup design that will take you little time to realize with this neat mockup generator.
You can also change the color of the mug and even append some extra text if necessary.
Note: Don't miss our tutorial on how to make a mug mockup.
Price: $7.95
MORE INFO / DOWNLOAD
2. Mug mockup of a bearded and tattooed man drinking tea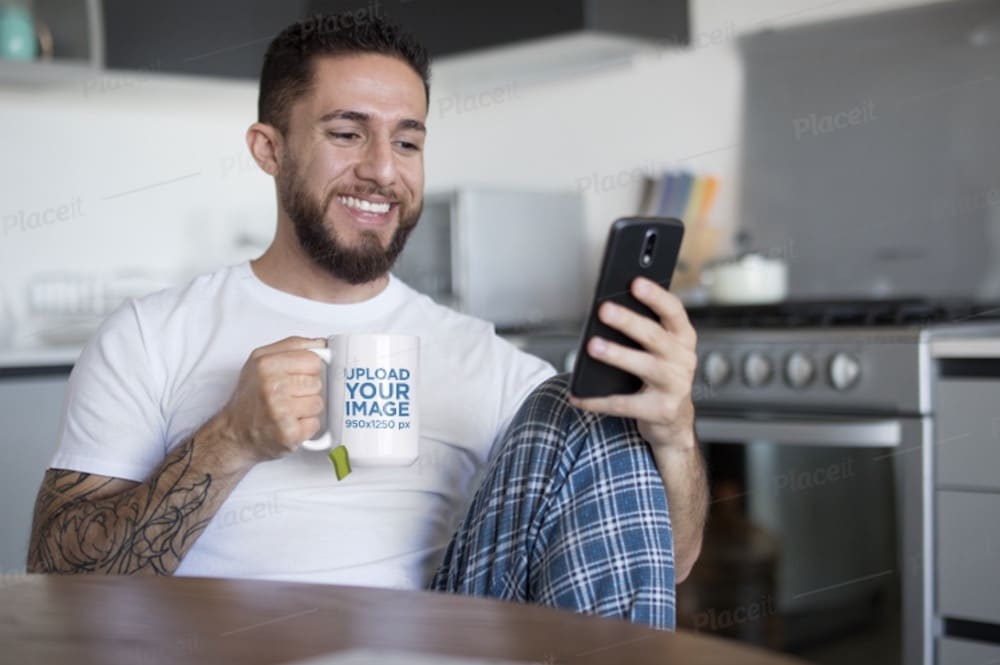 Enjoying a morning cup of tea and some social media, THAT'S WHAT'S up when it comes to this tattooed dude's routine.
But you can now use him to present your mug design and trigger everyone's attention.
Thanks to Placeit, you can speedily come up with the final solution. You don't need Photoshop to start working on your mockup.
Instead, just slide in your image, change the mug color and that's it.
Price: $7.95
MORE INFO / DOWNLOAD
3. Woman drinking tea from 11 oz glass mug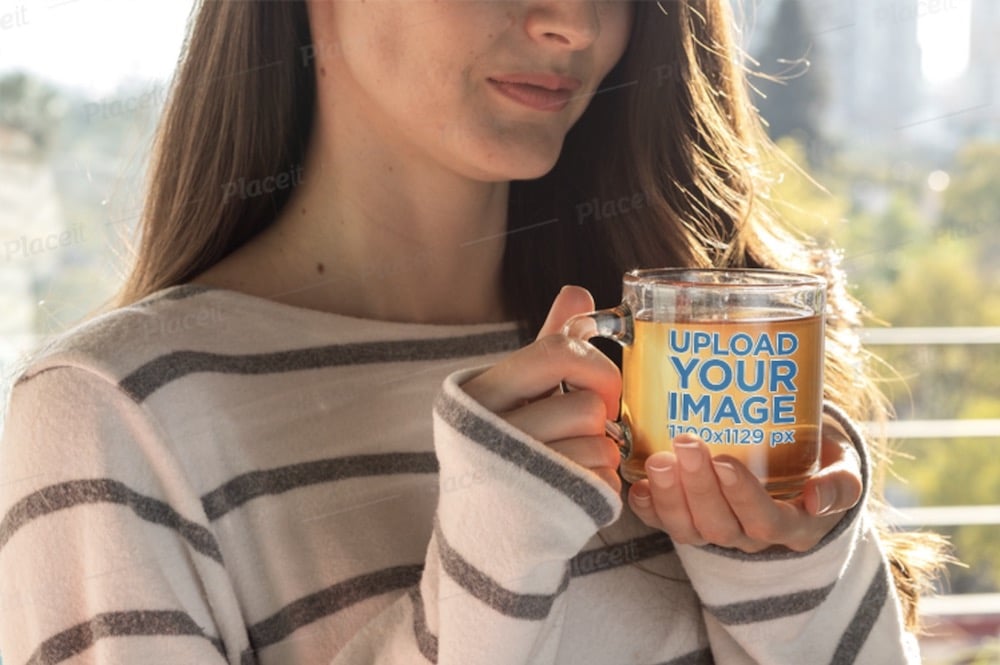 If you are particularly searching for a glass tea cup mockup to brand it with your design – HERE YOU GO.
This easy-to-use solution will get you moving forward immediately.
What's cool, you can fully improve it online, using your favorite web browser.
Even when it comes to adding your design or logo, you get to upload it from your device directly.
You can also create a mockup on your mobile device.
Price: $7.95
MORE INFO / DOWNLOAD
4. Mug of tea mockup on a kitchen counter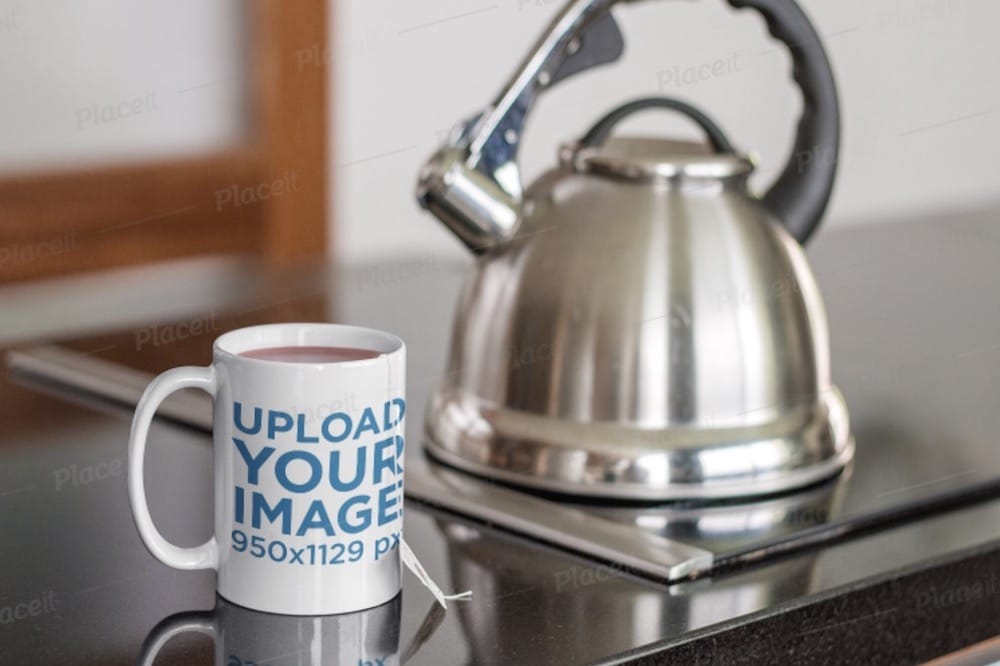 A fresh cup of tea on the kitchen counter is waiting for everyone to enjoy.
Whether you would like to create a mug for promotional intention or your online store, this and other alternatives are great for making the magic happen.
You need to have ZERO experience designing stuff; however, you need to have the image or logo ready.
Otherwise, what would you add to the mug?
Enjoy.
Price: $7.95
MORE INFO / DOWNLOAD
5. Mockup of a woman holding a tea mug in her bed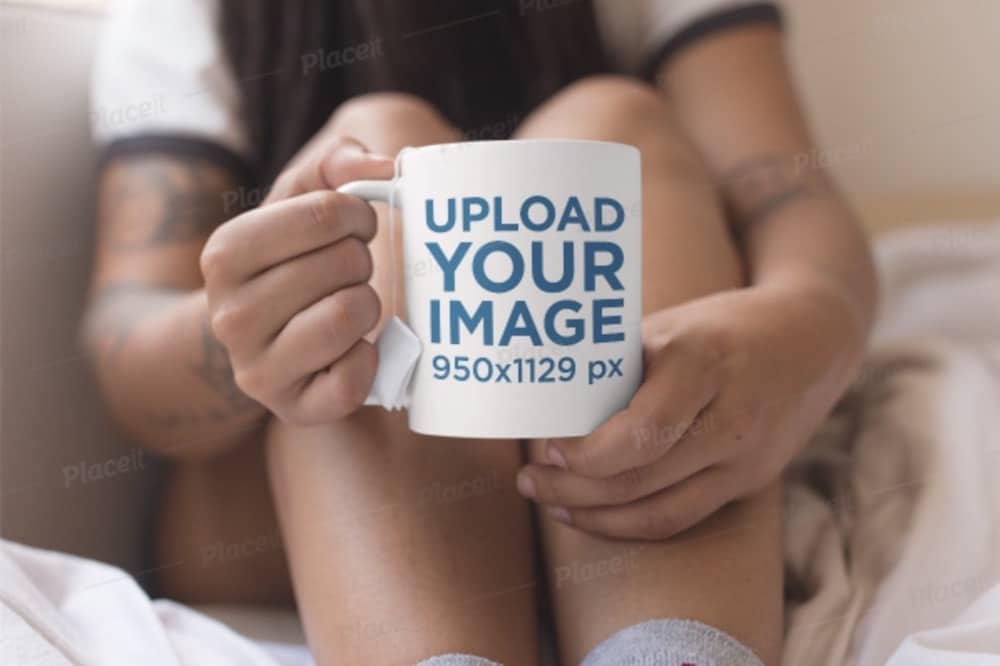 A woman getting cozy in the morning with her favorite tea. It's a pretty straight-in-your-face tea mockup with quick editing functionality to improve it in little to no time.
Also, even though the template is vertical, you can easily crop it afterward, making it square or horizontal, thanks to the high resolution.
If you are ready, the mockup is ready at times 10.
Price: $7.95
MORE INFO / DOWNLOAD
Best Tea Box Mockups
6. Tea dispenser box mockup

As you noticed by now, this is the most COMPLETE collection of tea mockups, covering everything for your convenience.
This beautiful tea box PSD mockup set consists of ten different files.
Along with the box, you can also design the tea bag, making a full-blown tea branding for yourself or your client.
There are also three textures, three layer styles and a 100% editable background. You. Are. In. For. A. Treat.
Price: $8
MORE INFO / DOWNLOAD
7. Tea box mockup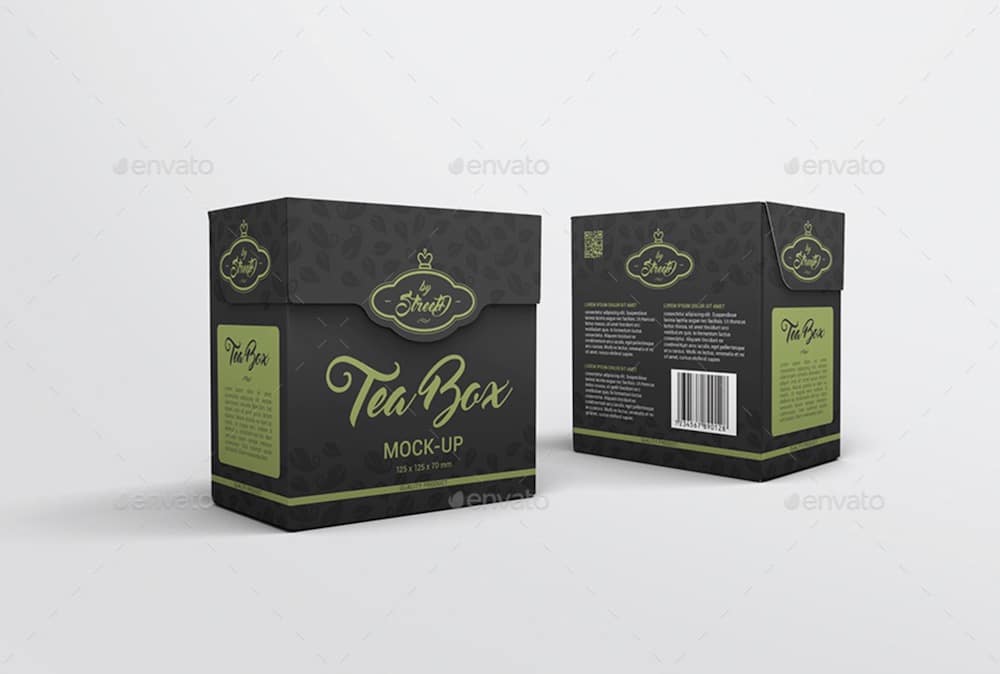 Grab this set of eight PSD files of tea box mockups and create a photorealistic presentation like a CHAMP.
Everything is editable and configurable to the very last detail.
You can modify the outside and the inside of the box, add any design you want, and improve the background – WHATEVER YOU WANT.
You also get both opened and closed box variations – just in case.
Price: $8
MORE INFO / DOWNLOAD
8. Wooden tea box logo mockup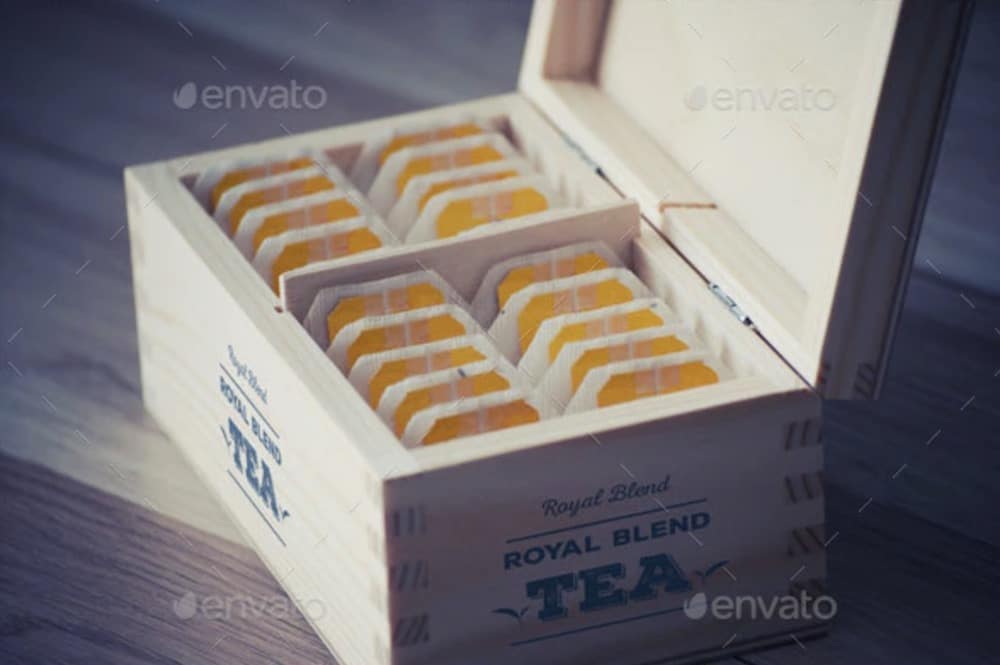 Here is something more on the EXCLUSIVE side – a wooden tea box mockup. I bet you did not expect this one in the collection.
I just wanted to try and collect as many different professional alternatives as possible for you.
You can edit the tea box and bags, making a spectacular outcome that will wow everyone. Note, there are nine PSD files at 3872 x 2592px.
Price: $7
MORE INFO / DOWNLOAD
Best Tea Bag Mockups
9. 7 x tea bag PSD mockup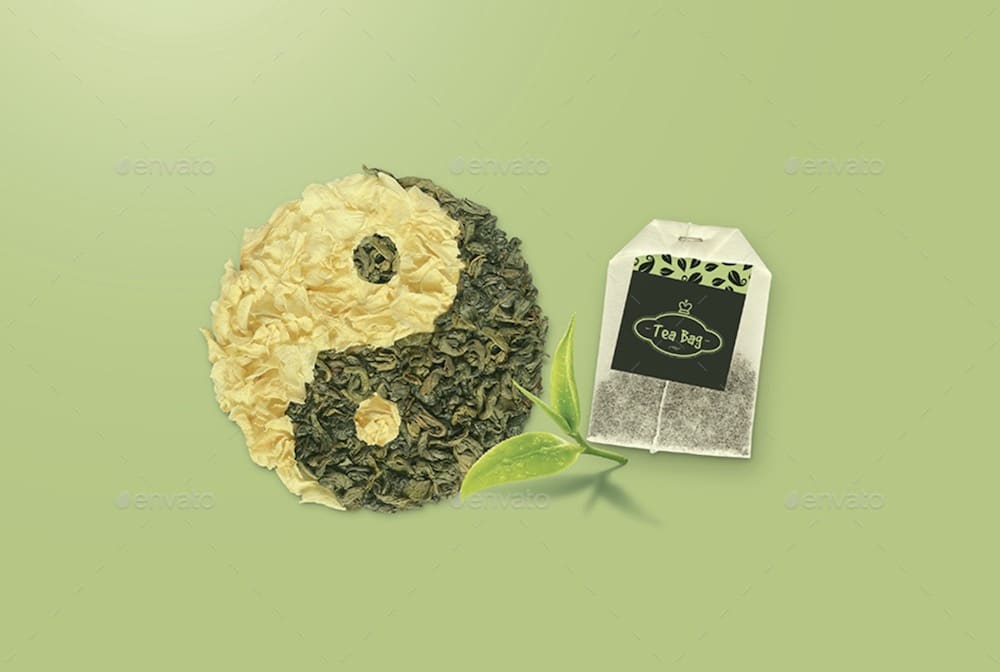 You definitely do not want to keep your tea bags bland, without branding. That's when this set of high-resolution PSD mockups comes into play.
With seven different designs, you can create multiple variations that you can use for social promotions and newsletters – you name it.
There's even a tea bag in hand mockup. Also, the bags come in two different styles, traditional and pyramid.
Price: $7
MORE INFO / DOWNLOAD
10. Tea bag + empty white label vector mockps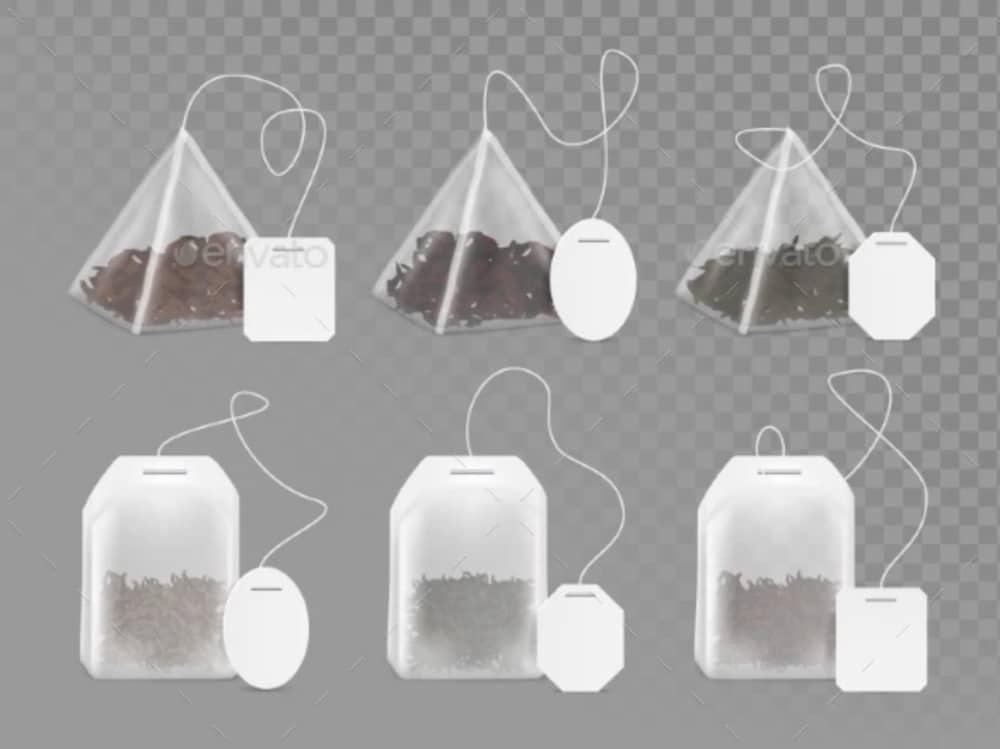 Just in case you need more variations of tea bags, here are two extra: pyramid and rectangle.
Some say a pyramid-shaped tea bag lets the water better absorb the herbbetter, but the rectangle style is the most widespread.
You can create a presentation of a tea bag with or without the herbs in it.
Price: $8
MORE INFO / DOWNLOAD
11. Realistic tea bag (white background)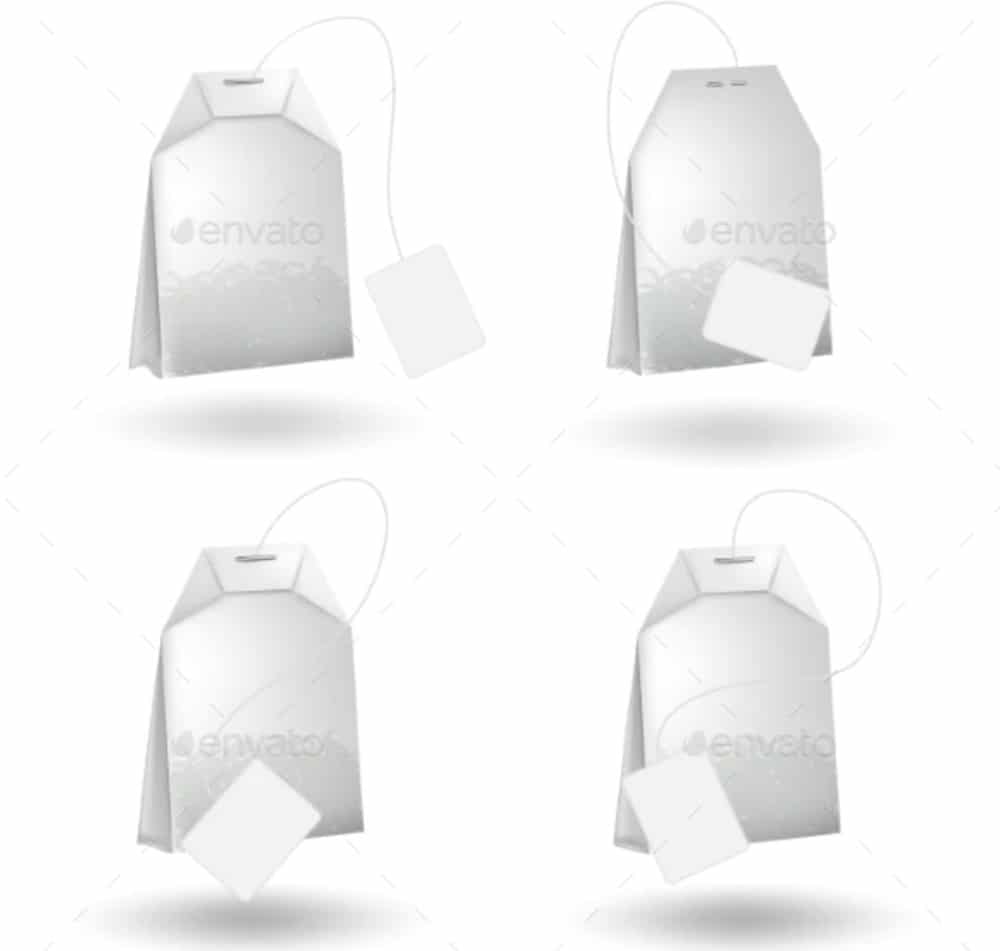 Just another simple vector tea bag mockup on isolated white background.
You get both JPG and EPS files in the kit, with a simple and user-friendly structure, so both beginners and professionals can get the most out of it.
Price: $8
MORE INFO / DOWNLOAD
Best Tea Cup Mockups
12. Mockup of a 15 oz mug with a tea infuser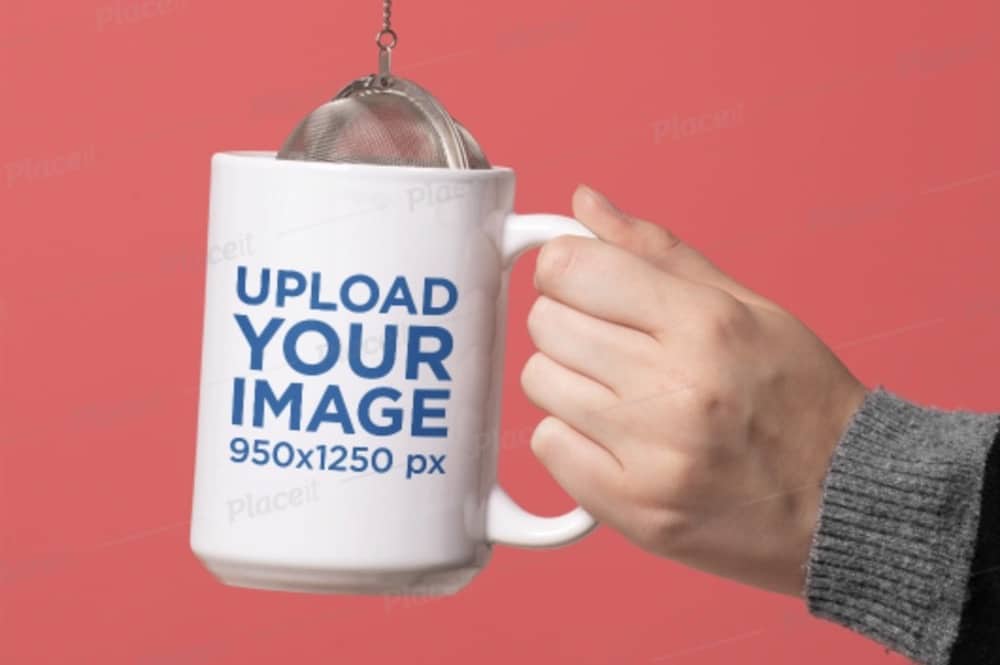 Tea cups can work for so many different objectives – and there's no need to use them just for the tea.
They even come in great as a present and, even better, for promotional material.
Here is a cool vertical mockup of a tea cup with an infuser both in hand and a solid background. That red backdrop definitely makes it all stand out even more.
Price: $7.95
MORE INFO / DOWNLOAD
13. Mockup of an 11 oz mug with hot tea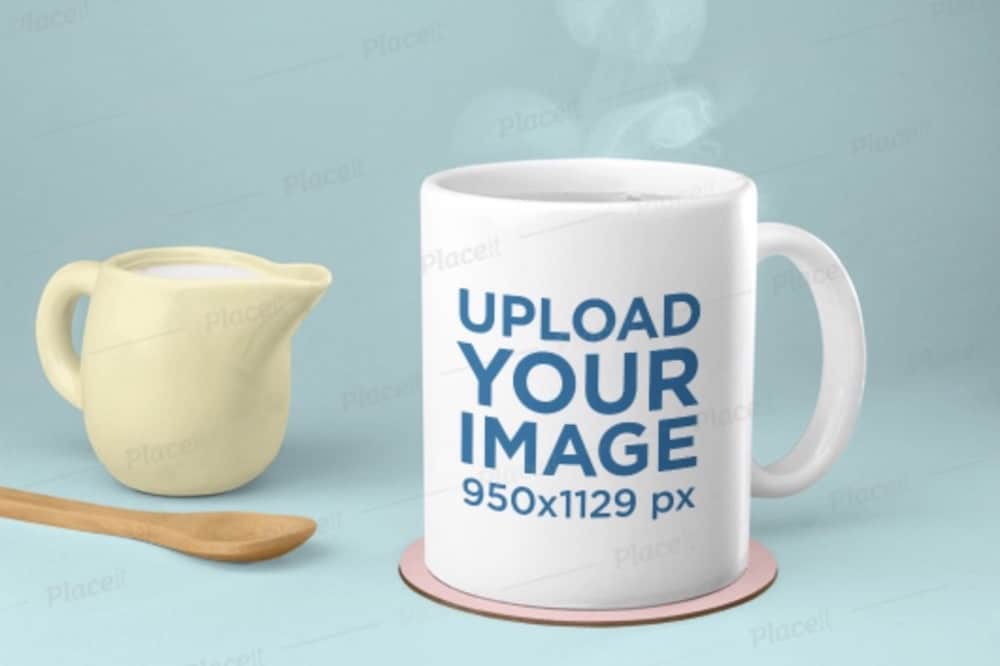 A highly photorealistic tea mug mockup with a wooden spoon a cup of milk. Anyone FANCY English tea?
This online mockup generator comes with four separate color pickers for mug, coaster, teapot and background.
With that in mind, you can make it as colorful as possible. Of course, don't forget to slide in your cup design (950 x 1129px).
Can it get any HOTTER?
Price: $7.95
MORE INFO / DOWNLOAD
14. Mockup of a tea cup in a tea set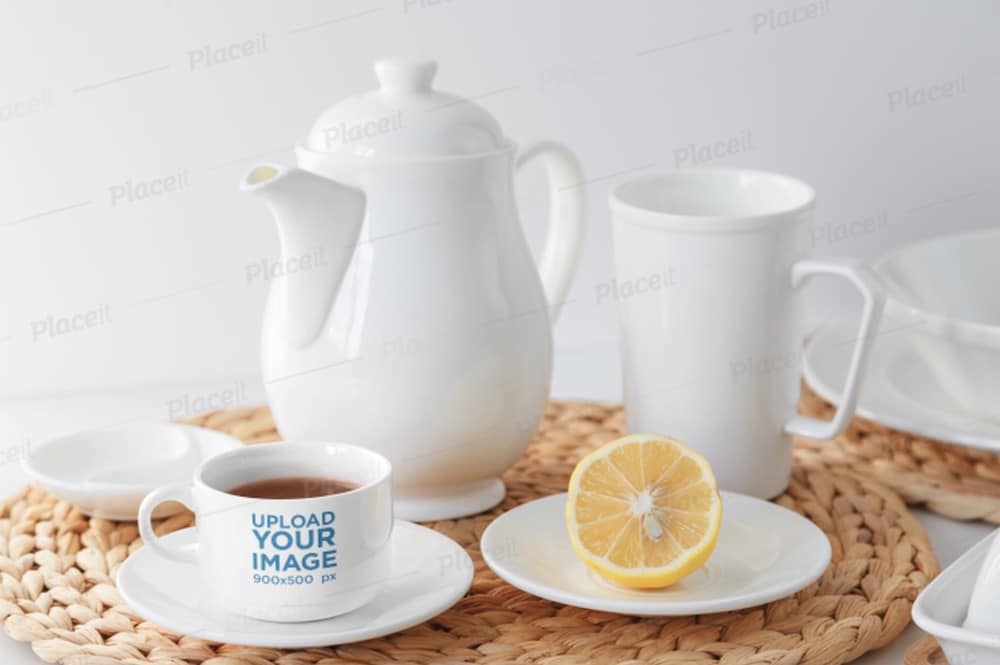 A beautiful and MINIMALIST tea set mockup with editable cup both with a color and a design.
As for the color, the generator allows you to change only the cup, not the platter.
Additionally, you can select any design you would like to add to the top from your device, crop and reposition it if necessary and call it a day.
Even though these are the main editing functions, you can still add some text to the template if necessary.
Price: $7.95
MORE INFO / DOWNLOAD
15. Mockup of an enamel mug with a tea bag label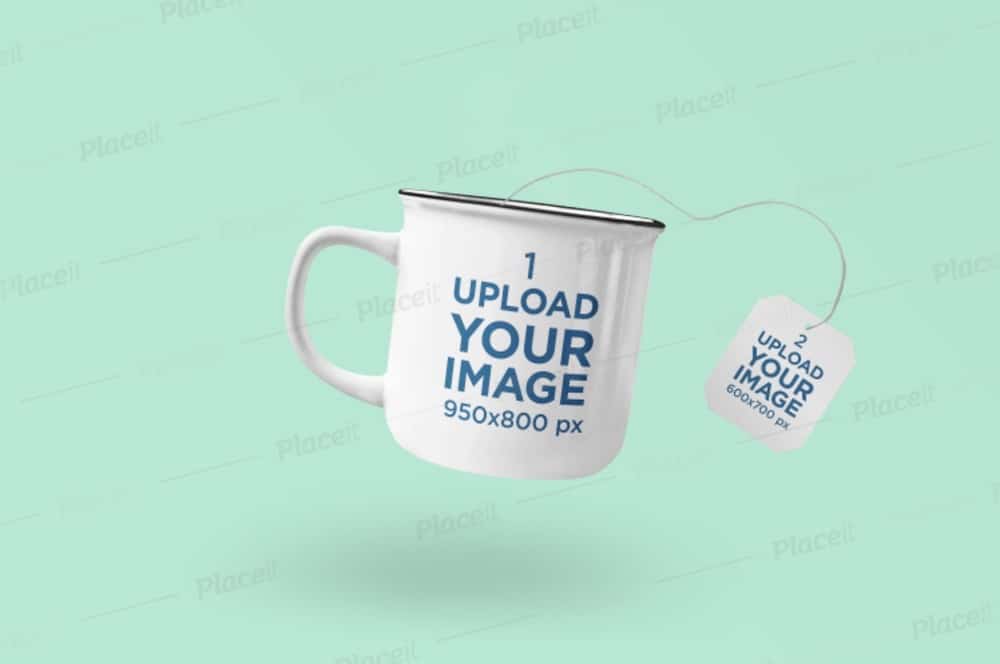 Here's a beautiful enamel mug mockup with a tea label and heaps of customization functions.
FIRST, you can improve both the mug and the label with your custom design and color choice.
SECOND, the mockup allows you to pick any background shade you want, even add floating tea leaves or something else to it.
And THIRD, there's also a possibility to include custom text.
Price: $7.95
MORE INFO / DOWNLOAD
16. Cup mockup of a bearded senior having tea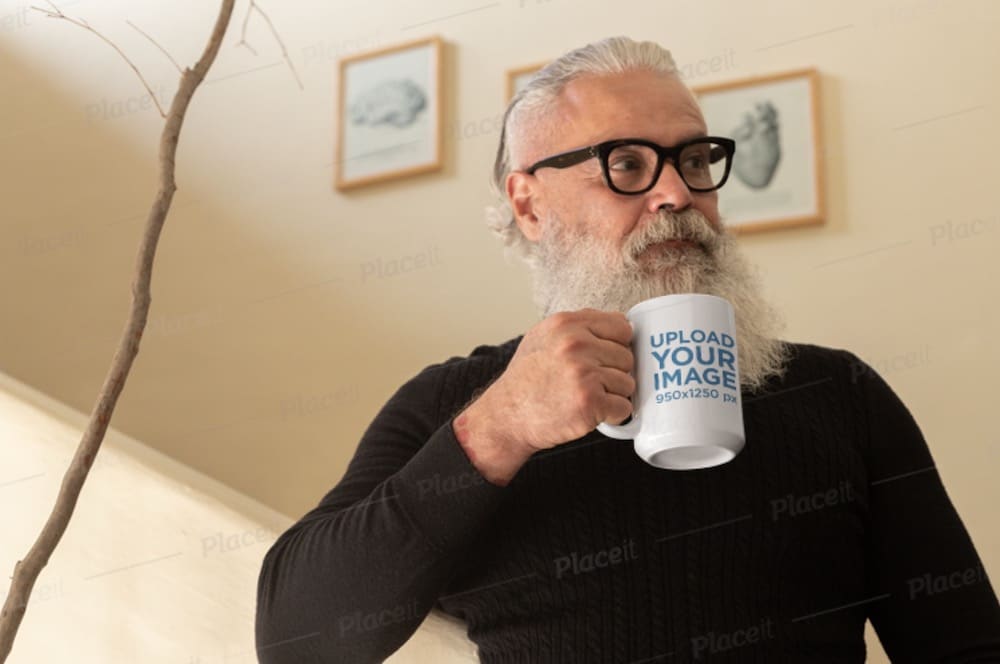 Here's a bearded senior with a tea cup in his hand, a black long sleeve and black glasses. This one appears extremely photorealistic and no one will even notice you are using a mockup.
Instead of doing all the work the hard way, grab an online mockup generator and save plenty of time and energy.
You can even test things first for free and go from there.
Price: $7.95
MORE INFO / DOWNLOAD
Best Free Tea Mockups
This collection of the best tea mockups wouldn't be complete without a few free alternatives.
Keep in mind, while some allow you to use them both for personal and commercial use, that's not always the case.
You better read the rules first to avoid any inconvenience.
17. Metallic tea jar PSD mockup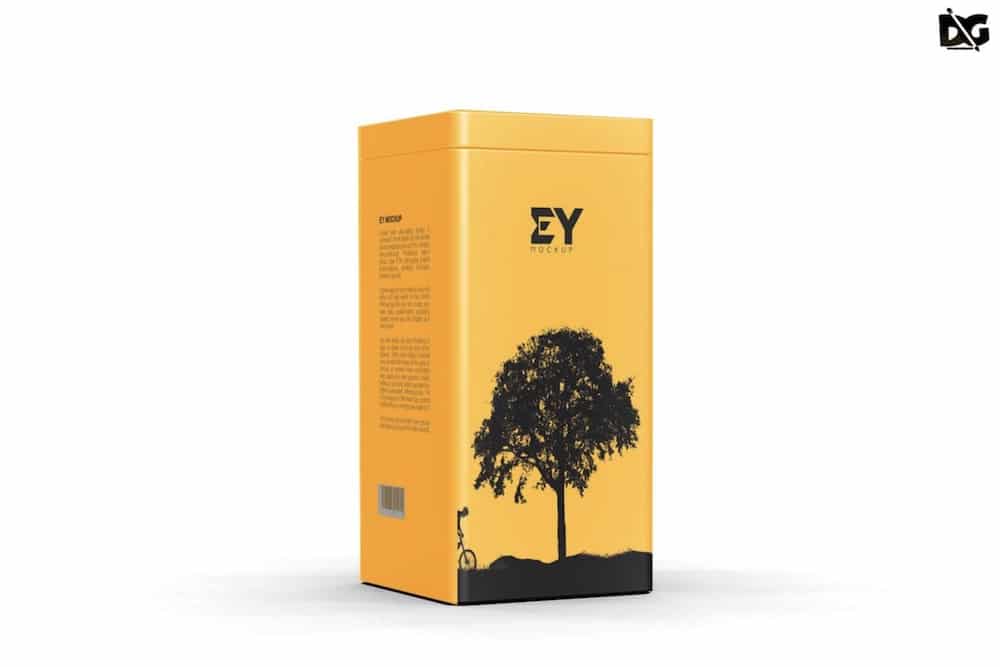 With an excellent appearance and great resolution, you can now take this metallic tea jar mockup to your total advantage.
It comes as a PSD file with a smart object, so you know improving it will be a little breeze.
Everything is editable, so there's no need to hold back – rather, go FULL-TILT.
MORE INFO / DOWNLOAD
18. Free tea session mockup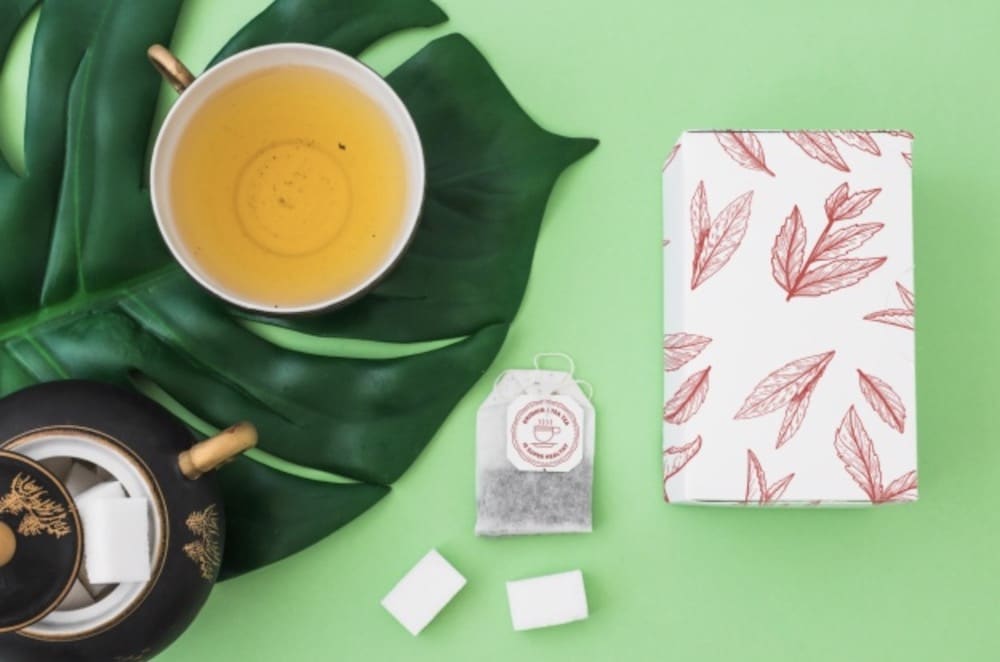 Sugar, a cup of tea, tea bag and tea box, that's all that comes with this free mockup.
You get a layered PSD file, which helps you locate different elements quickly for a swift customization process.
Create a tea session experience for everyone to enjoy with a mockup now.
MORE INFO / DOWNLOAD
19. Isometric tea party scene mockup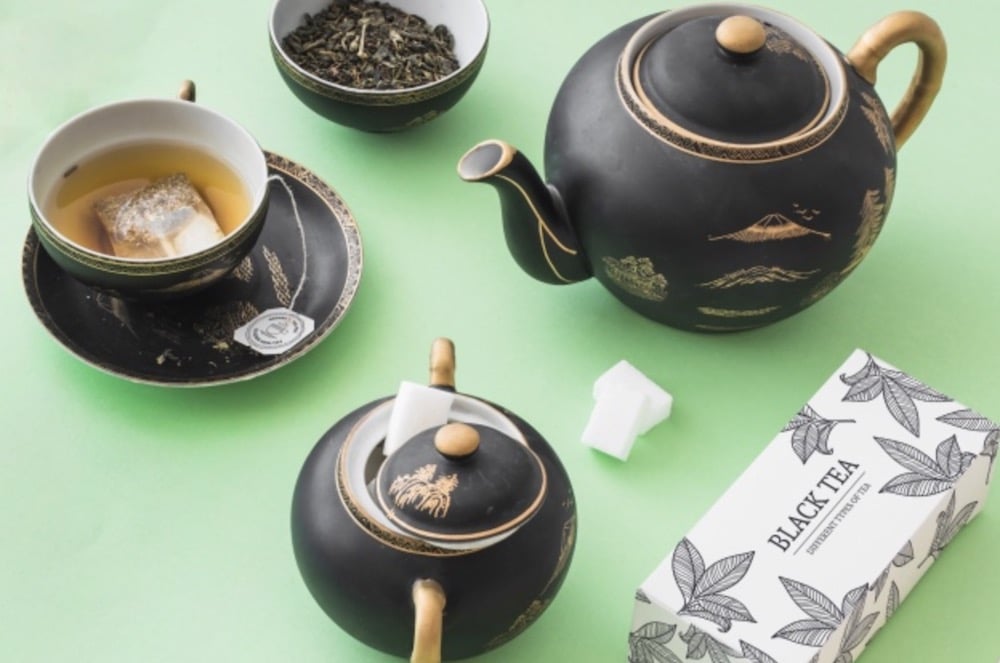 To some extent, this free tea mockup comes in a similar style to its predecessor with a few mods.
In short, if you like this one more, go for it – but you can also download both, customize them and then pick the winner. So. Many. Options.
MORE INFO / DOWNLOAD
20. Free tea packaging box mockup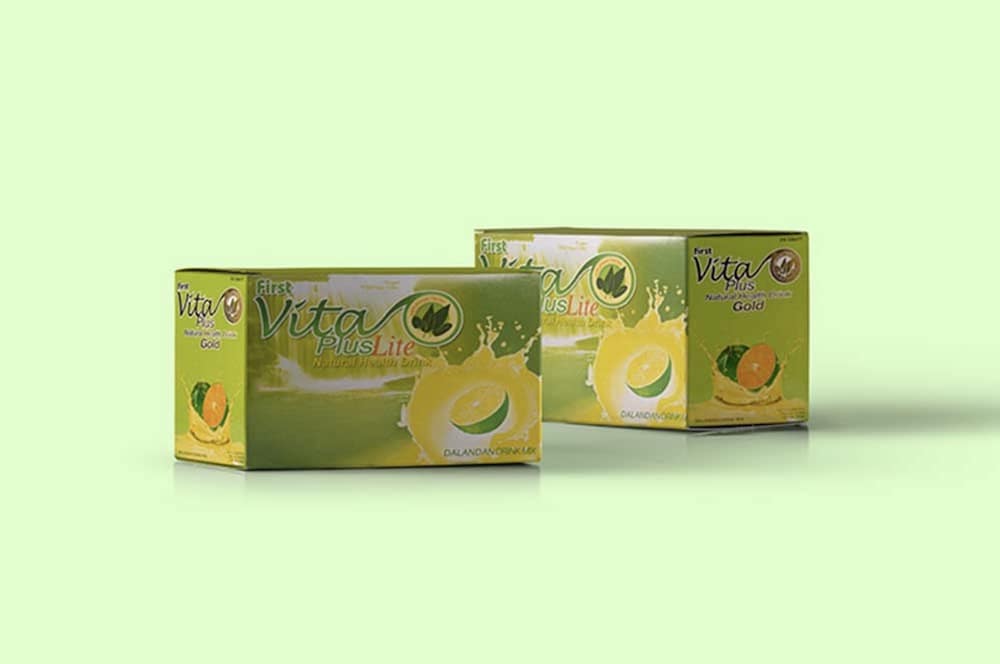 If you currently specialize in designing a tea box, here's a free PSD template that comes at a high resolution of 6800 x 5000px.
This mockup will present your design beautifully no matter how detailed it is – even when ZOOMING.
MORE INFO / DOWNLOAD
21. Tin box tea packaging PSD mockup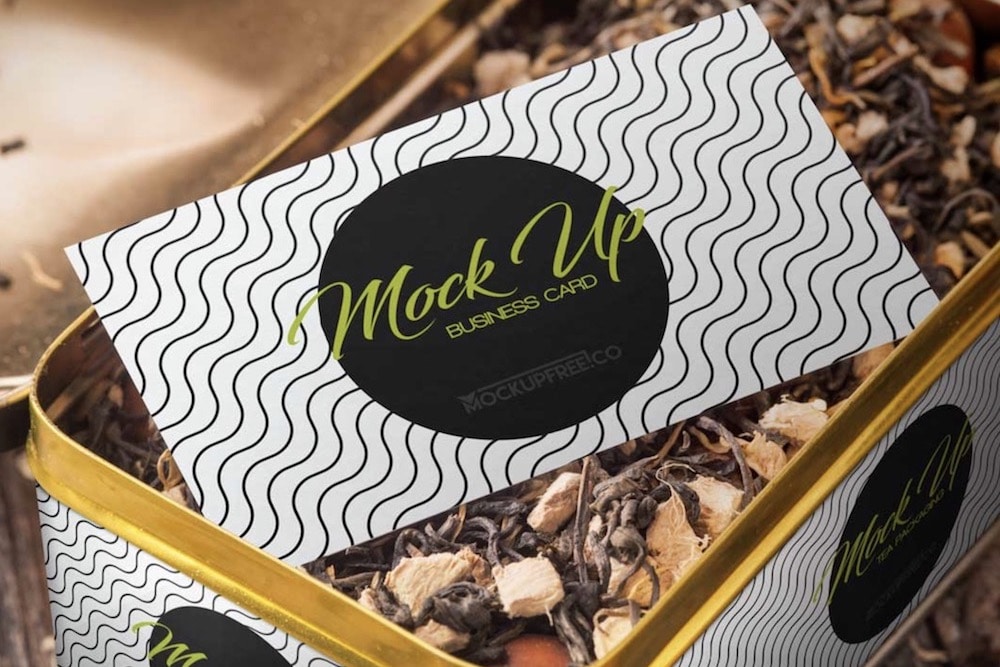 A mockup of a tin box full of delicious tea and a business card can now be yours free of charge.
Thanks to the large dimension (4000 x 3200px), this PSD file ensures great detalization, which will undoubtedly impress everyone.
You can now quickly modify the tin and the card thanks to the smart object functionality.
MORE INFO / DOWNLOAD
22. Free tea mug PSD mockup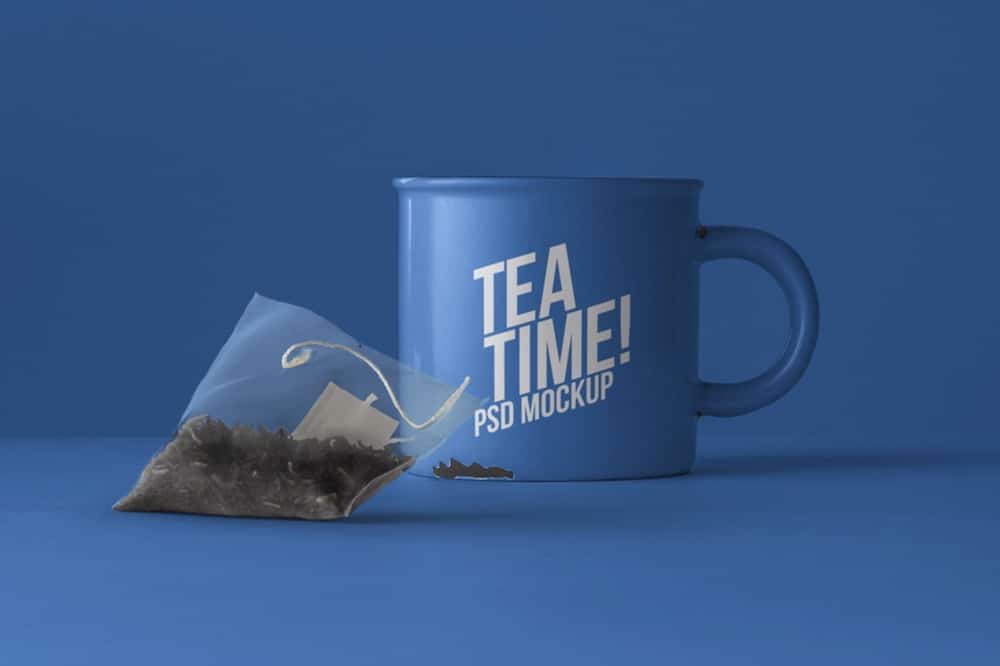 If enamel mugs are your favorite, here is the free mockup that allows you to design one in just a few clicks.
A predefined template, layered structure, and smart objects will take you little time to realize your idea.
There's also a tea bag, which only spices things up with an even more realistic appearance.
MORE INFO / DOWNLOAD
23. Free organic tea pack mockup in PSD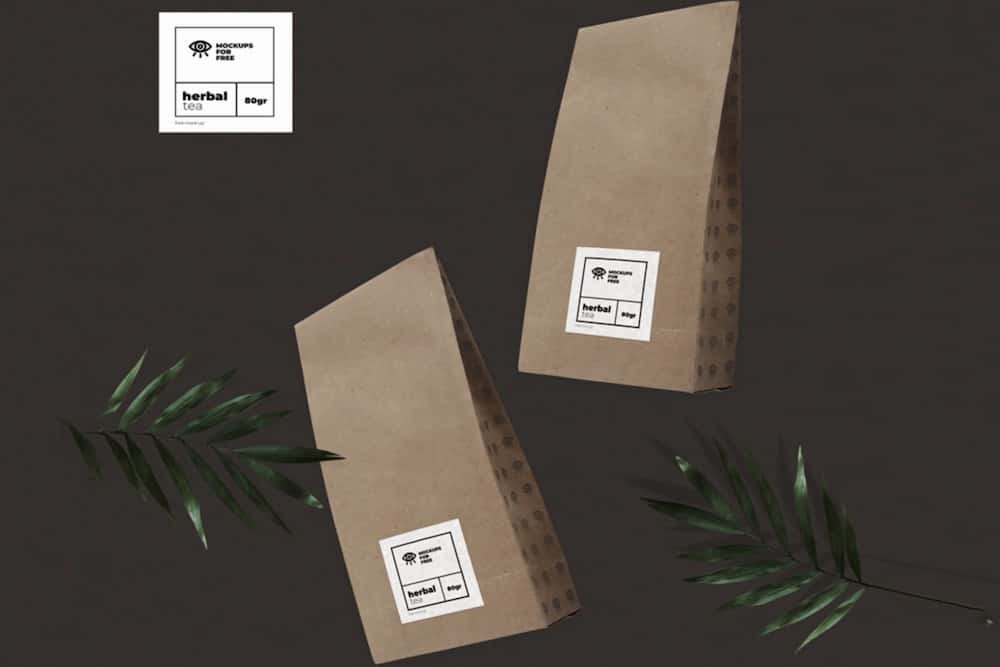 Since I haven't yet added an organic tea packaging mockup to this list, here is the free solution that will do the trick.
What's super awesome is that you get TWO SCENES instead of one.
You can use them to showcase both the front and the back design of the pack – even add a side design. By the way, the background color is adjustable, too.
MORE INFO / DOWNLOAD
How To Create A Tea Mockup?
I recommend using an online mockup generator if you want the fastest result.
It doesn't require software, and you don't even need any skills. It's all just a matter of some clicking – and having FUN.
After all the options I ever tested, Placeit is still my favorite platform.
4 Easy Steps To Make A Tea Mockup:
Step 1: Visit Placeit and use the search bar to find your perfect tea template for the project you're working on.
Step 2: Open it and import your design via the "insert image" button. A popup will open, allowing you to change the location and resize the design. Click "crop" when done.
Step 3: You can now activate other functions, like the color picker, using a different background and creating a text overlay (even a (custom) graphic!).
Step 4: Click "download" once done and your job is done.
While the process when using a PSD is equally simple, you still need Photoshop to make it happen.
First, open Photoshop and import the mockup.
Second, slide in your design via the smart object layer. It's only a matter of dragging and dropping it.
Third, benefit from the layered structure that allows you to customize and adjust the default settings however you want. Modify the background, the colors, the everything.
Fourth, save and download!
Easy, right?
::
Note: This article was originally published on April 26, 2021. But our team regularly reviews it and updates it with necessary improvements for accuracy.