Are you searching for the ultimate free and premium burger box mockups to create a tasty presentation?
The only thing that was continuously popping up in my mind was – FOOD – when working on this collection.
Okay, joke aside, I enjoyed picking free and premium boxes and packaging for burgers.
A. LOT.
However, I was unable to find that many mockups. These are the only ten that I used and would use.
But really, you don't need anything else.
Post contents:
These give you the freedom you deserve to create an impressive box design presentation.
(Easy-to-use and extremely photorealistic!)
Wow everyone with beautiful and mouthwatering food packaging.
Best Burger Box & Packaging Mockups
Note: I decided to add some close alternatives, like burger wraps and meal snack boxes, too.
1. Paper burger box PSD mockup set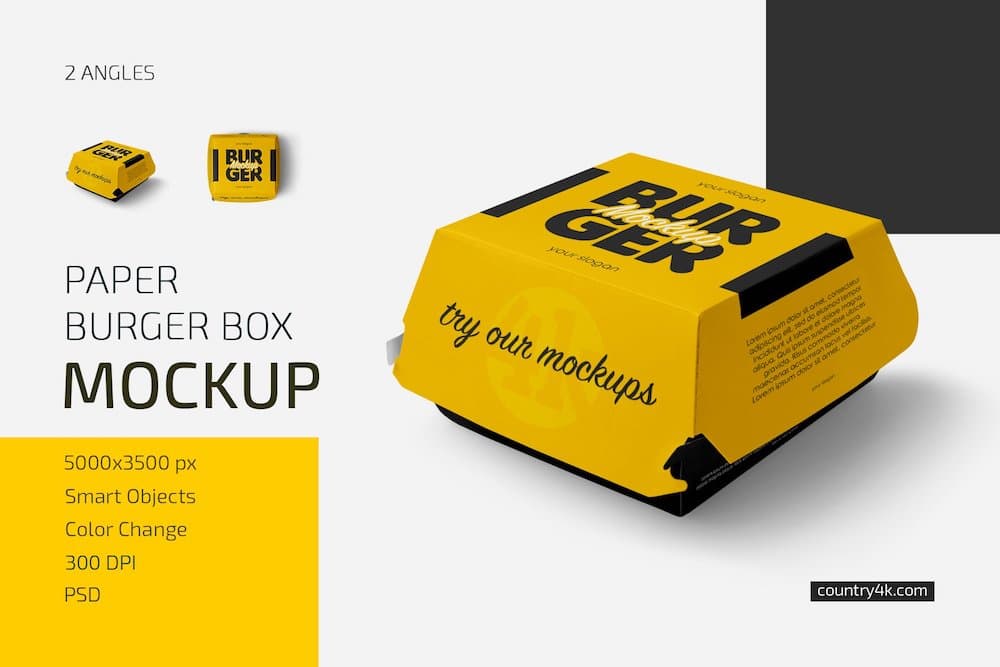 A simple, easy to use and life-like mockup of a paper box for burgers that comes at two different angles.
You get top and side views, which are 100% editable and customizable.
The high quality of each PSD file (5000 x 3500px) also ensures excellent design presentation even when zooming it in.
Moreover, you import the design via convenient smart objects, which even an utter beginner can successfully perform.
In other words, you only need the basic knowledge of Adobe Photoshop and you can create a desirable burger box presentation.
Ease of use & quality: ⭐️⭐️⭐️⭐️⭐️
Price: $10
MORE INFO / DOWNLOAD
2. Food tray carrier packaging mockup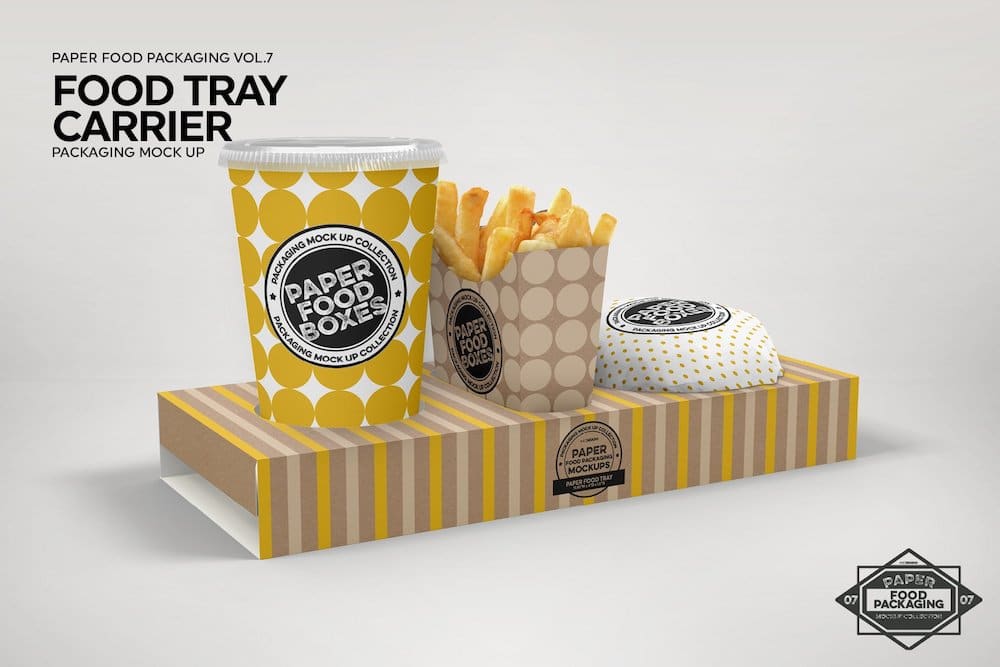 This is something a little different, but I thought it would still be an excellent inclusion in this list of the best burger box mockups.
The template features a paper food tray carrier for a drink, a pack of french fries and a paper-wrapped burger.
You can customize almost anything and everything, making it tailored to your or your client's branding regulations.
Keep in mind, you can also move and remove items, creating the combination that suits you best.
Moreover, you can even hide or show french fries. The dimension of the tray is 11.85″ x 4″ x 1.5″.
Ease of use & quality: ⭐️⭐️⭐️⭐️⭐️
Price: $10
MORE INFO / DOWNLOAD
3. Burger packaging mockup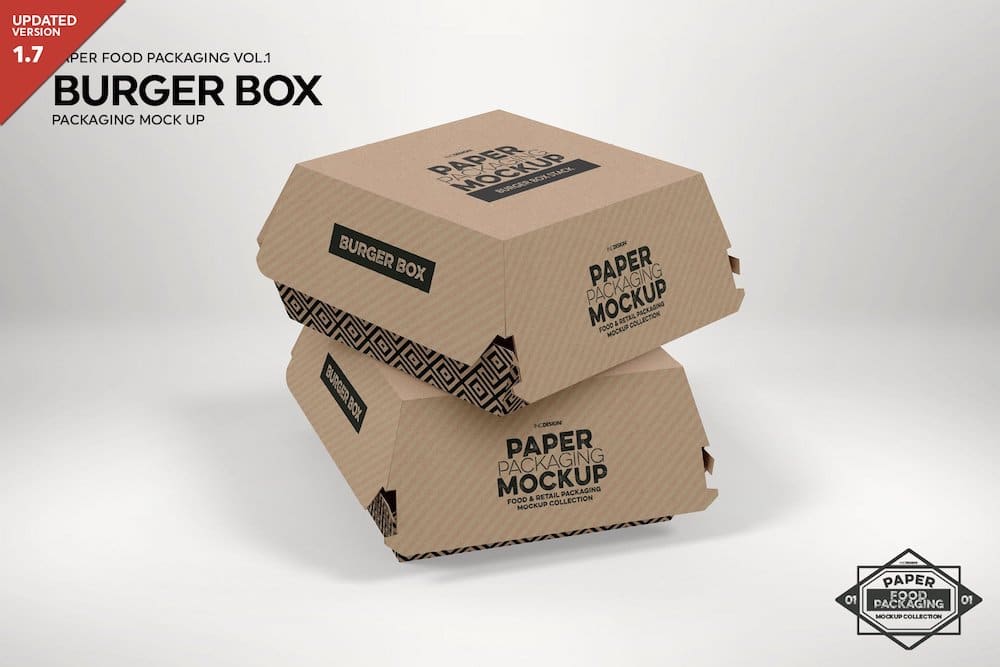 A highly photorealistic burger box mockup that works as a stunning and striking presentation of your design showcase.
You can even use it in your portfolio, share it with your client, push it on social media, whatever; the choice is yours.
The mockup set allows you to present one or two boxes, modifying both individually to your heart's content. You can also change the background or even go with a transparent approach.
Effortless customization, help guide and even author support are all available for your convenience.
But first, take a peek at the live previews and go from there.
Ease of use & quality: ⭐️⭐️⭐️⭐️
Price: $10
MORE INFO / DOWNLOAD
4. Burger box packaging mockup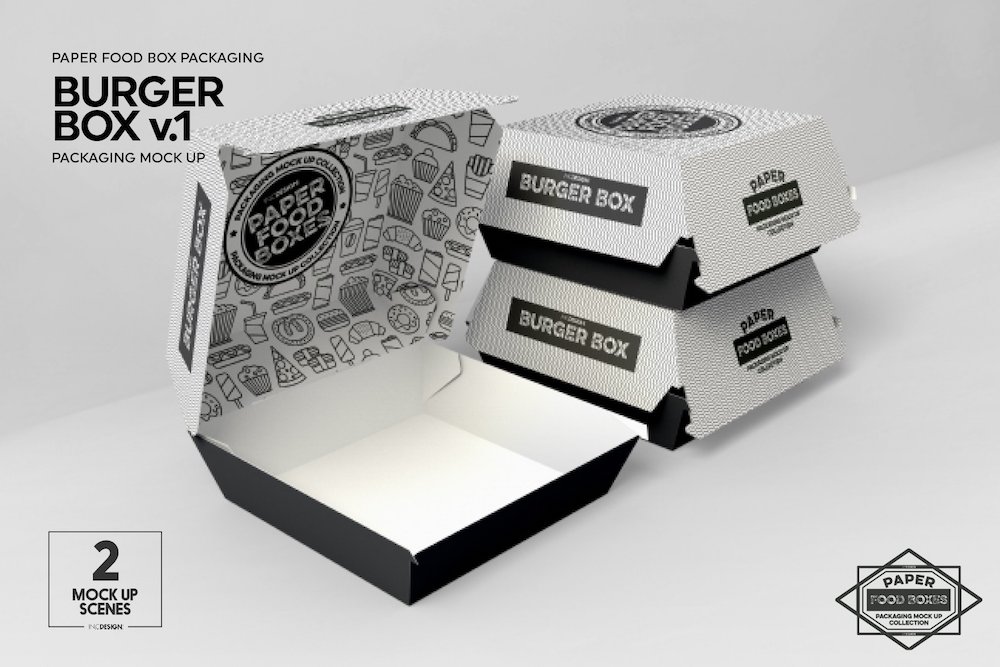 Another remarkable mockup of burger boxes from the same author as the above alternative. You will notice the similar style right away, just the angles are different.
On top of that, this set also features an open box, so you can style and beautify the inside with a custom design.
In total, you get two mockups of 5400 x 3600px with boxes that are 5.8" x 5.8" x 2.75" in size.
Keep things clean and minimal or make it engaging and vibrant – it's up to you; the mockup is quick to alter for fast results.
Ease of use & quality: ⭐️⭐️⭐️⭐️
Price: $12
MORE INFO / DOWNLOAD
5. Realistic burger box mockup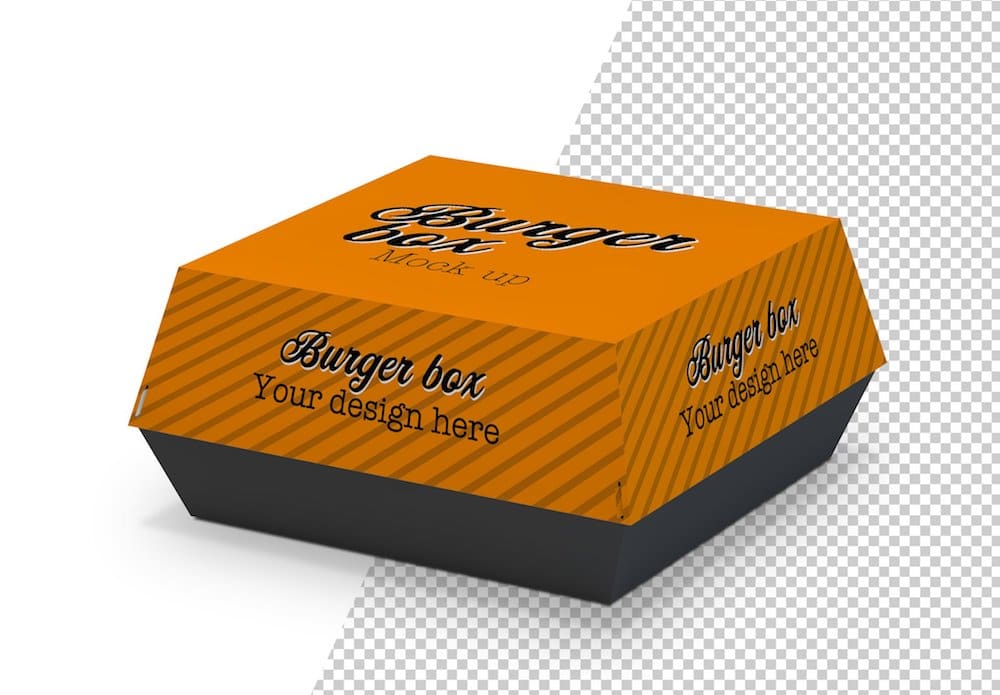 You better not miss this one if you are searching for a cheap burger box mockup. It is pretty basic but the template will still do the trick.
The PSD file also comes at a large size of 5000 x 2812px, so the outcome will be high-quality.
Not just that, but even if you have a very detailed box design, it will come to view with crystal clarity.
The mockup is also fully layered and equipped with smart objects, so improving it with your artwork will be as easy as pie.
Ease of use & quality: ⭐️⭐️⭐️⭐️⭐️
Price: $9
MORE INFO / DOWNLOAD
6. Meal snack food packaging mockup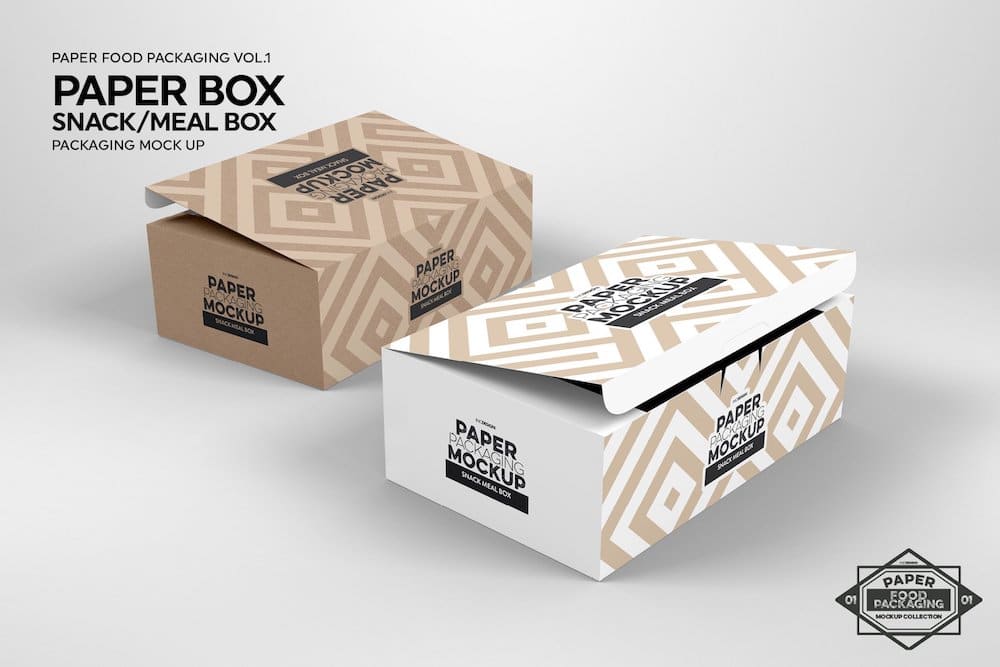 Here is something a tad different compared to a traditional burger box. Even though the main aim of this mockup are snack or meal boxes, you can still use it for a burger.
After all, why wouldn't you want to go slightly against the grain and do something different? Well, now you can.
You get a 100% customizable PSD file at 5400 x 3600px (300dpi) for a small investment. If you are new to working with mockups, you even receive a help file, which will help you get the gist of it.
Finally, the dimension of the box is 6″ x 4″ x 2″.
Ease of use & quality: ⭐️⭐️⭐️⭐️⭐️
Price: $10
MORE INFO / DOWNLOAD
7. Multiple food packaging mockups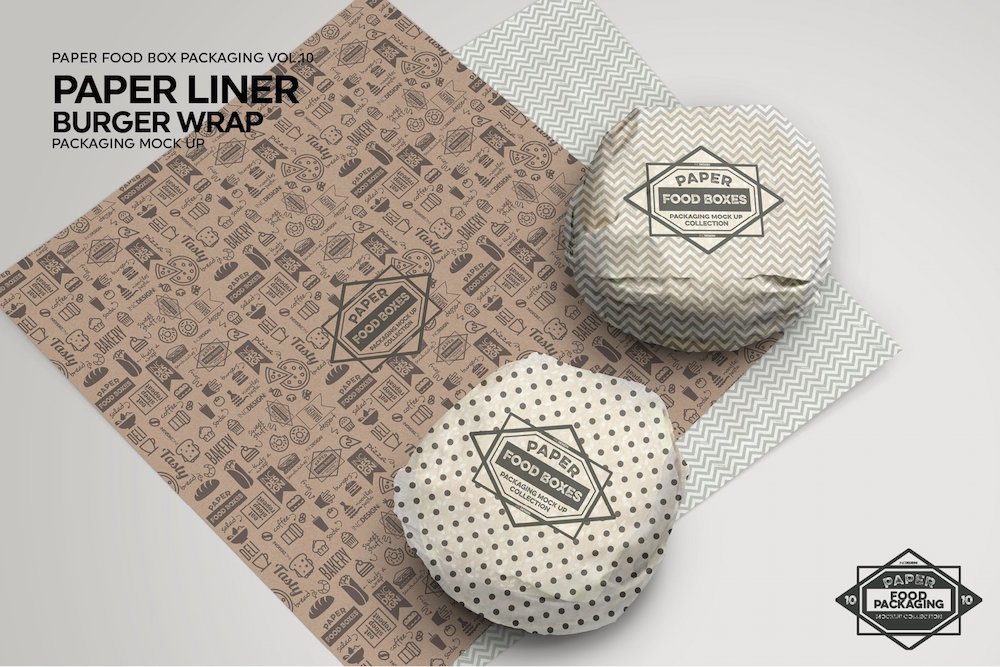 A full-blown collection of food packaging mockups that covers anything from sandwiches, burgers, tacos and wraps, to name a few.
You get a collection of ten high-resolution mockups in the kit , all easy to modify and edit to your liking. Speaking of editing, you can customize all the elements, making a 100% your version.
For burgers specifically, you can customize the paper, show/hide burger, show burger without the wrap and the list goes on.
You can also work with different liner designs and add an optional background image. The advantages are many, so play with the possibilities and create a top-class outcome now.
This big set also works great if you need fast food mockups when working on branding.
Ease of use & quality: ⭐️⭐️⭐️⭐️
Price: $25
MORE INFO / DOWNLOAD
8. Pizza, burger, burrito, sandwich packaging mockups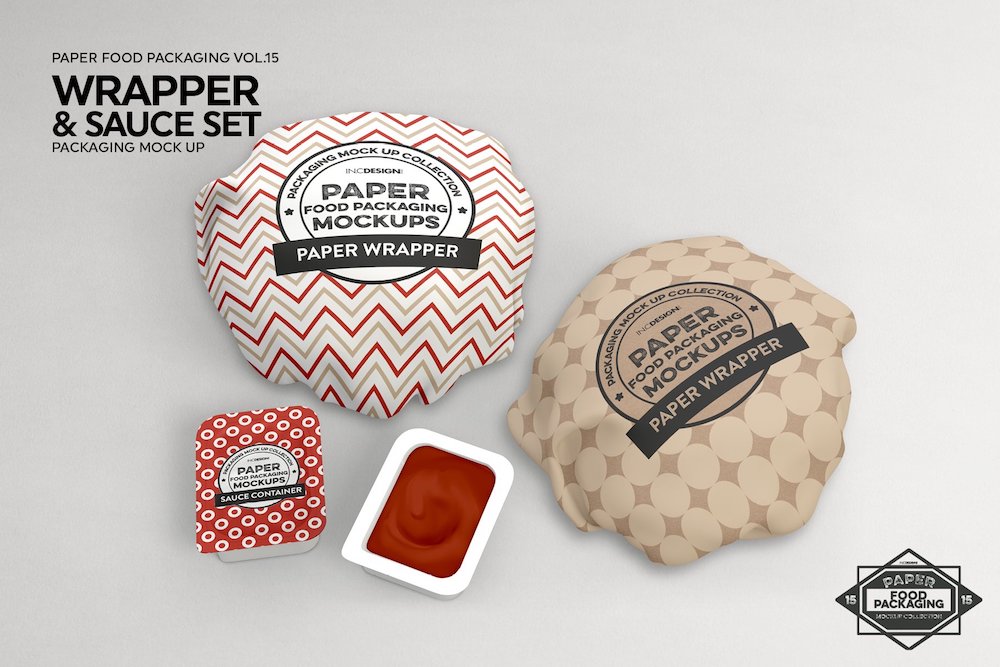 Another massive bundle of goodies that you can use to present your food packaging design in the best possible way.
Similar to the previous one, just that this one offers many different items, like pizza, take out cutlery, cup currier and more. (It also works as a bundle of food delivery mockups.)
In total, you get nine PSD files, all with smart objects for almost instant improvements. Every file is of 5400 x 3600px dimension, ensuring outstanding quality even if creating a close-up view.
Start with the right foot forward, import the mockups into Adobe Photoshop and have fun designing photorealistic burger wrapping.
Ease of use & quality: ⭐️⭐️⭐️⭐️
Price: $25
MORE INFO / DOWNLOAD
Free Burger Box Mockups (PSD)
9. Free customizable burger box mockup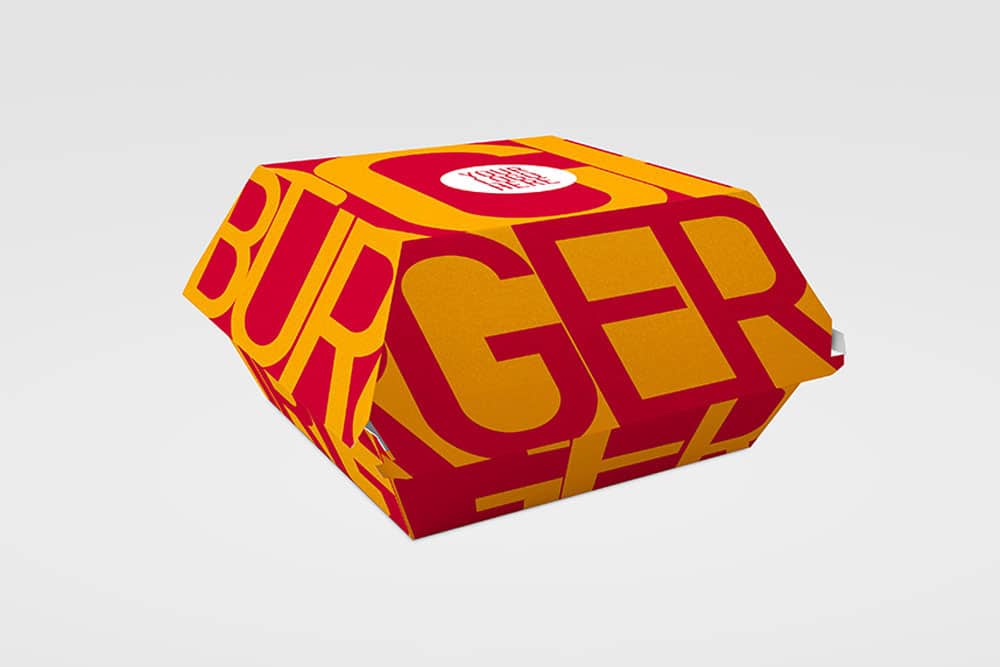 If you are particularly searching for free burger PSD mockups, here are neat alternatives that will do the trick.
Even though a free solution, this particular template still comes at a very high resolution with fully editable box sides. Style them however you want and create a salivating outcome.
The PSD file is fully layered and decked out with smart objects for quick design inclusion.
For a free mockup, it still comes at a large 5000 x 3980px dimension.
You can download it with a hit on the button and enjoy all its perks right away.
Ease of use & quality: ⭐️⭐️⭐️⭐️⭐️
MORE INFO / DOWNLOAD
10. Burger packaging PSD mockup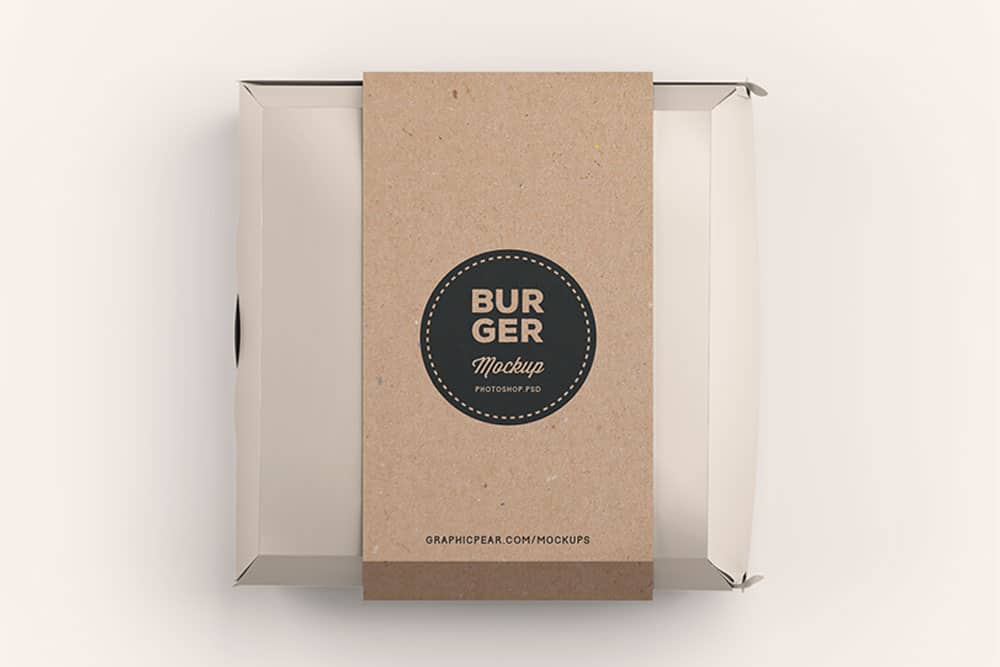 Even though the size is more limited when it comes to this next burger box mockup (2500 x 2000px), the appearance is very premium-like.
The PSD file features a top view of a burger box, which you can enrich with your custom branding and logo easily and quickly.
The box, the label and the background are fully configurable, so you have nothing to lose yet all to gain.
With a few quick tweaks, you can present your burger box design in the best and life-like way that will grab everyone's attention.
Beginners and experts will witness a remarkable result in little to no time.
Ease of use & quality: ⭐️⭐️⭐️
MORE INFO / DOWNLOAD
4 Key Features Of A Great Burger Box Mockup
It's important to understand the key elements of a great burger box mockup, especially if you're a beginner.
And these were also the features I used during testing free and premium mockups for this list, so you don't have to.
1. Resolution
One of the most important factors of any mockup is its resolution. This is the first thing I check.
Remember, a premium mockup needs to feature a lot higher resolution than a free one. But more and more freebie authors pay extra attention to offering high-quality stuff – even if it's free.
I follow the rule of skipping any pro mockup that's below 2000px wide.
2. Customization
Customization is the second thing that will help you make the best burger box mockup presentation.
Whether you're opting for an online mockup generator or a PSD file, it needs to have functions that allow quick editing.
This saves you a lot of time, even if you want to create a bunch of variations that you'll later compare with your client to make picking the winner easier.
3. Views/angles
This is a huge one, but it's more related to the premium mockup.
Instead of picking a mockup with only one view, look for such that offers at least two or more angles.
This allows you to create a full-blown presentation of a burger box (top, side and bottom views) easily.
Sometimes, even a free mockup has multiple views, but that's rare.
4. Organized layers (in PSDs)
An organized PSD file with a great layer structure is a must for beginners.
But it's also very handy for pros because it saves so much time.
You can quickly locate the burger box section you'd like to customize and go from there, section-by-section, element-by-element.