Let me tell you how we came up with this list of fast food packaging mockups.
There's this local fast food restaurant that recently opened. If you'd only see their branding identity.
Pardon my french, BUT it sucked!
We decided to do the following.
Go home. Build a new branding identity for him. Use mockups. Create realistic presentations. And send it all to the owner.
FOR FREE. (Yes, we still do that.)
It worked.
He hired us, and the rest was history.
Since we were left with all these mockups, we decided to help you save time and energy when going the extra mile with YOUR packaging presentation.
TABLE OF CONTENTS:
Enjoy.
Best Fast Food Packaging Mockup Generators
If you DON'T feel like using Photoshop, these are the mockups that will do you wonders.
Each generator costs only $7.95 (or opt for monthly ($14.95/month) and yearly ($89.69/year) subscriptions).
(Is making a mockup without Photoshop possible? Yes!)
1. Customizable pizza box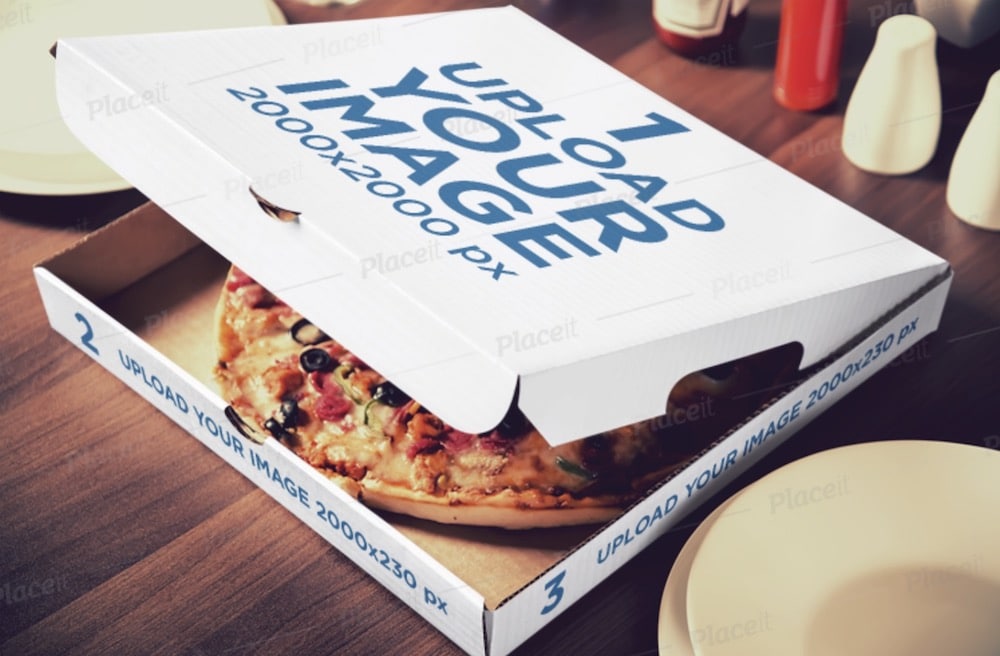 As one of the most popular foods on the planet, you'll definitely need a pizza box mockup some time in your design career. You can now save yourself heaps of time with an online generator.
ANYONE can use it!
It even allows you to add designs on the sides of the box, not just the top.
Get as creative as you want, change what you want and create an engaging outcome.
MORE INFO / DOWNLOAD
2. Instant noodle soup label mockup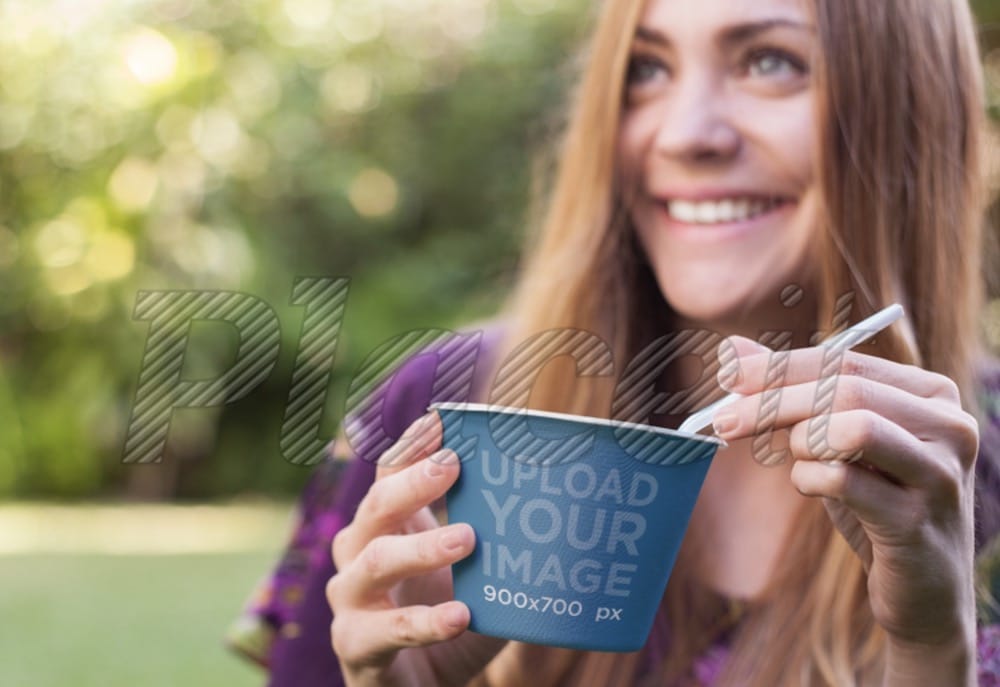 Design an instant noodle/soup bowl with this highly photorealistic mockup.
Even though fast food may not be considered healthy, you can offer noodles and soups as a healthy alternative.
Everyone seems to be going HEALTHY lately. And you?
Anyway, the food packaging mockup is all yours, with a click on the button.
You can even start without creating a free Placeit account.
Create first. Download second.
(But I recommend creating an account first for a smoother workflow.)
Note: You may also be interested in my list of the best lunch box mockups.
MORE INFO / DOWNLOAD
3. Takeaway coffee cup and paper food box mockup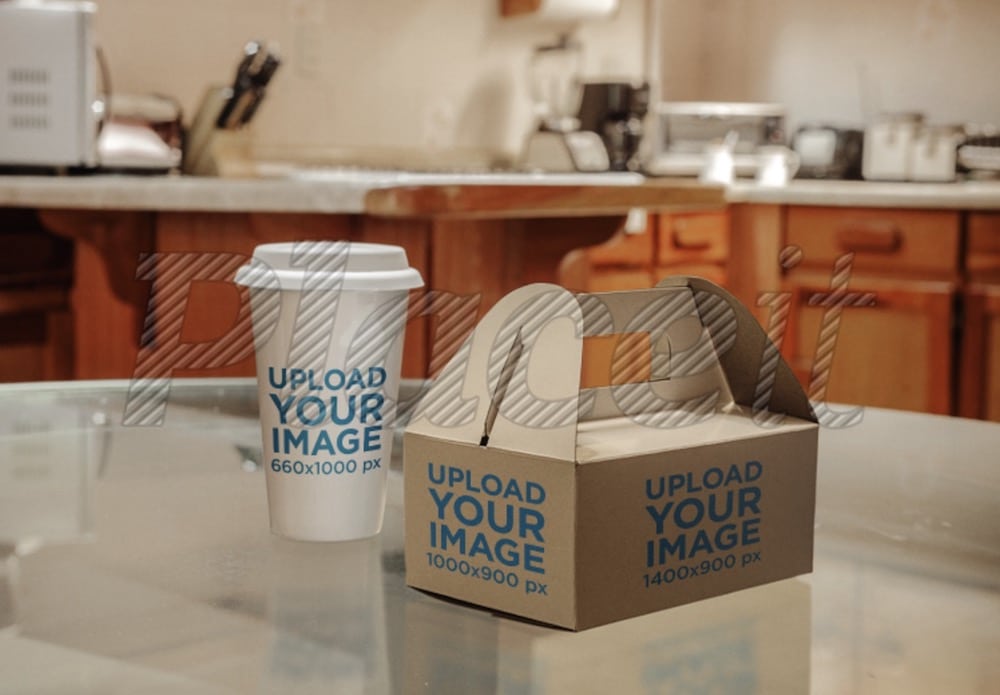 Even though this may not be an exclusive fast food packaging mockup, I think it will come in handy for many. It sure did for us!
It's for a takeaway branding where you can create your coffee cup and a paper box.
You can separately import images. One for the paper cup and two for the box.
Additionally, you can also modify the colors of both items in just two clicks.
And to take it a STEP FURTHER, don't forget to activate the "add text" function.
MORE INFO / DOWNLOAD
4. Two fast food box packaging mockups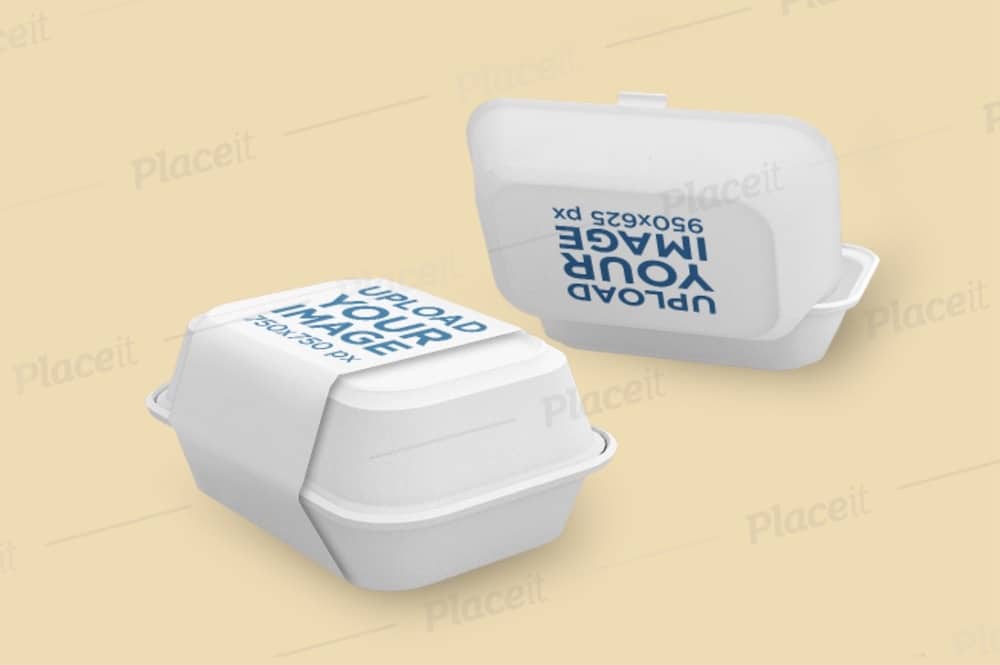 Two containers for fast food packaging await you when you opt for this mockup.
Since it's a generator, you only need a Wi-Fi connection, a computer and your favorite web browsers.
In fact, a mobile device will do the trick, too.
You can now see your designs for the box and the sleeve/label "live" without a sweat.
Change the colors of the boxes and the background. You can also make the backdrop transparent (like I did).
LITTLE work for an IMPRESSIVE result.
MORE INFO / DOWNLOAD
5. Food delivery packaging mockup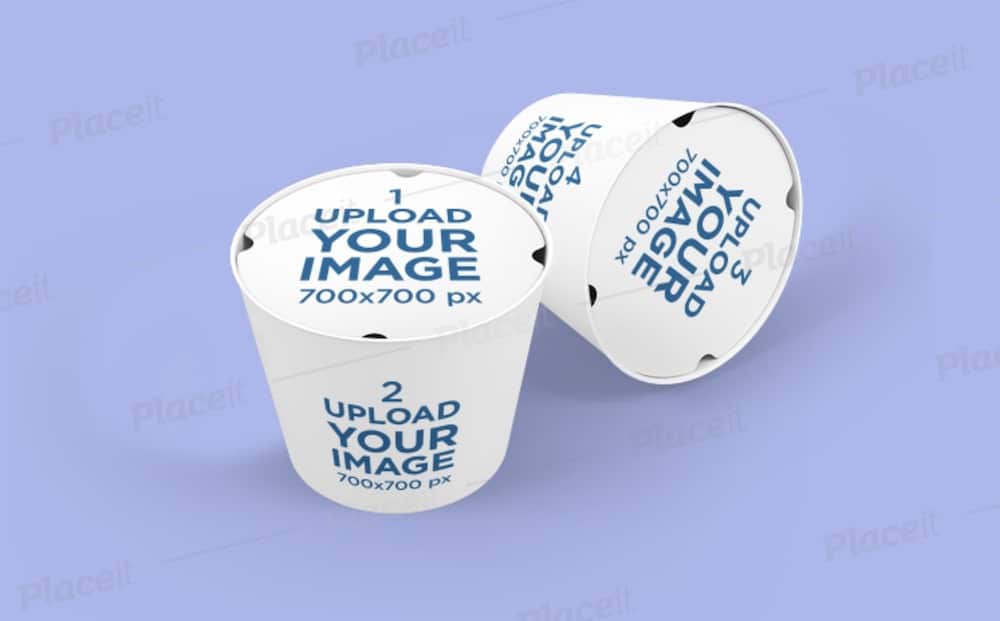 A convenient food delivery mockup of two bowls you can use for soups, noodles, rice, and salads.
It doesn't take much to improve the default settings according to your liking.
Anyone. CAN. Do. It.
To see how much your rock at designing stuff (even as a newbie), visit the mockup and put all the features into practice right away.
You can add images to caps and main compartments, even change the colors of each.
You can put together multiple variations just to see which works best.
MORE INFO / DOWNLOAD
6. Fast food paper bag mockup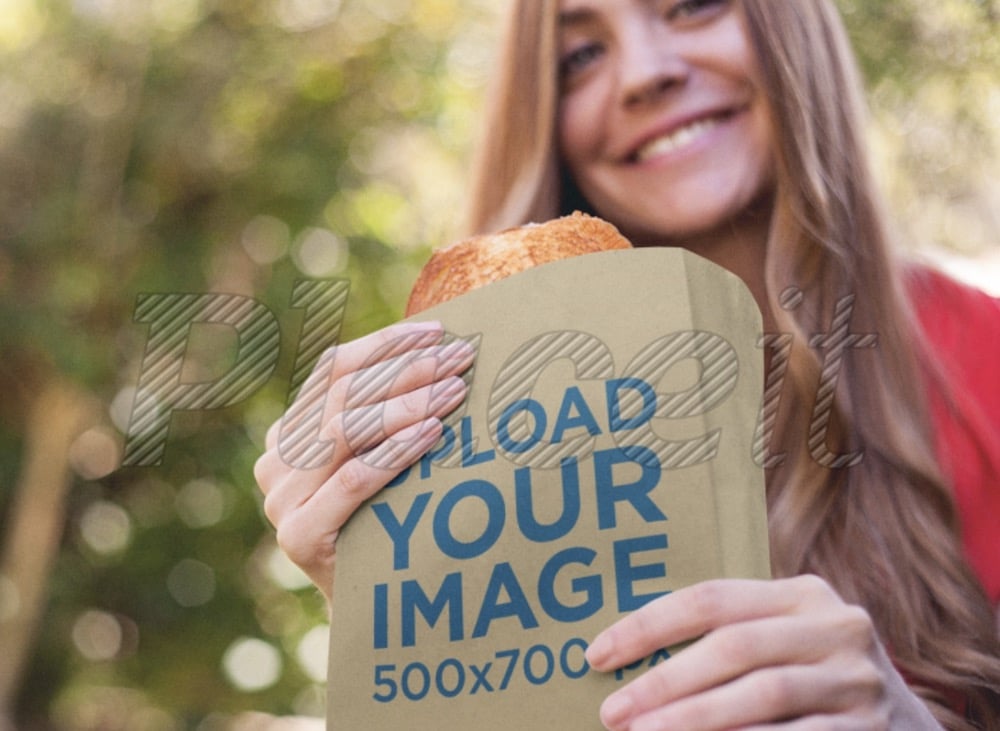 This is a SUPER versatile alternative compared to other fast food packaging mockups.
Even though it features a sandwich, you barely notice it so can work for other occasions efficiently.
That could be all sorts of things fast-food-related.
When it comes to customizations, you can change the color of the paper bag and import any image you want. The available working area is 500 x 700px.
You can also activate the text function to add any message you want.
MORE INFO / DOWNLOAD
Lack inspiration? You're not the only one.
We also needed to check some other fast food projects that helped us expand our perspective THROUGH THE ROOF. (Behance is an excellent source for that.)
7. Chinese food takeaway packaging mockup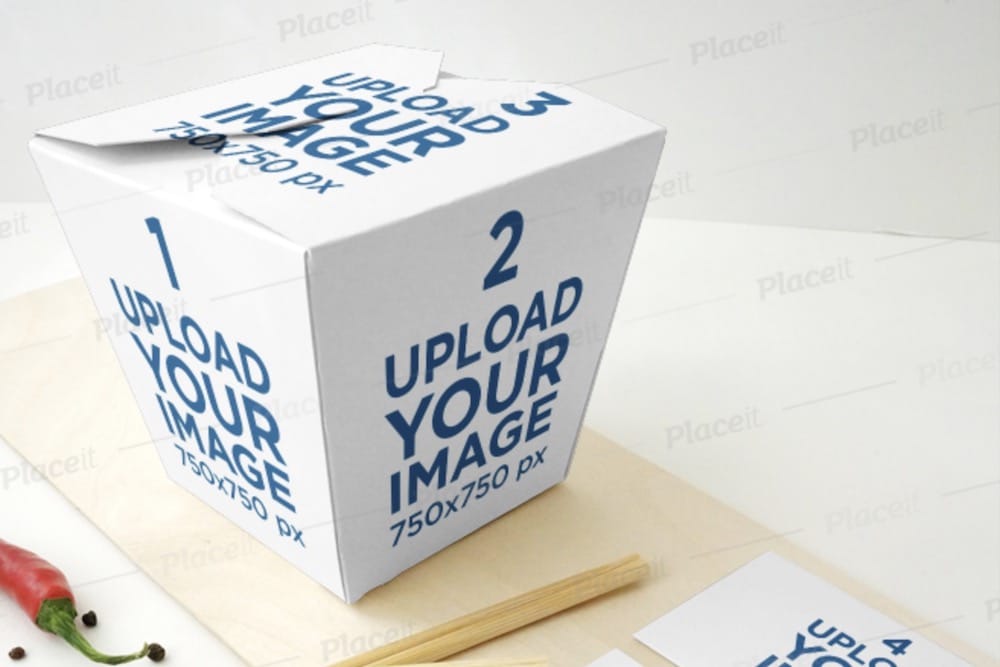 This one time, we put this mockup to use when a Chinese takeaway owner contacted us for branding.
What's cool, you also get to modify the cards along with the food box.
The final presentation will be PHENOMENAL. And you only really needed to spend a few seconds working on it.
You can decorate the top and the sides of the box, even change the color.
And you can display front and back designs when working on business cards.
What a winner!
MORE INFO / DOWNLOAD
8. Mockup of two food delivery cups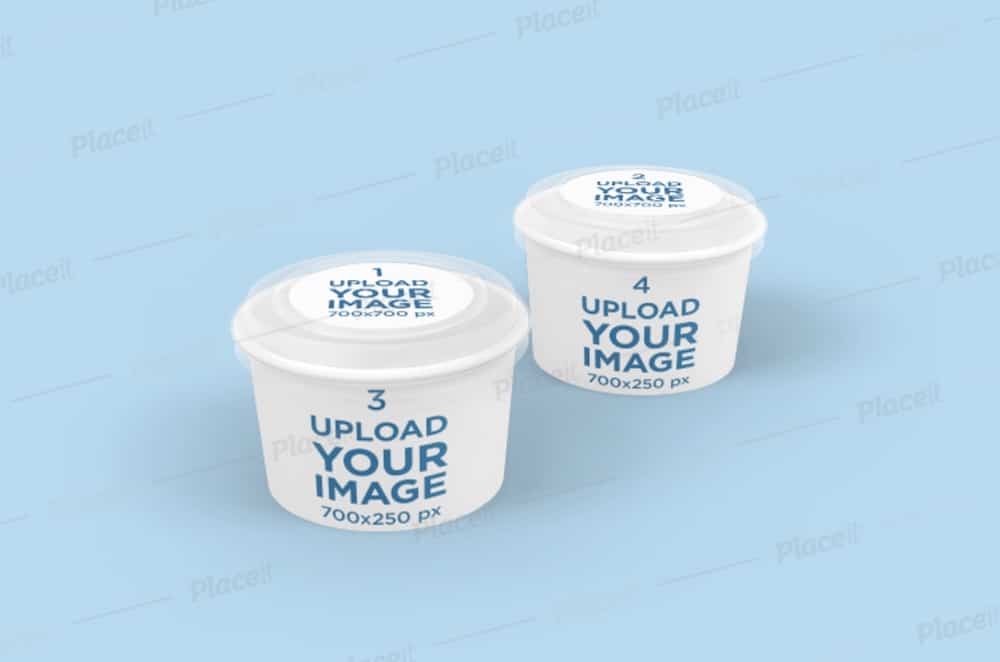 Two containers ideal for food delivery, but any fast food stand or restaurant can greatly benefit from them, too.
Salads, rice dishes, even desserts, you can store a ton of different stuff in these.
Since there are two available, you can use one for the front and one for the back design. Eventually creating a full wrap.
OR.
You can create two completely different cup designs. The choices and options are MANY for your convenience.
There are four chances to add designs and four color pickers for the two items with an additional background editor.
A. Lot. Of. Stuff.
I like it.
MORE INFO / DOWNLOAD
Best Fast Food Packaging PSD Mockups
Even though we opt for online generators first, they don't always fit the project.
Thus, we unlock ourselves complete creative freedom with PSD alternatives.
9. Fast food box and coffee cup mockup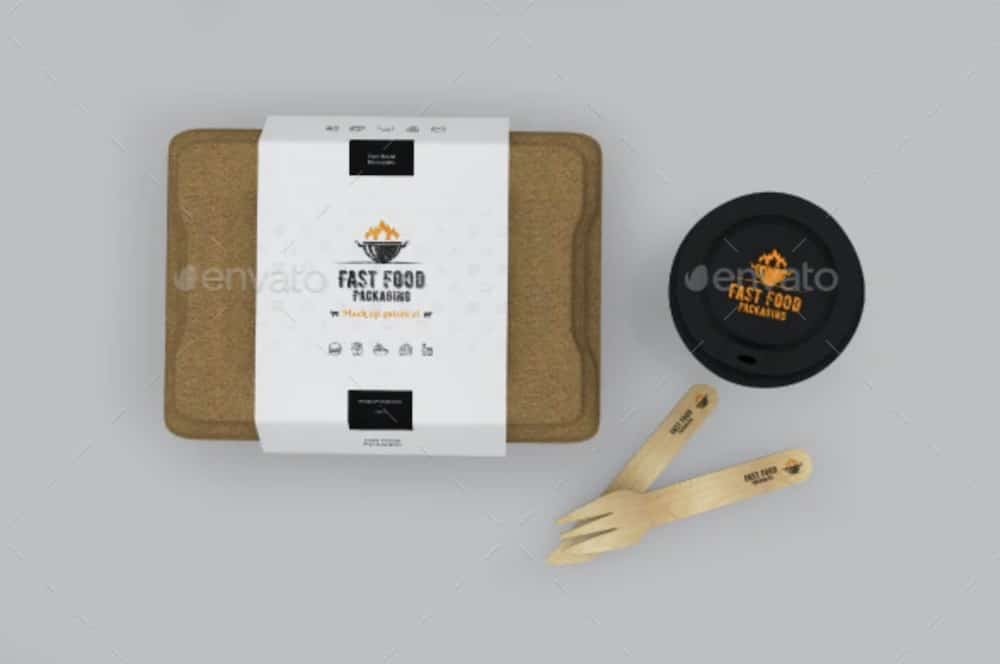 An amazing fast food packaging set featuring a box, a coffee cup and a wooden knife and fork. There are three different layered PSD files with a resolution of 3000 x 2000px.
You can even choose between three filters.
You will win the game with ease even though photo editing software is necessary.
Approach the beautiful packaging presentation with absolute CONFIDENCE since 0 advanced knowledge is necessary.
Price: $6
MORE INFO / DOWNLOAD
10. Burger box PSD mockups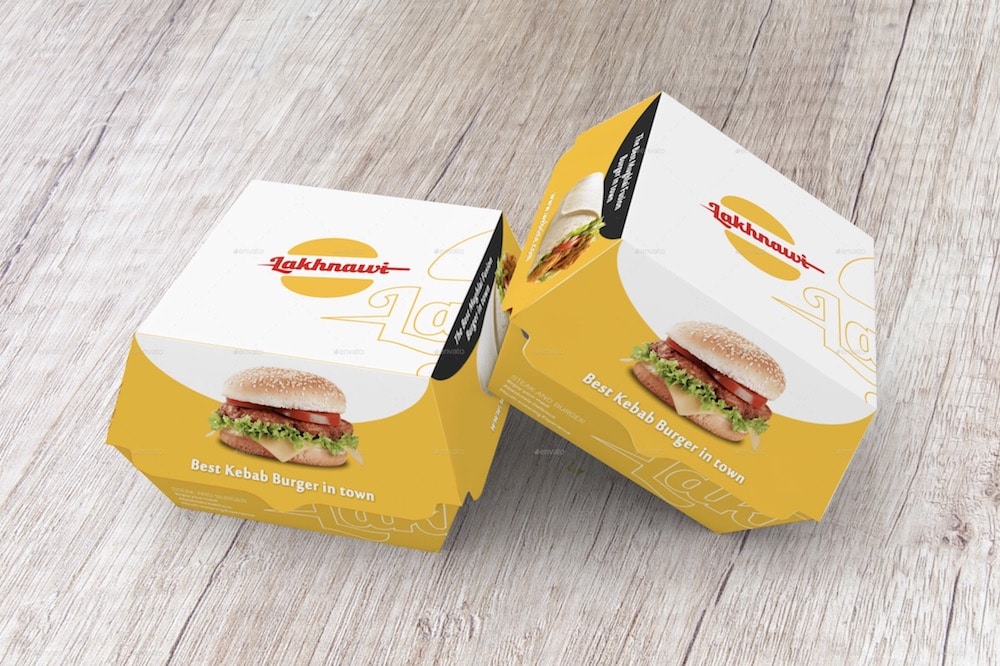 A collection of six PSD files for designing a stunning burger box and burger wrapping paper.
You can swiftly make a life-like fast food packaging presentation that will WOW your audience with little work necessary.
Or your client's!
Create a complete exhibition LIKE A CHAMP with the preset templates.
Two mockups even feature an open box with a burger, making it extra delicious. The background is also replaceable, so use any you want.
Price: $6
MORE INFO / DOWNLOAD
11. French fries packaging PSD mockup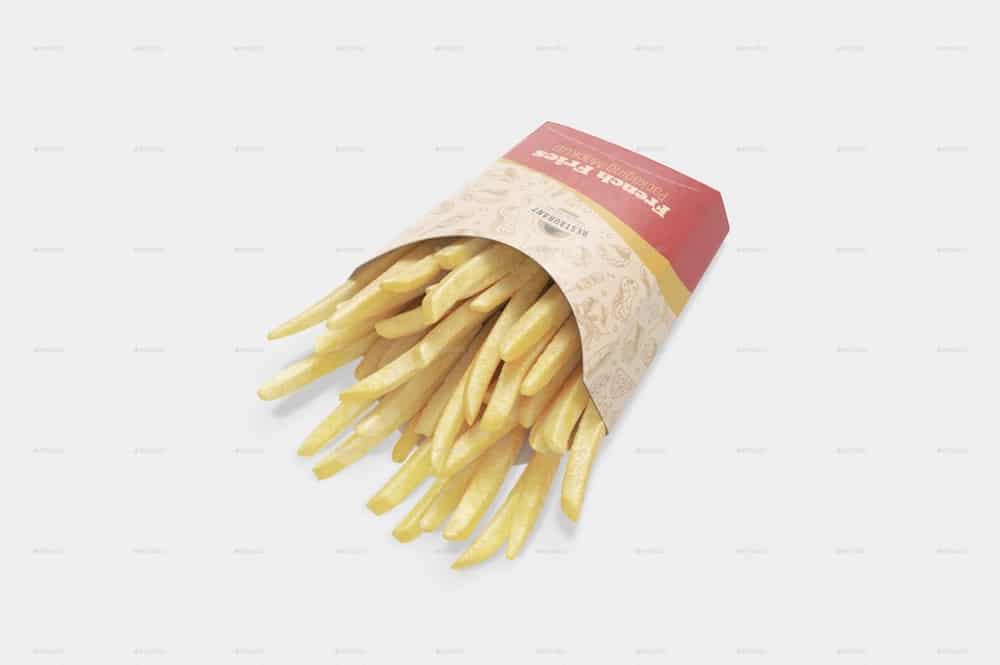 I don't know how they do it but french fries from a fast food stand is always SO GOOD.
Salivate everyone's mouth before they even come to the stand.
With this TASTY mockup.
It delivers four fast food packaging mockups, featuring the front and the back. You can use white or craft paper and edit each PSD mockup via the easy-to-use smart objects.
Drag-n-drop, that's all you have to do – no fancy design stuff. Very beginner-friendly, if you will. (Just like all the rest on this list.)
Price: $12
MORE INFO / DOWNLOAD
Best Free Fast Food Packaging Mockups
Here's a secret: We don't always go straight to premium mockups.
We sometimes start with free alternatives, create prototypes and go from there.
And so can you.
12. Free hotdog & burger fast food mockup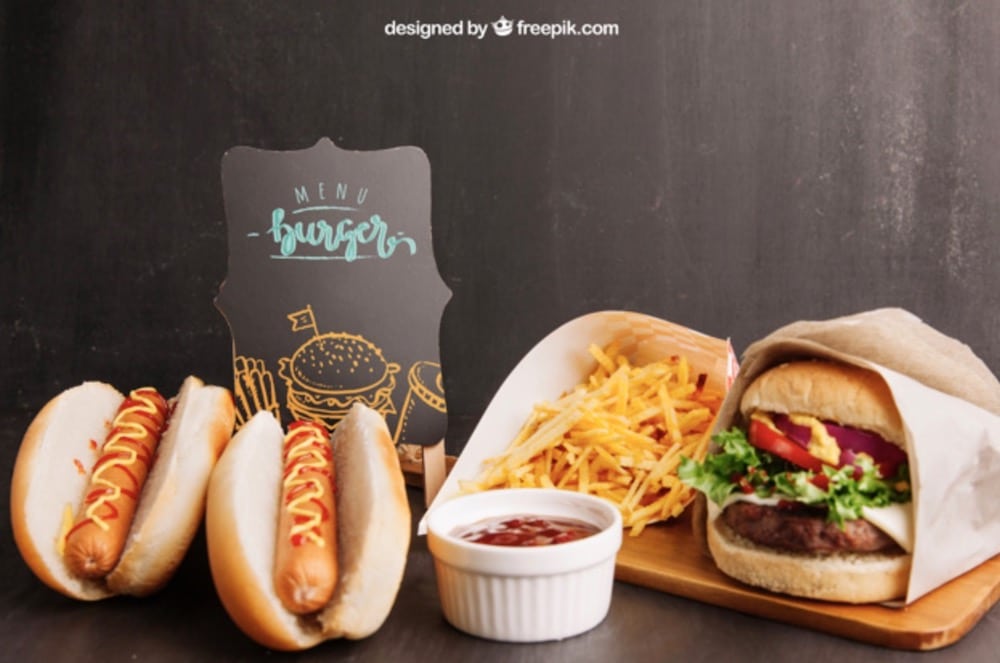 I mean, if you didn't get hungry by now, I am 100% sure this mockup will do the trick. Bear yourself!
We are here to design stuff and not get hungry.
What you can do with this one is add a custom fast food artwork to the available menu. You don't want to brand hot dogs. (Even if you do, you can't.)
Now get creative so that EVERYONE will want a piece of that.
MORE INFO / DOWNLOAD
13. Fast food hamburger mockup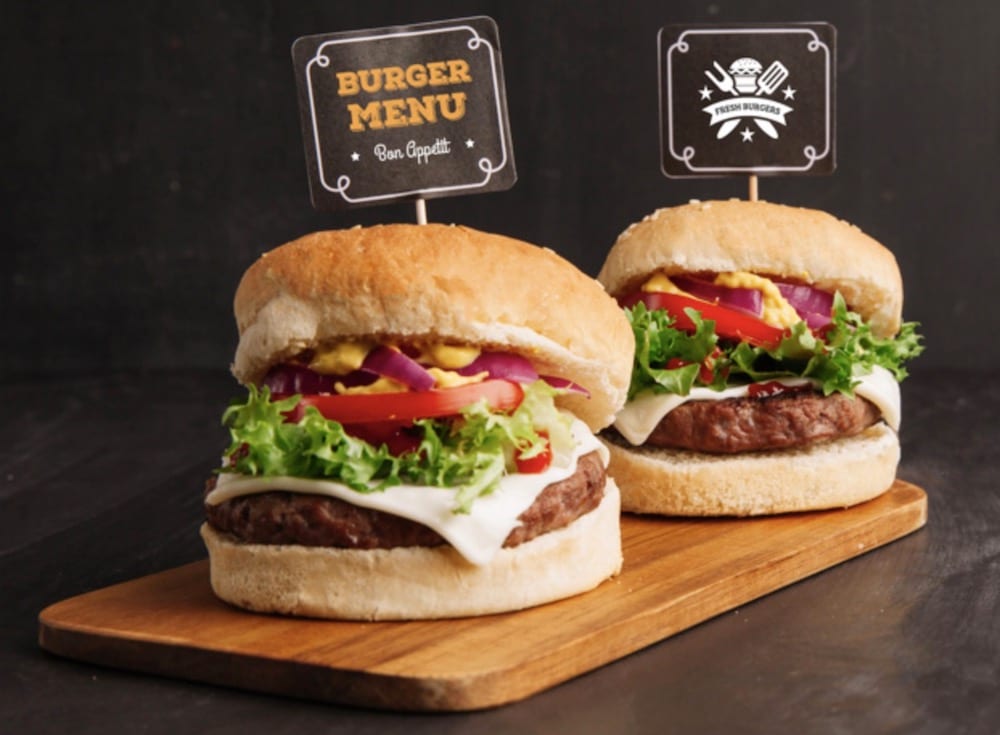 Here's a somewhat similar fast food mockup compared to the previous version.
Two delicious hamburgers with 100% customizable toothpick flags can be yours with a click on the button.
All it takes is to activate smart objects for each flag and slide in your designs once you import the PSD file to Photoshop.
It WORKS GREAT for presenting front and back flag design (because you don't want to leave the back blank!).
MORE INFO / DOWNLOAD
14. Free fast food branding mockup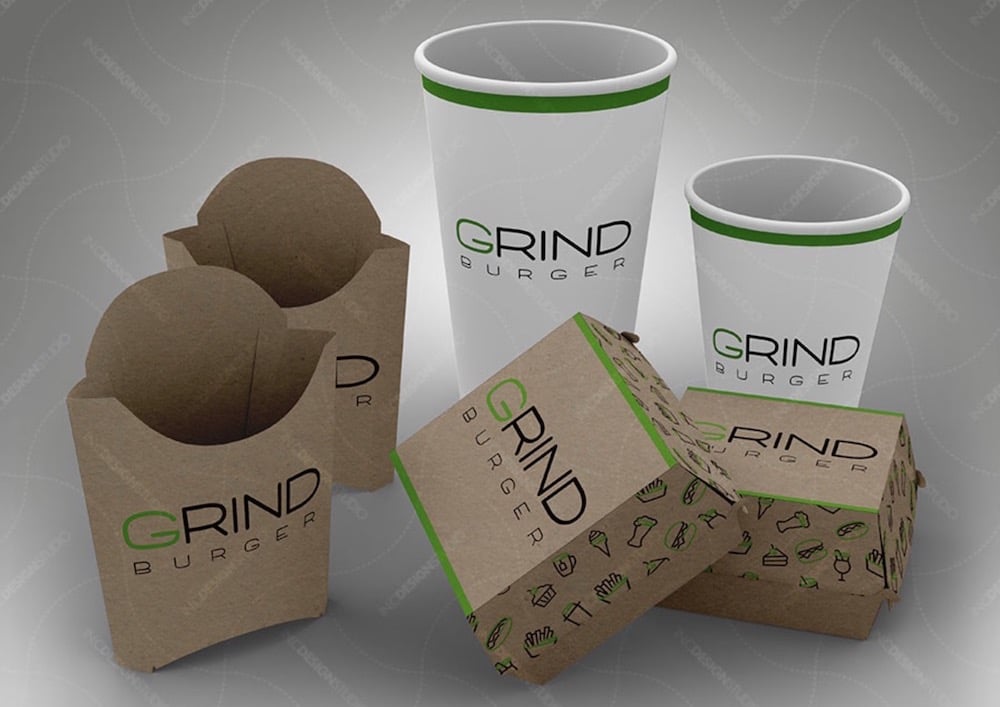 A very professional free fast food packaging mockup to generate a quick branding presentation.
Hint: This is the mockup we used to surprise the fast food restaurant owner from the story above.
It worked great.
You can do the same thing.
Adding logos, designs, changing colors, background, it's all possible. And the tasks happens VERY QUICKLY.
Dare to try?
MORE INFO / DOWNLOAD
15. Free pizza box PSD mockup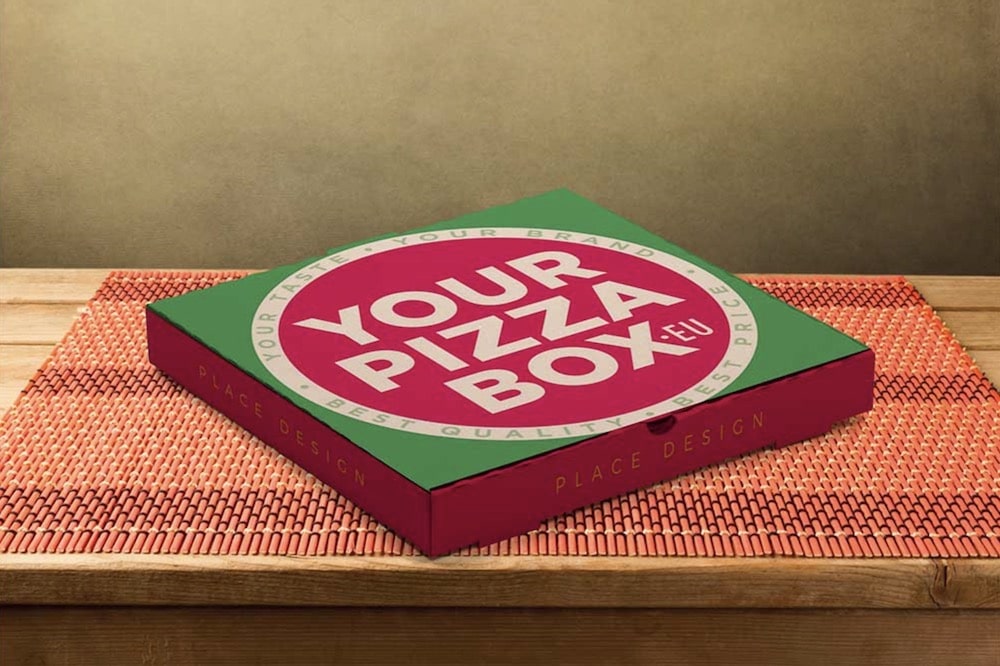 Whether you work with a fast food restaurant or a pizzeria, this is the mockup that you can use to create a brandable pizza box.
You can put it on a bland background or use a custom variation that will make it EVEN MORE photorealistic.
You can place your design on all three parts of the box – the top and the two sides.
Additionally, you can also change the colors of different box sections. In short, you can truly make it yours!
MORE INFO / DOWNLOAD
16. Free french fries packaging PSD mockup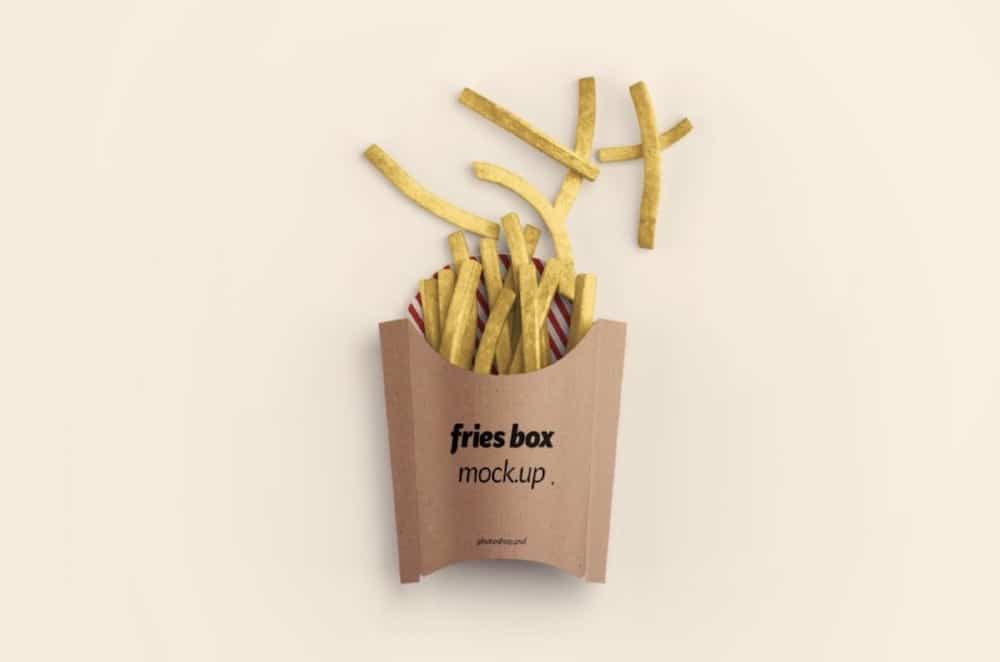 We already added a premium fast food packaging mockup for french fries above, but here's a free alternative. It's high-quality and totally customizable, too.
With the design ready, you can create an attention-grabbing outcome really fast.
Click, click, click and that's it.
Even if you don't know about the final design yet, you can use this mockup to make as many variations as you want.
This approach will help you choose the WINNER. (It works for us every single time!)
MORE INFO / DOWNLOAD
How To Create A Fast Food Packaging Mockup?
Showcasing custom designs for pizza, takeaway, food delivery, and other similar packaging is easy when you pick an online mockup generator.
This allows you to create a life-like presentation without needing Photoshop or other photo-editing tools.
You do all the work online, and you can even use your mobile device (!).
Here's how it goes.
5 Steps To Make A Fast Food Packaging Mockup:
Step 1: Click on this link and it'll redirect you to my favorite platform, Placeit. Their super handy search bar (with live results) is very convenient, even (especially!) if you want to find something more specific.
Step 2: Pick any template from the massive collection of results to start working on your mockup.
Step 3: When on the template page, I first upload my design via the "insert image" button. This feature allows you to resize and reposition your upload for the perfect fit. All you need to do next is click "crop," and your design will appear on the mockup. Simple.
Step 4: Next comes the fun part – customizing the default settings further until you're 100% satisfied with your creation.
Step 5: And then click "download," and you're done.
It can't get any EASIER.
But even if you decide to use a PSD template, the process is effortless.
However, you need Photoshop. (Well, DUH!)
Import any mockup from the list above into PS and then drag and drop your design via the smart object layer.
Each template I added has an organized structure, so even when you decide to modify it further, it so easy to do.
This could mean changing the background, the colors, altering shadows, lighting, etc.
Save and download, and that's IT.
::
Note: This article was originally published on May 26, 2021. But our team regularly reviews it and updates it with necessary improvements for accuracy.