Are you searching for the ultimate koozie mockups?
I reviewed 40+ free and premium mockups to bring you the best collection for your creative ideas.
What I also wanted to do is add online mockup generators.
This way, I made sure to take care of everyone, whether you know how to design mockups or not.
(It takes seconds to make a mockup without Photoshop.)
From product displays to lifestyle alternatives, you get them all.
You can start immediately with any of these life-like koozie templates.
The mockups work for quick prototypes, for sharing your design with your client and for marketing campaigns.
This post covers:
Just do it!
Best Realistic Koozie Mockup Generators
You can enjoy all these mockup generators for only $7.95/template.
(But I highly advise you to opt for a monthly ($14.95/mo) or yearly ($89.69/yr) subscription to save money.)
1. Mockup of a woman holding a can in a koozie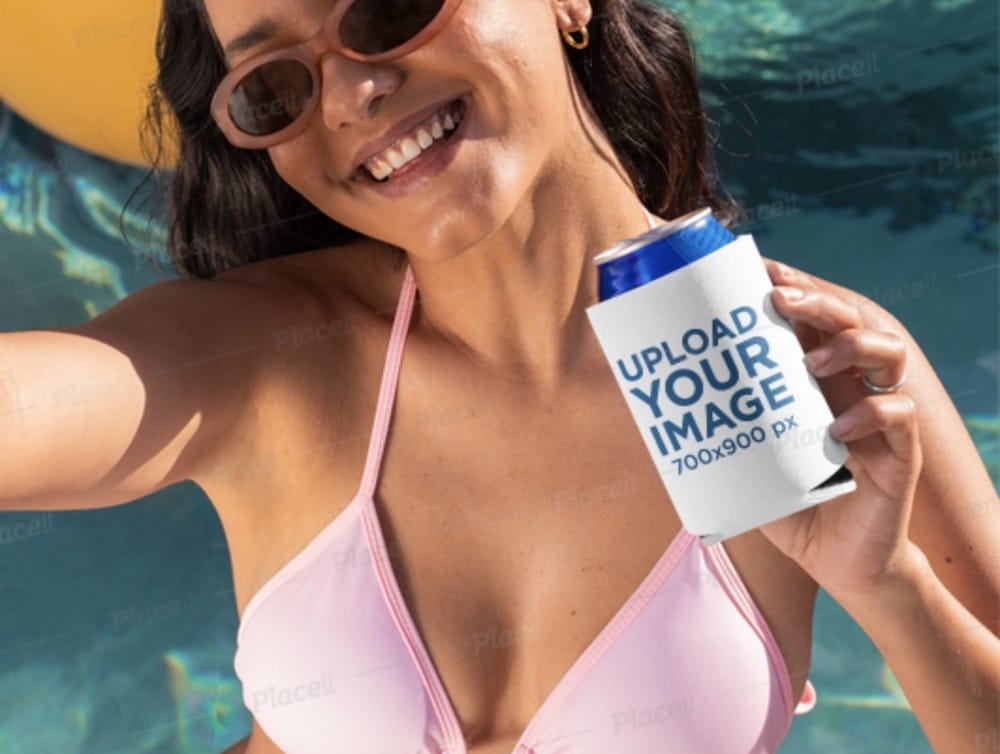 When creating branding for a custom-made koozie, use this very catchy mockup to present it. Instead of going from design to product directly, use a mockup first and go from there.
This allows you to test your design for any possible improvements and whatnot. Not just that, but mockups can also work great as promotional material.
This template features a pool party woman enjoying a cold can of her favorite beverage.
You can change the color of the koozie and import your image with a CLICK. Little work is necessary for a realistic result.
Note: Do you need the best beer can mockup? We have you covered!
MORE INFO / DOWNLOAD
2. Mockup of a man pointing at a koozie by a pool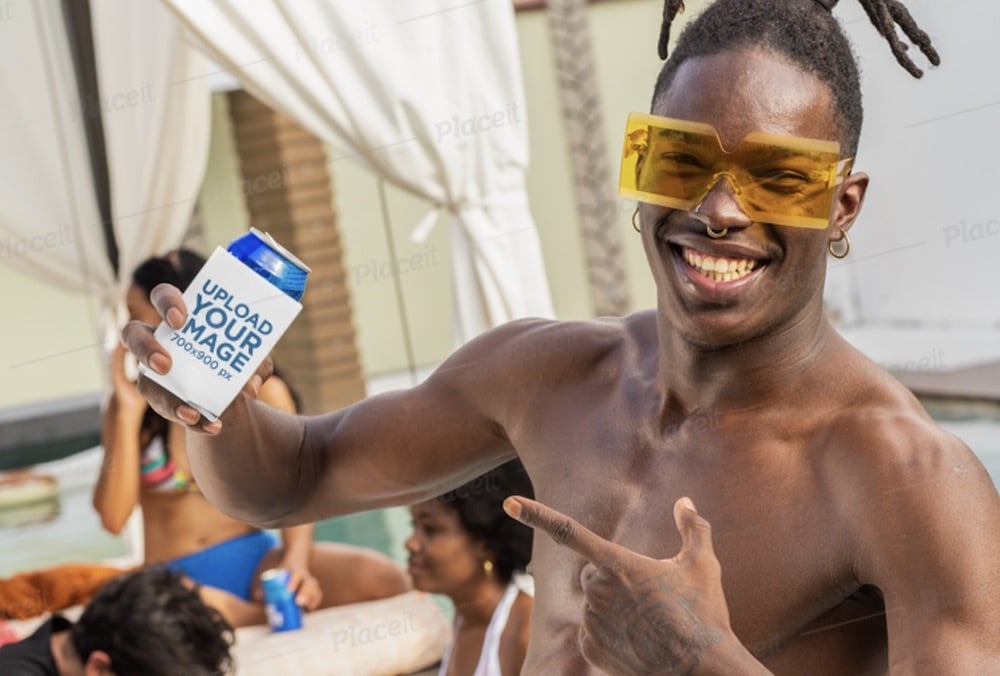 Another koozie mockup that promotes summer vibes. It features a male model pointing at a koozie that you can now fully customize.
You can change the color with the handy color picker and import any design you want. Once you upload your image, you can also crop and reposition it if necessary.
Keep in mind, the design can be a simple logo or a full-blown artwork.
Moreover, you can also spice things up with additional text and create a truly engaging presentation of a CUSTOM koozie. You need no Photoshop to make it happen.
MORE INFO / DOWNLOAD
3. Mockup of a woman holding a beer in a koozie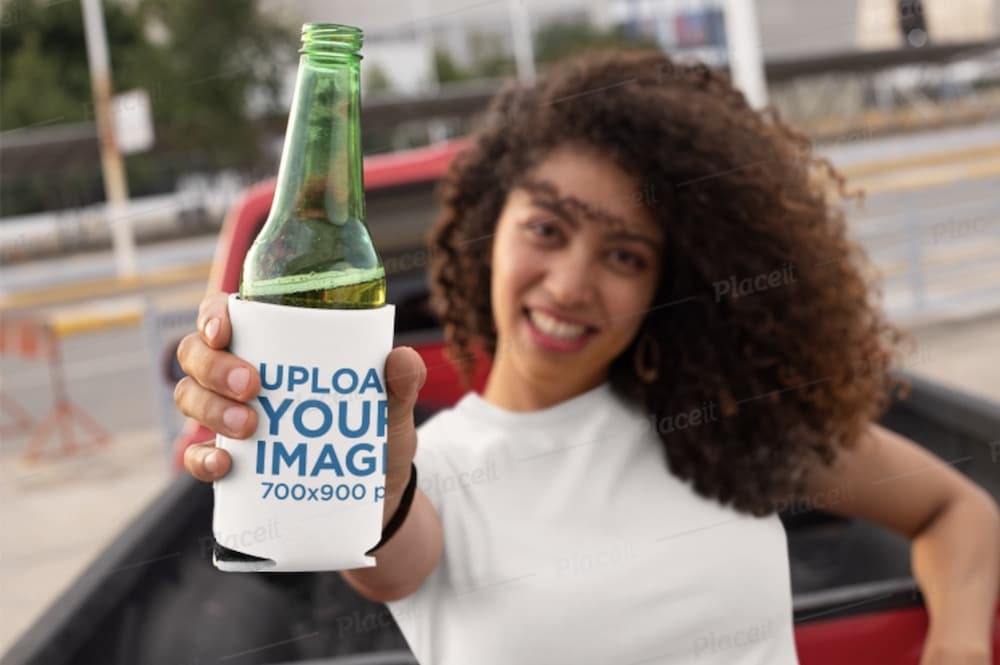 A koozie can work both for cans and bottles. In this case, a female model exposes her cold beer in a koozie at a tailgate party.
It is a very engaging and ATTENTION-GRABBING mockup that will wow everyone.
You only need to style the item with your branding ideas and call it a day.
For this, you head over to Placeit where the magic happens. In other words, you can improve the template in just a few clicks.
With this, you can have an outcome all set and ready to roll in the snap of a finger. Note: you can change the shirt color, too.
MORE INFO / DOWNLOAD
4. Koozie mockup of a woman at a party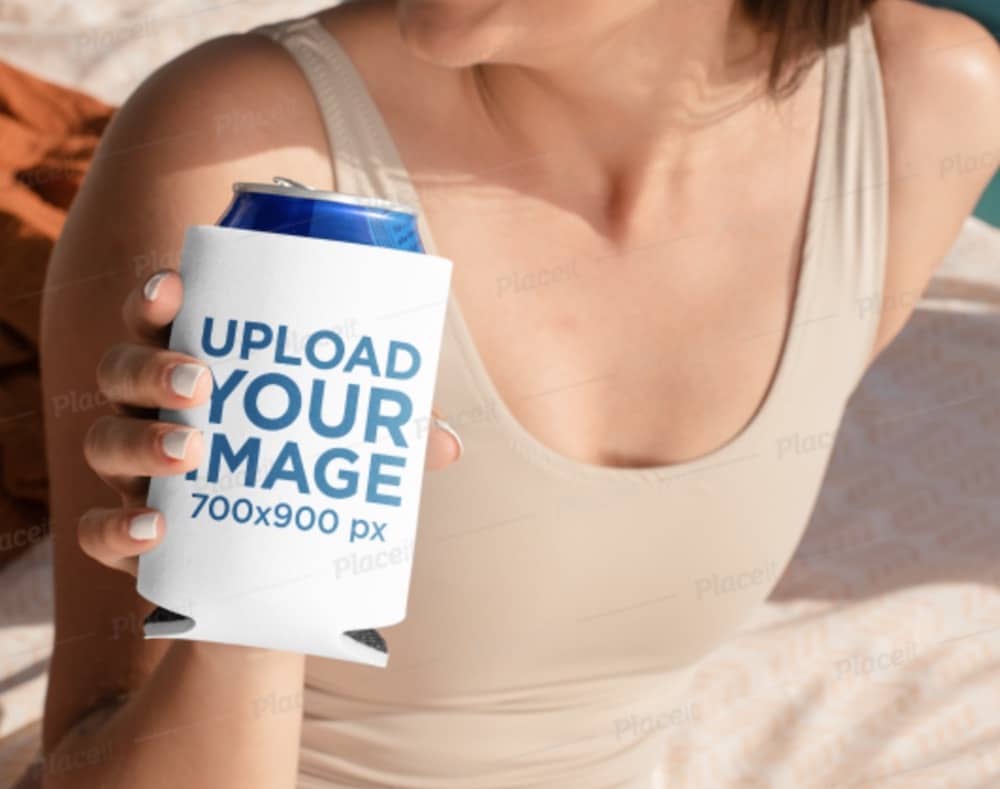 Koozies are best for parties, and this female model proves it right. While enjoying herself on a hot and sunny day, her koozie is keeping her drink nice and cool.
Take this easy-to-use mockup to your total advantage now and create a life-like koozie design demonstration in just a few clicks.
Once on Placeit, you can test the waters without the need to create an account first. The process will be quick and effortless, even for a complete beginner.
Insert the design, change the koozie color and add some text if necessary – THAT'S IT.
MORE INFO / DOWNLOAD
5. Mockup of two cold beers in koozies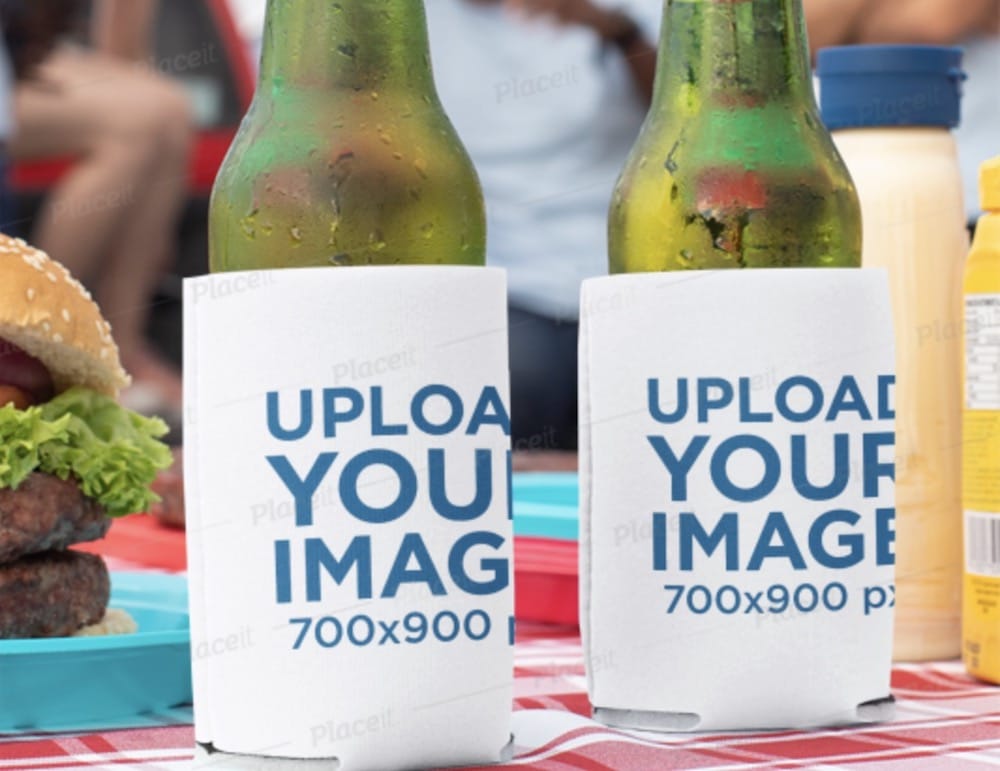 Instead of one koozie, you can decorate two with this mockup. One way of using it would be to present both the front and the back design.
On the other hand, you can use each to showcase an entirely different idea.
What's more, you can even use it to compare two slight variations of the same design. You see, the options are very many.
Like with any other Placeit mockup, the task is as EASY as pie. Along with changing the color of each koozie, you get to introduce a design individually to each.
MORE INFO / DOWNLOAD
6. Koozie mockup featuring a man playing beer pong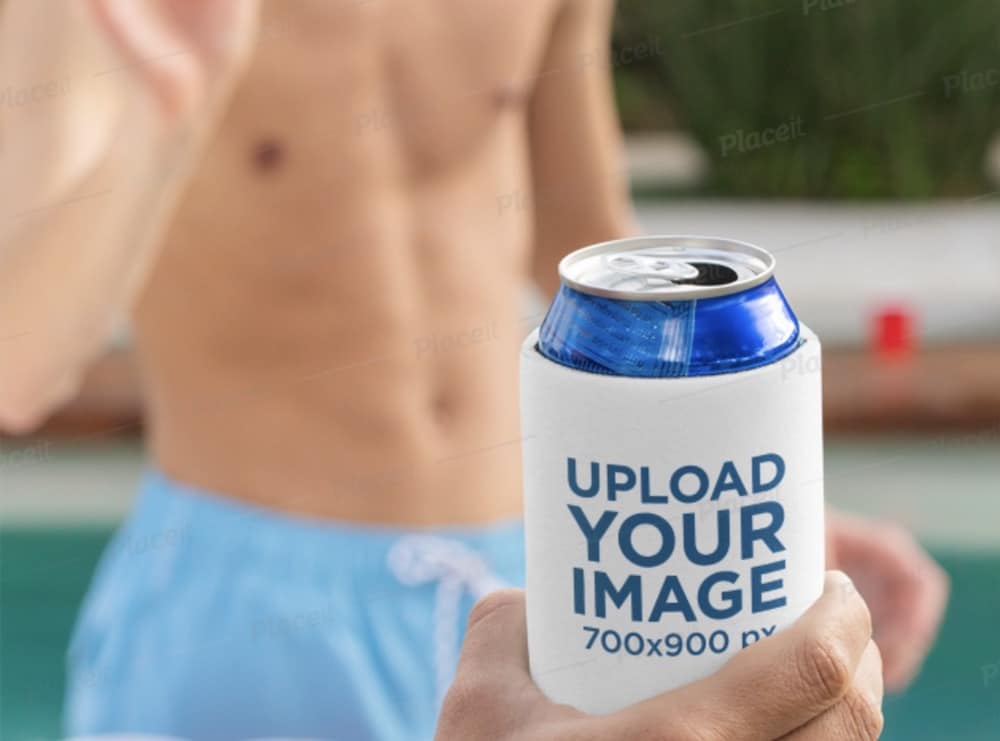 Koozies come in handy during hot summer, especially when playing a beer pong game.
It keeps your drink fresh for longer, while at the same time, it does not freeze your hand. A win-win situation, if you will.
Anyhow, you can use this koozie mockup when working with a client, as they can already see the possible variation of the final design.
You can also use the mockup on social media, even in email newsletters. But first, PLAY with different combinations before you find the winning one.
MORE INFO / DOWNLOAD
7. Koozie mockup featuring three young women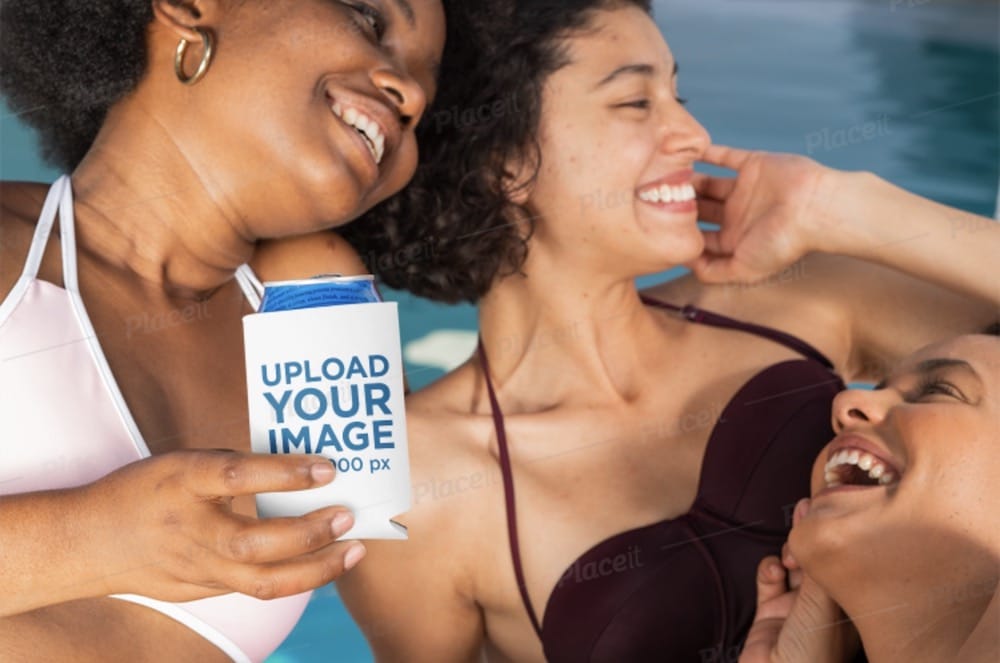 With this can cooler mockup, you will push summer vibes over and beyond. The template features three women at a pool party, but only one holds a can in a koozie.
When you visit the Placeit platform, you will notice three different options. You can pick any shade from the color picker.
Moreover, you can insert the image of choice and see it appear on the koozie immediately. You can also include text.
Even though the process will take you a LITTLE TIME to complete the task, the outcome will be nothing short of spectacular.
MORE INFO / DOWNLOAD
Best Free Koozie Mockups
8. Koozie mockup of a woman holding a plastic bottle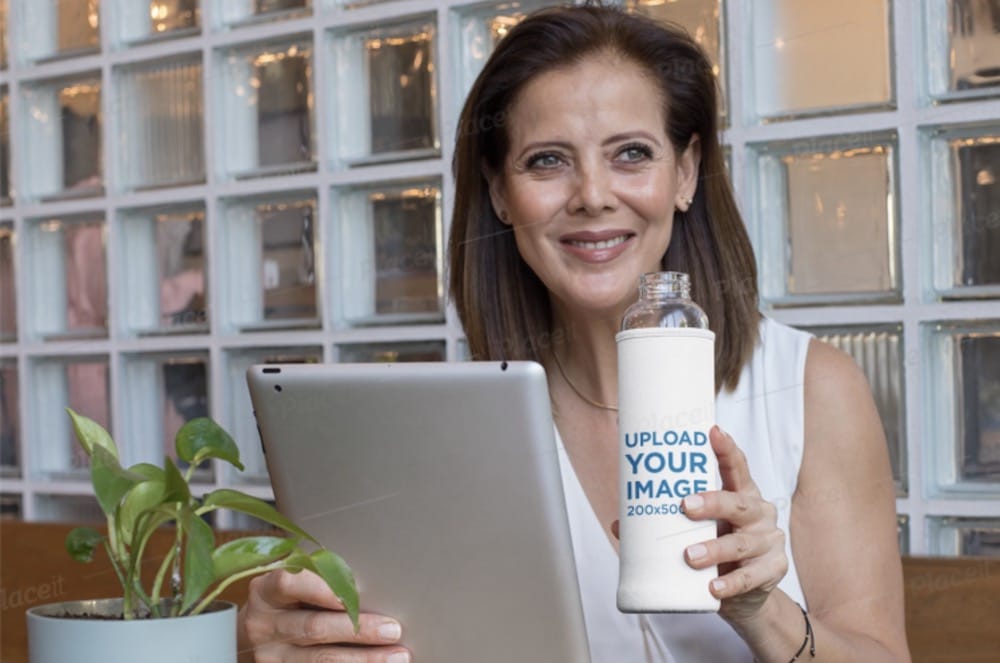 This is a professional/office-looking mockup of a woman holding a tablet in one hand and a bottle in a koozie in the other.
You can make it appear in an office, at a conference, in a coffee shop, whatever; it's the life-like presentation of a koozie that matters.
And that's something you will EASILY achieve with this template.
You can have it all set very quickly. It is another Placeit mockup, so you know already that you will succeed with it. You can even test it out before you create a free account.
MORE INFO / DOWNLOAD
9. Sporty woman with her flask in a koozie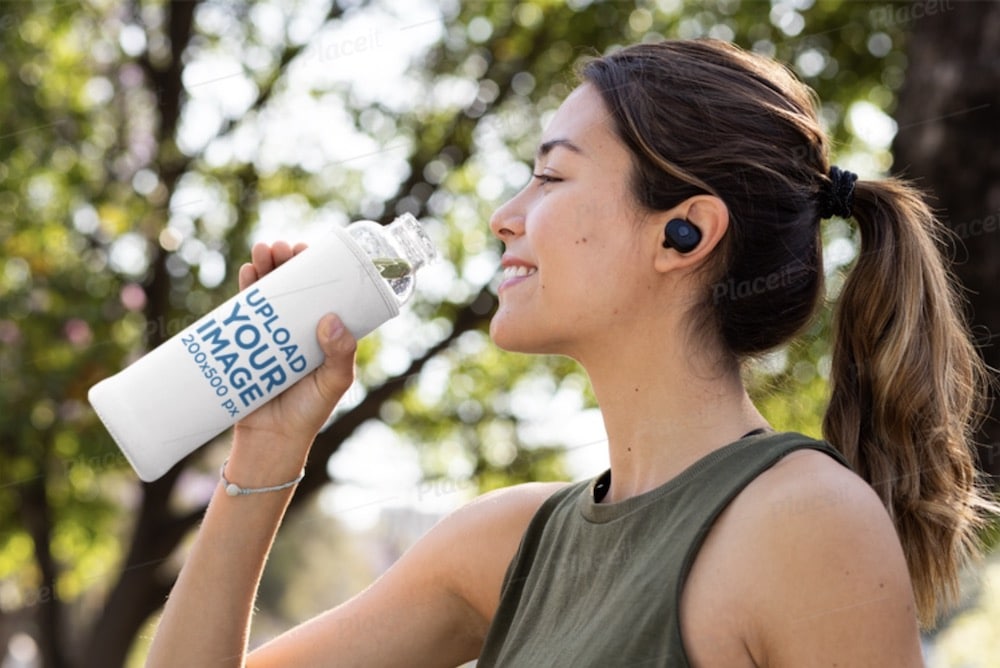 Keeping a drink cool is ESSENTIAL for many during a workout. That said, use a koozie, which will help you do the trick.
It is very practical to use a mockup before the actual production when designing one.
With a mockup, you can test as many variations and possibilities as you want before going full-tilt.
Moreover, a mockup is also perfect for an extra boost in promotion, especially if the koozie on the image is of the same style as the one you will offer.
You do not even need to create professional product photos – just use the mockup!
MORE INFO / DOWNLOAD
10. Mockup of a woman drinking from a bottle in a koozie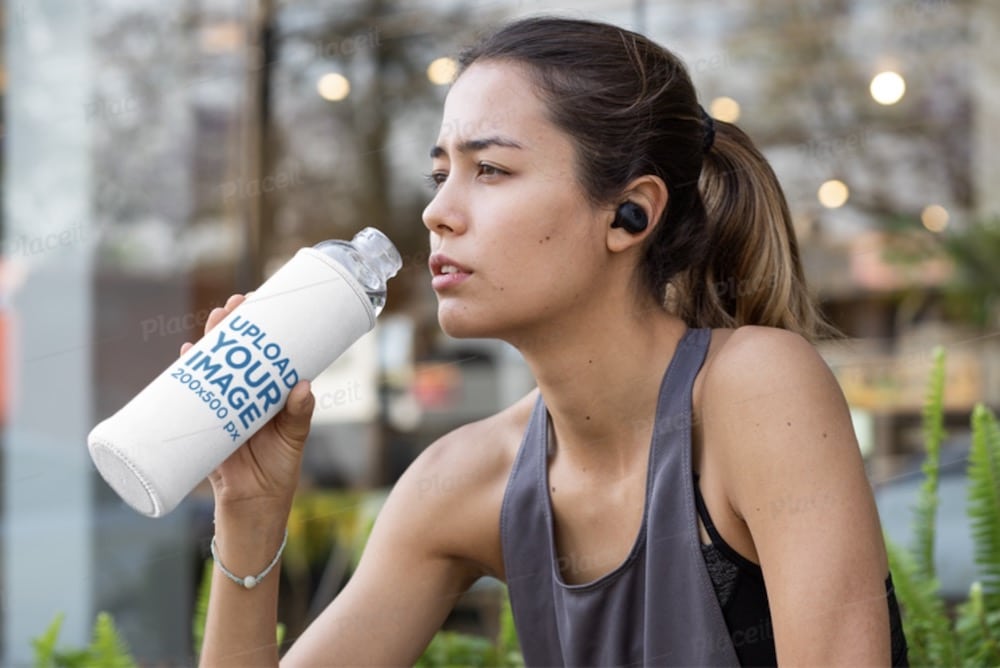 The same model as on the above koozie mockup, just that she is sitting down this time. Or should we say a bottle sleeve mockup?
There are many possible ways of using this template, allowing everyone to get the most out of it.
Sometimes, you need to get a bit more creative than the rest, and you can easily stand out from the masses.
With a photorealistic mockup, you can create a striking exhibition of your design idea for a koozie. Amaze and inspire everyone and raise your potential to the NEXT LEVEL.
MORE INFO / DOWNLOAD
11. Mockup of a bottle in a koozie in hand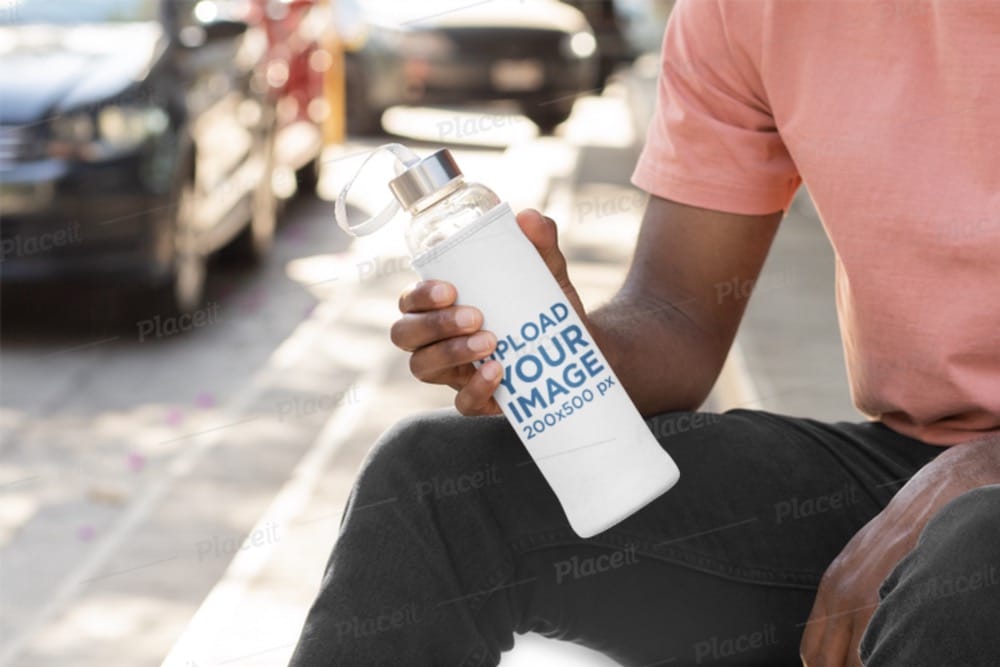 Do not miss the opportunity to create a life-like version of a branded koozie, avoiding the manufacturing just yet. Here is another spectacular alternative that will help start right away.
Also, it is another free version, so you only create an account on Placeit and that's it.
From then on, you can style and improve the default settings according to your liking and MAKE YOUR VERSION of it.
You can create multiple variations, as it takes just some clicking to change the color or upload a new image.
MORE INFO / DOWNLOAD
Best PSD Koozie Mockups
12. Can koozie mockup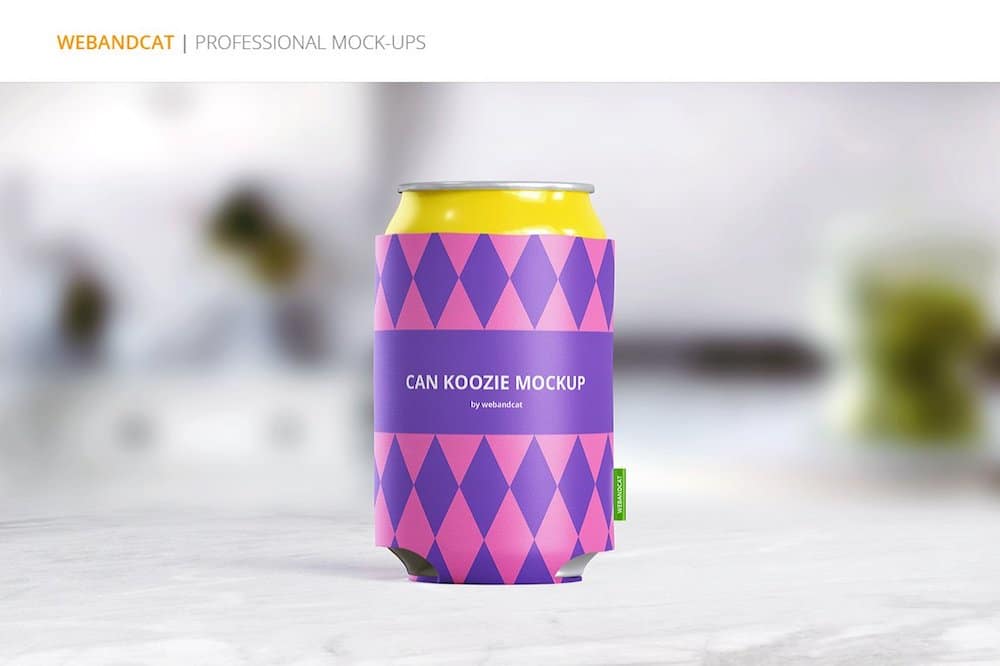 A collection of six high-quality layered PSD files that call for an outstanding koozie design presentation. You can change pretty much everything you want.
Everything is fully editable and adjustable to your heart's content, from the can color and koozie to the background.
These mockups also use smart object layers for you to drag and drop your artwork directly.
What's more, you get six floor textures, an option to turn labels on or off and ready-to-use backgrounds.
The files also come at a 4500 x 3150 px resolution, so you know the outcome will be FIRST-CLASS.
Price: $10
MORE INFO / DOWNLOAD
13. Neoprene can cooler mockup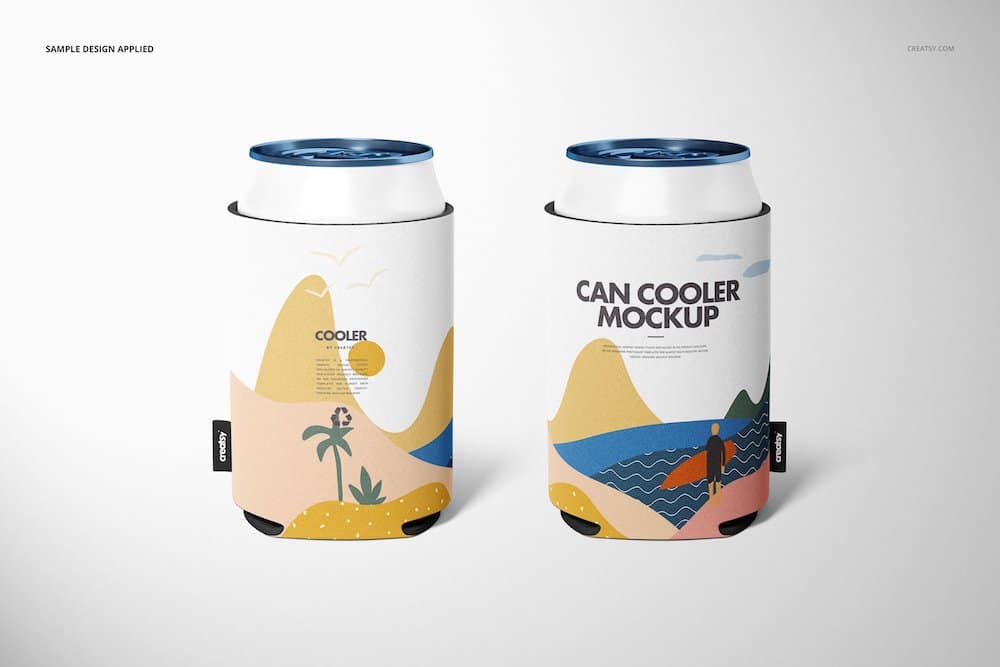 In the majority of cases, a koozie is made out of neoprene. Sure, there are other materials in use as well, but this one is the most widespread.
With the collection of single and multiple cans in koozies mockups, you can now create magnificent design masterpieces that will wow everyone.
There are three PSD files to choose from (6000 x 4000px), all layered and fully organized.
3D wrapping, complete creative FREEDOM, smart objects and modifiable background are some of the stuff to expect.
Get creative and make the finishing product that will boost sales through the roof.
Price: $12
MORE INFO / DOWNLOAD
14. Can koozie animated mockup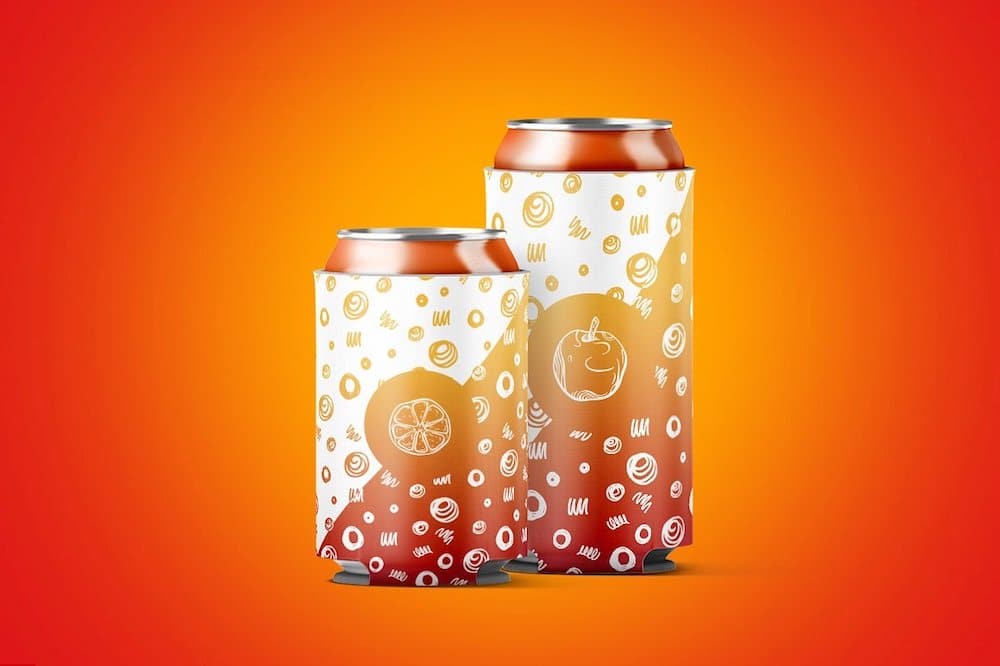 If you would like to spice things up, this bundle of ANIMATED and STATIC koozie mockups will do you well.
You will have no trouble capturing people's attention with any of these, even in a crowded newsfeed.
The files feature both 330ml and 500ml cans. Due to the cool animation, you can present the full koozie design, front and back or a wrap.
To your luck, you only need the basic Photoshop knowledge to make a difference.
Friendly reminder: it is highly advisable to use a more powerful computer when working with this exclusive mockup, as it can take a lot of time to load.
Price: $9
MORE INFO / DOWNLOAD
How To Make A Koozie Mockup
Do you have the design ready and want to test it out but are not 100% sure how to make it happen with a mockup?
I've received a few user requests about creating a simple tutorial, so here you go.
We'll start with an online mockup generator, because it's the quickest (& my favorite way) method to do it.
Create A Koozie Mockup In 5 Steps:
Step 1: Go to Placeit (my tested & proven platform), and choose any of the 20+ templates. Or even test all of them to see which works best.
Step 2: I always start by inserting my design, so I can move through multiple templates faster in case the first one isn't a BINGO.
Step 3: You'll notice a popup open after your design uploads. This is where you can modify the positioning and the size before clicking the "crop" button.
Step 4: You can then change the koozie color, add text and attach a graphic for a more personalized touch.
Step 5: Download and enjoy your mockup.
While an online mockup generator ensures the speediest results, a PSD still unlocks more creative freedom.
Here's how it goes.
Open Photoshop and import a mockup from the collection above. Then slide in your artwork via the smart object layer, which only requires the movement of dragging and dropping.
But here's where the fun begins.
You can also locate all other layers and alter the default mockup look to the fullest. And if you're not satisfied, you can always hit "undo."
You'll have fun, regardless of the method you opt for.
::
Note: This article was originally published on December 17, 2020. But our team regularly reviews it and updates it with necessary improvements for accuracy.