You can quickly create life-like advertisement and article presentations with these free and premium newspaper mockups.
Don't wonder!
You can EASILY VISUALIZE your idea with a photorealistic presentation.
So. Good.
But here's the thing.
Since I completed only one newspaper project so far, I worked on this one with five of my friends who used the majority of them.
Just so I can guarantee you they work like a charm.
This post covers:
Let's GO!
Best Newspaper PSD Mockups
1. Newspaper adverts mockup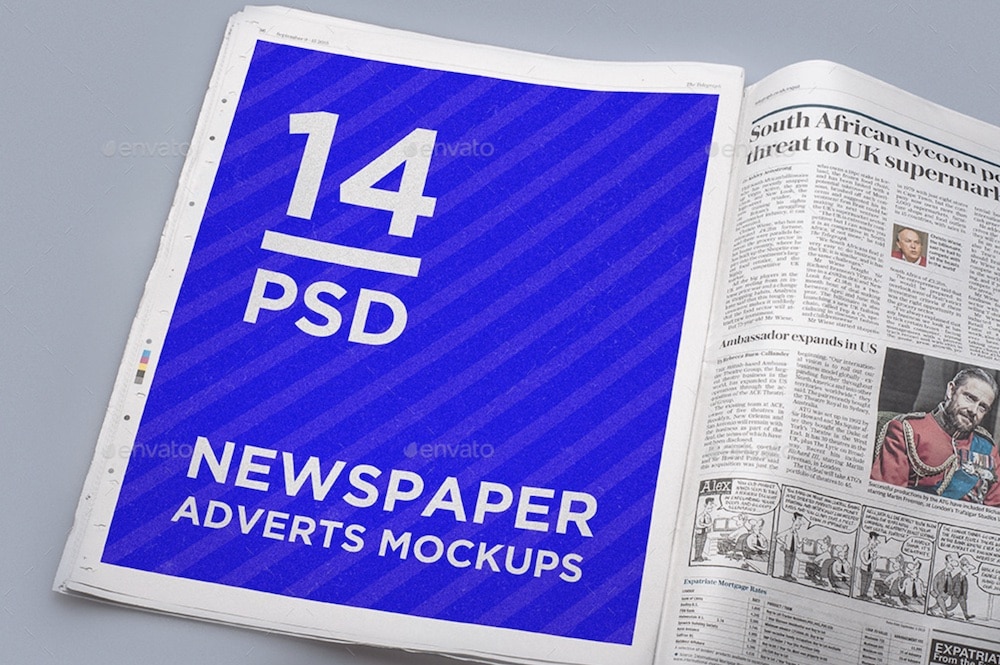 This set is for everyone who needs the best results fast and with LITTLE-TO-NO work. A bundle of fourteen layered PSDs is ready for you to take to your total advantage.
Folded or not, inside or cover page, you get it all and then some.
And working with the smart object layer is easy and quick, perfect for beginners and pros.
I dig it. My friends dig it. And you'll DIG it, too!
Price: $9
MORE INFO / DOWNLOAD
2. Newspaper PSD mockup bundle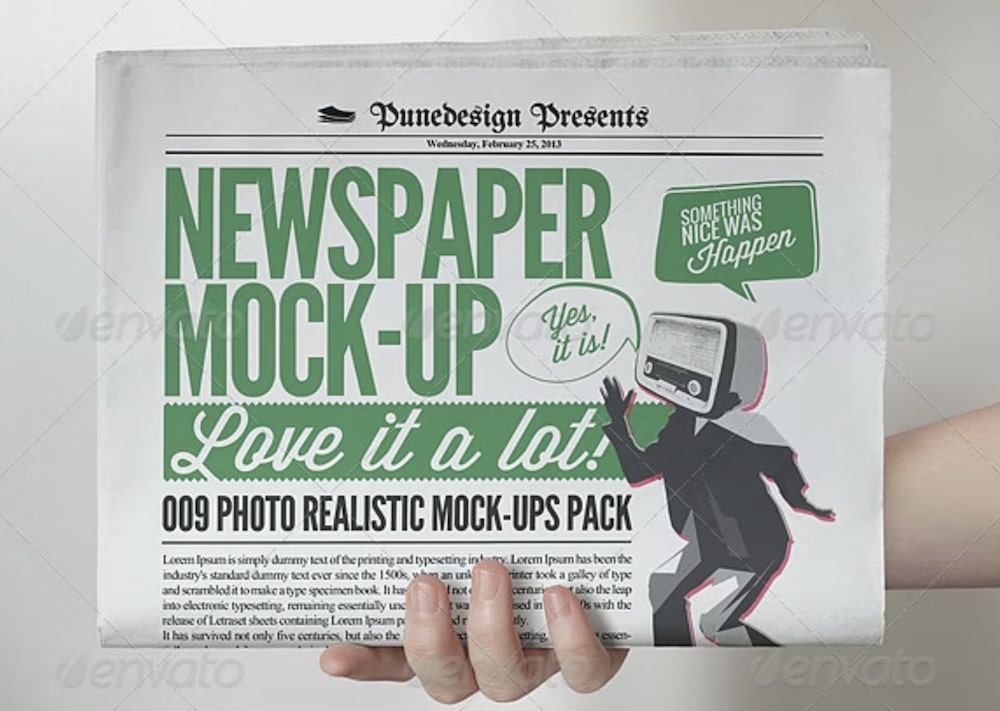 So realistic and so amazing, get ready to shock everyone with your outstanding presentation of a newspaper design you're working on.
This is an even bigger bundle of newspaper mockups (16!), taking care of all the ins and outs of a life-like showcase.
I PARTICULARLY like the newspaper in hand templates because of just how natural they feel.
And your artworks and designs will take things to the next level.
Price: $14
MORE INFO / DOWNLOAD
3. Realistic broadsheet mockup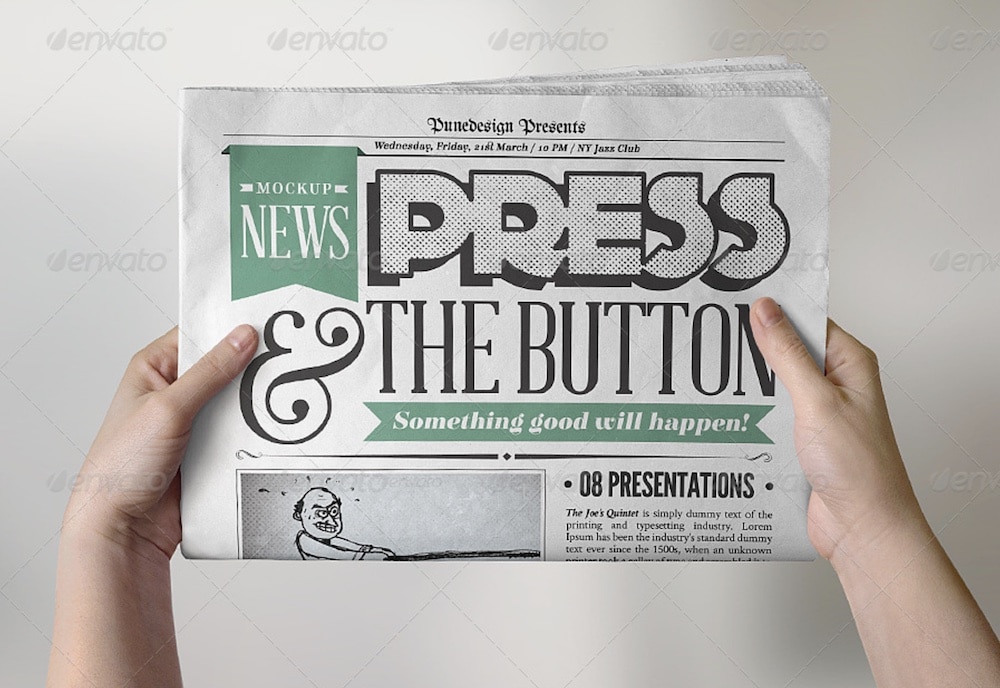 One of my friends (thanks, Joe!) told me that this newspaper mockup performed EXTREMELY well on his client's social media, Instagram and Facebook.
He used all eight PSD templates for posts and stories and received very positive feedback from the client.
Joe also told me that close-ups work great, but he particularly liked the "in-hand" mockup (like me!).
Joe highly recommends it!
Price: $9
MORE INFO / DOWNLOAD
4. Tabloid mockup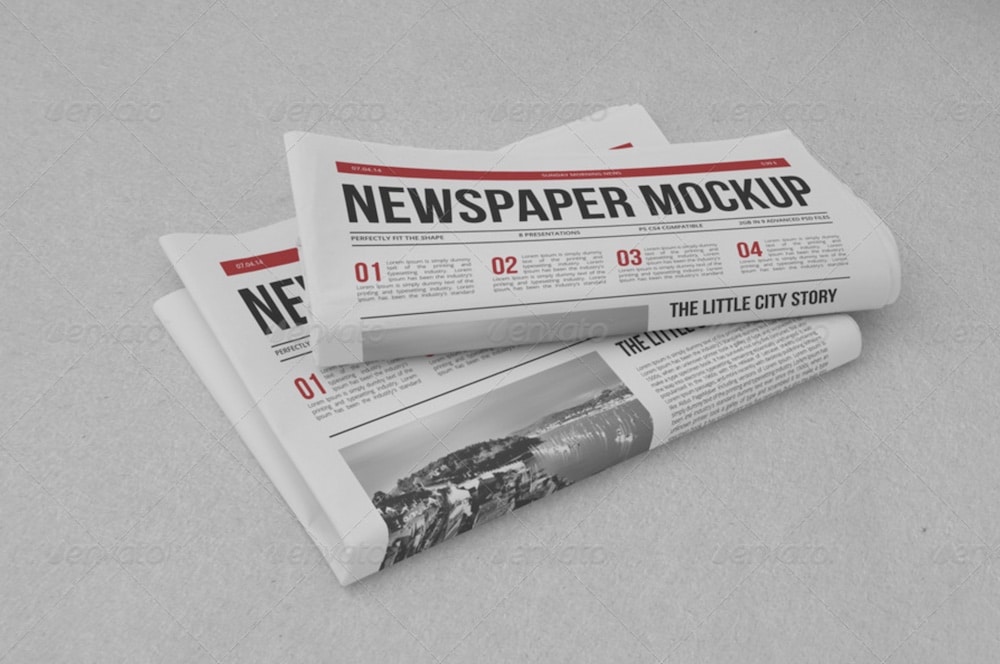 This complete set of eight photorealistic newspaper views is READY for all your creative ideas.
What I particularly enjoy about this one are the ready-to-use filters, backgrounds and paper textures.
But remember, you can create your 100% custom version, too. The predefined stuff only makes the workflow faster and easier.
Perform a few clicks and let the mockup do its things by automatically wrapping your design with extreme precision.
Price: $11
MORE INFO / DOWNLOAD
5. Newsprint mockup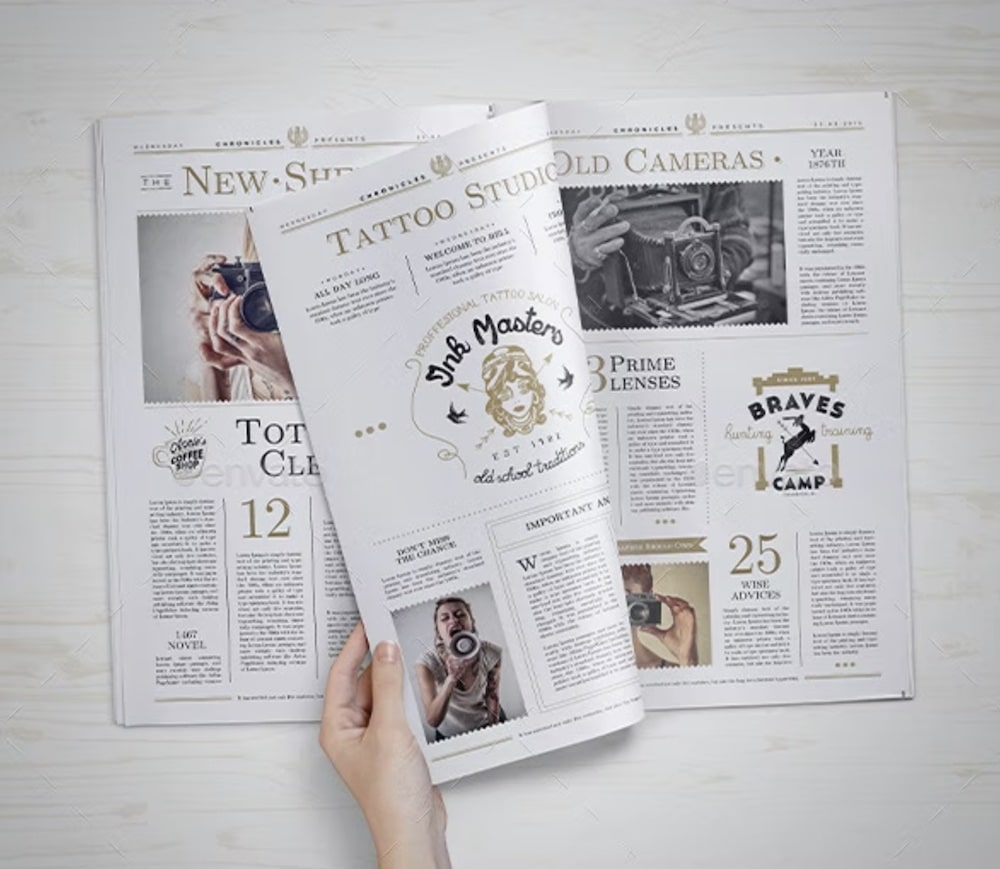 My friends Amy and Coco worked with this newsprint mockup set and said only POSITIVE  things about it.
Both are hyped about the ten templates and amazing rearrangement possibilities. Not just that, they also reported that configurations are a breeze and the life-like effect is out of this world.
They also talked to the author about some exclusive work and told me how friendly they are. So good it'll take your breath away.
Price: $10
MORE INFO / DOWNLOAD
6. Newspaper display mockup

Create the best newspaper display in the SHORTEST amount of time with this mockup kit.
You can start immediately and have the outcome ready to go quickly with the five views and excellent quality.
Also, Marcus reported that the structure of each template is organized and layered, created with a beginner in mind.
Yes, you don't need any pro skills to achieve great things. Boost your workflow and achieve the best result!
Price: $6
MORE INFO / DOWNLOAD
7. Full-page newspaper ad mockup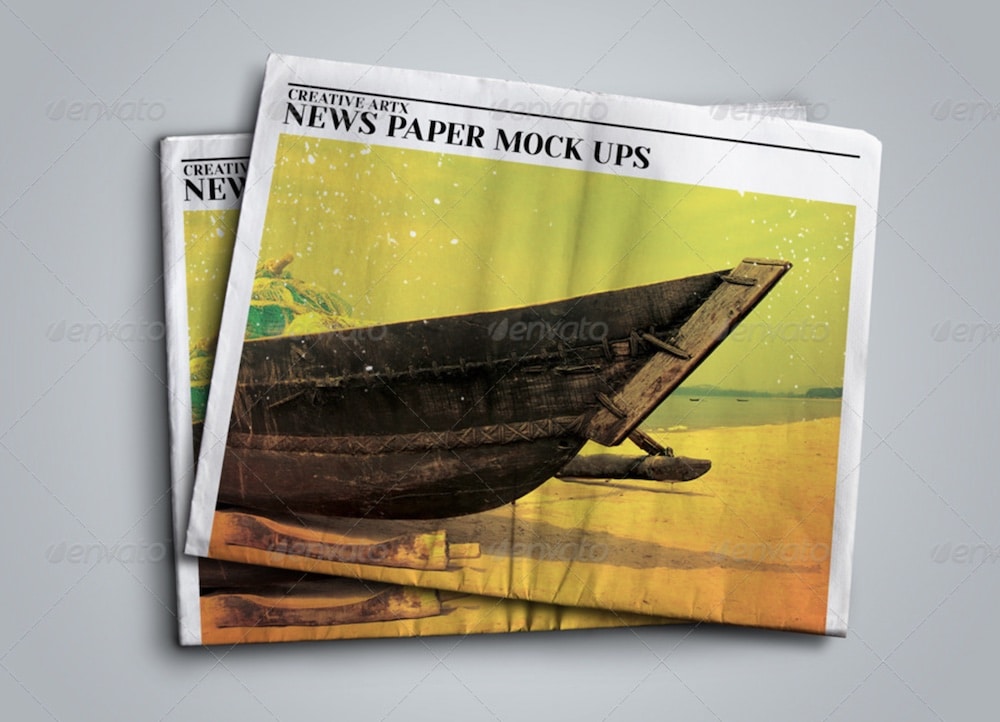 You still haven't find the perfect newspaper mockup to present your full-page ad design to your client?
Then my pal, Miguel's, recommendation will surely do the thing. You can work with the six views without breaking a sweet.
Yup, it's SIMPLE! (And quick at the same time.)
Drag and drop your image or artwork via the smart object layer and it appears on the newspaper instantly. A few refining touches (changeable background) and your work is complete.
Price: $10
MORE INFO / DOWNLOAD
8. Newspaper ad mockup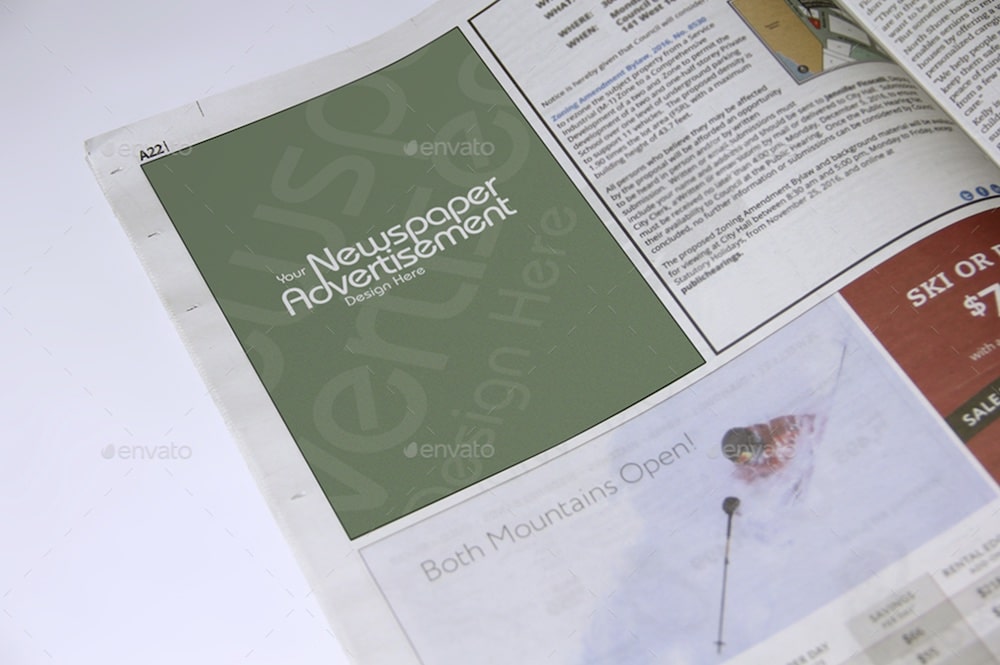 My friends mainly reported to me that they used newspaper mockups for displaying clients' advertisements.
So here's another EXCELLENT example that you shouldn't miss in your life.
The six templates cover the most popular ad size spaces in a newspaper with a 100% realistic feel to them.
No one will tell it's a mockup – especially not the users, social followers or anyone else seeing your amazing creation.
Price: $6
MORE INFO / DOWNLOAD
9. Old vintage newspaper mockups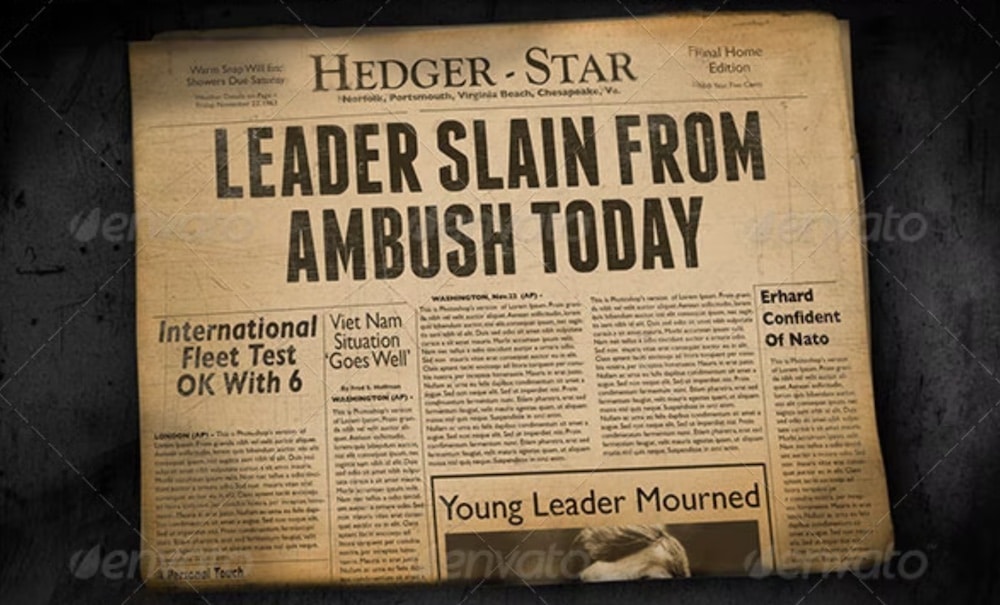 You need to opt for this old and vintage newspaper mockup if you'd like to spice things up.
It comes in two styles (white and yellow paper) with editable text and images.
Create a historic issue or add modern stuff, it doesn't matter, you and your imagination are in total control!
The 3900 x 2600px dimension is also GREAT, making zooms look crisp.
Price: $7
MORE INFO / DOWNLOAD
10. Daily newspaper PSD mockup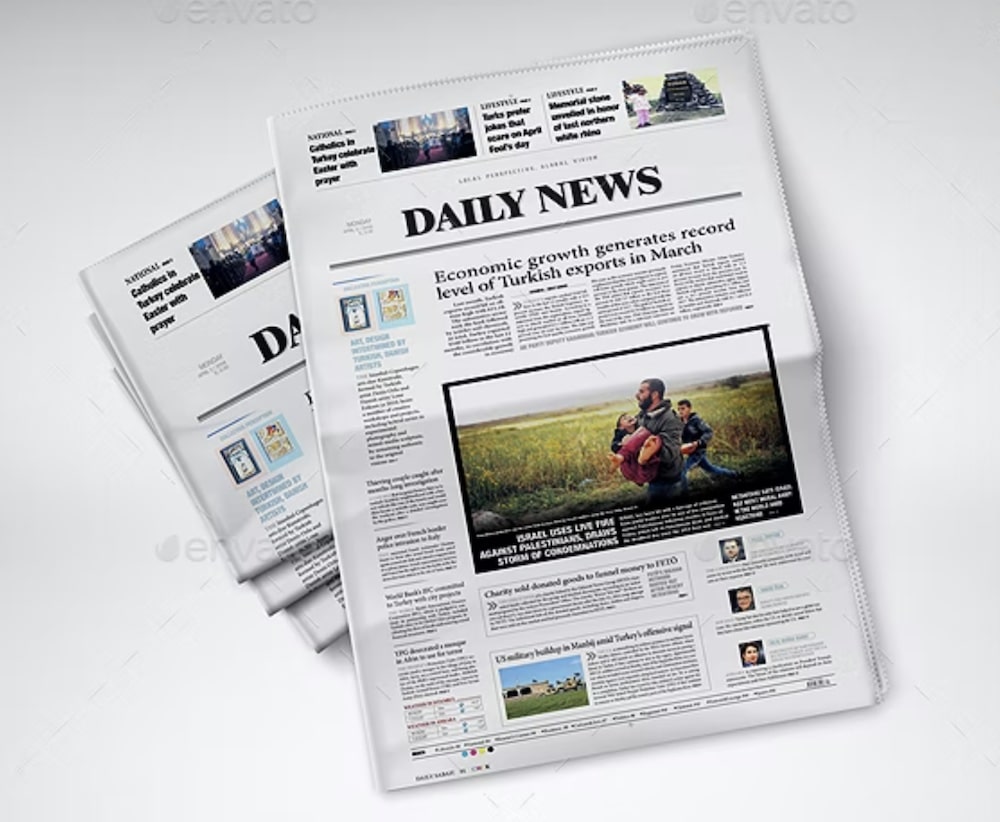 Make sure you check everything is right and in order if you're working on designing a daily newspaper.
Use a mockup instead of doing any actual printing. Save time and money!
Three stunning and minimalist presentations are ready for the showcase of any image, text or advertisement.
The smart object layer is for attaching your creative work and for changing the background.
EASILY. EDITABLE.
Price: $16
MORE INFO / DOWNLOAD
11. Newspaper in hand mockup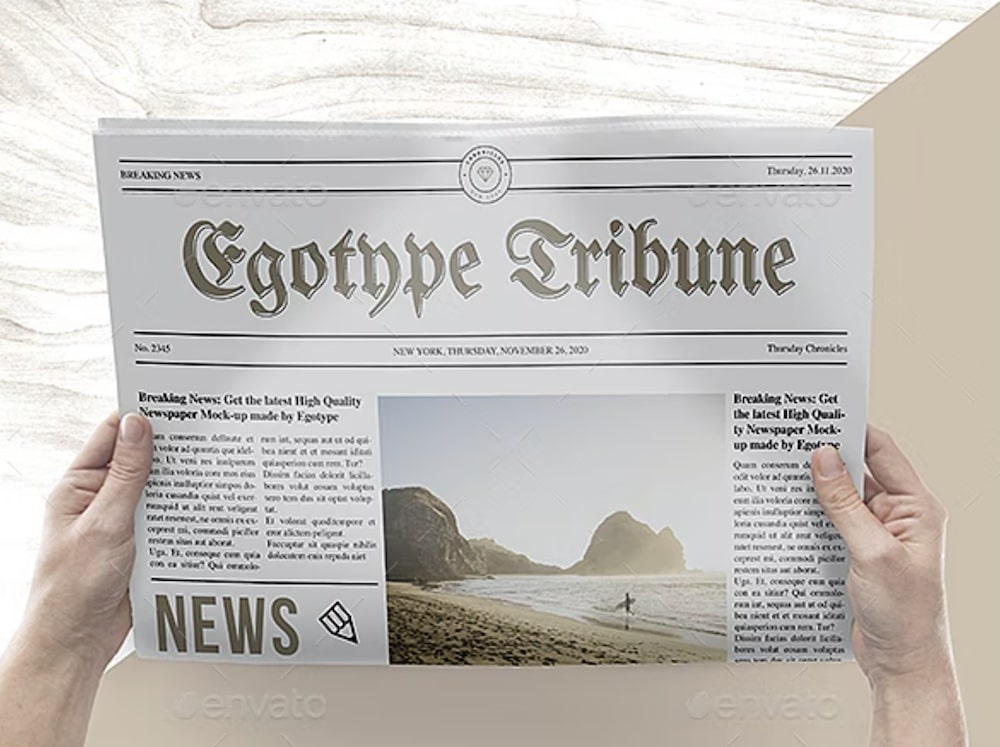 Mike showed me twenty-plus variations that he did with these six PSD templates, all looking JUST gorgeous.
He also mentioned that the clients particularly liked the mockup of the hand holding the newspaper.
Additionally, there are also multiple backgrounds and paper textures available to create an outcome that's precise to your liking.
Of course, you can add a custom backdrop, too!
Price: $2
MORE INFO / DOWNLOAD
12. Newspaper article mockup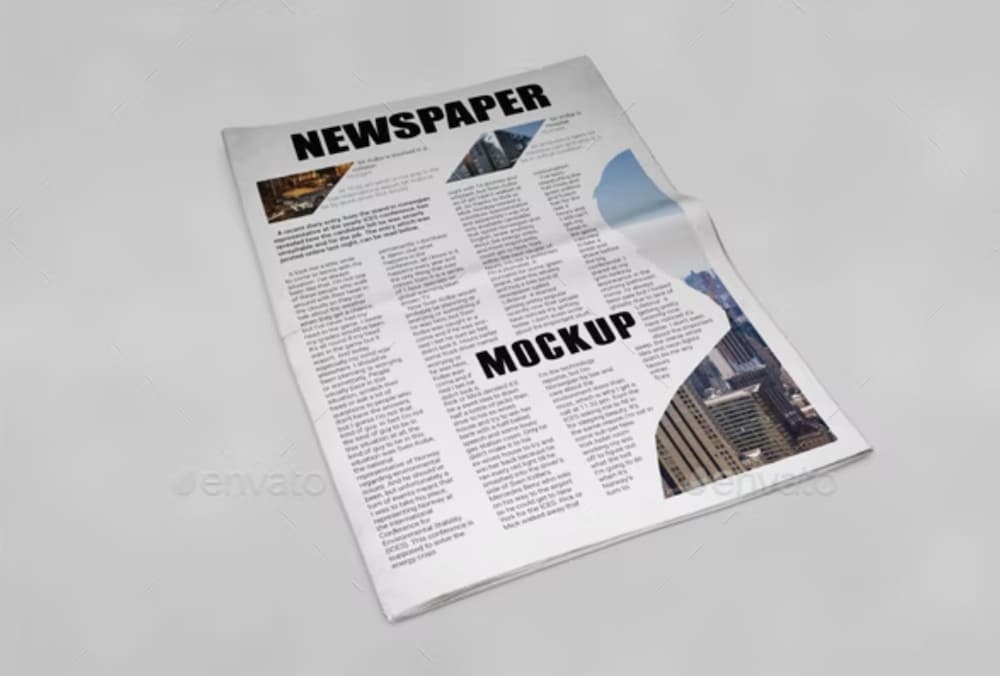 Present a full newspaper article in its natural habitat with these mockups. Multiple views are available, all in 4500 x 3000px (600dpi) print quality for the ULTIMATE outcome.
I think I also need to mention that you get sixteen PSD files! Yup, more then enough, and the angled views are particularly effective.
Note: Two of the templates are also available as free mockups – see below.
Price: $10
MORE INFO / DOWNLOAD
Best Free Newspaper Mockups
Don't miss the free stuff!
Note: All these are available for commercial and personal projects (with attribution).
13. Free half-page newspaper mockup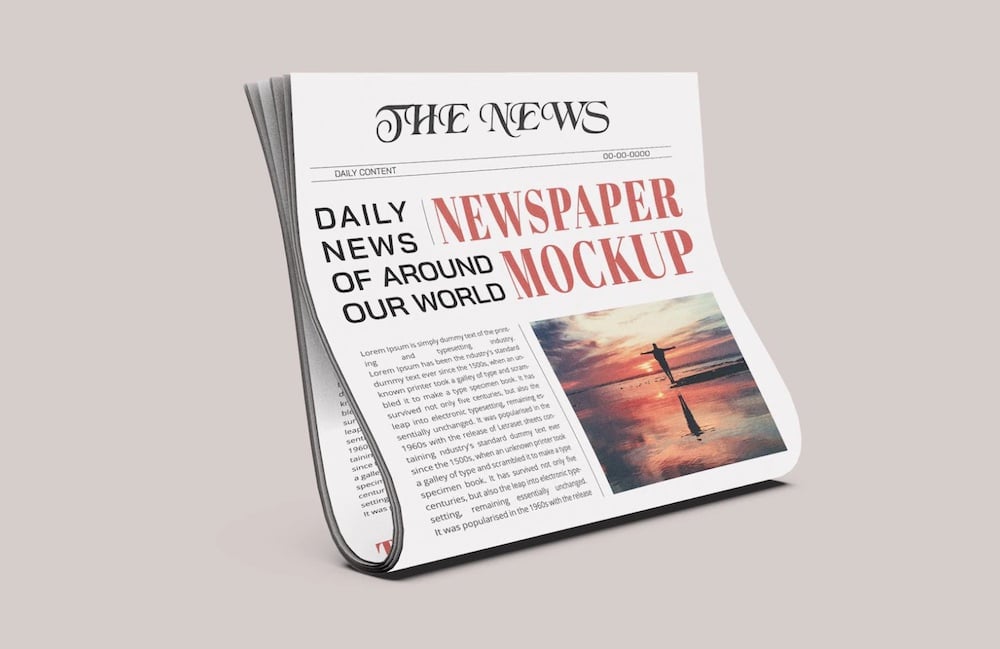 This one is pretty STRAIGHTFORWARD. If you need a mockup to create a presentation of a folded newspaper, well, here you go.
Great quality and easy editing are the core functionalities of the template.
Make your version fast – in fact – in only a few clicks and that's it. How cool does that sound?
MORE INFO / DOWNLOAD
14. Free full-page newspaper PSD mockup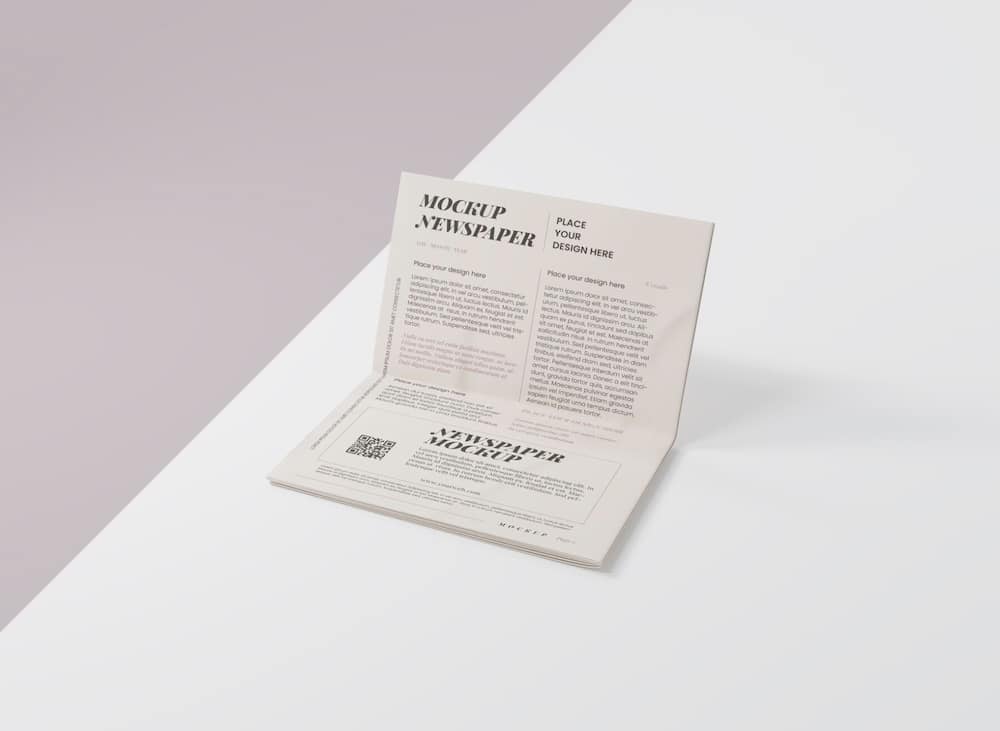 Here's a folded newspaper mockup, which actually still showcases the FULL page.
If you're in need to add a back design as quickly as possible then this is the solution to opt. Without paying for anything!
Use it to make any final adjustments and improvements before the print. (Avoid running into inconvenience – mockups sort things out!)
MORE INFO / DOWNLOAD
15. Newspaper cover concept mockup

Do you have a bunch of ideas for the newspaper cover? Wonder no more and apply this free newspaper PSD mockup to see how your ideas appear in a life-like look.
And I'm pretty sure I don't need to repeat myself about how easy the process of working with the template is, RIGHT?
Just make it happen. You'll effortlessly figure things out on the fly even if it's your first time.
MORE INFO / DOWNLOAD
16. Free broadsheet mockup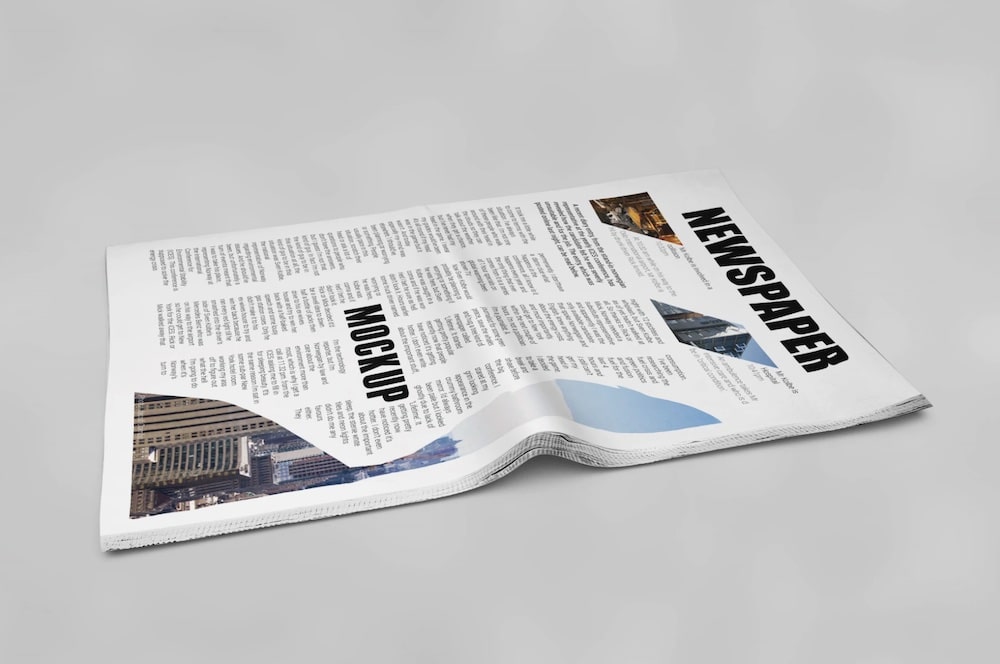 This and the following are the free versions I mentioned earlier. No need to go straight with the premium version, test it out for free and go from there.
But this one works OH SO well, thanks to its excellent quality and realistic appearance.
And even though it's the cover, you can still use it to test other (inner) designs comfortably. Check it out!
MORE INFO / DOWNLOAD
17. Free daily newspaper PSD mockup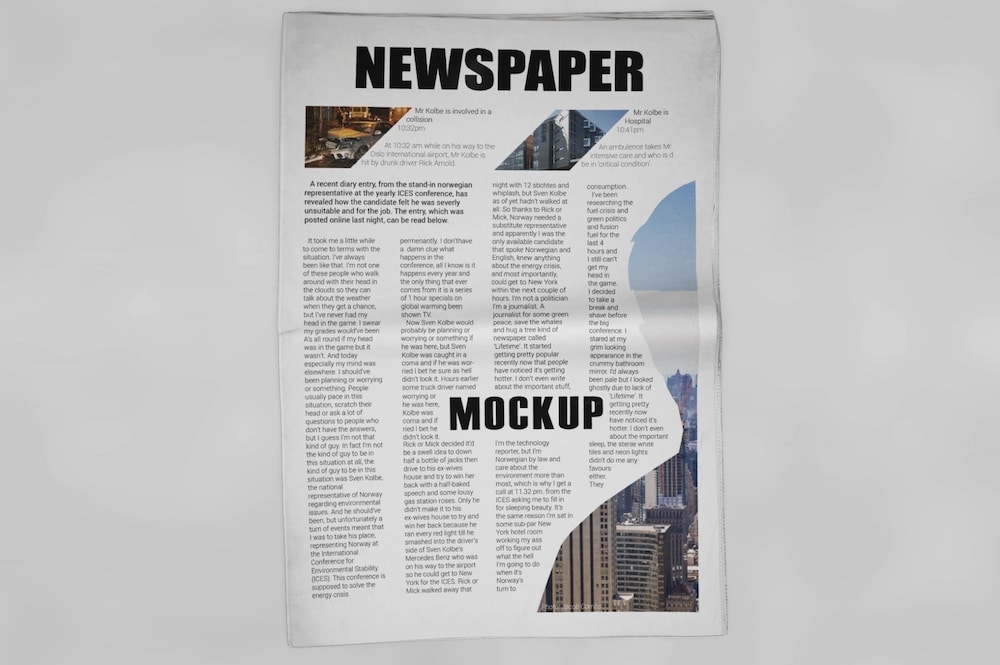 A straightforward front view of a newspaper with a crease that adds to the real-life feel.
No more figuring out whether your project idea fits the newspaper or not. Whether it's an advertisement, text, image, or whatever, you can now REALIZE it for free.
I tell you one last thing: The outcome will be phenomenal!
MORE INFO / DOWNLOAD
How To Create A Newspaper Mockup?
Do you want to create a realistic newspaper design presentation but don't know where to start?
That's OK!
I'm here to share a quick step-by-step guide, so everyone can make it happen regardless of your skill level.
While I usually find using a mockup generator the fastest way, I couldn't find any for newspapers, so we'll use a PSD template.
4 Easy Steps To Make A Newspaper Mockup:
Step 1: Open Photoshop and import your mockup.
Step 2: Then find the convenient smart object layer and use it to drag and drop your design.
Step 3: You can perform all the other customization tweaks at this stage. I made sure to include PSDs with a great layered structure, so you'll find everything easily.
Step 4: Save and download, and you're done.
Yup, it really is as simple as it sounds.
The process can take seconds, but it depends on how long you'll spend finishing "step 3."
::
Note: This article was originally published on May 23, 2022. But our team regularly reviews it and updates it with necessary improvements for accuracy.