Do you need the best free and premium beanie mockups to create a realistic presentation?
That's great!
I tested many variations to bring you the best-performing mockup generators and free PSDs.
All these templates are VERY easy to use, so you can create the outcome in seconds.
Whether you'd like to add custom embroidery, woven label or a screen printed logo to a beanie, it's all quickly achievable.
Plus, it's all possible- pom poms, knit beanies, black beanies, yellow beanies, whatever your heart desires.
This post covers:
How I Tested Beanie Mockups
As a fan of wearing beanies myself, I put extra thought into testing mockups to collect the best ones.
I used simple and complicated logos and designs to ensure they were clearly visible.
I then tested them with various colors and even used custom patterns.
Plus, I opted for solid-colored backgrounds, gradients and custom ones.
Best Beanie Mockups Generators
You can get a mockup generator for only $7.95 per template (and start for FREE).
Or use a monthly ($14.95/month) or yearly ($89.69/year) subscription to save money if you'll work on multiple projects.
Note: You can make a mockup without Photoshop when using a generator.
1. Beanie mockup of a woman petting her dog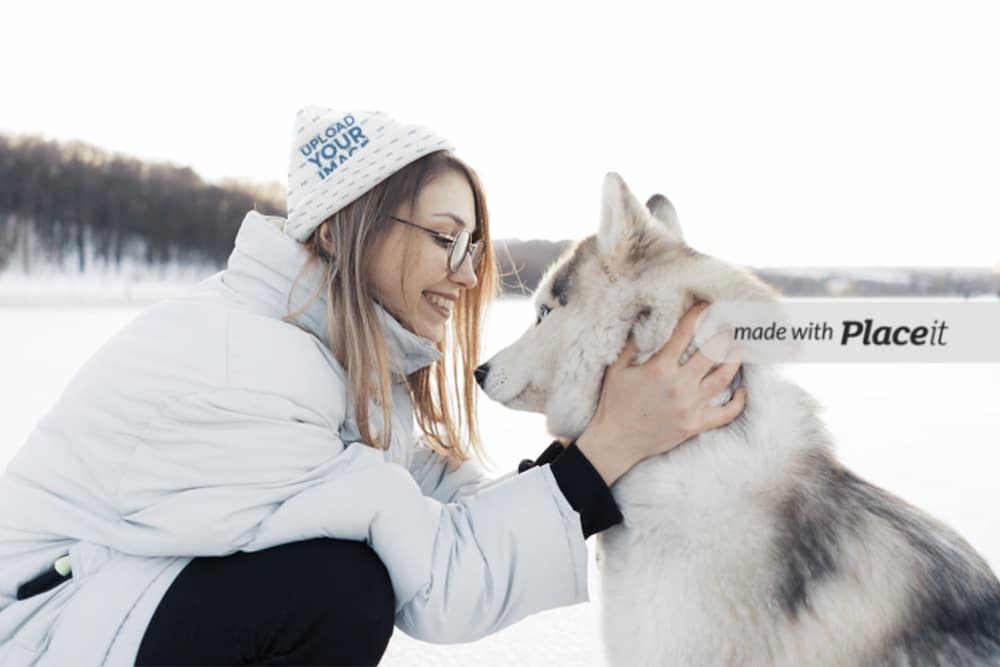 This is for SURE my favorite mockup to create a custom beanie presentation. The winter vibe is on!
And when it comes to customizing the template, you can only adjust the beanie with any color and design you want.
However, you can also spice things up with some text or a graphic (but I didn't use it because the picture is too good to ruin it).
MORE INFO / DOWNLOAD
2. Flat lay beanie mockup on a solid background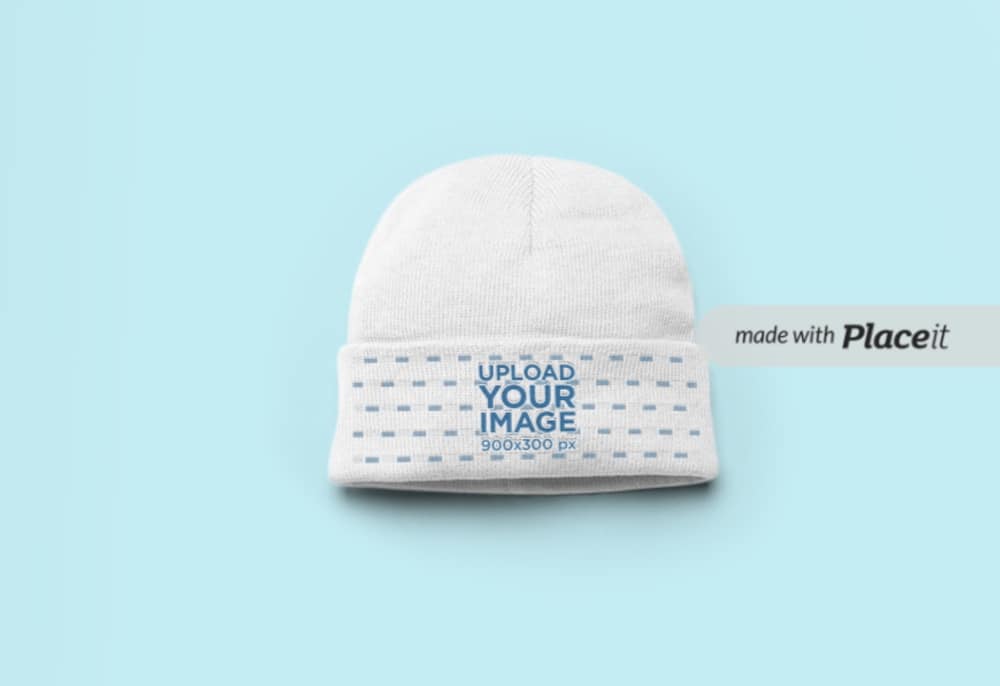 I've used this one eight times already, and I know I'll use it some MORE in the future.
It's a minimalist beanie generator where you can adjust the background and the beanie however you want.
You do all the work with a few clicks.
I like that the template allows you to upload a custom background, which is exactly what I did.
MORE INFO / DOWNLOAD
3. Woman wearing a beanie mockup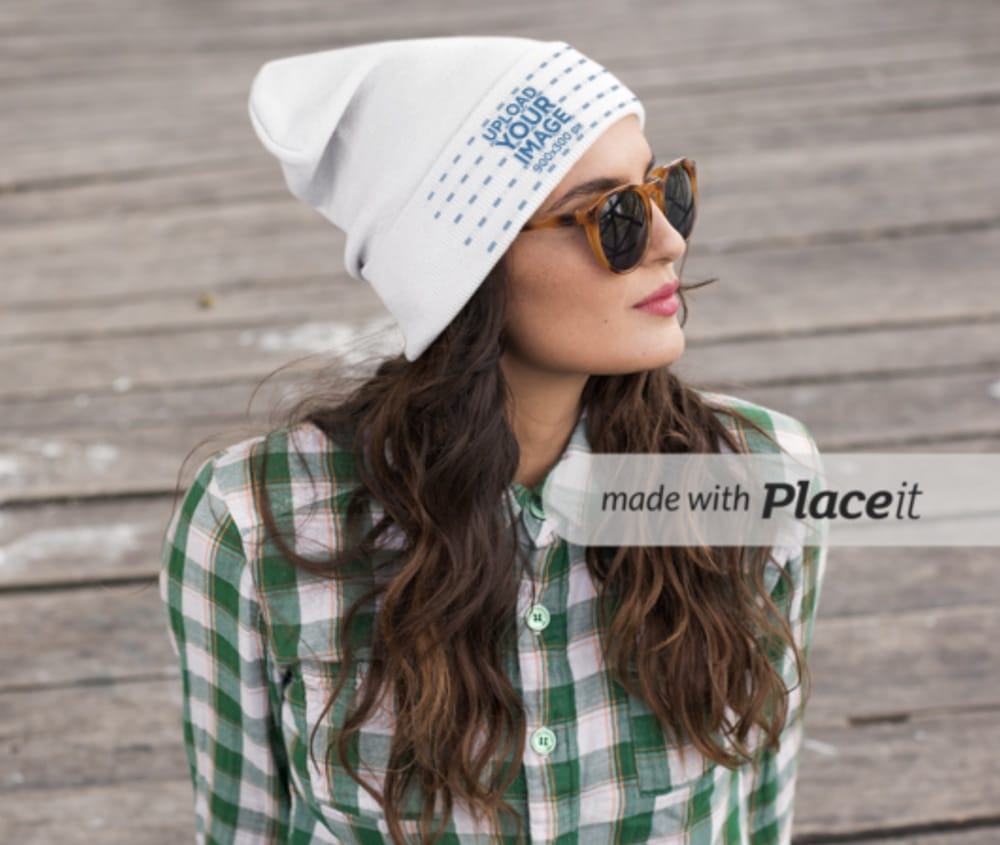 You can create a realistic presentation of your beanie design within seconds, thanks to a mockup generator.
And if you're particularly looking for a female model to sport it, this one is another of my recommendations that will do you well.
QUICK editing means creating a few variations fast to see what works best.
Also, it's a great mockup that you can use for stories, social media posts, newsletters – everywhere!
MORE INFO / DOWNLOAD
4. Mockup of a pom pom beanie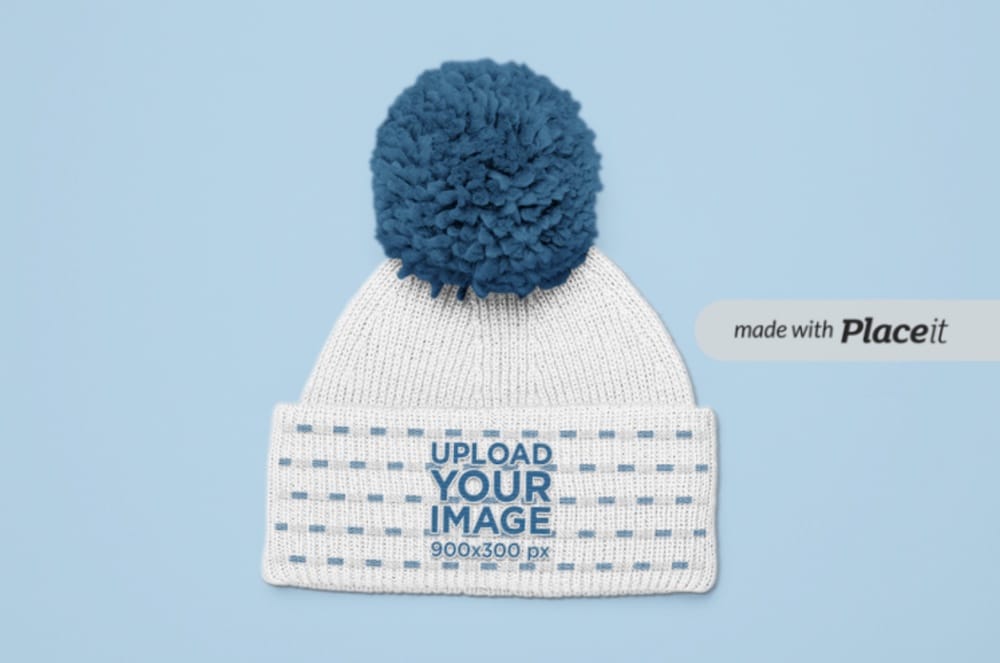 If you need a simple and minimalist pom pom beanie mockup, well, HERE you go!
This one gives you all the freedom to create a custom-colored beanie and pop pom, but you can also modify the background however you want.
Placeit offers you endless background options, or you can upload your own.
MORE INFO / DOWNLOAD
5. Man wearing a beanie mockup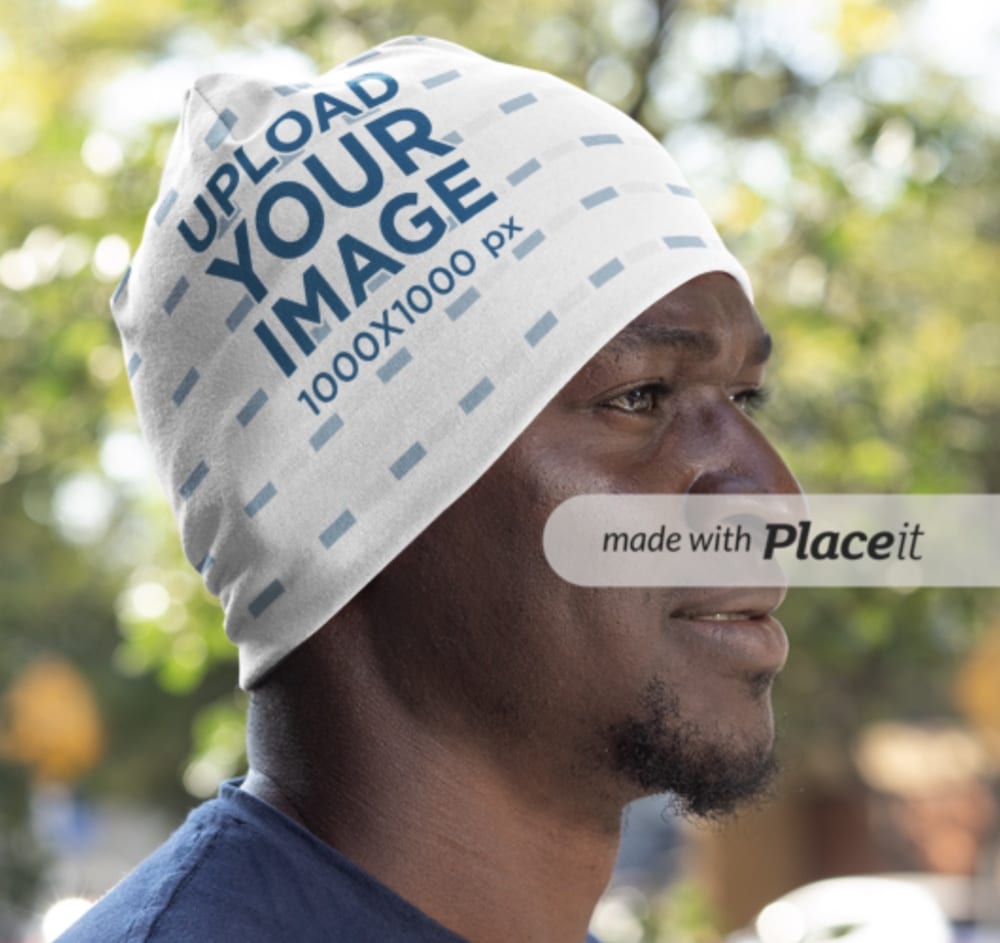 One of my clients particularly wanted me to create a side beanie presentation, and this is the template I used.
It works so well because of its LIFE-LIKE feel and a slight zoomed-in appearance.
And because they used it for a social media campaign, I also used Placeit's text function to add an overlay.
MORE INFO / DOWNLOAD
6. Mockup of a beanie lying on a multi-colored background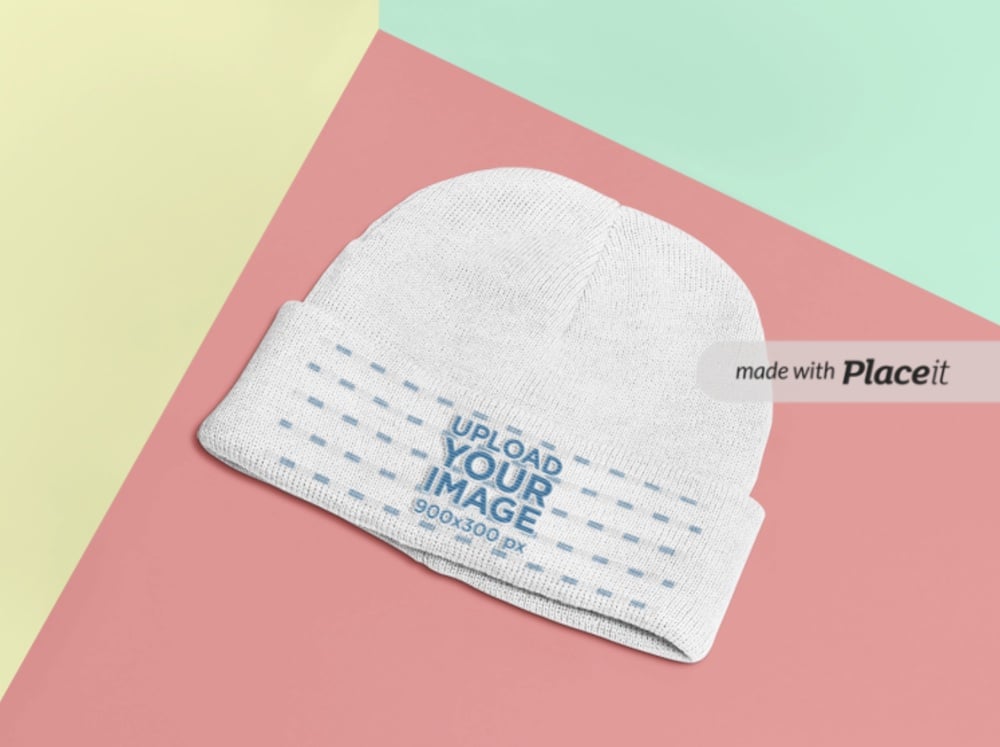 If the above minimalist beanie mockup with a solid-color background is too simple for you, here's a three-toned background version.
One thing's for SURE: You can create a very attention-grabbing outcome with a more dynamic and engaging background.
Everything is editable, so get as creative as you want – without holding back!
MORE INFO / DOWNLOAD
7. Beanie mockup featuring a little girl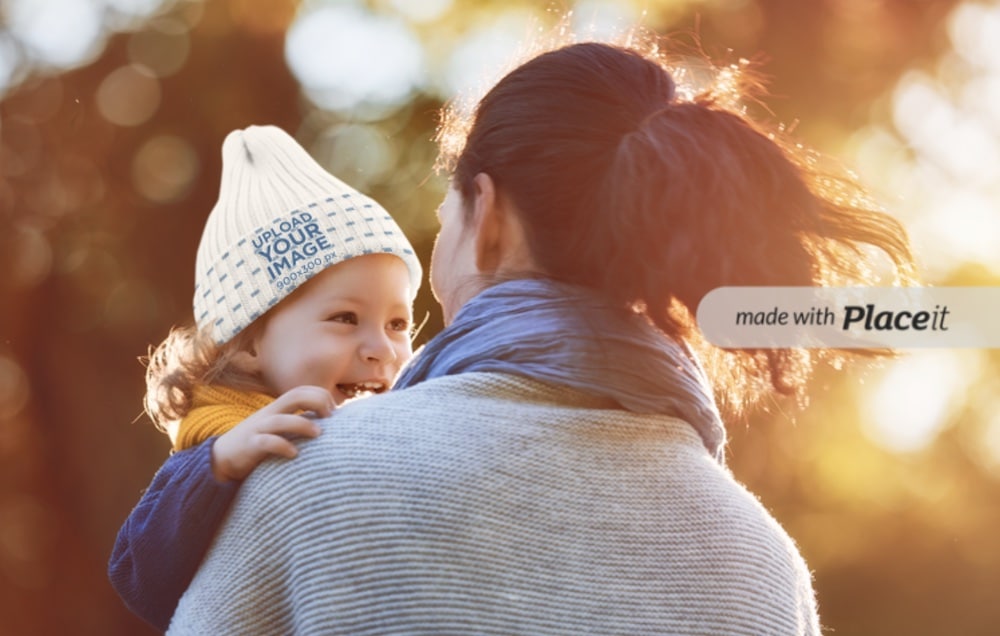 But this one is BY FAR the cutest from this whole collection.
I only used it once for a baby store, and the client absolutely loved it!
The image quality is top-notch, so no one will tell it's a mockup once you adjust the baby beanie with your creative touches.
Try it, and see the magic happen.
MORE INFO / DOWNLOAD
8. Mockup of a woman wearing a wool beanie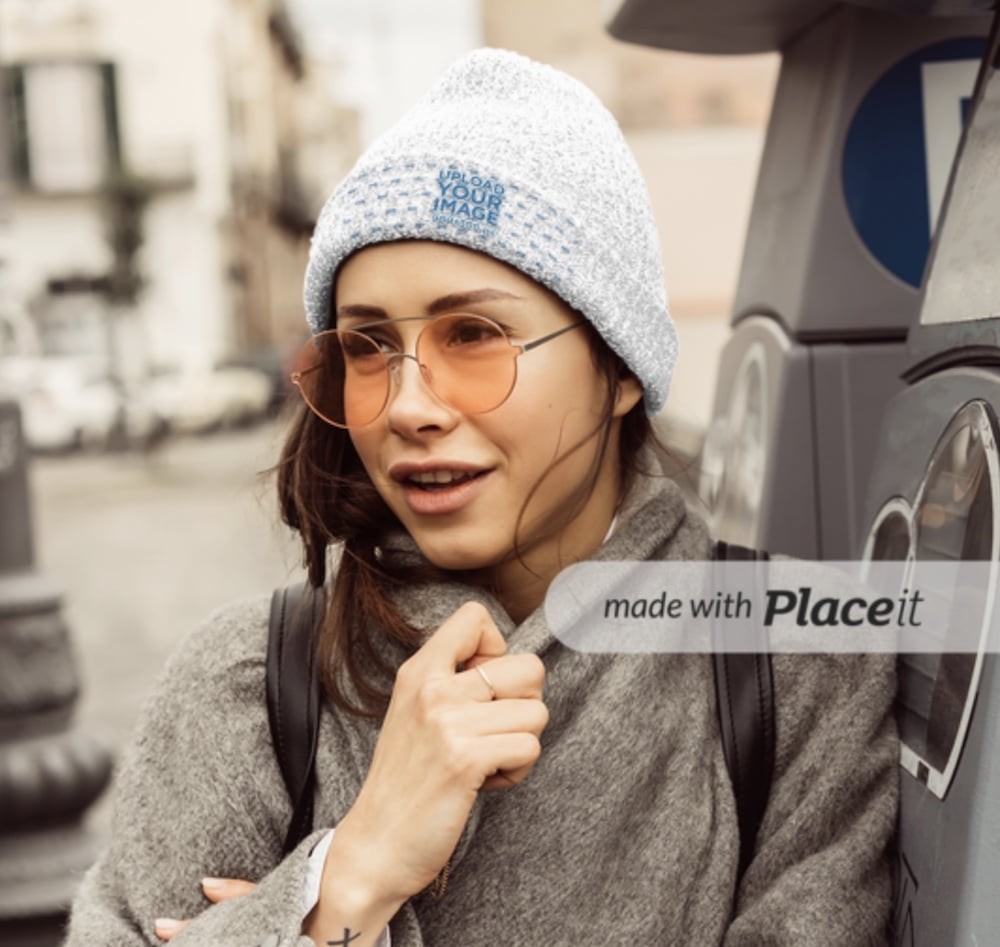 Do you want to achieve a more casual, lifestyle presentation that will blend naturally with other content?
I HIGHLY recommend you test and try this wool beanie mockup because it doesn't feel like a mockup at all!
And all it takes are a few clicks to perform your tweaks, and that's it.
Also, the high mockup resolution allows you to crop the image according to your needs.
MORE INFO / DOWNLOAD
9. Beanie mockup of a skater girl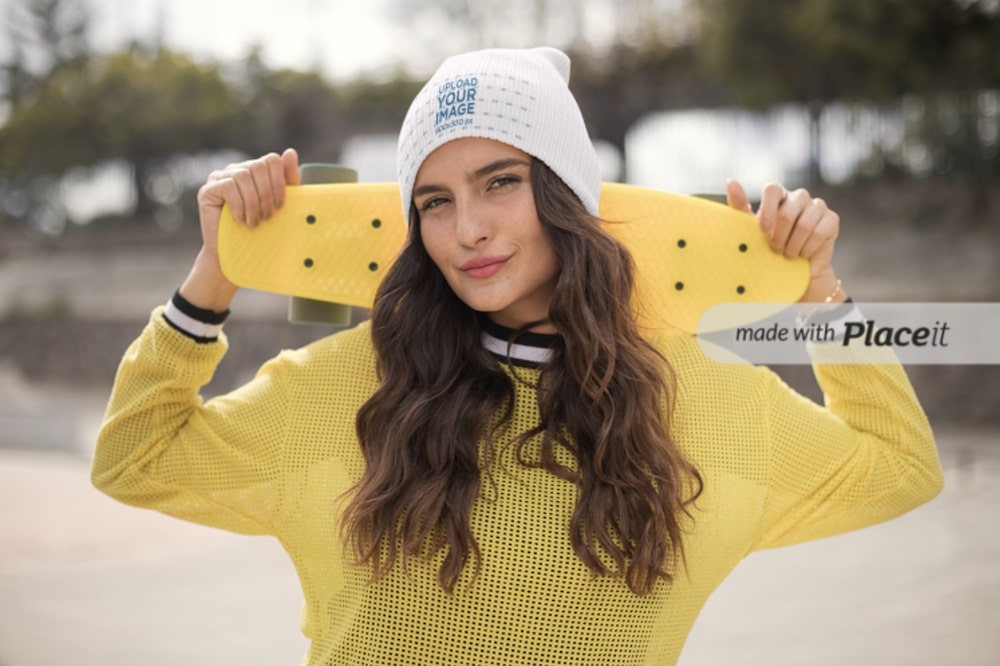 This skater girl will create an AWESOME outcome after you make her wear your beanie design.
I recommend you use this one if your design and branding go well with yellow.
Unfortunately, you cannot change her sweater color, but it'll be EPIC if you find a matching design.
MORE INFO / DOWNLOAD
10. Mockup of a man wearing a pom pom beanie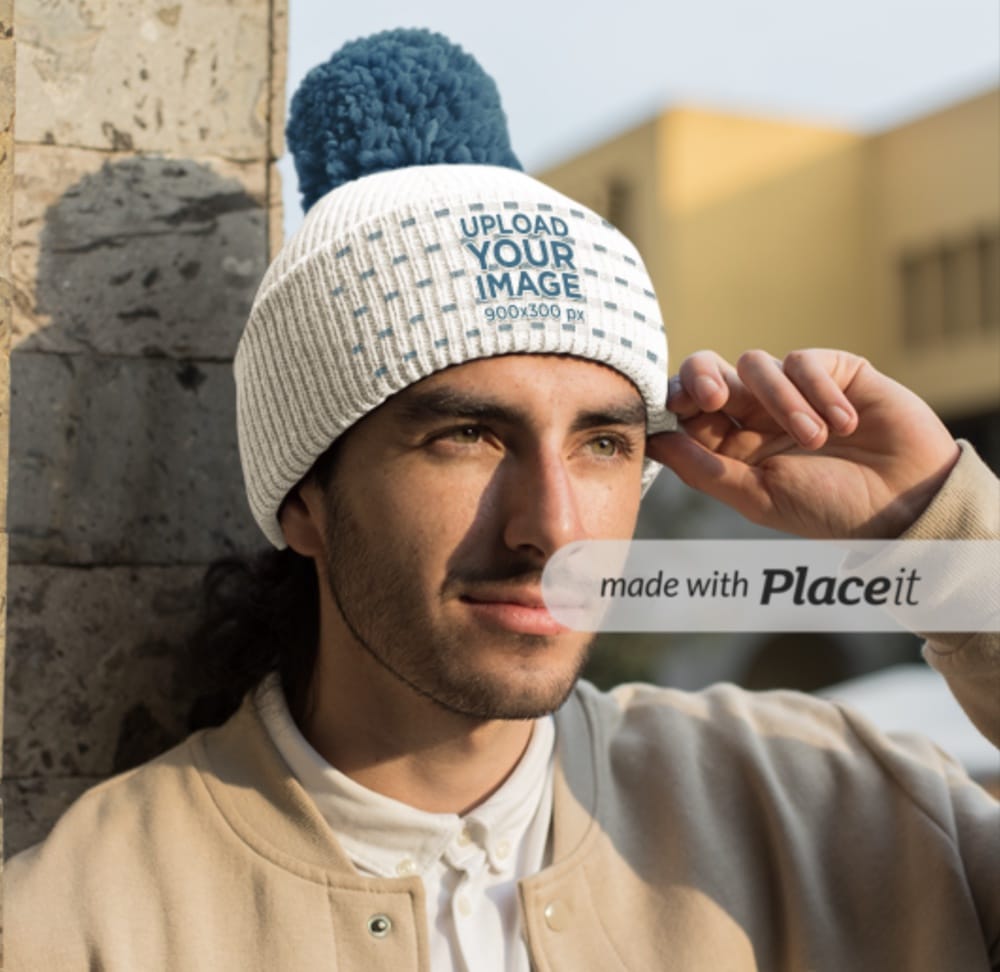 Save money and time with a high-quality mockup generator that'll produce the same AMAZING result as if hiring a model and a photographer.
Create a realistic pom pom beanie display with this generator and make a promotion of a new product drop like a pro.
Four out of five times of publishing it on Facebook, it did really well, but I'm unsure why it flopped once.
Thus, you also have a great chance of creating a strong impression on your audience!
MORE INFO / DOWNLOAD
11. Mockup of a playful man wearing a beanie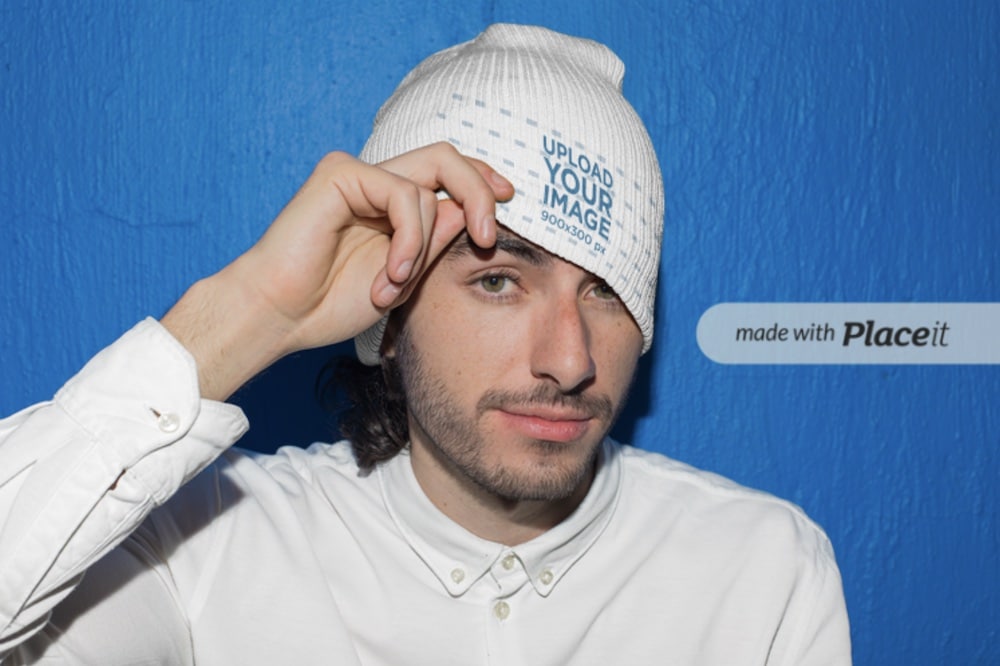 This beanie mockup creates a more catchy and playful atmosphere that'll easily stand out in overstuffed newsfeeds.
You have FULL control over the beanie, so pick any color from the convenient color picker and upload the design you want.
Sadly, you cannot change the guy's shirt or background. Luckily, white and blue can work well with many other color choices.
MORE INFO / DOWNLOAD
12. Realistic pom pom beanie mockup generator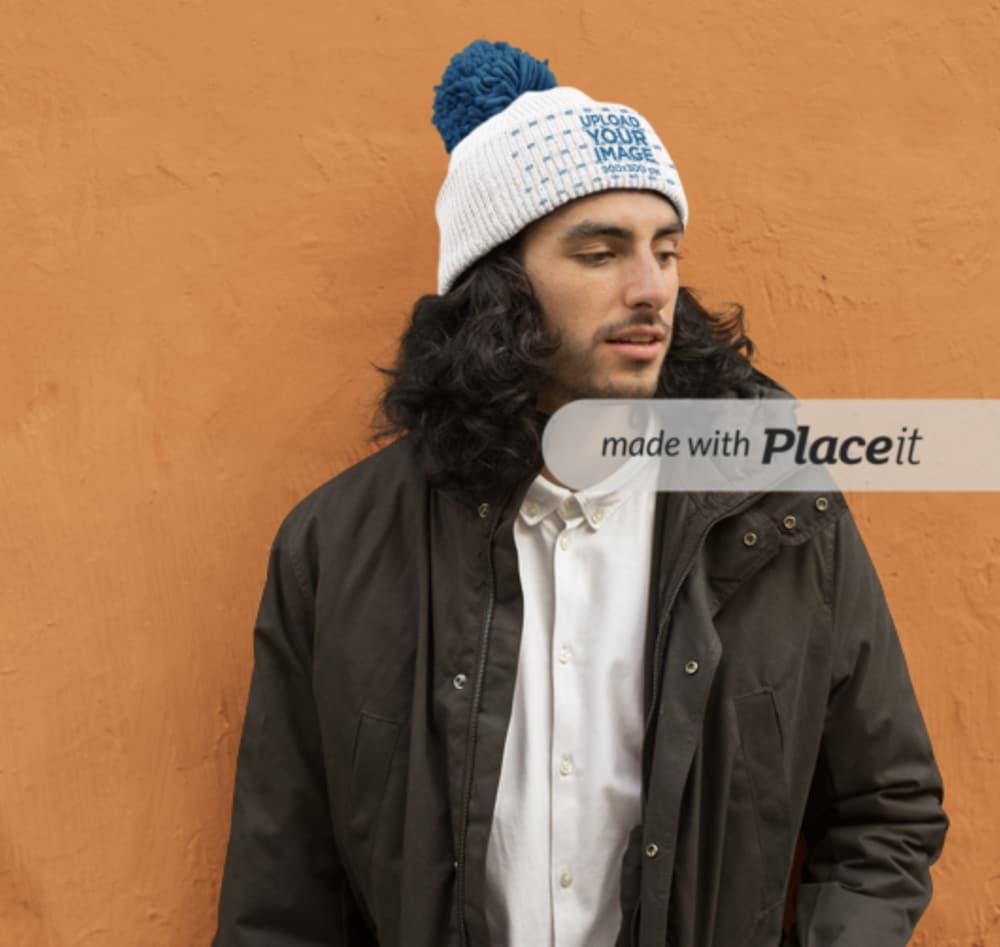 If the previous one doesn't allow you to change the background/wall, this one DOES! But you can also stick with the default, orange one.
And because he wears a pop pom, you can modify the base and the pom pom with any color of your choice.
Insert your image, and you're ready to roll!
Of course, there's also an option to add text and a graphic (you can even upload your own).
MORE INFO / DOWNLOAD
13. Beanie mockup of a male model in the city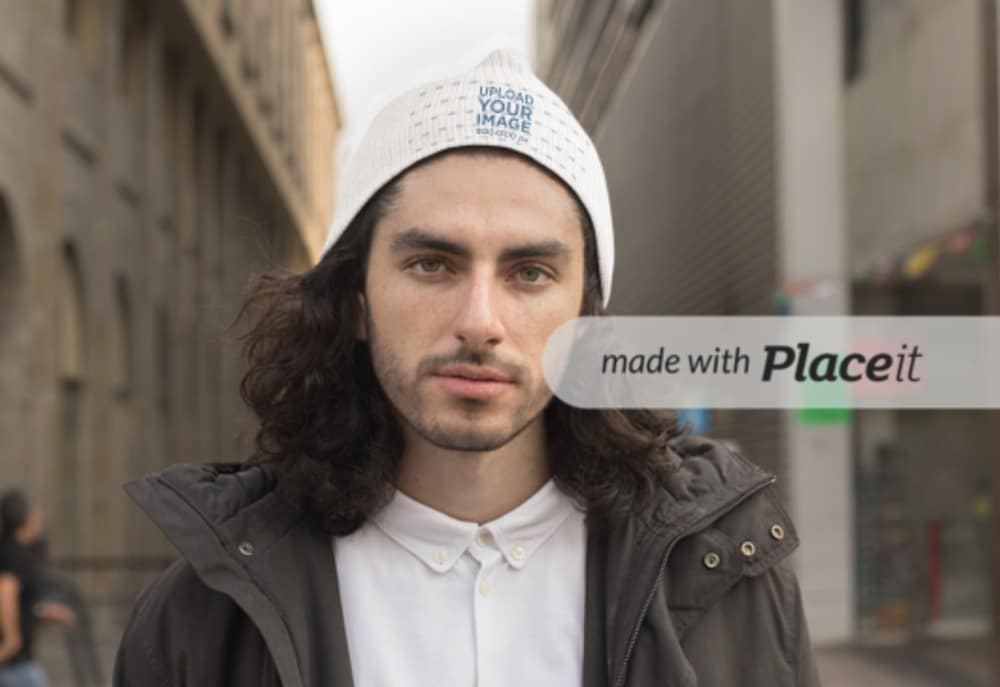 A beanie is a great accessory for a casual outfit, and this is an EXCELLENT mockup generator that represents just that.
The almost immediate work gets you the final product so fast that it won't even feel like work.
However, you can create as many design/color combinations as you want before finding the best one.
MORE INFO / DOWNLOAD
Best Free Beanie PSD Mockups
I also have a few high-quality freebies here for you that you can use to create life-like beanie versions without spending a dime.
14. Free beanie winter hat mockup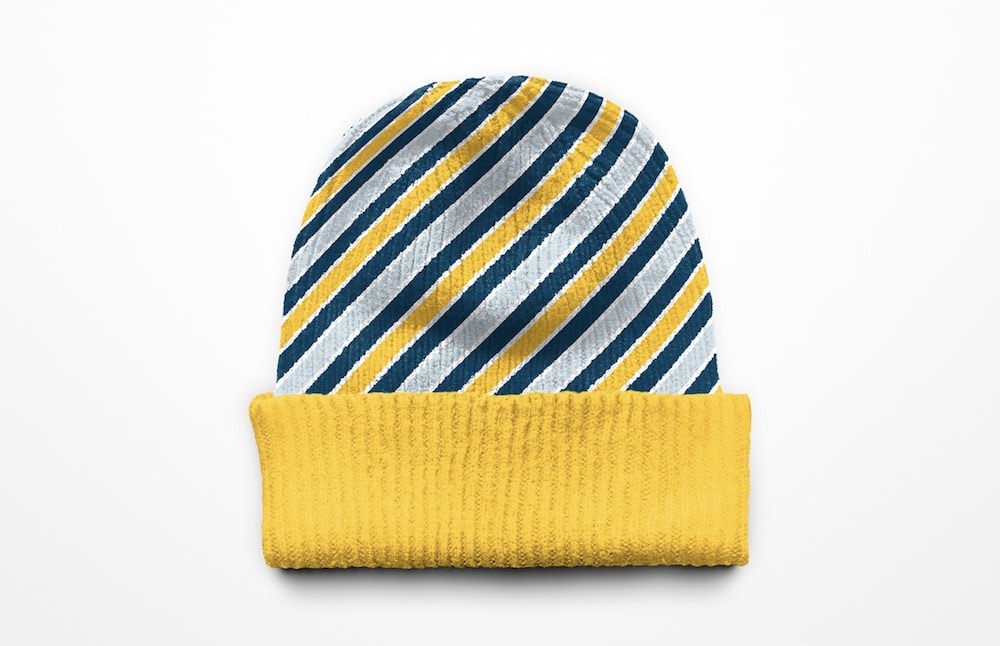 A fully editable layered PSD file where you can create a CUSTOM brim and beanie's base.
You can add any color, pattern and logo you want to make the perfect version for your project.
Also, the template's resolution is 4000 x 3200px, which ensures crisp clear quality. (It worked really well for a zoomed-in showcase I created.)
You can use this one for personal and commercial projects (with attribution).
MORE INFO / DOWNLOAD
15. Free embroidered beanie mockup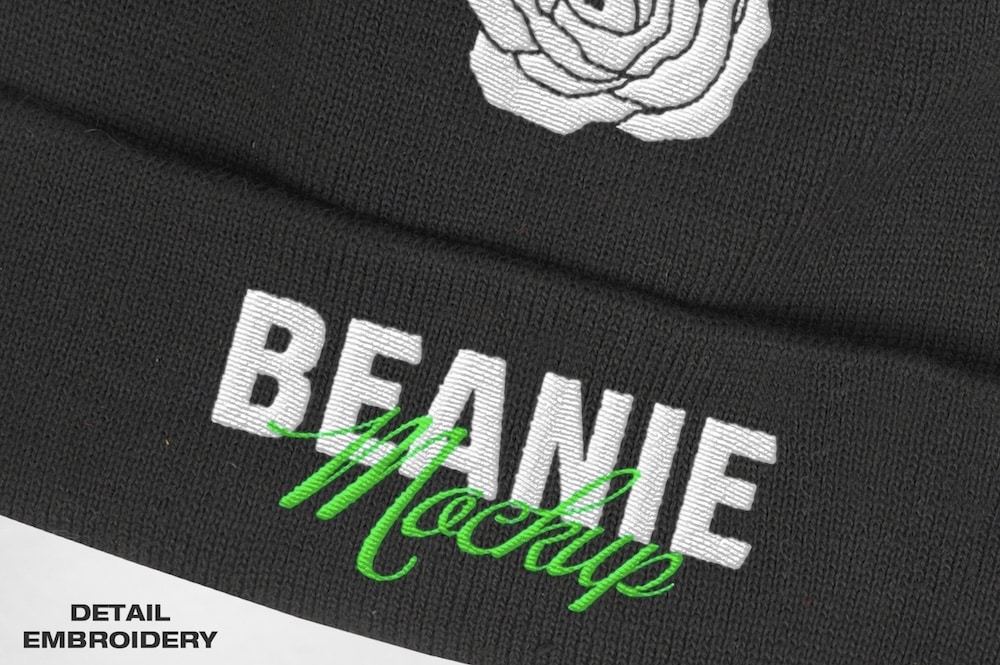 High resolution, different views and excellent detailing make this free beanie mockup more pro than anything else.
What's unique about this one is that you can create an embroidery, screen printed logo, or a woven label.
Your design application happens via Photoshop's smart object layer (drag-n-drop!) for convenience.
MORE INFO / DOWNLOAD
16. Free knit beanie mockup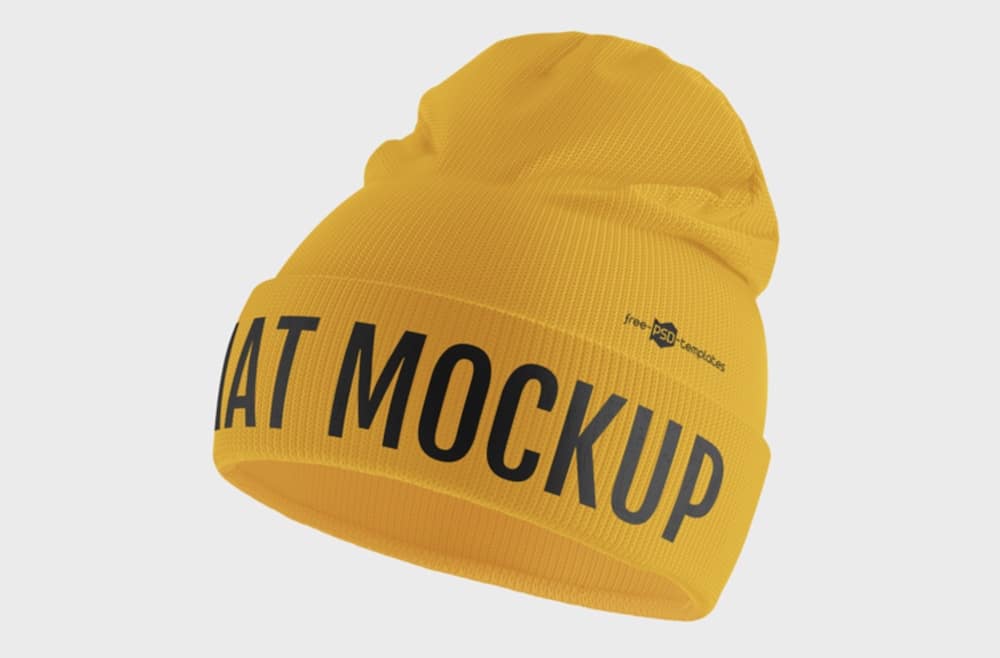 Instead of one PSD template, this set includes three outstanding ones, each with 5000 x 4000px resolution.
Editing is super beginner-friendly so that everyone can take this kit to their full potential (even if a newbie Photoshop user).
You can EXPECT excellent close-ups, thanks to the amazing quality.
MORE INFO / DOWNLOAD
17. Free realistic toque mockup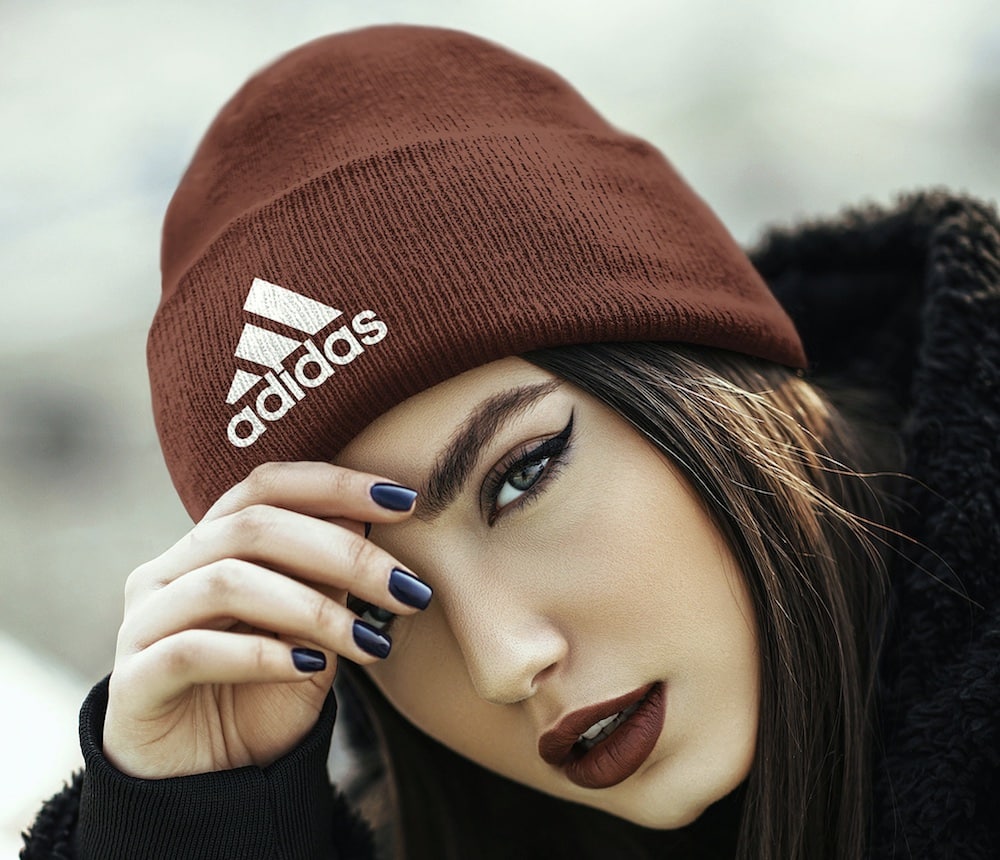 This free version comes in exceptionally handy when testing how a custom beanie design looks on a model.
What's more, you can use the template for personal and commercial projects.
Download the mockup, import it into Photoshop and have fun designing your version because it's so effortless to make it happen.
MORE INFO / DOWNLOAD
How To Easily Create A Beanie Mockup
The easiest and simplest way to create a realistic beanie presentation is with a mockup generator.
I use Placeit most of the time, so here's how you do it quickly:
5 Steps to create a beanie mockup:
Step 1: Visit Placeit, where you have a broad selection of templates to find the ideal one easily. But I still recommend your choose any from the above list, though.
Step 2: Once you have the template you like, upload your design or logo directly from your device using the "Upload image" button. That's what I always do first thing.
Step 3: You can now crop and reposition your design for the perfect fit and click "Crop."
Step 4: With your design on the beanie, you're ready to adjust the colors and background, add text and graphics – and that's it!
Step 5: You're ready to download the mockup and get everyone excited about the new product drop.
Moreover, the process is also very simple when using a PSD file.
Import it to Photoshop, search for the smart object layer and place your design. You then have the option to adjust other features, like color, background, shades, etc.
When you're done, save and download your creation; voila, you have a beanie mockup ready!
::
Note: This article was originally published on December 15, 2022. But our team regularly reviews it and updates it with necessary improvements for accuracy.