Are you searching for the best free and premium notepad mockups to create an EPIC presentation?
Yes, you are!
I'm happy to show you my ultimate collection after testing 50+ mockup generators and layered PSD files.
From simplistic templates to incredibly realistic ones, you get them all.
And best of all?
They're all very easy and quick to use, saving you plenty of time while still achieving a PROFESSIONAL outcome.
This post covers:
Best Notepad Mockup Generators
Each mockup generator costs $7.95, or you can choose Placeit's monthly ($14.95/month) or yearly ($89.69/year) subscription.
I definitely recommend subscription plans if you work on multiple projects because you'll save a lot of money.
Let me tell you a secret: You can make a mockup without Photoshop using these!
1. Mockup of a spiral notepad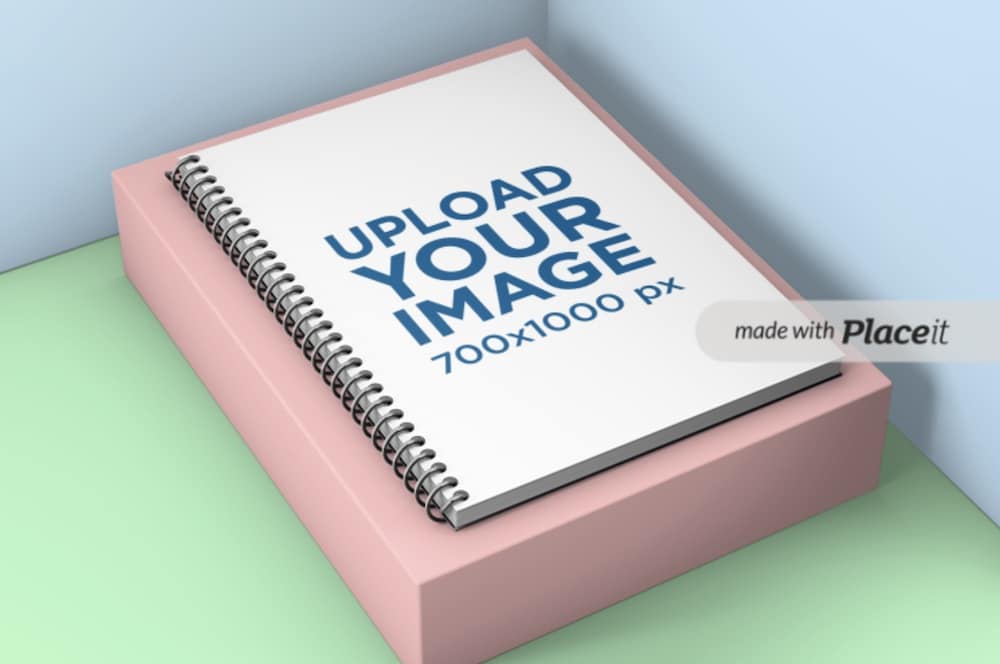 This is one of my favorites because you can easily create a VERY attention-grabbing presentation.
While you can fully edit the notepad, you can also change the color of the base/block, floor and wall.
The color pickers require only a few clicks to make adjustments. But you can also add text and graphics – just don't overdo it because you can ruin the experience.
I only changed the color of the elements and inserted my design – so quick and so simple. But everyone enjoyed the outcome!
MORE INFO / DOWNLOAD
2. Spiral notepad mockup with a two-tone background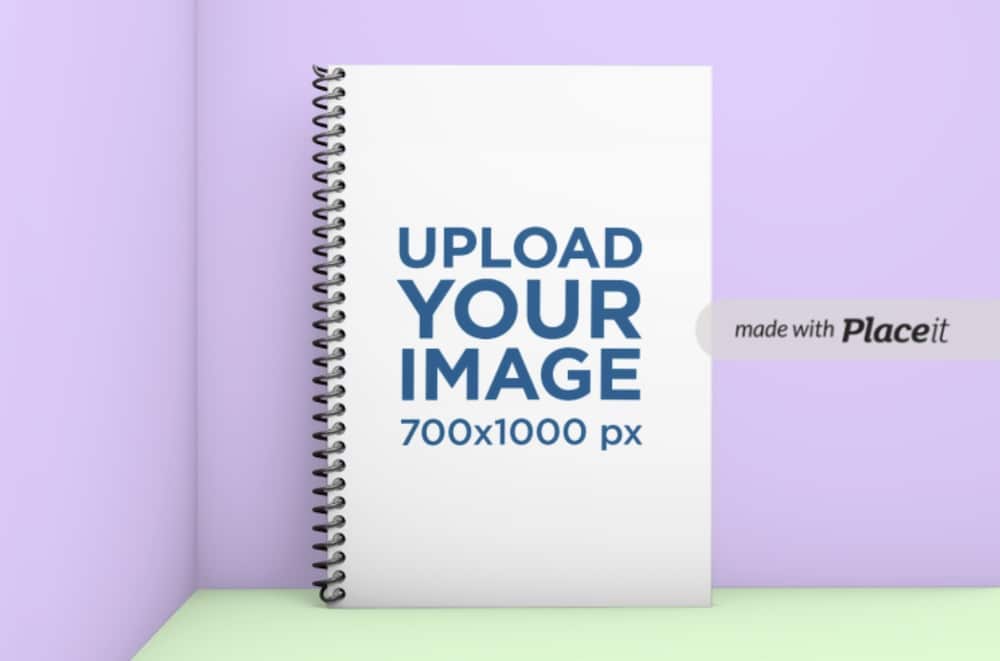 This notepad mockup generator has a similar style to the above one but has an editable floor and wall.
You can cover the 700 x 1000px working area entirely with your image, so you don't even need to change the color of the cover.
But if you're adding a logo or a smaller design, then you can also change the color of the notebook, just like the two-toned background.
EXPECT instant results.
MORE INFO / DOWNLOAD
3. Mockup of an angled spiral notepad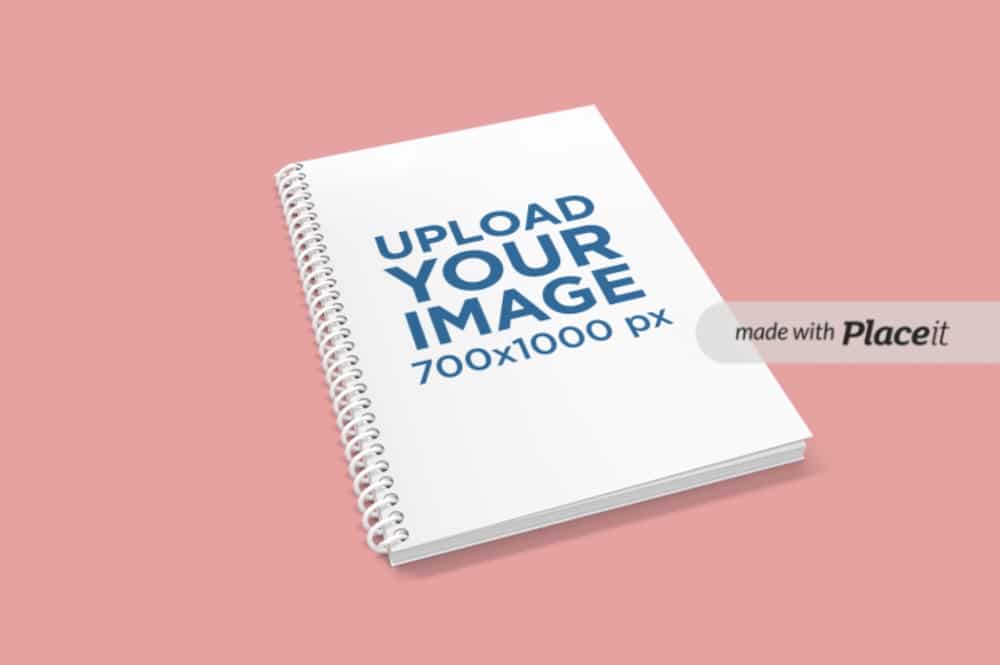 You can also keep things on the minimalist side if you like simplicity. That's why I added this angled spiral notebook mockup that you could test free of charge.
That's right, you don't even need to create a Placeit account to be able to test the waters. But I do recommend creating it because your workflow will be MUCH more effortless.
It takes seconds to insert your image, modify the color and tweak it further with any text and graphics.
MORE INFO / DOWNLOAD
4. Mockup of a notepad on a wooden surface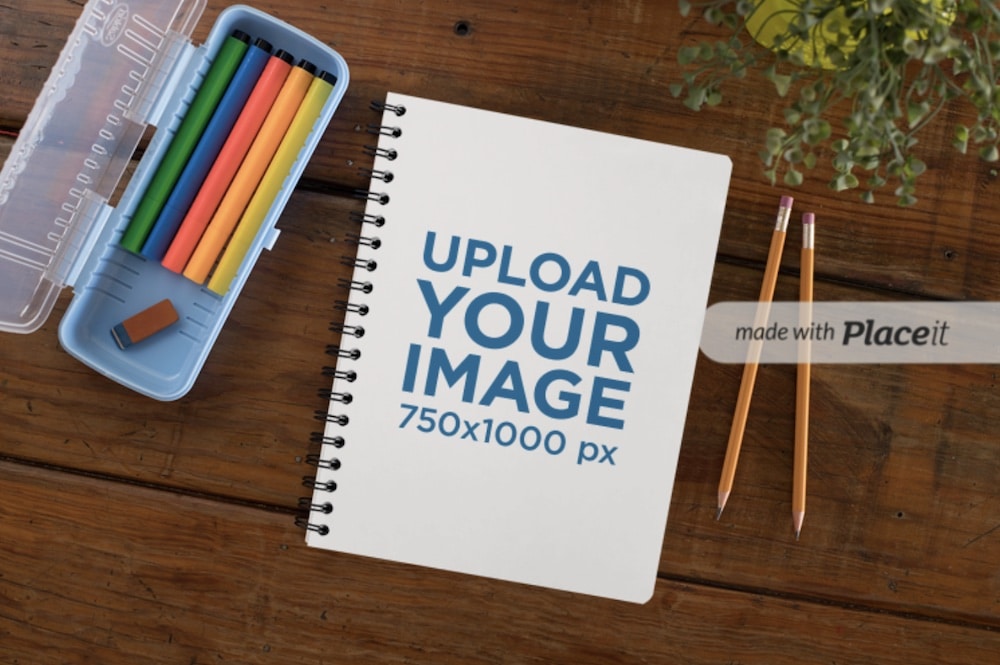 Here's a more LIFE-LIKE version to create an epic notepad presentation of your fantastic design.
But keep in mind you can only customize the notebook's cover.
I highly recommend it if you work on a school or education-related project, but you're welcome to go entirely against the grain.
MORE INFO / DOWNLOAD
5. Woman reading her notepad mockup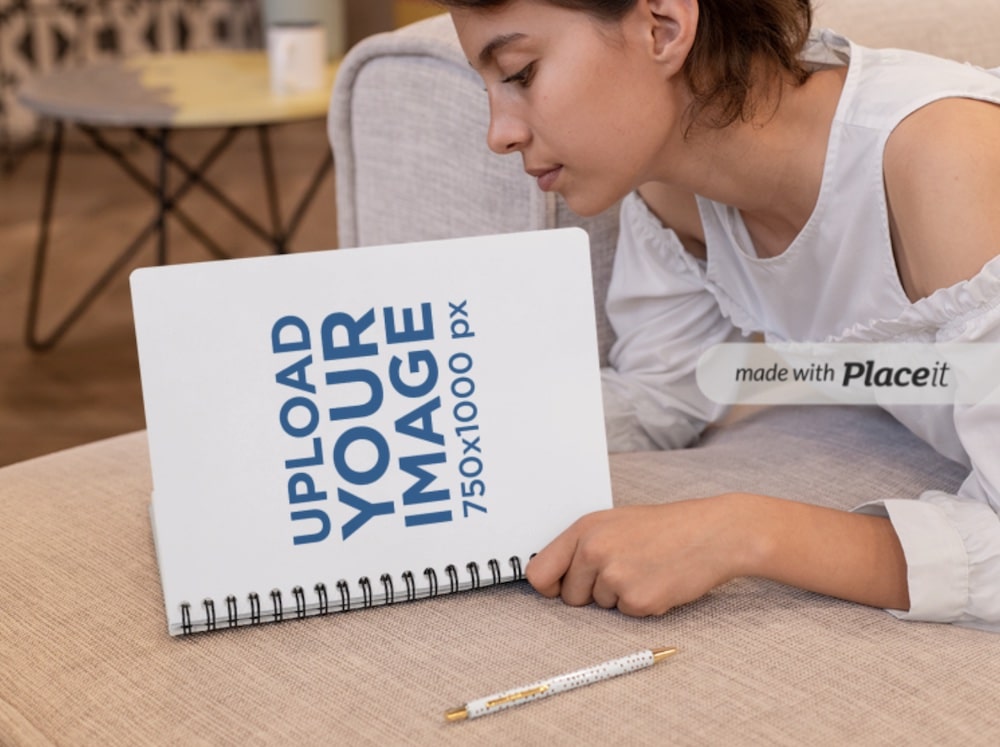 I chose this template for four projects to achieve the 100% realistic result I was after.
The mockup features a woman reading through her notepad, which can now have your design on it.
I always used a brand's logo but changed the cover's color accordingly. And I once even added a text as a call-to-action because it was for a Facebook campaign.
MORE INFO / DOWNLOAD
6. Notepad mockup of a woman working on her desk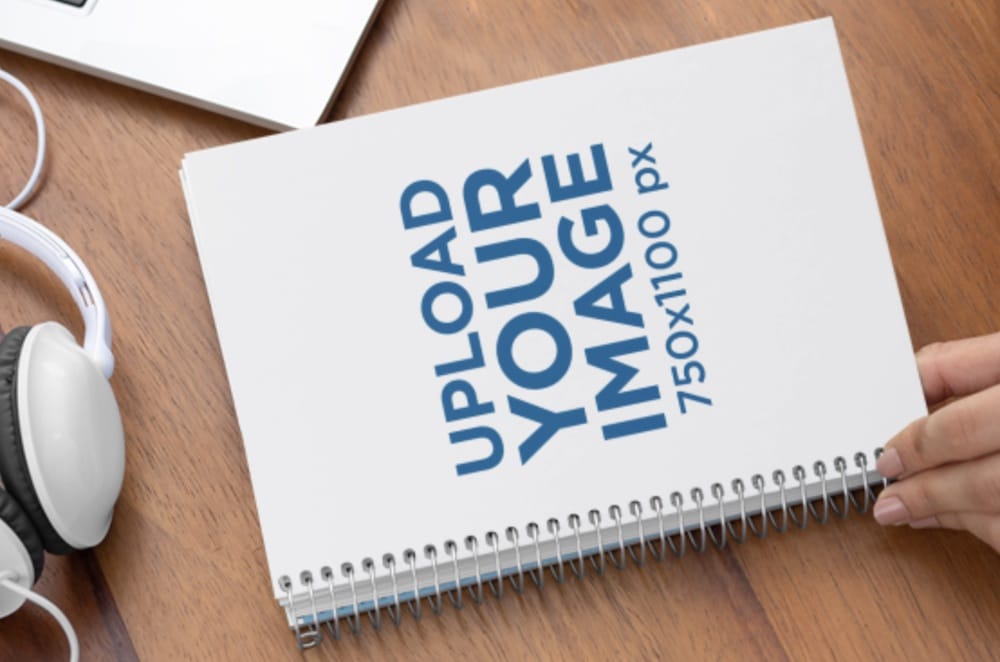 I always have a notepad by my computer where I have my work schedule written and other tasks I must complete during the day/week.
This is a great example of a real-life situation – NO one will even tell you used a mockup to create it.
You can use a design that measures 750 x 1100px, but you can also work with other dimensions. Placeit has a fantastic crop function to adjust the positioning however you want.
Then add a graphic or some text (if necessary), and you're ready to go.
MORE INFO / DOWNLOAD
7. Woman studying with her notepad mockup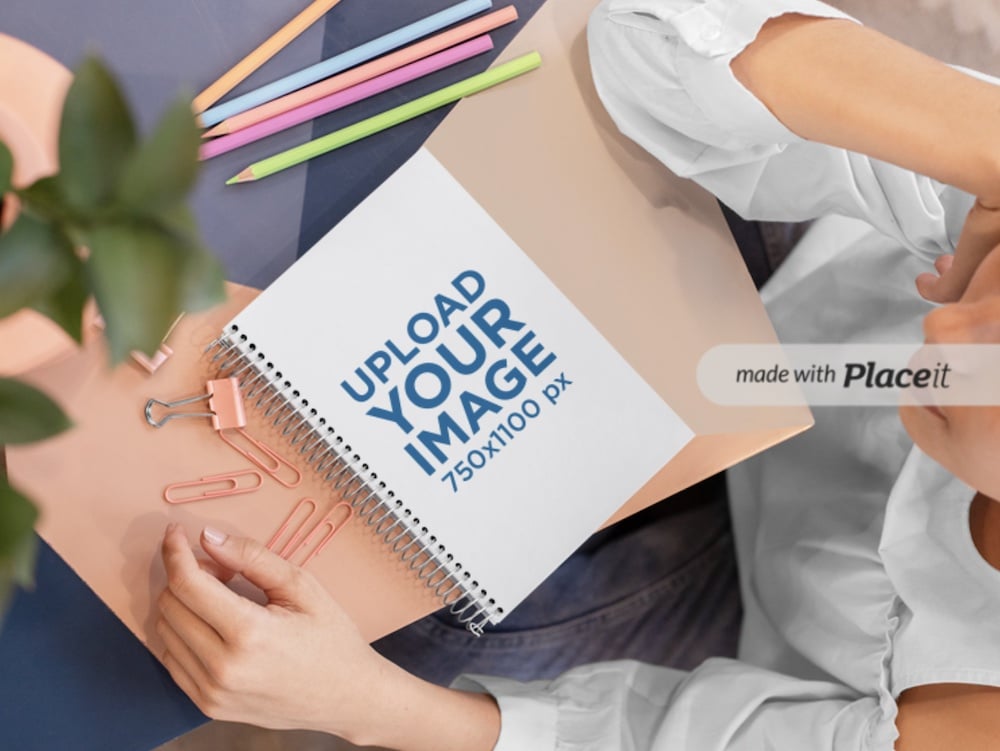 Everyone will easily relate to this notepad mockup if the focus audience are students.
You don't need to spend much time working on a realistic presentation because most of the work is already done.
Change the notebook color, insert your image, and your work could be done already.
Note: Even though it has Text and Add Graphics buttons, I don't recommend using them.
Why? The mockup is already crowded enough, so focus on decorating just the spiral notepad.
MORE INFO / DOWNLOAD
8. Teenager boy reading his notepad mockup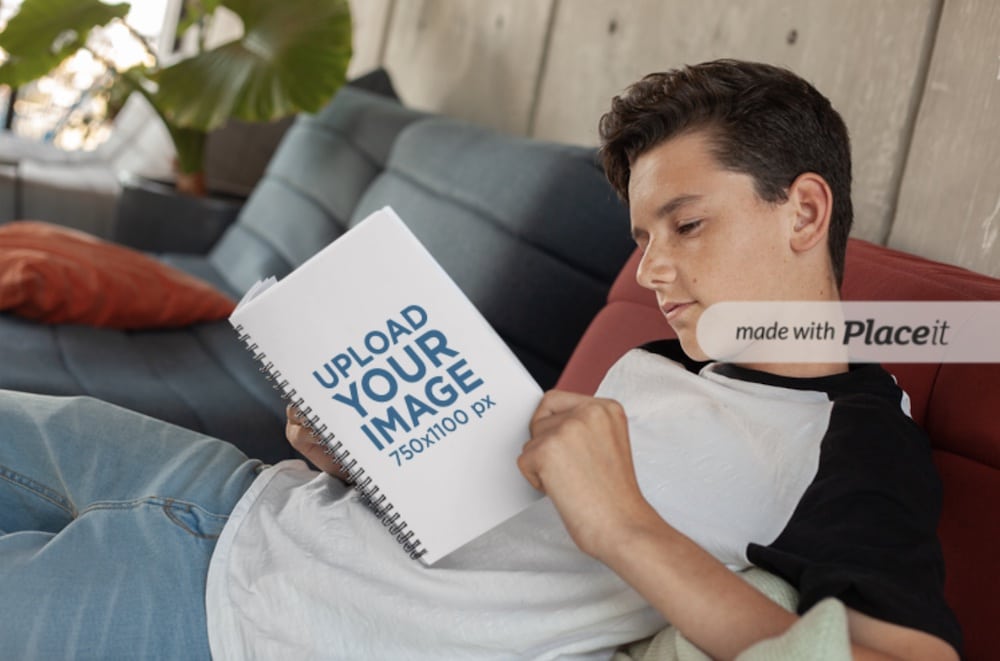 I really dig this one because it's so casual and so genuine. And how WELL a custom design fits the notepad makes the outcome appear phenomenal.
You'll see what I'm talking about once you try it.
And you will because the workflow is child's play, even if you decide to create multiple variations to compare them against each other.
MORE INFO / DOWNLOAD
9. Top view mockup of a spiral notepad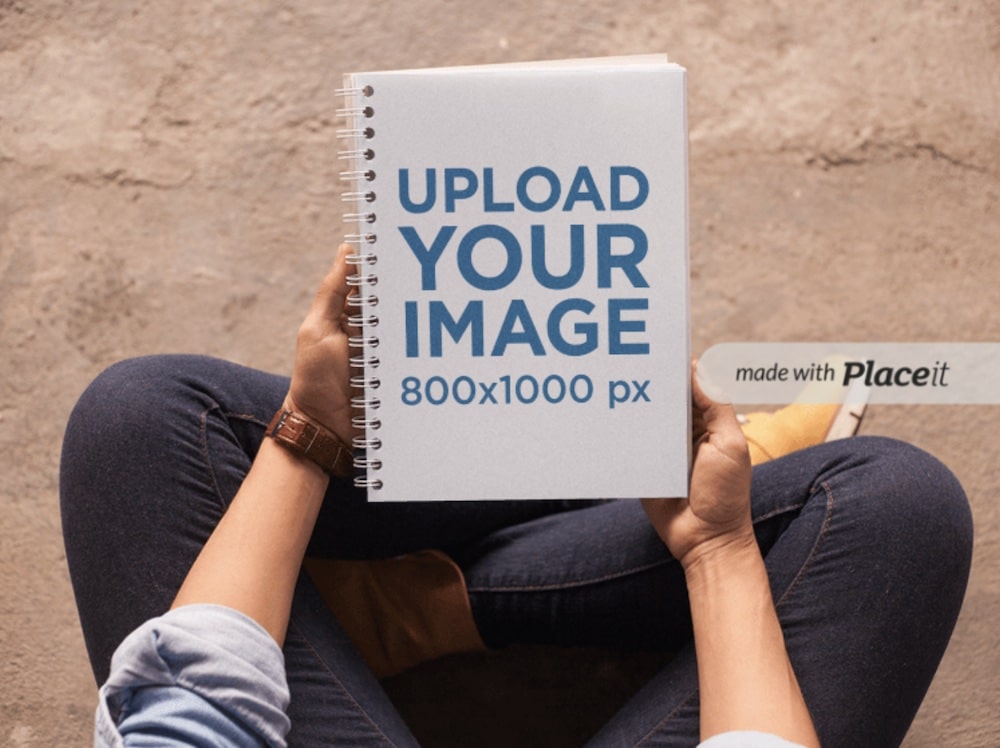 POV notepad mockup, anyone?
ENJOY this top view that immerses the viewer into the design a lot easier.
And you'll have a final version ready in a snap because the notepad's cover is the only thing you can edit.
The graphics and text are also available but include them only if it's really necessary.
MORE INFO / DOWNLOAD
10. Mockup of open & closed A5 notepads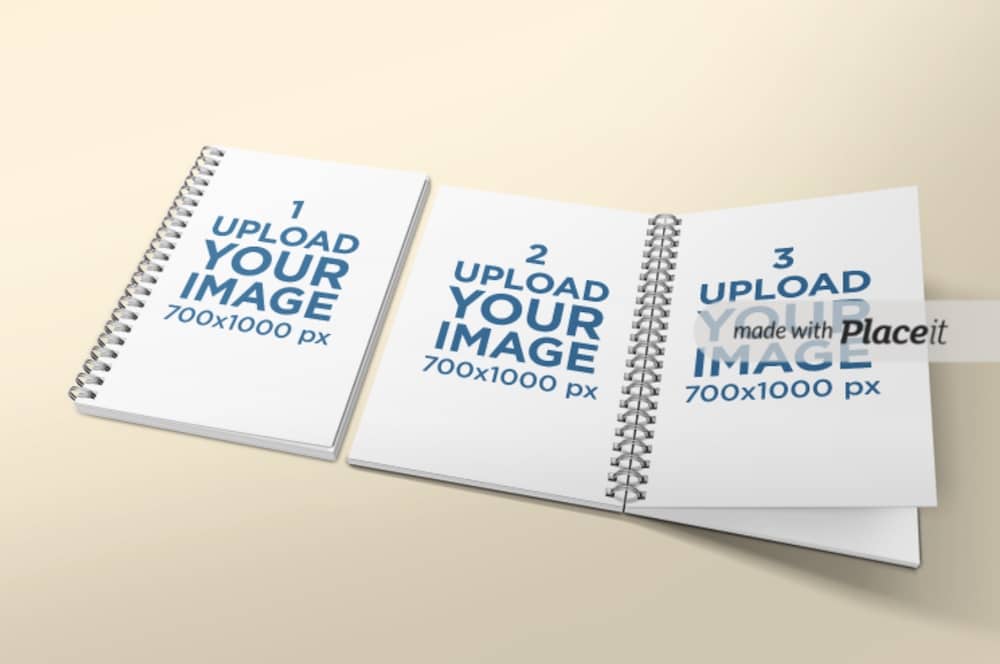 While most of these notepad mockups feature only the front cover, this one comes with three working areas.
You can use the first one for the front design, and you then also have a chance to add two internal artworks.
The only downside is that you cannot change each page with a different color. Once you change the color, it changes on all three.
However, that's not even important if you work with FULL-PAGE designs.
Have fun because it has so many great customization options!
MORE INFO / DOWNLOAD
11. Mockup of a notepad on a dressmaker's table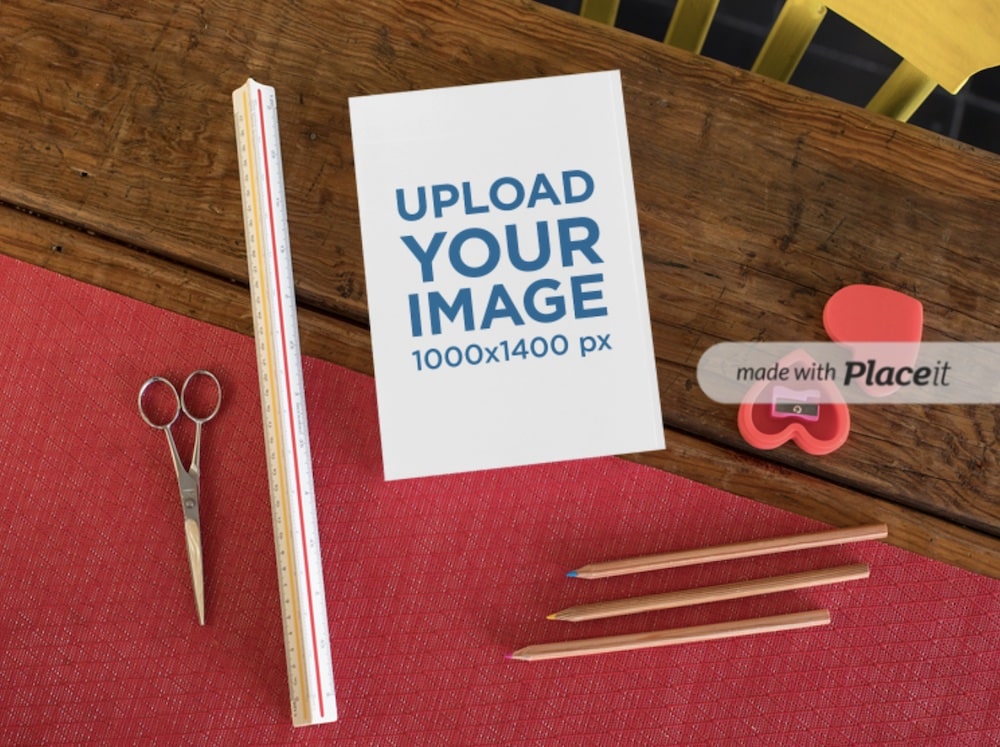 Are you ready for something a little MORE specific? A notepad mockup of a dressmaker, anyone?
I'm adding it only because I've used it for two local dressmakers and the outcomes were great.
It requires no time at all to make your version out of it after you upload your design or logo.
And I don't think you need to add the text and graphics because the dressmaker's tools and wooden table do the job so well.
MORE INFO / DOWNLOAD
12. Notepad mockup with transparent background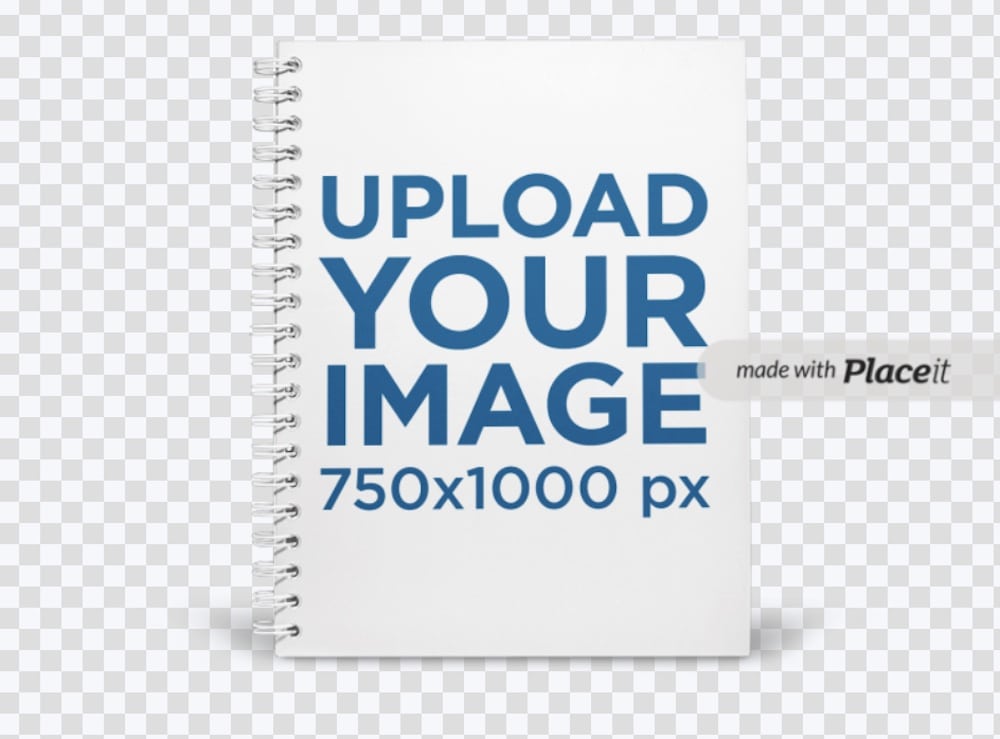 Simplicity at its finest!
A notepad mockup with a transparent background, which you can later customize HOWEVER you want with any backdrop.
What's also cool is that adding a (custom) graphic works really well in this case.
You have the right to modify the default settings as you wish, add texts – whatever!
Enjoy.
MORE INFO / DOWNLOAD
Best Free Notepad Mockups
Who's down for some freebies? I am!
I'm only including these because I thoroughly tested them, and each produced excellent results.
Note: Attribution is required for all these mockups if you want to use them for free.
13. Arrangement with notepad on a desk mockup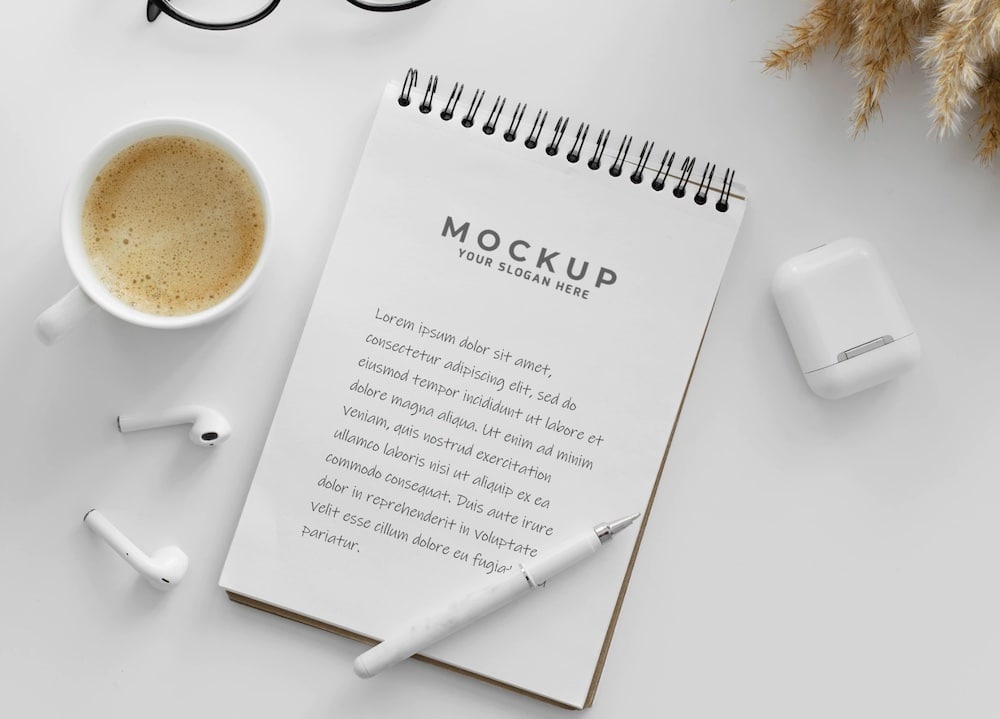 A cup of coffee, glasses, AirPods and a pen are the perfect companions of a spiral notepad.
EASY editing through Photoshop's smart object ensures beginners and pros get the most out of it with ease.
MORE INFO / DOWNLOAD
14. Top view notepad mockup with coffee, pen & clips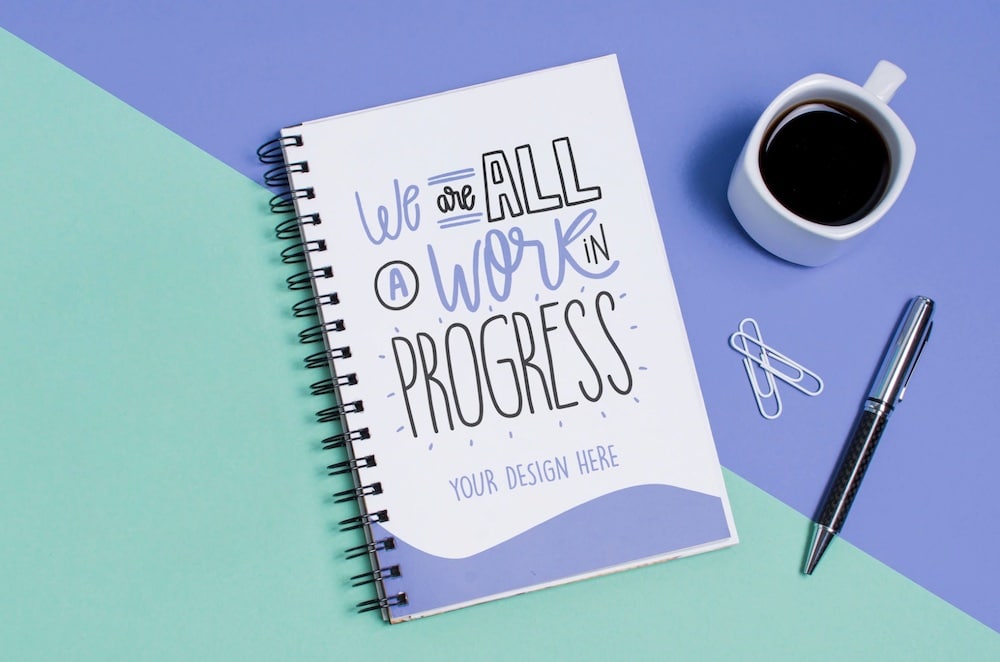 This top view mockup of a notepad is an easy-to-work-with layered PSD file that's ready to make a STRONG impression on everyone.
I like the two-toned background because it allows you to really spice things up with custom coloring.
Make it more engaging and vibrant or keep it super minimalist – the choice is yours!
MORE INFO / DOWNLOAD
15. Elegant notepad on black surface mockup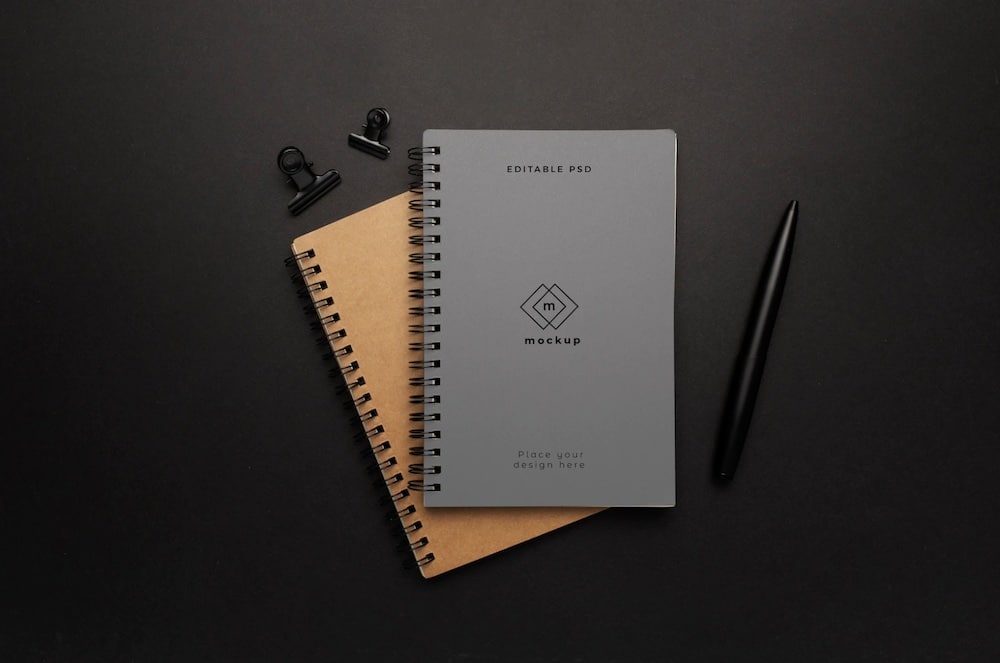 If you want to achieve a more sophisticated, elegant and business outcome, then I suggest you go with this notepad mockup.
It features a black background surface with a black pen and two black paper pins. (I like black, by the way.)
Anyhow, the notepads are not black.
The top one is FULLY editable to present any design and logo you'd like to test.
MORE INFO / DOWNLOAD
16. Notepad with woman's hands mockup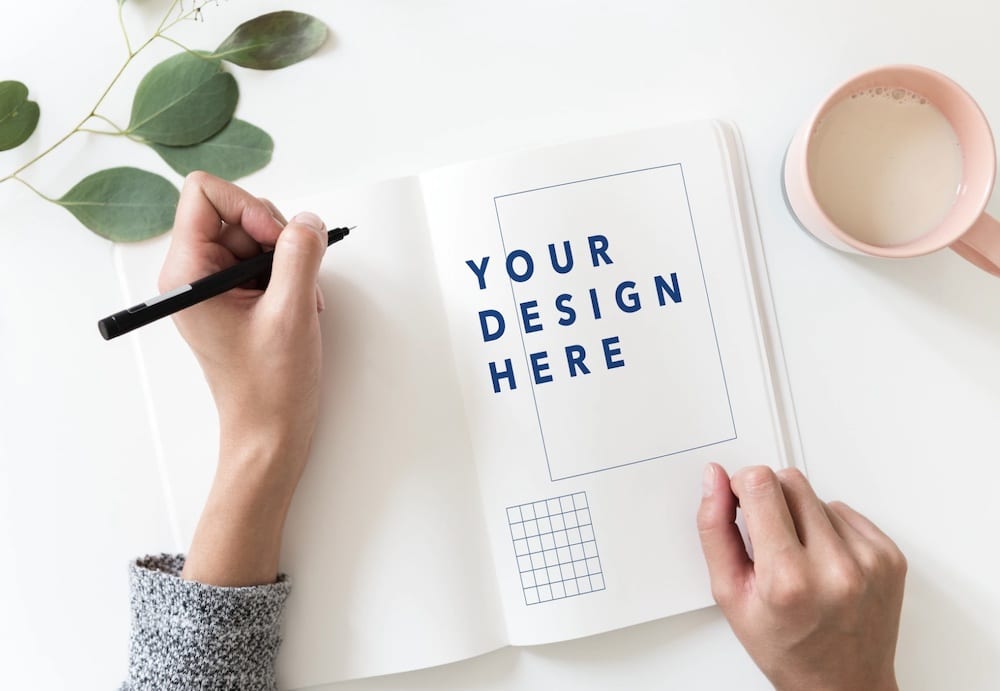 Notepad and a pair of hands ready for action.
Is that a cup of milk? Who drinks just milk?
Besides the photorealistic vibe that this mockup brings to the table, I also like that it's an open notebook, so you add an inside design.
Finding a quality open notepad mockup was so hard, but this one ticked all the boxes.
MORE INFO / DOWNLOAD
How To Make A Notepad Mockup Easily
I'm sure you've already guessed from checking the above templates: Creating a notepad mockup is easy.
And you're right!
But I still want to share with you the process of picking up the right template and finishing with an epic product.
All it takes are four simple steps:
Placeit: Visit Placeit, where you can find the perfect template under the "notebook" category. (The link takes you directly to the collection, so you don't need to search for it.)
Your design/logo: Click the mockup that suits your needs and you can already insert your design or logo. You can do this by uploading it from your computer or even mobile device (!). Placeit allows you to crop and reposition it to tailor the appearance exactly to your needs.
Customization: You'll see a bunch of other functions, which you can use to modify the default settings accordingly. It's easy because it only takes a few clicks to do so!
Download: And that's it. Once you're satisfied with your creation, you're ready to download it and spread the word for a new beautiful notepad design out.
Even though I mentioned it already, you don't really need to create a free Placeit account if you'd just like to test it.
But I highly recommend you do it because the entire workflow will FLOW a lot smoother.
And just because we're on the topic of notepads, you may also be interested in my collections of the:
::
Note: This article was originally published on October 25, 2022. But our team regularly reviews it and updates it with necessary improvements for accuracy.