I used live projects to create this collection of the best free and premium planner mockups.
It doesn't get any better than this.
You can start immediately with just the basic Photoshop skills.
I made sure to pick PSD templates with a great layered structure and smart objects.
It only takes a few clicks to improve the default mockup with your creative ideas.
This post covers:
A realistic presentation will AMAZE everyone – AND that's a guarantee!
Also, all the authors are absolute legends, answering my questions quickly.
Make your notebook or planner design idea a reality NOW.
Best Daily, Weekly, Monthly Planner Mockups
1. Notebook planner mockup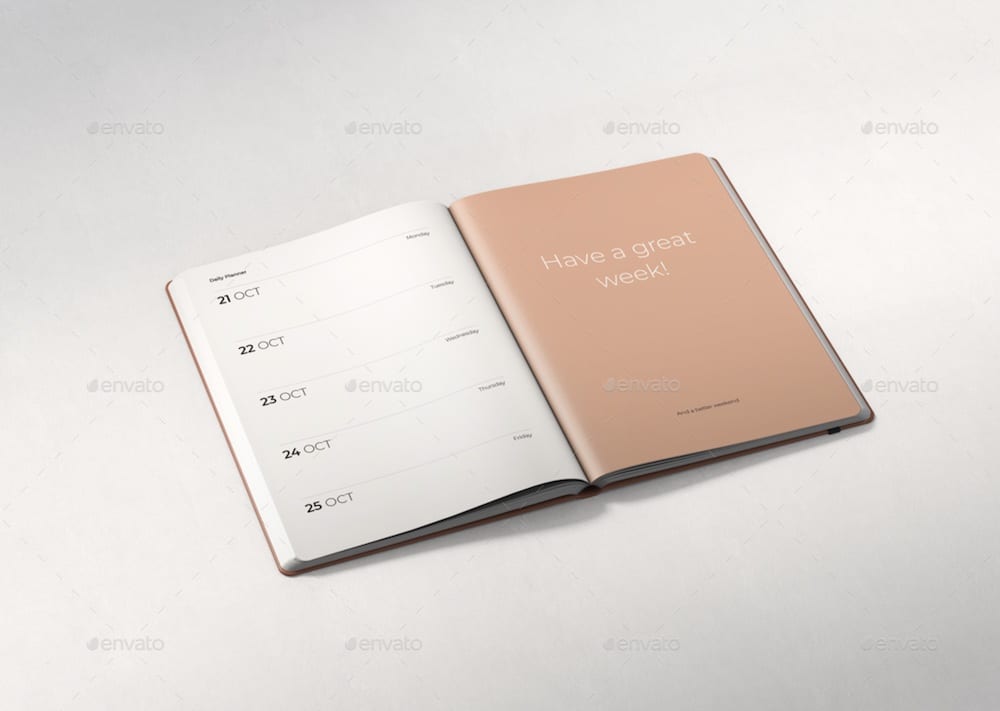 I really enjoyed working with this set of twelve layered PSD files when creating notebooks and planners for my clients.
You have 100% control over each mockup and the ability to customize it however you want.
What I really like is the amazing structuring, which gives quick access to each element you'd like to edit.
Also, you add your design via the smart object layer, SPEEDING up the process even further.
So. Epic.
What's also epic is the 4000 x 2850px resolution and the three ready-to-use layer styles (embossed, foil stamp, letterpress).
Price: $7
MORE INFO / DOWNLOAD
2. Daily A4 planner template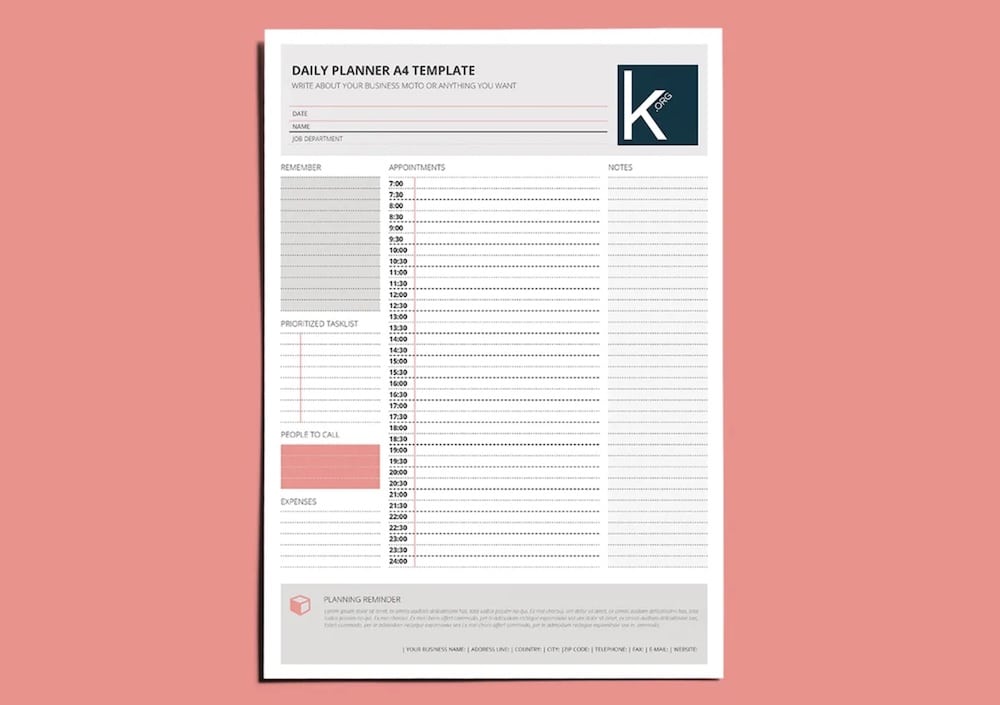 This is an A4 (210 x 297mm) daily planner, containing one page for you to use with Adobe InDesign.
It has EASILY editable graphs and tables with predefined page bleed, which makes it fully print-ready.
Note: It's an Adobe InDesign template.
Price: $11
MORE INFO / DOWNLOAD
3. Daily lesson planner (US letter)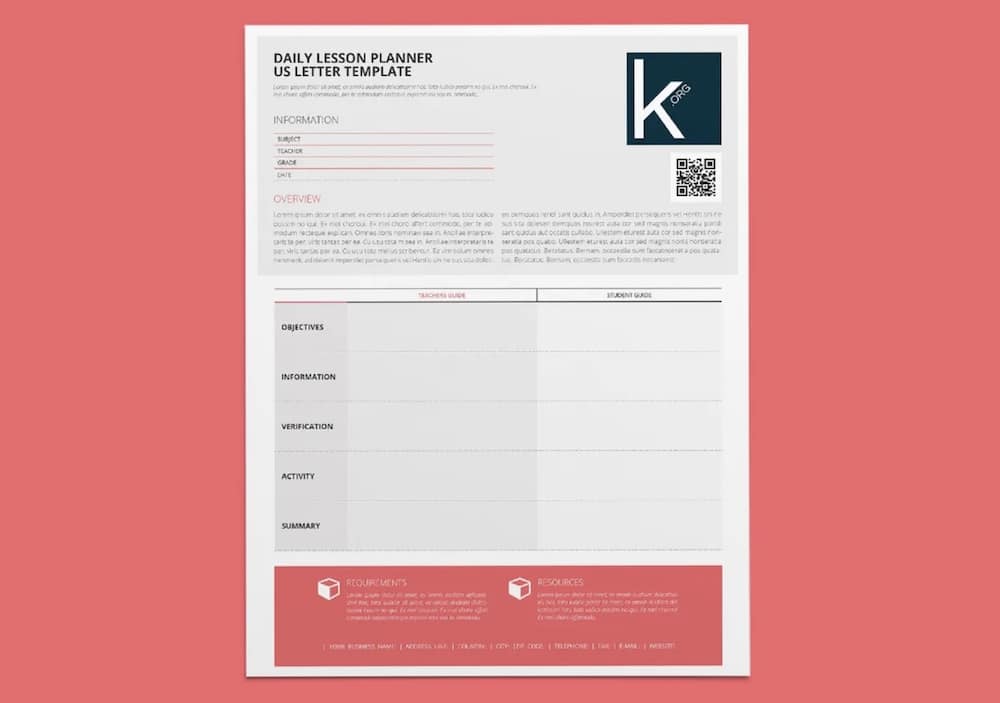 Because the US letter size lesson planners are QUITE popular according to my research, I'm adding the Adobe InDesign version here for you to style, customize and print.
No need to create it from scratch, rather save yourself plenty of time, while keeping professionalism to the highest degree.
Note: It's an Adobe InDesign template.
Price: $11
MORE INFO / DOWNLOAD
4. Beautiful planner PSD mockup set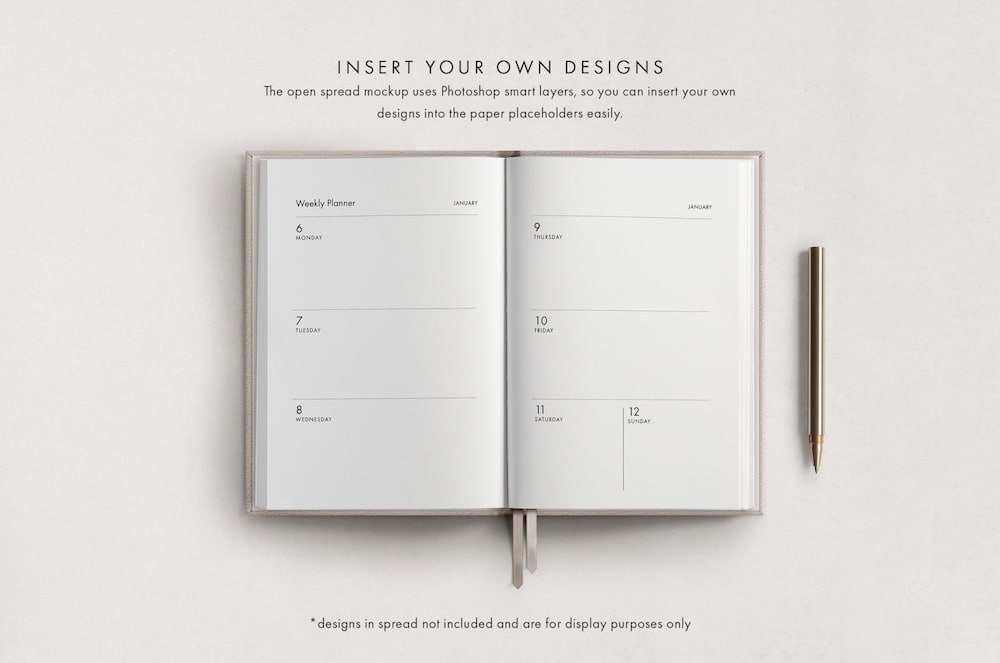 This is probably my favorite hardcover planner PSD mockup set with four realistic views.
Before I continue, the 5000 x 3333px dimension is also one of the reasons why I used it so much.
You can create the exact planner you want, thanks to the endless customization options. Modify the planner's front, back, spine and inside.
What's cool is you can play with the ready-to-use elements, like foil effects and predefined colors and materials.
BUT!
You can also do your thing (which is what I opted for)!
Price: $19
MORE INFO / DOWNLOAD
5. Photorealistic planner PSD template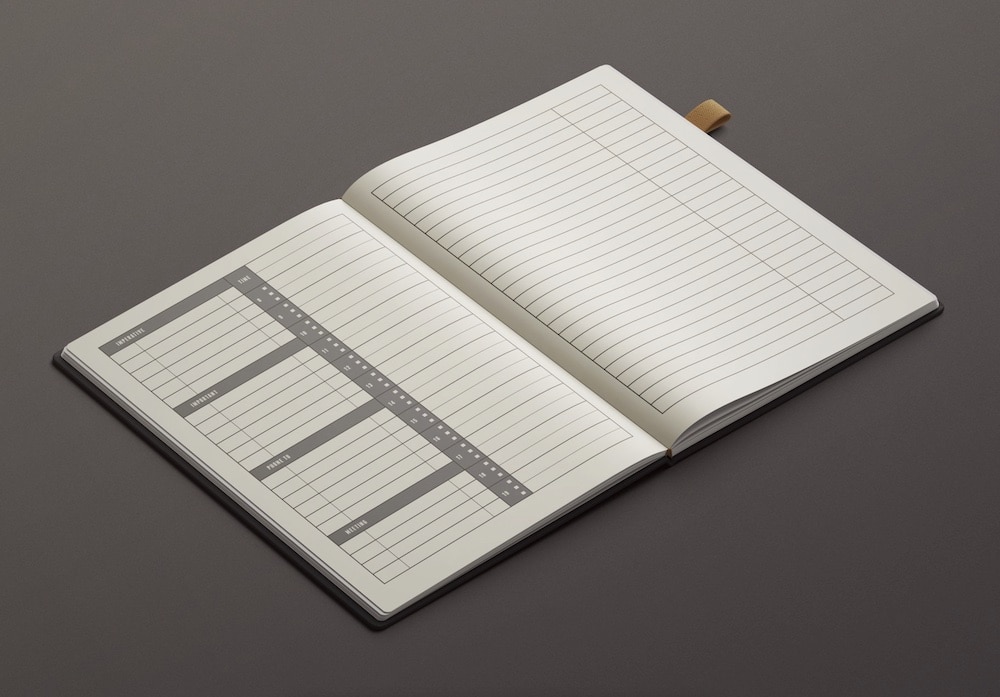 This notebook mockup covers everything with its WHOPPING collection of eleven PSDs.
I didn't even use all of them, but the six I did, I'm really stoked about. (I will be using the rest for my future projects.)
Moreover, the 6000 x 4500px dimension (300dpi) ensures even the smallest detail appears cristal clear.
I modified the color of the notebook and elastic band and added a custom background and special cover design.
Everything went smoothly!
Price: $14
MORE INFO / DOWNLOAD
6. Planner & agenda 7×9″ mockup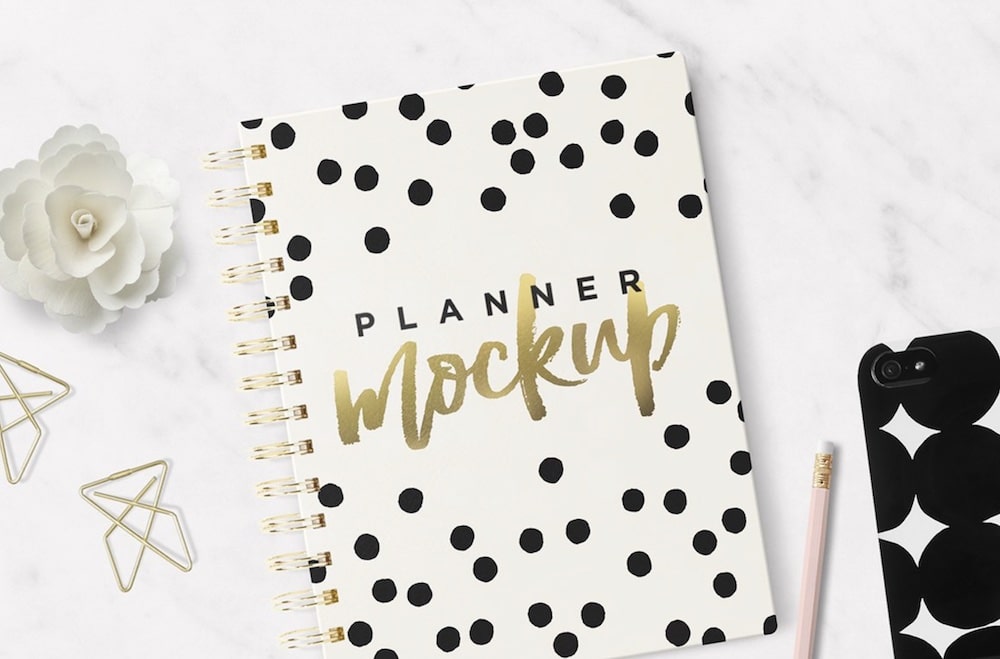 Another beautiful set of planner mockups that I just couldn't SKIP during my review.
I came back to these a few times, so thought it's more than necessary to include to a list of the best ones.
While the resolution (2500 x 1800px) isn't the greatest compared to some other PSD templates I used, each template still has many cool details worth checking out.
It's all in the name of creating a life-like final version that'll impress your client and their (or your) audience.
Price: $17
MORE INFO / DOWNLOAD
7. Minimal notebook mockup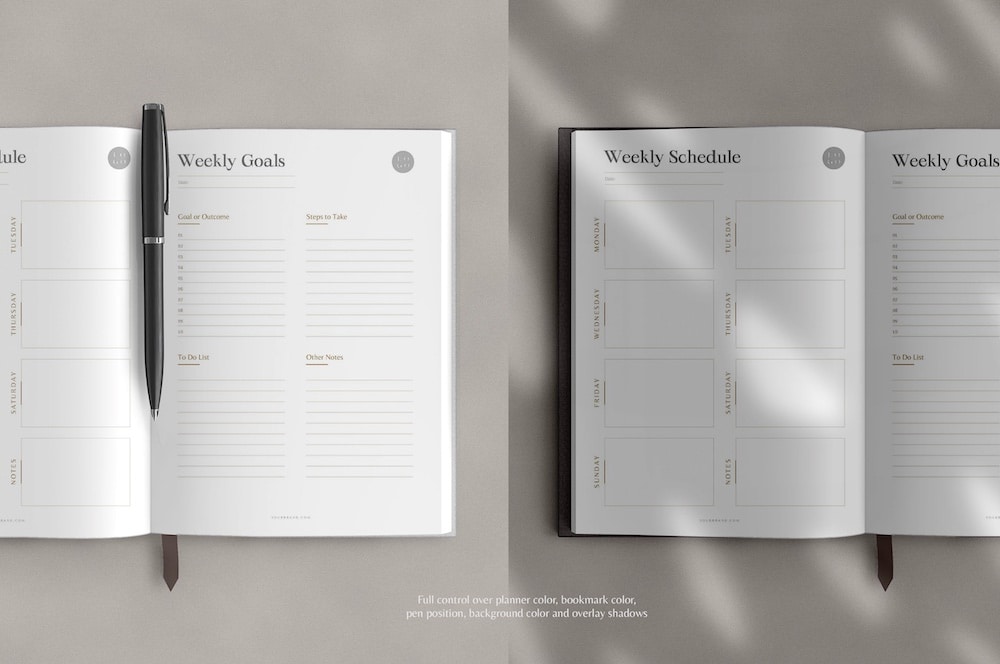 Elegance at its finest, that's what's up with these minimal notebooks.
Five ready-to-go scenes are more than enough to see the LIFE-LIKE version and surprise everyone you work with.
The easily editable PSD files are a real treat for beginners and professionals.
You really need to perform only the refining touches, which take a few clicks to make happen.
I also turned the foil effect off because it didn't go too well with the design I used.
Love it!
Price: $9
MORE INFO / DOWNLOAD
8. Spiral planner mockup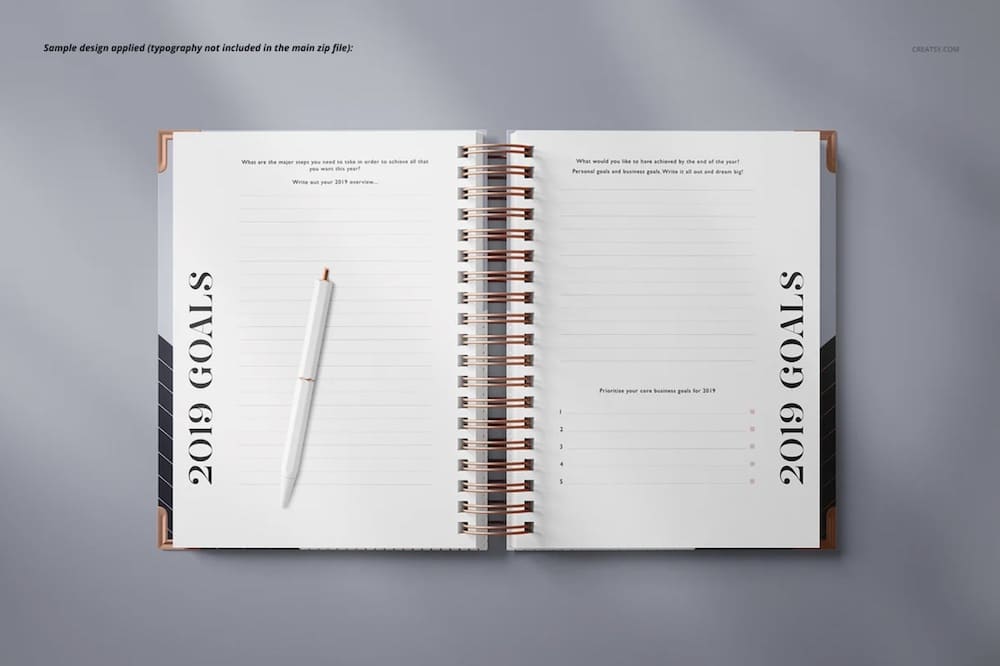 This notebook planner mockup set is the ideal solution if you're searching for the spiral edition.
So much good stuff in one bundle of seven PSDs!
First, you can keep or remove the protection corner, which is such GOOD detail.
Second, feel free to change the color of the cover and the paper, even the background.
Third, the four additional wooden backgrounds add a real special feel to the overall presentation. (I used them and they rock!)
Fourth, actually, I'll keep the other stuff as a surprise 🙂 .
Enjoy!
Price: $15
MORE INFO / DOWNLOAD
9. Planner mockup set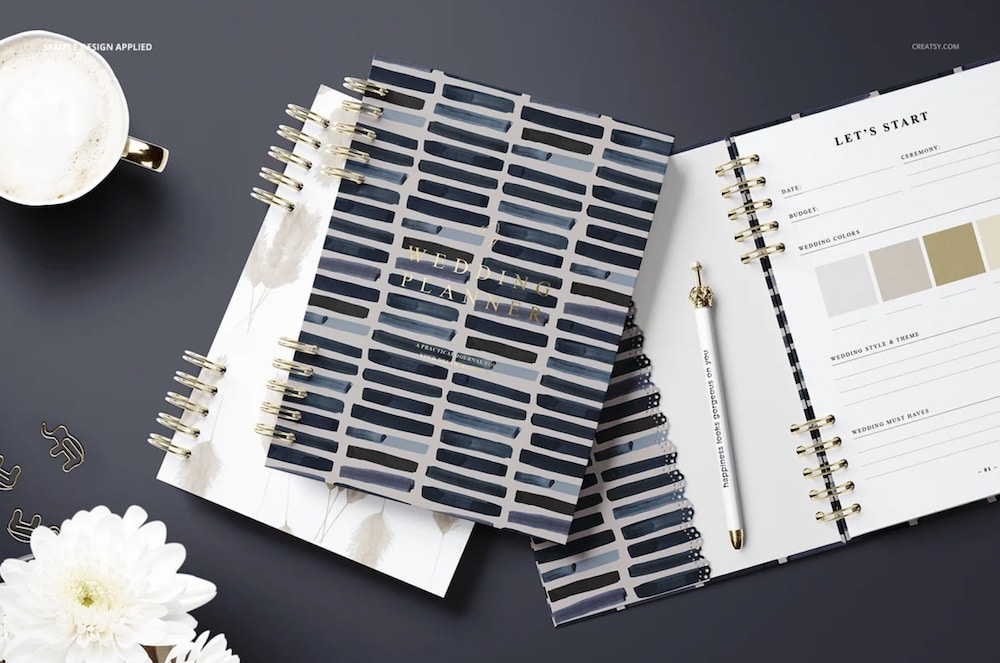 Nothing gets you moving forward quicker than a set of seven planner mockups with great quality and a realistic feel.
That's precisely what this bundle brings to the table. And I'm so stoked I stumbled across it.
And I'm even more excited to share it with you.
You can color and design change EVERYTHING. Even binding, metallic parts and pen are editable, which makes all these templates the best.
Also, there are many previews, which will hook you immediately.
Highly recommended by me.
Note: You may also be interested in my collection of the best pen mockups.
Price: $16
MORE INFO / DOWNLOAD
10. Calligraphy planner/notebook/journal mockup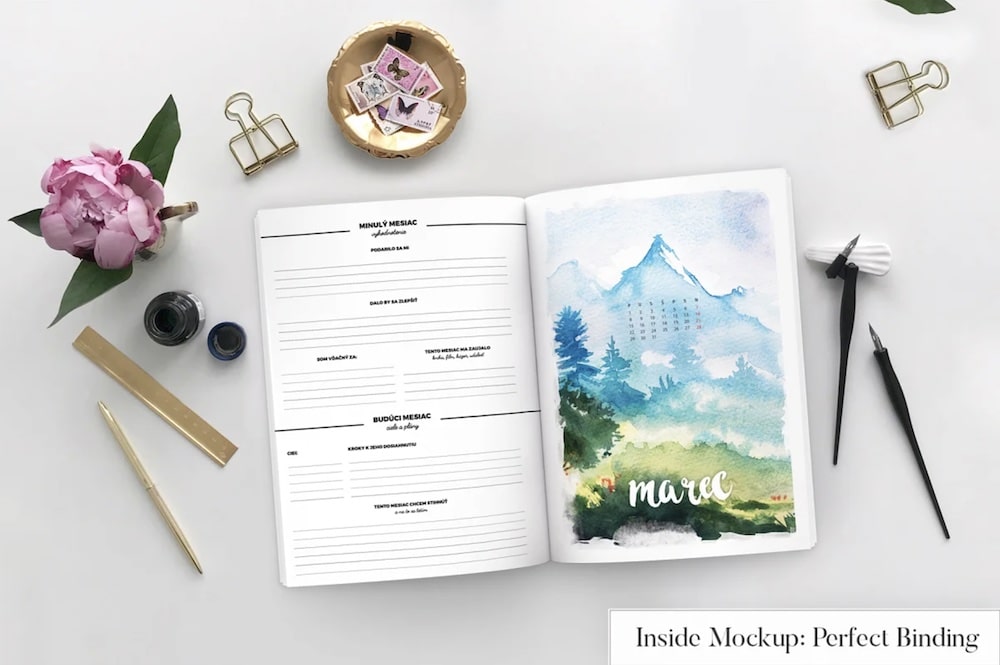 But if you need something that's really NEXT LEVEL for the presentation of your planner design and content ideas, this is the one.
Four types of paper sizes in four views make a total of sixteen PSD templates.
Also, as you see from the preview, it includes all the items, which you can use to make a more engaging planner showcase.
So. Practical.
Present your design(s) in a way that will WOW everyone because it's so easy to do!
Price: $16
MORE INFO / DOWNLOAD
Best Free Planner Mockups
Free stuff? Yes.
11. Weekly & daily planner free PSD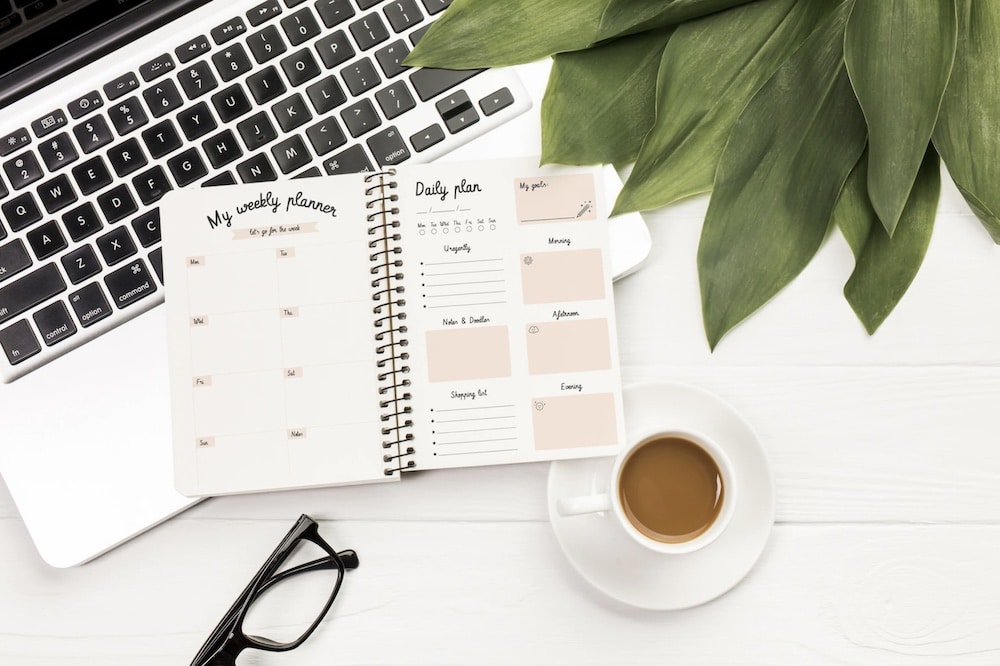 This free PSD sorts you with a weekly and a daily planner.
A coffee cup, MacBook, glasses and greenery are all nice additions, creating an even more life-like showcase.
It's also possible to use it for commercial and personal projects (but have attribution in mind).
MORE INFO / DOWNLOAD
12. Free weekly planner PSD mockup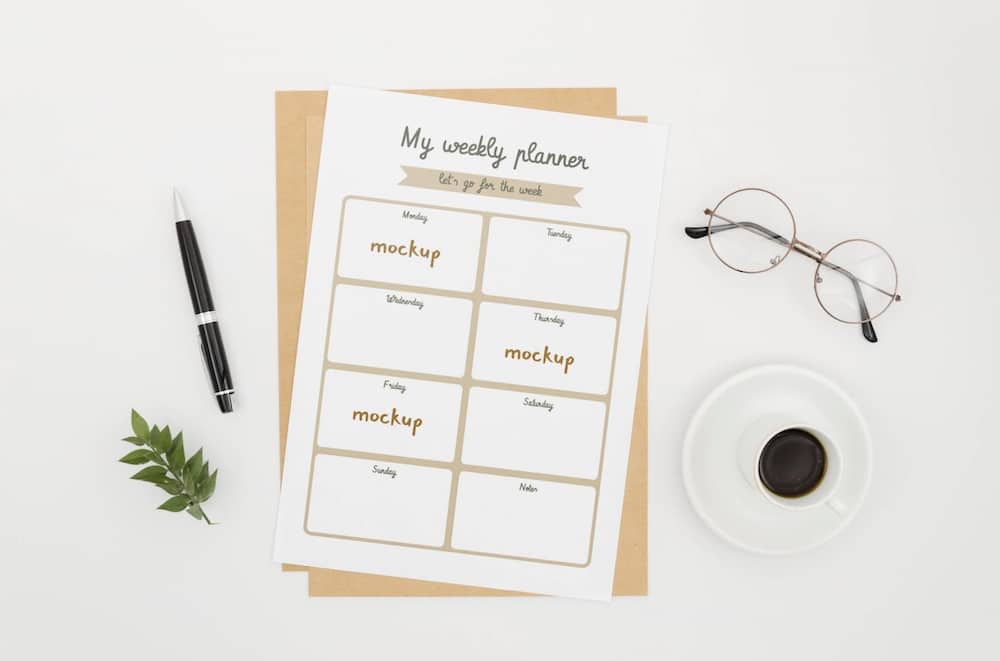 This awesome weekly planner mockup freebie is just a CLICK away, ready to present your creative ideas.
And you don't have to be an advanced designer to make it happen. Basic Photoshop skills are all you need.
You can't do much regarding the additional element, but you can have a lot of fun with the planner.
Make. It. Your. Way.
MORE INFO / DOWNLOAD
13. Free desk planner mockup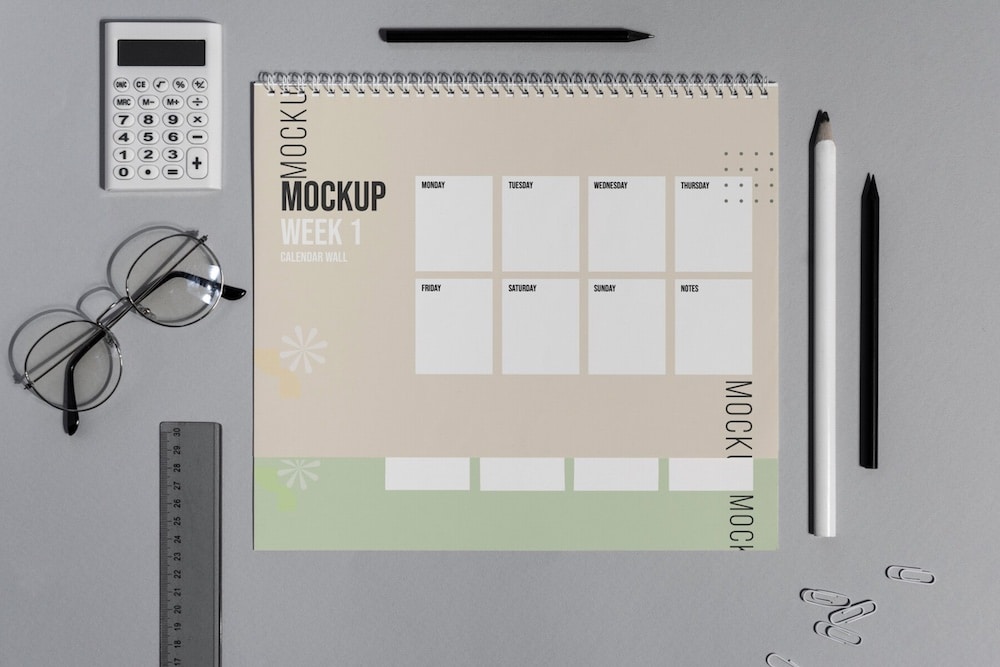 Working on a custom design for a desk planner becomes a lot more EXCITING with this free mockup.
It feels like it's for students, but it's your imagination that'll make the final decision. Feel free to go entirely against the grain!
Plus, you can use the freebie for commercial and personal projects, which is a real treat!
MORE INFO / DOWNLOAD
14. Free A5 planner PSD mockup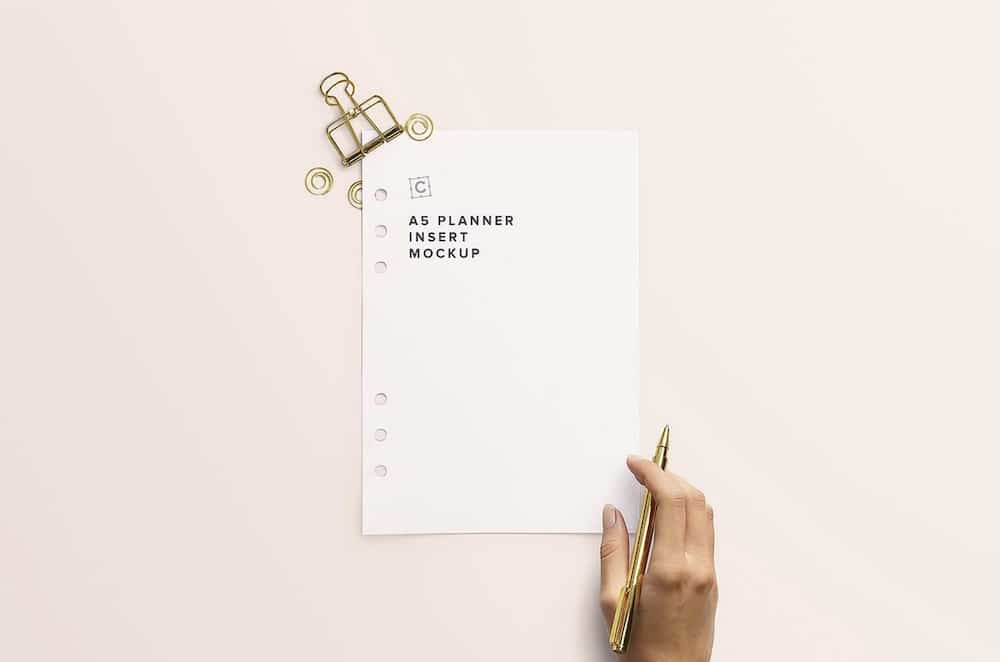 I spent a lot of time searching for a planner mockup that includes a hand. And then I found it – in the free segment!
Happy. Times.
And what's even better, the 6000 x 4000px dimension makes this template perfect for close-ups, which I needed to present a cool logo idea to my client.
A few clicks to slide in your artwork and change the background. WONDERFUL.
It's your turn now!
MORE INFO / DOWNLOAD
How To Create A Planner Mockup Fast?
With this easy step-by-step guide, you can create a realistic planner showcase with little to no effort for marketing purposes, better visualization, online stores, etc.
The essential thing about this tutorial is that you don't really need much experience and still create a professional outcome.
It may take you only a few quick clicks with Photoshop and the design for the planner ready.
I like fast results!
4 Steps To Design A Realistic Planner Mockup:
Step 1: Open Photoshop and import either a free or a premium template from the above collection. I spent a lot of time testing mockups for this collection. Thus, I highly recommend you use any from the list above.
Step 2: The next thing to do is to find the smart object layer, which, thanks to the organized structure, is easy. This allows you to slide in your design, a logo, a pattern, or whatever your heart desires!
Step 3: Some may be already done. But for all the rest, you have the complete creative freedom to access other mockup layers and make adjustments until the presentation is exactly how you want it to be.
Step 4: Click save and download your mockup.
How simple was that?
And you can repeat the process as many times as you want and create as many variations as you want, up until the point you're 100% satisfied with the outcome.
Enjoy.
::
Note: This article was originally published on April 18, 2022. But our team regularly reviews it and updates it with necessary improvements for accuracy.