I decided to share my top wine packaging mockups after working with three local wineries and multiple one-time clients worldwide.
I (exclusively) use live projects to test these, so you know they work.
And they work for wine bottles, wine labels, wine boxes, corks, wine glasses, or complete winery branding. (So versatile!)
The set of mockups comes in two formats: online mockup generators and PSD files.
When it comes to the former, you can make a mockup without Photoshop.
But PSDs are also effortless to use due to their layered structure.
This post covers:
You have everything you need to make a professional packaging showcase like none out there.
Best Wine Bottle Packaging Mockup Generators
Placeit templates only cost $7.95.
However, I highly recommend either a monthly ($14.95/month) or a yearly ($89.69/year) subscription plan if you plan on using the platform regularly.
1. Wine bottle mockup with golden ornaments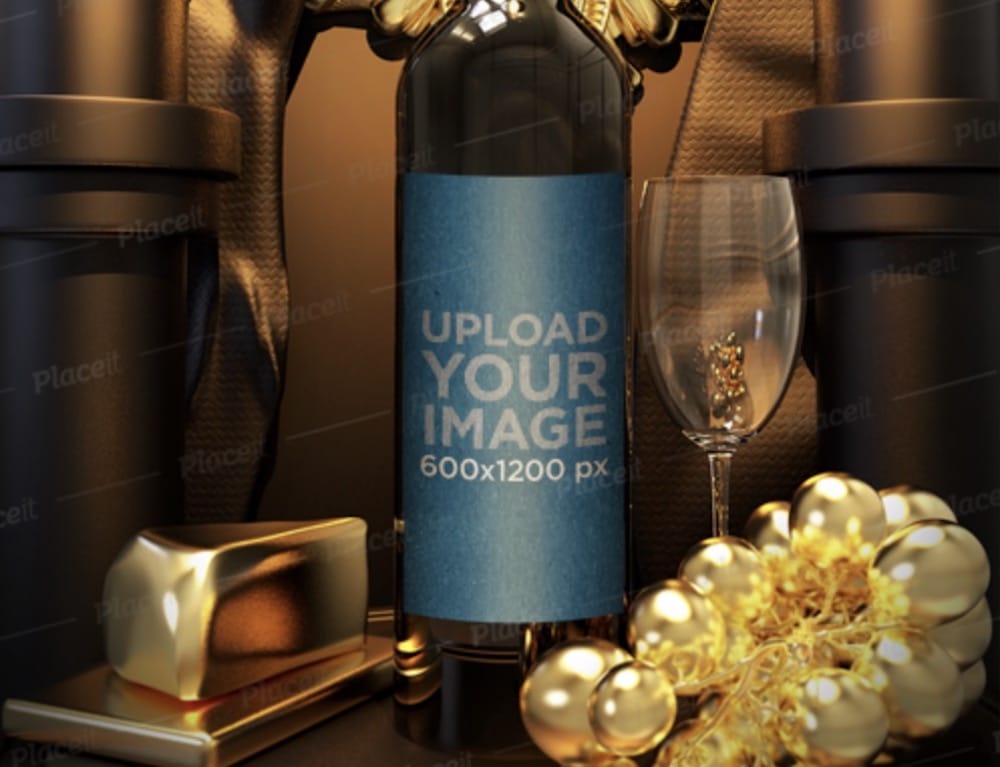 This is the mockup to present a bottle label design presentation luxuriously.
The golden ornaments do the trick when you want to spice things up. Even if you are exclusively selling expensive wine, this is the template for you.
The entire process of improving the mockup is a little breeze.
It only requires you to change the label's color and import your design or even just a logo.
Additionally, you can also add some text.
Note: I found this awesome custom wine labels service if you're interested in more options.
MORE INFO / DOWNLOAD
2. Mockup of a wine glass and a bottle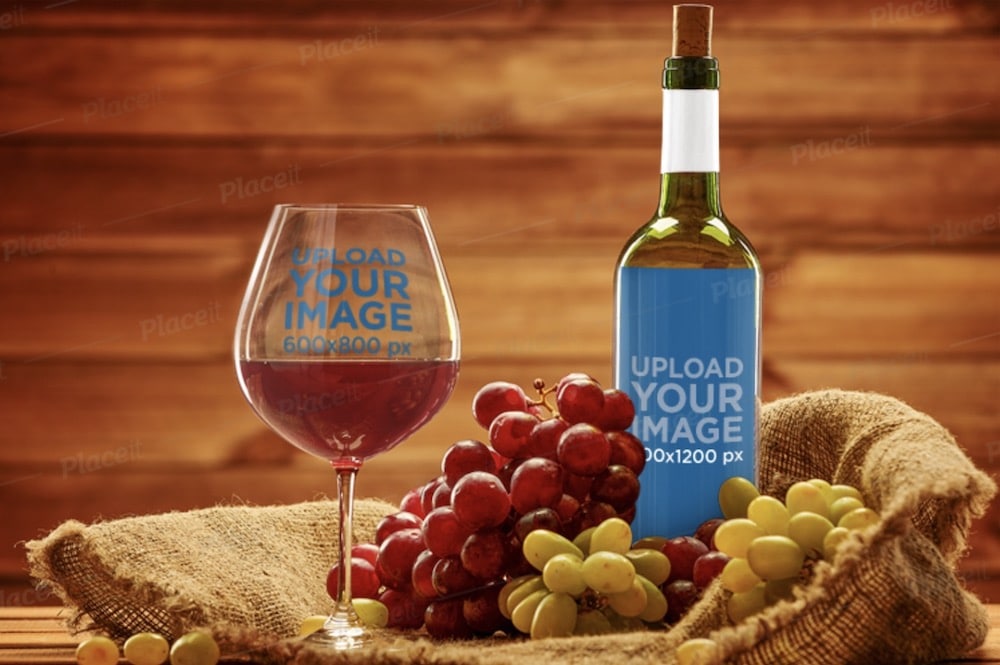 A full-blown mockup of wine bottle and glass for you to decorate with any artwork your heart designs.
The table, the wooden wall and the grapes make the whole atmosphere very realistic and attention-grabbing.
You are welcome to use the final exhibition even in a social media promotion.
Moreover, you do all the work online, which is a big plus for me.
You can individually decorate the glass and the bottle with any image you want and change the color of the label and the capsule.
MORE INFO / DOWNLOAD
3. Mockup of a set of wine bottles in a crate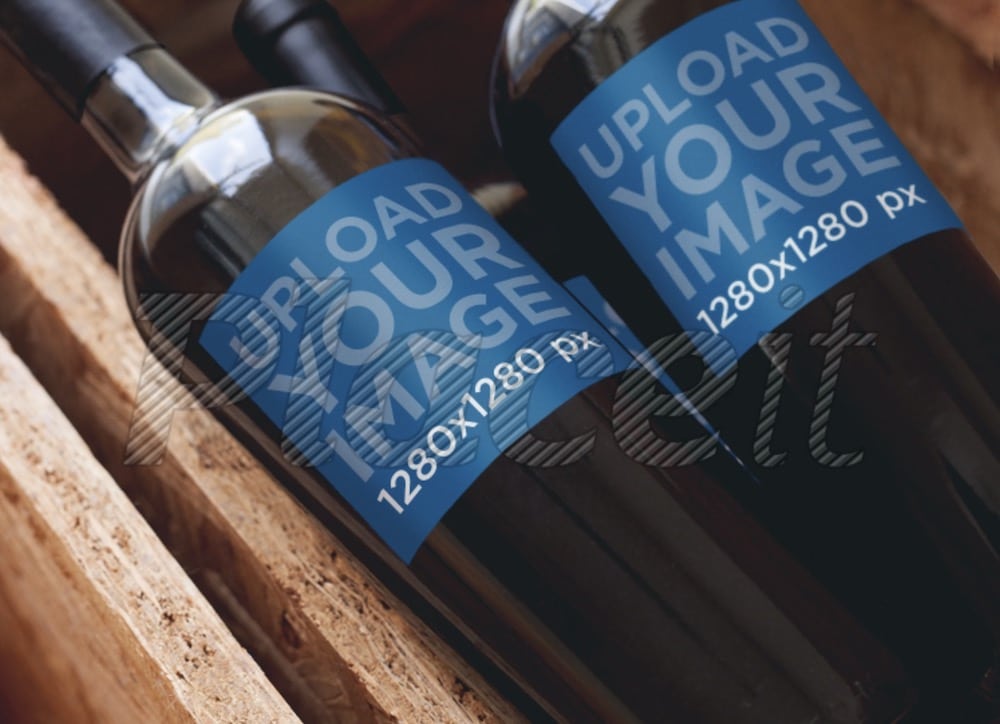 A beautiful wine packaging mockup that you can now take to your total advantage without really needing to be a designer.
You only need the idea predefined, all the rest is a child's play.
You get to import your image and it will immediately appear on the bottles with a single click.
A pop-up will open once you upload your artwork with additional repositioning and crop functions.
You will experience speedy work and final product execution, so don't hold back and make your thing now.
MORE INFO / DOWNLOAD
4. Mockup of three wine bottles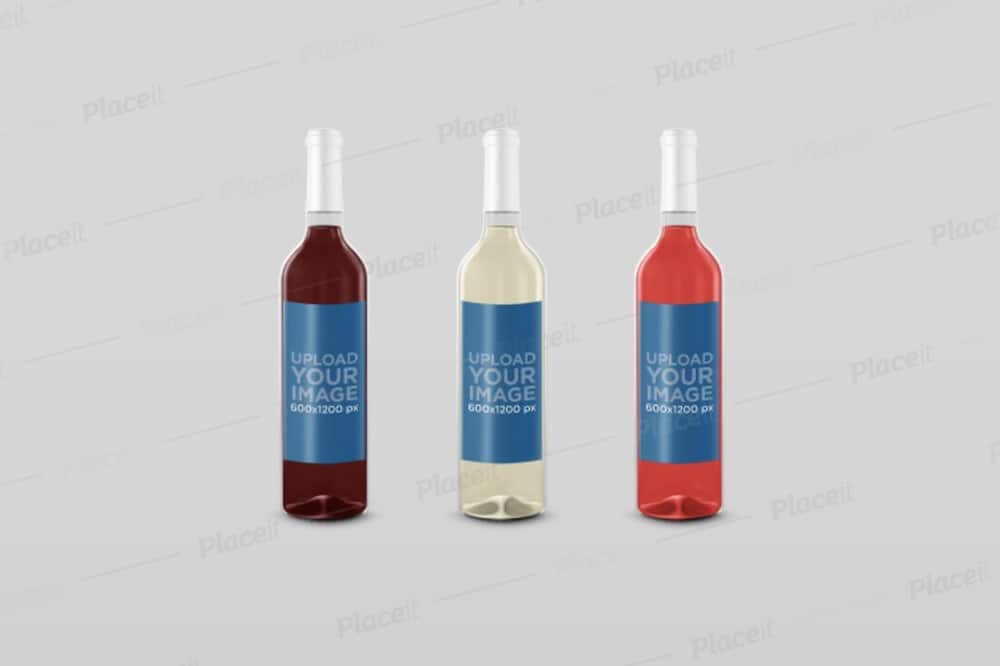 A minimal mockup of three wine bottles with fully editable labels, capsules and liquid.
You read that right, everything on this mockup is editable for your convenience.
To change the color, you just access the handy color picker and you can make it your way to a tee.
As for the wine label designs, you only do some clicking and importing your designs, and that's it.
Any task is easy when you use Placeit and its unique platform.
Enjoy.
MORE INFO / DOWNLOAD
5. Wine label mockup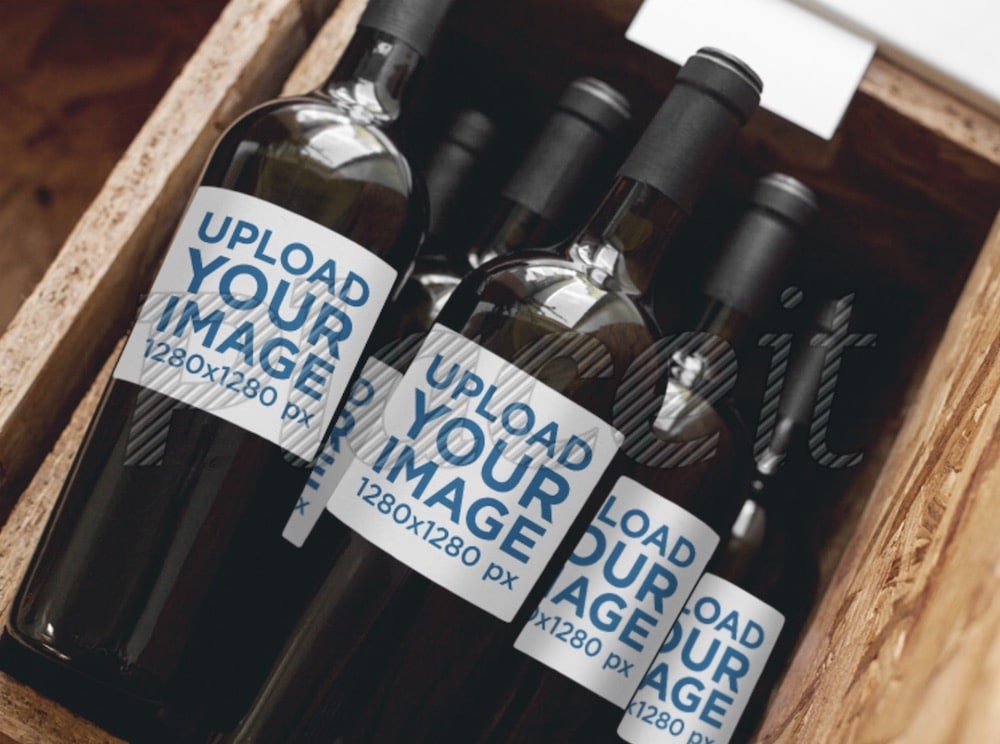 If you are looking for more wine packaging mockups of bottles in a crate, here you go.
The template is highly photorealistic, ensuring you a result that no one will tell the difference from the actual product.
To achieve this and brand all these bottles with your impressive label design, head over to Placeit and insert the image.
Yes, it truly is just as simple as it sounds.
What's more, you can also change the color of the label. However, if your design fits the whole label, altering its color won't be necessary.
MORE INFO / DOWNLOAD
6. Man picking up a wine bottle from a wine cellar mockup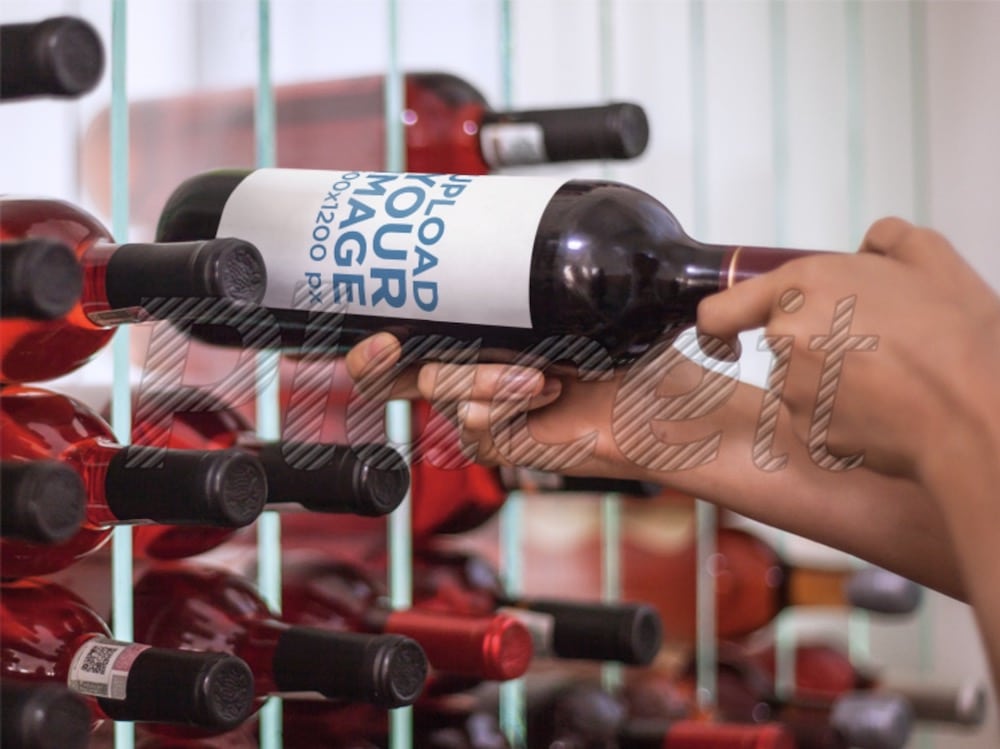 A human element is almost a must to take the realistic wine packaging mockup presentation to the next level.
To your luck, here is a gorgeous template of a man picking up a bottle from the wine cellar.
While you cannot change the liquid and the capsule, you can improve the wine label.
It comes at 600 x 1200px dimension; however, you don't need to stick to it to a T.
In fact, you can position your design however you want, even crop it if necessary.
MORE INFO / DOWNLOAD
7. Mockup of a red wine on a wooden table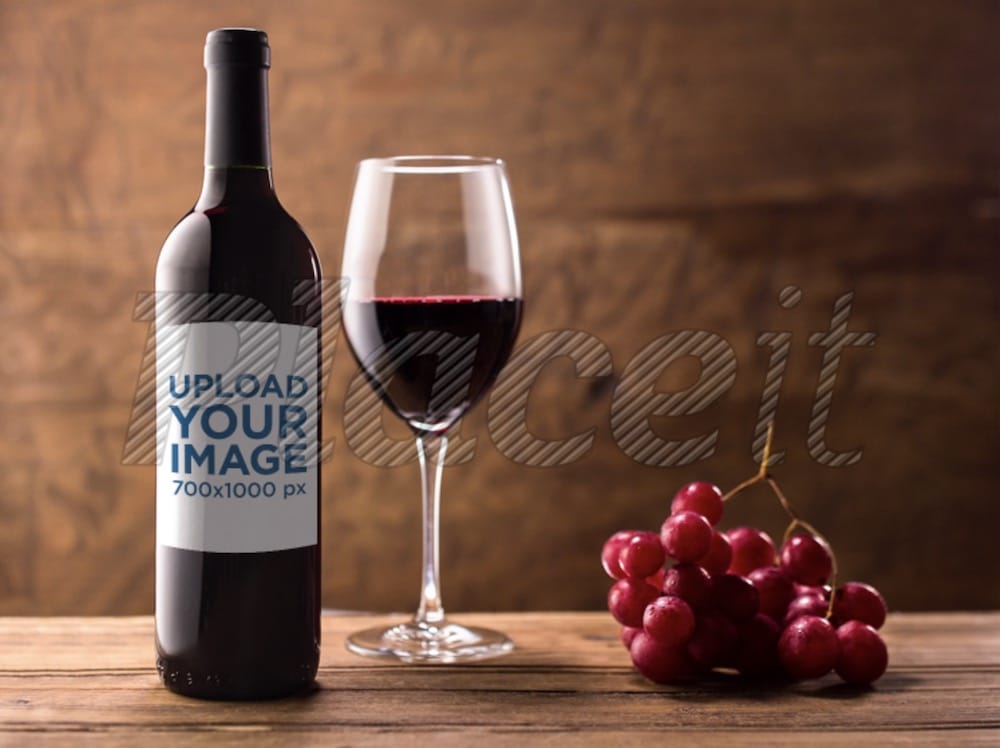 A somewhat glamorous presentation of a wine bottle with a half-full glass, grapes and a rustic table.
Don't look further and opt for this particular mockup if you would like everyone's mouth to water. Of course, you first need to be into red wine. (Not really 🙂 )
This wine bottle label mockup keeps things very simple for you.
After all, you will need to undergo only one essential customization function: placing your label design.
On the other hand, you can also step things up and introduce some text or a call-to-action.
MORE INFO / DOWNLOAD
8. Minimal wine packaging mockup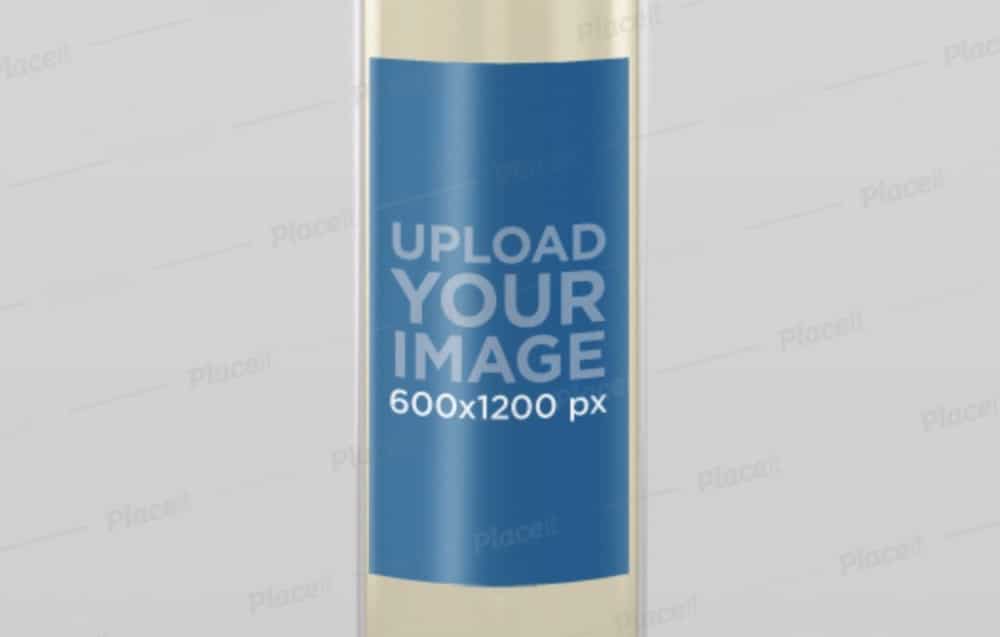 Go straight to the point with a bold presentation of a wine bottle by employing this minimalistic mockup.
What's particularly cool about this template is that it's fully editable.
Speaking of editable, you can change the background, the capsule, the wine and the label.
You can completely redesign the default settings in a few clicks – how awesome is that?
The label sports a 600 x 1200px dimension, which you can also improve with only one click. Creating a life-like wine bottle demonstration is effortless.
MORE INFO / DOWNLOAD
9. Mockup of a woman holding a wine bottle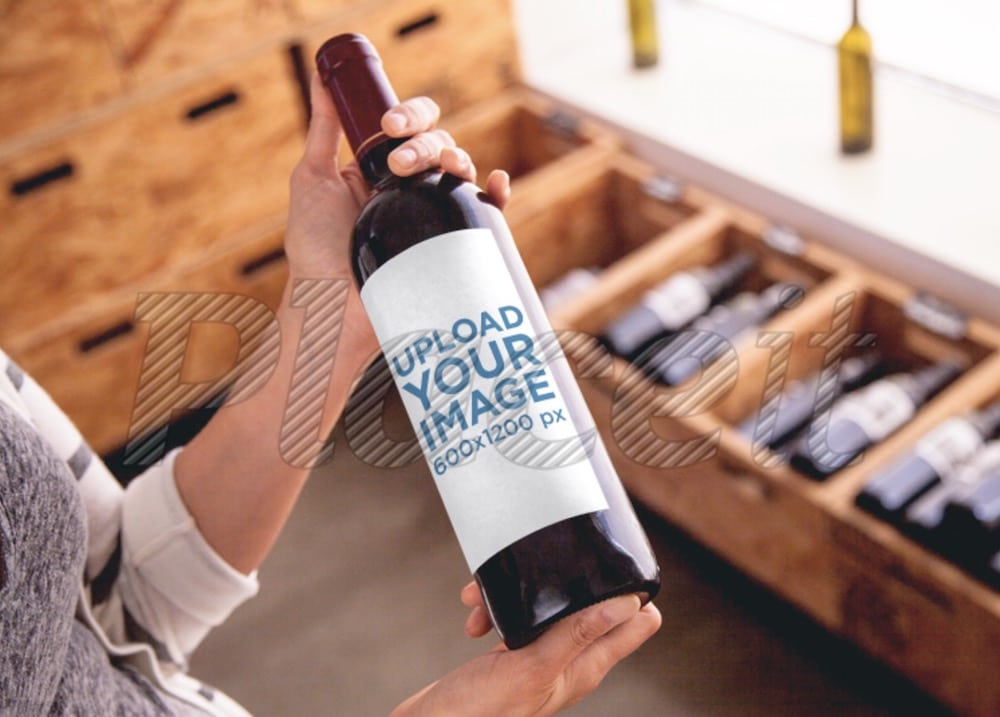 To work with a mockup that features a woman holding a fresh wine bottle, this is the ideal solution that you will want to choose.
While the bottles in the back are not editable, the one that she holds can decorate your beautiful label design.
Of course, you can also change the tint of the label with the practical color picker.
Instead of doing things from the ground up and wasting time, have it all set within seconds by using appropriate tools – in this case, mockups.
MORE INFO / DOWNLOAD
10. Wine pouring mockup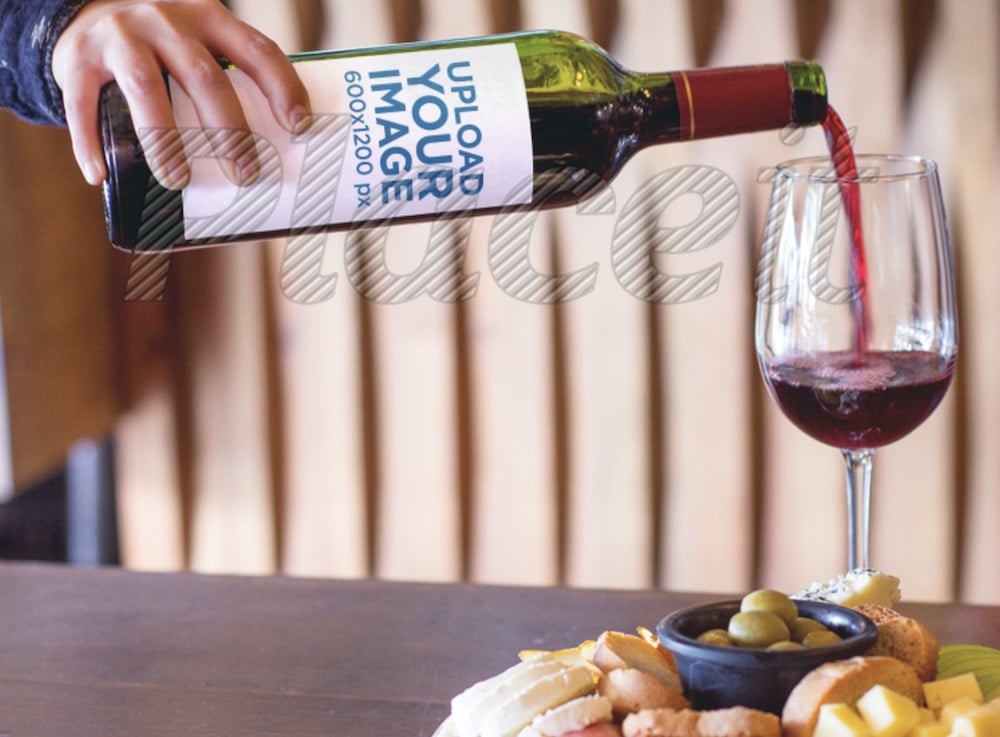 I wanted to offer something for everyone with this big collection of wine packaging mockups.
Here is a stunning solution of wine pouring, getting ready for dinner.
You can advertise this mockup however you want; knowingly, you will easily grab everyone's attention with it.
Try it yourself; you don't need to go straight to creating a free account on Placeit.
MORE INFO / DOWNLOAD
11. Realistic wine label mockup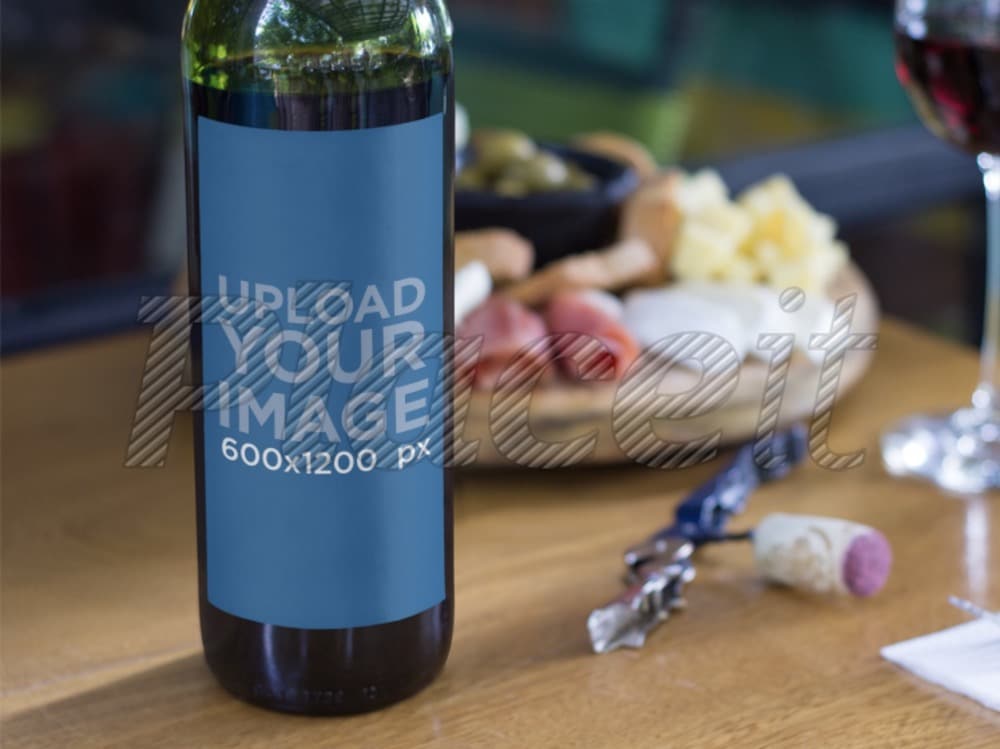 A more close-up look of a wine label mockup will help create a life-like presentation everyone will enjoy investigating in great detail.
Also, the appetizer behind the bottle looks super tasteful.
Anyhow, let's go back to the star of the show.
The label's size is 600 x 1200px, and you can enhance it by simply uploading your design directly from your computer (or even your mobile device).
You can make any last corrections from then on and enjoy fast creation.
MORE INFO / DOWNLOAD
12. Packaging mockup of a wine bottle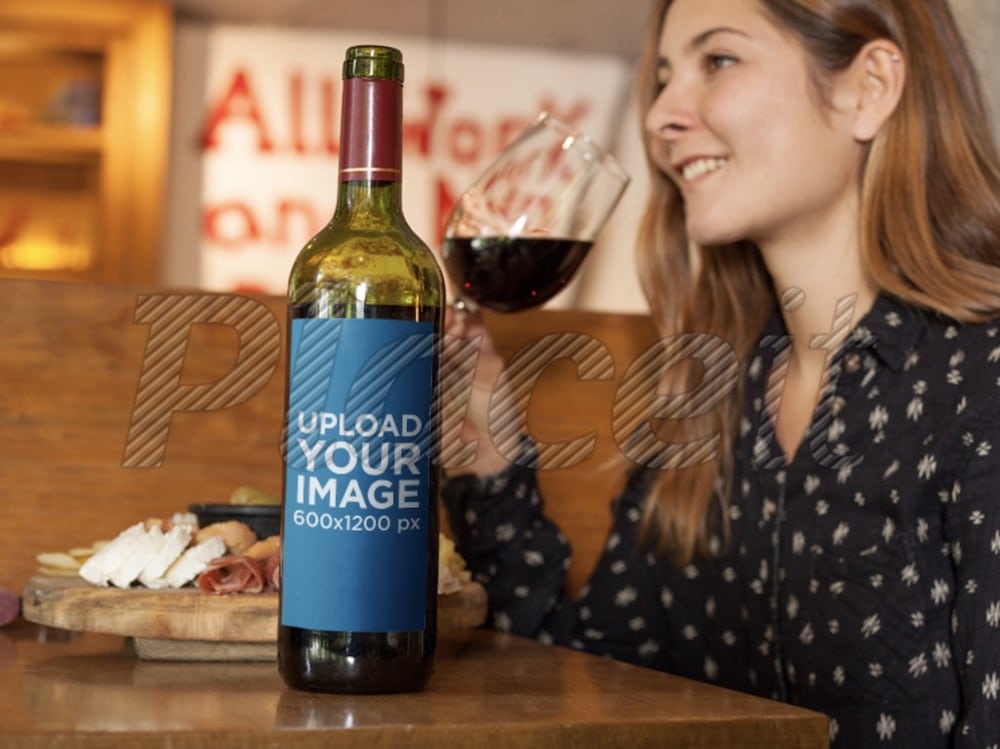 If the wine packaging mockup above is already doing it really well with its photorealistic atmosphere, this one takes it one step further.
It features a woman enjoying a glass of that same red wine which bottle you can now decorate with your custom label design.
By the way, the appetizer is still there.
For improving the label, you can change its color and slide in your superb image, design or even just a logo.
You can play with all sorts of possibilities before picking the winner.
MORE INFO / DOWNLOAD
Best Wine Packaging & Branding PSD Mockups
Along with the online mockup generators, I also want to add some PSD mockups for everyone who likes to work with Adobe Photoshop.
Even. More. Freedom!
13. Luxury wine bottle mockup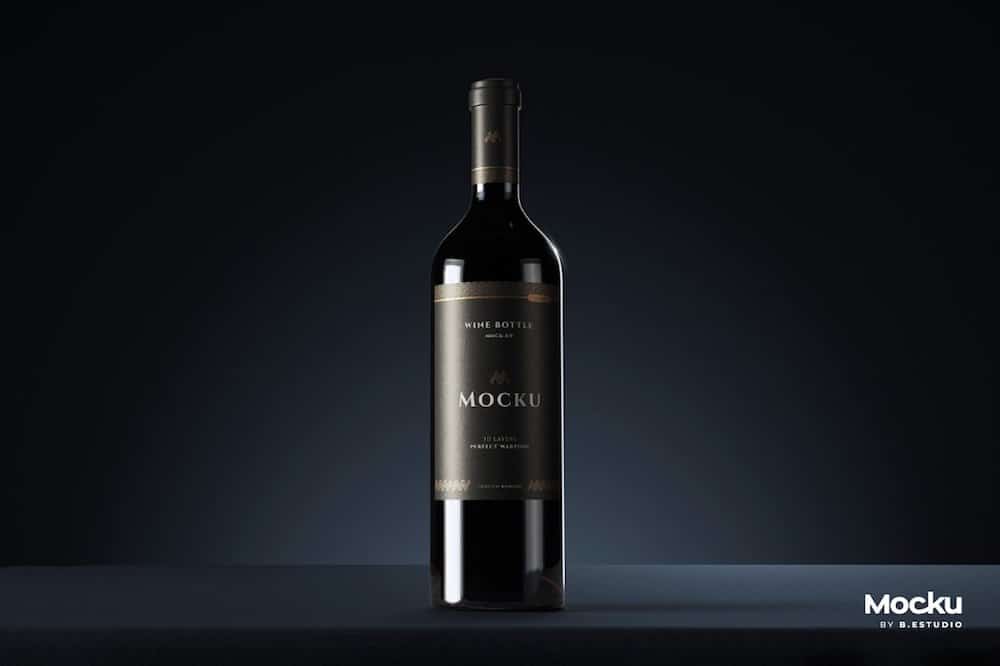 You can use this wine mockup for creating an engaging wine branding presentation that will wow everyone.
It is more on the dark side when it comes to the look, but that's what makes it extraordinary.
Each file also comes with 3D layers that will help you create a photorealistic wrapping effect, making it appear as actual product photography.
Price: $19
MORE INFO / DOWNLOAD
14. Wine bottle and box mockup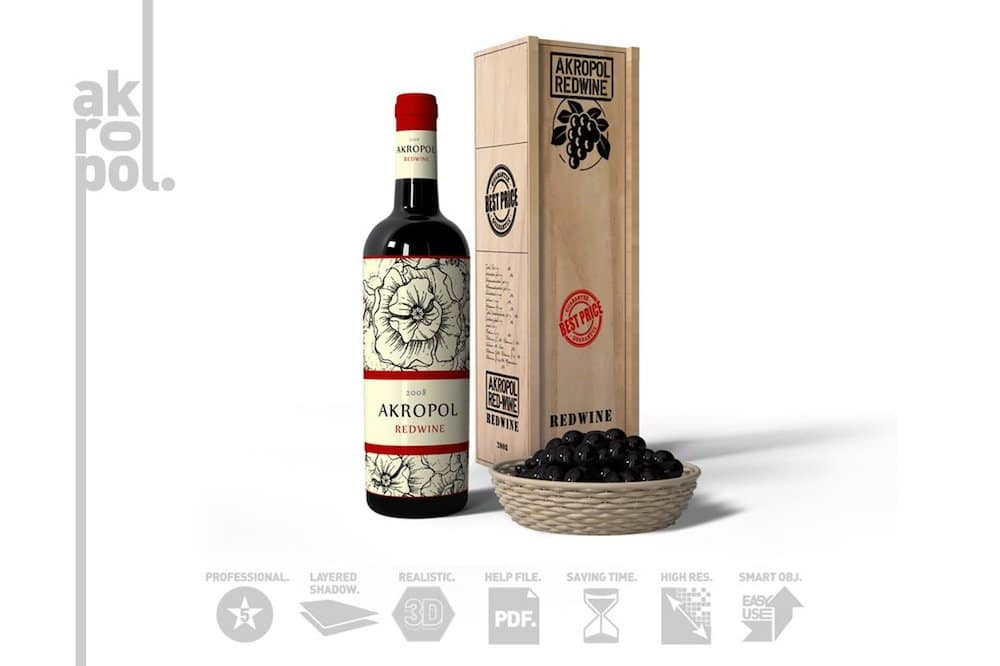 Whether you would like to work with a wine bottle mockup or a wine box mockup, this tool takes care of both.
The entire process of decorating the mockup with your creative ideas will be quick even though you need Photoshop.
Fully layered structure, smart objects, help file, you name it; it's all there to achieve an exceptional wine presentation.
You can also move and hide objects, truly creating an outcome that is to your liking.
Price: $3
MORE INFO / DOWNLOAD
15. Wine bottle with box mockup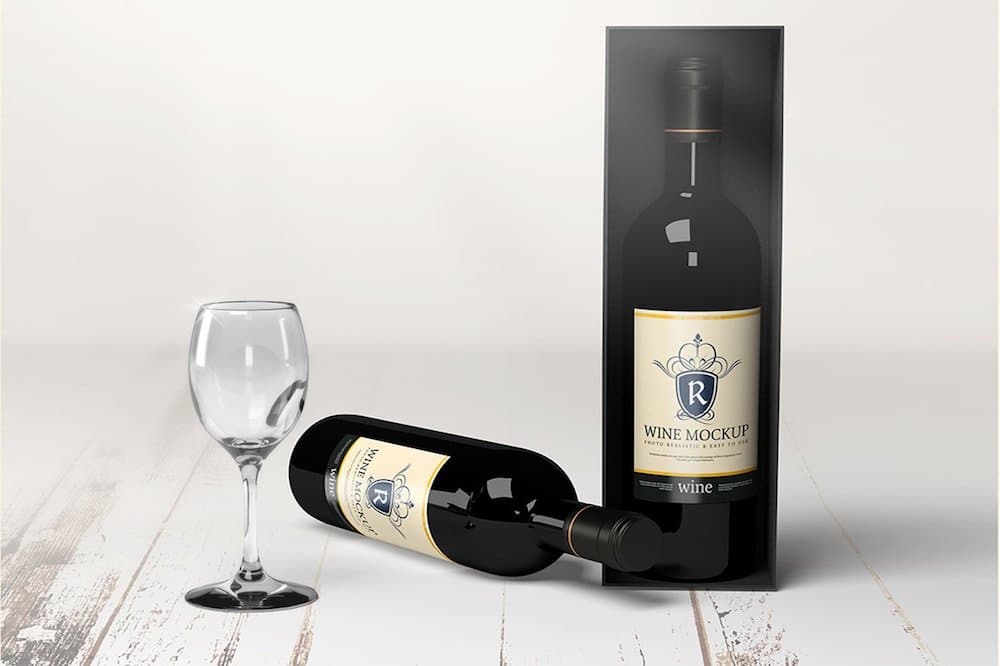 With this bundle of seven life-like scenes, you can create a terrific presentation of a branded wine label and vertical box.
You can use the mockup for all types of wines easily because of the dark bottle.
Each file comes at a high resolution of 4000 x 3000px with smart objects and additional five backgrounds to choose from.
Of course, you can introduce your ideas, but working with the default offerings will also do the trick.
Start on the right track and wow your clients, customers, everyone with a top-class wine bottle and box mockup display.
Price: $9
MORE INFO / DOWNLOAD
16. Wine branding mockup bundle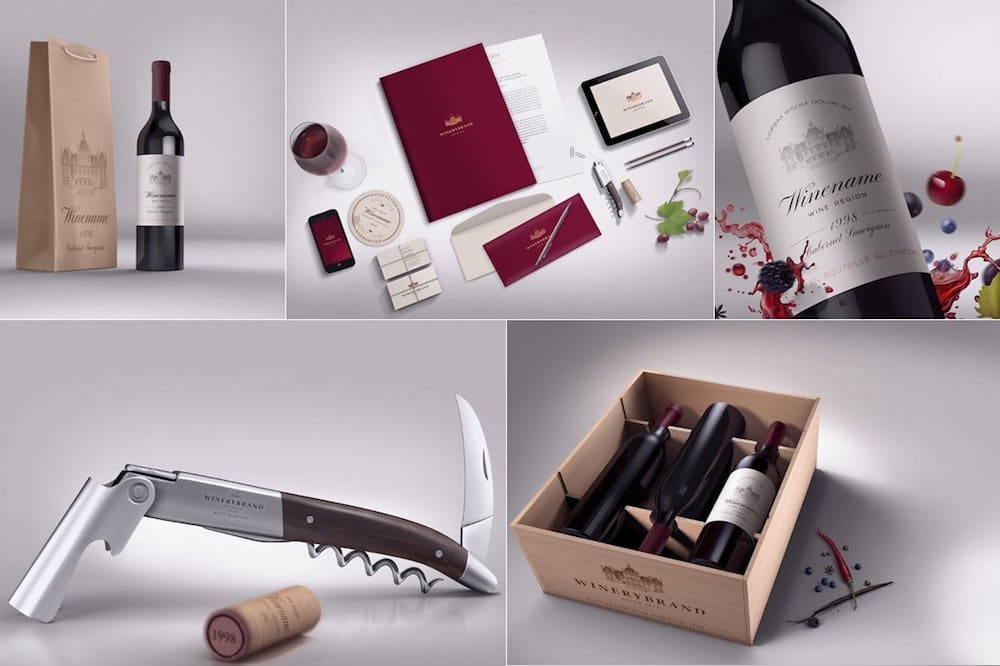 Here is a complete wine branding mockup solution that will help you demonstrate to your client what's possible.
Not just that, you can also use any of the five included files to promote a winery online and spread the word out with style and professionalism.
Even for wine stationery, this is the mockup set that you would want to go with.
You get a paper bag, a wine bottle, a sommelier knife, a cork, a box, you name it in the kit.
What's cool, you are welcome to preview the files first and go from there.
Price: $20
MORE INFO / DOWNLOAD
17. Wine packaging PSD mockup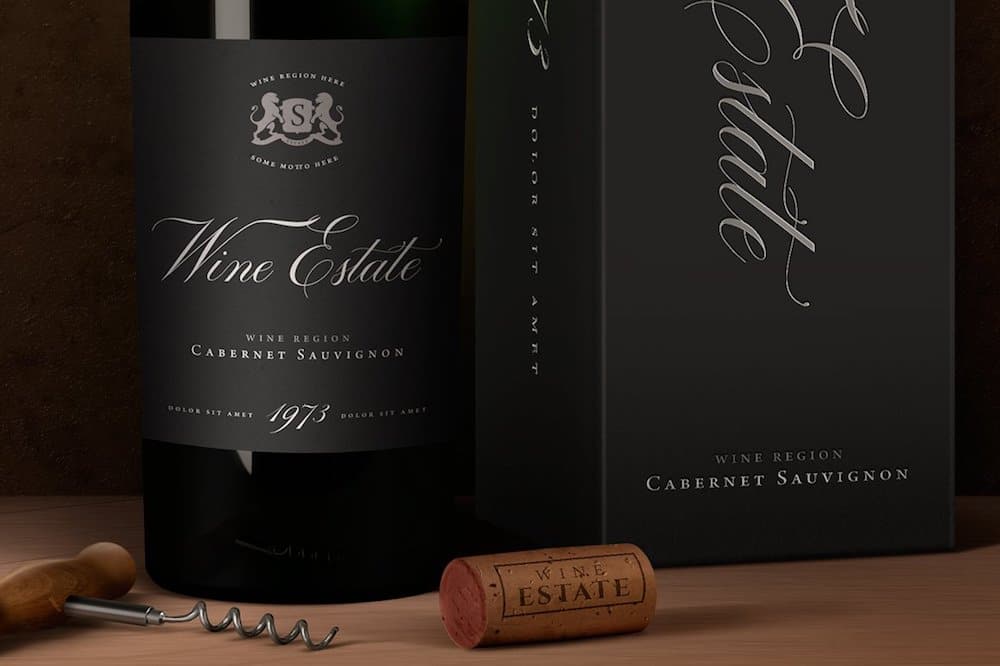 Another wine packaging mockup that is more on the luxurious side; however, you can use it for anything and everything.
The mockup includes a wine bottle, wine box, corkscrew and cork. Keep in mind, you can also edit the latter.
You can also choose between gold and silver wine boxes and smart bottle objects.
Get ready to design an exhibition that will amaze every viewer, raising your potential of winning them over – yes, with a life-like presentation.
But couple that with your tasteful wine and you know you are on the right path to success.
Price: $9
MORE INFO / DOWNLOAD
How To Design A Wine Packaging Mockup?
I'll show you the fastest and easiest method of creating a realistic presentation of a wine packaging design you have going on.
And this is what makes the process so effortless: All the work happens online.
I know, right?!
We'll use the mockup generator platform, Placeit, to make it happen. It's my favorite, and I highly recommend it to anyone, newbies and experts.
4 Steps To Create A Wine Packaging Mockup:
Step 1: Visit Placeit by click this link and type your query in the search bar. The searching is simplified with live results/recommendations.
Step 2: Once you find the template (by the way, you can test and try all of them – for free!), click it and import your design via the "insert image" button. It even allows you to change the size and position of your design. Click "crop" to stick it to the mockup.
Step 3: You can then use other functions to modify the default settings accordingly. It really only takes some clicking, which is the best part.
Step 4: Finally, click "download," and your job is done.
That's REALLY it!
Good luck.
::
Note: This article was originally published on February 23, 2021. But our team regularly reviews it and updates it with necessary improvements for accuracy.