It was a long process and many winery client projects that made us pick the best free and premium wine box mockups.
We are quite selective when choosing PSD mockups, so we ended up reviewing 100+.
These 13 are the best, most versatile and easy-to-use.
Great to cover as many different clients and wine types as you want.
(They will never go out of style.)
This post covers:
You now don't need to spend all this time creating a wine packaging mockup from scratch.
You can start with a free alternative first or go full-tilt and unlock unlimited possibilities with a premium mockup.
One thing's for sure: EVERYONE will LOVE your photorealistic presentation.
Best Wine Box PSD Mockups
1. Wooden wine packaging & bottle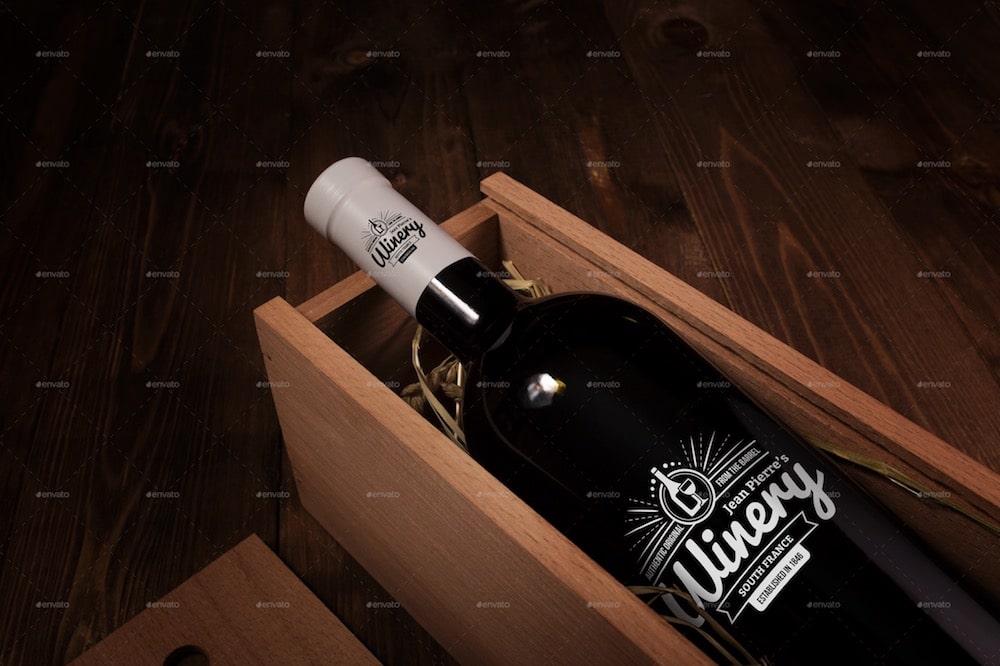 This remarkably beautiful wine branding mockup will do wonders in presenting your creative ideas. It includes a wooden box, a bottle and a glass.
You can quickly style each of the eight mockups to your heart's desire. The layered PSD file ensures everyone gets the most out of it easily.
GREAT for beginners and experts.
Aside from the wooden boxes, we really liked using the one mockup that includes a human hand.
But all are very appealing to the eye, beautiful and engaging.
Exactly what you need to make a wine brand or a new wine taste pop.
Price: $9
MORE INFO / DOWNLOAD
2. Wine/grappa bottle packaging mockups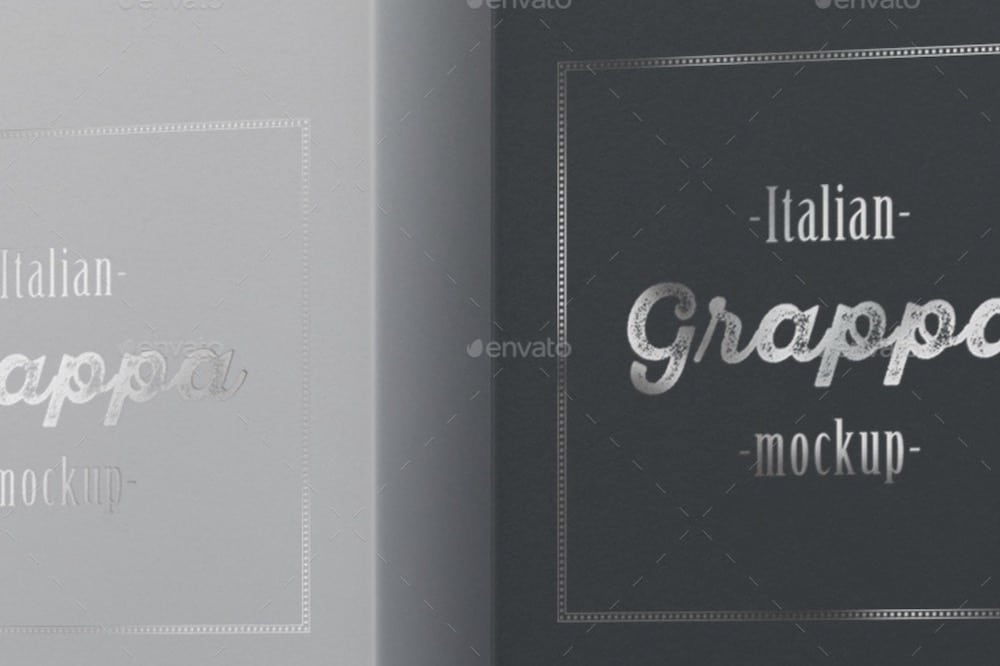 Whether it's grappa or wine, this special packaging mockup does the trick. You can work on box and label designs simultaneously.
Never again lack solid demonstration of a brand logo or any other special artwork.
With a mockup, you can impress your client, who then impresses their fans with a lovely social post. Or on their website, in a newsletter, WHATEVER!
You save yourself a ton of time and energy for a small investment.
What's cool, you can first preview all the mockup examples and go from there.
Make the right move.
Price: $9
MORE INFO / DOWNLOAD
3. Paper wine box PSD mockup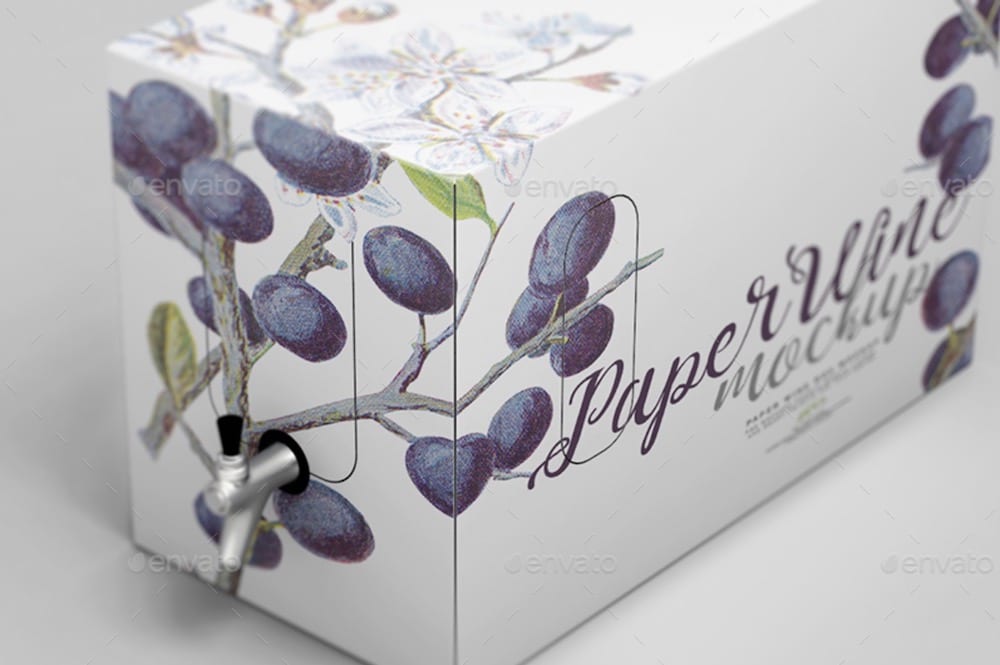 Pretty much any winery offers one of these. You can now create a life-like example with this paper wine box mockup that will WOW everyone.
That's exactly what you want to achieve with your stunning design showcase.
With different views and amazing quality, you can go very detailed with your presentation. The mockup does magic even when ZOOMED IN!
It does not end here.
You can adjust shadows, modify the paper texture and include any background you want.
The options are endless. Make sure your imagination doesn't limit you!
Price: $7
MORE INFO / DOWNLOAD
4. White/rose wine bottle and box mockup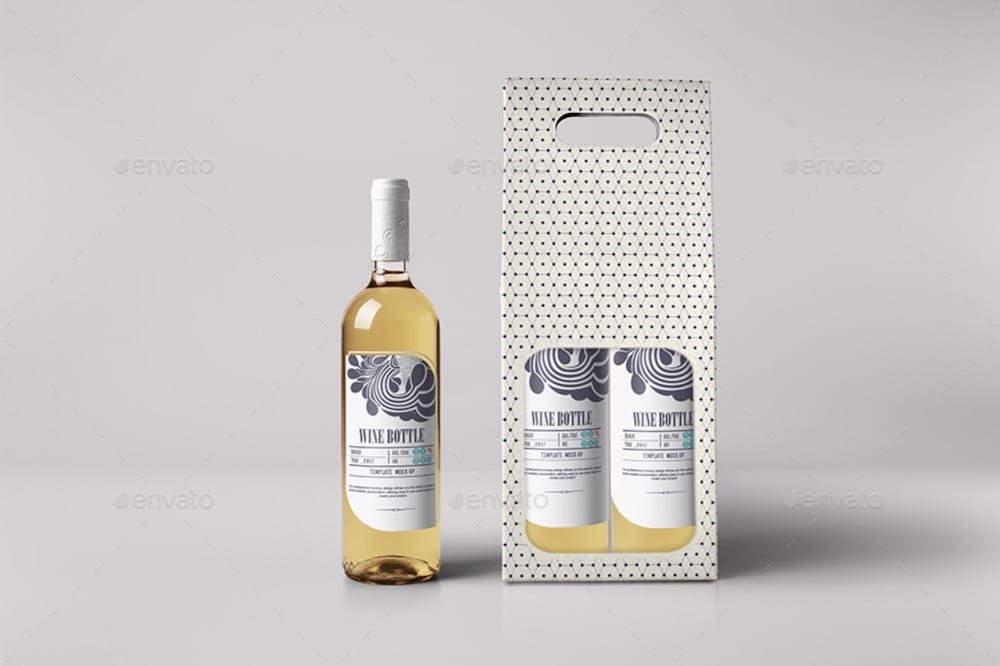 Whether it's a white or rose wine bottle and box mockup you'd like to work with, this one covers them both.
You can modify the color of the wine HOWEVER YOU WANT, making the taste that you or your client is the proudest of.
The six amazing scenes cover all the necessary for a full-blown wine box and bottle exhibition.
Note: the "box" is more like a paper bag, which is very convenient for carrying (especially for gifts).
Every PSD file rocks a 3000 x 2000px resolution and organized structure.
Easy work for high quality and jaw-dropping results.
Price: $6
MORE INFO / DOWNLOAD
5. Wine packiging PSD mockup set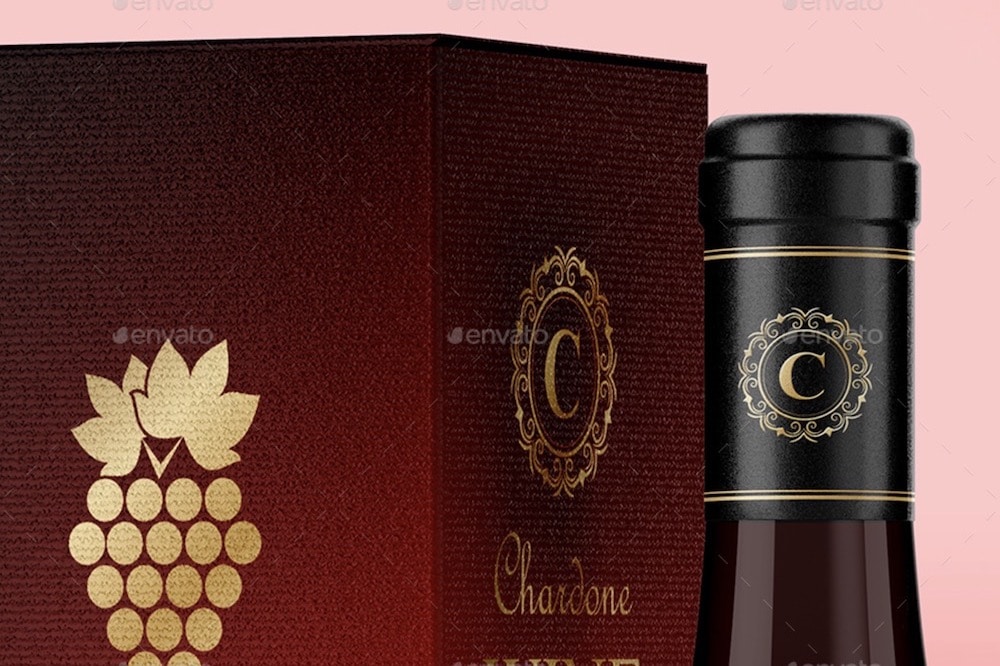 Eight views, eight PSD files and extreme resolution at 7700 x 5000px! That's what's up when it comes to this remarkable wine packaging mockup.
What we REALLY ENJOY about this particular mockup is the different wine boxes you get (even a gift bag!).
They are all blank, so you can make them of any texture you want – wooden, paper, you name it! (Check more examples on the product page.)
You can then go one step further, design the bottle and the corks, too.
Note: The kit includes a help file and how-to video for all beginners.
Price: $10
MORE INFO / DOWNLOAD
6. Wine bottle label & packaging mockup set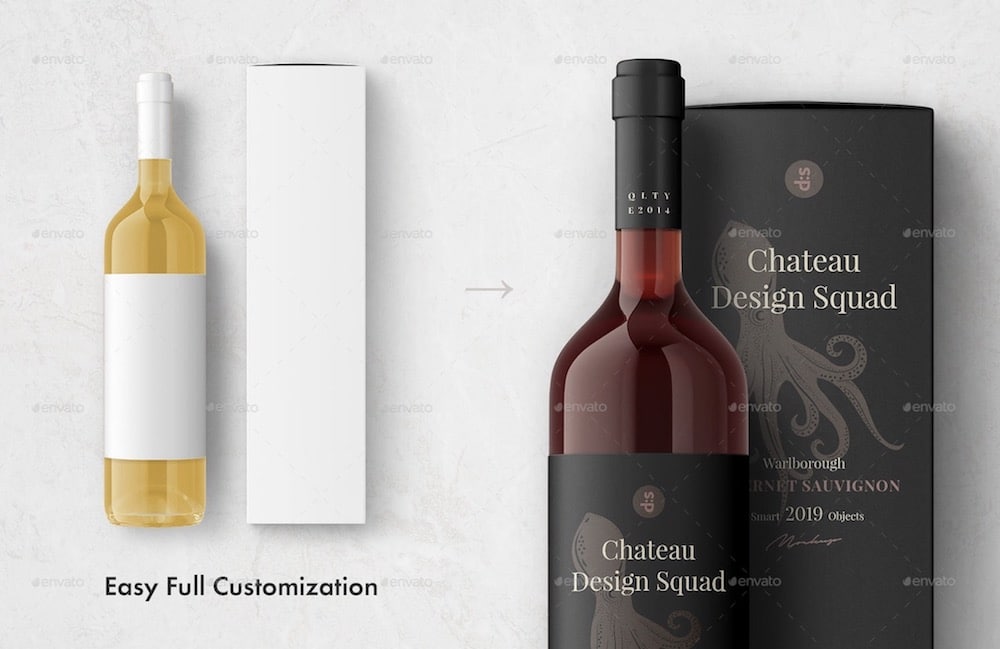 You can leave a strong and lasting first impression on everyone these days – with VERY LITTLE work.
A powerful and eye-pleasing packaging presentation is just around the corner, thanks to these wine box mockups.
Since we had a very short deadline for a few of our clients once, we opted for this one, ensuring an almost immediate final product.
Why?
Not only is it effortless to use, but you get four predefined wine bottle and box mockups. You even get four label variations.
Plus, the colors of the wine are white, red, rose and amber.
SO. GOOD.
Price: $10
MORE INFO / DOWNLOAD
7. Wooden wine case mockup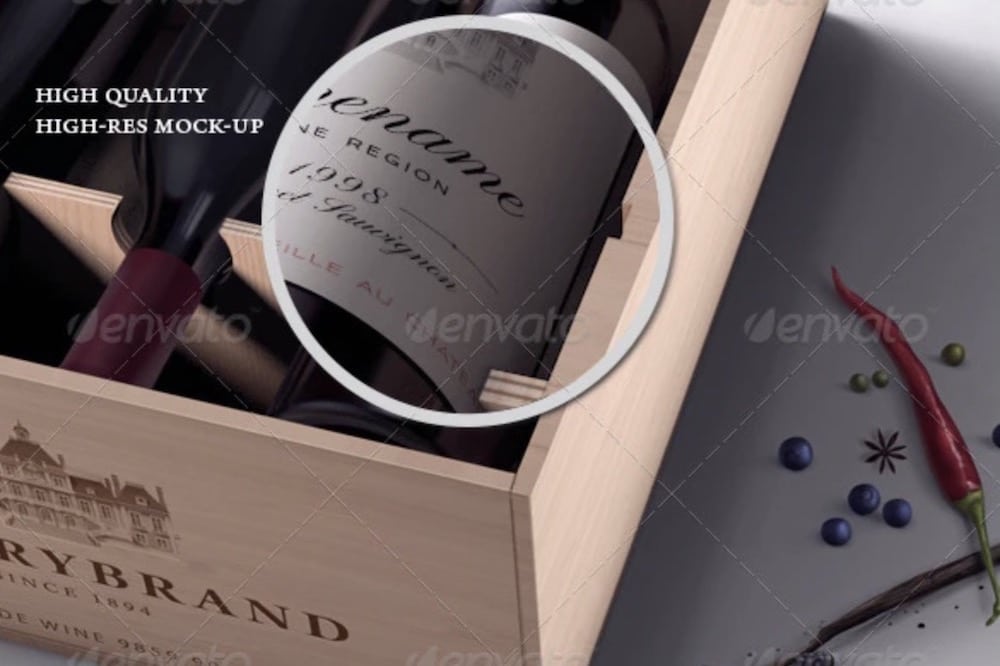 Here's a wooden wine box mockup unlike any other on this list. It's a case if you will!
It stores up to three wines and has a nice and life-like feel to it. You can brand the box and the wine label. You can also change the color of the foil/cap.
The mockup is pretty STRAIGHTFORWARD, requiring little time to make it yours.
A few clicks and you are done doing the work.
So, if you need to design a wooden wine case, I highly suggest you use this one.
Price: $7
MORE INFO / DOWNLOAD
Best Free Wine Box Mockups
There are many instances when we want to create a prototype or a first draft as quickly as possible.
That's when we opt for free mockups.
These are the ones that help us create remarkable results, which our clients enjoy through the roof.
8. Wine bottle packaging PSD mockup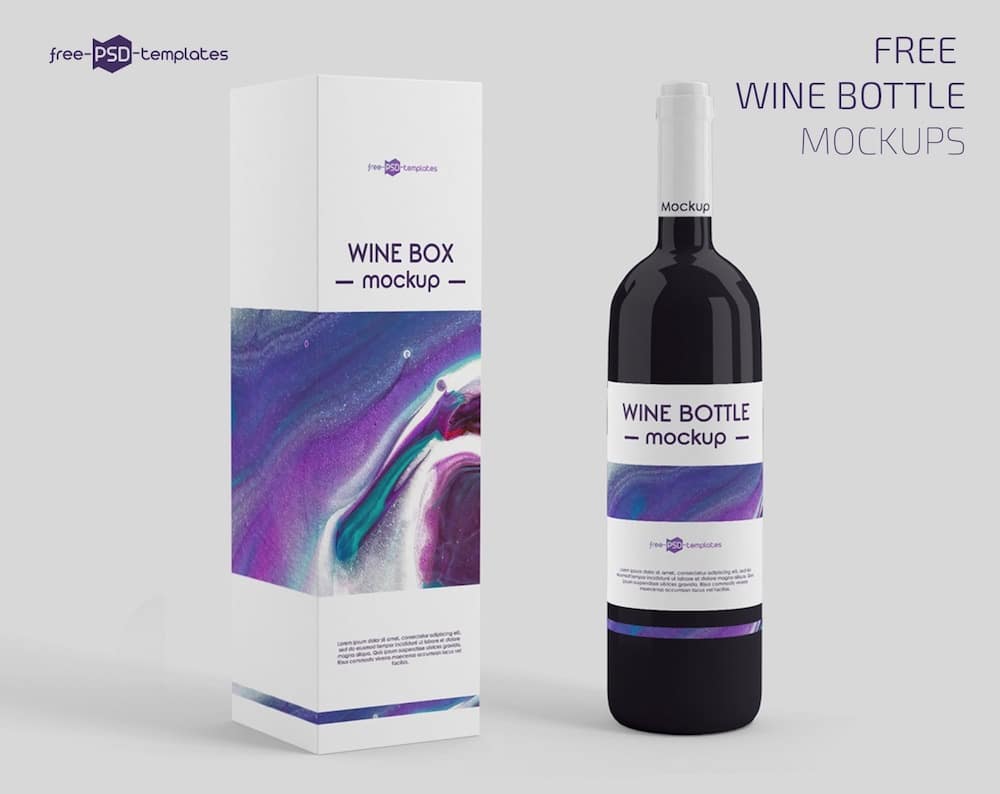 This free mockup bundle gives you a chance to design both the vertical box and the bottle. You can touch and improve everything, so don't hold back.
The mockup received high-star ratings from dozens of users. High-quality design, great attention to detail, smart object and layered structure – IT HAS IT ALL!
You can also change the colors of the bottle and box.
Import a logo and label design, perform any final refinements and you are ready to rock and roll.
It's just as simple as it sounds.
MORE INFO / DOWNLOAD
9. Free wooden wine box mockup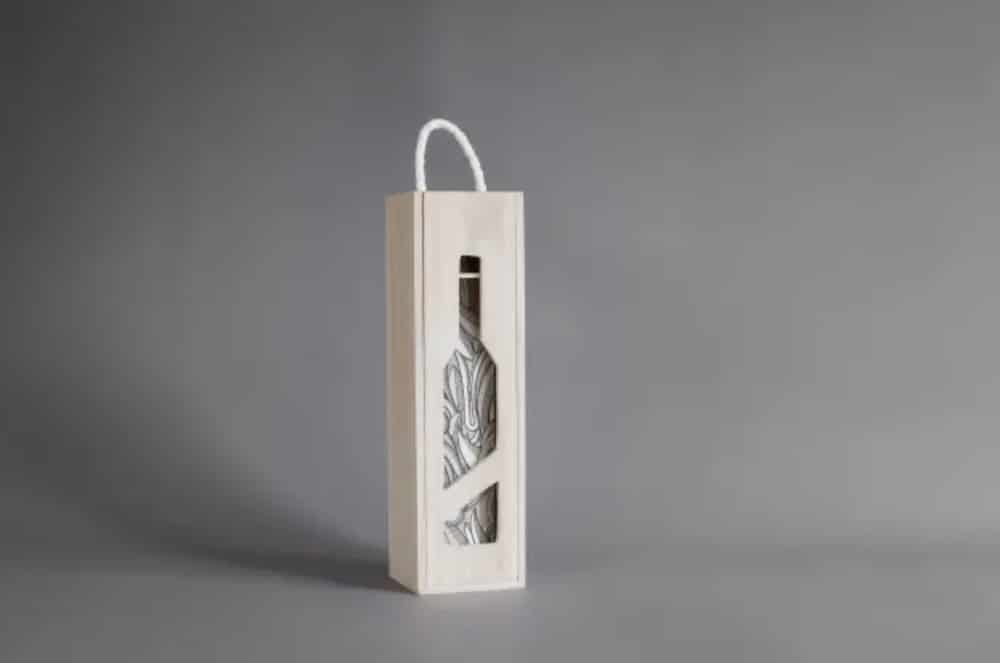 Since many prefer wooden wine boxes, here is the free mockup that does the trick.
It's one of those boxes that work fantastically well for gifts or storing luxury wines.
But use it for whatever you want! (Even if you are just looking around, gaining inspiration.)
It takes you NO TIME to improve this free wine box mockup with your creative touch.
After all, it's free, so download it now and use it right away (or even some time in the future).
MORE INFO / DOWNLOAD
10. Free wooden wine gift box mockup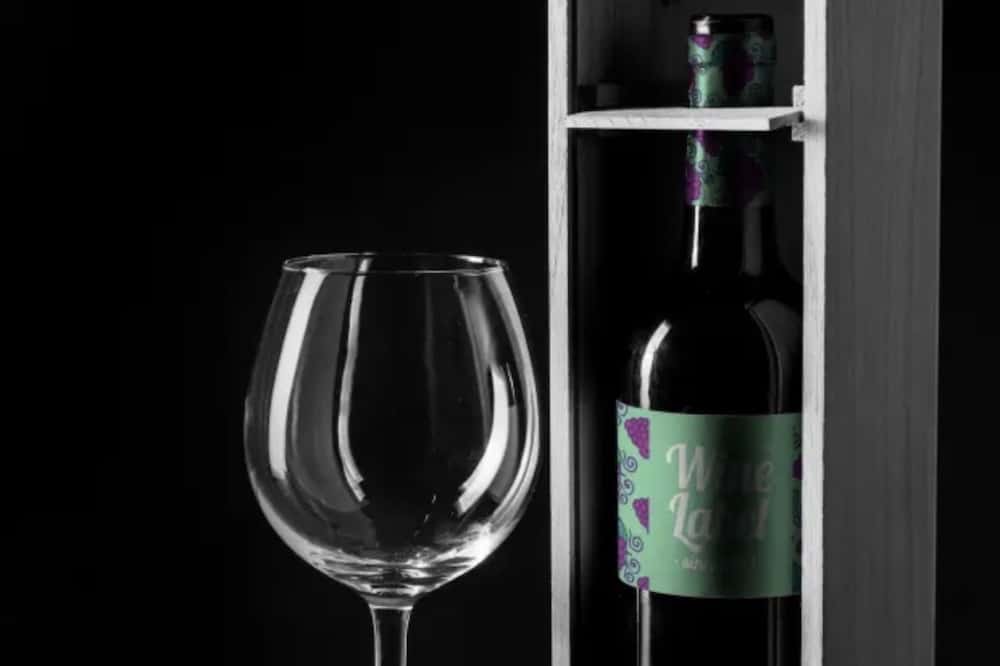 Are you on the hunt for a special gift box mockup that will create a lovely presentation for a wine brand?
What am I even asking?!
Of course, you are!
And if it's free, well, THAT'S EVEN BETTER.
The mockup has a dark background and great lightning effect, making the label pop but somewhat mysterious. An excellent attention grabber!
Even though we find this mockup spectacular, there's one thing that would make it even better.
To also have a chance to design the wine glass. (But hey, it's free!)
MORE INFO / DOWNLOAD
11. Wine label and box mockup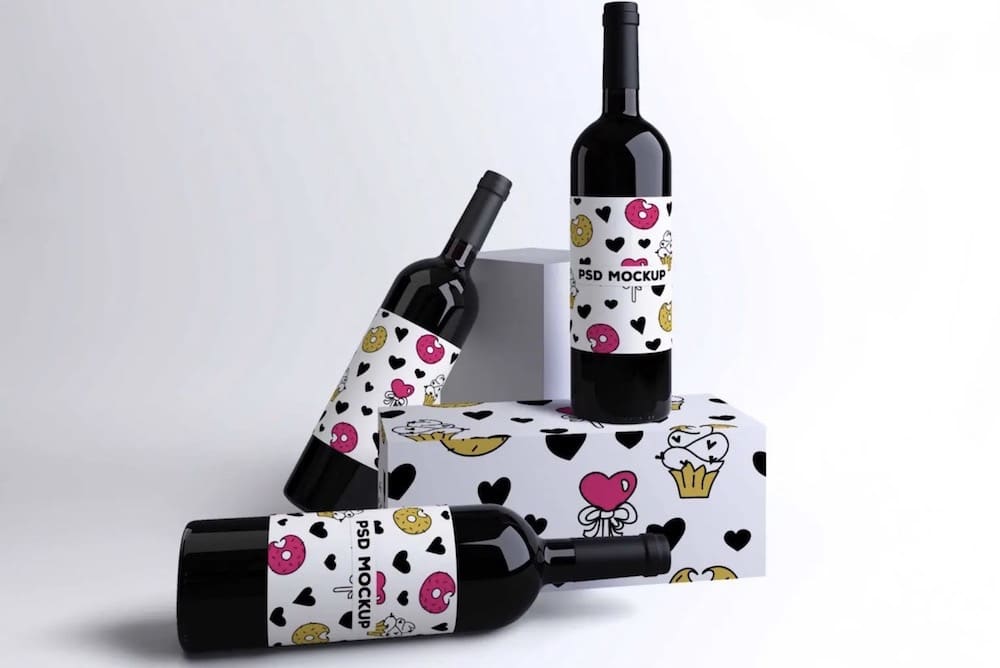 Instead of one bottle and box, this free mockup gives you many elements to play with.
How cool!
You can make the presentation fun, creative, luxurious, minimal; it's entirely up to you.
All it takes is adding the design and you are ready to make some noise.
Every work you do with this free wine box mockup will be INSTANT, thanks to the layers and smart objects.
Can you spend nothing but still attain a great photorealistic presentation? You bet you can.
MORE INFO / DOWNLOAD
12. Elegant dark wine bottle & packaging mockup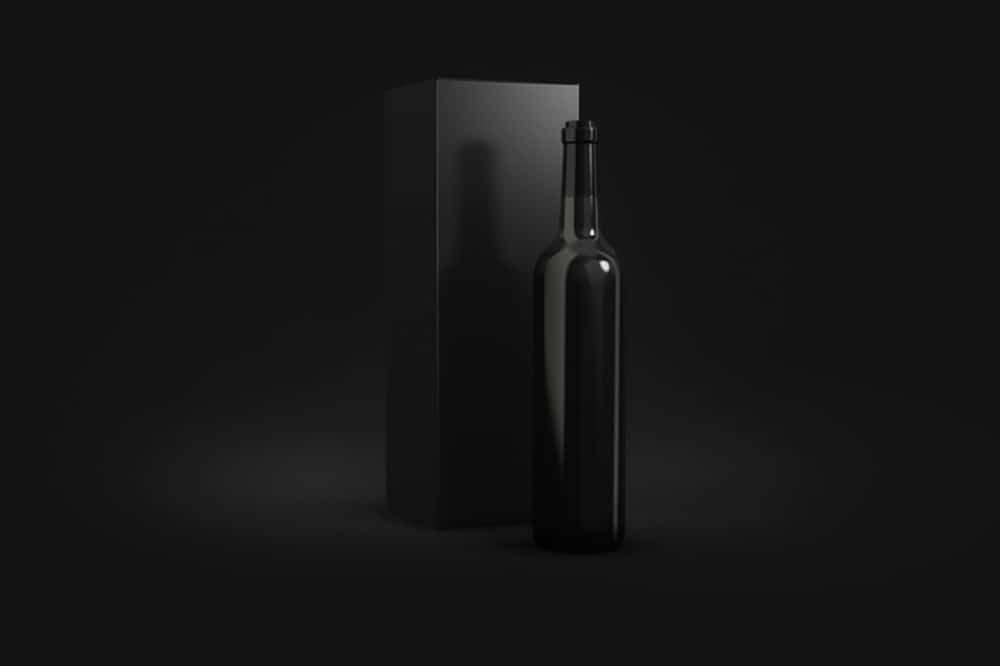 Okay, I'll call this one EXTRAORDINARY. If you'd like to focus on nothing but elegance, you may find using this (extremely) dark wine bottle mockup of perfect use.
The set includes three different views, but only one features a wine box.
Even though a client requests just the box design from us, we almost always go one step further and create a bottle label.
You never know!
Henry Ford said it best: "You can have any color you want, as long as it's black."
MORE INFO / DOWNLOAD
13. Rose wine bottle & box mockup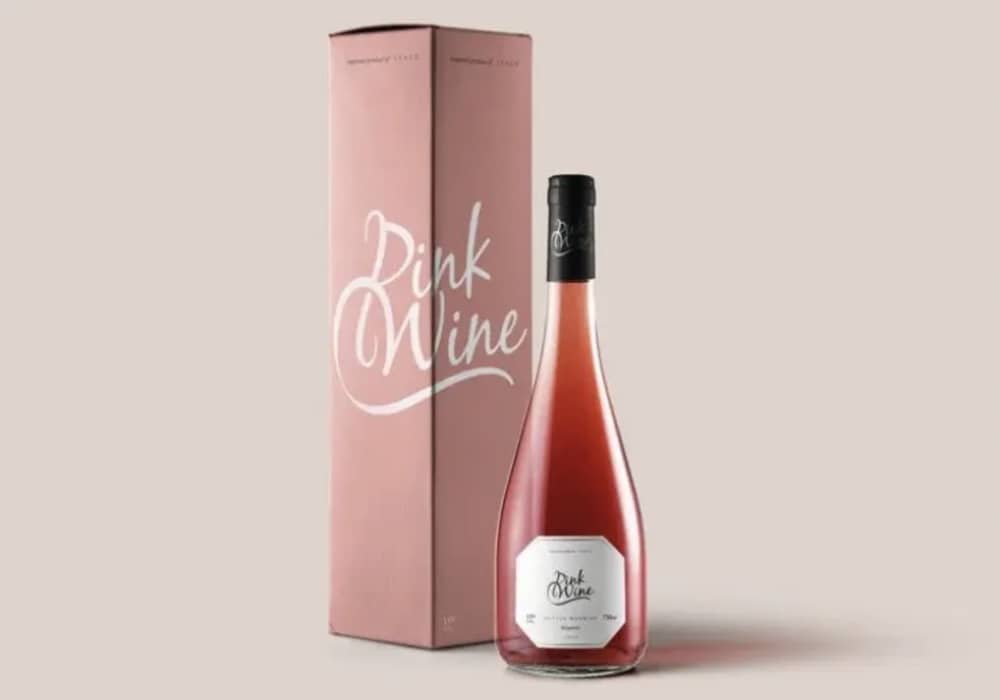 See how your wine box design looks with a quick mockup use.
Even though this particular example features a pink design, it doesn't necessarily mean you are limited to pink.
Along with putting a design or logo on the packaging, you can also improve the bottle label.
A few clicks are all it takes to make an outcome that will have a strong WOW effect.
That's what you'd want, and you can achieve a great result without starting from scratch.
You're welcome.
MORE INFO / DOWNLOAD
How To Make A Wine Box Mockup?
Honestly, the only "challenging" part of creating a realistic presentation of a custom wine box design is choosing the right template.
However, you're welcome to start with any of the free ones above, test the waters and go from there.
But how do you actually do it?
It's pretty straightforward and may take you only seconds to make it happen (if you're ready & set to take action).
Here we go.
4 Steps To Design A Wine Box Mockup:
Step 1: Open Photoshop and import the free or premium template you like. (I recommend opting for any of the above ones. Why? Because they work!)
Step 2: You then find the smart object layer, which is a convenient function to drag-n-drop your design.
Step 3: With your design on the mockup, you're free to perform as many or as few additional tweaks as you want. Each PSD has an excellent and user-friendly layered structure (great organization!) to customize it however you want.
Step 4: Done? Click save and download your wine box mockup.
That's really IT!
::
Note: This article was originally published on June 15, 2021. But our team regularly reviews it and updates it with necessary improvements for accuracy.