You never again need to search for the ultimate free and premium credit card mockups because this review has it ALL.
Pick a freebie for an immediate start, enjoy the extreme speed with a mockup generator or treat yourself to complete freedom with a PSD.
I made sure to include something for everyone after testing and trying 50+ mockups.
Create a realistic presentation for your online store, business website, or social media in a few clicks.
Hint: I particularly like the credit card in-hand templates! (EXTRA life-like.)
Demonstrate client's custom card design with ease.
TABLE OF CONTENTS:
Best Credit Card Mockup Generators
These are epic because they allow you to make a mockup without Photoshop.
Too. Much. Fun.
1. Horizontal mockup of a credit card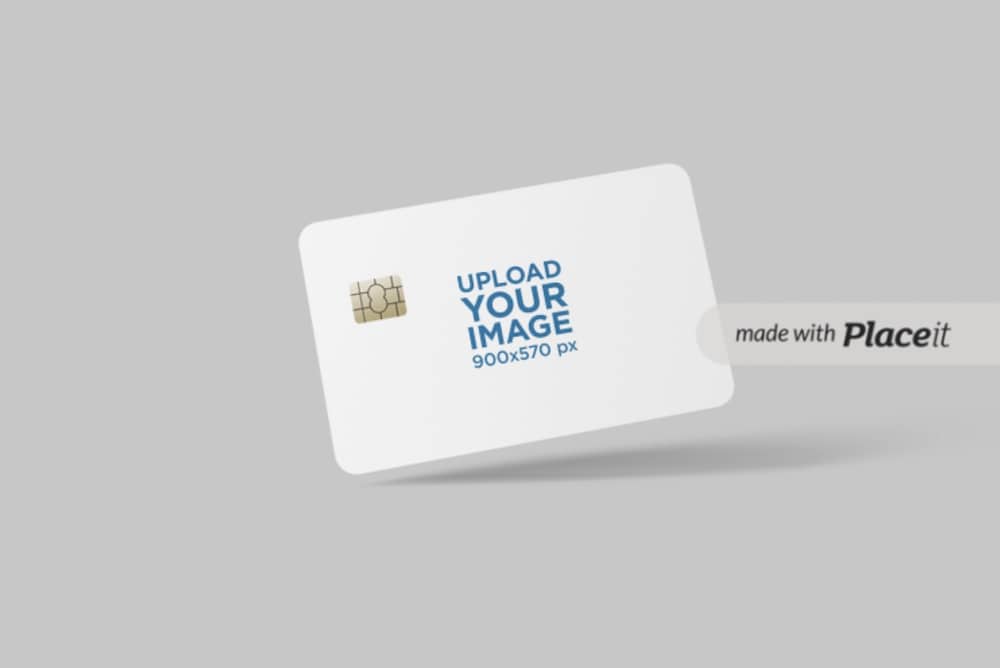 This is my absolute favorite mockup of a credit card because of its amazing flexibility and wide range of use.
First, you get to edit and improve it entirely online. And second, you have plenty of customization functions to make it the way you want – in a few simple clicks!
I particularly like the option of adding a custom background, but you are free to pick any ready-made one from the Placeit archive.
EPIC.
Price: $7.95
MORE INFO / DOWNLOAD
2. Credit card mockup with editable background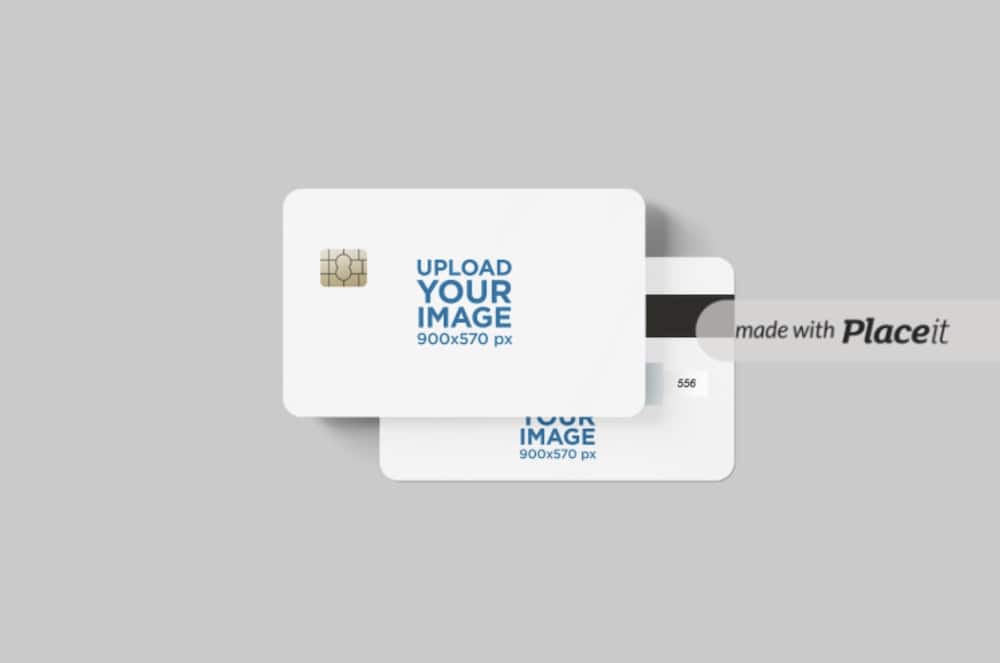 And this is my second favorite amongst all the credit card mockup generators I found online.
I was able to create the front and give a sneak peek at the back design with ease. It even has the CVV, which creates the final presentation even more PRO.
Adding the designs happens quickly by uploading them from your device. And yes, you can create a mockup with a smartphone, too!
Plus, customize the background, add any text and graphics you want and enjoy sharing your realistic credit card showcase with whomever you want.
While it worked on social media really well, the best was still on a client website after testing it.
Price: $7.95
MORE INFO / DOWNLOAD
Best Credit Card PSD Mockups
3. Bank card mockup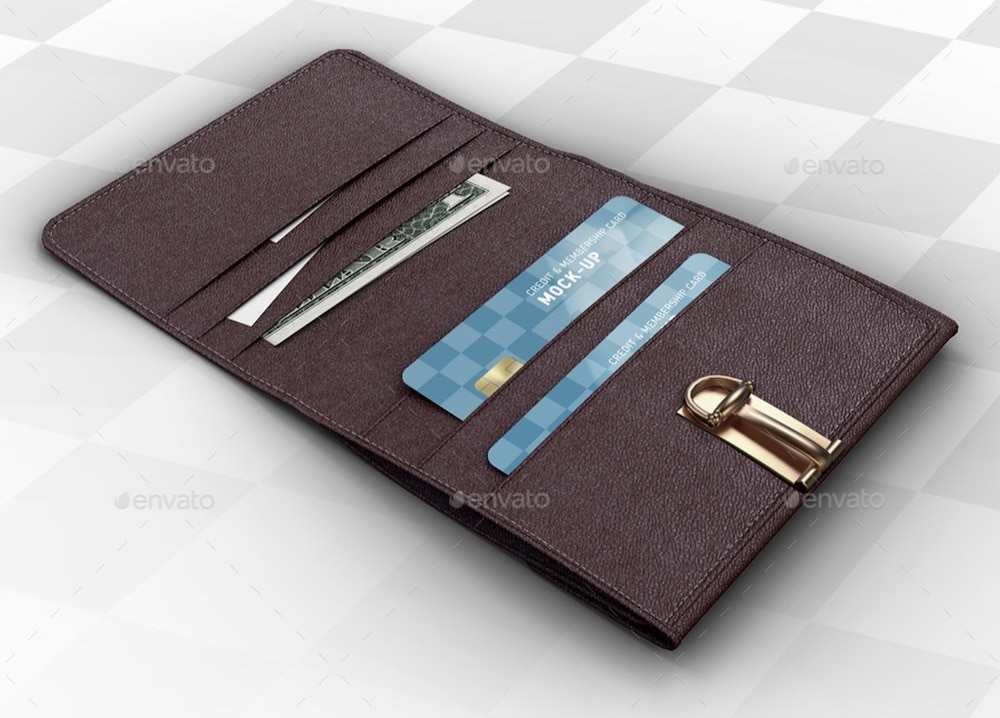 This bank card PSD template offers a combination of six life-like views, all 100% adjustable.
But I particularly like the card in a wallet mockup the most. You can even add the artwork to both cards!
Moreover, the 3500 x 2500px proved to be quality enough for zooms because one of my client's design was really detailed – the showcase was still CRISP, though!
What immediately takes the possibilities to the next level is the ability to turn the microchip on or off.
I highly recommend it if you need a PSD (or six!).
Price: $8
MORE INFO / DOWNLOAD
4. Hand holding credit card mockup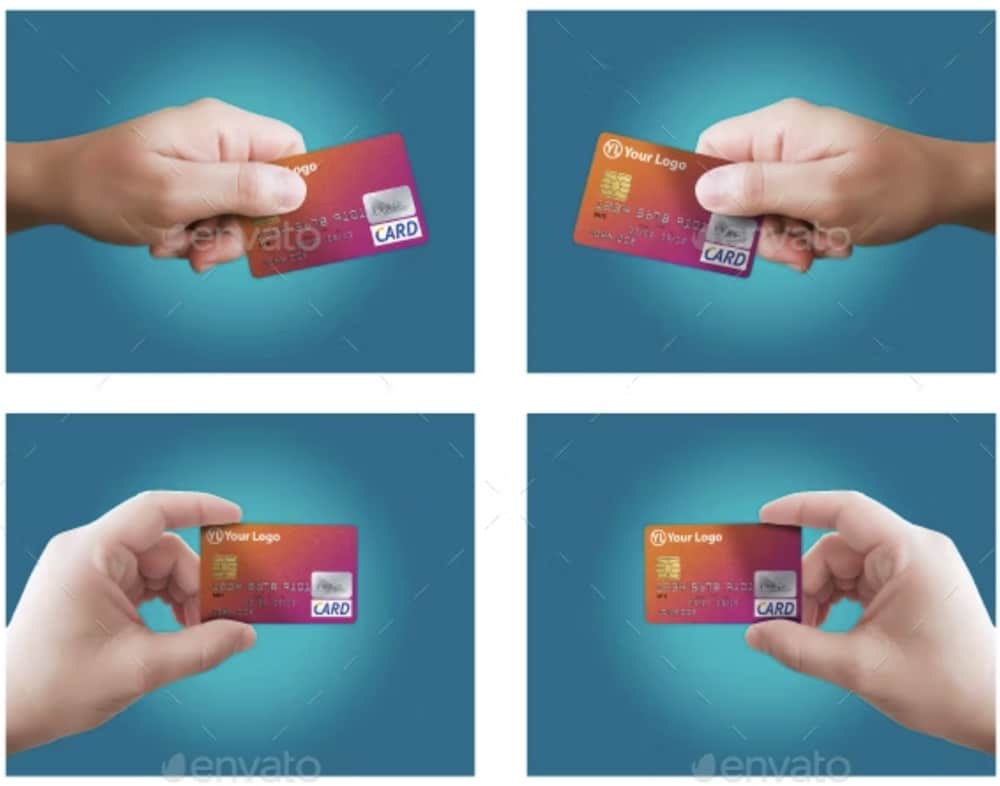 I'm adding this one after receiving many requests from our users because they were unable to find a top-notch credit card in-hand mockup.
This one performed really well for me after testing multiple designs on live audiences.
Creating a realistic outcome takes little time and 0 effort with ready-to-use front and back card designs.
You get six templates to practice your creativity, all promising you an outcome that no user will notice it's a mockup.
WIN!
Price: $6
MORE INFO / DOWNLOAD
5. Membership card mockup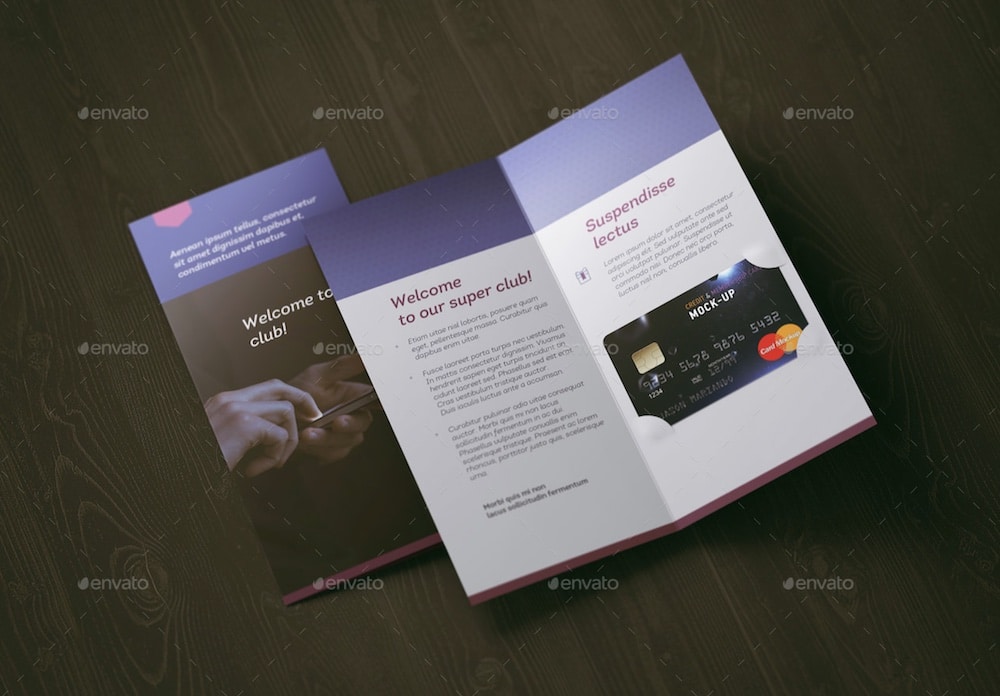 Whether you're looking for a versatile mockup that could work as a membership card or a bank card, drop everything and opt for these 13 layered PSDs.
All I can say is that: This one is a complete pack of everything you need!
I exclusively worked with this one because of the packaging since that's what my client was after.
Create a VIP (membership or bank) card that looks EXTRA hot.
A bunch of other beneficial features are four photo filters, six backgrounds, a switchable chip and a modifiable DOF effect (depth of field).
For. Elite. Client.
Price: $8
MORE INFO / DOWNLOAD
6. Plastic card mockup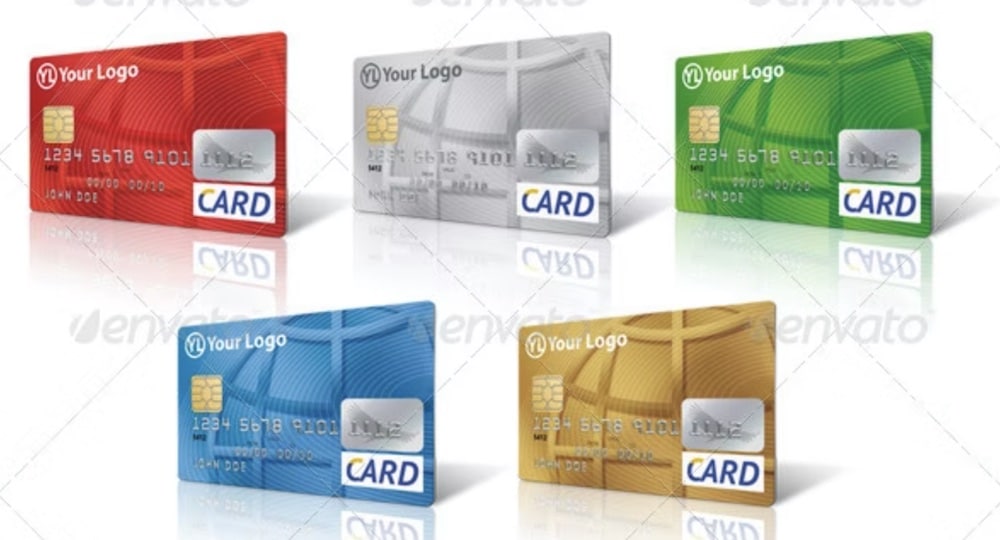 This particular set of plastic card mockups was recommended by my good friend, Stan, and I immediately knew why.
I still went and tested all of the seven views before I decided to add it here. You'll love it just like I did and that's a guarantee.
What SAVES a ton of time are the five premade cards with different backgrounds, spicing things up even further.
Each template has a fully organized structure, ensuring it's effortless to edit even for a beginner. (But you can still check the help file.)
Price: $6
MORE INFO / DOWNLOAD
7. 3D credit card mockup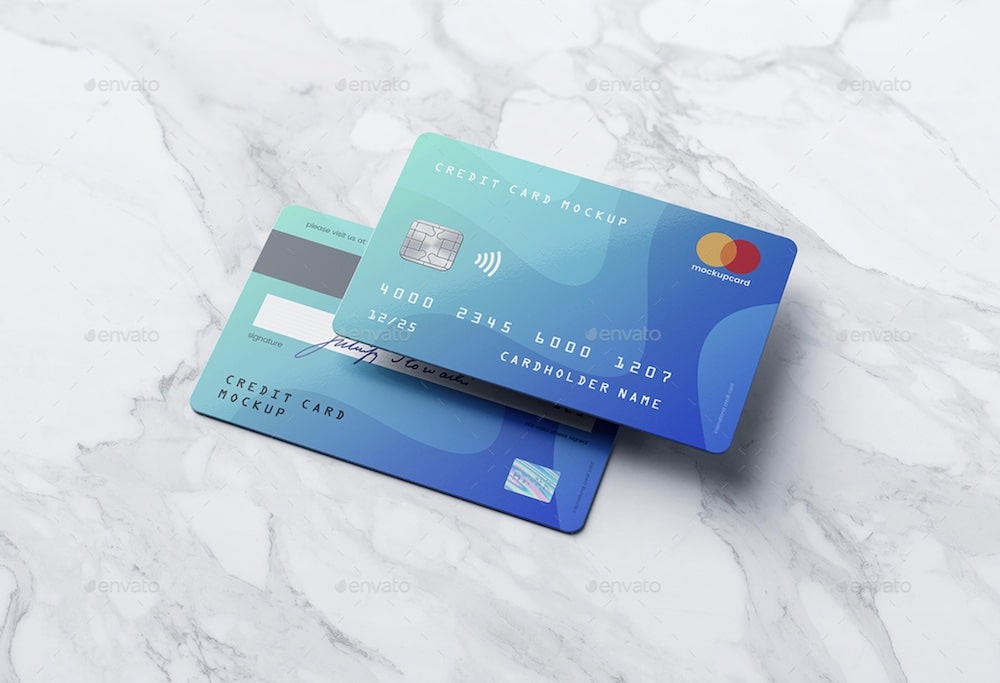 The 3D effect of this credit card makes the presentation so real that everyone will love it. And you don't get just one mockup BUT eleven!
One card, front and back view, multiple cards, yup, the set covers everything. What I also enjoyed are the four ready-to-use filters and the great, 4000 x 3000px (150dpi) resolution.
Your card design deserves the best, and that's this mockup (or any other from this collection).
By the way, the help file and video tutorial also ROCK.
Price: $8
MORE INFO / DOWNLOAD
8. Platinum credit card mockup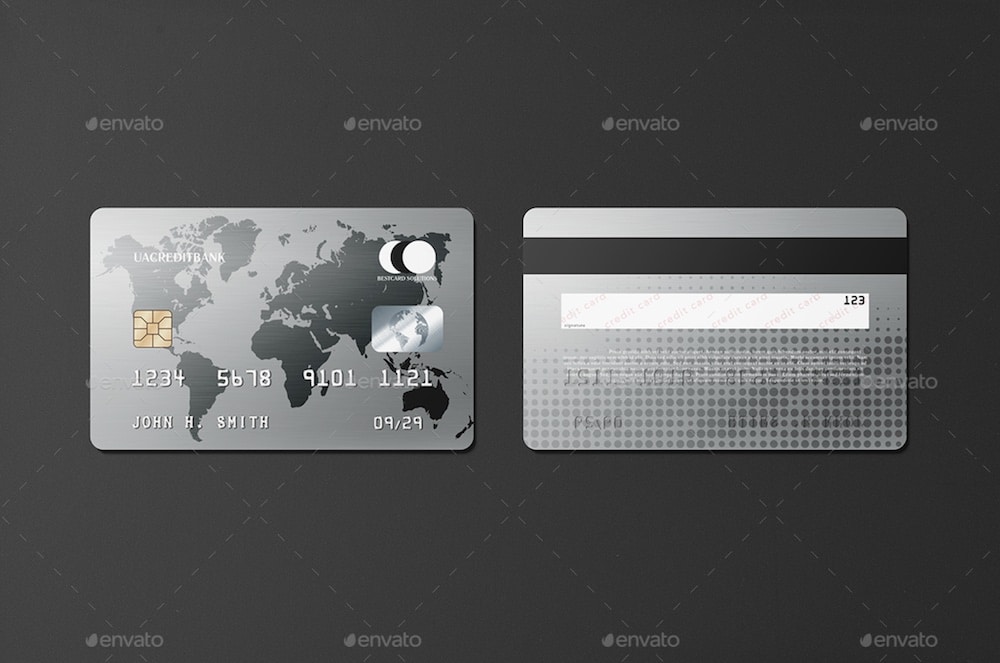 If putting together a design for your client's elite users then this platinum credit card PSD mockup will come in extra handy.
All eight PSD files have high resolution and feature four platinum textures and configurable embossing.
The actual size of the card is traditional: 85.6 X 53.98mm.
A single color background worked really well for me (made the platinum card POP MORE), but you can add any image or pattern you want.
Price: $7
MORE INFO / DOWNLOAD
9. Debit card mockup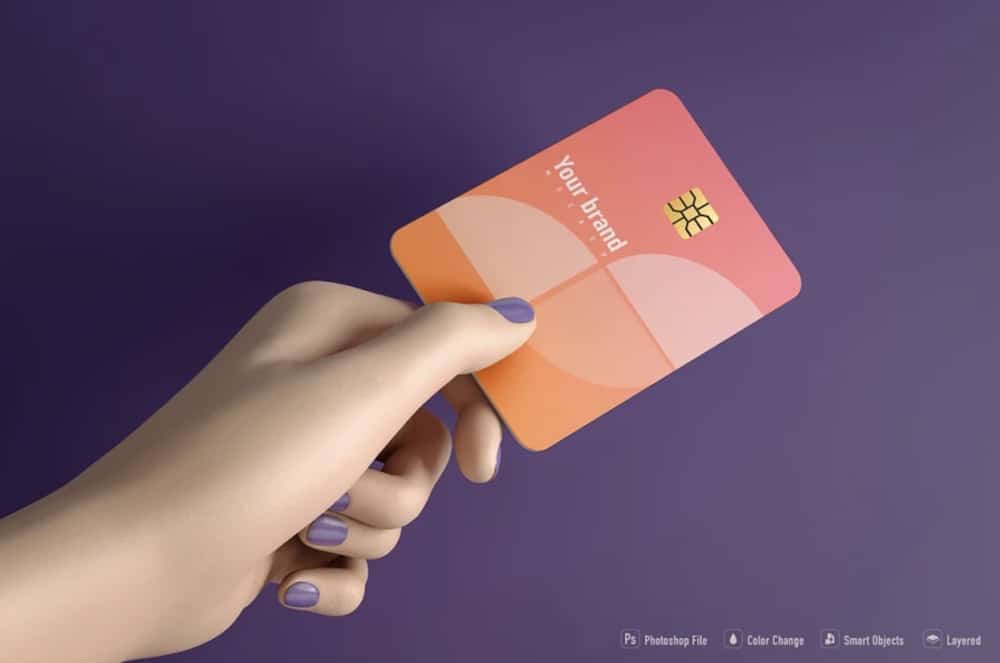 I'm adding another card in the hand mockup because of the high demand. (Don't worry, I even added two free ones below!)
Too bad this is only one mockup and doesn't come with any secondary angles, but I'm sure it'll DO THE TRICK for you.
It creates a nice, attention-grabbing effect once you edit it via the smart object, which is super quick to do.
The resolution is also a pretty serious deal at 4500 x 3000px (300dpi). You'll do great things – that's for sure!
Price: $14
MORE INFO / DOWNLOAD
10. Credit card in packaging mockup

I was super excited I came across this PSD template when I needed to focus on a credit card and its packaging.
Luckily, it worked so extremely well for me even though it's just one PSD template.
But the excellent resolution ensured me to create a very detailed presentation, especially with close-ups of different angles.
Hint: You can also use it without a chip for membership cards, hotels, or anything else that comes to mind.
Too easy to use, but the final work will be SUPERB.
Price: $9
MORE INFO / DOWNLOAD
11. Front & back vertical credit card view mockup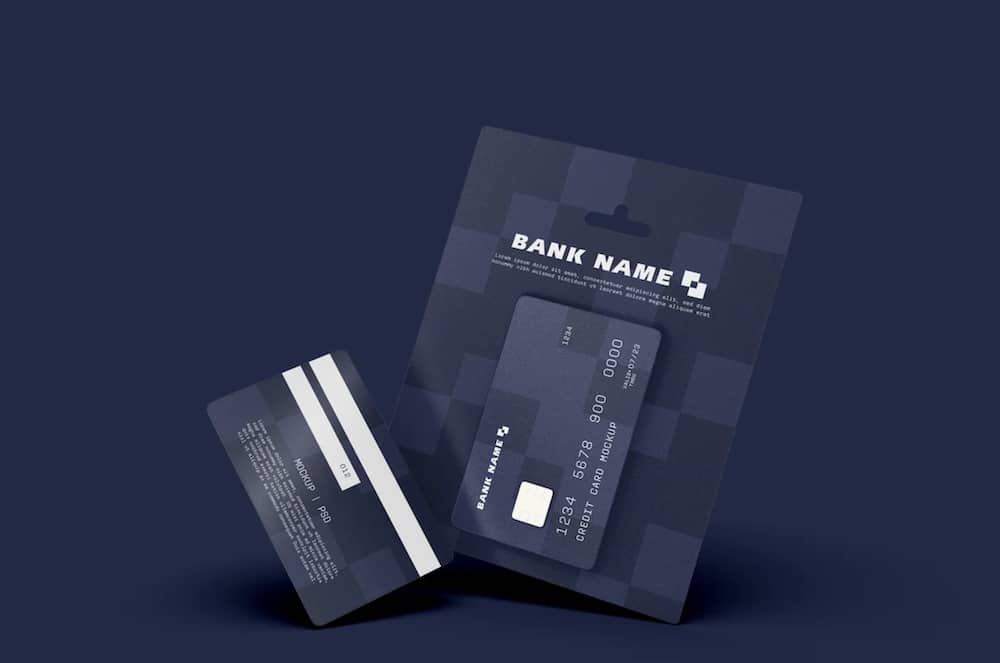 Honestly, I'm not sure why so many prefer a vertical credit card mockup (I like it horizontal), but hey, numbers don't lie, so here you go. (There's a good chance you need it, too.)
Everything flows so SMOOTHLY after you import the mockup into Photoshop and start editing it with your designs, branding and color choices.
Make the client you work with proud with a showcase that'll appear very real. But takes you so little work to realize! (Which is my favorite part.)
Price: $9
MORE INFO / DOWNLOAD
12. Transparent credit card PSD mockup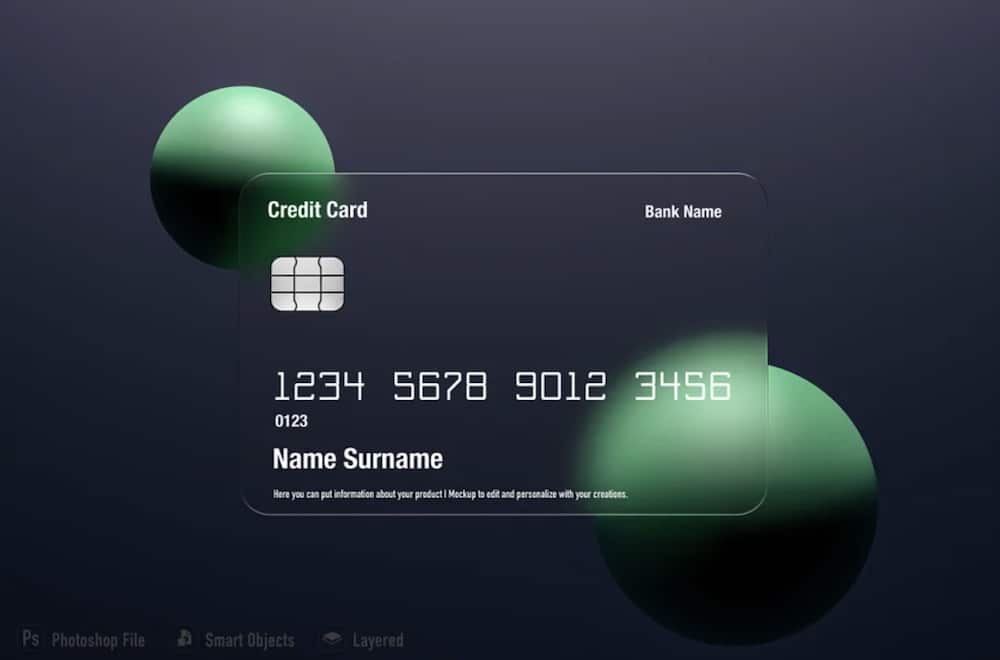 I'm pretty sure we are all familiar with a mobile bank that comes with a transparent card, which created a BUZZ when it opened.
If you're also in the process of designing a transparent credit card then there's no other better mockup to choose than this one.
It features everything you need to make the exclusive card that everyone will want to own.
Great quality, smart object, organized layers and groups – yup, everything necessary for a quick start and instant creation.
GO!
Price: $14
MORE INFO / DOWNLOAD
Best Free Credit Card PSD Mockups
These freebies are more premium-like than you think!
13. Multiple credit cards PSD template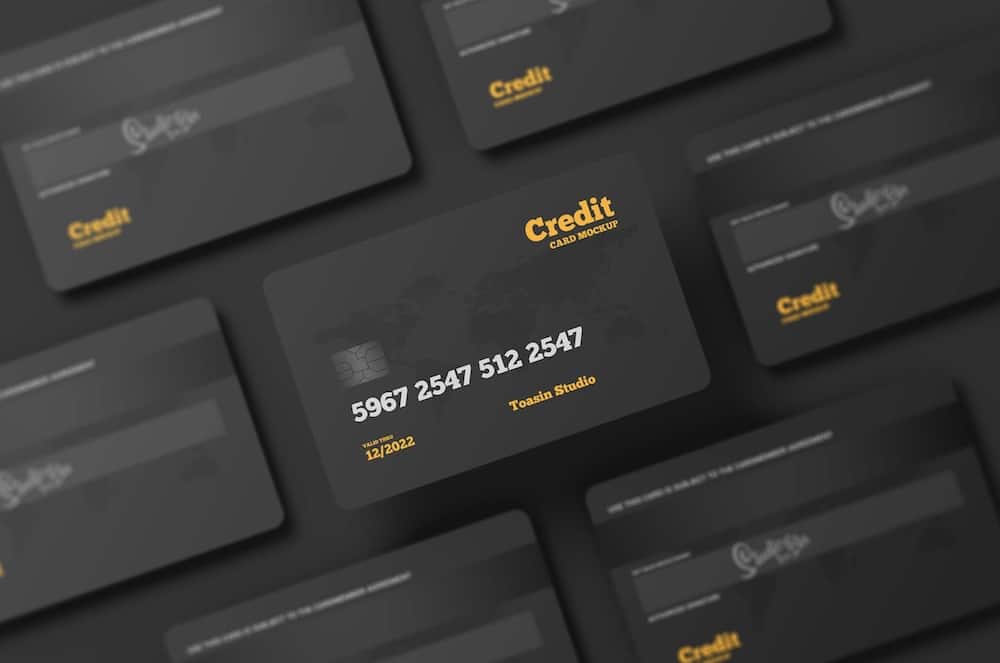 This multi-credit-card mockup is great to present front and back card design like a pro but without spending a dime.
The template uses an organized structure with the smart object to drag and drop your artwork – NO ADVANCED skills necessary!
The 3000 x 2000px resolution is also perfect for any style of artwork, detailed or minimalist. Plus, it works great for dark and light color choices.
MORE INFO / DOWNLOAD
14. Metal credit card mockup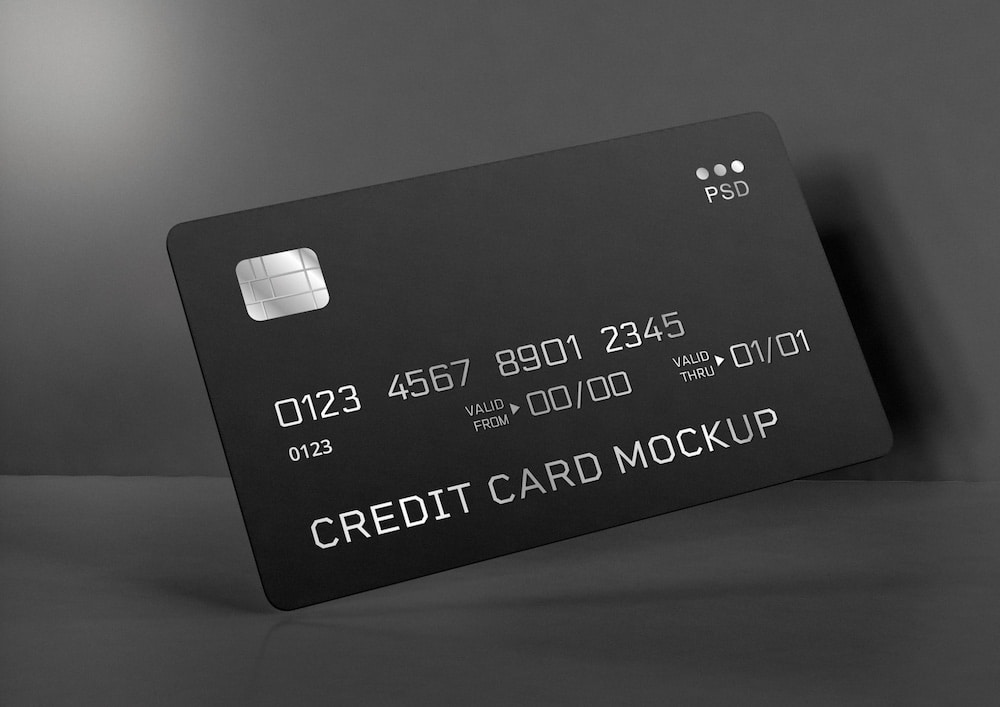 Making a metal credit card means business. That's it.
And if that's what you're after, test your work with a mockup. I always do that for any final edits and improvements.
Note: You can use this free PSD mockup for plastic cards, too!
And the floating card usually calls for MORE ENGAGEMENT, at least that's what I experienced from my testing.
MORE INFO / DOWNLOAD
15. Credit card in female hand mockup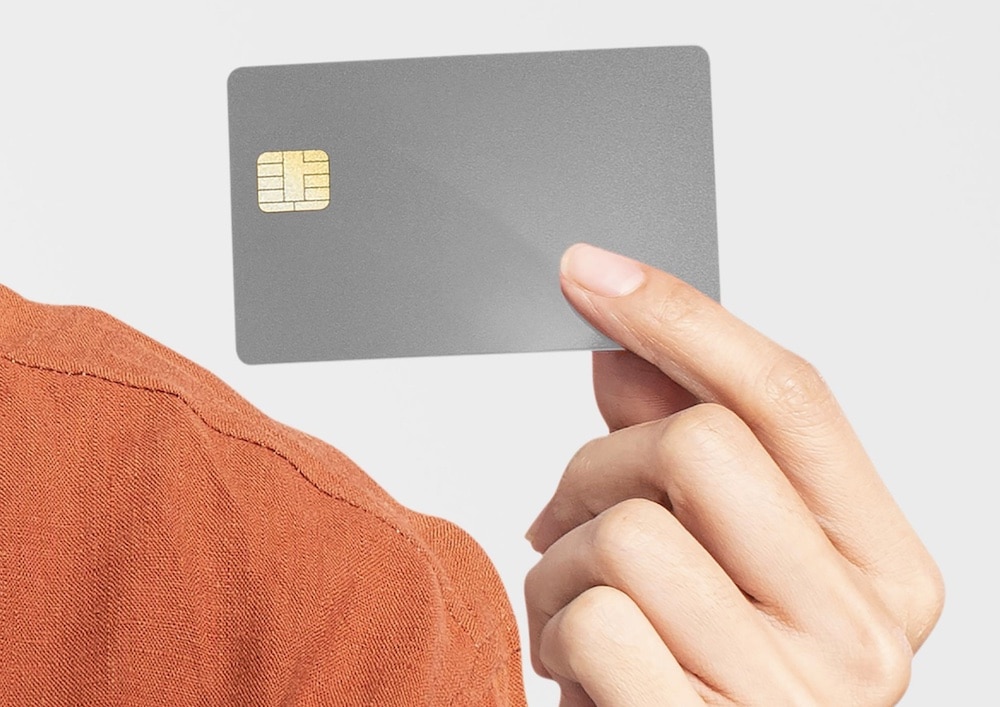 Now two more credit card in-hand mockups for you.
The first one is of a woman holding the card, which YOU CAN EDIT however you want.
You already see how photorealistic the mockup is from the screenshot above. But you will make it even more special once inserting your design, even if just a simple logo!
Test it out and enjoy the endless variations you can create with it.
MORE INFO / DOWNLOAD
16. Credit card in male hand mockup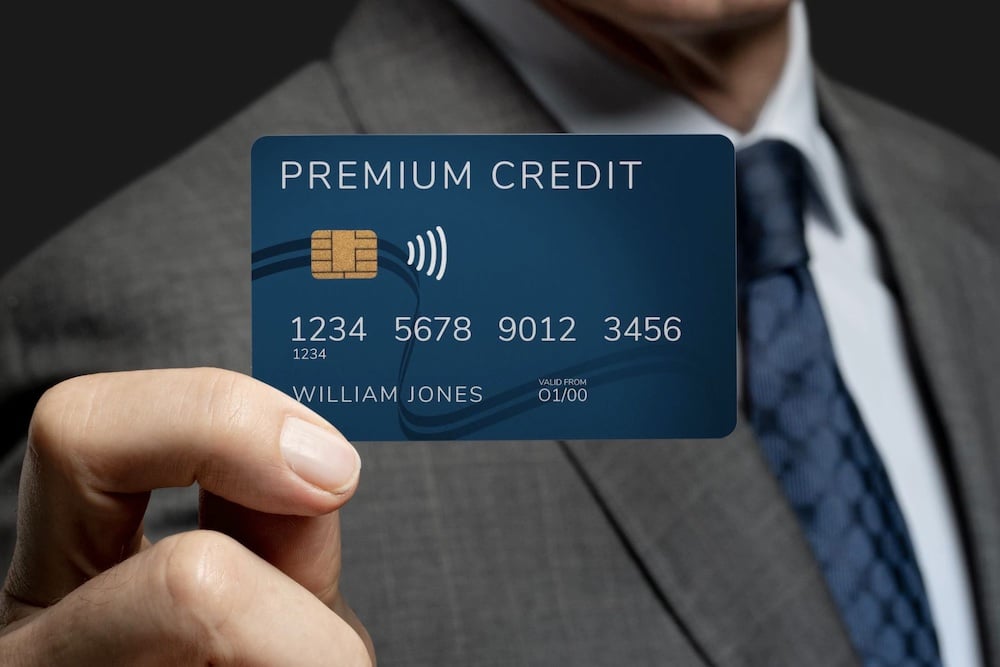 The second one is more business-oriented if the one above was focusing on a more casual presentation.
Make a premium credit card PSD template showcase without a fee and use it for personal and commercial projects (use attribution).
It's so EASY and QUICK to do that you'll want to make multiple versions for easy comparison.
I had too much fun especially because of the fantastic end result.
MORE INFO / DOWNLOAD
How To Design A Credit Card Mockup Template?
Whether you're a pro designer or a complete beginner, heck, even never worked with a mockup in your life, this is the only how to you'll need to create a realistic presentation of a credit card.
It's so simple because it only requires some clicking – no experience and no software.
But how?
With an online mockup generator, that's how.
I've worked with Placeit on 100s of projects and will likely use it for 100s more.
Thus, I'll show you how to do it with this simple mockup generator.
5 Steps To Make A Credit Card Mockup:
Step 1: Once on Placeit, pick your favorite template or even use the convenient search bar to find the right one for your specific project easier. Click it, and your desired image will open on a new page.
Step 2: You'll see a bunch of options around the mockup, but access the "insert image" one first. Why? Because it allows you to see how your design appears on the credit card (Does it work? Or would it be better to test another template?).
Step 3: A customization popup will open with options to change your design's position and size. You can see all the changes you make in the live preview, located in the bottom right corner. Click "crop" when done.
Step 4: Perform finishing touches in the form of changing the card's color, the background, adding a text overlay, and more.
Step 5: Hit the "download" button in the top right section and enjoy your creation.
ANYONE. CAN. DO. IT.
Boom!
::
Note: This article was originally published on June 9, 2022. But our team regularly reviews it and updates it with necessary improvements for accuracy.