I had a blast woodworking as a kid, and I had equal fun reviewing the best free and premium wood box mockups.
During the review, I also worked on multiple client projects to ensure the PSD templates grabbed the attention.
Plus, I welcomed a few of my designer friends on board to ensure this is the ULTIMATE list.
These mockups guarantee:
Quick work
Photorealistic results
Excellent organization
Very. Beginner. Friendly.
Yes, you'll have everything you need once you scroll to the bottom of this collection.
This post covers:
Enjoy bringing custom wood boxes to life – WITH MOCKUPS!
Best Wood Box PSD Mockups
1. Wooden box with logo mockup

If you'd like to stuff a logo on a square box made of wood at different angles then I HIGHLY recommend opting for this one.
It's beautiful, realistic and effortless to use, ensuring instant results after you slide in your logo.
The 5000 x 3750px ensures a fantastic outcome that'll amaze everyone.
Price: $5
MORE INFO / DOWNLOAD
2. Sliding wooden box mockup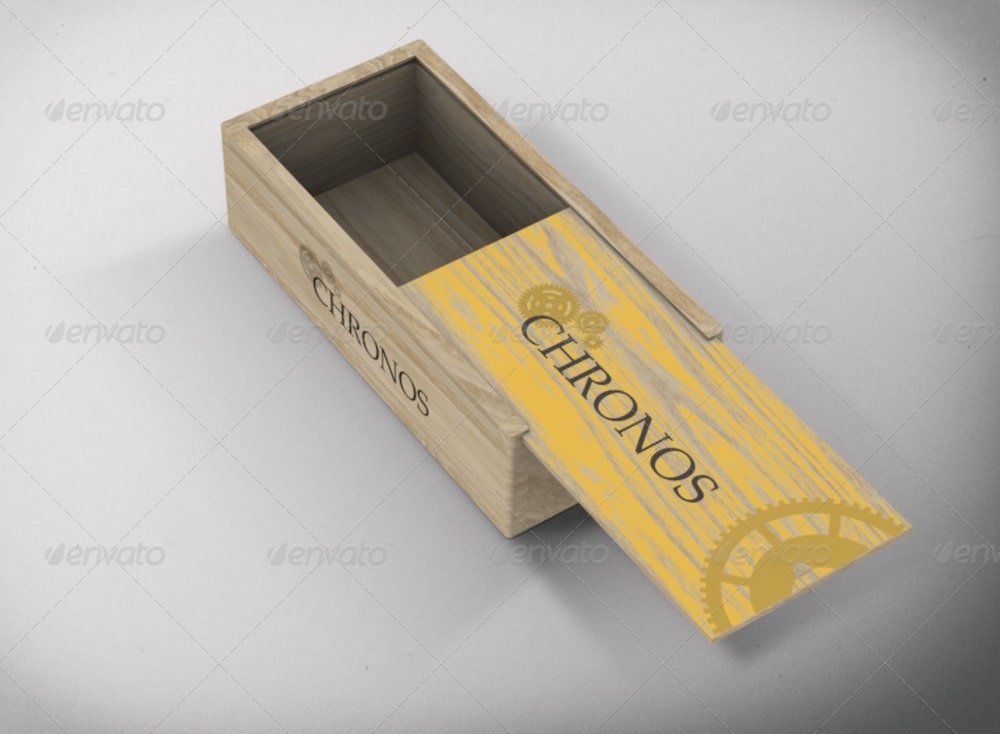 You can use this sliding wooden box mockup set for gifts, dominos, YOU name it.
The bundle covers everything with its six layered PSD files.
The only view missing is the bottom, but you'd almost unlikely want to design that part.
I used it for three projects, always leaving the bottom part of the sliding box blank.
Also, I applied a custom background, but you're welcome to use the studio ones.
Price: $8
MORE INFO / DOWNLOAD
3. Tea box logo mockup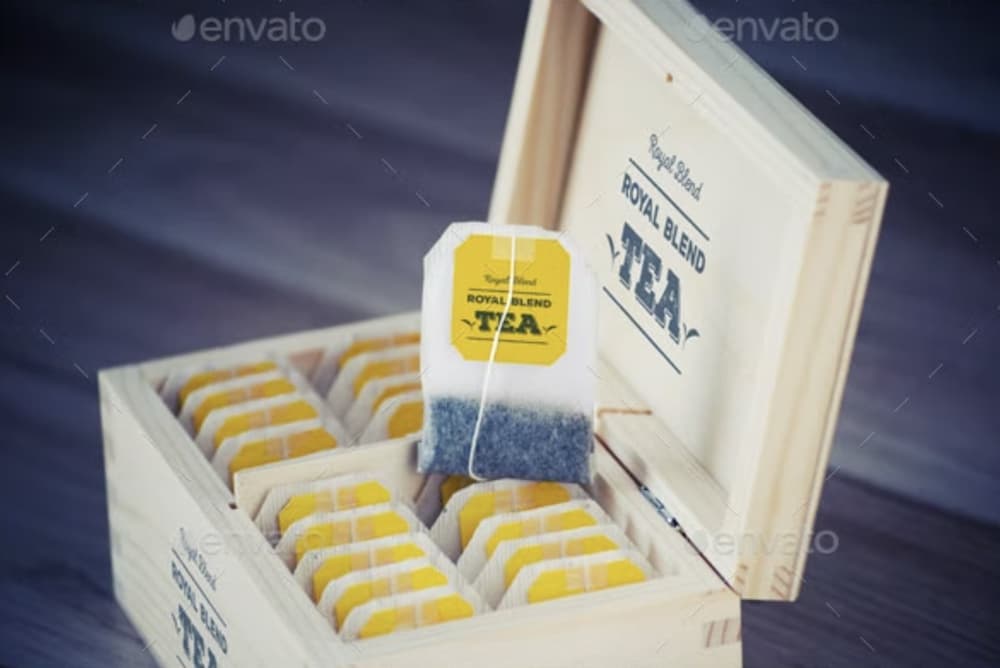 I knew immediately that I need to add it once I found this one.
Use this tea mockup to create brandable packaging that features a lovely wooden box, making everything look very luxurious.
Also, you get six PSDs that contain open and closed boxes and many great close-ups for teabags.
Import your designs via smart objects, change the color and you're ready to roll.
That's how EASY the work process is!
Price: $7
MORE INFO / DOWNLOAD
4. Wooden ring box mockup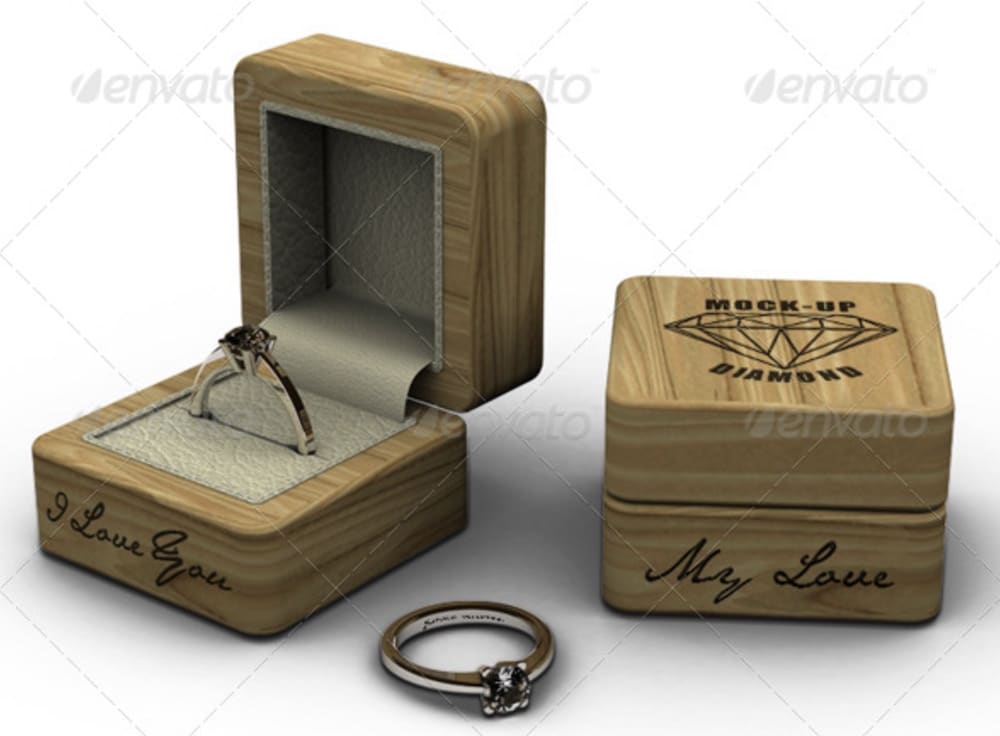 Even though I haven't used this one before, a few of my friends did. I'm adding it here after receiving their honest feedback, and I trust them.
Everyone really enjoyed working on their project because it was easy. All this is because of the smart object and neatly layered structure.
They reported that they dug the highly DETAILED appearance. (It's even possible to add names or initials.)
Price: $3
MORE INFO / DOWNLOAD
5. Craft beer wood box PSD mockup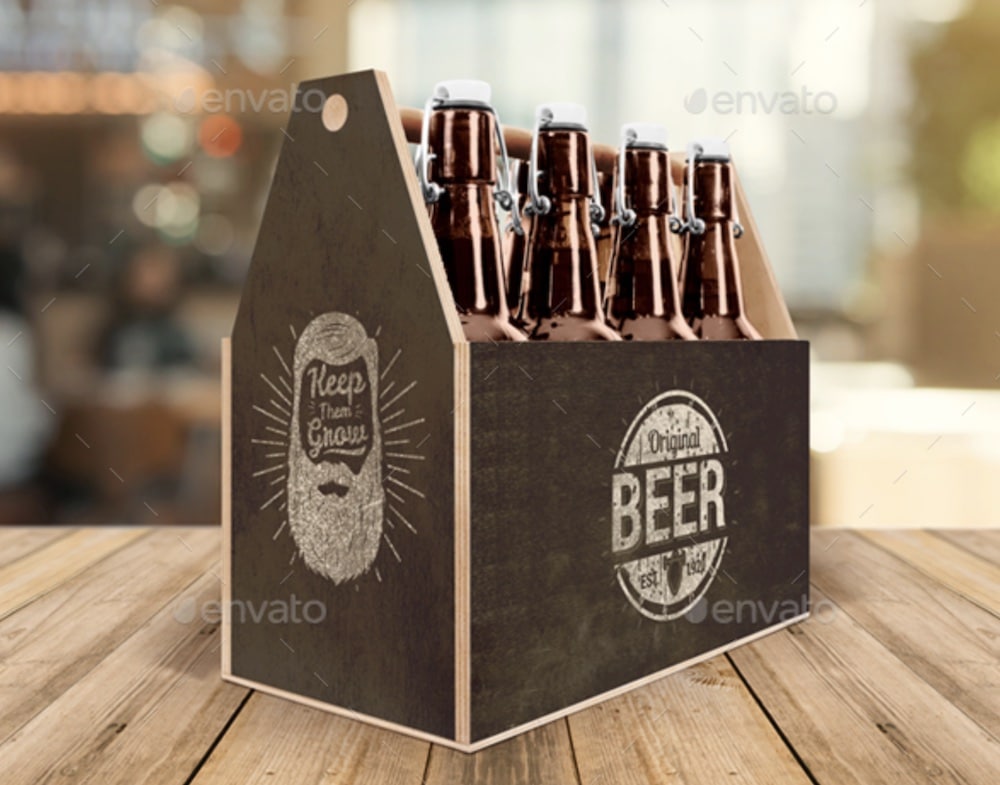 Go one step further with your client, creating a custom craft beer case mockup presentation, instead of using plastic or cardboard boxes.
I was able to edit everything to the very last detail during my review.
Bottle and case colors, front and side logos and artworks, background – well, you get the gist of it – modify everything!
And finally, ADJUST the effects to boost the overall showcase.
Price: $8
MORE INFO / DOWNLOAD
6. Wooden wine case mockup

This high-res wine box wood mockup adds a fancy feel to the outcome that'd take you a ton of time if working on it from scratch.
Just don't and use a predefined mockup instead. It ensures TOP-NOTCH quality and a speedy workflow, just like you deserve it.
Along with adding artwork to the box, you can also change the color of the bottle's neck foil and add a design to the wine label.
Many. Options. To create the ultimate wine packaging mockup!
Price: $7
MORE INFO / DOWNLOAD
7. Wooden crate mockup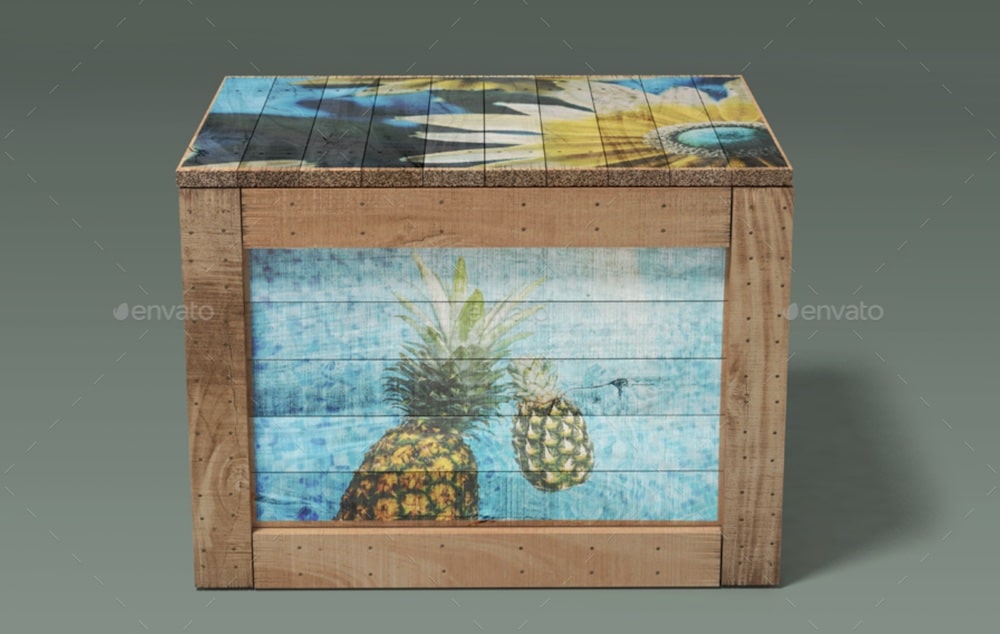 Don't miss this wooden crate mockup when designing one. I used all six PSD templates to create the full-blown presentation that my client was after.
I also additionally tested it with endless logos, designs and colors, ensuring it's worthy of inclusion in this list.
WHICH IT IS!
It works great for shipping and transporting delicate objects, but you can use it for anything else your heart desires.
The creative freedom is yours.
Price: $7
MORE INFO / DOWNLOAD
8. Realistic wooden boxes mockup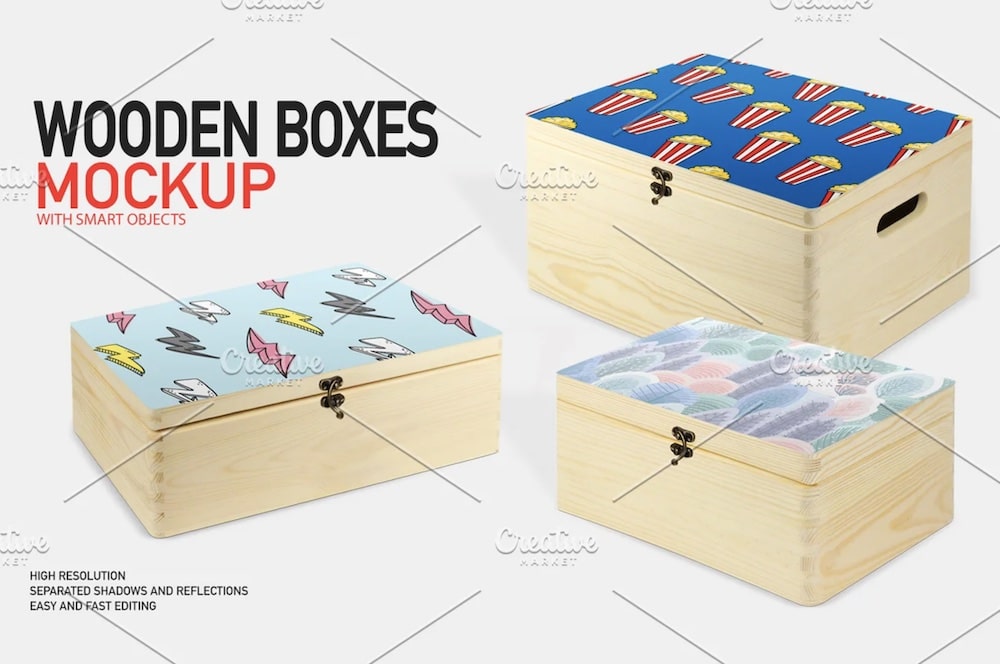 You may get only one PSD but this one is versatile enough to use for multiple projects.
It's not the highest resolution (2000 x 2000px, 300dpi) that some other wood box mockups on this list have, yet it is still GOOD enough for all your creative works.
Layers and folders are extremely organized, excellent for beginners and professionals.
I really like the option that you can turn the lock on or off. (But there are so many other goodies that you'll enjoy!)
Price: $10
MORE INFO / DOWNLOAD
9. Wooden crate mockup PSD set

Enjoy the multiple options and possibilities with three different crate sizes and two mockups per size.
I didn't work with the smaller one (just tested it) but used the other two for four clients that have fruit and veggie stands.
The 6000 x 4000px template dimension is extreme enough to do detailed presentations and zoom-ins.
And the realistic effect is very nice, appearing like a photo of the actual physical product.
NOW, all there's left to do is stuff them with produce.
Price: $12
MORE INFO / DOWNLOAD
10. Wooden box with white wine bottles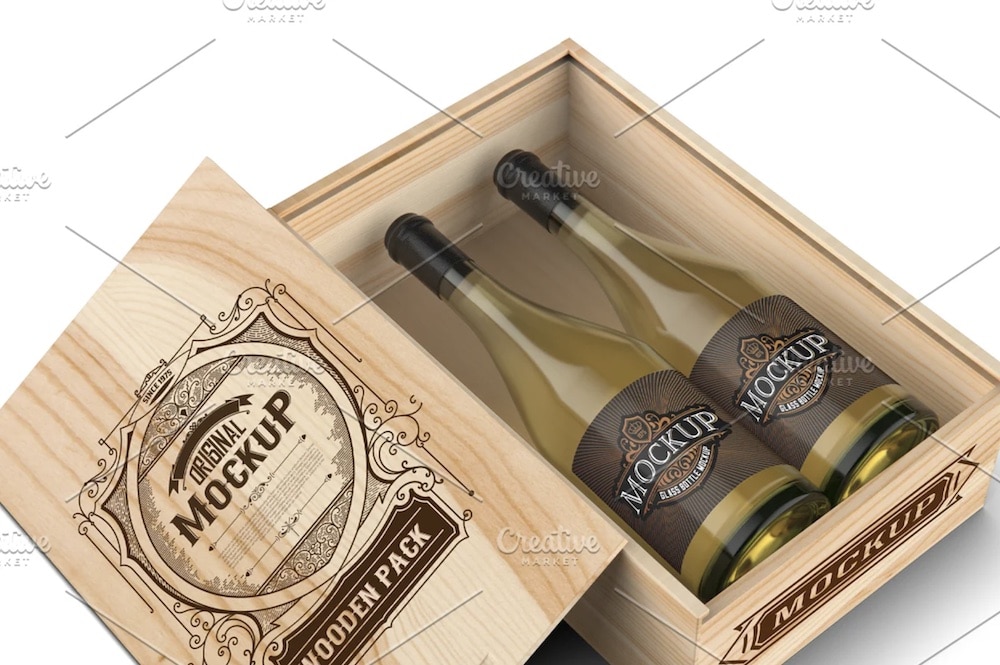 Since the demand for wooden wine boxes is so high, I'm adding another one (+ a free one below).
Insert designs and logos quickly and easily, alter the color, change the background and finish the final product within seconds.
Yes, it really can be that FAST!
Price: $9
MORE INFO / DOWNLOAD
Best Free Wood Box Mockups
The wait is OVER. Freebies time!
11. Free wood box with clip mockup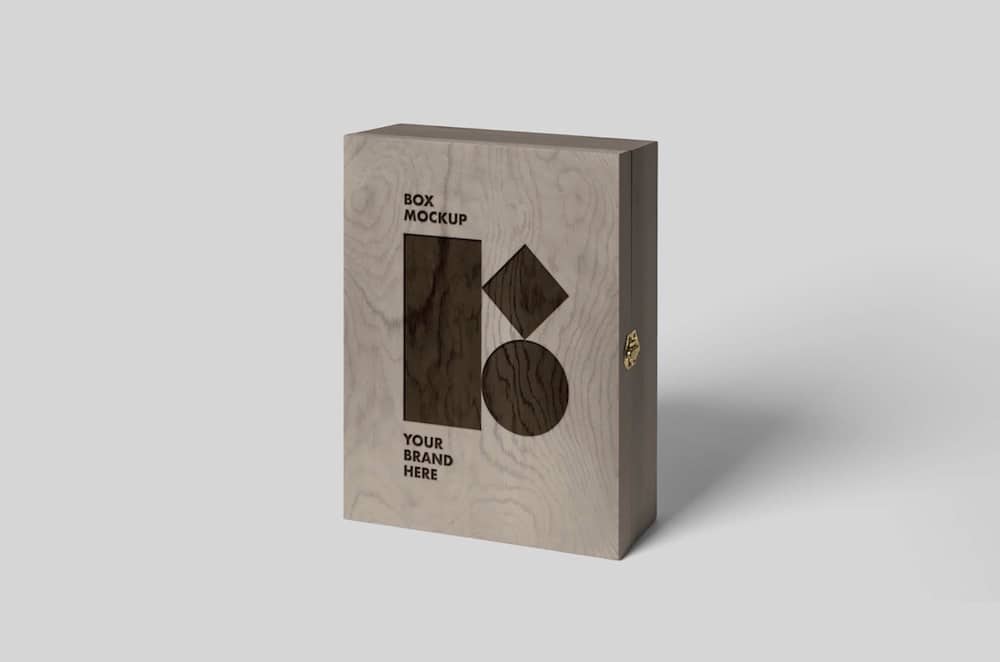 Jewelry, accessories, games, this versatile box mockup is ready for all your CREATIVE ideas.
It's quick to apply for your project, so you're welcome to create as many variations and use it for endless intentions.
I like the option to adjust the tint of the wood, using dark or light colors or anything else in between.
The wood texture is ready-made, so feel free to improve it however you want.
MORE INFO / DOWNLOAD
12. Free sliding wooden box PSD mockup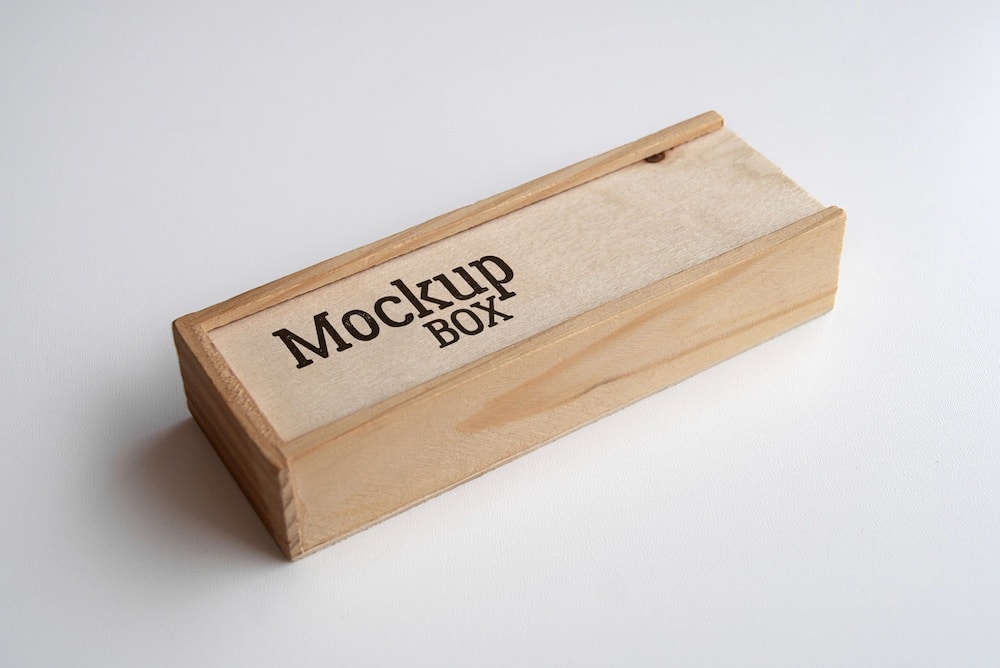 I already mentioned the free wooden sliding box mockup above, and here it is.
What's fantastic about this PSD template is that it's an actual image, so the life-like effect is at the ultimate high.
Slide in your logo or design with a few clicks, and the realistic showcase is ready to go.
That was QUICK, right? (Exactly how I like it best!)
MORE INFO / DOWNLOAD
13. Minimal wooden box mockup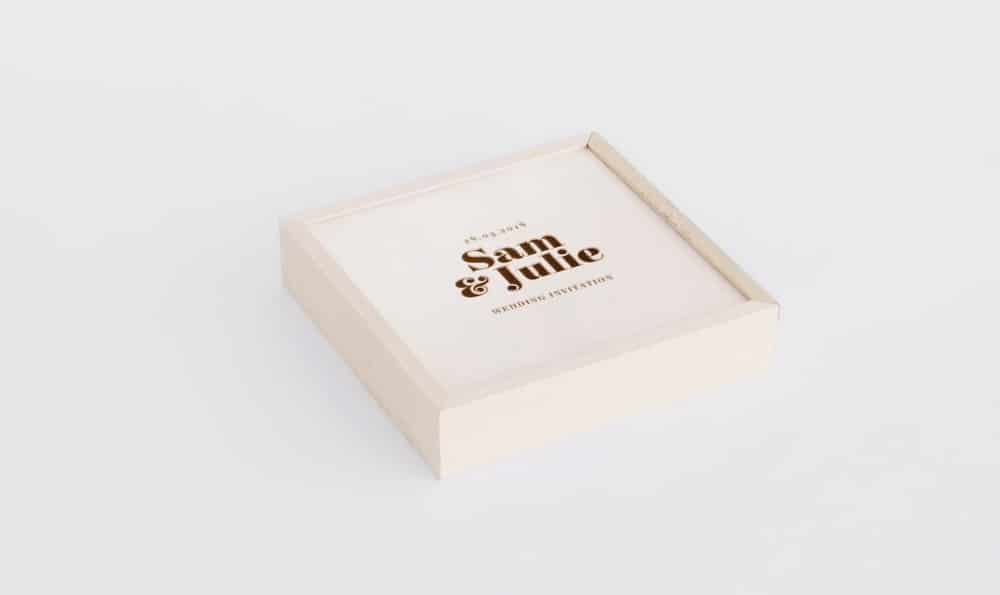 This exclusive minimal wood box PSD is for wedding projects by default but that shouldn't limit you in any way shape or form.
Use your imagination, stuff it with your artwork and see how an actual item in real life would look.
NO need to go straight to printing.
Make sure everything works first and avoid inconvenience.
MORE INFO / DOWNLOAD
14. Standing wooden wine bottle box mockup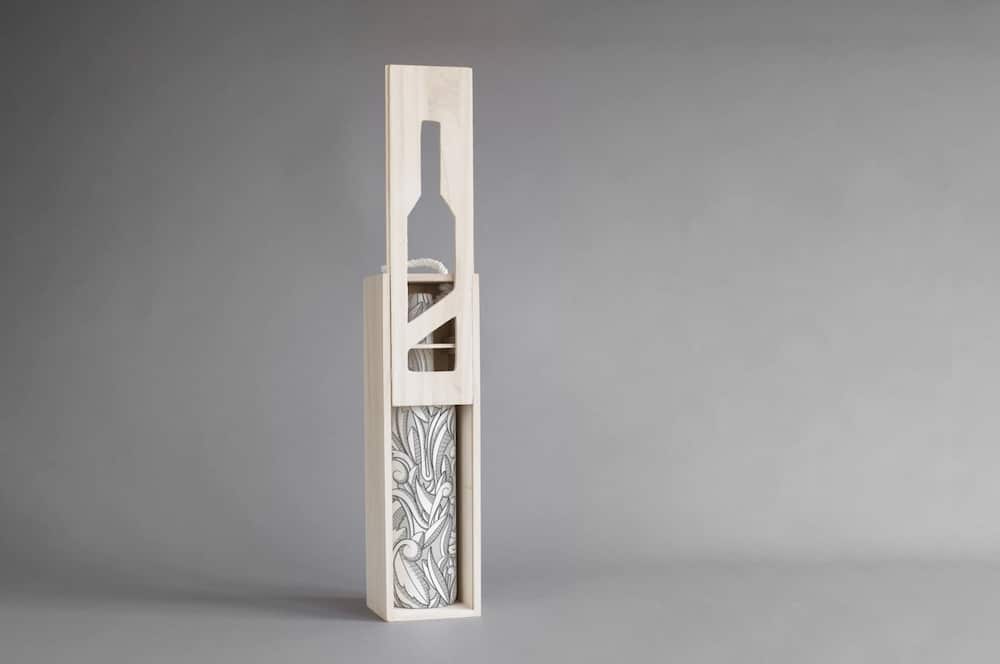 And the third wood box for wine bottle packaging that's modern and creative out of the box.
But you can raise its excellent, attention-grabbing effect with your touch of creativity.
The mockup presents minimal designs beautifully from my experience using it.
Still, nothing is holding you back from doing YOUR thing.
Do. Your. Magic.
MORE INFO / DOWNLOAD
15. Vintage wooden box mockup free PSD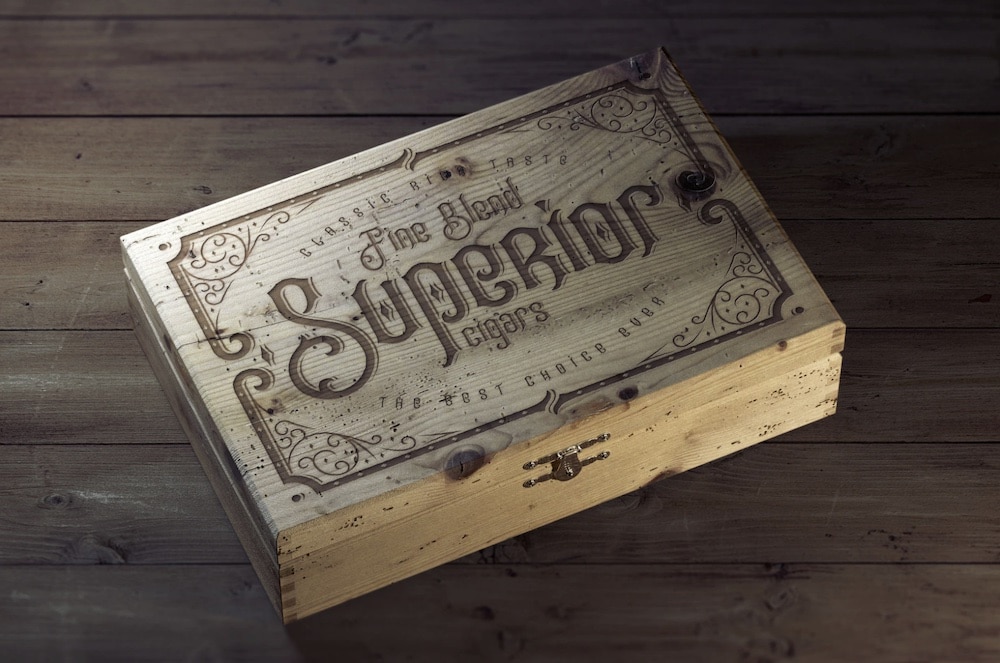 Any vintage fans here? I sure am, thus enjoyed working with this "superior" wood box mockup a lot.
And you can now, too.
REMEMBER, even though it's free, you can still use it for commercial and personal projects (but don't forget to follow attribution requirements).
Just. Stunning.
(Especially once you add your design to it – it made me speechless.)
MORE INFO / DOWNLOAD
How To Easily Create A Wood Box Mockup?
You don't need a bunch of knowledge and experience to create a professional presentation of a custom wood box design.
All you need is a mockup and Photoshop.
That's it!
And to prove how simple it is, here's the step-by-step process that anyone can complete easily and quickly.
Make a wood box mockup in 5 steps:
Pick your favorite PSD template from the tested and proven examples above.
Open Photoshop and import your mockup.
I recommend you next search for the smart object layer because it allows you to drag and drop your design.
Then perform any additional/final customization tweaks you want. (This could be changing the colors, adding a custom background, modifying shades and lighting, etc.)
Click save and download your masterpiece.
You see, I told you anyone could do it!
::
Note: This article was originally published on May 16, 2022. But our team regularly reviews it and updates it with necessary improvements for accuracy.