Do you need the best free and premium dropper bottle mockups in high-res?
Here are the best solutions that I used over the past months, and I cannot recommend them more.
Each mockup generator and free PSD template works FANTASTICALLY well for social promotions, newsletters, websites, etc.
Plus, they all allow you to get as creative as you want without advanced design knowledge.
So. EPIC.
This post covers:
Whether you want to create an oil or eye dropper, a tincture bottle, a 30mm or a 50ml bottle, it doesn't matter; here's a mockup for you.
Note: You may also be interested in my collections of the best cannabis packaging mockups and CBD mockups.
How I Tested Dropper Bottle Mockups
I used and tested these mockups with designs of essential oil, CBD and cosmetic brands.
Due to the variety, I used minimalist logos and more complicated designs (with text) to see how well each template performs.
This process allowed me to eliminate many poor-quality mockups and pick only the best ones.
I also had some fun with changing the background color and adding text and graphic overlays.
Best Dropper Bottle Mockups Generators
You can get a mockup generator for only $7.95 per template (and start for FREE).
Or use a monthly ($14.95/month) or yearly ($89.69/year) subscription to save money if you'll work on multiple projects.
Note: You can make a mockup without Photoshop when using a generator.
1. Dropper bottle & packaging mockup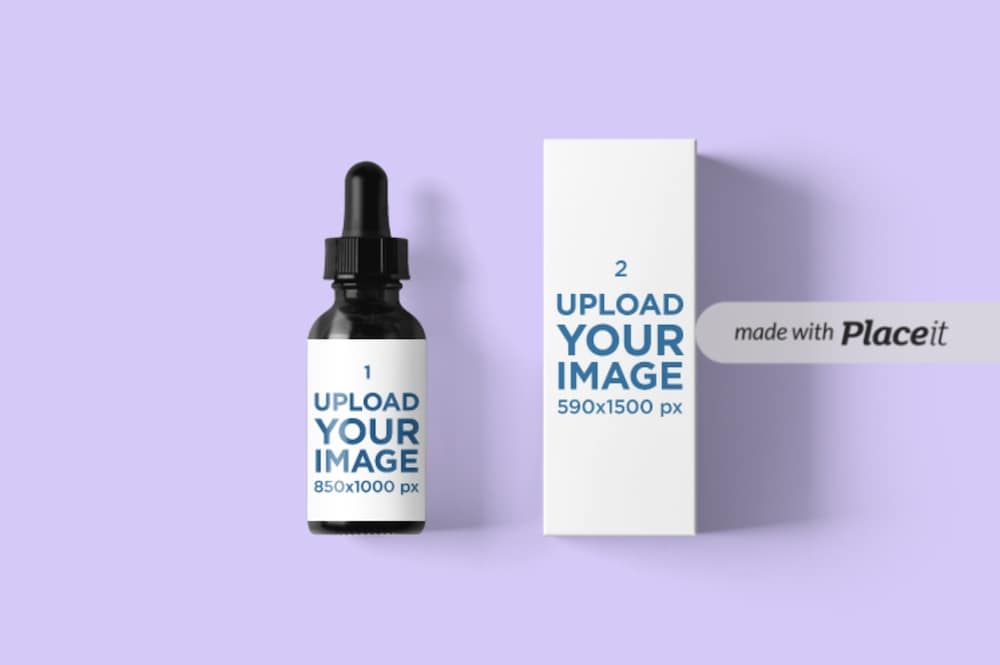 This is the MOST USED mockup by Placeit users and myself, and there's a good reason why.
It's a simple but impactful template for creating a realistic presentation of a dropper and its packaging.
Import each item's design individually directly from your device. Modify the box and the background colors and add text or an extra graphic.
Regarding background, you can choose a gradient or any other from Placeit's archive, solid color or upload your own.
That's it!
MORE INFO / DOWNLOAD
2. Mockup of a dropper bottle next to a cup of tea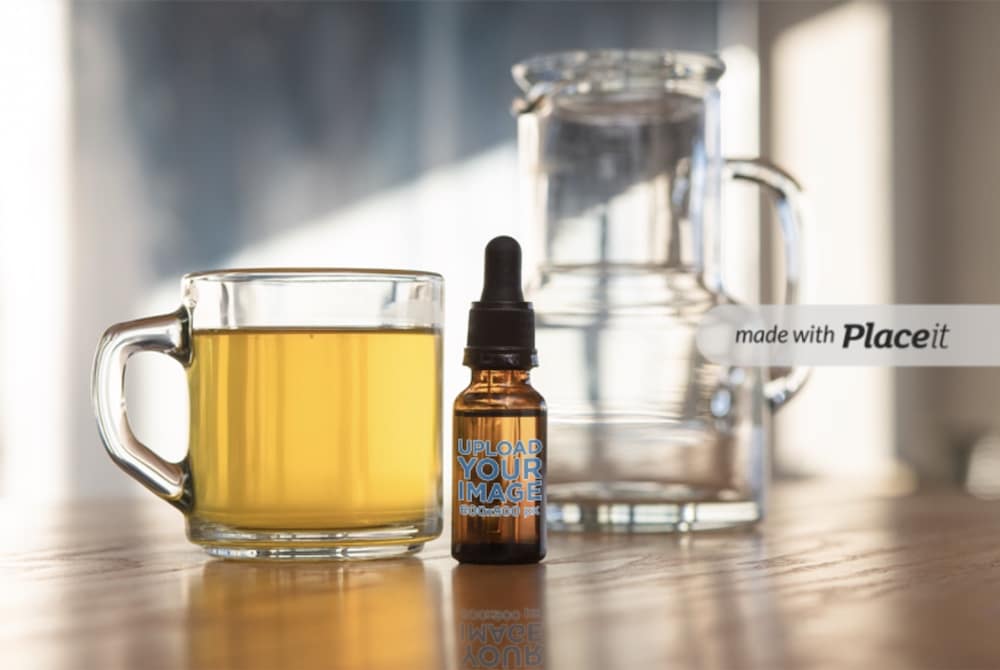 If the one above is TOO minimalist for your project, then I recommend using this one.
The life-like image creates an awesome atmosphere for your custom dropper bottle design that you can upload from your desktop or mobile device.
The only other thing you can do is apply a text overlay, which is exactly what I did. Just don't add too much text because it can ruin the overall presentation.
MORE INFO / DOWNLOAD
3. Mockup of a woman holding a dropper bottle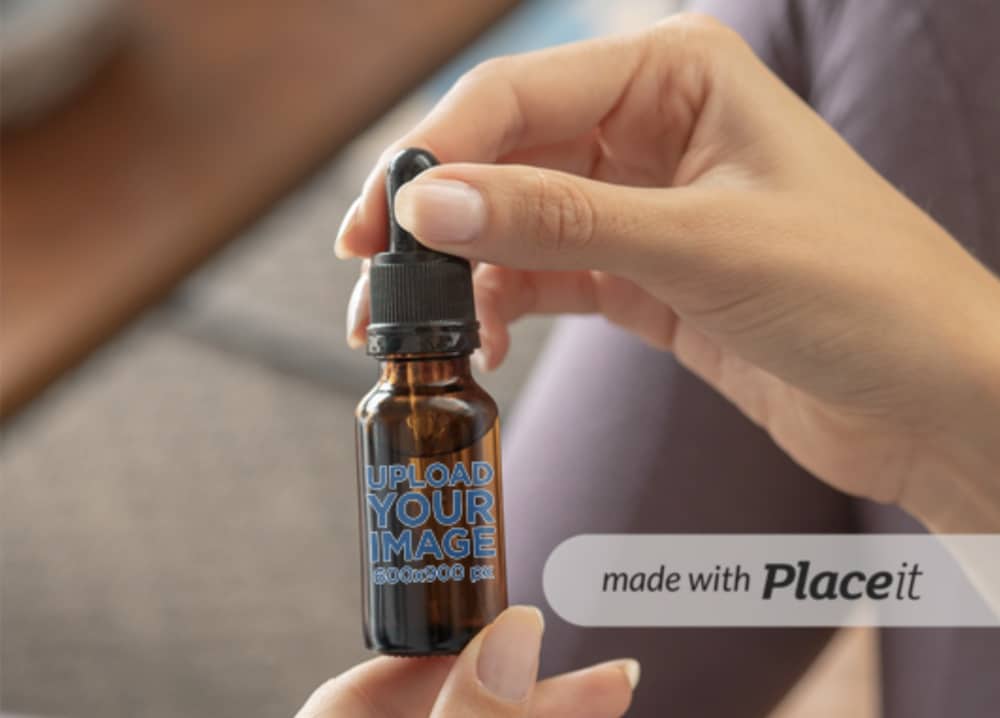 I always like testing mockups of items in hand, and here's an EXCELLENT example that performed really well for me.
It features a woman's hands holding the dropper, but not just any dropper – YOURS! (Or your client's.)
You can use a 600 x 900px design with a yellow background, but I found a transparent one working really well in this case.
Of course, you're welcome to test and try different variations until you find the perfect outcome.
And because you have extra space on top and bottom, I also recommend adding text and a graphic if that's what your project requires. But you're free to go without the two, too!
MORE INFO / DOWNLOAD
4. Mockup of an open glass dropper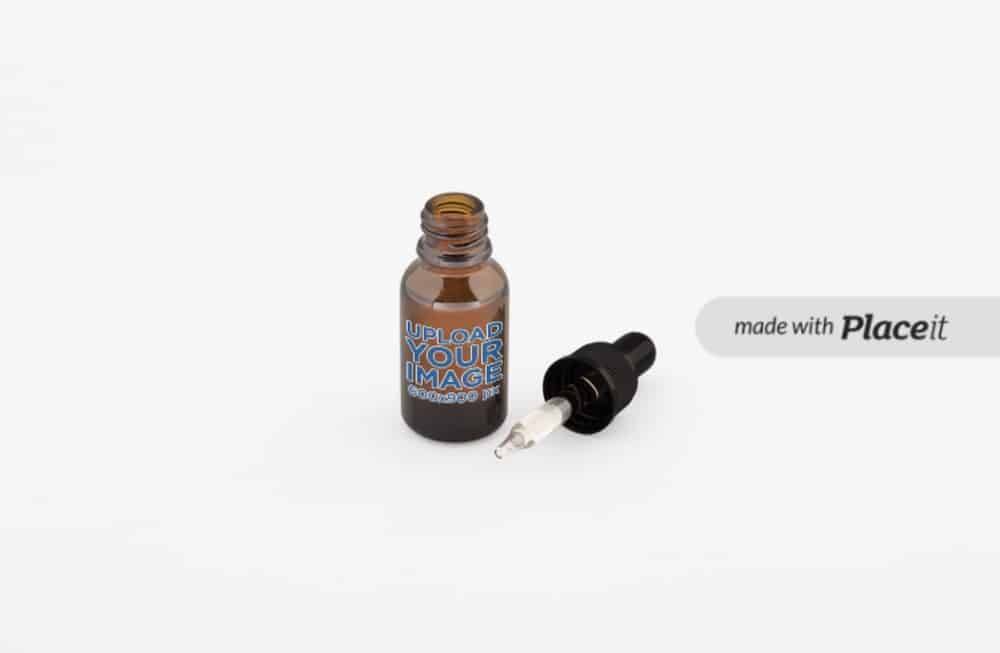 I'm not really sure WHY, but one of my clients wanted me to create a presentation of an open dropper bottle. (I don't always ask why I sometimes just do it.)
This clean and simple solution was the perfect one I could find for the task. I even left the background white (but you can modify it however you want).
I used a design that fit the whole working area (600 x 900px) with a background.
Of course, you can also upload a transparent one because it works with the amber glass so well, especially if it's a lighter design.
MORE INFO / DOWNLOAD
5. Minimalistic mockup of a dropper & box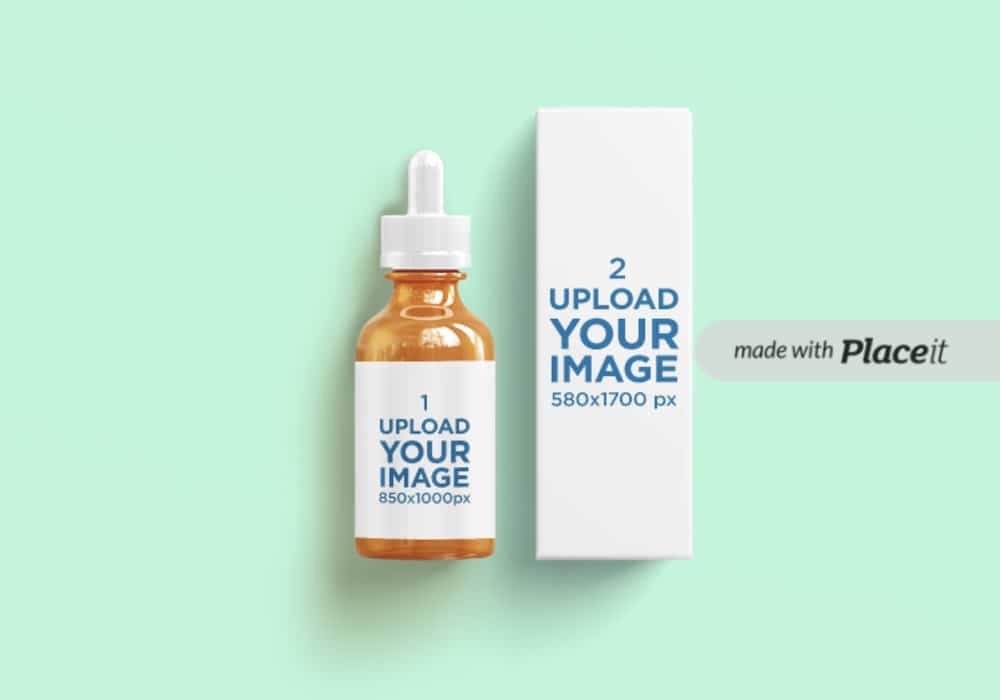 NOPE, I'm not yet done with simple dropper bottle and packaging templates. While you cannot change the cap and the glass color, you can edit everything else.
Add any designs you want to the bottle and to the box.
You can also change the box color but cannot modify the label's color. For this reason, and if you don't want it white, I recommend you use a design with a background with the color you're after.
MORE INFO / DOWNLOAD
6. Realistic dropper bottle mockup generator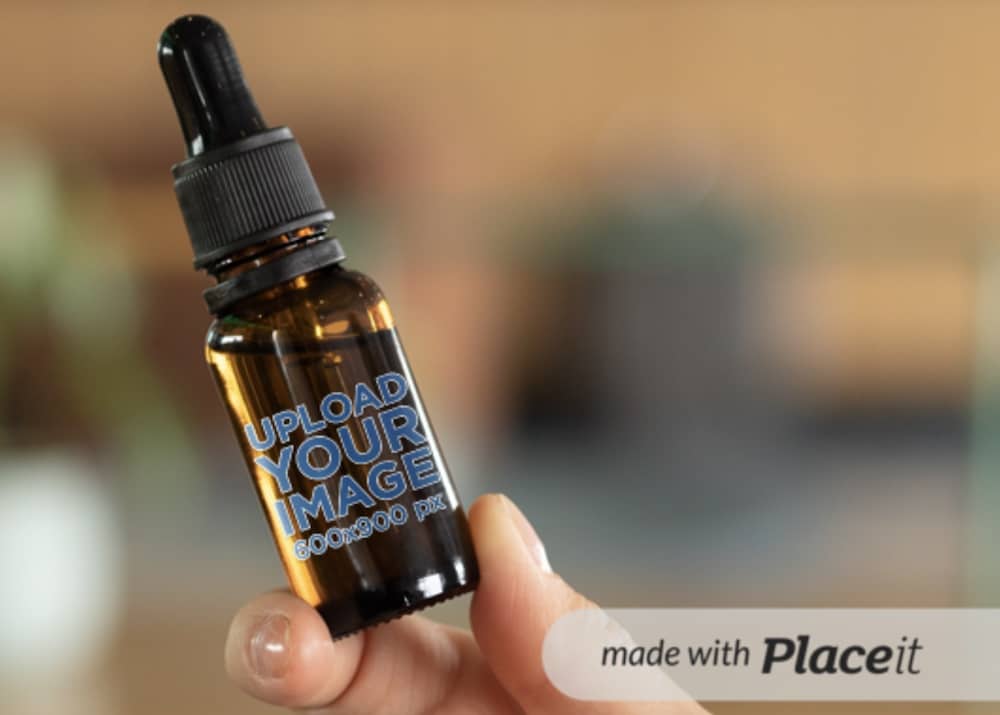 The dropper bottle in hand mockup above might not look as promotional as this one, but this example works really well when creating a LIFE-LIKE showcase.
It's the easiest to work with!
Insert an image or a logo of your choosing, crop and reposition it if necessary and stick it to the bottle.
All the other work, like inserting text and graphics, is optional, and it can definitely work really well in this case.
MORE INFO / DOWNLOAD
7. Mockup of a dropper bottle & box with customizable background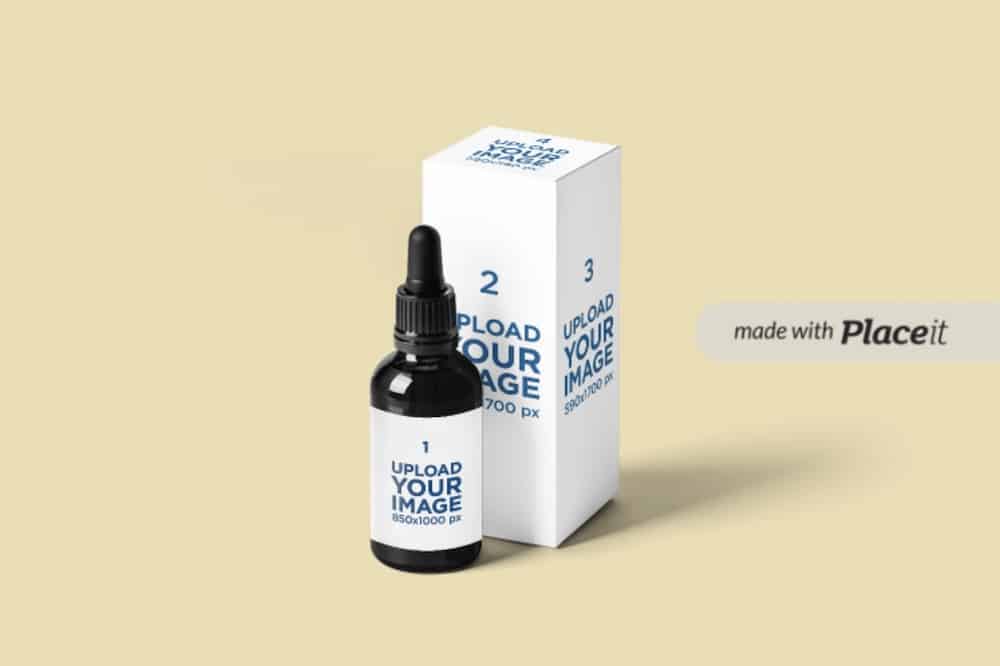 This one offers so MANY customization options that I simply could not pass it.
It's a terrific mockup generator if you'd like to emphasize the packaging more than the actual bottle.
That's why it allows you to modify three parts of the box, the top and the two sides. Of course, you can also add a design to the dropper.
You'll achieve an excellent branding demonstration, and that's a guarantee.
Note: You may also be interested in reading our guide on how to create a packaging mockup.
MORE INFO / DOWNLOAD
8. Mockup of a woman using a dropper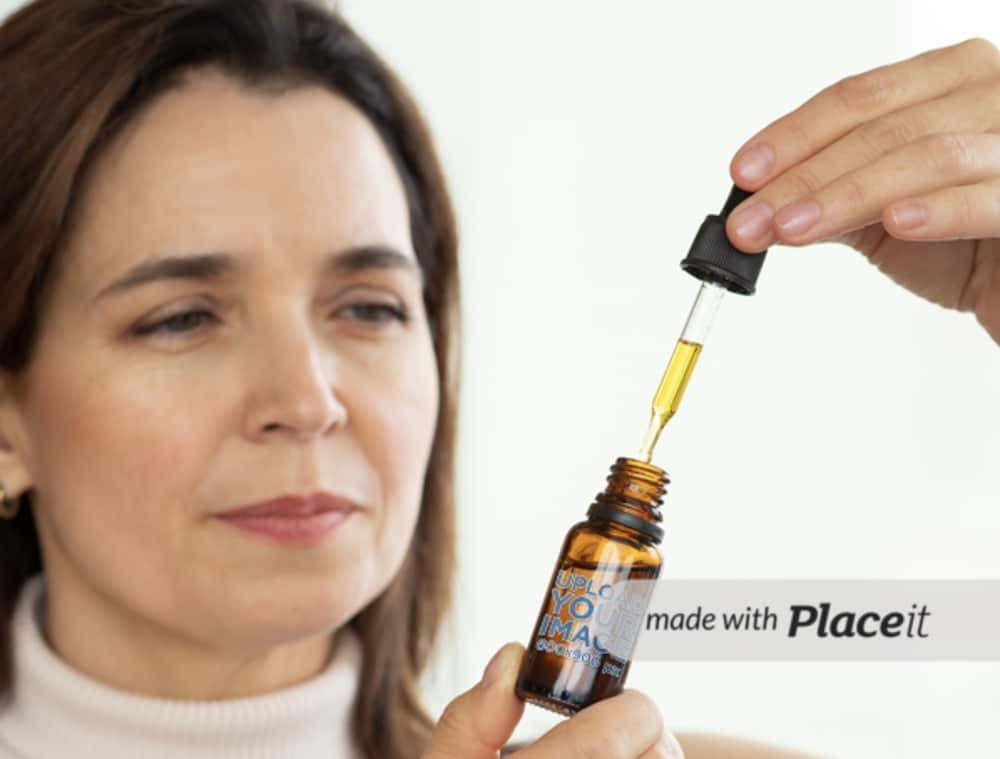 While hands holding the dropper works great, you can take things to the NEXT LEVEL with an actual person using it.
Here's one fantastic example, but you'll find two more below.
Because the mockup is an image, the only editable element is the dropper bottle. Insert your design and see the photorealistic version in a few clicks.
Adding any other elements, like text, or a graphic, even a logo overlay, is entirely up to you.
I didn't use any because I wanted to keep it less promotional.
MORE INFO / DOWNLOAD
9. Pipette mockup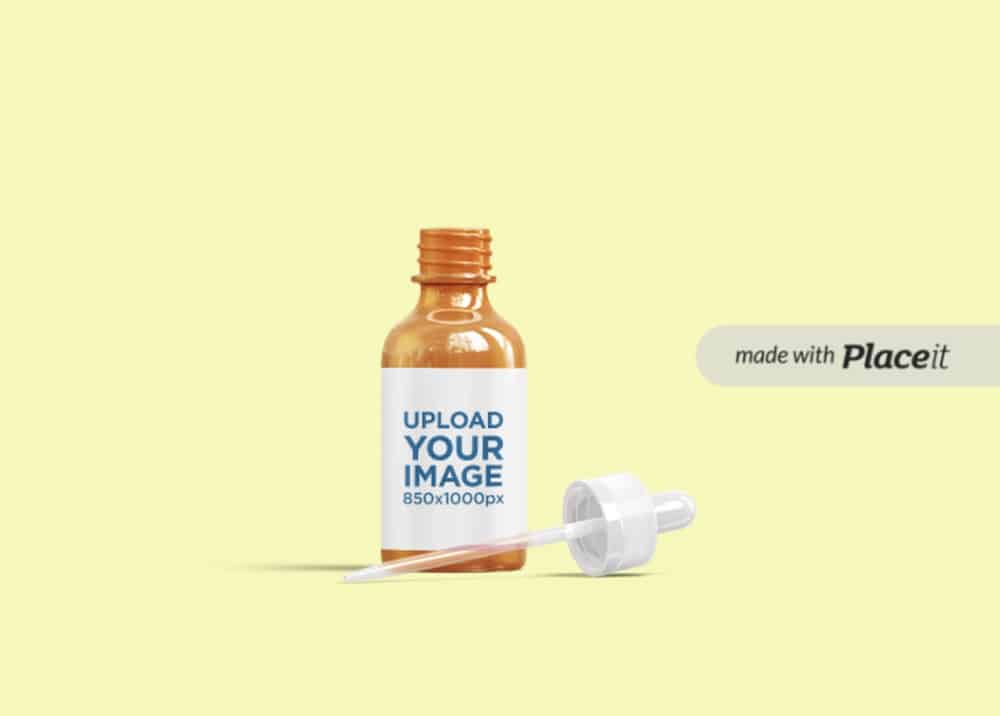 Are you searching for the best pipette mockup? This is the best I could find, and it's ready for you to improve however you want.
Modify the label with your custom branding and change the background to a different color, a gradient or even upload a custom background image.
I CHOSE one from Placeit's large archive of background templates because the search bar helped me find the perfect one quickly.
MORE INFO / DOWNLOAD
10. Tincture bottle mockup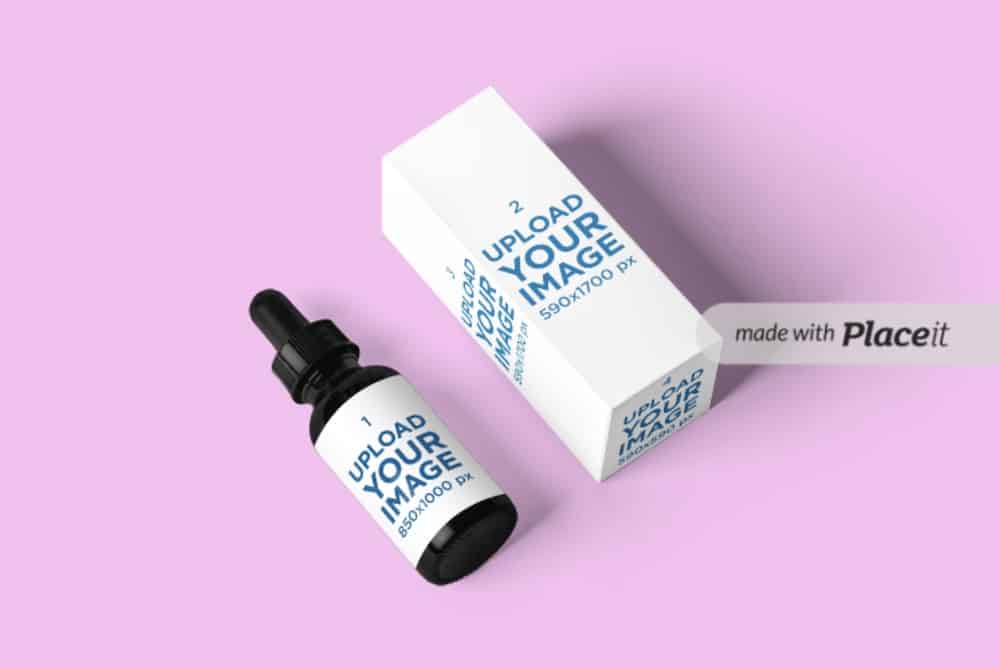 Do you want to hear a little secret? Because of its amazing versatility, I used this as a custom tincture bottle and packaging presentation, although it says it's a dropper by default.
There I said it.
What I really like about the template is that it allows you to customize three sides of the box and change its color.
You can ALSO use any custom backdrop you want, but a simple one-color option works great, too.
It has many possibilities to personalize it, so don't hold back and go as creative as you want.
MORE INFO / DOWNLOAD
11. Amber dropper bottle mockup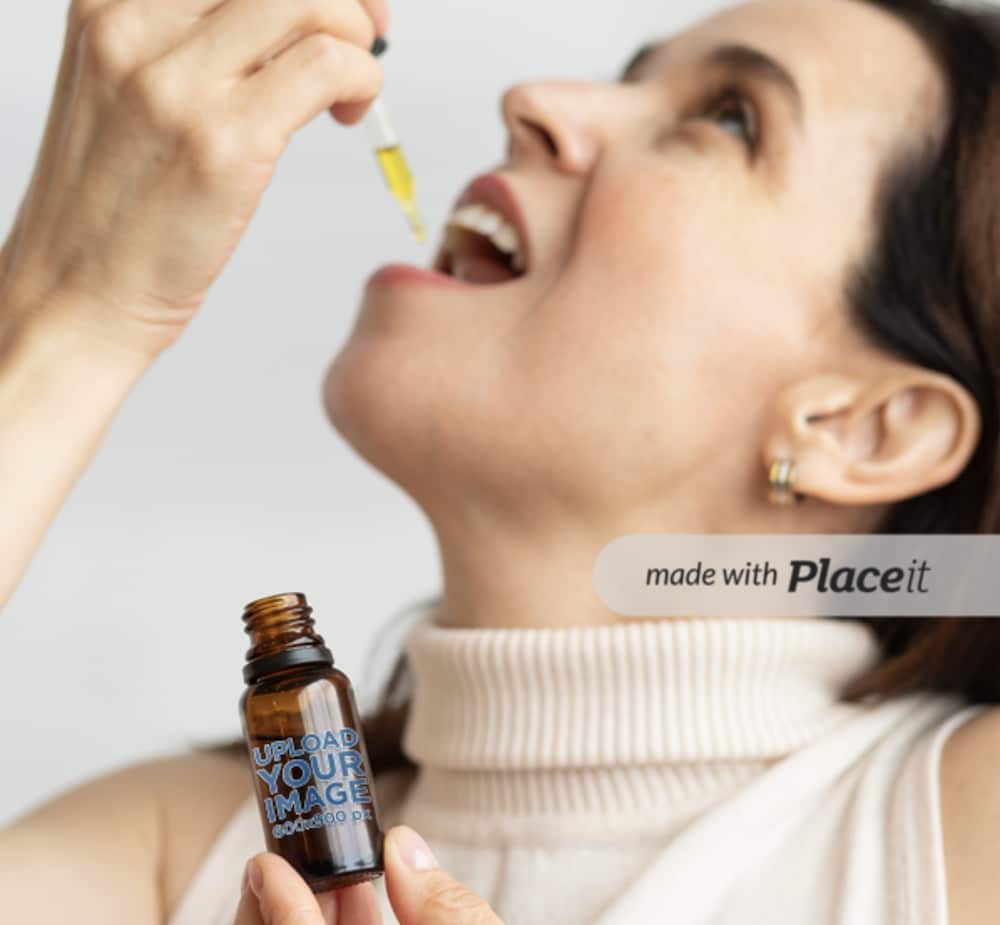 Now this is one of the mockups that TRIGGERED the most curiosity and reach when using it on social media (Instagram post).
And you can now test it for yourself as well.
What's best about Placeit is that you can try all its mockup generators free of charge. How cool does that sound?
But even if you only plan to test some designs, I still recommend creating a free account because you'll enjoy the workflow more.
MORE INFO / DOWNLOAD
12. Dropper mockup of a woman adding oil to her tea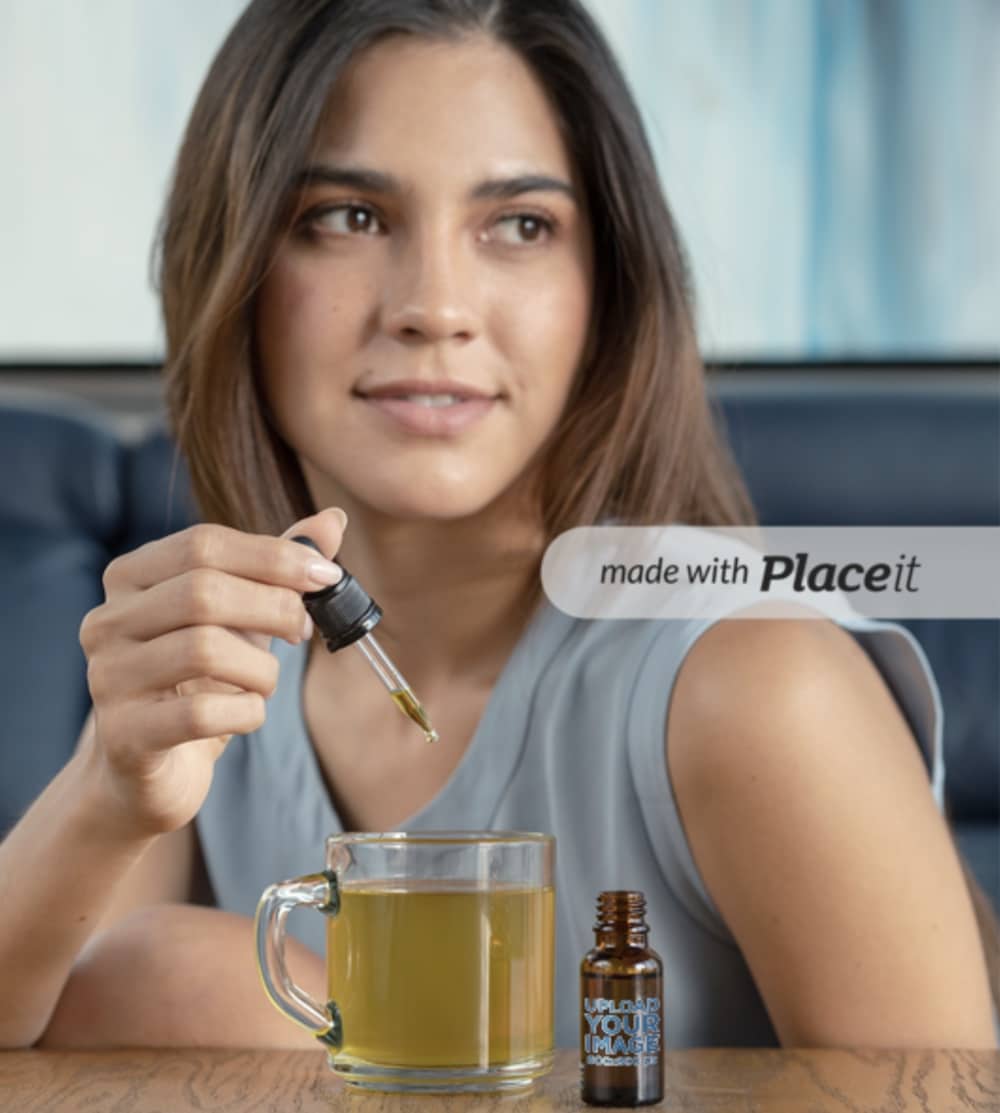 And here's the last one of the "in use" droppers I mentioned earlier.
The template features a woman adding (CBD) oil to her tea while staring into the unknown (but she doesn't miss it!).
The EDITABLE bottle is ready to rock any design you want, even if you plan to add just a simple logo.
Remember, the mockup is also very decent for a zoomed-in presentation because of its great quality.
MORE INFO / DOWNLOAD
Best Free Dropper Bottle PSD Mockups
Premium-like templates for free!
13. Free dropper bottle mockup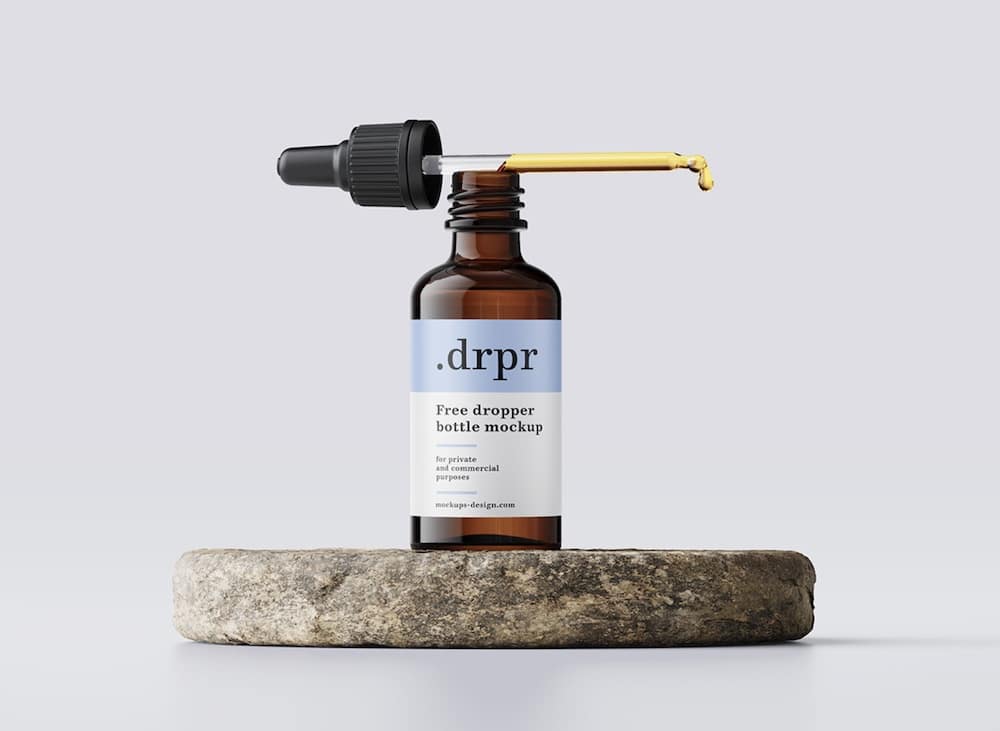 Instead of just one layered PSD file, this one treats you to THREE realistic ones.
Two focus on the dropper bottle and one includes packaging, which you can use to design the front and the left side of it.
But I like the one where a drop almost drops from the dropper.
By the way, you can use this one for personal and commercial projects.
MORE INFO / DOWNLOAD
14. Cosmetics dropper bottle mockup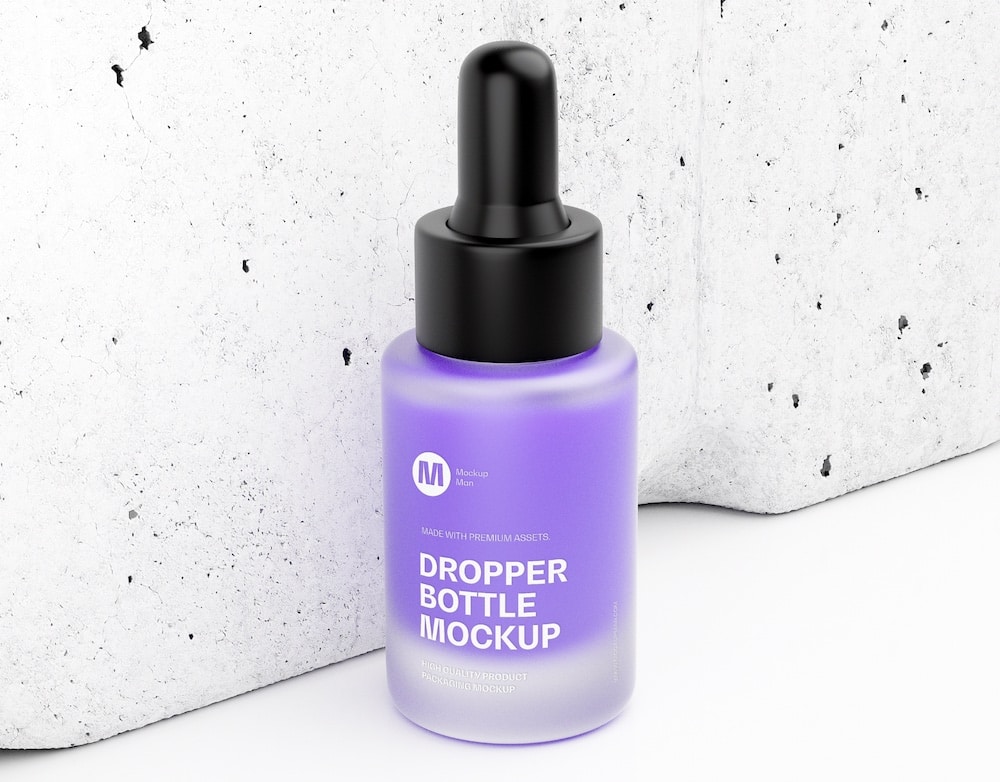 Two high-quality views are waiting for your design and color combinations.
Both mockups are compatible with light and dark designs, but I found light ones work much better.
The inclusion of your design happens via the drag-n-drop technique, thanks to Photoshop's smart object layer.
Finally, the somewhat close-up view really creates a strong presence.
BTW: Don't miss my other cosmetic mockups and cosmetic bottle mockups.
MORE INFO / DOWNLOAD
15. Free dropper bottle & packaging mockup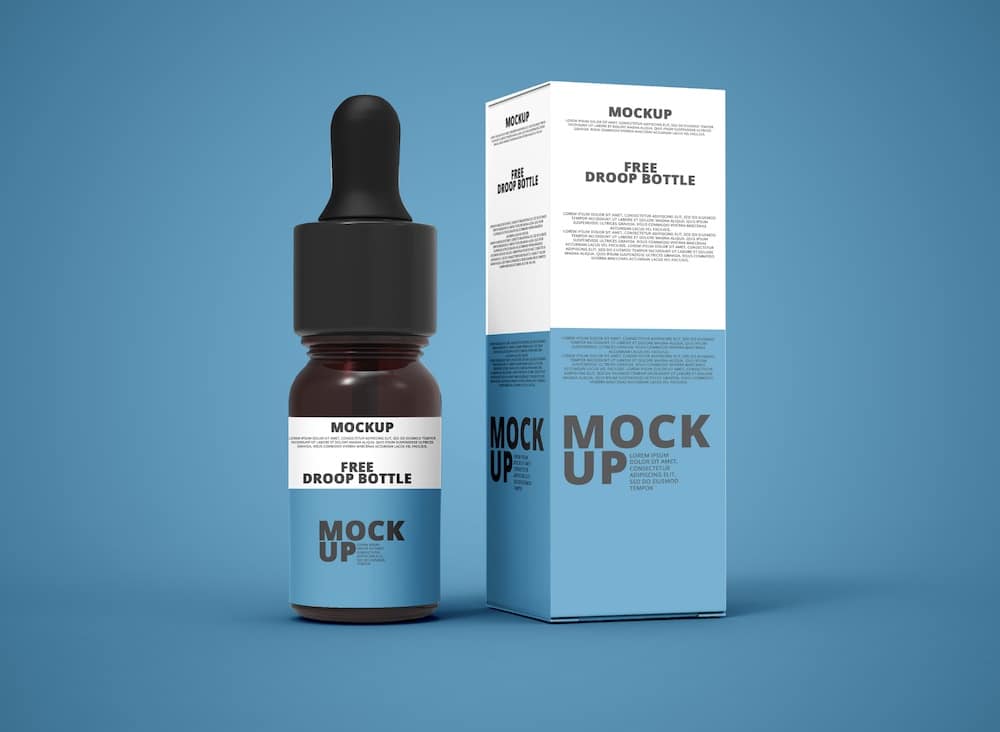 Some authors put as much effort into free mockups as they do in premium, and this is a fantastic example.
You better not miss this one if you must create a solid presentation of a dropper and its packaging.
The PSD mockup gives you the complete creative freedom to make the version you want.
In fact, it's so easy to use you can create a few variations, so you and your client can pick the best one much easier.
MORE INFO / DOWNLOAD
16. Free unicorn dropper bottle mockup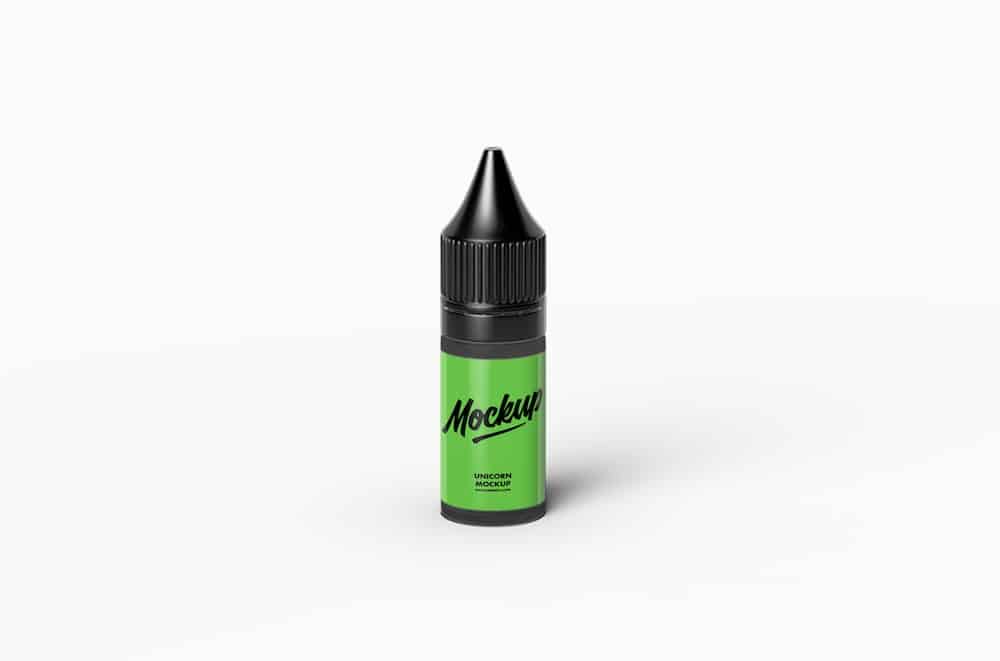 Are you particularly searching for a unicorn dropper bottle mockup?
You're welcome to use any of the two scenes that this set contains, both at the amazing 4500 x 3000px resolution.
This one is also great if you need to create a custom eye dropper mockup. But works for essential oils, dyes, and more.
Use the alternative you prefer and enjoy the easy creation process in Photoshop that doesn't require any advanced knowledge.
Make it POP!
MORE INFO / DOWNLOAD
How To Easily Create A Dropper Bottle Mockup
If you've never worked on a mockup, this is the most effortless approach you can take.
And you don't need photo editing software to make it happen!
We'll be using Placeit because it's one of the platforms I've used the most in the past and will continue using it regularly in the future.
Why? Because it does the BEST job!
5 Steps to create a dropper bottle mockup:
Step 1: First, visit Placeit, where you can find 60+ dropper mockups for any project. From minimalist to more advanced and highly realistic ones, there's something for everyone.
Step 3: After you pick the template, click the "insert image" button and upload it from your device. Yes, using a smartphone works, too!
Step 4: A popup window opens where you can grab and reposition your design to make it fit exactly how you want. You can also zoom it in and out and preview it first before pressing the "crop" button. Handy!
Step 5: You can then enjoy the process of adjusting the colors and the background, adding text, a graphic overlay – well, you get the gist of it. Have some fun!
Step 6: And you're now ready to download your amazing creation.
A mockup generator is the easiest and quickest way to create a professional dropper bottle presentation.
But even the free PSD files don't require much work.
You import the mockup into Photoshop, insert your design via the smart object layer, and that's most of the work considered done!
You still have the option to adjust the colors, the background and other functions to make the exact outcome you want.
Are you ready to make your custom dropper?
::
Note: This article was originally published on December 21, 2022. But our team regularly reviews it and updates it with necessary improvements for accuracy.