Do you need the best free and premium cosmetic bottle mockups in one place?
We tested 50+ mockups for this ultimate list to find the greatest 16 for you.
Whether you are a graphic designer or a brand owner, the following PSD mockups and mockup generators will help you promote your latest designs.
It does not matter if you are a BEGINNER or an EXPERT.
The mockups we have selected are super easy to use.
It takes seconds to create a photorealistic presentation (read a few clicks!).
Post contents:
You'll find everything you need in this list to advertise your beautiful packaging designs for bottles, jars, and more.
Ready to make your brand designs shine? Take a ride with us!
HEY! Do you need the best perfume bottle mockups, too? We have you covered.
Best Cosmetic Bottle Mockup Generators
Note: You don't need to use Photoshop to make a mockup when you opt for a generator.
Plus: Each generator template costs only $7.95 (you can also save by choosing a monthly ($14.95/mo) or yearly ($89.69/yr) subscription).
1. Cosmetic Bottle on a Plain Backdrop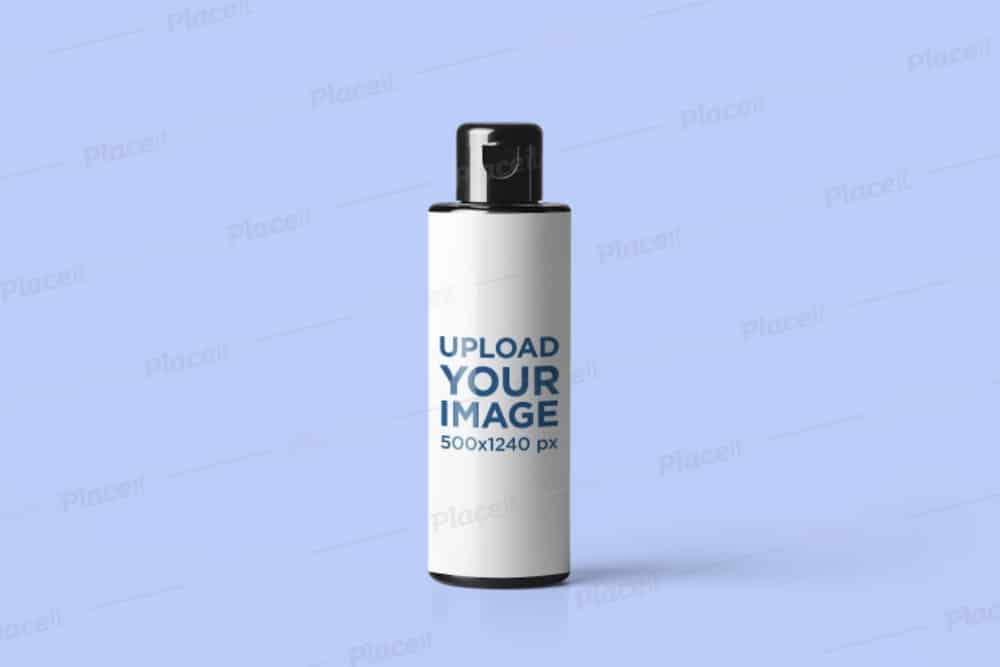 Our first suggestion is also one of our favorites. When it comes to minimalist cosmetic packaging mockups, there's nothing better than this.
The mockup shows a fully customizable bottle against a solid background.
Apart from the design on the plastic bottle, you can easily insert your logo, add text and change the background color.
The photo-realistic scene is an excellent choice for any brand design. If you want to improve your marketing strategy in just a few clicks, this mockup is for you.
MORE INFO / DOWNLOAD
2. Minimal Mockup of Three Cosmetic Bottles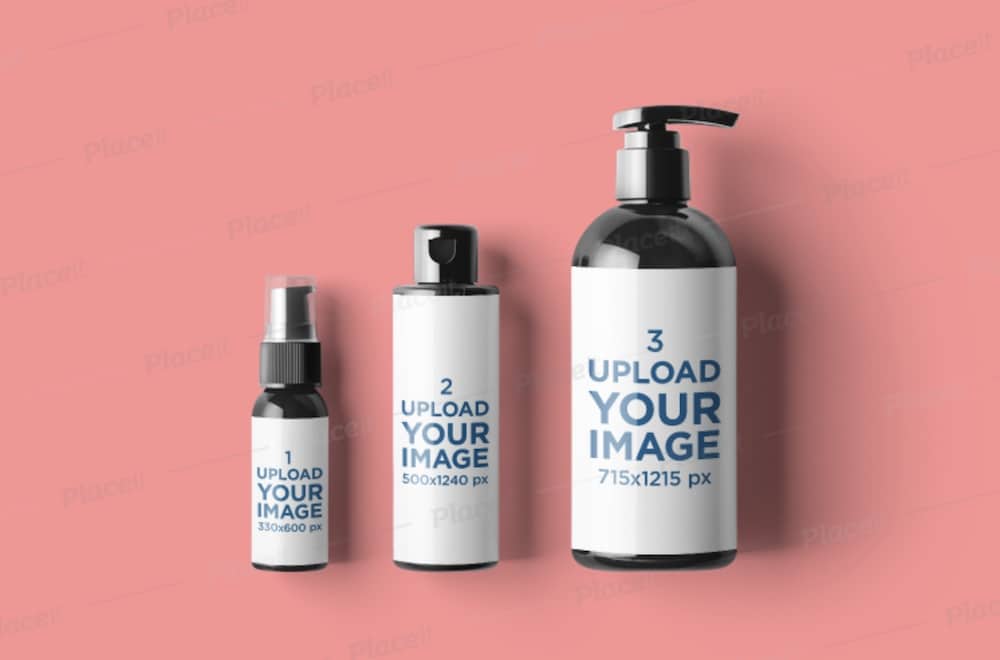 Unlike our previous suggestion, this template contains more than one bottle. Therefore, it is the best way to go if you need to promote a new product line.
The life-like scene shows three plastic cosmetic bottles against a monochrome background. This cosmetic bottle mockup proved to be a perfect all-rounder during our test.
Changing the background color and adding your bottle designs takes only a few seconds. In a few words, this is a brilliant mockup for social media posts/campaigns.
MORE INFO / DOWNLOAD
3. Small Cosmetic Plastic Bottle Generator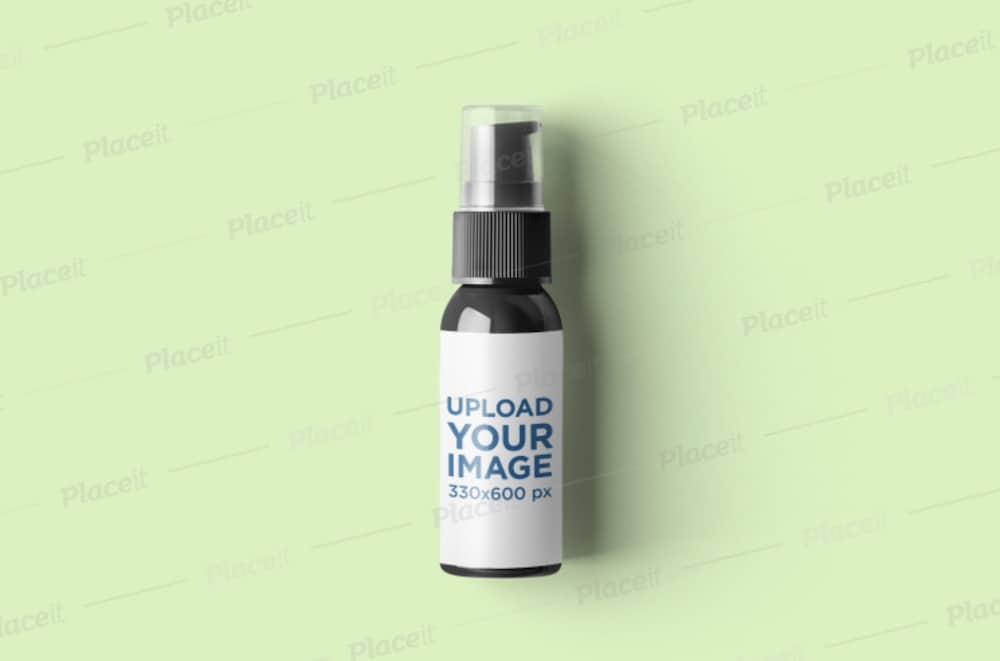 As with our first selection, this is an elegant mockup for a cosmetic bottle, featuring a small plastic bottle on a simple, fully editable background.
The difference between the two mockups is that this is a plastic pump spray bottle. The shading is just fantastic and the whole scene is entirely customizable.
It's a great solution if you want to advertise this type of product.
We love using this photo-realistic mockup for many projects.
MORE INFO / DOWNLOAD
4. Dispenser Bottle and Cream Jars Mockup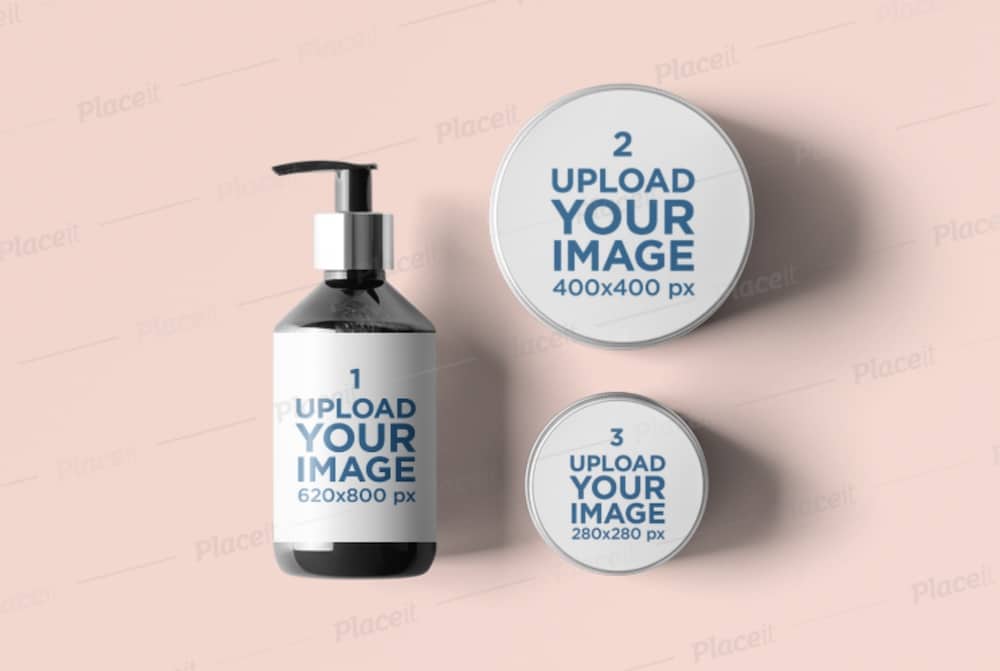 Our next suggestion will amaze you if you are looking for something more "complicated."
This premium cosmetic bottle mockup features three different products that sit in front of a solid background.
A beautiful dispenser bottle (creating a design for a hand sanitizer mockup?) and two cosmetic jars are the stars of this scene. We found that adding text, brand elements, and designs was super easy during our testing.
This is a fantastic choice for anyone who wants to promote a bathroom product set.
MORE INFO / DOWNLOAD
Are you just starting? We found this comprehensive guide on how to create cosmetic packaging design from our friends at 99designs. Or use their suggestions as inspiration.
(Highly recommended!)
5. Mockup of a Dispenser Bottle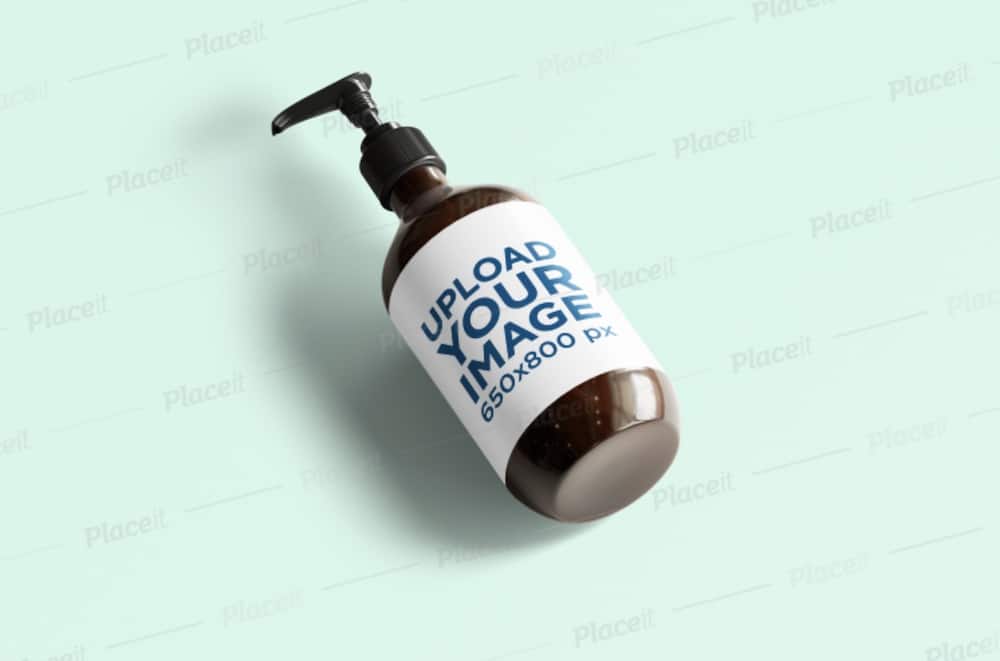 If you need a minimalist dispenser mockup that is also more playful than our previous suggestions, this is the one for you.
The realistic scene features a dispenser bottle leaning against a solid color background. You will have no trouble customizing the environment and uploading your design.
This template captures the perfect analogy between elegant and playful scenes.
Plus, you can also use it as a foam bottle mockup.
MORE INFO / DOWNLOAD
6. Three Cosmetic Bottles Realistic Mockup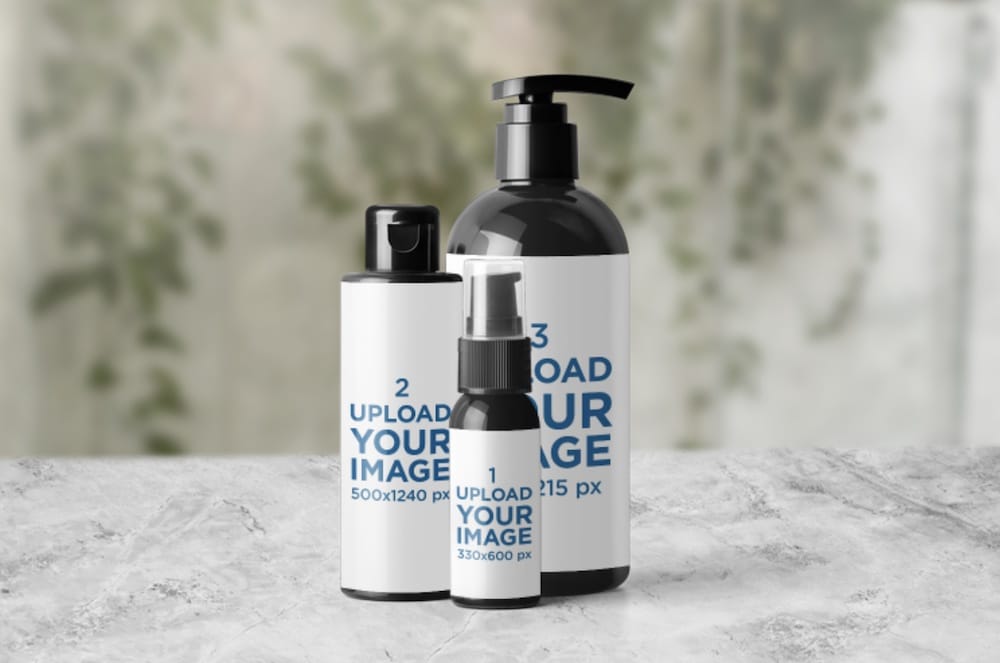 Although solid color backgrounds can help you set the stage for a branding design, there's nothing more captivating than a real scene background.
Such is the case with our next suggestion.
The scene displays three different bottles standing on a beautiful bathroom countertop.
What makes this cosmetic bottle mockup special is how well it puts all the necessary shine on the items.
That said, if you choose this mockup, your social media advertising can not go wrong. (We used it for three of our clients.)
MORE INFO / DOWNLOAD
7. Cosmetic Bottles Label Bathroom Shelf Mockup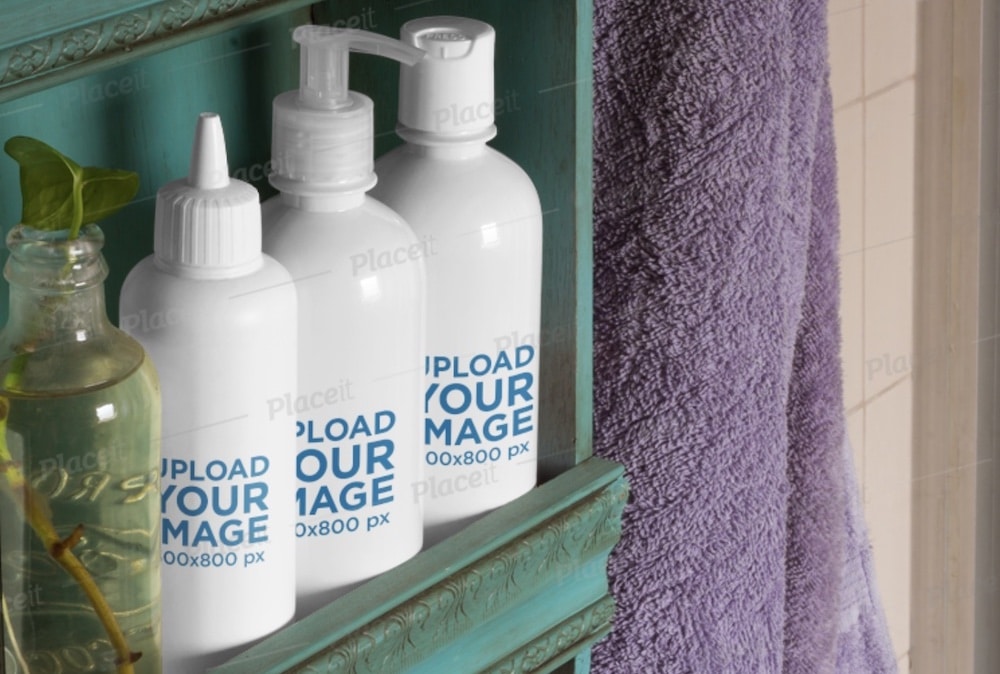 Like the mockup above, the label-bathroom-shelf mockup is a fantastic way to charm your audience.
The main difference between this mockup and our previous selection is that the cosmetic bottles in this scene sit inside the real-life setting.
Three different types of bottles are standing on a retro bathroom wooden shelf.
For this reason, this is a perfect cosmetic bottle mockup for promoting vintage designs. (But you shouldn't feel limited in any way – Do it your way!)
MORE INFO / DOWNLOAD
8. Cosmetic Jars and Bottles Mockup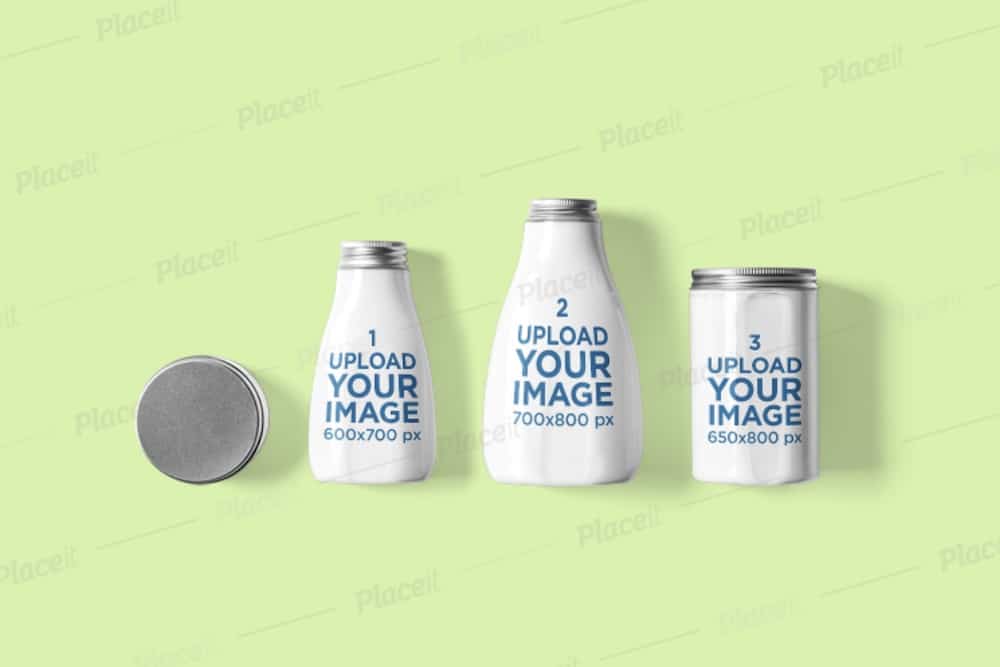 This mockup is the best way to promote several cosmetic container designs at once. The scene features four different products standing against a solid color backdrop.
Not only can you add your bottle designs, logo, and text, but you can also change the background color (even make it transparent).
But that's not all! You can also edit the color of each bottle separately.
All in all, this is one of the most editable cosmetic bottle mockup generators on the market.
MORE INFO / DOWNLOAD
Best Cosmetic Bottle PSD Mockups
9. Plastic Bottle With Dispenser PSD Mockup Bundle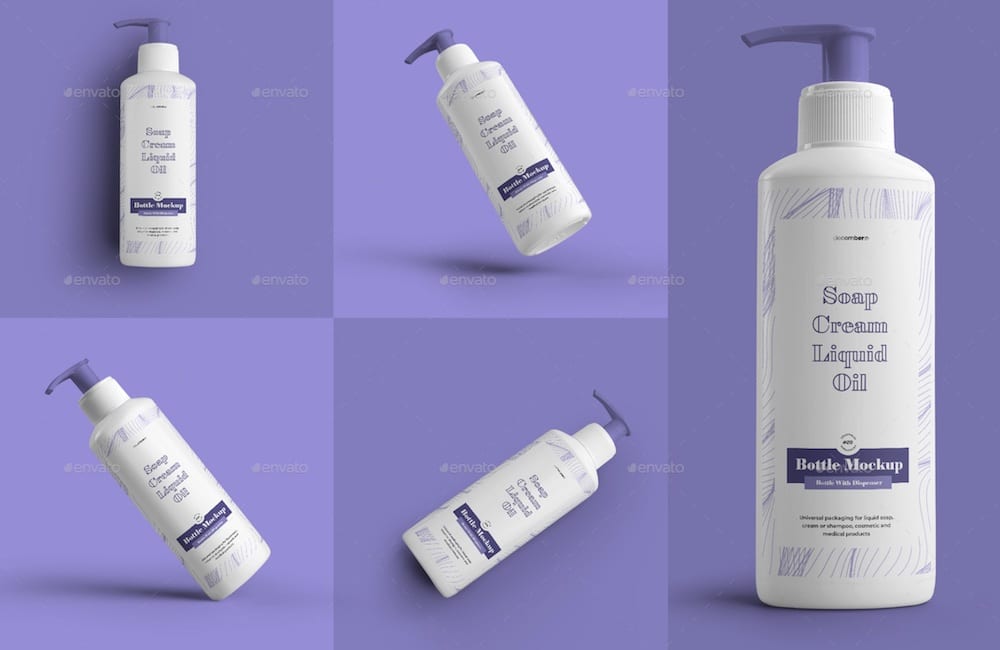 This is the best choice if you are looking for not just an easy-to-use mockup but an ultimate mockup bundle.
The bundle contains five different mockup scenes featuring plastic dispenser bottles.
All scenes are fully editable and easy to import into Adobe Photoshop. So if you prefer to work with layers, this is by far the best option.
You can easily manipulate each element of the scene using Photoshop smart objects. Also, all layers of each PSD mockup are organized, named and marked for your convenience.
Price: $6
MORE INFO / DOWNLOAD
10. Cosmetic Packaging PSD Mockup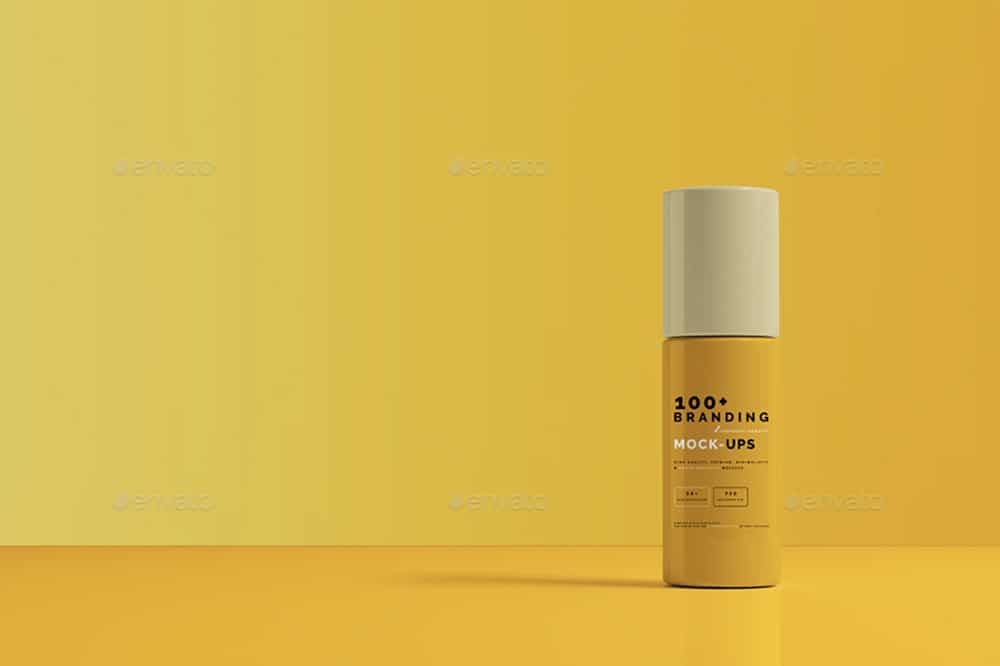 Mock-upstudio has created one of the most elegant and ultimately realistic cosmetic bottle mockups we have ever tested.
Using this mockup can be a very effective advertising tactic. With a high level of detail and a 6K resolution, the scenes in this mockup are as realistic as possible.
This mockup is also fully editable. We had no problems changing the color overlays or anything else in a few clicks during our review.
Price: $3
MORE INFO / DOWNLOAD
11. Soap Bottle PSD Mockups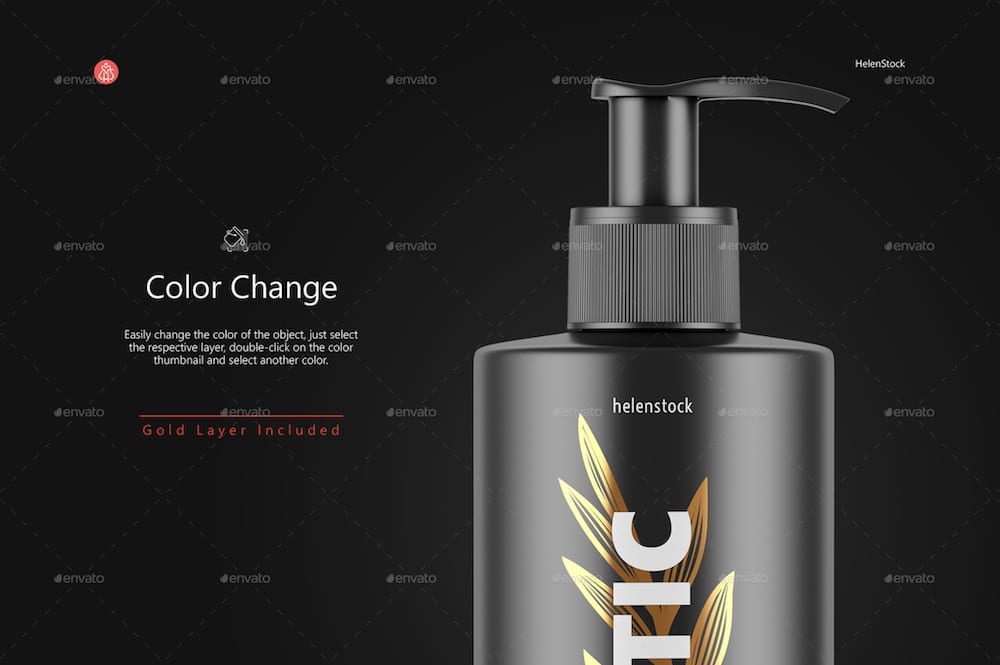 Suppose you have just come up with a great design for a soap bottle. Now you just need to promote it properly on your website and social media accounts.
Well, if that's the case, HelenStock has the best mockup for you.
The package includes three mockups in PSD layers, and thanks to Photoshop's smart objects, you can edit everything easily.
We were thrilled to find that the mockup also comes with a comprehensive how-to-use guide (PDF).
Therefore, if you are looking for a top-notch cosmetic bottle mockup and great support, this is the best choice for you.
Note: We also have a full collection of the best soap mockups and soap box mockups.
Price: $25
MORE INFO / DOWNLOAD
Best Free Cosmetic Bottle Mockups
12. Cosmetic Bottle Packaging Mockup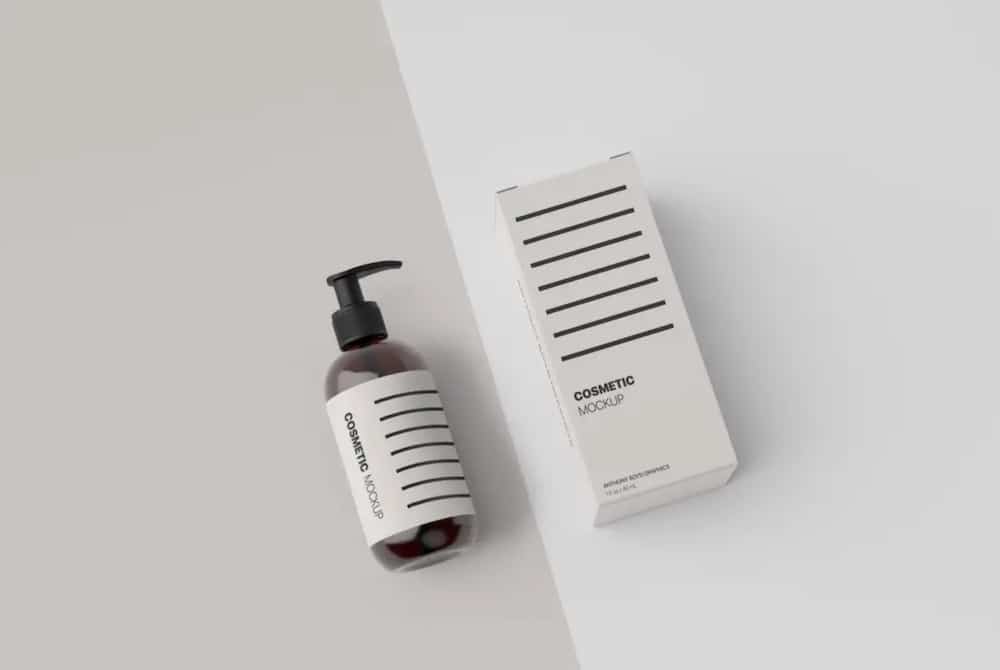 When we first discovered Anthony Boyd Graphics mockups, we could not believe how they are offered for free.
If you want to promote your cosmetic brand designs for free, this scene has everything you need and more.
The mockup for a bottle shows a plastic dispenser and its vertical box mockup against a two-color background.
You can comfortably edit every scene element since the mockup is in PSD form.
MORE INFO / DOWNLOAD
13. Free Skincare Packaging PSD Mockup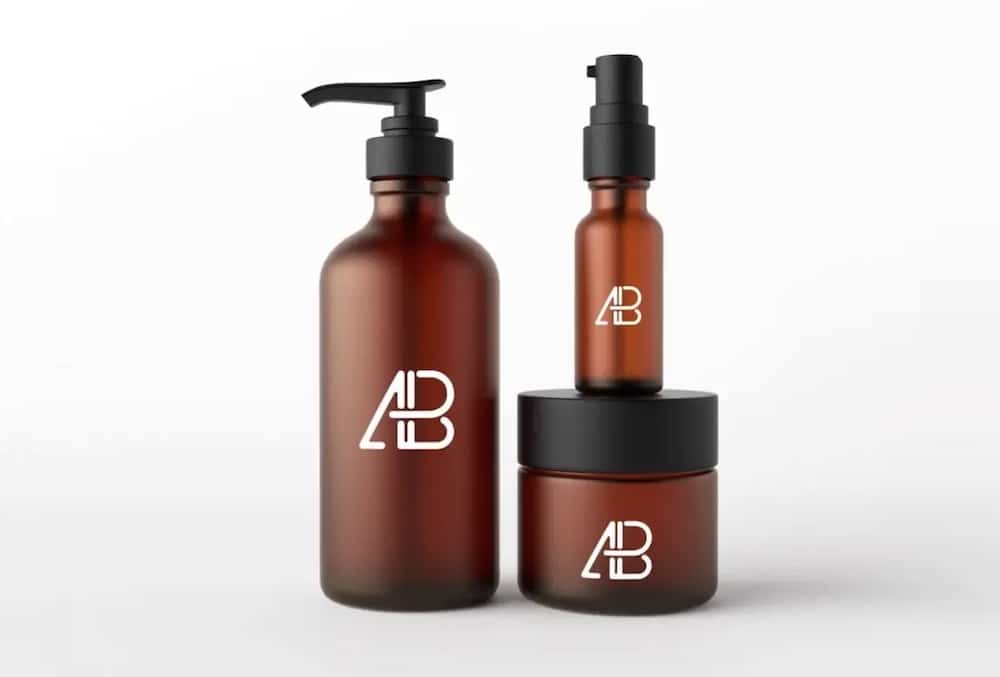 As with our previous free selection, this is a mockup created by Anthony Boyd Graphics. The realistic scene features three cosmetic containers, a dispenser, a sprayer and a lotion jar.
The small plastic sprayer sits on top of the jar, making the scene unique. (Anthony created the set in Cinema 4D.)
That said, you can also easily add it in Photoshop and operate the layers via smart objects. Best of all, you can use the mockup for free, for both personal and commercial use.
MORE INFO / DOWNLOAD
14. Cosmetic Glass Pump Bottle Mockup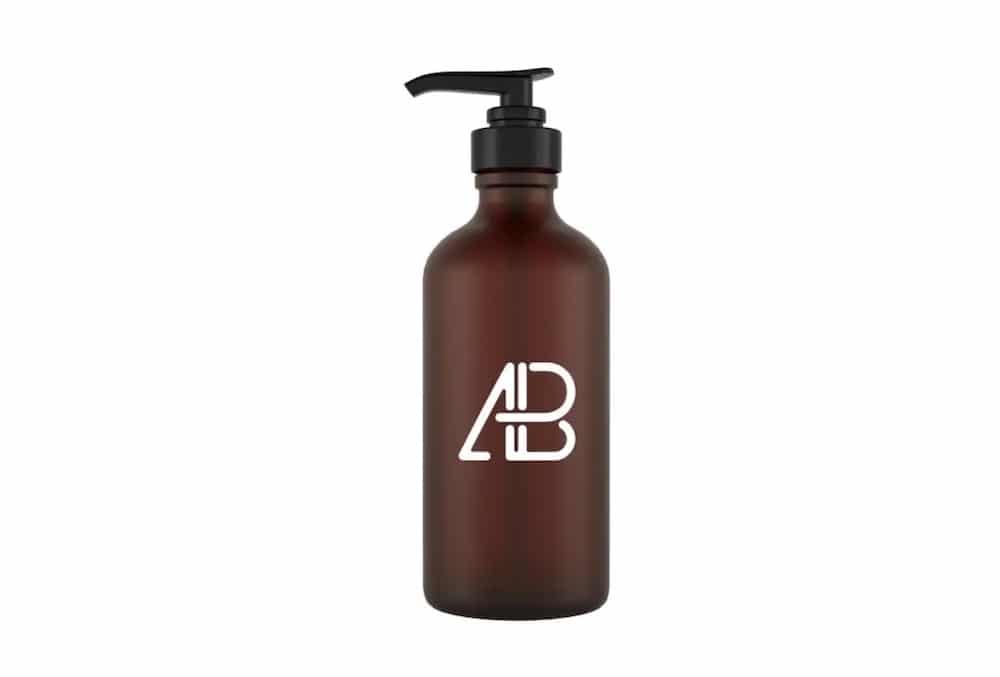 This is by far our favorite glass pump bottle mockup. The minimalist scene features a beautiful bottle against a monochrome background.
Of course, since the mockup comes in PSD format, you can easily remove the background layer. (Replace it if necessary.)
Moreover, you can edit the label area or any other element in a few clicks.
If you are looking for a professional, realistic scene, this free cosmetic bottle mockup is just what you need.
MORE INFO / DOWNLOAD
15. Free Pump Bottle with Box Mockup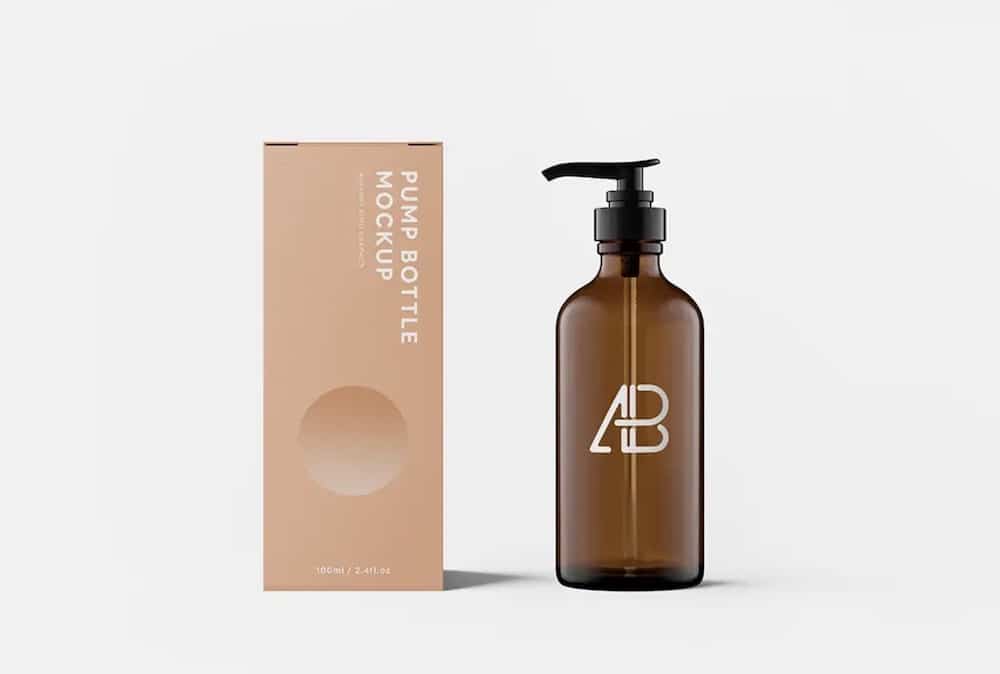 We are big fans of branding mockups that show the bottle's packaging. It's a clever advertising trick you can use to promote an eye-catching box design.
If that's what you want to do, there's nothing better than this. This cosmetic bottle mockup is free for both personal and commercial use.
You can easily customize all the layers and elements of the scene with just basic Photoshop skills.
MORE INFO / DOWNLOAD
16. Free Dropper Bottle PSD Mockup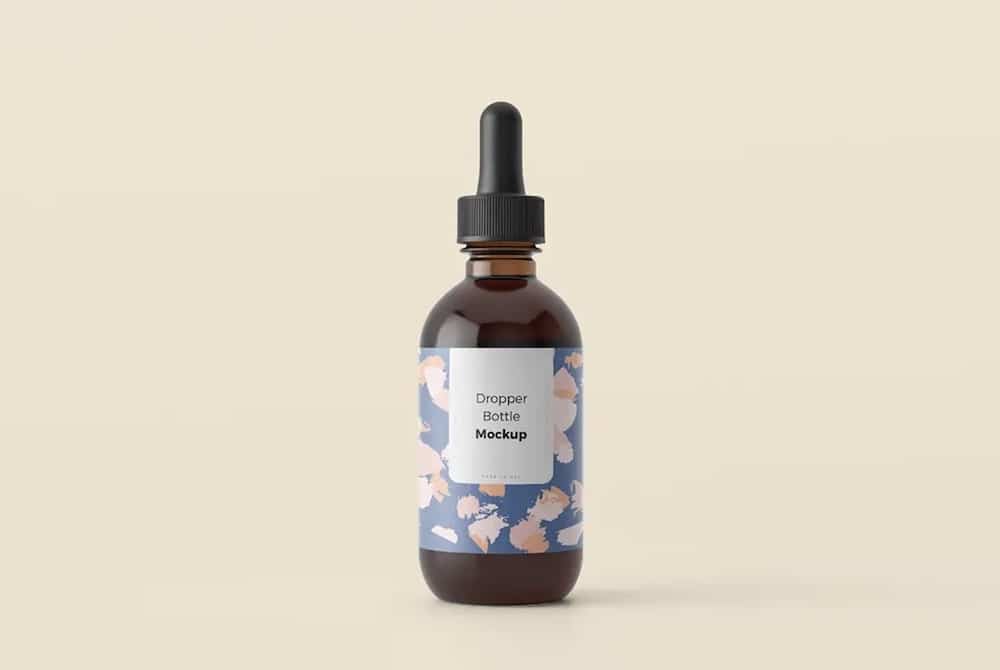 Who does not love the way dropper bottles look? We certainly do. If you are looking for a pretty, yet professional-looking mockup, our final suggestion is just what you need.
The scene features a dropper bottle in front of a fully editable background. We especially like the discreet shadow of the bottle, which makes the set even more realistic.
It works great if your client is in the CBD business or for a serum.
The mockup is offered for free but only for personal work. All you have to do is edit the smart object layers in Photoshop.
What more could you ask for?
MORE INFO / DOWNLOAD
5 Key Features Of A Great Cosmetic Bottle Mockup
1. High quality/resolution
This one comes first because it's the most important one, at least from our experience.
It's a MUST to have a high-quality and great resolution mockup.
Why?
We like creating close-ups and even strategically doing second-angle views. This is impossible with a low-quality mockup.
Also, your designs and logos will appear crystal clear – another must!
2. Easy editing & customization
This one is crucial for beginners, but quick work is convenient because of easy editing and customization, even if you're a pro designer.
Note: Everyone can create a cosmetic bottle mockup with an online generator because it only requires a few clicks to make it happen.
But things can be slightly challenging when using a PSD mockup.
That's why the following feature is so important.
3. Layered structure for PSDs
You must look for an easy-to-understand layered structure when you work with a PSD file.
This lets you quickly locate the element you want to change and improve, even as a novice user.
We advise you not to change layer names if you're a beginner because it can mess things up. Especially if you want to tweak something when you complete editing the entire mockup because you may forget how you named the layer.
4. Multiple views
Unfortunately, multiple views aren't (always) available with mockup generators.
But MANY PSD templates come with two, three, five and even more views.
This is extremely helpful for displaying a cosmetic bottle's sides, even the top and bottom. Hey, you want to showcase your custom design idea from all angles!
Plus, one bundle covers everything instead of buying multiple mockups, saving you money.
5. Great detailing
This one goes hand-in-hand with the first one. Excellent mockup quality and fabulous product detailing mean a professional presentation that'll WOW everyone.
While we don't pay too much attention when displaying a cosmetic bottle at a distance, it's essential for close-ups. (And we incorporate these into every project.)
In our case, detailing comes into play for caps, pumps and covers because the bottle itself is simple and doesn't need too much attention.