You can now create quick brandable product presentations with our versatile collection of the best hand sanitizer mockups.
Hand sanitizers come in different styles; pocket, spray, pump, or even refills.
You will find a mockup for your needs regardless of which version YOU LIKE the most.
Note: Instead of working just with one format of mockups, we decided to include both online mockup generators and PSD files.
They are both very user-friendly, but the online generator will take you a lot less time to complete improving. (We dig it more!)
Make a stand-out hand sanitizer NOW.
POST STRUCTURE:
Best Hand Sanitizer Mockup Generators
You can get a Placeit mockup for $7.95 a piece. But you can save money with either a monthly ($14.95/month) or yearly ($89.69/year) subscription.
1. Face mask and hand sanitizer mockup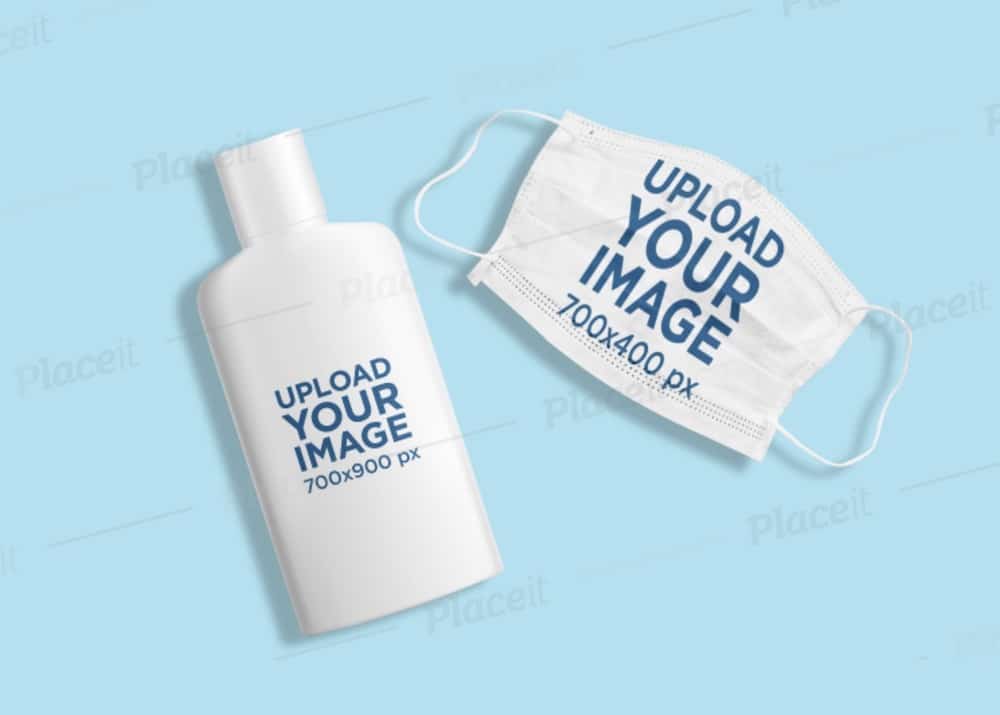 This bundle gets you a mockup of a hand sanitizer bottle and a mask. You can improve and beautify both with your branding regulations, taking things to the next level.
Since you do all the work online, it will take you little time to realize your ideas.
You CAN change the color of the bottle and the mask (the background, too) and slide in individual designs to both items.
Lastly, there's also an "add text" feature for appending call-to-actions or other whatnot.
MORE INFO / DOWNLOAD
2. Mockup of three hand sanitizer bottles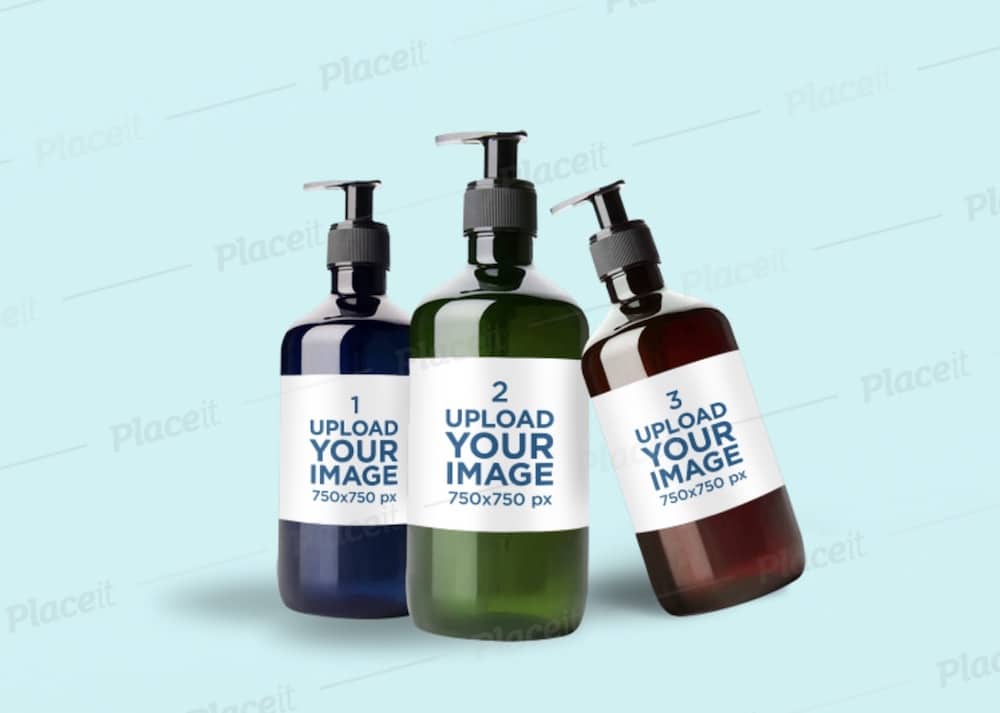 An all-around and easy-to-use hand sanitizer bottles mockup featuring three bottles to enhance with your CREATIVE ideas.
While the color of the bottles is not editable, you can change the tint of the label and the background.
With three bottles available, you can add three different designs. Since each bottle rocks a different color, this is a great way to create a neat presentation of three distinct hand sanitizer scents (or even something else).
Play with the features and create a real masterpiece now.
MORE INFO / DOWNLOAD
3. Minimalist mockup of a hand sanitizer bottle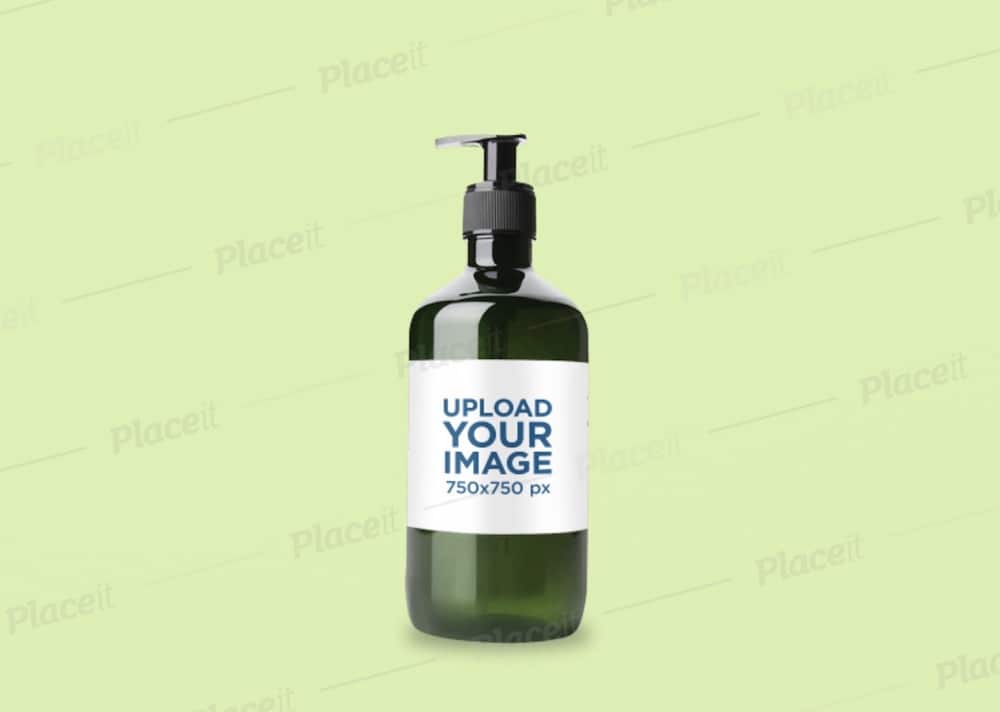 If you don't want to take product photos, you better use a gel bottle mockup and achieve the same professional level.
Your exhibition will be ideal for your online store, social media promotion, or just to share the idea with your client.
Thanks to Placeit, this mockup generator takes only a few clicks to improve accordingly.
Spice things up however you want – you can even create a BUNCH of different variations, which will help pick the winner easier.
MORE INFO / DOWNLOAD
4. Mockup of a clear hand sanitizer bottle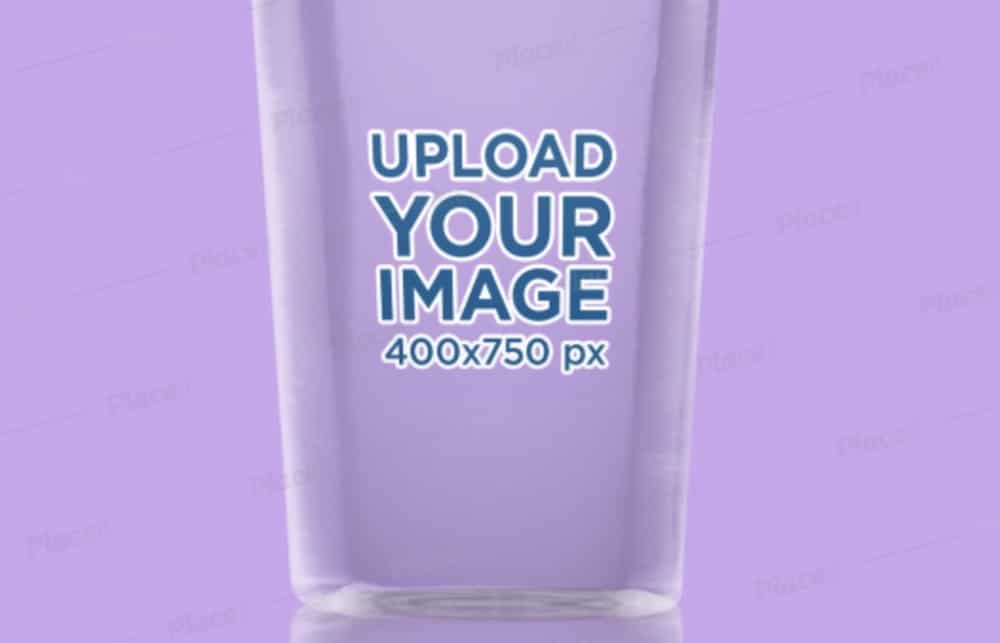 To make it as convenient as possible, this pocket sanitizer mockup will come in very handy. Offer everyone to have a chance to sanitize their hand whenever and wherever.
It is a TRENDY alternative with a clear bottle and a label area of 400 x 750px dimension. With the quick "insert image" solution, you can slide in any artwork you want.
You will also notice a pop-up that offers additional crop and reposition functions. And if you would like to edit the background color, you can do that.
MORE INFO / DOWNLOAD
5. Hand sanitizer mockup with a customizable background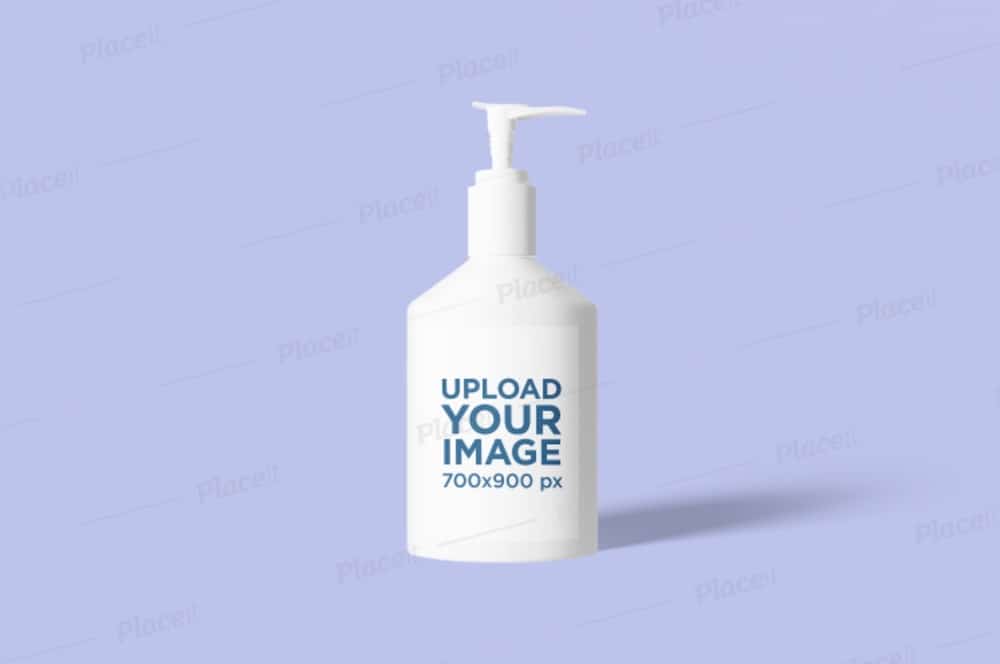 Here is a minimalist mockup with GREAT configuration functions when bringing to fruition a design for a pump dispenser bottle.
First and foremost, you can change the color of the label, bottle, pump and background. You can create your variation at free will, as it supports any color you want.
Moreover, two additional features are importing an image and adding text.
Keep in mind, the latter is optional; you can go without text, as it may work only on some occasions.
MORE INFO / DOWNLOAD
6. Realistic hand sanitizer bottle mockup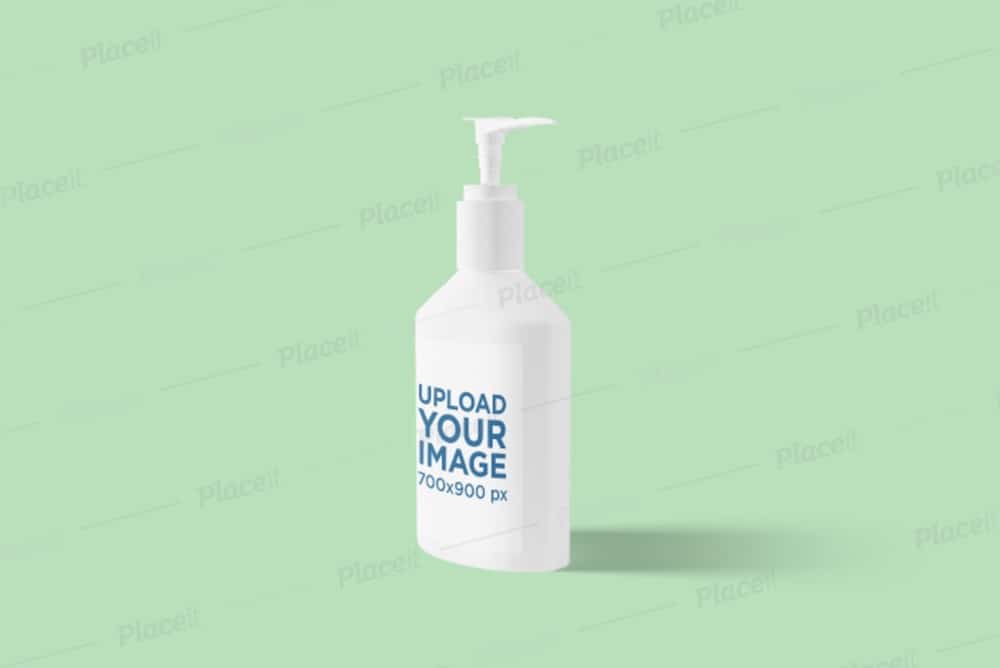 Enjoy two more online mockup generators that feature the same bottle style as the above – just the angle is different.
These days, creating a life-like product presentation is a piece of cake – without taking the photos.
Not just that, but you also don't need to use Photoshop to make a mockup.
Platforms like Placeit offer everyone to MAKE a hand sanitizer exhibition without breaking a sweat.
Why complicate and do things from the ground up if you can take a clever and strategic shortcut instead?
MORE INFO / DOWNLOAD
7. Mockup of a hand sanitizer on a solid color surface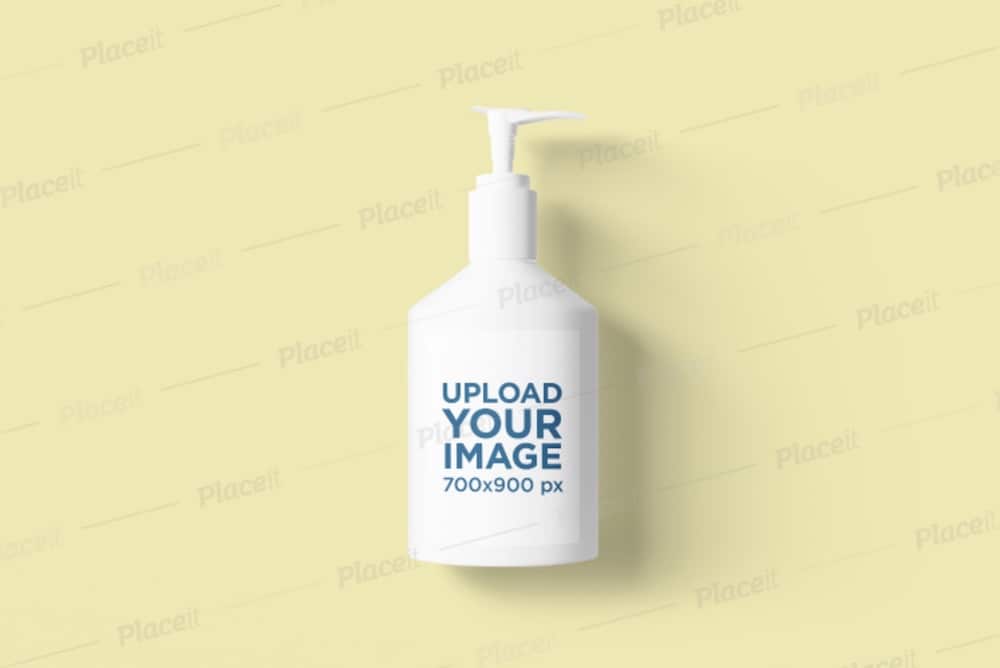 What's cool about all these mockups with customizable backgrounds is that you can also make them transparent and put your own custom backdrop. This one SUPPORTS just that, too.
But there's a whole lot more to it.
The mockup allows you to improve the color of the bottle (label and pump including), so it matches your branding directions to a tee.
Furthermore, you can upload any image you want from your device (you can even make it happen on a mobile device).
Lastly, download the high-resolution mockup and spread the word out with style.
MORE INFO / DOWNLOAD
8. Hand sanitizer label mockup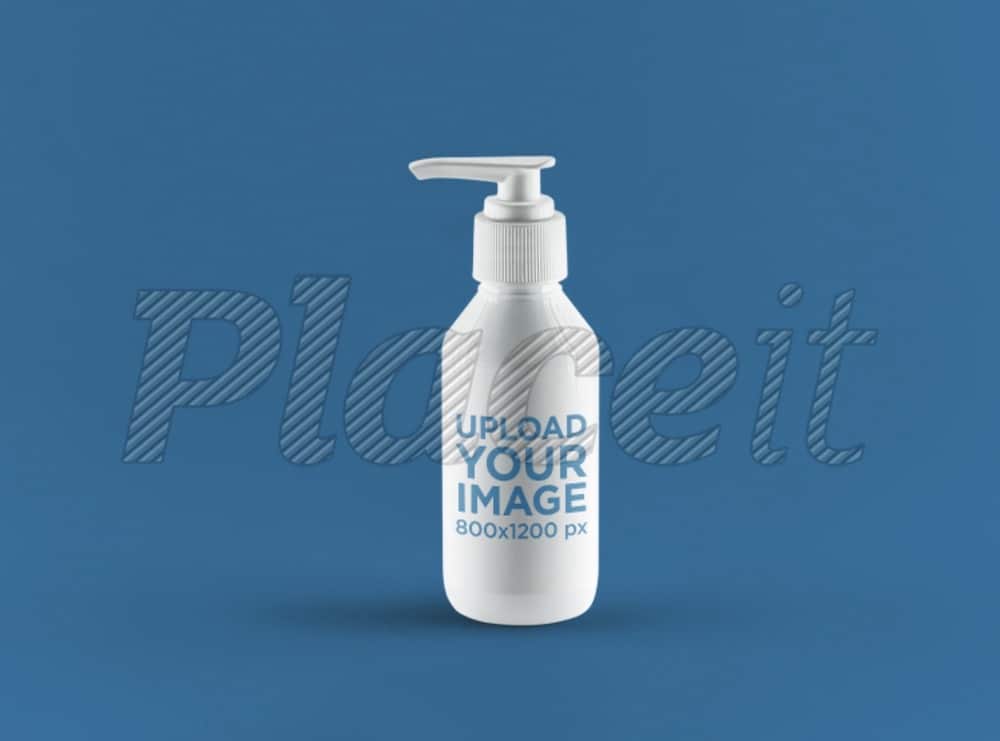 This is another fantastic mockup of a pocket hand sanitizer with a pump. Keep in mind that the bottle is white and you CANNOT change that, but you can alter the label's shade.
Still, if you add a design that fits the entire label space (800 x 1200px), changing the color will not be necessary.
Note: You can also upload a logo and add any text you want (you can choose font type and color, too).
There you have it; now it's your turn to get as creative as you want for forging a stand-out hand sanitizer bottle.
MORE INFO / DOWNLOAD
Best Hand Sanitizer PSD Mockups
9. 4 hand sanitizer PSD mockups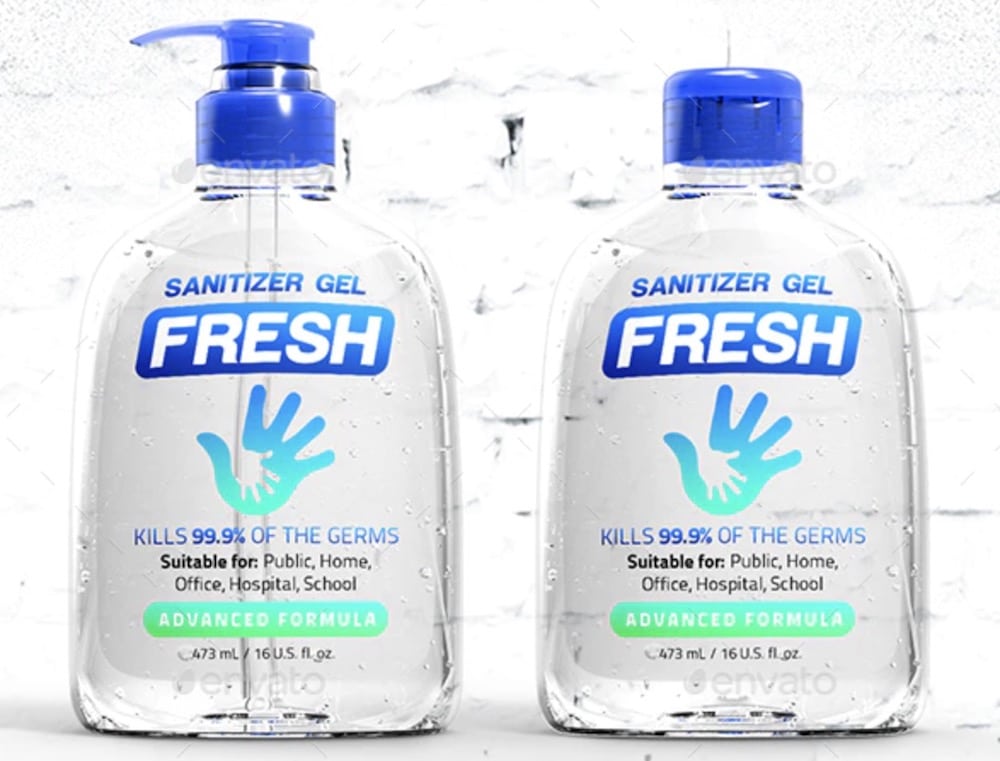 It takes you little time and energy to utilize hand sanitizer mockups and take them to your TOTAL advantage.
Here is a different bottle style with two different caps and four alternative views. Improving each view will be a piece of cake with the highly organized structure.
For instance, it only takes some dragging and dropping to insert your design into the mockup, thanks to the smart objects.
But there's also a help file available if you'd like to get the gist of it first and go from there.
Price: $9
MORE INFO / DOWNLOAD
10. Hand sanitizer packaging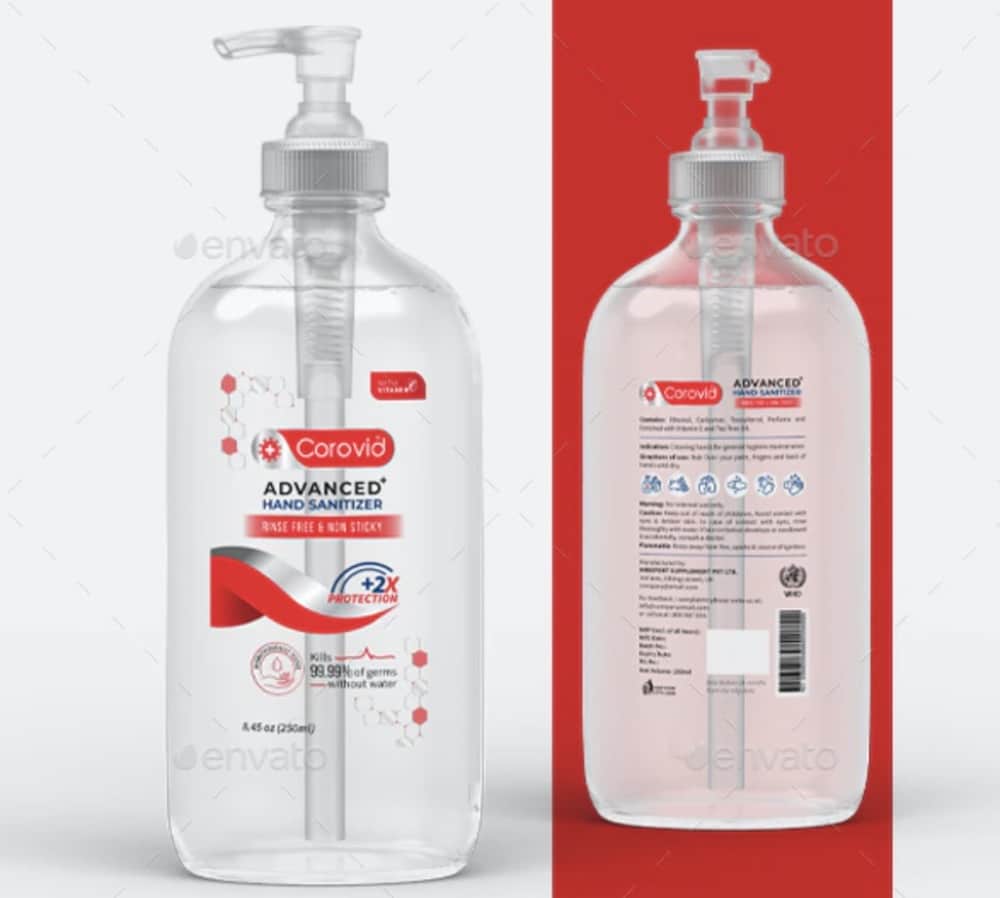 You DO NOT need to be a pro designer to have a chance and work with a mockup successfully.
Whether an online generator or a PSD file, you will win the game in both instances undoubtedly.
This life-like hand sanitizer mockup is for everyone searching for more bottles with pump alternatives.
The bottle is 2″ x 3.5″ in dimension, with great modification options so that you can brand it with ease. It even includes a swatch panel for quick color change.
Price: $8
MORE INFO / DOWNLOAD
11. Customizable corona hand sanitizer mockup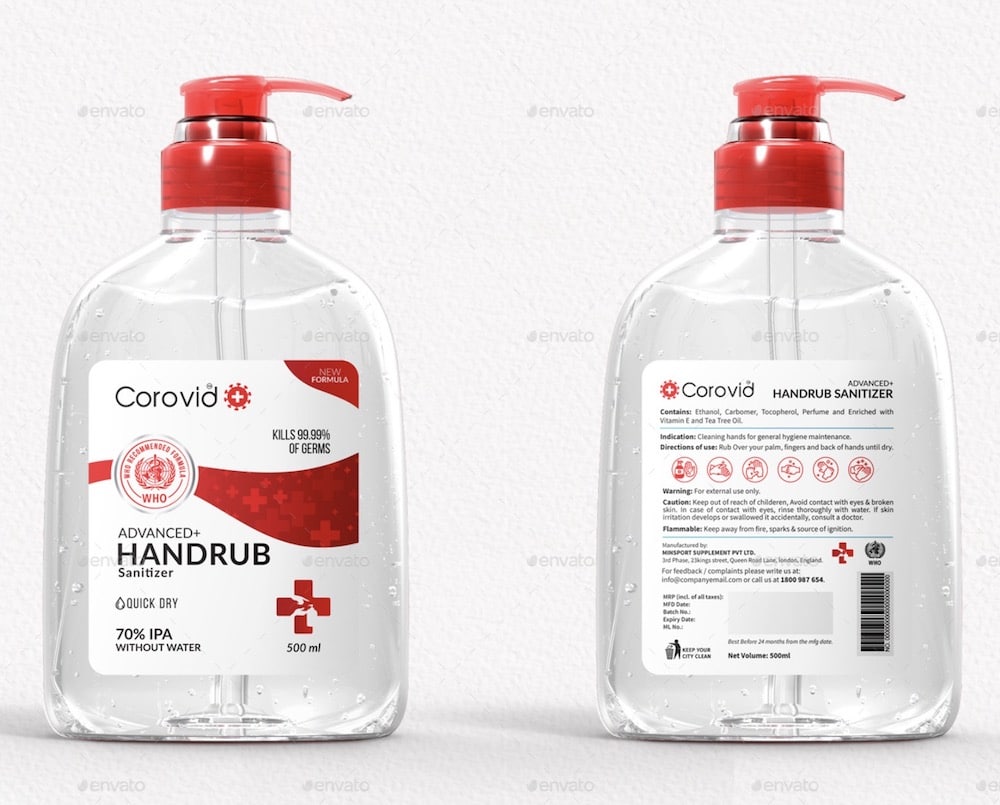 This exclusive coronavirus hand sanitizer mockup is all set and ready to create the product presentation swiftly.
Different bottle designs, print-ready, superb customization capabilities, you name it; it's all set and ready to make some noise ASAP.
The 100% vector structure also sures that you can resize it without losing on quality. Besides, changing colors with available swatches will also be effortless and the bottle dimension is 3″ x 3.5″.
Note: If you are working on other liquids, you can use this mockup bundle easily for something else.
Price: $8
MORE INFO / DOWNLOAD
If you would like to insert a hand sanitizer in packaging, these best vertical box mockups will come in very handy.
Best Free Hand Sanitizer PSD Mockups
12. Free hand sanitizer bottle & mask mockup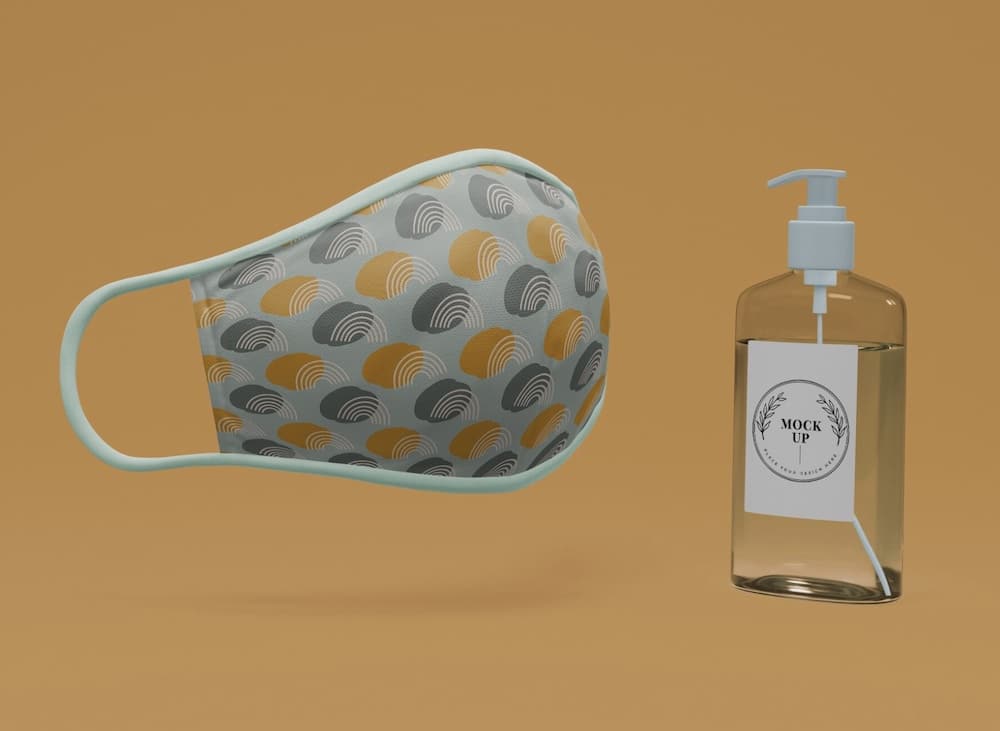 Alongside the online mockup generators and PSDs, we also added a few free versions.
We really enjoyed this one because you can easily create a MATCHING mask and sanitizer bottle.
How cool is that?
The amazing quality of the layered PSD file ensures a fantastic outcome that will create a strong first impression.
MORE INFO / DOWNLOAD
13. Free sanitizer pump mockup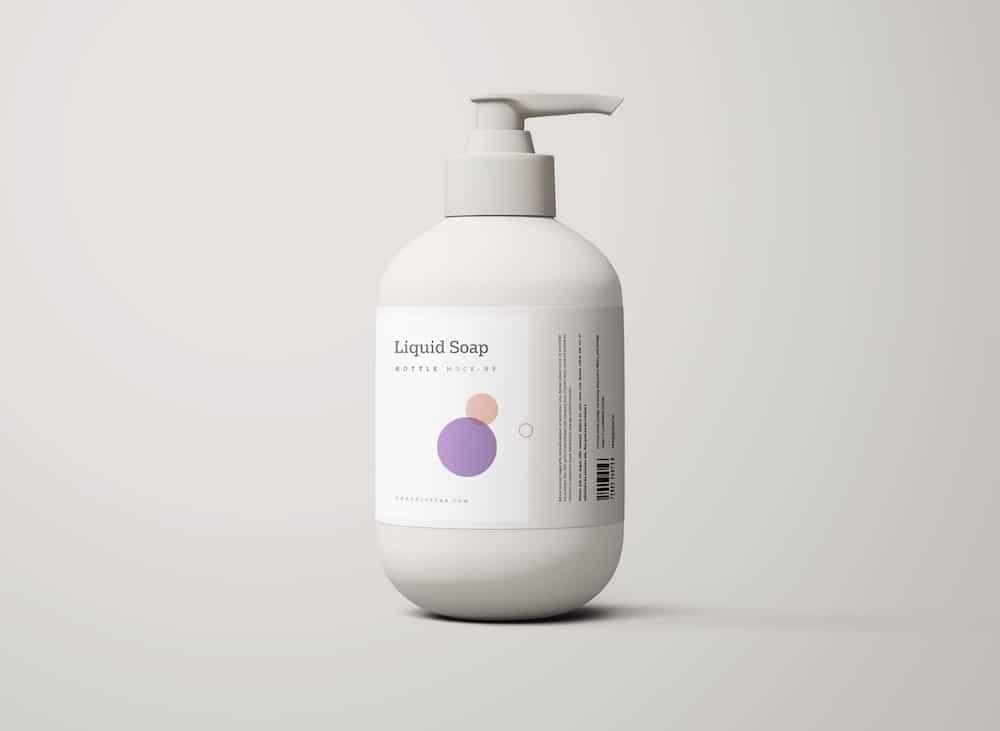 This EXTREMELY realistic sanitizer pump mockup comes with an effortless customization process.
Add any artwork or logo you want via the smart object layer and see it appear with a click.
Another great feature of this template is the insanely amazing quality, coming at 5000 x 3750px, so no details will be left out.
Amaze your client with the fantastic, life-like sanitizer packaging mockup that you'll create quickly with this template.
MORE INFO / DOWNLOAD
How To Create A Hand Sanitizer Mockup?
You can make a life-like presentation of your custom hand sanitizer design in 5 simple steps (actually, 4).
To achieve such a speedy result, I'll show you how to make it happen with an online mockup generator.
It's an extremely beginner-friendly method that ANYONE can use to make great things happen.
5 Steps To Make A Hand Sanitizer Mockup:
Step 1: Go to Placeit, and search for your FAV template. However, I still recommend picking any from the collection above.
Step 2: Once you have your winner, open it and click on the "insert image" button. This allows you to test your design immediately, which I highly recommend doing. (Hey, you may need to test a few first before you find the TRUE winner. I usually do.)
Step 3: A window will open that offers you to crop and reposition your design, logo, whatever, however you want. (The live preview function comes in very handy.) Click "crop."
Step 4: You can now perform additional customizations, like changing the colors, sometimes the background, adding text or a graphic.
Step 5: Click "download," and you're done.
Mockup generators rock.
But even if you decide to use a PSD, the method doesn't require many more steps, but you must use Photoshop.
With the right template on your device, import it into Photoshop and click on the smart object layer. Slide in your design, and you've done most of the work.
You then have a chance (more creative freedom than the generator) to perform as many modifications and other creative tweaks as you want.
Click save and download your creation.
That's. It.
Bonus: Mockup Generator VS PSD File
Online mockup generator: you use it exclusively using your favorite web browser; no photo editing software necessary.
You upload your design or logo from your device and activate the platform's available customization function.
PSD file: that's a Photoshop file, so you need software to put it into play.
However, the fantastically layered and organized structure with smart objects and other effects and features ensure a boost in your workflow.
It's entirely up to you which you opt for – both will create a fantastic, realistic and high-quality outcome, and that is a guarantee.
Pricing
Note that the price is also similar per mockup, however:
1. If you sign up for a subscription, you can use all Placeit's mockups for as much or as little as you want for "free."
2. If comparing single purchases, a PSD mockup can be cheaper since you get more than one template in many cases.
::
Note: This article was originally published on April 14, 2021. But our team regularly reviews it and updates it with necessary improvements for accuracy.