There's nothing better than creating a life-like presentation than it is with these best free and premium spray bottle mockups.
Quickly and professionally. (DUH!)
For this, I included mockup generators (use online) and PSD templates that both are easy to use.
(Which I spent months testing myself and on live client projects.)
Excellent customizations ensure creating a brandable spray bottle showcase within seconds.
BEST.
And you can START immediately, boosting your workflow through the roof.
Get high on spray mockups and test your creativity!
Best Spray Bottle Mockup Generators
I really ENJOY working with mockup generators. Especially because I can test my ideas for free, and only commit when I have the winner.
The price of a single mockup is $7.95 (with optional monthly ($14.95) or yearly ($89.69) subscriptions)
Use these to make mockups without Photoshop!
TOO. COOL.
1. Spray paint cans label mockup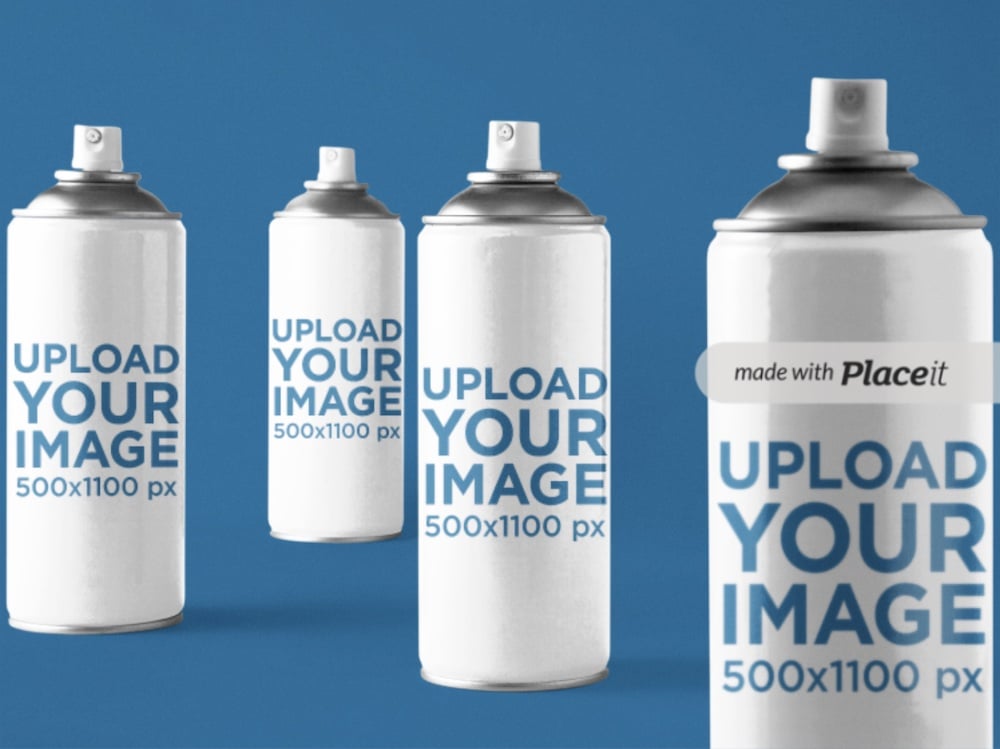 If you're ready to make a great impression then this is the generator to go for.
I love it!
It features four spray cans with changeable color and editable background.
You import your design or logo with a click and see it appear on the template with another one.
You can also add text, which actually worked really WELL for me (I added a call-to-action).
MORE INFO / DOWNLOAD
2. Cleanig spray bottle template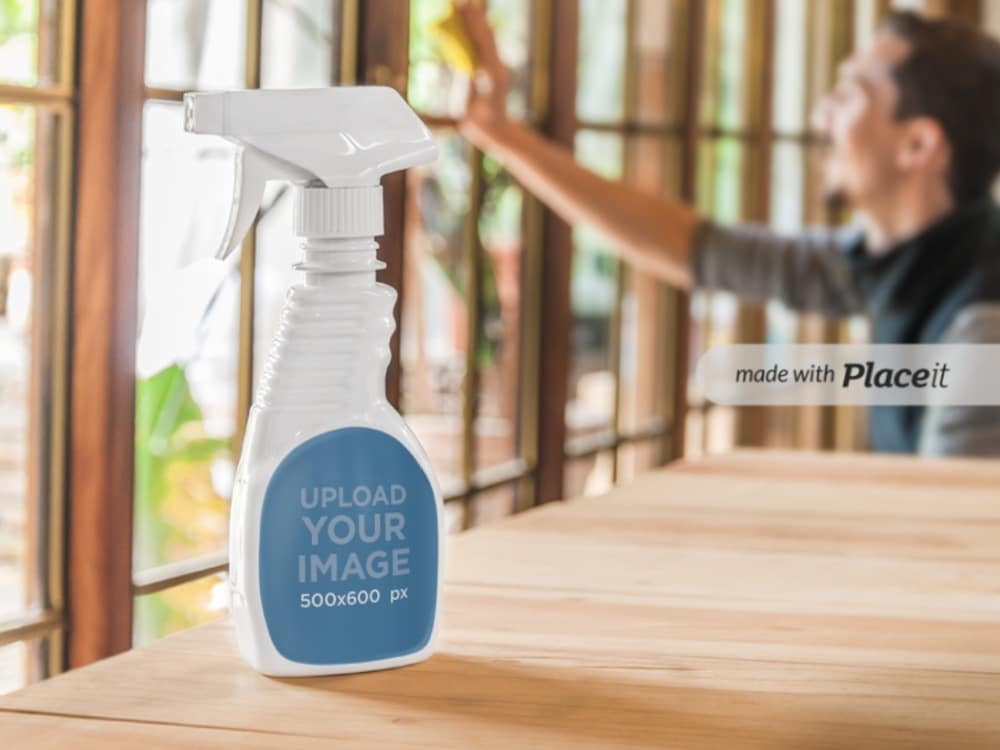 This extremely realistic cleaning spray bottle mockup is super EASY to USE.
It takes seconds to make it work for you because you don't need software and do all the work online.
Change the color of the label and slide in your design.
Hint: Your design can cover the entire label working area. (But I added a logo and used a custom label color.)
That's it.
Note: This one doesn't allow you to change the color of the bottle; it's white by default.
MORE INFO / DOWNLOAD
3. Plastic cleaner bottle mockup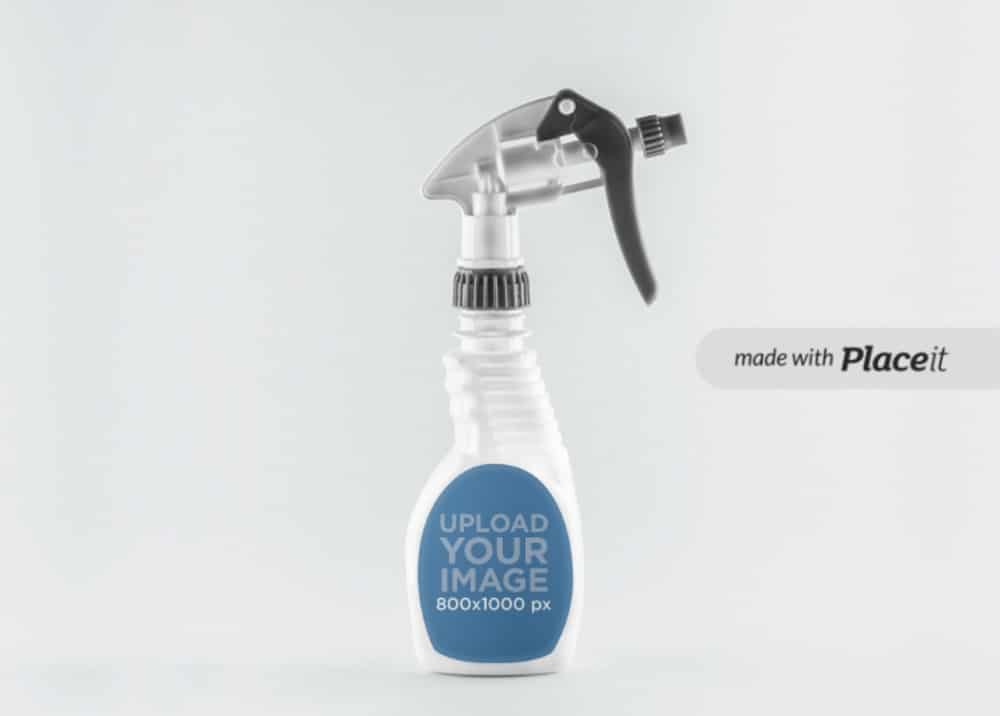 Create a custom plastic spray bottle showcase and impress your client (or customers) with a LIFE-LIKE demonstration before the production.
You can test your creative ideas on this minimal template and let them pop nicely.
There's also enough space to include any text you want, either on the right or the left side.
(Try it for free and go from there!)
MORE INFO / DOWNLOAD
4. Label mockup of 2 spray bottles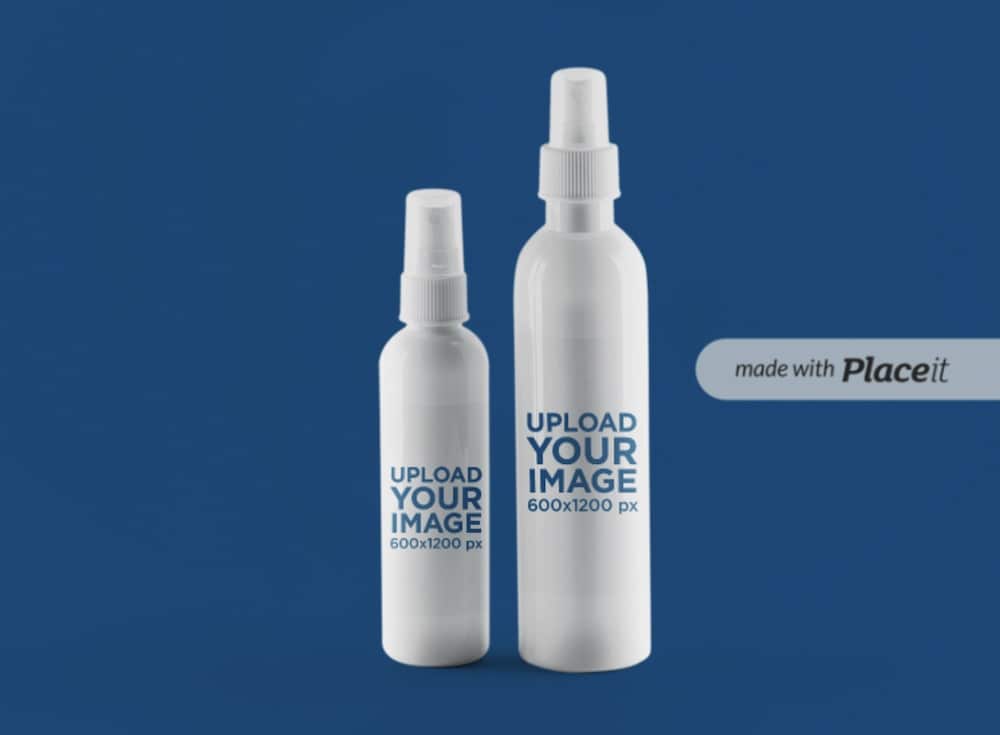 If you'd like to create two matching white spray bottles, grab this mockup generator and do your thing within seconds.
Insert the image, crop and reposition it if necessary and stick it to both bottles with a single click.
You can also edit the background and add text according to your branding regulations.
SO. FUN.
MORE INFO / DOWNLOAD
5. Photorealistic spray bottle label mockup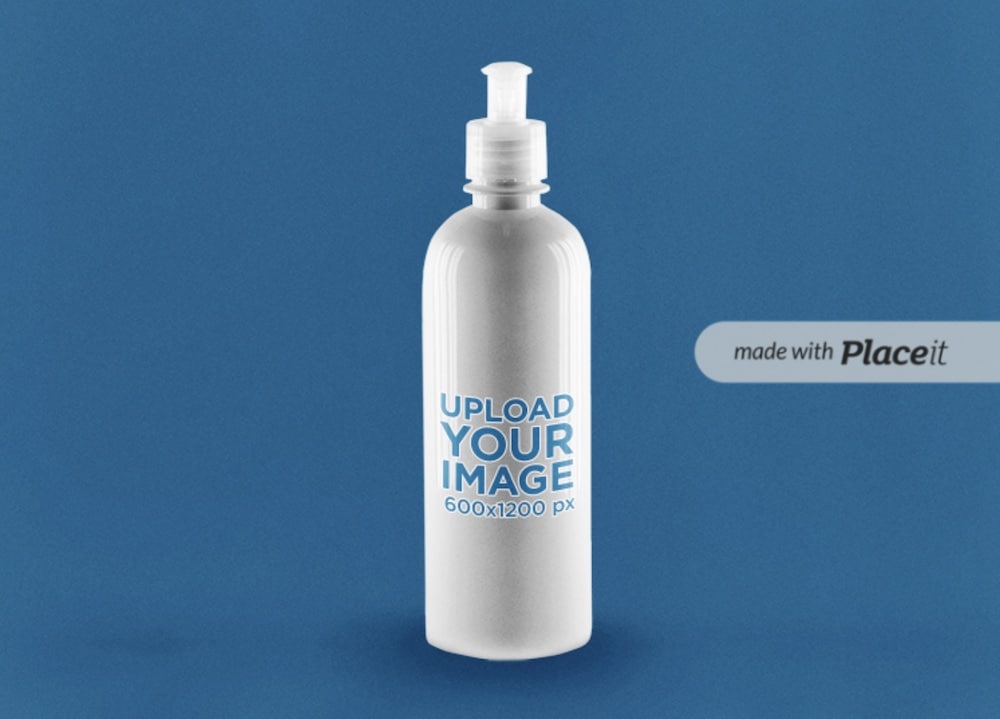 Try your spray label design fast and professionally with a mockup generator, boosting your workflow through the roof.
Unfortunately, you can't change the color of the bottle, but you can of the background.
MORE INFO / DOWNLOAD
6. Plastic spray bottle label mockup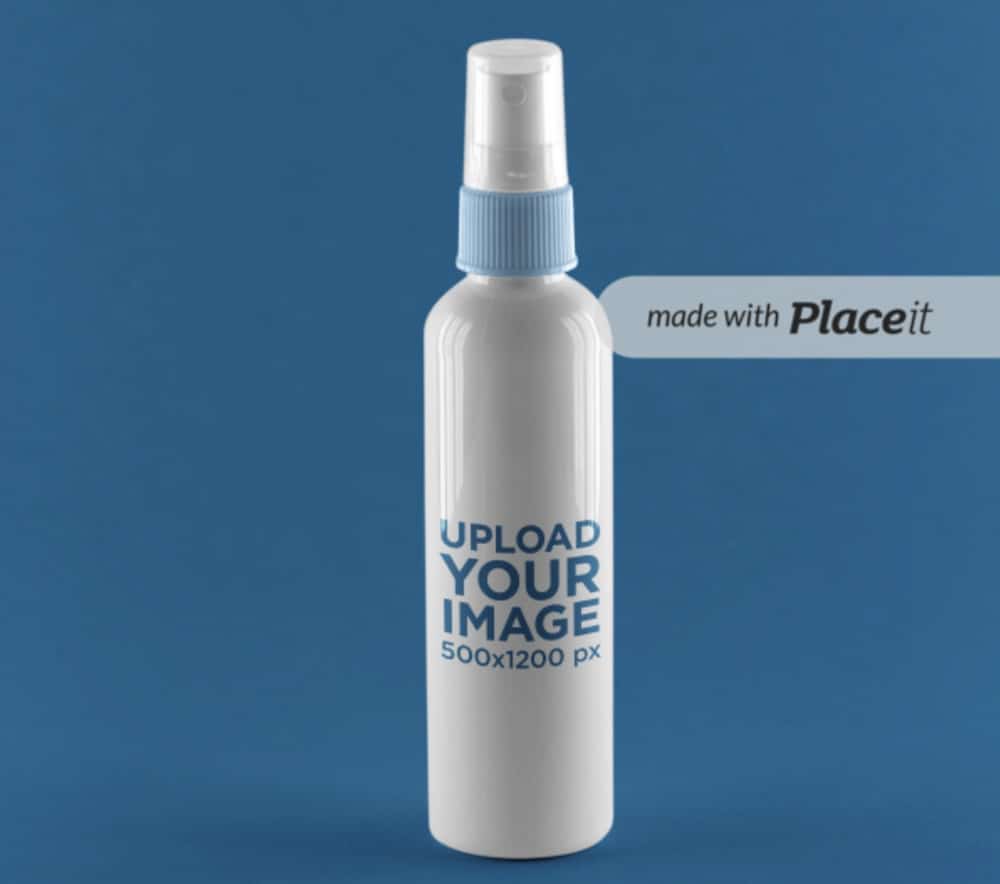 Not all spray bottle mockup generators have as many customization options as this one has. But why am I then adding it last?
You know, BEST for LAST!
The template allows you to change the colors of the top cap, cap, bottle and background. This is so cool because you can really create the version you want to a tee.
But adding the design is the same simple process as with other generators – import it from your device (mobile works, too!).
MORE INFO / DOWNLOAD
Best Spray Bottle PSD Mockups
These layered PSDs are for everyone who'd like to take customization to the next level.
SO. CONFIGURABLE.
7. Cleaning spray bottle PSD template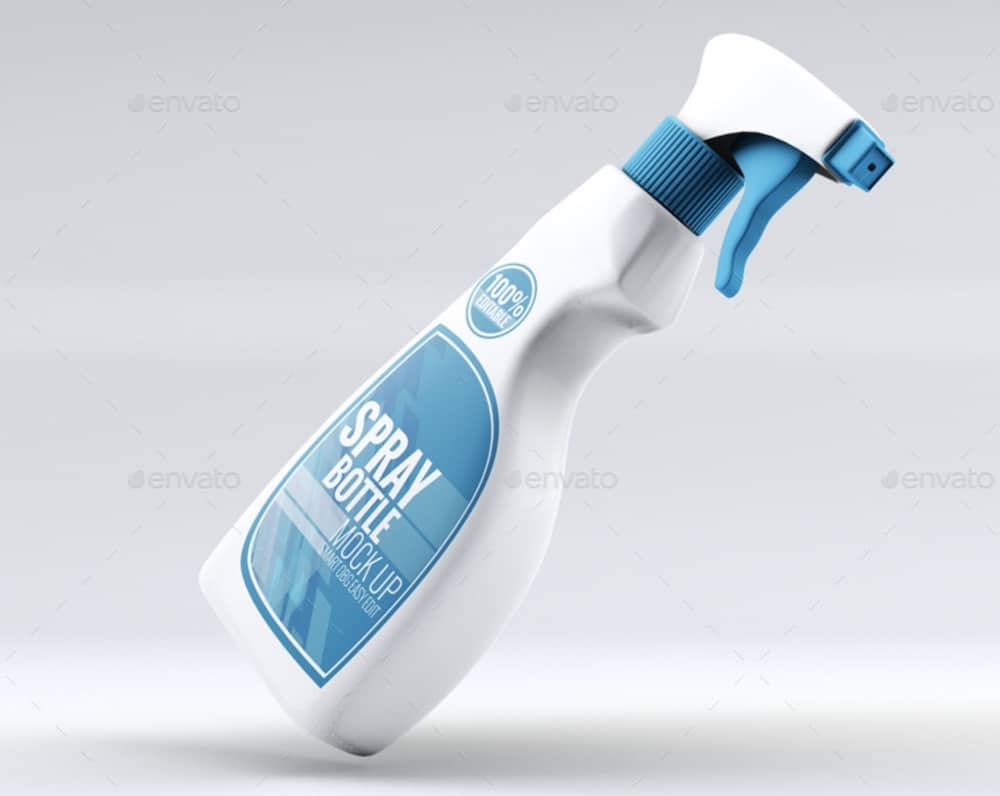 This is a pretty traditional cleaning spray bottle, but if you have other plans with it, go for it.
The bundle contains six views (I used four) with smart objects for instant design and logo inclusion.
Moreover, the bottle is also ENTIRELY modifiable with your custom color idea.
Plus, change the background, even make it transparent – your're in charge. (I imported a custom image background.)
Price: $7
MORE INFO / DOWNLOAD
8. Spray bottle & packiging mockup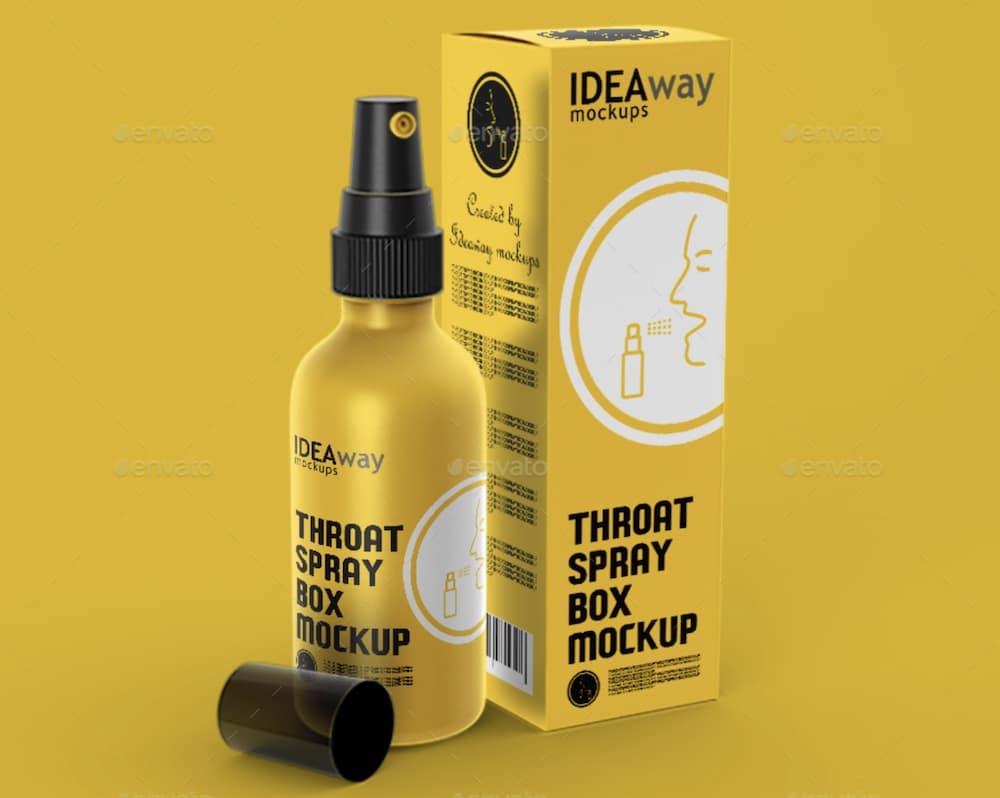 Note: This is actually one of the rare finds that includes the spray bottle and the packaging. Aaand, it's 7700 x 5000px!
The five PSD templates contain all angles and views you need to create a life-like outcome that'll inspire everyone.
(I particularly like the scene that features the table.)
I created an extremely detailed presentation, used 100% ZOOM (and beyond), and it looked stunning.
The layered structure is highly organized for quick work.
Price: $7
MORE INFO / DOWNLOAD
9. Spray can mockup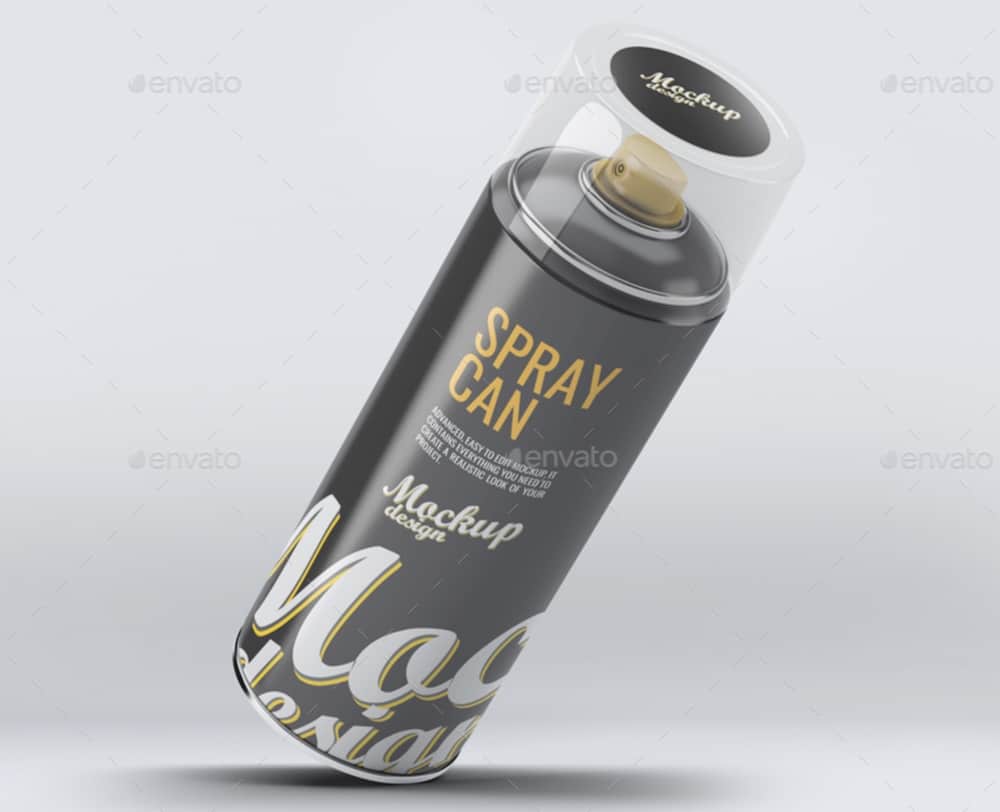 You can work on multiple projects comfortably with this versatile bundle of spray can mockups.
I used it for a spray paint company (graffiti-focused), but it works for other stuff, too.
Moreover, individual layers allow you to modify each template HOWEVER you want. Colors, shadows, reflections, it's all editable.
And different angles work great for showcasing spray can's front and back designs.
Price: $7
MORE INFO / DOWNLOAD
10. Transparent spray bottle mockup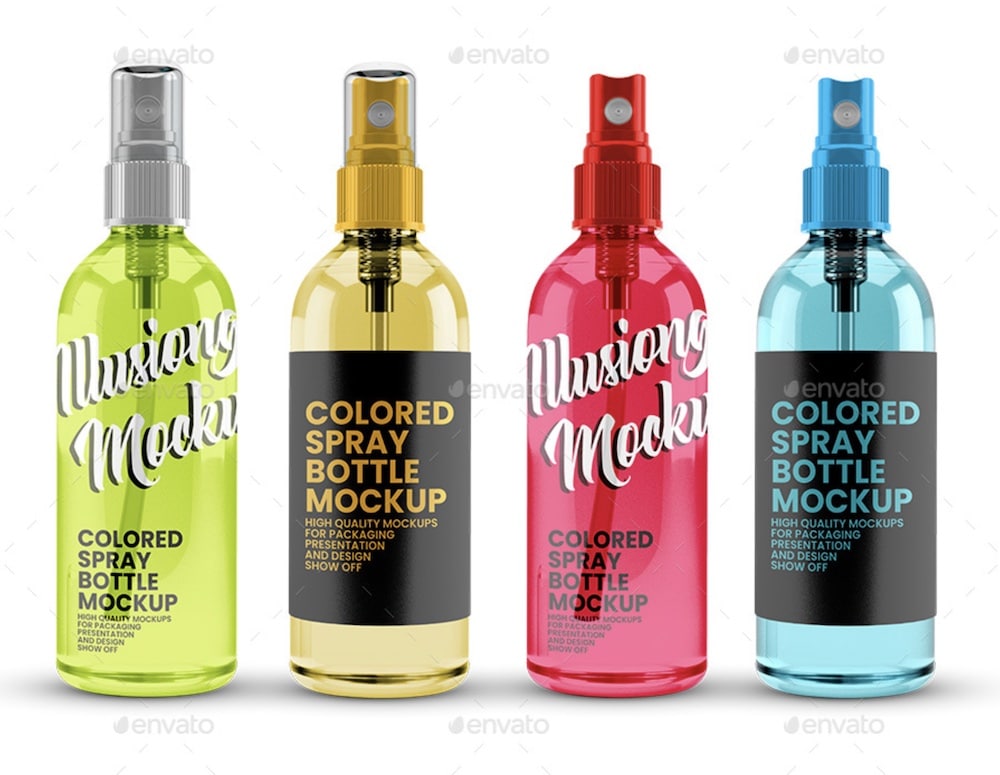 I particularly searched for the best transparent spray bottle mockup because of receiving a lot of requests.
I'm adding this one because of its amazing configuration capabilities. Both PSDs guarantee complete freedom to customize them however you want.
With or without the label, custom liquid (nozzle & pump) color, high-quality details, you name it, the editing is NEXT level.
Also, your creation will work great for printing, too, because of the great resolution (5000 x 5000px, 300dpi).
Price: $6
MORE INFO / DOWNLOAD
11. Deo spray bottle packaging mockup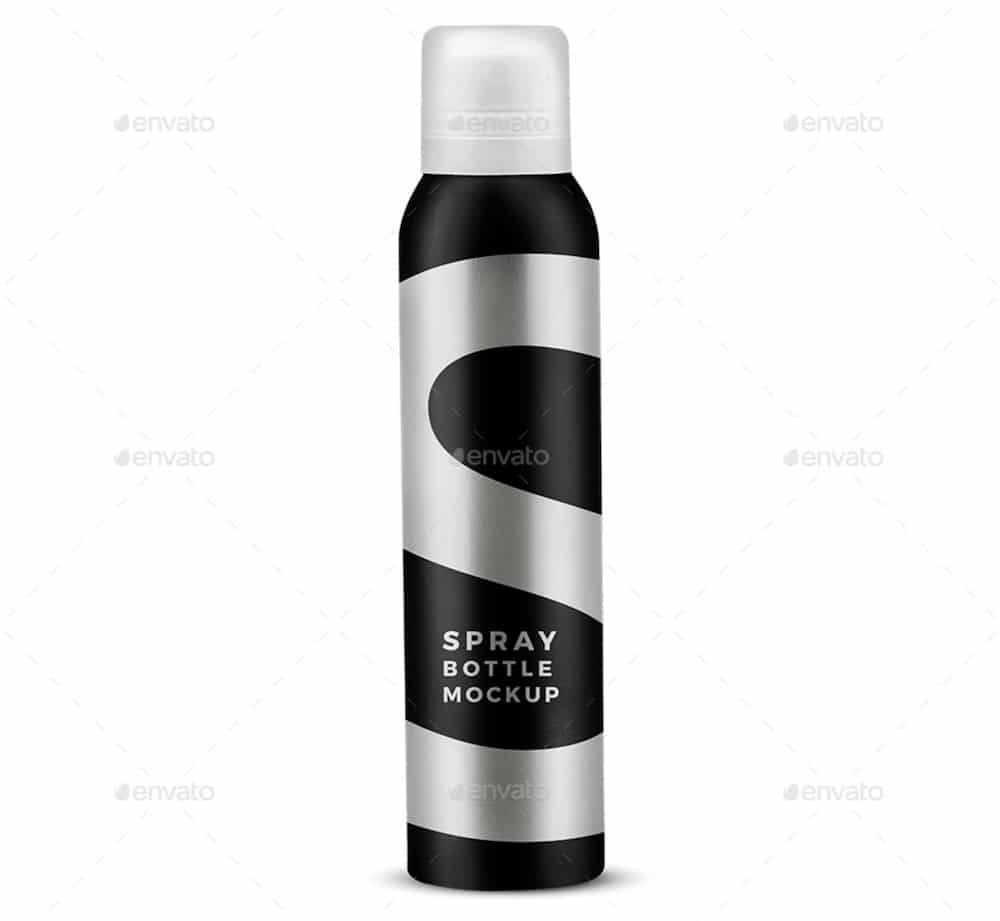 Even though it's a deodorant spray bottle mockup by default, you can also use it for hair spray packaging.
The template gives a fine, realistic outcome that looks the same as the actual product. The 5000 x 4420px quality says more than enough.
And the editing is a child's play via the smart object. Just drag-and-drop the design you worked on and let the mockup do THE REST.
Price: $4
MORE INFO / DOWNLOAD
12. Aerosol spray mockup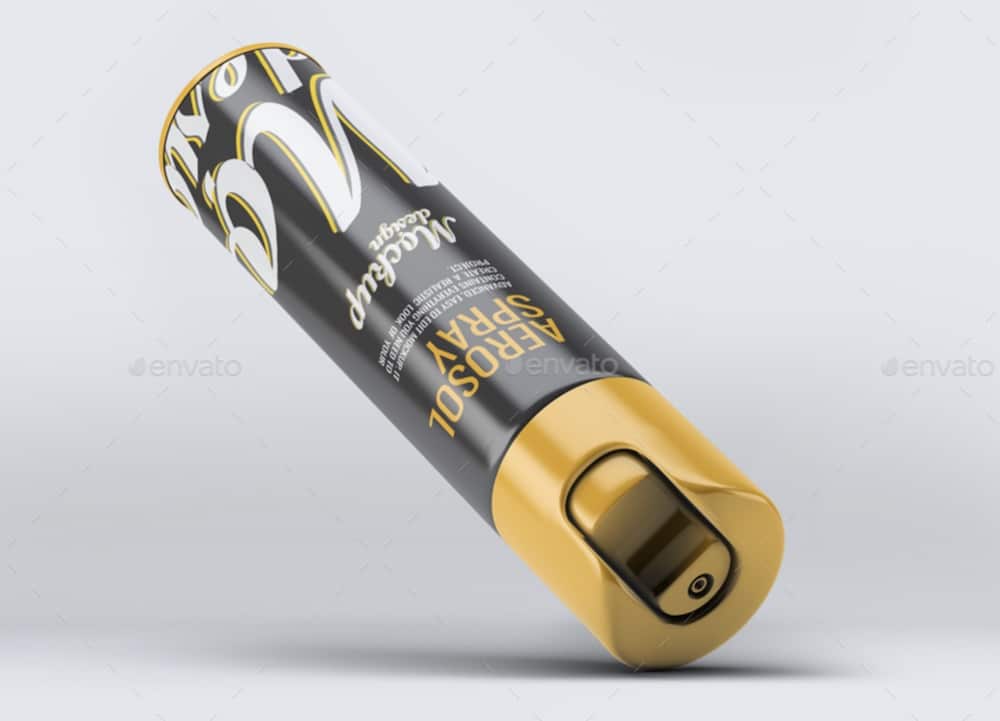 My friends Abdul and Rob recommended me this aerosol spray mockup when we were recently discussing a project, so I went for it and got it.
I'm now here sharing it with you because of its fantastic quality that guarantees a life-like outcome.
You can work with all eight views, covering ALL SIDES of the spray can.
The resolution isn't the most extreme (2500 x 2500px) but excellent enough for a first-class product presentation.
Price: $7
MORE INFO / DOWNLOAD
13. Hair styling spray mockups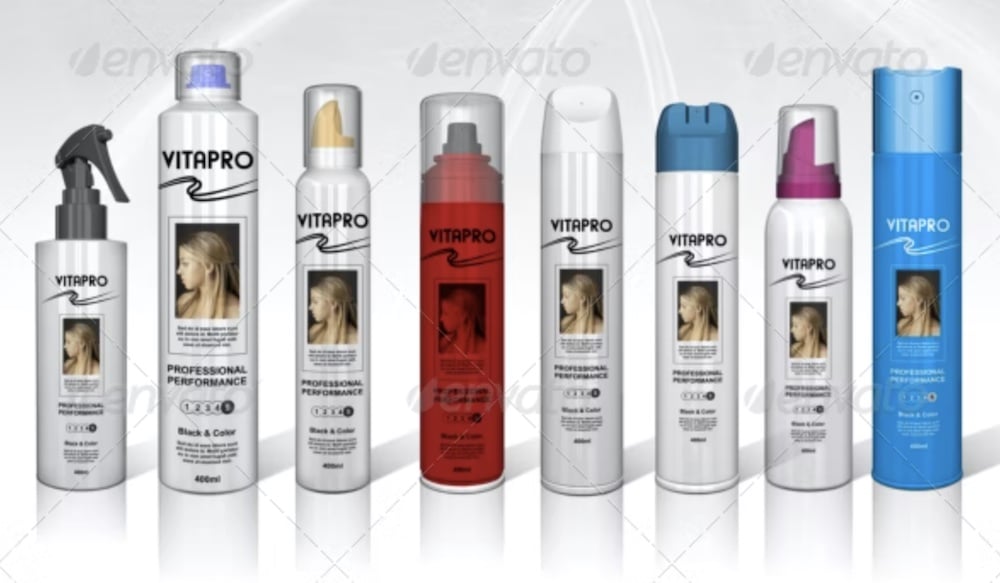 I highly ENDORSE you use this batch of mockups when working with beauty and hairstyling businesses.
It contains a whopping collection of eight PSDs, each featuring a different bottle mockup.
To top it all up, each bottle is 100% adjustable, working with light and dark colors and any other in between.
One mockup set for so many projects saves you a lot of time and effort. Enjoy.
Price: $9
MORE INFO / DOWNLOAD
Best Free Spray Bottle Mockups
There's always time to enjoy some freebies in your life, RIGHT?
14. Free mini spray bottle mockup PSD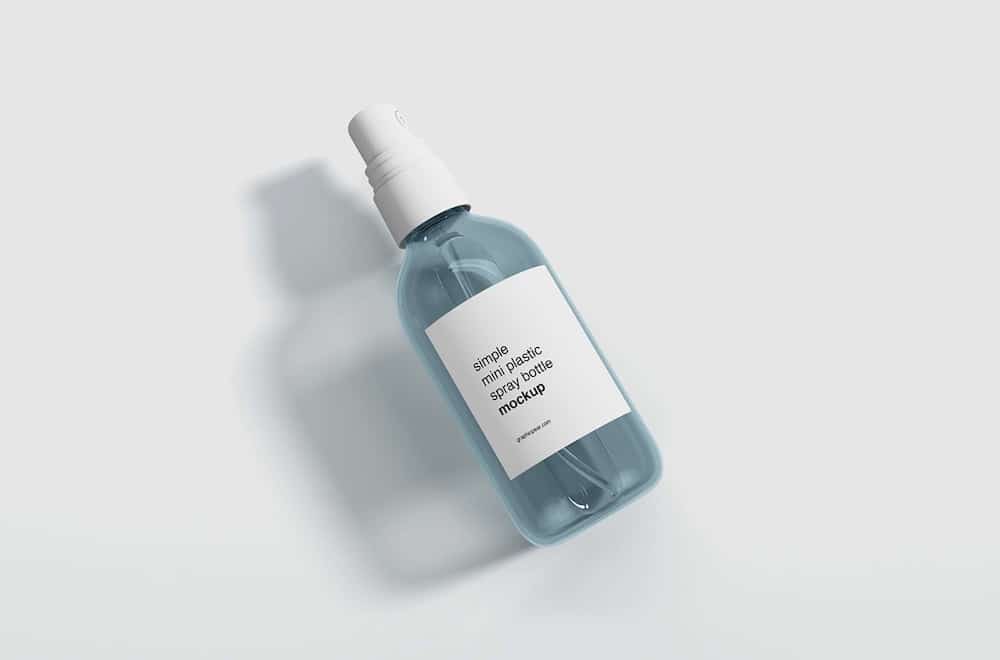 This highly realistic mini spray bottle PSD template is very flexible usage-wise. It works for mists, perfumes, makeup-related products and other cosmetic items.
(Recommendation: Check out my collection of the best cosmetic bottle mockups.)
It comes as a transparent spray bottle with a label, offering excellent configurations (including liquid color).
And its 5000 x 3750px resolution makes it more PREMIUM-LIKE than free.
MORE INFO / DOWNLOAD
15. Free color spray PSD mockup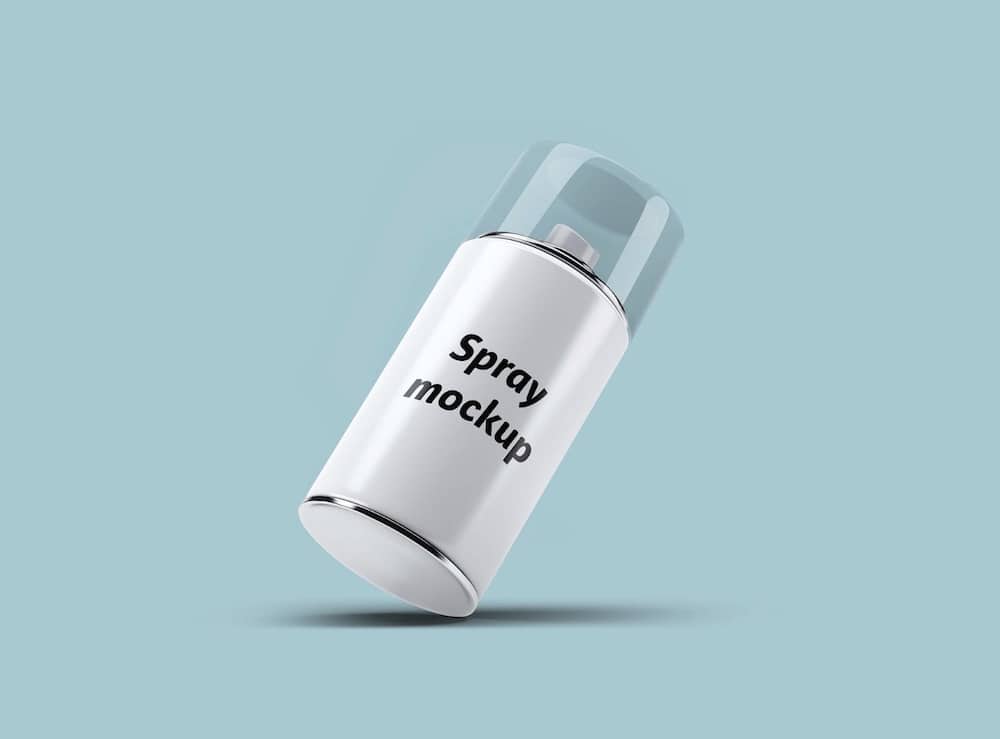 Okay, you probably won't add a design like this on your color spray can mockup project. But if you do, well, it can STAND OUT very nicely.
Minimalist.
Anyhow, the great quality of the mockup ensures a photorealistic solution that works great for visualizing the final creation.
Also, the PSD is available for personal and commercial projects.
Now get creative and make your version because it's SO fast and SO fun.
MORE INFO / DOWNLOAD
16. Free glass cleaner spray mockup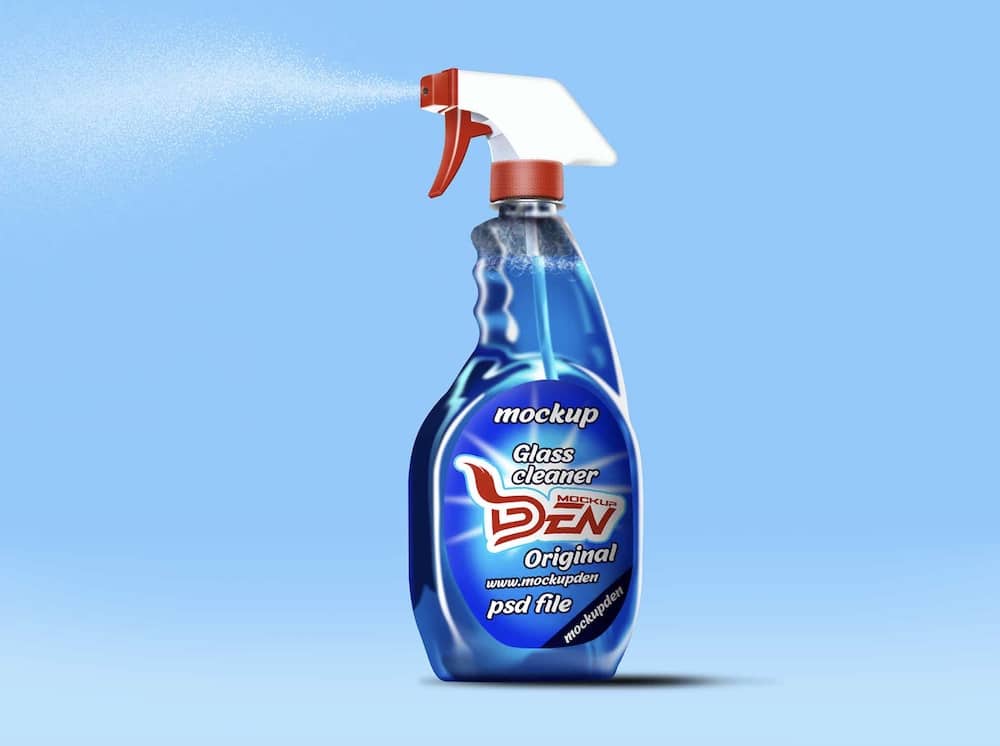 If you want a glass cleaner spray design to be more attention-grabbing than others, test your creative ideas with this free PSD mockup.
You can much more clearly picture the physical product.
It's also a great way to perform any final touches before the production. Test it endlessly!
The organized structure is also FANTASTIC because it guarantees a speedy workflow (beginner-friendly).
MORE INFO / DOWNLOAD
How To Easily Create A Spray Bottle Mockup?
One of the fastest ways to create your presentation of a spray bottle is with an online mockup generator.
I use it regularly, so I recommend you do it, too, because you'll save a lot of time.
Make A Spray Bottle Mockup In 5 Steps:
Step 1: Go to Placeit, where you can search for your favorite template. (There aren't many, so you'll find the right one much easier.)
Step 2: Once on the mockup page, hit the "insert image," which allows you to import a design directly from your device. What I like about Placeit is the option to create a mockup with a smartphone. You can play with it wherever you want.
Step 3: You can reposition and resize your design to find the perfect fit and then click "crop."
Step 4: You can now activate other functions, like changing the color of the bottle and the background and adding a text overlay. It's even possible to insert a custom graphic.
Step 5: Press the "download" button and take your mockup anywhere you want.
This is a very simplified process of creating mockups without Photoshop.
But what about when you decide to use a PSD template?
It's easy, too!
Import the mockup into PS and search for the convenient smart object layer. This layer allows you to drag-n-drop your design, and it'll do all the magic instead of you.
You then have other customization capabilities to create an outcome exactly to your liking.
This is where a PSD mockup differentiates from a generator – it gives you more creative freedom.
Spray it!
::
Note: This article was originally published on May 12, 2022. But our team regularly reviews it and updates it with necessary improvements for accuracy.