Are you ready to create the best realistic presentations with these epic cosmetic mockups?
This collection was in the works over the past year and a half and included 20+ clients.
I wanted to spend extra time creating the ABSOLUTE BEST collection that covers everything.
This list has it: cosmetic bottles, jars, mascaras, makeups, lotions, skincare, you name it!
You're welcome.
Also, I included the best mockup generators and layered PSD files.
The best of both worlds, but all are 100% user– and beginner-friendly.
This post covers:
Make your cosmetic products and packaging shine NOW.
Best Cosmetic Mockup Generators
Nothing beats a high-quality mockup generator that you can get for $7.95 (and start for FREE).
But go for a monthly ($14.95/month) or yearly ($89.69/year) subscription to save money if you'll work on multiple projects.
Note: Generators are ideal to make mockups without Photoshop.
1. Dispenser bottle & cosmetic jars mockup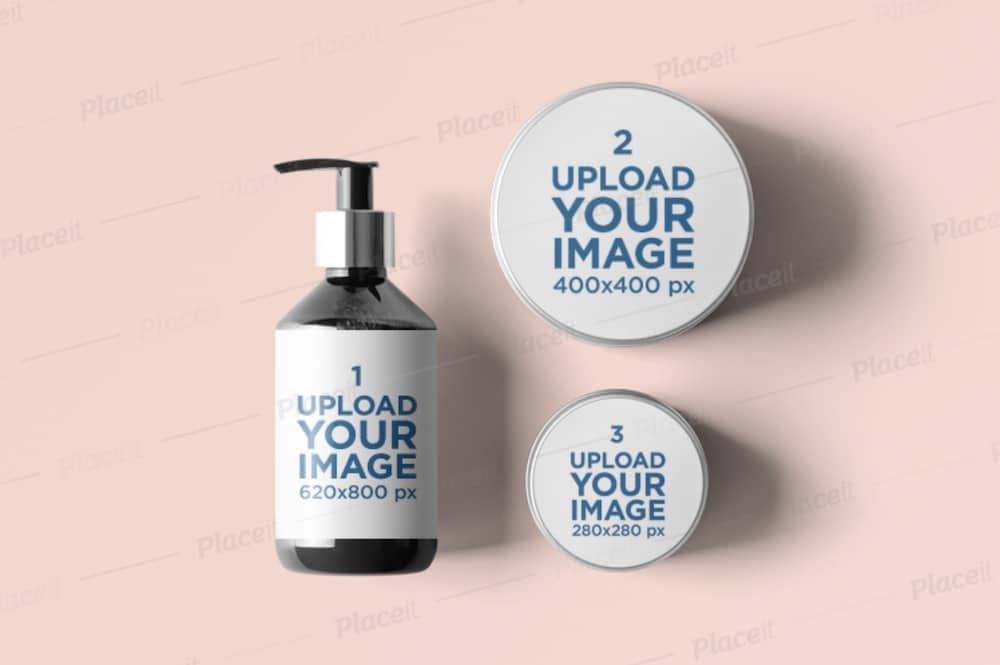 I was really excited to come across this mockup since I spent hours looking for one with two jars and a dispenser bottle.
Luckily, this one took care of my needs. And what's BEST, I created a neat presentation in a few clicks.
I even uploaded a custom background just because the generator allowed me to.
Simple. But powerful!
MORE INFO / DOWNLOAD
2. Mockup of a small cosmetic tube

Minimalism is always my first approach to any cosmetics presentation for my clients. And this mockup came in very handy when working on a new cosmetic tube design.
It offered just the right configuration settings to style an outcome precisely to my liking. You can change the color of the tube, the cap and the background.
Pick a background from the available templates or upload your own. Plus, you can also include some text. And, of course, slide in your design!
GO.
MORE INFO / DOWNLOAD
3. Long cosmetic tube & packaging mockup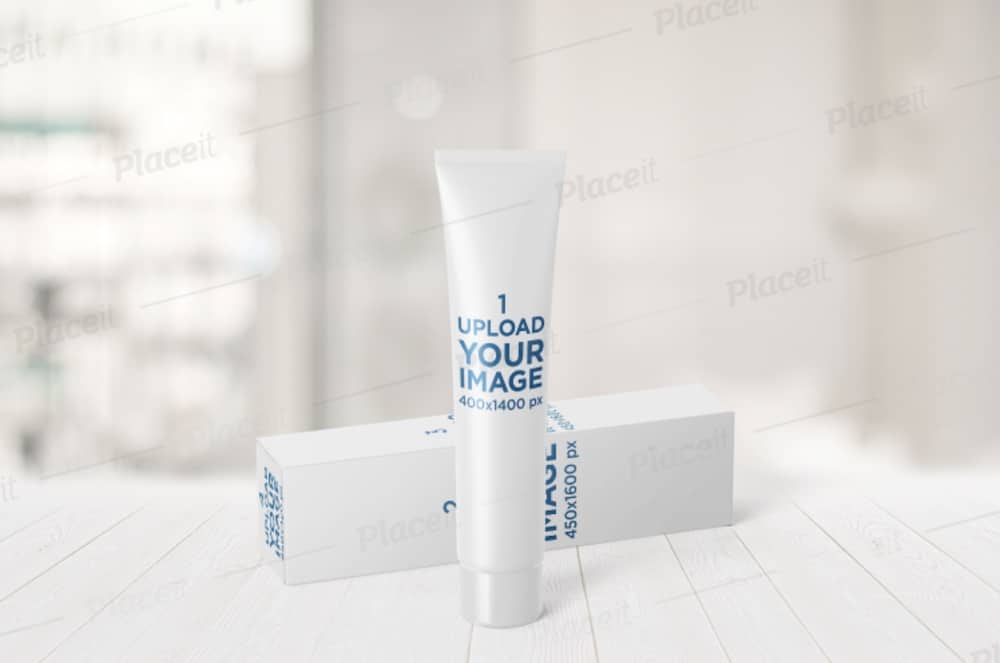 If you're looking for a thin cosmetic tube and packaging mockup with a LIFE-LIKE backdrop, you better drop everything and enjoy this one.
Its light background ensures to make your design pop more.
What's best, you can fully test things out on Placeit before fully committing.
Note: You can add one design to the tube and three side designs to the vertical box.
MORE INFO / DOWNLOAD
4. A set of cosmetic bottles mockup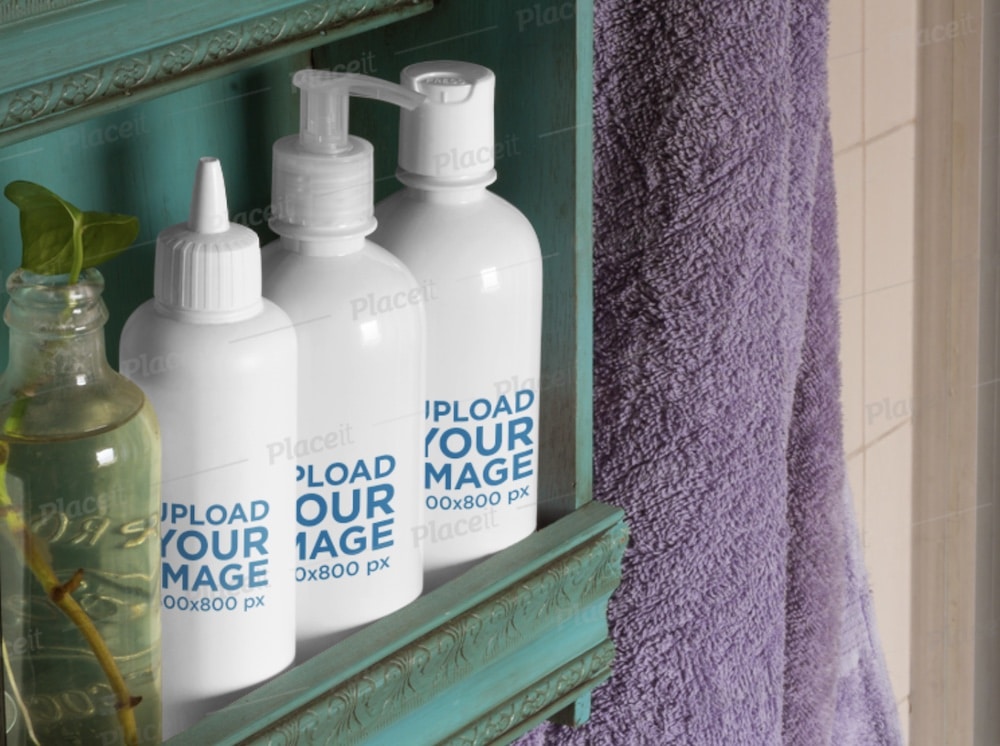 Three different cosmetic bottles are ready to rock your design.
The photorealistic effect and high-quality resolution make this template stand out regardless of where you publish it.
Hint: It works great on social media!
The only downside is that you can upload only one design, which appears on all three bottles.
It would be AWESOME to add three, one for each. But it still worked so well for me that I just needed to add here.
MORE INFO / DOWNLOAD
5. Cosmetic bottles in bathroom mockup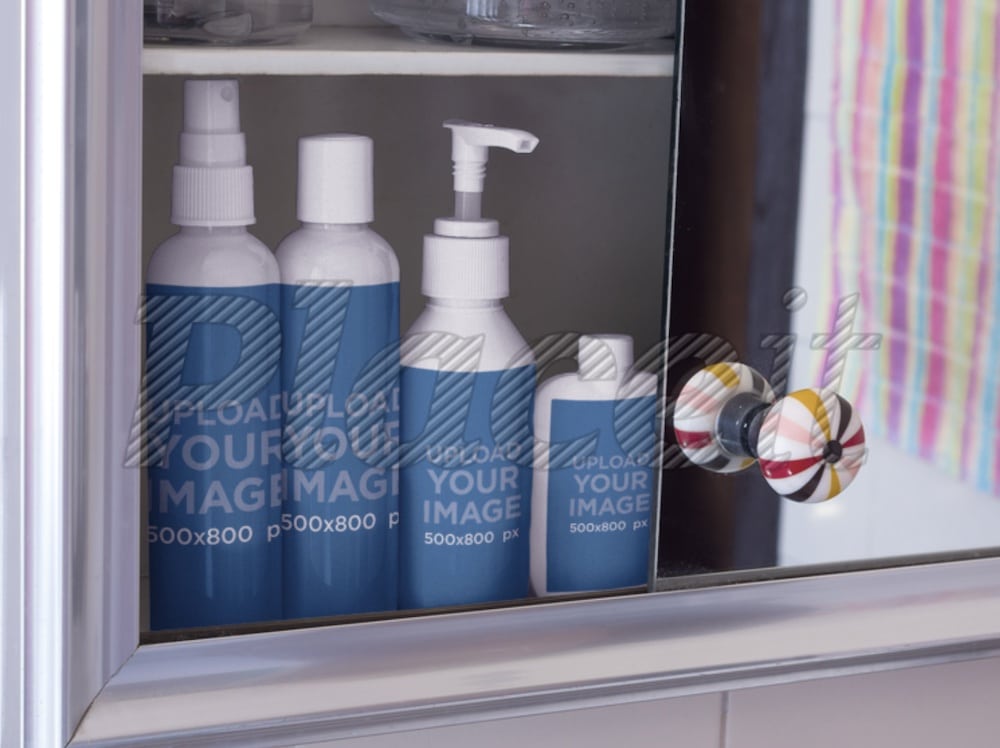 It takes very LITTLE TIME and just a few clicks to make something special out of this excellent cosmetic mockup.
One click to change the bottles' color. One click to insert your image or design. And one click to add (optional) text.
Yes, that's really it! I created seven variations in less than 60 seconds (with predefined designs and logos).
MORE INFO / DOWNLOAD
6. Mockup of a small plastic lotion bottle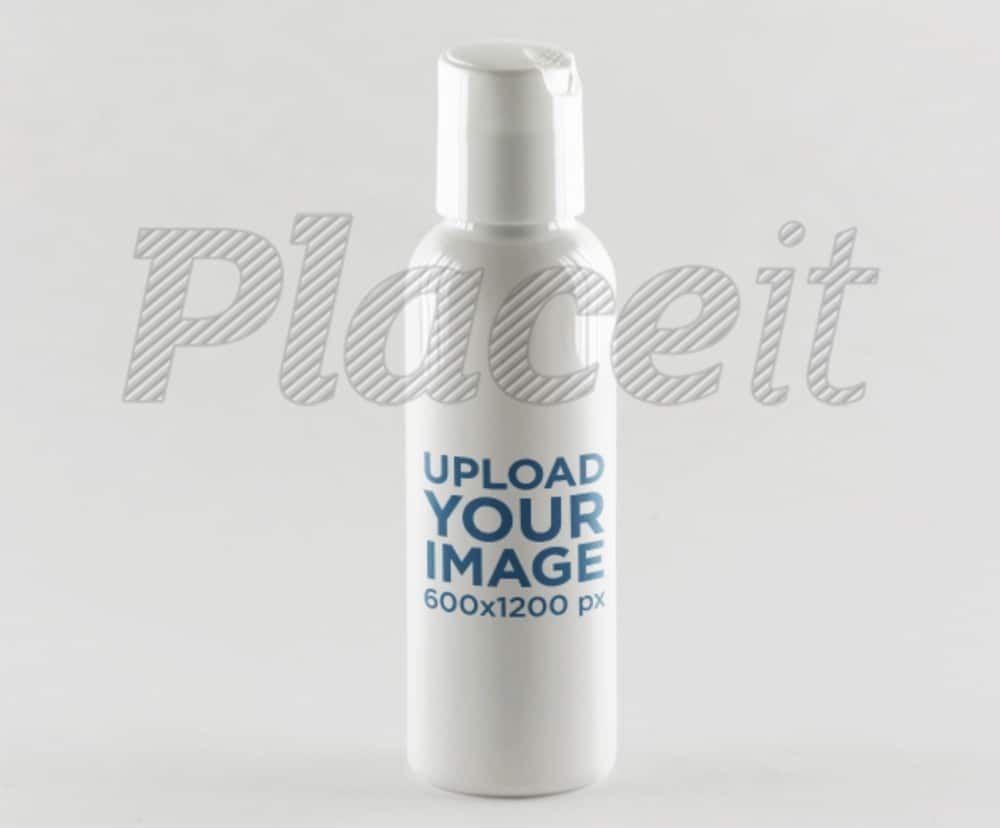 This small lotion bottle mockup is ready for all your creative ideas. You can use it to showcase your client the potential final product or even in an online store.
Thanks to great customization functions, you can change colors, import design and include a CTA text.
I created a few slight design variations, which helped me pick the winner.
MORE INFO / DOWNLOAD
7. Mockup of a woman with a dropper bottle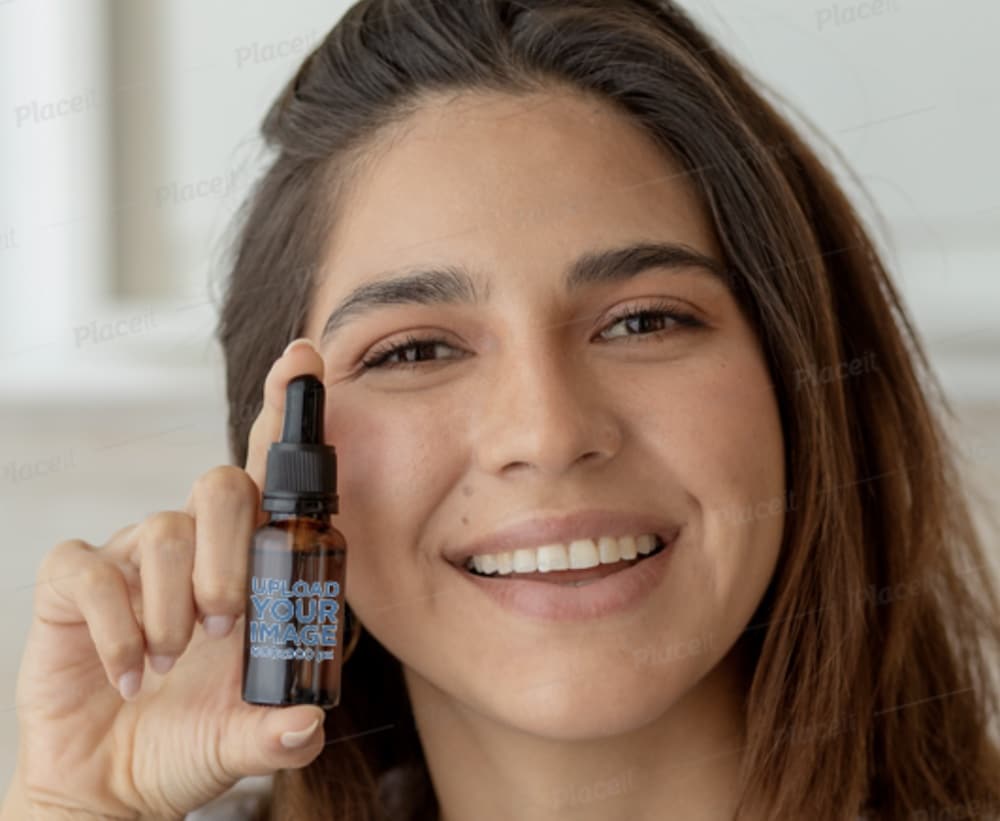 I used this domestic mockup when I needed to create packaging for a serum.
It worked really well for many reasons. Two of which are 1) female model and 2) she smiles and "looks at you." Such an attention-grabber, which is always a BIG PLUS.
Test it out and see how well it will perform for yourself.
MORE INFO / DOWNLOAD
Best Cosmetic PSD Mockups
8. Mascara mockup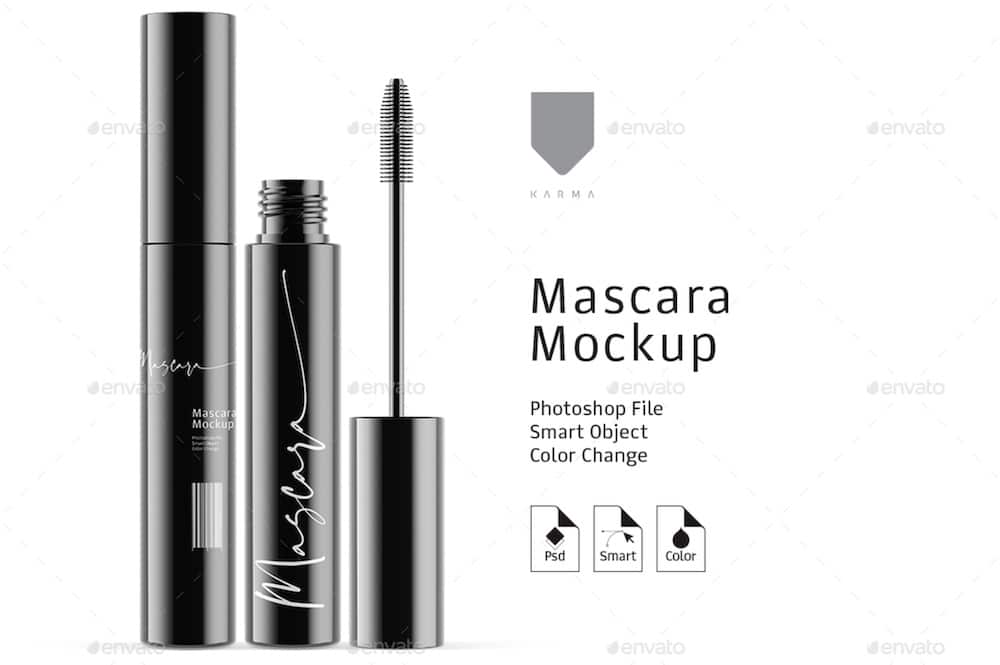 Creating a custom mascara presentation for your client happens instantly with this mockup. You get one high-quality file (5500 x 5500px), which ensures great detailing.
And you can edit everything! Even changing the liquid color is possible.
Plus, you can play with a CUSTOM background and implement the gold layer (which looks really good on black!).
Price: $9
MORE INFO / DOWNLOAD
9. Makeup packaging mockup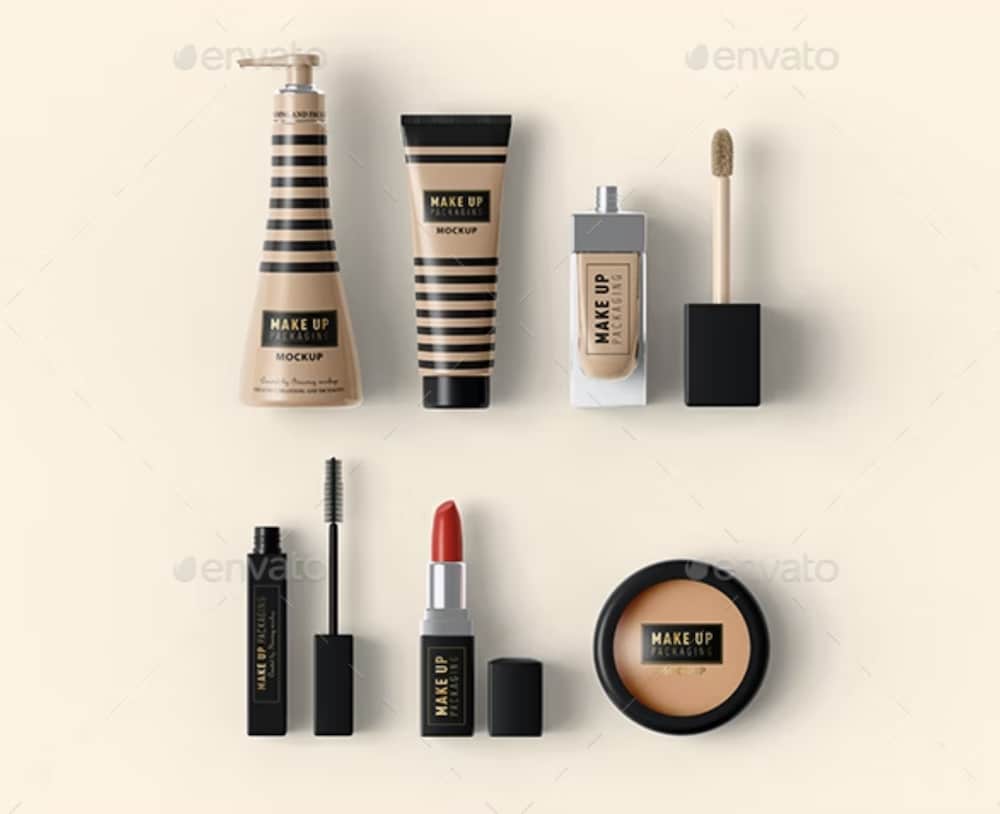 Coming up with a full branding for a client's cosmetic business happens much easier than you think.
These PSD templates have everything you need for a TOP-NOTCH and life-like outcome.
Each of the five files is 7700 x 5000px in dimension, which is ridiculous. This ensures a crisp-clean showcase even if you have the most detailed designs and logos.
Test it and you'll see the magic happen.
Price: $10
MORE INFO / DOWNLOAD
10. Lipstick mockup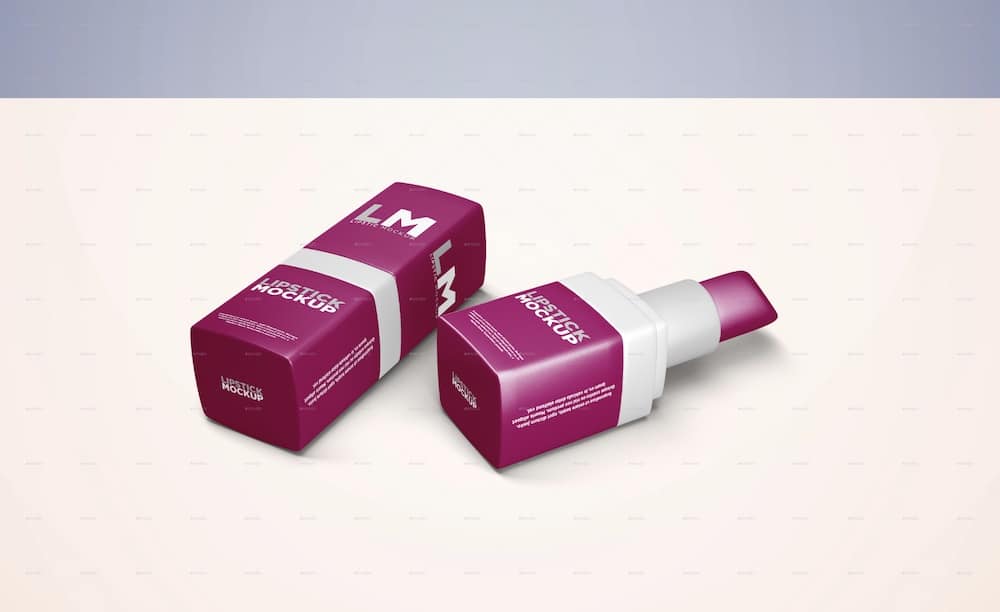 Adding lipstick to these best cosmetic mockups makes absolute sense. (You have two more styles below.)
This one unlocks access to ten layered PSD files with excellent editing via smart objects.
You can create MULTIPLE variations in a few clicks as I did, so you can then compare them with your client and pick the winner easier.
The only thing that's not editable is the shape of the lipstick and packaging – all the rest is!
Price: $4
MORE INFO / DOWNLOAD
11. Lipstick PSD mockup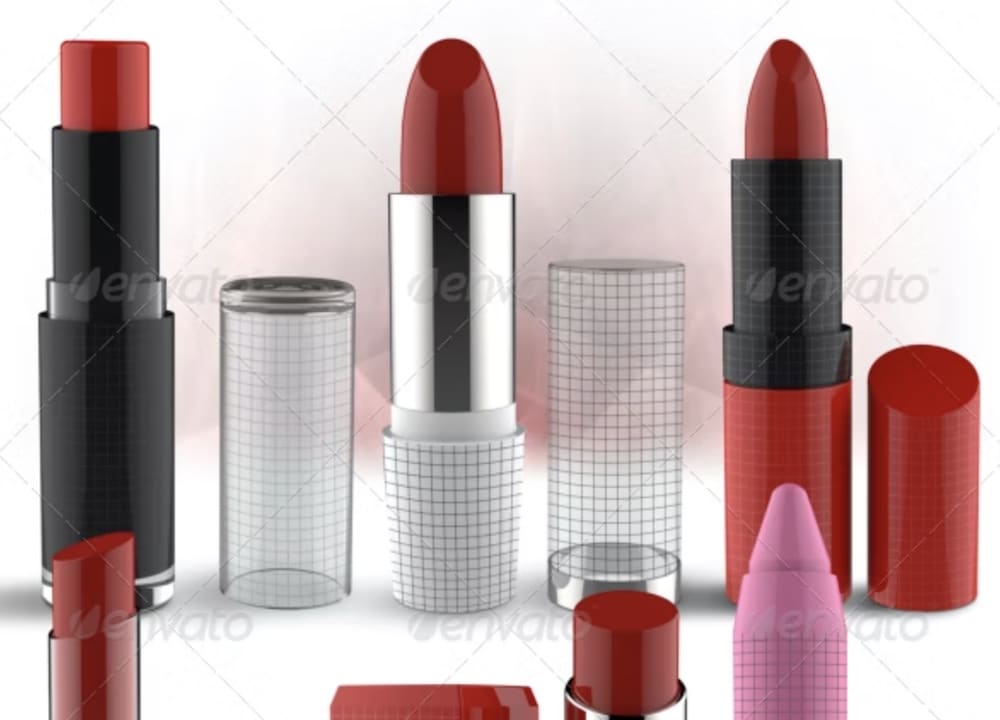 I highly suggest you pick this mockup bundle for different lipstick shapes and styles.
The set covers many options and possibilities with its eight PSD files (4000 x 3700px).
Sliding in your logos and designs is effortless, thanks to smart objects. Plus, you get a PDF help file if you're working with mockups for the first time.
But it's SO SIMPLE!
Price: $9
MORE INFO / DOWNLOAD
12. Cosmetic bottles mockup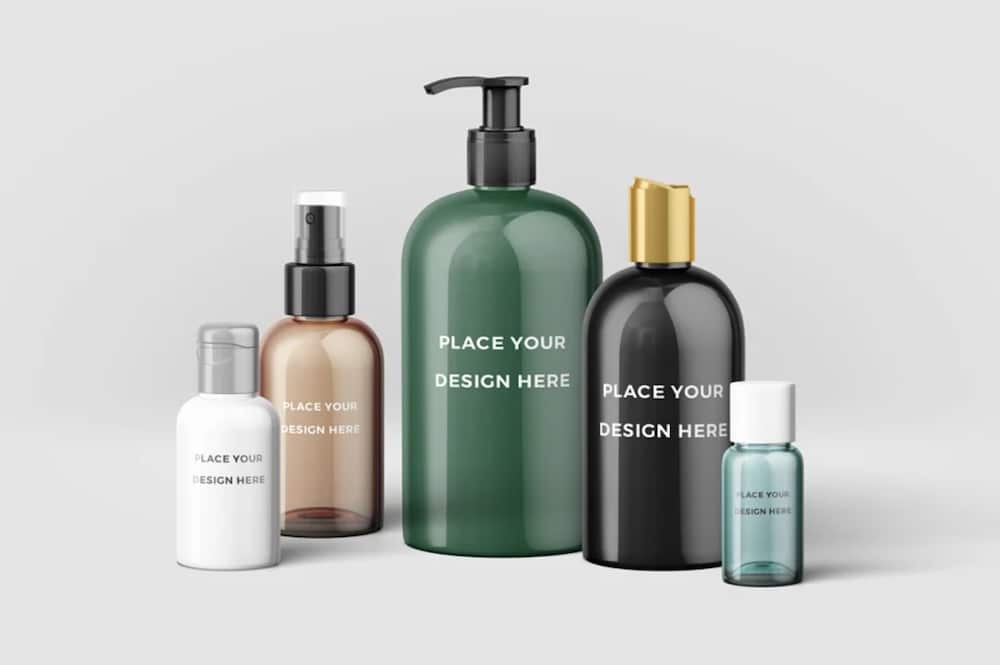 The set comes with five bottles and multiple options for customization. You can even move elements around, creating truly your outcome.
And you ONLY NEED mouse skills to make things happen. I really enjoyed moving and removing caps, which is a unique feature.
There are six different variations of caps, like lotion pump, dropper, flat top, snap top, and more.
Enjoy.
Price: $9
MORE INFO / DOWNLOAD
13. Glass cosmetic jar mockup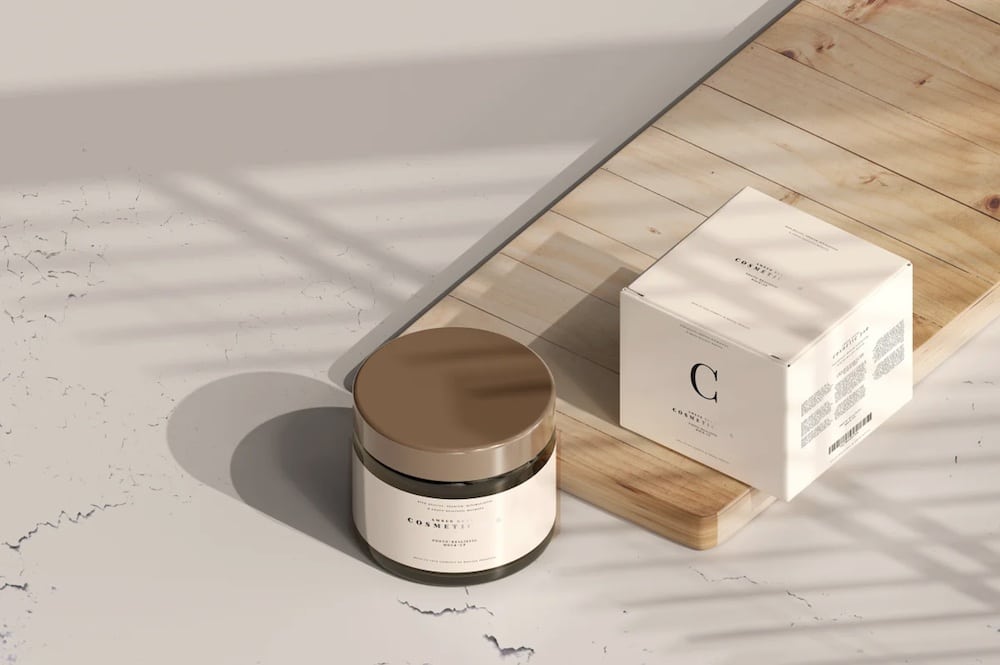 This is – FOR SURE – one of the most beautiful cosmetic jar mockups I found. And it works in creating your version so exceptionally well.
It's so realistic that no one will tell it is. Mainly because everything is adjustable to create the version you want comfortably.
Plus, the 5K resolution will make everyone go WOW.
You can use this one anywhere and enjoy the fantastic response on social media, in blog posts, and in newsletters.
Price: $9
MORE INFO / DOWNLOAD
14. Skincare packaging mockup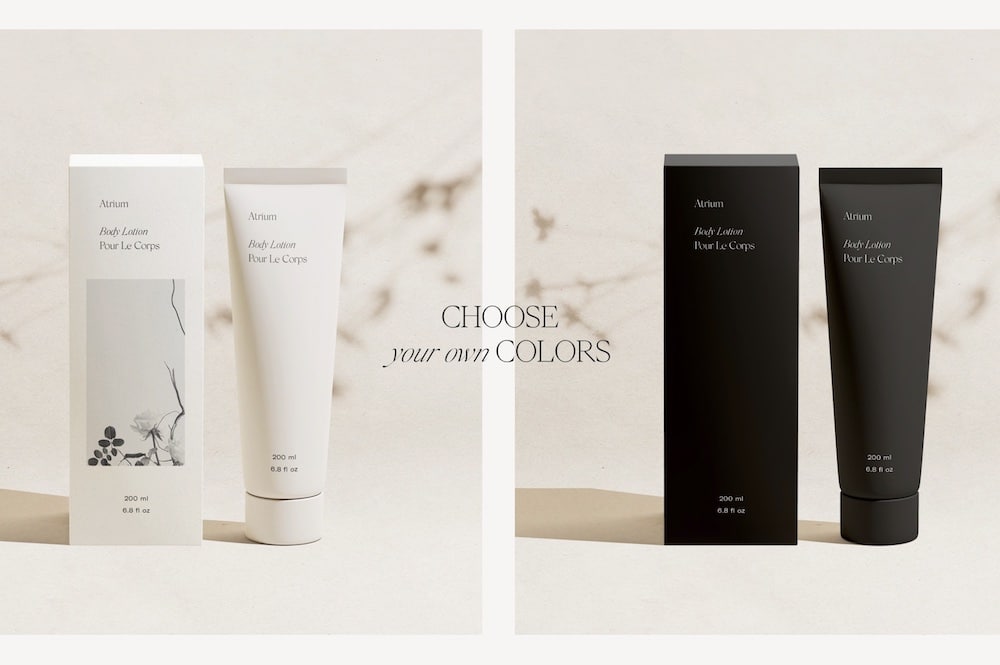 I was searching for the suitable mockup set when working with a skincare brand and was so excited when first saw this one.
As soon as I tested it and shared my creation with my client, they were stoked.
But not as stoked as I was because it saved me so much time.
The kit includes one main PSD file with twelve additional scenes that you can use as-is or edit further.
Price: $35
MORE INFO / DOWNLOAD
15. Face primer mockup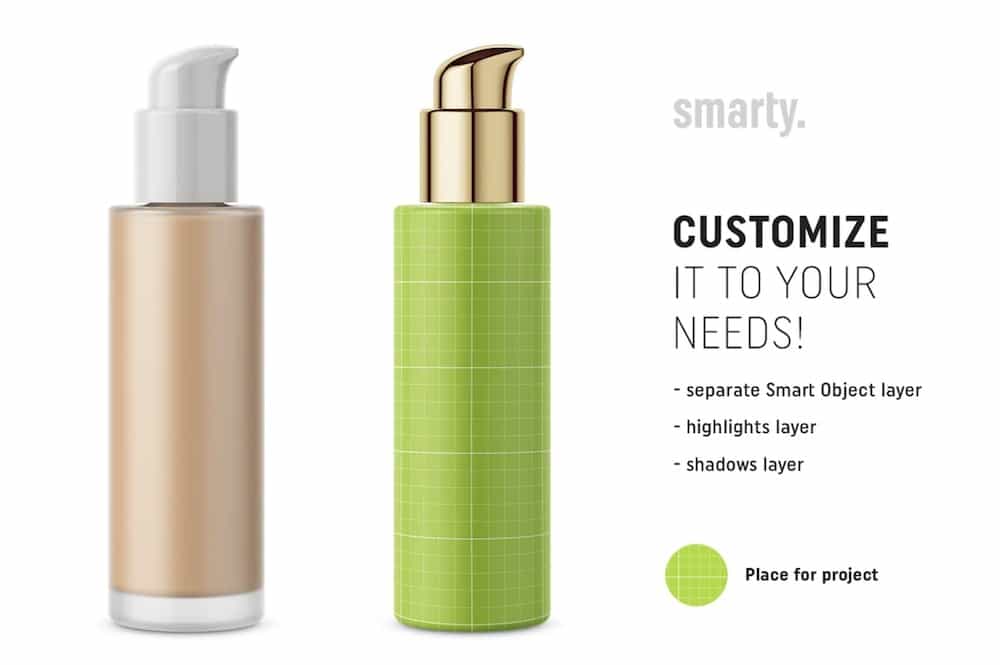 My goal with these cosmetic mockups was to include as many different ones as possible. And I know there are many out there working on a custom face primer packaging design.
Here you go.
Don't do it from scratch because you don't have to. A high-quality PSD template is ready to realistically display your idea(s).
I like the option of using it with or without the cap. Adjust shadows and highlights, too, and ENJOY making a zoomed-in version.
Price: $9
MORE INFO / DOWNLOAD
16. Eyeshadow palette mockup set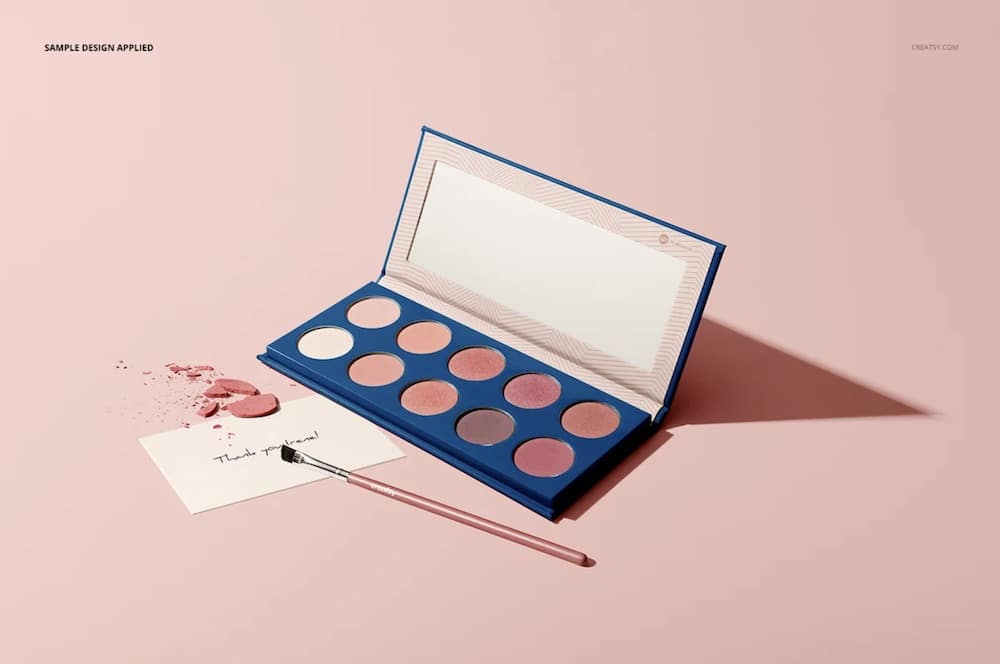 Another one that I was so HAPPY to find because I just couldn't find time to create it from the ground up. Plus, I probably wouldn't even do it as awesome as this one is.
And to make it even better, there are eight mockups to create the ultimate eyeshadow palette presentation.
You can change and edit everything, including the business card, which you can use as a thank-you note or anything else.
Background also supports custom colors or patterns, whatever your heart desires.
Price: $20
MORE INFO / DOWNLOAD
17. 100+ Cosmetic mockup collection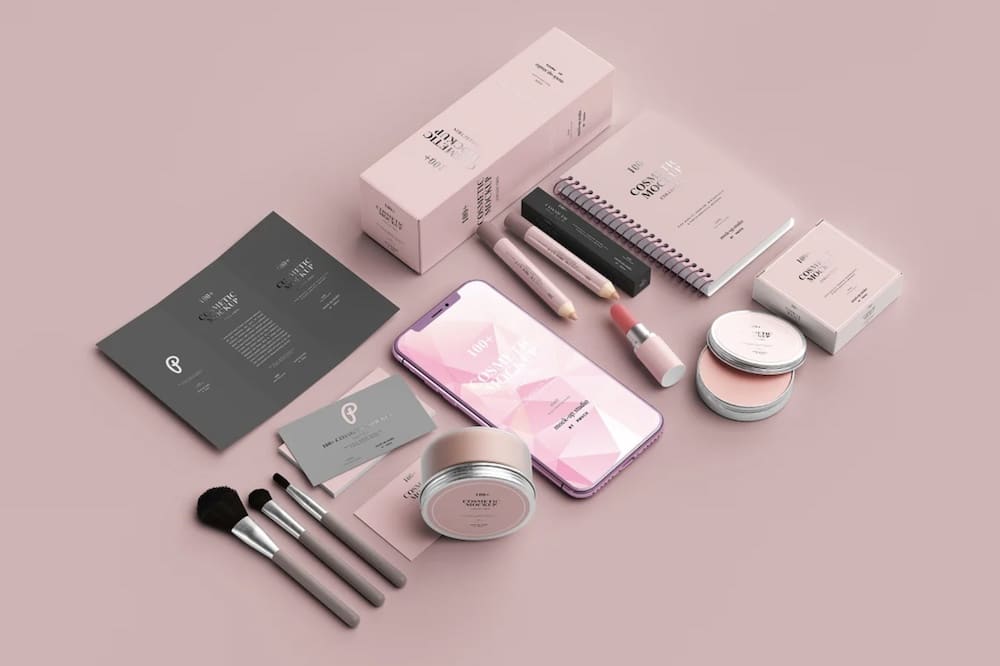 After spending a lot on cosmetic mockups to simplify and boost my workflow I then come across this one. I so hoped I'd see it EARLIER!
100+ mockups in one kit? Covering everything in the cosmetic space? Easy to use and extremely high-quality?
Yes, Yes and YES!
You absolutely need this bundle if you plan to work regularly in the cosmetic industry. That's it. I don't need to say anything else. Go.
Price: $39
MORE INFO / DOWNLOAD
18. Matte lipstick mockup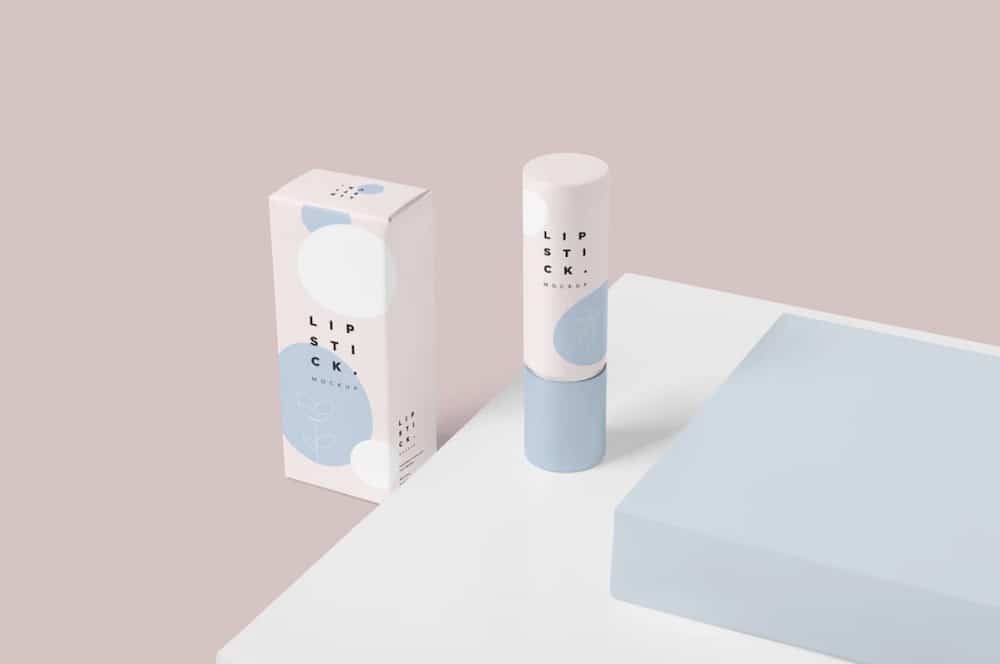 5 lovely matte lipstick mockups are ready and set to put them to use. Create a stunning branding presentation of packaging with all the unique DETAILS and EFFECTS you'd like to add.
Every element is on a separate layer, which ensures an easy workflow for beginners and pros.
Hurray for smart object layers and the quick drag-n-drop technique to attach your designs and logos.
You got this!
Price: $9
MORE INFO / DOWNLOAD
How To Easily Create A Cosmetic Mockup
Whether you're a beginner or an expert, you don't have to undergo many steps to create the best realistic presentation of cosmetic products.
The simplest way is to use a mockup generator.
I highly recommend Placeit because I've worked with it on 100s of projects, and I'll continue to work on 100s more.
It takes you seconds to create your version (of course, if you have the design(s) ready).
Here's how you do it.
5 Steps to create a cosmetic mockup:
Step 1: Visit Placeit and search for "comsetic mockup." When you start typing, the live results will come up with recommendations for bottles, jars, etc. Pick yours and search.
Step 2: The search results will deliver a bunch of really awesome templates that you can work with. Browse and choose the one that works for your project best. Don't worry; you can always go back and select a different generator.
Step 3: Once you're on the cosmetic mockup page, you have the option to upload your image (read logo, design, pattern) directly from your device. Fun fact: You can also work on your life-like presentation using your mobile device. After the upload is done, the crop window allows you to perform additional tweaks to your design.
Step 4: The next and final "hard" work is to change the colors of the product and background, add graphics, and even write a text overlay. All this happens in a few clicks!
Step 5: Your mockup is ready to download!
You see, I told you that working on a realistic presentation of a cosmetic product is a piece of cake.
And do you know what's the best?
You can finish the project for free and only pay for it when you're satisfied with your creation and ready to download it.
You're in total control.
::
Note: This article was originally published on April 13, 2022. But our team regularly reviews it and updates it with necessary improvements for accuracy.