Do you want to learn how to make a business card mockup?
I bring you a complete (and quick) guide to get it done with and without Photoshop.
What a time saver!
(I learned it the hard way, so you don't have to.)
If you need to present a business card design to a client or if you want to see how your design will look on a business card, you'll need a mockup.
No need to build it from scratch, though.
This post covers:
The good news is that you DON'T HAVE TO download any expensive and complicated software to create a high-quality business card mockup.
All you need is Placeit (read: online mockup generator).
How To Create A Business Card Mockup (Without Photoshop)
Placeit makes it easy to make a mockup in 5 simple steps. Making mockups without Photoshop is a dream come true for many – newbies and pros.
I'm a fan!
Yup, my FAV process.
Step 1: Visit Placeit
The first step to make your business card mockup is to choose a design template from Placeit.
So, go to Placeit and then click on Mockups > Business Cards. (Or just click on the link.)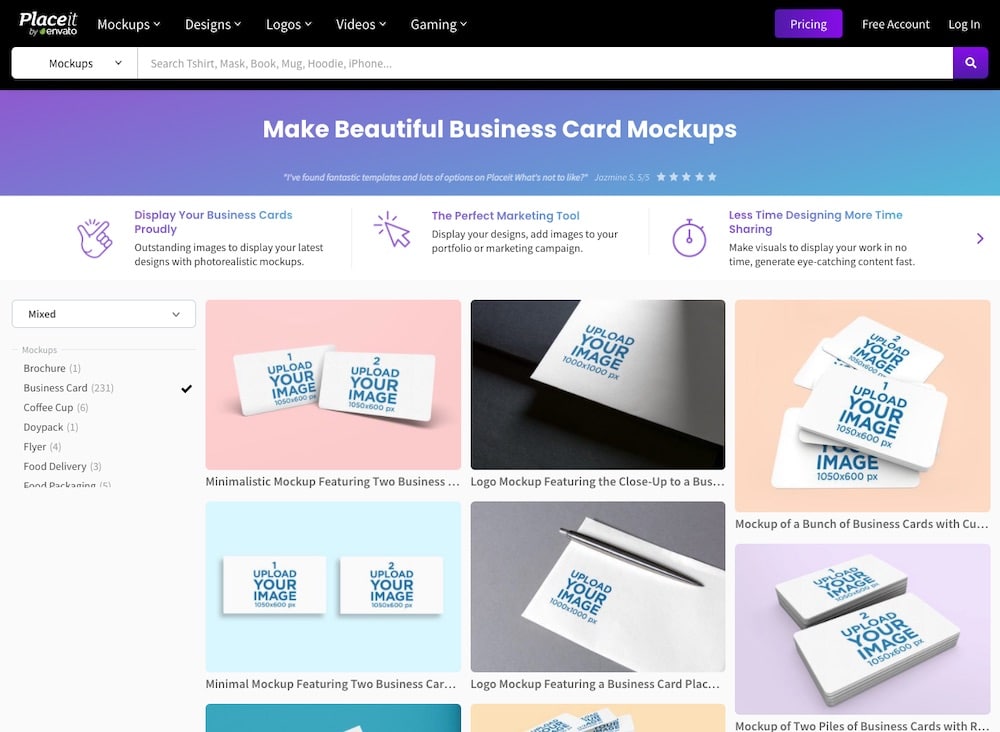 This reveals all the available business card designs.
There are many!
But, you can browse through them as is or you can use the filtering options on the left to NARROW DOWN your search.
Step 2: Upload Your Business Card Design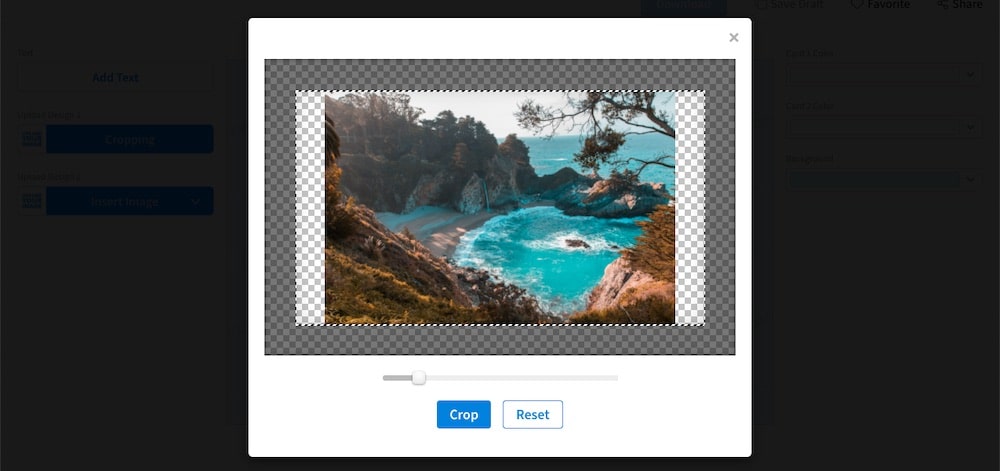 Once you've found a design you like, select it and click on it.
Simple.
You can then upload your business card design.
In this particular example, you can upload the same design or you can upload a front and back design or two different designs altogether.
Note: You can change the design as many times as you want.
Plus, you can even use your mobile device! (Epic, I know.)
Step 3: Adjust The Crop
You can adjust how your design shows up on the business card during the upload process.
Simply drag the sliders to adjust how the crop is positioned and how it fits onto the business card.
Press the Crop button and Placeit will add the design to the mockup image when you're satisfied with the adjustment.
This ensures your design FITS PERFECTLY onto the card.
Need help with design ideas? I found this awesome resource of business card designs that will boost your imagination.
Step 4: Customize The Mockup Look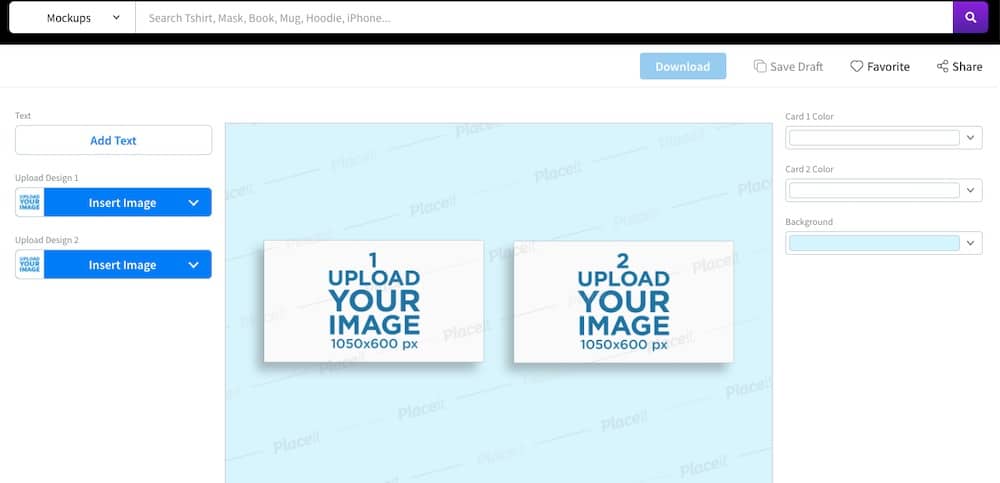 You can further TWEAK the design by customizing the color of the cards, the color of the background, and adding your text.
You can experiment with different options to see how your design would look on different colored backgrounds.
Step 5: Download The Mockup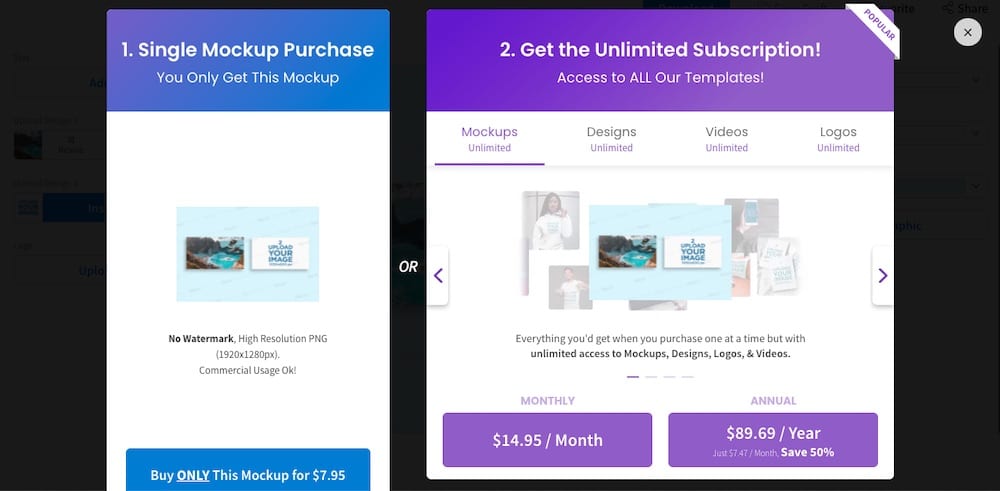 You can download your mockup once you're happy with the business card design.
That's it!
Placeit gives you two options:
Download the single mockup for a one-time fee of $7.95
Take advantage of a monthly subscription of $14.95/mo or $89.69/year (highly recommended)
Keep in mind that the subscription makes more sense if you plan on creating a lot of mockups for your business.
The subscription to Placeit will give you the best bang for your buck if you have many products to promote or work with multiple clients.
Note: Subscription unlocks all Placeit's mockups, which you can download UNLIMITED times.
5 Top Business Card Mockups (Generators)
Now that you know how to make a business card mockup with Placeit, here are some of the top mockups available for IMMEDIATE use.
Note: Single templates cost $7.95 but Placeit also has monthly ($14.95/mo) and yearly ($89.69/yr) subscription plans.
1. Simple mockup of two business cards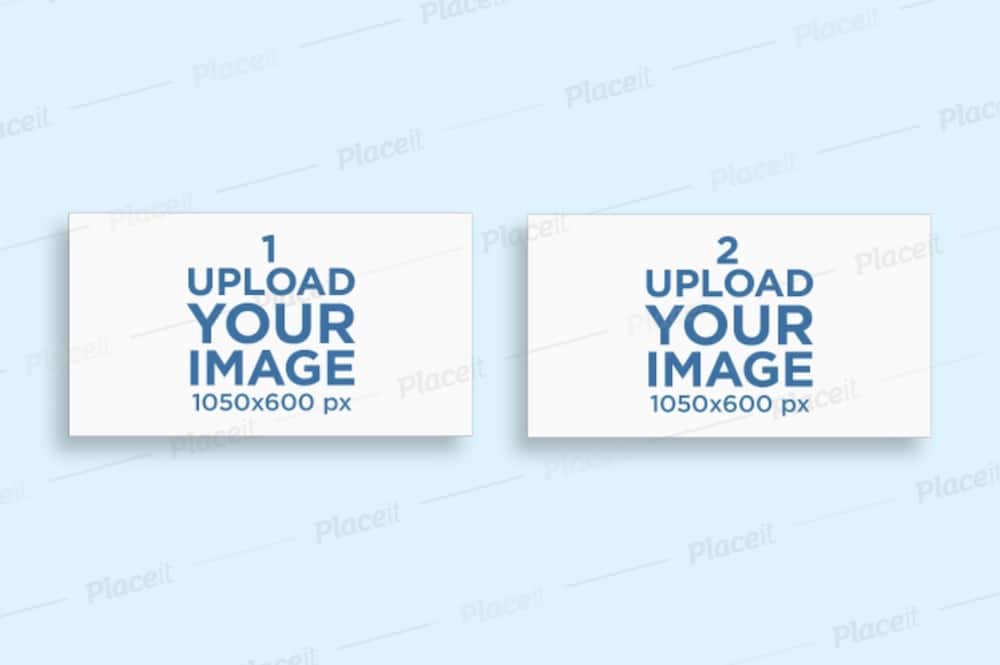 This mockup is a great choice if you want to show a front and back design of a business card.
It features two cards on a light blue (editable) background.
MORE INFO / DOWNLOAD
2. Mockup of two vertical business cards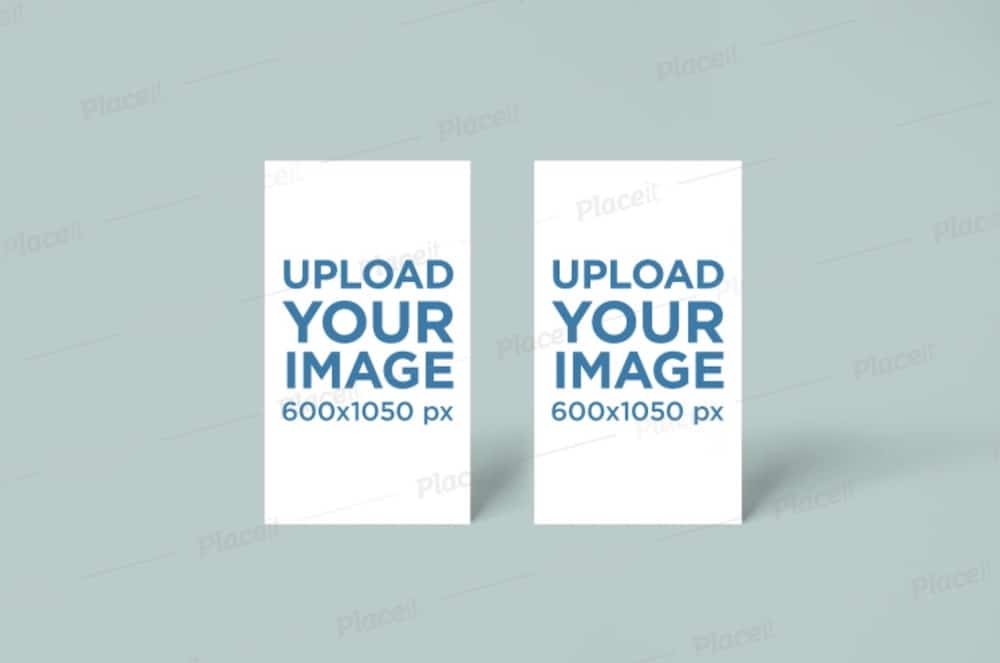 Choose this mockup if you want to present a vertical business card design. You can upload multiple designs or showcase the front and the back.
This one is actually a very popular choice.
MORE INFO / DOWNLOAD
3. Man holding a business card mockup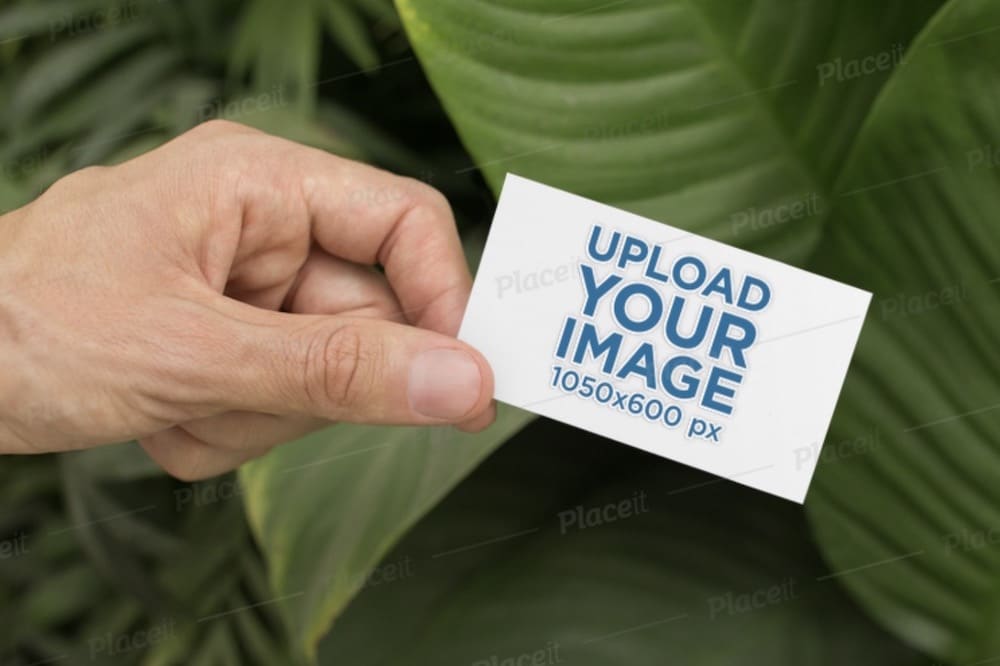 Looking for something more realistic? Then this mockup will fit the bill nicely.
It features a man's hand holding a business card against a palm tree background.
MORE INFO / DOWNLOAD
4. Mockup of a business card with varnish finish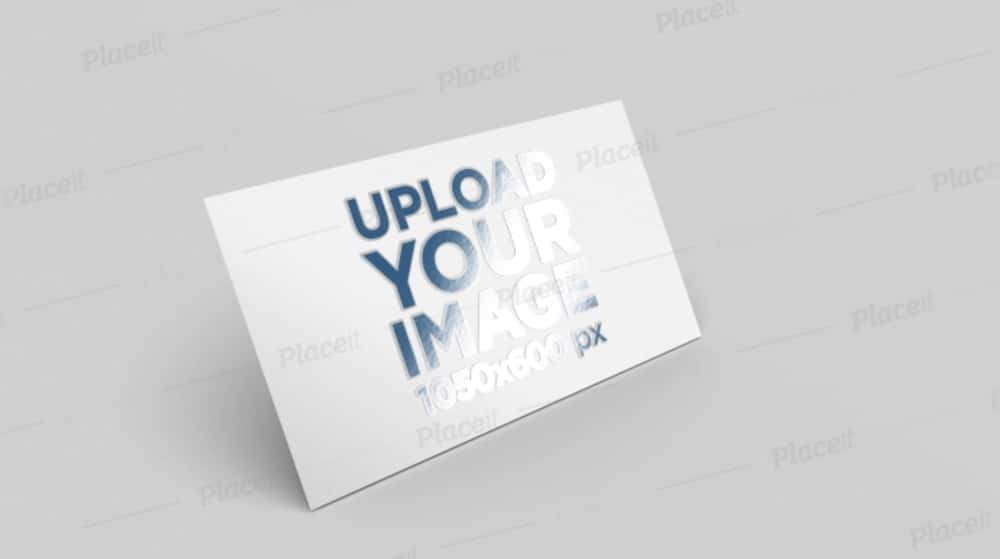 Try this mockup if you're going for a glossy look with your business card.
It's the perfect way to see how your design might look with a varnish finish.
MORE INFO / DOWNLOAD
5. Mockup with several business cards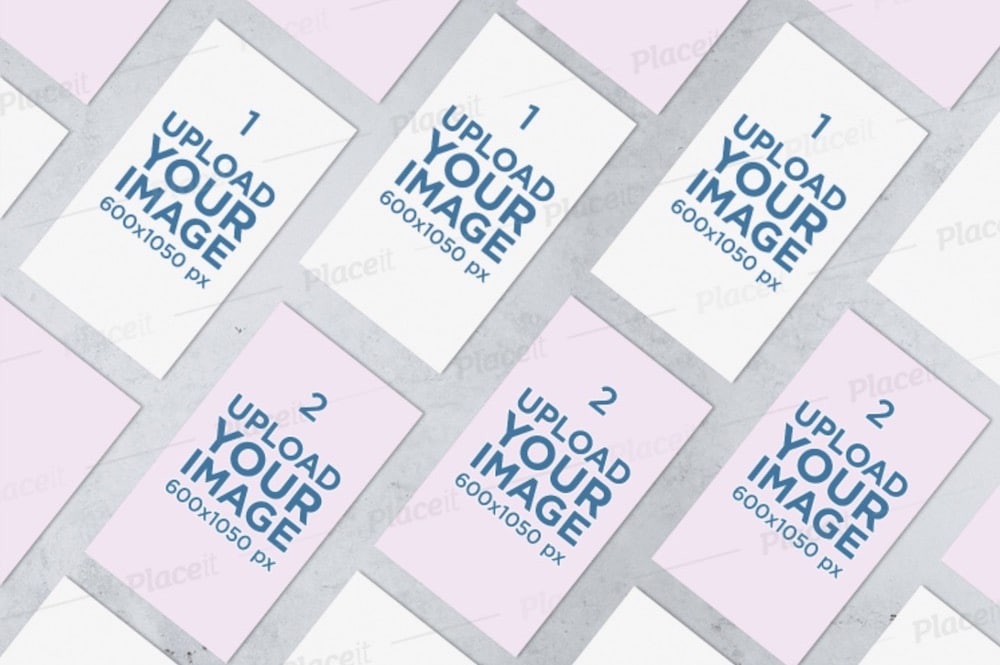 Try this mockup if you have multiple designs to present.
The mockup features several business cards so you can see which design would look best on a finished product.
MORE INFO / DOWNLOAD
BUT. There are 100s more online business card generators on Placeit. You'll find yours easily.
How To Create A Business Card Mockup In Photoshop
Placeit might not offer enough customization options if you want more control over your business card mockup.
In this case, you can turn to Photoshop to make your business card (PSD) mockup.
You have two options:
1. Use A Mockup
You can start with a business card mockup and simply upload your design using smart objects.
You can then customize the layered PSD mockup to your liking.
2. Build It From Scratch
Alternatively, you can create the mockup completely from scratch. This gives you complete control over the mockup's layout and design.
However, keep in mind that this option is also TIME-CONSUMING and might not be the best route if you're on a tight deadline.
Or a beginner.
Final Thoughts
As you can see from the tutorial above, Placeit makes it easy to make a business card mockup.
All you have to do is find your preferred template, upload your design, customize it, and you're ready to present the design to your client.
Visit Placeit today and create your business card mockup like a BOSS.
I'm going to do one now just because it's so fun.
FAQs About Making A Business Card Mockup
What software is best for creating business card mockups?
Adobe Photoshop is widely preferred for its advanced features and flexibility. However, software like Adobe Illustrator, GIMP (a free alternative), or online tools like Canva and Placeit can also be used.
How can I ensure my business card mockup looks professional?
Focus on high-resolution images, consistent branding elements (like logos and colors), clear typography, and realistic shadows and textures to mimic how the card would look in real life.
Can I create a business card mockup if I don't have design skills?
Yes, there are online mockup generators with user-friendly interfaces and pre-made templates suitable for beginners. These platforms allow easy customization without needing design skills.
Where can I find free templates for business card mockups?
Websites such as PSD Repo, GraphicBurger, and Mockup World offer a variety of free business card mockup templates. Always check the license for personal or commercial use.
What are the standard dimensions for a business card mockup?
The standard business card size is 3.5 x 2 inches in the U.S. and Canada. In other countries, a common size is 85 x 55 mm. However, always confirm the standard size for your specific region.
How do I add my design to a business card mockup?
In Photoshop, open the mockup file, locate the layer marked for your design (typically a smart object), double-click it, insert your design, adjust as necessary, and save. Your design will appear on the main mockup file. When using an online mockup generator, you upload your design directly from your device.