I have been working on reviewing the best wristband mockups this past year with many event organizers.
And I decided to share this ultimate bundle of mockup generators and PSD templates that I used (and keep using).
I especially like online generators because they are SO easy and quick to implement.
Time. Savers.
A few clicks, and you're done. That's it!
But the same simplicity applies to PSDs, just that you need Photoshop.
This post covers:
You now have everything to create the best wristband design presentation.
Best Wristband Mockup Generators
Enjoy each generator for only $7.95. But you will save a ton of money if you go for a monthly ($14.95/month) or yearly ($89.69/year) subscription – access to everything, any time!
Note: These allow making mockups without Photoshop. (Best!)
1. Silicone wristband of a woman giving thumbs up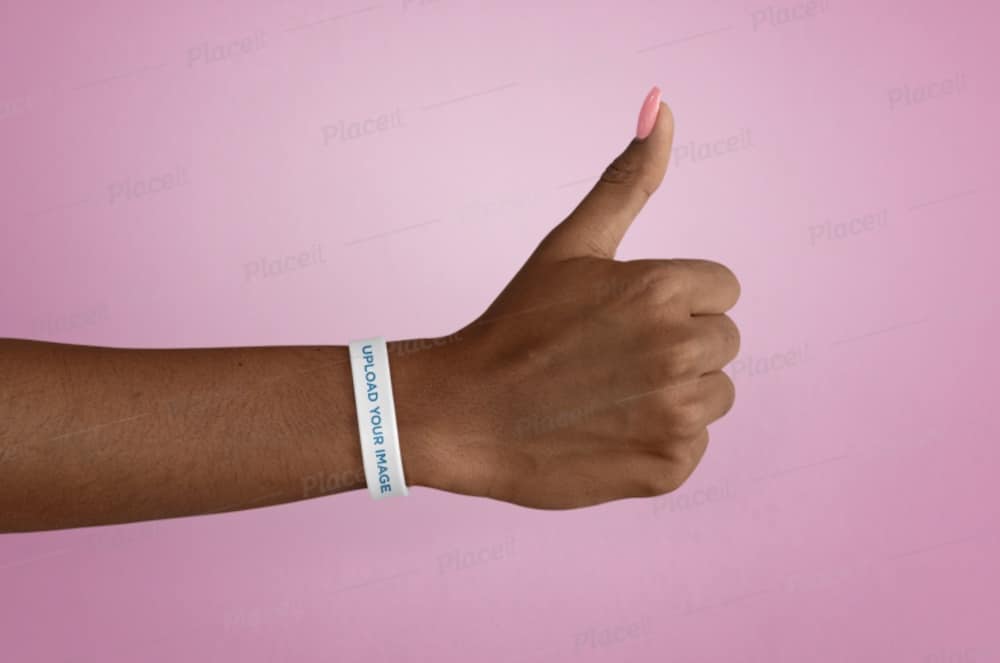 Everything will be OK with this easy to use yet powerful mockup generator! Get it?
Quick editing allows you to create as many variations as possible before picking the winner. Changing the color of the band and background takes a couple of clicks.
Upload any image your want, even include a pattern or a custom background. You can also have custom text as a call-to-action or whatever else.
MORE INFO / DOWNLOAD
2. Mockup of 4 vinyl wristbands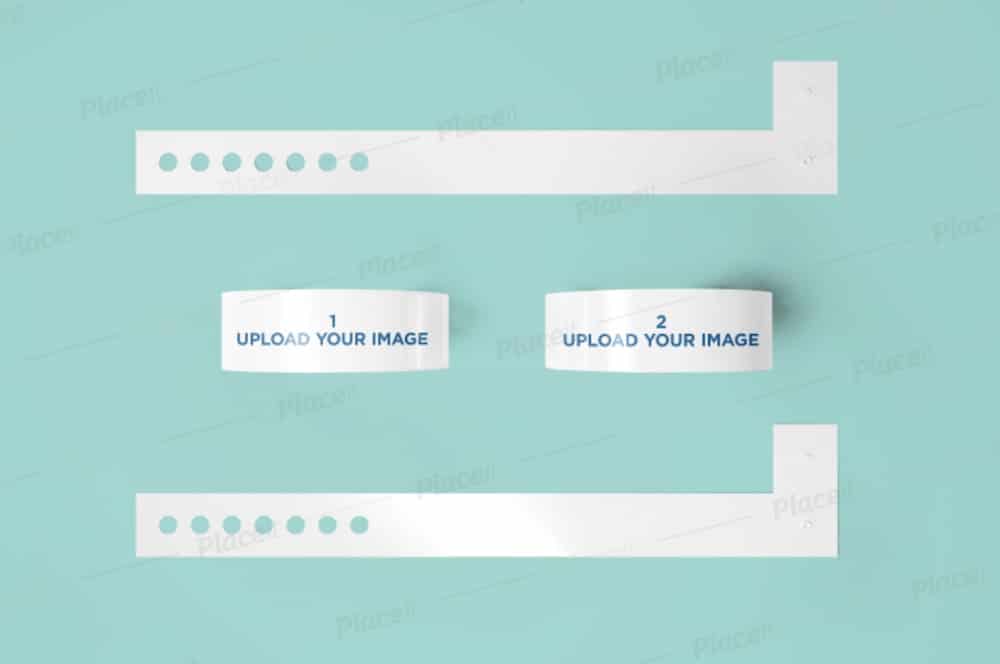 Simplicity wins every single time. I tested it so many times and it always proves the last statement right.
And this vinyl wristbands template is a perfect example of that.
You can create a fantastic presentation with two workable items (but showcase on all four!) in just a few clicks. No need to be a pro at web design!
MORE INFO / DOWNLOAD
3. Mockup of a man pointing at his wristband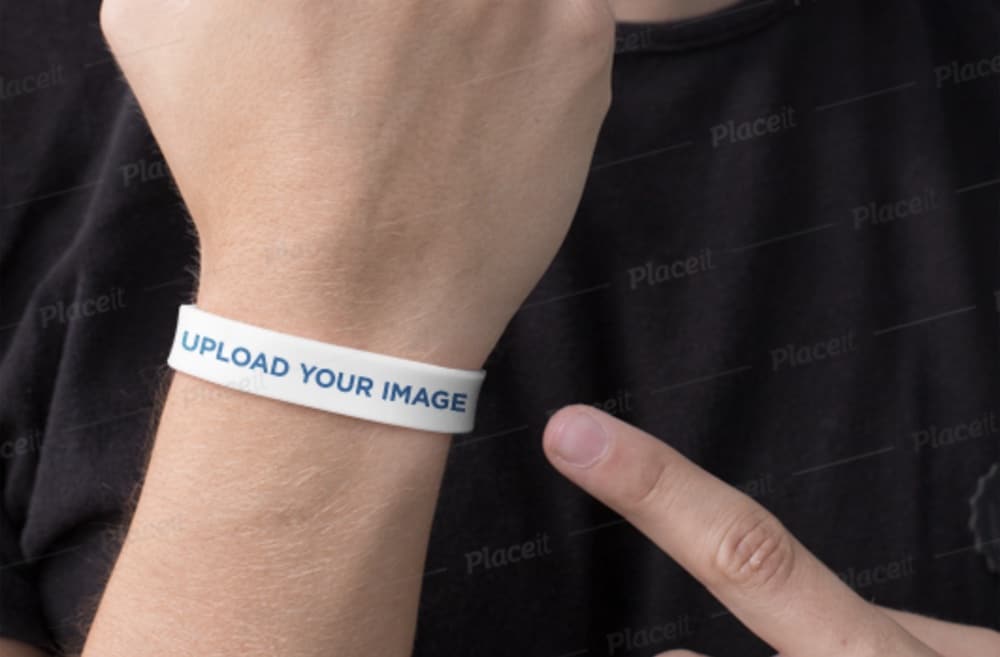 This is one of my favorite wristband mockup generators I have used several times. It's simple but oh so to the point.
You don't need much to create a strong impression on the people you want to influence. And it just happens that a dude pointing at his wristband works really well.
You can change the band's color, add any design you want, and even include custom text. That's it!
MORE INFO / DOWNLOAD
4. Mockup of a set of event wristbands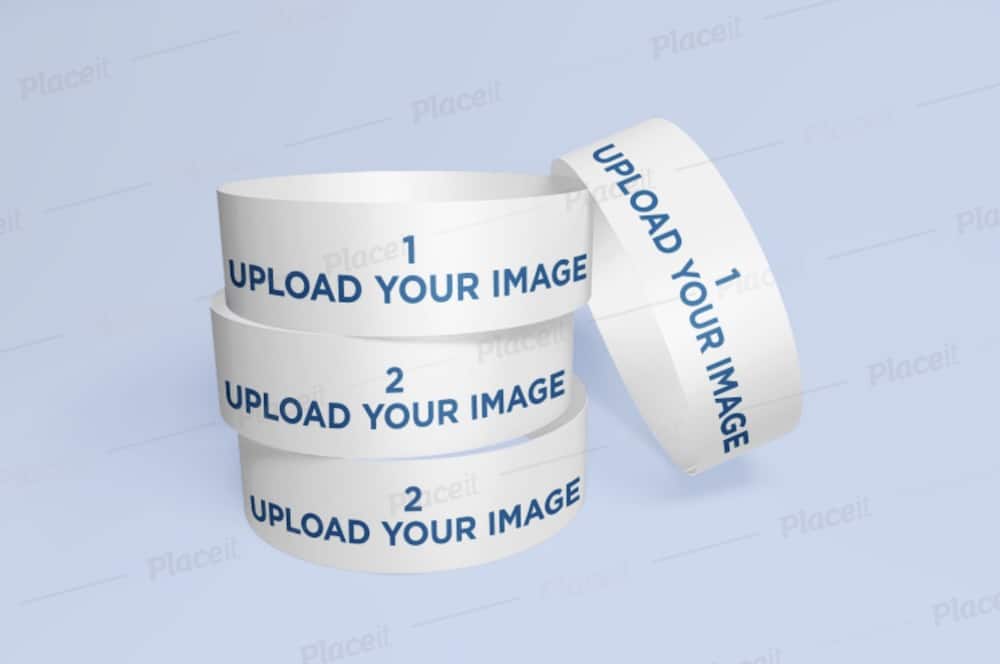 Four wristbands with two options to add the design and change the color. You can easily create a dynamic presentation of your idea, especially once you couple it with a creative background.
Yes, you can use an image for a background, upload your own, or go with a solid color variation.
The choice is yours – it just shows you have plenty of options to create what you want speedily.
MORE INFO / DOWNLOAD
5. Rubber bracelet mockup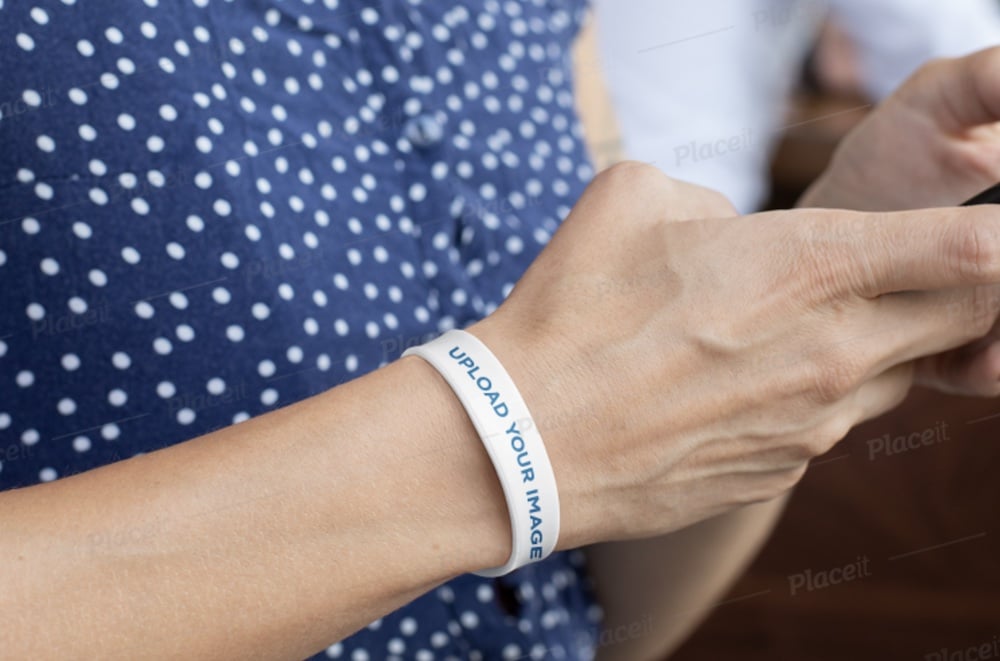 Ruber bracelet in action! And many more to come.
The presentation of your design depends on your goals, but a life-like version is always an excellent option to make it happen.
It takes seconds to start and finish working with this template. You can even create it for free and decide to purchase it later.
So. Awesome.
MORE INFO / DOWNLOAD
6. Man wearing a hand band while writing mockup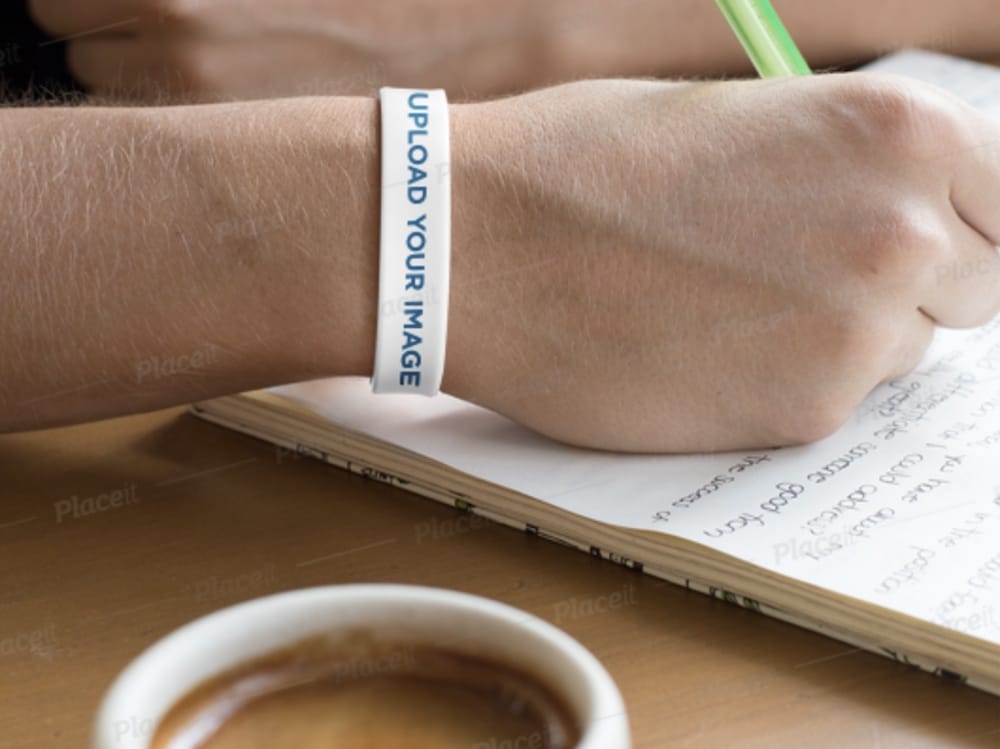 I always make a cup of strong coffee when I start writing these reviews. Mmm, so delicious. And I think that's why I couldn't resist this particular mockup.
Coffee!
The wristband mockup is an excellent way for all sorts of educational intentions. But you can go way beyond that and use it for something else.
You are the boss! So don't let your imagination limit you.
MORE INFO / DOWNLOAD
7. Rubber bracelet mockup of a man looking at his notes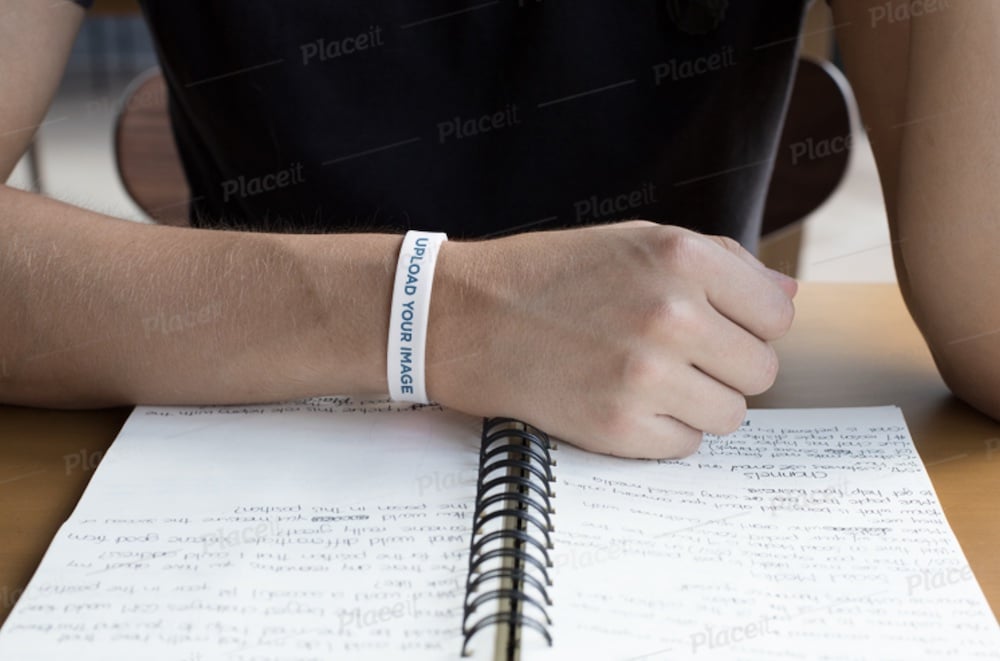 A very similar theme to the previous one, but since both worked so well for me, I also decided to add this one.
No one will tell you used a mockup with this one (and any other realistic ones from this collection).
Everything is so well done, and it really takes you a slight breeze to create your version.
Boom.
MORE INFO / DOWNLOAD
8. Mockup of 2 vinyl wristbands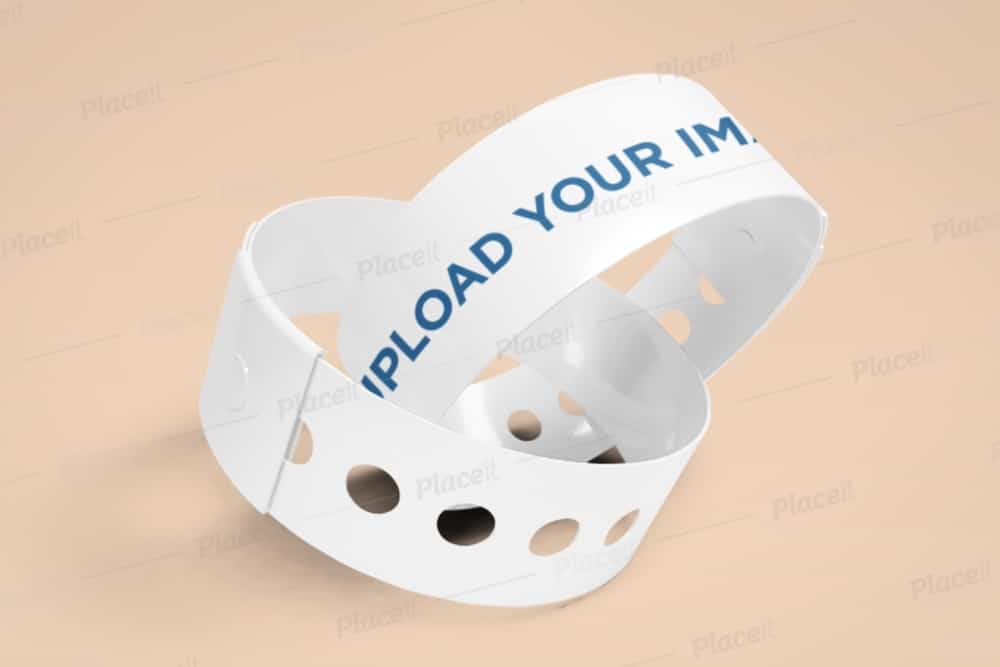 An awesome close-up shot of two intertwined vinyl wristbands, both editable with any color and design you want.
Additionally, you can also change the background with a solid (even gradient!) color or an image.
You do all the work online without using photo editing software. Always a big plus for me! (Quick and high-quality results are essential in your career.)
MORE INFO / DOWNLOAD
9. Woman showing off her paper wristband mockup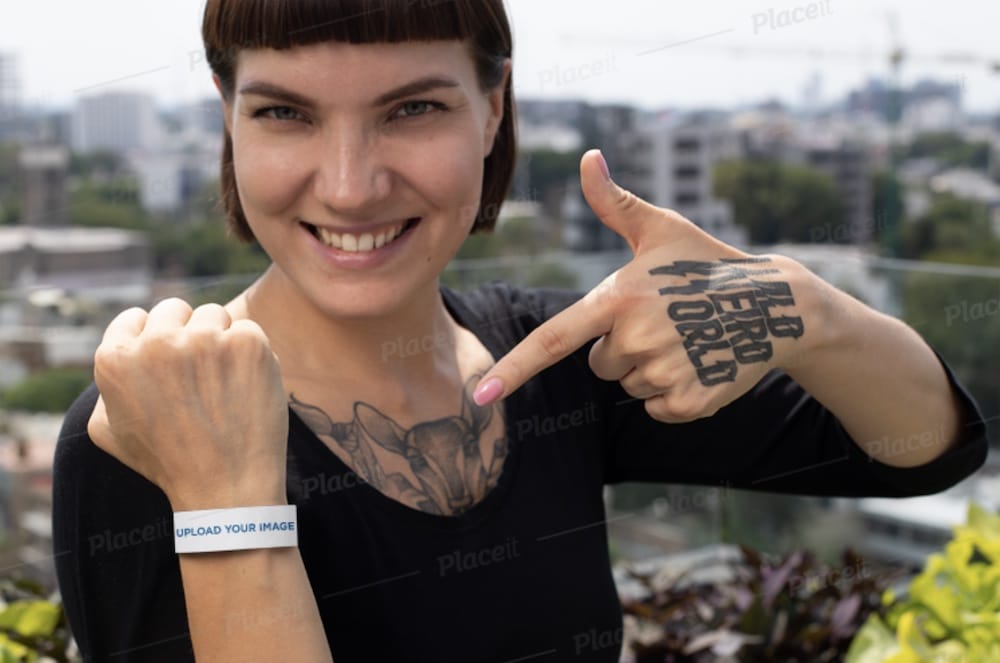 I added this one because tattoos are cool – literally. This one will definitely do the trick if you'd like to stand out with your presentation on social media.
An attention grabber!
But that's really all you need to know about it because working with it is a child's play, but you already know that. Enjoy.
MORE INFO / DOWNLOAD
10. Rendered mockup of a hand and a wristband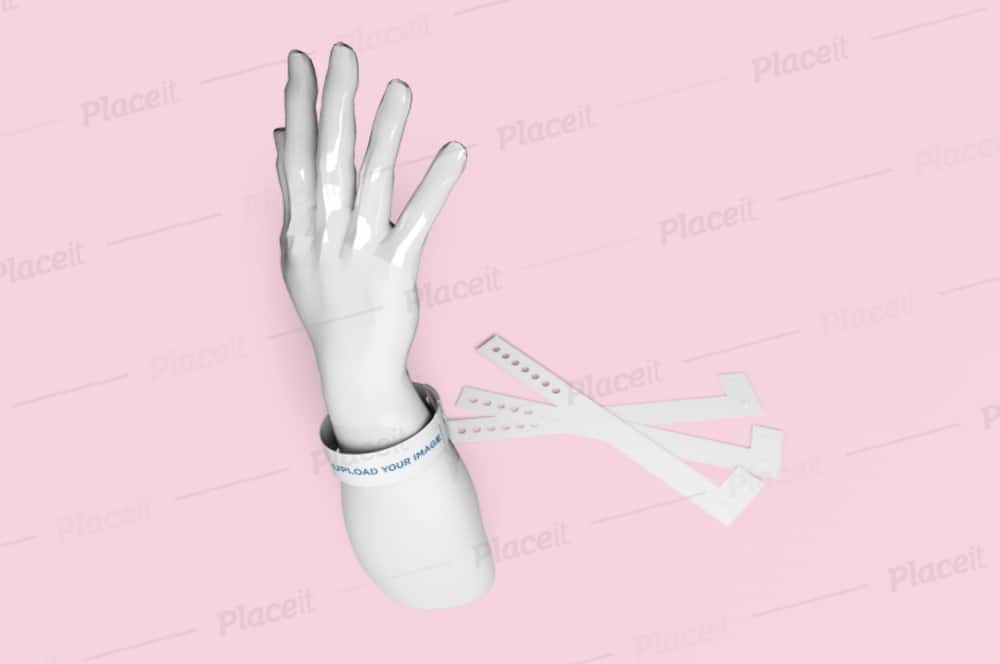 Honestly, this one scared me a bit when I first saw it, but maybe that's why it kept performing so well for my clients.
Who knows? If it works, that's all that's necessary.
Enjoy using this rendered mockup of a hand wearing a wristband with three additional wristbands lying on the surface.
Do you know what the best option is? That you can change the color of the hand! Yes, I did some really crazy variations with it.
MORE INFO / DOWNLOAD
11. Paper wristband mockup of a woman holding a beer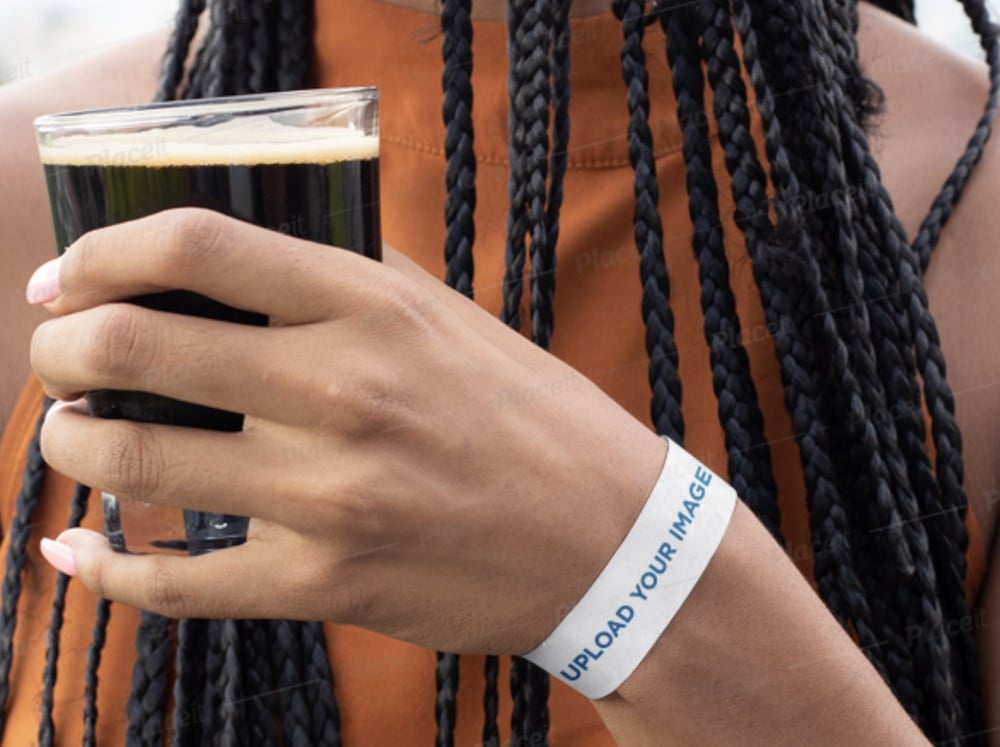 Paper wristbands are ideal for parties, concerts and events. And this mockup template is a perfect solution to present your design photo realistically.
A lady drinking dark beer and enjoying herself makes everything look genuine.
After testing it multiple times, it never appeared too promotional, which is always a good thing! Enjoy.
P.S. Are you working on a custom can design? Check these beer mockups!
MORE INFO / DOWNLOAD
12. Mockup of multiple paper wristbands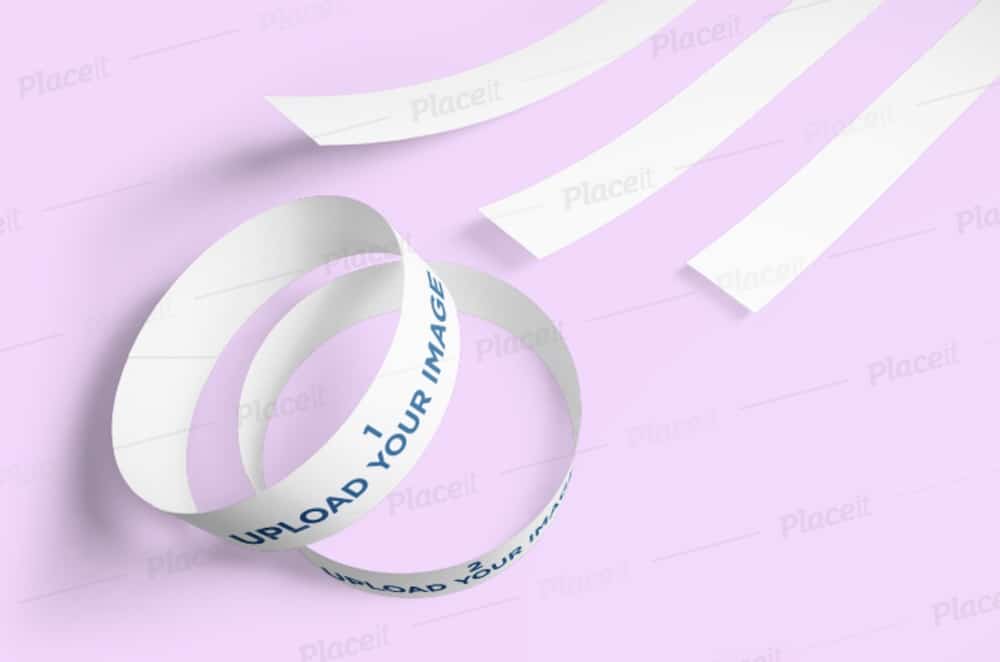 We are returning to simplicity because we all like it SO MUCH.
Two simple paper wristbands, one on top of the other, are waiting for your creative ideas.
This mockup generator will save you a ton of time in impressing your client or audience with little work.
Thanks to your life-like demonstration, everyone will have 0 trouble imagining what the final bracelet will look like!
MORE INFO / DOWNLOAD
13. Man with sunglasses wearing a paper wristband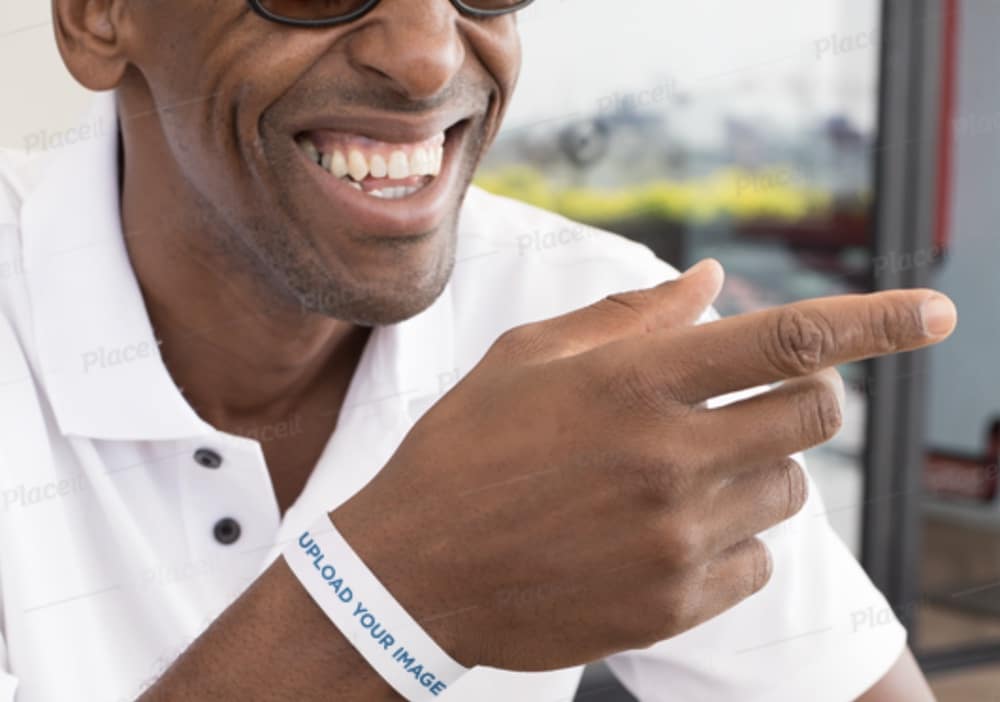 Even though images with faces "staring at you" always work the best, second come smiling faces.
You're welcome to test this wristband mockup generator out and see what an excellent outcome it produces.
Also, it is very versatile because you can use the template for all sorts of occasions, including events, conferences, parties, etc.
MORE INFO / DOWNLOAD
Best Wristband PSD Mockups
14. Event wristbands mockup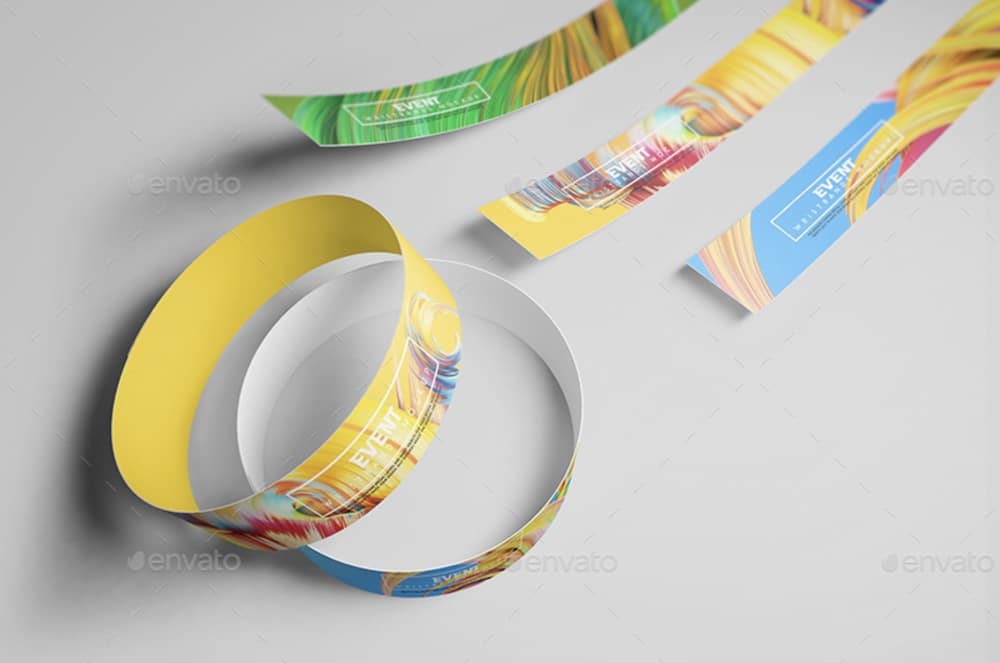 You get everything you need with this collection of eight layered PSD files.
Note: They are 3000 x 2000px, so you know the outcome will be high-quality (you can even create nice close-ups!).
And you do all the editing and improving via the convenient Photoshop smart objects. Also, change shadows, edit the background, slide in your design and let the final look impress you in all its glory.
It did my clients and me.
Price: $10
MORE INFO / DOWNLOAD
15. Fabric wristband mockup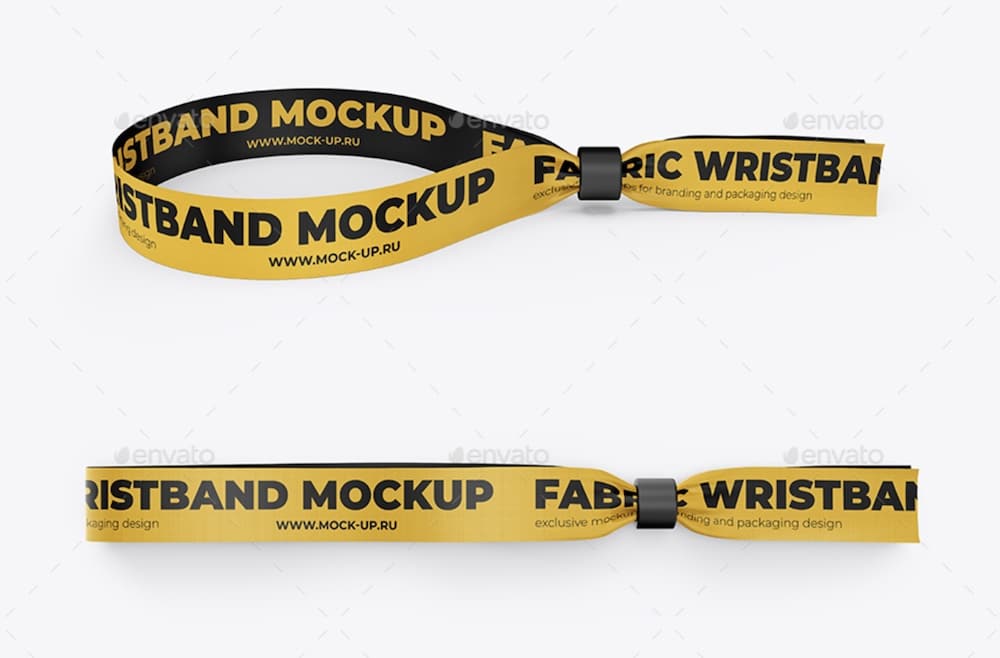 These are my favorite. I actually wore fabric wristbands even when the event I attended was over, as an accessory. 🙂
And you can now create any variation for any special event organizer you're working with.
You can create a highly detailed wristband or a minimalist one – any of the three PSDs handles everything easily!
You can even change the lock design and color! So. Freaking. Cool.
This one simply WORKS every single time.
Price: $20
MORE INFO / DOWNLOAD
How To Create A Realistic Wristband Mockup
I'm happy to share with you my simple and quick approach to creating a realistic wristband presentation without experience.
But you need to have the design or logo ready, making your workflow even faster.
And here's a secret: You can test and try as many mockups as you want first (for free!).
4 steps to create a wristband mockup:
Step 1: Your first move is to visit Placeit and search for your favorite template. (But you'll save yourself a lot of time if you pick one from the above collection.) Type "wristband" in the search bar, and live results will take you to the appropriate location. Simple.
Step 2: Once I have the template I like, the next thing I do is upload my design to see how it appears on the mockup. You can also use the crop function to make adjustments (if necessary).
Step 3: After the design is set, I utilize Placeit's other customization functions, like changing the colors(s), editing the background, and more. This is the FUN part!
Step 4: And that's basically it. You can now download the mockup and let it spread the word.
You see, creating a mockup is effortless, so everyone can do it regardless of their experience.
P.S. My father did it, and I first needed to explain to him what a mockup is. 🙂
Since I usually work on full branding presentations, you may also be interested in the best:
::
Note: This article was originally published on April 8, 2022. But our team regularly reviews it and updates it with necessary improvements for accuracy.