Are you searching for the ultimate collection of the best free and premium sliding box mockups?
I was when I was working on a few projects a couple of months ago.
But I didn't want my list just to sit there. I'm now sharing it with you, so you don't need to search for yourself endlessly.
You can create a packaging mockup using a sliding box in a few clicks.
I even found a mockup generator, which saves you EVEN MORE time! But the rest of the mockups give you more freedom.
This post covers:
Make a sliding box presentation like none out there!
Best sliding Box Mockup Generators
You can use each generator for $7.95, but I recommend Placeit's monthly ($14.95/month) or yearly ($89.69/year) subscription.
1. Minimalist vertical sliding box template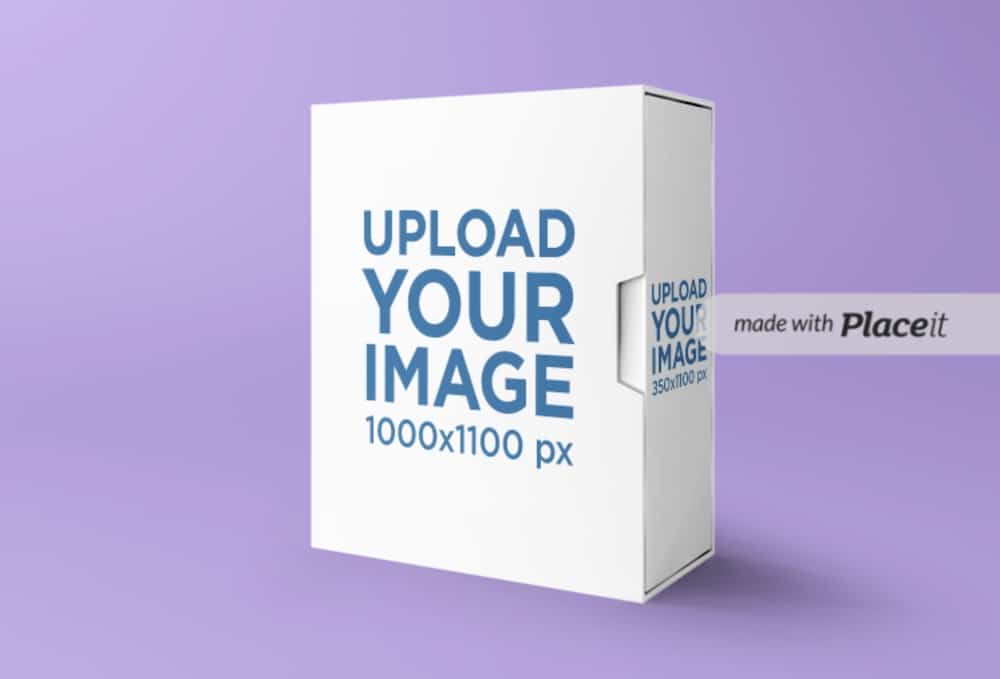 This is the simplest way of creating a realistic presentation of your sliding box design idea.
You don't need any skills, just the design/logo.
All the work happens online with a FEW clicks of a button. Yes, it's that simple!
In other words, you can create a mockup without Photoshop, which is my favorite.
You can customize the colors, change the background, add text and graphics, you know, the good stuff.
Note: I also have a full collection of the best vertical box mockups if you need more.
MORE INFO / DOWNLOAD
Best sliding box PSD mockups
2. Sliding box packaging mockup set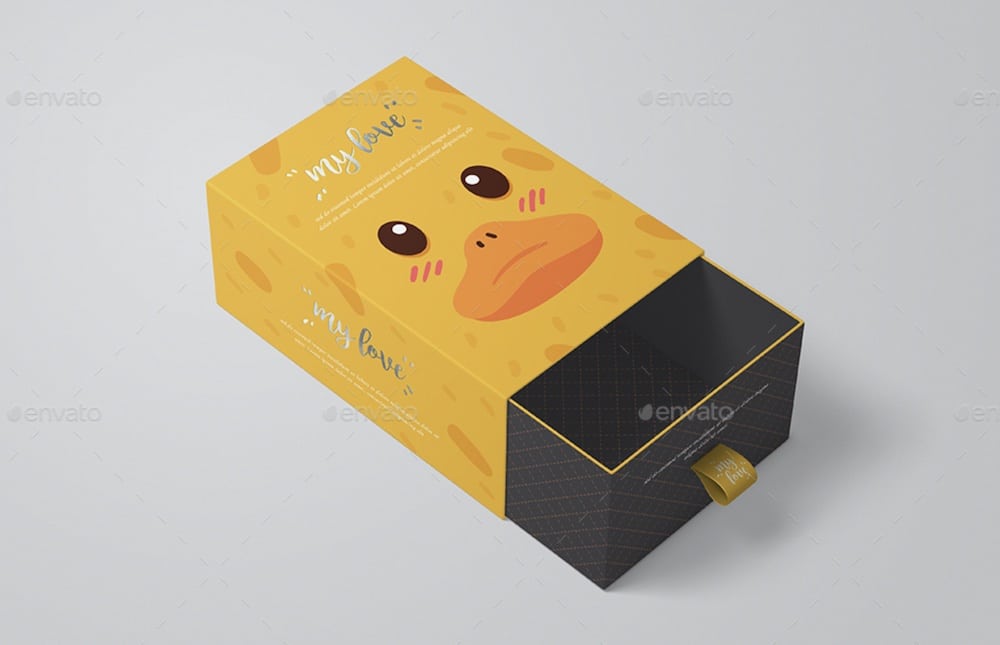 This is basically a four-in-one mockup because you get four different sliding box styles. Not just that, each style comes in six additional views.
I know, EPIC!
All templates are 4500 x 3000px, so you know you'll achieve great results, even if creating close-ups.
And you'll have a breeze making your version because all are layered PSD files.
Price: $14
MORE INFO / DOWNLOAD
3. Sliding wooden box mockup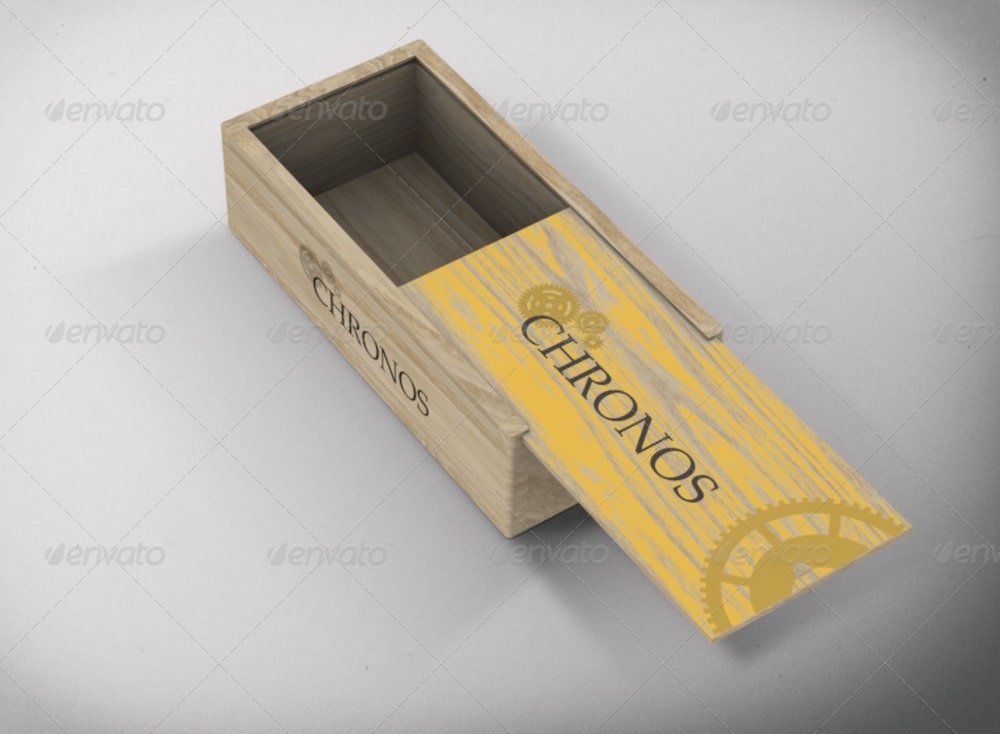 I had this same style of wooden box for dominos as a kid. Such fantastic packaging. But I didn't really care about it much back then and destroyed it.
KIDS!
Anyway, you can now create your version without starting from scratch.
What's great is that you get six different angles to create the ultimate presentation comfortably.
I also like Photoshop's smart object layer because it makes adding designs and logos to a mockup effortless.
Note: You may also be interested in my best wood box mockup collection with loads more alternatives.
Price: $8
MORE INFO / DOWNLOAD
4. Rectangular sliding box mockup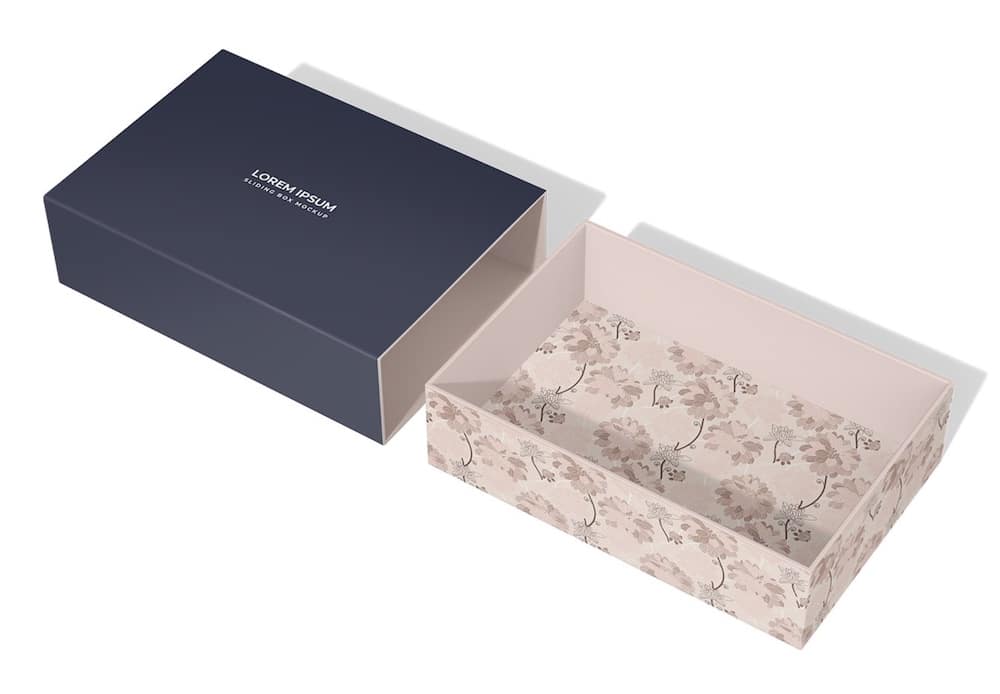 This one is a beauty and also one of MY favorites. An elegant sliding box in six different views.
You can showcase an open or closed box to create a realistic presentation. I also used one of the closed box mockups to showcase my bottom side design idea.
The author did a good job of ensuring your design or pattern wraps around the packaging seamlessly.
Adjust shadows, edit the background, and you're ready to rock and roll.
Price: $12
MORE INFO / DOWNLOAD
5. Wooden boxes with sliding cover mockup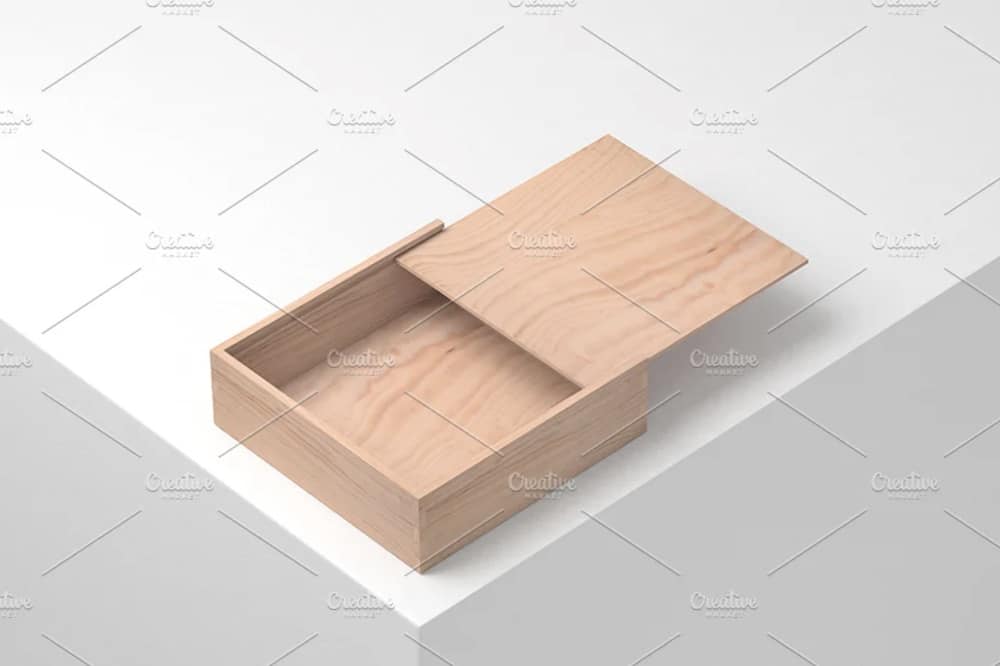 If the above sliding wooden box wasn't something you're after, then this one may be it.
It features four square box mockups, one open and three closed with a black sticker.
All templates have 5600 x 3500px resolution, which makes this bundle even more epic.
The only downside is that the mockups don't have smart objects, so you need to have a little more Photoshop (or other software) skills to design your version.
But I know you'll HANDLE it!
Price: $12
MORE INFO / DOWNLOAD
6. Drawer box mockup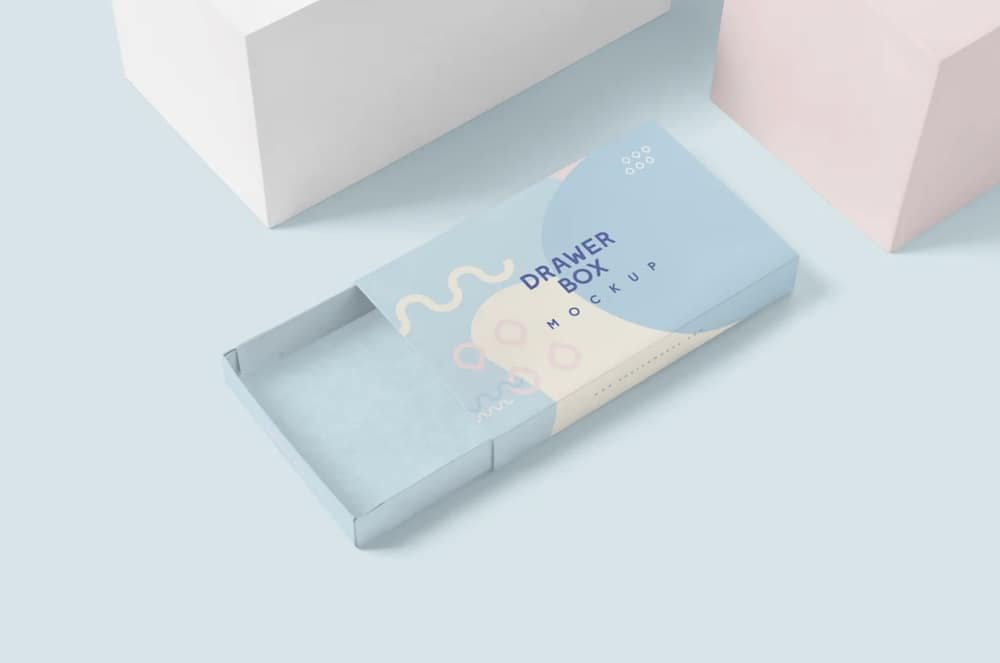 Honestly, I didn't know that sliding boxes are also called drawer boxes until recently.
But that's not as important as this set of six epic PSD mockups is.
I really like all the additional elements that each mockup features, which makes it a lot more attention-grabbing.
Of course, you CAN customize everything, so choose the colors wisely to achieve the best result.
Moreover, you can modify shadows, effects and the background, too.
Show your designs on these cool paper box mockups like a PRO in little to no time.
Price: $9
MORE INFO / DOWNLOAD
7. Sliding box PSD mockup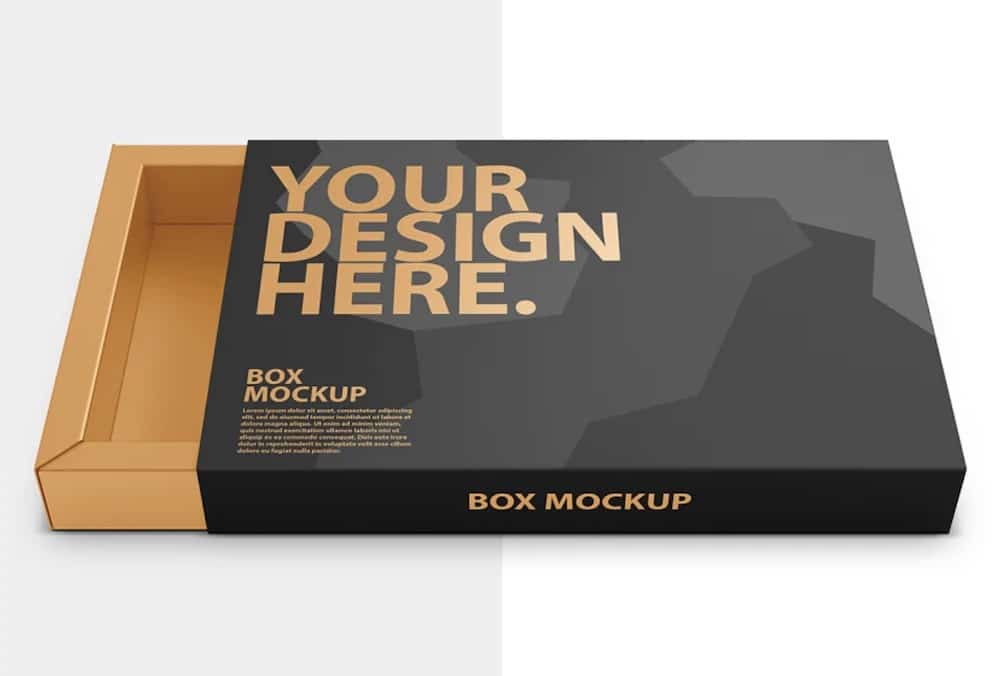 I'm used to seeing pralines stored in this kind of sliding box, but you can use the mockup for anything else your heart desires.
You can customize the box's inner and outer parts at your free will. And you can add designs and texts through the convenient smart object layer.
I also ENJOYED the 4000 x 3000px resolution, which worked great for the detailed design I added to this box.
Get. Creative.
Price: $9
MORE INFO / DOWNLOAD
8. Slide product box mockup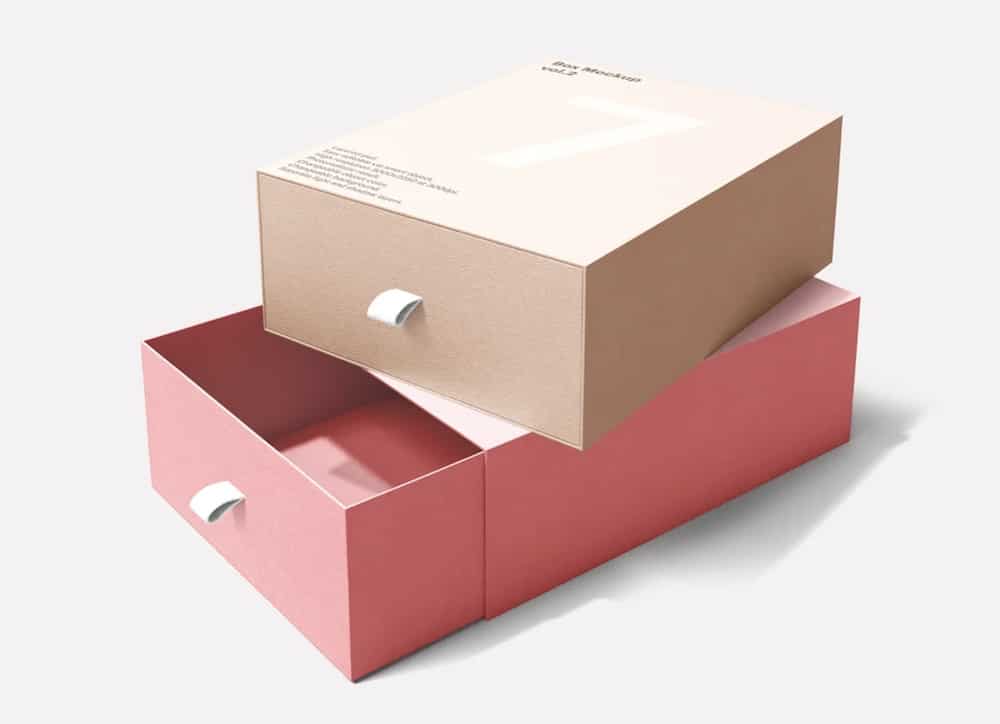 Seven beautiful mockups are ready to rock your designs and logos in all their glory.
Every file's structure is organized and equipped with the smart object layer, so you know the process will be a SIMPLE task.
Everything is also changeable and editable to create the exact outcome your want.
Or create a few variations you can compare and pick the winner easier (something I do) or showcase to your client if they do the picking.
Light and shadows are also on separate layers for adding your refined touch to the overall appearance.
Price: $12
MORE INFO / DOWNLOAD
9. Sliding gift box mockup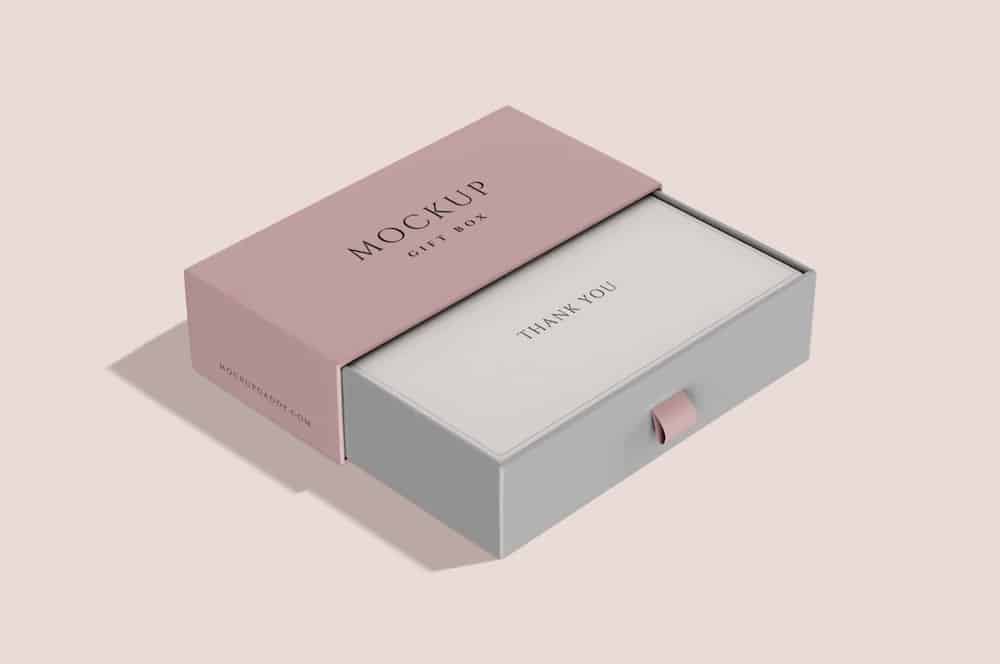 This is the set of mockups if you're after elegance and simplicity. It's a fantastic sliding gift box with four views and with an effortless configuration.
Amazing renders and 3D models guarantee the life-like effect that'll WOW everyone.
You can add designs, logos, textures, patterns, or whatever your heart desires!
What's also cool is that you can chat with the author if you have any additional questions before purchasing.
Note: I'm sure you'll also like my best gift box mockups list.
Price: $8
MORE INFO / DOWNLOAD
Best free sliding box PSD mockups
You can also achieve an EXCELLENT presentation with a free mockup.
Sadly, these are the only two solid ones I could find. But they are great!
10. Free rectangle slide box mockup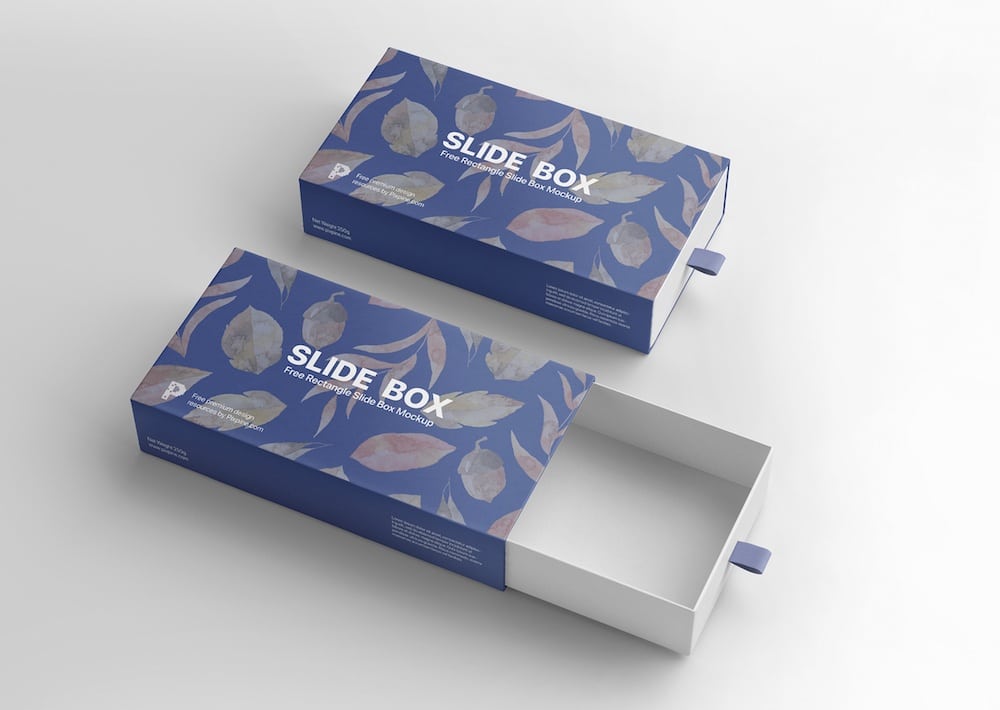 I particularly like this free PSD template because it features an open and a closed sliding box.
This gives you the freedom to create the outside and the inside look and present it in a life-like preview.
Also, the 4500 x 3600px dimension makes it very premium. And like that wouldn't be enough already, you can use it for personal and commercial projects.
MORE INFO / DOWNLOAD
11. Luxury slide box mockup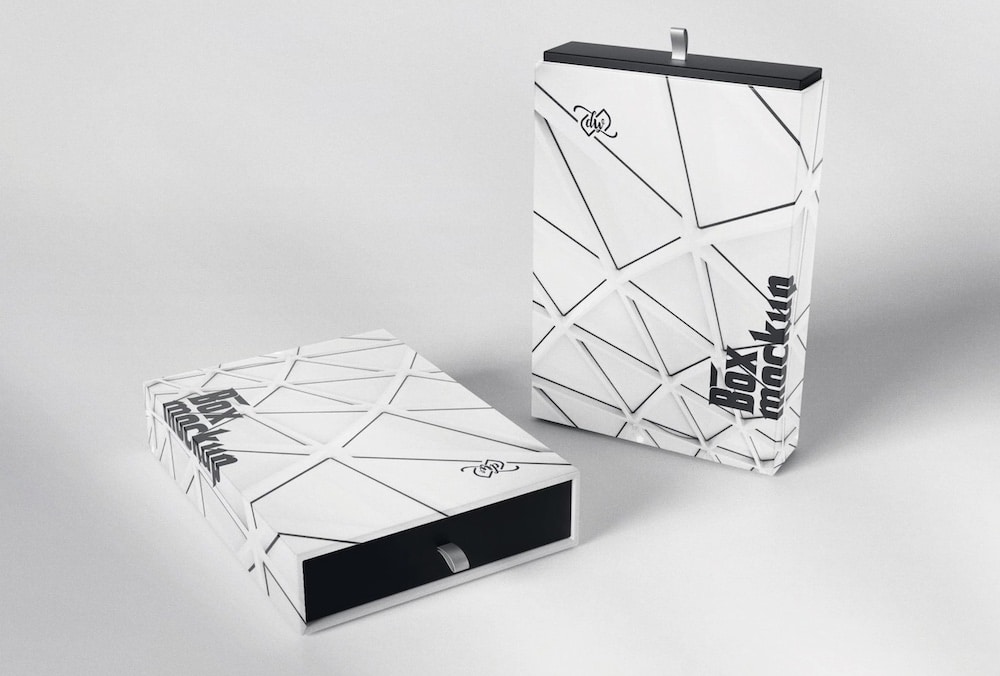 Do you need to design more luxurious packaging? Then use this one because it does the trick so well.
You can EASILY customize it with any color you want, add the design or logo and you're ready to roll.
It's an easy-to-work-with mockup that takes seconds to make it present your design idea realistically.
Note: You may also want to check my best luxury box mockups for extra options.
MORE INFO / DOWNLOAD
How to easily create a realistic sliding box mockup
You have two options to create a mockup: With or without Photoshop.
1. Create a sliding box mockup without Photoshop
The fastest way is to use the Placeit platform.
All it takes are a few clicks, and you're done after you pick the template you like.
You add your design or logo by clicking the "insert image" button.
This also opens a popup from where you can crop and reposition your design, so it fits the box exactly how you want.
Additionally, you can modify the colors and add text and graphics, and that's it.
You now have the life-like version ready for use.
2. Create a sliding box mockup with Photoshop
This is a slightly longer process, but it still takes barely any work to make it happen.
You first need to import the mockup you like into Photoshop. From there, I usually first find the smart object layer that allows me to drag and drop my design/logo.
This is now the "hard work" considered done.
But you still have complete freedom to perform as MANY customization tweaks as you want.
Change colors, edit shades and lights, adjust the background, well, you get the gist of it.
But most importantly – have FUN doing it!
::
Note: This article was originally published on November 6, 2022. But our team regularly reviews it and updates it with necessary improvements for accuracy.