Are you searching for the ultimate free and premium luxury box mockups?
Whether you're working with a designer brand, luxury jewelry or anything else that needs fancy box packaging, here's a mockup for you.
I included mockup generators and PSDs (free & premium) to make the absolute GREATEST list.
You can start immediately with a generator – you can make a mockup without Photoshop!
But while the software is necessary for PSD files, the workflow is smooth and effortless, even for newbies.
This post covers:
A luxurious box presentation is just around the corner. GO!
Best Luxury Box Mockup Generators
You can use each generator for $7.95, but I recommend Placeit's monthly ($14.95/month) or yearly ($89.69/year) subscription.
1. Mockup of a vertical box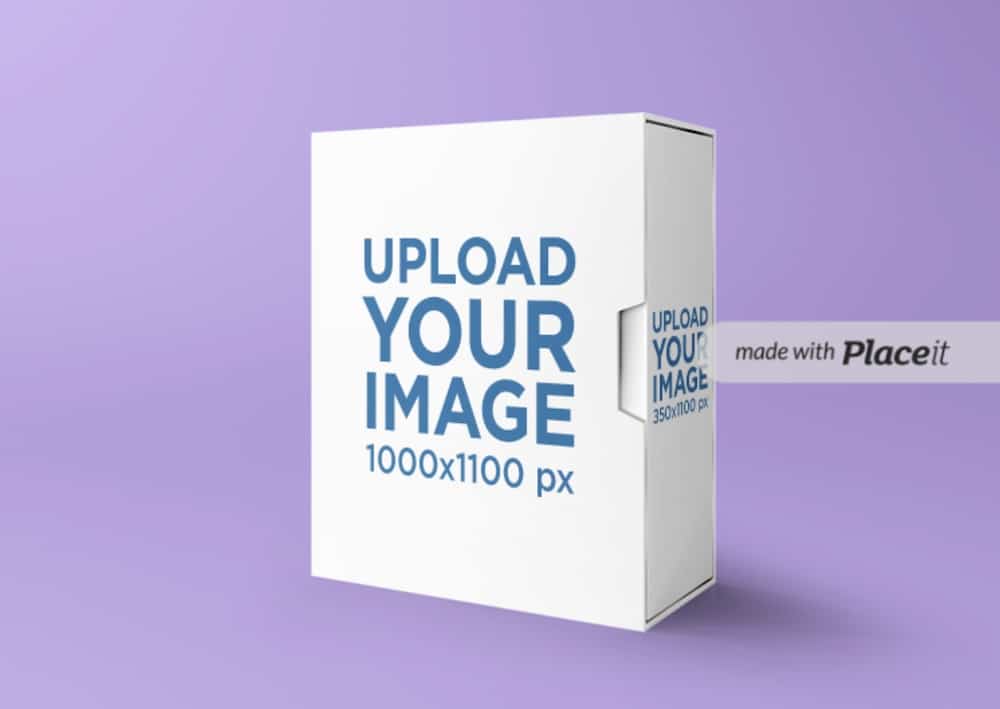 You can use this neat vertical box template for anything your heart desires. The process of editing and improving it is the EASIEST!
Insert front and side design change the packaging color and edit the background.
While I usually stop here, you can continue adding texts and graphics to spice things up.
Note: You may also be interested in my collection of the best vertical box mockups.
MORE INFO / DOWNLOAD
2. Minimalistic cardboard box mockup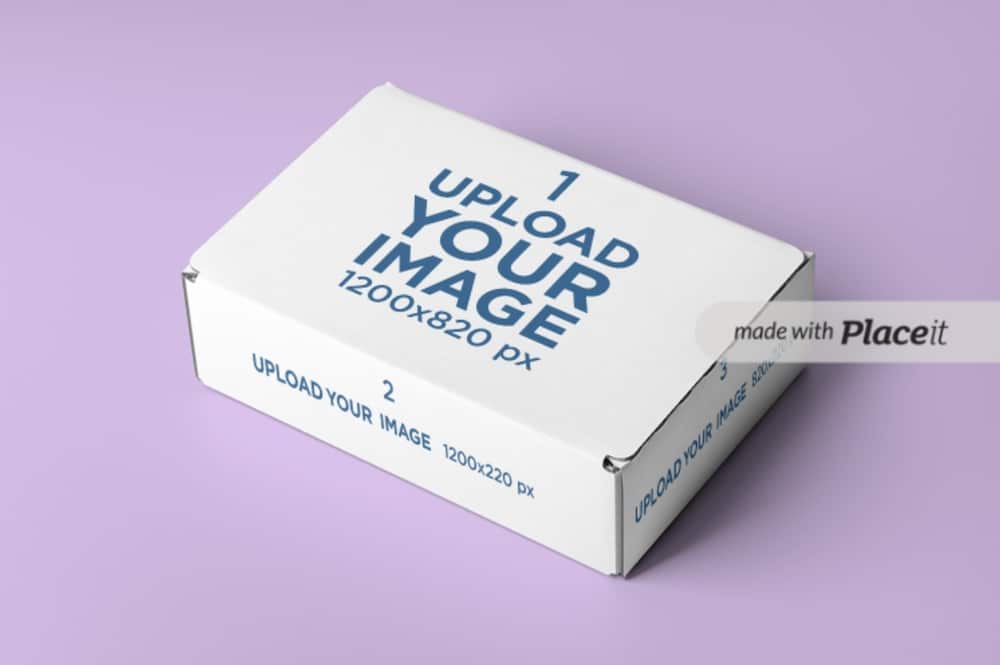 If you're particularly creating a luxury packaging design for a cardboard box, this may be the best mockup generator to create a great presentation.
The template is clean and minimal, ensuring your design pops out beautifully.
You can insert three images, one on the top and two on the sides of the packaging.
I kept my box white, but you can choose any color you want to form the convenient color picker. And the same goes for the background. Heck, you can even upload a custom backdrop!
Note: Do you need more cardboard box mockups? I have a full list ready for you.
MORE INFO / DOWNLOAD
Best Luxury Box PSD Mockups
3. Luxury packaging mockup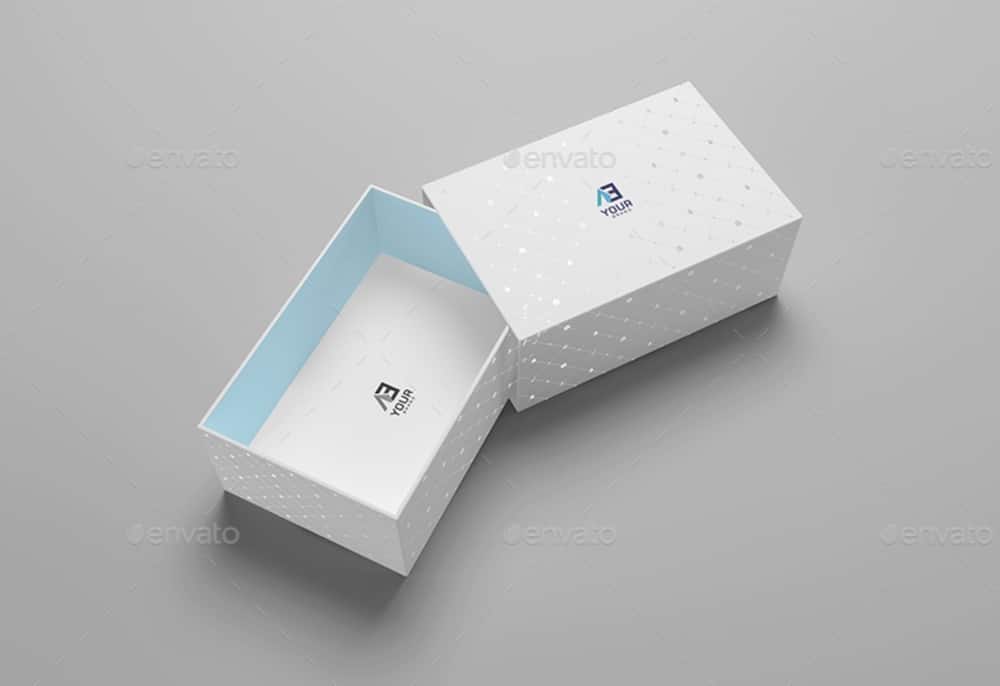 This EPIC packaging set is a collection of twelve layered PSD files that will make your design look stunning.
I also like the 3000 x 2250x resolution that's perfect even if your designs and logos are super detailed.
But the foil stamping effect is definitely my favorite.
Edit everything because you CAN!
Price: $13
MORE INFO / DOWNLOAD
4. Magnetic box mockup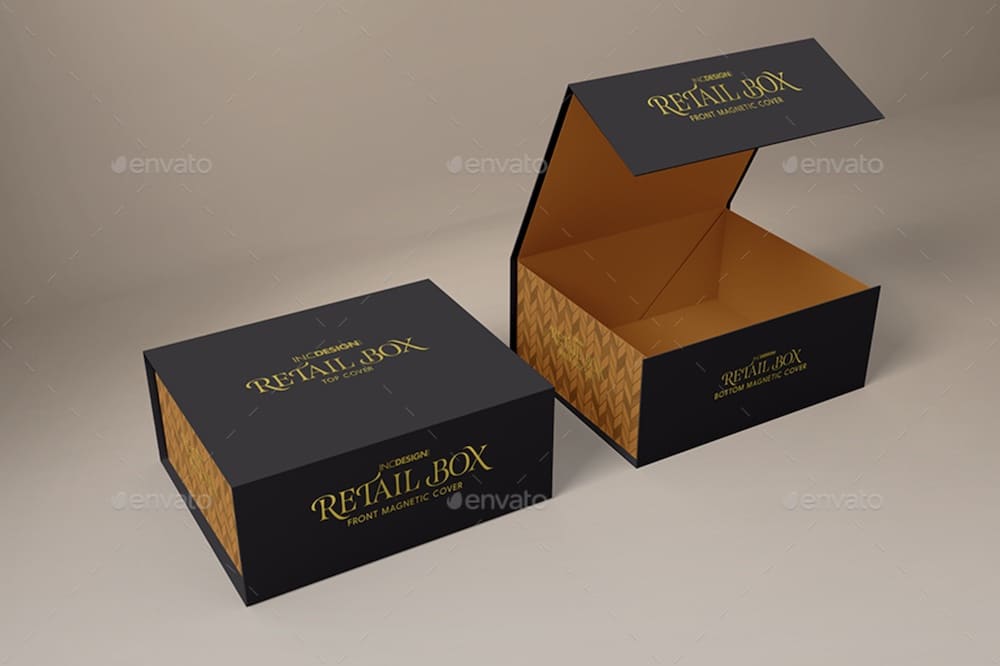 I find magnetic boxes one of the COOLEST. And if you need a mockup to create a life-like version of it with your custom tweaks, then this is the one I recommend the most.
What's cool is that it consists of three PSDs, offering you to work with different angles to create the ultimate presentation.
Insert your creative work via Photoshop's smart object layer and let the mockup do the rest.
The 5400 x 3600px resolution is also pretty insane, great for a close-up. Finally, it also includes box die cut pattern.
Price: $14
MORE INFO / DOWNLOAD
5. Fancy gift box mockup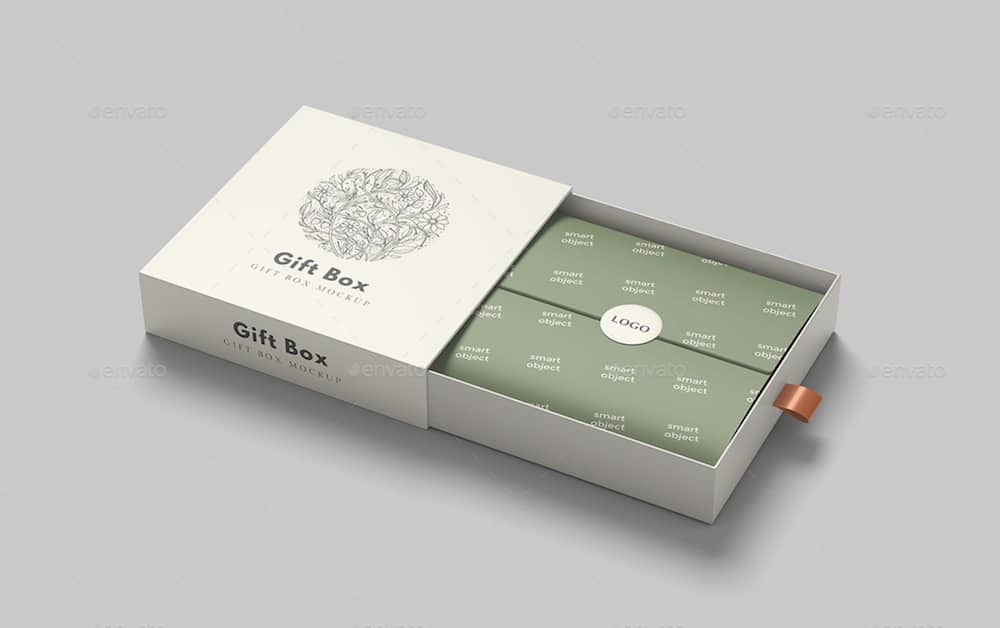 But this one is secretly one of MY favorite luxury box mockups that's a collection of six.
Instead of designing just the box, you can also create a custom tissue paper wrapping, which is great for branding.
The great features allow you for simple and quick editing so that you can come out with your version fast.
I. Like. It!
Price: $9
MORE INFO / DOWNLOAD
6. Jewelry box PSD mockup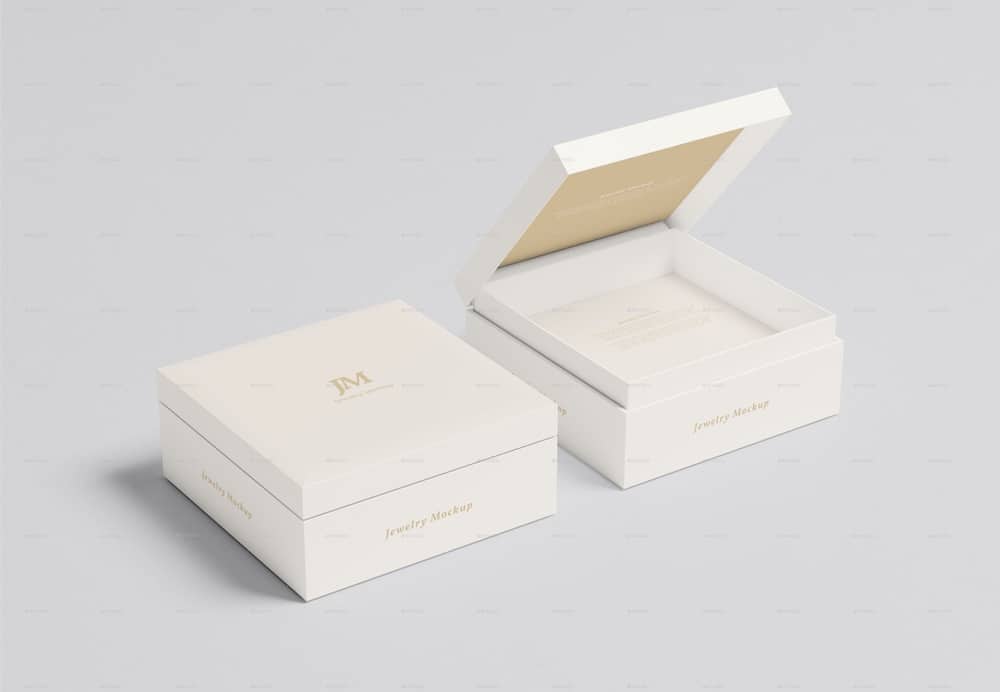 This one is from the same author as the above mockup that I just couldn't stop staring at.
While it's for jewelry by default, you can also use it for anything else you find it fitting.
Outside and inside, the box is fully customizable except for the bottom part. But that's usually the boring side of the packaging, so it doesn't matter.
By the way, you get five PSD files, which makes it EVEN MORE fantastic.
Note: You may also be interested in my list of the ultimate jewelry box mockups.
Price: $5
MORE INFO / DOWNLOAD
7. Square luxury box mockup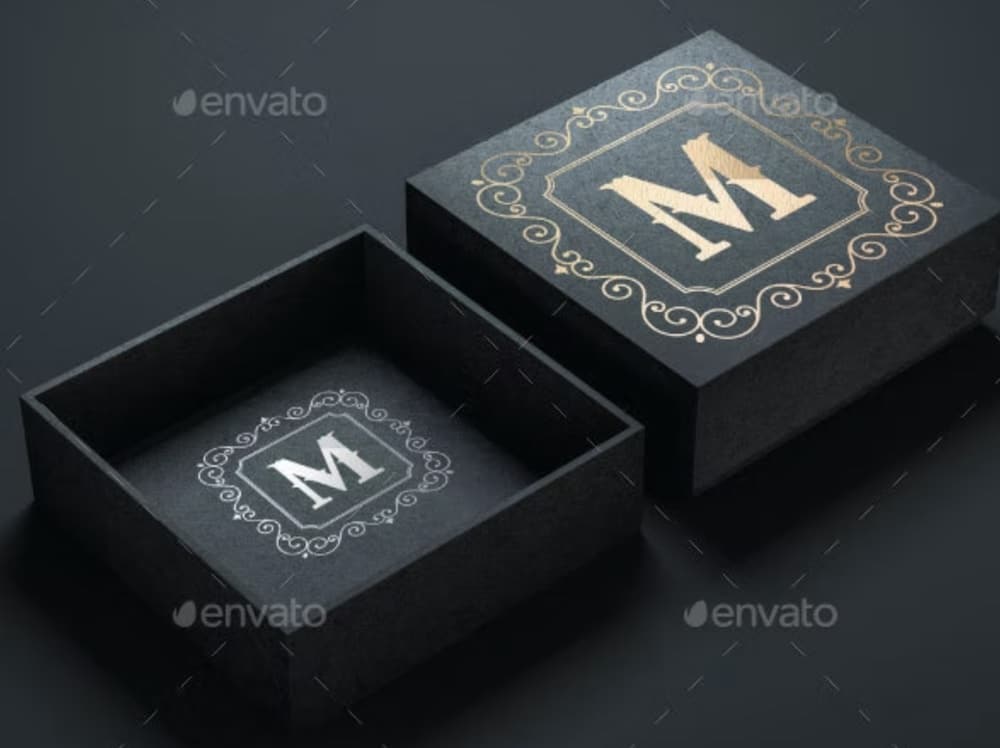 Make beautiful custom wrapping for the item you place in an even more beautiful square box mockup.
You can now bring your amazing idea to life with this set of six mockups. Make it appear as luxurious as you want without doing much work.
The only thing necessary is the design, the pattern or the logo you'd like to add to the box and the tissue paper.
It's so easy; even my first-time Photoshop user friend, Mark, HANDLED it.
Hey(!), I also created a list of the best square box mockups if you need more alternatives.
Price: $5
MORE INFO / DOWNLOAD
8. Fold-up box mockup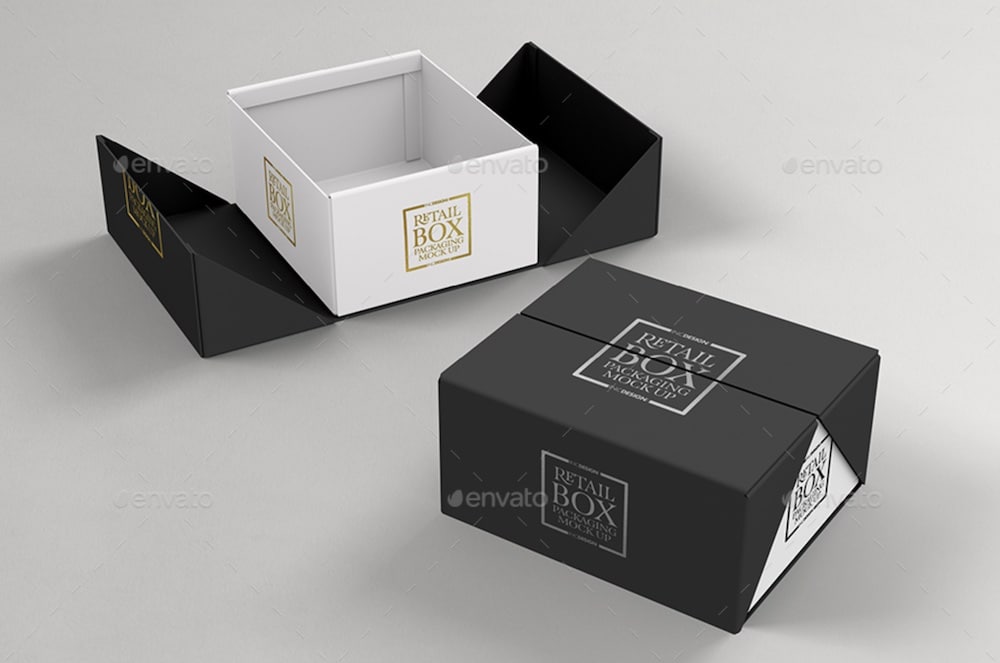 This is a pretty exclusive box mockup that you can use for luxury and non-luxury items.
Even though it's so special, I used it twice, and it worked out so well.
All three PSD files have a great layered structure, making editing a little breeze.
You can comfortably design an open or closed box, both the outside and the inside of the box.
Additionally, the background is VERY minimal by default, ensuring all the focus is on your project – the luxury box!
Price: $14
MORE INFO / DOWNLOAD
9. Multiple luxury packaging mockups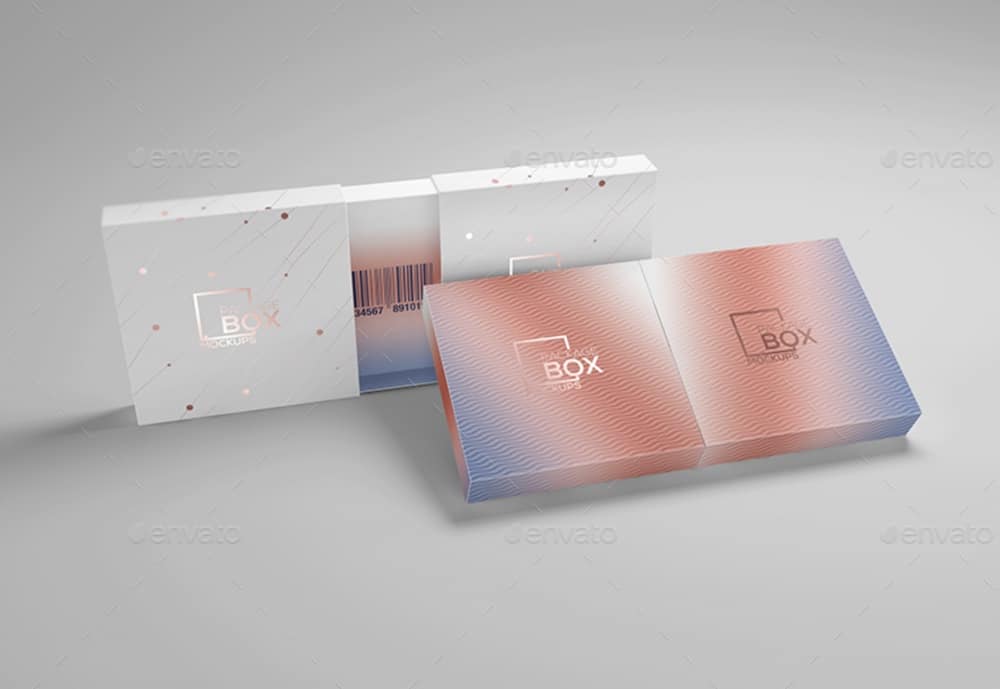 I really like this one because it comes with a bunch of different box styles, which is great if you work on MULTIPLE projects.
Listen, you get fourteen templates that you can use however you want. They are all 100% customizable, so there are no limits.
You can even play with foil stamping if you want.
Luxury brands, high fashion brands, jewelry, it doesn't matter, this set has something for everyone.
Price: $13
MORE INFO / DOWNLOAD
10. Premium box packaging mockup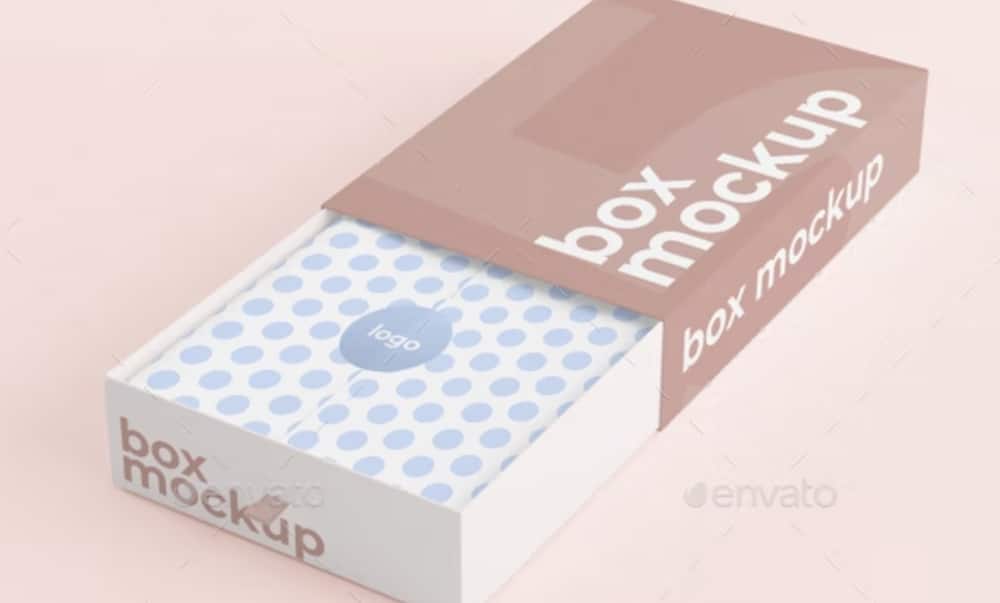 An excellent bundle of four luxury mockups that work great for a complete branding presentation.
Why?
Because you can create custom box design, tissue paper, label, strip and background.
Go as detailed as you want because the 5000 x 2812px resolution sorts it easily.
Pretty. (I just ended watching Stranger Things, so all the fans will know what's up.)
Price: $5
MORE INFO / DOWNLOAD
Best Free Luxury Box PSD Mockups
If you follow ULTIDA, you know I like me some good freebies.
Well, I found and tested a bunch of templates, but these four performed the best.
Let's go.
11. Free luxury slide gift box mockup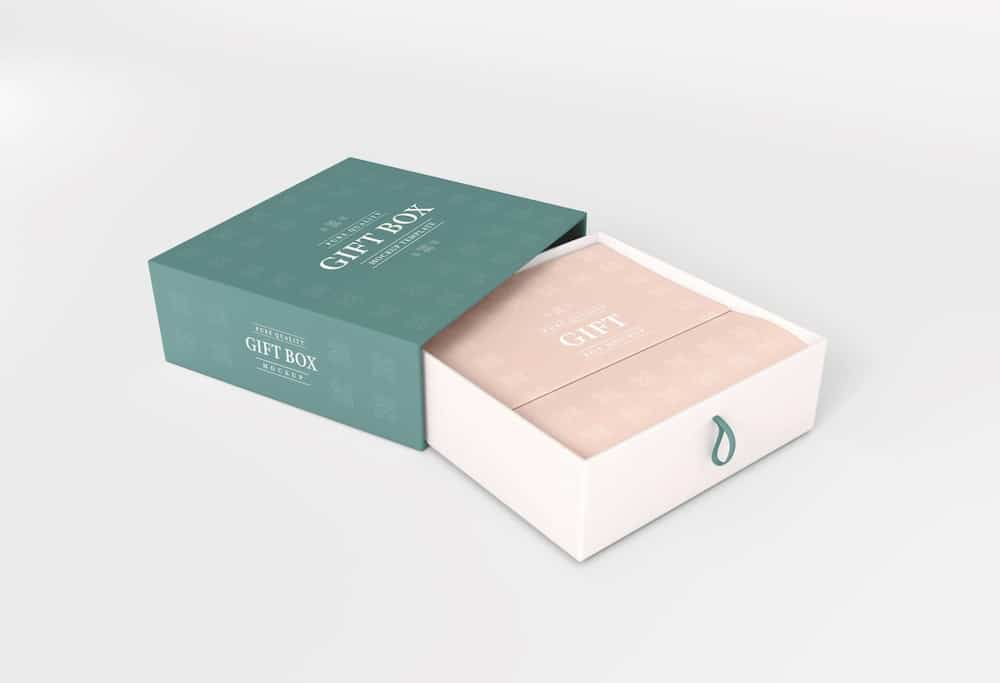 This luxury slide-out gift box mockup is way more premium than free. Looks almost TOO fancy.
But that's the whole point.
And you can now make it yours in a few clicks because working with it is a child's play.
You only need some PS basics and you're good to go. Try it; you'll see!
MORE INFO / DOWNLOAD
12. Free jewelry/gift box mockup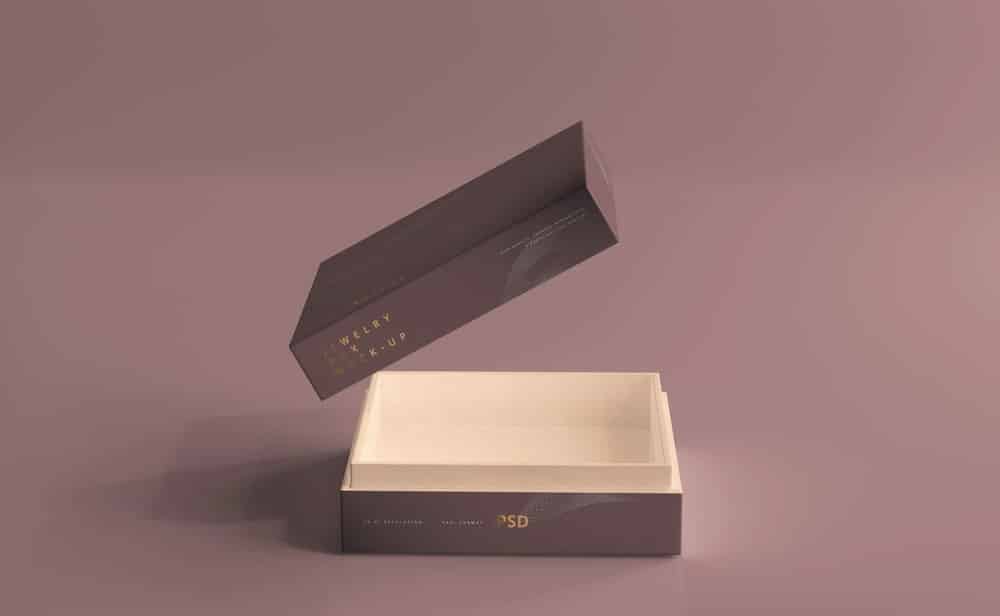 Do you want to generate more engagement with your luxury box mockup creation?
Then I highly recommend you opt for this one.
I don't know why, but the floating cover performed really well for me, so you may also try it.
Also, you have the freedom to modify every template element, making your version at FREE will.
MORE INFO / DOWNLOAD
13. Luxury cube packaging mockup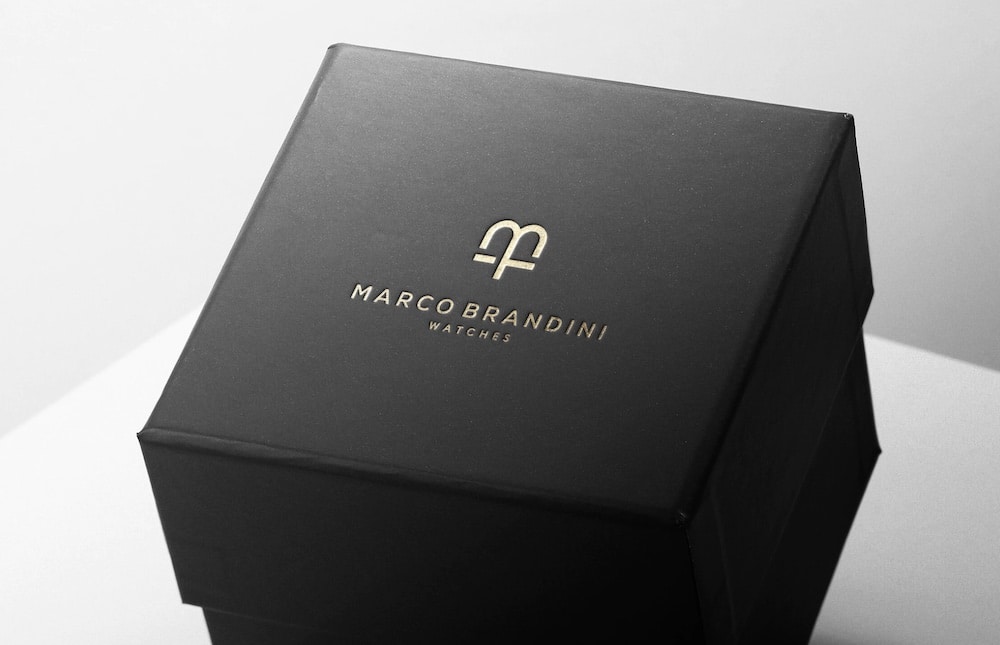 Do you need to create a custom wedding ring box mockup? Or packaging for earrings?
But really, you're welcome to use this one for something completely different, too.
A square or a cube box mockup, however you want to call it, is now at your service.
Download it, import it to Photoshop and play with it for as much or as little as you want.
Beginners and pros, it's PERFECT for everyone.
MORE INFO / DOWNLOAD
14. Free luxury slide-open box PSD mockup set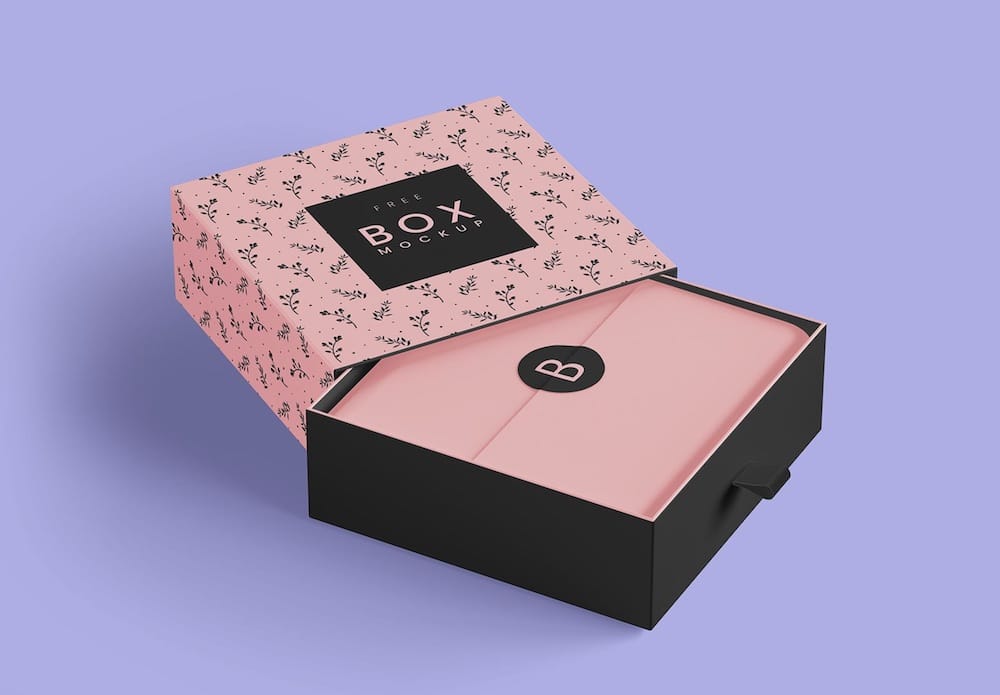 I particularly liked working with this because instead of one mockup, you get three.
What's also really EPIC is that you can use all three PSD files for personal and commercial projects.
And that's not something that a free mockup treats you with too often. But this one does.
0 boundaries.
It's all about your creativity and getting the most out of these fantastic PSDs.
You deserve the best.
MORE INFO / DOWNLOAD
How To Easily Create A Realistic Luxury Box Mockup
I decided to share a quick tutorial with you because most of these mockups are PSDs.
It's so simple to create a luxury box mockup; you only need the pure Photoshop basics to make it happen.
And here's how it goes.
4 Steps To Create A Luxury Box Mockup:
Step 1: Pick the mockup that you like or fits your project best. Import it into PS once you have it, and that's when the fun part begins.
Step 2: Search for the smart object layer that allows you to drag and drop your design or logo, which will instantly appear on the box.
Step 3: You're now ready to perform any last customizations to create the outcome that's to your liking. Change colors, adjust shading and lights, modify the background, well, you get the gist of it – you can modify everything. Sprinkle it with opulence.
Step 4: Satisfied with your creation? Save it and use it!
That's it!
I told you creating a luxury box mockup is a piece of cake.
::
Note: This article was originally published on November 3, 2022. But our team regularly reviews it and updates it with necessary improvements for accuracy.