This list is for everyone searching for the best square box mockups for photorealistic presentations.
I decided to go test and pick the most promising templates, so you don't have to. (Yo!)
But I wanted to do things differently. How?
By including online mockup generators and PSD files.
More freedom.
You do not always need Photoshop to make a mockup. (A great option for beginners.)
SO. COOL.
You can start working on the project right away with a mockup generator (online!).
However, even though PSD mockups require software, they're very user-friendly. Files are layered, organized and equipped with smart objects.
You have everything you need to create a life-like presentation of your square box design idea. NOW!
Best Square Box Mockup Generators
Grab any of these generator templates for only $7.95 or save money with a monthly ($14.95/mo) or yearly ($89.69/yr) subscription.
Note: Test them all for free!
1. Box mockup with flowers and card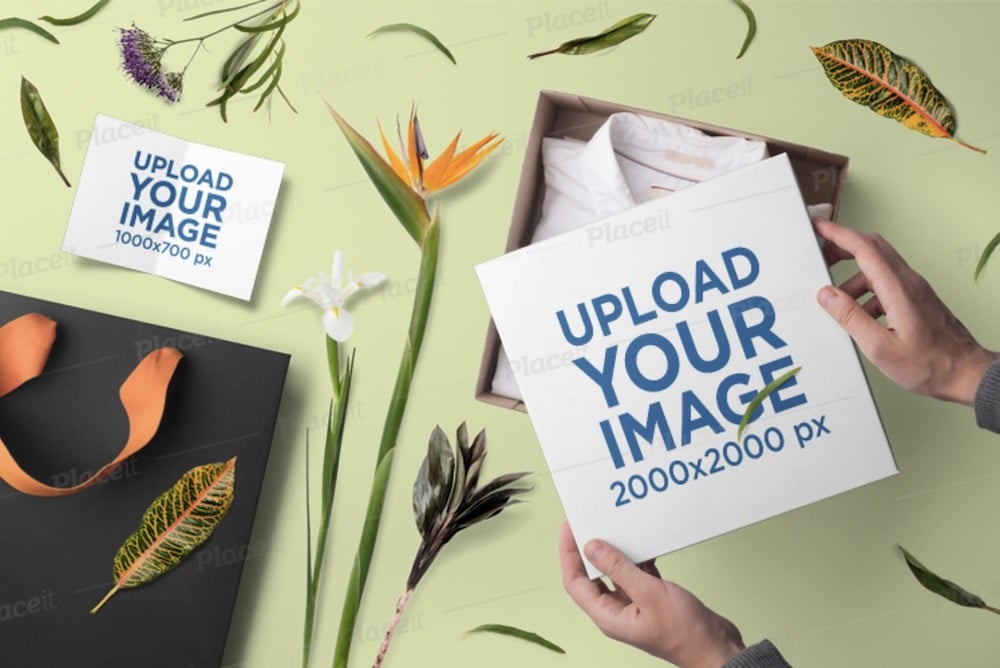 A remarkably engaging mockup that features a square box, male hands, editable card, and some flowers.
If you would like to grab everyone's attention with your stunning gift wrapping design, this mockup is probably it.
With the awesome customization function, you can quickly improve the default settings, making your very own version.
For this, of course, you only need to undergo some clicking. The colors of the box, card and background are changeable with any shade you want.
You can also attach some text, like a call-to-action or anything else your heart desires.
MORE INFO / DOWNLOAD
2. Mockup of a square gift box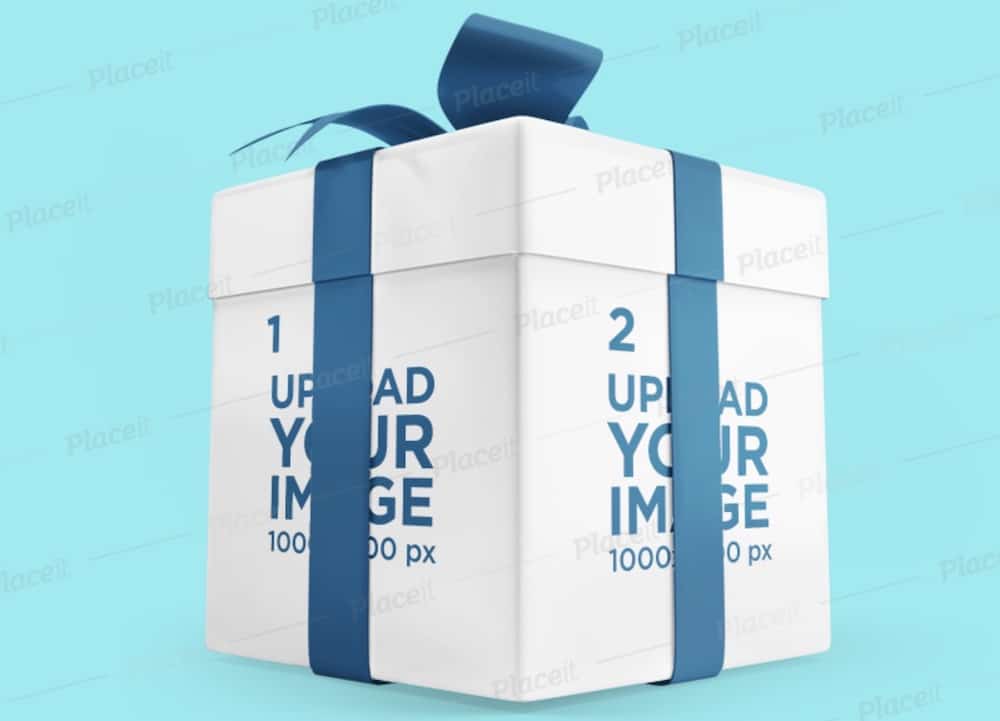 A big gift box mockup to present your design idea in the best and most realistic way. Why do the whole task from the ground up if you do not have to?
Instead, pick any of the templates from this list and boost your workflow through the roof while still maintaining your professionalism.
This particular mockup also comes with a fully adjustable ribbon just to spice things up. You can make the overall presentation as vibrant as you want with the convenient color picker.
Slide in the designs to the sides of the box and you are ready to roll.
MORE INFO / DOWNLOAD
3. Mockup of a cube box w/ label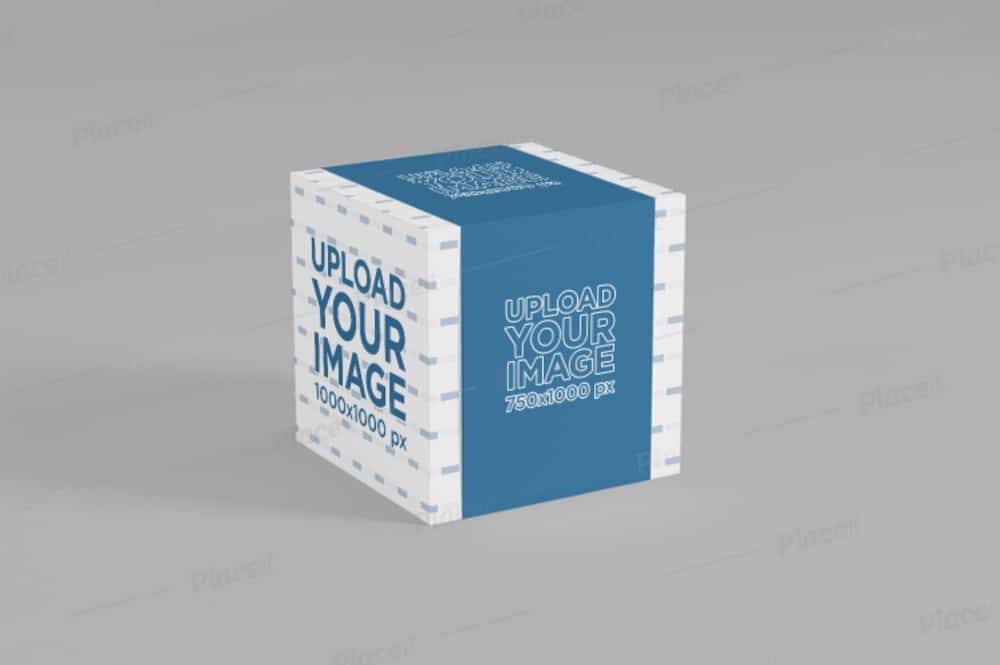 A minimal square box mockup with a label that can work for all types of intentions, even as a cake box.
Let your imagination not limit you, as you can fine-tune the template however you fancy.
Stick to the minimalism or make it energetic and vibrant with a cool color choice, whatever the case, the outcome will be highly realistic.
Indeed, you can also add a separate design to the box (1000 x 1000px) and to the label (700 x 1000px).
Once you hit the "insert image" button, a pop-up opens where you can further configure the positioning and crop.
MORE INFO / DOWNLOAD
4. Gift box mockup with editable ribbon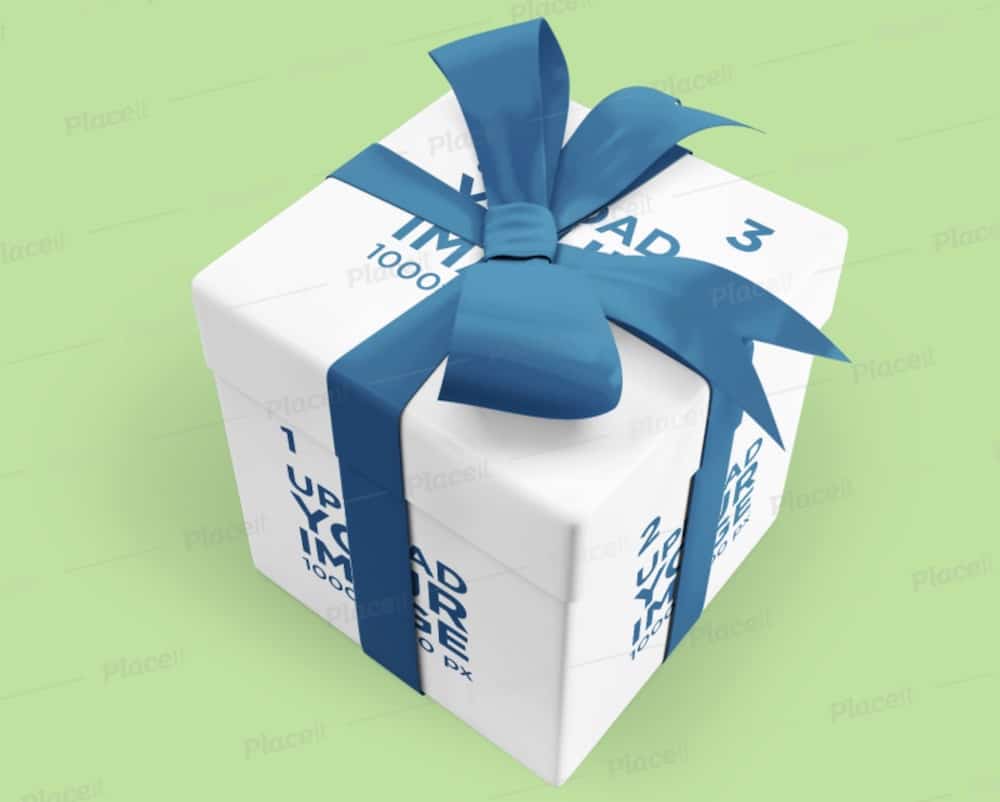 A lovely and attention-grabbing square gift box mockup with a big ribbon. First and foremost, you can alter the color of every element without breaking a single drop of sweat.
In addition to that, you can also slide in three different designs, to the top and to the sides of the white box.
But really, you can make that box of just about any shade that you fancy.
On top of that, if you have a special message to share, the optional "add text" button will unlock a new feature for your convenience.
MORE INFO / DOWNLOAD
5. Mockup of a square box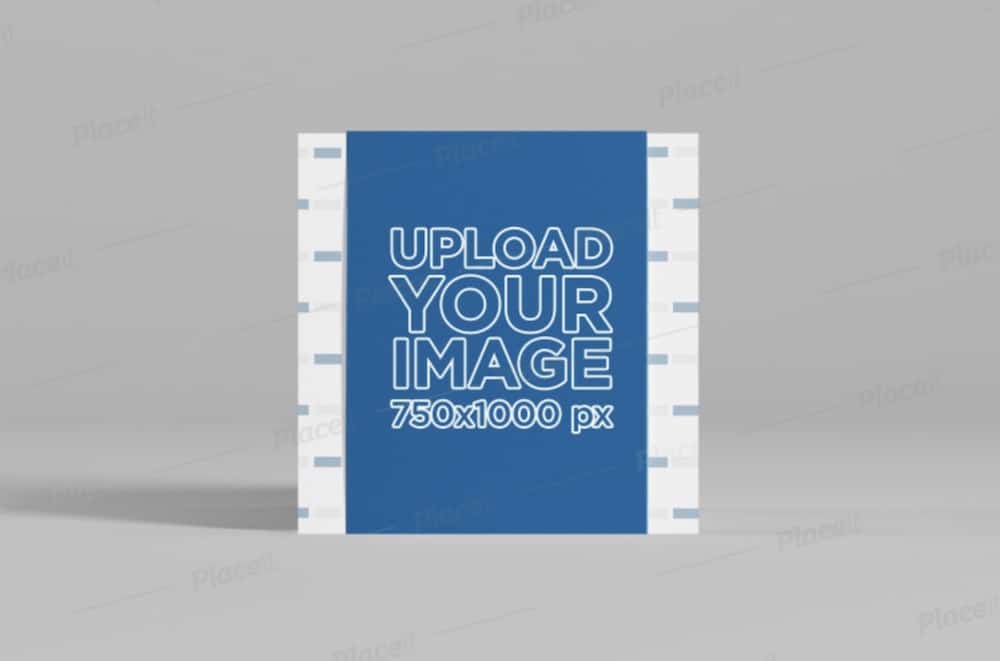 A neat and impactful mockup of a square box that emphasizes the label first and foremost. Keep in mind, you can add your image or artwork both to the label and to the paper box.
You can have it all set within seconds. Actually, you can create many different variations and only then decide on the hero presentation.
The mockup also comes with shades, which will make the final exhibition of your design idea even more photorealistic.
Take it to your total advantage and make it pop to wow everyone seeing your masterpiece.
MORE INFO / DOWNLOAD
6. Mockup of a gift box with ribbon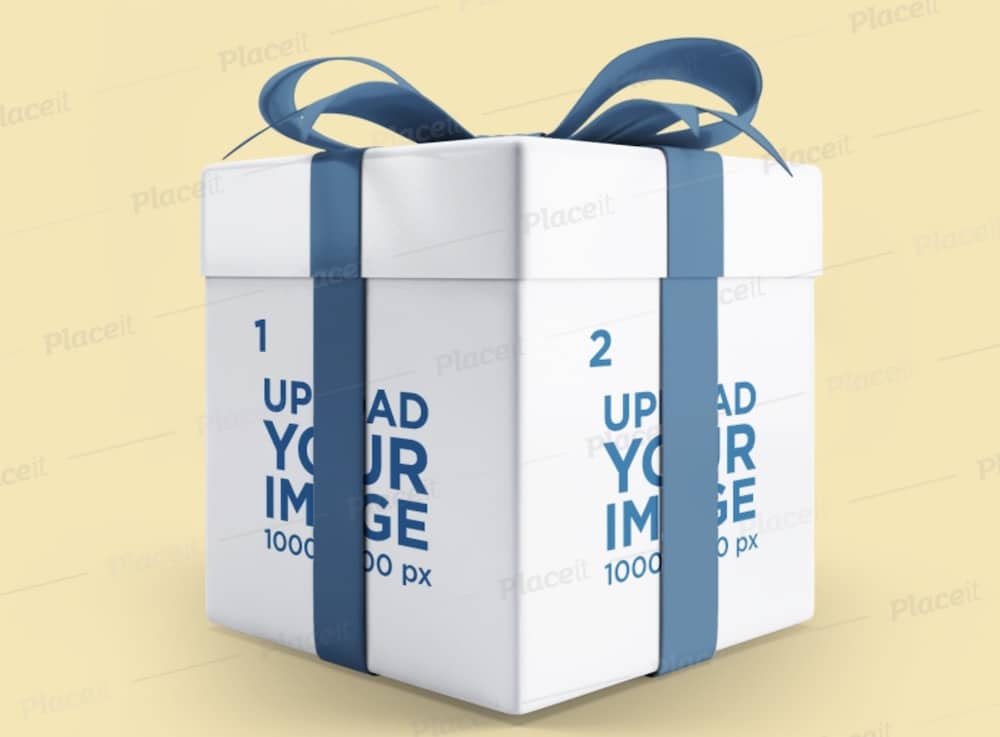 Another cool and catchy gift box mockup with a ribbon that you can design and improve to your liking.
Like any other Placeit mockup, this one also allows you to test the waters without the need to create an account.
By the way, it's free and your workflow will increase, so I highly suggest you create one.
As for the customizations, everything is editable. As you see, the box also has two working areas, which you can decorate according to the regulations. These days, little work is necessary to make an outstanding example, so waste no time.
MORE INFO / DOWNLOAD
7. Mockup of a gift box on a solid background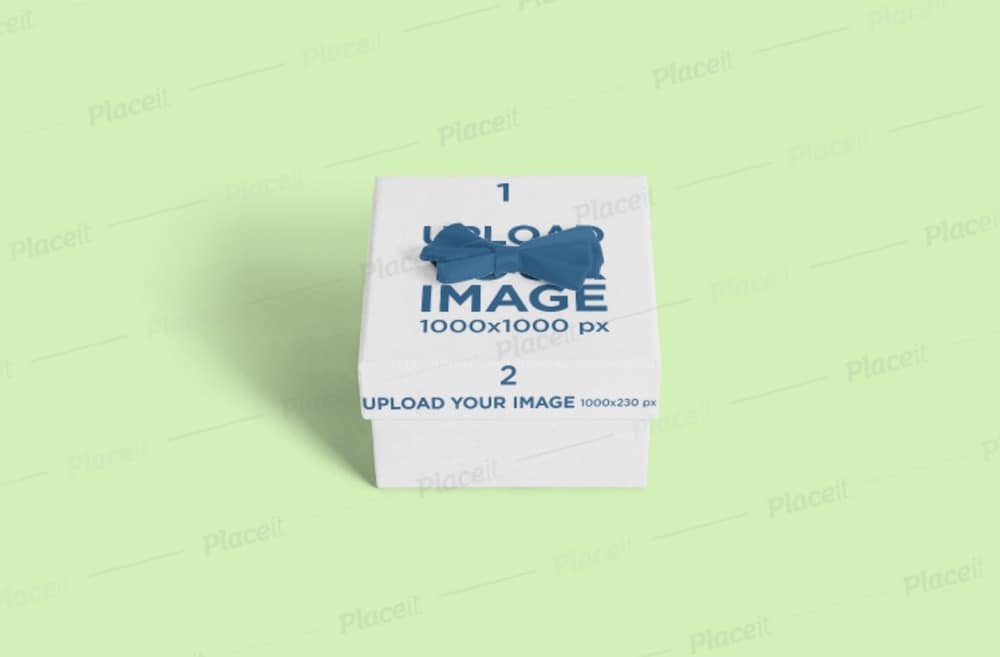 If you are searching for a gift box that has a bow instead of a ribbon, here it is. A neat solution that you can quickly enhance with your creative ideas.
What's particularly cool about this mockup is that you can individually change the color of the top and the bottom of the box. Of course, the bow and background are also editable.
With a few additional clicks, you import a design to the top of the box (1000 x 1000px) and the side of the cover (1000 x 230px). Get creative and amaze everyone, especially your client.
MORE INFO / DOWNLOAD
8. Mockup of a square box and coffee mug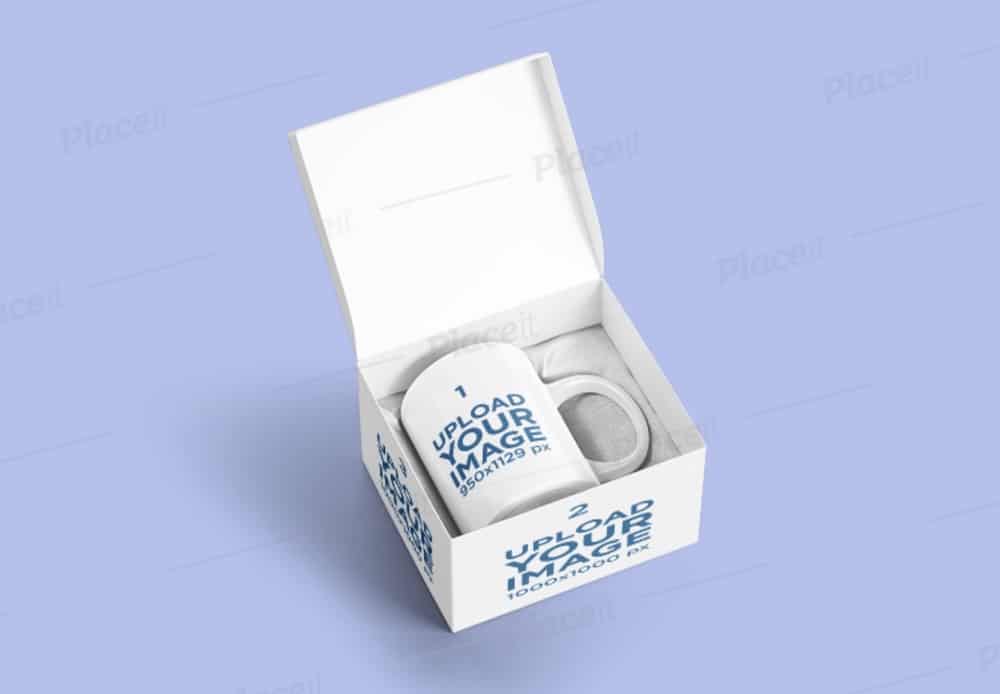 For everyone who is exclusively designing a coffee mug and packaging, this life-like mockup is all you need.
You can individually style the mug and the square box.
Improve them with any design and color choice you want, making it follow your style to a tee.
Note: Once you change the box's color, the inside also changes, including the tissue paper.
Moreover, you can use the final creation on social media, in an eCommerce store, for A-testing and prototyping; the options are endless. Make it yours and create a photorealistic product presentation that will impress everyone.
MORE INFO / DOWNLOAD
Best Square Box PSD Mockups
9. 9 High-quality square box mockups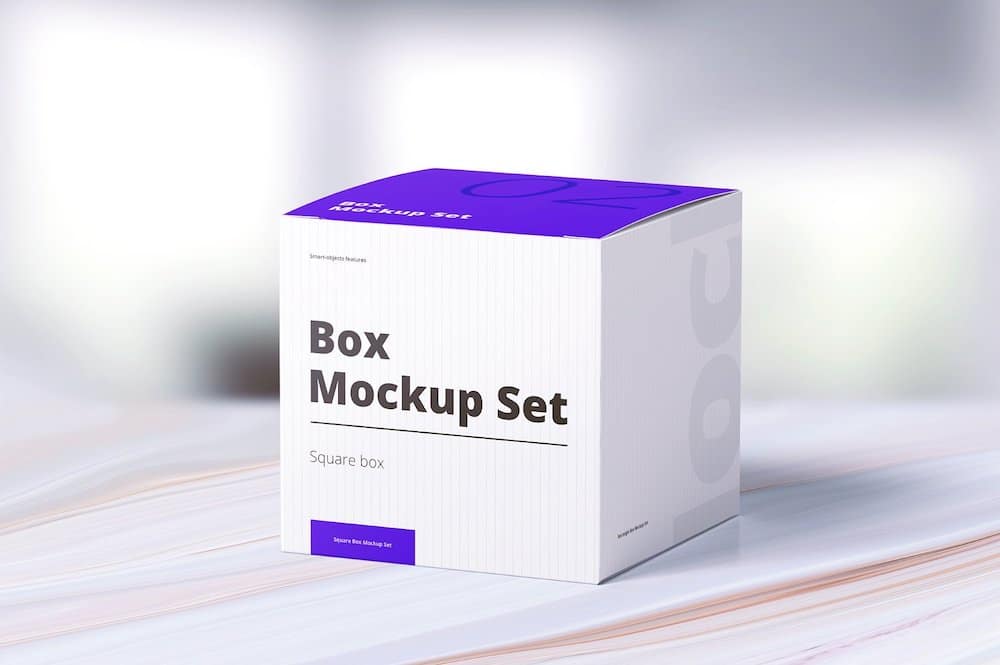 A collection of nine highly realistic and 100% modifiable PSD mockups that are effortless to use.
Even though Photoshop is necessary to use these, you do not really need to be a pro to make it happen.
Thanks to the layered structure and smart objects, you can improve each mockup in a few clicks.
Furthermore, you can change the colors, add a background and import any design or logo you want. The set even comes with a video tutorial, so you can get the gist of it first and go from there.
Price: $15
MORE INFO / DOWNLOAD
10. Matte square gift box mockup set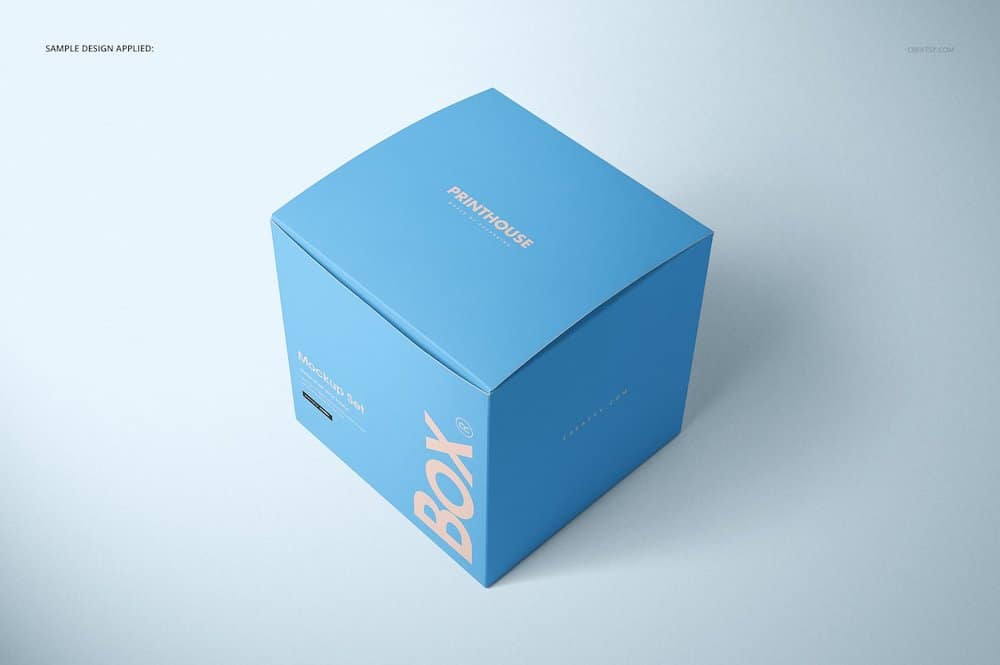 Extremely photorealistic square box mockup with a matte finish that you can use for gifts, but really, for anything that you desire.
There are four different views available, all at a high-resolution of 6000 x 4000 px (300dpi).
You can change everything, making the outcome to your needs and demands precisely.
Also, the exact measurement of the box is 15,3cm x 15,3cm x 15,3cm. However, you can play around with different options and possibilities and use the box for different dimensions as well.
After all, you can scale it up or down easily, thanks to the amazing quality.
Price: $17
MORE INFO / DOWNLOAD
11. Realistic square box PSD mockup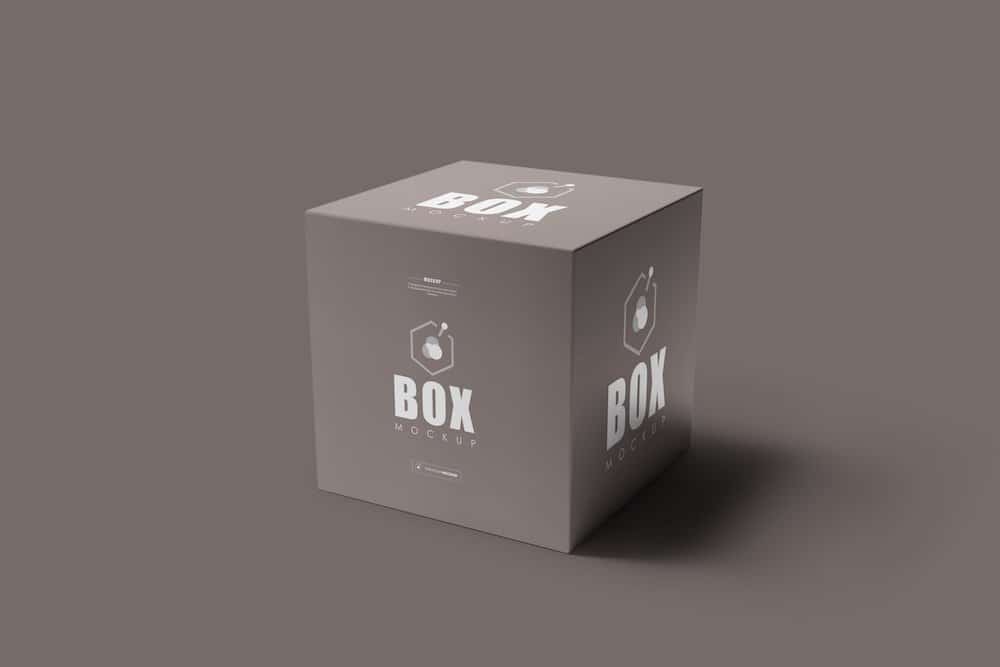 If you like to keep it simple and somewhat basic yet impactful, you better not miss checking this square box PSD mockups.
It equips you with everything you need to create a life-like demonstration of a striking box design idea that you have.
You get one high-resolution file with a fully layered structure and smart objects.
You have all the rights to customize it to the very last detail, even adding a custom background or leaving it transparent.
Feel free to take a peek at the previews first before you fully commit.
Price: $14
MORE INFO / DOWNLOAD
12. Easy-to-use square box mockups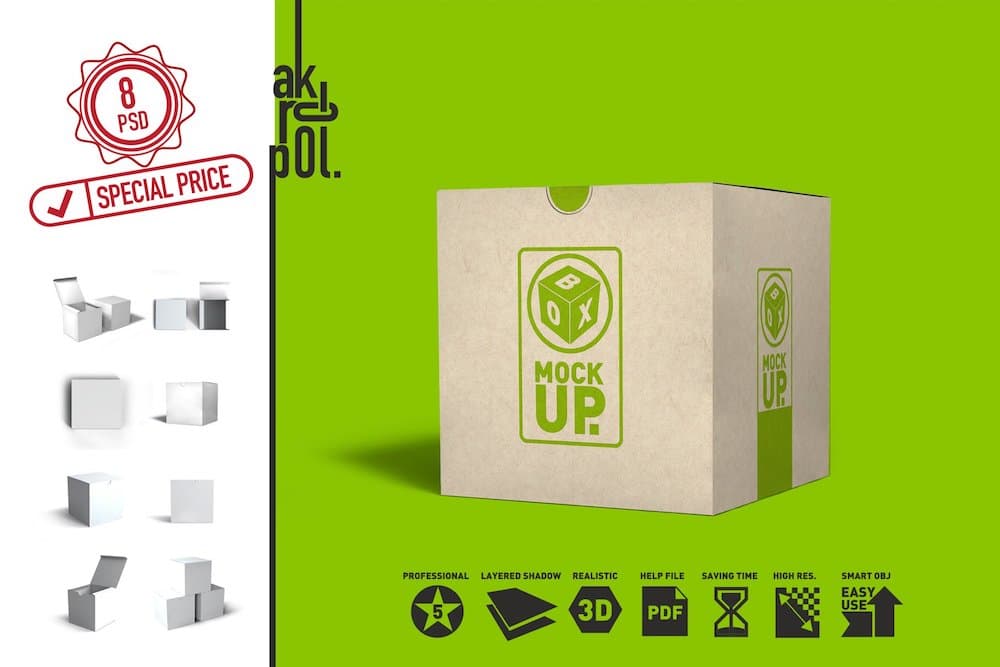 With many different views, you can utilize this particular mockup for multiple projects.
You get a collection of eight PSD files in the package, all entirely editable and modifiable to your needs.
There are open and closed variations, top and side views, pretty much anything and everything you would want from a resourceful kit of square box mockups.
Other features are layered shadows, two paper textures and a help file, so you will never feel lonely.
Create a jaw-dropping square box presentation quickly and efficiently. You can also preview all the different views, so you know exactly what you get.
Price: $14
MORE INFO / DOWNLOAD
13. Square package mockup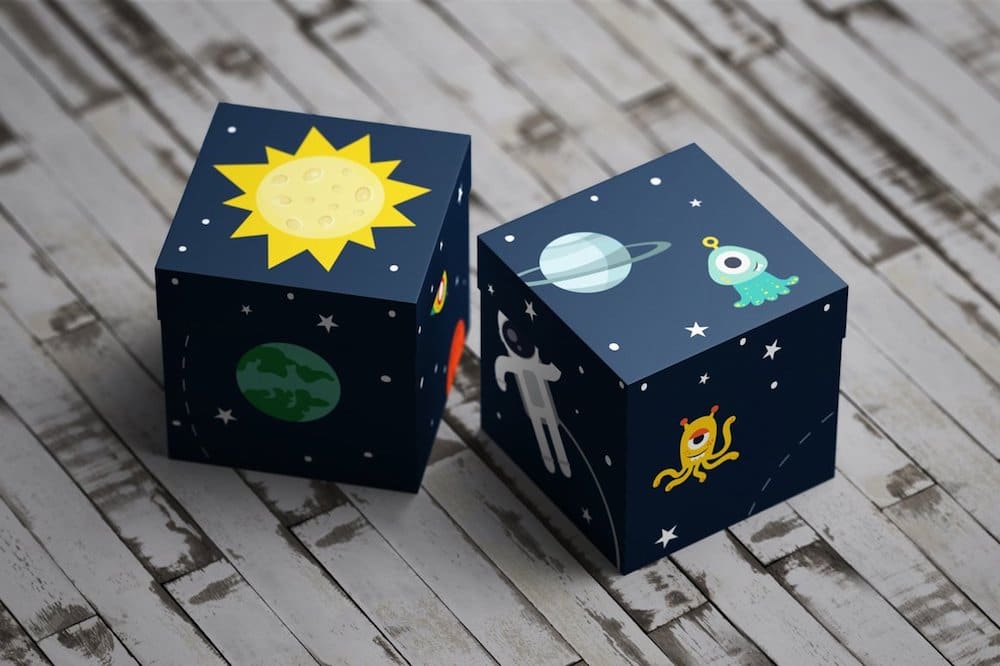 A full-blown, highly versatile and effortless to use square box mockup that comes in six different PSD views.
Open and closed, as well as a few different angles, are all at your disposal to make your designs shine. You have full control over every file, ensuring you to tailor it to your needs and wants with comfort.
All the sides (and the insides) of the box are editable via the practical smart object layer. You can also create a custom background and control the depth of field.
Tons of great features for you to bring to fruition a stunning result.
Price: $14
MORE INFO / DOWNLOAD
14. 5 PSD mockups of a square box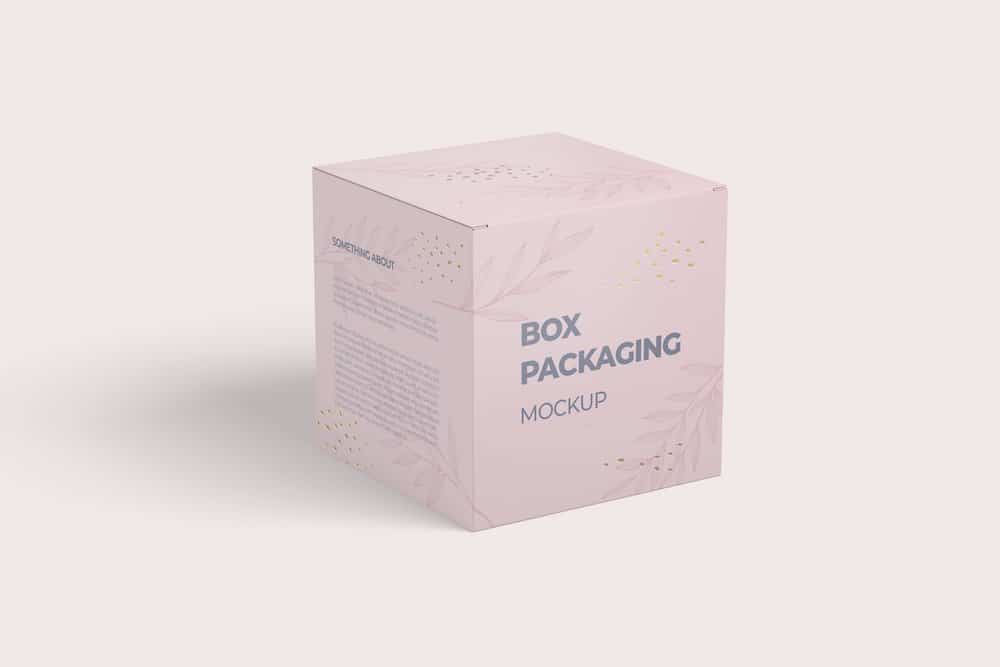 Even though this particular collection of square box mockups is more on the minimal side, you can easily use it for something more luxurious, like perfume.
Thanks to the gold foil effect, your designs will pop and create a beautiful and attention-grabbing outcome.
You get five PSD files in the bundle, covering all the sides of the box for a complete exhibition.
What's more, thanks to the amazing quality, you can create a very detailed presentation, even when zooming it in.
Play with the very many customization functions and design a presentation that will grab everyone's curiosity.
Price: $14
MORE INFO / DOWNLOAD
15. Square cardboard box mockup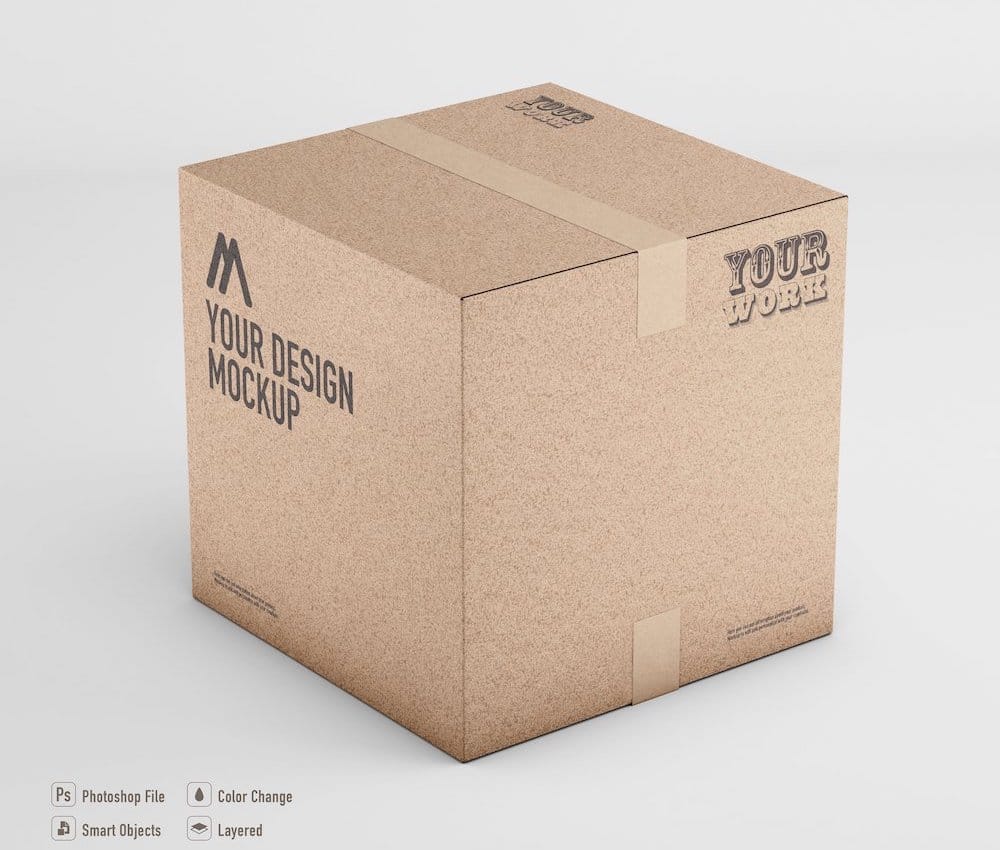 The most all-around and useful cardboard box that you can apply to food packaging, cargo, clothing, whatever.
With quick customizations and improvements, you can bring to reality a brandable box without sweat.
Tailor it to your needs and your client's firm by editing it via the smart object layers. Moreover, you can also fine-tune the color and enjoy the fully layered and organized structure.
Little do you know, in a few clicks, you will have it all set to share with your client. You can still create as many improvements and adjustments as you want before finishing the project.
Price: $17
MORE INFO / DOWNLOAD