Are you searching for the best free and premium booklet mockups to create a life-like design presentation?
Welcome to my ultimate review of the best online generators and PSDs.
I tried and tested 50+ templates, narrowing things down to these BEST seventeen.
Everything is done for you, so you treat yourself to an easy and quick mockup creation.
You don't need any special skills, even when it comes to Photoshop (thanks, smart objects!).
This post covers:
Dive right in and enjoy a realistic outcome that TAKES seconds to realize.
You can start celebrating already!
Best Booklet Mockup Generators
Get a booklet generator for $7.95 per piece.
But, I recommend either Placeit's monthly ($14.95/month) or yearly ($89.69/year) subscription (it'll save you a ton of money & time).
Enjoy making a mockup without Photoshop like a champ.
1. 2 Booklets on a wooden surface mockup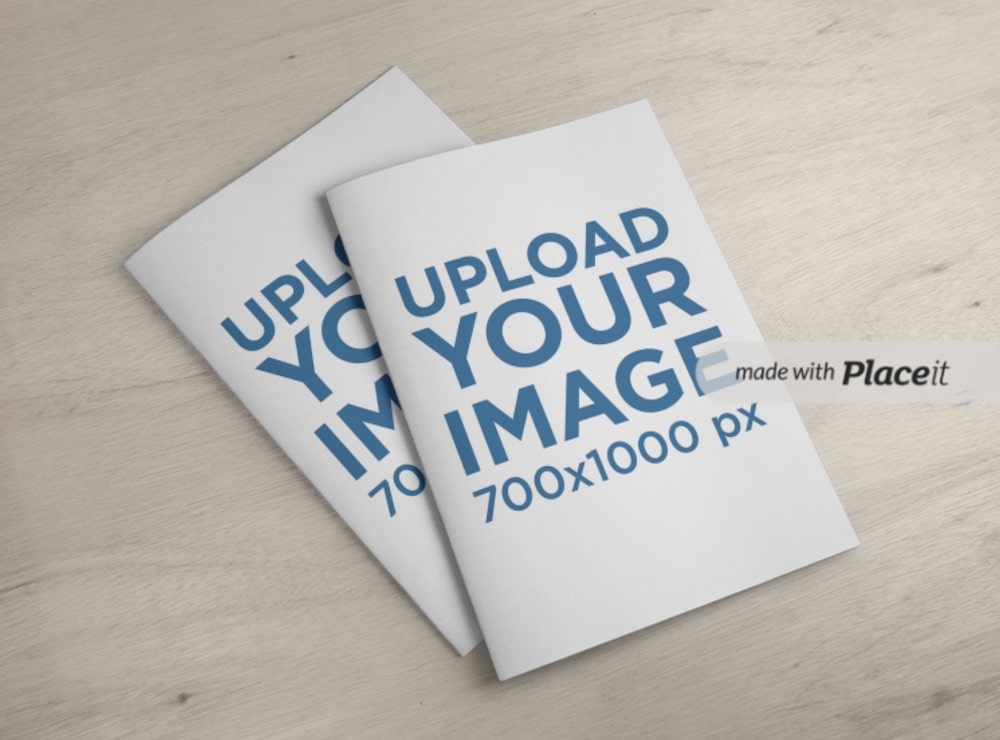 I always go for simplicity if I'm unsure about product presentation with a mockup. This booklet generator is a perfect example of that!
It's also the template I used the most.
It features two booklets on a beautiful wooden background with 100% EDITABLE covers. You can customize both with any color you want and import any design you want.
So. Simple.
The generator also supports adding custom text and graphics. Create your version with ease!
MORE INFO / DOWNLOAD
2. Open booklet mockup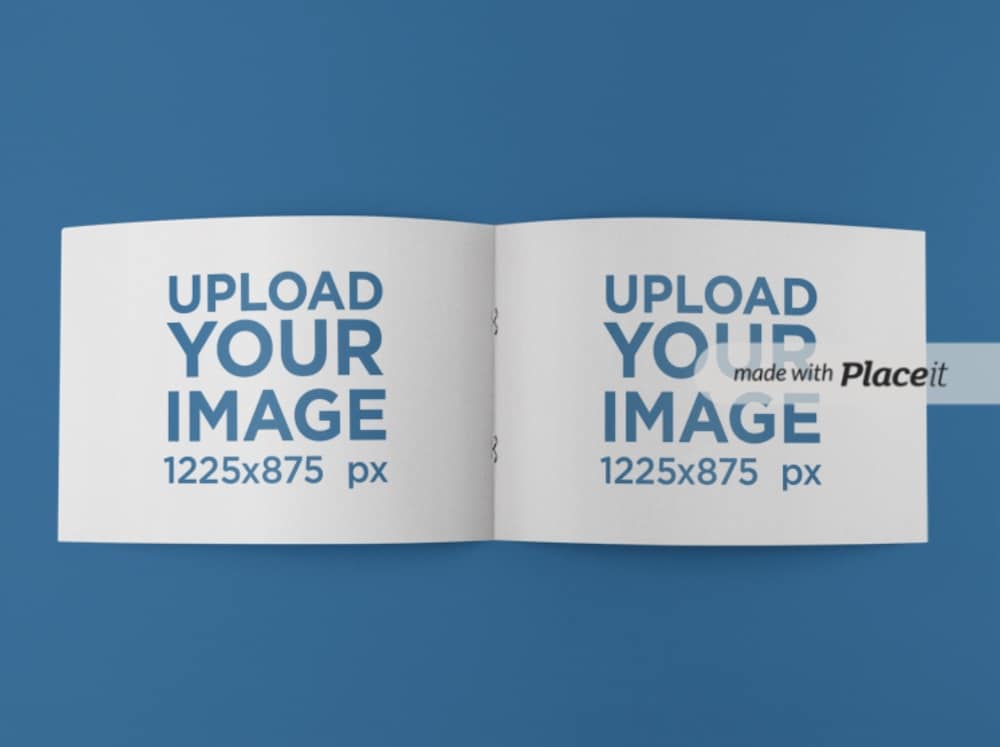 And I go with this booklet mockup when I need to create a life-like presentation of how the inside looks. The full spread offers you to quickly improve it with any artwork you want.
Upload one for each side directly from your device, edit colors and that's it! I did change the background, making it fit my designs better.
Note: If you're designs are 1225 x 875px they'll cover the entire sheet of paper – no need to change the color.
MORE INFO / DOWNLOAD
3. Square booklet mockup generator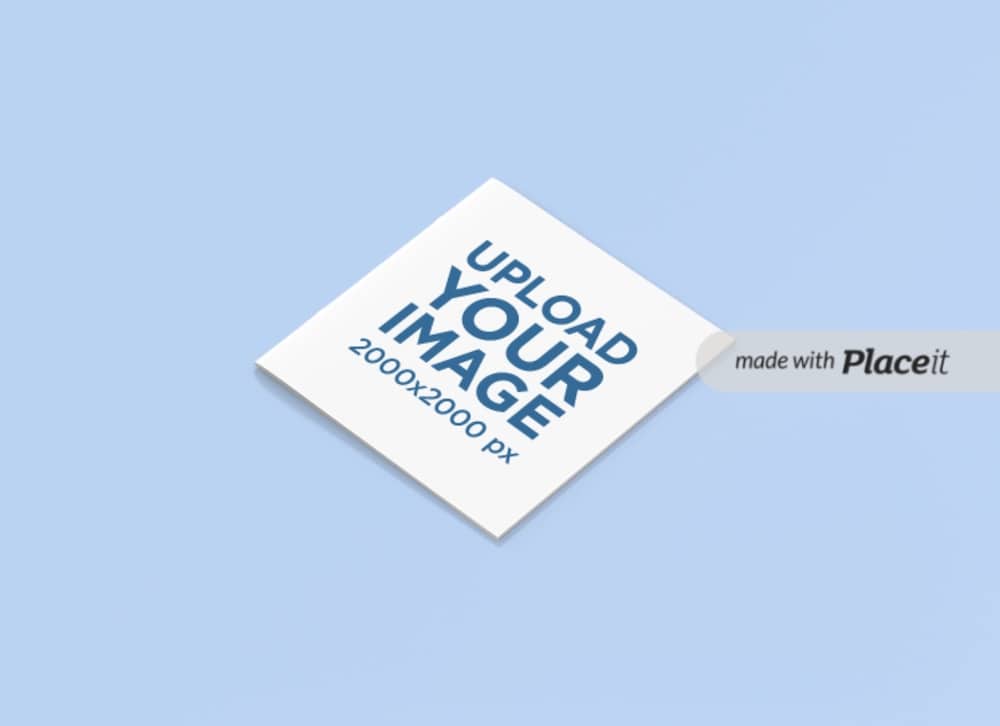 I noticed many using square booklets, including my three clients. This booklet mockup's MINIMALIST approach sorted things out beautifully for me.
And I vouch that it'll do the trick for you, too.
I especially like the option of uploading a custom background, which I did. But you can also pick from predefined ones directly on Placeit.
Easy and quick work for a pro-level outcome.
You. Deserve. It!
MORE INFO / DOWNLOAD
4. Woman reading a booklet mockup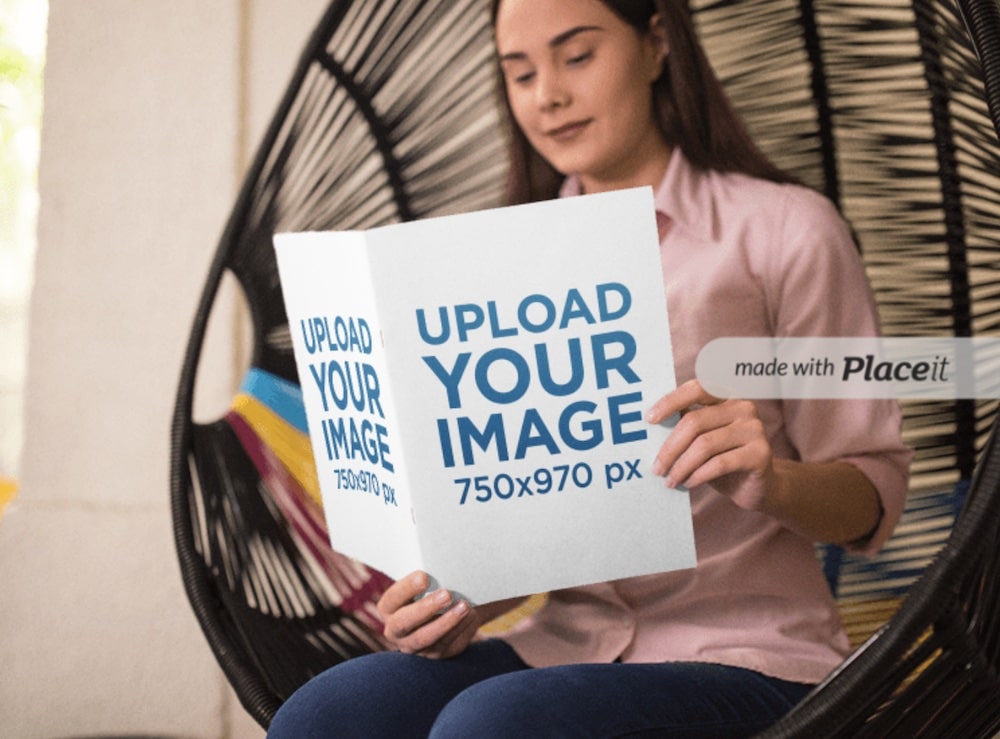 But I also needed a few booklet mockups with models and this one was the BEST performer.
You can create a life-like presentation of the booklet's front and back covers with a few clicks of a button.
This is the only thing I did, but you can also add text and graphics (which I don't really recommend).
The mockup emphasizes the booklet designs in all of their light!
MORE INFO / DOWNLOAD
5. Template of a vertical booklet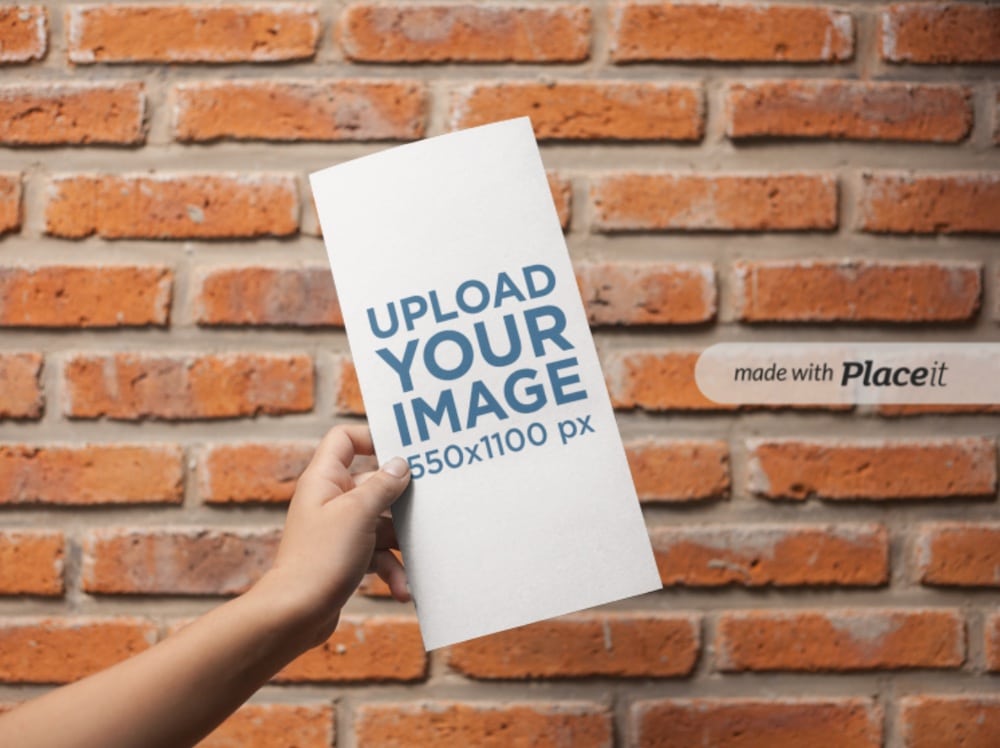 I highly advise you to opt for this mockup if you need to create a realistic presentation of a vertical booklet.
This brick wall makes everything looks so much more EPIC. (It's an all-around background that fits any design.)
Add text and graphics, change the color and insert an image – it'll take you seconds!
I tested it using a stopwatch and it stopped at 47 seconds.
Too much fun. Boom.
MORE INFO / DOWNLOAD
6. Mockup of a booklet in hand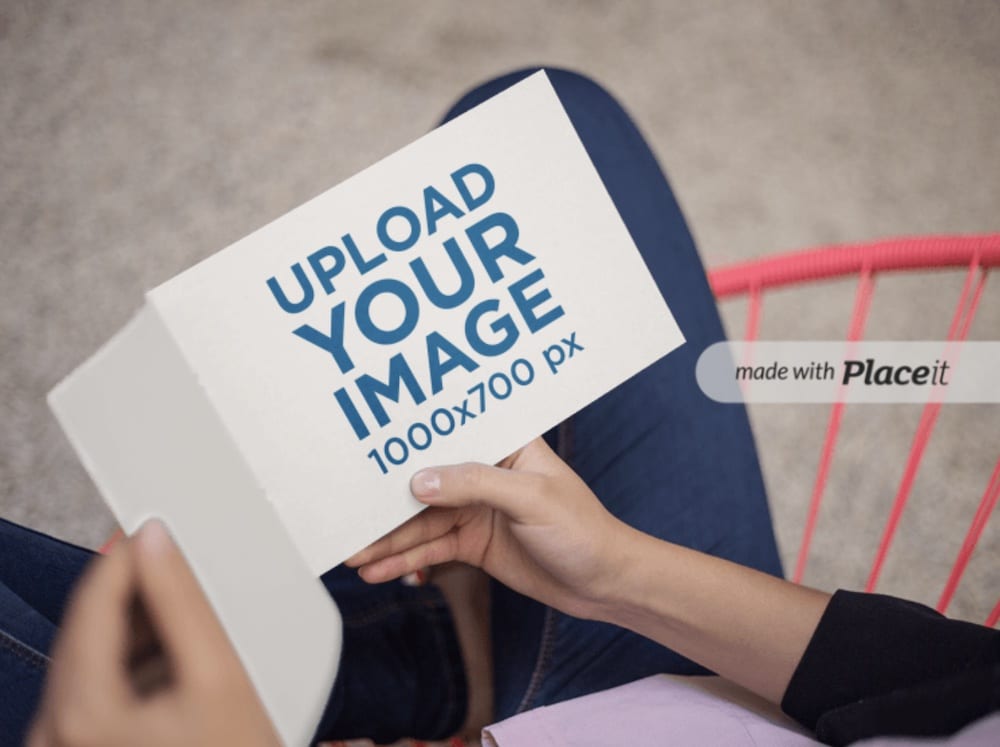 This is another one of my favorites because of how good it looks for social media promotion. Your client will like the idea you have even MORE when you showcase it with this one!
The process is almost too easy to complete, so I won't even go into details.
Yes, it's a Placeit generator, and yes, it only takes some clicking to improve it however you want.
Over to you.
MORE INFO / DOWNLOAD
7. Opened square booklet template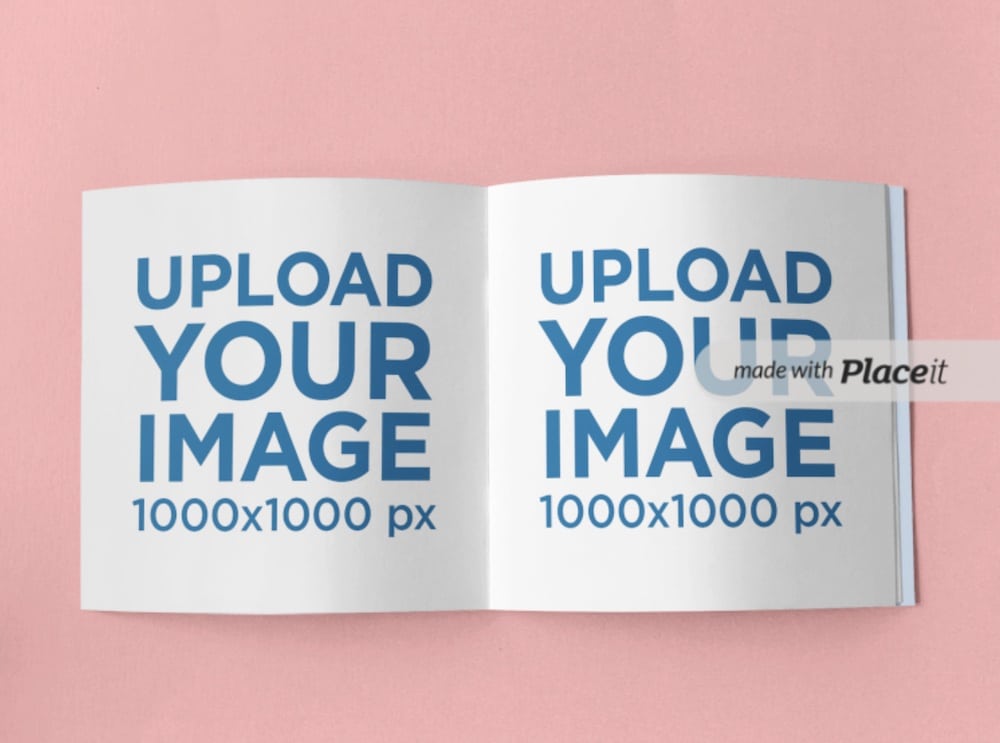 I also used this open version for the showcase along with the above square booklet mockup. Perfect match.
Each page has a 1000 x 1000px working area that you can beautify however you want.
If you have the right size artwork, that's great. But if you don't, that's great, too, because you can change the paper color.
Plus, the background is editable, ensuring you make the outcome that's PRECISE to your liking.
MORE INFO / DOWNLOAD
8. US letter size booklet generator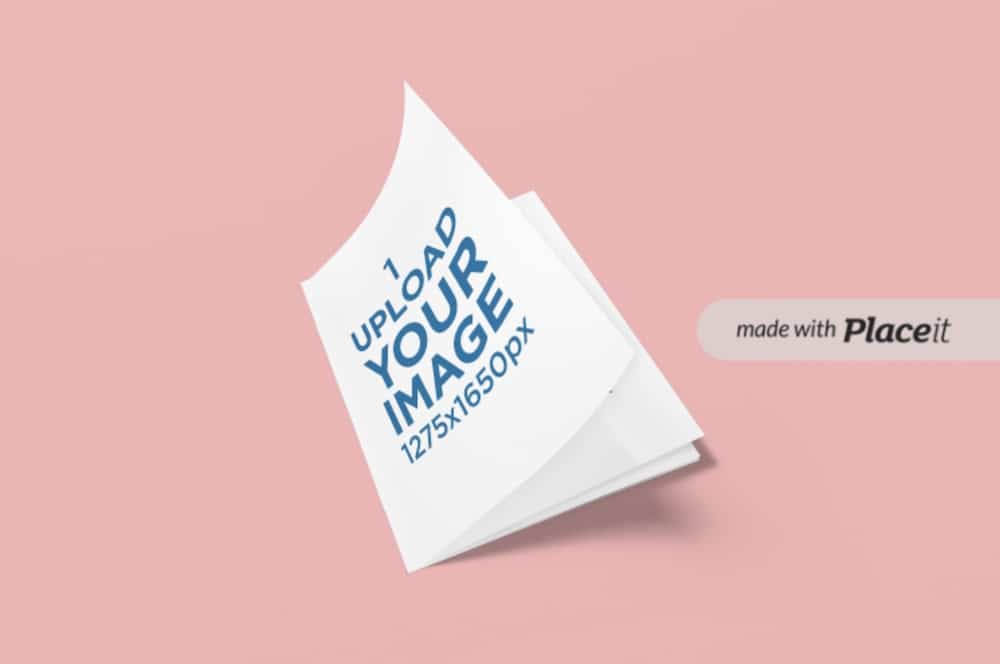 Don't miss this "flipping" generator if you want to play some more and practice your booklet design creativity.
It has everything you need and what I especially like is that it allows you to add a design to the internal page and not just the cover.
You have ENDLESS backgrounds to choose from (use the search bar to quickly find the right one) or upload your own.
Note: This is a US letter size booklet.
MORE INFO / DOWNLOAD
Best Booklet PSD Mockups
Do you need more creative freedom? You get it with these layered PSDs!
9. US letter PSD mockup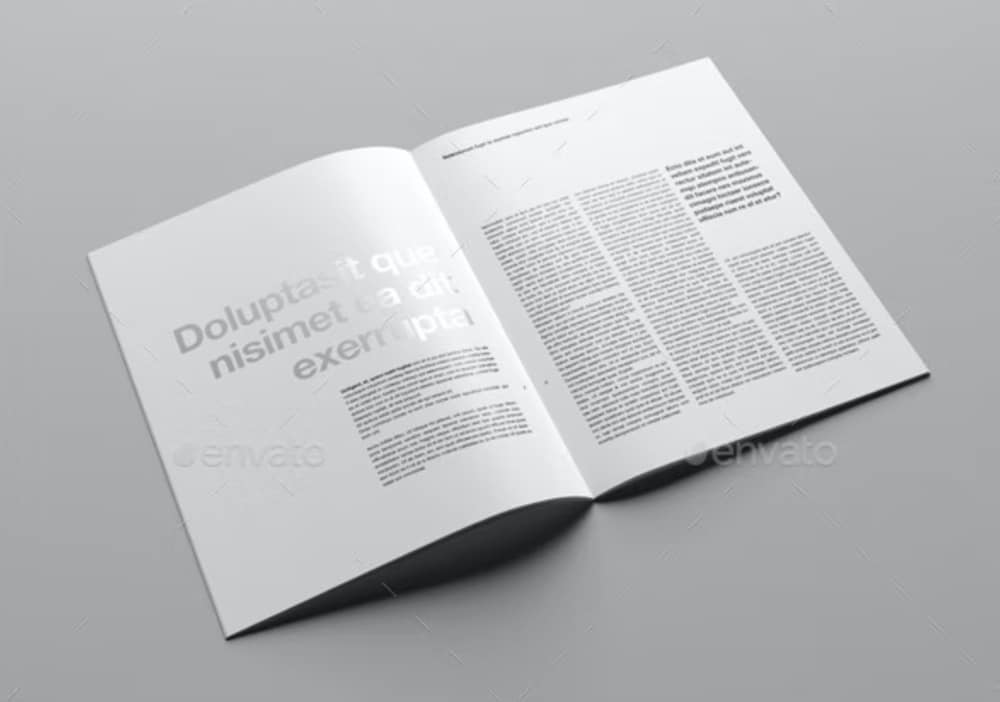 The collection of these seven US letter booklet PSD mockups equips you with everything for a fantastic outcome.
And the quality will be outstanding, thanks to the 4000 x 2667px resolution. (You can easily create close-ups!)
Import all your designs via the smart object layer and enjoy applying other ready-to-go features. Front and back cover, inside pages, foil stamping and global illumination – YOU GET it all!
Basic Photoshop skills are all it takes to create a professional booklet design showcase.
Price: $13
MORE INFO / DOWNLOAD
10. Brochure & booklet PSD mockup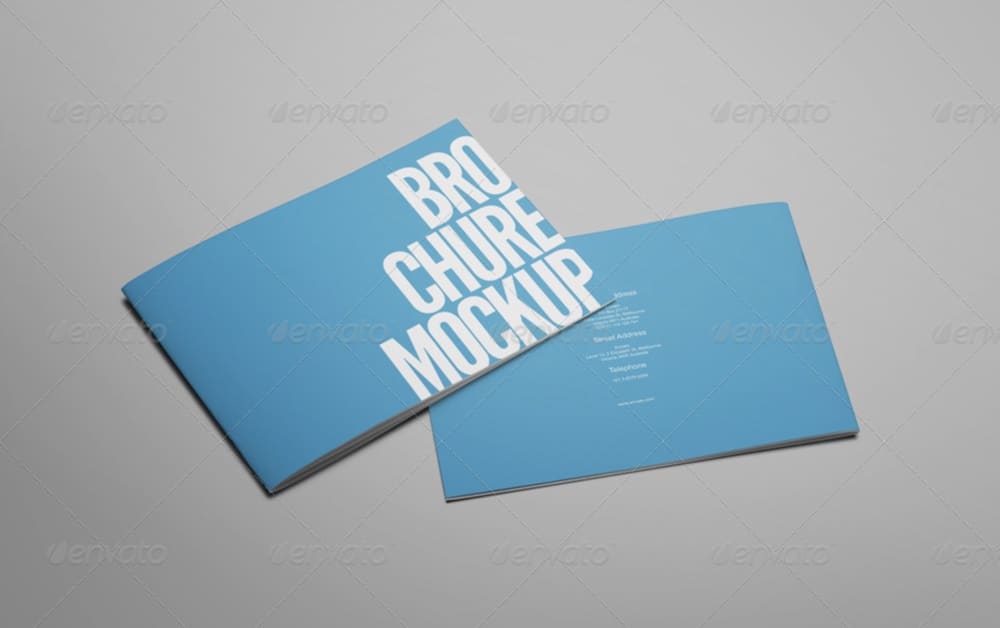 I needed to create a landscape-style booklet a couple of times and always picked this one to make it happen.
Hint: I used different PSD templates for both projects, thanks to the ten available ones.
The author did everything with excellent quality and great attention to detail. Each of the mockups will present your artwork, whether it's minimalist or complicated.
I also used their filters but applied my custom backgrounds. ENJOY!
Price: $9
MORE INFO / DOWNLOAD
11. Photorealistic booklet mockup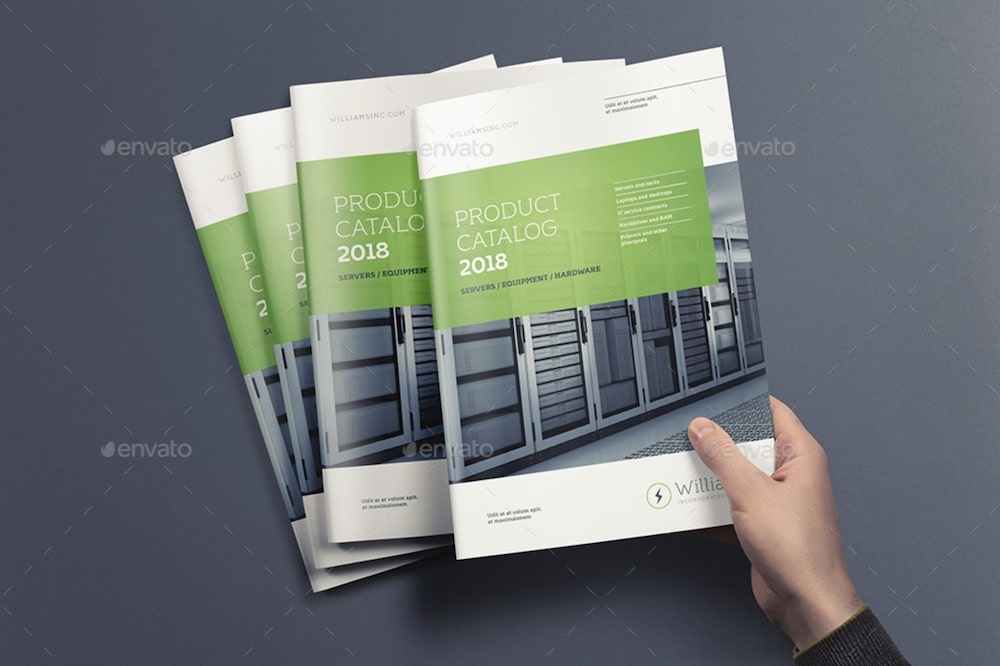 Designing a photorealistic brochure or booklet becomes a piece of cake with the right tools. And these thirteen mockups are the right tool!
I especially enjoyed working with the booklet in-hand mockups (you get three), but all the rest are equally amazing.
What impressed me are the five available backgrounds you get, which spice things up nicely. This entire set is ideal for any type of color, including black and white!
Make the arrangement you want and create a final piece that'll WOW your client, your audience, EVERYONE.
Price: $12
MORE INFO / DOWNLOAD
12. A4 booklet PSD mockup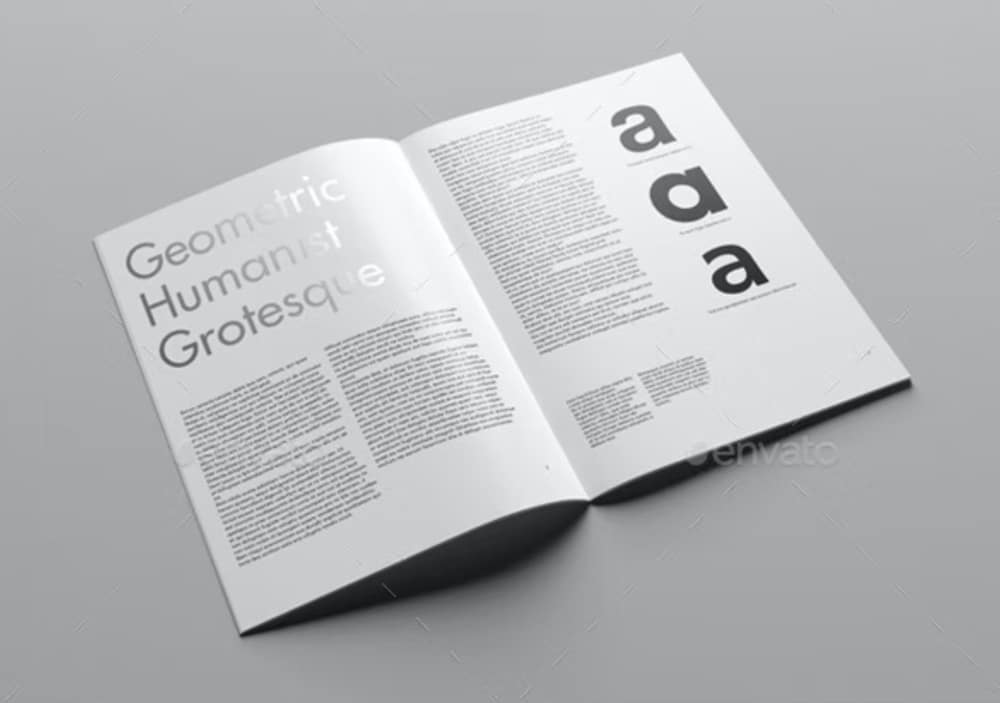 While I didn't work on any project with this one, I did receive many requests to also include an A4 booklet mockup.
This is the best one I could find, actually, it's seven-in-one! You get to work with seven (4000 x 2667px) templates that are JUST amazing.
I tested each PSD with small and large texts, colors, images and graphics.
My findings: It works well for everything! Get it and see the magic happen.
Price: $13
MORE INFO / DOWNLOAD
13. Square brochure mockup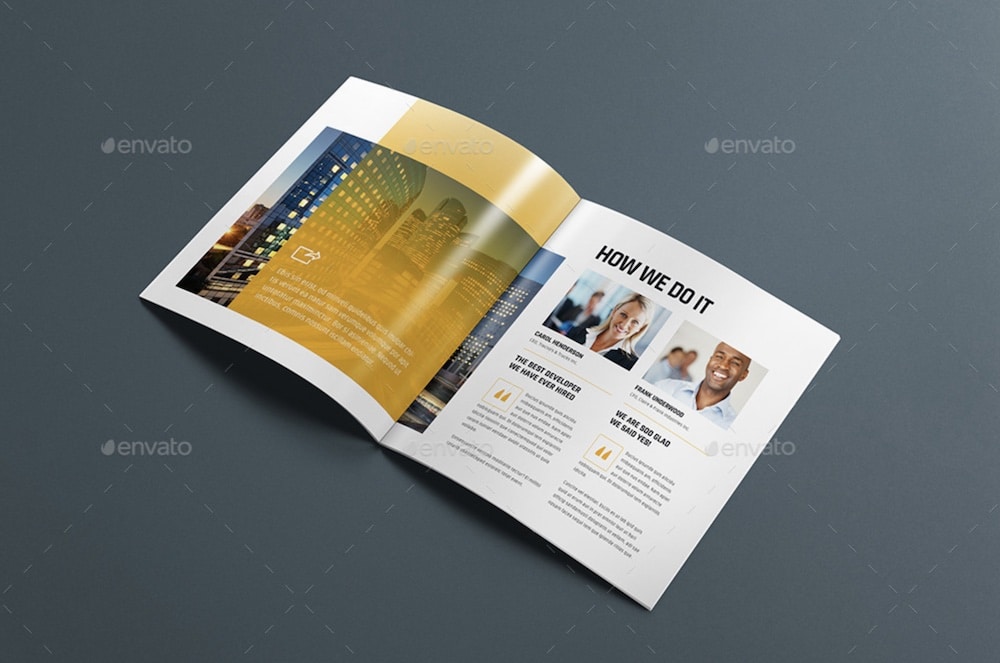 Yup, another extremely life-like square booklet PSD mockup that equips you with a collection of thirteen templates. (And six are booklet in-hand ones!)
And you know the batch is doing something right, thanks to its 1,000s of sales and high rankings.
LOVELY.
Meet the best qualities without starting from scratch. Enjoy editing shadows, reflections and background, even choose from the predefined ones, working even faster.
Note: The illustrated PDF manual is very handy, so don't worry if you're a complete beginner. You will win the game!
Price: $12
MORE INFO / DOWNLOAD
Best Free Booklet Mockups
Freebies? Yes.
14. Free overhead booklet mockup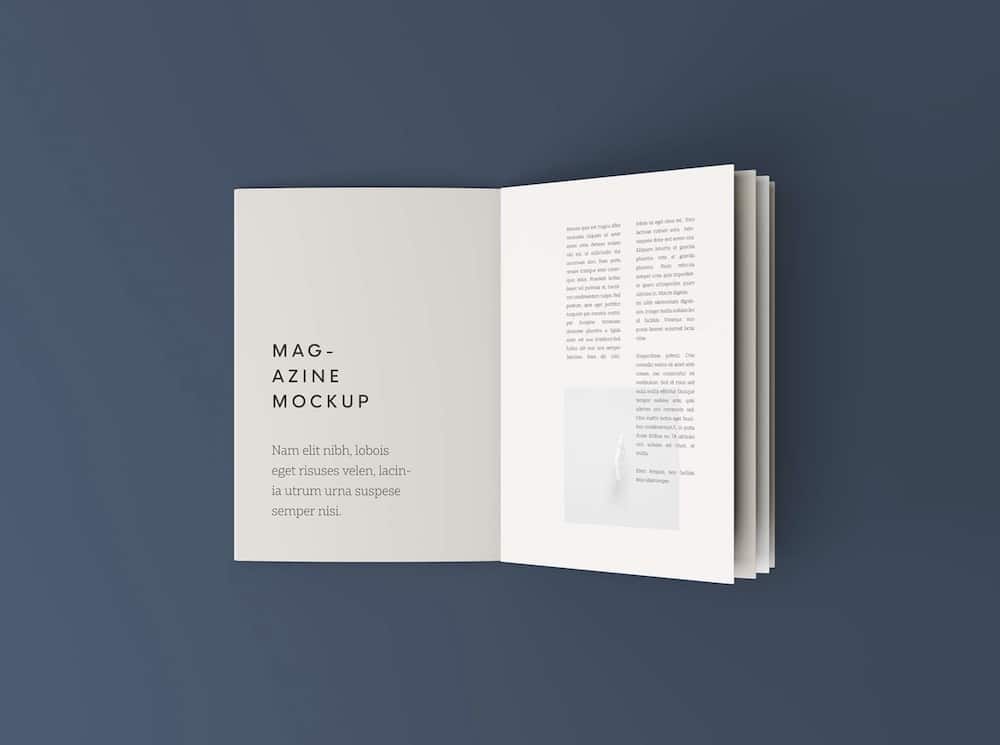 You can create an equally TOP-NOTCH booklet presentation with a free mockup that you are with a premium one. But only in this case because I picked the ultimate.
The overhead booklet view gives you a chance to put the inner page design on display with a realistic feel.
The 4952 x 3702px dimension is very large for a freebie, and it even comes with help documentation (which I doubt you'll need).
MORE INFO / DOWNLOAD
15. Free A5 brochure PSD mockup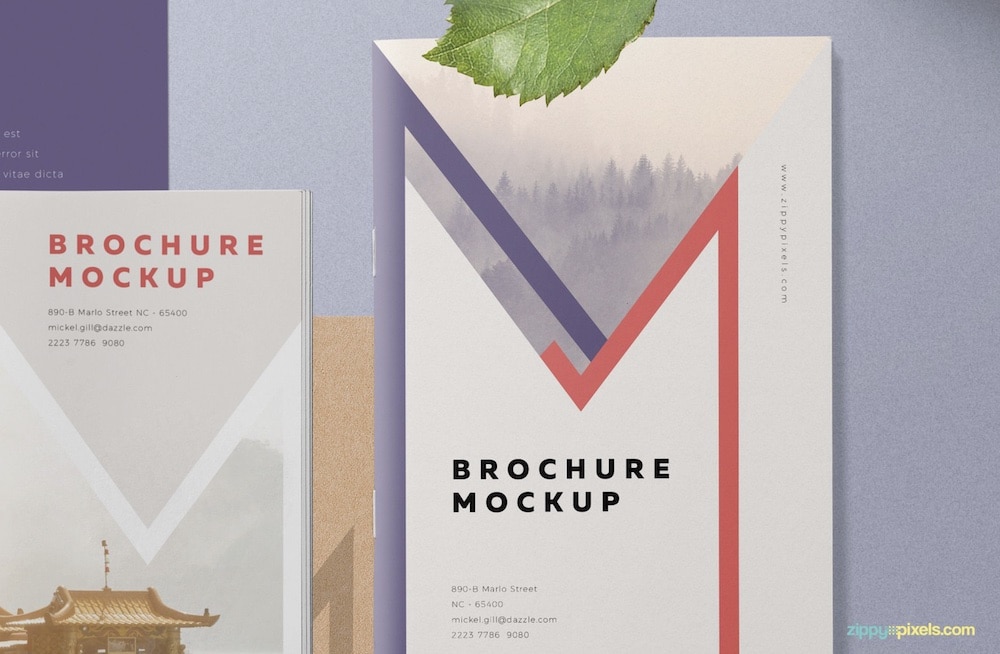 This is a pretty crowded one, but everything is done with GREAT taste and detail.
You get to work with an open and a closed A5 booklet, and you can even design a letterhead. Other details are a file, cup, plant and a Samsung tablet.
What I like about it is that every item is on a separate layer, so you can easily customize each. And you can even show/remove an item you do/don't like.
So. Good.
MORE INFO / DOWNLOAD
16. Catalog booklet PSD template scene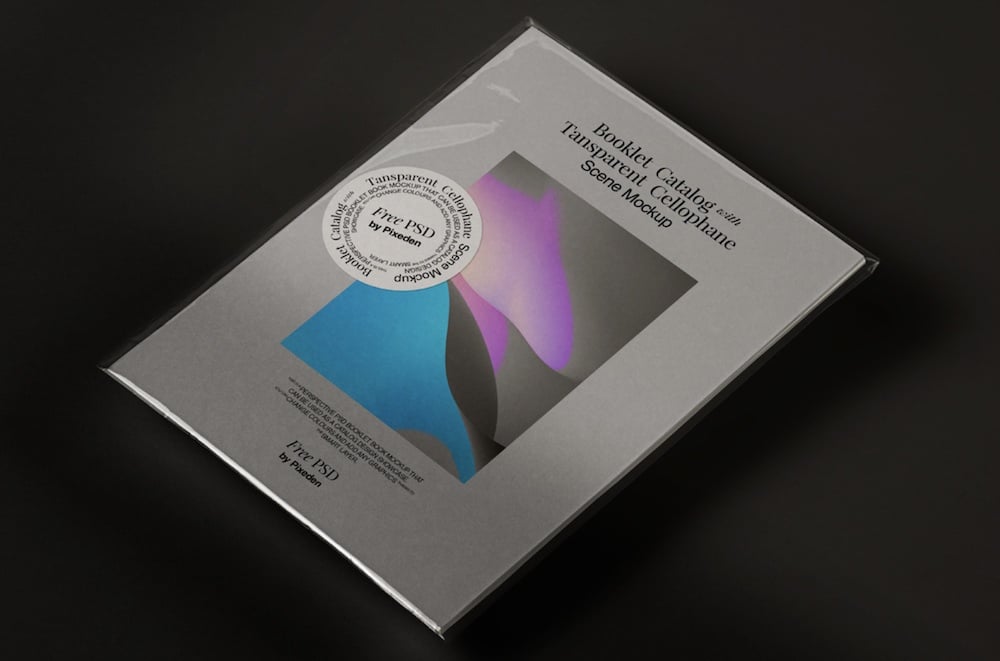 Make a cover of a booklet or a catalog (a brochure, too!) with this easy-to-use PSD mockup.
This is a VERY popular one (10k+ downloads), all thanks to the great quality. What makes this one special is the plastic bag (transparent cellophane), which even allows you to add a sticker.
Make your version fast with instant artwork inclusion via the smart layer.
You're in total control!
MORE INFO / DOWNLOAD
17. Travel PSD booklet mockup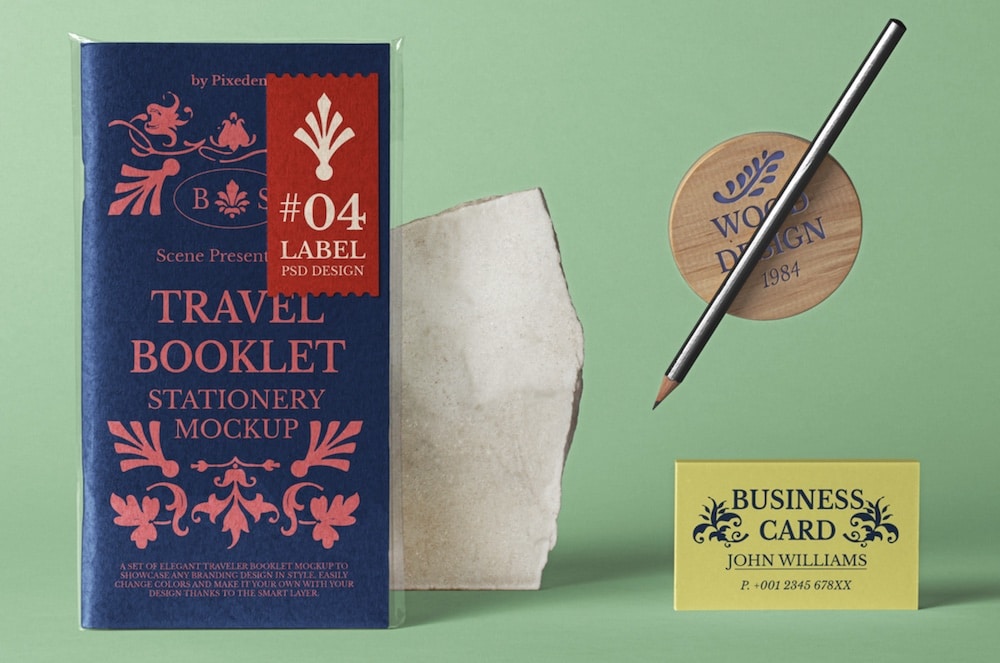 I included this one even though it's more niche but it worked so well for me when creating a local travel booklet that it deserves a spot.
It has various details, including an option to design a business card, which makes this booklet PSD mockup EVEN better.
Remember, you control the design, so feel free to go against the grain and tailor this scene to a different industry because it's so easy to do.
MORE INFO / DOWNLOAD
How To Make A Realistic Booklet Mockup?
You're in for a quick tutorial because it only takes four steps to make a life-like presentation of your custom booklet design.
Yes, really!
And to achieve this speedy result, we'll use my favorite online mockup generator platform, Placeit.
You only need to create a free account (actually, you don't have to if you only want to test the waters), and off you go.
Note: I recommend you create an account because it'll simplify your workflow by a WHOLE bunch.
Design A Booklet Mockup In 4 Simple Steps:
Step 1: You will unlock 70+ top-notch templates by clicking on this link (it takes you directly to Placeit's booklet category). You can then refine your search by applying various filters. But you can also use the practical search bar with recommendations for quick finds. Or work with any of the above ones.
Step 2: Once you spot the template that sparks your interest, click it and then use the "insert image" button to slide in your design. Do this first because it allows you to test and see how well your design and template work together. (The popup window that opens offers you to change your design's position and size.) Repeat the process if the template allows you to showcase multiple page/cover designs.
Step 3: You can then activate other customization functions, like changing the paper color, adjusting the background, adding text and graphics, and more.
Step 4: Click the "download" button when done and save the mockup to your device.
On the other hand, if you use Photoshop, you only need basic design skills and are ready to rock and roll.
Open PS and import the PSD file.
Then skim through the organized layer structure to find a smart object, allowing you to drag and drop your design.
This is where a PSD deviates from an online mockup generator.
The former gives you some more creative freedom when refining the default look. Besides changing the colors and the background and adding stuff to it, you can also alter shadows, lights, etc.
Hit save and then download your mockup to your device.
You'll get a thrill out of both processes because they are so much fun.
::
Note: This article was originally published on June 24, 2022. But our team regularly reviews it and updates it with necessary improvements for accuracy.