We are excited to bring you our collection of the ultimate free and premium popcorn mockups in PSD.
How we picked these?
By their mouthwatering factor, which is pretty HIGH in all cases.
Joke aside, we based them on their realistic effect and versatility. (They are all high-quality!)
Some are more basic and some more engaging.
We made sure to add something for everyone.
And when it comes to free popcorn PSD mockups, boy, are those top-notch as well. (We use these often.)
This post covers:
Make your popcorn packaging design and branding stand out with a realistic mockup.
Don't wait for tomorrow, have some fun now.
Best Popcorn Box Mockups
1. Popcorn (with drink) PSD template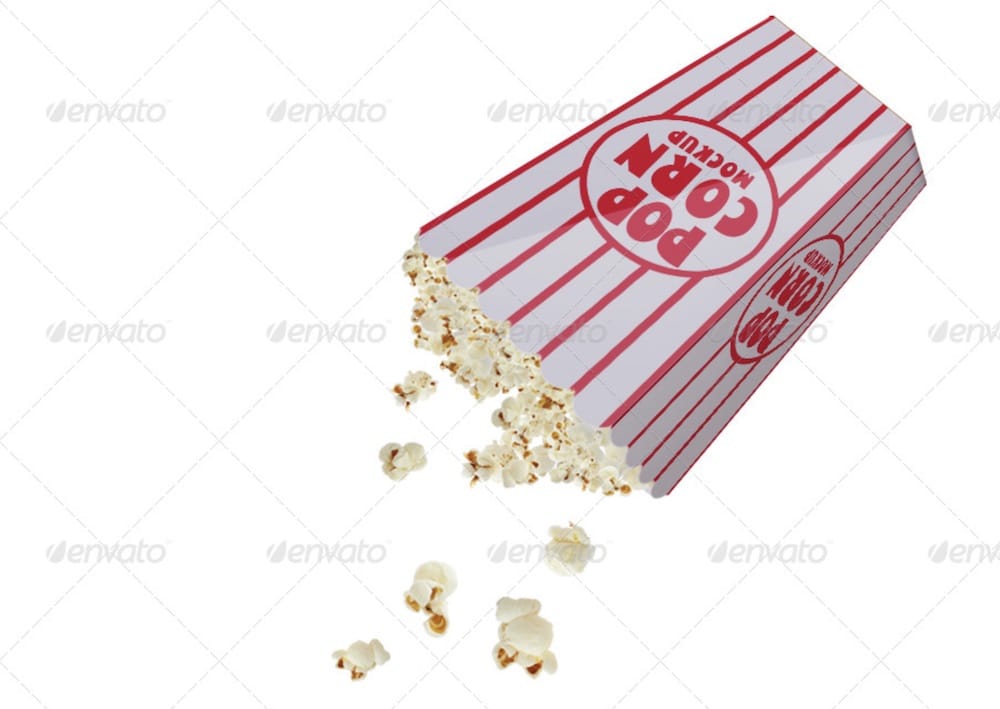 Even though this one is from 2013, we are still excited to share it here with you.
It's an evergreen mockup of popcorn for creating a realistic presentation.
The bundle contains 11 editable layered PSD files for quick task execution.
You can CHANGE and IMPROVE everything.
Also, the popcorn container comes in two styles with a bottle to make the overall appearance stand out even more.
What's cool, the author also offers free support – just in case!
Price: $8
MORE INFO / DOWNLOAD
2. Popcorn buckets mockup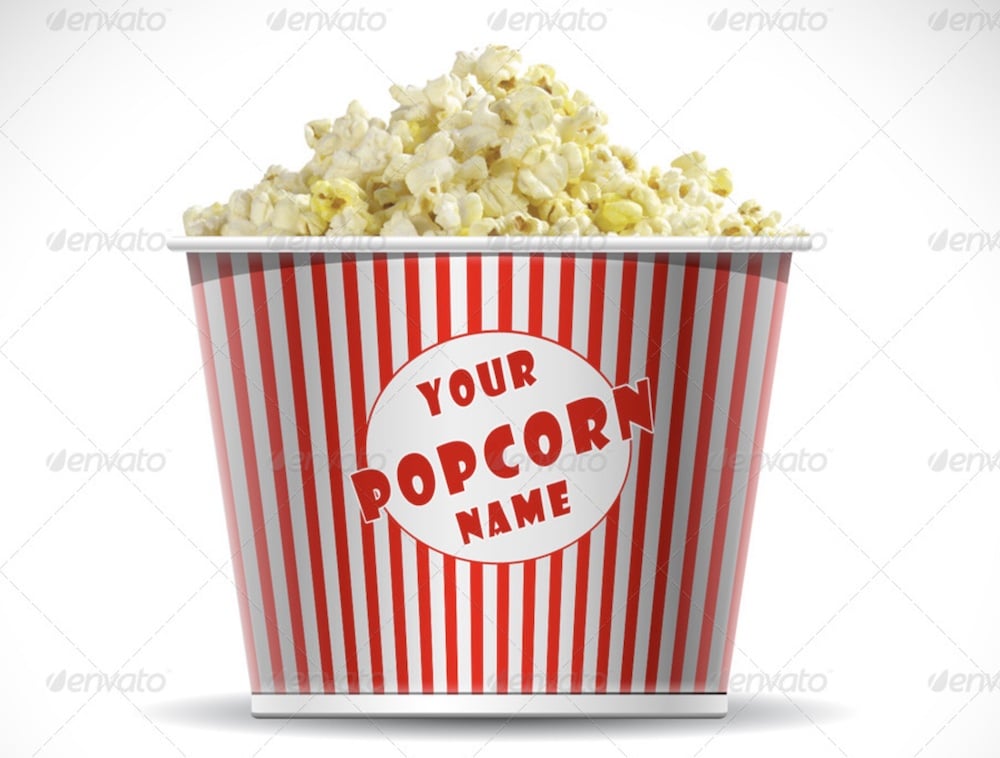 Is anybody getting hungry in here? I know I am!
This particular popcorn mockup set brings you three different bucket styles, making sure there's something for everyone.
The great quality of each template ensures an excellent showcase of your designs and logos.
Go for it even if you would like to create a close-up view.
The USER-FRIENDLY layered structure ensures you quickly locate the right section you'd like to configure. Enjoy the creation of a tasty popcorn presentation.
Price: $7
MORE INFO / DOWNLOAD
3. Popcorn packaging mockup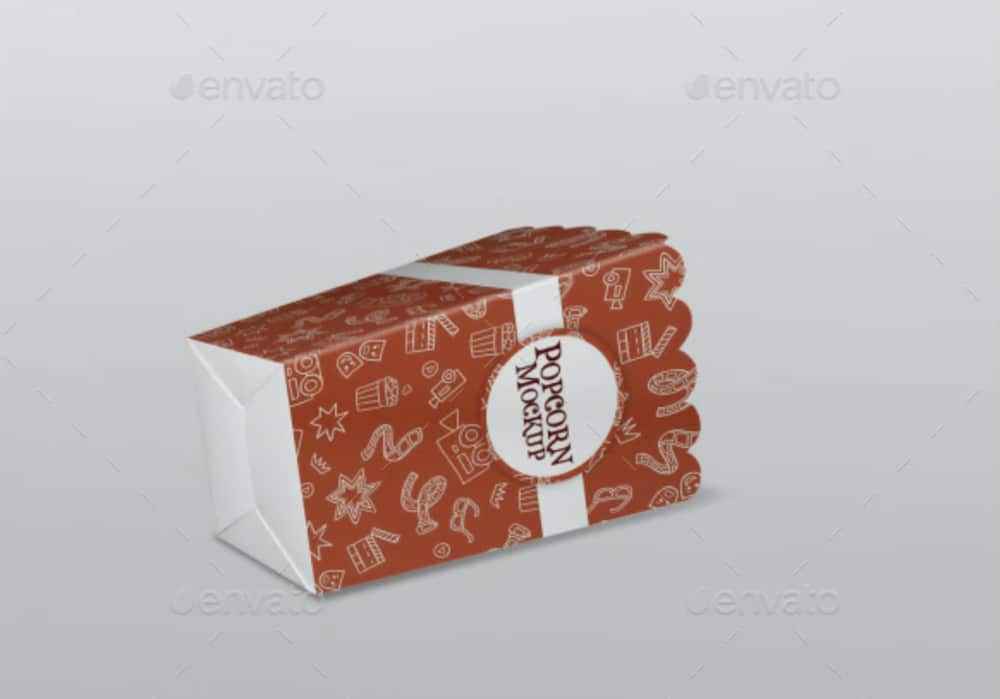 What's cool about this one is the option to use the food packaging with or without popcorn.
Empty or full – you decide.
Moreover, it's also one of the highest-quality PSD kits, each mockup featuring a 5184 x 3456px resolution.
All the layers are 100% customizable for your convenience. It doesn't take much to modify any of the 7 available views.
You are free to start again, making a few alternatives for an EASIER final selection.
While the packaging is entirely configurable, you can also edit the background.
Make it pop.
Price: $10
MORE INFO / DOWNLOAD
4. Popcorn bucket and cup mockup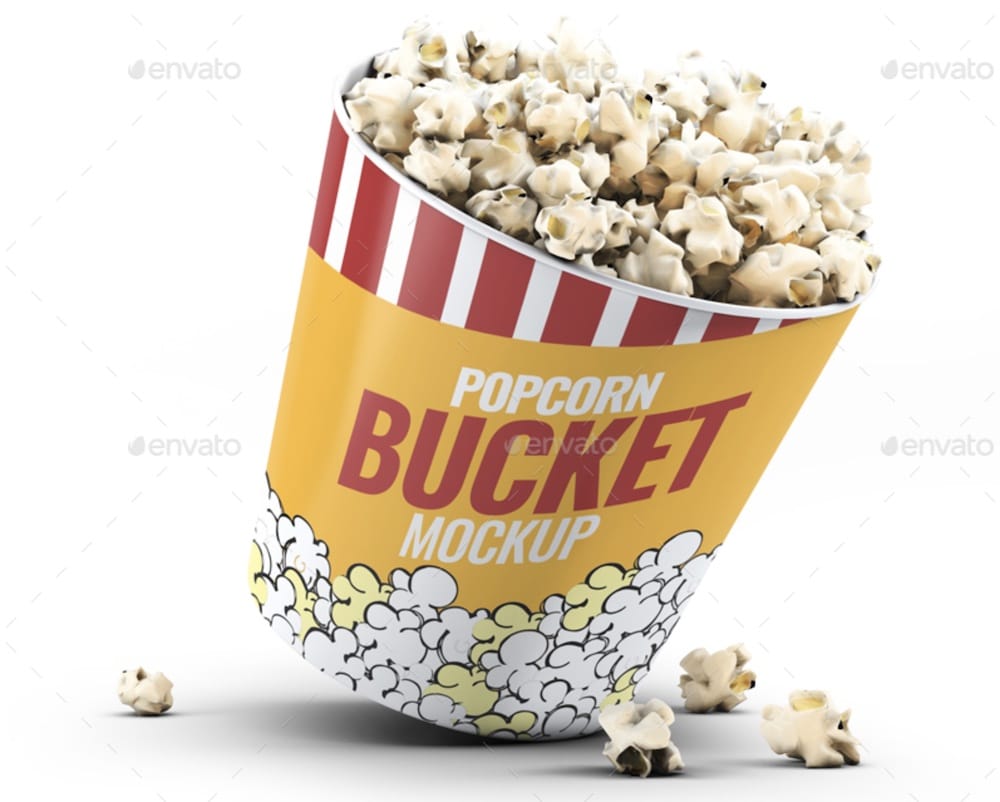 A bucket and a cup full of popcorn call for a MOVIE NIGHT. I'm down.
Enjoy the benefits of this realistic popcorn mockup that gives you a chance to create a striking design presentation.
Share it with your client or audience; you'll easily impress everyone.
The entire set contains 10 different views, 5 for buckets and 5 for the eco cups.
They are somewhat similar, but that's perfect for a matching showcase.
You can check the preview first and take action second. See what's possible.
Everything.
Price: $7
MORE INFO / DOWNLOAD
5. Realistic popcorn bag mockups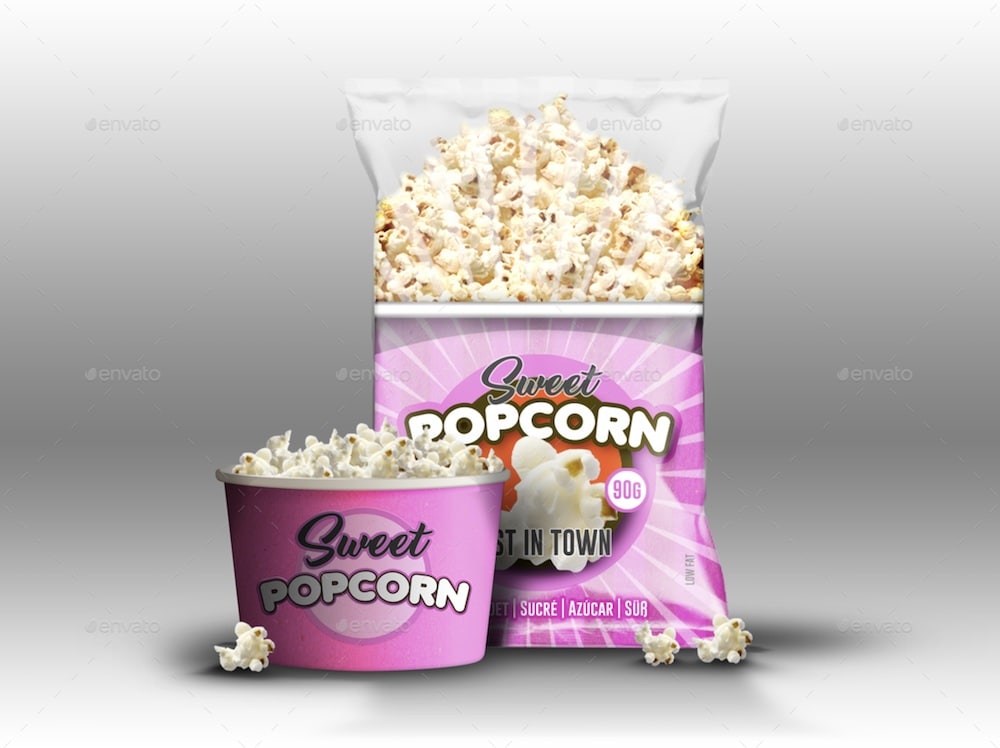 If you search for a popcorn bag mockup, we are stocked that you scrolled all the way here.
The available three PSD files are enough to create a custom snack bag packaging for your or your client's brand.
Even if it's just for promotional purposes, you'll enjoy using this kit a whole lot.
You don't need to do any heavy lifting to achieve a realistic, 3D effect. Smart objects make it happen in JUST A CLICK.
You can also create a matching cup design along with the bag, making it even more engaging.
Price: $8
MORE INFO / DOWNLOAD
6. Cinema popcorn mockup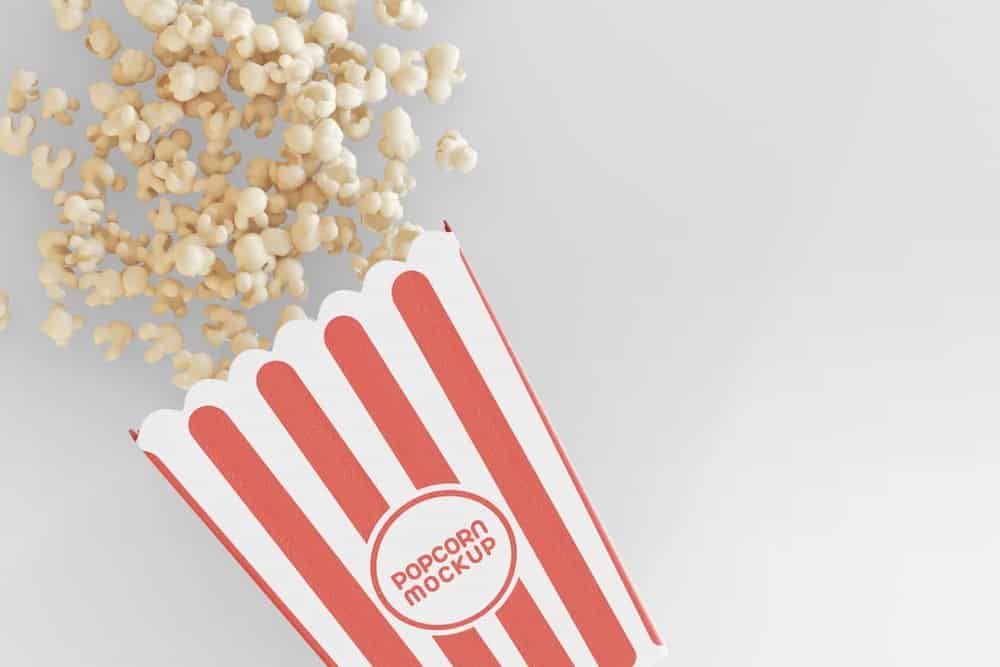 Creating a popcorn box demonstration doesn't require making an actual product.
We all know how VALUABLE mockups are, so use them and take them to your total advantage.
This one is no different. A striking alternative that gets you going in no time.
Attach your popcorn design idea via the smart object layer and you are good to go.
Sure, perform any other customization tweaks if necessary, as they are so straightforward to make.
And popcorn flying all over the place is MY FAV feature of this one!
Price: $9
MORE INFO / DOWNLOAD
7. Popcorn container mockup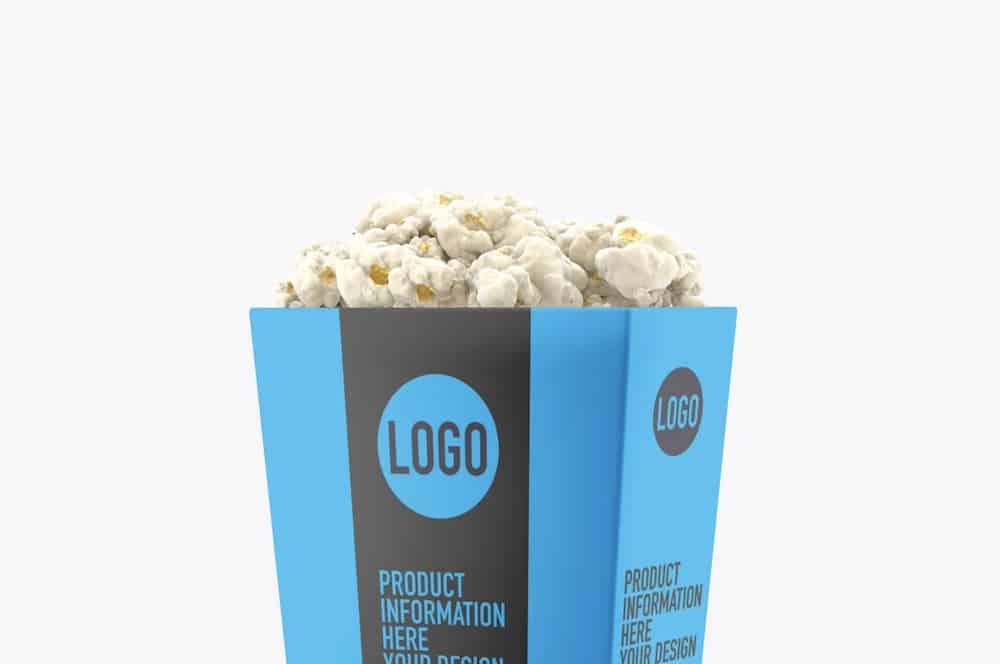 You can use this container mockup filled with popcorn for a stunning logo and branding presentation.
WOW everyone with ease.
What's exceptional about this one is the amazing 5500 x 5500px dimension.
It will showcase your idea with crystal clearness, no matter how much detail you'd like to add.
And you can edit the background and texture in a few clicks.
Price: $14
MORE INFO / DOWNLOAD
Best Free Popcorn PSD Mockups
8. Free popcorn PSD mockup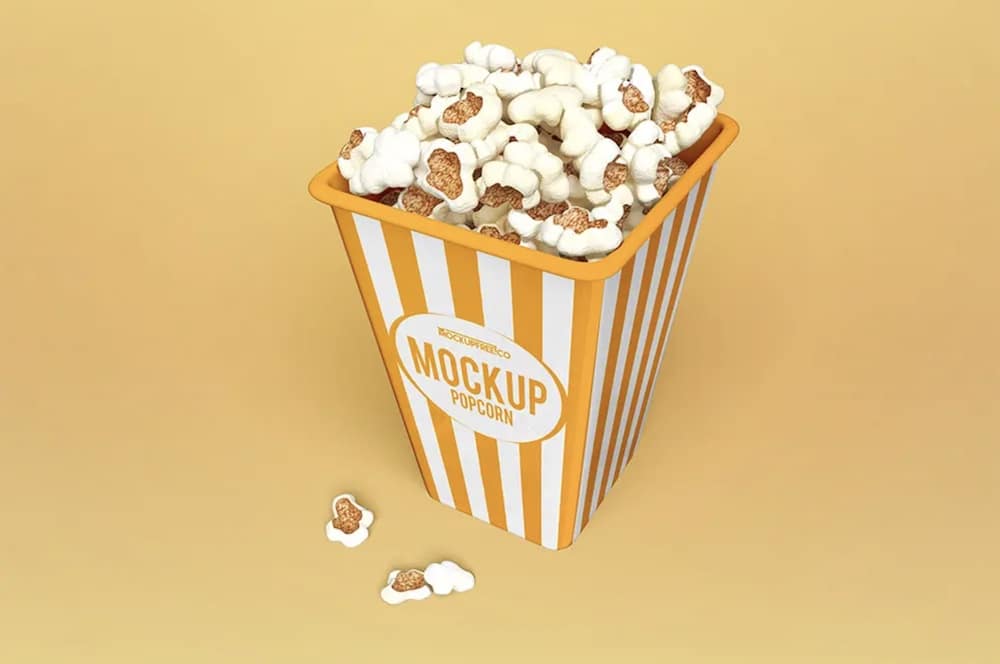 In comparison to some other mockups, there are quite a few free available in the popcorn space.
We don't mind using a free solution when it comes to prototypes. But you can use some for commercial projects, too.
Even though this one is free, it's actually pretty premium.
There are 3 PSD templates available, all of 4000 x 3200px. Zoom-in is VERY possible!
Every element is on its layer for quick editing that you deserve.
Whether your design is minimal or extra creative, this mockup will display it stunningly.
MORE INFO / DOWNLOAD
9. Movie popcorn mockup freebie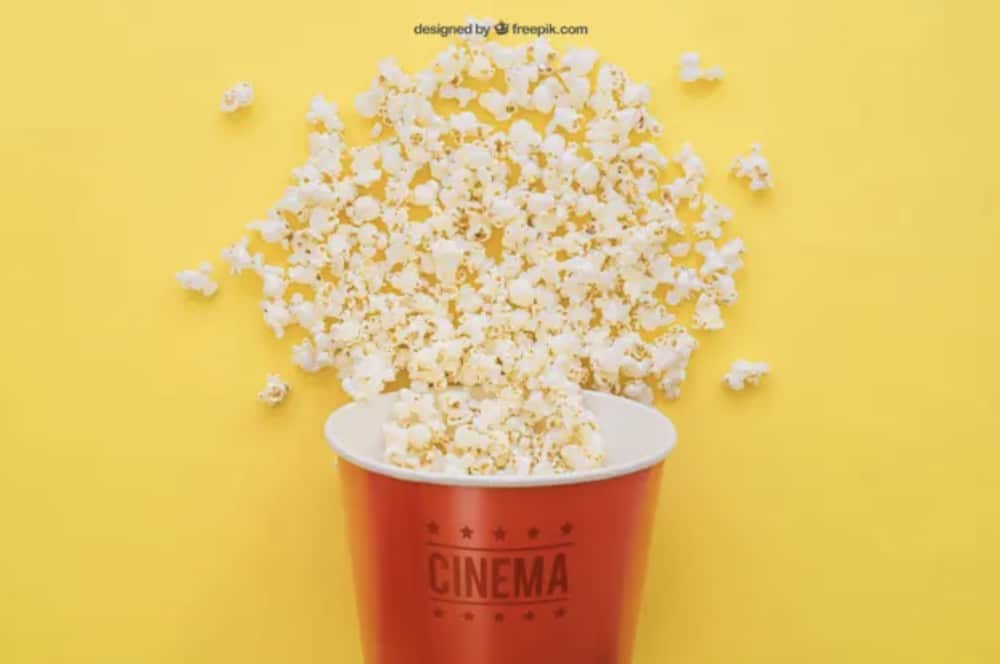 No one wants to drop their popcorn bucket and make one BIG mess (what this design aims for). But, when it comes to packaging presentation, it can have a very impactful effect.
You can treat yourself to a quick and engaging result with this free popcorn mockup.
Whether it's a design for a popcorn brand, a theater, or a cinema you're creating, make a showcase that'll impress with this one.
MORE INFO / DOWNLOAD
10. Free popcorn box mockup (our favorite!)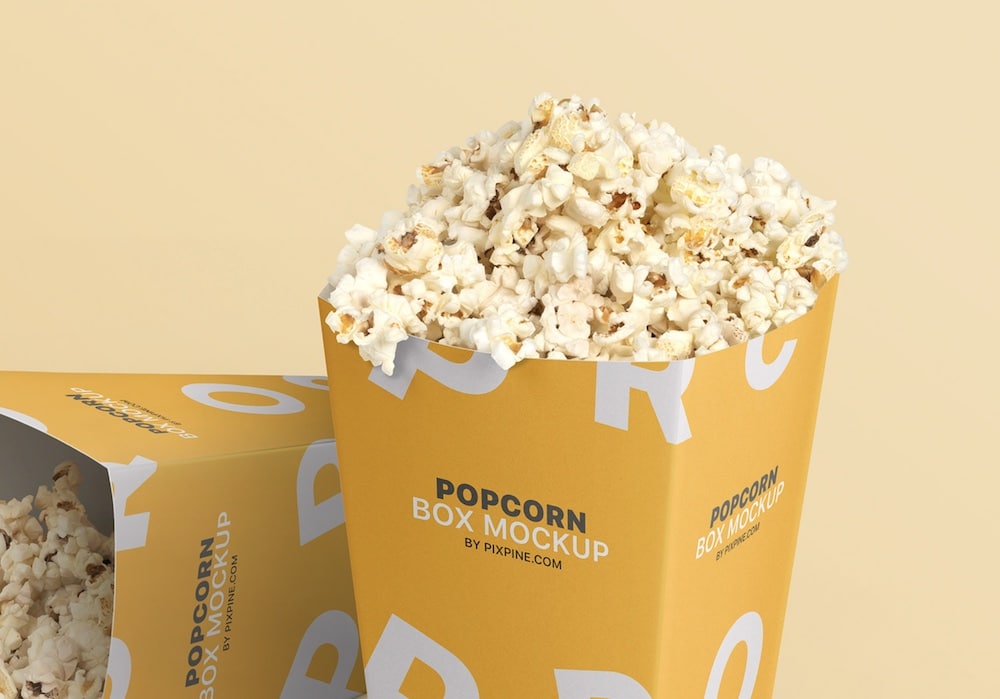 Out of free popcorn box PSD mockups, this one is by far my favorite. It is extremely high-quality, with an almost unbelievably realistic effect.
That popcorn looks SO tasty.
You get one 5000 x 3000px template that you can use for PERSONAL and COMMERCIAL projects comfortably.
You can create close-up views due to the amazing resolution, like the example shows.
Adding advertisements or branding designs to a mockup takes just a few clicks. Pure basic Photoshop knowledge is all you need.
MORE INFO / DOWNLOAD
11. Popcorn bucket mockup free PSD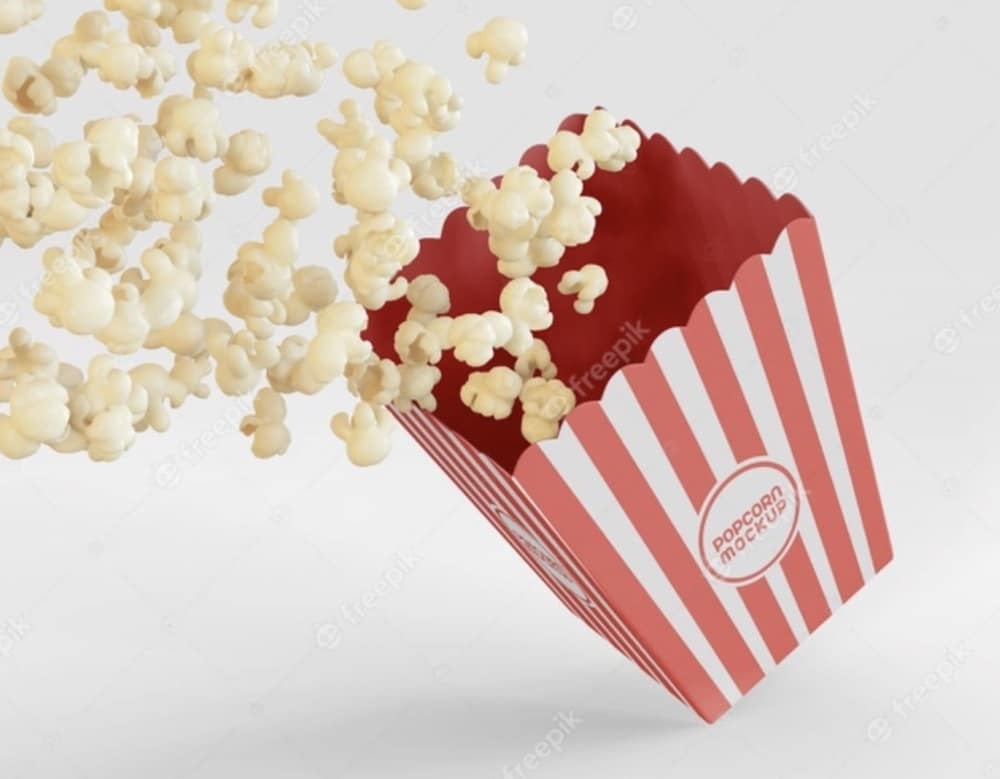 Making a mockup for popcorn brands and advertisements FROM SCRATCH is oh so NOT necessary these days.
We have some more examples here for you that grabbed attention nicely after we personally tested them out.
You don't need a ton of work to activate a PSD mockup. Enrich it with your ideas and logos that'll inspire everyone who sees your design.
Note: Attribution is necessary. This is something you need to pay close attention to when it comes to free mockups. (Avoid inconvenience.)
MORE INFO / DOWNLOAD
12. Front view of popcorn cup mockup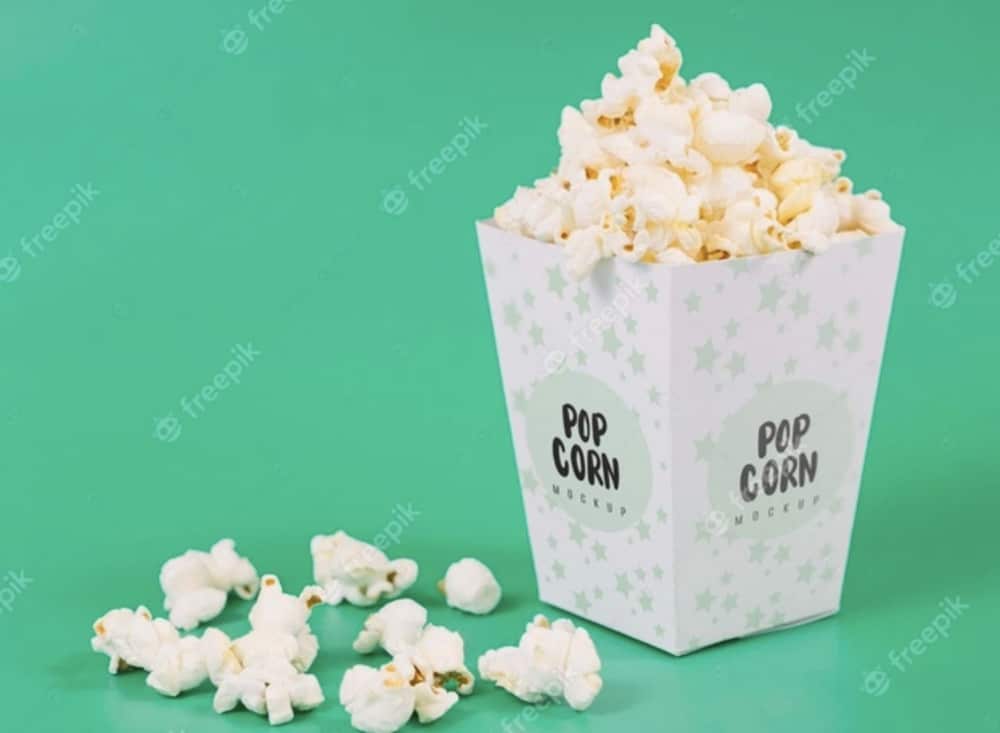 A nice front view free popcorn packaging mockup that offers to display your creativity on two sides.
You can also alter the background, so it puts an extra shine on your particular design.
That's it!
MORE INFO / DOWNLOAD
13. Cinema popcorn with cup and card mockup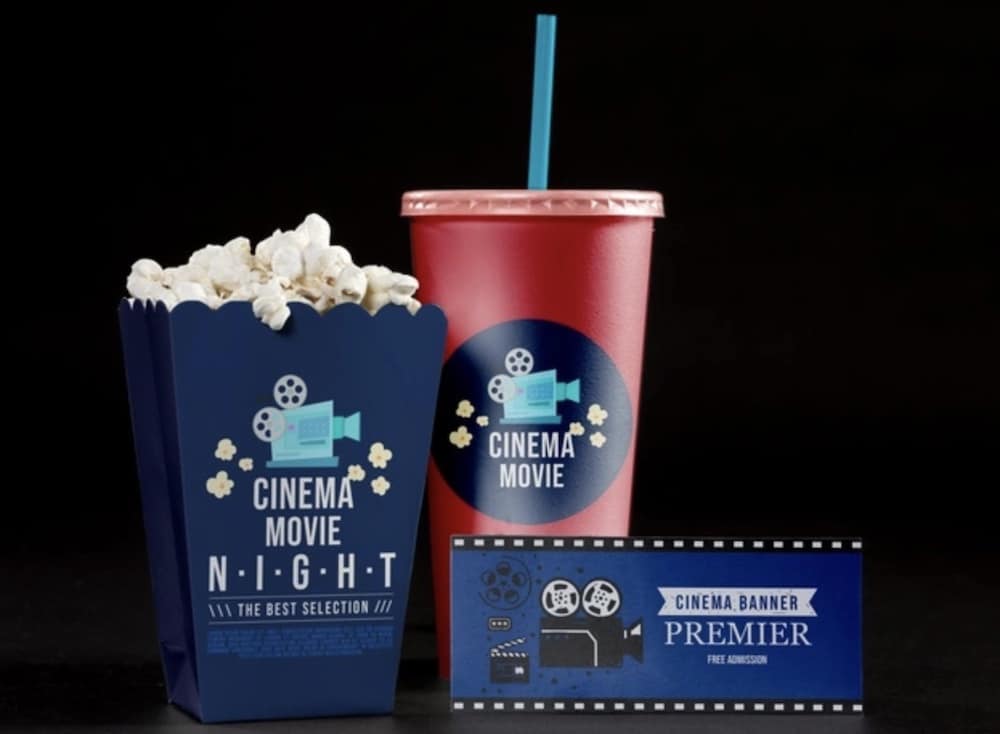 Create a full cinema branding with this neat mockup kit that features popcorn, a cup and a ticket. You can even alter it to a special movie premiere.
You are welcome to get as creative as you want.
You'll enjoy all the great functions once you open the mockup in Adobe Photoshop.
It'll be a smooth flow that'll benefit you greatly.
MORE INFO / DOWNLOAD
How To Make A Popcorn Mockup?
Creating a realistic popcorn bucket or packaging presentation is a piece of cake with a free or premium PSD template.
Here's how to do it, and it's very beginner-friendly because it requires only basic Photoshop skills.
4 Steps To Create A Popcorn Mockup:
Step 1: Open PS and import any of the PSDs from the collection above.
Step 2: The organized layered structure ensures finding the handy smart object quickly. Use it to drag and drop your design, which will appear on the mockup instantaneously.
Step 3: You can then access other layers to customize the default settings however you want. You cannot break anything because you can always click "undo" (or just start over).
Step 4: All there's left to do is click save and download your mockup.
I bet that was way easier than you thought (in case you haven't worked with a mockup yet).
Just do it!
::
Note: This article was originally published on August 2, 2021. But our team regularly reviews it and updates it with necessary improvements for accuracy.