Are you searching for the best black tote bag mockups?
We received many requests from you, so we're stoked to reveal our FAV and proven picks.
However, we went one step further and followed the "modern trends."
We didn't want to focus on the traditional layered Photoshop mockups (PSDs).
Instead, here are software-free Placeit templates.
EXTREMELY beginner-friendly.
This post covers:
Placeit is an A1 mockup generator that requires 0 skills. But you do need your design/logo.
Note #1: You can also use Placeit to create designs.
A very versatile and all-around design platform, if you will.
Now make your SPECIAL black tote bag! Easily.
Best Black Canvas / Tote Bag Mockups
You don't need to work on a mockup using Photoshop these days. It all happens online – in just a FEW clicks.
Note #2: These tote bag mockups can be of any color you want.
Once you are on Placeit, you will see a practical color picker, which you use to make your tote bag black.
As simple as that.
(Every template is only $7.95, but you also have monthly ($14.95/mo) or yearly ($89.69/yr) subscription options.)
1. Tote bag mockup featuring a smiling man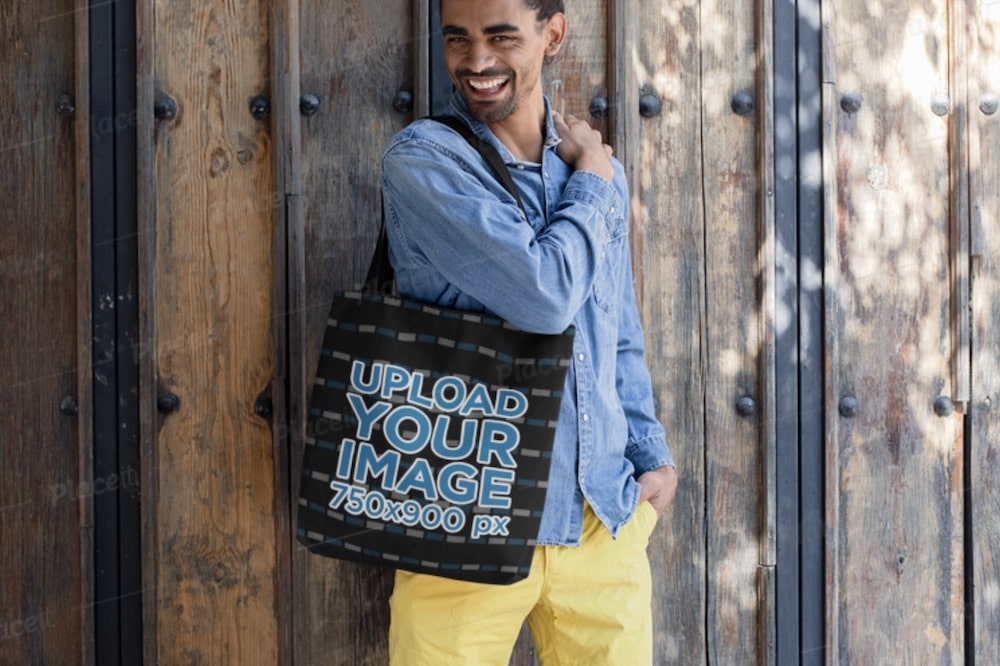 If you are searching for a mockup that is full of life, then this one will be it for sure.
Your tote bag design will shine even more, thanks to the smiling male model.
Once you land on Placeit, all it really takes are a few clicks, and you can be done doing the work already.
Yes, it's that simple, as you do not need to undergo any tedious tasks and whatnot. With that in mind, everyone can SUCCESSFULLY use this realistic mockup, whether you are a beginner or pro designer.
No knowledge and prior experience are necessary; plug and play and call it a day.
MORE INFO / DOWNLOAD
2. Mockup of a tote bag on a wooden ladder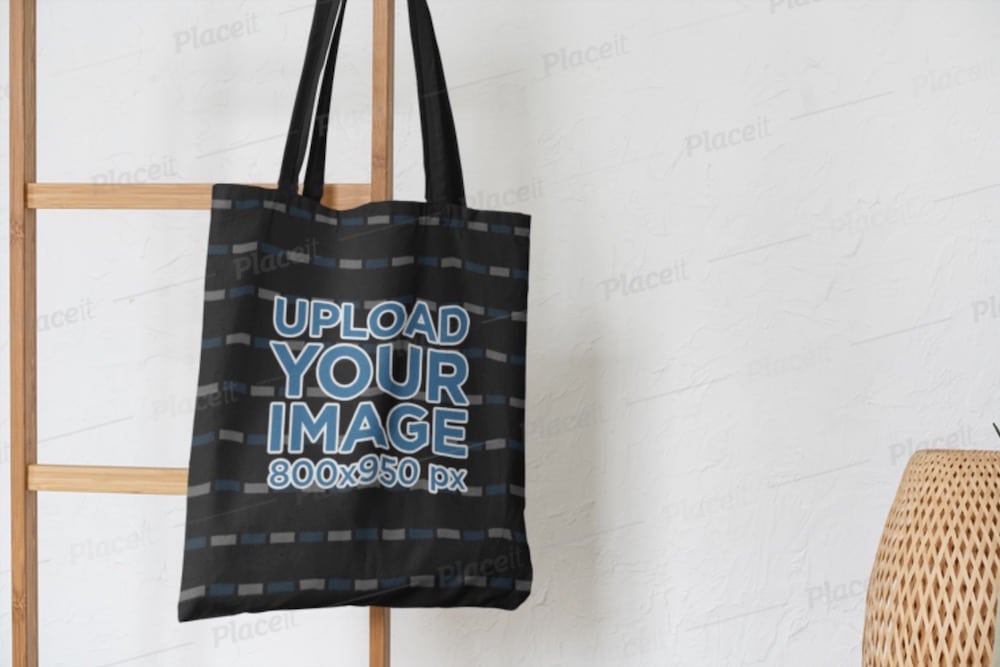 Our collection of realistic black tote bag mockups will help you find the one that best suits your needs quickly.
Some are more minimalist looking, while the others are very creative.
You do the picking; all the rest happens within SECONDS. The only necessary thing is your design, no need for anything else.
While our focus is on black, go ahead and pick the shade with the convenient color selector.
As you will see, any color is possible, but black is the first tint, so you know how popular it is amongst users.
From then on, insert your artwork or even just a logo, and that's it.
MORE INFO / DOWNLOAD
3. Woman sitting on the beach tote bag mockup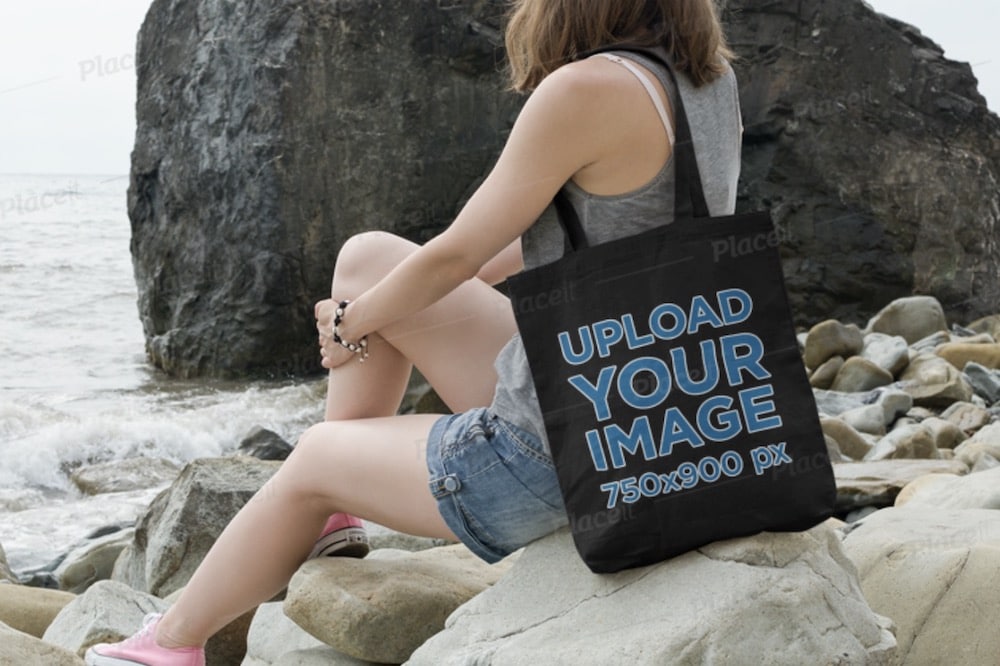 You can use a black tote bag for just about anything and everything.
Even when you are hitting the beach, stuff it with all the necessary, so you do not carry it around in your hands.
On top of that, the bag is also very convenient, as you can store it everywhere.
As for this great and life-like mockup template, you have a female model pose with it while enjoying herself staring at the sea.
Upload your image of choice, crop and reposition it if necessary and stick it to the bag.
How EFFORTLESS was that?
MORE INFO / DOWNLOAD
4. Mockup of a hanging tote bag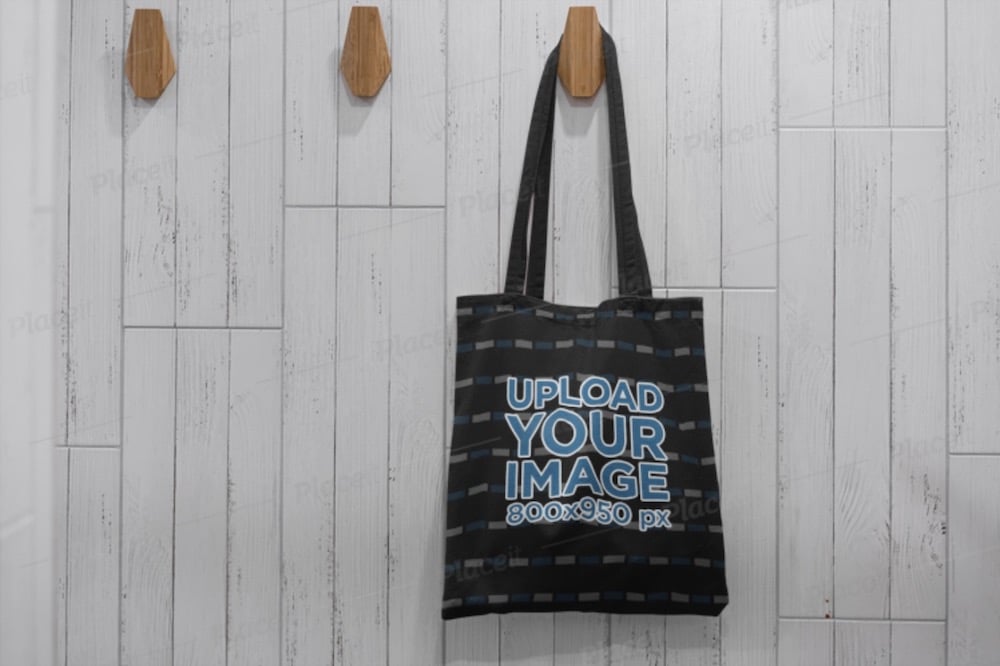 Use this black tote bag mockup to present any design you want to your client.
However, you can go way beyond that. After all, a mockup of this caliber works for social promotions, too.
Heck, you can use it on your online shop as well, or even in a blog post. You see, the options and possibilities are ENDLESS.
You need to undergo no tiresome tasks, as this is a full-blown online and in-browser mockup.
Head over to Placeit and test it out right away – you do not even need to create a free account just yet.
MORE INFO / DOWNLOAD
5. Tote bag mockup of a woman on steps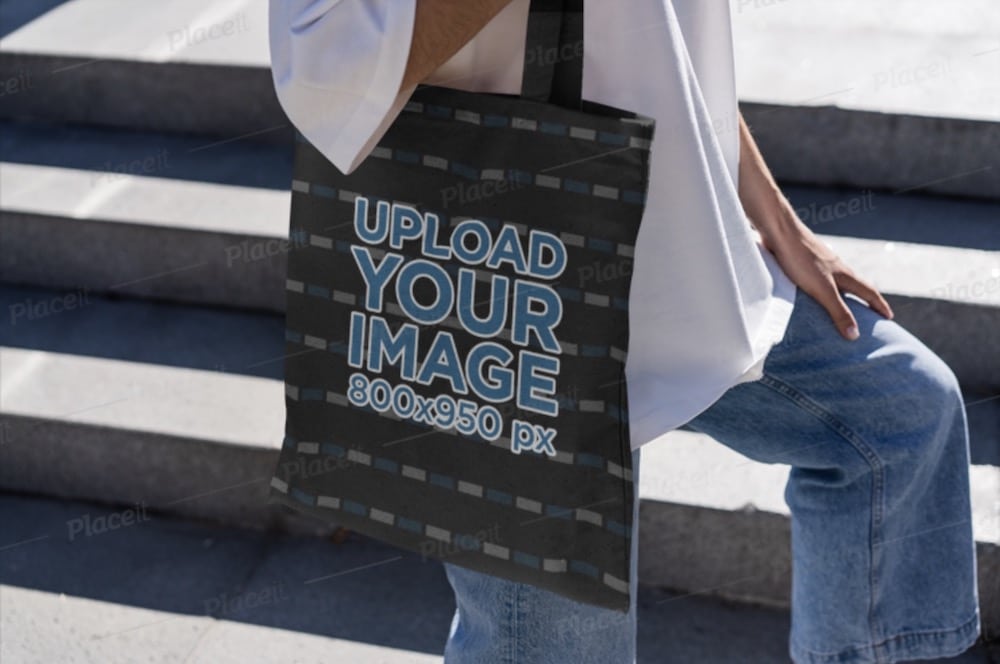 Whether you are searching for a black tote bag mockup that features just the item or has a human element to it, we have them all and then some.
If you are after the latter (which I prefer!), here is a female model modeling with a tote bag on a set of stairs.
It is an extremely photorealistic alternative that takes no time at all to configure.
Change the color to black, import your design, add some text, and you are done doing the work.
You can also CREATE multiple variations first before picking the winner.
MORE INFO / DOWNLOAD
6. Tote bag hanging from a wooden stand mockup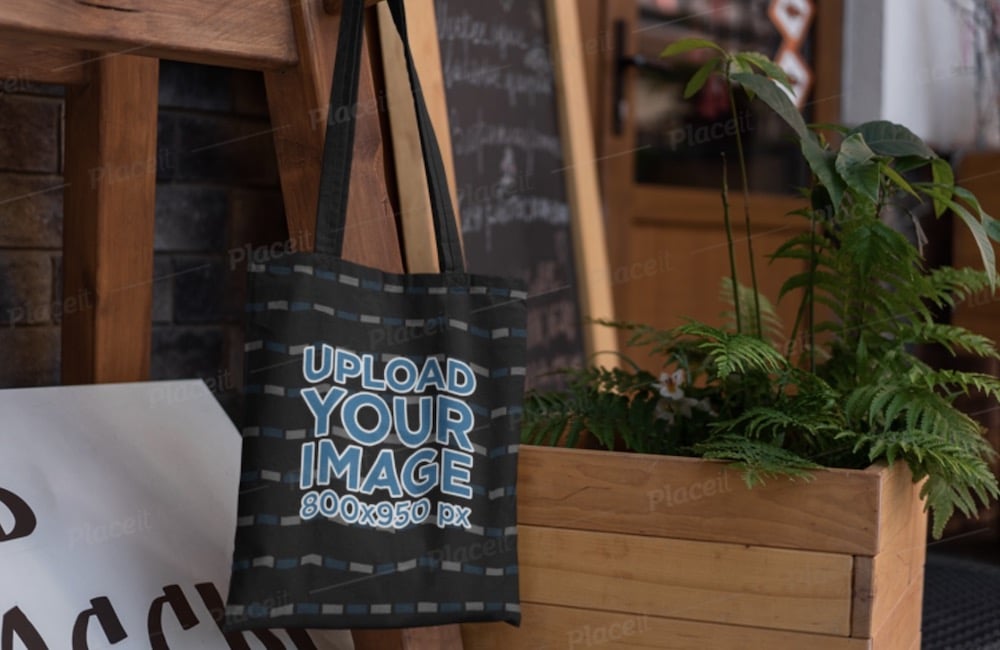 Wood, greenery and a black tote bag, what else you need in life? This is another superb mockup that calls for a professional design showcase.
Anyone can create a personalized tote bag in a mere few clicks. If you haven't yet visited Placeit, you are doing something wrong.
It is a remarkable mockup generator that you can employ for any item you want to brand – including canvas bags.
Just like other solutions on this list, the mockup comes with THREE features.
First, you change the color of the bag. Second, you upload your design. And third, you can also attach text (optional).
MORE INFO / DOWNLOAD
7. Mockup of a hanging tote bag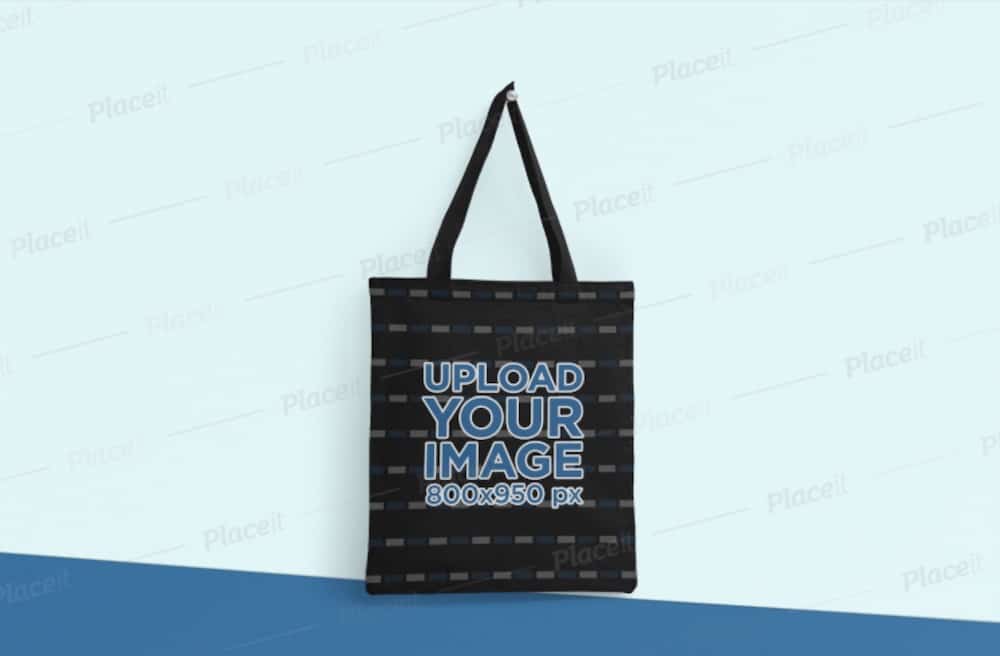 If you like to keep the presentation minimal with a touch of creativity, this is the tote bag mockup that will do you well.
Along with the fully editable tote bag, the mockup also features a two-tone background.
You can create the best exhibition representing the brand with four color pickers.
This mockup generator ensures everyone creates a real masterpiece in seconds.
However, you only achieve this fast result if you have the design/logo ready to go.
Make it POP and impress everyone with a top-notch black tote bag mockup.
MORE INFO / DOWNLOAD
8. Woman wearing a black tote bag by the sea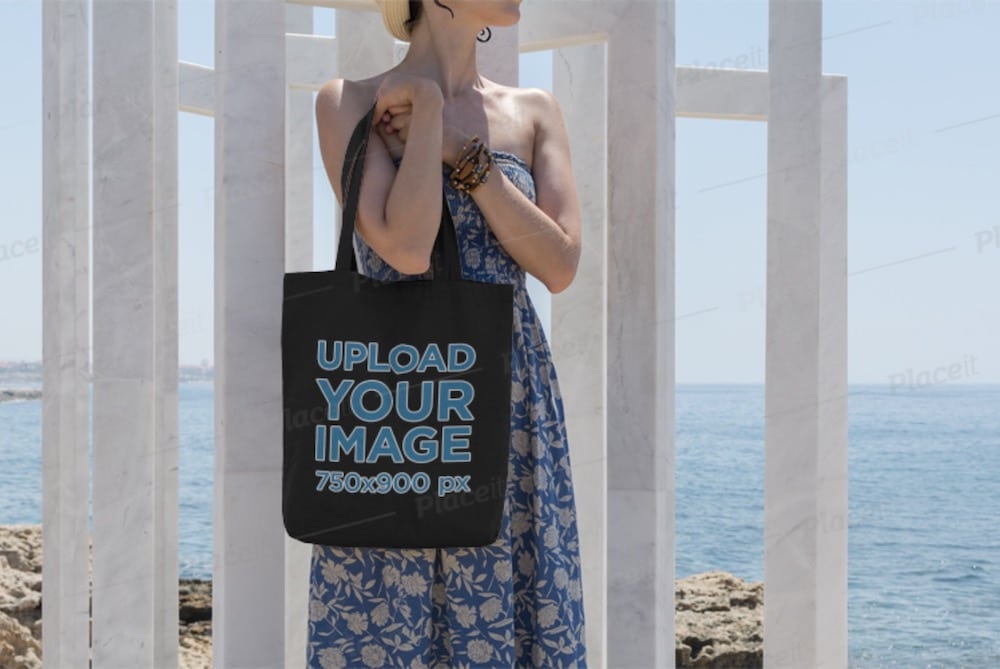 Get your hands on this tote bag mockup and create a realistic exhibition of your design.
With a working area of 750 x 900px, you can stuff the canvas with just about anything you want.
It can be something simple or an image, this template handles it all with ease.
You can even create a bunch of DIFFERENT variations for comparison and go from there.
In this case, you do not need Adobe Photoshop, as you get to execute the entire process online.
I advise creating a free Placeit account to increase your workflow.
MORE INFO / DOWNLOAD
9. Mockup featuring a floating tote bag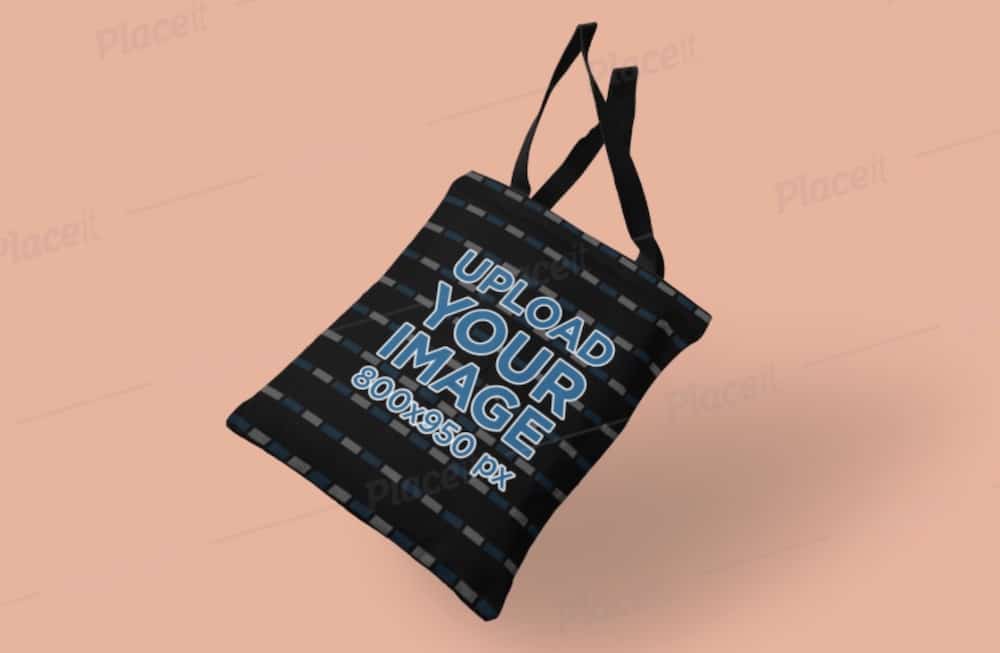 For all of you searching for a super minimalistic black tote bag mockup, this one will do you well.
It comes with GREAT editing features, at least when it comes to color choices.
You can change the background, the tote bag and the strap, improving them with any shade you fancy.
But today, we are all here for the black.
Once you set things up color-wise, it's time to append your image. You can pick it from your computer or even from your Placeit downloads.
And if that's not enough, enrich the presentation with some text.
MORE INFO / DOWNLOAD
10. Tote bag mockup with summer vibes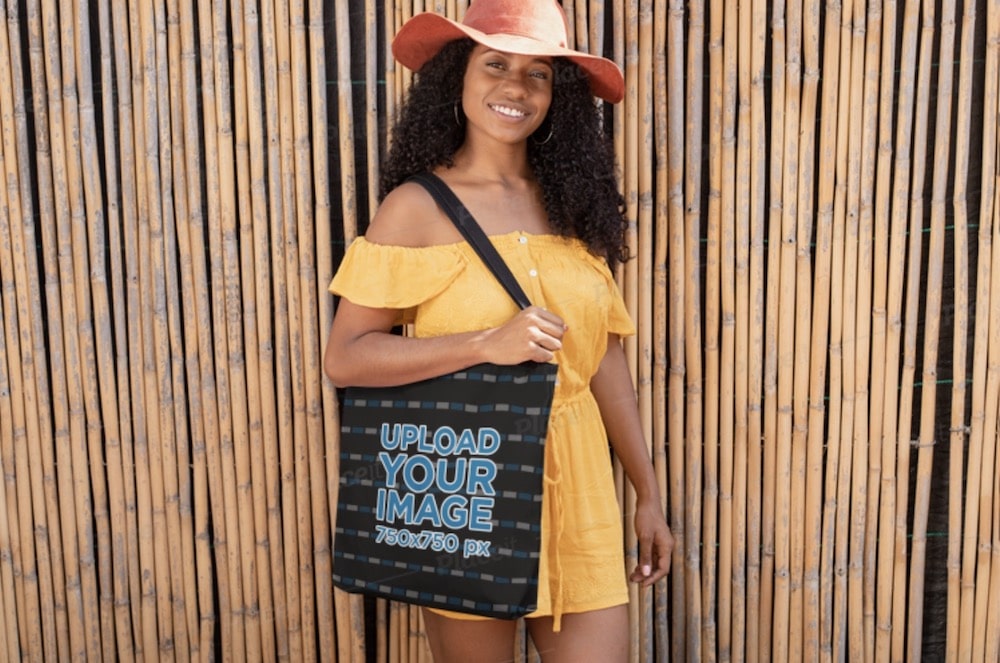 This particular mockup will work great for social promotions, even in marketing campaigns.
Whether you are coming up with a design for an organization or an eCommerce website, whatever the case, make it happen quickly with the use of a predefined template.
And you can create the finishing product outstandingly fast.
Let's face it, you do not need much other than an internet connection, browser and Placeit.
Once you are on the platform, you will enjoy yourself to the FULLEST, as the work is oh so much fun.
You will even want to try out all sorts of possible variations first before picking the best combo.
MORE INFO / DOWNLOAD
11. Mockup of a customizable tote bag

A fully customizable black tote bag mockup you can employ for any project and intention.
First and foremost, the background, strap and main bag compartment are on a separate layer so that you can beautify them with different color choices easily.
You can keep the tote bag black, but you can make the backdrop as vibrant as you want.
Also, we now come to the inclusion of an image/design. The surface is large enough to display any artwork you have been working on.
Once you upload your image, a pop-up opens that allows you to CROP and REPOSITION it accordingly.
MORE INFO / DOWNLOAD
12. Canvas tote bag mockup over a woman's shoulder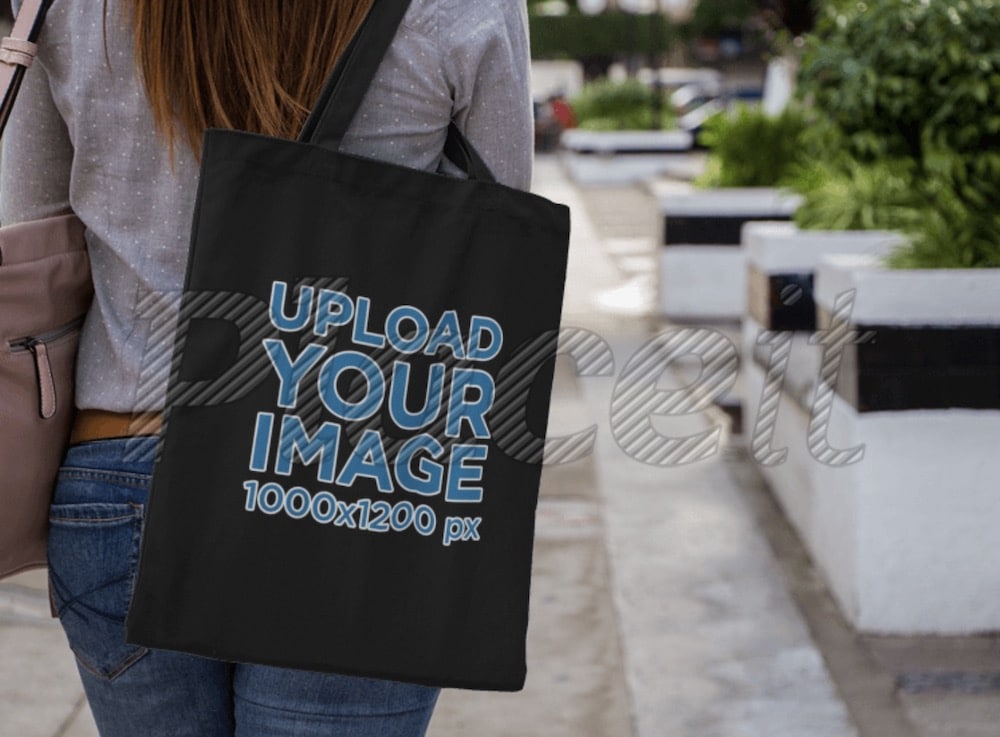 You can use any of the black tote bag mockups on this list for presenting both back and front designs – no limits.
This one is no exception, making sure that the outcome you create will be jaw-dropping and highly realistic.
With the fully modifiable tote bag, you can now bring to fruition a striking presentation that will grab everyone's attention.
What's best, you only need to do SOME CLICKING and that's it.
You can then send your creation to your client in case of any additional improvements, so the final piece meets their expectations precisely.
MORE INFO / DOWNLOAD
13. Mockup of a tote bag with houseplants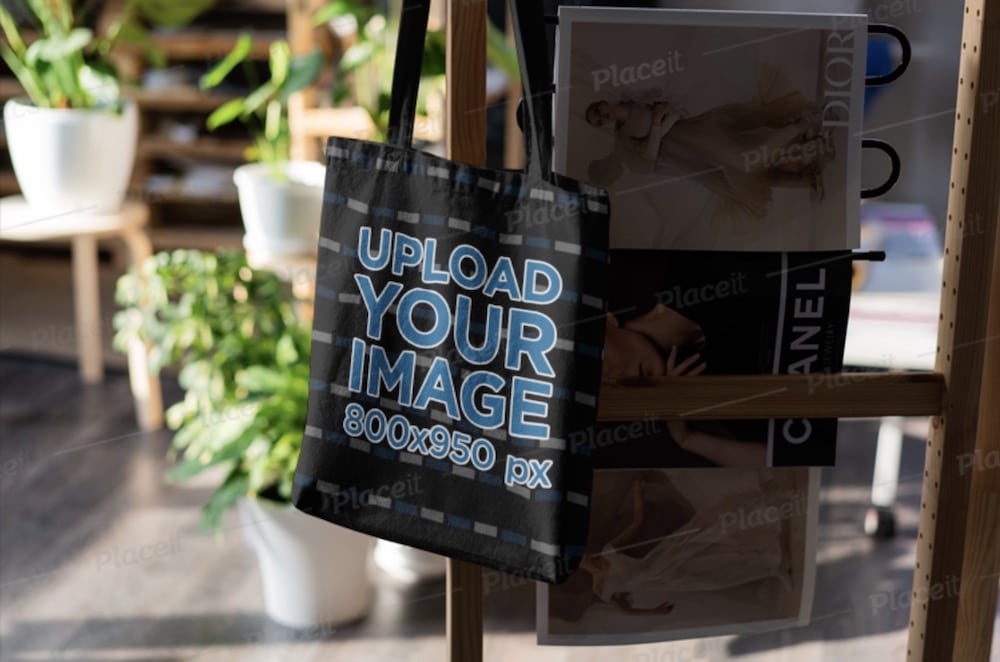 Nowadays, you do not need to be a professional web designer to create outstanding mockups.
Placeit is changing the way we operate with mockups, as you can create fantastic results without skills, using either a desktop or a mobile device.
Yes, you can work on a black tote bag mockup on the go, even choosing content directly from your device.
There is no real work involved, as Placeit does all the heavy lifting instead of you.
You can easily learn on the fly as working with a mockup is pretty self-explanatory, perfect for NEWBIES, too.
MORE INFO / DOWNLOAD
14. Man carrying a tote bag mockup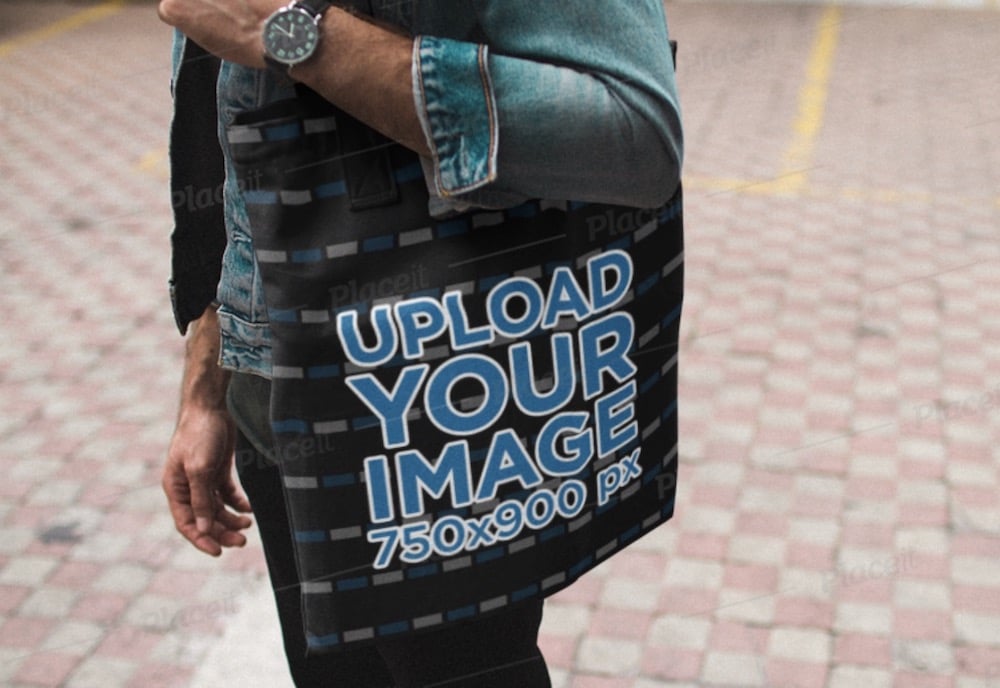 It is no easy task creating a mockup from the ground up, but that's not something to worry about today.
You only need to perform the finishing touches and everything will come together stunningly with a template.
If you would like to spice things up a little bit, you can change the handle's color while keeping the tote bag black.
Feel free to play around with different combinations and test them out with your ENGAGING design.
You will come up with an impressive final product quickly, which is a guarantee.
MORE INFO / DOWNLOAD
15. Black tote bag hanging from a chair mockup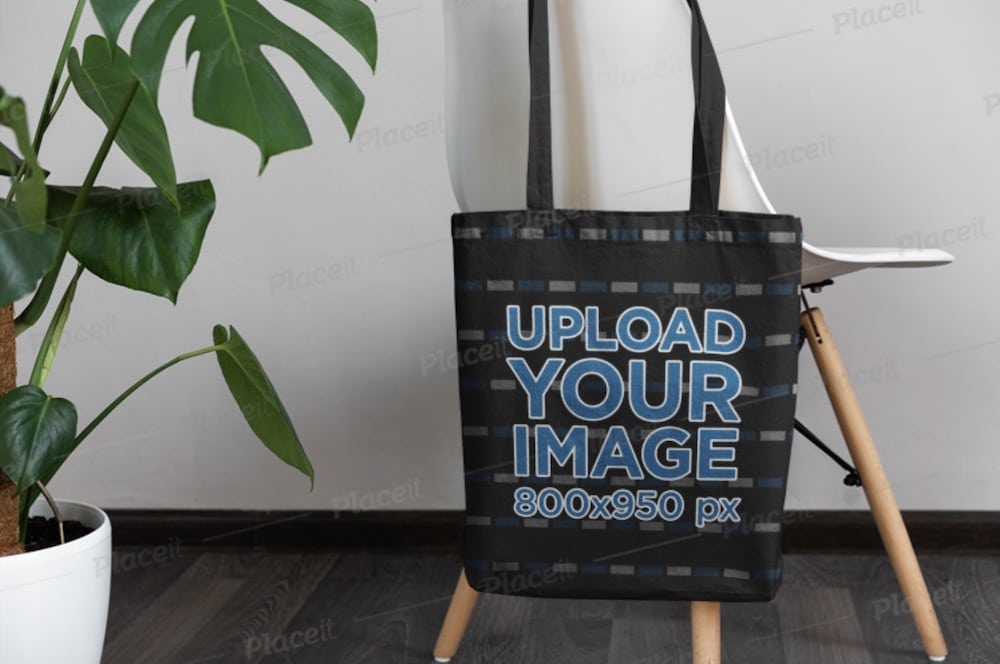 A modern atmosphere will only lift up the overall presentation of your tote bag design.
You can do things differently with this neat solution that features a plant and a bag hanging from a chair.
Just the bag is editable while all the rest stays as is.
Quickly change the shade of the canvas and introduce your design. All this will take you only a few clicks.
If you would like to share a message, you can also do that with the additional "add text" feature.
WOW your clients, your customers and raise your potential to new heights.
MORE INFO / DOWNLOAD
16. Tote bag mockup of a trendy man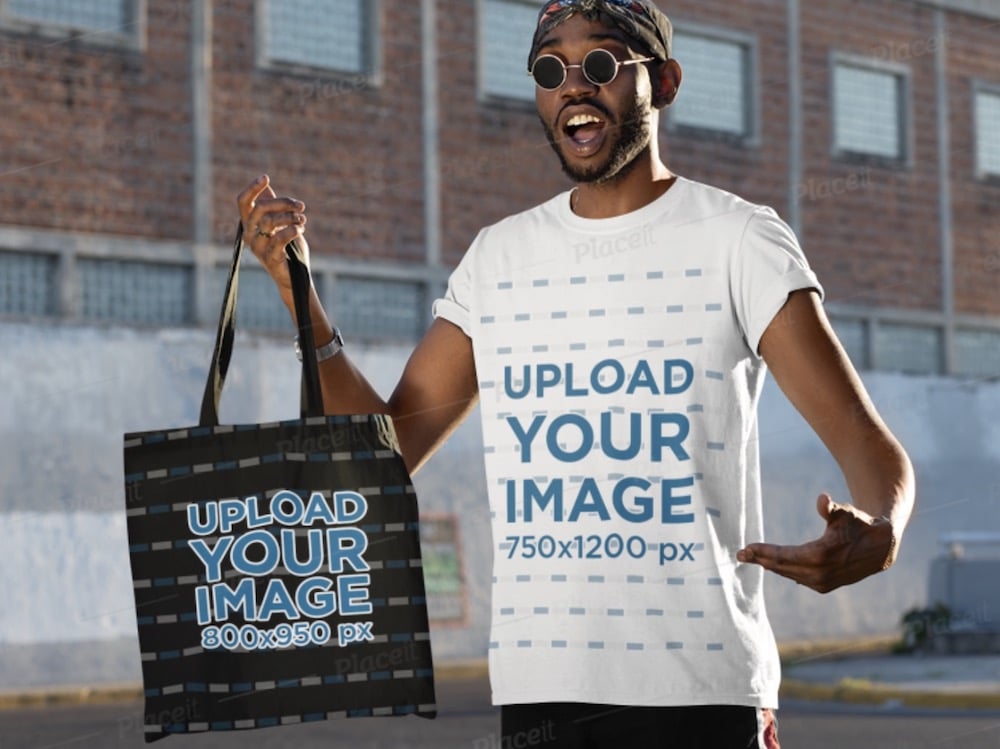 This mockup goes one step further, as it also comes with a fully editable T-shirt.
It is a neat alternative for creating matching items, which many prefer.
This approach works fantastically well for gifts. On the other hand, you can also go entirely against the norm, as you can modify both items independently.
In short, you can pretty much do whatever your heart desires.
The process of using the mockup is a LITTLE BREEZE, giving everyone a chance to shine with their amazing designs.
Now it's your turn to get as creative as you want and make a black tote bag that everyone wants.
MORE INFO / DOWNLOAD
17. Mockup of a tote bag on a handcrafted bench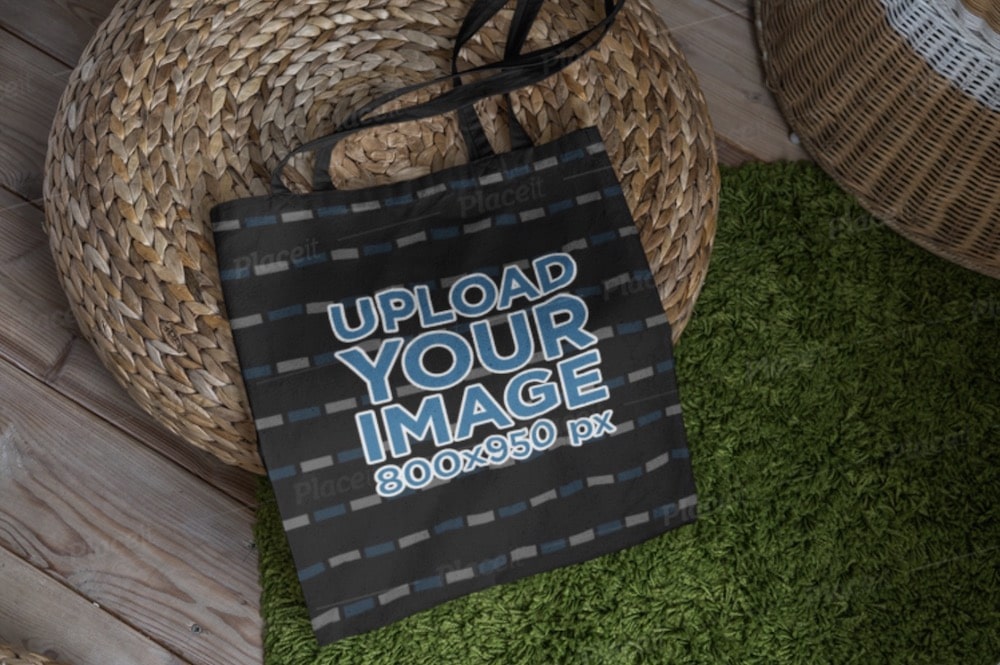 When simplicity meets creativity, you get a gorgeous black tote bag mockup that will definitely trigger everyone's interest.
There is no need to be a specialist to create an exhibition that will help your client visualize your design idea better.
With a life-like demonstration, you can make a virtual physical product that can and will look the same as in real-life.
The mockup is also a great way to test your design, as it allows you to examine how well it fits it.
Instead of sending it out straight to the print shop and encounter possible inconveniences, make as MANY tests as you want first and go from there.
MORE INFO / DOWNLOAD
How To Make A Black Tote Bag Mockup Fast
I'll share with you the quickest and fastest way to create a life-like presentation of your awesome black tote bag design.
It's only a matter of a few clicks (it takes seconds!), and you can already download your creation.
How can it be that quick?
It's all because of using an online mockup generator like Placeit. (It's my favorite platform after already creating 100s of projects.)
You only need to have the design ready, and you're ready to rock-n-roll.
5 Steps To Design A Black Tote Bag Mockup:
Step 1: Go to Placeit, where you can find 750+ templates. (You can use filters and tags to narrow down the results or the search bar if you're looking for something more specific.)
Step 2: After you choose the template you like, click it to unlock all the handy features.
Step 3: I recommend you tap the "insert image" button first to upload your design. This allows you to test the mockup first thing. Hey, you never know, you may need to test a few to find the one that goes with your design best. Remember, you can test and try all Placeit mockups for FREE.
Step 4: Then change the tote bag's color to black and perform other creative tweaks, so the outcome meets your expectations. (Okay, this might be the first thing you want to do before uploading your image.)
Step 5: You work is done. Hit the "download" button and get your mockup.
Enjoy.
::
Note: This article was originally published on December 11, 2020. But our team regularly reviews it and updates it with necessary improvements for accuracy.