Are you searching for the ultimate free and premium yoga mat mockups?
I worked with five yogis and four yoga studios in the past few months who wanted to offer their students custom yoga mats.
With the designs ready, I wanted to showcase them how the final product will look by utilizing the power of these mockups. (I used the free ones for my personal testing.)
I included mockup generators, layered PSD templates and free PSDs, so there's something for EVERYONE. (But I still like online mockup generators the most!)
Whether you're a yoga enthusiast, a seasoned instructor, or a designer looking to showcase your creative prowess, these realistic mockups promise to elevate your yoga-inspired projects to unparalleled heights.
Namaste to the perfect blend of ARTISTRY and PRACTICALITY!
This post covers:
Best Yoga Mat Mockup Generators
1. Woman Meditating On A Yoga Mat Mockup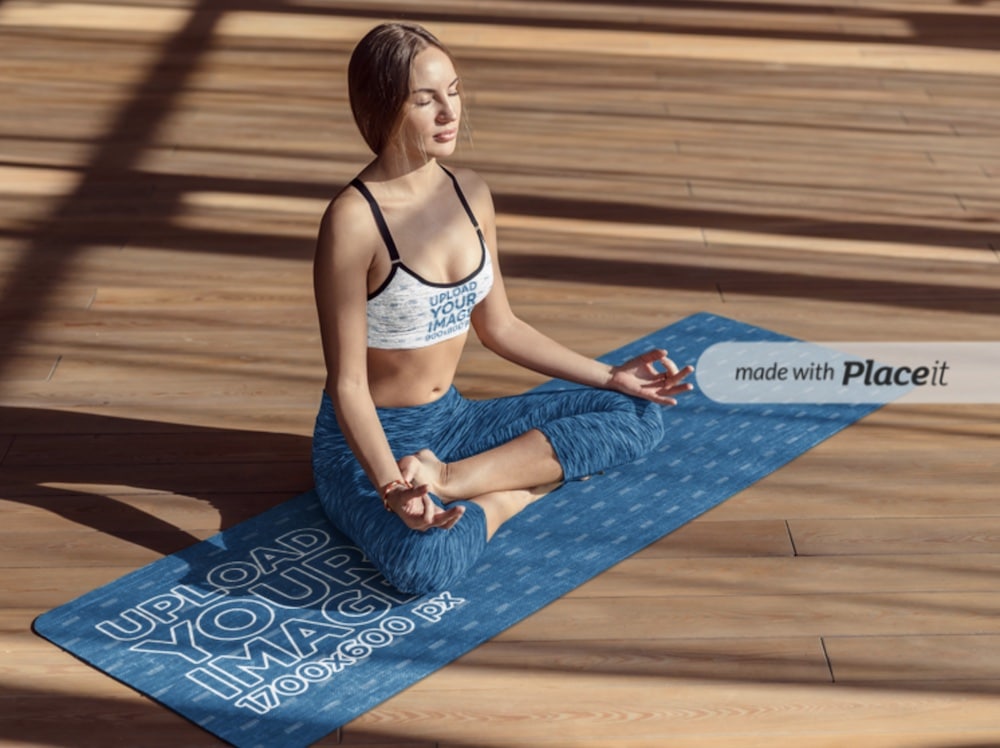 Immerse yourself in a meditative oasis with this Zen-inspired yoga mat mockup.
It sets the stage for promoting mindfulness practices and meditation sessions. I particularly ENJOYED it because the template allows you to adjust the color of the sports bra, leggings and mat.
Moreover, you can add custom (for example, matching) designs to the bra and the mat.
MORE INFO / DOWNLOAD
2. Minimalist Yoga Mat Mockup

Elevate your brand's sophistication with this SLEEK and minimalistic yoga mat generator.
Its clean lines and premium finish add a touch of elegance, perfect for showcasing high-end yoga studios and luxury fitness brands. But you can use it for just about anything you want.
Remember, you can also create a background, either by choosing predefined ones or uploading a custom one. Or keep it blank/transparent if you want.
MORE INFO / DOWNLOAD
3. Woman Taking An Online Yoga Class Mockup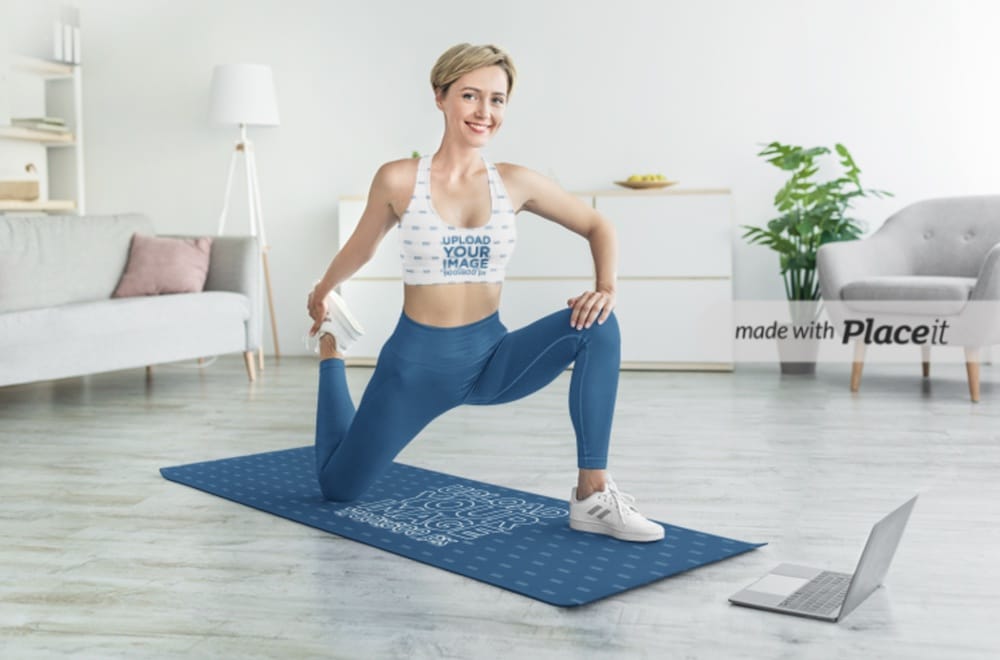 Ignite joy and playfulness with this charming and lively yoga mat mockup generator.
It features a woman taking an online yoga class, promoting home-friendly yoga sessions for everyone.
You can also add a custom design to the sports bra and the mockup, plus change the color of the leggings.
One thing that why we experienced really positive feedback from a client's audience is the woman "looking at you" – it always GRABS the attention in the crowded newsfeeds.
MORE INFO / DOWNLOAD
4. Semi-Rolled Yoga Mat Mockup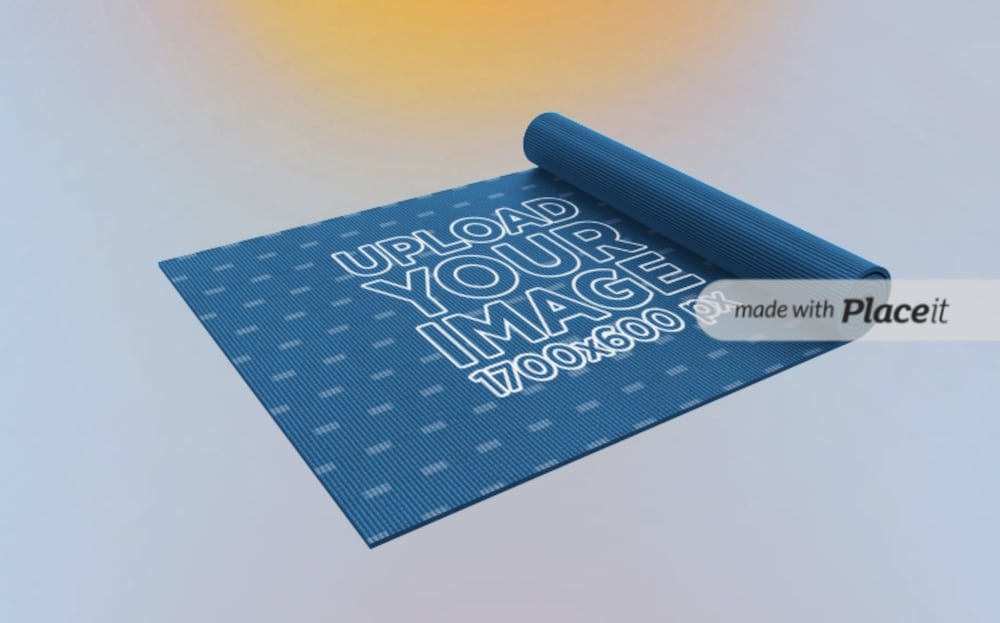 Infuse energy and vibrancy with this bold and bright yoga mat generator.
Thanks to its simplicity, it's extremely versatile, making it a great choice for promoting earthly tones or vivid color combinations.
The background and the yoga mat colors are easily changeable with a color picker.
However, you can also use a custom image for the background (even upload the one you want to use for a more EXCLUSIVE look).
This one works great for an online shop.
MORE INFO / DOWNLOAD
5. Girl Learning Yoga Mockup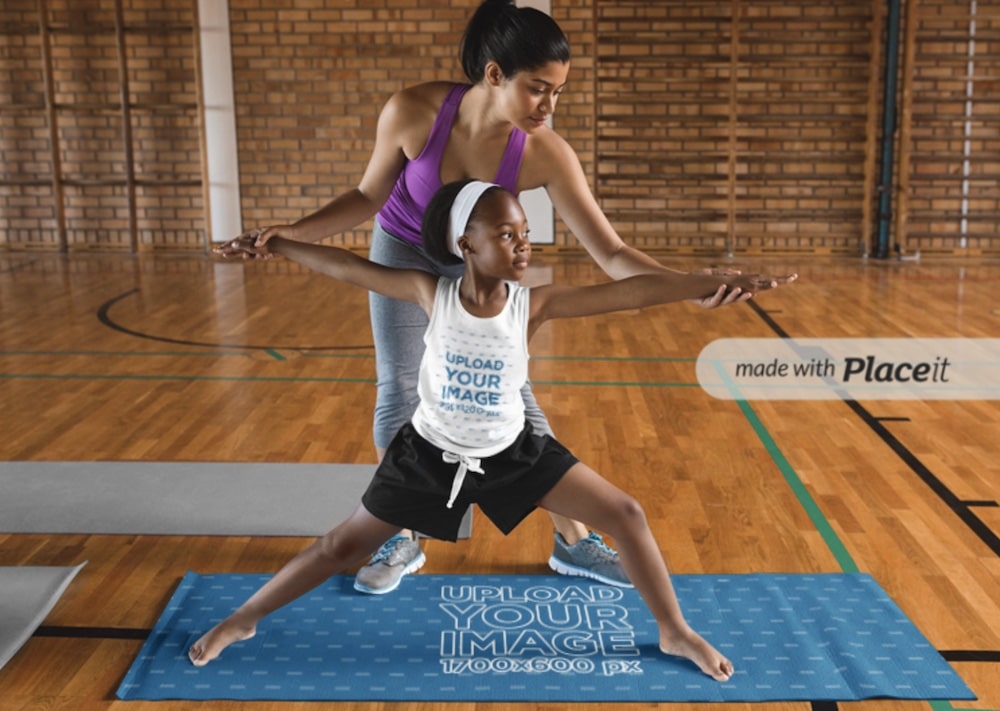 Yoga is for everyone, young and old. But if you do yoga regularly, your body may never get "old."
This highly realistic solution is perfect for children's yoga classes and family-oriented yoga promotions.
While you cannot change the clothing the yoga teacher wears, you can modify the girl's tank top and, of course, the yoga mat!
It only requires a FEW clicks, and that's it.
I actually created five variations first before picking the clear winner.
MORE INFO / DOWNLOAD
6. Woman Doing Yoga Mockup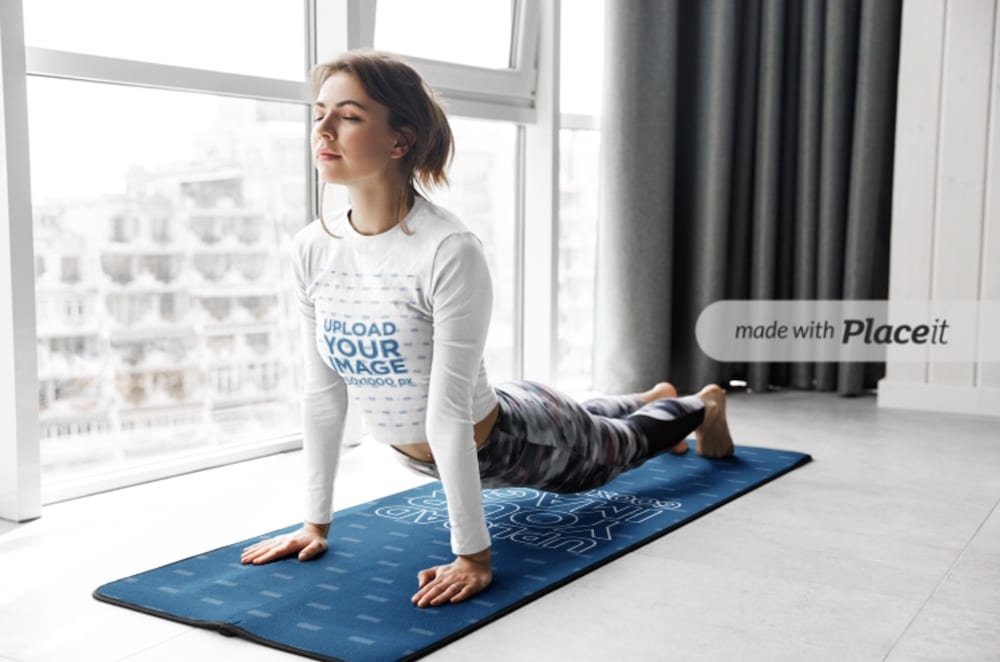 This meticulously crafted mockup showcases the perfect balance between grace and strength as the woman performs cobra pose on a yoga mat that can feature your design.
This mockup allows you to effortlessly add your designs or branding, thanks to the customizable elements.
I found it WORKS BEST for yoga studios, fitness apparel brands and even wellness entrepreneurs seeking to promote their products and services.
So. Versatile.
MORE INFO / DOWNLOAD
7. Yoga Mat Mockup Of A Woman Doing Forward Bend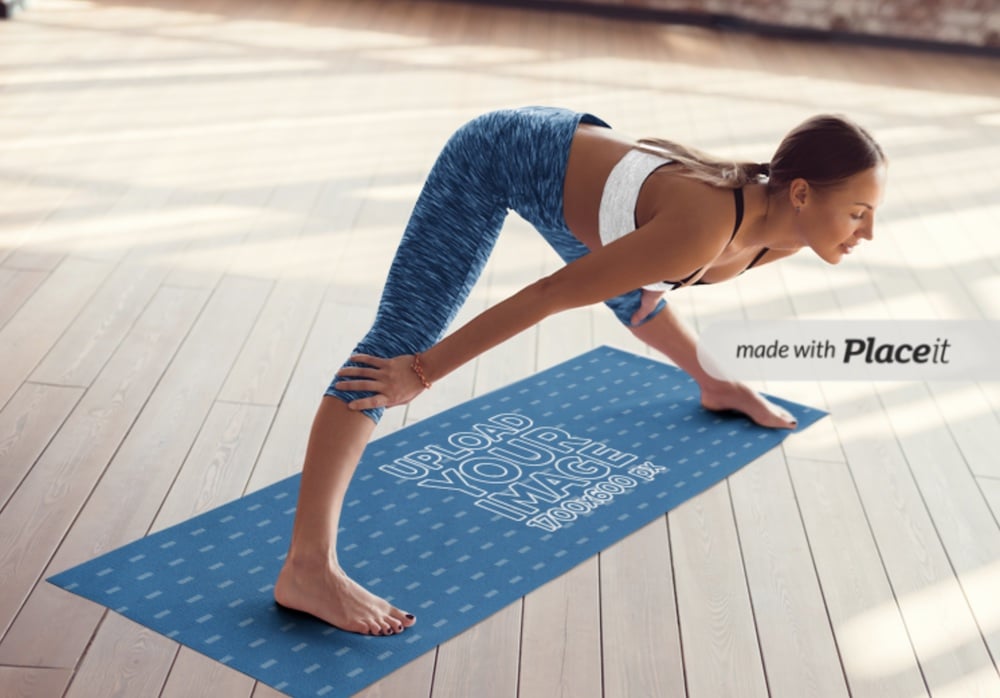 This incredibly realistic mockup captures the essence of strength and flexibility as she seamlessly extends into the pose on a premium yoga mat.
You can EFFORTLESSLY modify her sports bra and leggings color + the yoga mat.
Speaking of which, add a custom pattern, a logo or an image to the yoga mat with a simple click.
Remember, if your design covers the entire yoga mat, changing its color isn't necessary.
MORE INFO / DOWNLOAD
8. Woman Rolling Up A Yoga Mat Mockup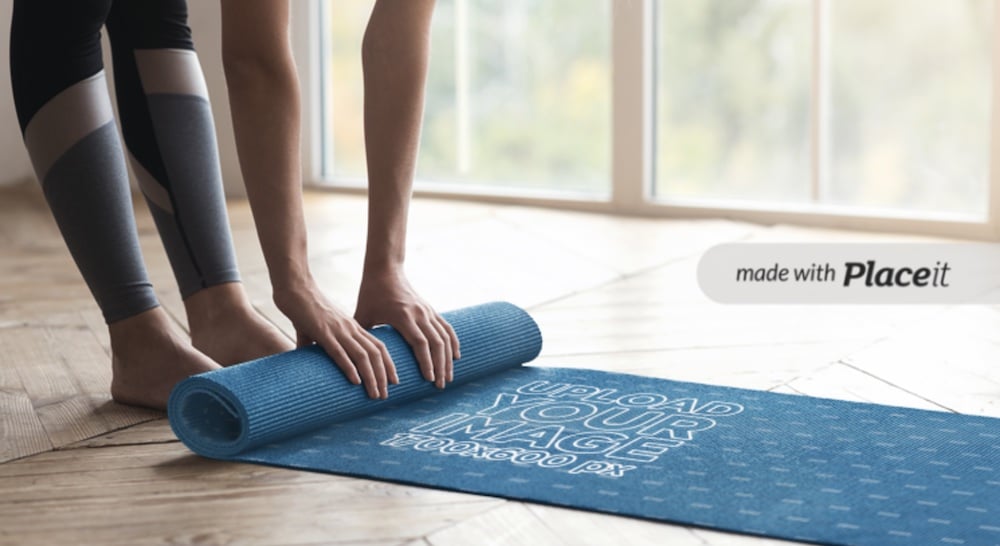 Experience the nature of a yoga session coming to a blissful close with this mockup generator featuring a woman gracefully rolling up her yoga mat.
An EASILY customizable yoga mat allows you to effortlessly showcase your own designs or branding, effortlessly creating an authentic outcome that will grab attention.
I recommend changing the color of the mat (unless you'll use the default blue one) because if you use a pattern that covers the entire top of the mat, the bottom part will likely be different.
But feel free to PLAY with the functions for as much as you want, Placeit allows you to thoroughly test it first before purchasing.
MORE INFO / DOWNLOAD
9. Mockup Of A Woman With Her Legs Crossed On A Yoga Mat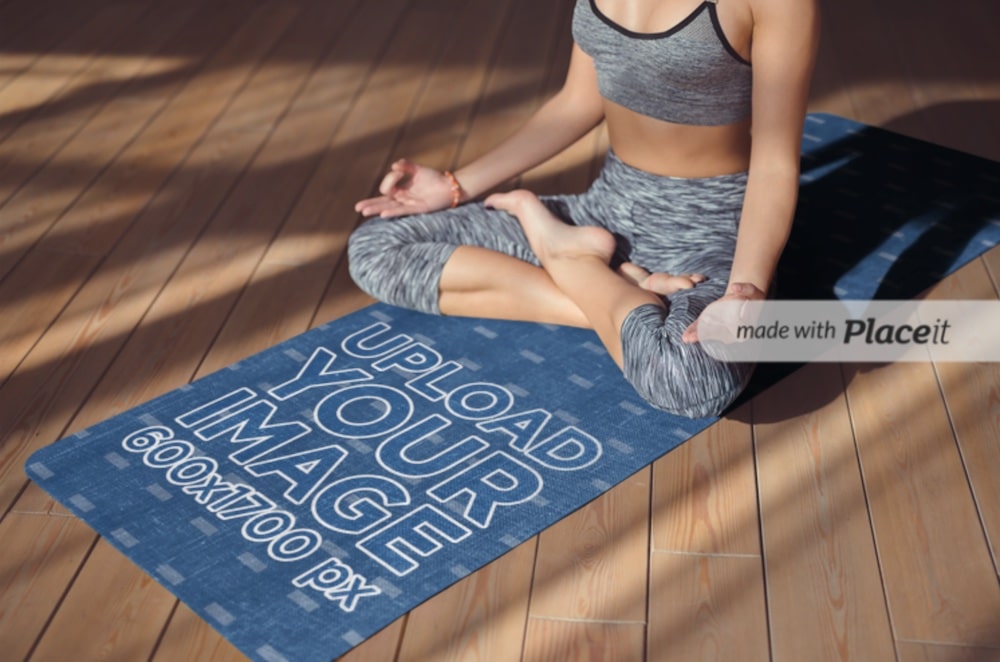 Discover the epitome of INNER serenity with this template featuring a woman seated on a yoga mat with her legs elegantly crossed.
The realistic design and customizable mat allow you to effortlessly showcase your own designs or branding in the highest quality.
The only downside of this generator is that it doesn't allows you to change the color of the sports bra nor leggings.
MORE INFO / DOWNLOAD
10. Top View Mockup Of A Yoga Mat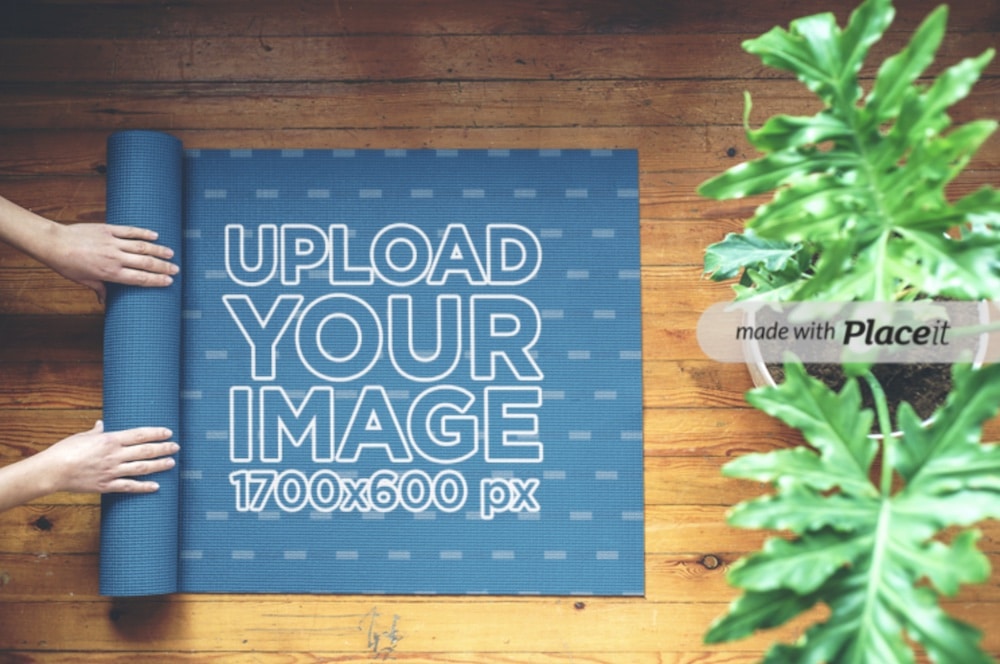 This realistic and finely detailed mockup captures the beauty of the final moments of practice as the woman carefully rolls up the yoga mat.
If you need a top view of a yoga mat, I'm sure this one will do the trick.
I really like the plants because they go so well with yoga in general, creating a SENSE of tranquility and contentment.
MORE INFO / DOWNLOAD
Best Yoga Mat PSD Mockups
Do you need a little more creative freedom? Then here are PSD mockups that will help you out.
11. Open & Rolled Yoga Mats Mockup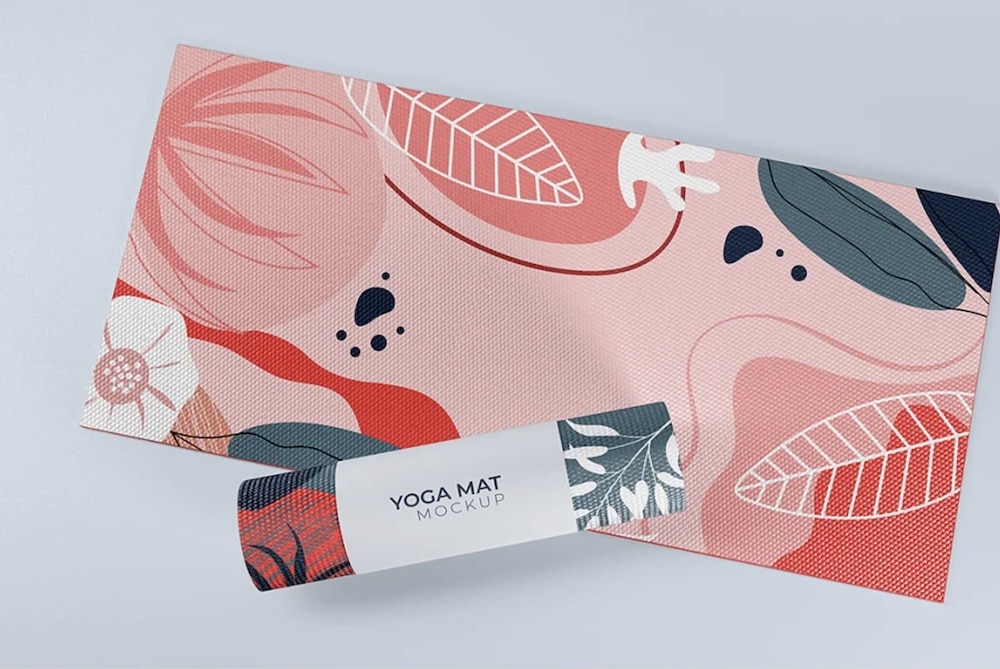 This versatile template is ideal to elevate your yoga-inspired projects to new heights of creativity and authenticity.
This mockup showcases two beautifully detailed yoga mats – one fully opened and the other rolled up – allowing you to present your designs or branding in various configurations.
The 5000 x 3000px dimension (300 dpi) ensures the ULTIMATE quality, even in a close-up view.
Moreover, the editing happens speedily, thanks to the smart object layer and organized and named layered structure.
Price: $9
MORE INFO / DOWNLOAD
12. Realistic Yoga Mat PSD Template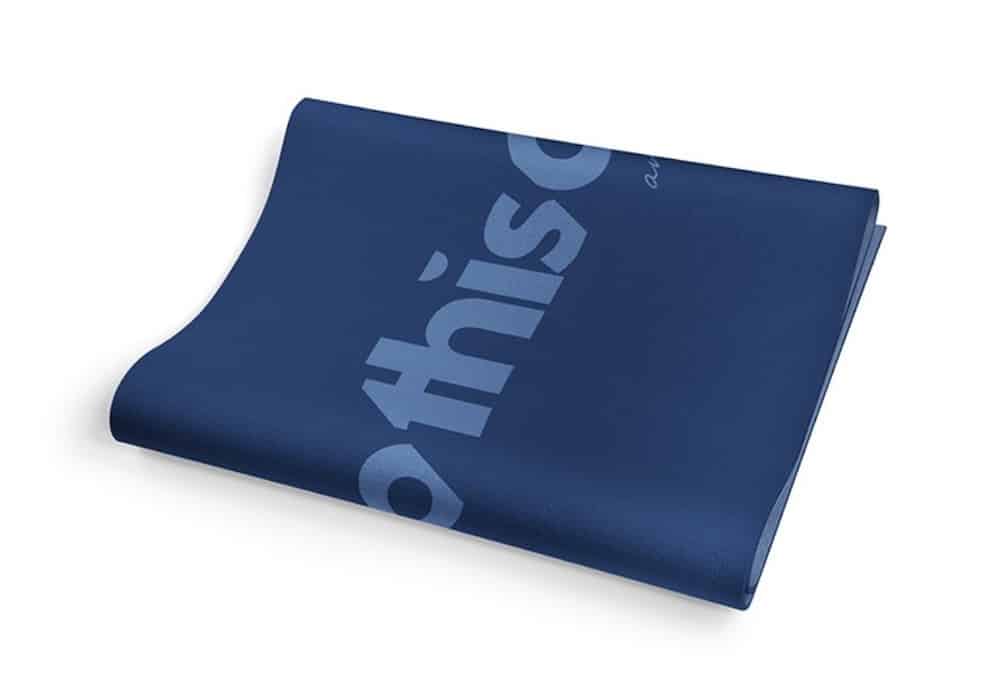 Unleash your creativity and embrace the limitless possibilities with this set of eight mockups that encapsulate the art of yoga.
You CAN customize every element, making it an indispensable tool for yoga studios, fitness brands, etc. with easy-to-edit layers.
Speaking of customizations, you can adjust and alter everything, colors, background, shadows, etc.
The rolled mat also has a custom wrapping to add your label for professional packaging.
And the 6000 x 6000px dimension really takes things to the next level.
Price: $13
MORE INFO / DOWNLOAD
13. PU Leather Yoga Mat Mockup Set

This comprehensive mockup collection features a series of high-quality yoga mats crafted from premium PU leather material, exuding sophistication and durability.
You can showcase your designs or branding in VARIOUS captivating scenes with multiple angles, customizable features and realistic textures.
You can modify the top part, the carry strap the edges and the bottom rubber part (the background, too!).
Each mockup brings a touch of opulence to your promotional materials, product presentations and online stores.
Price: $20
MORE INFO / DOWNLOAD
Best Free Yoga Mat Mockups
14. Free Mockup Of An Open & Rolled Yoga Mat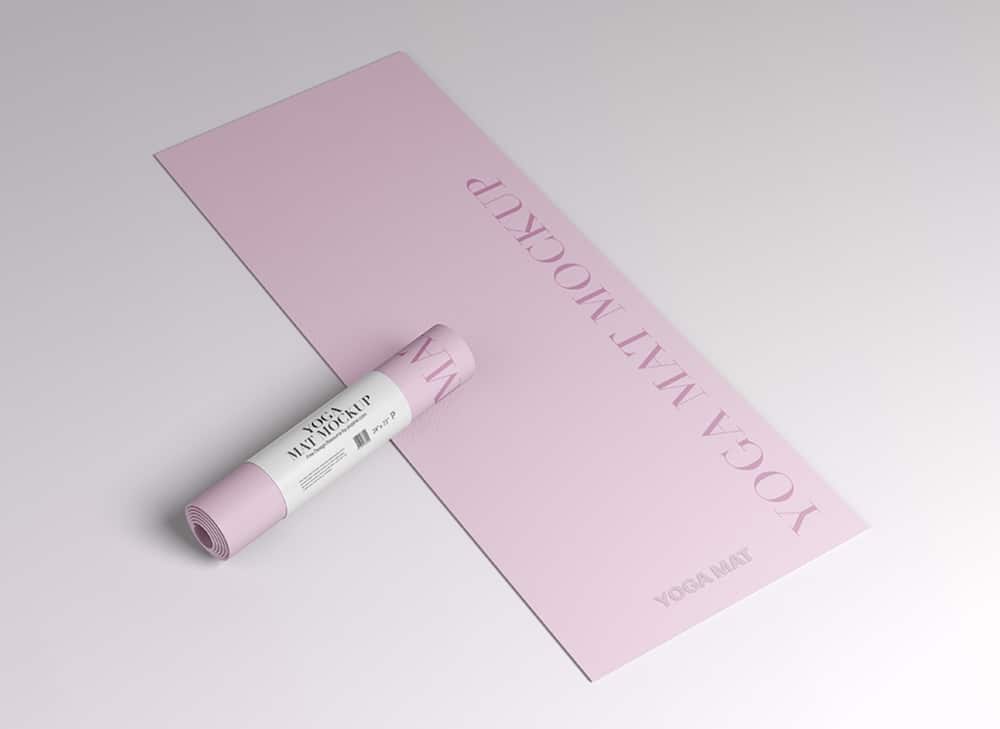 Experience the perfect blend of flexibility and creativity with this free template, including one fully opened and one elegantly rolled up yoga mat.
The 4500 x 3600px resolution guarantees a SUPERB outcome that will appear very premium-like.
And the fact that you can use it for personal and commercial projects makes it ten times better.
MORE INFO / DOWNLOAD
15. Free Semi-Rolled Yoga Mat PSD Mockup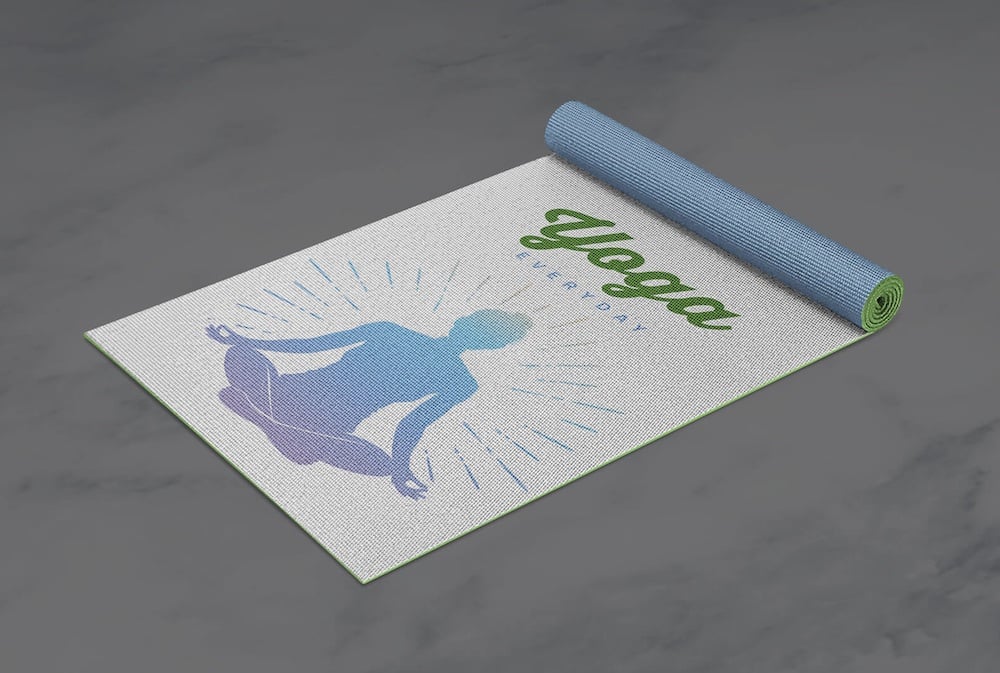 May the free part of these yoga mat mockups not fool you!
Even though you don't have to spend anything on this one, you'll still UNLOCK the art of realism and originality.
Incorporating your designs or branding is a breeze with a generous resolution of 4000 x 3000 pixels and a smart object layer.
This free mockup empowers you to create visually stunning presentations for your yoga-related projects, promotional materials and social media posts. (Ideal for yoga enthusiasts, instructors and freelancers.)
You can use it for personal and commercial projects.
MORE INFO / DOWNLOAD
How To Easily Create A Yoga Mat Mockup
Here's a quick step-by-step guide on how to create a yoga mat mockup.
Since using a mockup generator is the easiest and fastest way of creating realistic presentation that's what we'll use.
Hint: As you've figured out already, nope, there's no need to be design-savvy to make an epic outcome.
Let's do this.
Step 1: Go to Placeit and pick your favorite template. I recommend choosing one from the above collection because they are tested and proven.
Step 2: With the template open, I always first inset my image/design to quickly test it out. Remember, you can use any device to create a mockup with Placeit, including your smartphone. Once you upload the image, you can also crop and reposition it.
Step 3: Next, you can adjust the color of the yoga mat and even use a custom background (if the template allows it and doesn't already come with a background).
Step 4: Finally, perform any finishing customization touches and you're ready to rock and roll.
Step 5: Preview your creation and download it straight to your device.
Now that you have the mockup ready, you can incorporate it into your presentation, whether it's for a client, portfolio, or personal project.
But you can also use it for marketing campaigns and on eCommerce websites to boost sales.
The realistic representation of your design will impress your audience – GUARANTEE!
Friendly tip: If you plan to create a website, Petra also curated an awesome list of the best yoga WordPress themes.
::
Note: This article was originally published on August 6, 2023. But our team regularly reviews it and updates it with necessary improvements for accuracy.