I used these perfume box mockups when working with a few fragrance companies in the past.
Note: Yes, I tested each for my projects, ensuring they work. So I'm more than confident to share them with you now.
This list includes perfume bottle mockups and packaging. (You can also read our tutorial on how to create a packaging mockup.)
Stop doing everything from scratch – because you don't have to.
Either pick an online mockup generator or a PSD.
This post covers:
If you are in a hurry, I highly suggest you make a mockup without Photoshop. It takes seconds to complete – without experience and software!
But Photoshop mockups are also easy to work with. Each comes as a layered PSD file to modify it quickly. (Downside: software.)
You have everything you need!
(These mockups worked for me, and I know they'll work for you, too.)
Best Perfume Box Packaging Mockup Generators
Placeit mockups go for $7.95 (single) or apply for a monthly ($14.95/month) or annual ($89.69/year) subscription.
1. Mockup of a perfume bottle and box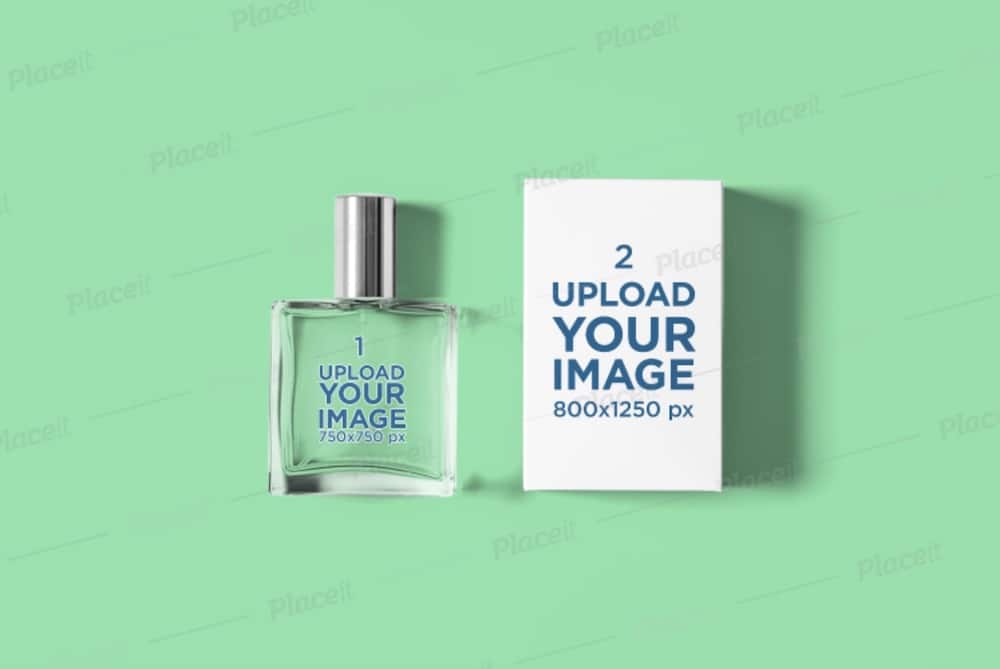 A beautiful and to-the-point template of both a perfume bottle a box on a fully editable background.
As for the background, you can change it to any color you want; you can even make it transparent.
In addition to that, you can also change the shade of the packaging. Easy and quick work, that's what's to expect.
Moreover, you can add two designs individually, one to the bottle and one to the packaging.
The entire process will take you barely any time to create an impressive presentation.
MORE INFO / DOWNLOAD
2. Slim perfume box and bottle template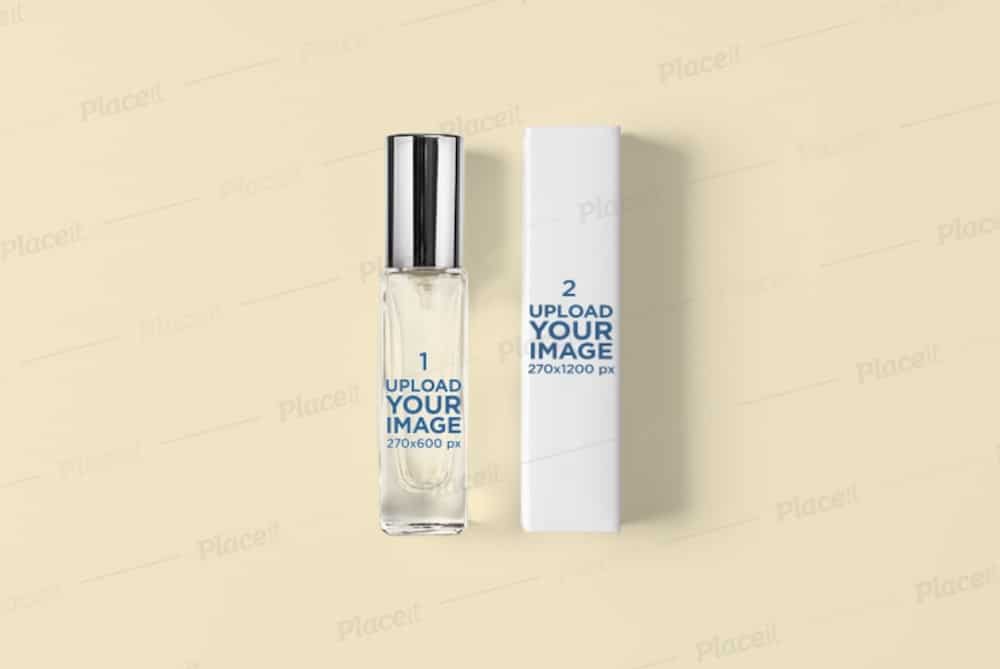 If you are particularly searching for a slim perfume box mockup with a bottle, you came to the right place.
Keep in mind, this template is not the only one, as you will find a few more alternatives by scrolling down.
However, if you want to keep things clean and minimal, this particular example will probably be it.
Since it is a Placeit mockup, you don't really need any design knowledge and Photoshop skills.
From changing color and importing your designs to adding texts, it all happens online, from your favorite browser.
MORE INFO / DOWNLOAD
3. Mockup of a slim perfume bottle and packaging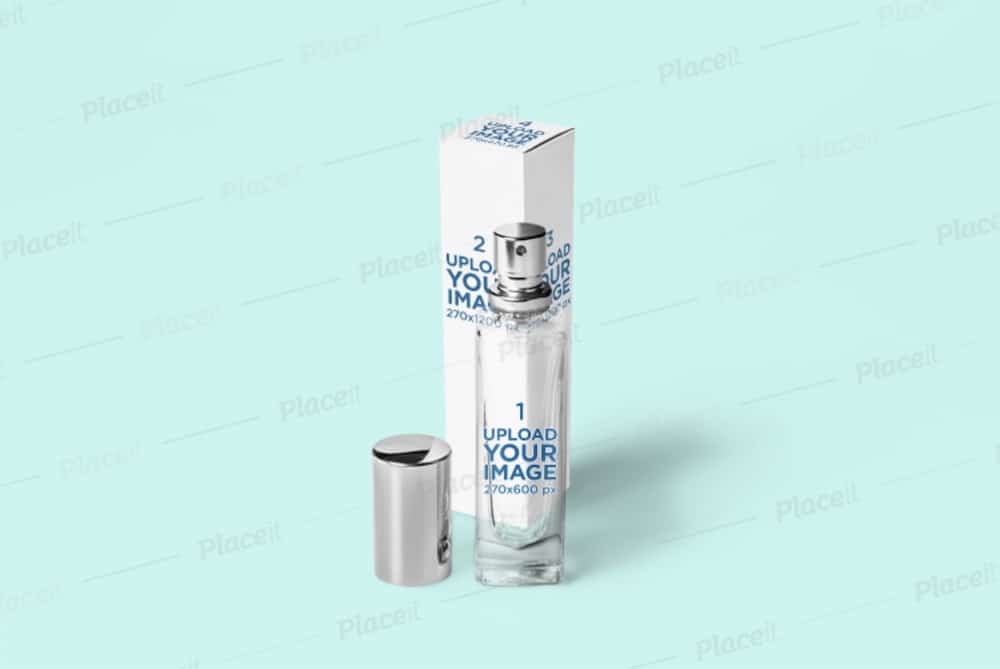 A modern and photorealistic perfume bottle and packaging mockup that you can decorate with your branding easily.
You can easily and effortlessly create a product presentation without actually needing to have a product.
It will not take you long before you have the full-blown showcase ready, which you can then share all over the web.
You can slide in four different images to the mockup, three to the box and one to the bottle.
You see, you can truly make a version that is precise to your liking. Boost your workflow now and make a difference.
MORE INFO / DOWNLOAD
4. Slim perfume bottle with box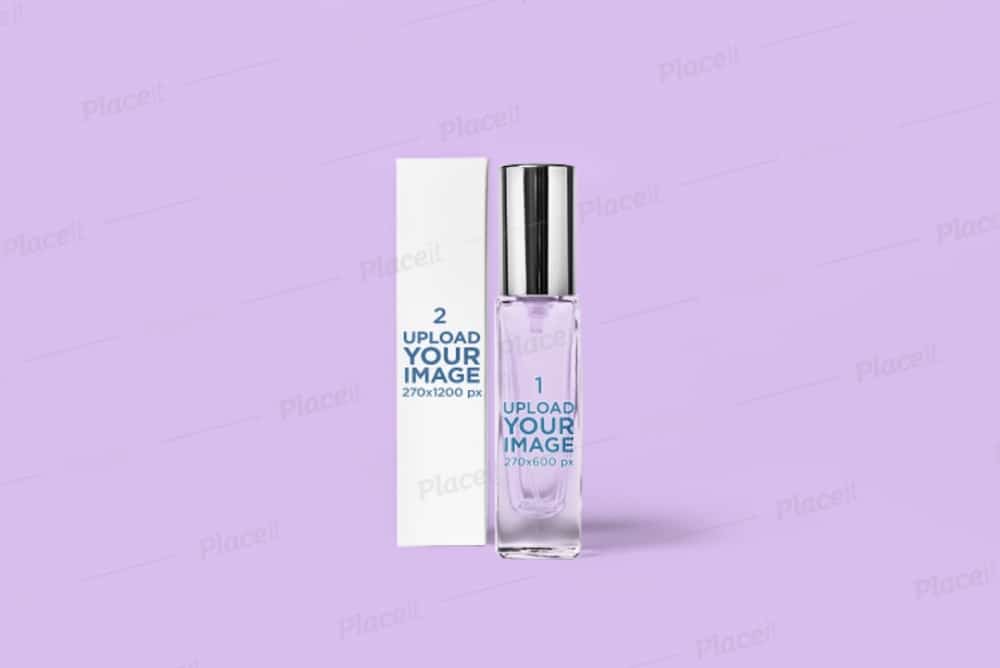 A neat and easy-to-use perfume box mockup with an editable bottle and modifiable background.
Instead of working on it from the ground up, save a ton of time and have an exhibition all set without a few clicks, aka seconds.
Let's face it, changing the colors will be instant, and adding designs also won't take much longer.
Once you import your image, you will see a pop-up opens with additional functions to make it appear on the box and the bottle exactly how it should be.
You can even test it out without creating a free account on Placeit just yet.
MORE INFO / DOWNLOAD
5. Customizable perfume bottle and vertical box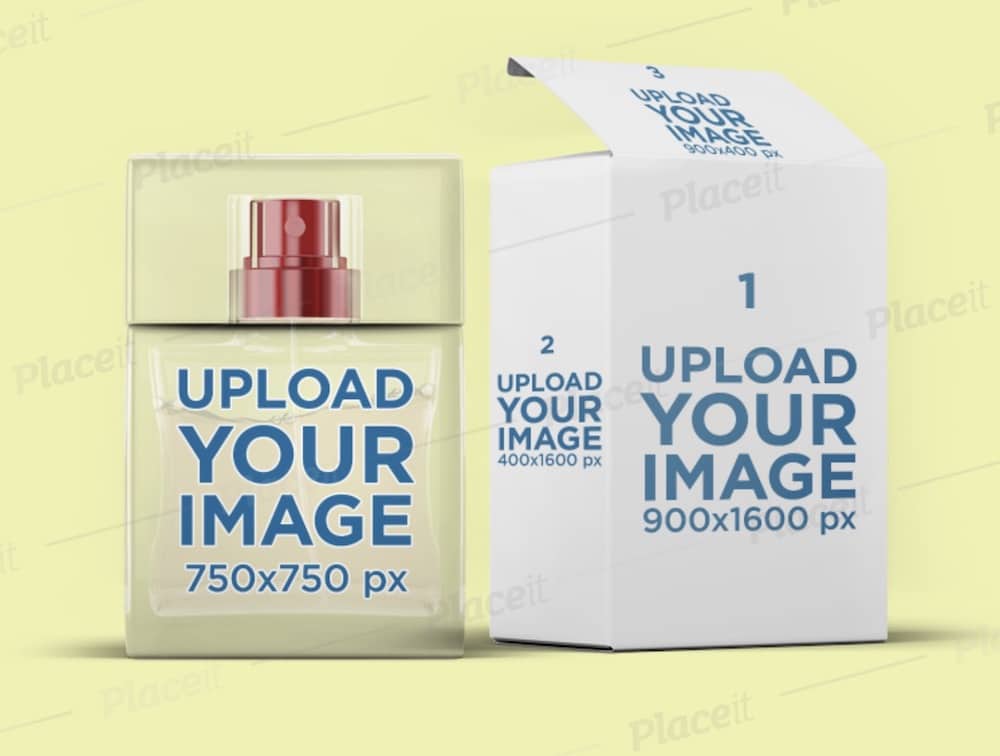 A big and bold mockup featuring a perfume bottle and a vertical box that you can now beautify with your creative ideas.
You can insert four different designs, making both items completely brandable.
For this, of course, all it takes is uploading your images directly from your computer (or even mobile device) and have them appear on the mockup with a click.
Furthermore, the box and background are also editable with colors, and you can even add some text if necessary. Play with different possibilities before finding the one version that works the best.
MORE INFO / DOWNLOAD
6. Minimal mockup of a perfume box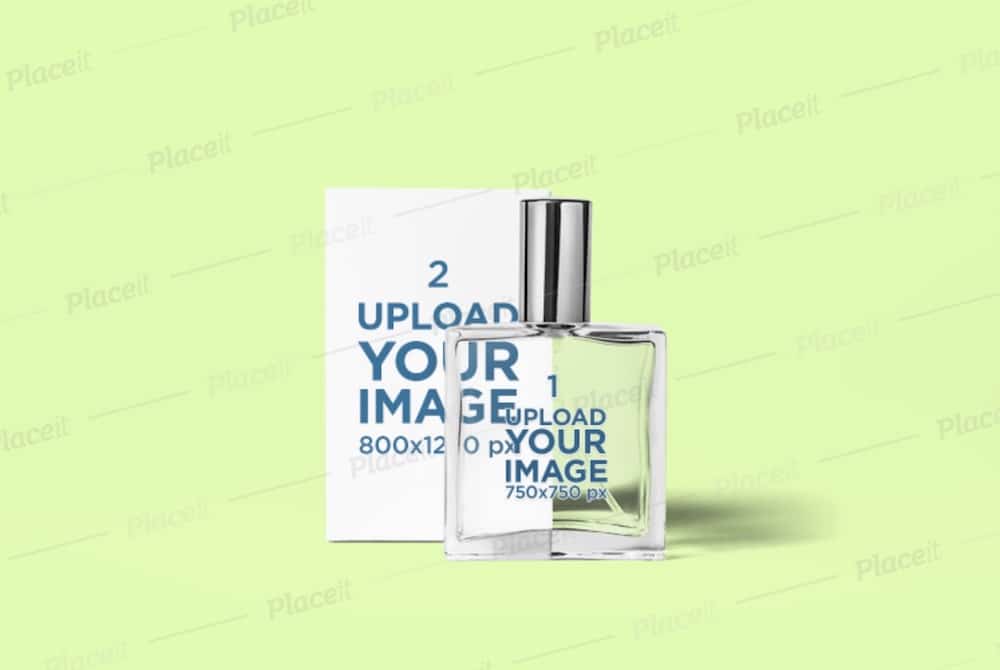 A beautiful and somewhat basic perfume packaging mockup that is dying to rock your ideas.
Whether it's just a logo or a full-blown design, whatever the case, you can quickly improve the default settings according to the regulations you need to follow.
You can then showcase the life-like outcome to your client, share it on social media, in a newsletter, heck, even as part of the product page on your eCommerce website.
Make it as engaging and vibrant as you want, or stick more on the minimal side – it's all possible.
MORE INFO / DOWNLOAD
7. Perfume packaging mockup and bottle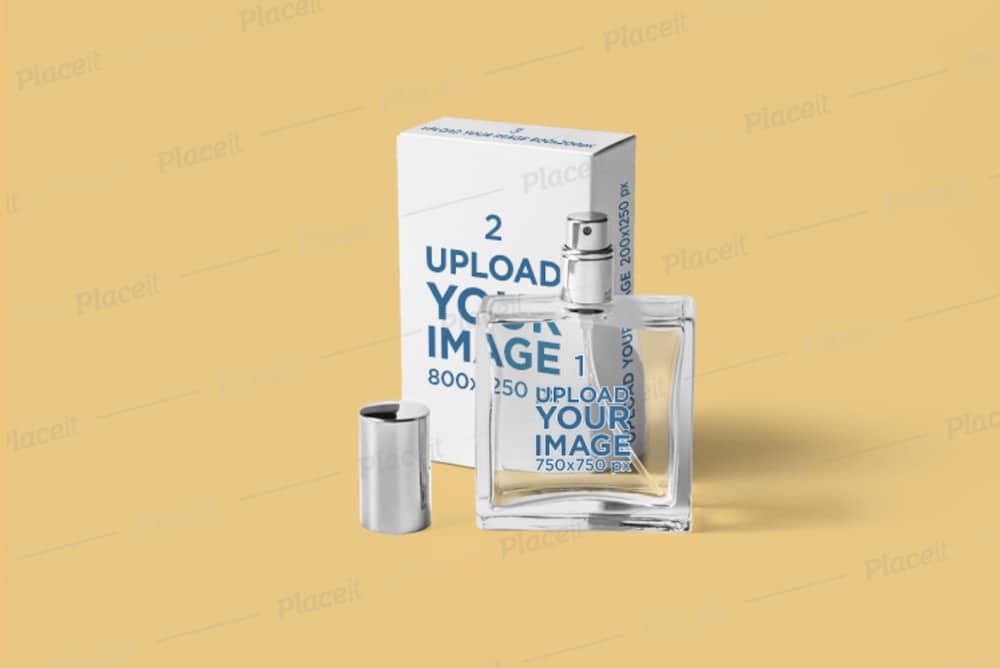 A box, an open perfume bottle and a customizable backdrop that's what's up when it comes to this beginner-friendly mockup.
We are still in the amazing world of Placeit templates that you can style to your wants online.
Add three different images to three different sides of the packaging and one to the bottle. You can make it super attention-grabbing so that everyone will absolutely want to check it more closely.
You do not need any experience, as working with any Placeit mockup is pretty self-explanatory. In short, it only requires some clicking, and that's it.
MORE INFO / DOWNLOAD
8. Perfume mockup in a minimalistic setting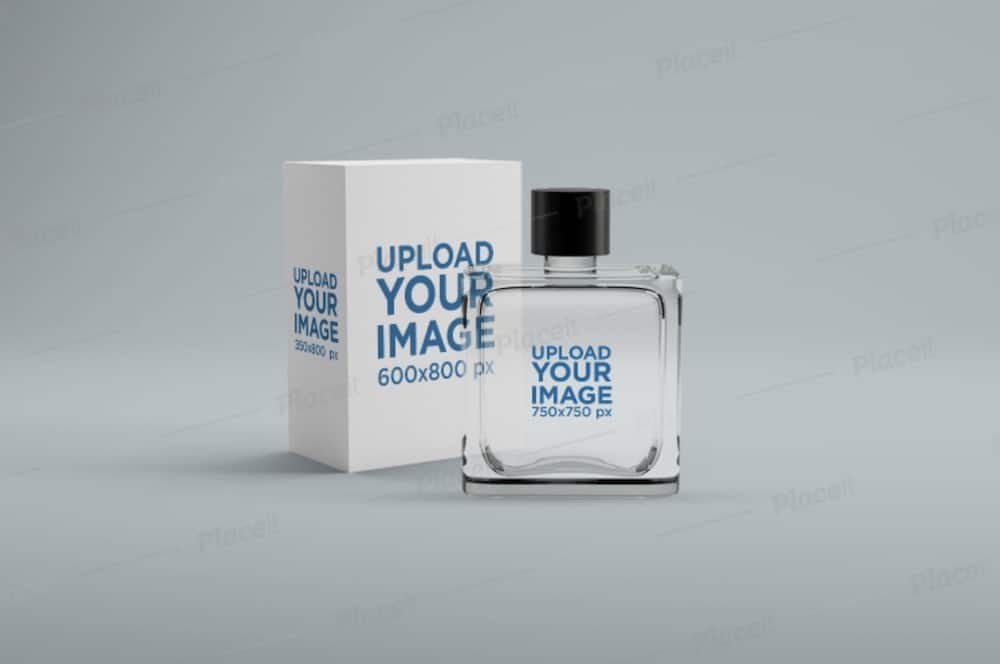 If this is the style of a bottle and box that you are after, waste no time and create a photorealistic version in the snap of a finger.
These days, there's always a way to take a shortcut when it comes to design while still keeping your professionalism to the highest degree.
Upload your ideas, change the colors and, well, you are done doing the work. And if you create a free Placeit account, you can expect your workflow to be even smoother.
Enjoy the creation of a life-like product masterpiece now.
MORE INFO / DOWNLOAD
9. Small perfume bottle and box mockup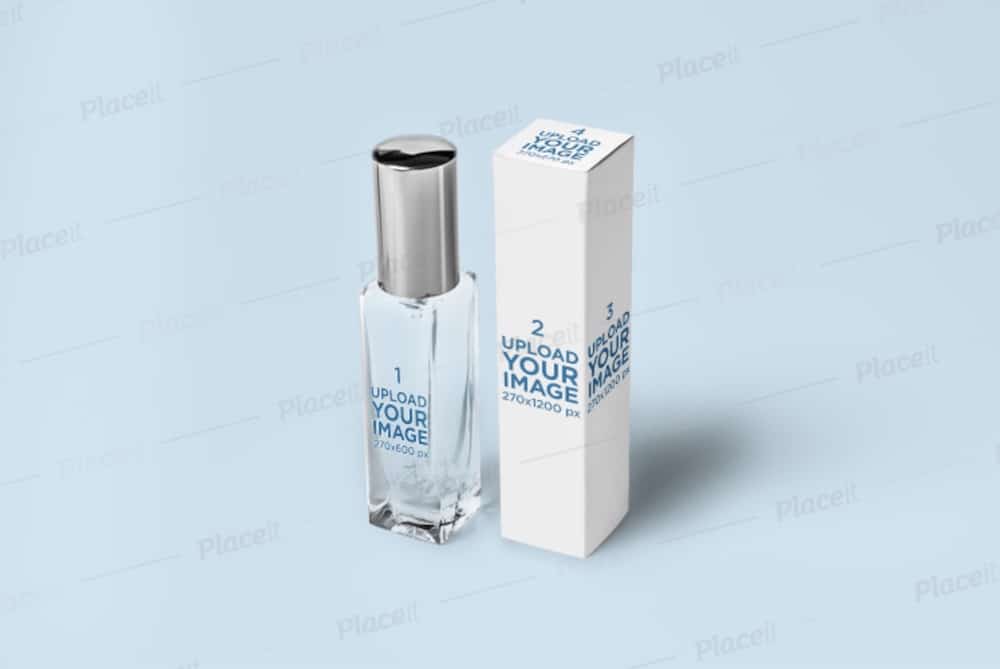 With all the different perfume box mockups that you can see on this list, you will surely find the one that resonates with you best.
From there, it's all about taking charge and making your version out of it.
The process is swift and straightforward, making sure everyone gets to create their fantastic brandable perfume packaging.
This particular example is no different. You can start right away, improve it with your stunning designs and color options and have it all set and ready to rock and roll sooner than later.
MORE INFO / DOWNLOAD
Best Perfume Box PSD Mockups
10. Perfume packaging mockup

For all of you who prefer to work with Adobe Photoshop, the following bundle of mockups will do you well.
This extremely realistic perfume mockup featuring a bottle and a box is very eye-pleasing. And it can now be yours, in fact, all the ten different files/views.
Every PSD mockup comes at a high-quality of 4000 x 3000px with four ready-to-use filters and convenient PS smart objects.
You can perform as many customization tweaks as you want to ensure the outcome is precise to your liking. A help file and video tutorials are also part of the package.
Price: $10
MORE INFO / DOWNLOAD
11. Realistic perfume box mockup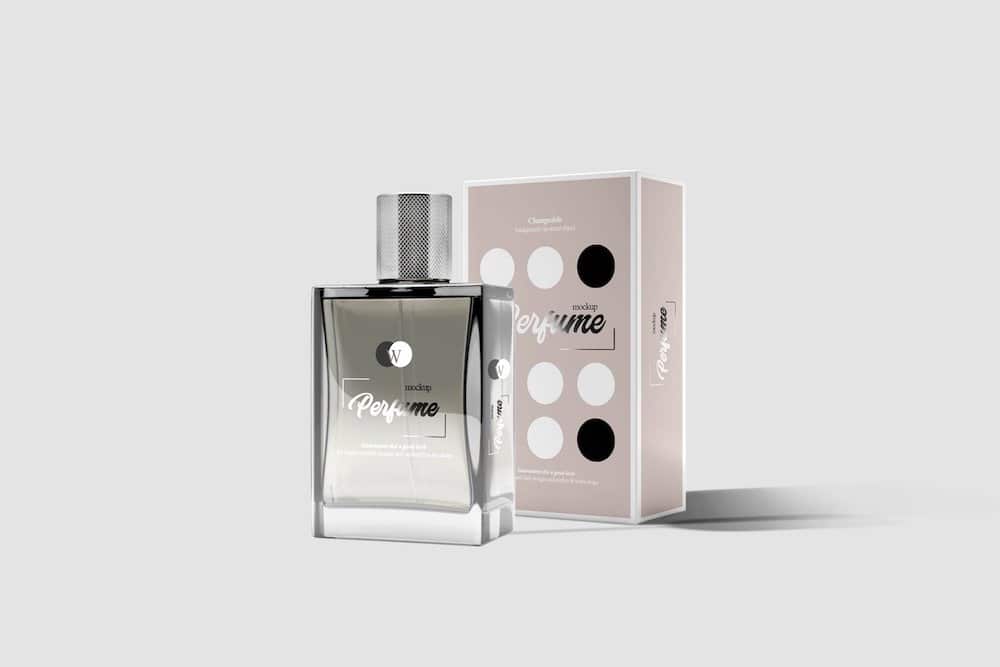 Clean, minimal and simple-to-use perfume box mockup with a bottle that you can now make yours. Everything is fully editable, and you can also move/remove items, so you can put on display only the bottle, the packaging or both.
Moreover, this PSD template is compatible with dark and light designs, presenting them in the best possible light.
The file is fully layered, meaning working on improvements will be a piece of cake. You can even alter the shadows, making the overall exhibition even more realistic.
Price: $9
MORE INFO / DOWNLOAD
12. Perfume bottle & paper box mockup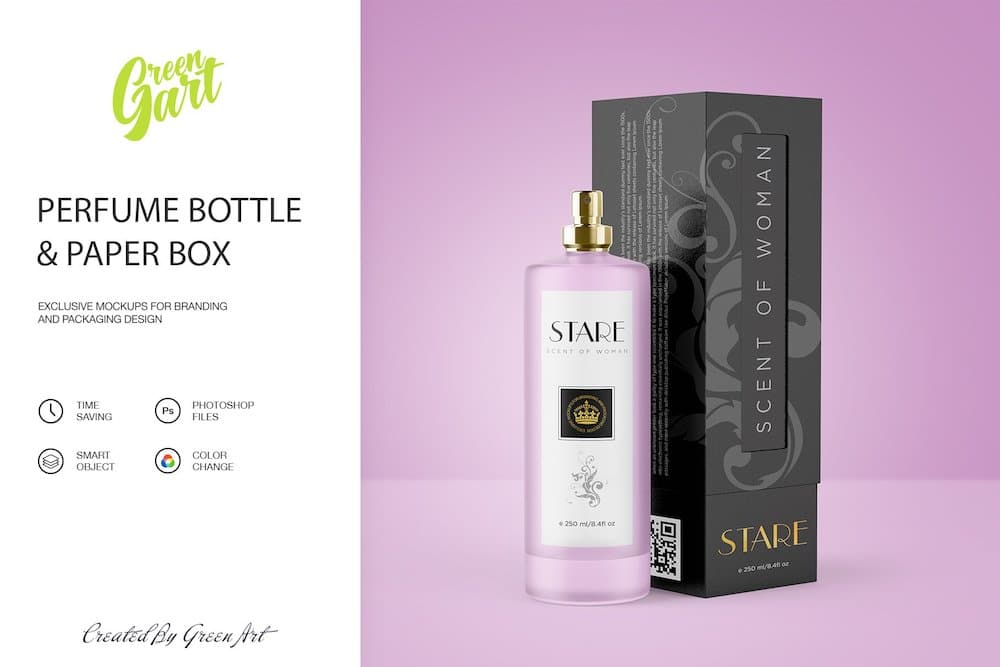 A top-class perfume packaging PSD mockup that helps create an enviable product showcase. You do not need to spend a whole bunch of time creating a perfume bottle and paper box mockup anymore.
This one will take you seconds if you have the designs and the idea ready to go.
After all, you only need to do some clicking, dragging and dropping your images and logos and that's pretty much it.
Highlights, layers, editable colors, high resolution and smart objects, this PSD file sports it all for your convenience.
And if you need any additional support, you can always get in touch with the mockup's author.
Price: $9
MORE INFO / DOWNLOAD
13. Minimalist perfume packaging mockup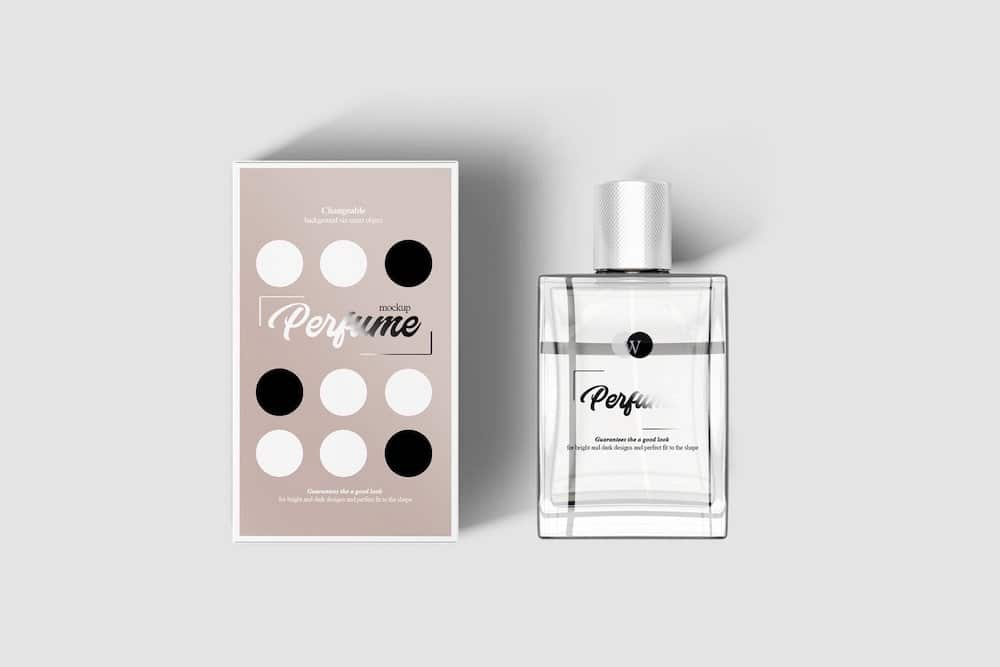 You can use this mockup to present the front and the back design of perfume branding. Both the box and the bottle are entirely customizable according to your exclusive preferences.
Also, you can create individual presentations of the box and the bottle or keep them together.
For a small investment, you can boost your workflow through the roof without affecting your professionalism.
Go full-tilt and create an outcome that follows the style you would like to attain to a tee.
Price: $9
MORE INFO / DOWNLOAD
14. Perfume packaging PSD template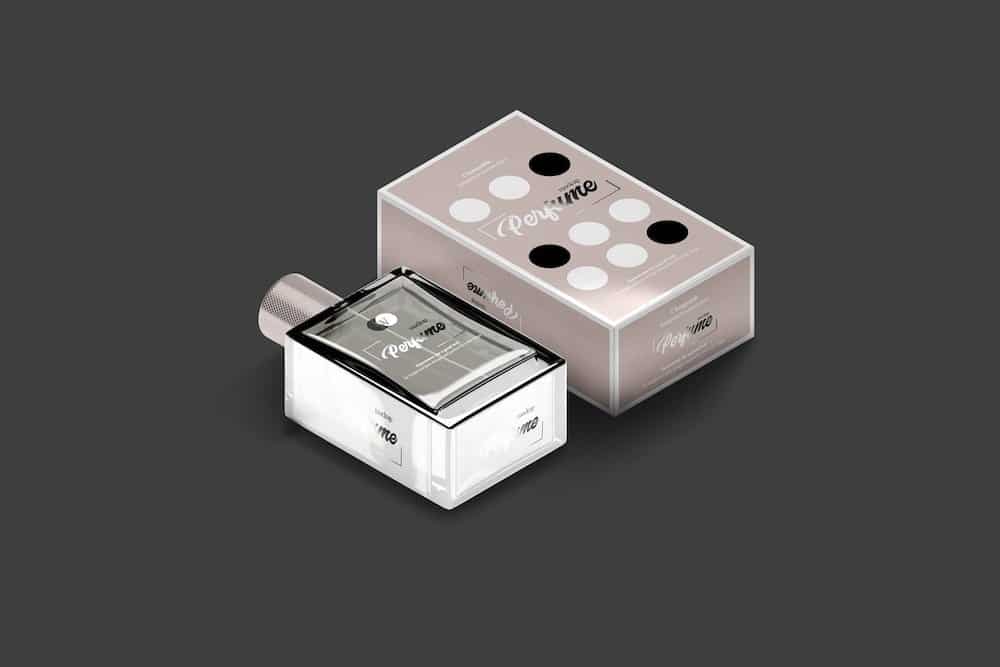 This is another edition of a perfume box mockup from the same author, coming at a different angle. Due to the amazing versatility and high adaptability, you can make it yours in just a few clicks.
Also, the 4000 x 2670px resolution ensures that the outcome will be crystal clear, even in a close-up view.
You can style and enhance the box and the bottle entirely and alter the background.
But first, preview the different possible variations and go from there. For a life-like exhibition of a perfume box, this is it.
Price: $9
MORE INFO / DOWNLOAD
How To Create A Perfume Box Mockup In 4 Steps
I'll focus on a mockup generator because it is the fastest way of creating a great perfume box presentation.
Also, I spent years working with the Placeit platform, so that's my "software" of choice.
Don't worry; no software is needed, just access to the internet.
Step 1. Go to Placeit
The simplest way to find the right generator for your project is to visit Placeit and type in the search bar "perfume box." (Or click on the link and save time.)
This will give you all the available hits, which aren't that many, unfortunately.
But still enough to start working on your project in the quickest way possible. Read: Immediately!
Step 2. Add your design
Add your design or logo after you pick your favorite template.
You can upload your artwork from your device (including a smartphone!) or pick any from your Placeit archive if you've used it before.
This will then also open a popup, which you can use to crop and reposition the design, so it fits the perfume box how you want.
Step 3. Customize your perfume box template
Enjoy working with any other customization options the generator offers, like changing the box and the background colors, adding graphics and even including some text (a CTA, maybe?).
All it takes are a few clicks, so I encourage you to play with the functions because you can easily create multiple variations.
Step 4. Download it
When you're happy with your creation, download it and put it to use.
That's it!
I told you it's easy, so feel free to give it a shot. (Hint: You can even test the waters without creating the free account.)
::
Note: This article was originally published on February 27, 2021. But our team regularly reviews it and updates it with necessary improvements for accuracy.