Are you searching for the best free and premium lanyard mockups but somehow feel lost, not knowing where to find the right ones?
Not anymore.
HURRAY!
This post covers:
We thought lanyards and ID card holders were old-school, not in fashion anymore.
Oh boy, were we wrong.
Events, festivals, forums, promo material, so many clients NEED lanyards for this and that reason.
Thus, we want to share with you our active collection of mockups to impress your clients and your audience.
Make everyone curious, starting with a mockup.
BOOM!
Best Lanyard Mockup Generators
These are for all who don't want to use Photoshop to make mockups.
Note: Each mockup generator is only $7.95/template. But you can pick a monthly ($14.95/mo) or yearly ($89.69/yr) subscription and save extra money.
1. Man at work with a lanyard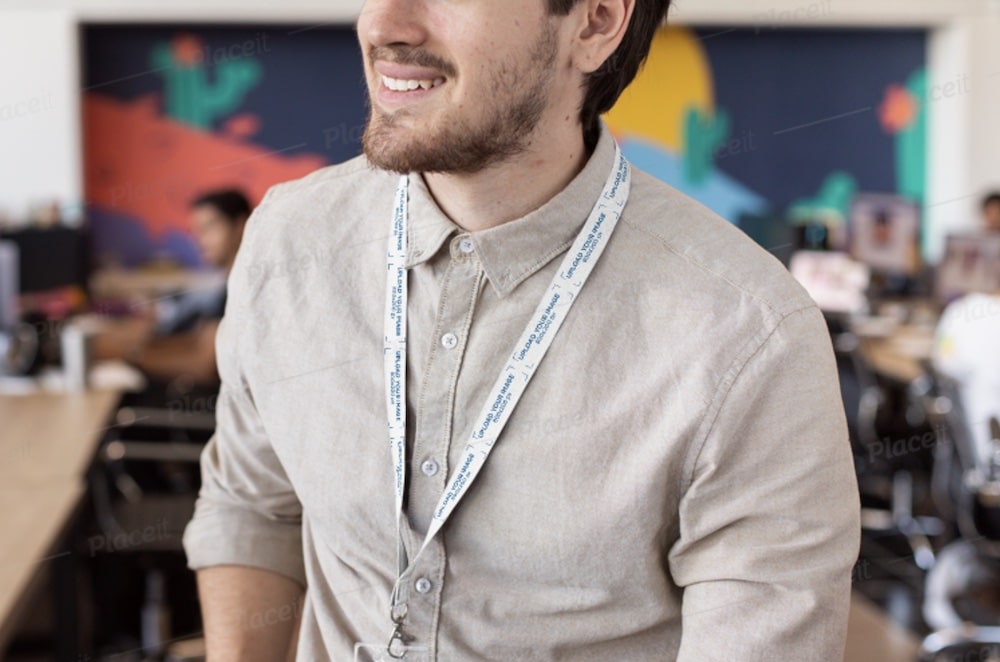 Not too formal and not too casual – just right! That's what you get with this particular mockup generator, creating your custom-made lanyard.
You treat yourself to an extremely speedy creation with just a few clicks. That's awesome.
We like this one the most. But all the other ones below are GREAT, too.
Insert the lanyard design, change its color and you're all set. There are options to add text and logo but that's optional.
Hint: I found this awesome custom lanyards service if you want to go beyond creating mockups. They do a great job even if you need help with the design. Plus, there's no min quantity (!).
MORE INFO / DOWNLOAD
2. Lanyard on a flat surface mockup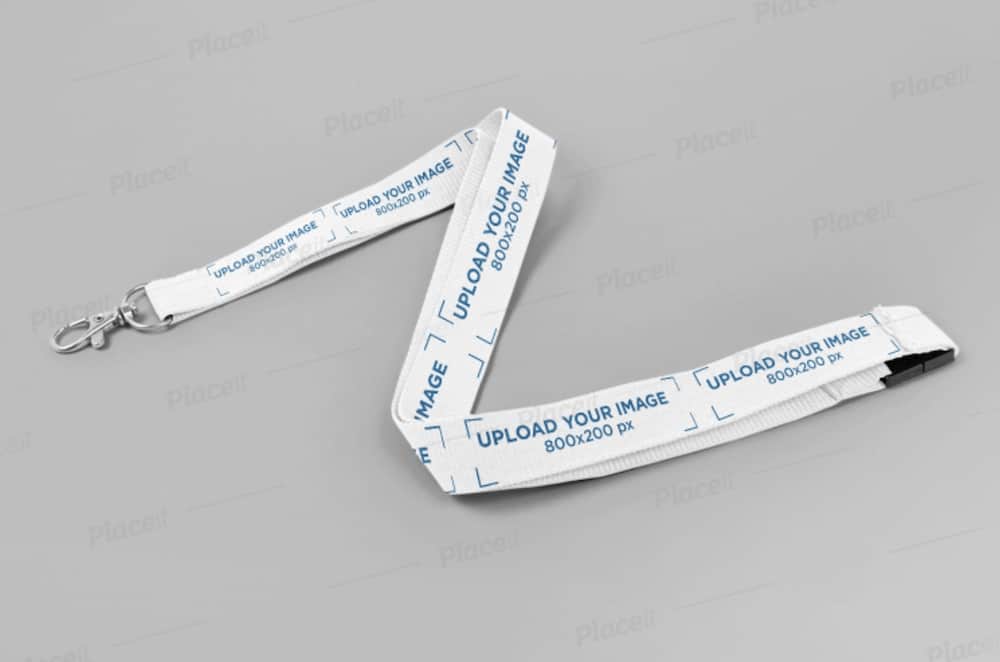 While we sure do prefer lanyard mockups with actual models, we also included several that feature just the item.
Here is a simple and minimal version that you can use for online stores, social media, anything.
But most importantly, impress your client with a realistic presentation they sure did not see coming.
You can edit the background and strap color by navigating to the convenient color picker. From then on, it's ONLY a matter of importing your logo or special design (800 x 200px).
MORE INFO / DOWNLOAD
3. Lanyard mockup of a woman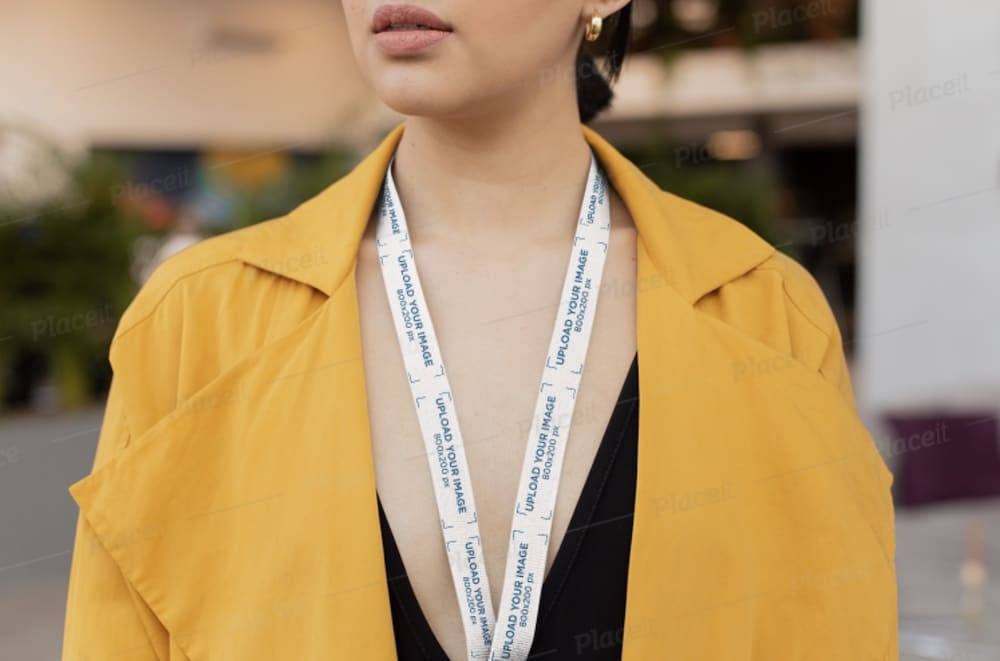 This one came in exceptionally handy when working with an event organizer. We used their logo and changed the color to green to create a nice stand-out effect.
You can use this mockup for anything – it doesn't need to be for an event. It's just that it worked really well in our instance.
The whole EXPERIENCE will be a piece of cake for everyone.
Even if you are no designer but have the logo ready – a realistic presentation is just around the corner!
MORE INFO / DOWNLOAD
4. Minimal lanyard mockup (customizable background)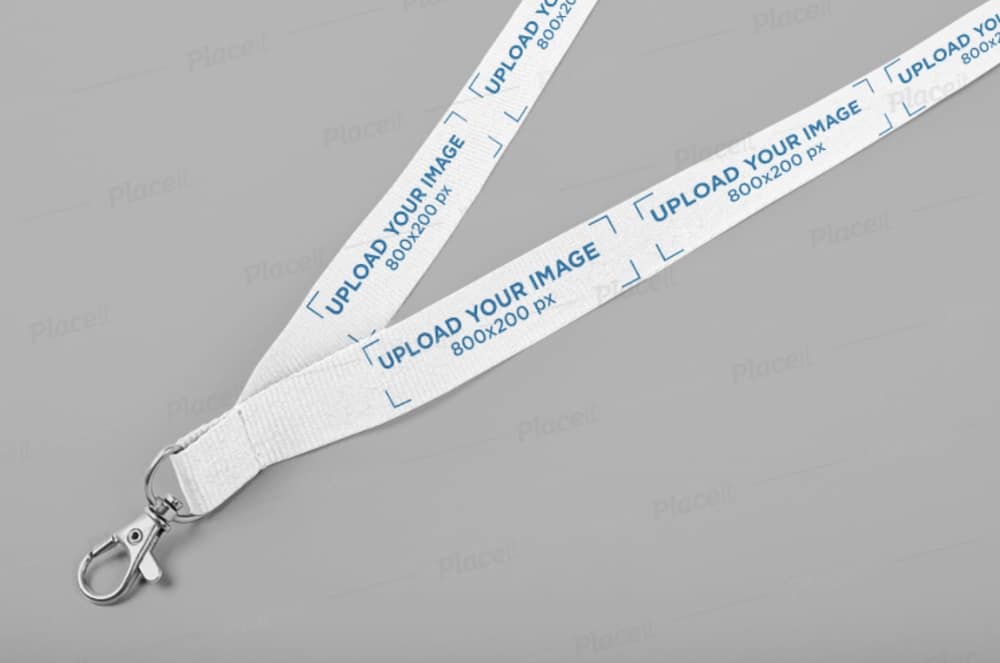 Keeping things minimal and simple is what we are big fans of. It doesn't always work, but it does in most cases.
The same applies to lanyard mockups. If you want to exhibit your design or logo idea exclusively, this one will do you well.
You can also alter the background color to make the design POP even more.
Heck, you can even make it transparent if you'd like to use a custom backdrop for your special client.
MORE INFO / DOWNLOAD
5. Lanyard mockup of a relaxed office woman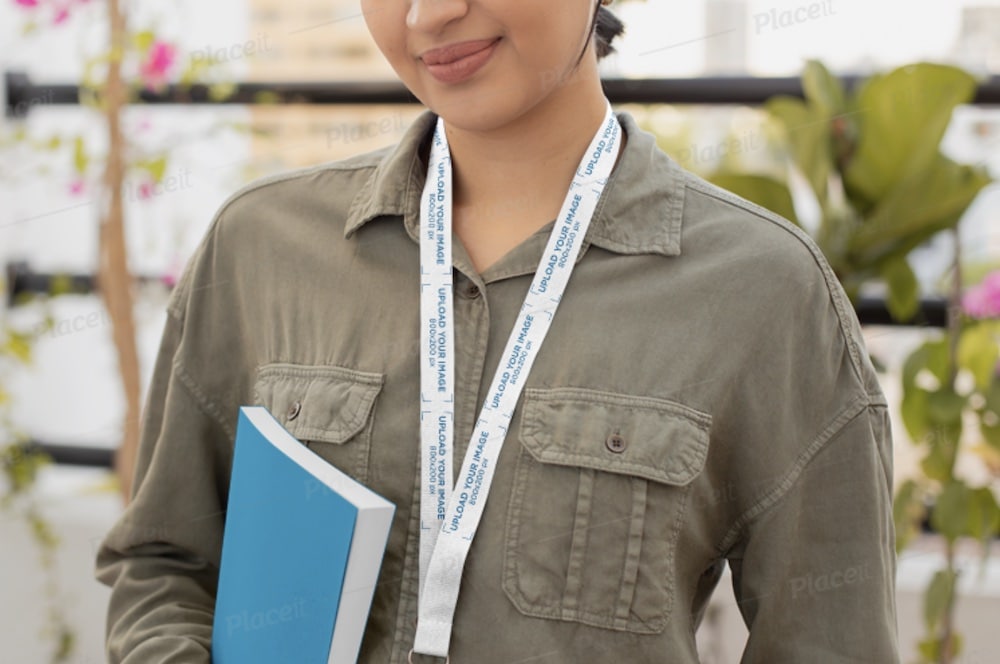 This is a female edition of the first lanyard mockup. You can easily achieve the casual office VIBE that everyone can relate to.
Make your lanyard design shine in crowded social news feeds with confidence.
You can craft as many variations as possible, even before creating a free account.
Specialty: You can also change the book cover color if you want, so it goes along with the matching lanyard.
MORE INFO / DOWNLOAD
6. Office woman with a lanyard mockup generator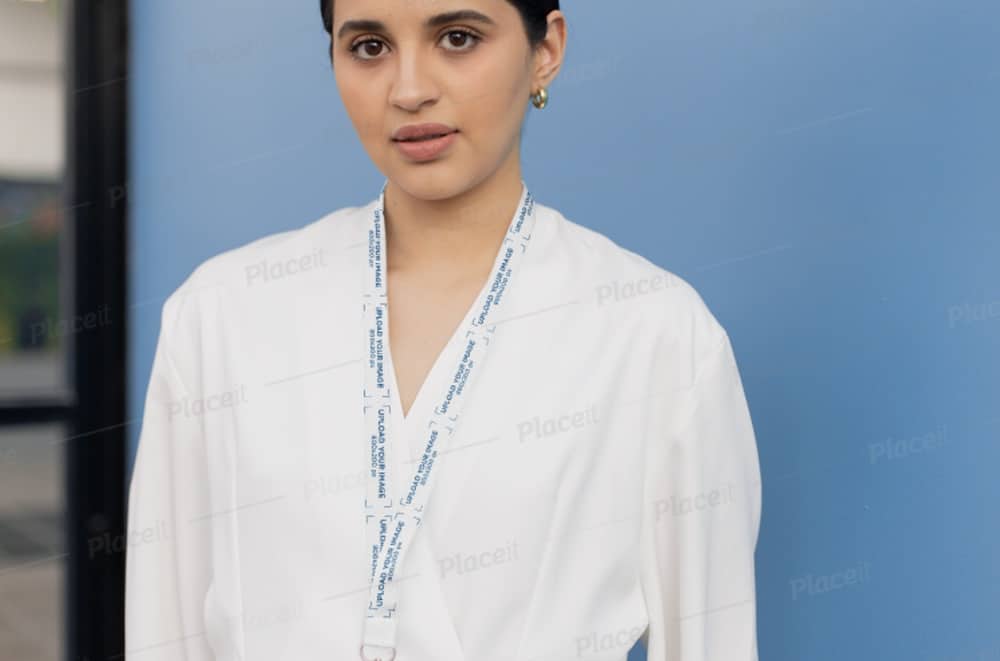 And now the more formal version, for all the professionals, businesses, offices, you name it! This one is very versatile due to the lady's white shirt since it fits any lanyard color and design style.
Make an ID holder strap to promote any brand, event, or other special occasion. You can now do this quickly, saving time and the hassle of working with photo editing software.
You can do it – NO experience with mockups is necessary!
Also, don't miss adding some text, a call-to-action, even a logo in the corner of the template.
MORE INFO / DOWNLOAD
7. Close-up lanyard mockup (office style!)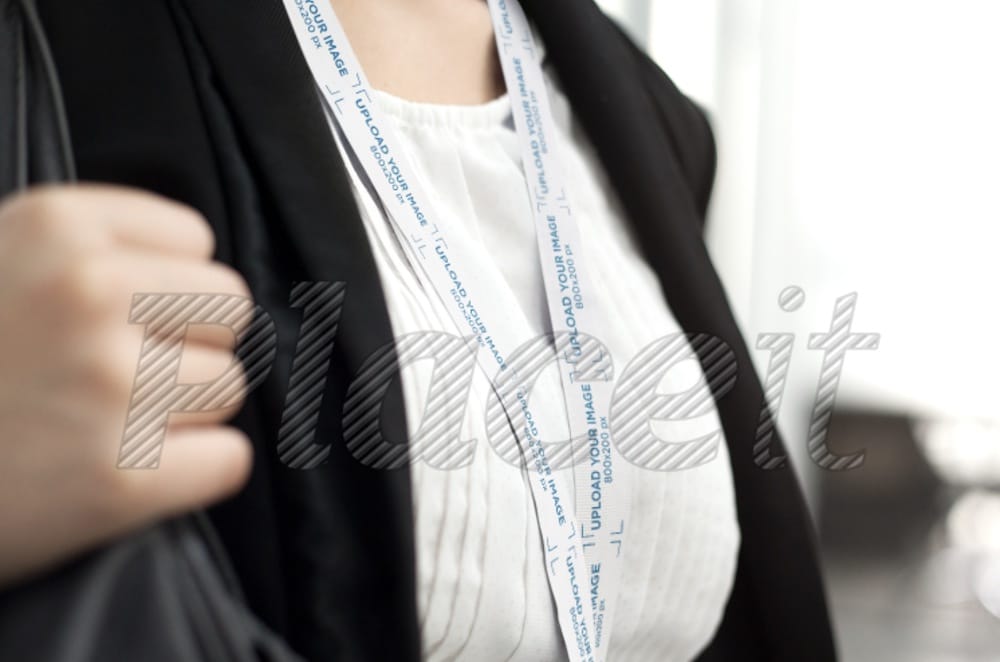 A close-up shot is perfect if you'd like to pay more attention to the design.
After all, you're pretty limited with space. Plus, an image of a lanyard from too far may not really show what's on it.
However, everyone will know exactly what's up with this particular lanyard mockup.
(And you can test it out without spending a single penny. Only once you are OK with your creation.)
MORE INFO / DOWNLOAD
8. Smiling dude with a lanyard mockup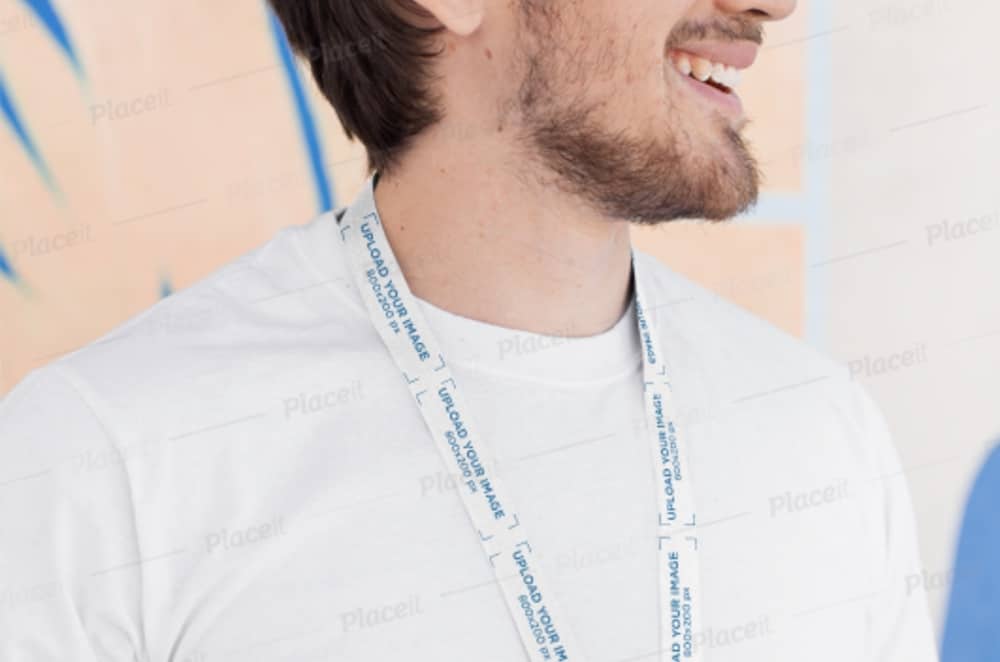 College gatherings, sports events, young entrepreneur forums, whatever – here's a lanyard template that covers them all and then some.
Heck, you can even use it for a music event's VIP guests and press. The options are VERY many – just approach it with an open mind.
The only thing missing is the option to change the color of the T-shirt. (But you can also check our tutorial on how to make a T-shirt mockup without Photoshop.)
Luckily it's white, so it works with anything without causing any distractions.
MORE INFO / DOWNLOAD
Best Lanyard PSD Mockups
9. Lanyard name tag/badge mockup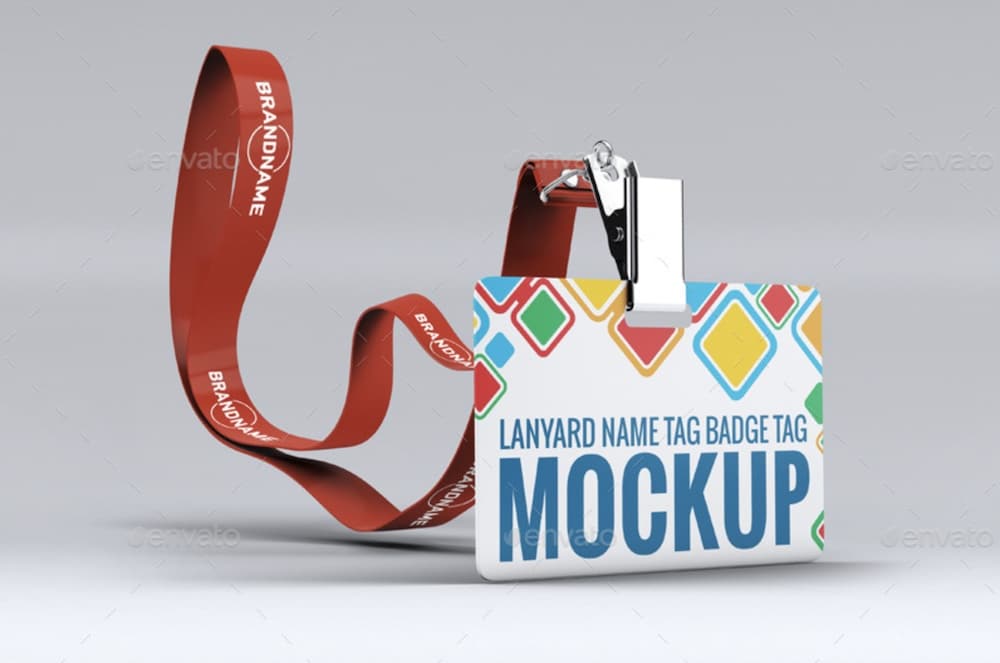 An excellent and high-quality bundle of ten clean and close-up-friendly PSD templates of a lanyard and ID. Each layered PSD file comes in a different position/view so that you can create a full-blown presentation.
Impressive!
All mockups offer a FULLY customizable structure. You can edit the background, the lanyard and the name tag however you want. You can also modify light, shadow and reflections.
Make the outcome unique to you and your client.
Price: $6
MORE INFO / DOWNLOAD
10. ID lace PSD mockup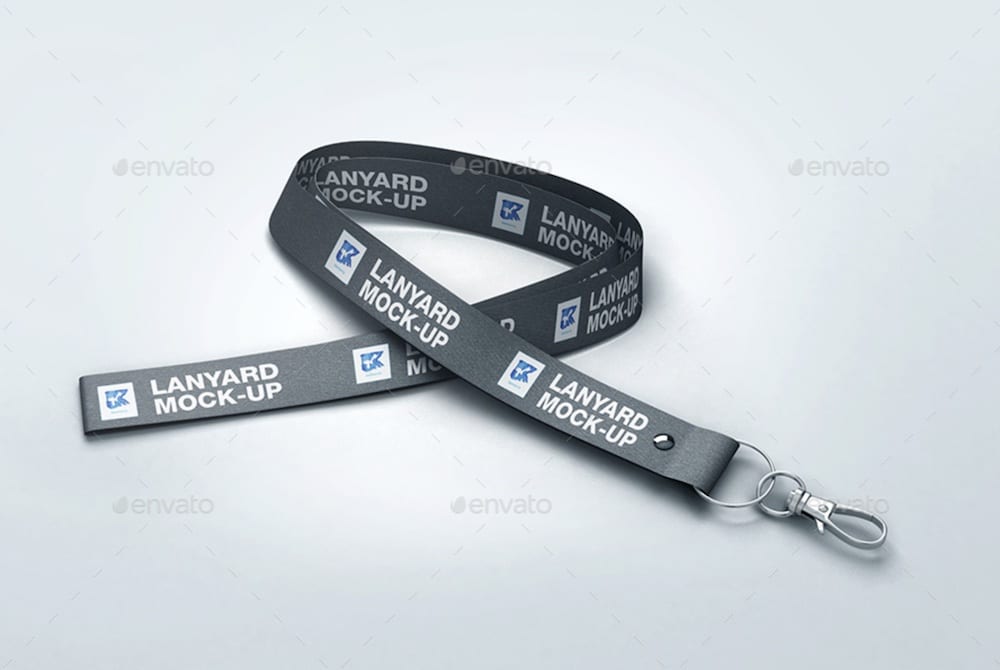 This is our favorite of all the premium ID lace PSD mockups we reviewed.
It has many options and possibilities to create the final version that's precise to your liking.
We especially like the versions of hand holding the lanyard.
Extra realistic.
Some of the specialties include:
2 lanyard textures
5 backgrounds
Lanyard size: 15mm x 93mm
2 styles of clips
Price: $12
MORE INFO / DOWNLOAD
11. Lanyard + ID card holder mockup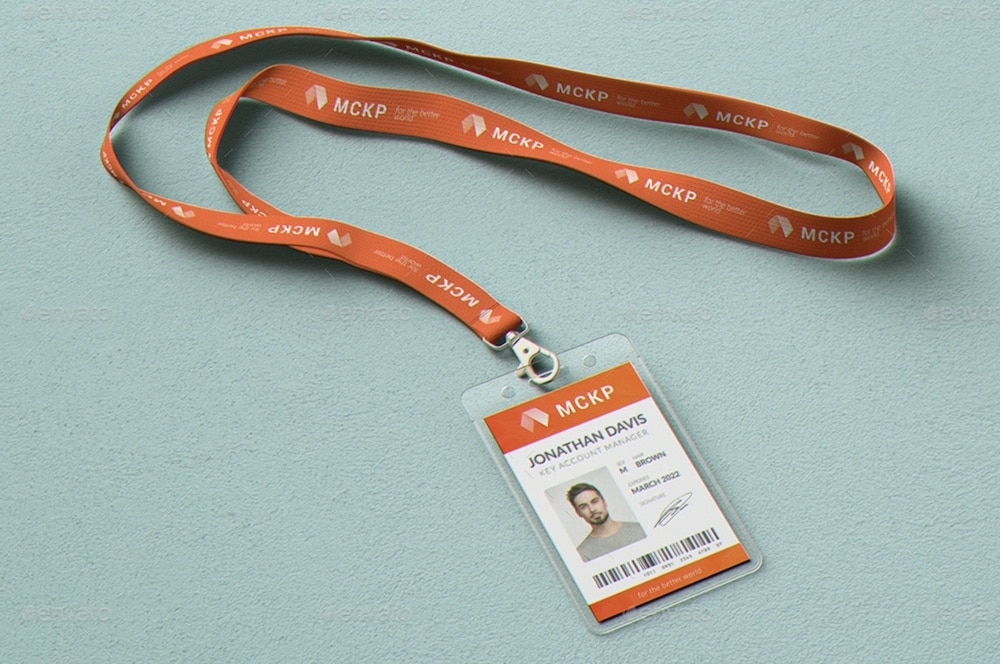 You get twelve lanyard PSD mockups for a small investment of $8. You can SWIFTLY create a custom lanyard and ID card holder that is specific to the intention.
Everything is editable; you even get four filters for each PSD to make it extra special.
Also, add any background you want, or keep it transparent – it's entirely up to you.
You will easily achieve the extreme quality you're after due to the 4000 x 3000px dimension. (You can smoothly present even the most detailed card!)
Price: $8
MORE INFO / DOWNLOAD
12. Editable lanyard PSD template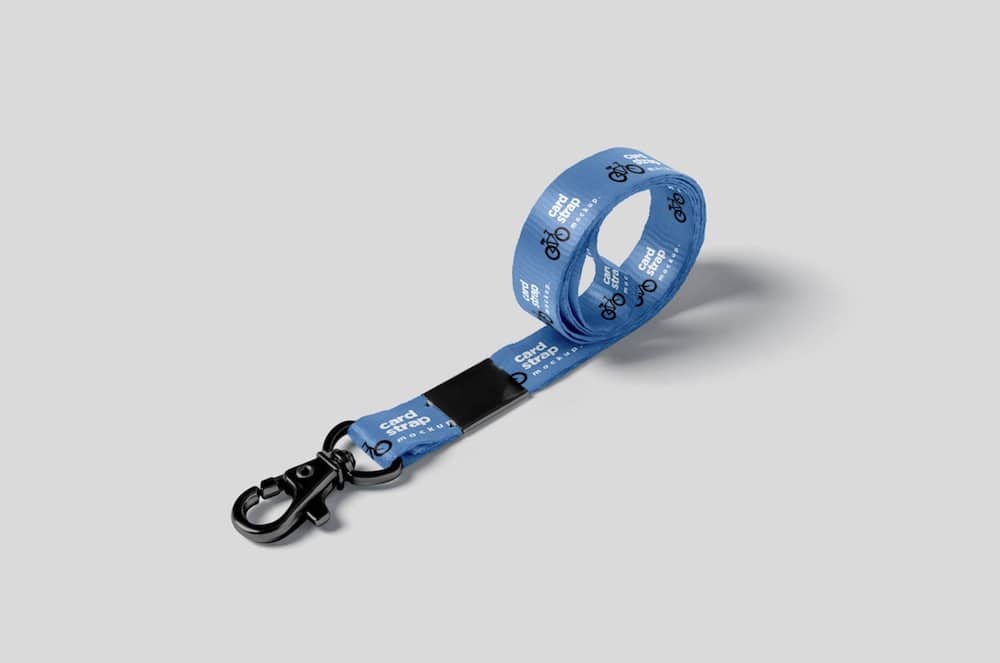 A superb collection of six highly realistic PSD templates of lanyard with entirely organized layers. What does this mean for you?
Easy work, without the need to have any experience. Change the appearance in a few clicks and that's it.
I particularly enjoyed working with the rolled version (see picture above), but the other five performed really well, too.
Price: $9
MORE INFO / DOWNLOAD
Best Free Lanyard PSD Mockups
13. Free simple lanyard PSD template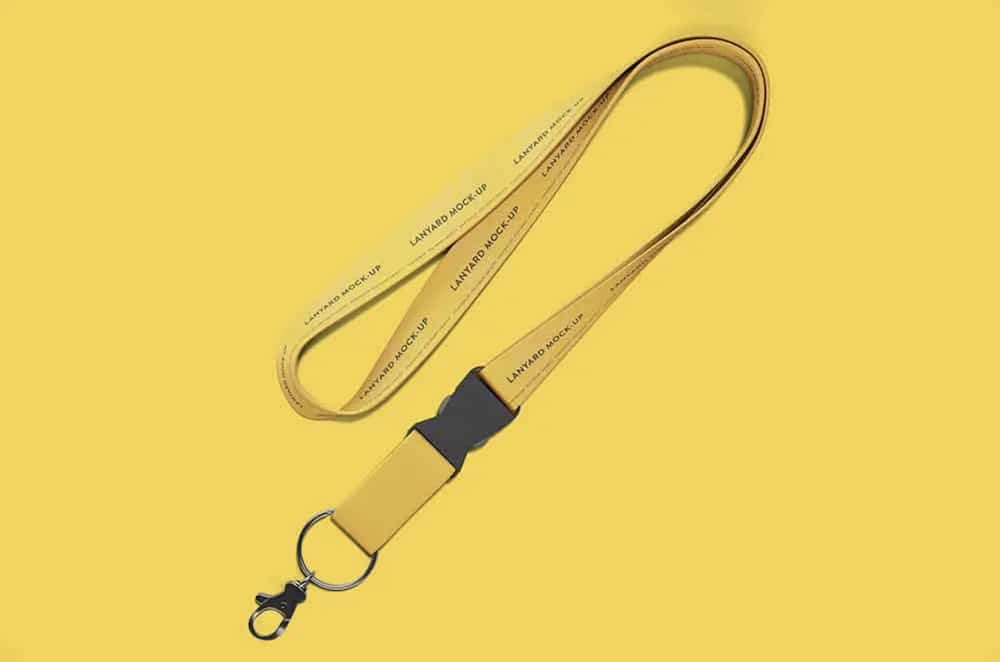 We hardly believed that it's actually a free mockup that comes in the largest dimension.
5000 x 3000px, baby!
This gives you all the FREEDOM you need to go as detailed as you want with your logo presentation.
Showcase the entire lanyard or create a close-up – you can do whatever you want.
The layered structure ensures you quickly navigate to the right element for fast customization.
Little time + Simple work = Great lanyard mockup presentation
MORE INFO / DOWNLOAD
14. Free customizable ID holder PSD mockup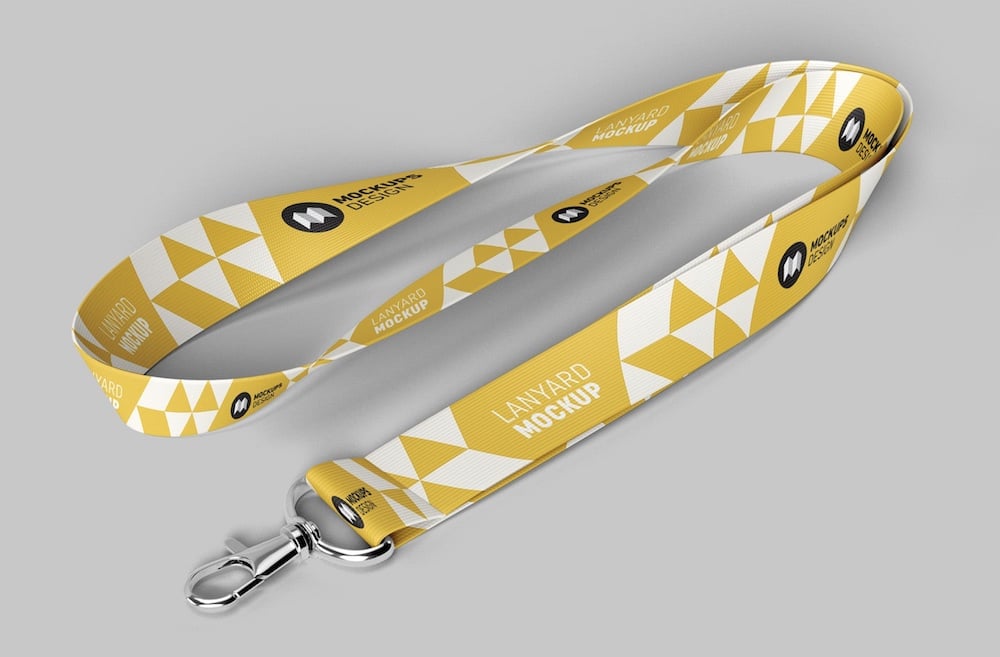 A different style of lanyard than the previous one but similarly amazing. In fact, this one appears even more realistic, as if you'd actually take the product photo yourself.
But no need to stress yourself over hiring a photographer and spending a hefty fee. You can achieve the same AMAZING RESULT with a top-notch mockup.
And that's exactly why we created this awesome review of premium and free lanyard (PSD) mockups.
Have fun. (The most important thing, always!)
MORE INFO / DOWNLOAD
15. ID lanyard free PSD template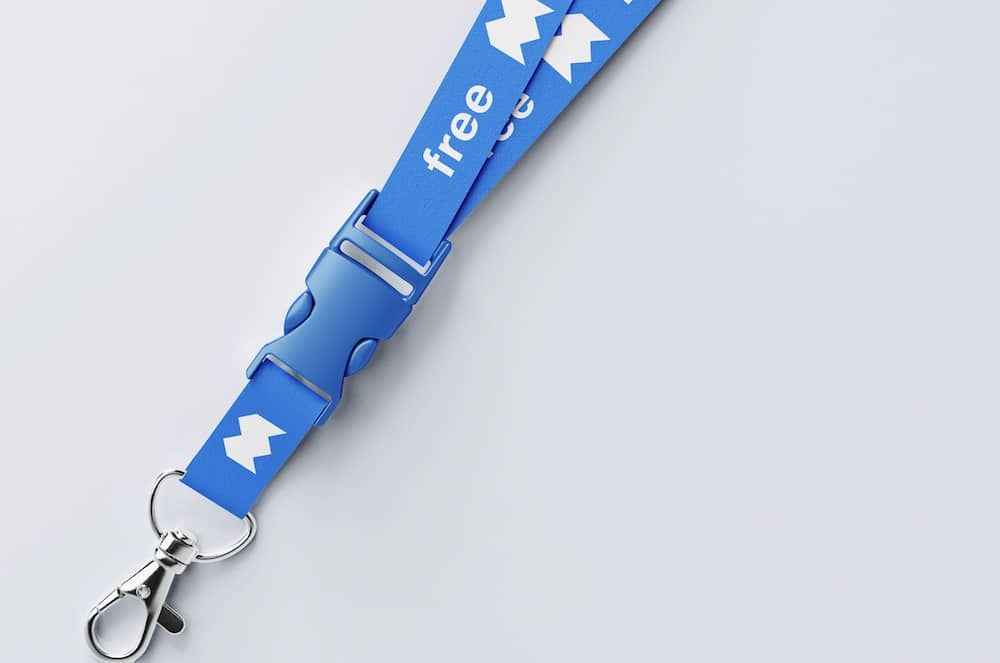 We're not done with you yet! OH NO, we still have a few more freebies that will do you well. Extremely well!
Simplicity and great quality are all you need for making your lanyard design idea presentation excite people.
The author of this PSD template knows how to do things the right way. And you can now do things the right way, too.
Get involved. It's easy. Has smart objects in PS. And requires only Photoshop basics.
MORE INFO / DOWNLOAD
16. Free lanyard ID badge mockup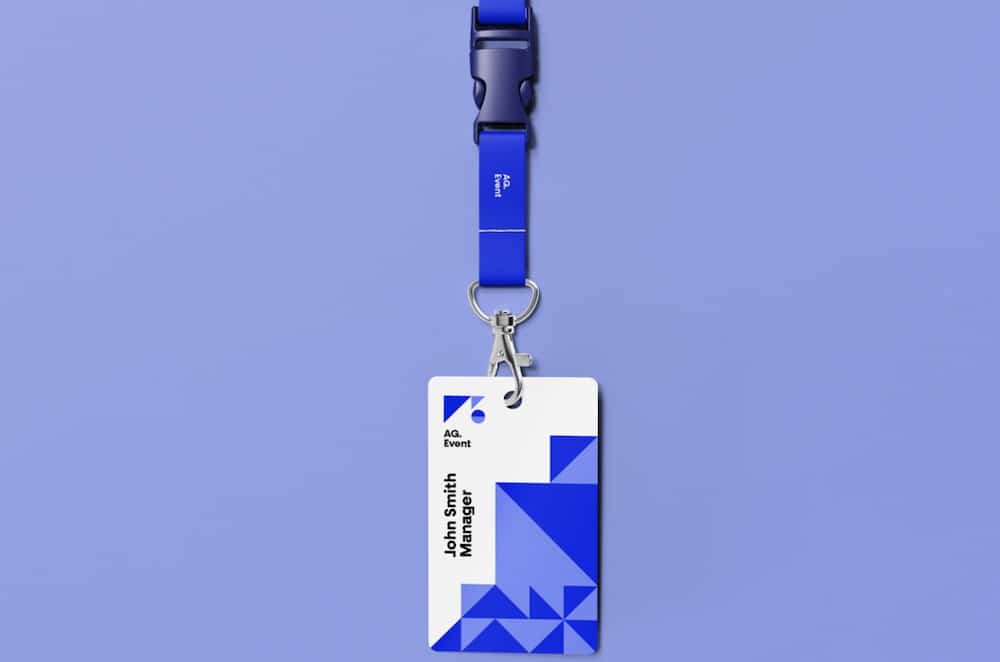 Three different styles in one set – sign me in! A perfect solution to create a complete showcase of the lanyard and the ID badge.
Add a design to both via the simple smart object layers that support the drag-n-drop technique.
Adjust the background and you're pretty much ready to rock-n-roll.
How EASY and QUICK was this?
Do you want to create variations? Go for it; the process is the same and costs you nothing.
MORE INFO / DOWNLOAD
17. Free black lanyard logo mockup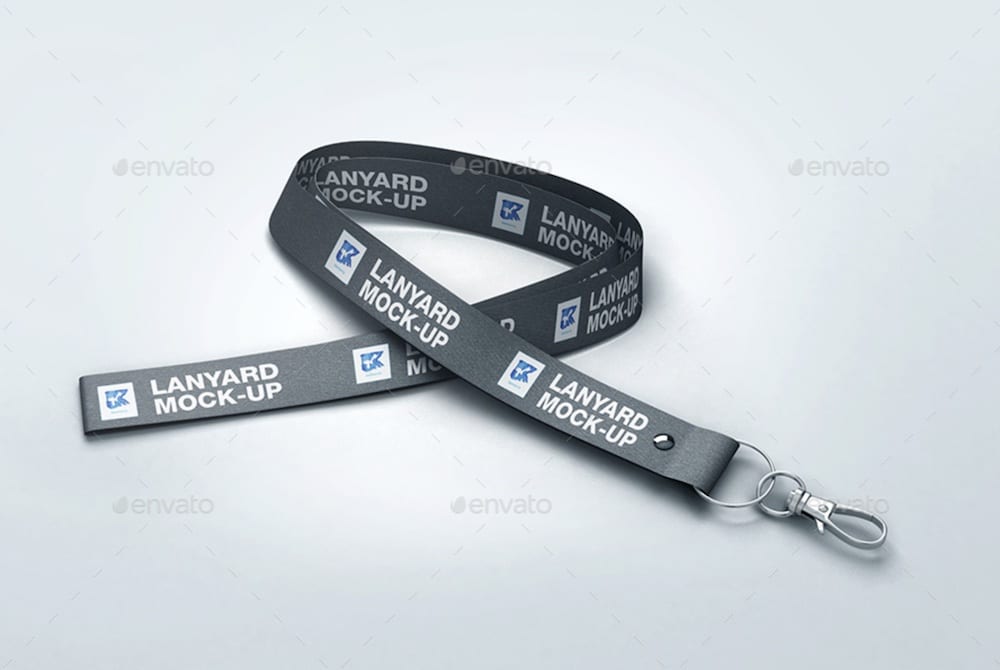 While this free lanyard mockup is a bit more limited, black is the color that works for oh so many. (Me included.)
If that's you, you just found yourself the perfect free template that will showcase any design or logo realistically.
Another COOL feature is the freedom to use it for personal and commercial projects.
You're free as a bird except for the black.
MORE INFO / DOWNLOAD
How To Easily Create A Lanyard Mockup (In 5 Steps)
One of the easiest, quickest and, at the same time, MY FAV ways of creating a lanyard mockup is using an online generator.
Placeit is still my preferred platform after working on 100s of projects.
And these are the five simple steps to create your custom lanyard presentation:
Head over to Placeit and type in the search bar "lanyard." Or even better, visit this link to save yourself time.
Pick the template you like and click on it.
The first thing I always do is insert my design or logo. You do this by clicking the Insert Image button. (You can upload it from your device or your downloads.)
The next step is customizing the background, the lanyard color and adding other details, like extra text and graphics.
You're DONE! Click Download and use your lanyard mockup anywhere you want.
But even if you use a PSD, it's quick. Import it to Photoshop and attach your design via the smart object layer.
Then, you can nagivate other layers to perform as many or as few customization tweaks as you want.
Save, download, and that's it!