Are you ready to take things to the next level and learn how to make clothing mockups like a pro?
Welcome to my cozy corner, where creativity meets practicality.
The idea of bringing your clothing designs to life is EXCITING, but you might be overwhelmed about where to start.
No worries!
I've got just the thing to ease you into the world of clothing mockups.
In this article, I'll introduce you to Placit, an online mockup generator that's as user-friendly as it is efficient.
Placeit transforms your ideas into tangible designs with just a few clicks. It's all about making your design journey as smooth and enjoyable as possible.
But for those who love dabbling with software, I've also included a short guide on creating clothing mockups using Adobe Photoshop. It's a bit more hands-on but oh-so rewarding.
By the end of this article, you'll be whipping up clothing mockups quickly and effortlessly.
This post covers:
How To Make Clothing Mockups With A Mockup Generator
Creating clothing mockups using Placeit is a straightforward process. It can help you visualize your designs without needing physical prototypes or pricey software.
Here's a step-by-step guide to help you get started:
Step 1: Visit Placeit's Website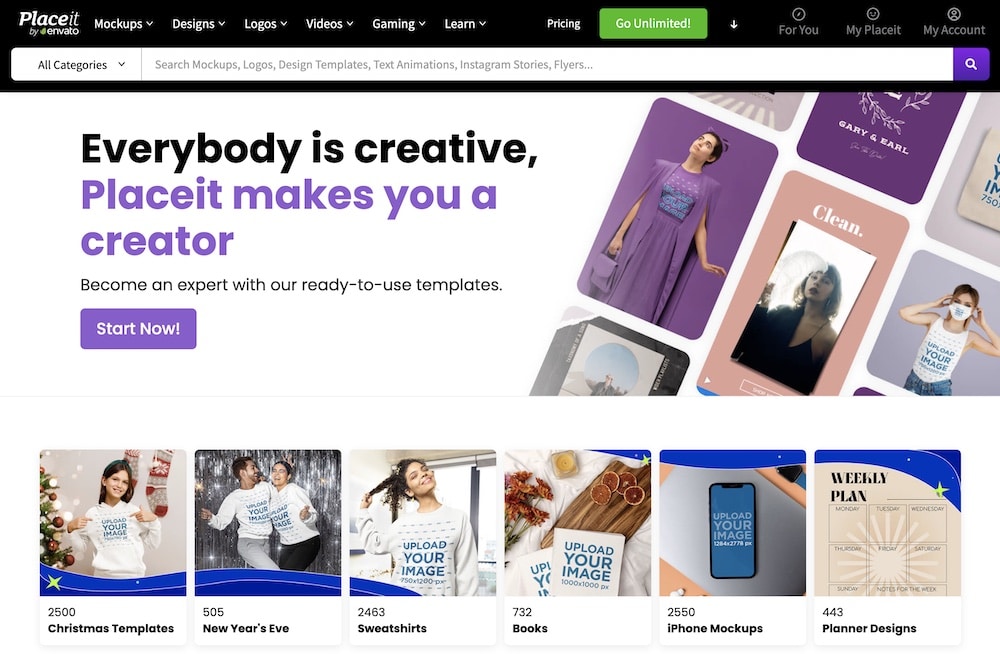 Go to Placeit's website. You'll find a variety of templates and tools available for different types of mockups.
Step 2: Choose a Clothing Mockup Category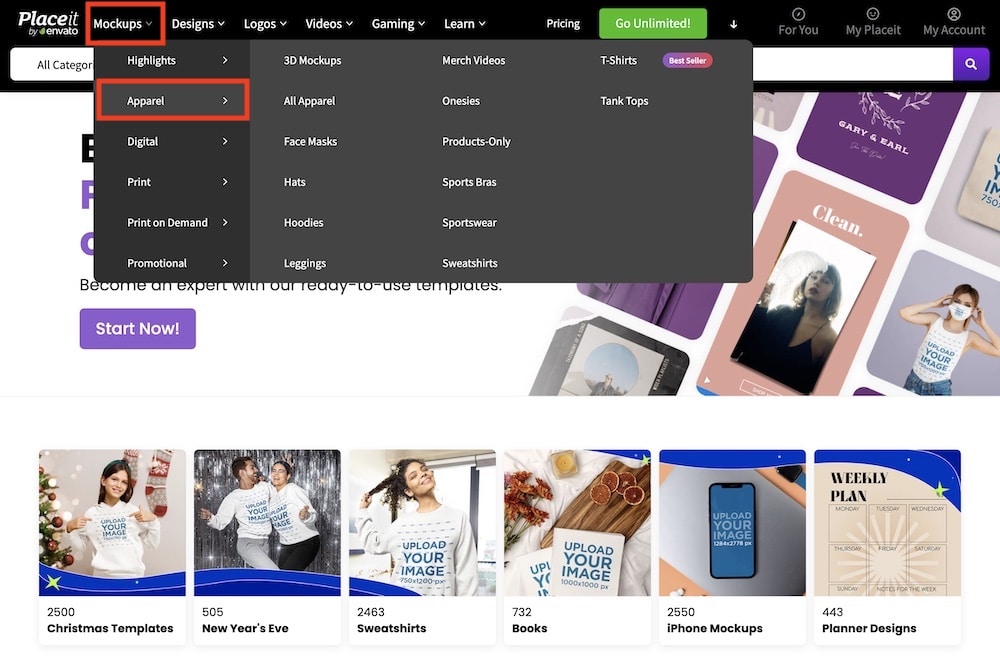 On the Placeit homepage, look for the "Mockups" section in the top navigation bar and hover over it.
Then, choose "Apparel" from the drop-down to access a range of clothing mockup templates, like hats, hoodies, leggings, sweatshirts, etc.
You can also click the "Mockups" and pick clothing templates from the left sidebar.
Still, if you're searching for something specific, your best bet is to use the handy search bar.
Step 3: Select a Template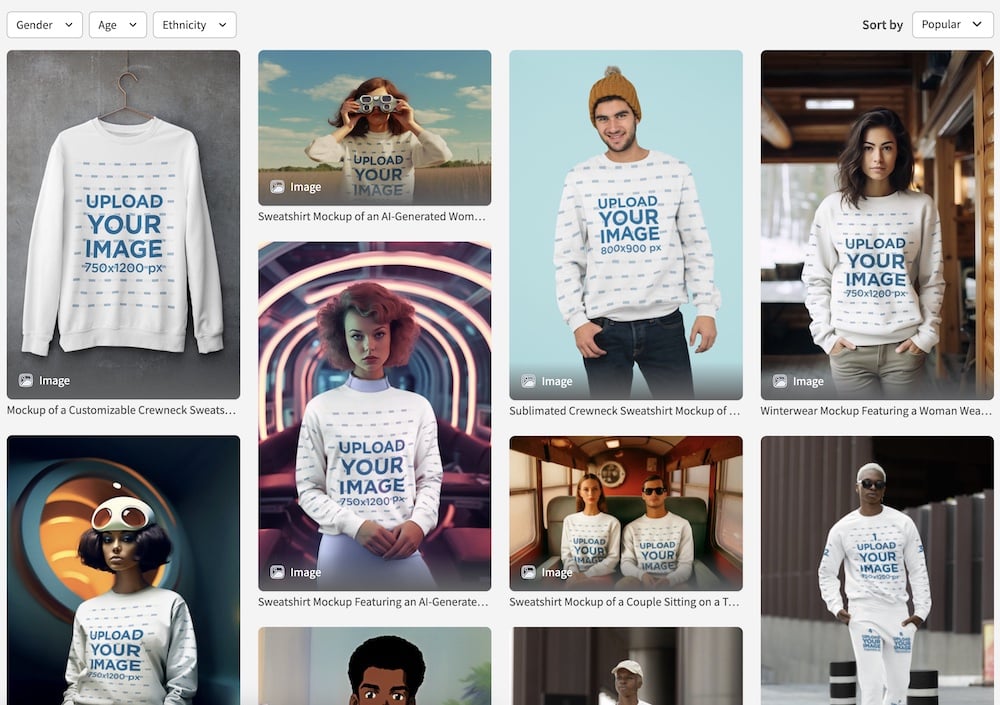 Browse through the clothing mockup templates. Placeit offers a variety of options for a complete apparel line and then some.
Select a template that best suits your design needs.
Step 4: Upload Your Design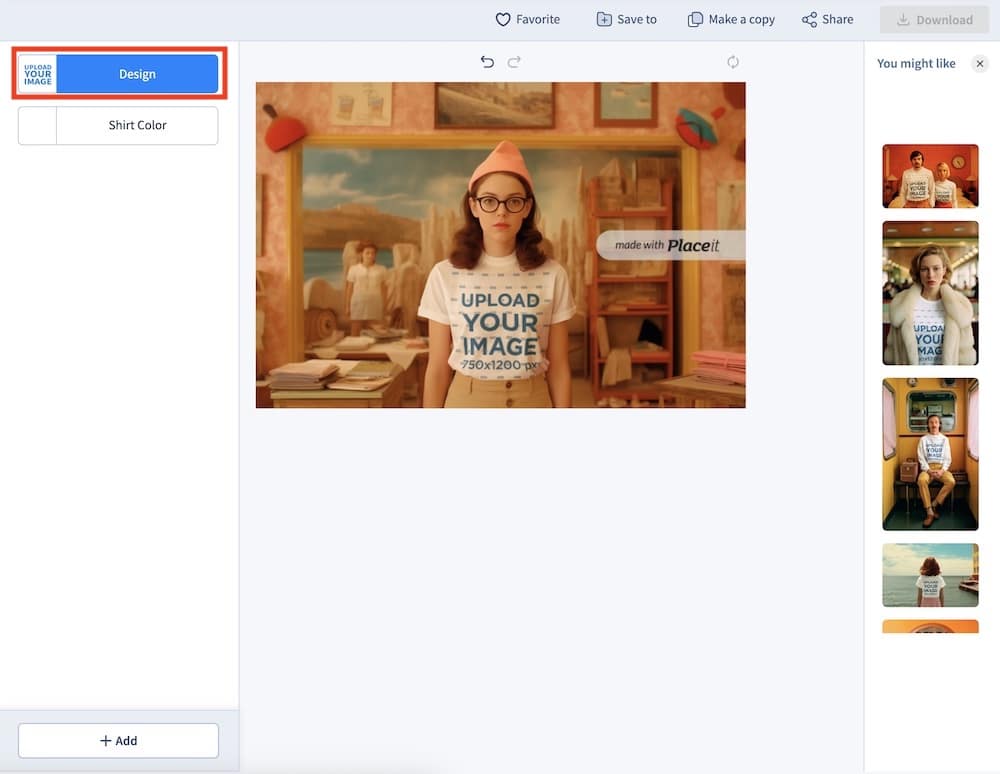 Once you've selected a template, click the "Design" button to upload your image.
You can then upload the design you want to showcase directly from your device.
Placeit allows you to adjust and reposition your design to fit the mockup perfectly. (The live preview option in the bottom right corner is super handy!)
Step 5: Customize Your Mockup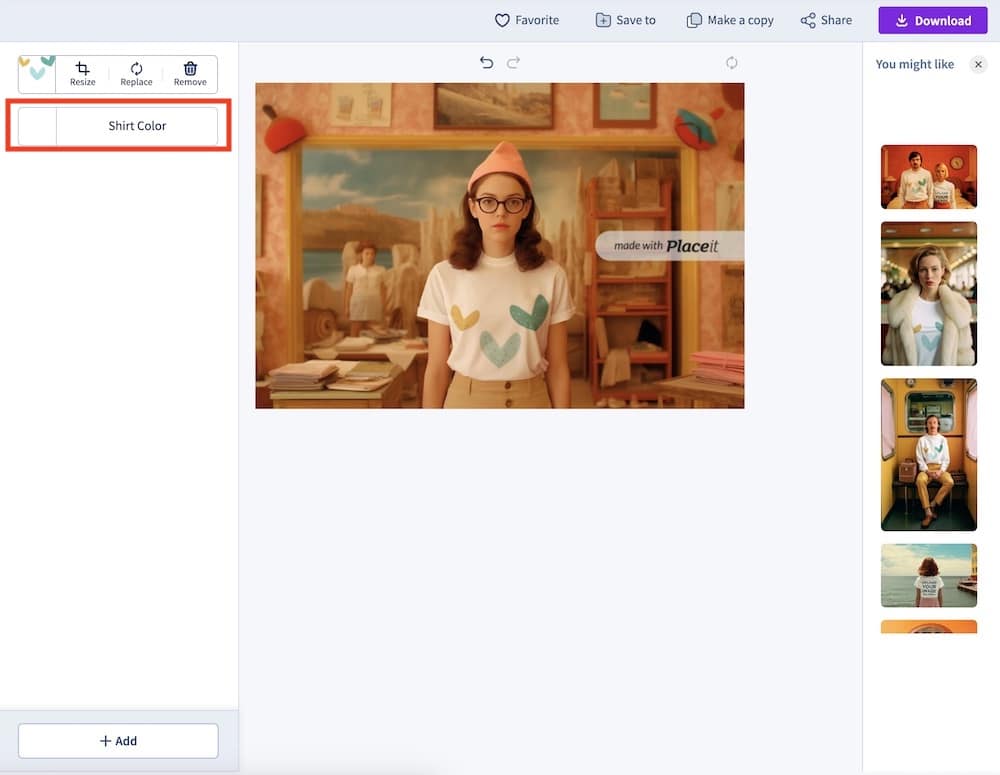 Use the editing tools to modify the background (where possible), change the clothing item's color, and more.
Step 6: Add Text & Graphics (Optional)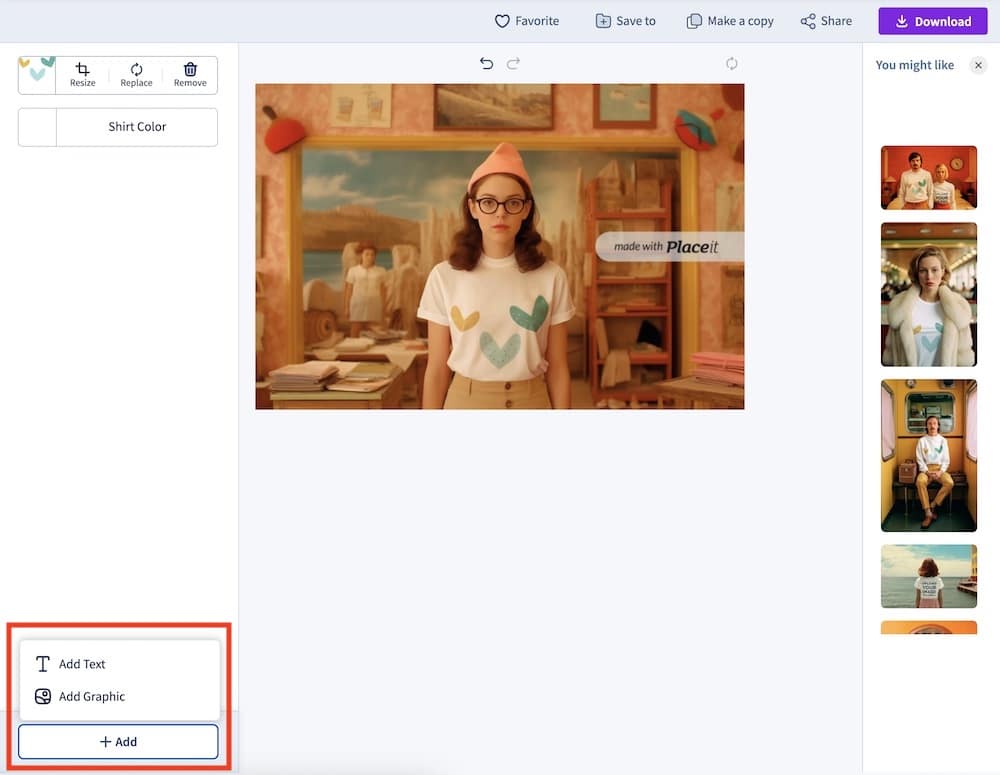 If you want to add text or graphics to your mockup, Placeit provides an option to do so.
You can choose your text's font, size, and color to complement your design.
Moreover, you can pick any graphic from the Placeit archive or upload your own.
Pro tip: Don't overdo it with text and graphics. Less is MORE!
Step 7: Review Your Mockup
After customizing, review your mockup to ensure everything looks as expected.
Make any necessary adjustments if needed. Hey, it only takes a few clicks!
Pro tip: Feel free to create multiple variations before picking the winner. I usually create screenshots to compare them and then choose the best version.
Also, you can test as many templates as you want before picking the winner.
Step 8: Download Your Mockup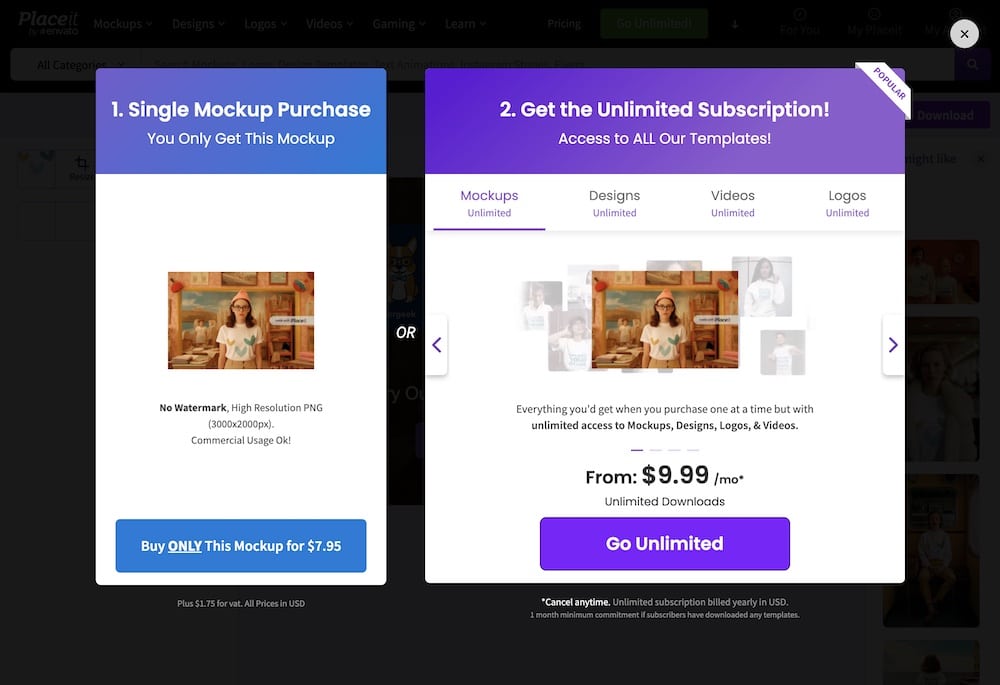 Once you're satisfied with the mockup, click on the download button.
You then have two options: 1) Pay a one-time fee ($7.95) for the single template or opt for the subscription ($9.99/month).
Tips For Better Mockups
High-quality images: Ensure your design images are high quality to avoid pixelation in the mockup.
Consistent branding: Choose colors and styles that align with your brand for a cohesive look.
Experiment: Don't be afraid to experiment with different templates and customization options to find what works best for your design. (Placeit gives you SO MANY options!)
How To Make Clothing Mockups With Photoshop
Creating clothing mockups in Photoshop using predefined templates is a great way to present your designs realistically and professionally.
And using Photoshop gives you more creative freedom than Placeit, but I still prefer the latter more.
Here's how to make a clothing mockup with Photoshop:
Step 1: Choose A Template
Find a template: Search for a clothing mockup template that suits your needs. Websites Envato Elements or Creative Market and Behance offer various professional templates for different clothing items.
Download & open: Once you've selected and purchased/downloaded your template, open it in Adobe Photoshop.
Remember, you can work with either a free or a premium clothing mockup template.
Step 2: Familiarize Yourself With The Template
Click around!
Explore layers: Templates usually come in a PSD (Photoshop document) format with multiple layers, aka a layered PSD file. Spend some time understanding the layer structure. Look for layers labeled as "Place your design here" or similar.
Step 3: Insert Your Design
Edit smart object: Find the layer meant for your design, often a smart object. Double-click on the thumbnail of this layer to open a new window where you can insert your design.
Place your design: In the new window, drag and drop your design or use File > Place Embedded. Adjust the size and alignment to fit the template.
Save smart object: Save and close the smart object window once your design is properly aligned. Your design will now appear on the clothing item in the main template.
Smart objects are my favorite because of their convenience.
Step 4: Customize Your Mockup
Adjustment layers: Utilize adjustment layers (like hue/saturation, brightness/contrast) to tweak the colors and lighting of your mockup to match your design.
Background & effects: Edit the background layer or add effects as necessary to complement your clothing design. You might even end up using a custom background.
Here is where working on a clothing mockup with Photoshop gives you more creative freedom than using Placeit.
Step 5: Refine The Mockup
Check details: Zoom in and check for any misalignments, unwanted creases, or issues where the design meets the seams of the clothing.
Make corrections: Use tools like the Clone Stamp or Healing Brush to correct any imperfections.
Step 6: Save & Export
Save your work: Save the PSD file for future editing.
Export the final image: Export your mockup as a JPEG or PNG for use in presentations, online stores, or portfolios.
Conclusion: Master Making Clothing Mockups!
Whether you chose the simplicity and speed of Placeit or dived into the customizable world of Photoshop, you're now equipped to bring your fashion visions to life in the form of stunning mockups.
Remember, each mockup is more than just a digital showcase; it's a canvas for your creativity and a stepping stone towards your dream collection.
Don't hesitate to play around with the tools and templates we discussed.
Experimentation is the key to discovering your unique style. And most importantly, ENJOY the process.
Keep pushing the boundaries of your creativity and remember – in the world of fashion and design, the sky's the limit.
FAQs About Making Clothing Mockups
What software is best for creating clothing mockups?
Adobe Photoshop is widely preferred for its advanced features and flexibility. Online mockup generators like Placeit are great alternatives for beginners or those seeking simpler solutions.
Can I create a clothing mockup without graphic design skills?
Yes, you can. Online tools like Placeit are user-friendly and don't require advanced graphic design skills. They offer ready-to-use templates where you just need to upload your design.
How do I ensure my design looks realistic on the mockup?
Pay attention to the alignment and scaling of your design. In Photoshop, use smart objects to preserve the quality and ensure your design conforms to the fabric's folds and creases for realism.
Do I need to purchase software to create clothing mockups?
Not necessarily. While Photoshop is a paid software, there are free alternatives like GIMP. Additionally, online mockup generators often have free options, though with limited features.
Can I change the color of the clothing in my mockup?
Yes, in most cases. In Photoshop, you can use adjustment layers to change colors. Online mockup tools often have built-in options to select different colors for the apparel.
Are there any resources for free clothing mockup templates?
Yes, websites like Pixeden, GraphicBurger, and Mockup World offer free mockup templates, including those for clothing. However, the selection might be limited compared to paid options.
Further reading: