I felt just a little kinky when reviewing the best free and premium condom mockups. OOPS.
Okay, let's get serious now.
These are the ultimate PSD templates if you need a solid and realistic presentation of a condom design.
No need to search elsewhere.
And do you know what's BEST?
It'll take you seconds to complete your project, whether for your client or yourself. LUV.
Also, the high-quality resolution of each mockup ensures your detailed designs appear crystal clear. (So necessary when it comes to condom packaging.)
This post covers:
Love is in the air, oh, oh, oh, oh – do you know the song?
Enjoy!
Note: Do you need the best napkin mockups? (Hm, did I go too far?)
Best Condom PSD Mockups
1. Realistic condom mockup packs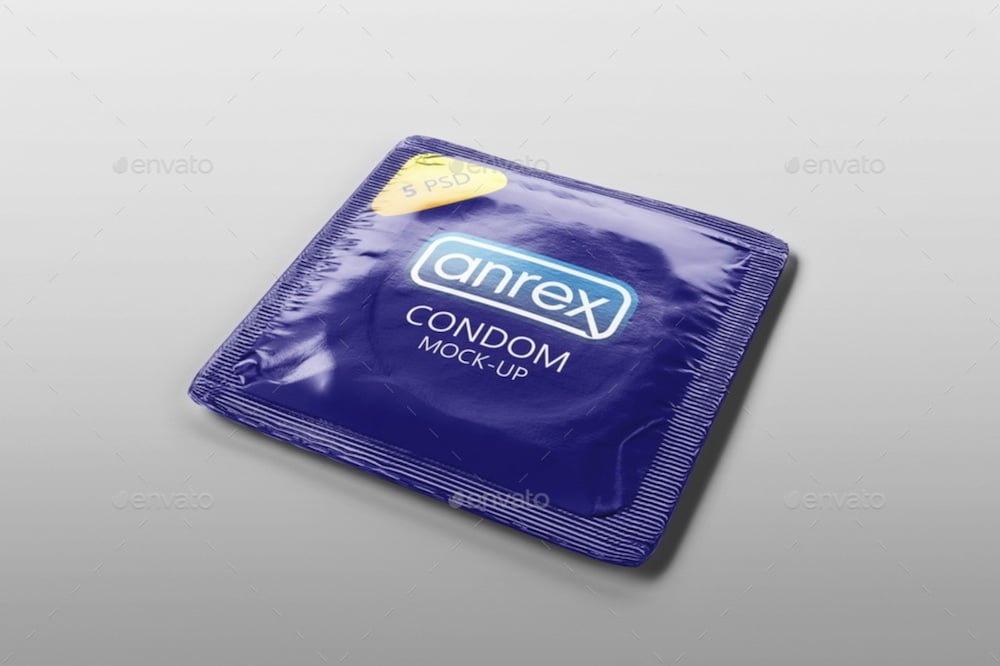 You can GRAB a lot of customers' attention with strategic condom packaging.
This one allowed me to create quick examples that we later compared with the client to refine the final solution further.
The set includes five layered PSD files with excellent customization capabilities.
And the life-like effect of this one is really awesome. Plus, you can use it in online stores or social media, thanks to the editable background.
Price: $6
MORE INFO / DOWNLOAD
2. Condoms packaging mockup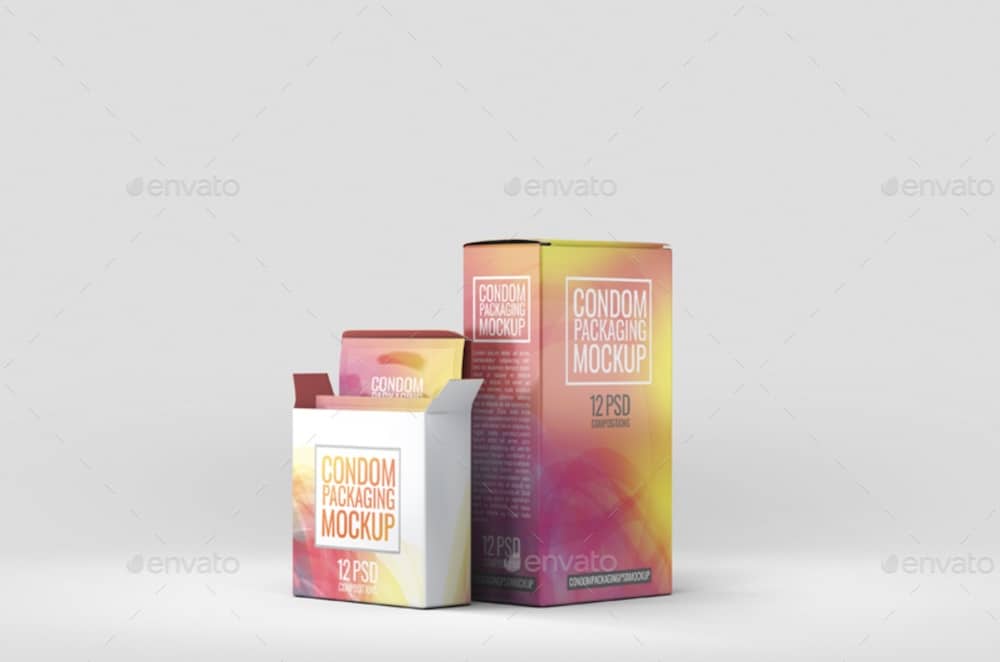 A whopping collection of twelve condom mockups is ready for beginners and experts. Yup, the process of improving the templates takes only a FEW clicks.
Takes seconds!
What's cool about this batch are the two boxes you can beautify however you want.
Everything is on an individual layer, easily configurable to match the outcome to your liking.
Price: $7
MORE INFO / DOWNLOAD
3. Condom in hand mockup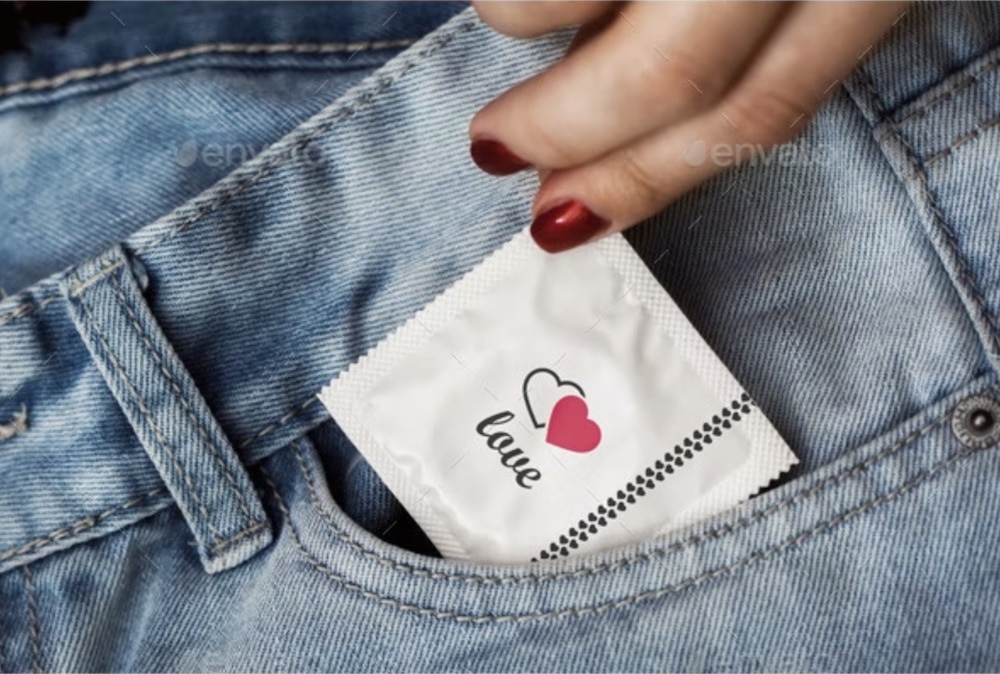 But if you need an even more photorealistic mockup of condoms then there's NO better way than this kit of five.
Multiple condoms in hand, on a table and more, are ready to carry your logo and custom design to the NEXT level.
Each template also rocks easy-to-use smart object layers for you to drag and drop your creative, spending zero effort.
Make a professional condom design presentation quick.
Price: $7
MORE INFO / DOWNLOAD
4. Condoms PSD template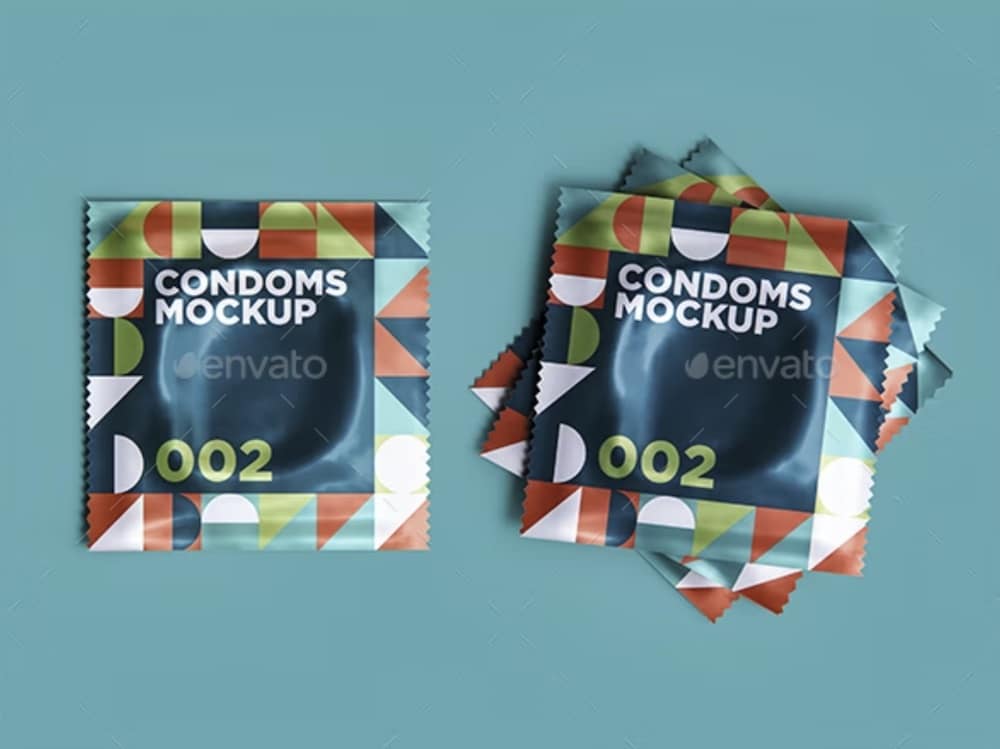 Beautiful, stylish and minimal are the three characteristics of this cool batch of condom PSD templates.
I specifically enjoyed working with the multi-condom mockup, but all the others work really WELL, too.
Plus, the excellent 4000 x 3000px dimension ensures the ultimate quality even if presenting your creation in a close-up (zoom).
Lastly, apply any four available filters to spice things up. (I didn't, but I did change the background.)
Price: $6
MORE INFO / DOWNLOAD
5. Condom packaging design PSD template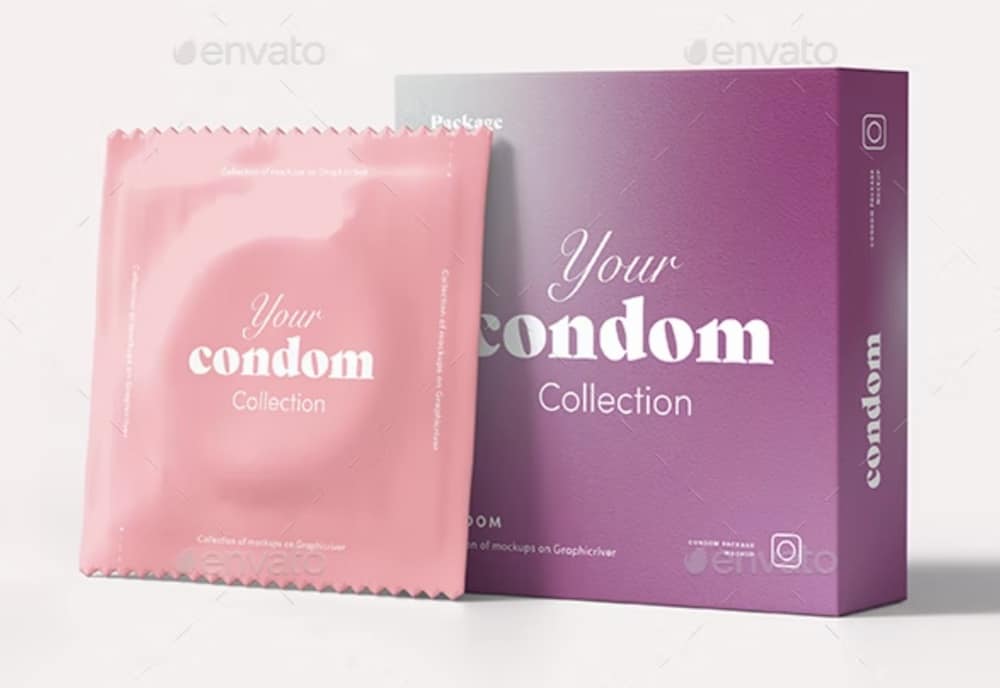 Honestly, it's sad to see that this one doesn't have a ton more sales.
It's a fantastic collection of ten templates with excellent quality (4000 x 2670px) that you shouldn't miss in your life.
Only packaging, only sachet or both together, you have all the necessary options to impress your client with something exceptional.
I also find this bundle of templates to work really well with both dark and light designs.
ENDLESS. Possibilities.
Note: You may also be interested in checking our tutorial on how to create a packaging mockup.
Price: $6
MORE INFO / DOWNLOAD
6. Condom PSD files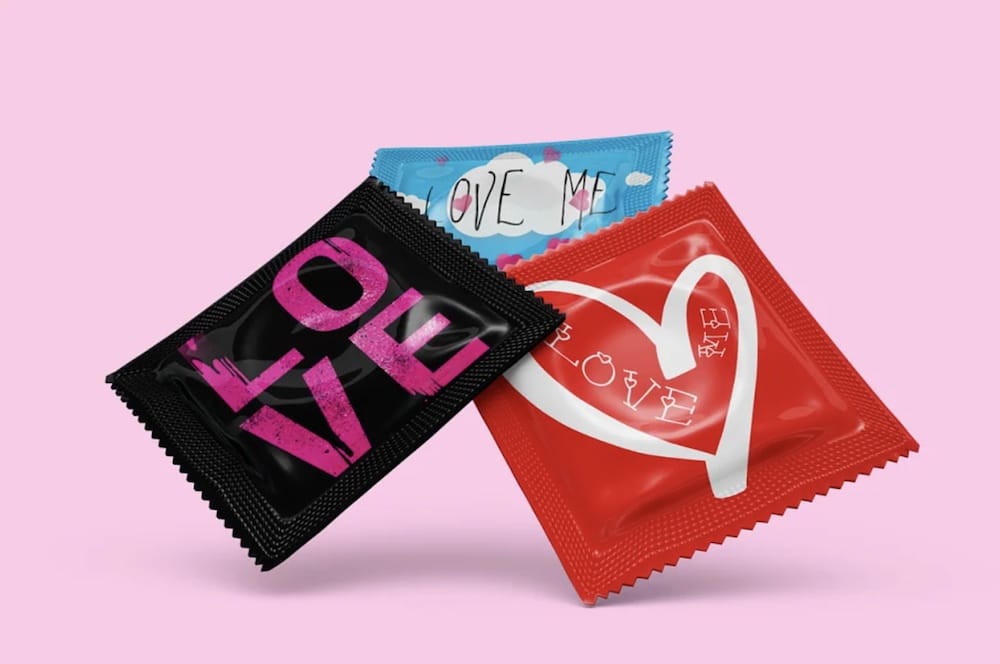 You can make any kind of condom design presentation FAST and EASILY with a mockup.
And you get a collection of sixteen here, all photorealistic and equipped with smart objects.
Timesavers!
While you can slide in your creative via drag and drop, you can also configure other settings.
Effects, reflections, shadows, and backgrounds – make everything your way.
I also liked the 4000 x 3500px resolution, making everything appear top-notch. (Even detailed designs!)
Price: $12
MORE INFO / DOWNLOAD
7. Condom packet mockup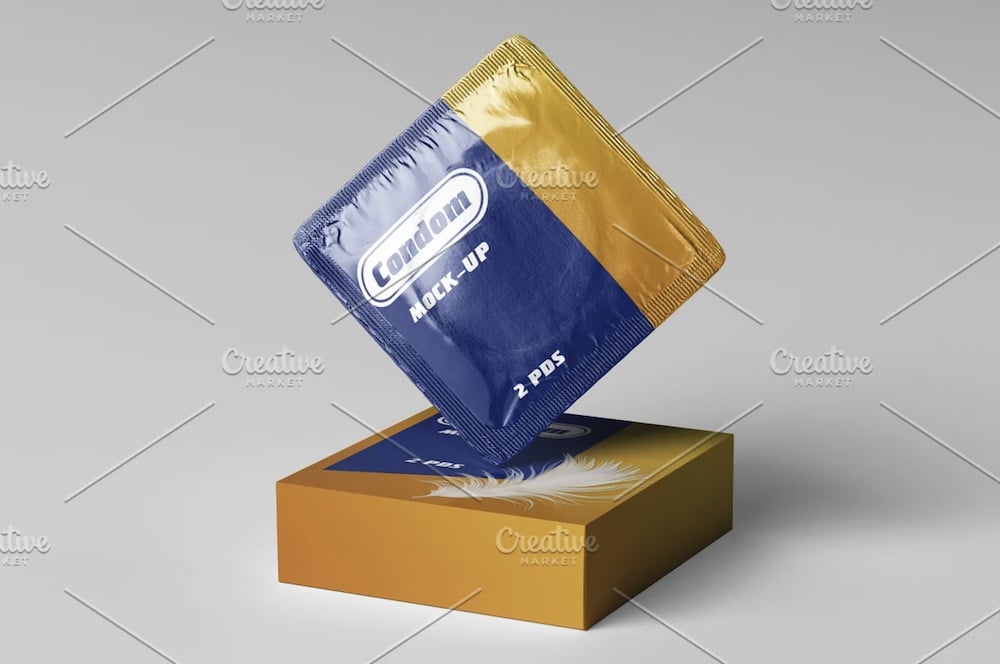 A pack of condoms can be fun or it can be minimal. This simple but powerful set of two PSDs covers everything, no matter your style.
Instead of rushing into production, make sure everything fits as it should with a mockup.
Inspire your client with a LIFE-LIKE presentation that they will think you already took a picture of the actual final product.
That's what's up when things are high-quality!
Price: $11
MORE INFO / DOWNLOAD
8. Minimal square packaging PSD template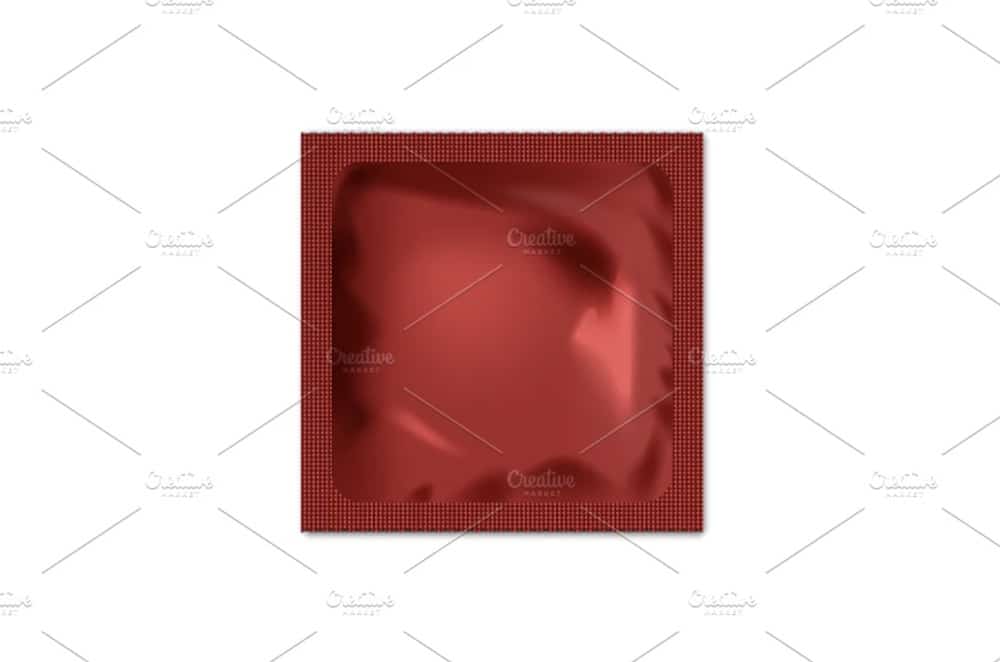 But if you really need something extremely minimal, just the condom sachet then I'd highly advise you to pick this one.
It comes in multiple predefined color options that save you time. Still, you can perform improvements per your project's requests effort-free.
Also, this is a great one for showcasing the front and the back side of a condom, side by side.
Use your creativity and make MAGIC happen!
Price: $7
MORE INFO / DOWNLOAD
9. Condom sachet mockup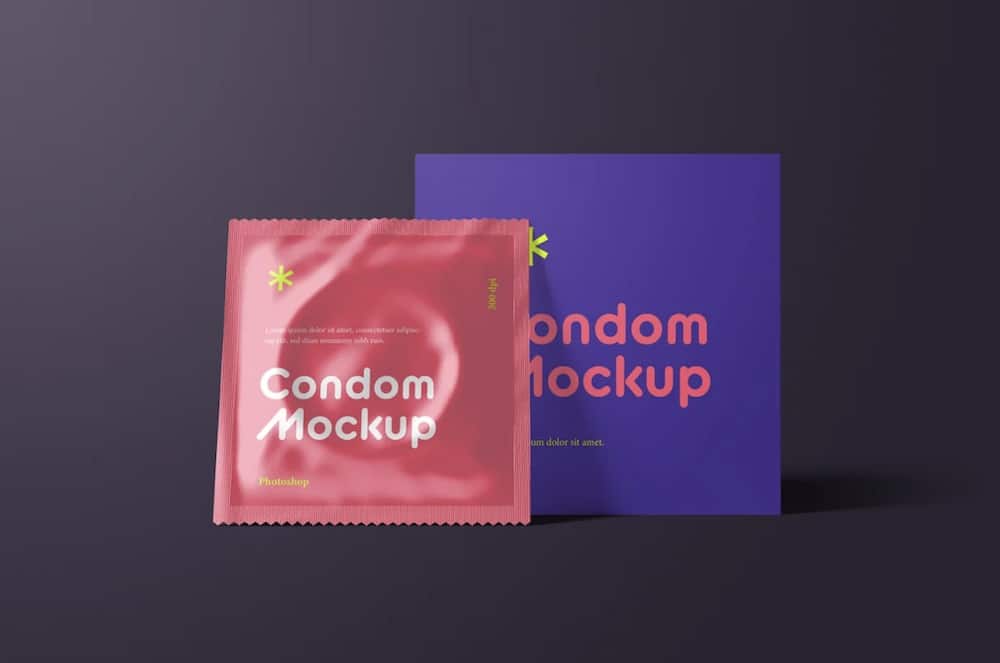 Another one of my FAVORITES that you absolutely must try. A batch of five condom packaging mockups is waiting to rock any branding.
And each template will make it look ten times better, especially once you adjust the coloring of the sachet, box and background.
So many options, I know!
You're also welcome to preview the PSD templates first and see how hot they are.
I didn't hesitate; I just went all-in because I knew they'd work. (And I was so right!)
Price: $12
MORE INFO / DOWNLOAD
Best Free Condom Mockups
It's time for FREE stuff. Ready? I am!
Note: You can use these for personal and commercial projects. (But don't forget about attribution.)
10. Latex condom free PSD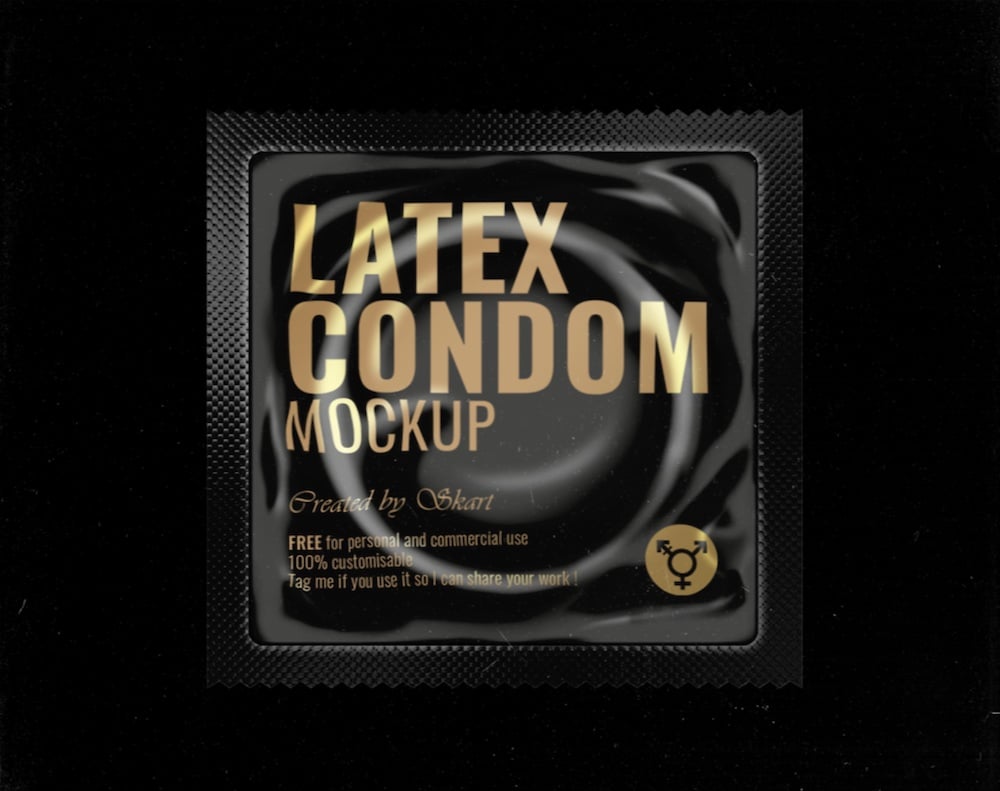 This one is simple, but I still used it for MULTIPLE design presentations, both the front and the back.
You can, too, because it's so easy to use, and the final product will be first-class.
Add a logo (front) and any other design or additional information (back).
That's it; you're ready with a life-like condom sachet that everyone will dig.
MORE INFO / DOWNLOAD
11. Free condom packaging PSD mockup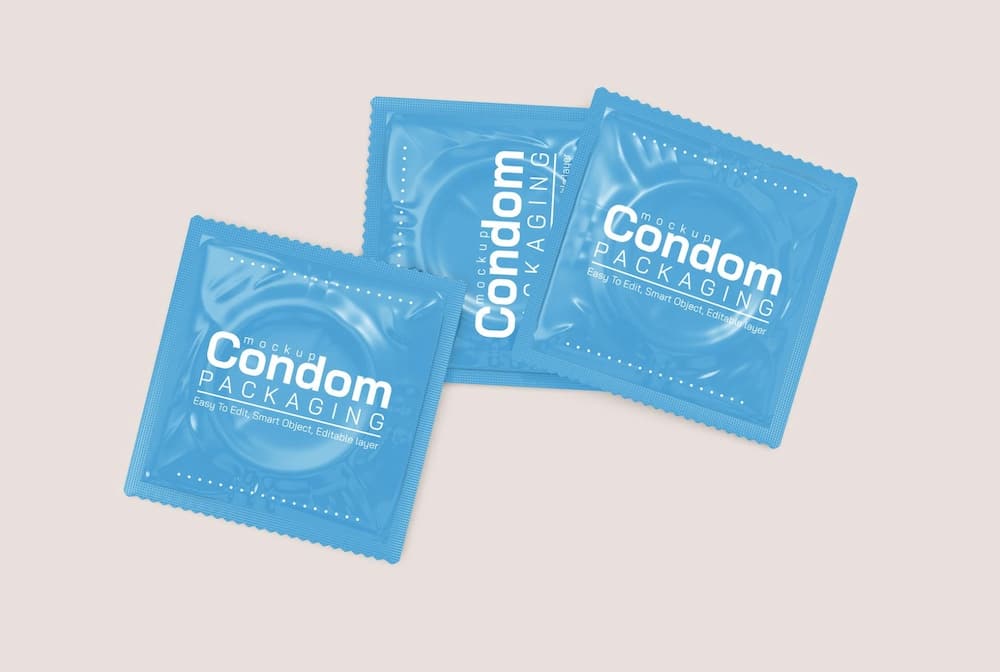 I experienced this particular condom mockup to be a nice attention-grabber on social media.
It accepts customizations, so tailoring it to your needs will take little time.
You can do great things if you have JUST a minute to spare. That's all it took me with a predefined design and a client logo.
Make it BOLD because that's what this free PSD template does best.
MORE INFO / DOWNLOAD
12. Condom box and foil packaging mockup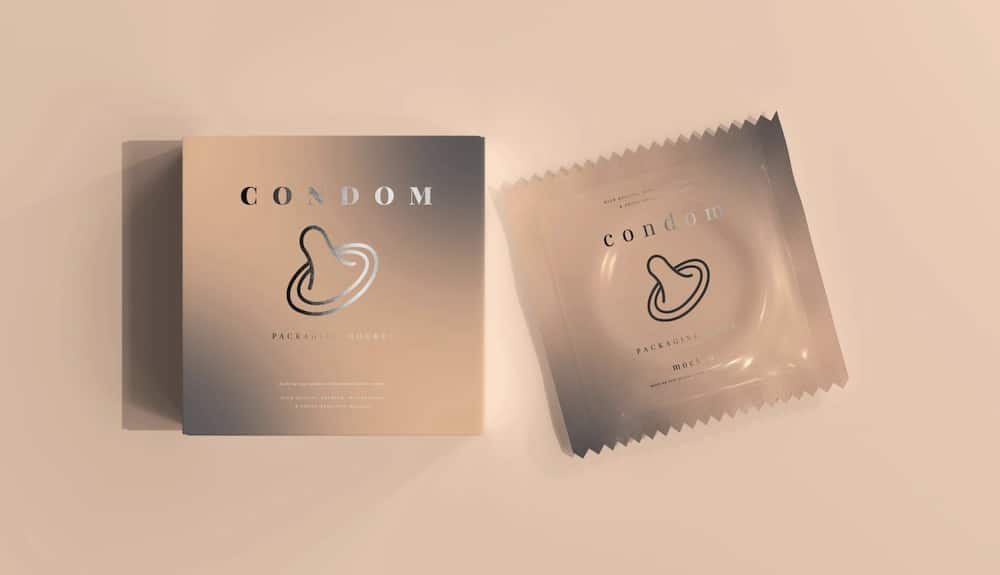 Let me share a secret with you. I found a premium version of this one but I decided to share the free version because it's equally good.
One more thing. You can find even more views on Freepik but this one is my absolute favorite.
Create a lovely condom packaging presentation that'll easily impress everyone seeing it. BOOM.
MORE INFO / DOWNLOAD
13. Top view condoms on red background mockup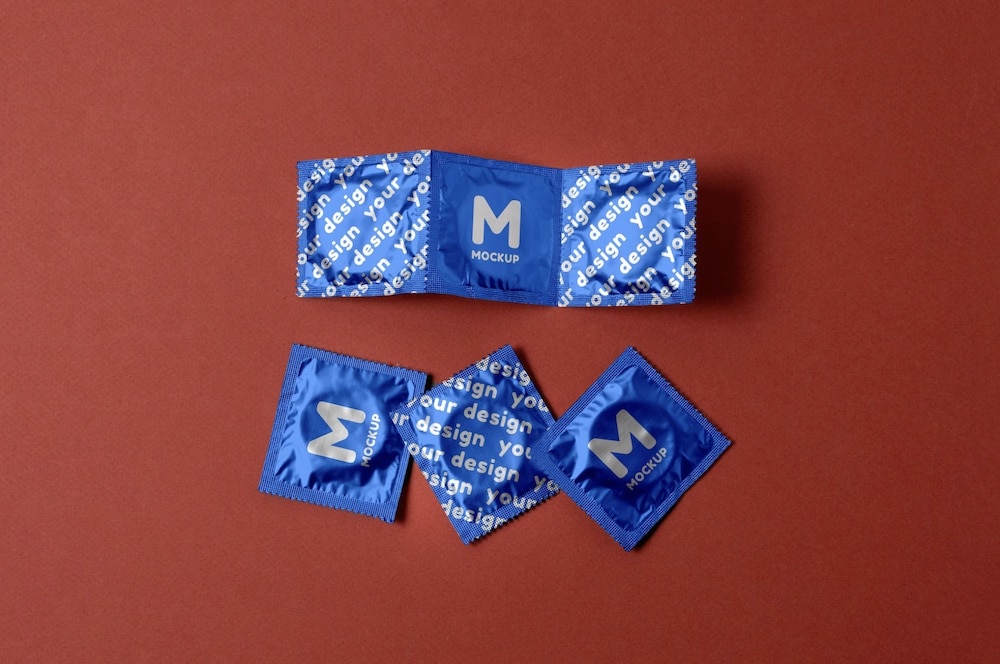 You get to work on a fine and realistic showcase with a static red background and editable condom sachets.
Definitely go with interchangeably presenting front and back designs. It creates a vibrant, dynamic feel that'll easily trigger curiosity.
This is something you want to achieve with a mockup when working with a client or for a social audience.
LOVE. IT.
MORE INFO / DOWNLOAD
How To Easily Create A Condom Mockup?
You don't need much experience and knowledge to create a realistic mockup presentation.
Trust me, I let my father do it, and he has no Photoshop skills. But he sure was blushing, lol.
All you need is a free or premium mockup, and all the rest happens in a little breeze.
Here's the quick step-by-step process:
The first thing is to open Photoshop and import your desired template.
The second step is to search for the smart object layer. I only included organized mockups, so finding different layers is easy.
Drag and drop your design, and you can already see it on the condom packaging.
You can perform additional customization tweaks at this step, like changing the colors, background, editing shading, lighting, etc.
Once you're done with modifications, save and download your EPIC mockup creation.
That's it!
I told you designing a custom condom mockup is a piece of cake.
For this reason, you can create a bunch of variations, so you can later compare them with your client and pick the winning one together.