Are you searching for the best free and premium sports bra mockups to take product presentation to the next level?
The essence of REALISM in showcasing your innovative sports bra designs is essential in sports apparel.
At least that's what I found after studying the industry for several months and working with four clients.
I gathered the best online mockup generators, layered PSDs and free mockups to ensure everyone enjoys smooth and quick designing. (I like using generators the most!)
Whether you're a designer aiming to captivate clients or a brand seeking to engage customers with lifelike sports bra displays, this mockup compilation promises to ELEVATE your visual storytelling.
These WILL empower you to showcase your products with superior authenticity and impact.
This post covers:
Best Sports Bra Mockup Generators
Get a sport bra generator for only $7.95.
But, I highly recommend either Placeit's monthly ($14.95/month) or yearly ($89.69/year) subscription (save money & time).
1. Female Jogger Wearing A Sports Bra Mockup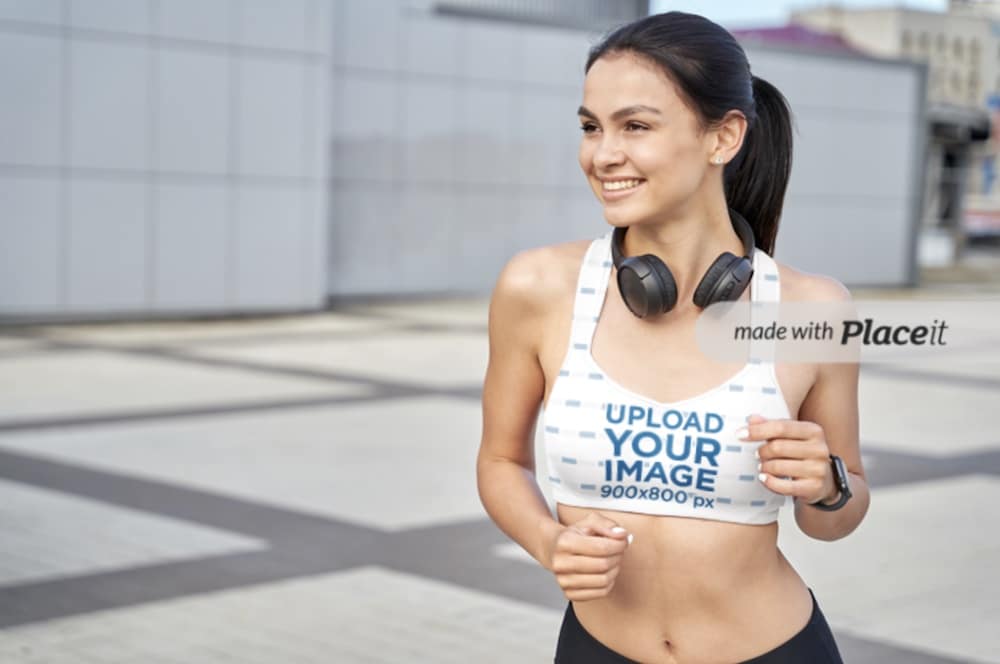 A realistic mockup featuring a female jogger, confidently running, donned in a form-fitting sports bra.
The design showcases the bra's support and style against a blurred outdoor background. PERFECT for showcasing sportswear branding or design.
Insert the image with a single click and change the sports bra's color with the second. That's it!
MORE INFO / DOWNLOAD
2. Selfie Mockup Of A Woman Wearing A Sports Bra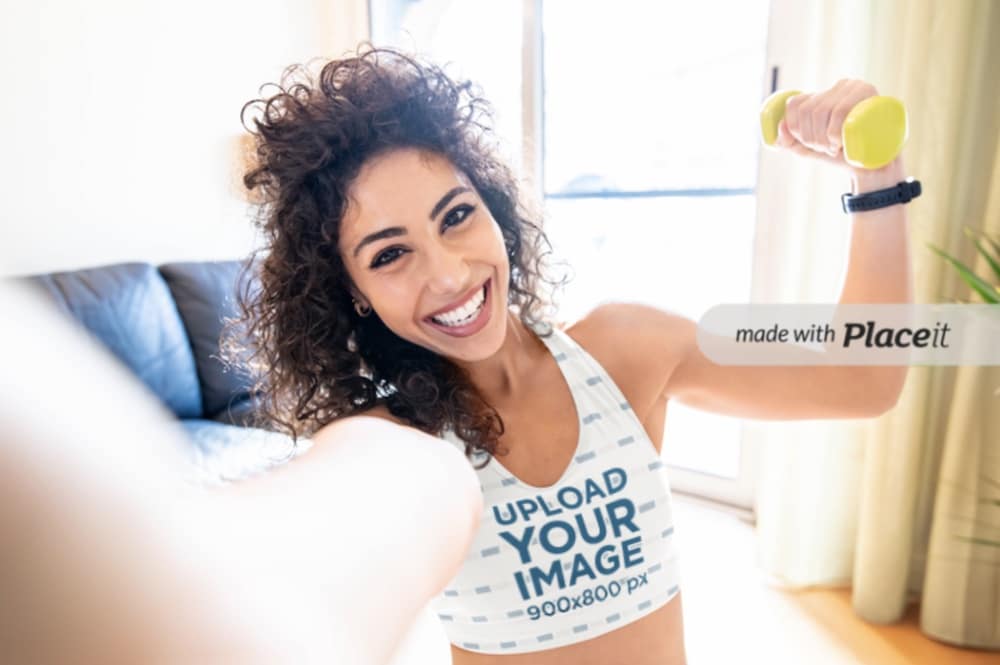 A DYNAMIC selfie mockup captures a woman sporting a sleek sports bra during her home workout.
With a dumbbell, she exemplifies strength and determination, making it an ideal setting to highlight sportswear designs or branding in a real-life scenario.
This one generated quite some noise on two of my clients' social profiles, so I highly recommend you test it out, too.
MORE INFO / DOWNLOAD
3. Minimalist Sports Bra Mockup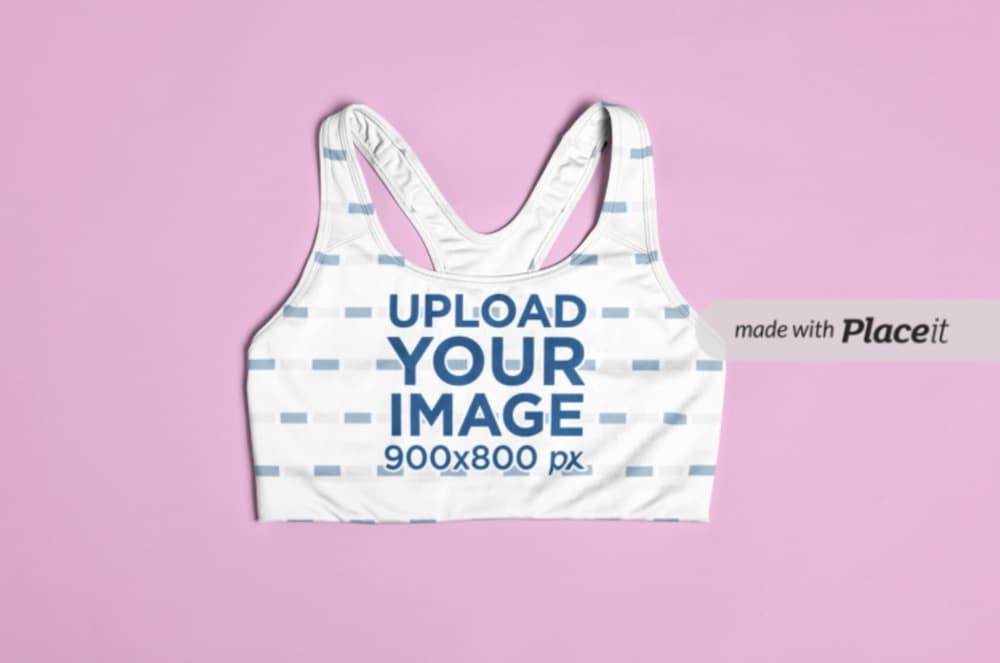 A clean and minimalist mockup featuring a sports bra laid out on a flat surface.
The simple background emphasizes the bra's design and features, providing a clutter-free canvas ideal for showcasing product details, logos, patterns and branding.
What I like about this one is that you can change the background completely, from using any color or uploading a custom image – you're in COMPLETE control.
MORE INFO / DOWNLOAD
4. Woman In A Sports Bra During A Home Workout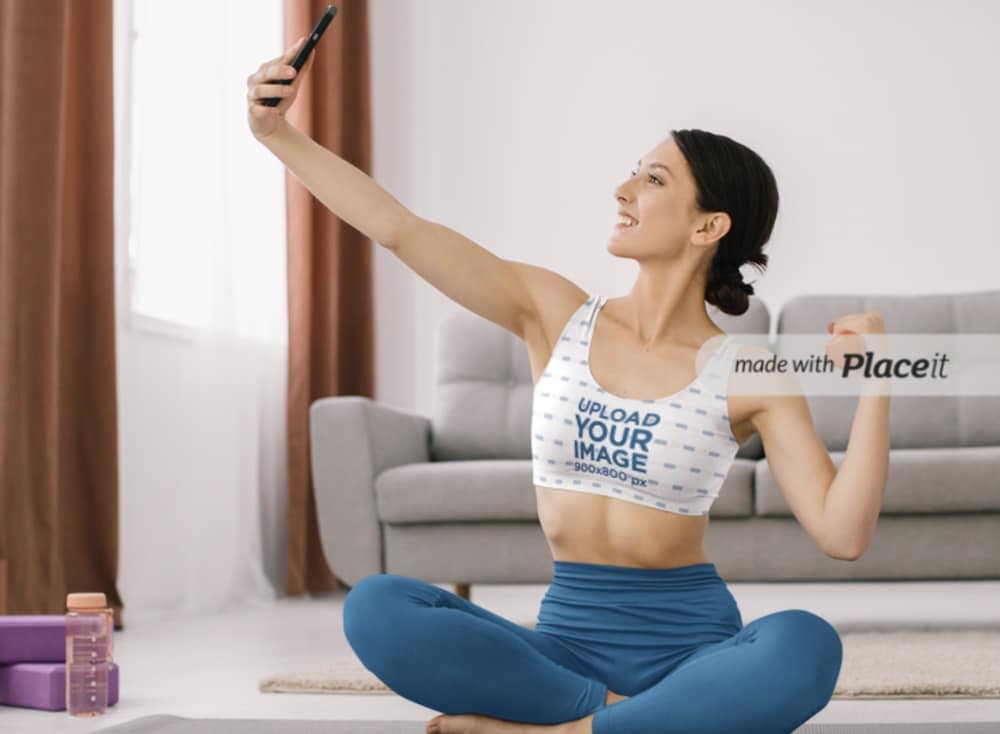 A compelling mockup highlighting a woman in a sports bra, exuding strength and determination during her home workout. While taking a selfie!
The good vibes make this an ideal visual to showcase the resilience and quality of sportswear designs in an authentic setting.
One of the PROS of this one is that it also allows you to change the color of her leggings.
By the way, have you seen my bundle of the best yoga mat mockups?
MORE INFO / DOWNLOAD
5. Sports Bra & Leggings Mockup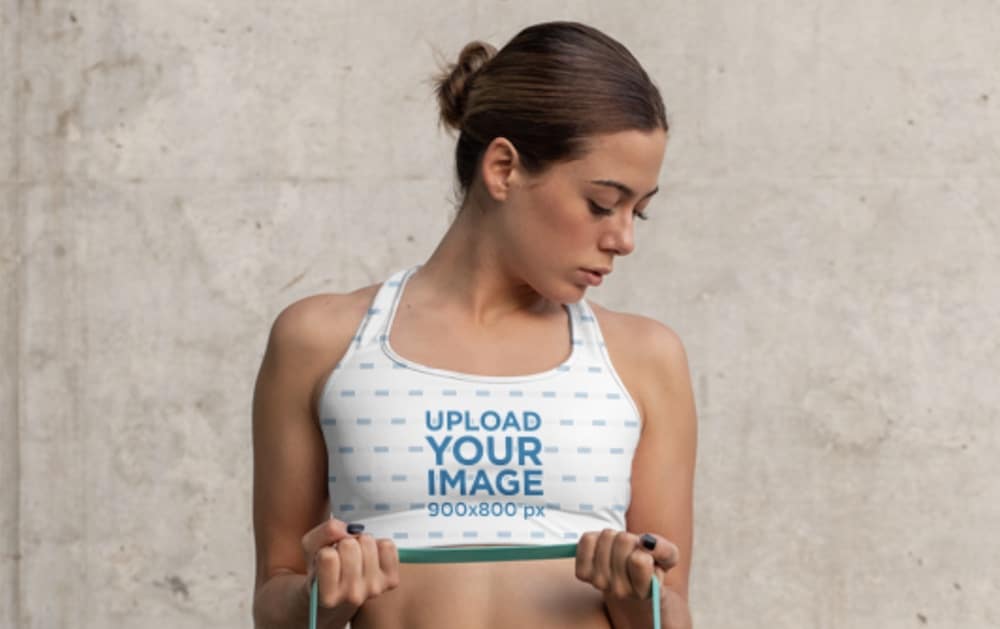 A striking mockup showcasing a female model, dressed in a matching sports bra and leggings, engaged in an intense workout using elastic bands.
Set against the raw aesthetic of a cement wall, the composition pairs urban grit with athletic prowess, offering a compelling backdrop to HIGHLIGHT sportswear designs.
Note: While you can create matching bra and leggings, you can also go entirely against the grain.
The customization freedom of this generator is amazing. Feel free to have some fun with it first before you fully commit it (yes, for free).
MORE INFO / DOWNLOAD
6. Fit Woman In A Sports Bra With A Healthy Shake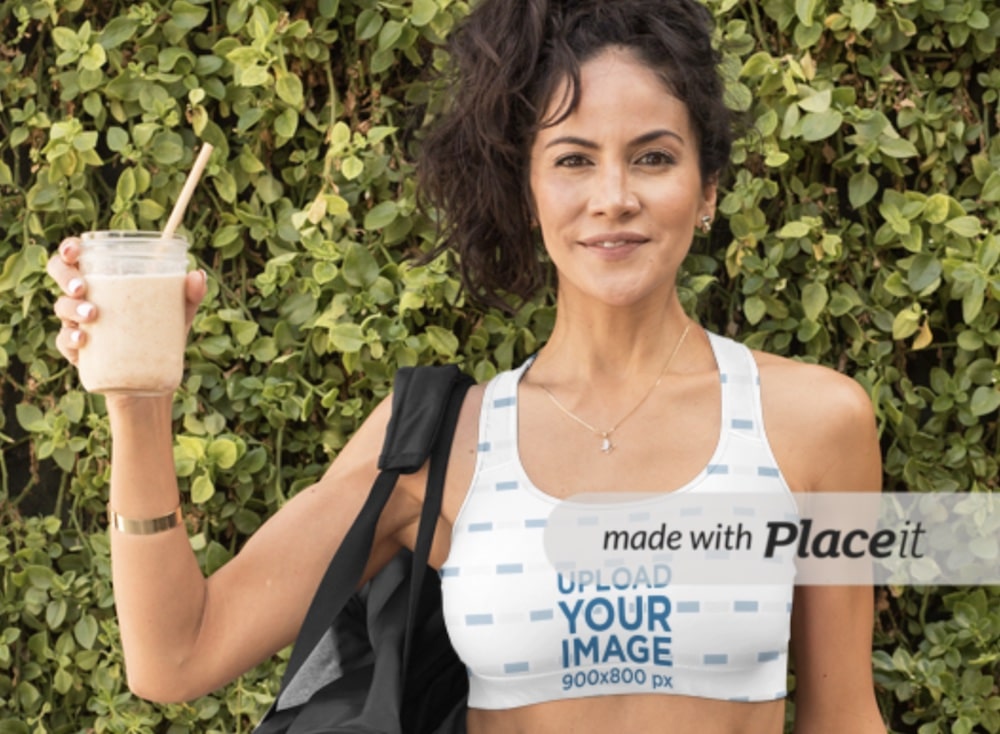 A refreshing mockup featuring a fit woman, radiant in her sports bra, holding a nutritious post-workout shake.
Set outdoors, the natural light illuminates her toned physique, capturing the essence of health, fitness, and rejuvenation.
IDEAL for showcasing the fusion of activewear and a holistic lifestyle.
And because the bag she wears on her shoulder and leggings are black, they easily go with any sports bra design and color you have in mind.
Have you seen these top-notch free and premium duffle bag mockups?
MORE INFO / DOWNLOAD
7. Sports Bra Mockup Of A fit Woman At A Balcony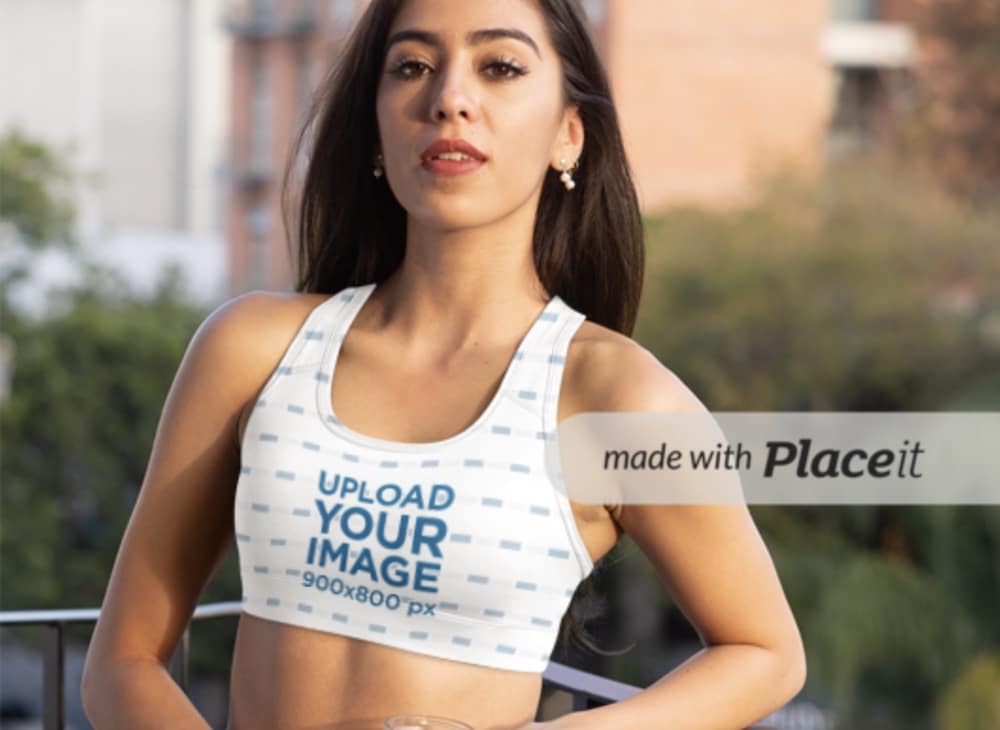 An enticing mockup spotlighting a fit woman on a balcony, fitted into in a sports bra while holding a green smoothie.
The restful atmosphere amplifies her wellness journey, creating a fantastic showcase for YOUR custom sports bra design.
While changing the bra color and adding your design could mean all the work for some, you can also add text or graphics – but don't overdo it!
MORE INFO / DOWNLOAD
8. Woman In A Sports Bra After A Boxing Session Mockup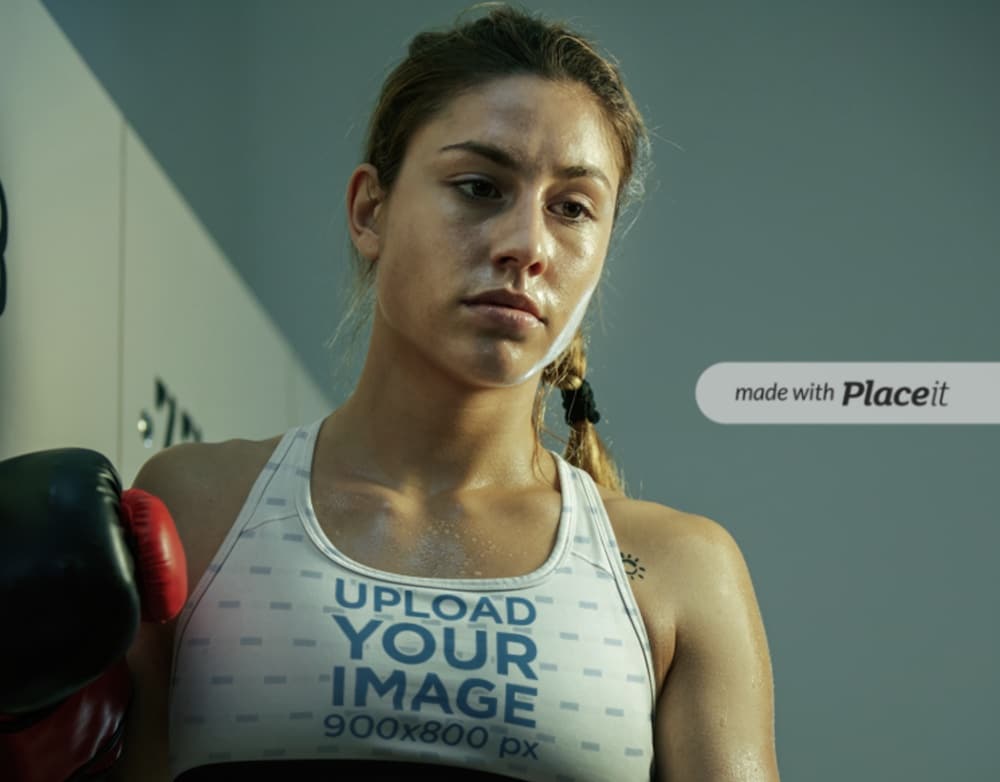 A powerful mockup portraying a woman in a sports bra, exuding exhaustion and triumph following an intense boxing session.
Sweat-glistened and with a fierce determination in her eyes, the image vividly CAPTURES the spirit of combat sports, making it ideal for showcasing sportswear that stands up to the toughest challenges.
I really enjoyed how realistic three of the designs I used for this one appeared. I encourage you to try it yourself because you must see it to believe it.
MORE INFO / DOWNLOAD
9. Woman Sitting On Stairs In Her Sports Bra After A Workout Mockup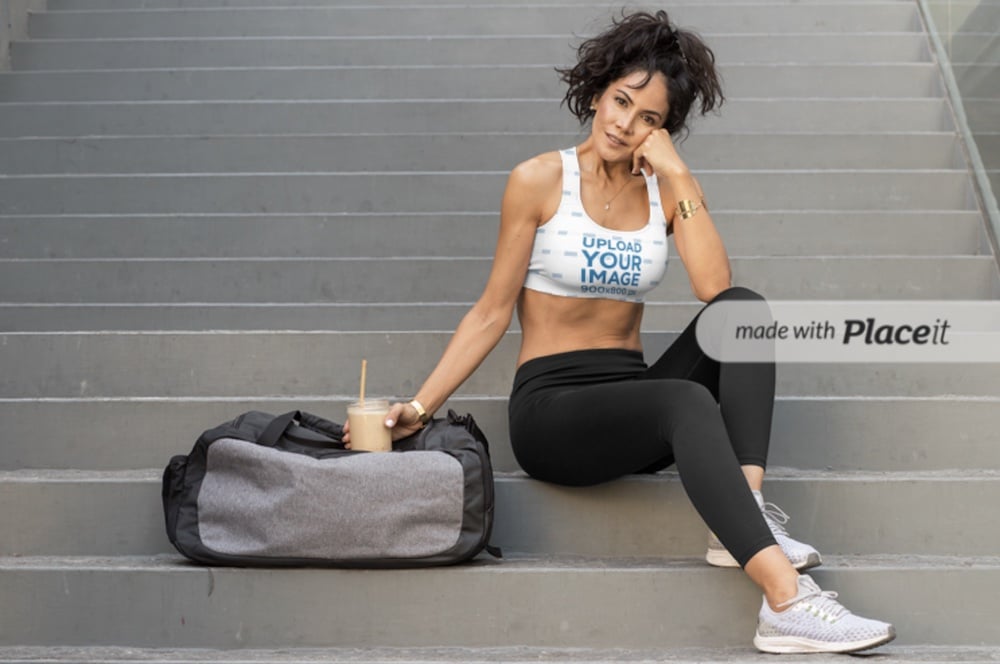 A touching sports bra mockup featuring a woman resting on stairs after a tiresome workout.
The scene catches a moment of reflection and recovery as she takes a breather and her favorite shake.
It makes it a resonating setting to place EXTRA shine on your gorgeous sports bra design.
Did I already mention that you can test all Placeit mockups for free? It's so much fun.
MORE INFO / DOWNLOAD
10. Lady In A Sports Bra At Home Mockup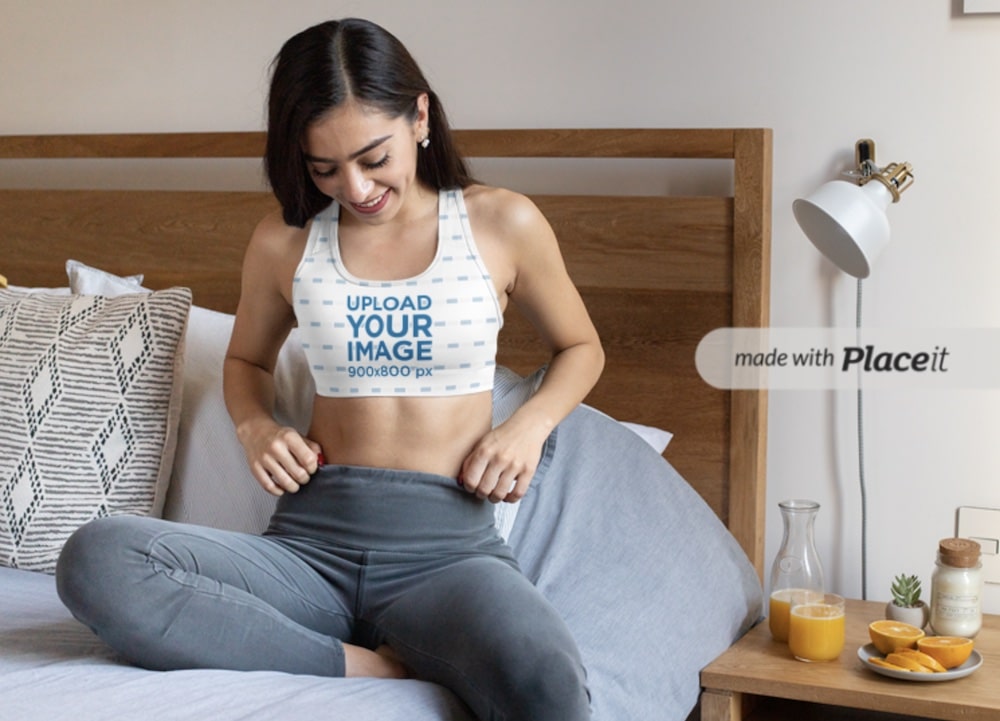 A cozy and intimate mockup representing a lady in a sports bra, comfortably seated on her bed and savoring her morning breakfast.
You get a blend of comfort, home life and fitness, providing a relatable backdrop to showcase sportswear that seamlessly fits into one's daily routine.
Change and improve the default sports bra with any color and design you choose.
It's TOO easy to make it happen.
MORE INFO / DOWNLOAD
Best Sports Bra PSD Mockups
11. Women's Sport Tank Top/Bra Mockup Set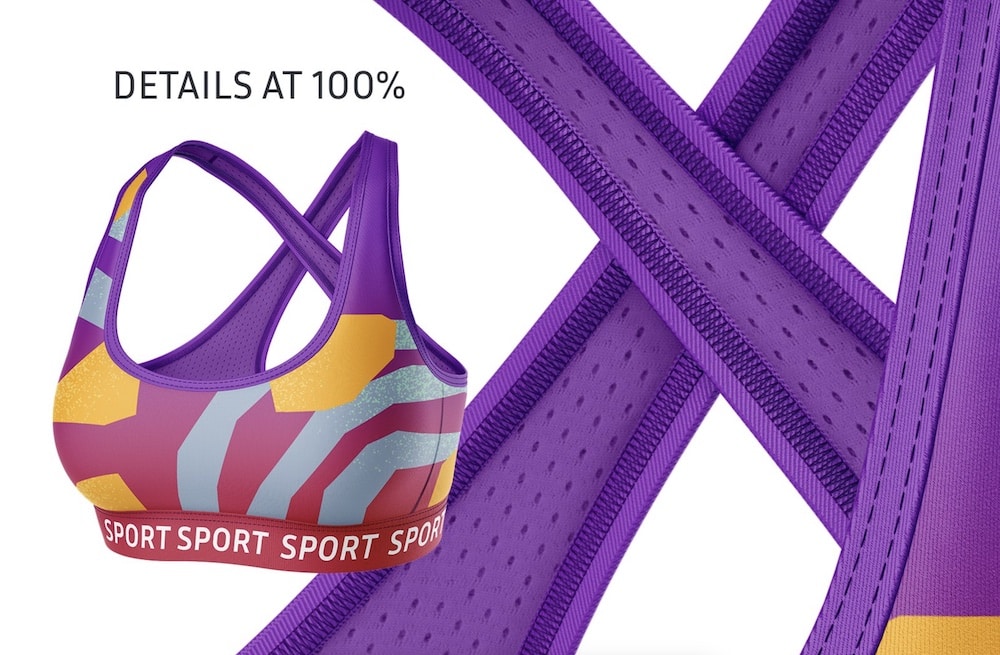 A premium collection of three sports bra mockups, each rendered in a high-resolution dimension of 6000 x 6000px.
Crafted meticulously to ensure every detail pops, these mockups come equipped with easy-to-use color-changing features and smart objects for SEAMLESS design insertion and customization.
Perfect for showcasing simple or detailed designs with front, back and angled sports bra views, even if creating a close-up.
Price: $18
MORE INFO / DOWNLOAD
12. Sports Bra PSD Template Set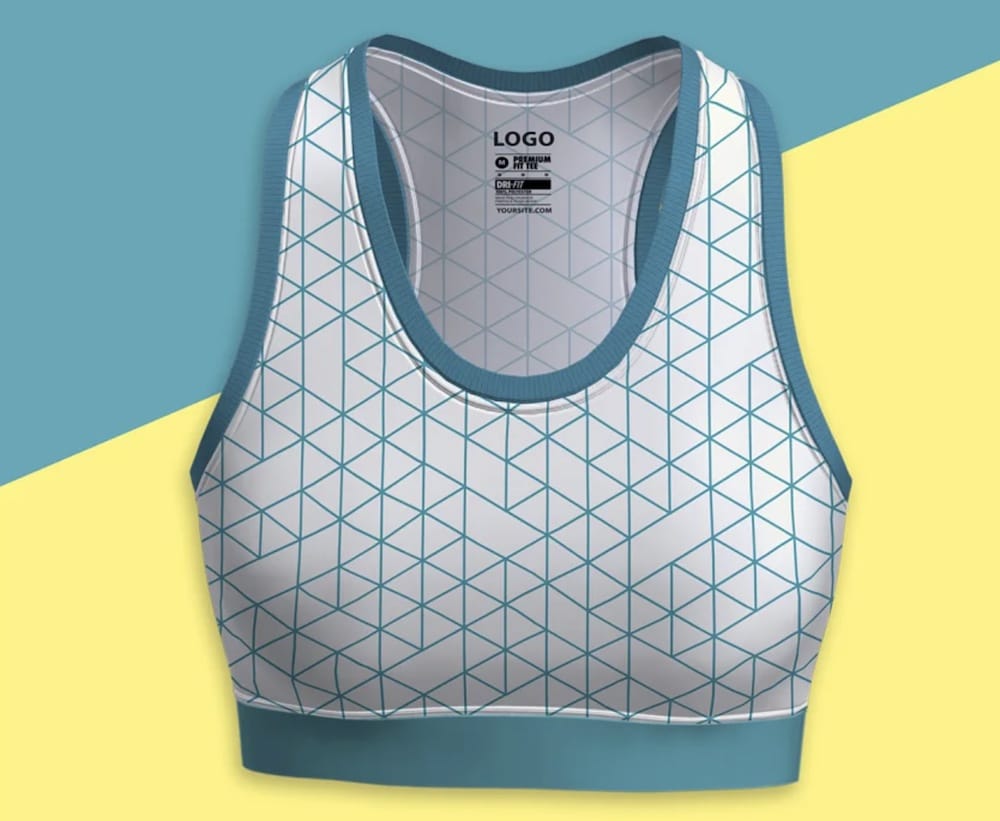 A versatile sports bra PSD mockup, offering both front and back perspectives of the bra, in a 3200 x 3200px resolution.
The structured, layered PSD format enables effortless edits and tweaks, so you create the EXACT outcome you want. Remember, everything is editable.
Moreover, you have the flexibility to showcase your creation in diverse settings with options for custom backgrounds.
The mockup ensures every angle and feature of the sports bra is precisely highlighted.
Price: $9
MORE INFO / DOWNLOAD
13. Woman Wearing A Sports Bra Mockup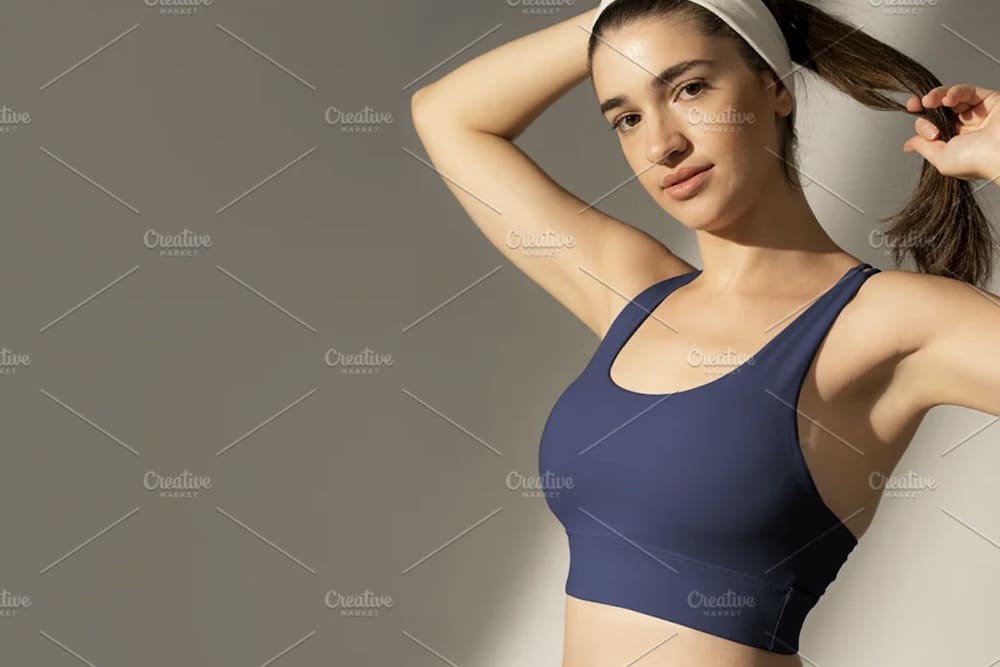 An expressive sports bra mockup featuring a confident woman directly gazing into the camera, capturing viewers' attention. This type of mockup ALEAYS works for me.
This template ensures to vividly showcase every complex detail of the sports bra, thanks to the high resolution of 5000 x 3333px.
It's a perfect canvas for brands aiming to leave a lasting impression.
Price: $9
MORE INFO / DOWNLOAD
14. Y Back Sports Bra Mockup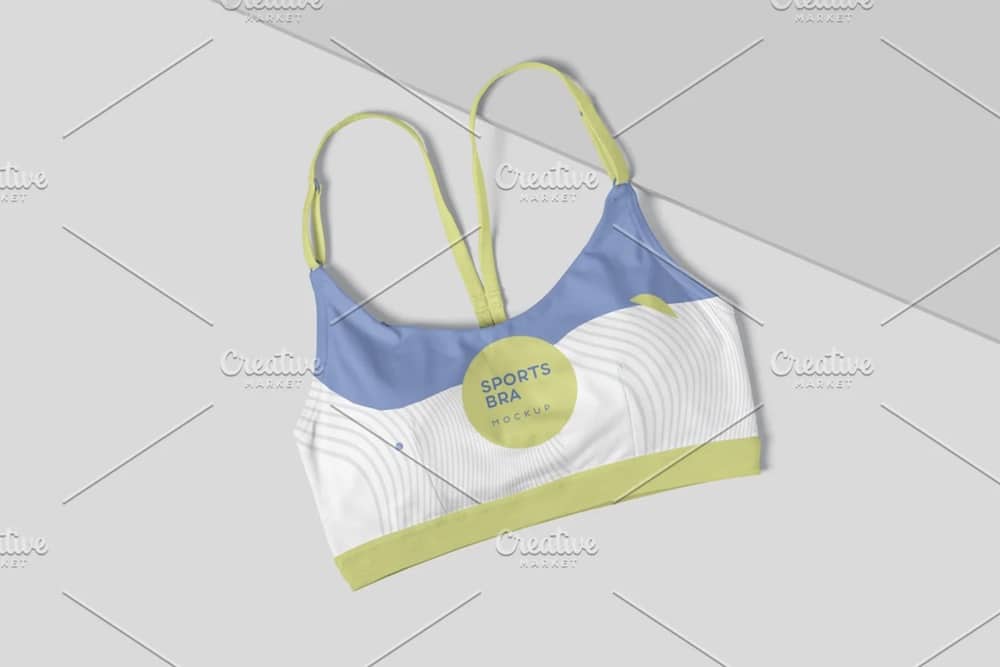 This set of four life-like sports bra mockups is crafted to display the uniqueness of the Y-back design.
Each mockup is structured with organized layers for QUICK and seamless customization.
Inserting your custom design becomes a breeze with the smart object layer, while the adjustable background allows you to spice things up.
Additionally, customizable effects ensure your product is showcased in its best light, so the custom designs, colors and patterns pop more.
Price: $9
MORE INFO / DOWNLOAD
15. Bella Canvas 0970 Sports Bra Mock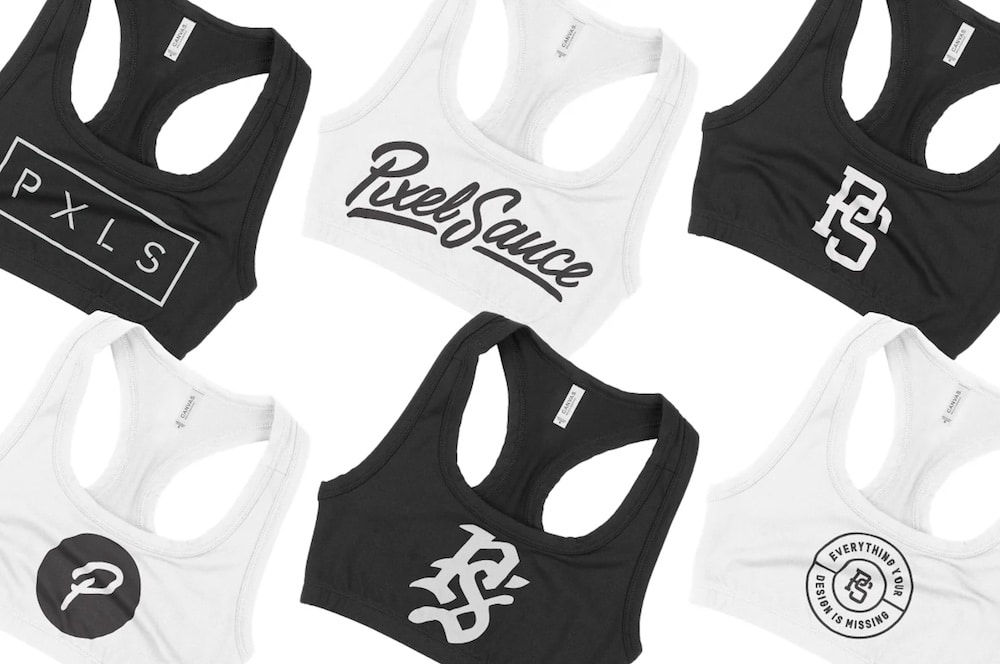 Are you particularly looking for the Bella canvas 0790 sports bra mockup? You've come to the right place!
Instead of one, this set offers three front and three back views for a HIGHLY realistic presentation.
Each perspective highlights the sports bra's intricate details and premium quality with the 4K resolution.
What's also really awesome about this one is that it comes with a complete Bella Canvas color library!
Don't miss the comprehensive Bella Canvas mockup collection if you need to create more clothing presentations.
Price: $19
MORE INFO / DOWNLOAD
Best Free Sports Bra Mockups
16. Free Realistic Sports Bra PSD Mockup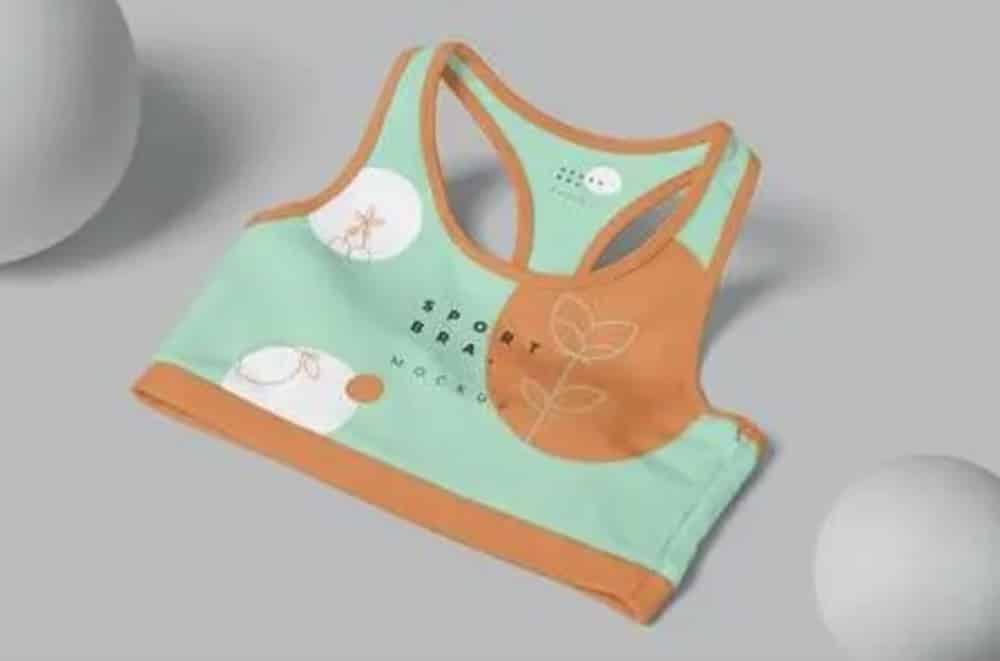 A generous offering in the form of a free – four realistic sports bra mockups that cost you nothing.
Crafted with keen attention to detail, this set gives you an authentic canvas to display your designs.
It features all the MUST-HAVES of a premium mockup, like customizable effects, organized layers, an editable background and a smart object layer.
Enjoy creating the ultimate workout bra mockup with ease.
MORE INFO / DOWNLOAD
How To Easily Create A Sports Bra Mockup
Creating a lifelike sports bra presentation has never been easier, thanks to online mockup generators.
Hint: I'm a big fan of Placeit.
Follow these five simple steps to transform your design concepts into compelling visual representations:
Step 1: Choose the template you dig from the 900+ available ones on Placeit. (However, I still recommend choosing one from the above collection.)
Step 2: Once on the template page, locate the upload button and add your design file, typically in PNG or JPEG format. (A popup window will open, allowing you to perform any necessary tweaks.)
Step 3: Placeit allows you to tweak colors (sometimes change the background) to align with your design. Customize the look however you want, it only requires some clicking – no design skills.
Step 4: Take advantage of the mockup preview feature to gauge the realism of your design. Ensure that the sports bra appears as intended.
Step 5: When satisfied, download the final mockup in high-resolution format. You can use this version for (online) presentations, markating materials, and more.
Yes, it really only takes these five steps to transform your sports bra design into a convincing visual representation.
You're ready to impress clients, customers, and collaborators alike.
::
Note: This article was originally published on August 8, 2023. But our team regularly reviews it and updates it with necessary improvements for accuracy.