Are you searching for the best CBD and cannabis packaging mockups?
We reviewed over 50+ over the past few months to create this extensive collection of the ultimate.
Our testing took place on social media, newsletters, and even some eCommerce websites.
In short: You CANNOT go wrong with these!
What's unique about these mockups is that you can style them entirely online.
Can you make a mockup without Photoshop? Yes, you can!
Placeit unlocks A NEW WAY of making mockups.
This post covers:
You can create professional product packaging demonstrations that will pop without experience.
It takes only a few clicks!
Now take a peek at some of the best mockups for CBD and cannabis products.
The Best Cannabis CBD Packaging Mockups
You can purchase all these generators individually for $7.95.
But you can also save time with monthly ($14.95/mo) or yearly ($89.69/yr) subscriptions.
1. Mockup of a woman holding a jar for cannabis product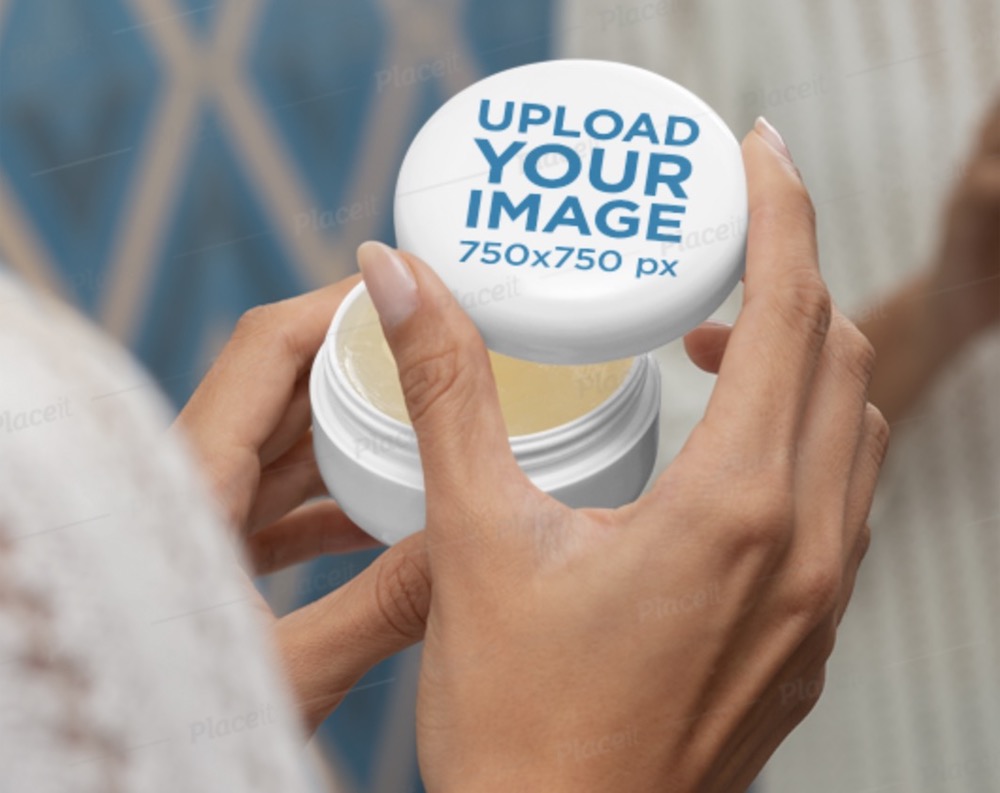 This is the mockup that will do the trick if you or your client is working on a cannabis product in the form of a cream.
It features a woman holding an open cosmetic jar, exposing the lid. You can insert any design or even a simple logo into the mockup with a click.
The Placeit platform allows us to create photorealistic product presentations hassle-free.
Keep in mind, you can also change the color of the jar or keep it default.
It is an easy task that anyone can execute.
Friendly tip: We found this cool article about CBD packaging design ideas and recommendations that will help you create more impactful branding and packaging.
Note: I'm sure you'll also like my collection of the best cosmetic mockups.
MORE INFO / DOWNLOAD
2. Cannabis packaging mockup of a man holding a jar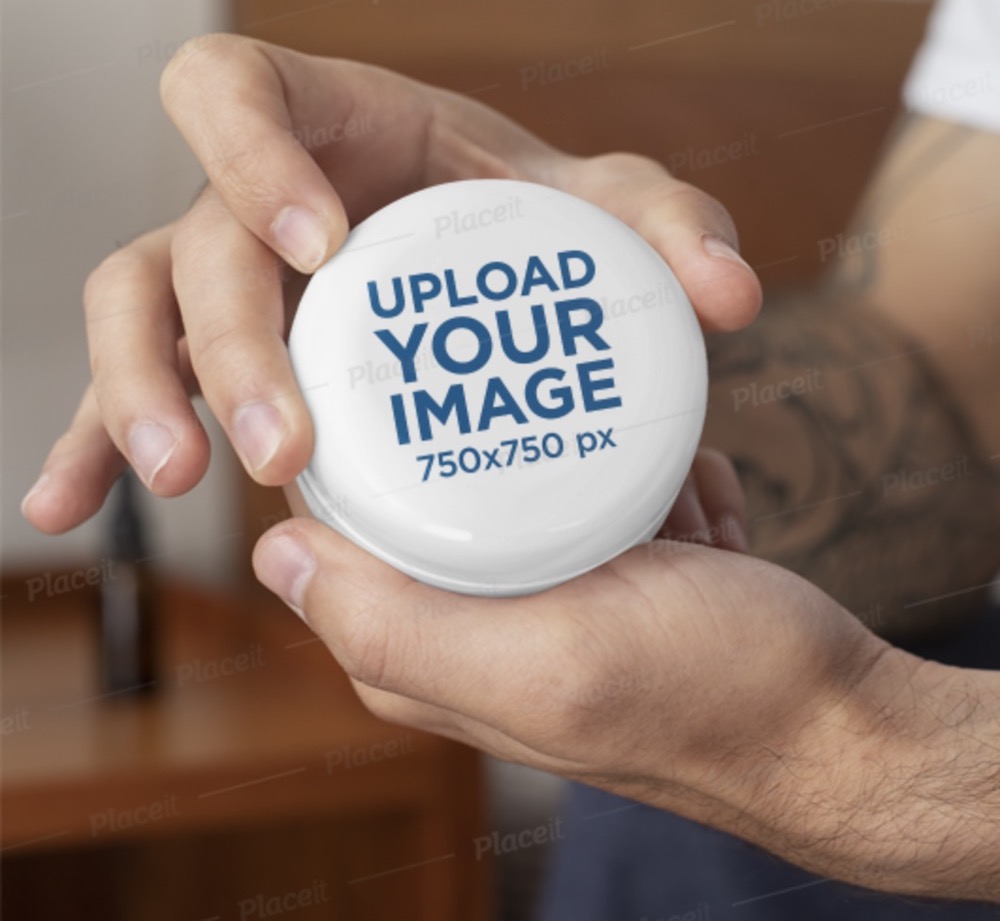 Another highly life-like mockup for the packaging of a cannabis beauty or skincare product.
This time, it's a male model representing the closed jar for you and everyone else you would like to showcase it to.
To your luck, it takes little time and energy to style and beautify the template however you want.
The jar is the only element on the mockup you can edit and improve accordingly.
Since the process is swift, you can create multiple variations, compare them and pick the best one.
Everything becomes a child's play with a mockup.
MORE INFO / DOWNLOAD
3. Cannabis jar mockup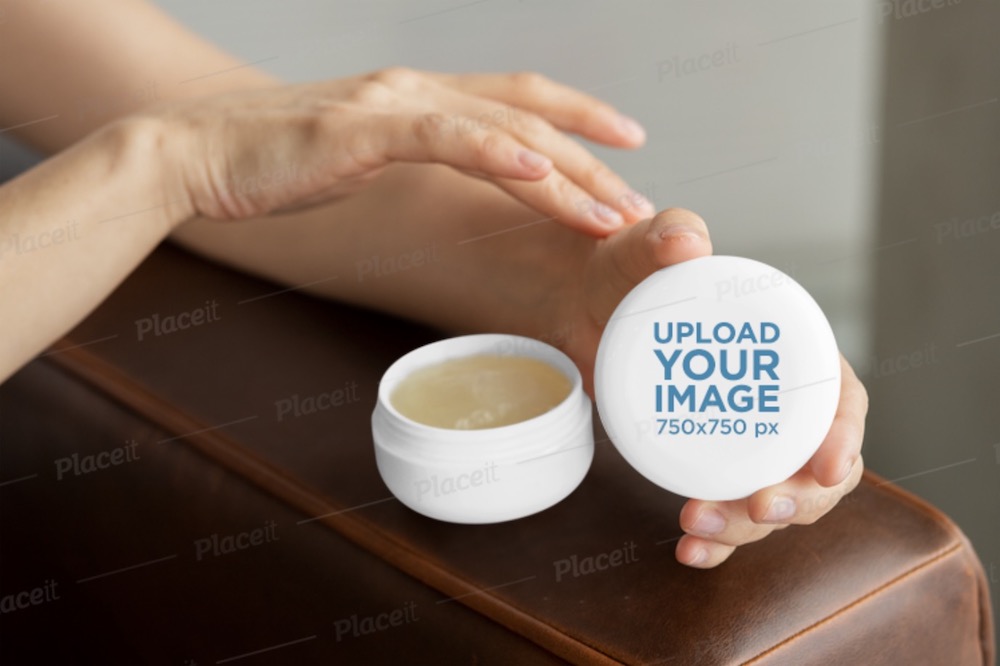 If you would like to take the cannabis packaging mockup presentation to the next level, this is the tool that will do you well.
Especially if you are in the business of creating a cream or lotion.
With this mockup, you will create a life-like exhibition that you can use everywhere. First, you can share it with your client to see how the physical product would look.
You can also post it on social media or simply for personal reference.
You can test the design out with a mockup to see if it fits as it should.
MORE INFO / DOWNLOAD
4. Mockup of a plastic jar for cannabis cream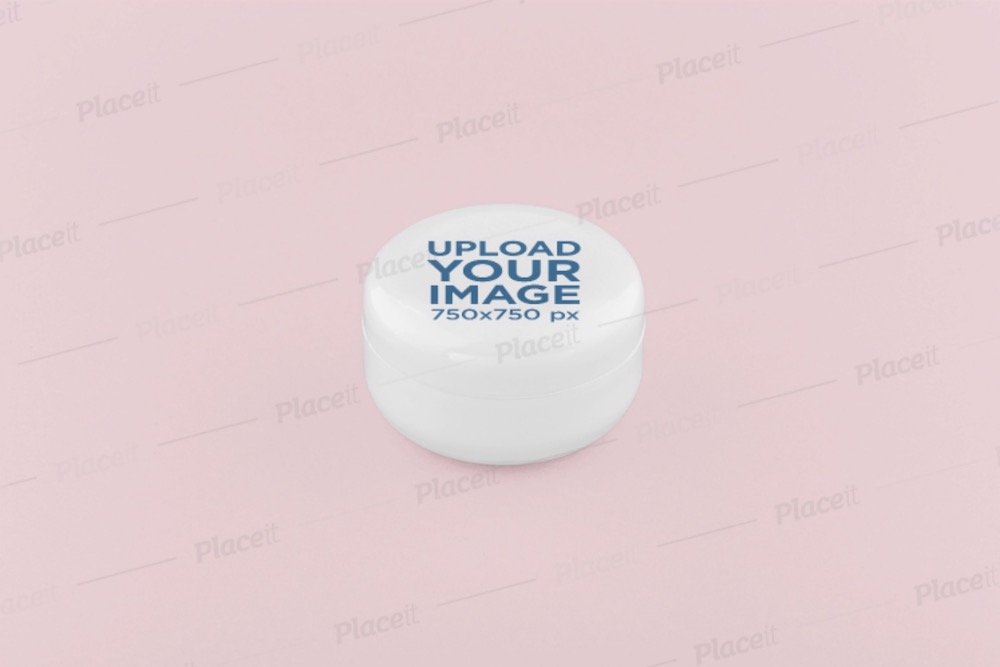 For everyone interested in something basic and minimal, this jar mockup is perfect to employ.
While it works for a bunch of intentions, it would be the best fit for an online store.
This way, you do not need to take product photos but rather a mockup instead.
It helps you save time and money. This template allows you to edit the background and jar's color to just about any shade you want.
Of course, you can also insert an image (750 x 750px) and even attach text.
MORE INFO / DOWNLOAD
5. Mockup of a man opening a cannabis-infused salve jar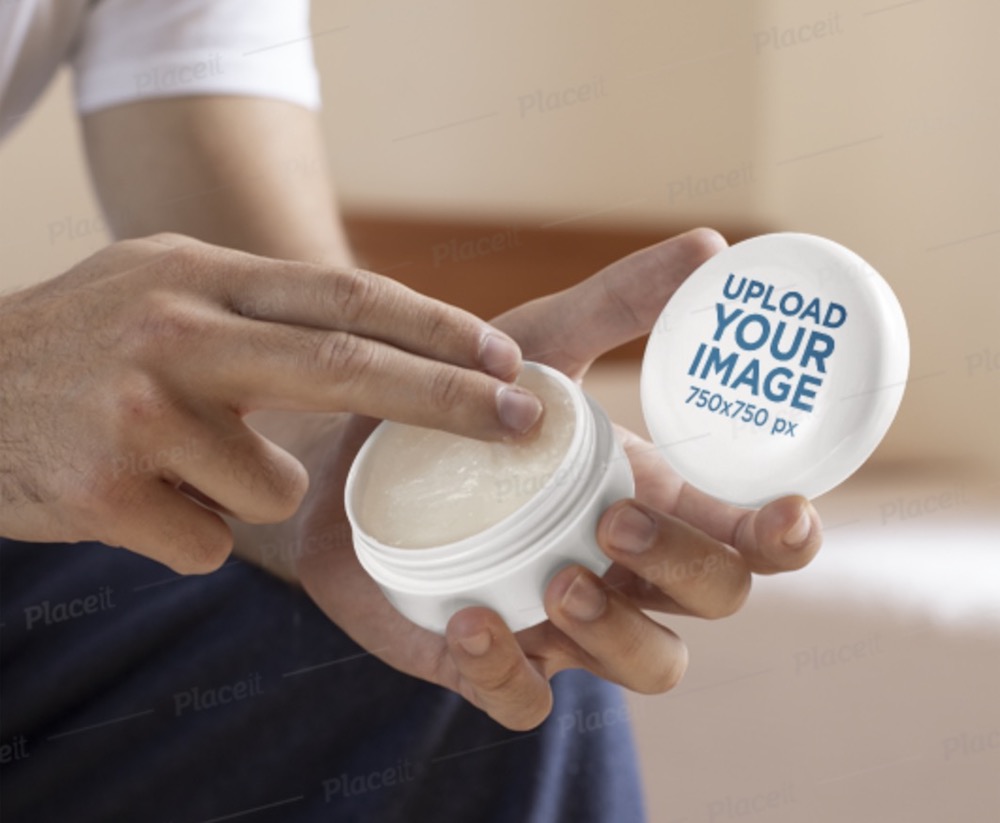 From less photorealistic mockups to truly extraordinary masterpieces, we have them all here for your convenience.
If looking for a male model using a cannabis cream, so you can market it professionally, head over to Placeit immediately.
With a few clicks, you can effortlessly style and improve this mockup to your heart's content.
There is no requirement to be a pro, as you will not need to perform any challenging tasks. (You do not need to use Photoshop or any other software.)
With Placeit, you do all the work online, using your web browser of choice.
Make it pop.
MORE INFO / DOWNLOAD
6. Mockup of a woman with a CBD dropper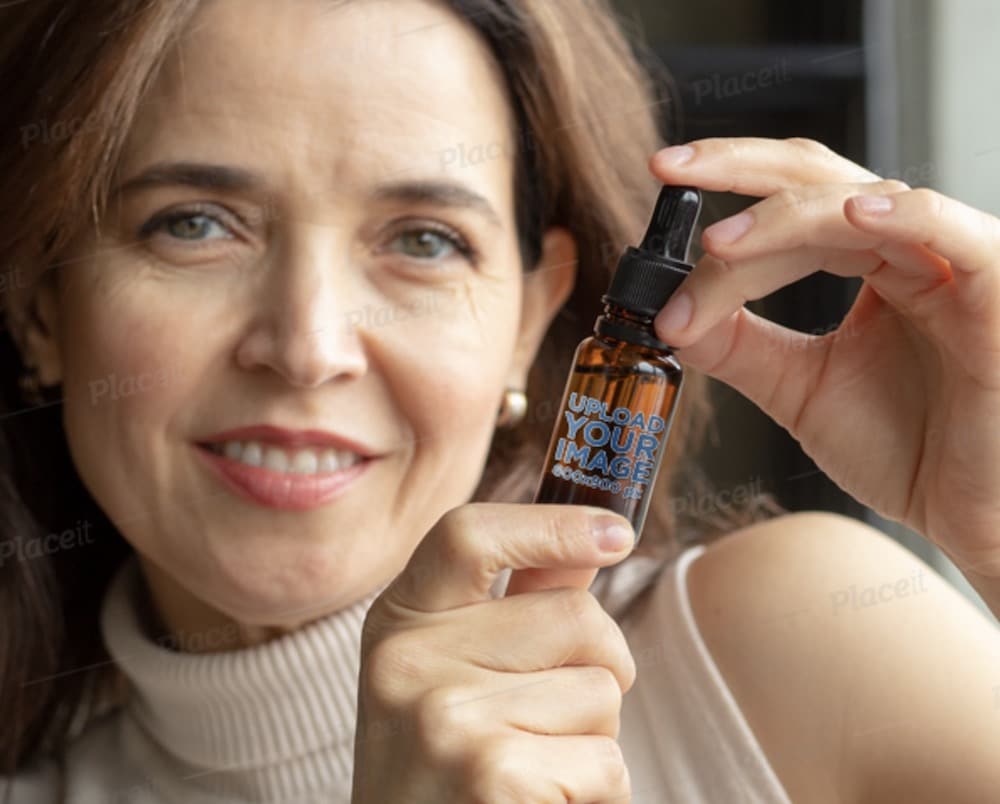 You can create a product exhibition quickly and effortlessly with our collection of first-class cannabis packaging mockups.
Here is another exceptionally photorealistic alternative that will trigger everyone's attention.
It features a woman holding a CBD dropper in front of her face, putting all the extra shine on it.
Since it is an online mockup generator, you can create the final work of art fast and with little to no effort. Just slide in your design and you are all set.
You can then use the final mockup on your social media, blog posts, or demonstrate a product packaging idea you have to your client.
MORE INFO / DOWNLOAD
7. 2 oz. cannabis jar mockup in man's hands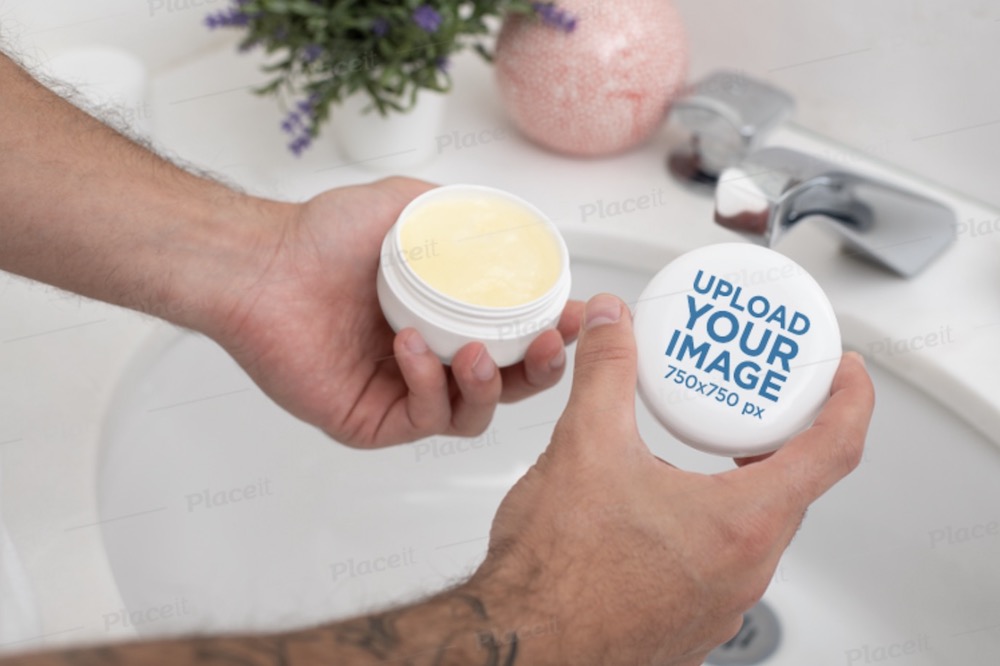 A very catchy cannabis packaging mockup in the perfect surrounding if you are coming up with a new cream concoction.
It is a tool you will have a little breeze using since it requires no experience whatsoever.
The only necessary thing is the design that you will upload to Placeit; all the rest, you will learn on the fly.
If you haven't yet worked with a Placeit mockup, you are missing out on having a lot of fun when creating a life-like product demonstration.
Make it happen now as it will take little effort.
MORE INFO / DOWNLOAD
8. Mockup of a man opening a CBD jar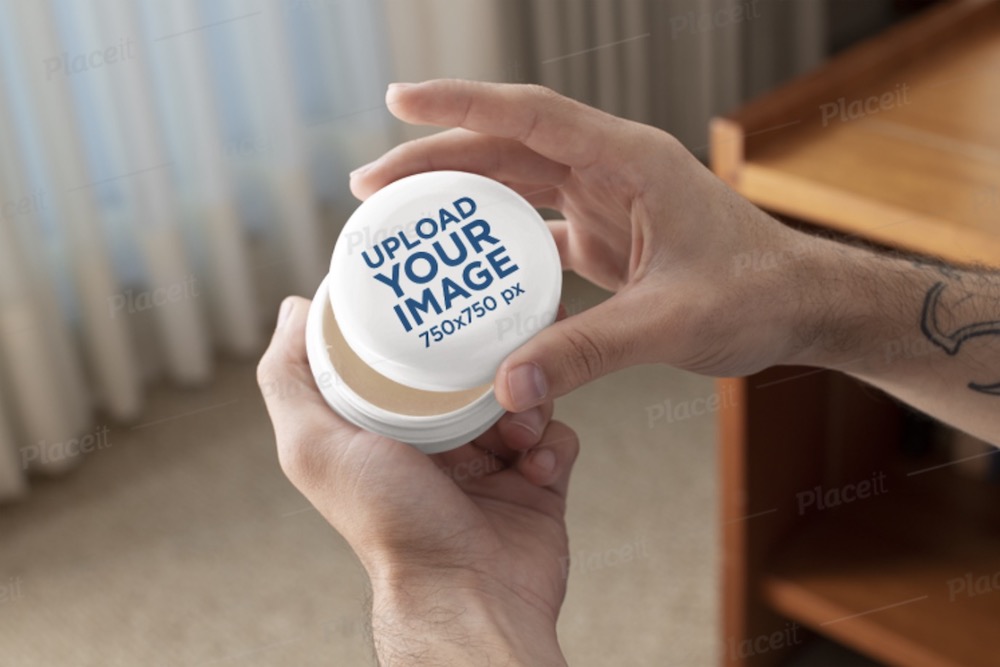 This mockup represents a man opening a jar of cannabis cream, featuring a male model.
It is very realistic-looking, so no one will guess whether it's a real shot that you made or not (unless they are also using Placeit).
Anyhow, head over to the mockup generator and put it into play.
With an option to change the jar's color and upload any artwork you fancy, you can have a full-blown display ready to go sooner rather than later.
You can even do all the work before creating a free account (and opening your wallet).
MORE INFO / DOWNLOAD
9. Mockup of a dropper bottle next to a cup of tea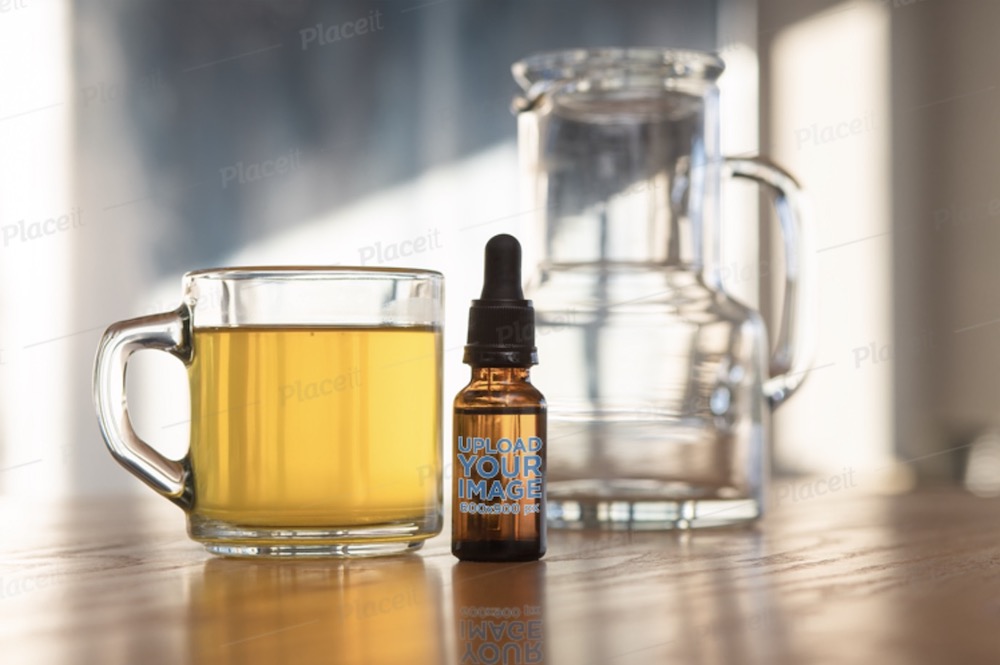 A neat mockup of cannabis oil or CBD on a table next to a warm cup of tea.
You can put a few drops of it in the morning or even in the evening, as we all know that CBD is very practical.
But most importantly, it's the presentation of this template that will impress everyone. There are only two features that you can activate.
First, upload your custom-made label to the bottle. And second, you can also insert any text or call-to-action you want.
It is a user-friendly mockup that will help you enjoy a quick start.
Sadly, the glass cup is not editable. Imagine if you'd be able to create a matching cup – it would be so awesome.
MORE INFO / DOWNLOAD
10. CBD dropper bottle on a table mockup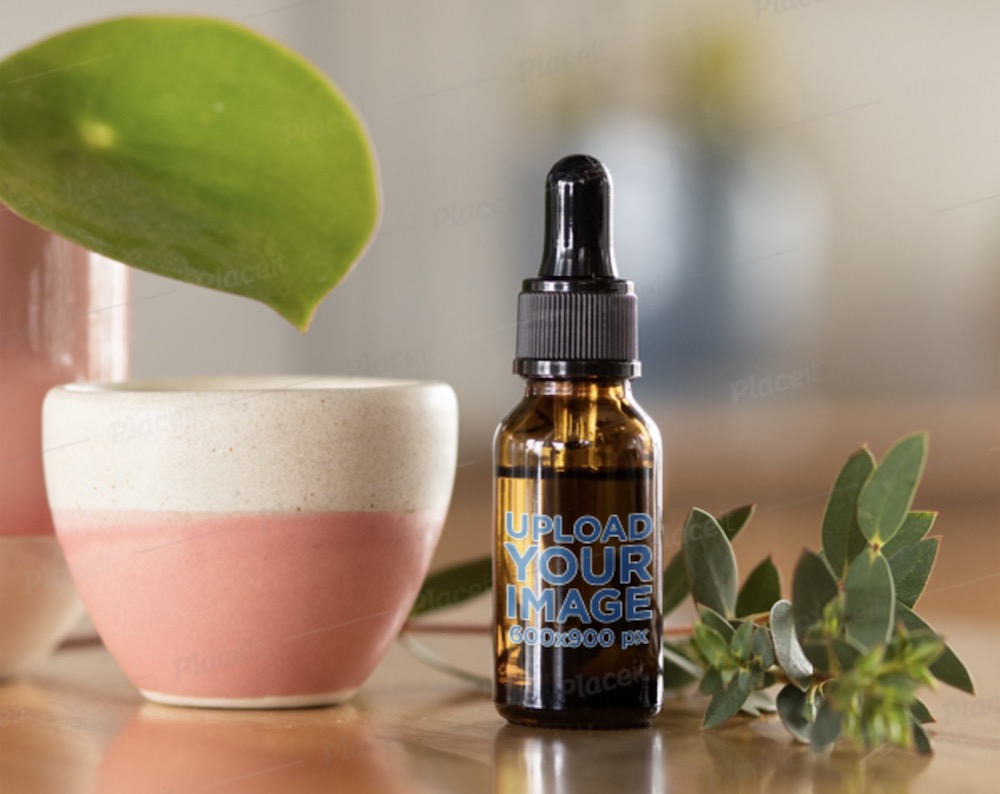 This next cannabis packaging mockup is somewhat similar to the previous one, still very distinct.
It features a more close-up view of the dropper bottle in the company of some greenery and a cup.
This alternative will beautifully decorate your social media account, but it can also work fantastically well in a blog post.
Still, these are just two of the examples; go entirely against the grain at free will.
Make your label design burst in a life-like atmosphere with this terrific mockup setup.
Pro or no pro, you can both succeed at putting together a presentation that will wow the viewer.
MORE INFO / DOWNLOAD
11. Mockup of a woman holding a CBD dropper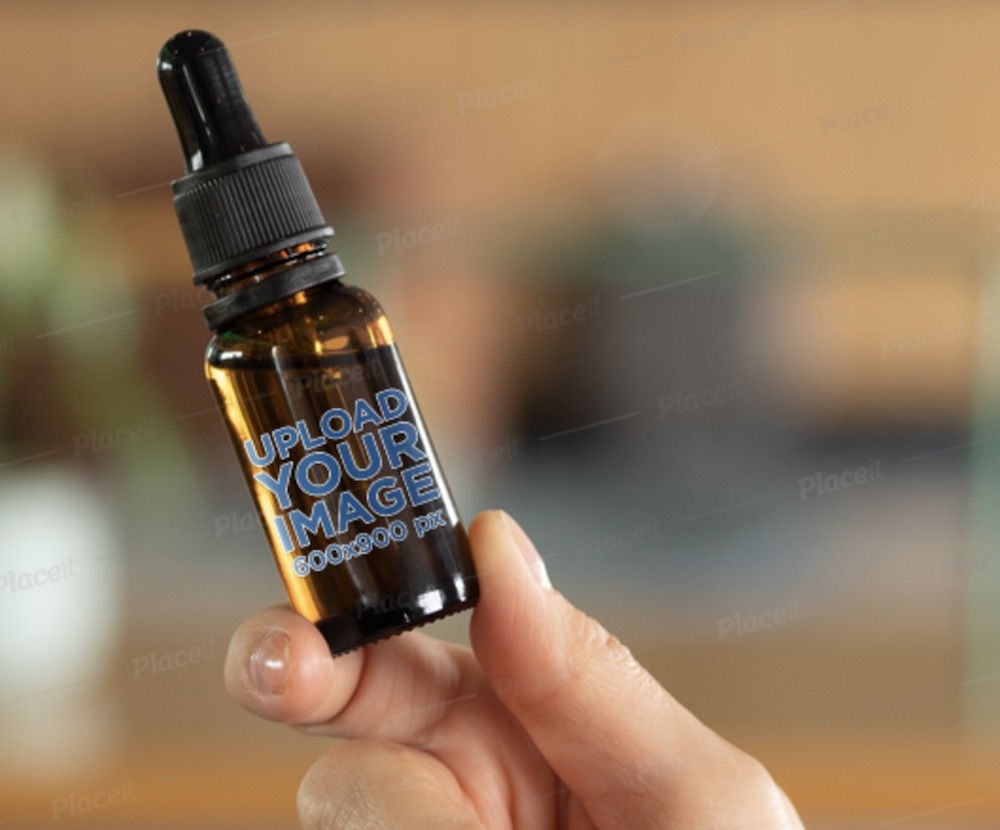 In this collection, you have many different cannabis mockups at your disposal, primarily focusing on droppers and creams.
Of course, with upcoming updates to this list, you can expect even more variations to drop for your convenience.
The mockup features a female hand holding a CBD dropper that can now have your branding on it.
You can style and decorate the mockup according to your needs and regulations with just a quick couple of tweaks.
Make it pop and create a presentation that will shine and achieve the result you plan to attain.
MORE INFO / DOWNLOAD
12. Mockup of a man taking CBD oil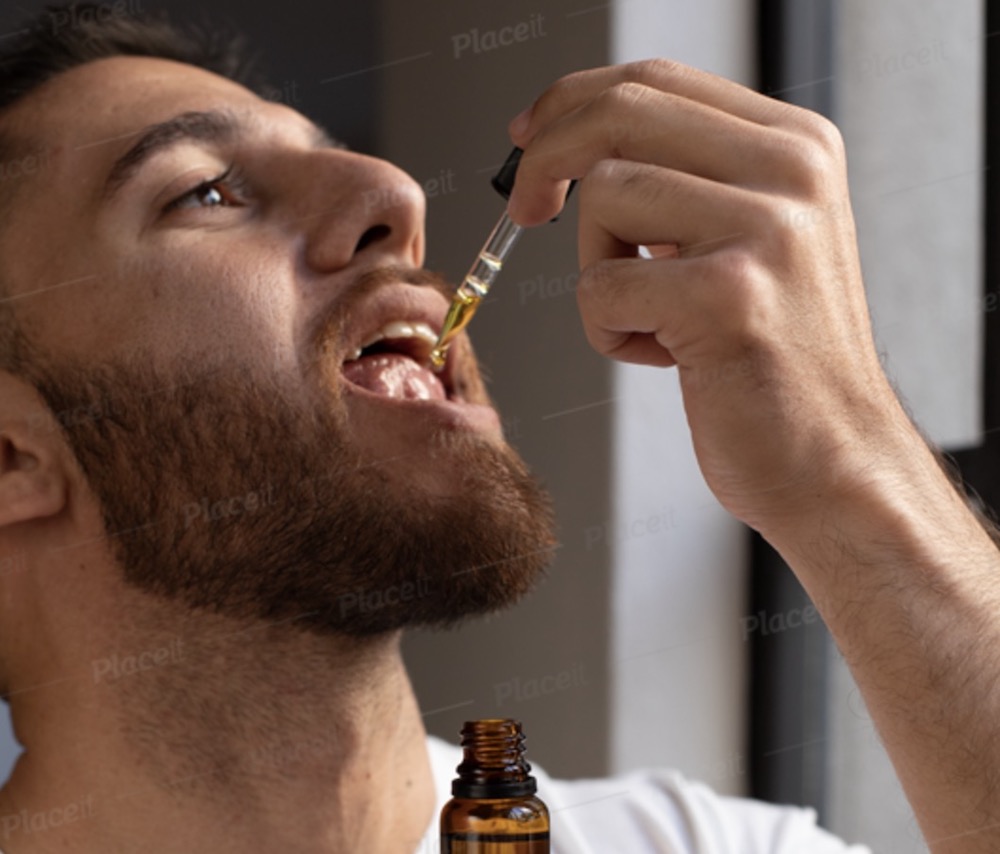 Here are already very many highly photorealistic mockups of cannabis and CBD products.
If you are creating a design for the latter, you better look into using this template. It features a male model taking a few drops of the oil.
Note: You should take CBD oil by dropping a few drops of it under the tongue and keeping it there for a few minutes.
Anyhow, if you'd like to make a strong and lasting impression, promote a new CBD brand or product drop with a life-like exhibition.
It is a Placeit mockup, so you already know what to do next. Enjoy.
MORE INFO / DOWNLOAD
13. Woman taking CBD oil mockup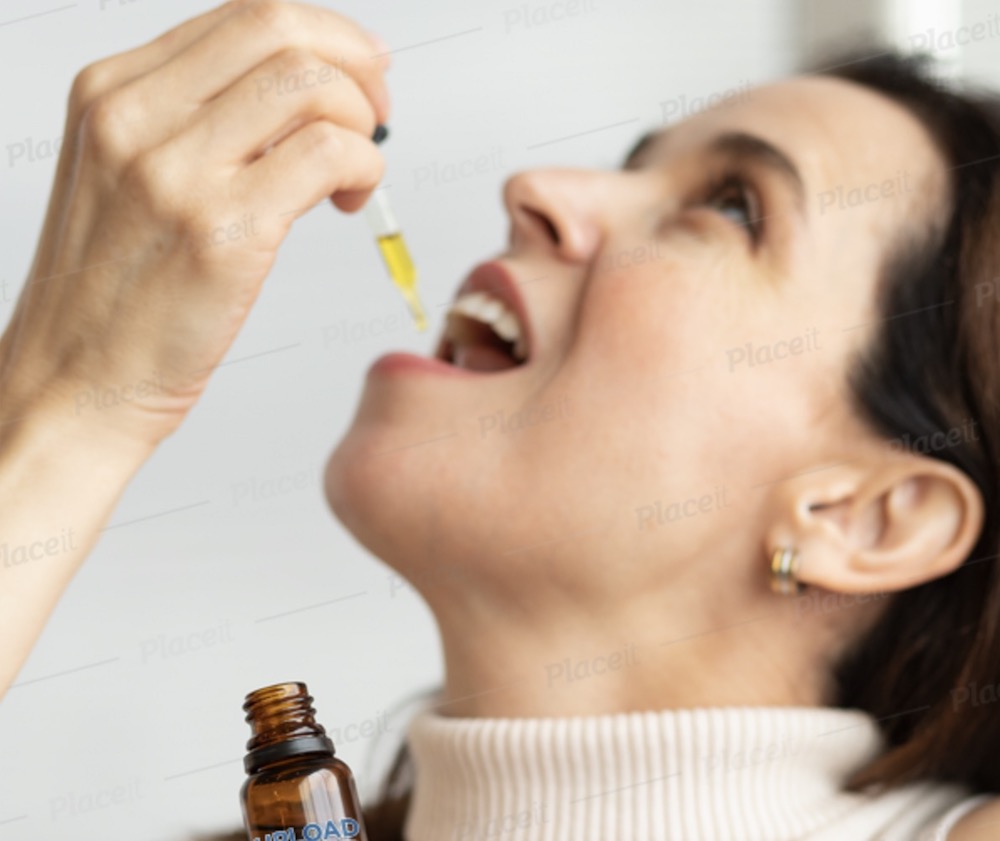 Mockup of a similar style than the one above, just that this one features a woman taking CBD oil.
While the overall presentation is very engaging, the main focus is still on the bottle.
The working area for label design insertion is 600 x 900px.
However, once you upload your image, you can also crop and reposition it before sticking it to the dropper bottle.
Make your cannabis product stand out from the masses and trigger everyone's interest.
MORE INFO / DOWNLOAD
14. Mockup of a woman with a CBD oil dropper bottle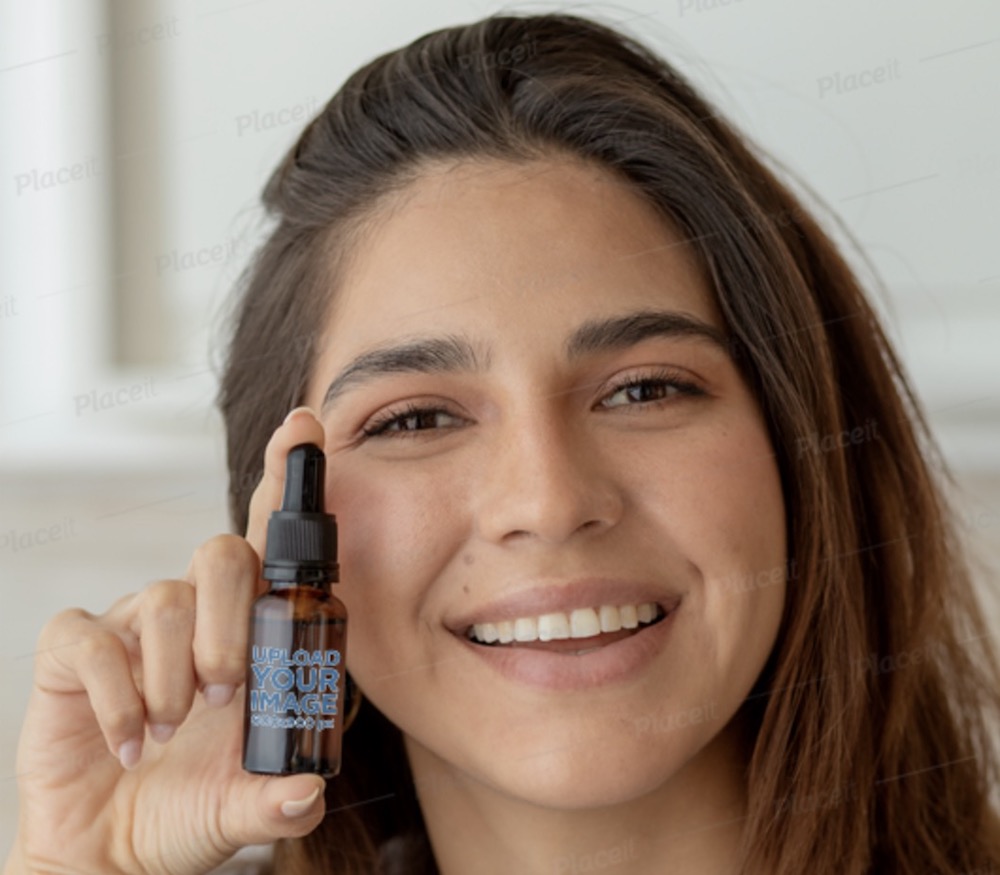 Let's face it; it's a lot better to have a person promote your product than having it on a plain background.
Sure, the latter works, too, but more or less only for eCommerce websites.
This cannabis mockup is excellent because it will grab everyone's attention, even if they are surfing through their busy newsfeeds.
The template features a smiling woman holding a CBD dropper bottle near her face.
But the whole scene will get even more interesting once you insert the label design to create a stand out cannabis packaging mockup.
The mockup also helps you examine your creation in great detail, making you figure out whether it needs any last edits or not.
MORE INFO / DOWNLOAD
15. Mockup of a bearded man using a CBD dropper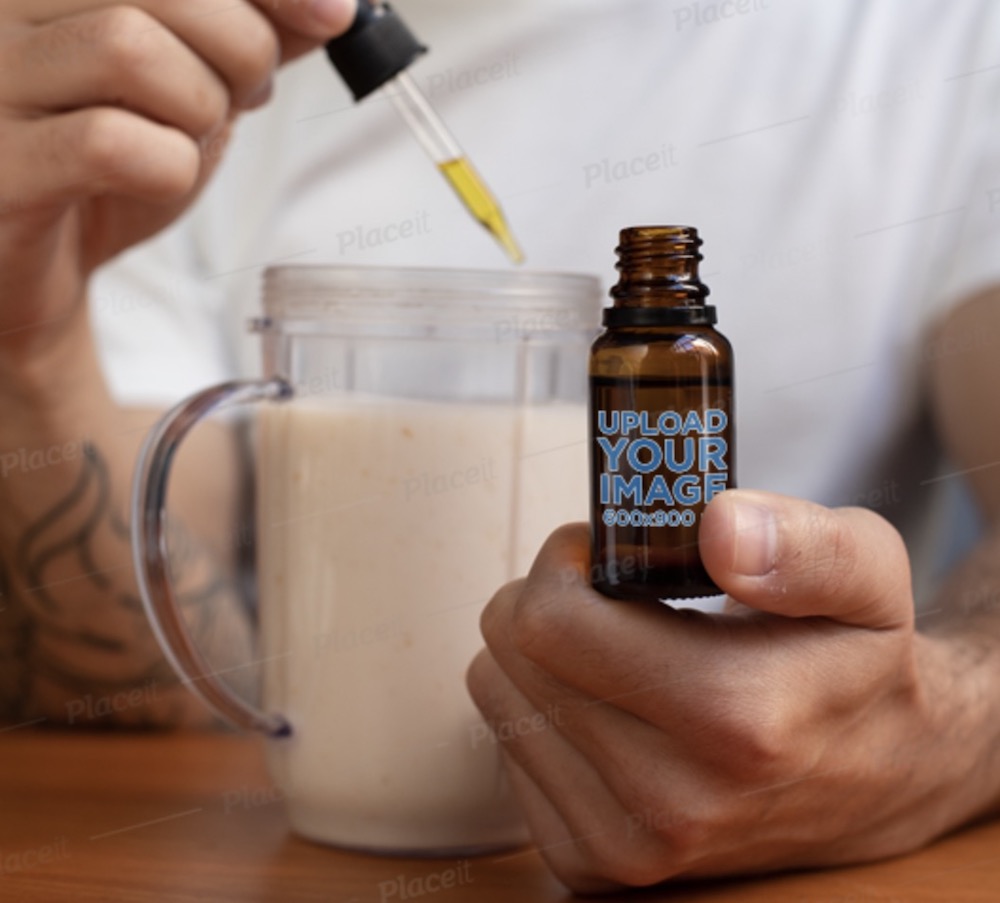 You can do oh so many things with a mockup. You can test the design out, you can use it on your portfolio, you can even create a marketing campaign's visual out of it.
The options are many, especially once you introduce your creative touch.
For a cannabis oil dropper bottle mockup in action, this template will do the trick for many users.
You can quickly decorate it with your design and have the final version ready to rock and roll shortly after.
Go ahead, try it now; you can do it without an account.
MORE INFO / DOWNLOAD
16. Photorealistic mockup featuring a woman taking CBD oil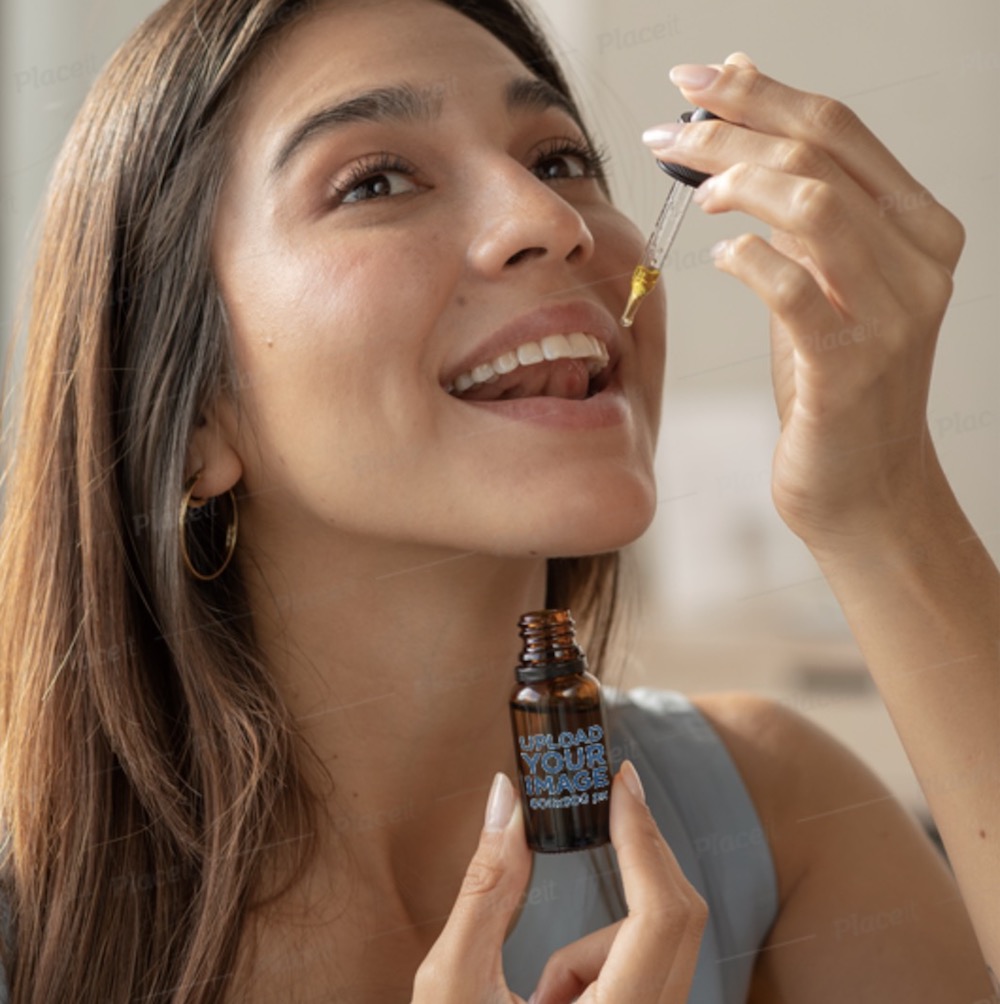 These days, creating a life-like presentation of cannabis packaging is a little breeze.
Hey, you do not even need to take professional product photography.
Instead, a professional mockup will do the trick, and here is another spectacular example.
If you would like to test a female model using CBD oil on your social media, you are welcome to use this lovely alternative.
But the possibilities of use go way beyond that.
Indeed, no need to stick to one objective only. Kick things off in style, decorate the mockup with your design, and go from there.
MORE INFO / DOWNLOAD
17. Dropper mockup for cannabis-related products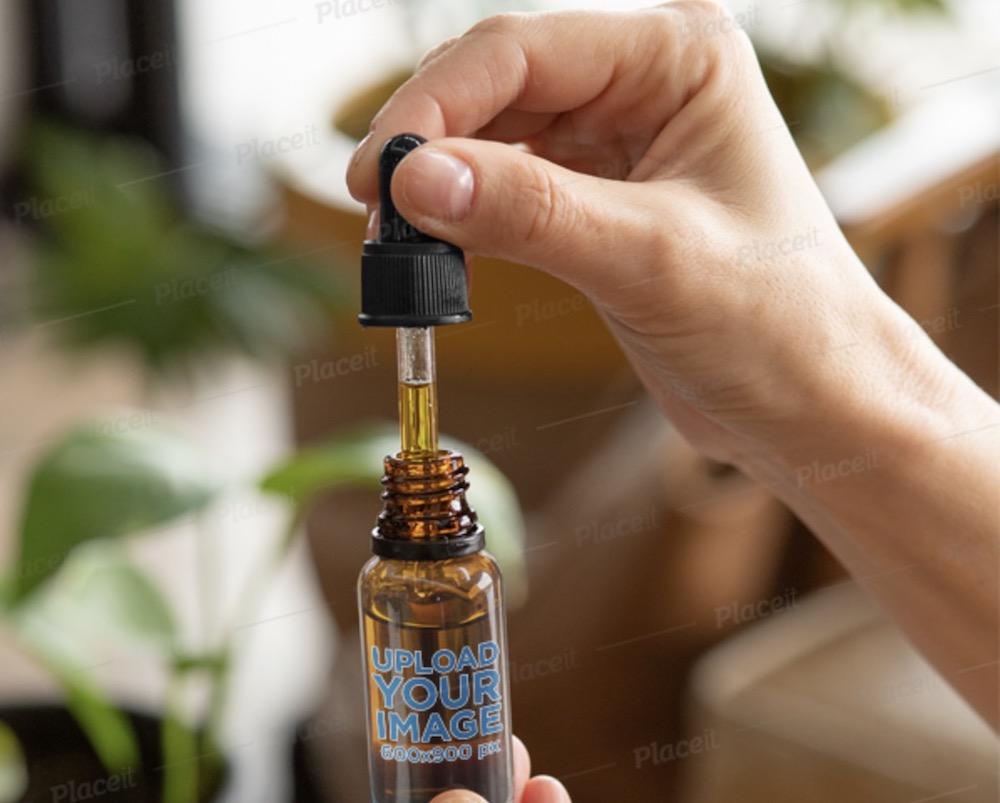 Instead of showing the product too far away, bring it closer to your potential customers.
Even though a CBD dropper bottle is not something the user will pay too much attention to when it comes to design (compared to clothing), since the oil is what matters, the designer will still put the effort to make the bottle pop.
After all, quality design and quality CBD oil go very well hand in hand.
This is yet another top-notch mockup for cannabis-related products that helps with creating a desirable exhibition.
Append your design to it and, well, you are done and ready to shine.
MORE INFO / DOWNLOAD
18. Mockup of a woman showing a dropper bottle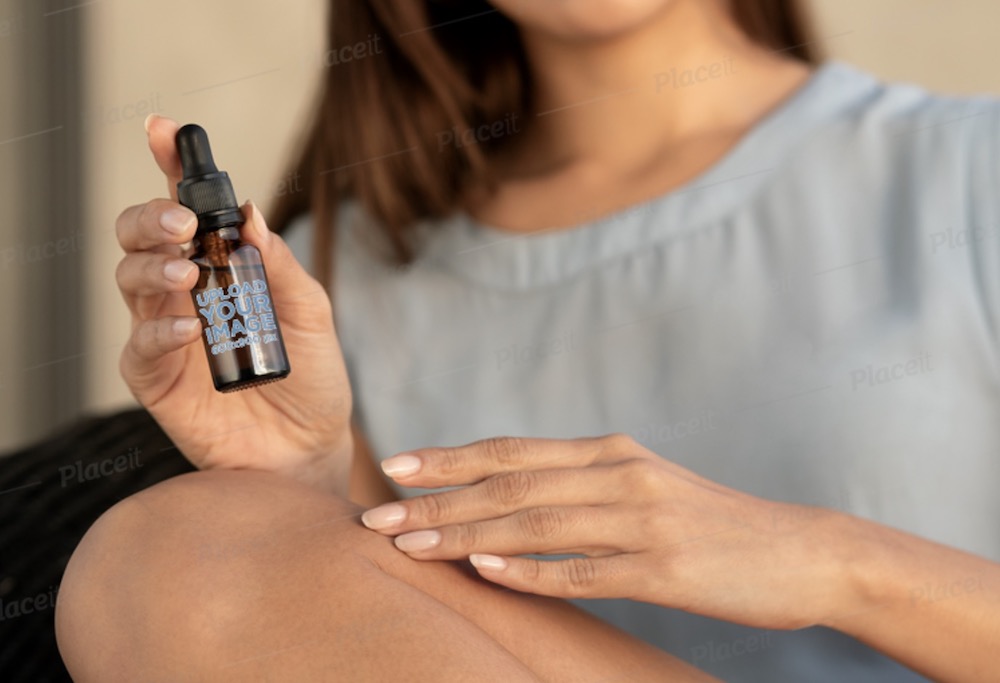 You can take cannabis products both orally, but you can also apply them to the skin, even in food.
If you are trying to push the benefit these products have on the skin, you will find this mockup ideal.
You need not do much work, as it only takes a click to insert your artwork and apply it to the dropper bottle.
You can use just any design or image, even a logo, but you can also replace it and create different variations – the options are very many.
On top of that, you can also play around and add different texts to the mockup.
MORE INFO / DOWNLOAD
How To Make A Cannabis Packaging Mockup?
You can create a realistic presentation of cannabis packaging in a few clicks.
Whether you'd like to display a custom design for a dropper, a mason jar, a cream, you name it – this is the quick step-by-step tutorial that'll help you do it.
And to achieve these speedy results, we'll use my favorite online mockup generator platform, Placeit.
(Remember, you can try and test all their templates for FREE! But I recommend creating a free account first because of the simplified workflow.)
5 Steps To Design A Cannabis/CBD Packaging Mockup:
Step 1: Head over to the Placeit platform and use their convenient search bar. You can type in anything, from "cannabis" and "CBD" to something more specific like a "dropper."
Step 2: Once you find the template that suits your project, click and open it.
Step 3: The first thing I recommend doing is to "insert image" directly from your device. And you can even use a mobile device to make it happen. Once it uploads and the popup window opens, you can change your design's position and size for the ideal fit. Click "crop" to glue it to the packaging.
Step 4: Lastly, perform any other tweaks you want, add text or a graphic, and that's it.
Step 5: Download your creation and start sharing it with everyone.
And that's how effortless it is!
Let's GOOO.
::
Note: This article was originally published on November 14, 2020. But our team regularly reviews it and updates it with necessary improvements for accuracy.