We reviewed and picked the most promising cigarette mockups when working with several clients over the past two years.
Finally! We're EXCITED to share them with you.
Photorealistic templates that get you started immediately. They all come as layered PSD files. (Yup, you need Adobe Photoshop.)
It only takes a few clicks to have a life-like exhibition of a cigarette box ready to go.
You can customize EVERYTHING easily.
Little. Experience. Necessary.
This post covers:
Each mockup comes with smart object layers. Just drag and drop your artwork.
Note #1: Some of the mockups feature a vertical box only and some include cigarettes.
Note #2: Since they go very well hand in hand, we even included ashtrays and lighters.
Make a presentation that stands out.
Quickly and effortlessly.
The Best Cigarette Box PSD Mockups
1. Cigarette box mockup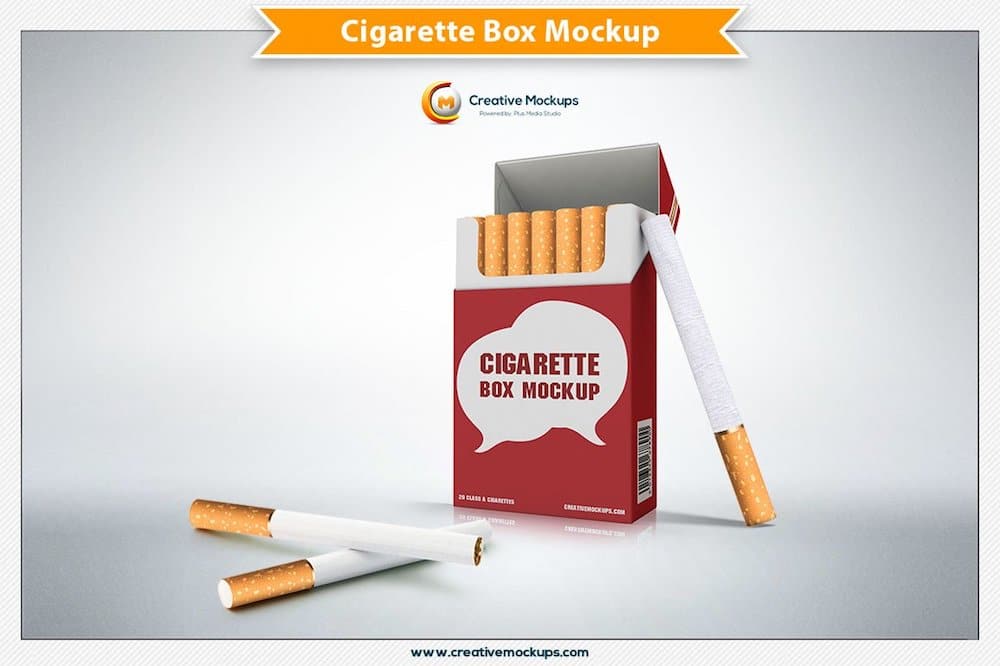 A neat set of five highly photorealistic PSD files of cigarette packs and cigarettes.
Each mockup is fully editable and adjustable, as well as easy to use.
Instead of even thinking of starting from the ground up, pick a template and save time.
This allows you to try a bunch of variations before picking the winner.
Not just that, you can use this set successfully over and over again even if you are working with different clients.
What's cool, you will even find a video tutorial if you need additional help with use.
Price: $10
MORE INFO / DOWNLOAD
2. Realistic cigarette pack mockup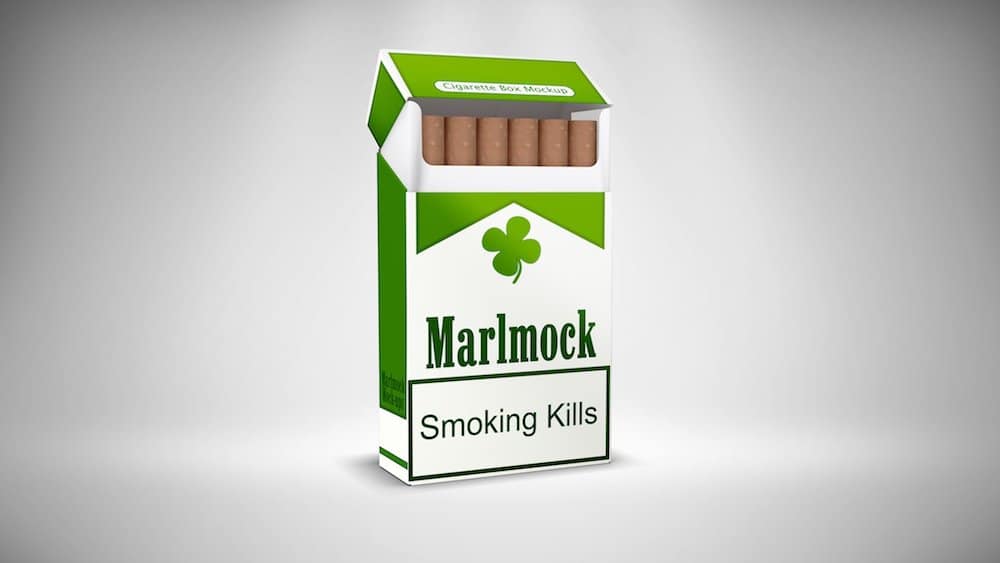 Simplicity at its finest. If you need a quick fix, you can now create a life-like version of a cigarette pack for a small investment.
It is a PSD mockup with smart objects, meaning easy work. You just drag and drop your design and see it appear on the box instantaneously.
No need for any challenging tasks and whatnot.
Moreover, shadow, object and background are also isolated. You can edit the color of the box and the background, too.
Create an outcome that will turn heads without breaking a single drop of sweat.
Price: $9
MORE INFO / DOWNLOAD
3. Realistic cigarette box PSD mockup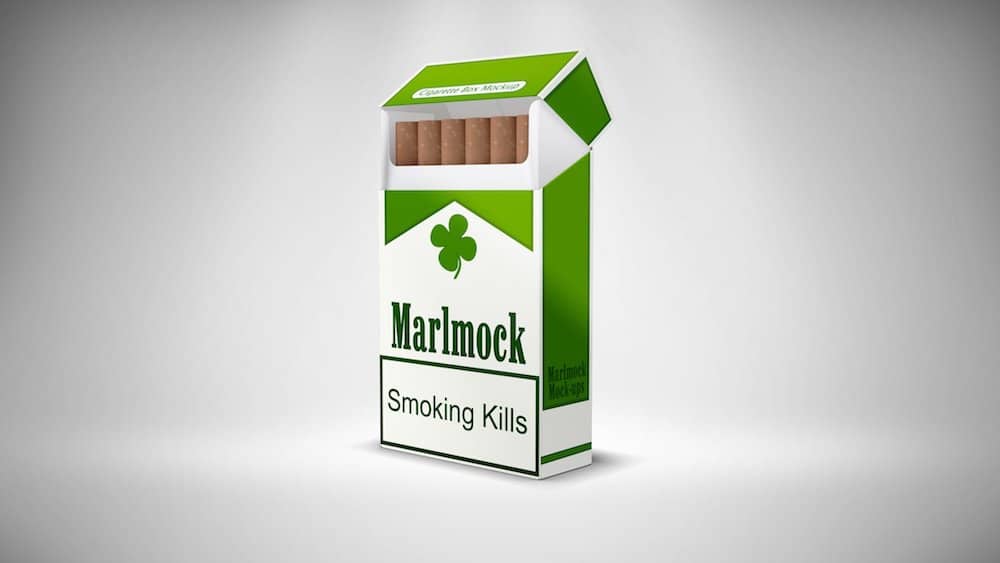 As you see from the image, this cigarette mockup is very similar to the one above, only the angle is different.
It comes at a super high resolution of 3840 x 2160px, ensuring a top-notch outcome.
The quick customization features allow you to introduce your creative touch in just a few clicks.
Even when it comes to inserting your artwork or a logo, you do it via the smart object layer.
For your information, you can even use, remove and add effects.
Finally, everyone will put this mockup into play successfully, thanks to the available tutorial.
Honestly, you do not need any experience.
Price: $9
MORE INFO / DOWNLOAD
4. Cigarette box PSD mockup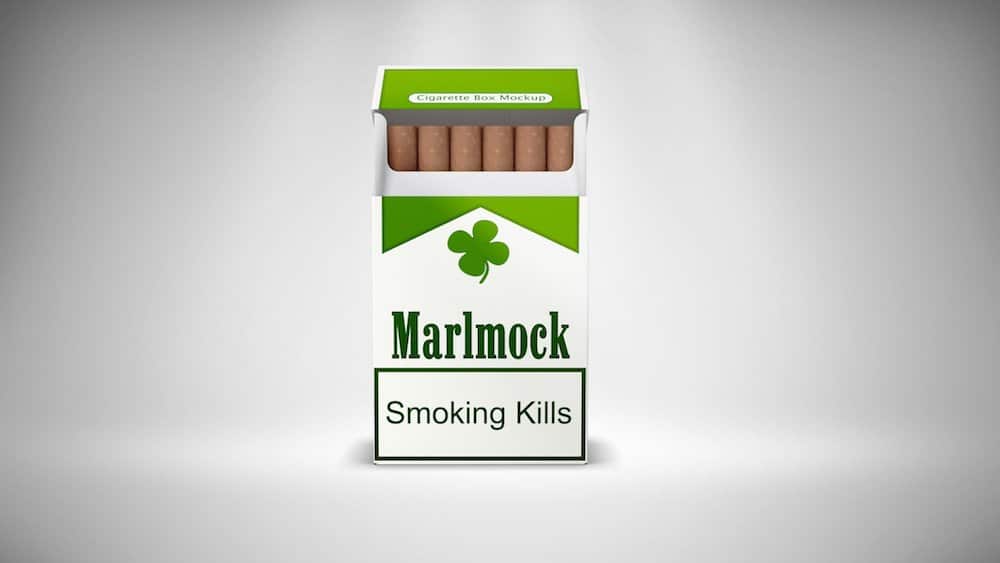 Another from the series of the green-ish cigarette mockups. Of course, you do not need to keep it that way.
Instead, feel free to modify and fine-tune the default settings according to your liking.
You can use any color you want, even altering the background.
Additionally, the template guarantees top-notch quality, so it will still appear crisp clear even if your design is highly detailed.
It takes only seconds to import your design, and you can already see it on the pack.
All the PSD mockups on this list are a little breeze to employ, and this one is no different.
Price: $9
MORE INFO / DOWNLOAD
5. E-cigarette and box mockup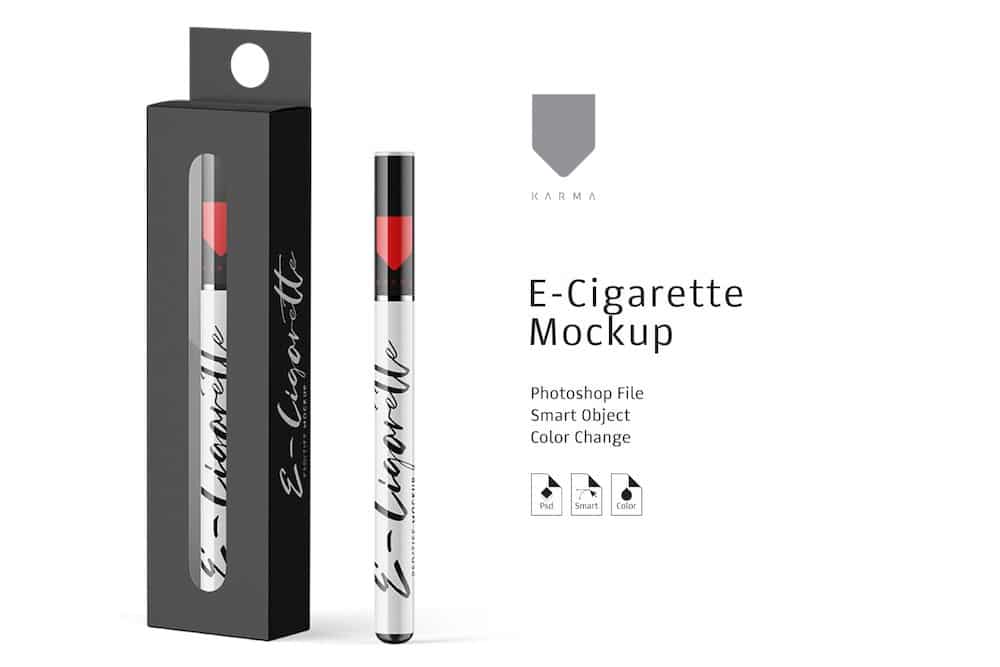 With the popularity of E-cigarettes or electronic cigarettes, chances are, you are in need of such mockups as well.
Here is a cool, clean and impactful alternative that will do the trick.
The template features both the E-cigarette and the box, both are entirely customizable.
First and foremost, you can alter the color of all the items, including the background. And you can also insert any design you want.
You can additionally turn the shadow on or off. (The mockup dimension is 5500 x 5500px.) Open Adobe Photoshop, import the mockup and let the fun begin.
Price: $9
MORE INFO / DOWNLOAD
6. Realistic cigarette mockup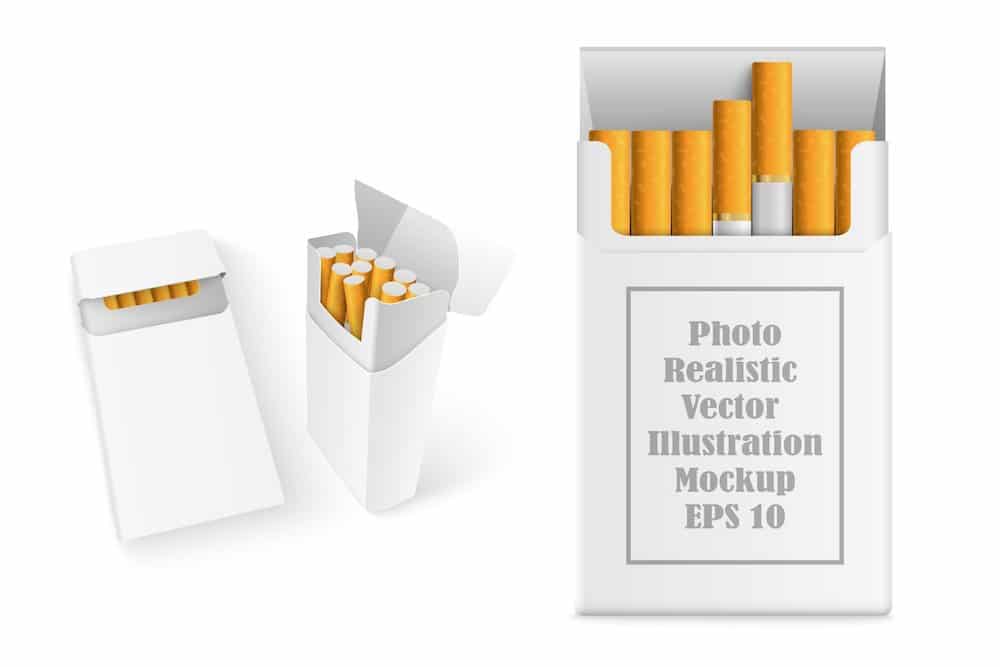 A comprehensive set of blank cigarette mockups for you to put into application. You get the pack at every possible angle, as well as with or without cigarettes.
Keep in mind, this set comes as JPG or EPS file, so it's Adobe Illustrator that will work in this case.
You can create a beautiful and highly realistic outcome that will WOW everyone seeing it.
You can then send the final product to your client, even for promotional intentions and whatnot.
The options are endless, so it's your imagination and your imagination only that may limit you.
Price: $14
MORE INFO / DOWNLOAD
Best Ashtray & Lighter PSD Mockups
7. Ashtray mockup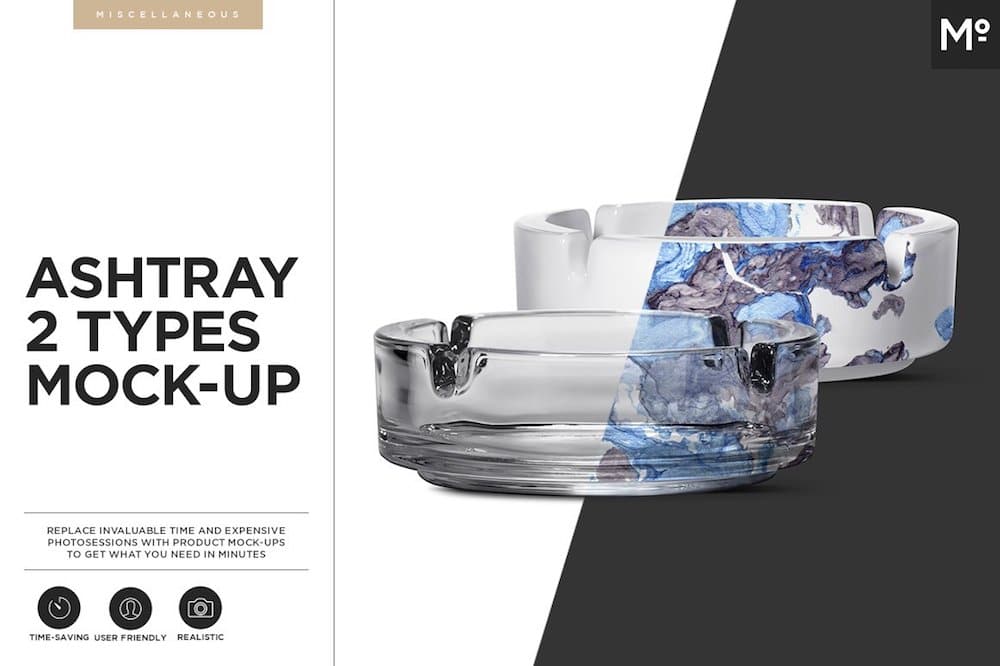 Since an ashtray and cigarettes go so well together, we decide to include a mockup that will do you good.
This bundle includes two different ashtrays for you to work with.
One is glass and one is ceramic. Of course, both are exceptionally simplistic to work with using Adobe Photoshop.
They both come at a dimension of 1800 x 1800px, with a fully layered structure. Needless to say, all the elements of the mockup are editable.
You are all set to go full-tilt and enrich the mockup with your creative tricks to the very last detail.
The outcome can work great in an online store.
Price: $9
MORE INFO / DOWNLOAD
8. Modern gas lighter mockup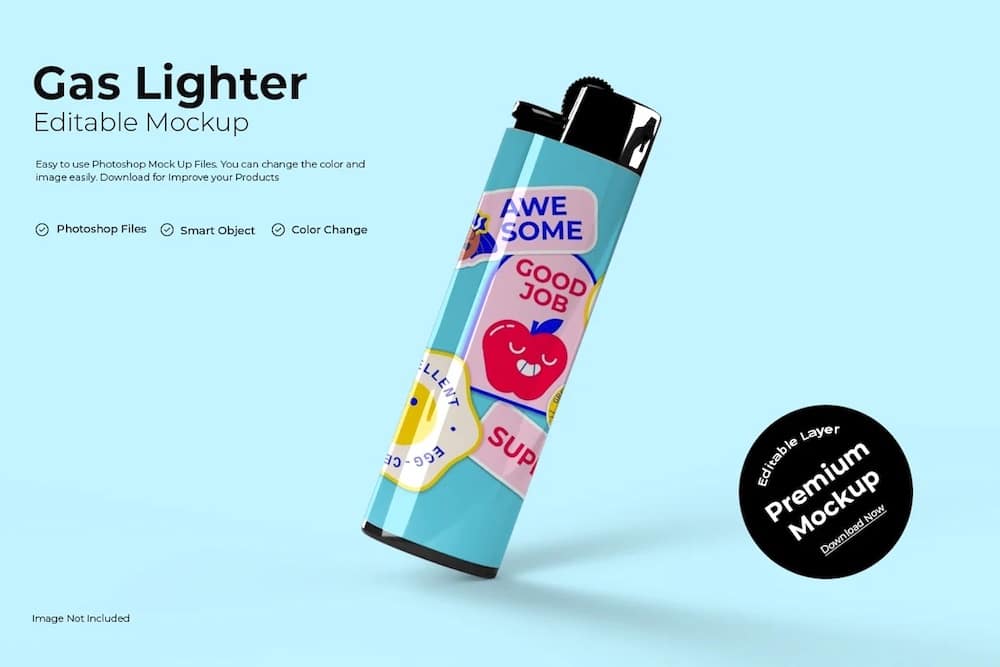 To make this listicle even more helpful, we are also including a few lighters.
After all, without a lighter, a cigarette is just a tube of tobacco.
This minimalistic mockup features a disposable lighter in high resolution. You can attach to it any logo, design, image, or other artwork that you want.
With smart objects, you can have multiple variations ready to go in a mere few clicks.
You can also modify the background, using a plain color, or even include the lighter in a realistic setting.
You have all the options to make the demonstration that follows your directions.
Price: $14
MORE INFO / DOWNLOAD
9. Metal lighter mockup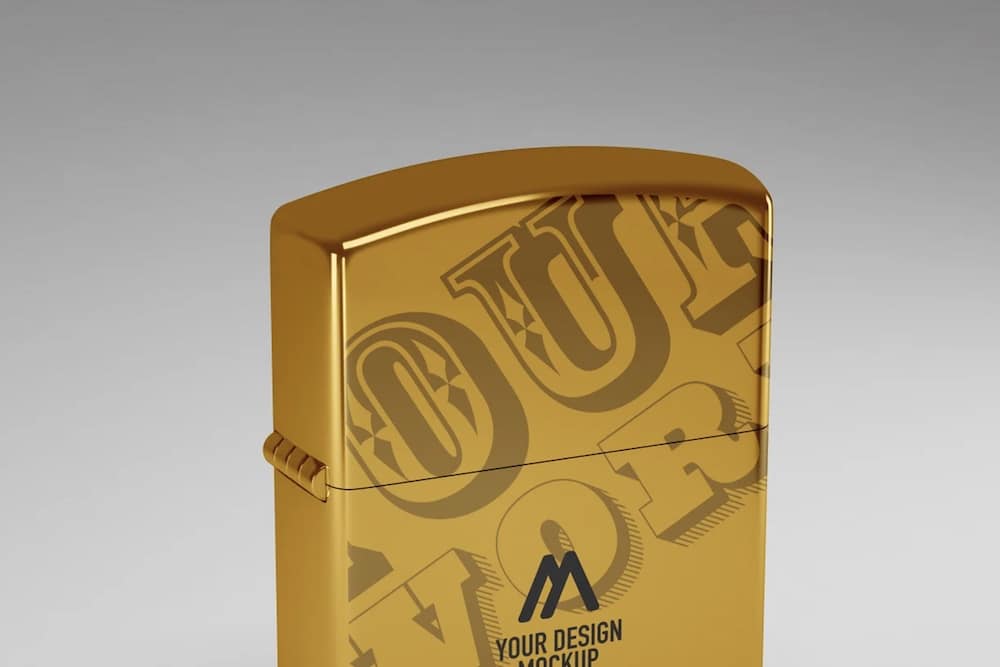 A lighter can also be a great gift for a father or just any friend.
Create a nifty exhibition of your design idea with this beautiful mockup that features your beautiful lighter design.
The outcome will be very engaging, making sure to grab everyone's attention.
It is a PSD mockup, so you will need to work with Adobe Photoshop to make your preferred presentation a reality.
Still, you do not really need to have any experience, as you can learn on the fly. However, you need to have the design ready – without it, you will not come far.
Price: $14
MORE INFO / DOWNLOAD
10. Lighter mockup set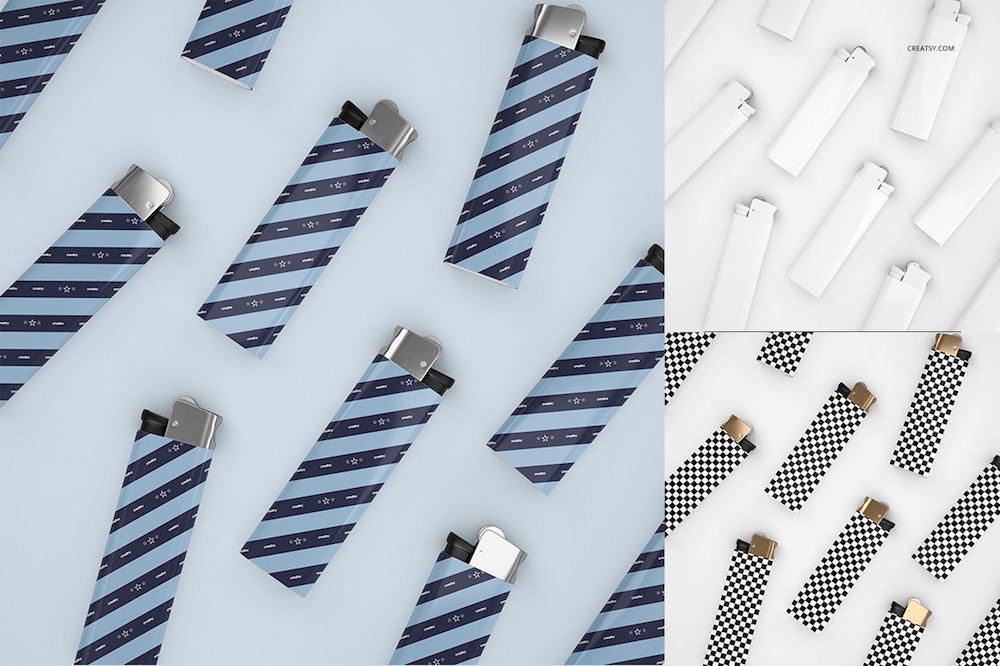 A full-blown mockup set of different lighter views.
You get all the necessary to create a demonstration that will work for numerous intentions with four PSD files.
Each file is fully organized and layered, so working with it will be quick and efficient.
Moreover, everything is editable to the very last detail.
For instance, you can even change the color of the pusher and shroud. You can truly create the lighter that you or your client envisioned.
Thanks to a mockup, you can also A-test the design before production. Finally, each file is 3000 x 3000px dimension (300 dpi).
Price: $15
MORE INFO / DOWNLOAD
11. Zippo flip lighter mockup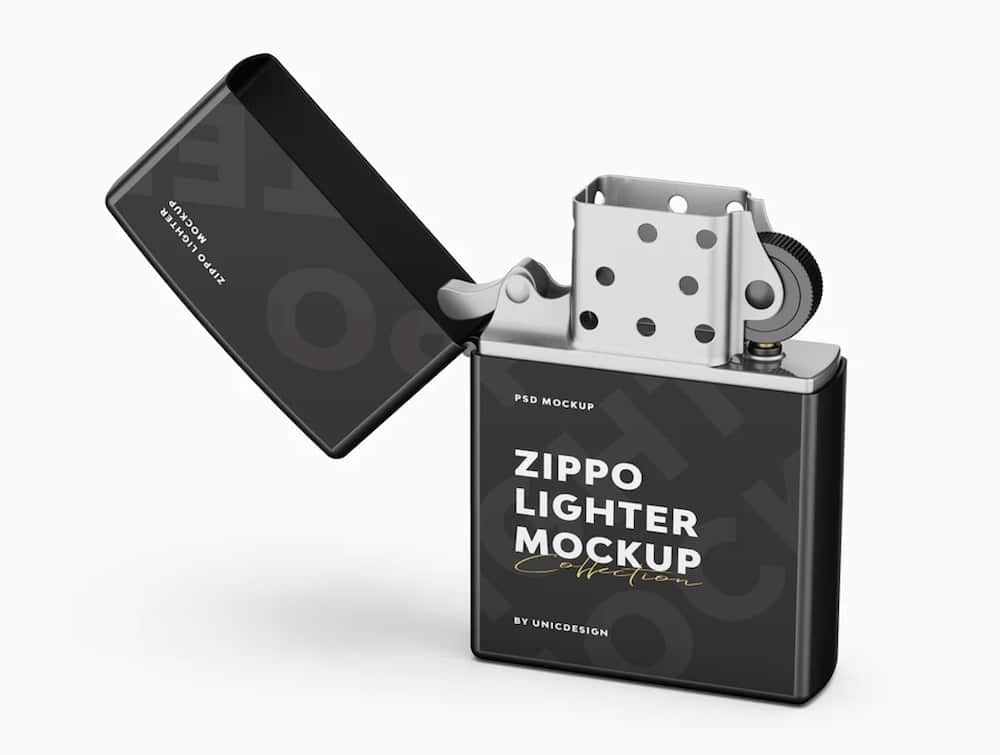 Even though Zippos may not be as popular as they once were, they are still a timeless piece.
If you are designing your own, use a mockup first and go from there.
This particular collection offer four lighter views for your convenience.
Everything is editable.
Each template will do you well, creating a high-quality mockup (3840 x 2614px) of a Zippo lighter.
And the 3D effect is JUST GREAT.
Price: $14
MORE INFO / DOWNLOAD
How To Make A Cigarette Box Mockup?
You have the templates. Now what to do with them?
This is a quick tutorial on creating a realistic presentation of your custom cigarette box design that any beginner can follow.
Plus, you only need basic Photoshop skills to make it happen, which is epic.
5 Steps To Design A Cigarette Box Mockup:
Step 1: Pick the PSD you like from the collection above.
Step 2: Open Photoshop and import the mockup you choose.
Step 3: Look for the smart object layer and slide in your design. It's really only a matter of dragging and dropping it.
Step 4: Because each template I added has fantastic organization, customizing the rest of the mockup will be quick and effortless. Open the layer and configure the settings, add a new background, change colors, etc.
Step 5: Save and download!
Ladies and gentlemen, that's it!
Your job is done.
I usually create a few variations first to test them against each other or even send them to my client for them to decide.
Enjoy.