We knew we needed to put our final selection live after reviewing the market to pick the best glass cup mockups.
Two things made us do it.
First, there aren't many GOOD mockups of glass cups available. And you'd need to visit multiple websites if you decide to search them yourself.
(And you'll find many unreliable options.)
Second, we tested these on LIVE projects (client's social media, newsletters, online stores).
So they come from REAL people's reactions!
But to make it even more user-friendly, we exclusively focused on online mockup generators.
This post covers:
In case you're not following the trends, YES, you can make a mockup without Photoshop.
Only the best mockups for FAST results.
You're welcome.
Best Performing Glass Cup Mockups
We're big fans of Placeit. Before you continue, here are three pricing options: single mockup ($7.95), monthly subscription ($14.95/month) and yearly subscription ($89.69/year).
Note: You can test all of them before even creating a free account.
1. Glass mug mockup of a woman at a coffee shop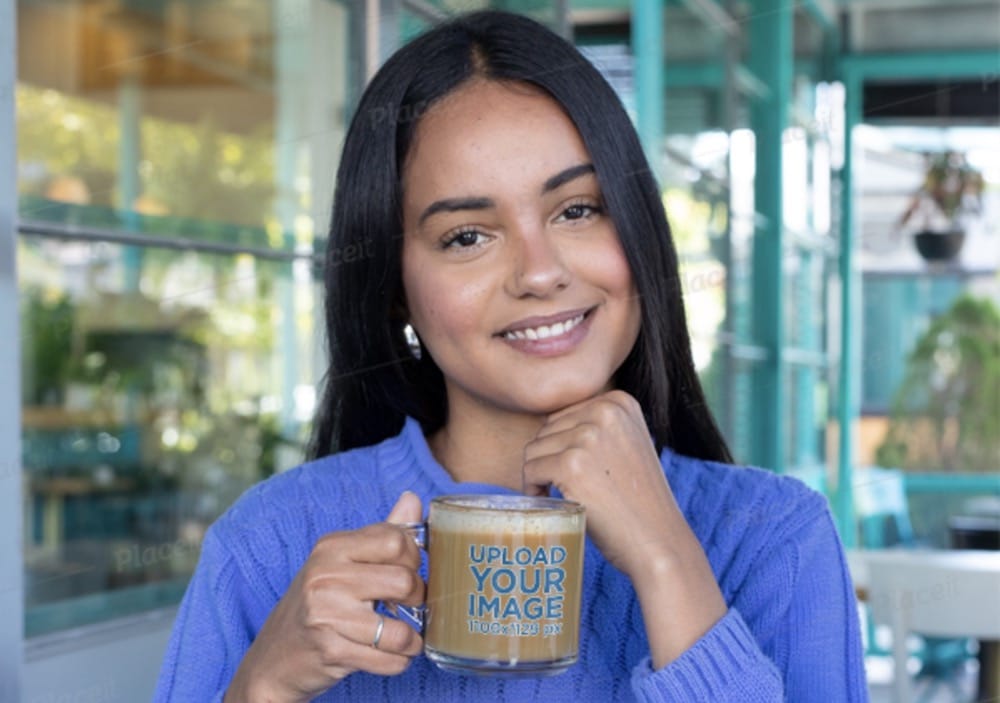 I want to start with the coffee glass mockup that gave us the best results.
Almost immediately, everyone got hyped when we decorated this cool glass cup with a coffee shop's design and put it online.
Hint: the coffee shop had a pretty similar background, so it was a BIG WIN.
But if you are more or less testing things out, by all means, this mockup will do wonders. It's something about images of people "staring" at you, which is what you get from this one.
MORE INFO / DOWNLOAD
2. 11 oz clear glass cup mockup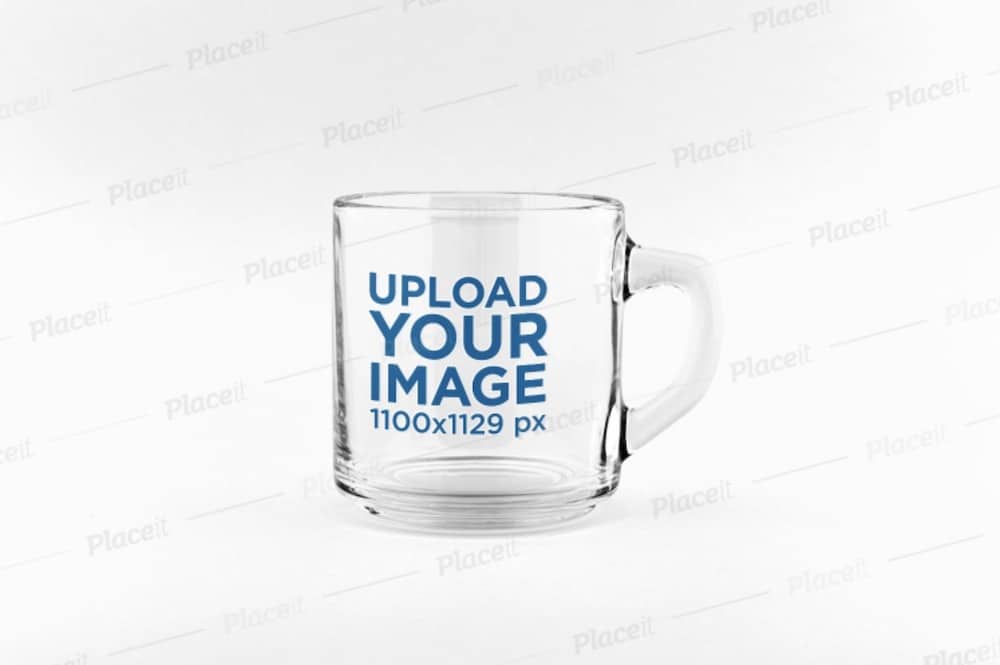 This mockup is pretty self-explanatory. It helps you speed up the process of creating a brandable glass cup.
You only need to access Placeit and you DID 2/3 of the WORK already.
Suggestion: we used this one for an online store.
From then on, it's more or less sticking your design to the cup and changing the background. You can also make the latter transparent if you'd like to use it with your custom backdrop.
Quick work that produces a remarkable result.
MORE INFO / DOWNLOAD
3. 11 oz coffee glass mug mockup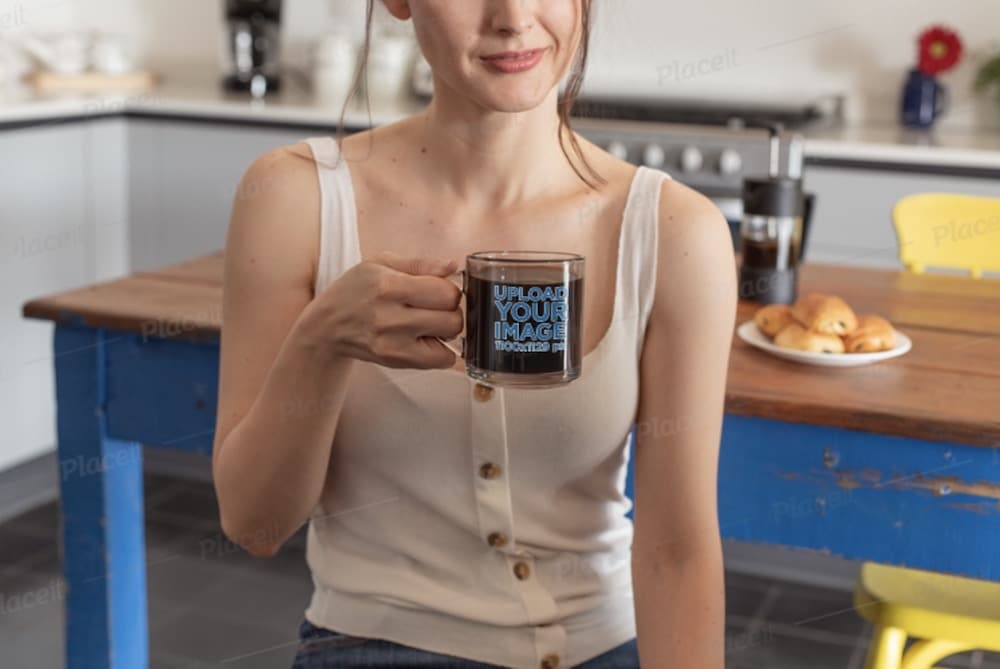 Here's another big hit for us. I'm still not really sure why it drove so much attention, BUT IT DID. And you can now make it yours and see how well it will do for your, too.
It takes only a click to upload your design or logo to the glass mockup.
Keep in mind, Placeit allows you to crop and reposition your image if necessary before sticking it to the cup. 0 design skills necessary.
MORE INFO / DOWNLOAD
4. Transparent glass mug on a rustic wooden table mockup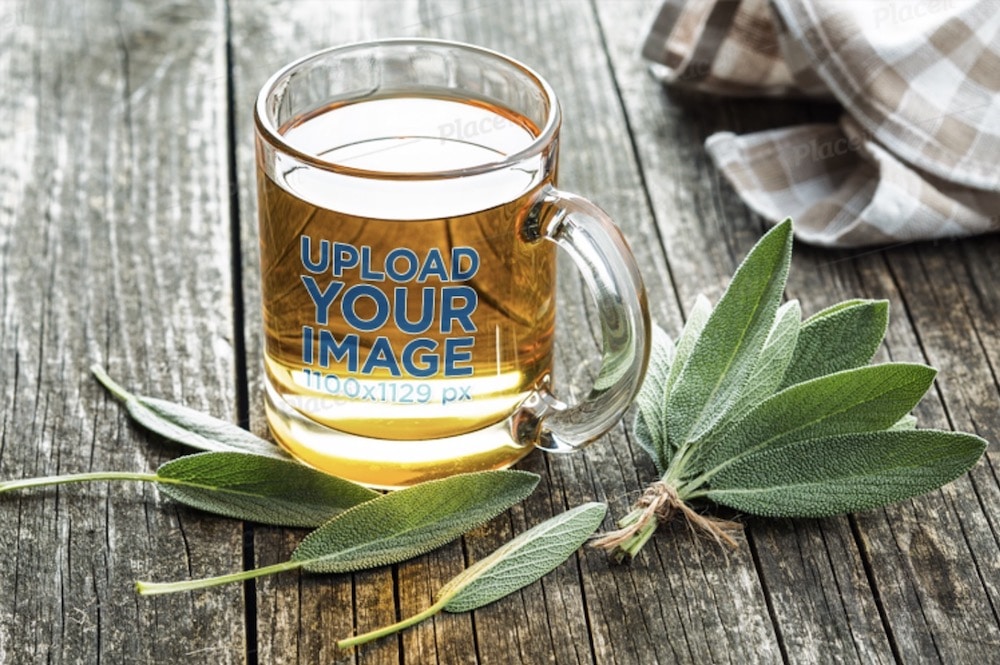 If you run a tea brand or work with a client who does, you'll have a blast using this one.
Especially if it's a sage tea! Mmm, sage. Do you like it as well?
Anyway, the rustic wooden table makes this one STAND OUT. A real eye-pleaser, if you will.
As for improving it with your design, everything happens online. You can even add some text, a call-to-action (CTA), or leave it out.
It's up to you!
MORE INFO / DOWNLOAD
5. Glass coffee mug mockup feat. a bearded man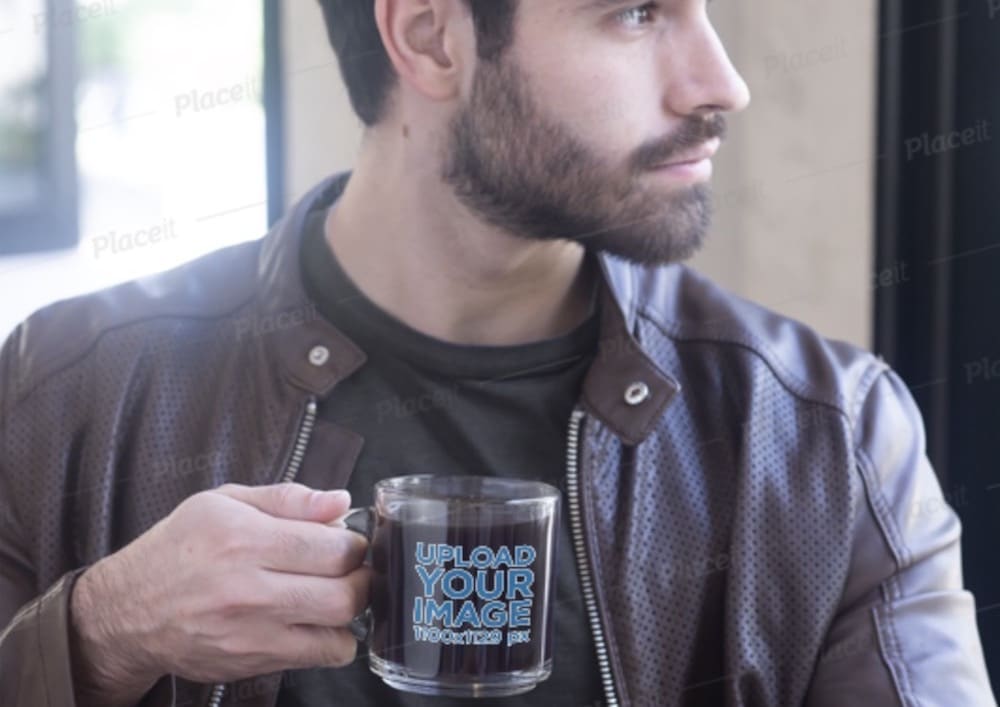 Another highly photorealistic transparent mug mockup of a dude enjoying a coffee at a bar. Or maybe it's black tea?
Either way, you can get things moving in the right direction immediately.
The beautification process happens on the internet, from your favorite web browser. It's so easy; anyone can do it (no Photoshop necessary!).
What's even more exciting, you can test the waters FREE of charge. Go ahead, see it for yourself.
I warn you; you will never want to turn back.
MORE INFO / DOWNLOAD
6. Woman drinking coffee from a glass mug mockup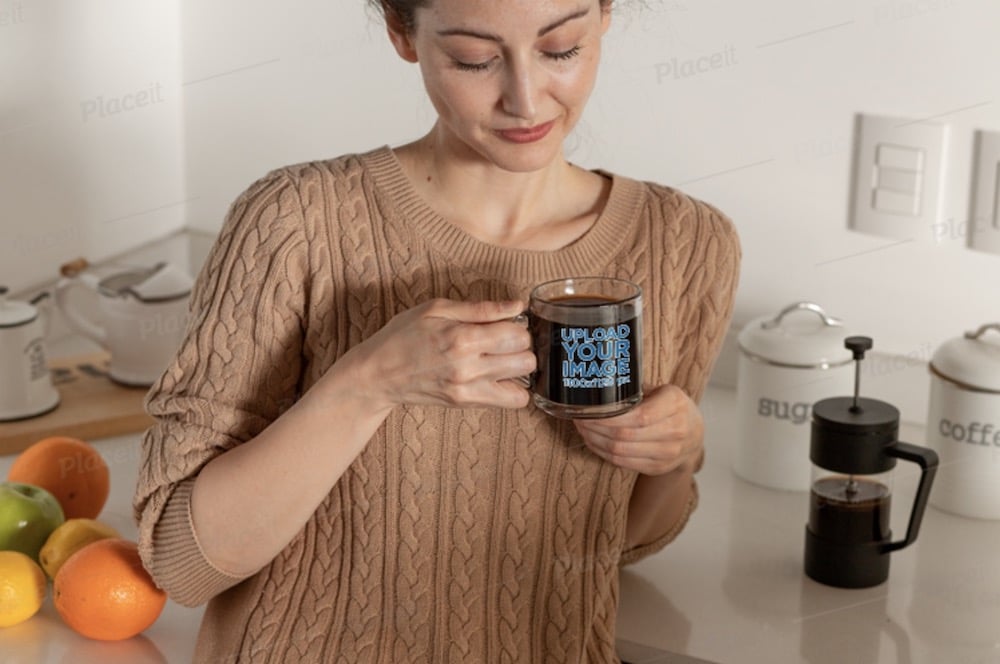 The kitchen environment and home vibes of this glass cup mockup are SUPER on point.
It's a bit crowded in my opinion, but it worked great for the social promotion that we did for one of our clients.
We even went one step further and created two variations.
One featuring just the branding and one with branding and text (hit the "add text" button).
We split-tested it and went with the (obviously) winner.
MORE INFO / DOWNLOAD
Need more? We already investigate, reviewed and collected the best paper cup, eco cups and enamel mug mockups, too.
Scroll. Pick. Win.
7. Glass beer mug template at a bar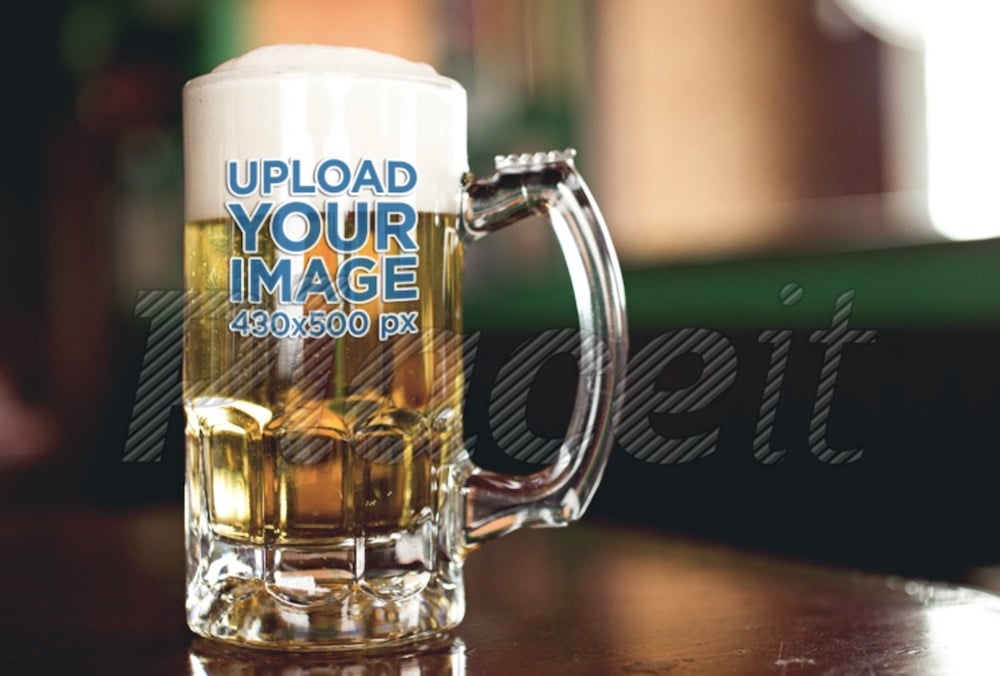 A drinking glass mockup filled with tap beer and a nice portion of foam. BTW, I'm not really into beer foam.
You will EASILY make this one pop no matter where you plan to use it.
Social media will be a winner in this situation (even a website or a blog post).
Quickly insert the image/logo, slide in some text (optional) and you are ready to roll.
MORE INFO / DOWNLOAD
8. Glass mug mockup feat. a woman reading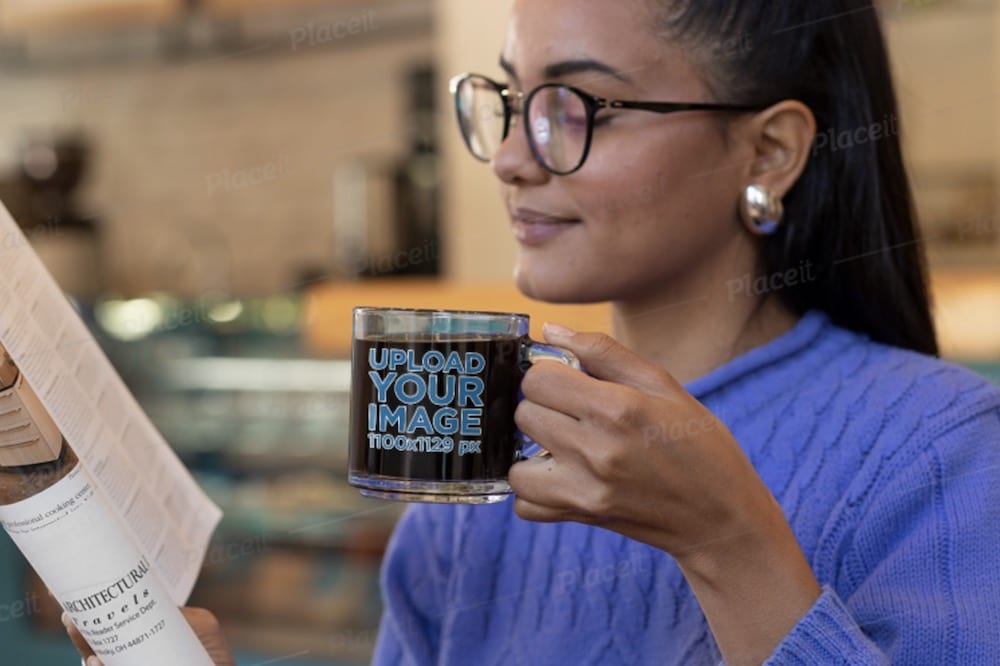 This lady sure does know how to put an extra shine on the glass cup, making it look very natural.
You can now make it yours either for an actual final product or to help your client visualize the outcome.
Everything you do over on Placeit requires no experience and skill. You can even use your MOBILE DEVICE to make a mockup.
You read that right!
MORE INFO / DOWNLOAD
9. Mockup of an 11 oz clear glass cup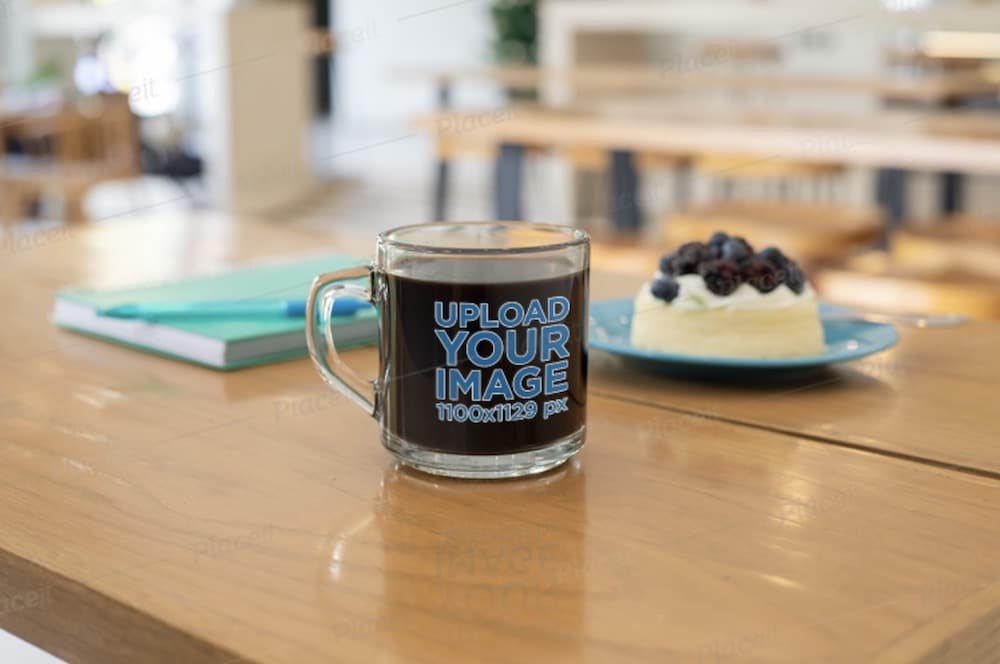 This is another of the glass cup mockups that we tested a little more than the others.
We didn't want to include people and we also didn't want to make it look too plain.
This alternative made perfect sense to use in creating an attention-grabbing presentation. And it worked really well.
What's almost ABSURD when you think about it: it took us seconds to make it happen.
MORE INFO / DOWNLOAD
10. Mockup of a glass mug on some books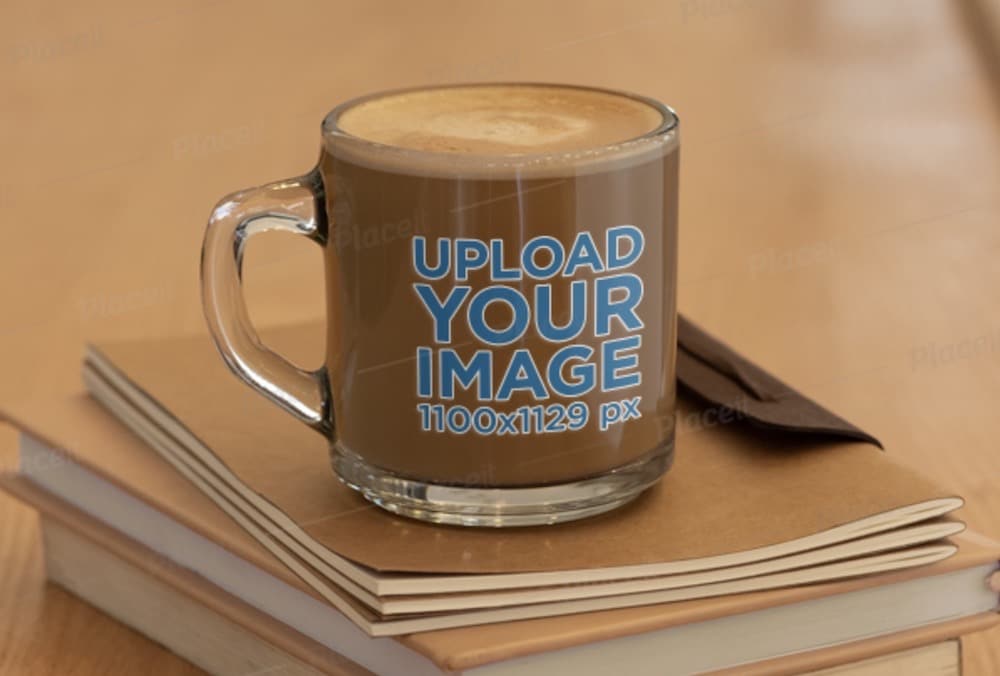 A freshly brewed cup of latte and study time, anyone? You can create a similar atmosphere with this easy-to-use mockup.
It offers you to create as many different variations as you want first before choosing the top dog.
More or less, you need to upload your designs to the Placeit platform, and that's it.
How COOL does that sound?
MORE INFO / DOWNLOAD
11. 11 oz clear glass tea mug mockup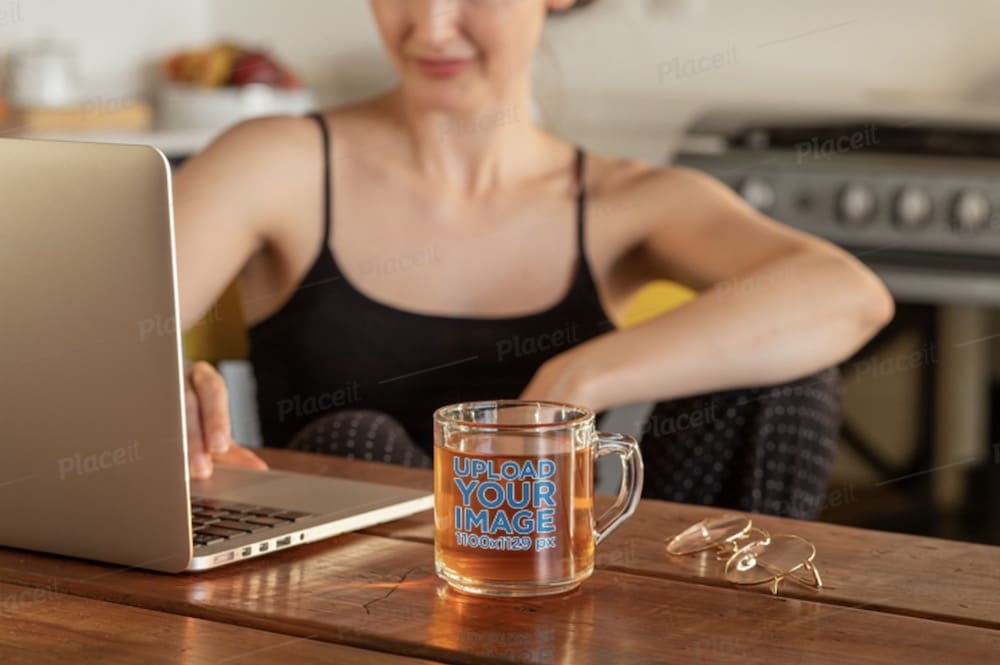 I force myself not to do it but working on your laptop while seeping on a warm tea feels good. I don't want to spill it!
Create a life-like demonstration of the glass cup design idea you have WITHOUT a SWEAT.
You will almost want it to last longer – improving the mockup – because it's so much fun.
But you can play with different text variations in case you'd like to get even more eyeballs on your image.
MORE INFO / DOWNLOAD
12. Woman drinking tea from an 11 oz glass mug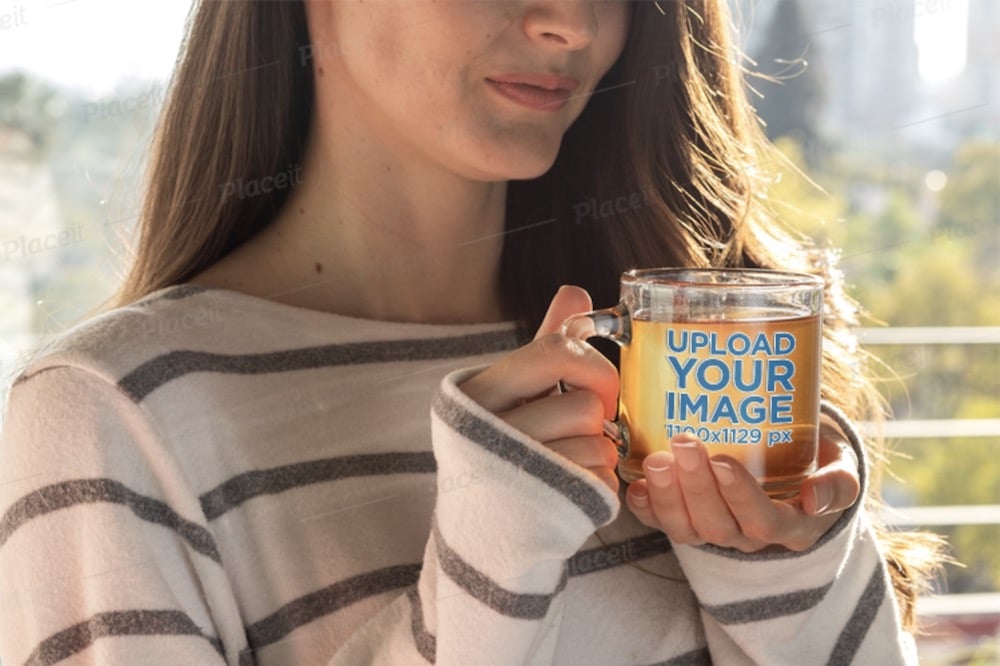 Tea brands will be excited to use this mockup. On the other hand, if you sell glass cups, you'll be down to make a life-like presentation with this one, too.
Avoid going with a boring presentation or a stock image when you can make it look more natural with the right glass cup mockup.
If only we can, we always opt for a mockup with a model. Still, we like testing other variations (without the human element), too.
After all, you never know.
Note: The design we think will work best almost always fails.
This was driving us CRAZY in the beginning, but we eventually got used to it. That's why testing is so crucial for success.
MORE INFO / DOWNLOAD
13. Mockup of a man drinking from a glass mug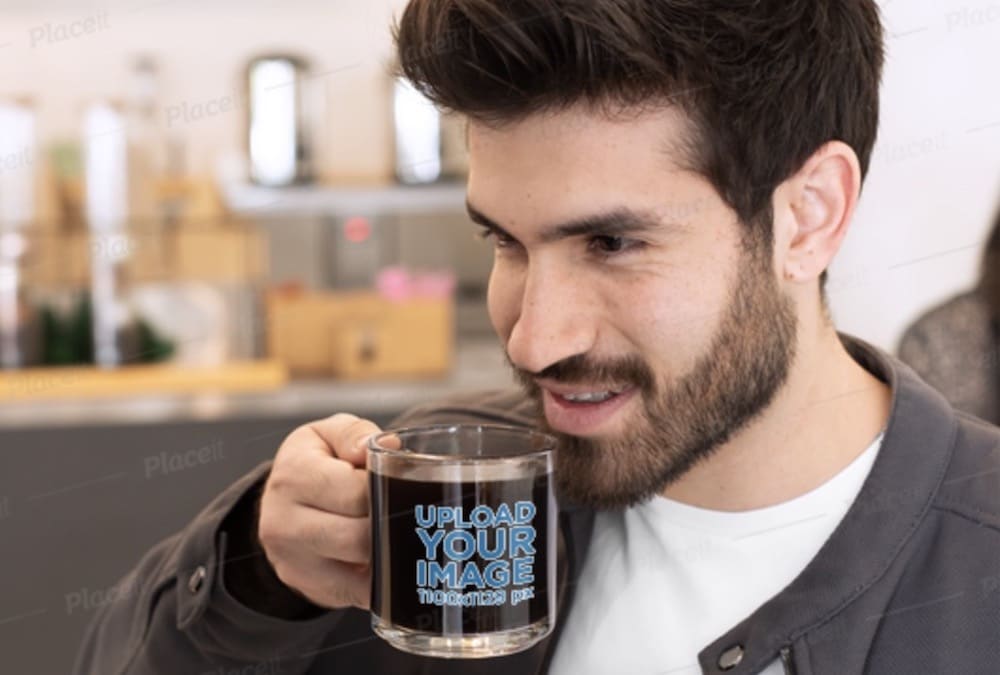 Coffee and bearded dudes go hand in hand very well. But you don't need to hire a model and a photographer to make the magic happen.
Imagine having an online champ that does it all for you? That's when an online mockup generator comes into play.
I'm sure if you scrolled all the way here, you already tried at least one of the glass cup mockups. How FUN was it?
MORE INFO / DOWNLOAD
If you lack design inspiration, I couldn't find a better place than Etsy to BOOST your imagination.
But I warn you; there are hundreds of thousands of results.
OMG!
14. Clear glass coffee mug mockup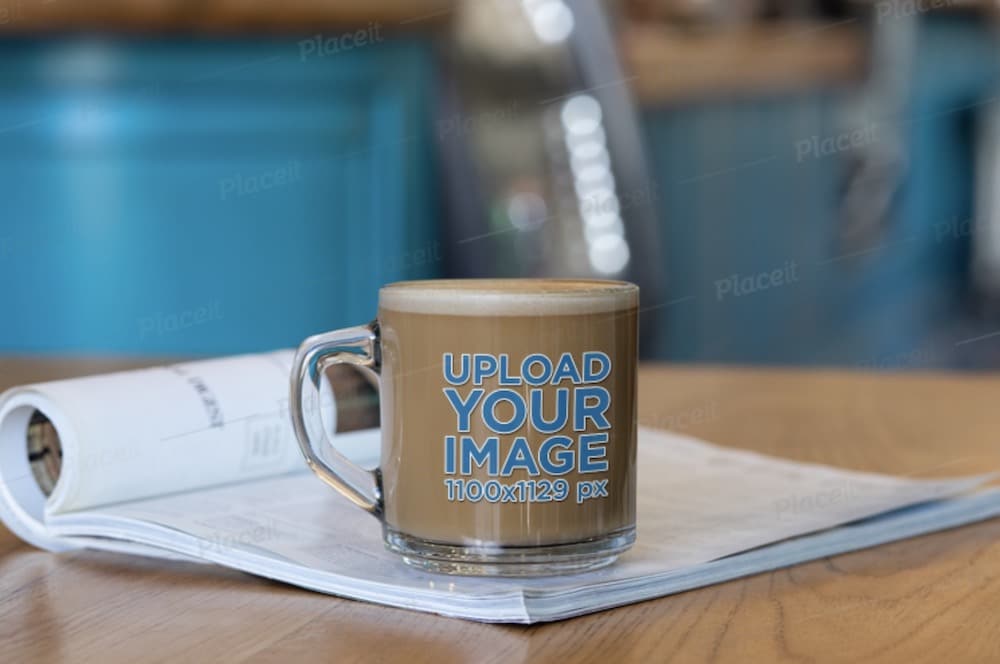 Okay, so I don't bombard you only with cups in hands, let's focus on another beautiful alternative, featuring the cup only.
We couldn't resist using this one for three of our clients. Keep in mind, each is located on a different continent.
I would never use the same mockup for different clients locally – people would notice TOO QUICKLY.
The presentation worked for two excellent but didn't perform too well for another client.
Maybe because we later learned that they switched from glass to porcelain cups.
MORE INFO / DOWNLOAD
15. Man at a bar with a beer mug template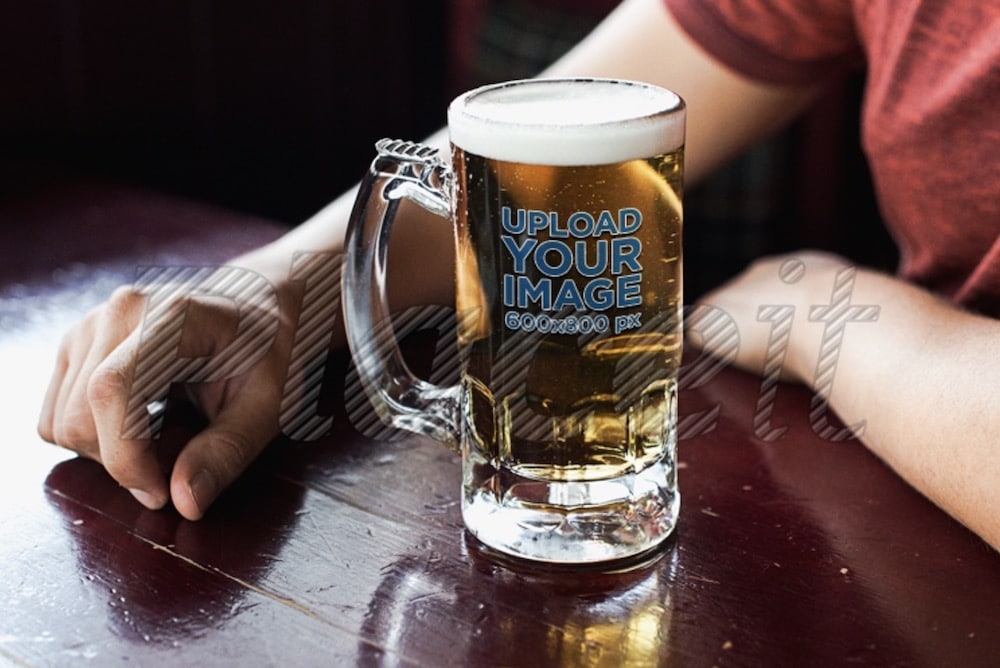 Everything about this mockup feels like it was shot at the local pub. So. Realistic.
And that's a big PLUS.
As for you – the designer (even though you don't have to be) – improving the mockup will be a child's play.
Insert your image directly from the device and see it appear on the mug with a click.
If you are already using Placeit and have designs in your account, pick those (no need to upload them again).
So. Effortless.
MORE INFO / DOWNLOAD
How To Create A Glass Cup Mockup?
Whether you're in a hurry or you have time, this little guide is for everyone who wants to create a professional custom glass cup presentation.
It doesn't take you much time, plus, you can do all the work online without ever touching Photoshop.
How cool does that sound?
5 Steps To Make A Glass Cup Mockup:
Step 1: Visit Placeit and use the search bar to type in "glass cup mockup" or anything else that relates to your project. The live results will help you pick the right query even easier. (Note: I recommend creating the free account first because you'll enjoy a smoother workflow.)
Step 2: Find the template that you dig, click on it and then navigate the "insert image" button, which allows you to upload any design from your favorite device, including mobile (!).
Step 3: You'll notice a popup window opens with two options. First gives you a chance to change your design's location and the second allows you to zoom-in/zoom-out (resize) it. Often times, I don't even need to use these features and just click "crop."
Step 4: Then do other tweaks that the mockup generator equips you with, and you're done.
Step 5: Click download and your mockup is ready.
And because Placeit offers you to test all its mockups for free, you can have a lot of fun creating as many variations first before settling with the winner.
::
Note: This article was originally published on May 18, 2021. But our team regularly reviews it and updates it with necessary improvements for accuracy.