Hey, welcome to our best Kindle mockups review, where we feature all three versions: free, PSD and online generator.
We spent multiple months testing 100s of Amazon e-reader mockups for your amazing eBook presentations.
Here are our 16 BEST picks based on simplicity, photorealistic appearance and price.
Quick post navigation
You CAN'T go wrong with any of these mockups.
They all deliver a powerful, impressive eBook or another design showcase for a very low price.
Enjoy!
Best Amazon Kindle Mockup Generators
These are excellent if you are looking for an alternative way to create a mockup without Photoshop.
Placeit offers three pricing options: $7.95/mockup, $14.95/month (subscription) or yearly $89.69/year (subscription).
1. Kindle mockup of a woman reading at a cafe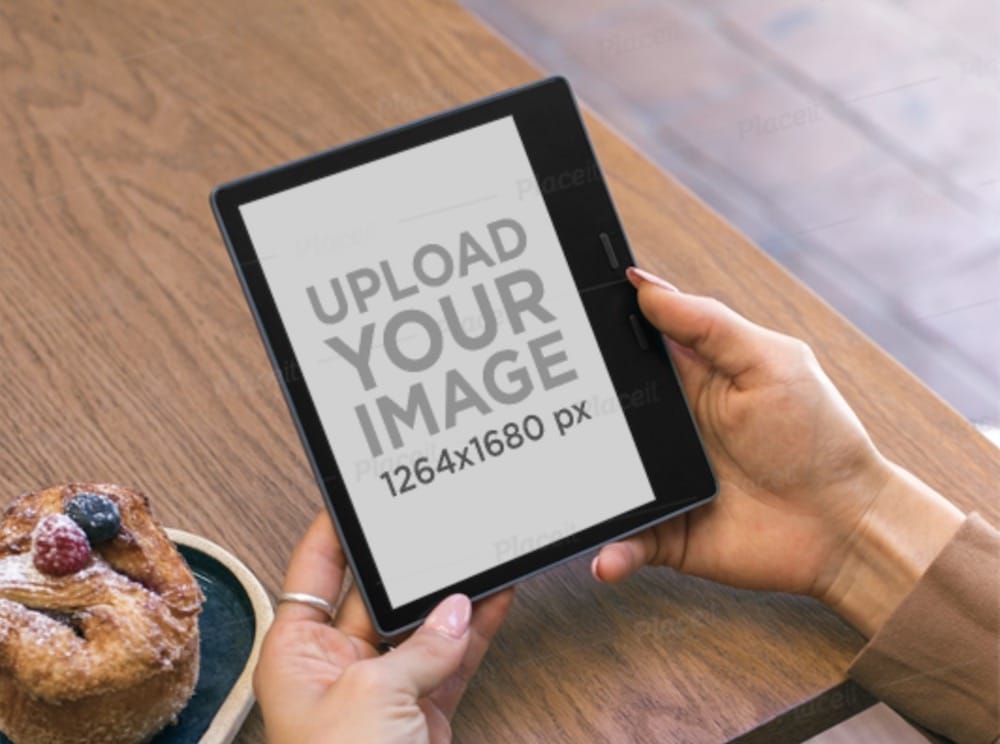 Make it as realistic as possible when using a Kindle mockup to present your eBook.
This solution features a woman in a restaurant, reading on her e-reader while enjoying herself a delicious muffin. I'm in for the muffin, but all the rest looks good, too.
But it's only about the looks, I also found it performs really well after testing it on social media.
With the quick customization options, you can improve the default settings easily – no need for design skills.
Open Placeit (I recommend you create a free account first because of the smoother workflow), slide in your image – and that's it.
Now that was FUN.
MORE INFO / DOWNLOAD
2. Mockup of a Kindle Oasis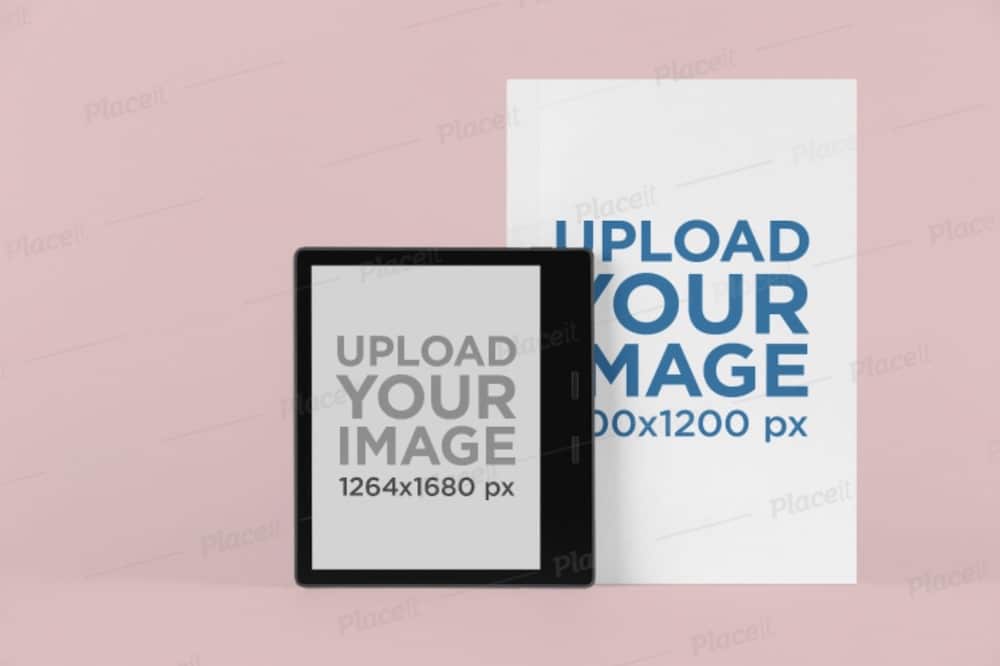 Create an amazing presentation of your book/eBook with an easy-to-use mockup template.
This one goes the EXTRA MILE, featuring Kindle Oasis but keeps the look on the minimal side.
You can alter the color of the background and the book with a single click.
You can even make the background transparent in case you would like to use a custom one.
Additionally, insert images to the Kindle and the book with two more clicks and you're done and ready to roll.
MORE INFO / DOWNLOAD
3. Mockup of a woman reading Kindle Paperwhite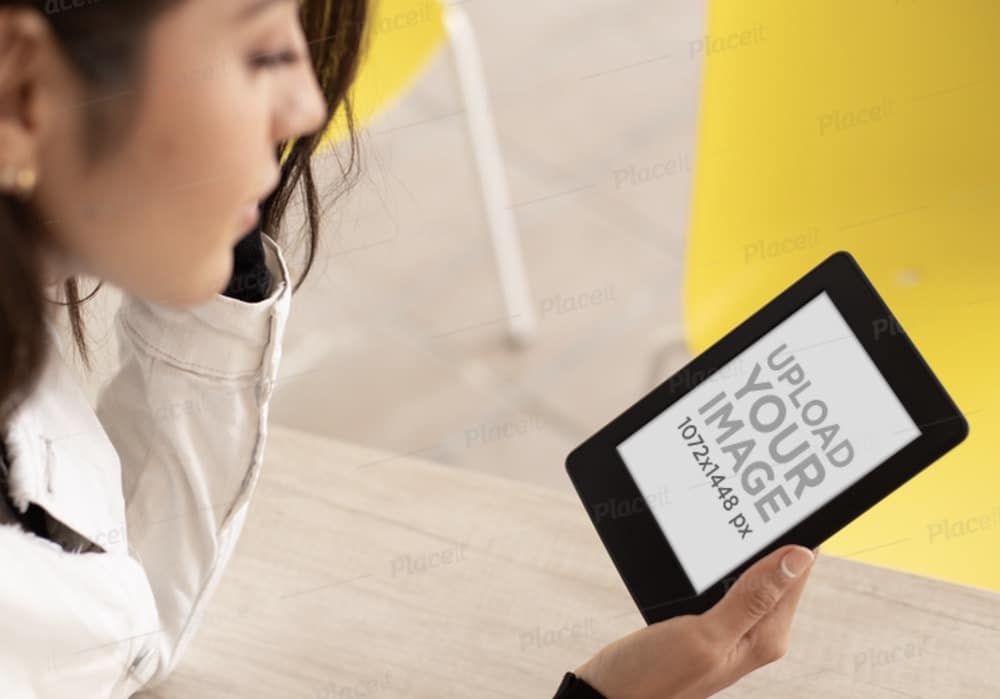 A Kindle Paperwhite mockup of a woman reading, which takes things to Level Eleven.
These days, you don't need to have a Kindle to create a fantastic and life-like presentation of your eBooks.
All you need is a mockup that will take you a little time to improve according to your liking.
This and all the other online Kindle mockup generators allow everyone to get creative and come up with an impressive outcome swiftly.
Feel free to test it out first and see how AWESOME it is.
MORE INFO / DOWNLOAD
4. Mockup of a girl holding a Kindle Paperwhite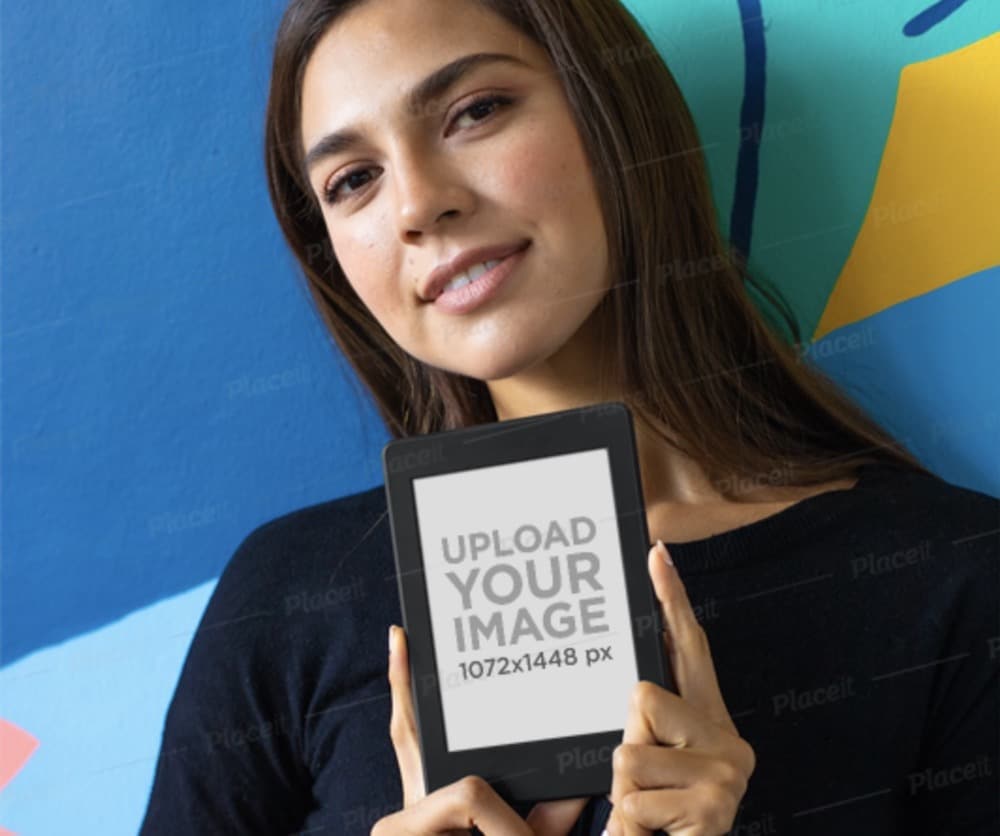 Whether you would like to opt for a Kindle book mockup with or without a model, I gathered a bunch of different variations for you to WIN.
Here is another attention-grabbing, life-like alternative of a woman holding a Kindle Paperwhite.
The colored background/wall and her black shirt really make everything pop.
All that's missing is your eBook – so slide in the image/artwork now; it will take no time at all to make it happen.
MORE INFO / DOWNLOAD
5. Kindle mockup on a flat background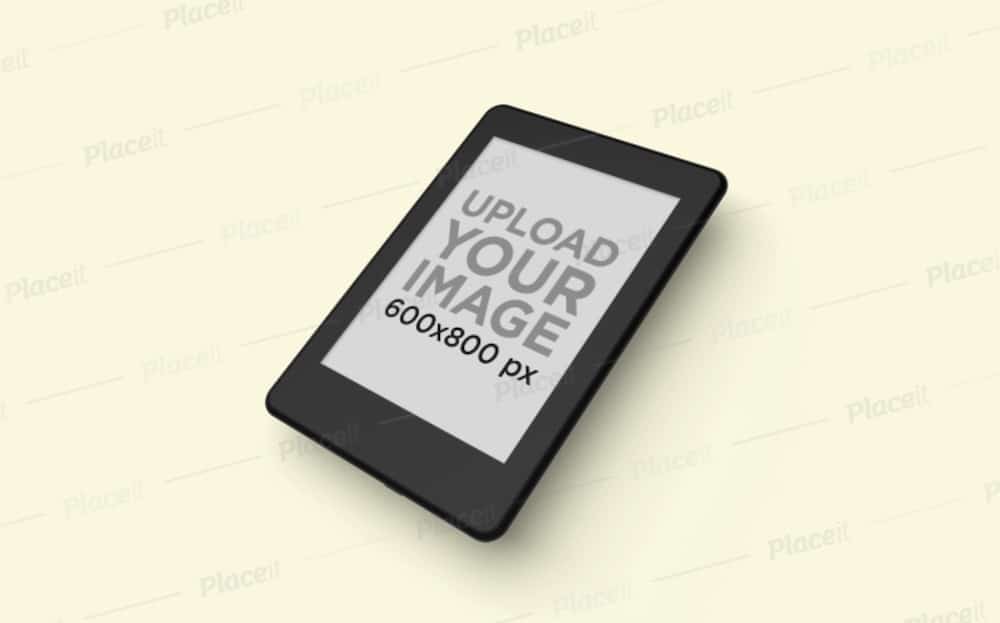 Simplicity at its finest. That's what you get with this particular eBook reader mockup.
Kindle seems to float on a solid color background at an angle, with a shadow effect, making it MORE realistic.
There are three configurations that you can undergo:
Change the background with the easy color picker
Insert an image directly from your device
Add any text you want (color & font options)
How A W E S O M E is this? Now go ahead, make it happen and start pushing the boundaries of your online eBook promotion.
MORE INFO / DOWNLOAD
6. Mockup of a Kindle Paperwhite and a book cover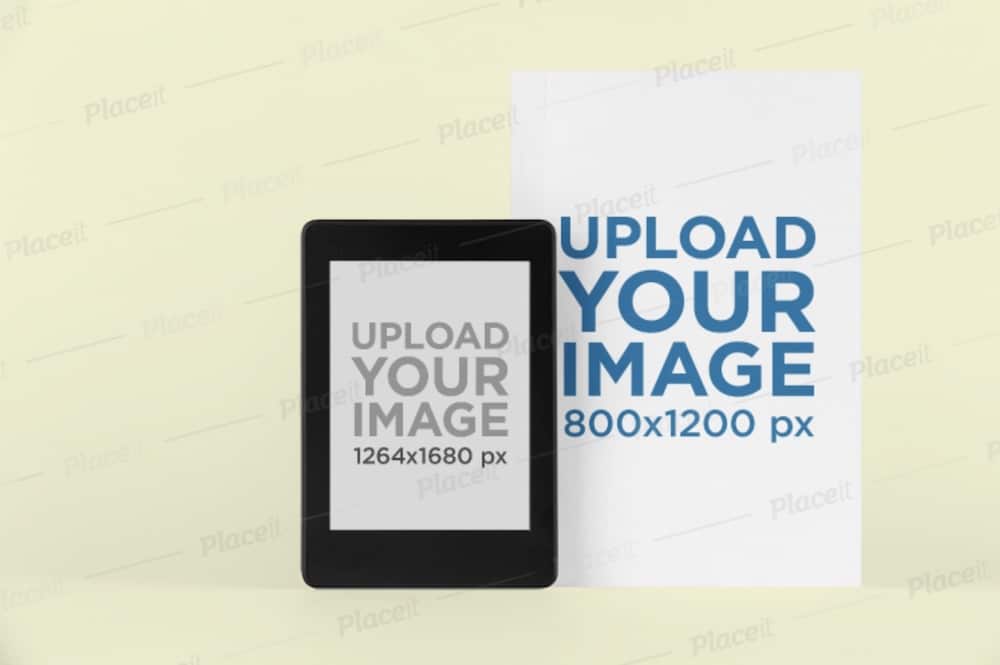 This template goes straight to the point without any fluff.
If you look for something more on the minimal side with a solid background (and shadow effect), this one will do the trick.
Both elements, Kindle and the book cover are improvable with any design you want.
You can individually upload each image, crop and reposition it if necessary and attach it to the item. That's how EASY it is.
Note: We also have a complete guide on how to make a book mockup with and without Photoshop.
MORE INFO / DOWNLOAD
7. Kindle Paperwhite mockup on blue cushion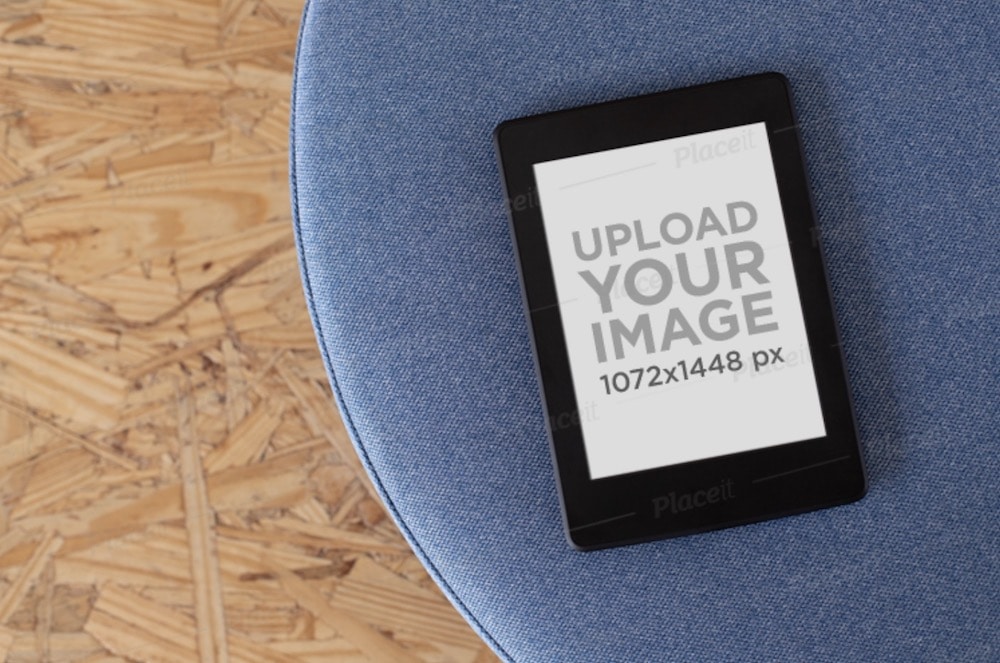 To make your Kindle eBook rock a real-life effect, here's a mockup that will help you move forward instantly.
After all, it only really asks for your image insertion and that's it.
The working area of the screen is 1072 x 1448px, but a pop-up opens with additional configurations.
Placeit is an excellent platform for creating realistic mockups without breaking a sweat.
These will take your product presentation to the NEXT LEVEL.
MORE INFO / DOWNLOAD
8. Kindle Paperwhite mockup of a woman reading at home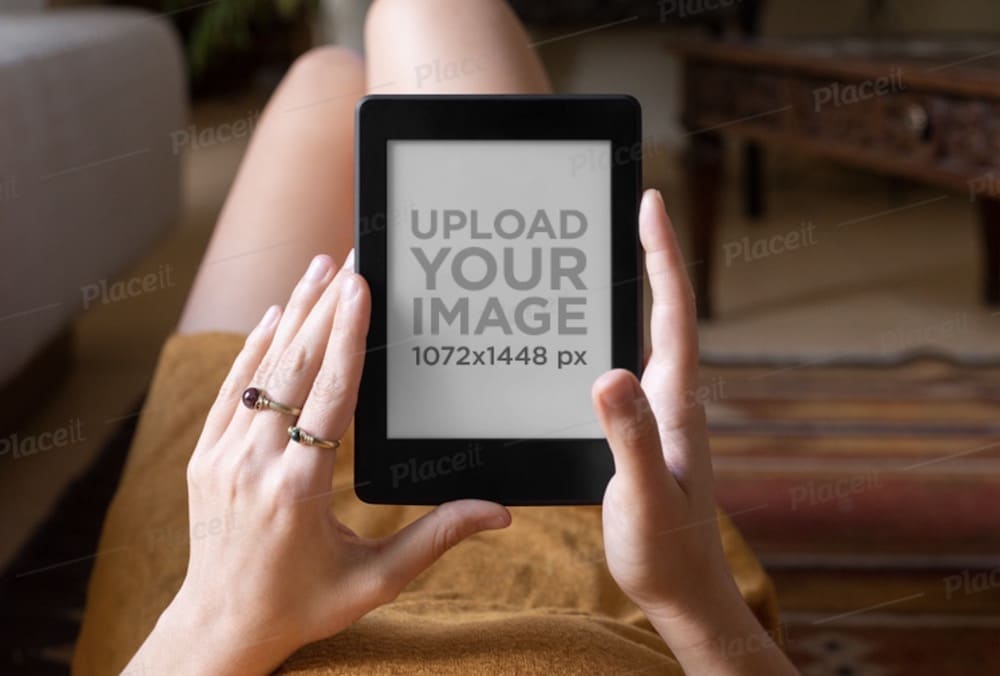 If you would like to grab potential users' attention on social media, here's a Kindle mockup that does the job very well.
It features a woman reading while being comfy on the sofa.
And your eBook image, even illustration, will dramatically LIFT up the overall demonstration.
Plus, you can also include additional text (a call-to-action), which will make it even more engaging.
MORE INFO / DOWNLOAD
9. Mockup of a Kindle Paperwhite on a vintage table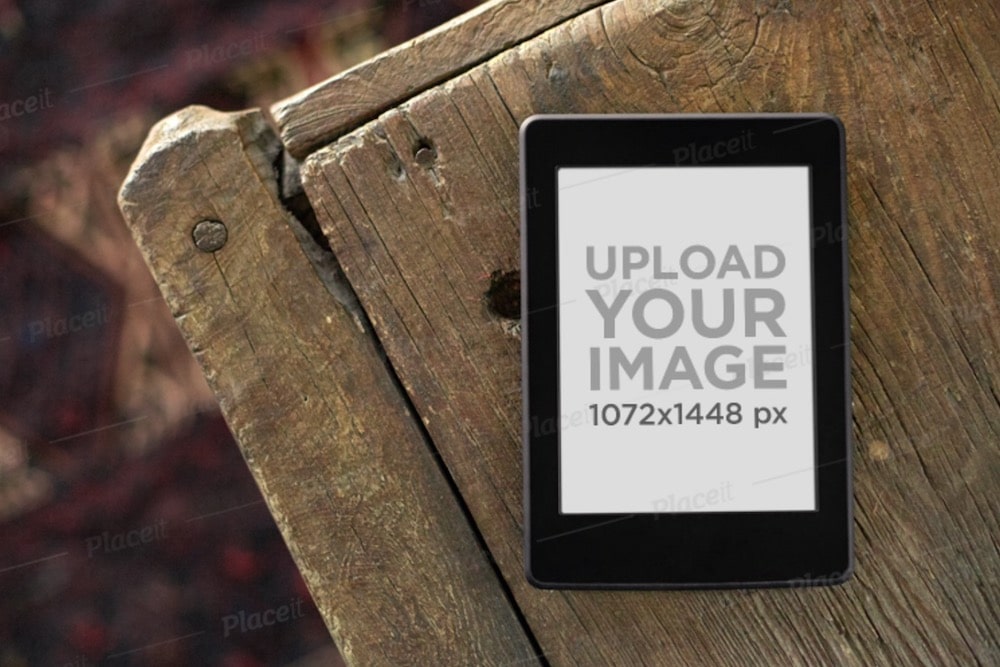 If you are PARTICULARLY looking for a Kindle Paperwhite mockup without a plain background, this vintage table version is a great choice.
While it may not necessarily work the best in online stores, it's a superb solution for social media, blog posts, newsletters and the like.
And you don't even need to be a designer to beautify it – just slide in your artwork and you're done.
MORE INFO / DOWNLOAD
10. Mockup of a woman holding a Kindle Oasis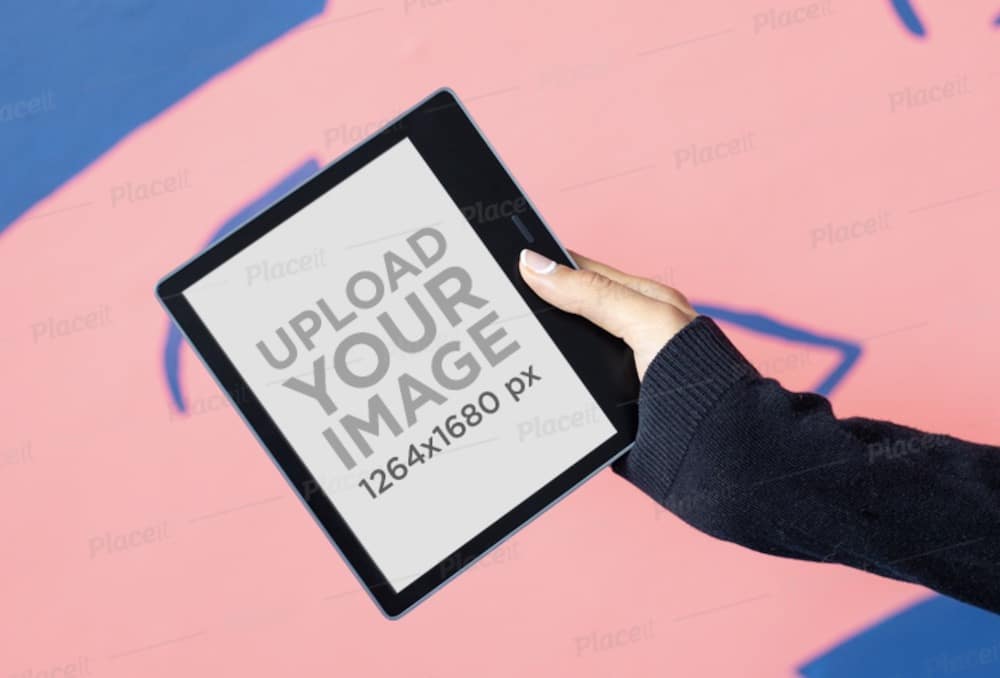 There are always users who want the best of the best. Kindle Oasis is the premium version in the series of Amazon e-readers.
This vibrant template of a woman holding Kindle Oasis in hand will be an easy target for your potential users.
It only needs one more thing – your image. Other than that, the template is all set and ready to INSPIRE your audience as-is.
MORE INFO / DOWNLOAD
11. Kindle Paperwhite mockup of a smiling girl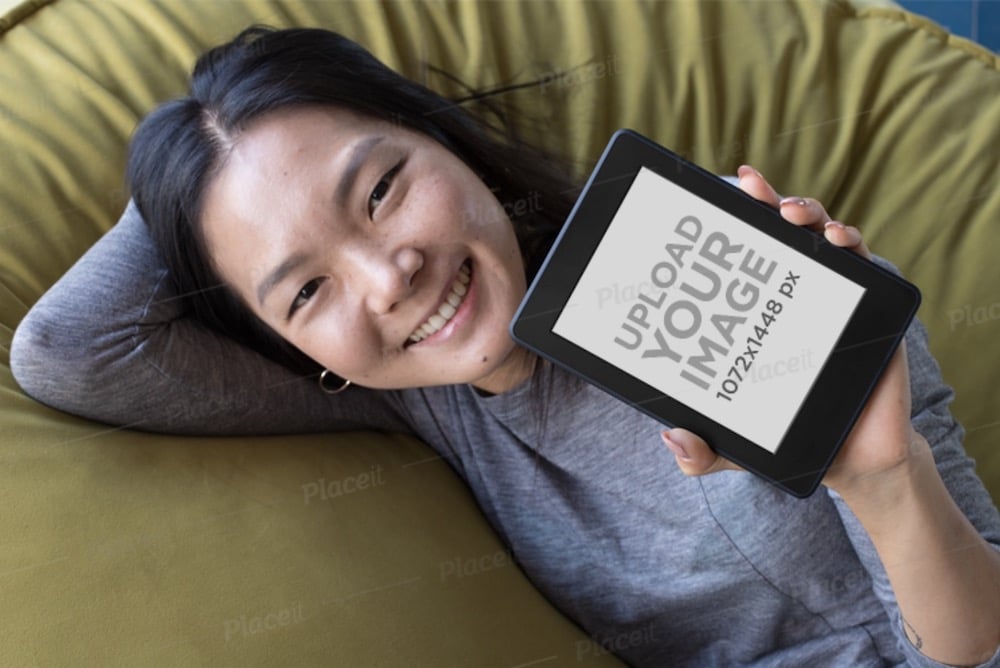 It's proven that images of people "looking" at you are way more engaging. That's the reason why we added this lovely Kindle mockup to the list.
You can now create an outcome that will wow your customer base without a shadow of a doubt.
Keep in mind, if you need a mockup just for testing the design of an eBook, this may not be the most appropriate. You're better of with the FREE versions below.
MORE INFO / DOWNLOAD
Best Kindle PSD Mockups
12. Outdoor eBook reader mockups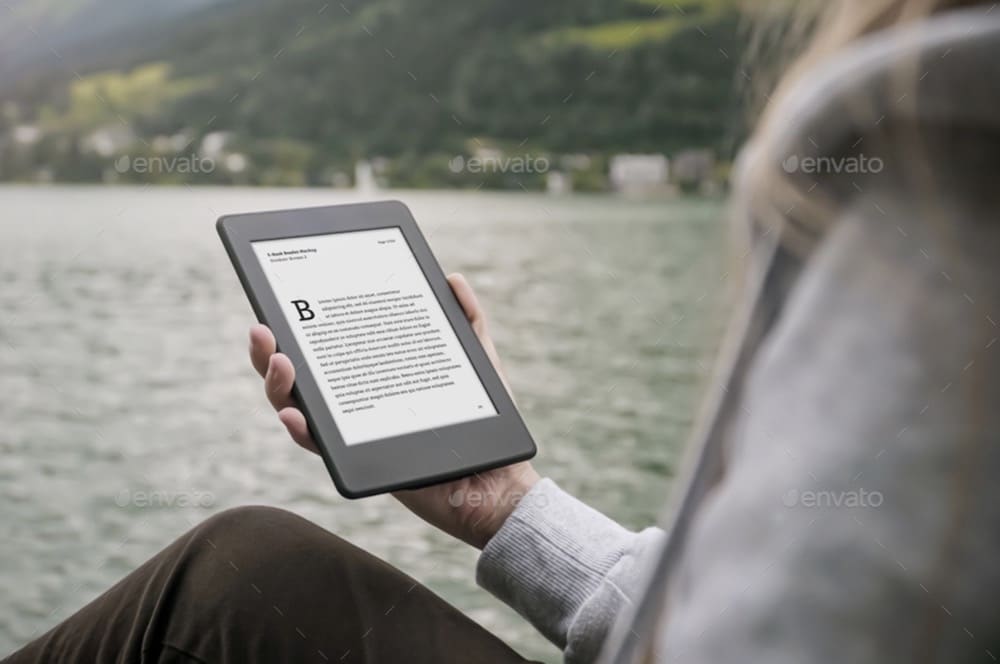 Due to its amazing battery life, Kindle is great for both outdoor and indoor use.
If you are mainly promoting the outdoor lifestyle, here is a collection of eight PSD mockups to consider.
With the convenient use of the smart object layer, you can just drag-n-drop your design.
What's cool about this particular template is the great compatibility with WHITE and BLACK backgrounds/designs.
Price: $6
MORE INFO / DOWNLOAD
13. Kindle mockups outdoor scenes

Okay, I like the outdoors so much, that I decided to include another kit of similar Kindle PSD mockups than above.
I am sure you will immediately tell that they are from the same author – which they ARE.
Again, a stunning collection of eight PSD files featuring a woman holding an eBook reader outdoors, by the lake. HOW BEAUTIFUL.
The amazing 4950 x 3300px dimension ensures that you create an eye-pleasing demonstration – even when zooming it in.
Price: $6
MORE INFO / DOWNLOAD
14. eBook reader bike scenes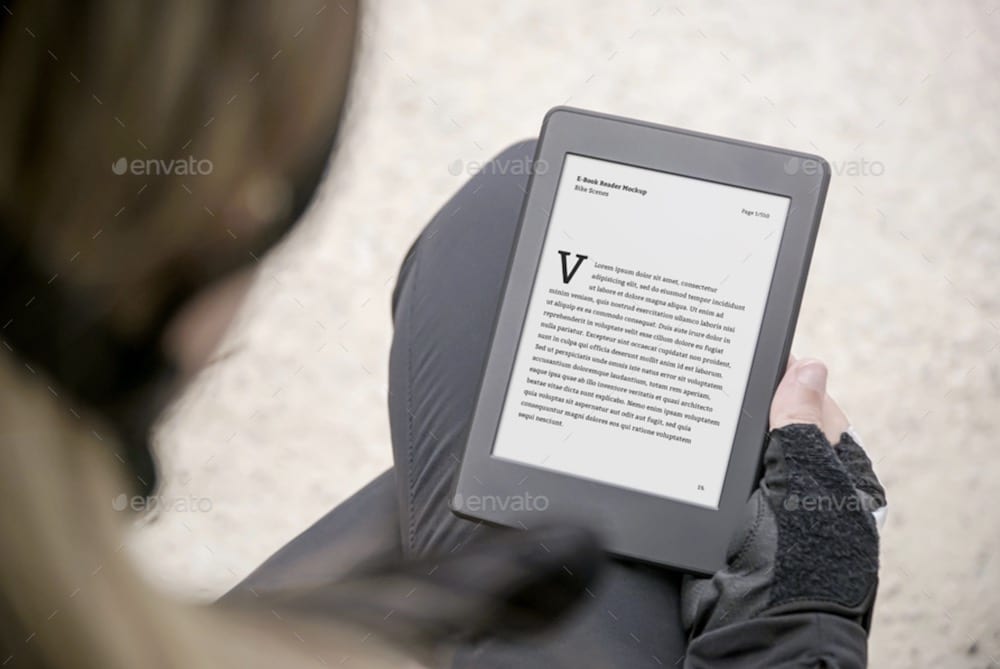 This is a pretty exclusive collection of Kindle mockups, as it aims to bike fans particularly. More outdoor scenes? I know, RIGHT.
For only $6, you will get eight different layered PSD files – which means, eight different views or angles.
You even get sample text layers and an option to turn on/off sunlight glare.
Moreover, if you would like to feature a more colorful design instead of black and white, that's what all these templates help you sort out, too.
Price: $6
MORE INFO / DOWNLOAD
Best Free Kindle Mockups
15. Amazon Kindle device PSD mockup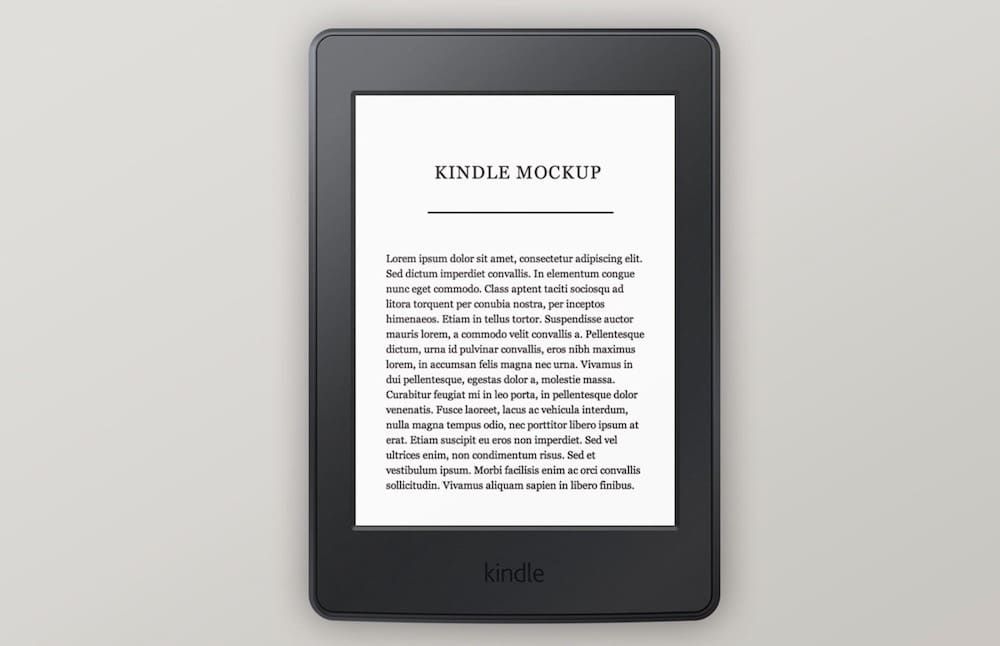 I know you've been waiting for these. A couple of free Kindle templates that you can use in Adobe Photoshop.
Here is a simple and straight-to-the-point solution that showcases the eBook design beautifully.
If you like simplicity and MINIMALIST style, this is it!
MORE INFO / DOWNLOAD
16. Kindle Fire HD isometric mockup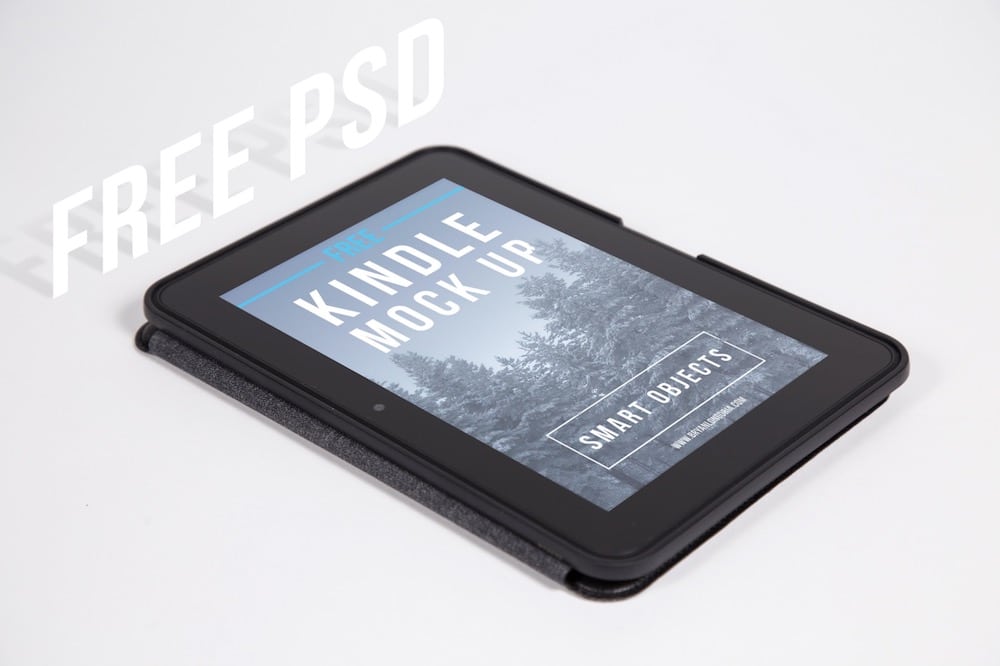 This is the only Kindle mockup on this list that features the device in a case – and it's FREE.
Not just that, but the quality is good, too, so you know the outcome will be eye-pleasing.
Once you import the PSD file in Photoshop, just search for the smart object, replace the image with your own and you are ready to roll.
MORE INFO / DOWNLOAD
How To Create A Kindle Mockup?
Do you want to present a custom Kindle design, an eBook, a graphic, whatever, in a natural environment?
That's easy!
I'll guide you through my effortless step-by-step process to create a realistic Kindle presentation.
For this reason, we'll use an online mockup generator, Placeit. (My favorite.)
Anyone can do it.
4 Steps To Make A Kindle Mockup:
Step 1: Visit Placeit, where you can work with any of the 60+ templates. What's best, you can test all of them! Yes, for free (but create a free Placeit account to enjoy a smoother workflow).
Step 2: Once you're on the template page, I recommend you first import your design by clicking the "insert image" button. A popup window will open, where you can adjust the positioning and zoom in/out the design. Click "crop" when done. (You'll also notice the live preview window at the bottom of the screen with live changes.)
Step 3: Each mockup generator also comes with plenty of other handy features, like changing the colors, the background, adding text, uploading custom graphics, etc. Do it your way!
Step 4: You did all the "hard" work. Click the "download" button and enjoy your mockup.
Plus, here's a quick guide on how to make a Kindle mockup with a PSD template.
Open Photoshop and import the mockup.
You then locate the smart object layer, which allows you to insert any design you want.
Once done, you can skim through other layers, adjust and edit the settings, import a custom background or anything else your heart desires until you end up with the desired outcome.
(I double-checked all the templates to ensure a user-friendly structure with organized layers.)
Save and download, and you're ready to roll.
::
Note: This article was originally published on April 23, 2021. But our team regularly reviews it and updates it with necessary improvements for accuracy.