Welcome to our review of the highly demanded free and premium name badge mockups for events, forums, meetups and anything else in between.
So. Versatile.
We got many requests for custom name tag designs, but we no longer want to hide our best performers.
Today, we want to share the ultimate 14 mockups we used and know will work great for your projects.
Create a life-like presentation quickly and effortlessly. (We DIG it.)
This post covers:
We combined online mockup generators with free PSD files to widen the specter of usability.
You don't need Photoshop to make a mockup with the former and no need for money to use the latter.
How COOL is that?
Let's go!
Best Name Badge Mockup Generators
Every template is only $7.95. But I highly advise you to go with a monthly ($14.95/mo) or yearly ($89.69/yr) subscription (save money).
You can still test all the generators for free, though! (But I recommend creating a free account for a smoother workflow.)
1. Business card & badge holder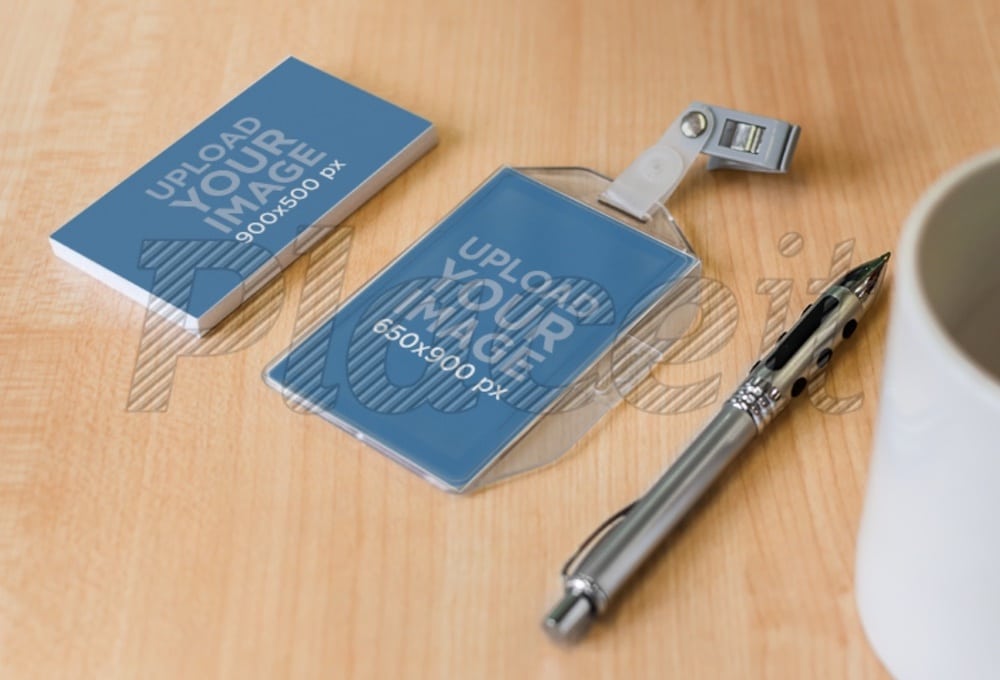 Hitting you straight away with a cool online mockup generator that screams PROFESSIONAL.
You get to design both the business card (900 x 500px) and the badge holder (650 x 900px) with any design you want. You can additionally include any extra text and a company logo (these are completely optional).
Honestly, we didn't bother making any fancy tweaks; rather, we kept it clean and minimal by adding just the two items. It looks way better without. Way more photorealistic, if you will.
MORE INFO / DOWNLOAD
2. Man with badge holder mockup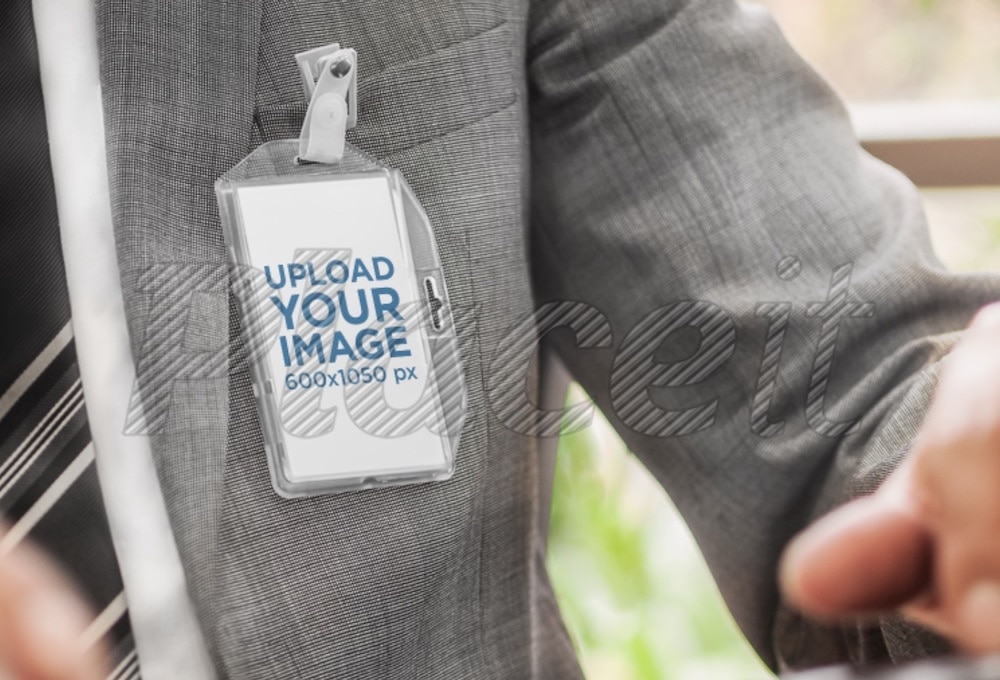 This mockup will do the trick to make the presentation of your original name tag design idea more FORMAL.
You know already that little work is necessary to create the life-like presentation you dream about. You can kick things off without the need to create a free account.
So cool.
(But we do suggest creating it for a smoother workflow.)
Insert any image you want, change the card's color if necessary (only if your image doesn't fill the entire space) and you're done.
But you can also include a call-to-action and a logo if you're creating it for promotional intentions.
MORE INFO / DOWNLOAD
3. Angled mockup of an ID holder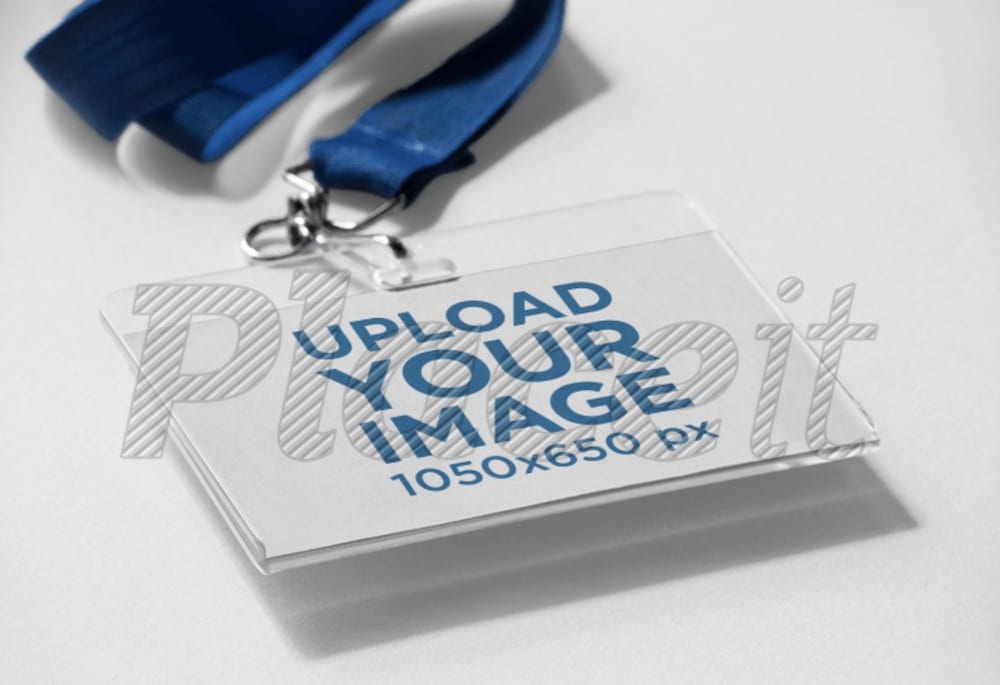 You'll enjoy using this particular ID card holder mockup if you like minimalism (like me!).
Branding the default configurations is a piece of cake. You can even change the color of the paper/background!
This one worked really well for us when creating a social media post for a client's event. However, you don't need to feel limited – use it for whatever you want.
The template is flexible enough to adapt to different projects easily.
Con: I wish you could also change the color of the lanyard. That would be the coolest. Luckily, we also have a full of lanyard mockups for more options.
MORE INFO / DOWNLOAD
4. Mockup of a hanging name badge holder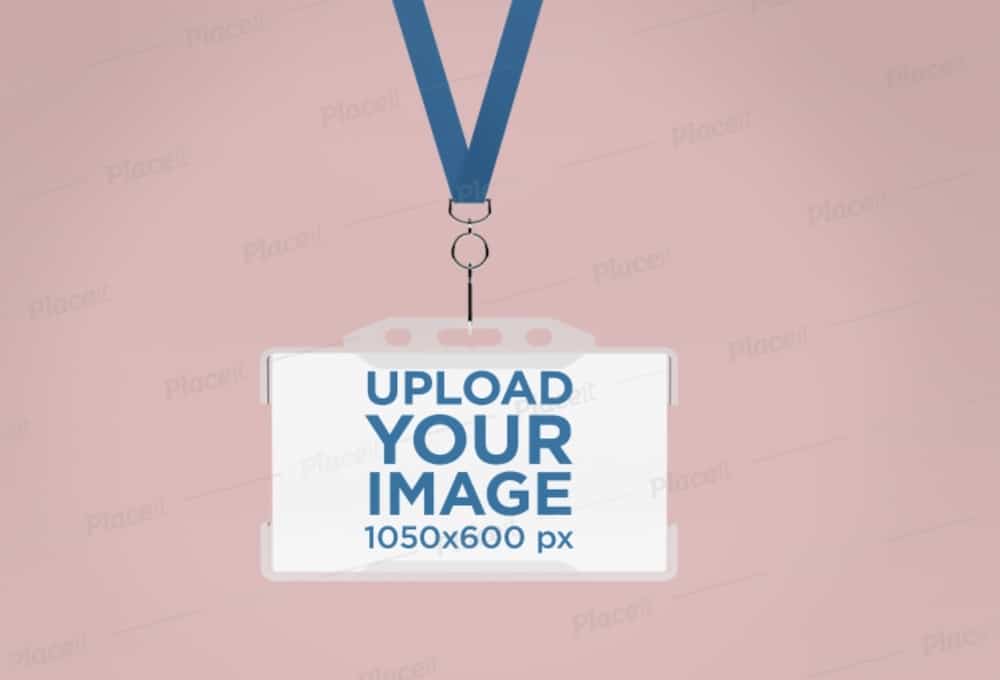 We first thought this one is a bit too cartoon-ish but we ended up successfully using it on two different live projects.
The hanging name badge holder mockup allows you to change the background, lanyard and card. You do this easily by navigating to the color picker on the right.
From there, you add your image directly from your device, crop and reposition it if necessary and that's it. You can even work on it from your mobile device!
MORE INFO / DOWNLOAD
5. Mockup of a name tag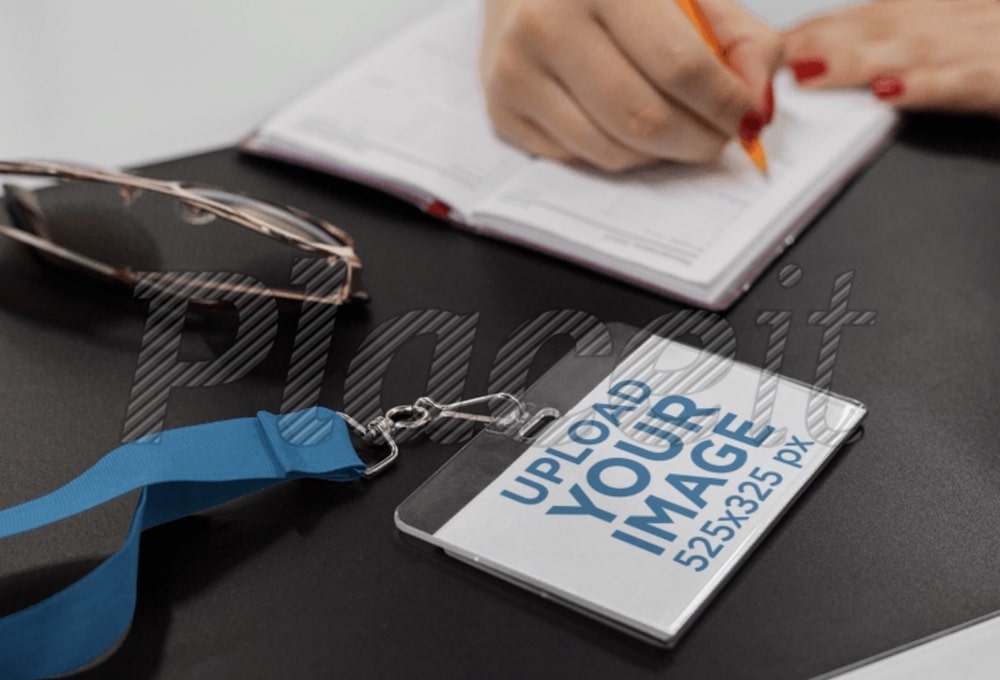 You can achieve a life-like presentation of a badge holder with zero experience. That's why mockups are available in the first place!
No one will really tell you used a template.
We dig using them a lot – especially this one. The entire scene makes the badge POP nicely in a very natural way.
Showcase your beautiful creation to your client or go straight to starting hype, using it for promoting a special event.
Yes, this one allows you to change the color of the lanyard, too (!).
MORE INFO / DOWNLOAD
6. Businessman holding his name tag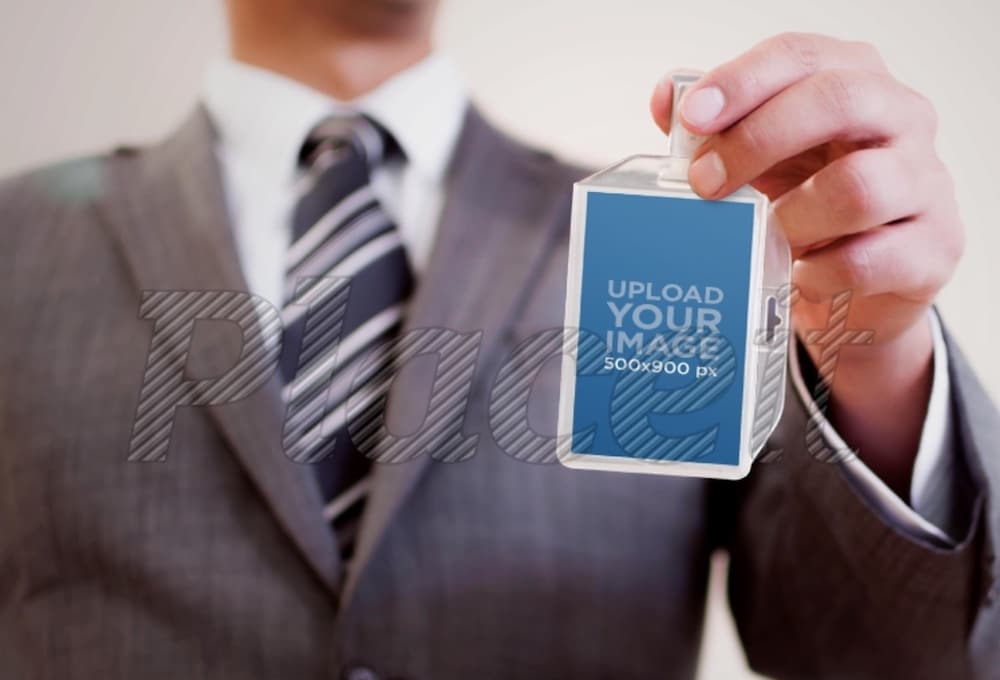 Do you want to show your plastic name badge design straight to people's faces? You cannot go wrong with this online mockup generator.
It's a real attention-grabber that fits so many occasions. Our client was impressed by our creation. He later shared that their audience loved it, too.
You can have it all set and ready to go in just a few clicks. You can even test it first before you open your wallet.
Go ahead, see it for yourself.
MORE INFO / DOWNLOAD
7. Woman wearing a badge holder at the office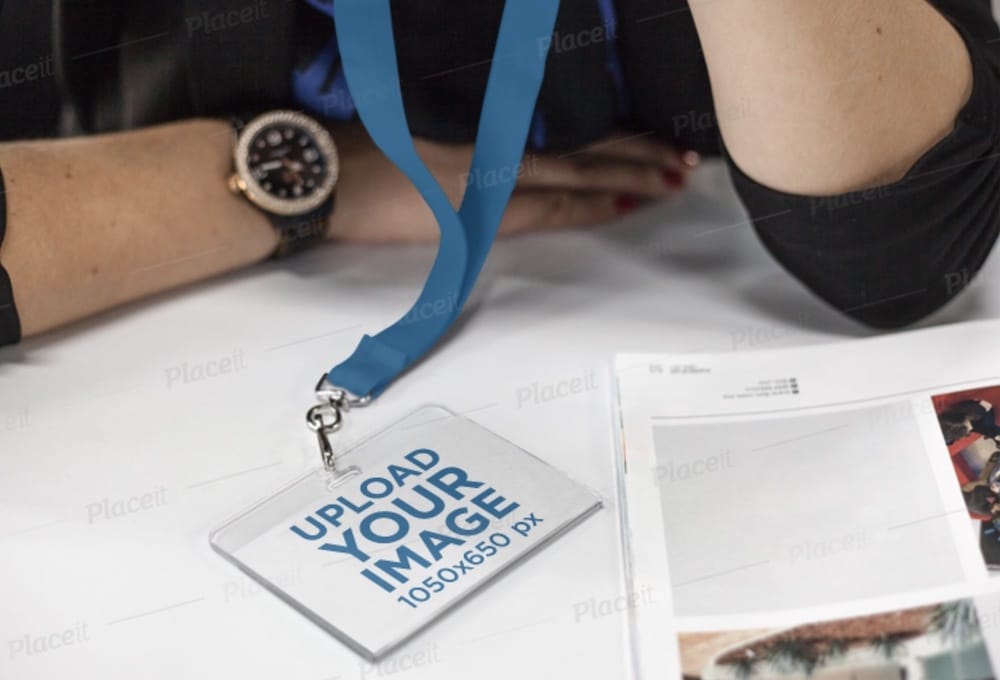 Create a photorealistic ID card holder with a mockup that also allows you to change the color of the lanyard.
You can make your variation even if you have zero experience with mockups.
No skills, no Photoshop, NO NOTHING.
Just a smooth flow of inserting your design and playing with the color pickers.
We always try a few variations before settling on the clear winner. And we did the same thing with this one.
MORE INFO / DOWNLOAD
8. Name tag mockup hanging from a girl's neck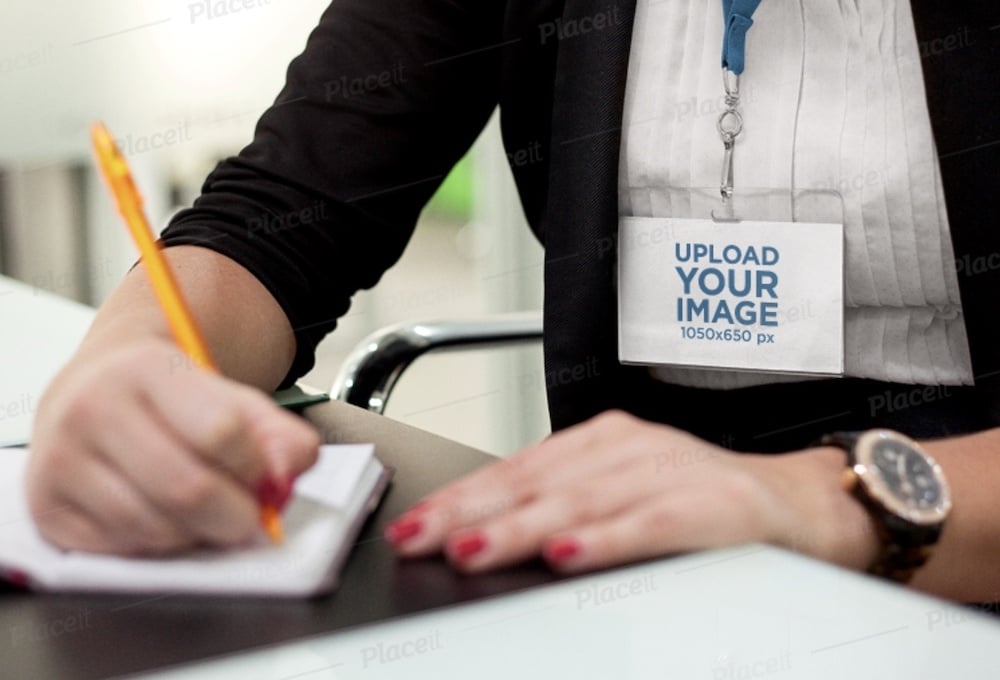 You can either spend a hefty fee on hiring a photographer and a model or you can go with a mockup and pay a fraction of the cost.
Which will you choose?
We like finding high-quality mockups that don't feel like mockups. This name tag template is a perfect example of achieving an outcome that will turn heads.
You can also add extra text and a logo (not required).
MORE INFO / DOWNLOAD
9. Close-up of a name badge holder mockup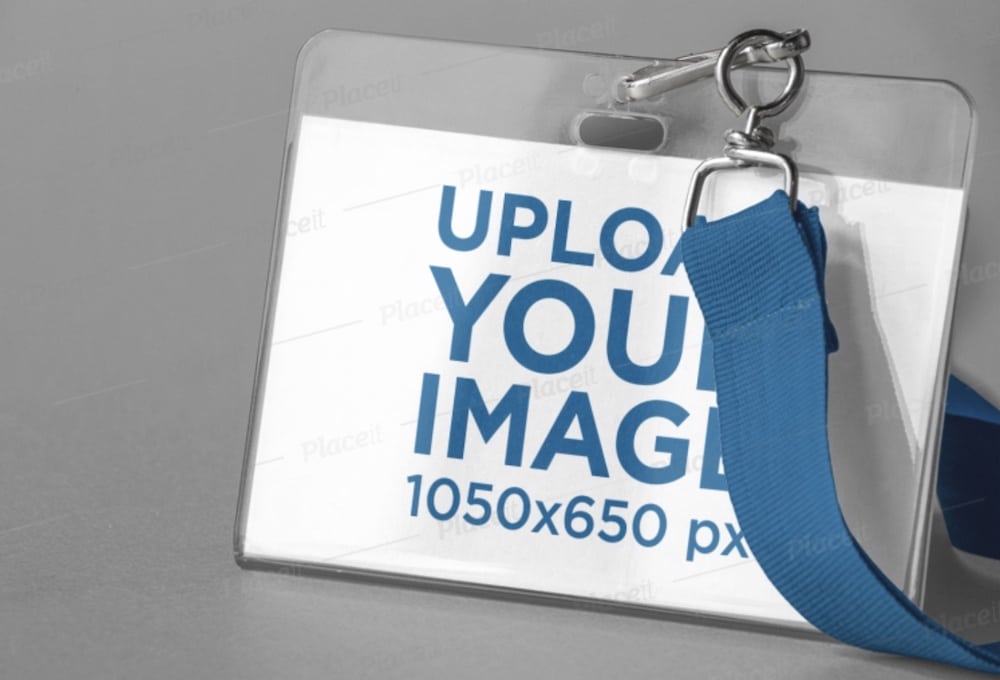 Put all the extra shine on your name badge holder design it deserves with this quick-to-use close-up mockup.
First, you can change the background, lanyard, and card colors.
Second, you can insert text, image and logo.
Third, you're done. It's effortless working with a mockup generator and you can use either desktop or mobile device for it.
MORE INFO / DOWNLOAD
10. Woman carrying a name badge mockup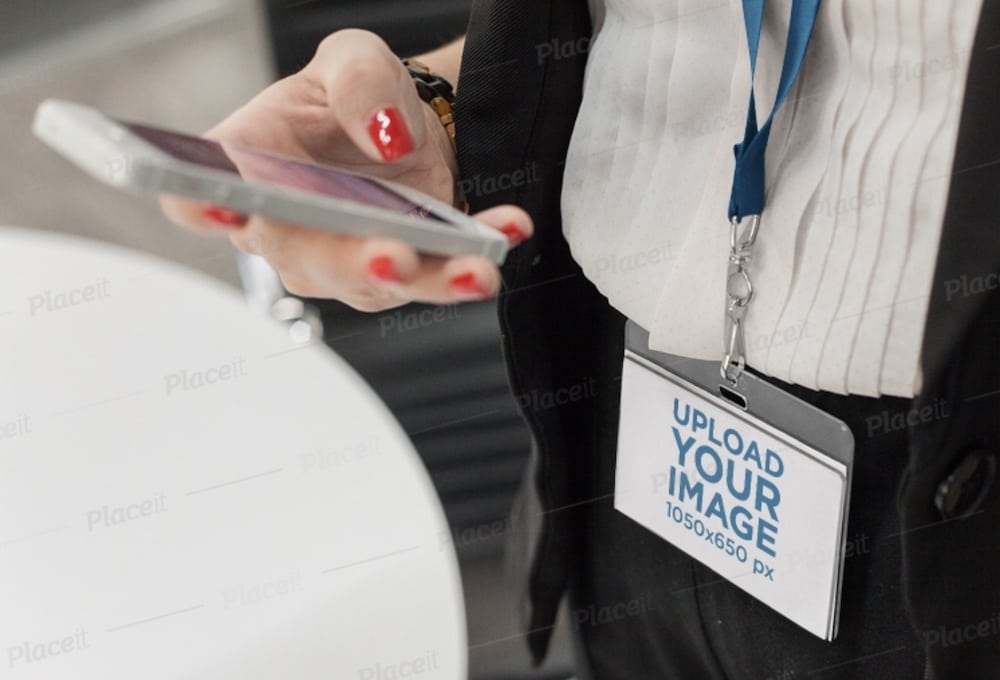 It usually has something to do with the words like "conference," "professional" and "meeting" when it comes to name badges and tags.
That's not always the case, but it is for this mockup.
Make the showcase of the design you'd like to promote as if it would actually be a photo from the live event.
Mockups. Are. So. Awesome.
You spend very little money, invest barely any time and always come out with something extraordinary. (No account is necessary for testing.)
Go ahead, try it for yourself.
MORE INFO / DOWNLOAD
11. Girl wearing a name tag while reading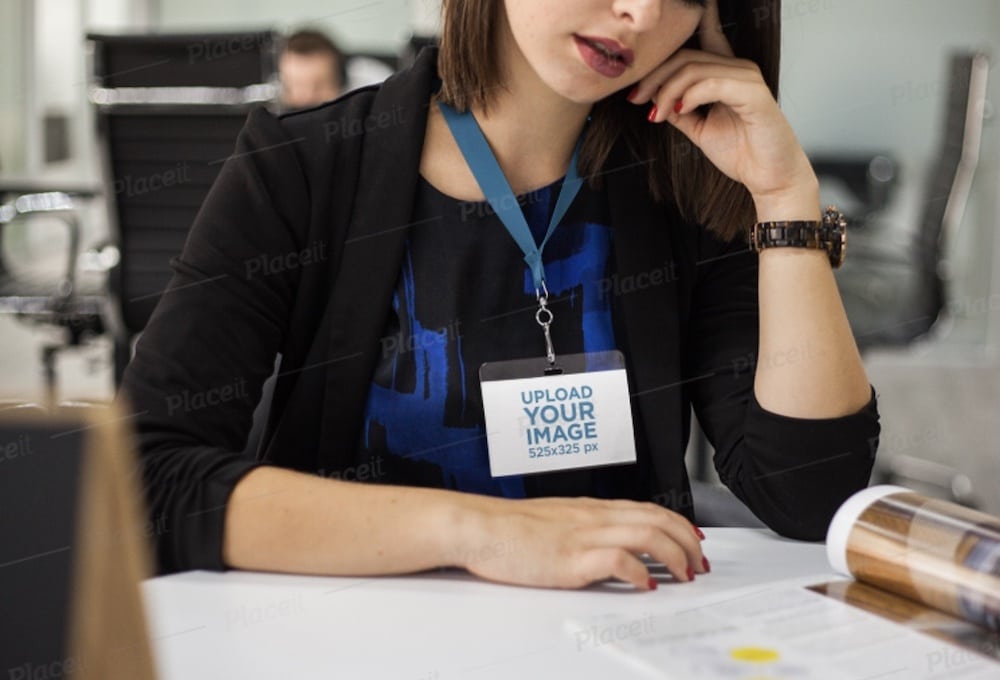 Well, this lady could be anywhere at the job, in school – you decide.
Most importantly, the fantastic presentation of a name tag that you can create easily in just a few clicks is what matters. You can also change the color of the lanyard and the card.
We like mockups of models where only about half of the face is visible.
They tend to work very well for whatever reason. (Mysterious?)
And you can now make your version that will definitely trigger interest in everyone seeing it.
MORE INFO / DOWNLOAD
Best Free Name Badge & Tag PSD Mockups
Something we all like: FREE STUFF.
12. Free name badge mockup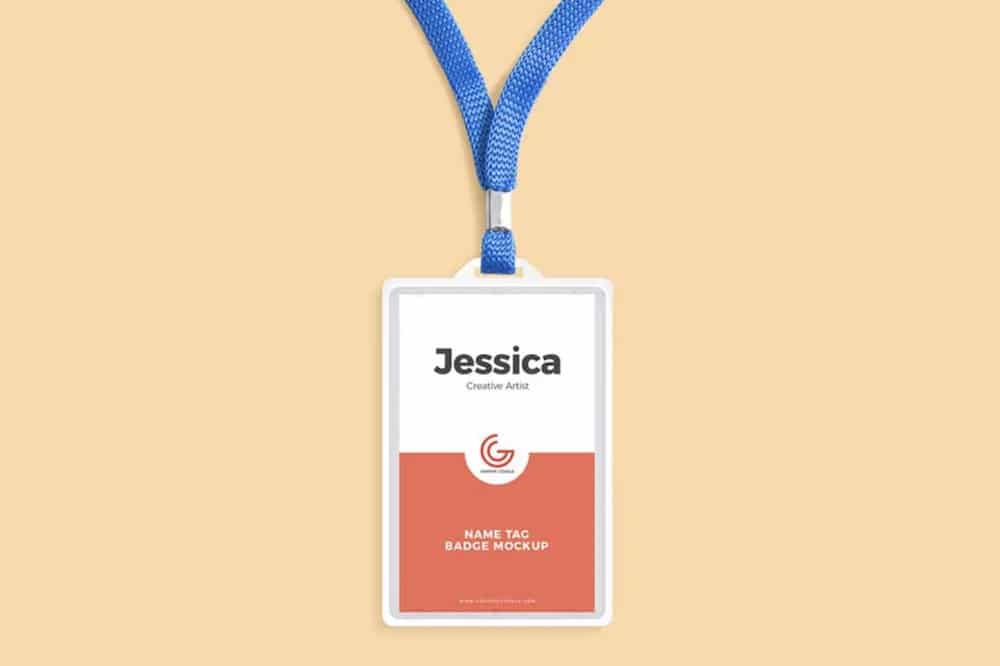 If you don't like paying a fee and need to create a quick draft then you'll have a lot of fun using all these PSD mockups.
We couldn't find any decent free name badge mockup generators, but these are very easy to use in Photoshop.
You will quickly navigate to the right section with the amazing layered PSD structure. Perform the necessary adjustments and that's it.
You can do quite some modifying with this one, creating a realistic end product that will impress. Also, the amazing 4000 x 3000px dimension makes it more premium than free.
MORE INFO / DOWNLOAD
13. Free lanyard and ID badge mockup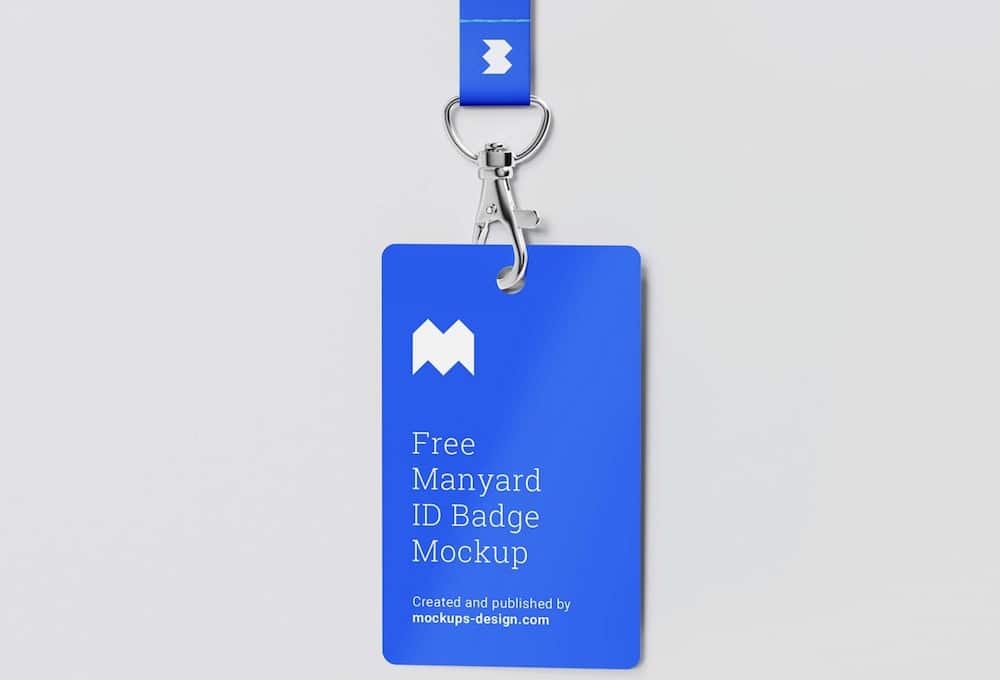 Instead of just one free ID badge template, you get three. Whatever you do with each produces a quick outcome that is very life-like.
Two mockups make the badge and lanyard appear as if lying and one hanging. It's all in the cool shadow effect.
Along with customizing the card, you can also improve the lanyard with color and graphics. This one also works great to present the front and the back card design.
MORE INFO / DOWNLOAD
14. Free name tag PSD mockup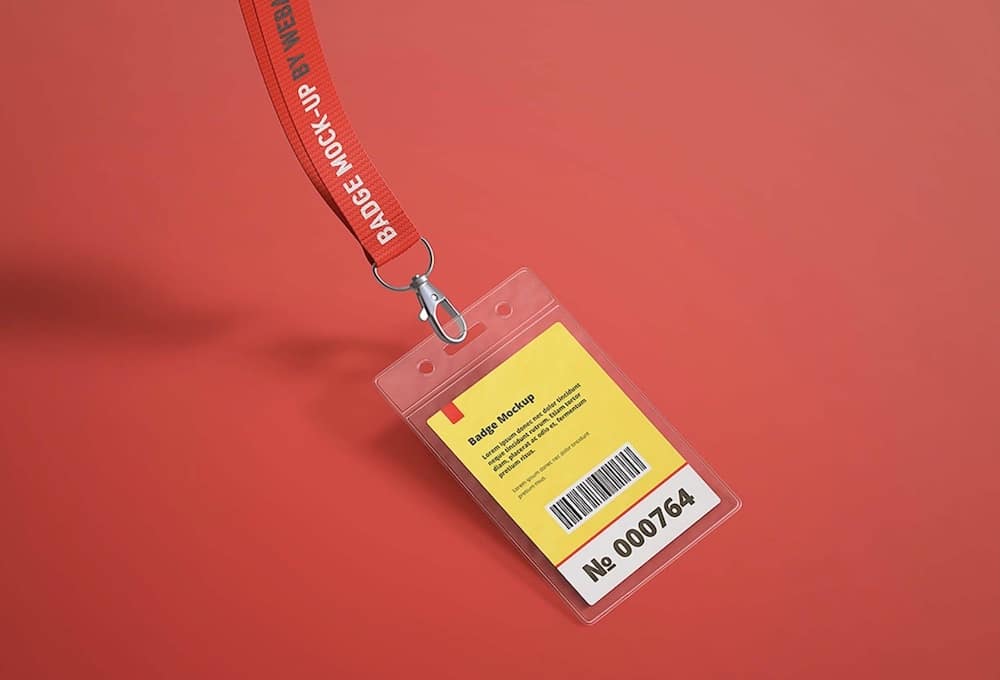 Extreme quality and large dimension (6000 x 4500px), 3D effect and smart objects for easy work – what else do you need in life?
Using a free mockup to create a name badge presentation or an ID card holder goes to the next level with this solution.
The mockup also keeps everything 100% organized, with shadows, reflections and two ready-to-use backgrounds.
You can also flip through the help file in case you need assistance.
So easy. So impactful.
MORE INFO / DOWNLOAD
How To Create A Name Badge Mockup
I know there are many beginner users here because you were the ones requesting this listicle, so I decided to share with you the simplest way of creating a name badge mockup.
Here's the catch – you don't need to use Photoshop to create a pro-level mockup.
A 100% realistic one!
That's when a mockup generator comes into play (read Placeit), which does the majority of work for you.
Yup, after working on 100s of projects, we highly recommend it because the process is too effortless.
1. Visit Placeit
While Placeit doesn't have a filter of name badges, I suggest you type your query in the search bar. Or you can visit this link and save time.
Note: I like their live search recommendations because it's easy to find more exclusive mockups that aren't super popular.
2. Choose Your Name Badge Mockup
You'll quickly find the perfect mockup since Placeit doesn't have TOO many relevant mockups in this category.
BUT!
The available ones are high-quality and versatile enough to fit multiple projects in different niches and industries.
Hint: A bit of out-of-the-box thinking unlocks even more possibilities.
3. Upload Your Photo
Click Insert Image after you pick your favorite name badge mockup, and you're ready to start having some fun.
You can upload your image or logo from any device if you're using Placeit for the first time. Yup, you can even use your smartphone to create a mockup!
Moreover, you can also choose from recent uploads or downloads if you already have some visuals in your profile.
4. Customize
While you can complete the creation just by uploading your image, you still have multiple options to customize the mockup however you want.
Remember, if your image fits the entire badge and you like how the presentation looks, you can already hit the download button.
For all the rest, you can also:
Change the color of the badge holder and the lanyard (or leave it default)
Add any type of graphic you want (there are many available on Placeit, but you can also upload your own)
Include up to three text styles in case of adding a message, a call to action, whatever (but don't overdo it)
That's it; your name badge presentation is now ready to impress everyone.
::
Note: This article was originally published on September 8, 2021. But our team regularly reviews it and updates it with necessary improvements for accuracy.